If you're looking for functional planner stickers in a variety of different styles and colors then you are in the right place. This collection of free planner stickers aims to give you everything you need to get started with your planner or bullet journal, creating your own space and layout to suit your needs.
Along with our planner stickers, we also have free planners in various styles and for specific needs. They are beautiful, useful and the best free printable planners you will find anywhere.
Already have a planner but looking for free planner printables? We have hundreds of planner inserts for your planners, bullet journals, or notebooks.
Use our vast collection of freebies to start planning the right way. Don't wait till the new year to start planning or bullet journaling, check out our how to start a bullet journal post to get started at any time.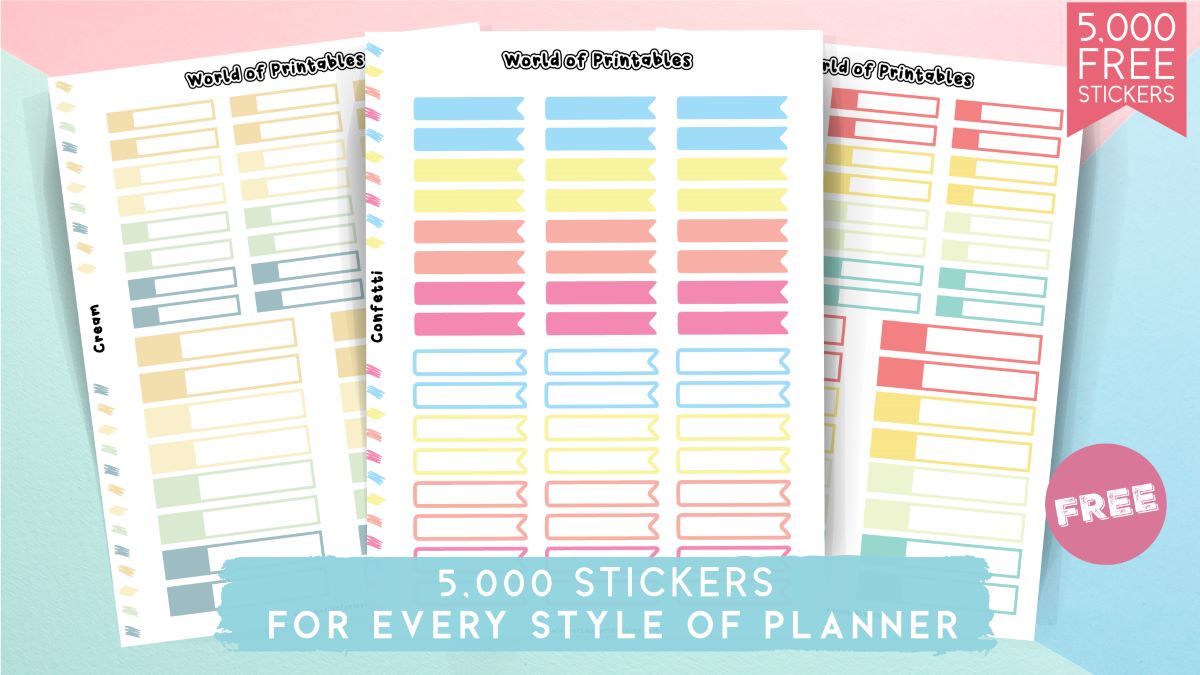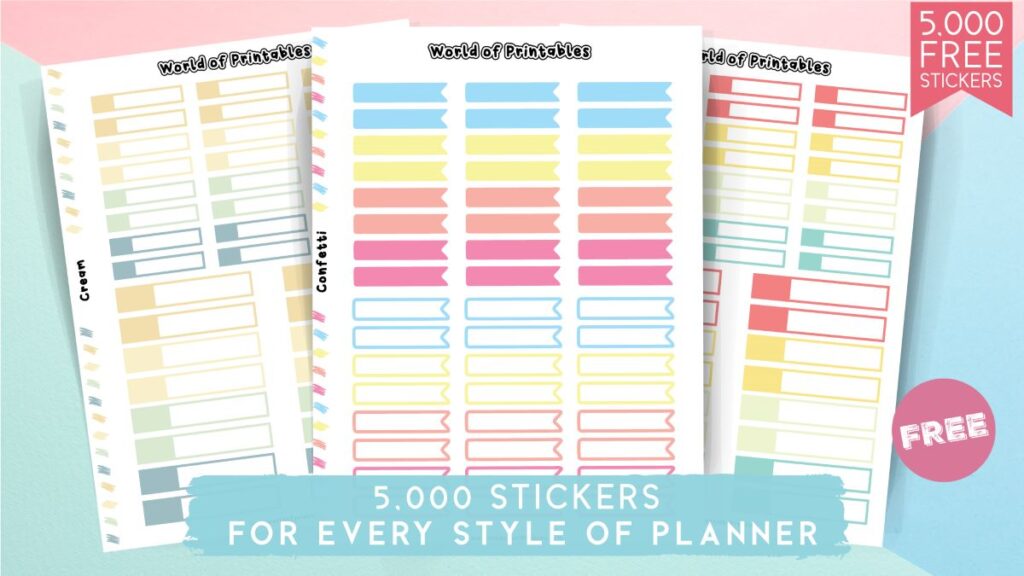 Free printable planner stickers
These free stickers come in six different color packs:
Sunset
Cream
Happy
Confetti
Retro
Black and White
Choose your favorite color pack or get them all for free.
To save these stickers, click on the sticker sheet you like and save it to your computer. Alternatively, you can get these as a high-quality pdf file sticker pack – see below to get the collection!
All printable and digital files are for personal use only.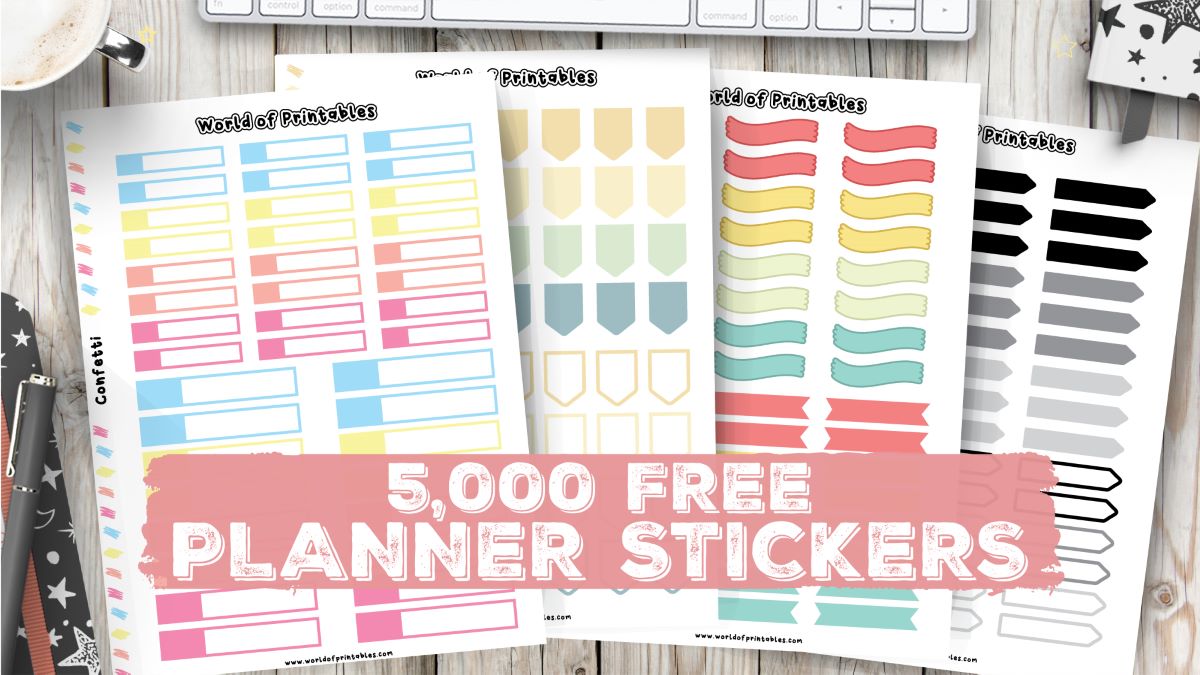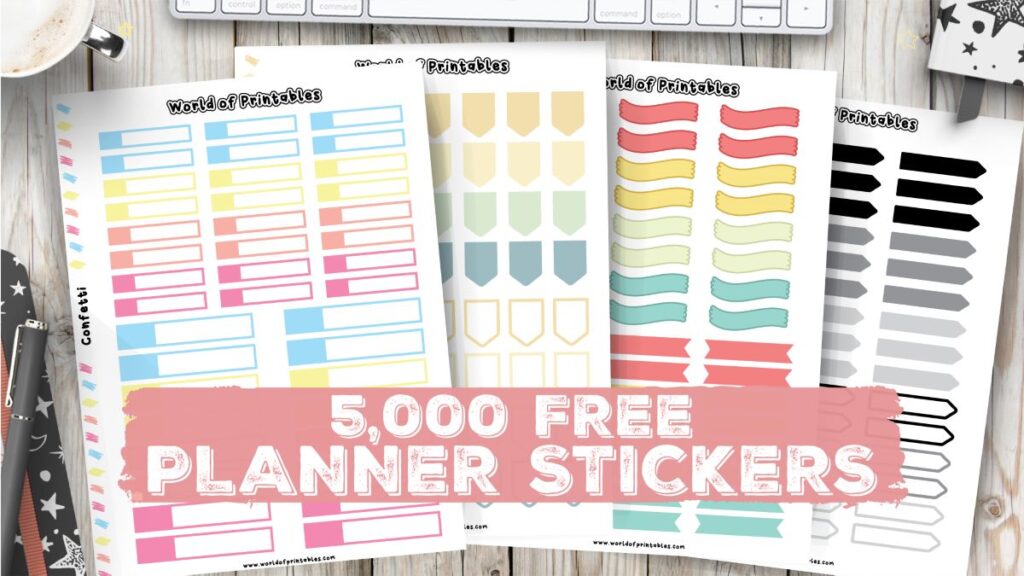 Planner Stickers Printable
The sunset printable stickers are so beautiful. You will find circle stickers, rectangles, tabs, and note bars for reminders and tasks. Use the squares and boxes to create your own layout on a blank page.
Free Printable Planner Stickers
If you're looking for a soft, delicate, and muted color palette then this Cream collection is what you're looking for. I love this sticker pack.
Bullet Journal Stickers Printable
The Happy color sticker pack is so cute and features bright and bold colors that are stunning.
Free Planner Stickers
This Confetti sticker pack screams party, fun, and ice cream. It's the summer colors we all love. Mix and match the sticker packs throughout the year.
Printable Journaling Stickers
The Retro sticker pack focuses on bold colors that offer a punch. I love this color combo.
Free Printable Stickers
Sometimes you need black and white stickers! I love writing on the black stickers with a white gel pen.
How to Print Planner Stickers
My favorite way of using printable planner stickers is by cutting them on an electronic cutting machine. I use the Cricut Explore Air 2 (check it out – see the really funny review by someone whose wife really loves the Cricut!).
The cutting quality on Cricut machines is precise and what I need for my planner stickers combined with the JOYEZA Premium Printable Vinyl Sticker Paper. It's a matte paper that prints and cuts beautifully but you can use any type of sticker paper that suits you.
You can also print these planner stickers on sticker paper and cut them by hand.
For cutting stickers by hand, opt for some craft scissors so you can be precise!
Get the Ultimate Essential Planner Sticker Collection
To get all of these stickers in one convenient high-quality pdf file, that's easy to print and use, just enter your Love & Pixels code below.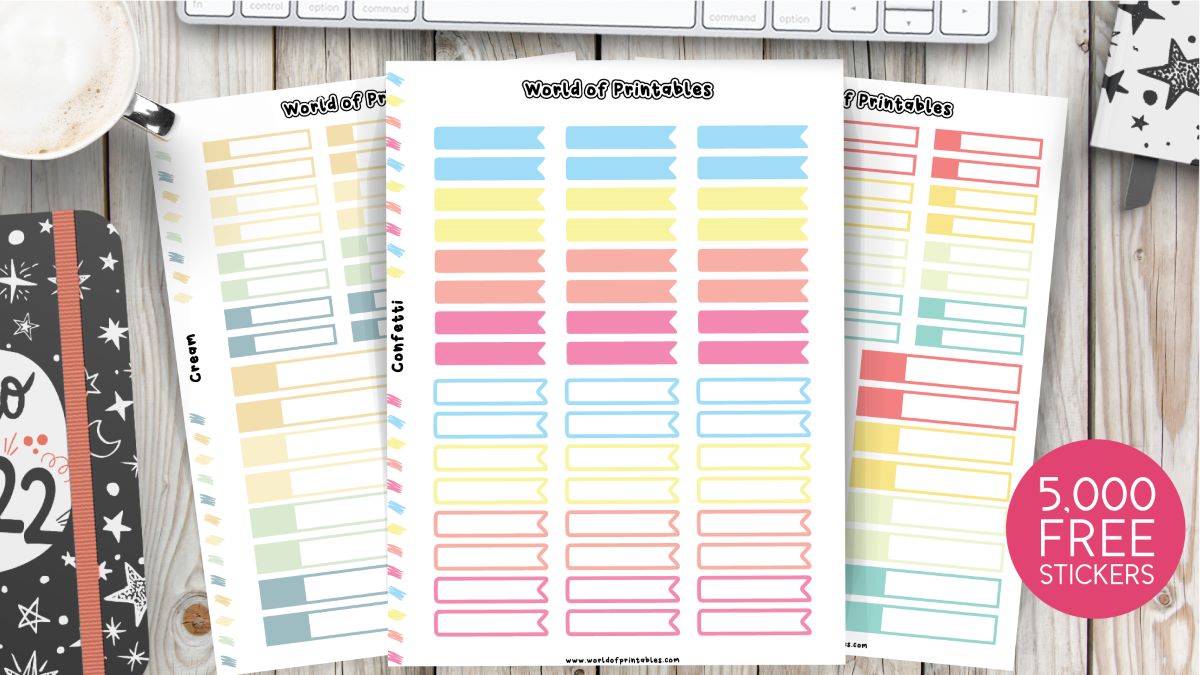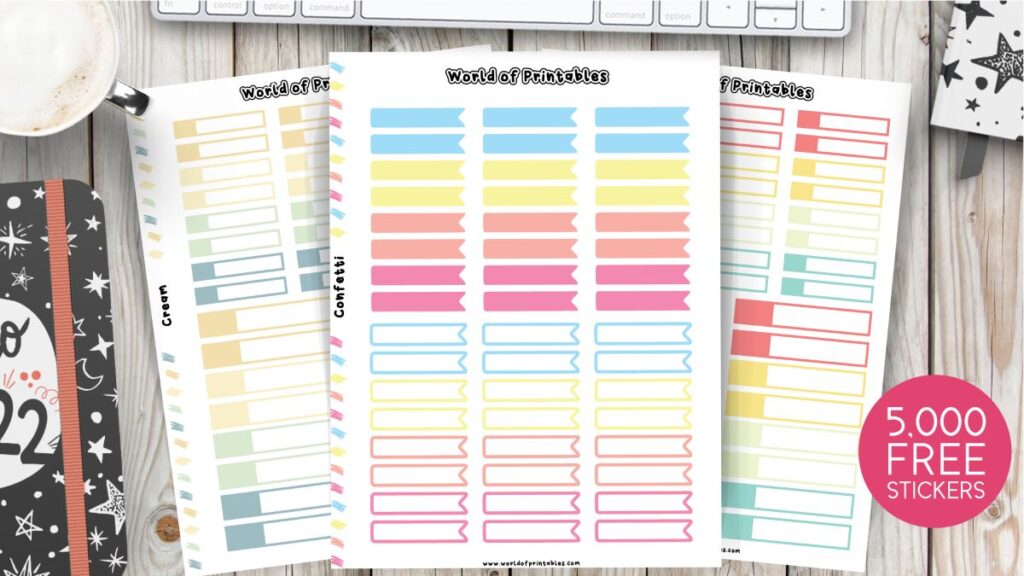 Digital Planner Stickers
If you prefer to use a digital planner then we also have these planner stickers available as Free Digital Stickers that are pre-cropped and ready to use.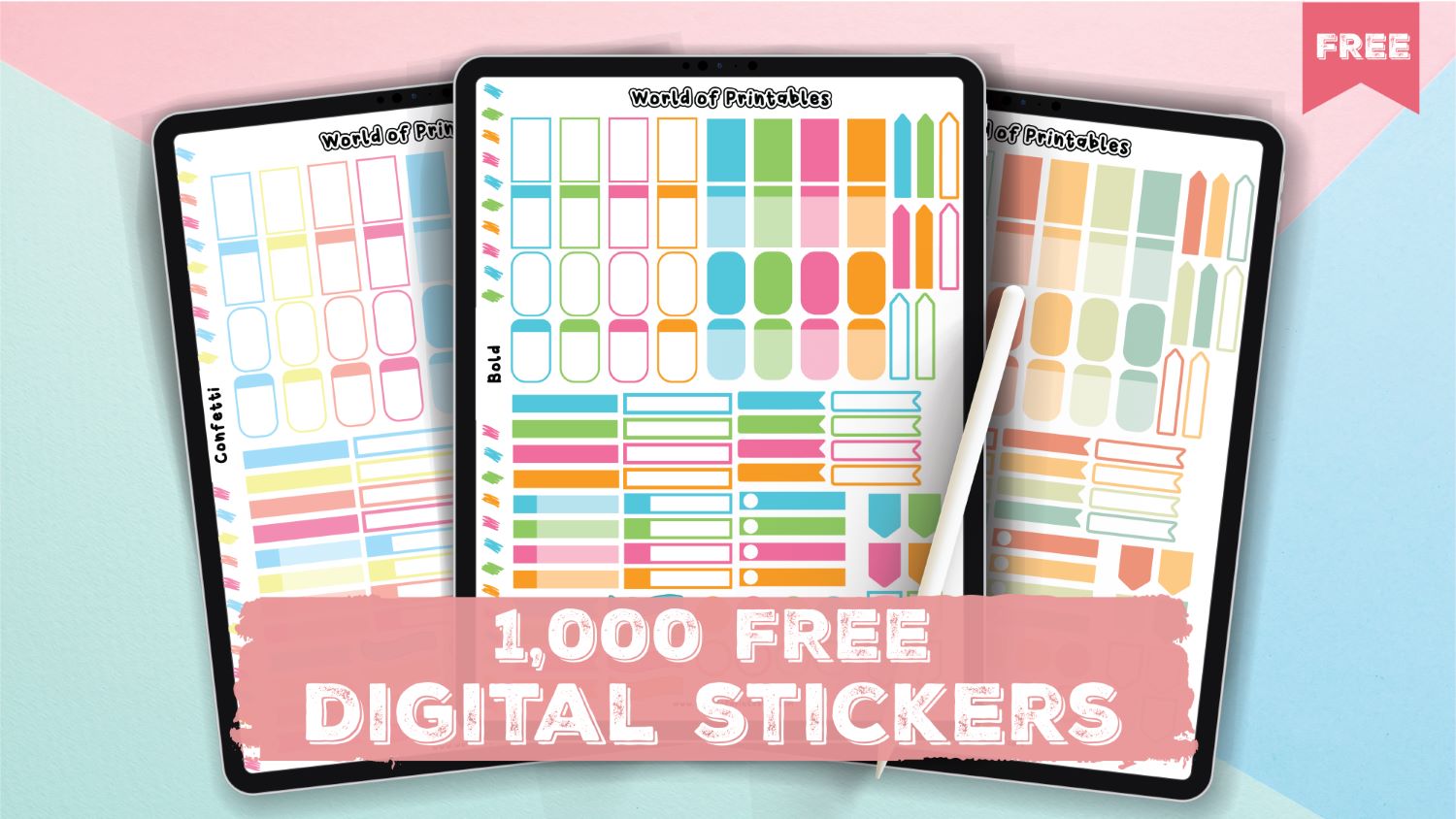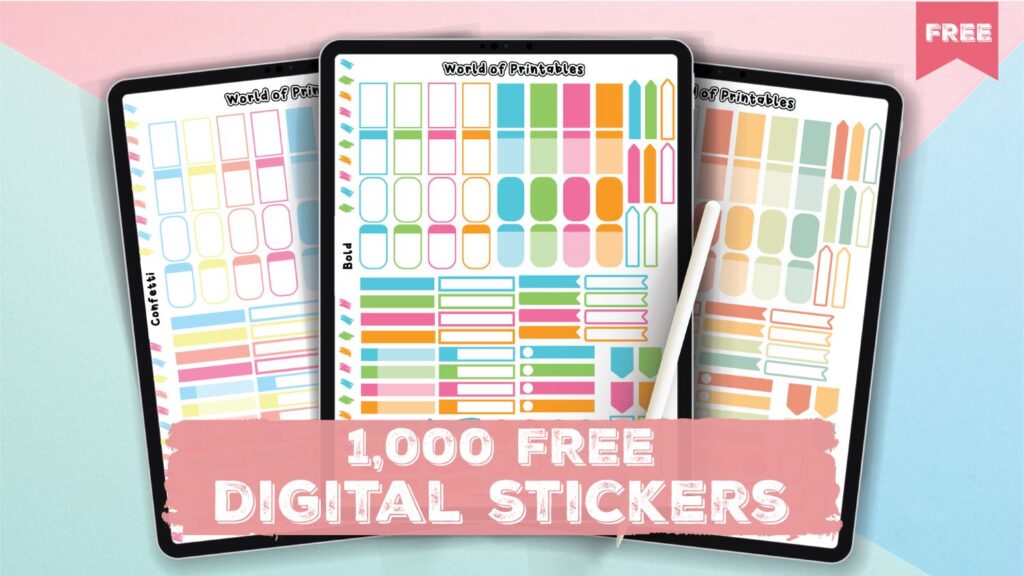 More stickers that you can use for free
Looking for more planner stickers? Check out our Stunning and useful stickers for your planner or bullet journal.
What do other people print after viewing this?
Get notified of our upcoming free printables – you're gonna love them!
If you love this post then please share it with your friends and family, pin it to Pinterest and show us your creations on Instagram.
Follow World of Printables on Pinterest
COPYRIGHT
The printables that you find here are the copyright of World of Printables – you cannot redistribute or sell any of these printables or templates, although you can link back to our website.