This printable bill of sale for vehicle is the perfect option if you want to transfer ownership of your motor vehicle.
It can be used as a document for the seller to keep a record of transfer of ownership and a record of proof of purchase for the buyer.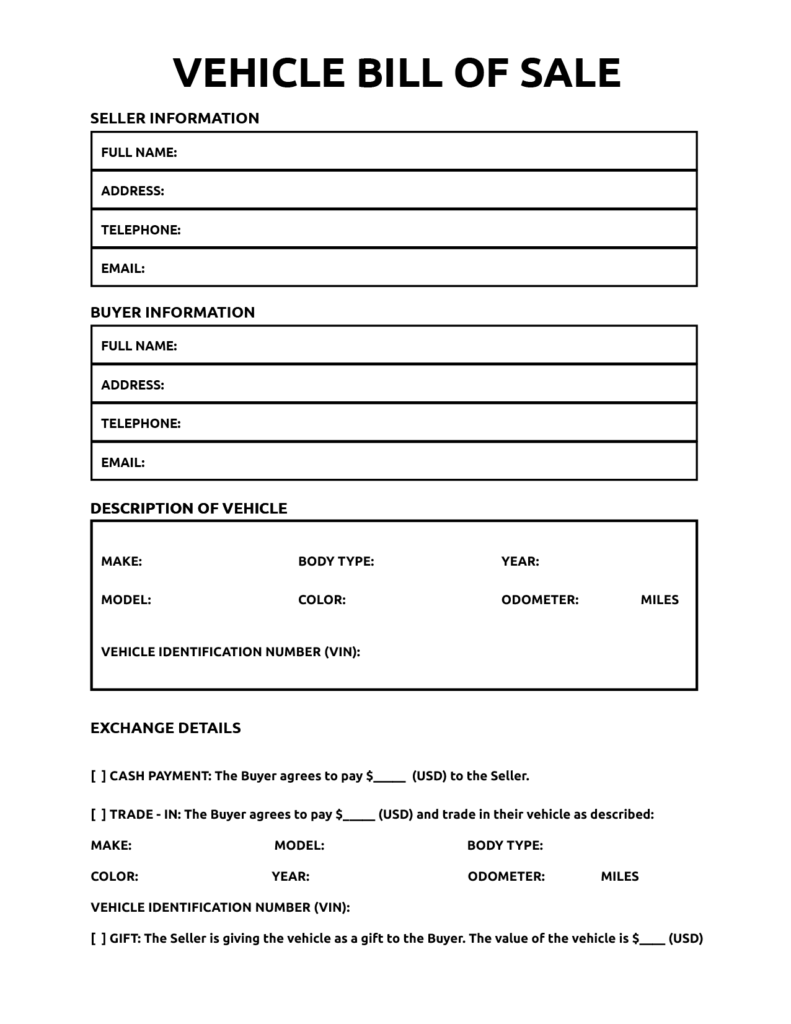 A car bill of sale template is better suited for the sale of a car rather than a generic bill of sale as it has specific requirements and details that you need to fill out.
These details include:
Name of seller and Buyer's name
Buyer information such as telephone number and email
The full buyer address such as buyer city, buyer state and buyer zip
Seller address such as seller city, seller state and zip code
Thorough description of automobile including vehicle identification number (vin), odometer reading
Remember to really careful and clear when you fill out the car bill of sale form and try to give the correct information to the best of your knowledge.
There are two versions of the bill of sale template and you can find them in PNG format or PDF.
Motor Vehicle Bill of Sale
There are two sheets to this bill of sale for vehicle and you need them both. The first sheet is where you will fill out any party information and the description and details of the vehicle that is being either sold, traded, or gifted.
The second sheet is where you will find the buyer and seller conditions including confirmation of the purchase price and payment method.
You will also find the Odometer disclosure statement which is one of the obligations when selling a car. You must confirm the actual mileage of the car to the best of your knowledge to the Buyer. This will also help protect you against any odometer discrepancy that may occur.
There is also a certificate of acknowledgment that is to be signed by a Notary public. Many states don't require a bill of sale to be notarized but it is a legal requirement in some states:
Louisiana
Nebraska
Maryland
New Hampshire
West Virginia
Montana.
The car bill of sale template prints on US Letter size or A4 paper. Simply click on the image or the PDF link of the bill of sale template and save it to your computer before printing.
Disclaimer: We do not offer any legal advice, nor are we qualified to do so. These free printable templates may be helpful to you but we ask you to get legal advice from a professional lawyer if you intend to use these for any transaction or legal purpose.
Vehicle Bill of Sale Template
I highly recommend using a vehicle bill of sale template when selling or transferring ownership of your car. It's a great protection to have that you can keep for your own records.
If you're interested in any of our other bill of sale templates then check them out:
What do other people print after viewing this?
Get notified of our upcoming free printables – you're gonna love them!
If you love this post then please share it with your friends and family, pin it to Pinterest and show us your creations on Instagram.
Follow World of Printables on Pinterest
COPYRIGHT
The printables that you find here are the copyright of World of Printables – you cannot redistribute or sell any of these printables or templates, although you can link back to our website.