Use these gorgeous water tracker stickers to track your water intake. Available free as both printable planner stickers and also digital planner stickers.
Drinking water is so important and everyone should be drinking their daily amount – me included. I'm not here to preach because I definitely go days, and weeks without drinking a single drop of water, substituting it for something tastier, but unhealthier.
Did you know that according to the New York Post, more than half of the American population doesn't drink enough water!? You would think that we would drink water as a given, but sometimes we are too busy, simply forget or just prefer to drink something else.
I realized that I am failing when it comes to my water intake, and I've decided to challenge myself and take small steps to up my daily water intake.
That's why I've created these cute water tracker stickers to help me on my mission to get healthier by drinking more water.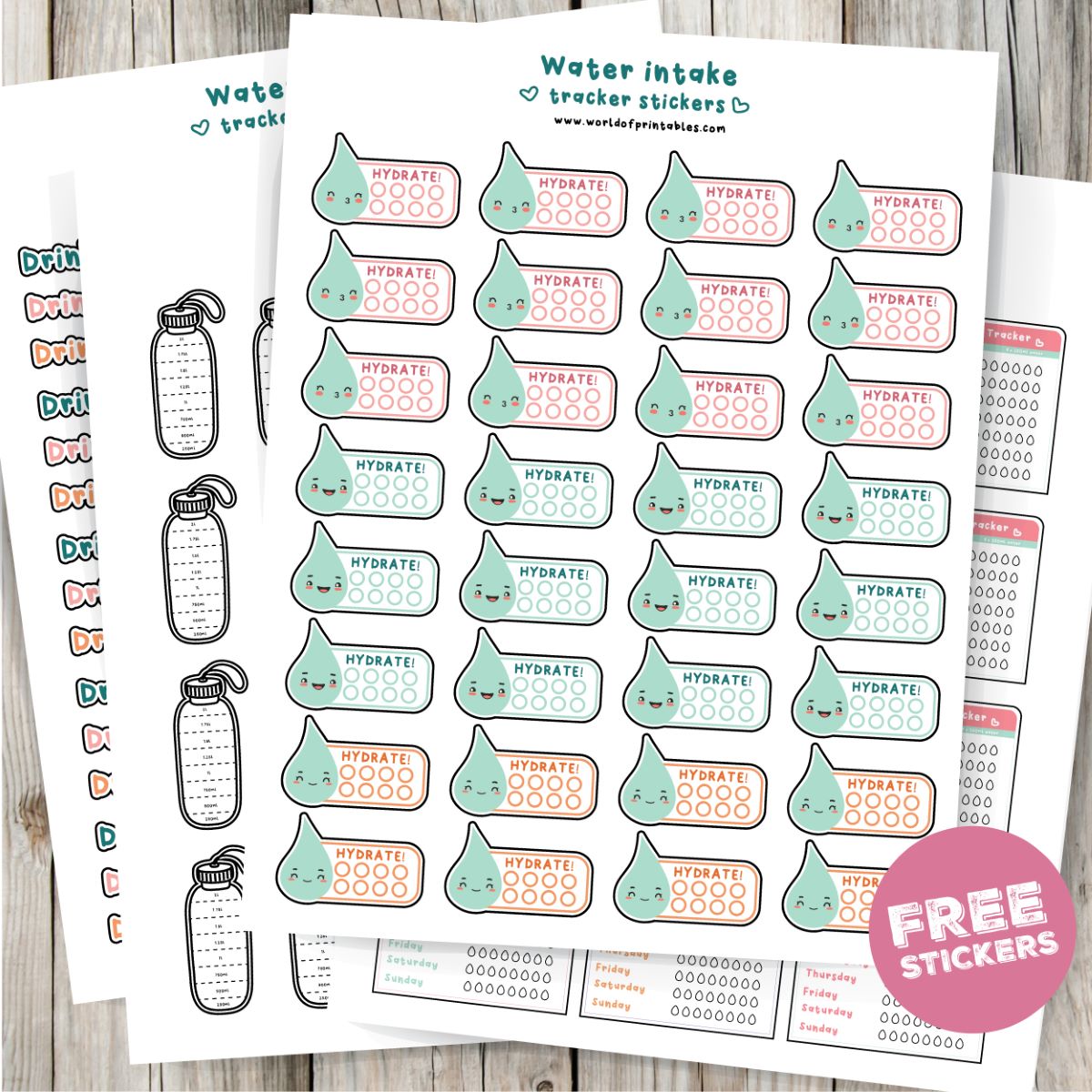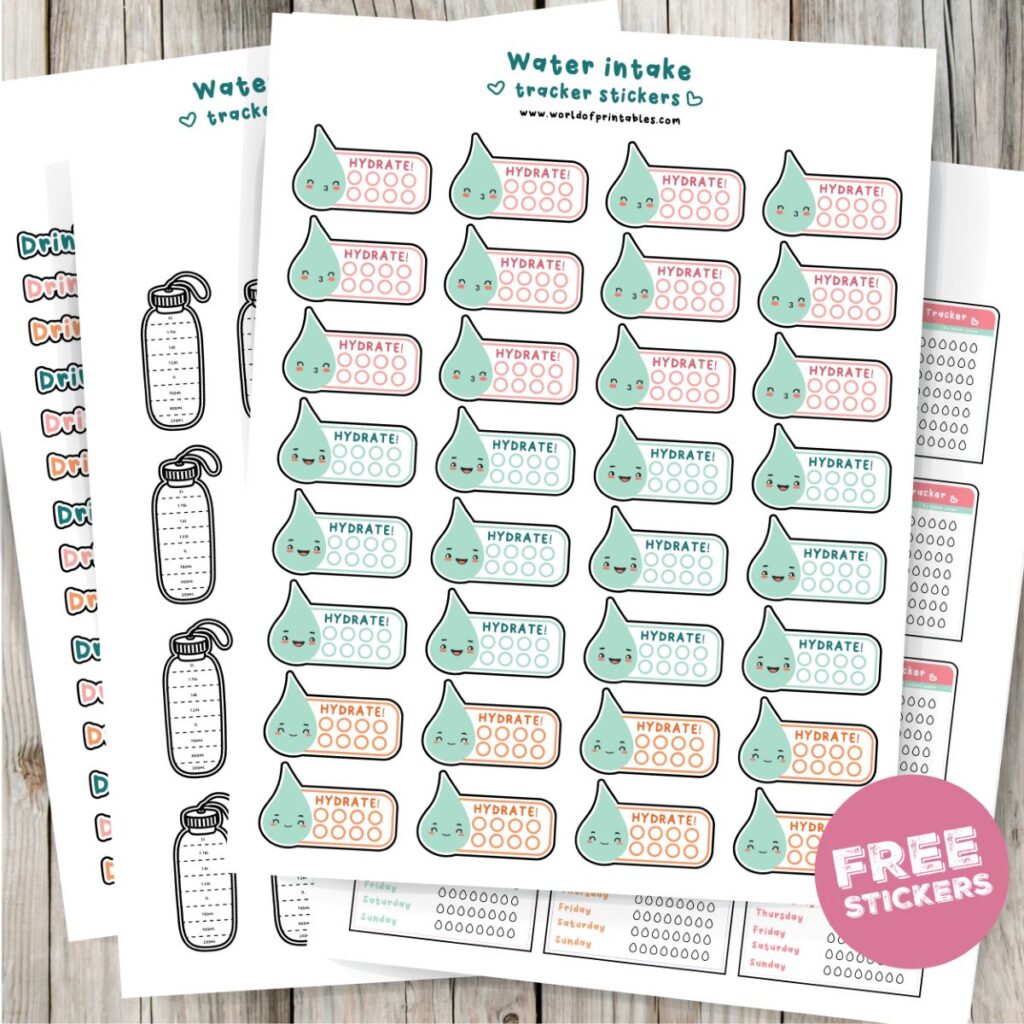 The cutest stickers to help you increase your daily water intake.
Use these stickers to help you track your daily water intake. Print them or use them digitally with your favorite planner and you'll be able to quickly see at a glance the amount of water that you've consumed each day.
Quick Tip: Are you looking for a new planner? We've got dozens of printable planners and digital planners that you can use for free right now.
I have designed these stickers as a printable and digital set so you can choose the type that suits your planning style.
Also, check out our Printable Habit Tracker for your planner!
Printable Water Tracker Stickers
Choose your favorite water tracker stickers for your planner! There are four different styles and ways to track your water intake so simply choose the ones you like the most.
To save these water stickers, click on the sticker sheet you like and save it to your computer. Alternatively, you can save these as a high-quality pdf sticker pack – just enter your email below to access the link!
All printable and digital files are for personal use only.
How to Print Planner Stickers
My favorite way of using printable planner stickers is by cutting them on a cutting machine. I use the Cricut Explore Air 2 (check it out – see the really funny review by someone whose wife really loves the Cricut!).
The cutting quality on the Cricut is precise and what I need for my planner stickers combined with the JOYEZA Premium Printable Vinyl Sticker Paper. It's a matte paper that prints and cuts beautifully.
You can also print these planner stickers on sticker paper and cut them by hand.
For cutting stickers by hand, opt for some craft scissors so you can be precise!
Digital Water Tracker Stickers for GoodNotes 5
We also have these digital water tracker stickers pre-cropped and ready to go for your digital planner! These have been designed to work with GoodNotes 5 but if you have another planner app, feel free to try them out.
Get the Printable Water Tracker Sticker PDF Bundle
To get these printable water tracker stickers in one convenient high-quality printable sticker bundle. See how to get your passcode below.
Get your download code
Get your passcode to download these freebies and many of our premium freebies throughout our website.
You'll find the freebie code displayed in the website videos on this page and other pages throughout our website. If you can't see the videos, try disabling your ad blocker and refresh the page.
More free planner stickers
Looking for more planner stickers? Check out our Stunning and useful free planner stickers for your planner or bullet journal.
What do other people print after viewing this?
Get notified of our upcoming free printables – you're gonna love them!
If you love this post then please share it with your friends and family, pin it to Pinterest and show us your creations on Instagram.
Follow World of Printables on Pinterest
COPYRIGHT
The printables that you find here are the copyright of World of Printables – you cannot redistribute or sell any of these printables or templates, although you can link back to our website.