If you're planning to lose weight and you're looking for an easy way to track your weight loss over time then you'll love this weight loss tracker template set.
With this weight loss tracker, you can set your current weight and your ideal goal weight. You can also set milestones to give you steps to work towards your overall goal.
With this weight tracker, you can monitor your weight as often as you want to and log your weight each time easily.
Keep this in your planner, binder, or anywhere you like – I keep mine on my fridge, then use it to track your weight loss, stay motivated and reach your goal weight.
How to use this weight tracker template
I use this very printable whenever I want to lose a few lbs which I have to admit, is something that always creeps up on me from time to time when life gets in the way. But this helps me set new goals and stay focused and I have to admit, whenever I use this printable weight tracker template I always stay motivated and on track.
Sections of the weight tracker template:
Starting weight
Goal weight
Milestone 1 – 4
Dates
Weight log
Amount lost
Amount gained
Notes
Progress tracker
I specifically love the progress tracker part of this template as I can cross off little achievements every few weigh-ins, which really helps keep me motivated and on track.
It's also great to write notes in with each weigh-in as I'm able to see what contributed to weight loss or gains and adjust accordingly or avoid those naughty things that are having a negative effect on my goals.
Make sure you use a good set of scales to weigh yourself with, I love these weight scales from Amazon as they're so precise and are even wireless so will work with your phone and have an app that will display your weight.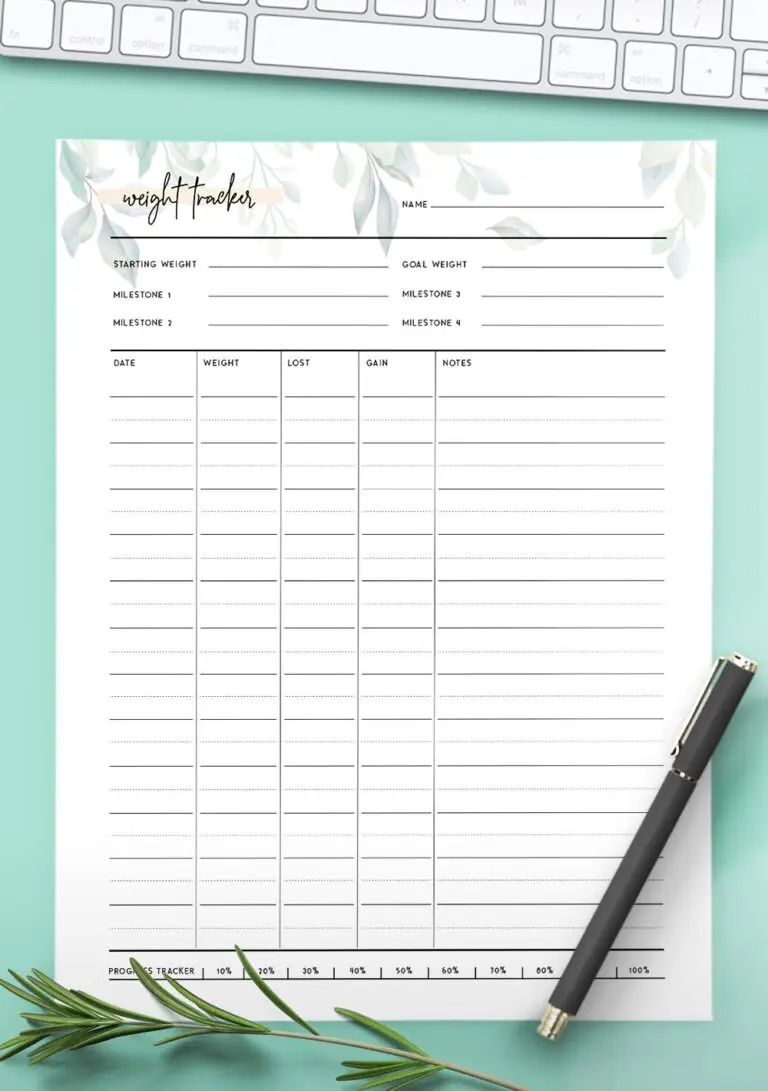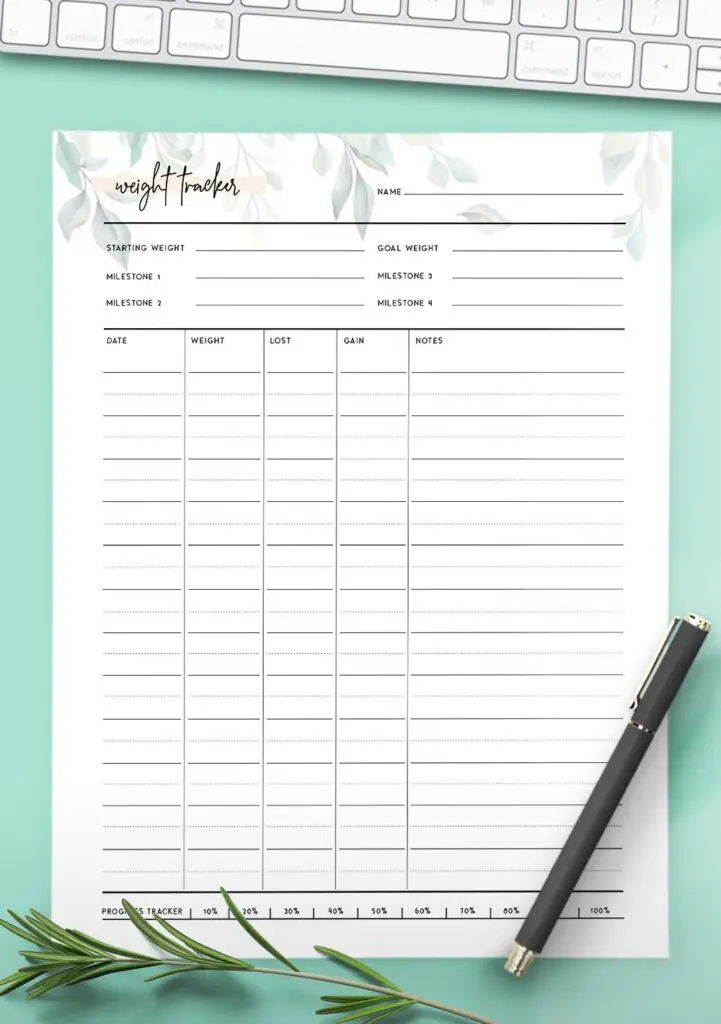 I recommend printing one-off and planning your weight goals and milestones which will kick start your motivation and give you a solid start date to start working from.
There's even this Awesome Diet and Exercise Tracker on Amazon which is designed to work over 90 days and is a very humorous tough love diet and exercise planner which is designed to support you in your weight loss goals!
If you're like me and like working out at home, there are many great YouTube exercise channels like Blogilates that will give you free classes you can exercise along to in the comfort of your own home. Just switch them up, stay motivated and keep on keeping on!
Start your weight loss tracking today
I really hope you get and use this free printable weight tracker and if it helps you with your weight goals, please let me know, I love hearing how our printables are helping people in positive ways with their lives.
This weight loss tracker template comes in four different styles – botanical, cursive, soft, and classic and you receive all four of them when you get the pack.
You can also find the weight tracker included in our must-have Ultimate Life Planner Bundle which has over 400 templates designed to help you organize your life. If you want to manage your meals, take control of your finances, lose weight, get fit and so much more, then you'll definitely benefit from our ultimate planner bundle.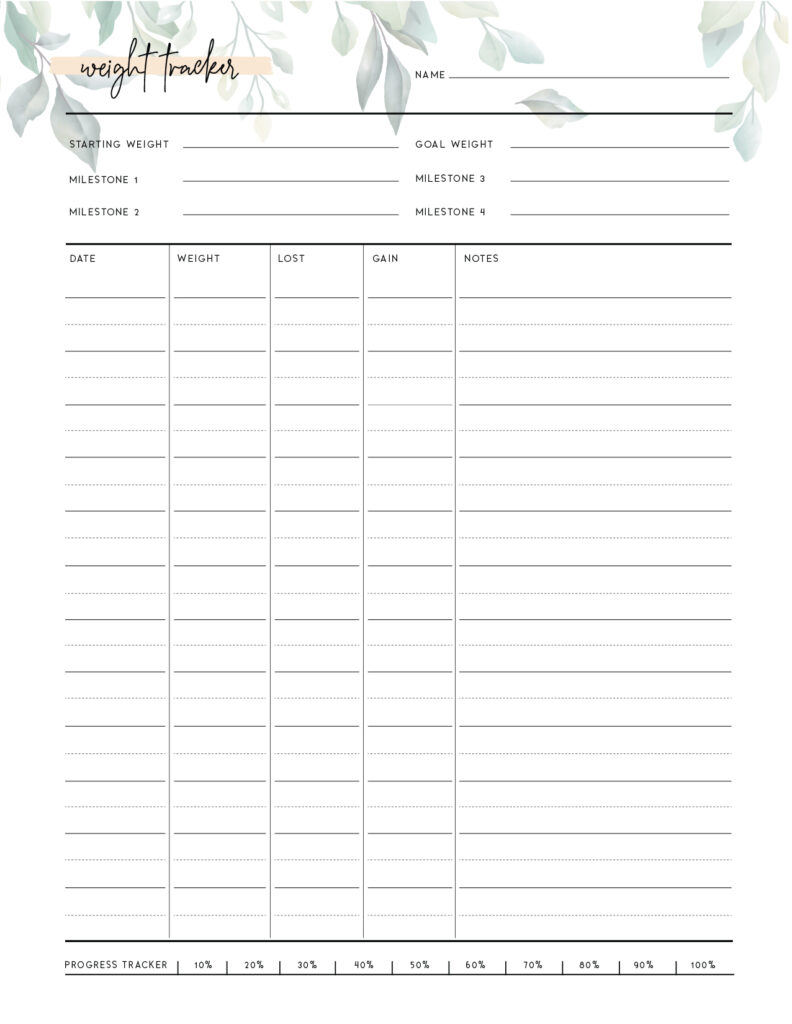 Get the weight loss tracker template free printable
To get the weight loss tracker template free printable, open the image above and save it to your computer.
Alternatively, for the highest quality version, use the button below to visit our product page. Use the coupon code displayed to get it for free.
Remember to look through the rest of our planner printables, we've got printables for every aspect of your life!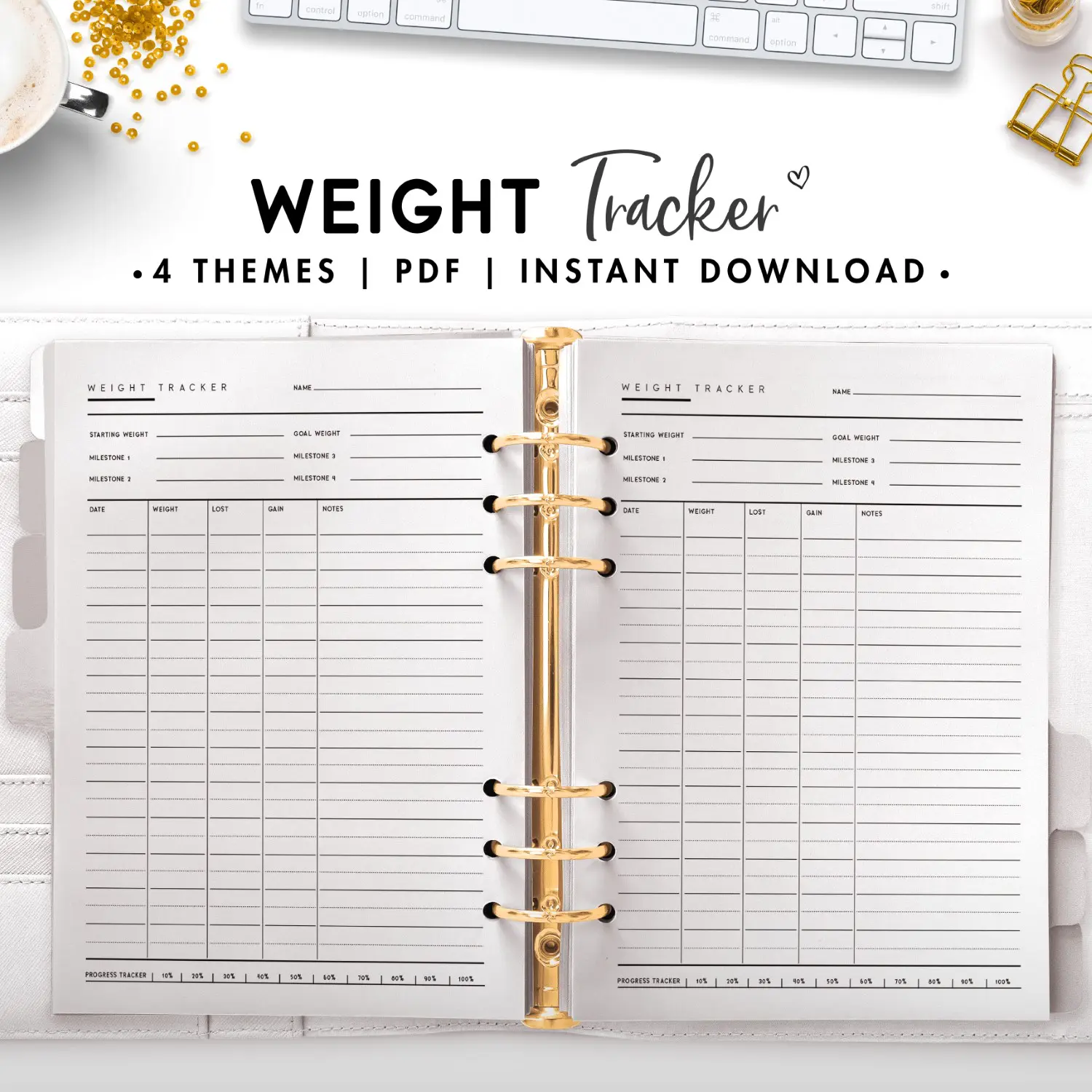 More awesome printables and templates from World of Printables
We've created a huge amount of daily planner templates and weekly planner templates that will help you manage your days and weeks better than ever. Be sure to grab as many as you can along with our many other schedule templates while you're here.
Remember to look through the rest of our planner printables, we've got printables to help you manage every aspect of your and your life!
Find 100's more stylish planner templates that you'll love
Some of our recent planner templates. Find many more Printable Planner Templates that will help you get on top of your life with ease. You'll love them.
Follow World of Printables on Pinterest for more