If you love trying new things when it comes to meal making or baking, then you'll likely be browsing many foodie sites looking for those perfect recipes to try next. So what a perfect way of keeping track of those recipe ideas than to use this recipes to try template.
With this recipe ideas template, you can keep track of all of those great recipes you find, along with the source (website, book, etc) and the ratings and difficulty.
It's the perfect way of going back to the things you have found whenever you're in the mood for knocking up something special or new.
Simply get and print our our recipe tracker template and start saving those perfect recipes as you find them.
This recipes template has enough space to log the information of up to 30 recipes per sheet. Once you get it, you can print as many copies as you need.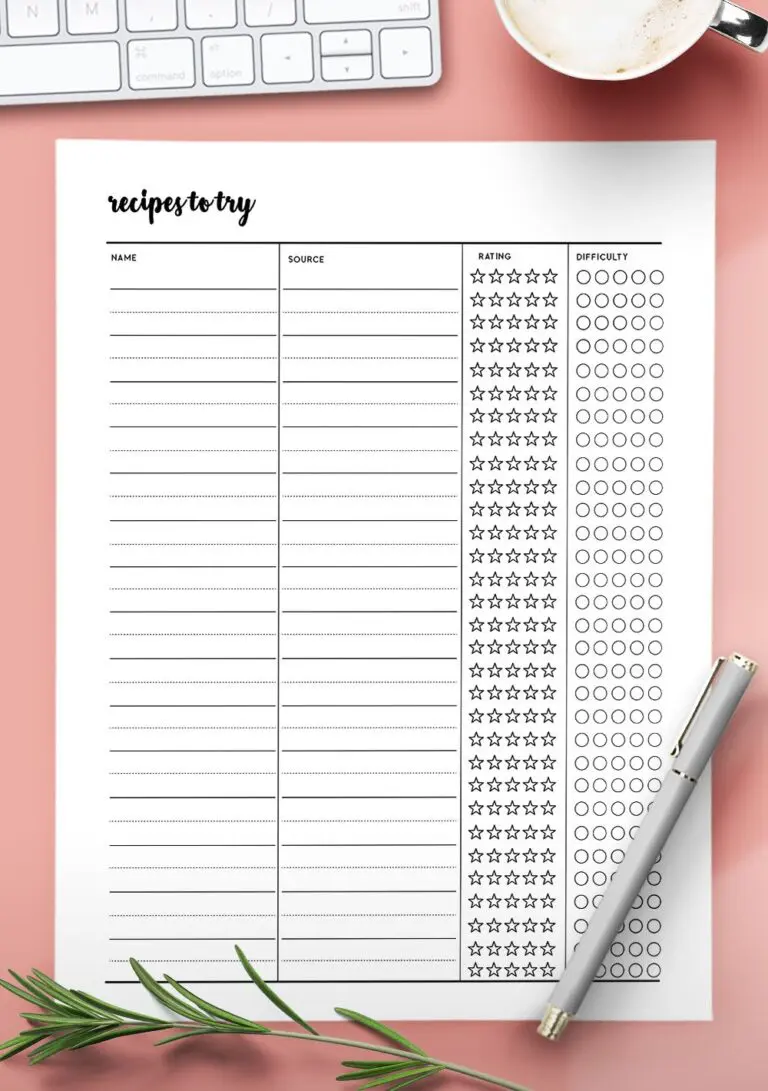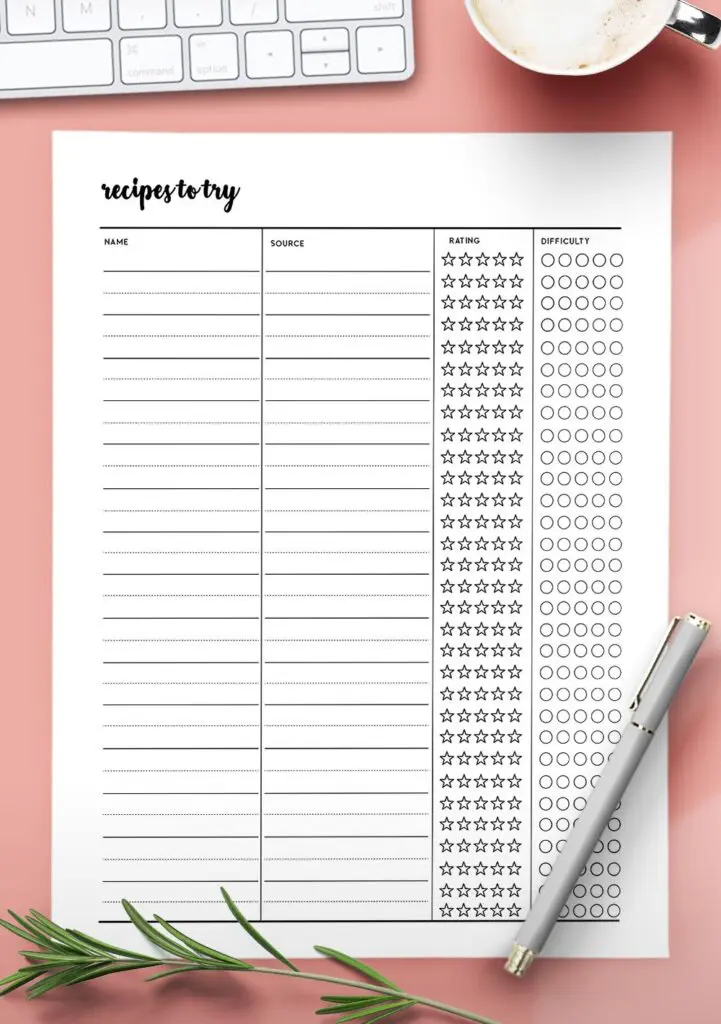 How to use this recipe tracker
Once you've printed this template, you can simply use it as you browse recipe sites. Just write down the recipe you find, along with the website and you'll be able to quickly find it again by using this printable.
You don't need to give it a rating, but many websites and blogs have ratings given by people who've used them, so it's a great way to see at a glance what's been recommended by others.
You can also note the difficulty if one is given, or decide for yourself how difficult the recipe looks. If you're looking for something quick and easy then choose one of the recipes you've logged with a low difficulty. If you're looking to make something amazing, but slightly complex, then choose something that's got a higher difficulty. The choice is yours!
The recipes tracker template comes in four different styles – botanical, cursive, soft, and classic and you receive all four of them when you get the pack.
You can also find this recipes to try printable included in our must-have Meal Planner Bundle. Check out our many other templates if you like planning, or just love great-looking free printables!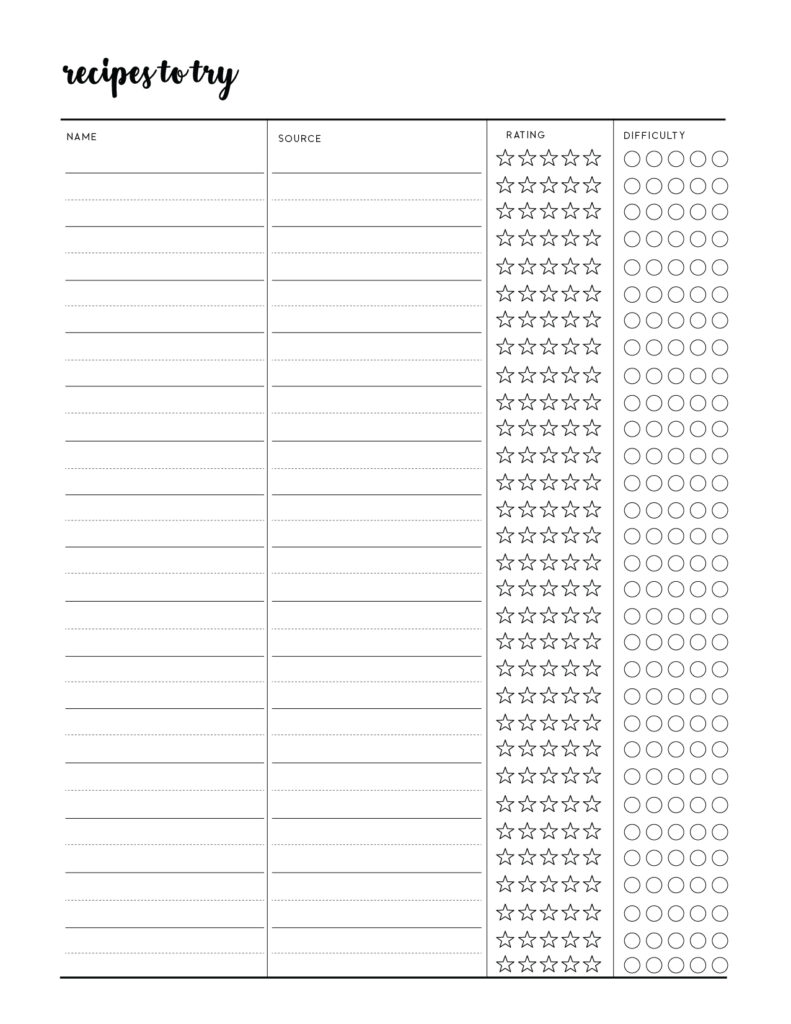 Get the free recipes to try template
To get the recipe tracker template for free, open the image above and save it to your computer.
Alternatively, for the highest quality version, use the button below to visit our product page. Use the coupon code displayed to get it for free.
Remember to look through the rest of our planner printables, we've got printables for every aspect of your life!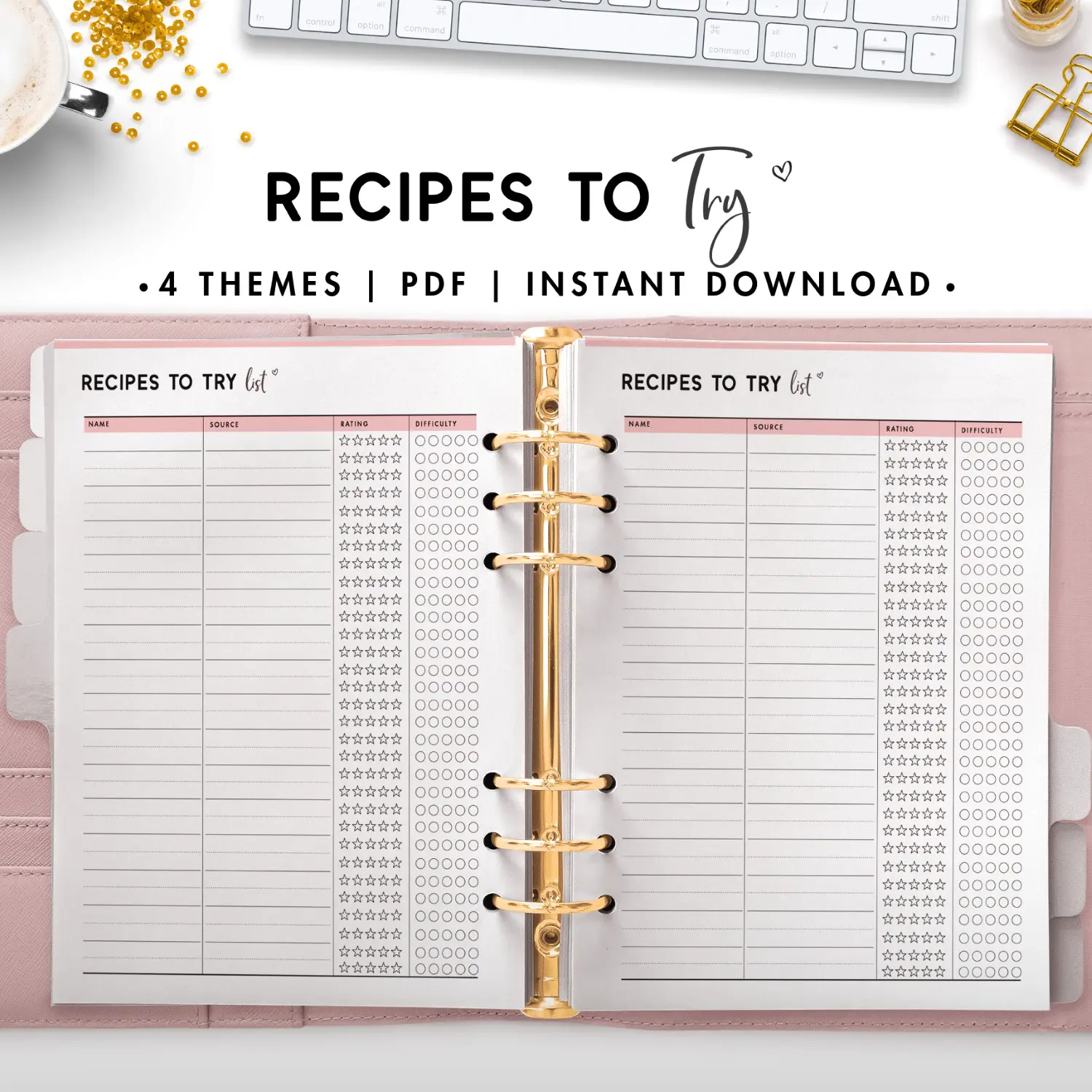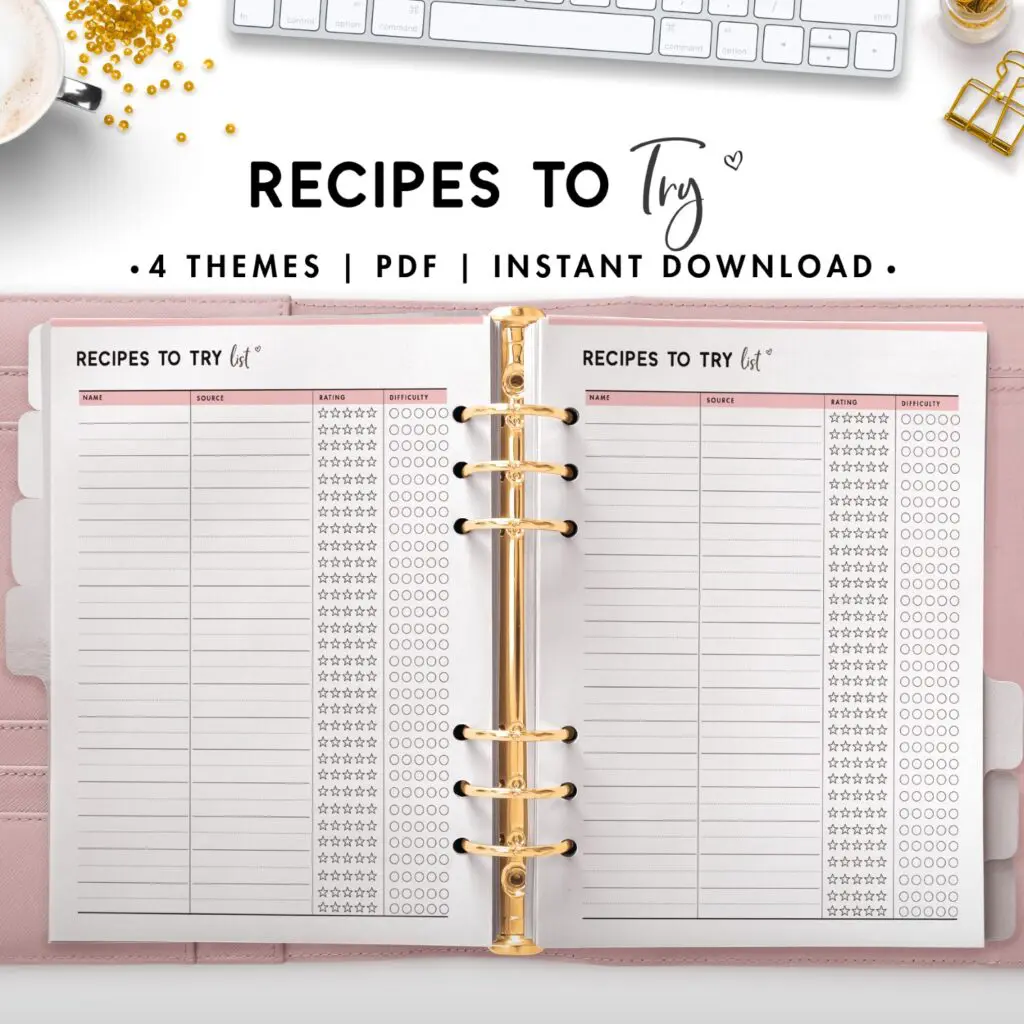 More awesome printables and templates from World of Printables
We've created a huge amount of daily planner templates and weekly planner templates that will help you manage your days and weeks better than ever. Be sure to grab as many as you can along with our many other schedule templates while you're here.
Remember to look through the rest of our planner printables, we've got printables to help you manage every aspect of your and your life!
We think you'll find these very useful:
More free meal planner templates to help you stay organized
Some of our recent meal planner templates. These will help you plan your meals for the week ahead.
---
Find 100's more stylish planner templates that you'll love
Some of our recent planner templates. Find many more Printable Planner Templates that will help you get on top of your life with ease. You'll love them.
Follow World of Printables on Pinterest for more