Looking for a blank recipe book that is easy to use? Then look no further! This printable is full of everything you need, and pretty enough to give to your mom!
This printable recipe book is the perfect way of storing and organizing all of your favorite recipes in one place.
Use this blank recipe book to organize your favorite family recipes together in one place. The blank recipe pages allow you to create your own personal cookbook.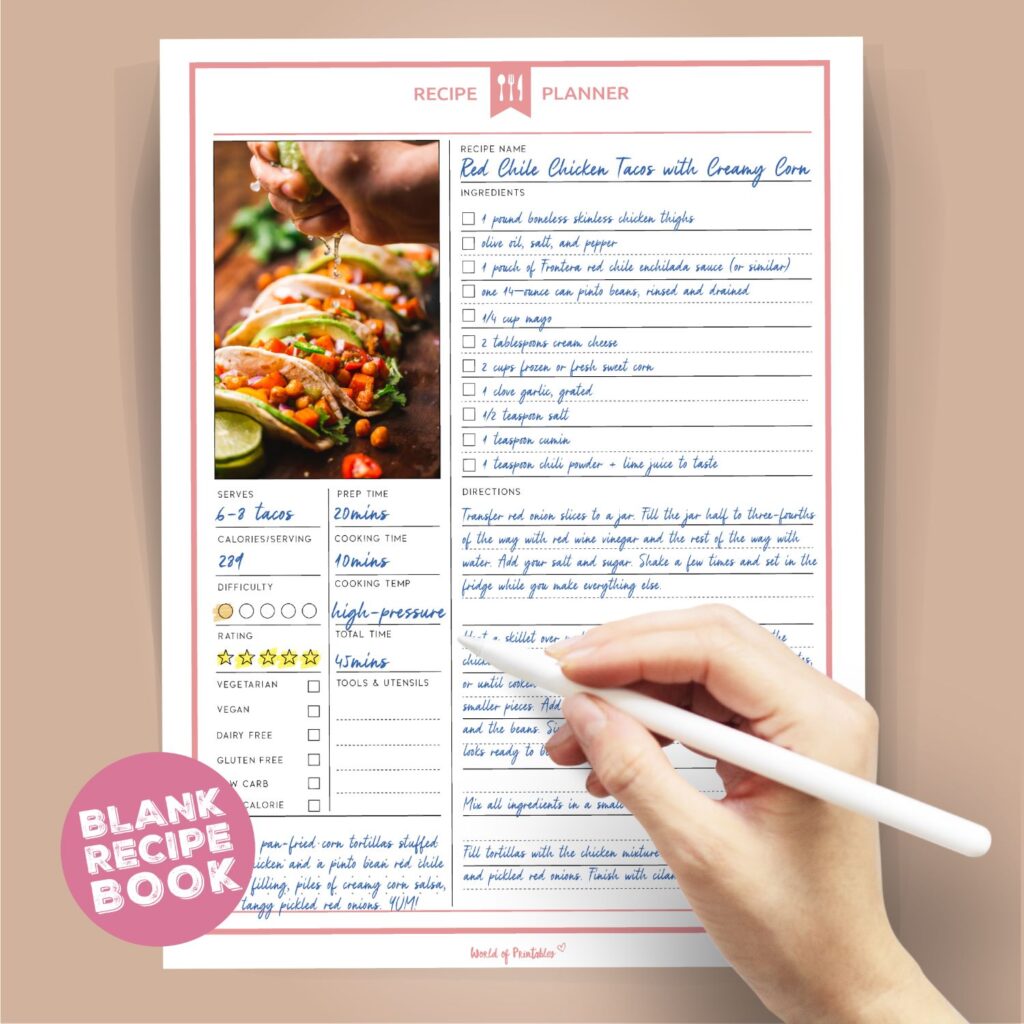 This blank recipe book includes many useful pages. You'll find beautiful printable cookbook covers, table of contents, recipe blank pages, meal planners, and more. You'll also find a kitchen conversions chart, grocery list, kitchen inventory, food journal, family favorite recipes, index pages, and more.
This blank recipe book is the perfect way to make your own recipe book. You can fill it with recipes that have personal meaning. These can be your favorite recipes, keepsake recipes, and old family favorites. It's also great for dishes you've made for special occasions and so much more.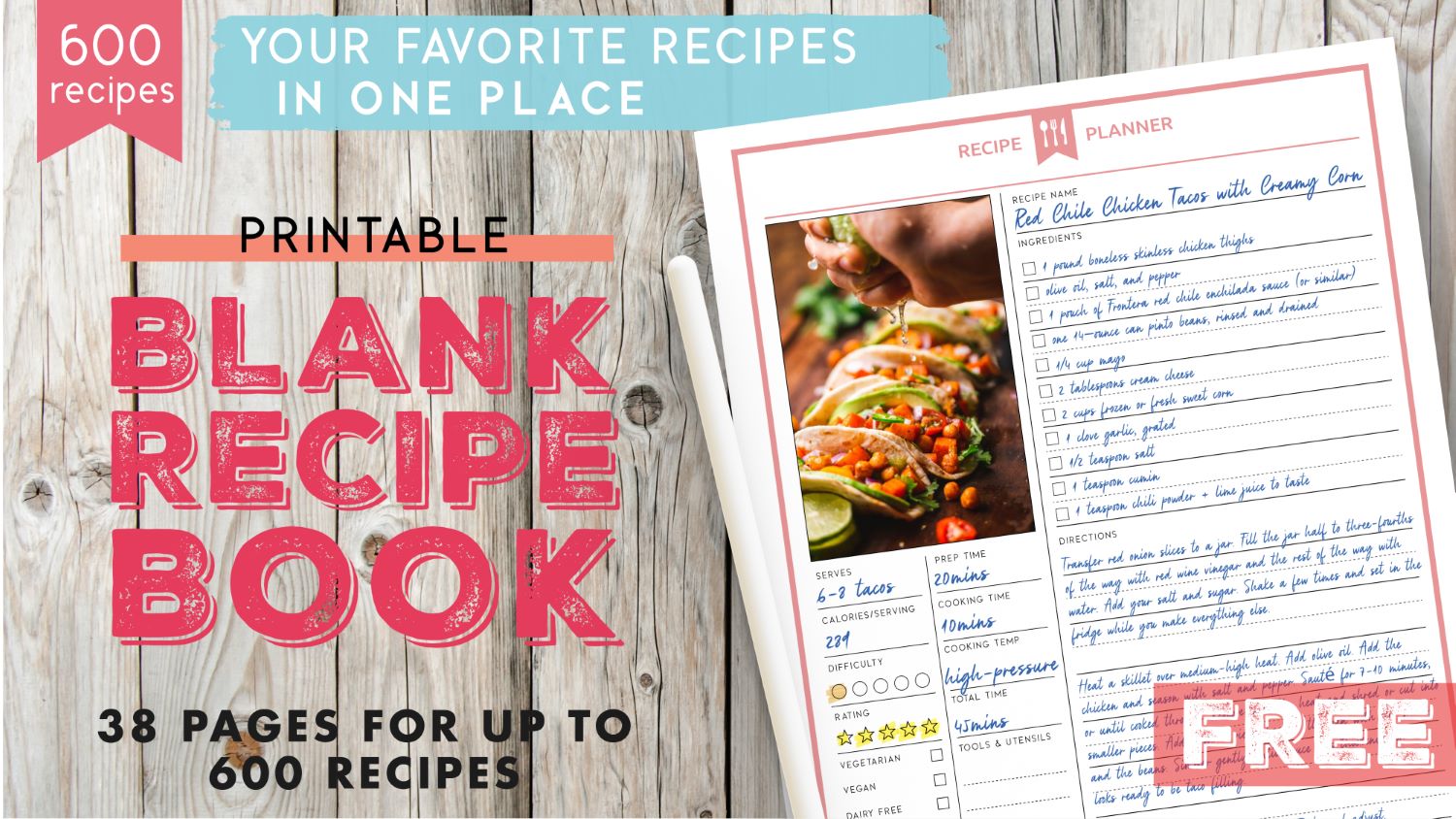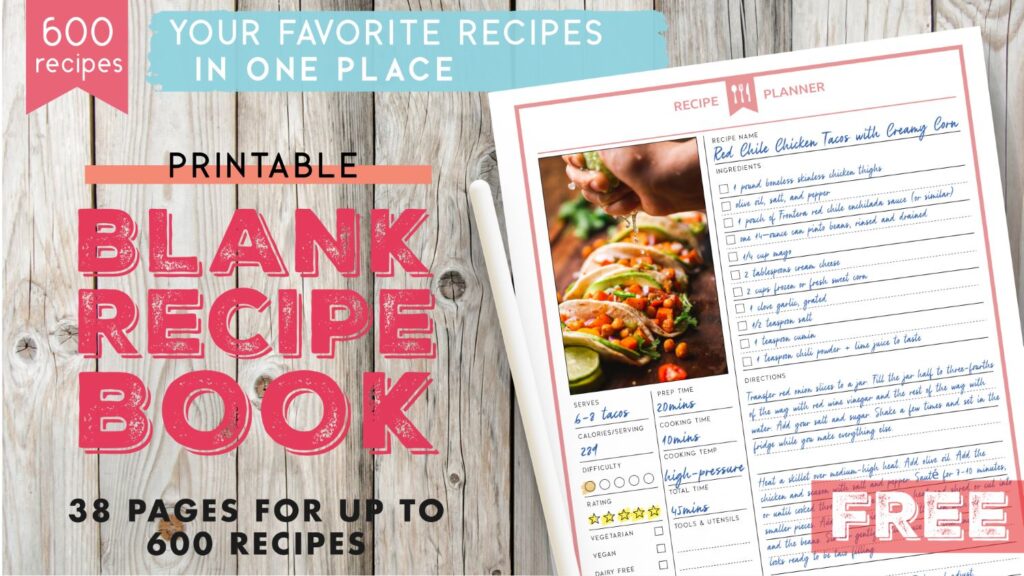 Free Blank Recipe Book
If you are in need of your own personal cookbook full of those special recipes, old recipes passed down through generations, and your own recipes and personal notes, then this blank recipe book offers you template pages to do all of that and more.
The recipe page is easy to use and comes in two different styles. The recipe templates offer plenty of space to note down various details of each recipe. This includes space for the ingredients, the method for making the dish, difficulty ratings, nutritional info, and an optional picture. There is no better way to store a new recipe!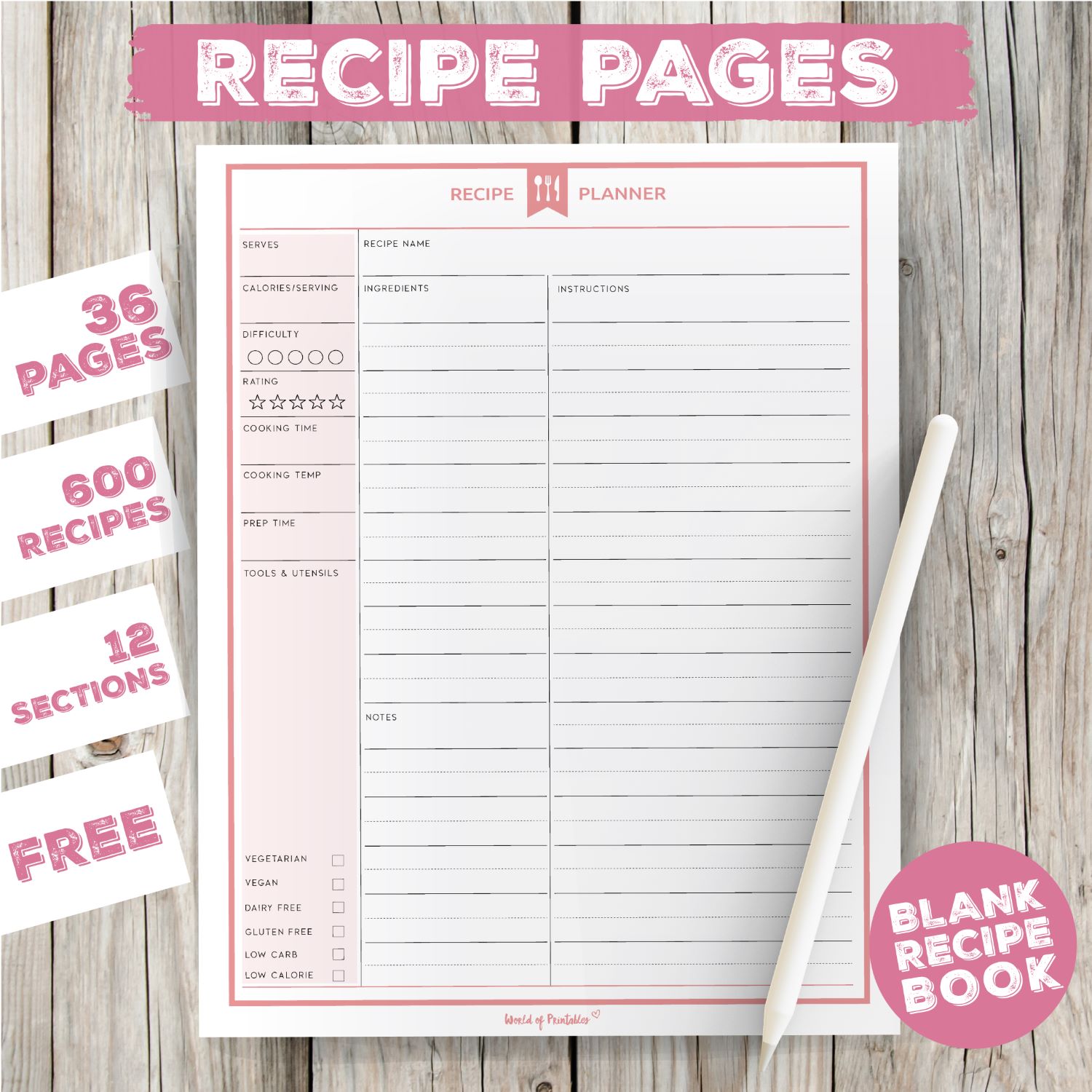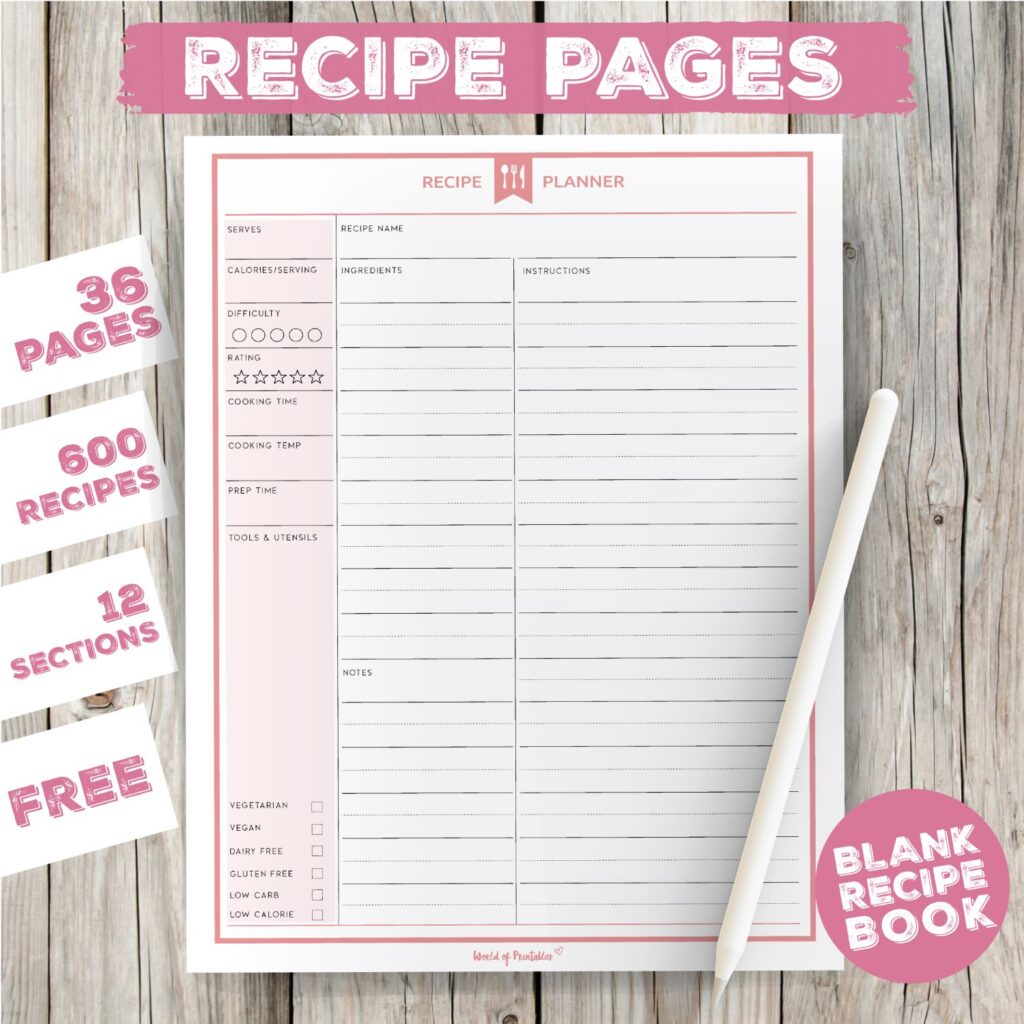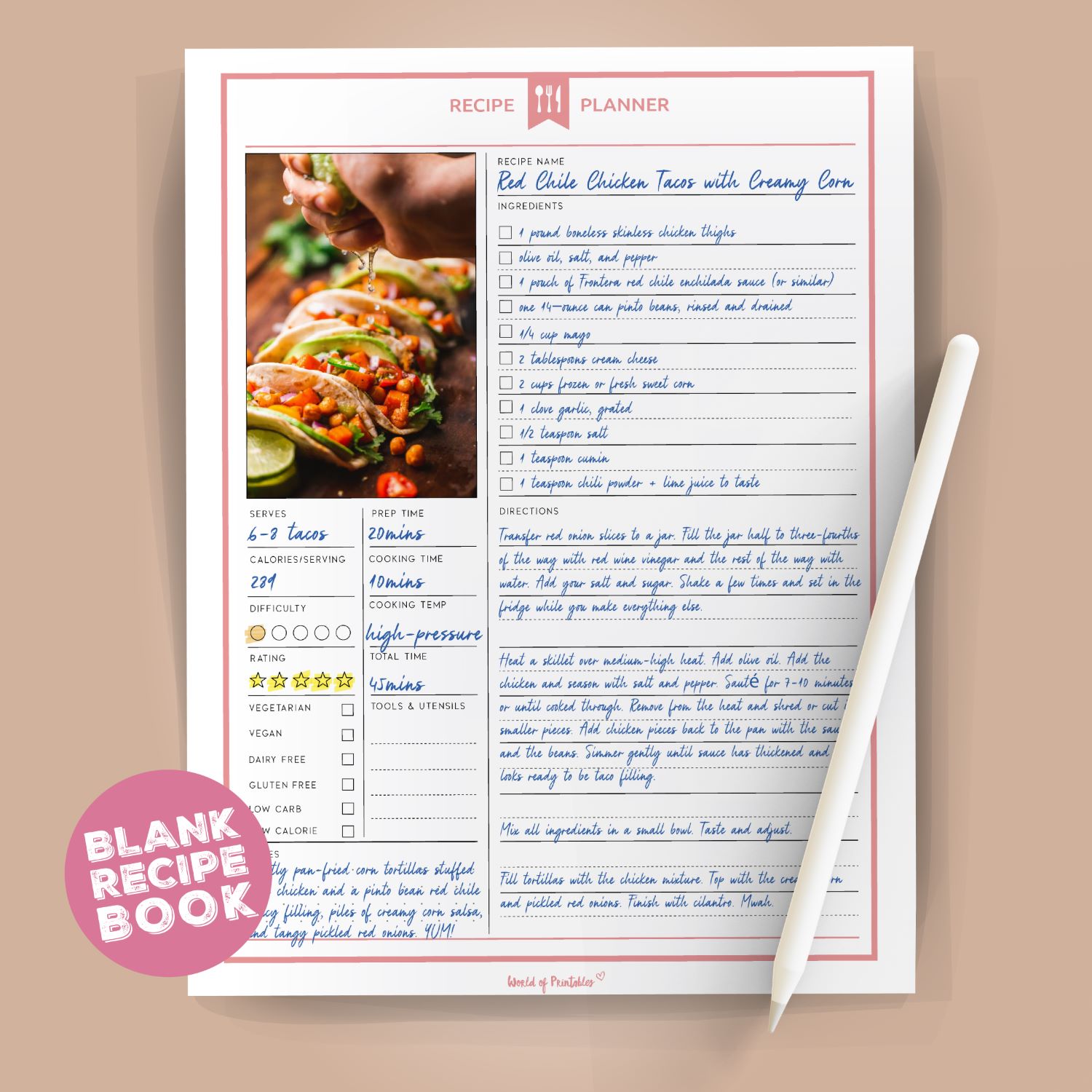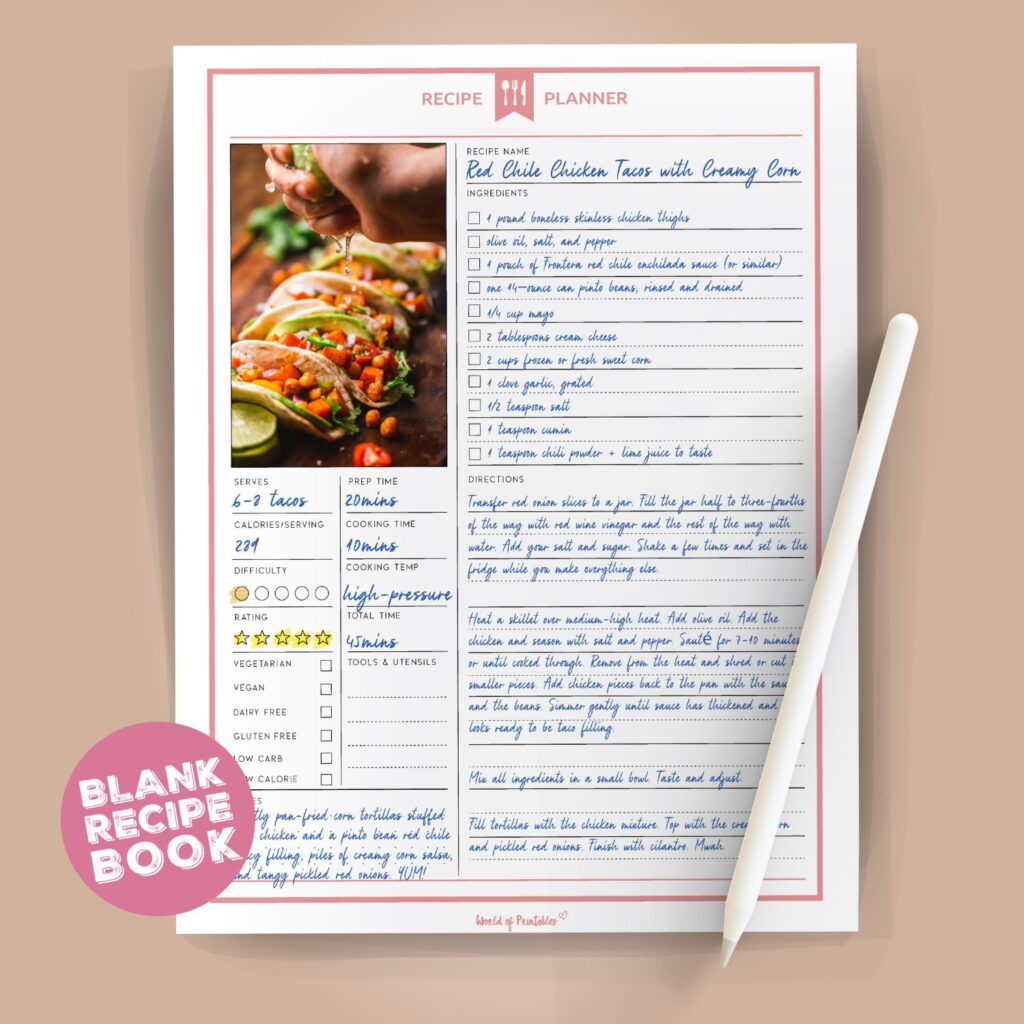 This recipe book allows you to constantly build and grow your recipe collection. Along with the recipe binder printables you get included, you can always save your favorite recipe printouts and store them alongside your blank recipe pages.
Just hole punch the recipe printouts and store them under the relevant dish category within the recipe book.
Recipe Book Printables
This blank recipe book contains many beautiful pages for organizing your recipes.
You'll find 38 useful pages including:
Favorite family recipes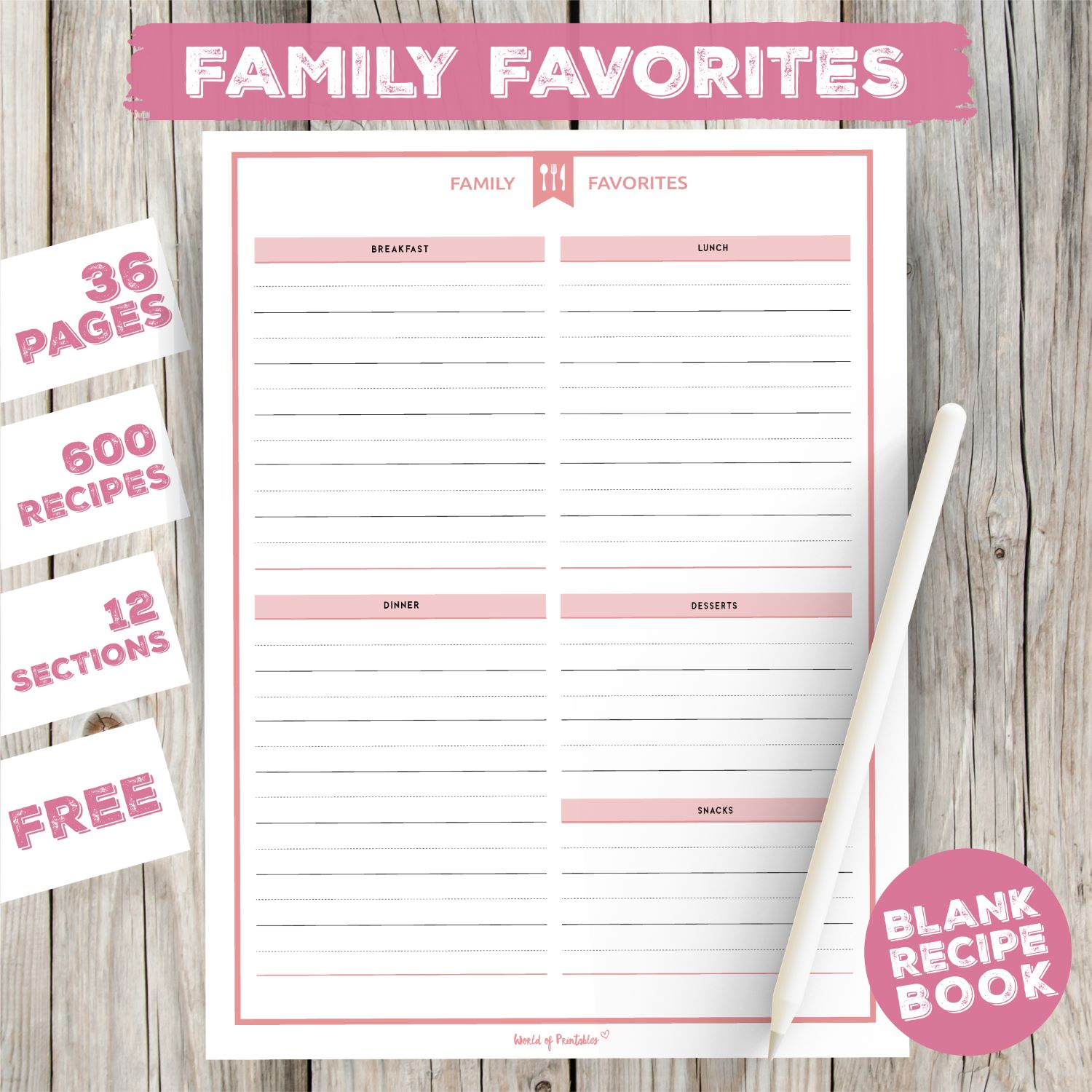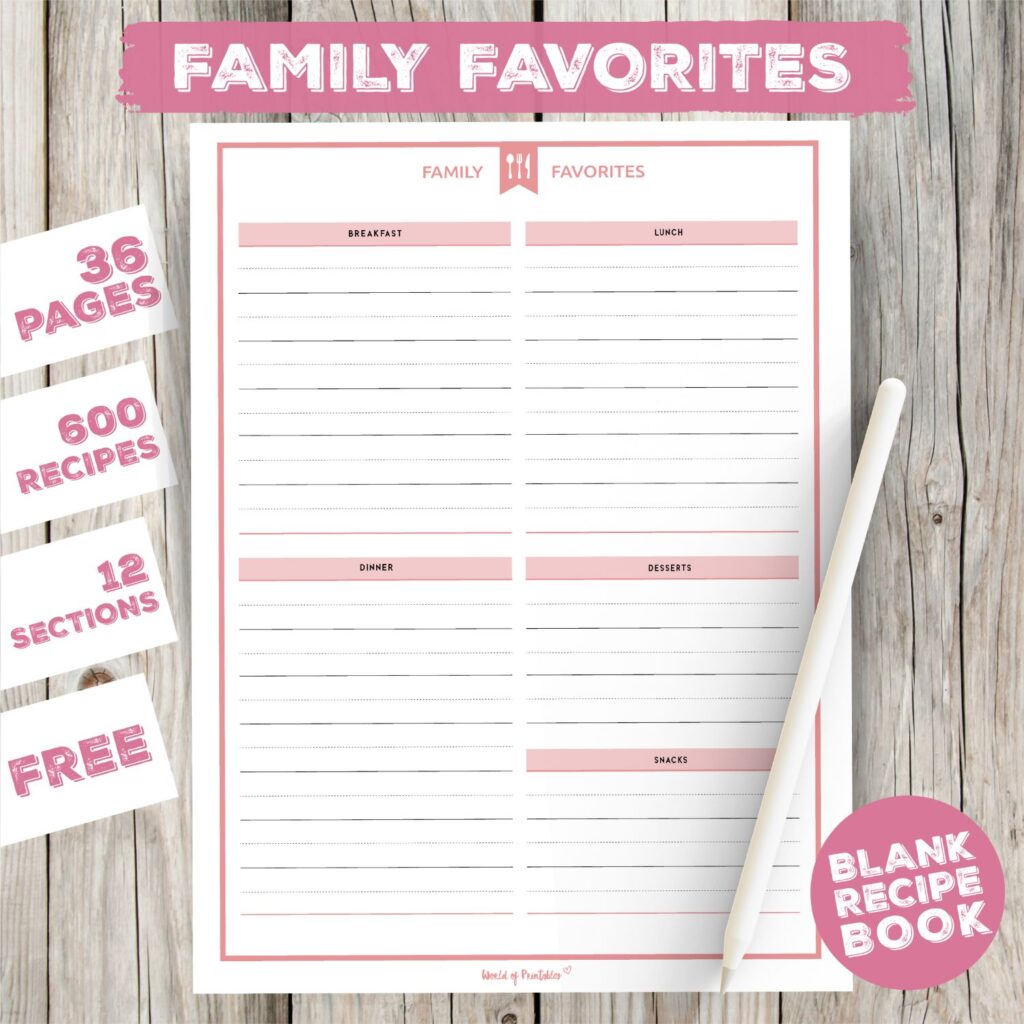 The favorite meals page of your printable recipe book is a great way to keep a note of all of the recipes your family loves the most. Kids love getting involved with choosing their favorite recipes too. This free recipe book is a great way to get kids involved at mealtimes.
Use the favorite meals page to your full advantage. Having a note of your favorite recipes in one place helps you save so much time. You won't need to ponder over what to cook and you will know exactly what recipe you are looking for. Whether you're looking for main dishes, soups, or cupcakes, it's never been easier to find your favorite dish.
The family favorites meal page is split into different sections. You can write the recipe's name based on the dish categories, keeping everything organized.
You will find plenty of space to note down your family's favorite appetizers, breakfast, lunch, desserts, and more.
Kitchen Conversion Chart
A kitchen conversion chart is one of my top recommendations for any recipe book. It is such a useful tool that can help make cooking or baking a breeze – especially if you are in need of substitutions!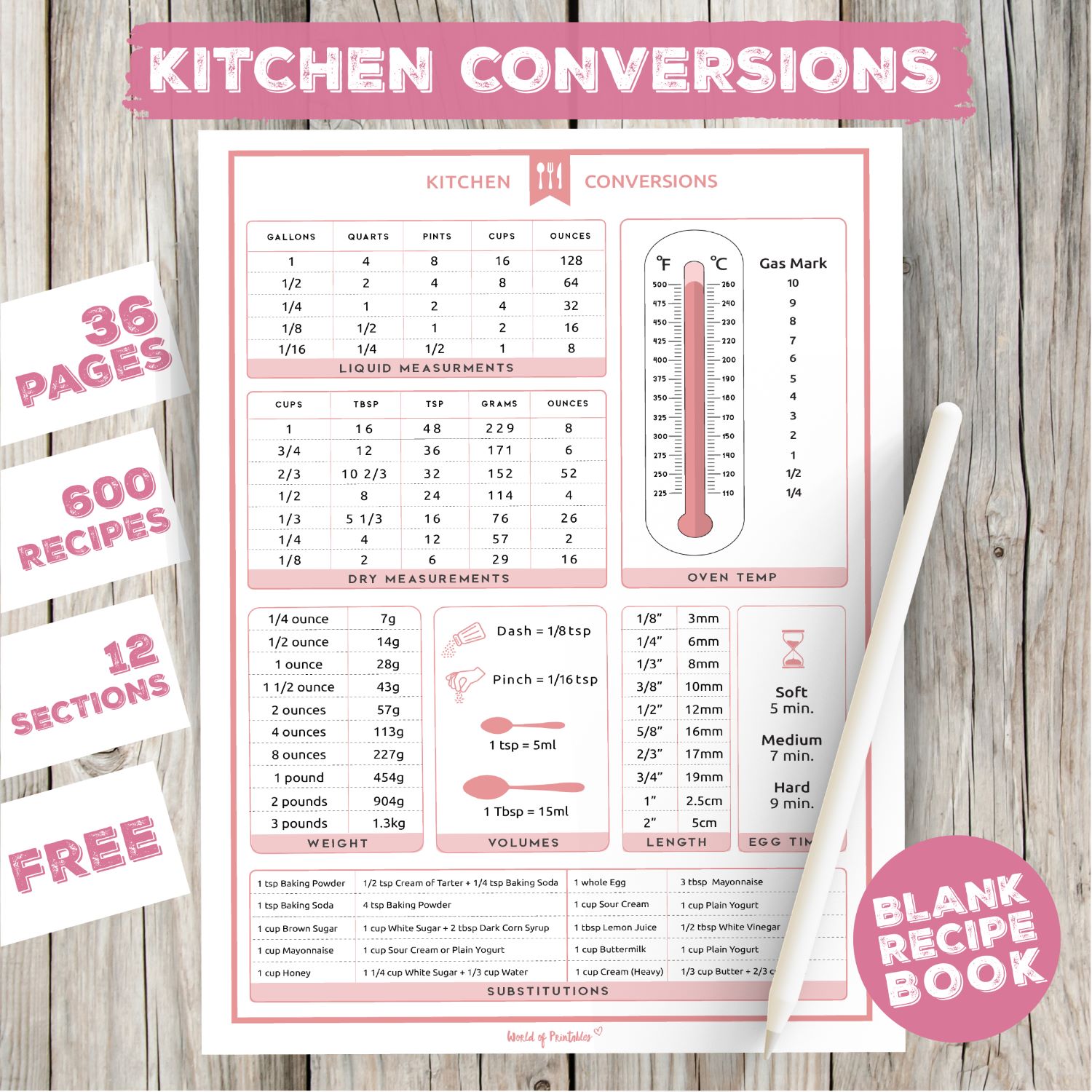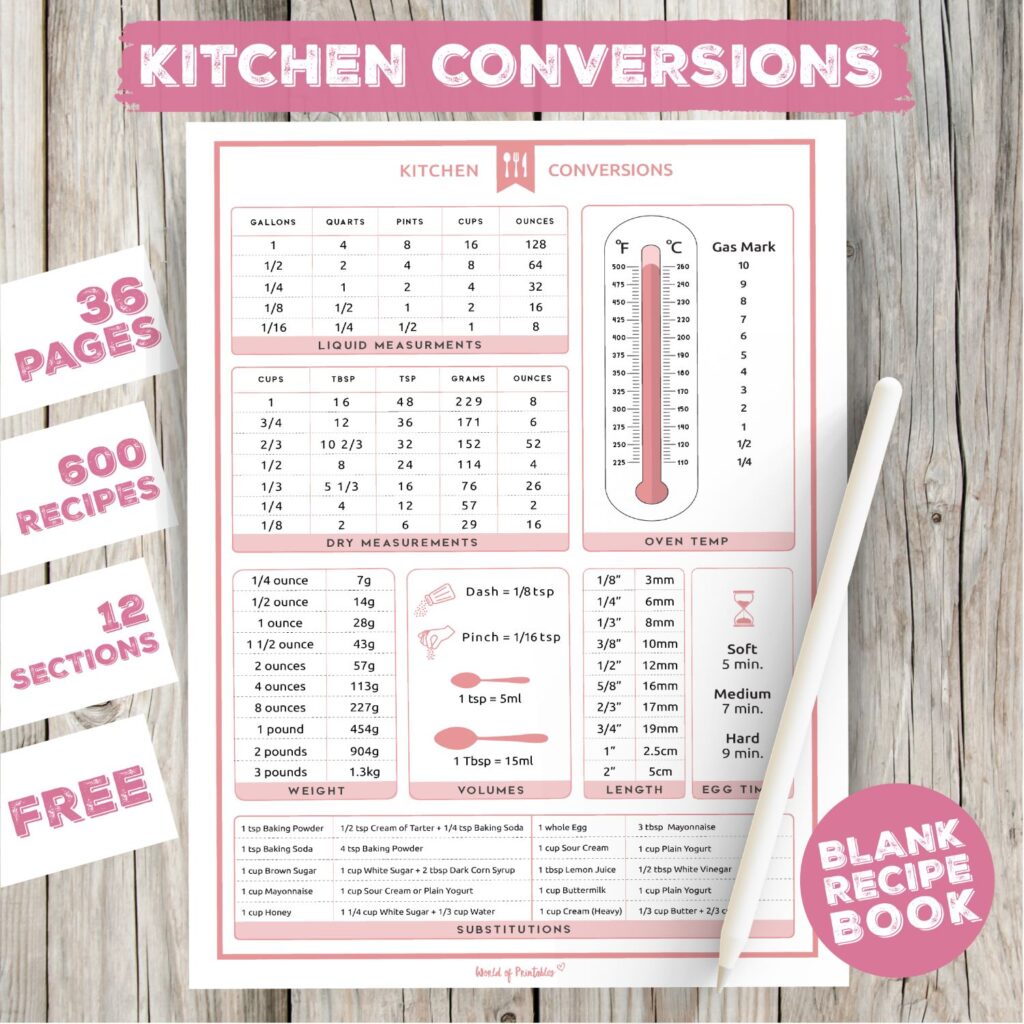 The kitchen conversion chart offers great substitutions for ingredients you might not have, allowing you to still make the best cakes and pies in town! It also tells you the different measurements you need for cooking or baking.
Meal Planners
There are also two meal planner pages included in your printable recipe book. There is a daily meal planner and a weekly meal planner that will help you plan your meals in advance and save time.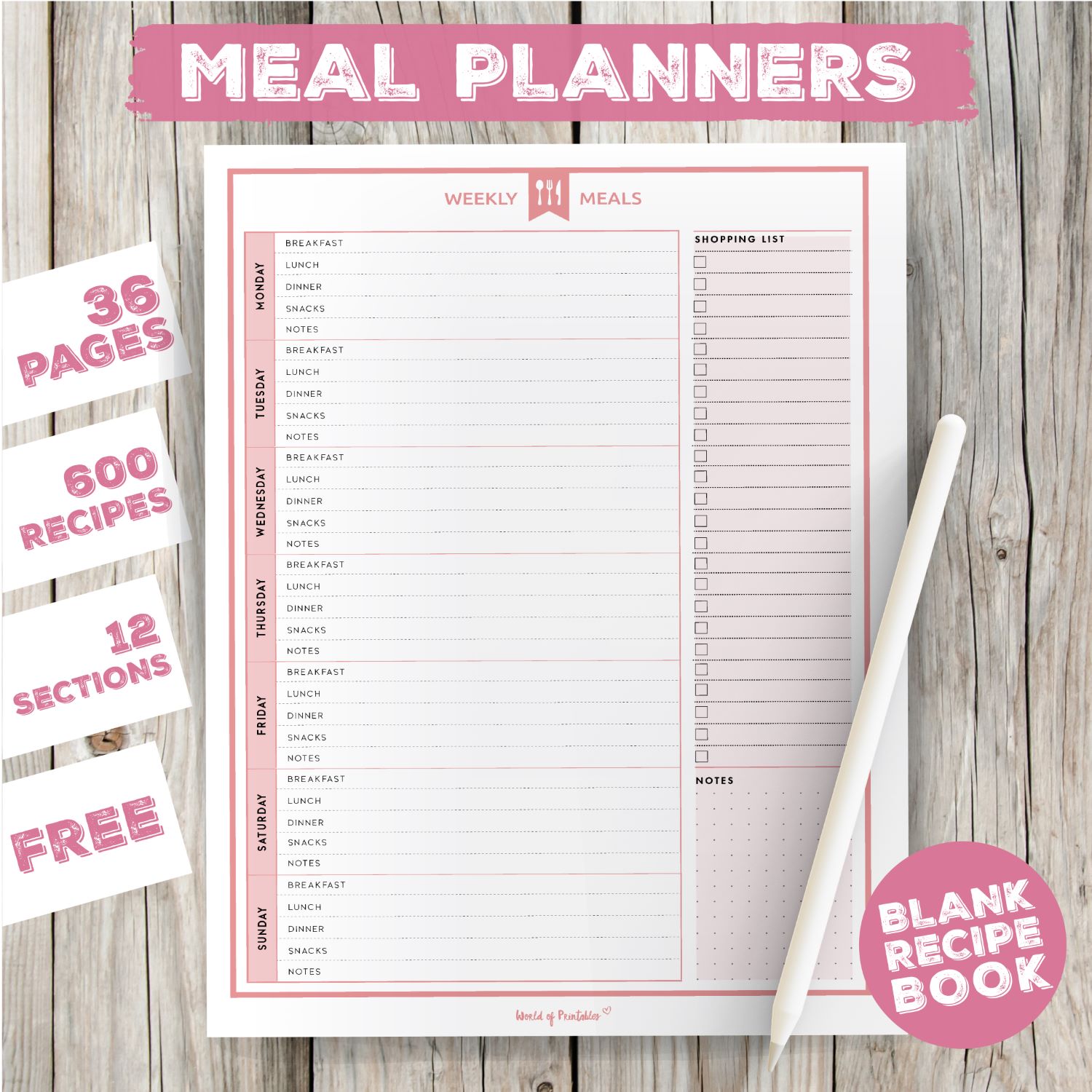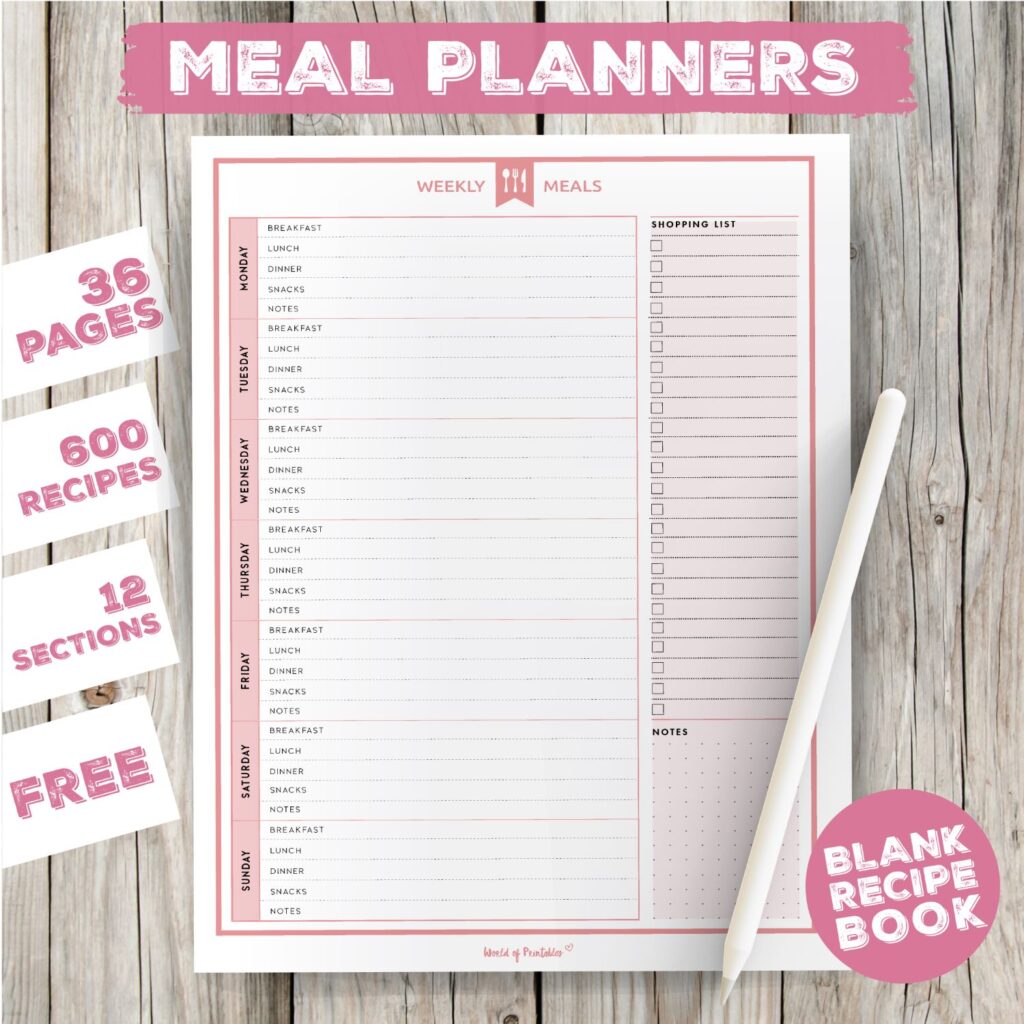 Kitchen Inventory
A kitchen inventory page is a great tool for allowing you to keep track of any ingredients that you already have in the kitchen. This includes food you will find in the pantry, fridge, and freezer.
I recommend using the kitchen inventory to help you plan some of your meals. Using produce you already have will help you save money when grocery shopping.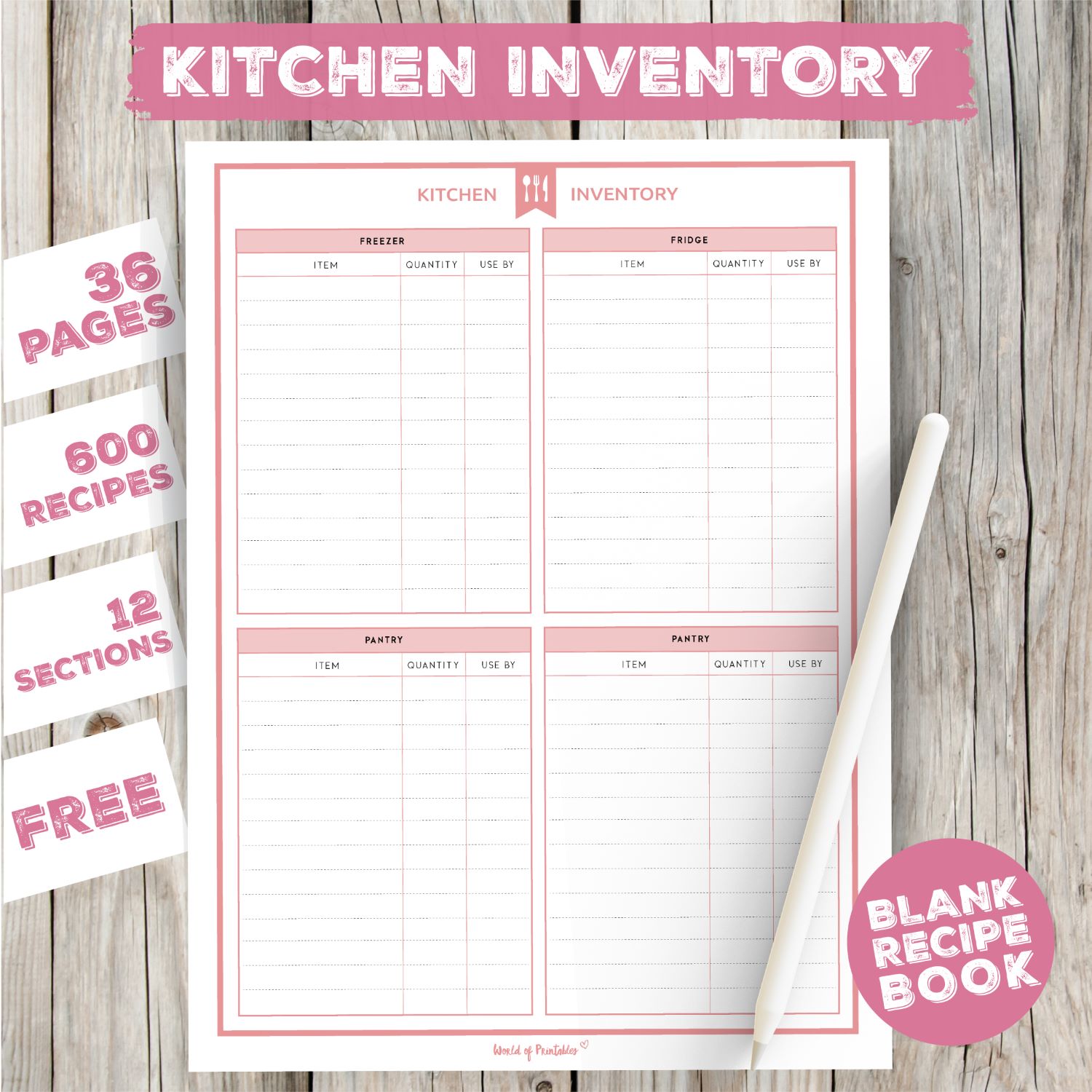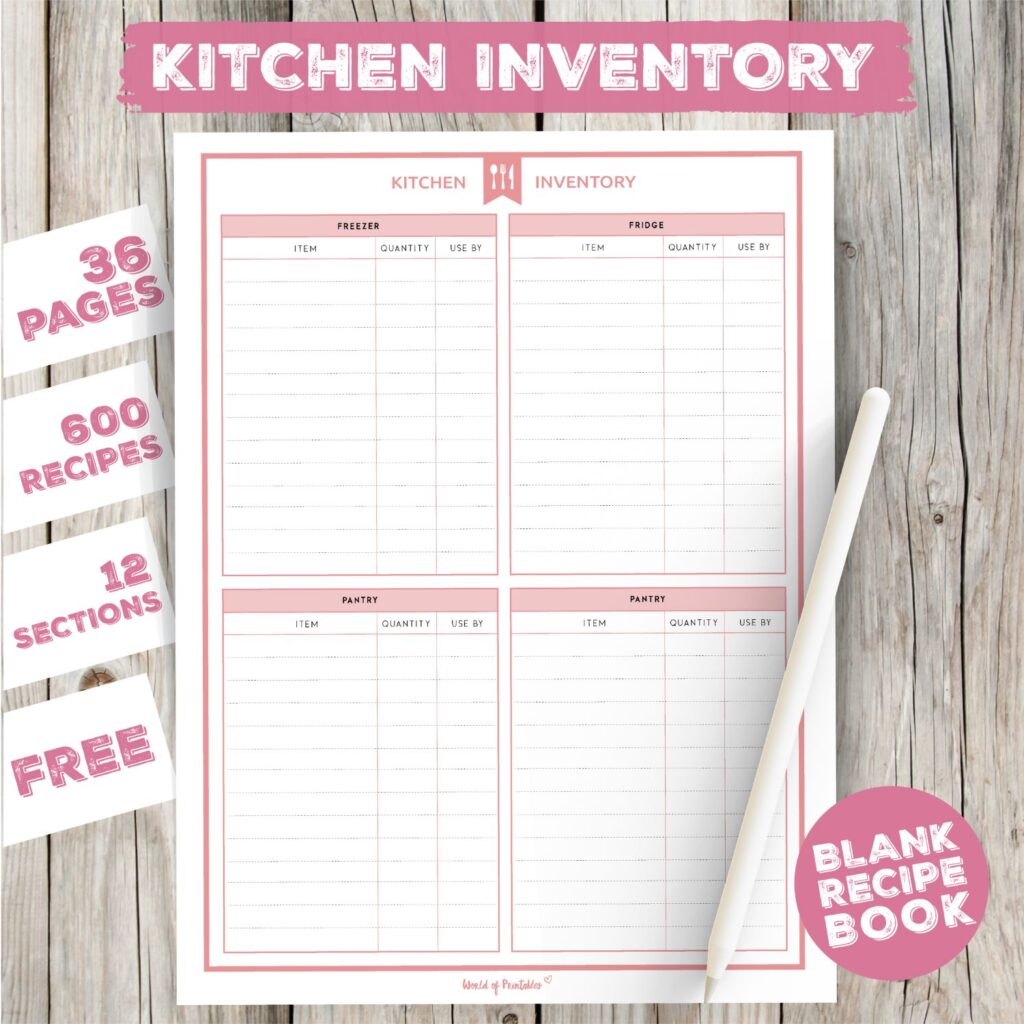 Grocery and Shopping list
Speaking of grocery shopping, what would a recipe binder be without a grocery or shopping list? Use the kitchen inventory and grocery list to make sure you get exactly what you need for your meals. Remember to use the meal planners to help you plan ahead!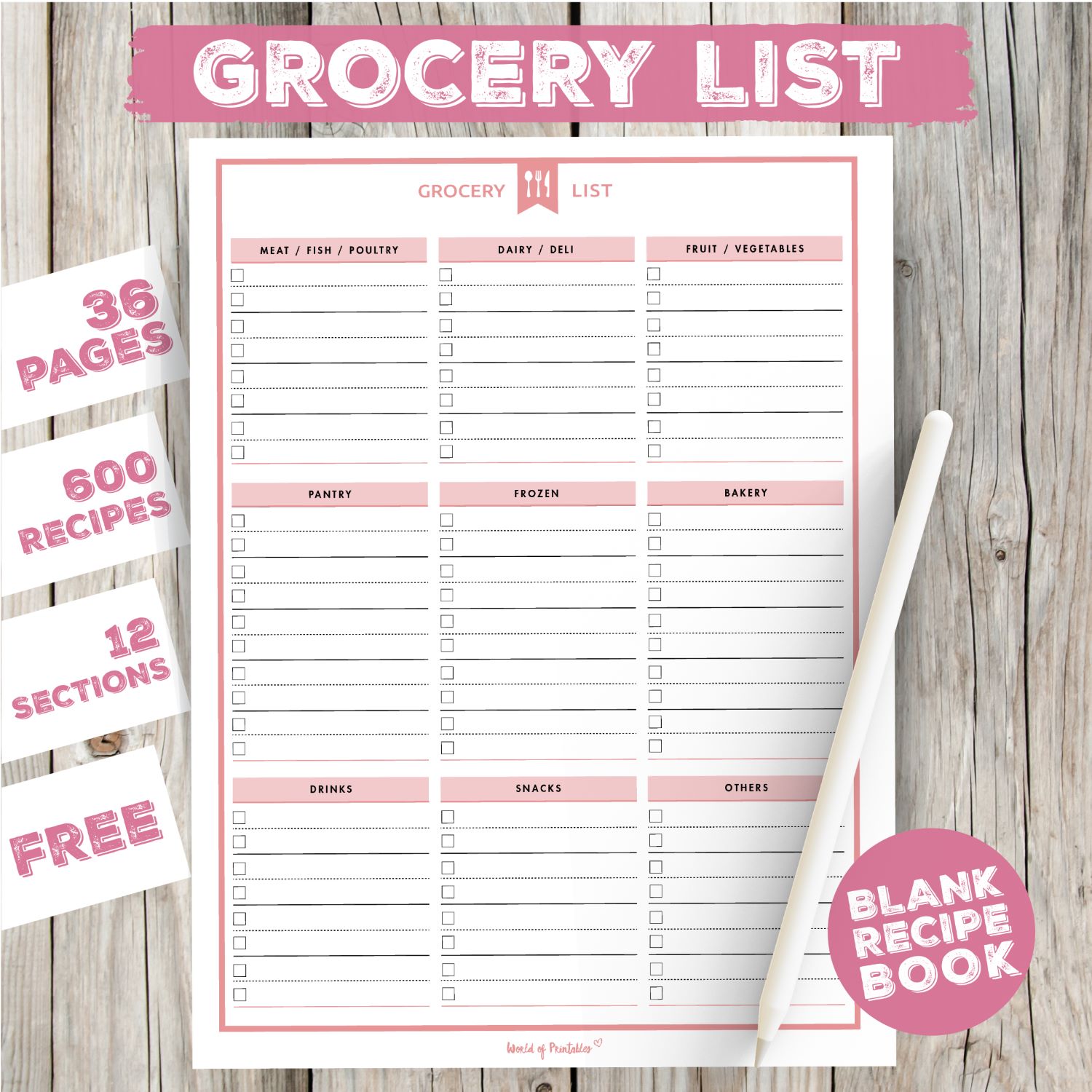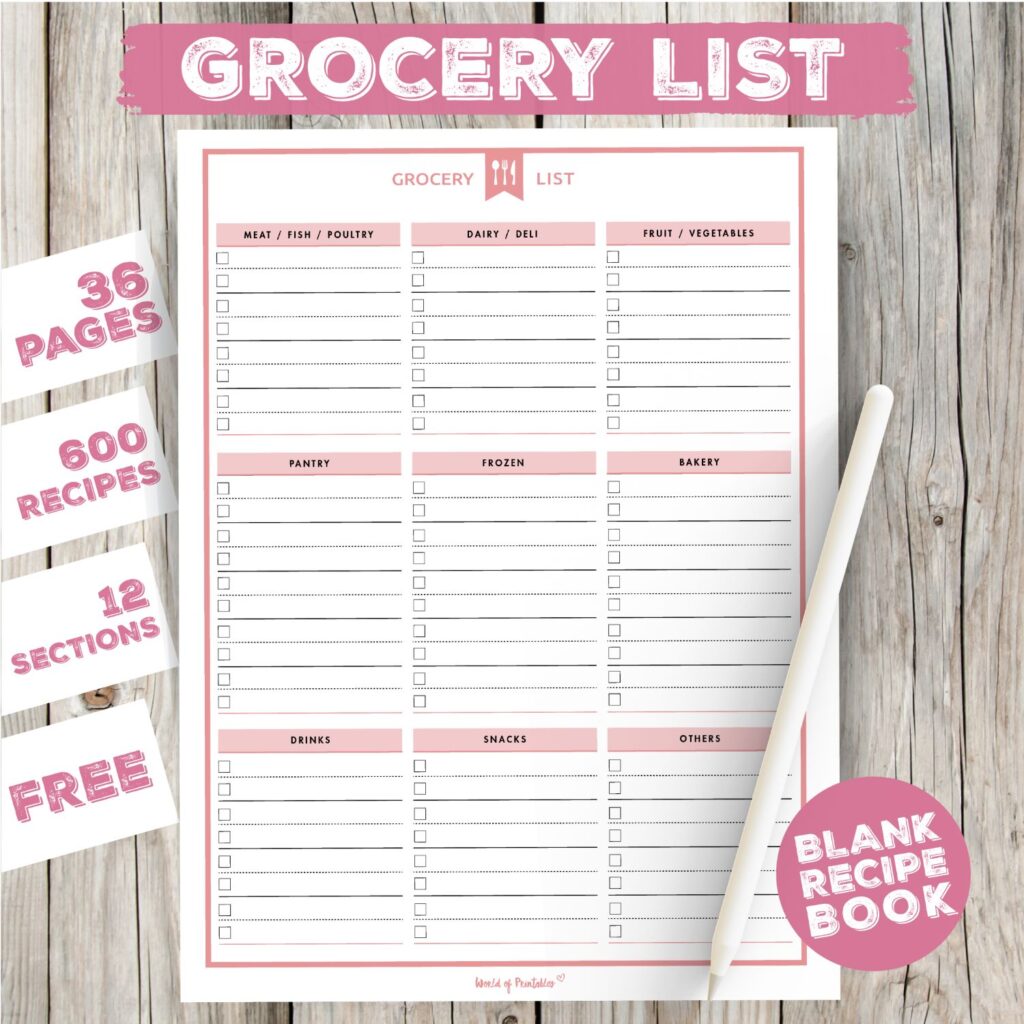 There are also many more pages including an index page that shows the table of contents, helping you can quickly see at a glance all of the sections within the recipe book.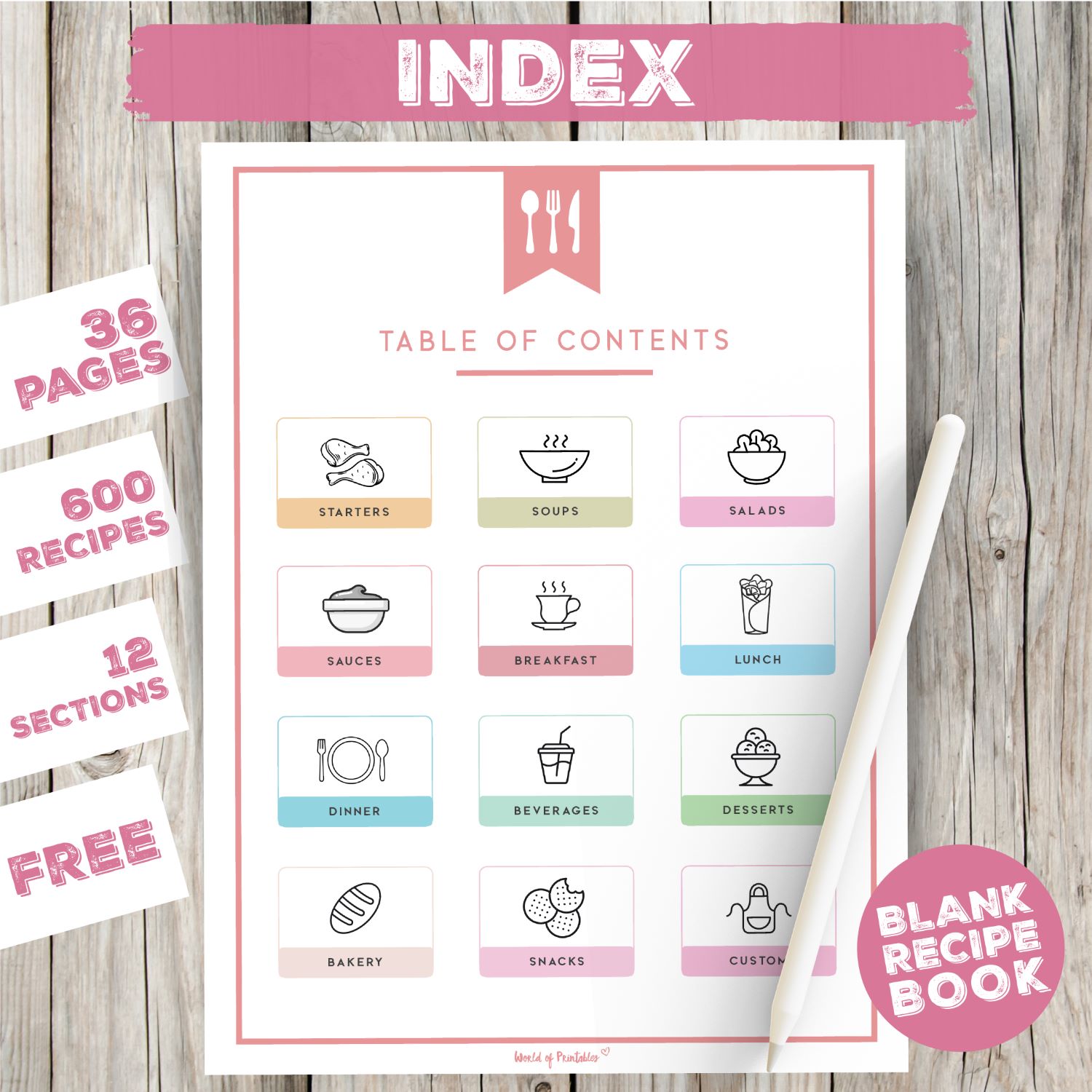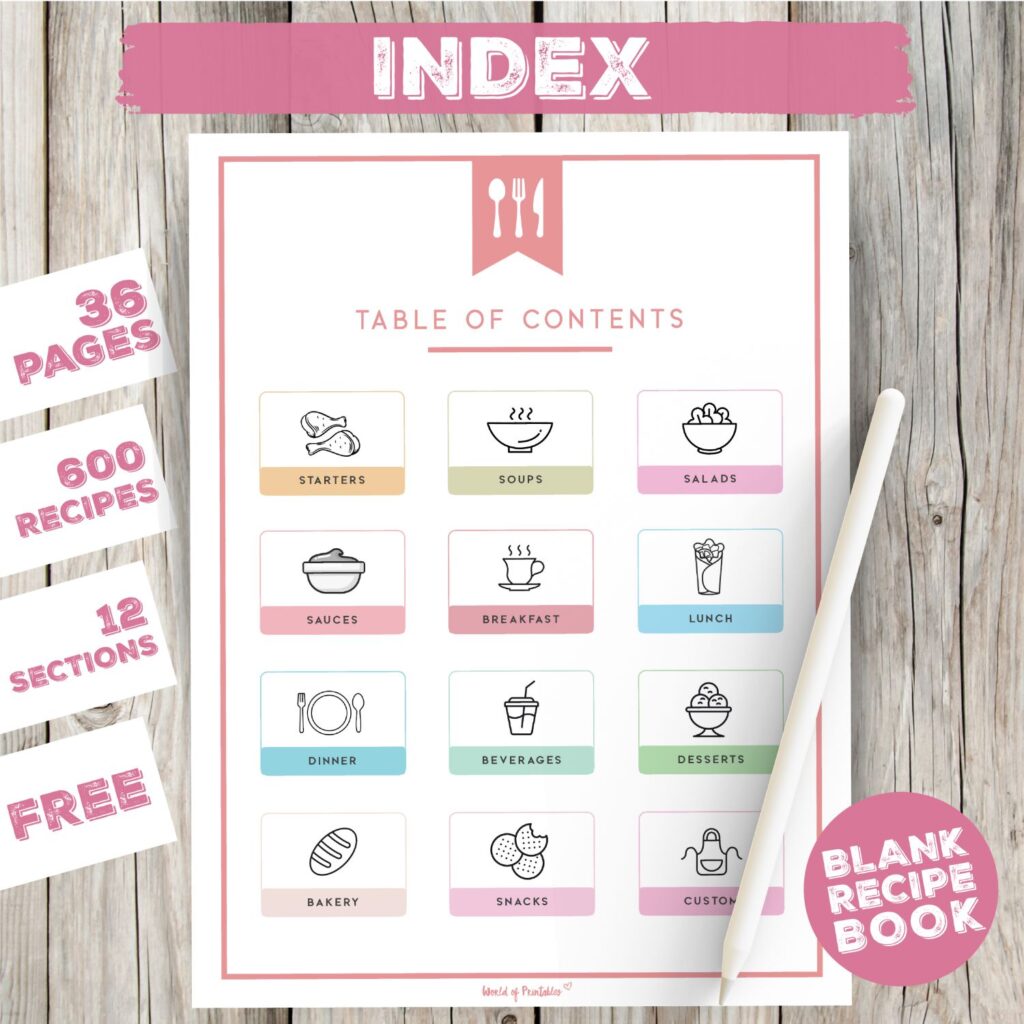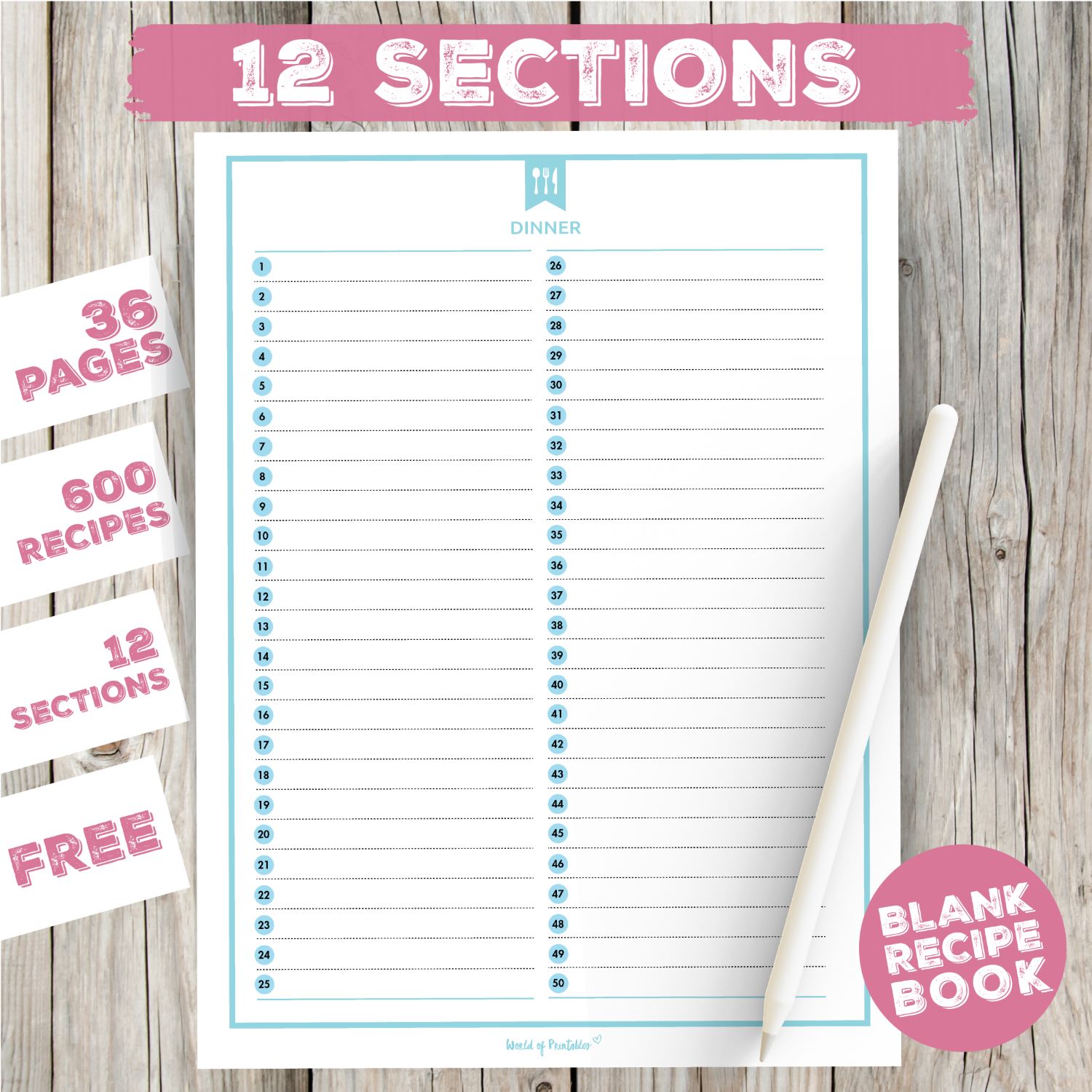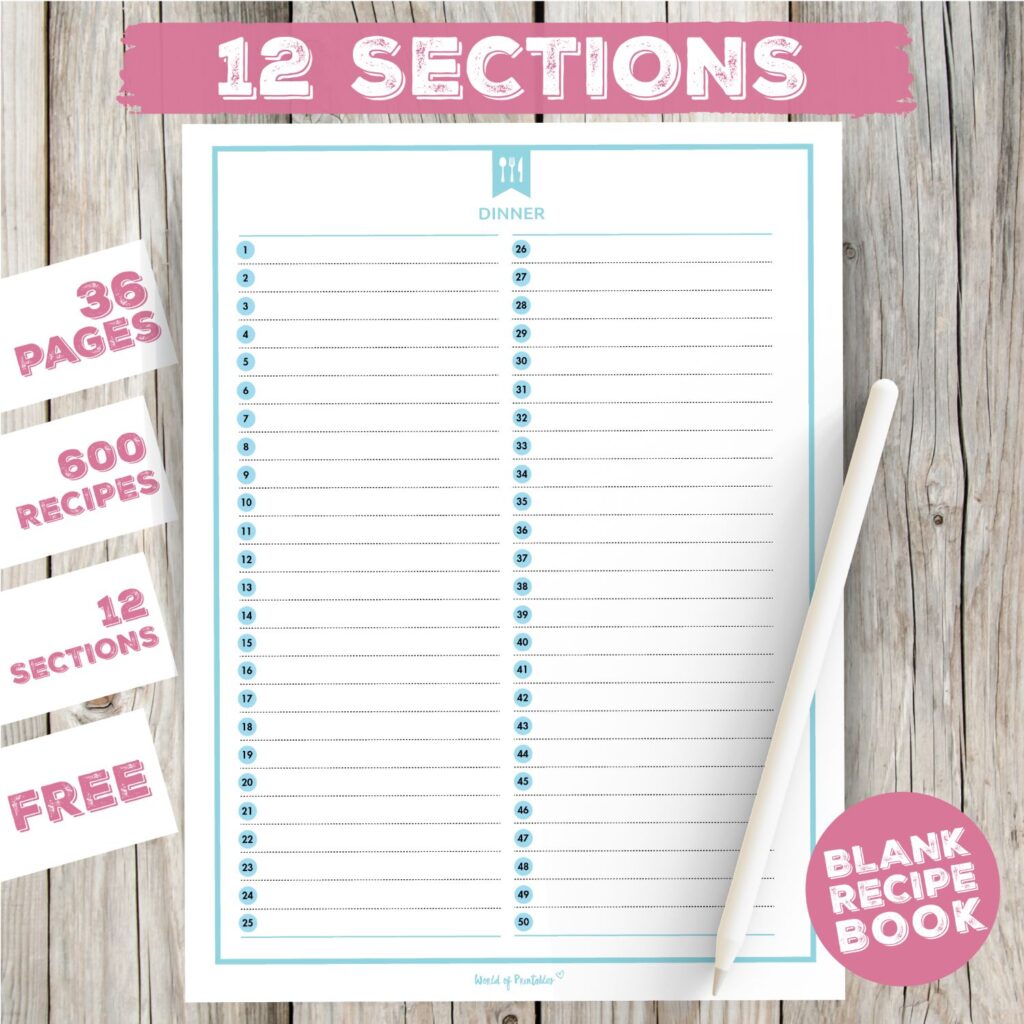 There are also 12 sections for each different meal type so that you can list all of the recipes contained within your recipe book. These sections are a super useful way of indexing your recipes by meal type.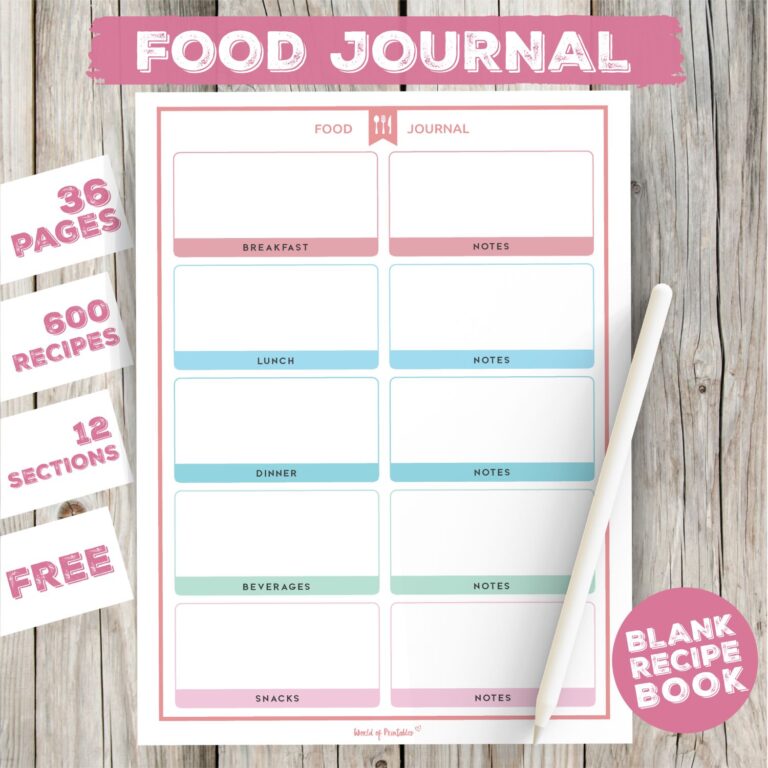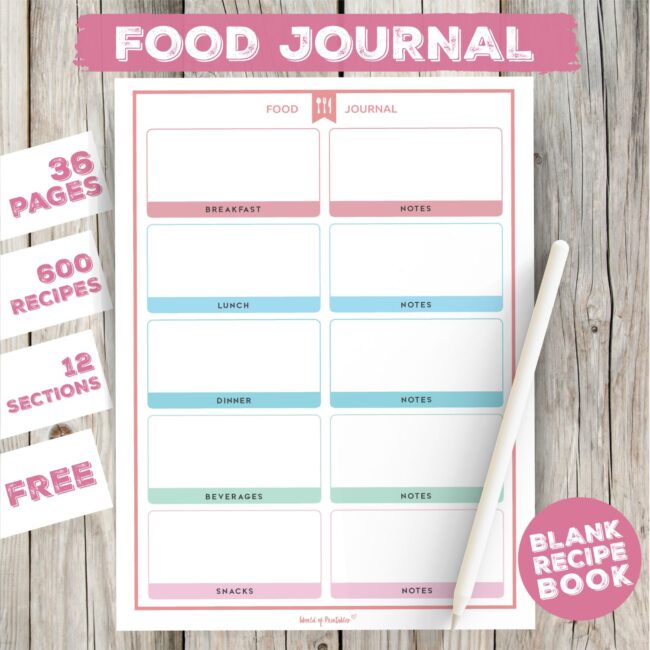 The food journal is a great page for keeping track of the foods that you consume each day, and what you thought of them. It's a great way for seeing what recipes worked well and that you'd like to make again in the future.
There are many different recipe journals out there, but this one is by far my favorite! It looks good, it has everything you need and it is entirely free.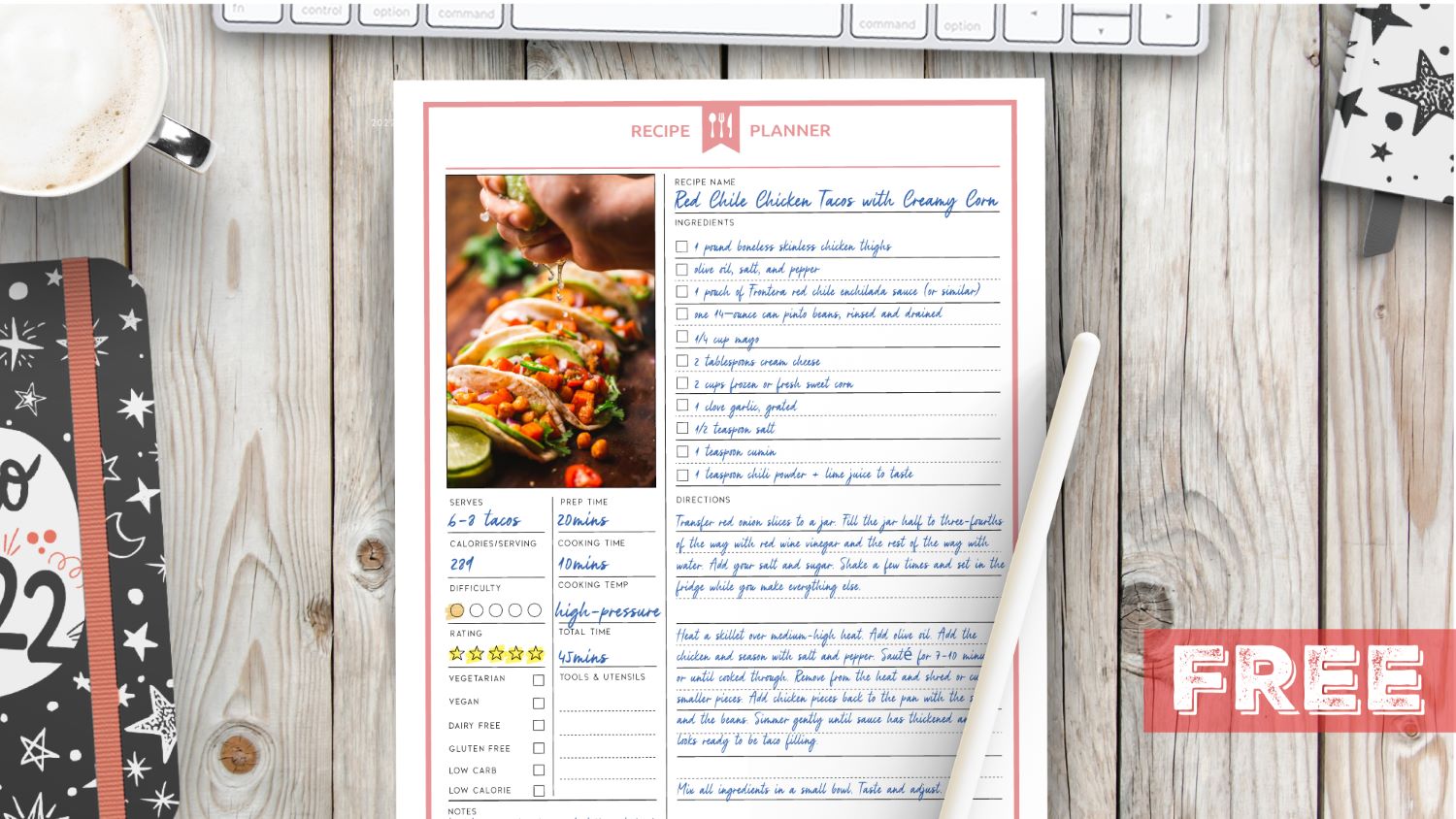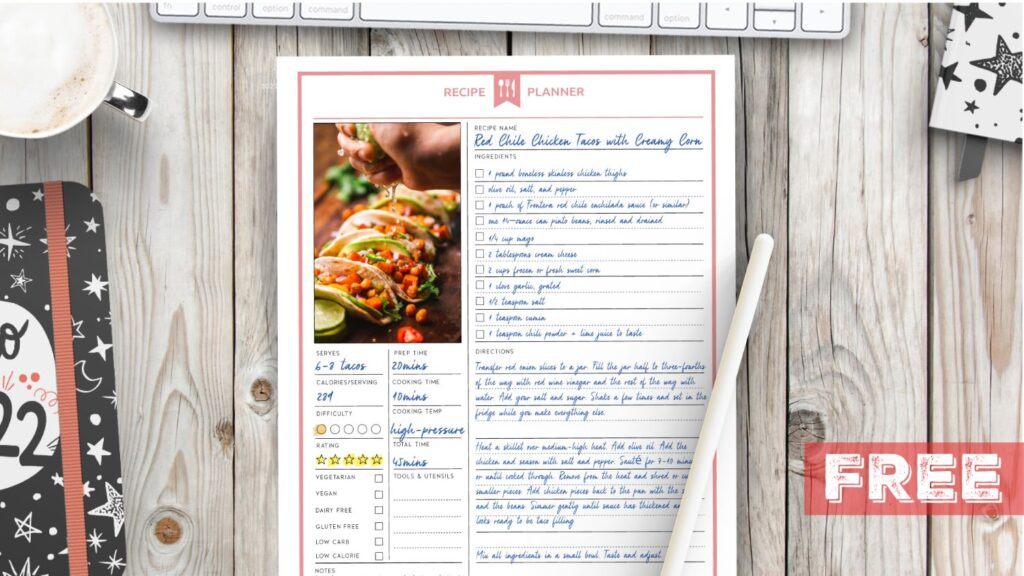 The perfect blank cookbook for your favorite recipes
This blank cookbook is exactly what you need to help you streamline meal times and cooking for those special occasions.
It's a beautiful recipe book that's great for keeping on your kitchen counter for easy reach.
Having your own recipe book helps you to always make different dishes so that you're not making the same meals over and over again.
You might also like…
We've also created a digital version that you can use on your iPad for easy access to all of your favorite recipes. Check out our digital recipe book that's also free and it has everything you'll find in this binder including hyperlinked tabs and more.
How to get this free blank recipe book
You can get the blank recipe book right here for free by entering your email address in the box below and you'll be sent a code and link to the high-quality pdf binder.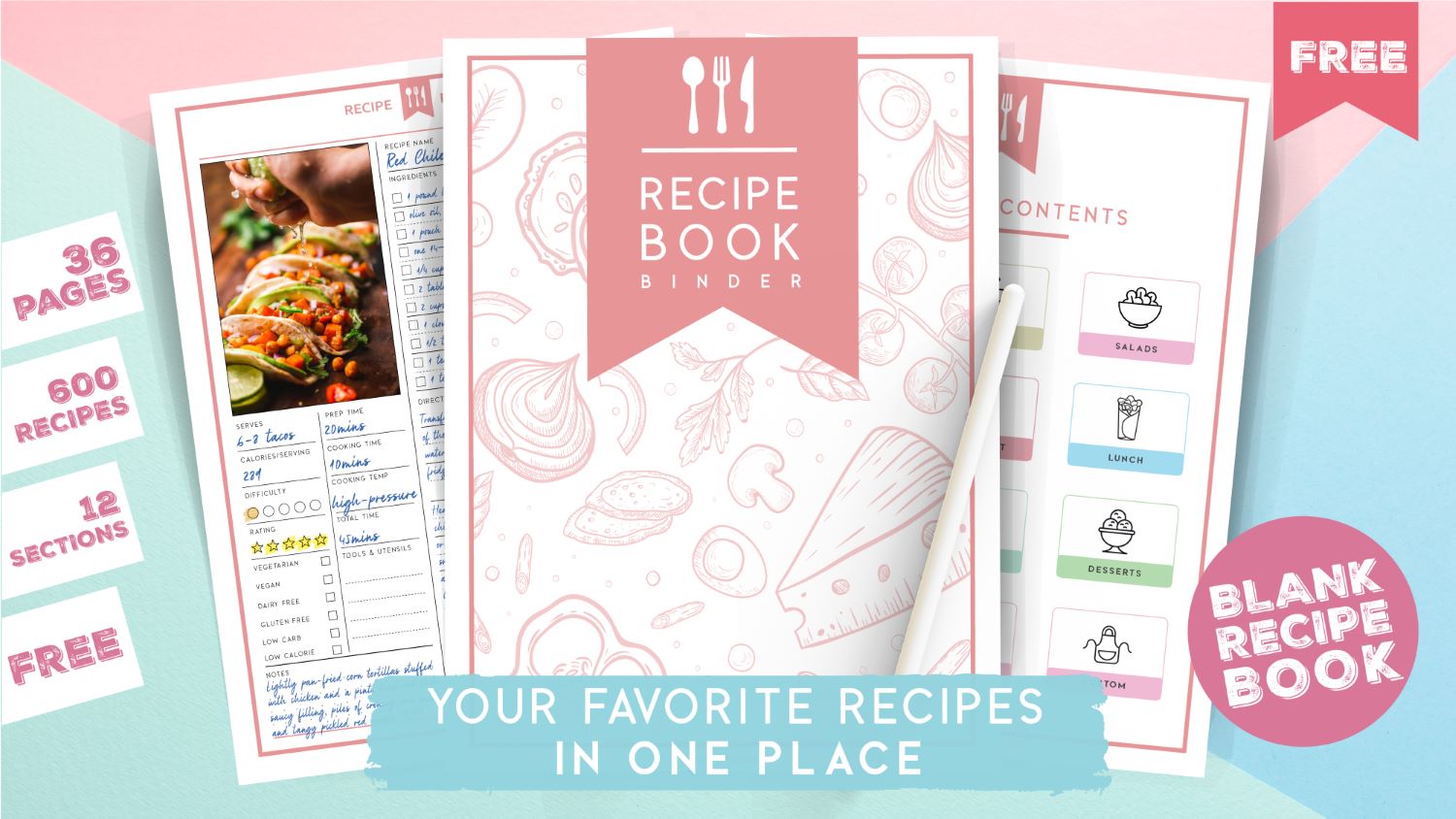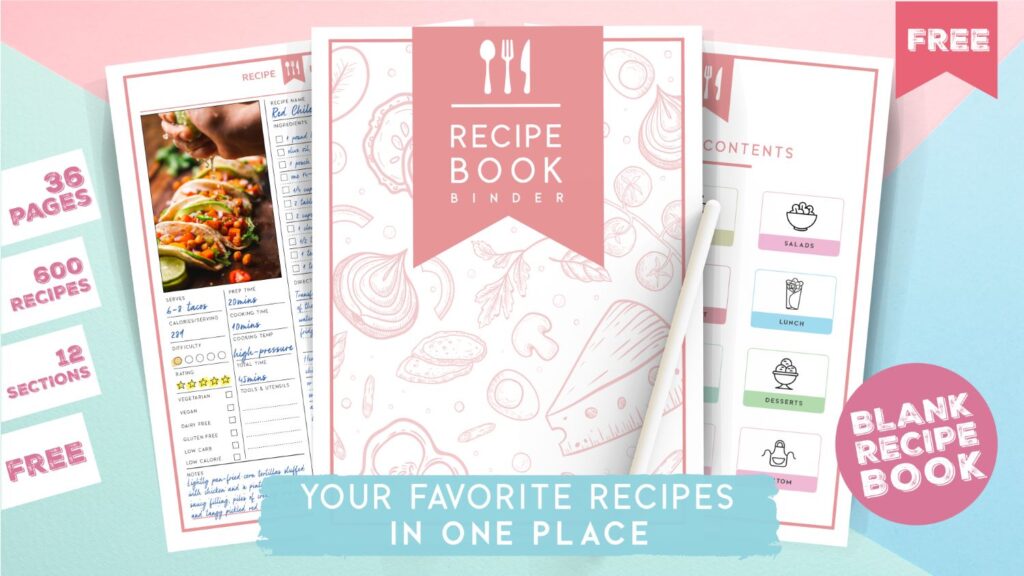 We'll also keep you updated from time to time whenever we release an updated version or have more awesome free printables for you to enjoy.
Every week we create a cute set of printables, planners, and digital freebies to help you make the most of the things that matter. Our printables help you get things done in style while keeping you busy and motivated.
More awesome recipe freebies for you to enjoy
If you love this recipe blank recipe book and looking for more awesome freebies to help you organize recipes, then we have also designed this as a digital recipe binder. It's available as a digital download that you will adore!
Check out our free Digital Recipe Book. It's packed with 628 pages, for up to 600 of your favorite recipes.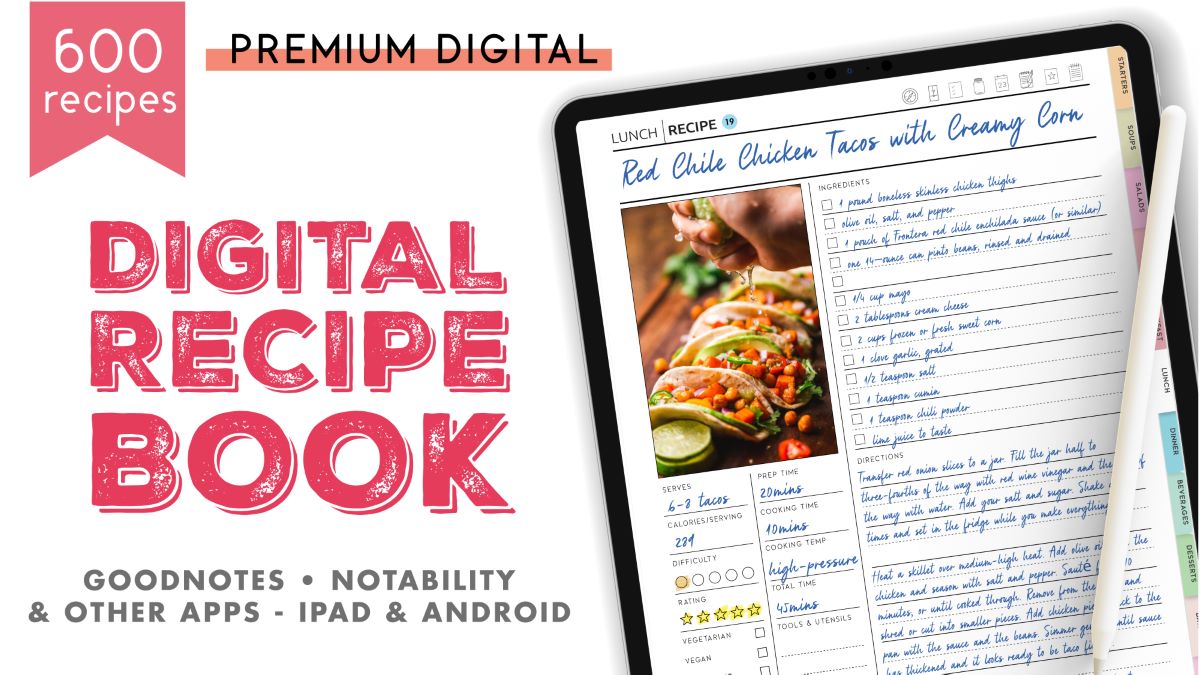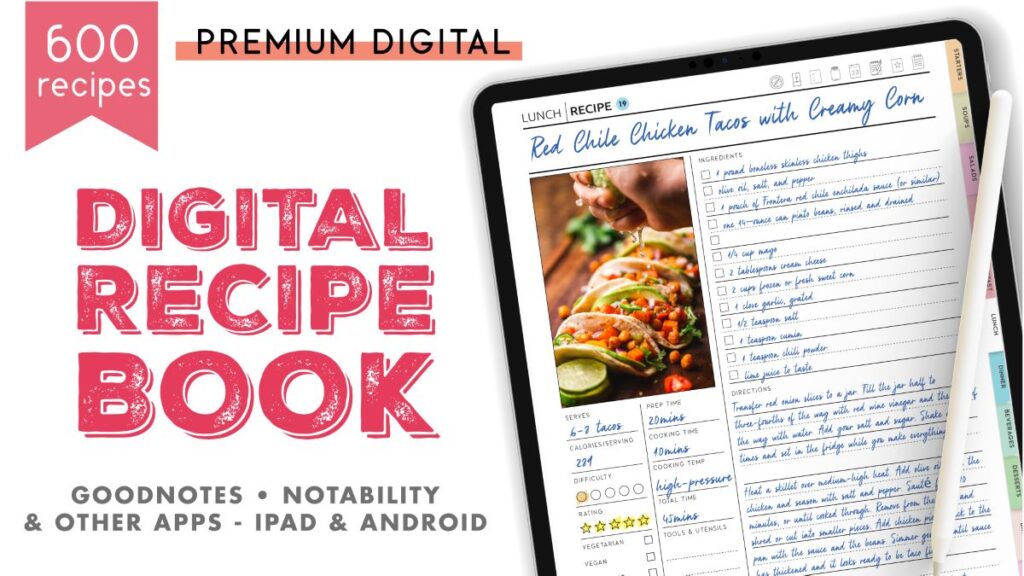 Make the most of your new blank recipe book!
I really hope you use and enjoy our free recipe binder. Be sure to recommend it to your friends! Follow us on Instagram or Pinterest, as it's a great way for you to keep updated with our latest freebies.
Follow World of Printables on Pinterest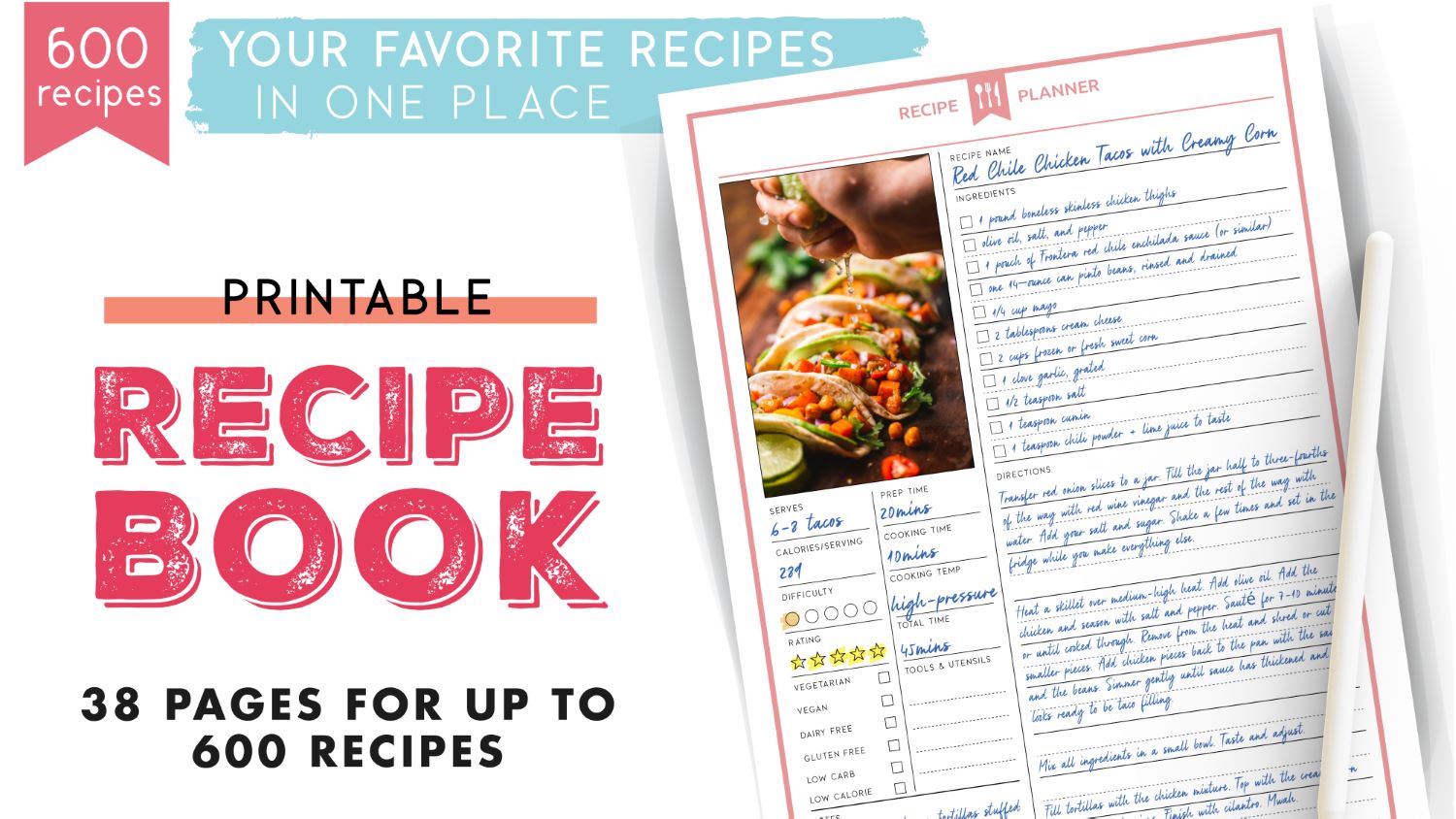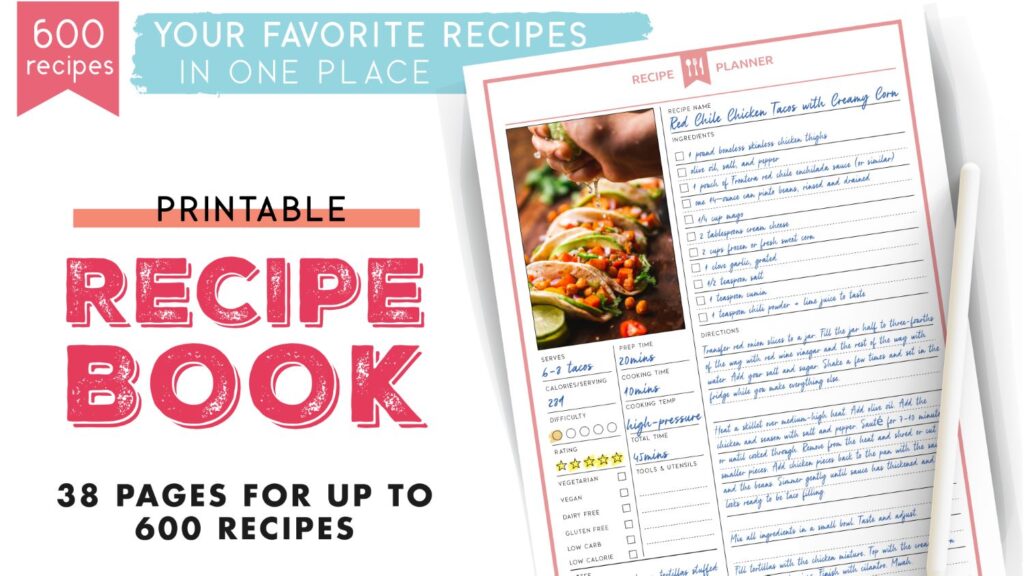 COPYRIGHT
Our creations are for personal use only and are the copyright of World of Printables. You cannot redistribute, reproduce, or resell, although you can link back to our website.