Use this recipe binder to organize all of your favorite recipes, in one convenient place for free.
Every kitchen should have a place where recipes are stored. Whether that's a recipe box full of recipe cards, a binder full of recipe printouts, or a digital recipe book on your tablet, having recipes stored together is a great way of being organized when it comes to mealtimes and your favorite dishes.
If you love saving recipes, then this recipe binder is the perfect way to keep hundreds of recipes together in an easy-to-reach place. Use it to write down your favorite recipes from your favorite food blogs and recipe books – or even recipes handed down through your family!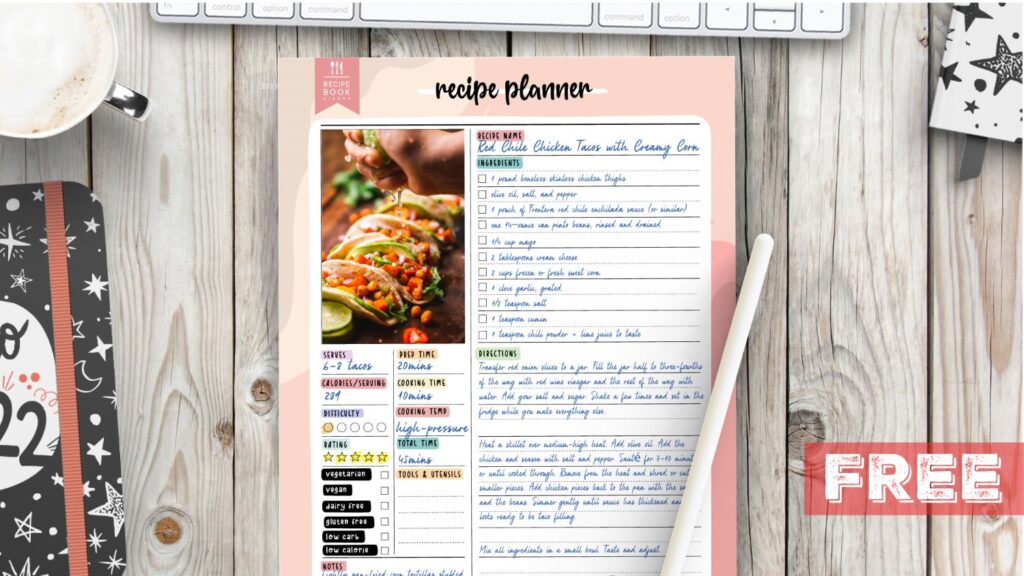 This recipe binder features 36 useful pages, with space for up to 600 recipes, from 12 different meal types.
It's such a simple way to gather and store your favorite recipes, and best of all, it's totally free!!
With this recipe binder, you can have all of your recipes at your fingertips so that you can cook, bake, and make your favorite menu items anytime.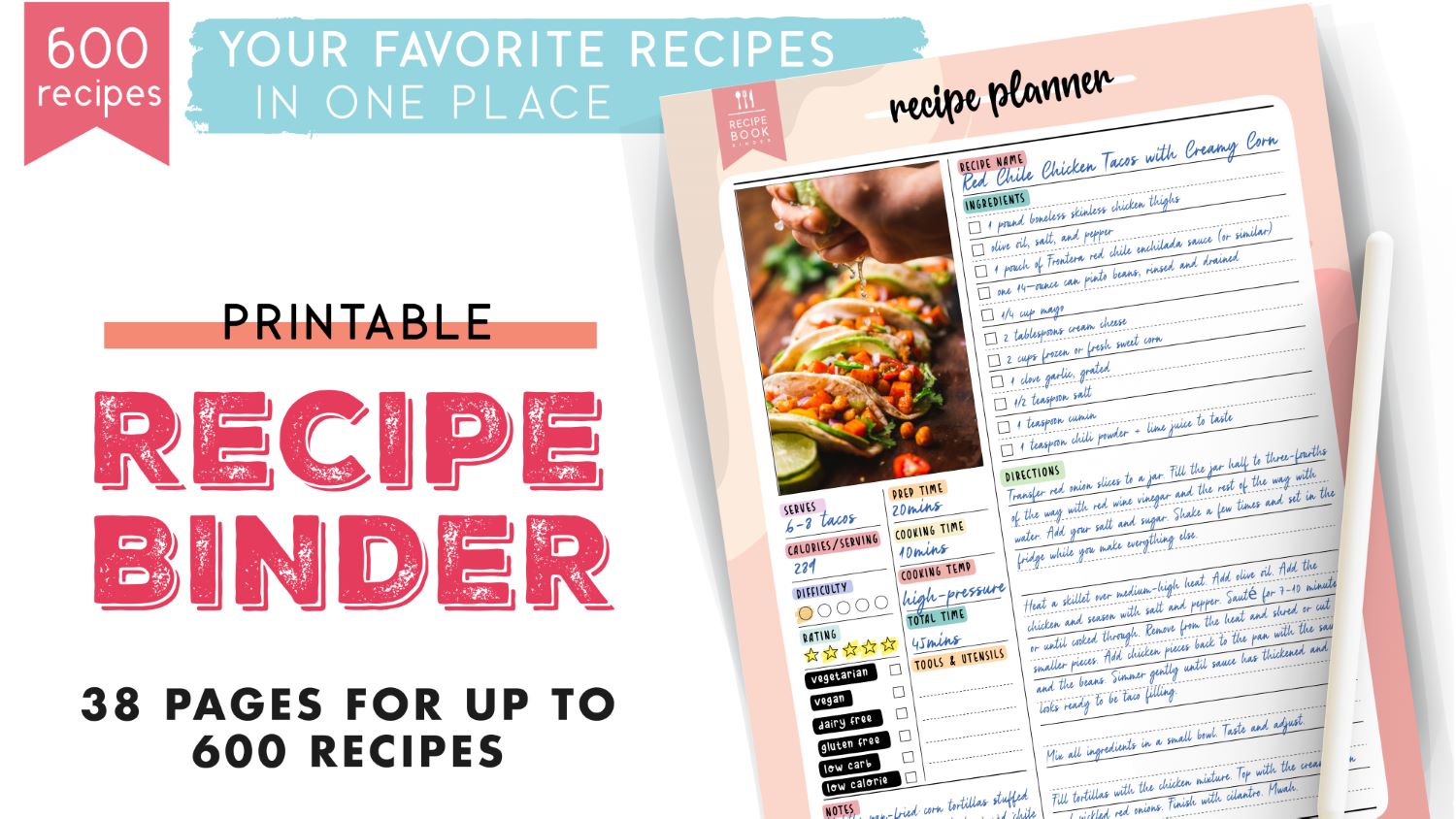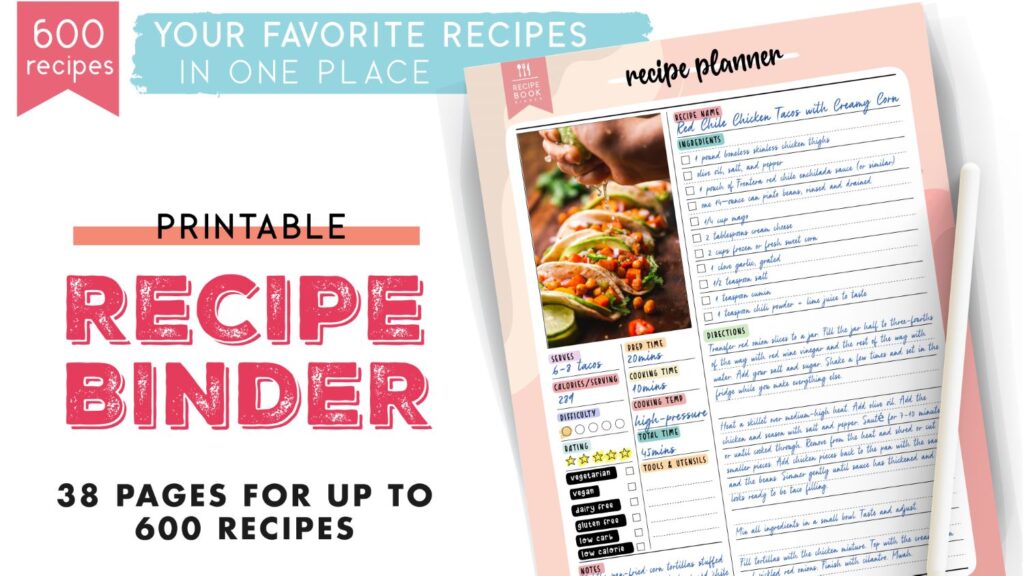 The ultimate recipe binder
The traditional way of storing recipes is by using a recipe box full of recipe cards but it can be hard to find the recipe you need when thumbing through a box full of cards.
This is why using a recipe binder can be a much more efficient way of storing, organizing, and finding the recipes that you need.
Having a recipe binder with all of your recipes organized together makes it really easy to prepare meals quickly such as meals for celebrations or special occasions! We all know that time is of the essence when preparing for a party, so make sure you don't lose any of your precious time trying to source recipes for your next event.
Recipe binders also hold full-size recipe printouts or recipes with full instructions and photos of dishes, whereas recipe cards only have enough space for the basics of a recipe, such as the key ingredients and simple directions.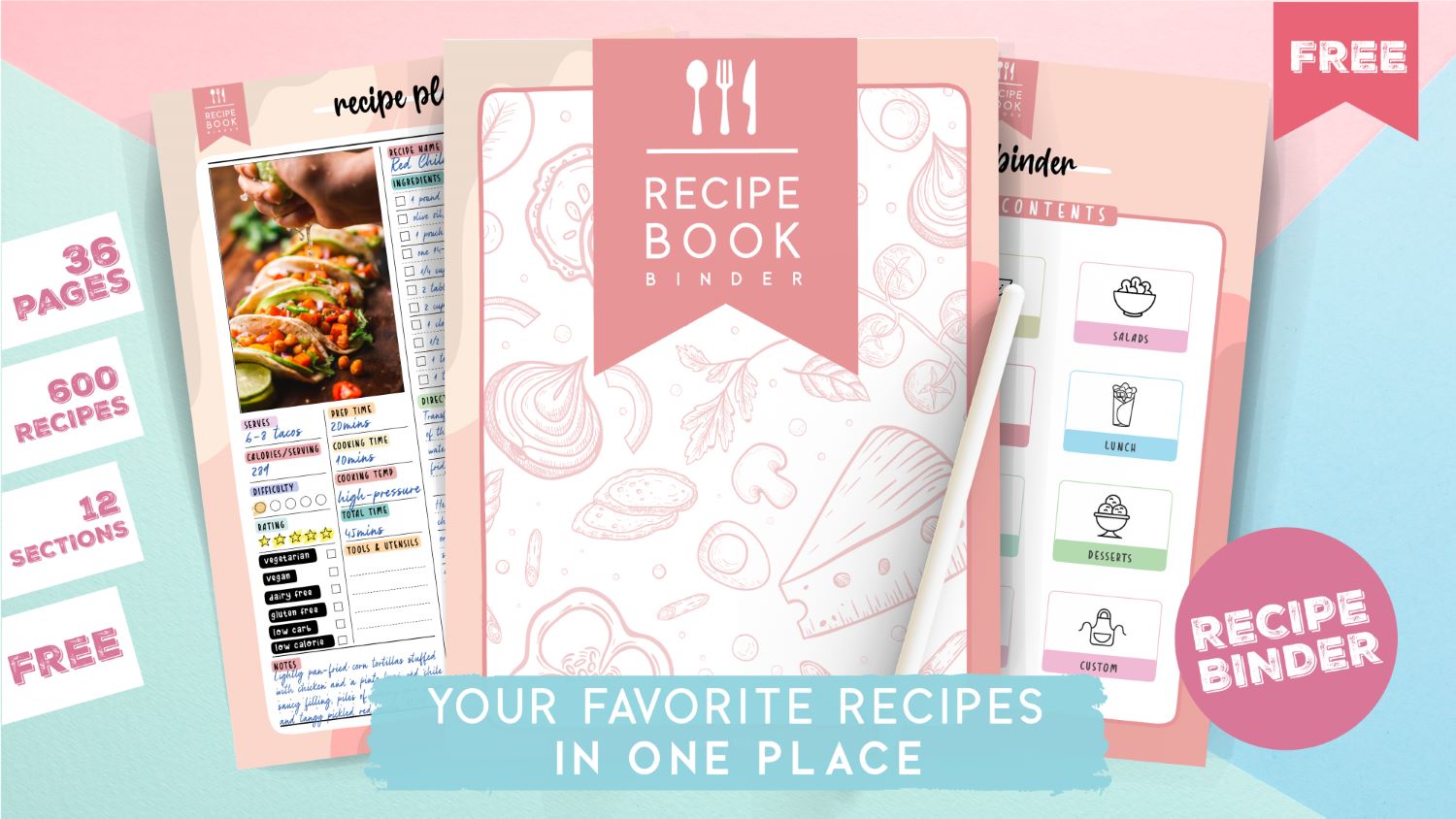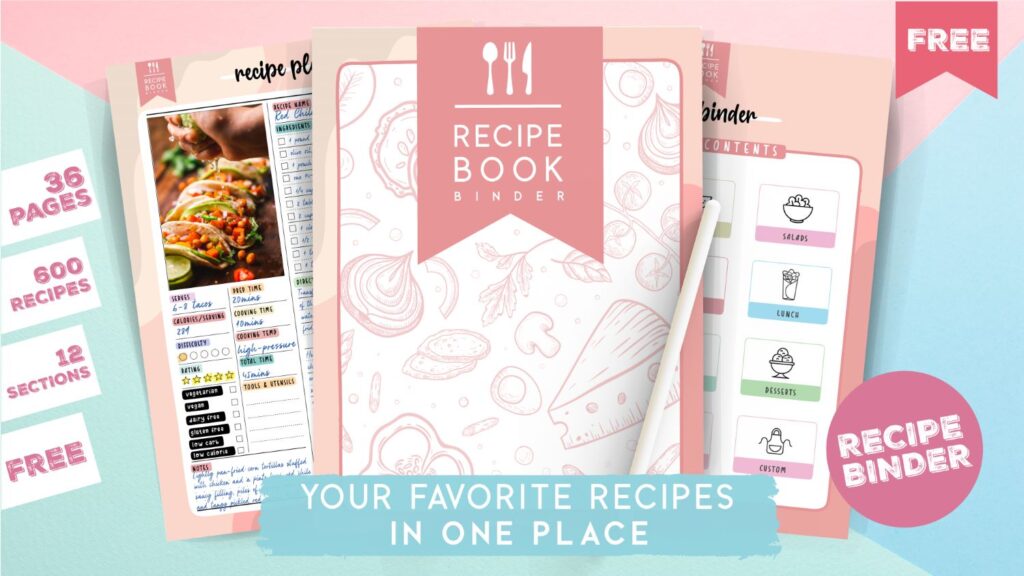 See what's included in this recipe binder
This recipe binder has been designed to be easily printed on your home printer.
This recipe binder includes:
12 Sections by Meal Type with a list of up to 50 recipes per section.

Divider pages for each meal type

Full-size recipe card pages in two styles (with or without a picture).
Grocery List
Shopping List
Kitchen Inventory
Family Recipe Favorites
Kitchen Conversions Chart
Food Journal
Daily Meal Planner
Weekly Meal Planner
It's a great planner for anyone who likes to meal plan, with daily and weekly meal planners built right in.
Sections for every recipe category
You'll find 12 sections for the main recipe categories for you to store and organize your favorite recipes. Whether you love pasta, cakes, pies, seafood, or beef, there is the perfect place in your planner for your favorite meal types and recipes.
We've included this table of contents that you can include at the start of your binder, which will help you organize your recipes more effectively.
Recipe Pages
To use the recipe pages simply write down all of the details that you'll find on any recipe page online.
The recipe page has space for:
Recipe title
Ingredients
Directions
Recipe picture
Prep time
Cooking time
Total time
Cooking temperature
Serving amount
Calories per serving
Recipe ratings (taken from the blog posts where you found the recipe).
Recipe difficulty (also taken from the recipe blog page).
Diet type (vegetarian, vegan, dairy-free, low calorie, gluten-free, and low-carb).
You can add a picture of the recipe. Most food blogs show recipe pictures in a portrait format, as they're great for Pinterest. So we've added a picture placeholder in portrait format so you can perfectly fit the relevant image into the space.
Finally, there's space for notes, which is always handy, as you can write where you found the recipe or anything that you think is notable.
---
Favorite recipe favorites
The family favorites section is great for keeping track of the meals that your family loves, so you'll never be stuck for ideas for what to make. It's the perfect place for all favorite family recipes.
---
Kitchen Inventory
Kitchen inventory helps you keep track of the foods that you've got in your fridge, freezer, pantry, and kitchen cupboards.
---
Grocery List
What would a recipe binder be without a grocery list? A grocery list is an essential part of any organized kitchen!
You can use the grocery list in conjunction with the kitchen inventory and meal planner, to make planning your grocery shop much easier.
There's also a shopping list page that can be used for any type of shopping, not necessarily grocery related.
---
Recipe Meal Planner
Meal planning is an essential part of any good cook's toolbox. Planning meals in advance and organizing the recipes and ingredients helps you plan everything from your grocery shopping to timings. You'll find daily and weekly meal planners designed to help you plan any meal in advance.
---
Food Journal
The food journal is a great way to keep track of the things you eat and drink each day. You can log anything, from the amount you consumed, the time, and even if you ate alone or in the company of others.
---
Kitchen Conversion Chart
The kitchen conversion chart page helps make adapting any recipe a breeze! You'll no longer risk ruining a recipe due to getting the amounts wrong when trying to switch ingredient amounts, or even using alternative ingredients when you've run out of the ones that you need.
It's the perfect handy cheat sheet that helps you be sure of success every time!
---
Recipe Binder Divider Pages
Use these gorgeous recipe binder divider pages to help keep your recipe binder organized and easy to navigate.
There are dividers for different menu types such as breakfast, lunch, dinner, beverages, soups, custom recipes and many more.
---
Recipe Binder Meal Type Indexes
You will find amazing recipe pages that offer tons of space for writing recipes, noting your favorite recipes that you might find online or in books and also everything you need to help you plan your meal such as a shopping list.
Start organizing your recipes into the sections available, with 12 sections for different meal types.
Each section has room for 50 recipes.
There's also a custom section, that you can use for pretty much any recipe type.
What are the categories of recipes?
To organize your recipe binder or box, you'll need to sort your recipes by categories.
We recommend the following recipe categories:
Starters/Appetizers
Soups
Salads
Sauces
Breakfast
Lunch
Dinner
Beverages
Desserts
Bakery
Snacks
You can also split categorize recipes by diet type, such as:
Vegetarian
Vegan
Dairy Free
Gluten Free
Low Carb
Low Calorie
You may find it easier to organize your recipes by meal type, such as 'Dinner', and marking each recipe with the specific diet type, such as 'Vegetarian'.
---
You might also like…
We've also created a digital version that you can use on your iPad for easy access to all of your favorite recipes. Check out our digital recipe book that's also free and it has everything you'll find in this binder including hyperlinked tabs and more.
What you can use a recipe binder for
As well as using this recipe binder to write down and organize your favorite recipes, you can also use it to:
Use the 12 sections to categorize your favorite recipes by type.

Plan your meals with the meal planner.
Write your grocery list.
Keep track of your food with the kitchen inventory.
Write down your family's favorite meals to help with your meal planning.
Use the food journal to track what you eat and drink each day.
The kitchen conversions chart will help make adapting a recipe a breeze!
Just choose your favorite recipes from your favorite recipe blogs or cookbooks and copy them into this recipe binder.
You can even print and bind this beautiful recipe binder and it makes a perfect gift to give to someone you love. Store all of your favorite recipes and even recipes passed down through the generations of your family and create a meaningful, heartfelt, and personalized recipe binder for mom or grandma on mothers day!
Why you need a recipe binder
Do you find it hard to keep track of your favorite recipes? This binder makes it so much easier to organize your favorite recipes in one convenient place. Plus it's so cute and easy to use.
This printable easy recipe binder is a must-have piece of my kitchen kit. It is the best way for me to keep all of my recipes organized and tidy, helping to avoid any unnecessary mess in my kitchen.
I love to keep this recipe binder on my kitchen counter so my family can access it at all times and help make decisions at mealtime, but you can keep it in your kitchen cupboard if you like to declutter.
It is such an adorable recipe binder that's well designed and very easy to figure out.
Where can we find recipes?
You can find recipes on many popular recipe websites online. Popular recipe websites are:
Start to collate your recipe collection today and have all of your favorite meals at your fingertips! Whether you like to cook fancy meals, make quick bites, or even if baking is your thing, this recipe binder printable will make it so easy for you to have everything you need in the palm of your hands.
Just choose your favorite recipes and write them down in this recipe binder to keep all of them together in one convenient place.
Where can I buy recipe binders?
When it comes to recipe binders, you can buy everything you need from Amazon.
I love to store my recipe binder printables in a recipe ring binder like this one. It allows me to put my own design on the front cover of the binder and down the spine. The added security of a strong binder allows me to keep all of my recipe binder printables safe from spills or damage.
This stylish ring binder on Amazon is the perfect size for holding these printables and features a choice of 6 different stylish recipe covers, so it's sure to look beautiful in your kitchen. This three-ring binder holds standard 8.5" x 11" pages in high-quality protective plastic sleeves and divider pages, so you can include recipes you already have in the available pockets. Includes 30 double-sided sheets for adding new handwritten or home-printed recipes.
If you're looking for a leather recipe binder then this one on Amazon is not only stylish and can hold all of these recipe printouts in included sheet protectors, with divider tabs, labels, but also has space to hold recipe cards in clear sleeves too.
Alternatively, if you've checked out our printable recipe cards then why not get recipe card binder? This one on Amazon is really cute and has space for 4×6 recipe cards that can be stored within regular plastic protector pages.
How to get this free recipe binder
You can get the recipe binder right here for free, either by clicking on the pages that you need to get the printable versions, or by entering your email address in the box below and you'll be sent a code and link to the high-quality pdf binder.
We'll also keep you updated from time to time whenever we release an updated version or have more awesome free printables for you to enjoy.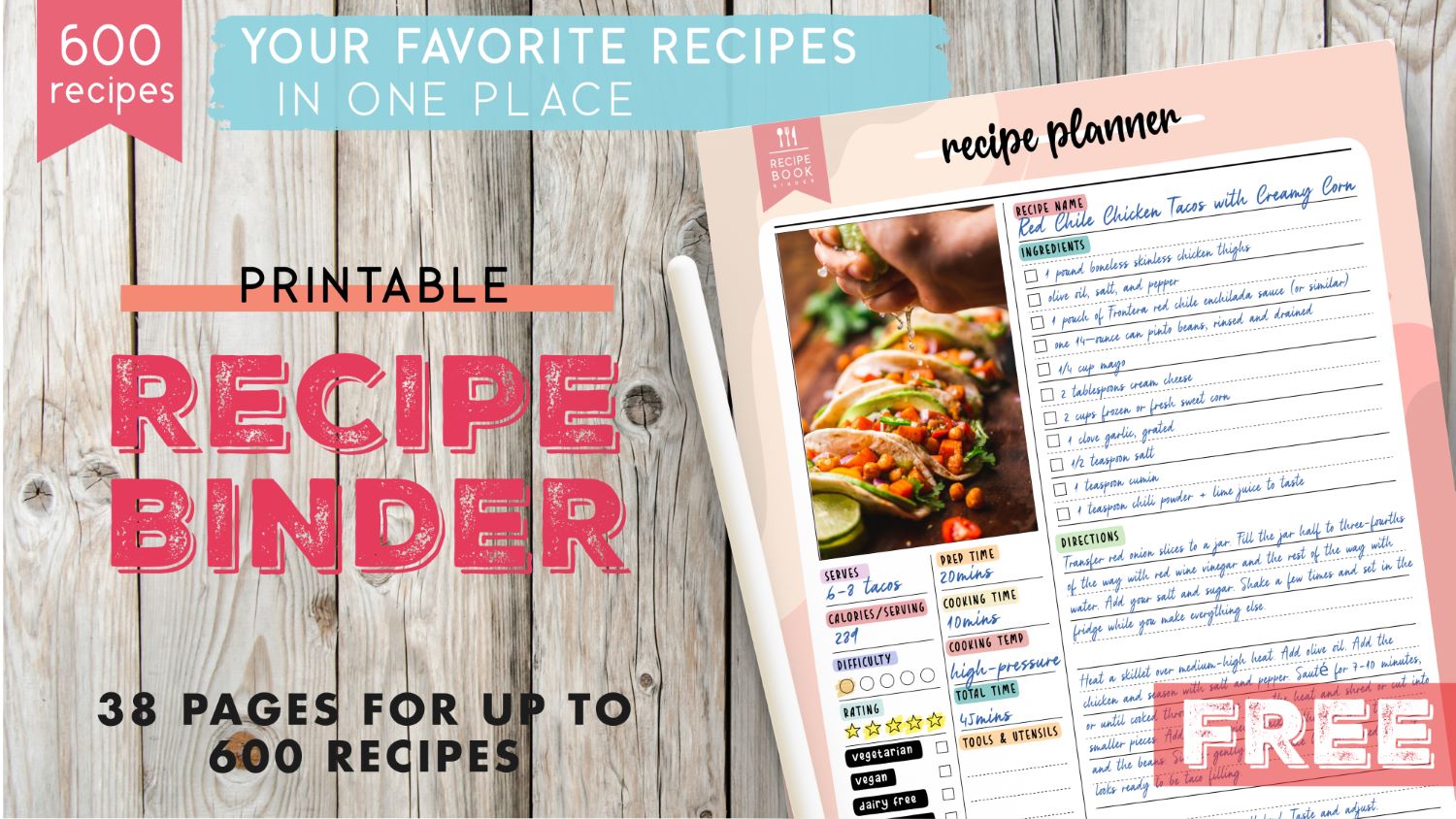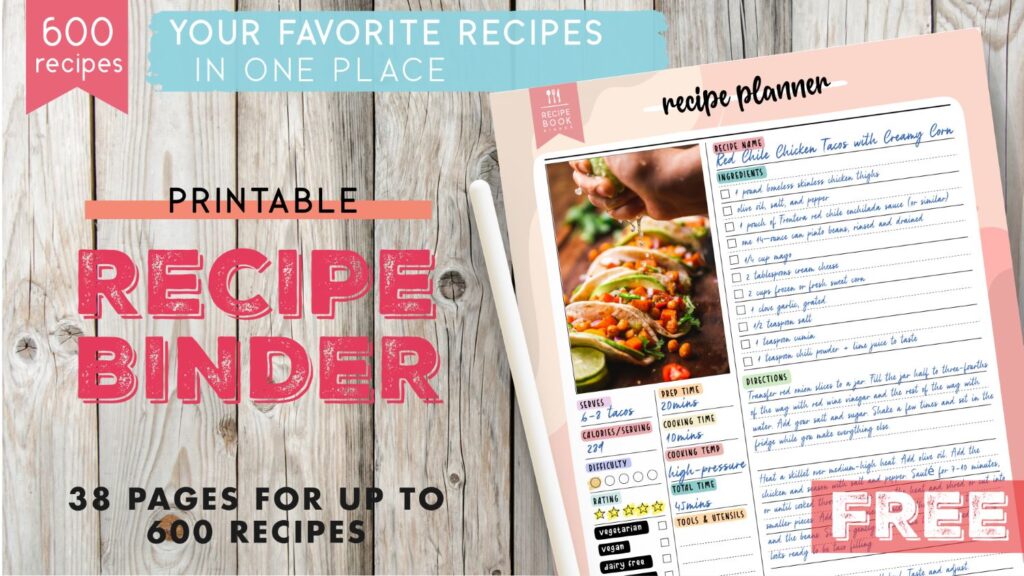 Every week we create a cute set of printables, planners, and digital freebies, all designed to help you make the most of the things that matter to you and to help you get things done in style while keeping you busy and motivated.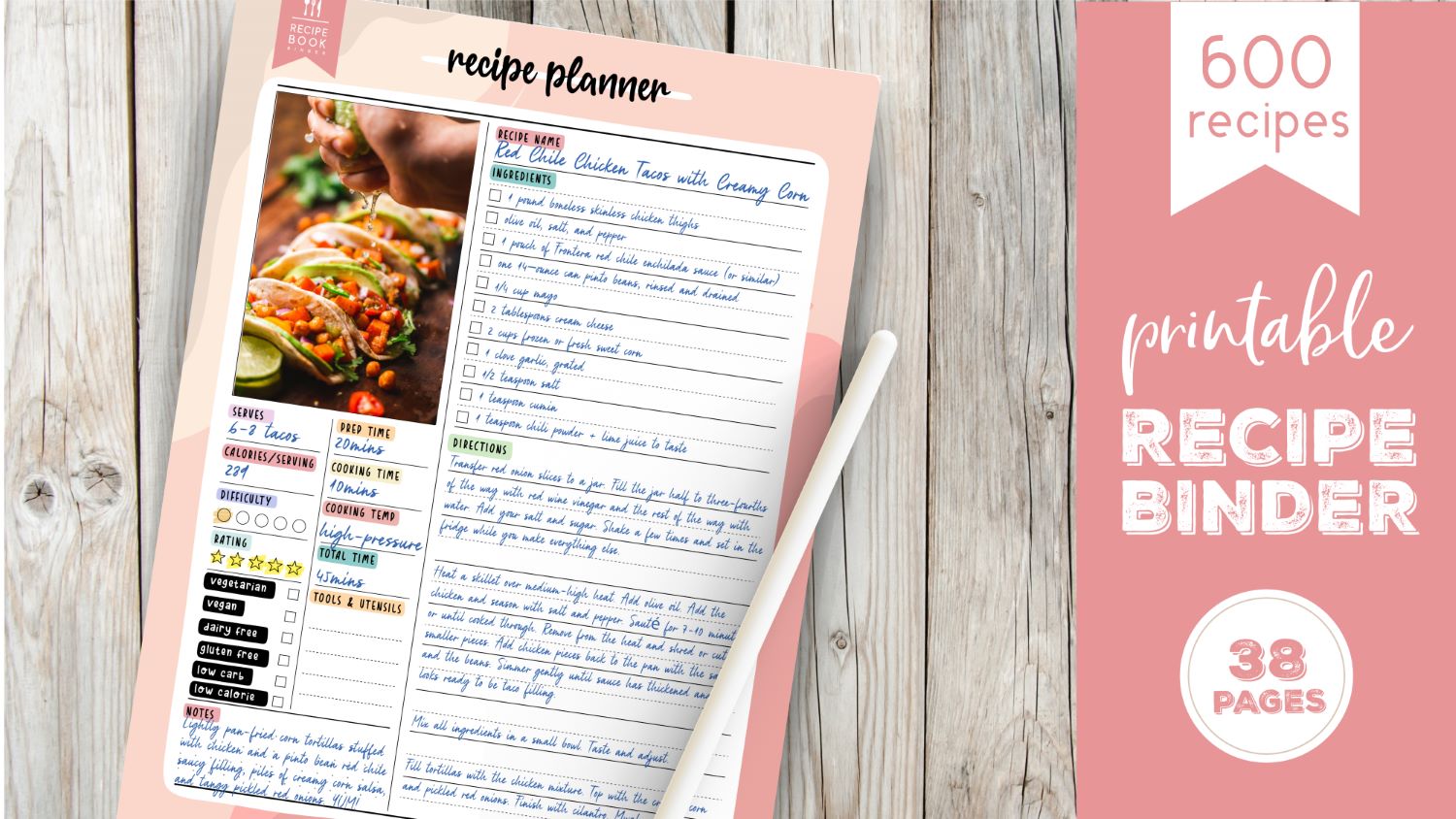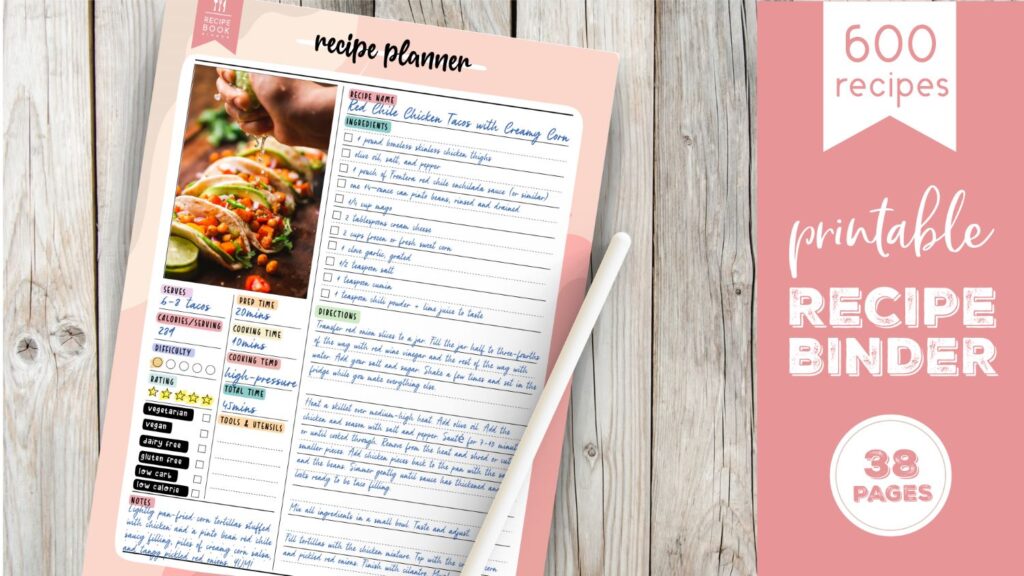 More awesome recipe freebies for you to enjoy
If you would love this recipe book binder and you're looking for more awesome freebies to help you organize recipes, then we have designed this also as digital recipe binder that's available as a digital download that you will adore!
Check out our free Digital Recipe Book. It's packed with 628 pages, for up to 600 of your favorite recipes.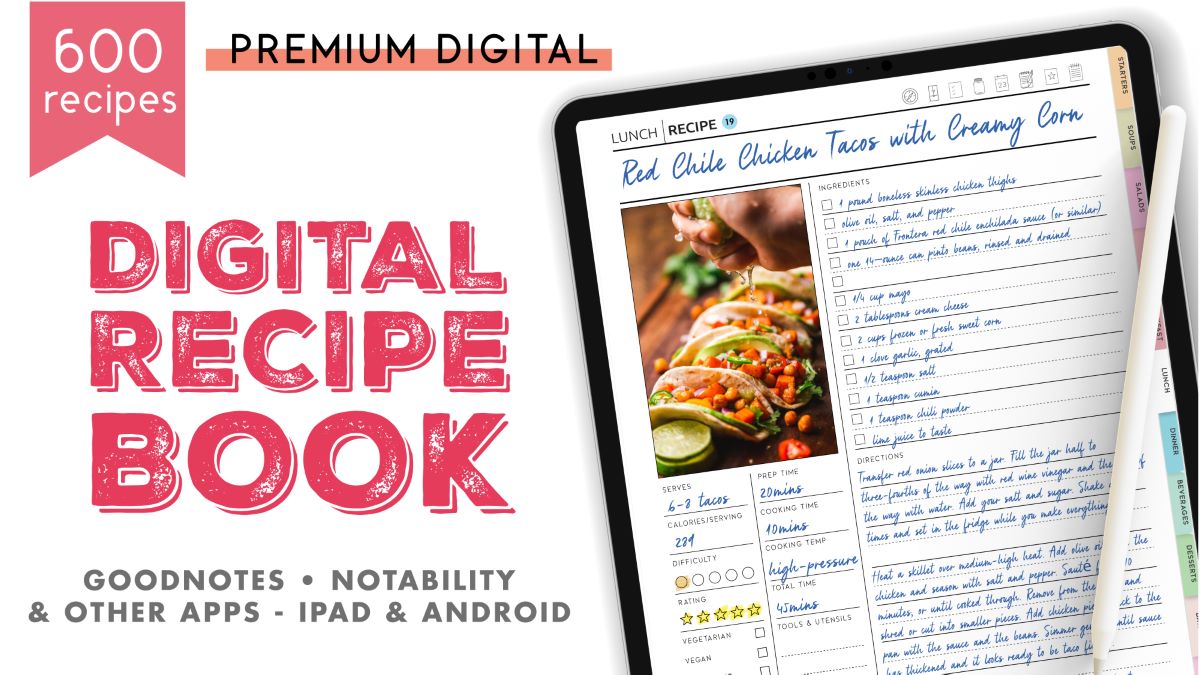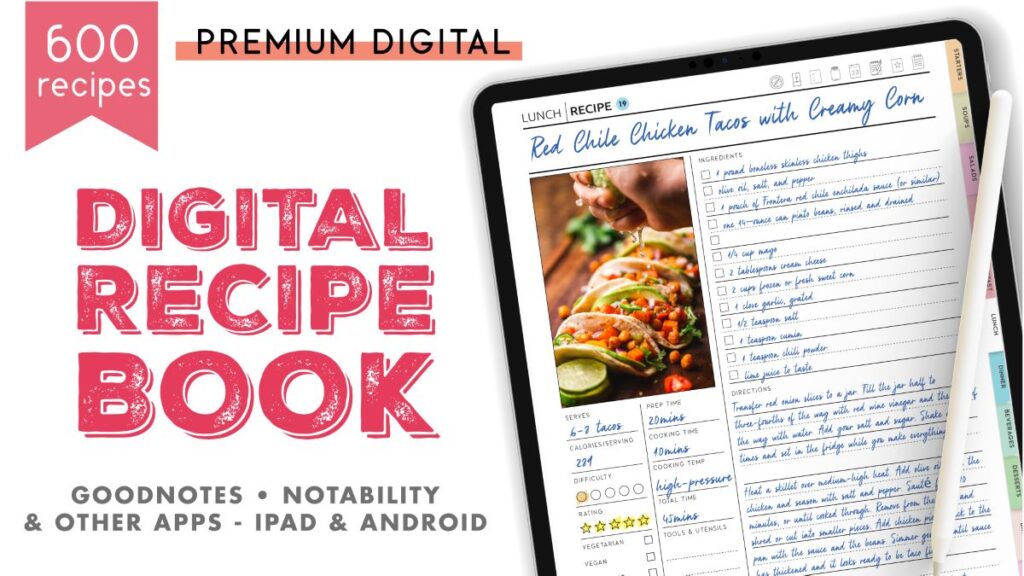 Make the most of your new recipe binder!
I really hope you use and enjoy our free recipe binder. Be sure to recommend it to your friends! Follow us on Instagram or Pinterest, as it's a great way for you to keep updated with our latest freebies.
If you have a comment that you would like to share, then please reach out to us on Pinterest, Instagram, or TikTok! We'd love to hear how you're using our creations!
Follow World of Printables on Pinterest
COPYRIGHT
Our creations are for personal use only and are the copyright of World of Printables – you cannot redistribute, reproduce, or resell, although you can link back to our website.
What do other people do after viewing this?