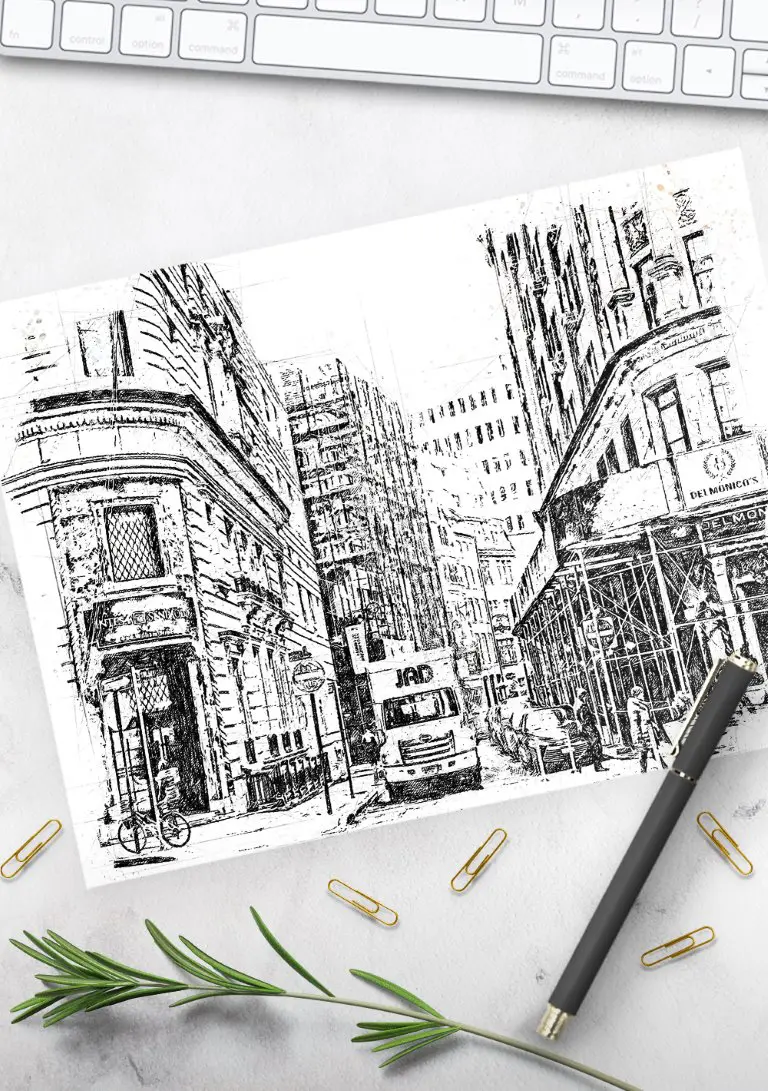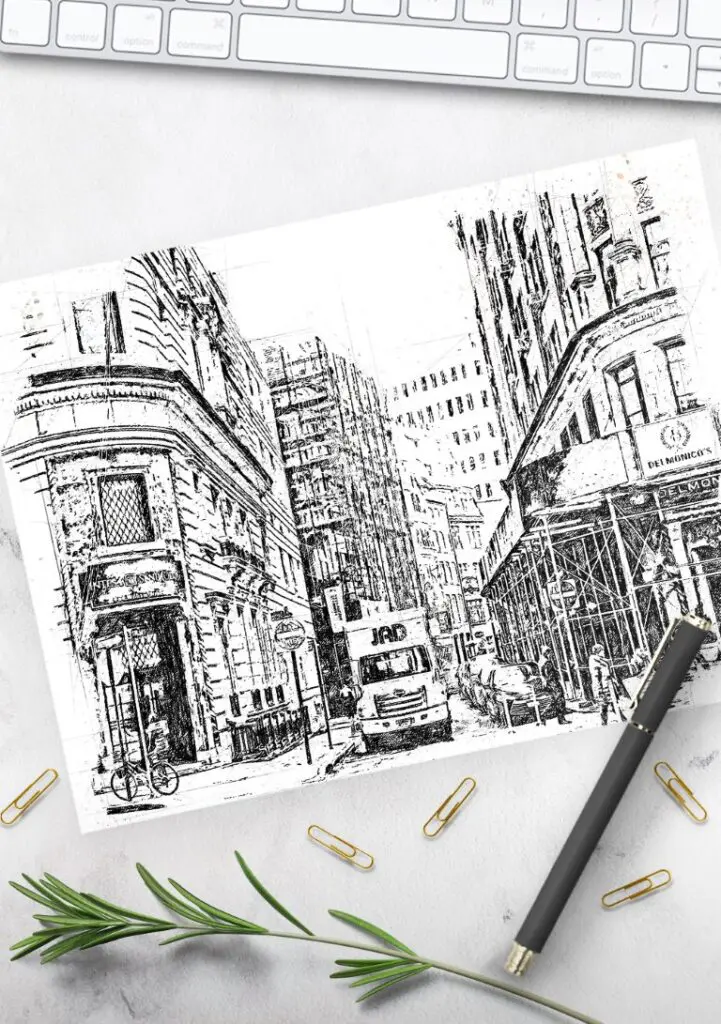 Have you seen our coloring page wall art range? This urban streets coloring page is one of 75+ similar styled pages that you can print out, color in, and frame for your walls.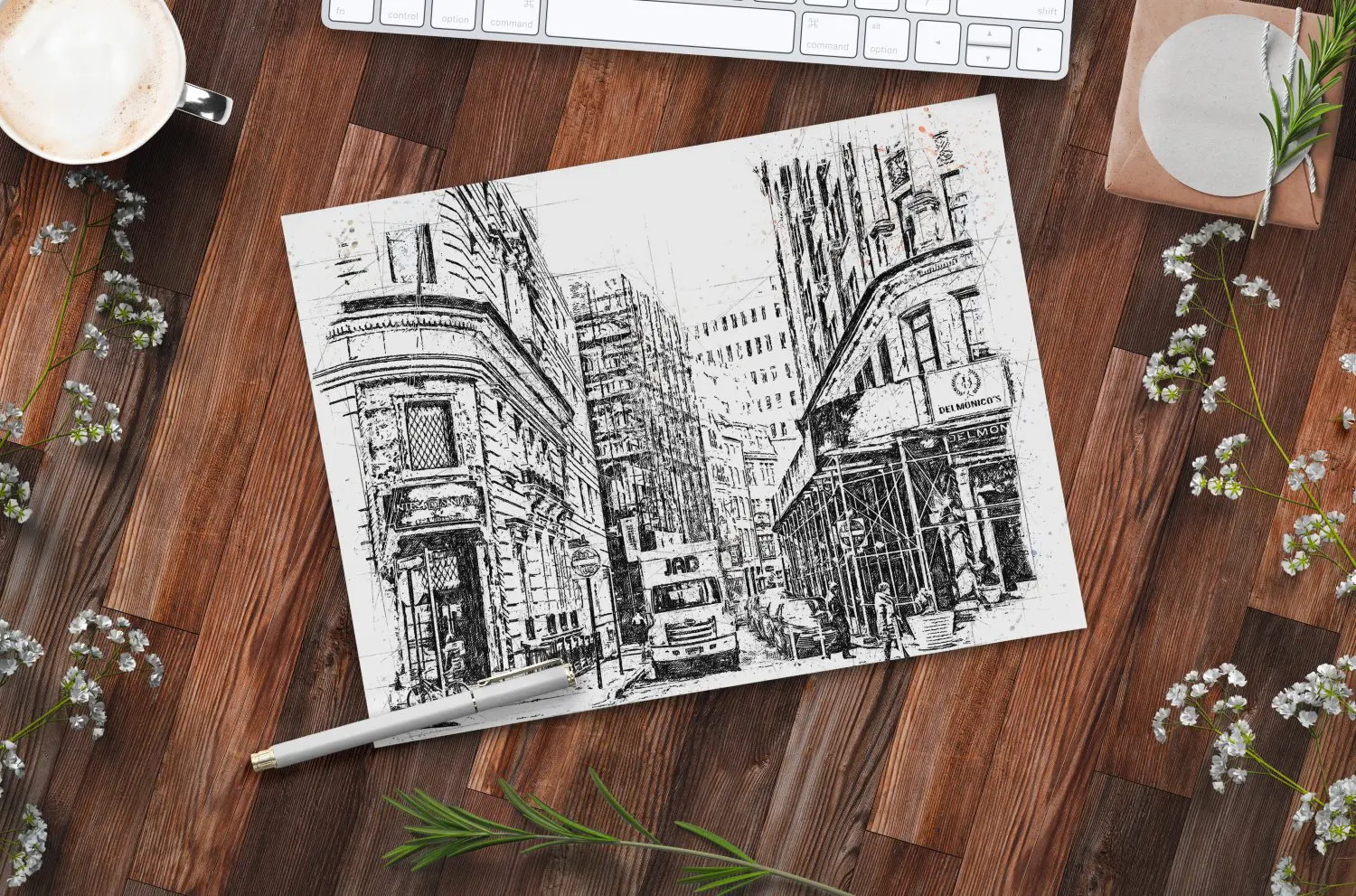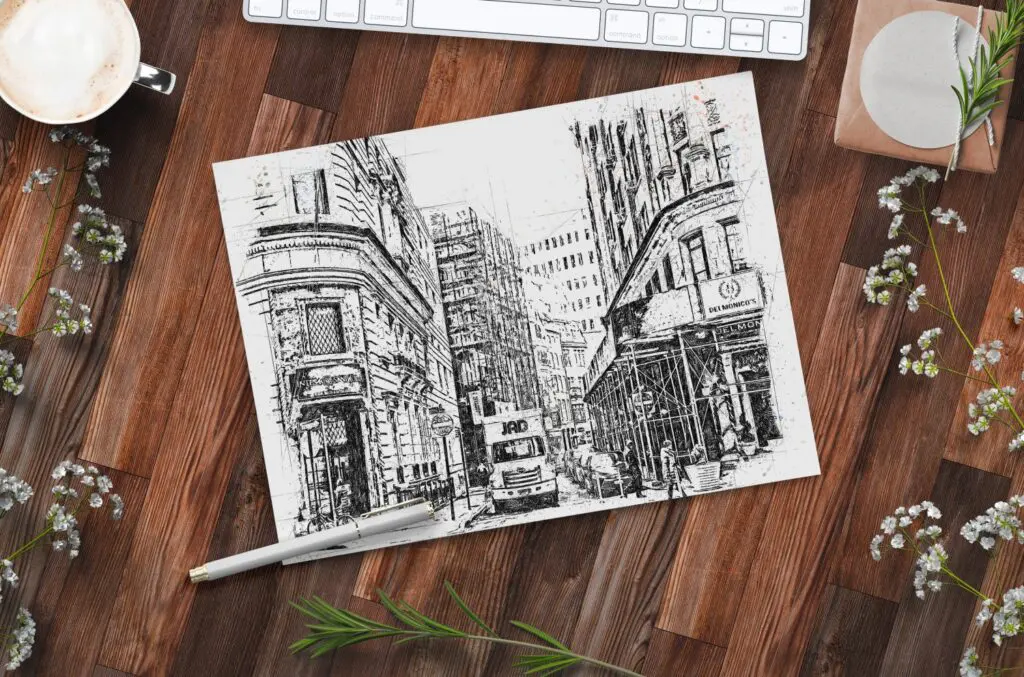 In my opinion, there are many boring coloring pages out there, they're all pretty much the same. Once you've completed them they often get discarded. The great thing about our wall art range of coloring pages is that once they are completed you can frame them and then hang them on your walls. They certainly never look boring and have that artistic look about them, especially when they're left unfinished, which gives them that certain look, similar to the art that architectural drawings have.
Take a look at how this could look when finished and framed. Doesn't it look great?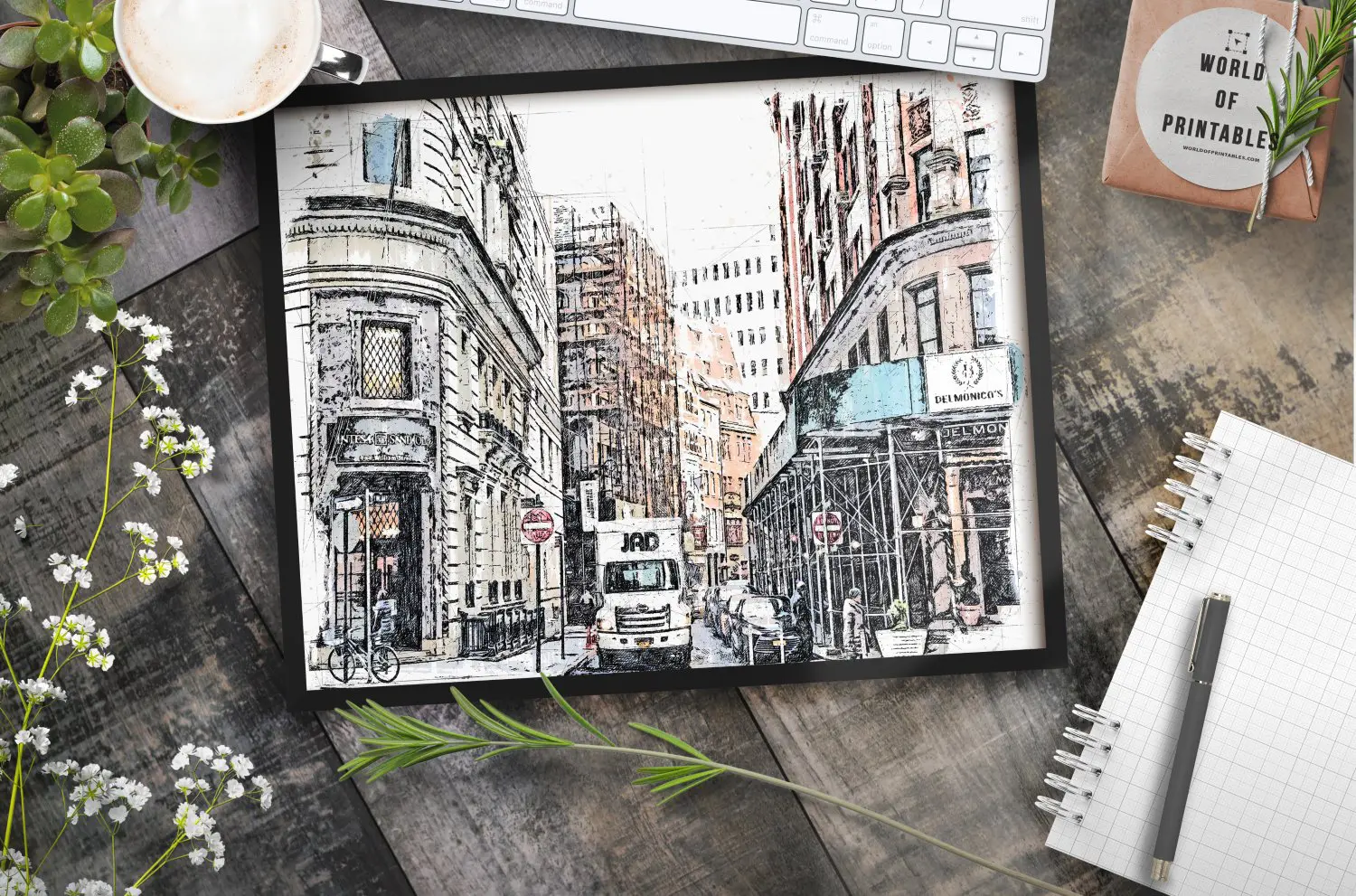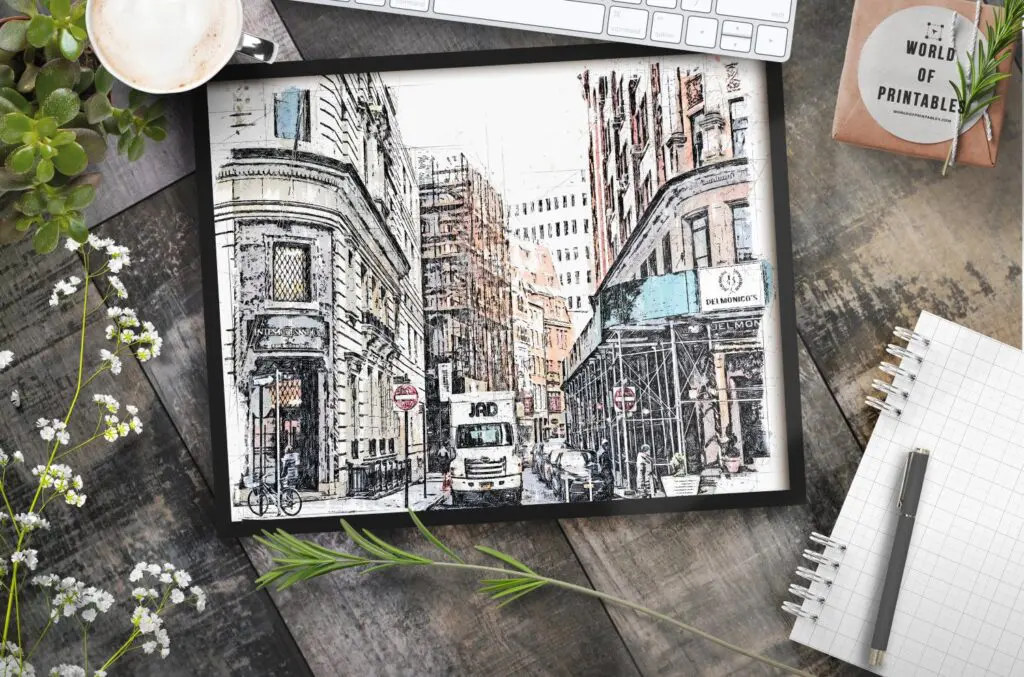 You can simply download, print out, and color in to give yourself some much-needed relaxation time, especially at the end of a day. Or for those rainy days when you're stuck inside you can pass some time creatively by coloring in this page and even framing it to decorate your walls.
It's like some instant attractive wall art for your home. From the moment you download, you can have this printed, colored in and framed in just 30 minutes! How great is that?!
If you're looking for a quick and easy way of decorating your home with some art, then you can't go wrong by downloading this coloring page.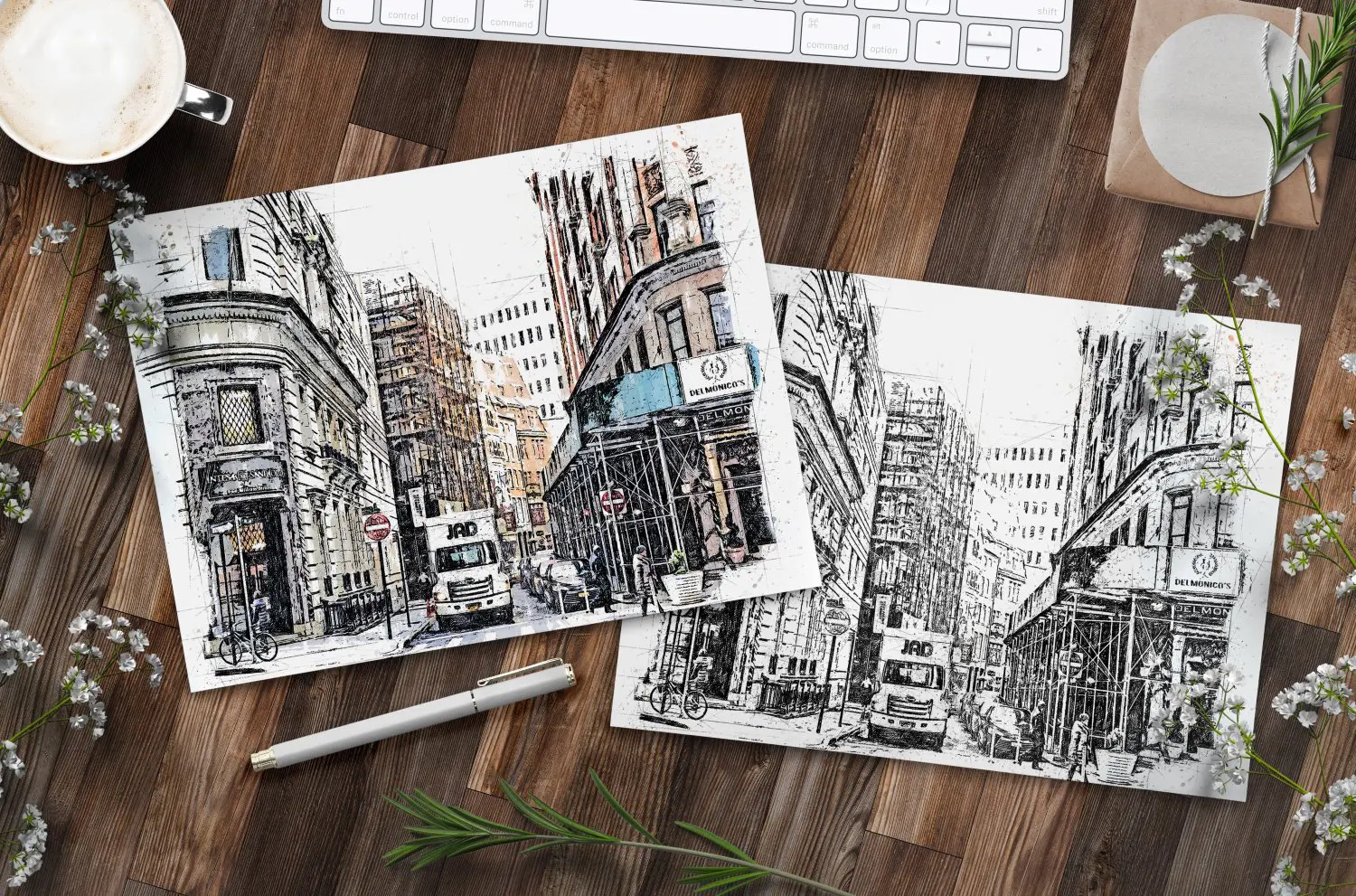 When they're coloring in they really do look like they've been hand-drawn and colored, or painted, rather than some regular printed artwork. These look unique. You can even sign your name at the bottom to give it that artist finish!
This coloring page is one of over 75 similar pages from our wall art collection of coloring pages. You can find more like this on our website, or get the whole collection in our coloring page wall art edition ebook.
We're giving our wall art edition coloring page book away to our loyal readers.
Oh and if you like this, please share on Pinterest – it would really help us!


INSTRUCTIONS
Download the free Urban Streets Coloring Page
Print the coloring page. The pages are designed as 8.5 x 11 printables. TIP: If you want to print at a different size then simply insert this printable into Canva, set your dimensions to any size you want, then download it to your computer, easy! Full steps in this guide.


We get a lot of questions on what paper and frames we recommend.
Paper Recommendations
For regular paper, I find that Amazon's best-selling paper is such a good deal and has tons of great reviews (over 10,000!).
Cardstock
Cardstock is thicker, durable than regular paper and is great when you want top-quality prints, especially if you want to frame them. If you want to print on cardstock, I really like Amazon's Choice of cardstock paper, which is great for prints.
Frame your prints. To find great looking frames that are ideal for this printable, I recommend Amazon for 8×10 Picture Frames as these look super cute, or frames from Ikea. You can even find Ikeas very popular Ribba frames on Amazon saving you a trip. I also really like wooden poster hangers that have an original boho look.
More Free Printable Coloring Pages from World of Printables
Finally, if you liked this post and free printable coloring page book, go ahead and hit the Pin button below, as it really does help us in so many different ways and is a great way to save for later.