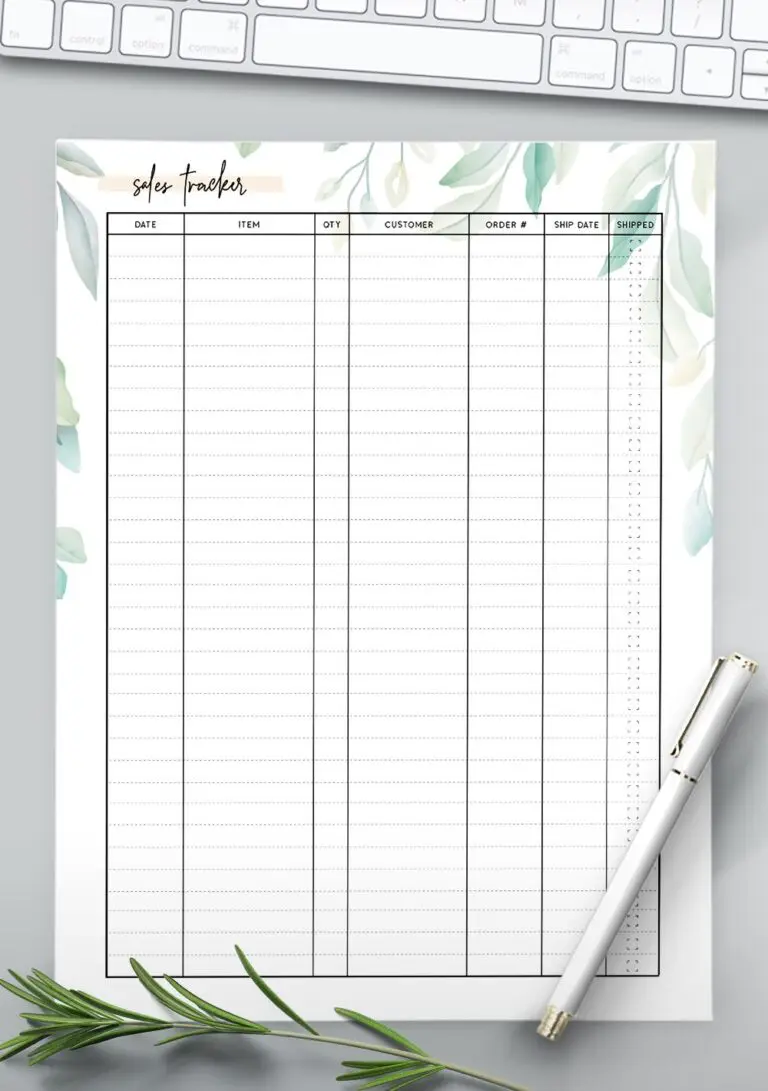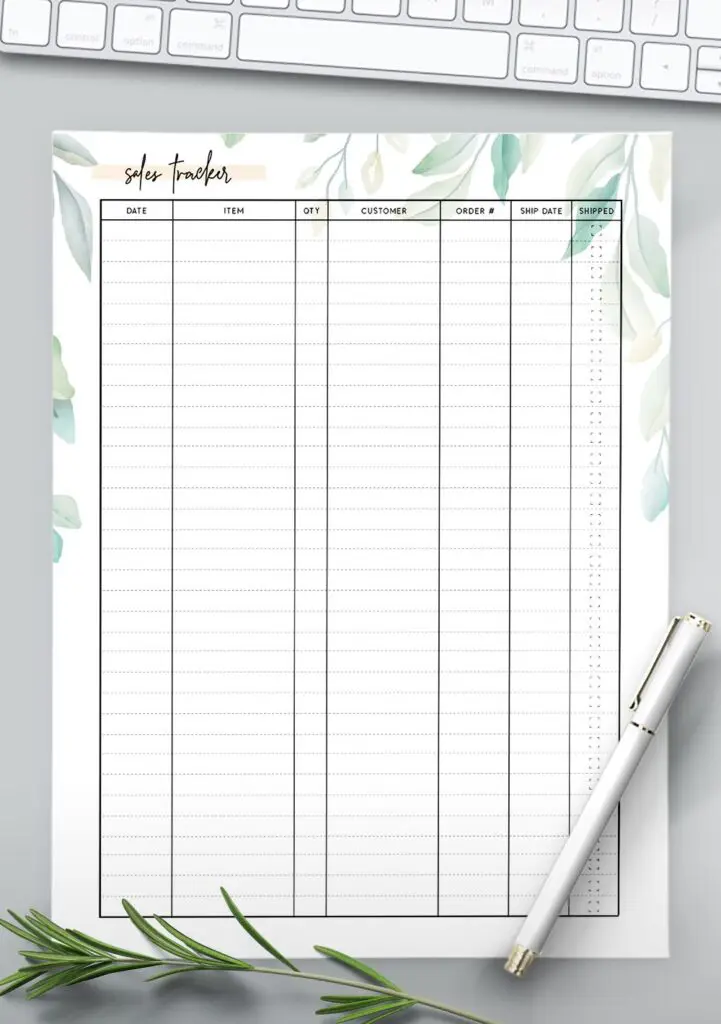 This printable sales tracker template is a must-have for a small business or someone who is starting out with a side hustle.
If you run your own business, Etsy, Shopify, or Amazon store and you need to track orders, especially when you have to ship orders, then this printable sales tracker is made especially for you.
This template can also be helpful for keeping a sales log for tax purposes.
When I first started out with my first business and sales weren't so heavy, I used this sales tracker to help me log sales and also help me when it came to making and packing my orders.
It is really important to be organized with the sales you receive. This way you can make sure you are always on top of things and always ship your orders on time.
This is especially important if you sell on Amazon or Etsy, as it can affect your metrics or could even result in the loss of your selling privileges.
How to use this free printable sales tracker template
The sales tracker has space to write different information that helps you with all aspects of your business whether that's logging sales, helping with packing info or giving you data for your expenses.
The sales tracker has space to write:
The date of the sale (to figure out when it is due to be shipped after processing)
The item that you sold (also use it to know what to create)
Quantity
Customers' name (to know who to send it to)
Order number (for any details and further information)
Shipping Date (deadline day)
If you've shipped it
So if this sounds like something you'd benefit from, then be sure to grab the template below and print a few copies so that you have them available when you need them.
You can start tracking your sales within minutes.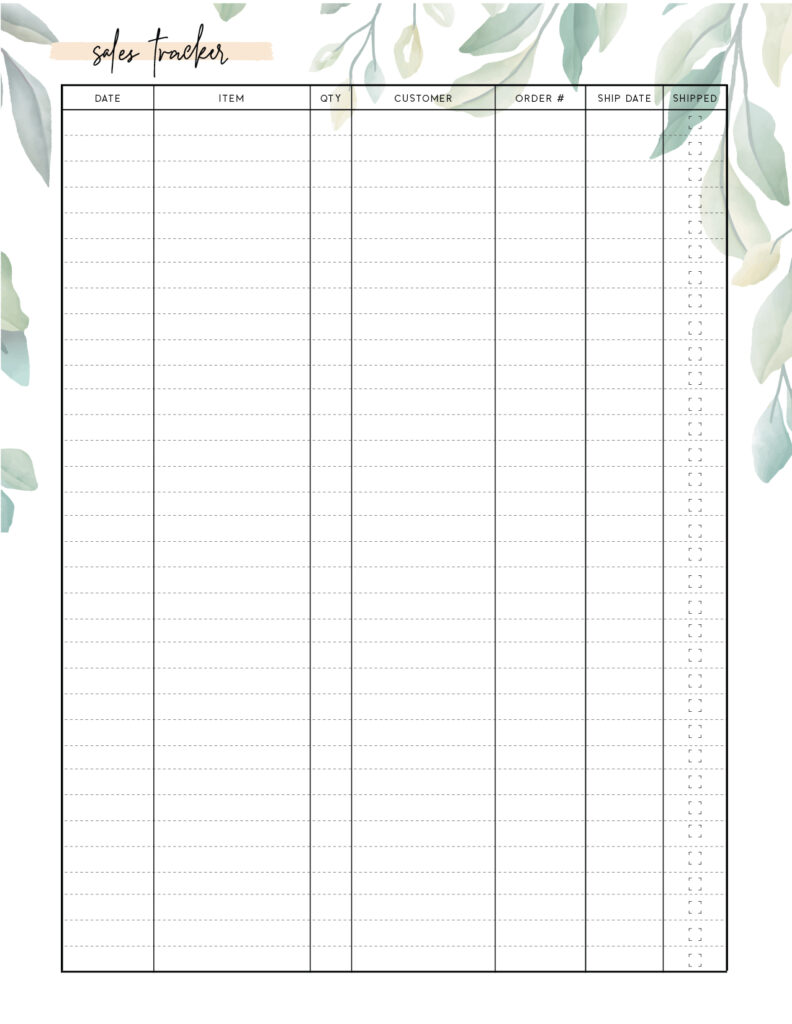 As you can see, you can use the sales tracker also as a packing list and help you know what to make but this is only really an option for when you are starting out and have very few sales.
When your business is growing and you want to achieve more then I recommend using the Small Business Planner Bundle as it offers everything you will need to start right and be very efficient with your business.
We have been selling for many years on Etsy, Amazon, and our own websites. When we started we didn't have anything to help us stay organized. Over time we learned what worked and what didn't which helped us become more efficient with our time and our revenue.
This is why we have designed this small business planner bundle, which has everything you need to plan, organize and run your business efficiently.
When you get the sales tracker, you will receive it in four styles – Botanical, Classic, Cursive, and Soft.
You will also get this included in the Small Business Planner Bundle! Don't forget to check it out!
How to make printables look awesome
INSTRUCTIONS
Get the free sales tracker template. If you are looking for more awesome free templates then check out our huge range of printable templates.
Print it! – Our templates look so good when printed on this bright paper.
These printable templates are designed as 8.5 x 11 pages. TIP: If you want to print using different size paper then insert this printable into Canva, set your dimensions to any size you want, then save and print, easy! Full steps in this guide.
Get the free sales tracker template
To get the sales tracker template for free, open the template image above and save it to your computer.
Alternatively, for the highest-quality version which comes in four different themes, use the button below to visit our product page. Use the coupon code displayed to get it for free.
Remember to look through the rest of our printable templates, we've got printables for every aspect of your life!
Find 100's more stylish planner templates that you'll love
Some of our recent planner templates. Find many more Printable Planner Templates that will help you get on top of your life with ease. You'll love them.
Follow World of Printables on Pinterest for more