Keep track of your expenses with our Expense Tracker Templates. We've designed over 30 stylish templates that you can print and use to keep on top of your monthly expenses.
It's time to get your finances in check and there are many different printables that can help you do that. You will need to get an understanding of your cash flow and work on your budgeting, savings, and your expenses. Luckily, we offer printables for all of these.
Today though, we are going to look at expenses and how you can organize and track them in an easy and manageable way.
Our printable expense trackers are perfect for personal use, and also great if you're self-employed or if you run a small business and want to track claimable expenses.
If you're focusing on your finances, then the chances are that you would like to do this for free or as cheaply as possible.
Take a look at our FREE printable expense trackers and app recommendations. Don't forget to check out our huge collection of finance printables right here on World of Printables and they're all completely free.
How can I track my expenses for free?
If you're looking to track your expenses for free then there are a few options for you to choose from whether you prefer printable options or digital options.
You can manually log your expenses using our free printable expense tracker or by creating a spreadsheet on your computer. You can also use online software or a mobile app for tracking expenses.
Expense Tracker Templates
Choose from our easy-to-use and stylish printable expense trackers to help you with expense management.
There are so many fun designs to choose from so you are bound to find one you love, plus many of our financial printables match so you can build your own planner from our free printables and designs.
To use the printable expense tracker, simply select the image and save it to your computer.
Choose from this selection of expense tracker templates:
I like to keep my personal finance in top shape using a budgeting binder, and you'll find these right here on our website, which includes expense templates and many other useful money management templates.
All of our templates can be used to help you track and log your finances throughout the entire year and are undated so you can start using them at any time.
How to use a printable expense tracker template
This printable expense tracker has been designed to use monthly, so use a fresh one for every month. You can also use different designs for tracking your personal and business expenses separately.
Tracking Personal Expenses
Tracking your expenses is a great way of making sense of your spending habits.
Your monthly expenses will differ from month to month but many of your bills will be a fixed amount and others may only vary slightly.
Personal expenses you might track could be:
Groceries
Subscriptions
Fixed payments such as rent, mortgage, car loan, and child support
Utility bills
Gas / petrol
Entertainment
Credit cards (credit cards can be a good way of boosting your credit score but make sure you can pay them off – check out our debt tracker templates to learn more).
Look through your bank accounts to get an idea of what you spend monthly. You might find that you can cut costs by canceling certain payments such as subscriptions.
Tracking Business Expenses
Small business owners, entrepreneurs, and freelancers will benefit from using an expense tracker as your expenses play a big part when it comes to providing your tax return. You can use an expense tracker in conjunction with your accounting software which will help you log your expenses easier.
Small businesses can be expected to log business expenses in various categories such as:
Employees' benefit programs and wages
Services such as bookkeeping, accountants, lawyers, and transaction fees
Overhead costs
Inventory
Insurance
Advertising
Utilities
Software
Mileage for business travel or company car
If you are using your expenses for your tax be sure to keep all of your receipts and invoices as proof.
What is the best app for expense tracking?
Some people prefer to use their devices to keep track of their expenses, so we've got some of the best expense tracker apps to share with you!
If you're looking for a mobile app to help track your expenses, then there are plenty app options available. You can also use your tablet and a digital planner to keep track of your expenses without buying or subscribing to an app.
You can find a diverse selection of mobile apps on the app store for iOS or Google Play for Android which can sync between your devices.
Expensify
(Android & iOS)
Expensify is a receipt and expense management app that you can use for both business and personal expenses.
You can use this app to upload receipts, manage your expenses, and if you want to, book travel! One thing I like about this app is that you can automatically send your receipts to your manager or accountant, making sure your receipts are exactly where they belong.
Intuit Mint
(Android& iOS)
Mint is a great budgeting and expenses app that can manage all of your accounts in one place. Mint is an intelligent app that has the user in mind. It will alert you when the prices of your subscriptions change, giving you a heads-up before you pay more without knowing.
You can also set goals, monitor your cash flow easily monitor your expenses.
YNAB (You Need A Budget)
(Android & iOS)
Ynab is not just an expense tracking app but is also a great personal budgeting app with a free trial. This app allows you to manage your money and your budgets, easily adjusting them when you need to, setting targets, and importing transactions.
TurboTax
​(Android)
TurboTax is an app that helps you submit your tax returns and receive a tax reimbursement if you are eligible. This is a great option if you need to do your taxes and would prefer a little bit of help along the way, whether that's to help you maximize any tax deductions, create expense reports or check your documents and info before you file your report.
Smart Receipts
(Android & iOS)
Smart Receipts is an amazing app that scans your receipts and allows you to organize them into the relevant expense category. You can also create custom expense reports and export them as PDF, CSV, and zip files.
How to use our planners for the best finish
Resize it – Our printable planner inserts are made for US Letter sized paper. But you can easily resize planner pages to fit any paper size and binder. It's so easy to make them bigger or smaller to fit into your choice of binder.
Print it – We recommend using nice quality paper for printables for that high-quality shop-bought look.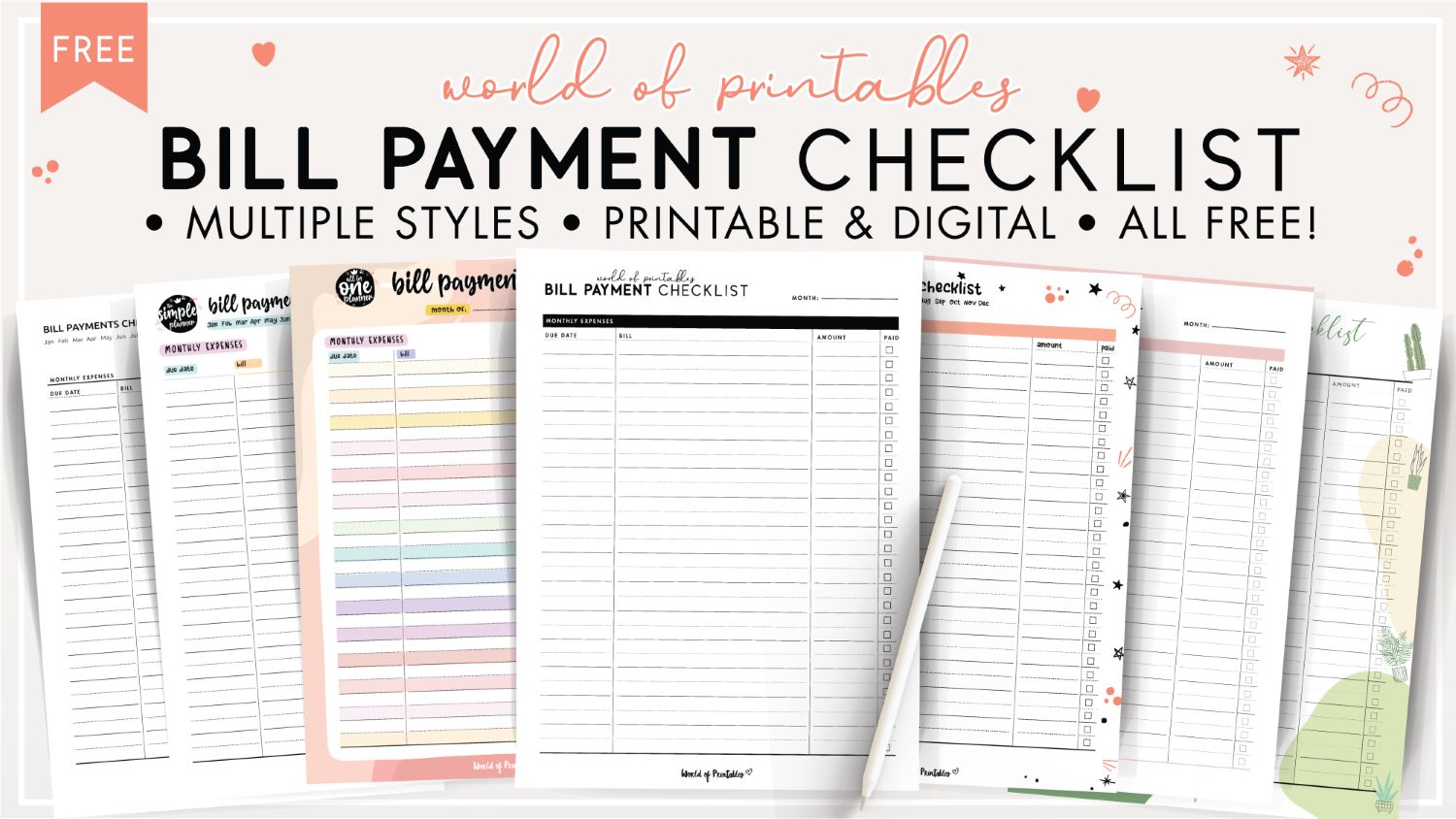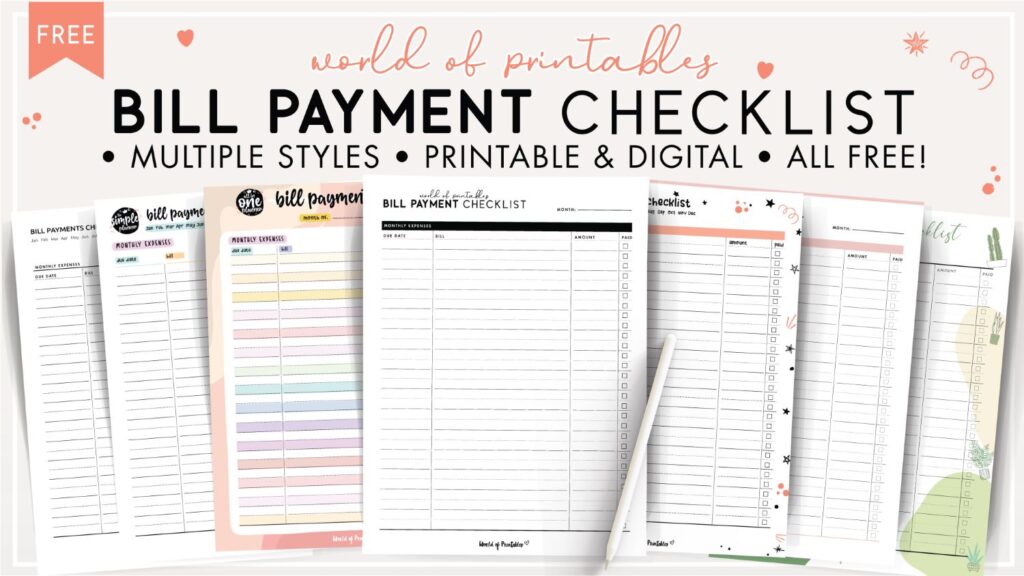 More awesome printables and templates from World of Printables
We've created a huge amount of these budget planner templates that will help you manage your budget better than ever. Be sure to grab as many as you can along with our many other money management printables while you're here.
Remember to look through the rest of our planner printables, we've got printables for every aspect of your money and your life!
We think you'll find these very useful:
More money management templates
Some of our recent money management templates. Find many more Money Management printable templates that you'll love for free.
---
Find 100's more stylish planner templates that you'll love
Some of our recent planner templates. Find many more Printable Planner Templates that will help you get on top of your life with ease. You'll love them.
Follow World of Printables on Pinterest for more