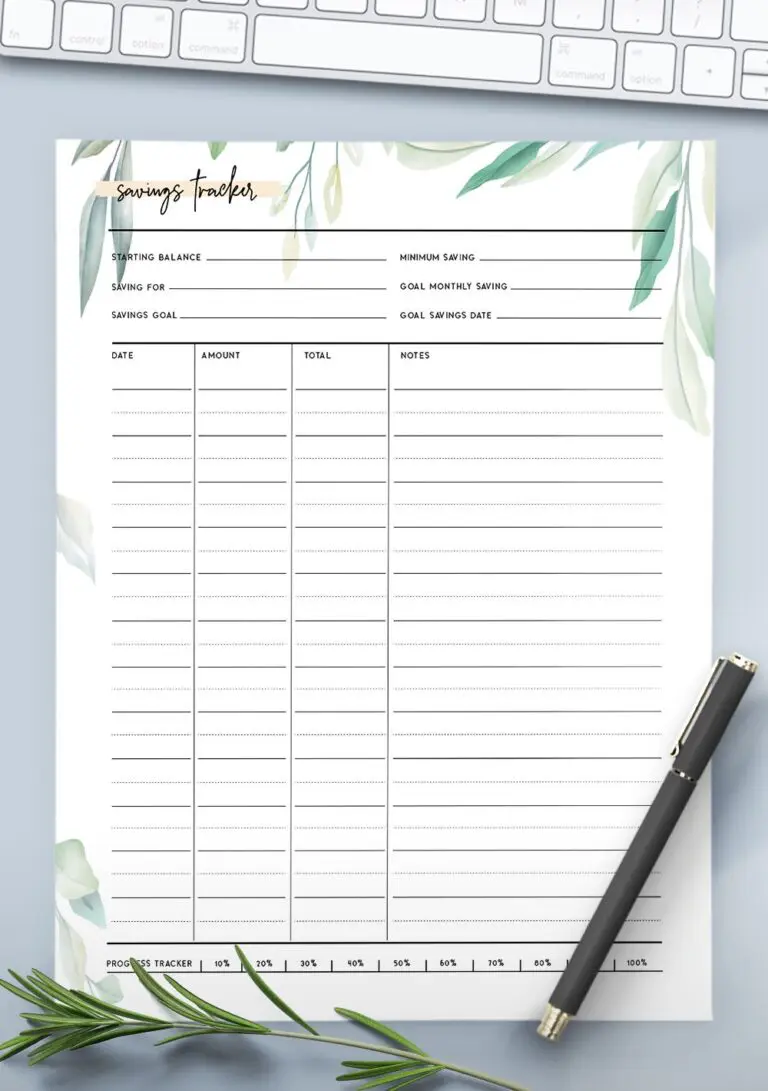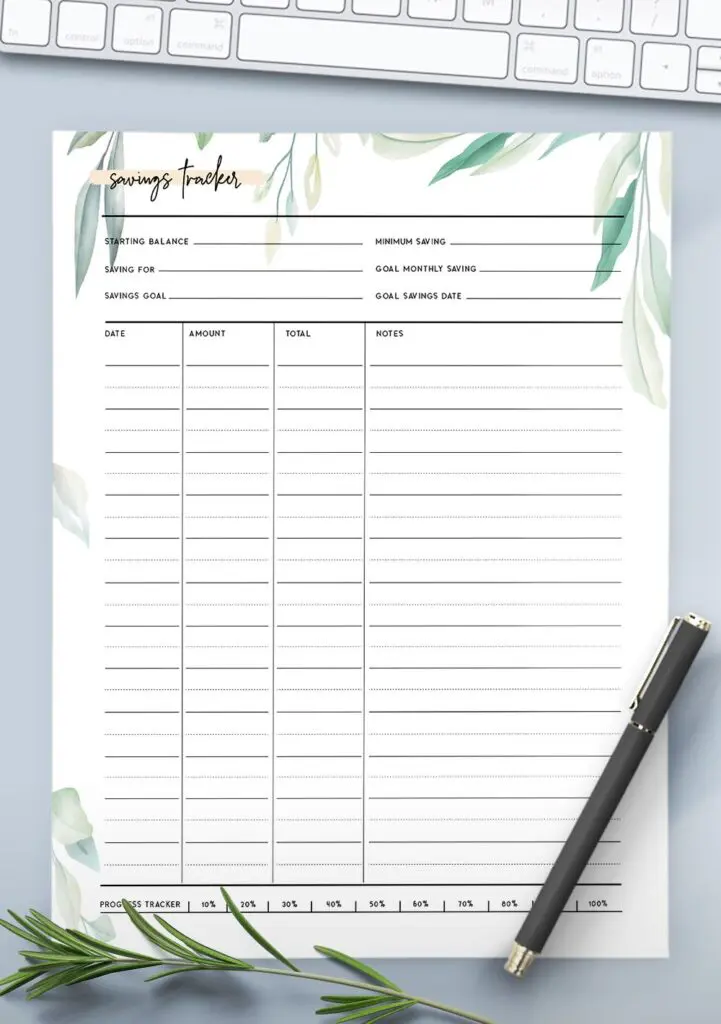 If you're looking for a simple way of keeping track of your savings, then this free printable savings tracker template is the perfect thing for you.
I know how hard it can be to save for something and actually stick to it. One of the easiest ways to stick to something is seeing the progress being made, but firstly, you've got to get past the first step.
If you're looking to save for something this year then you should use this savings tracker to help you start.
How to use a savings tracker
The printable savings template allows you to create a goal with milestones to reach which will help you stay encouraged and motivated.
The savings tracker has different sections where you can:
Write your starting balance
Decide what you are saving for
Note how much you want to save
Decide the minimum amount you want to save each time
Write your goal for how much you want to save each month
Note the date you want to have accomplished your savings goal
You can then use the table to write the information for each time you save such as the date, amount saved, the balance, and any notes.
There is also a progress bar at the bottom to see how far you've come.
As you can see, this savings template has everything you need to start logging your savings and seeing the progress you're making towards your savings goals.
You'll be much more motivated at sticking to your savings goals with this template. It's simply the easiest way of keeping track of your savings.
Be sure to print a few of these savings tracker templates, so that you can stay on top of your savings each month.
Since you're here, why not grab a few of our financial templates? If you're serious about your money, then our money management templates will really benefit you.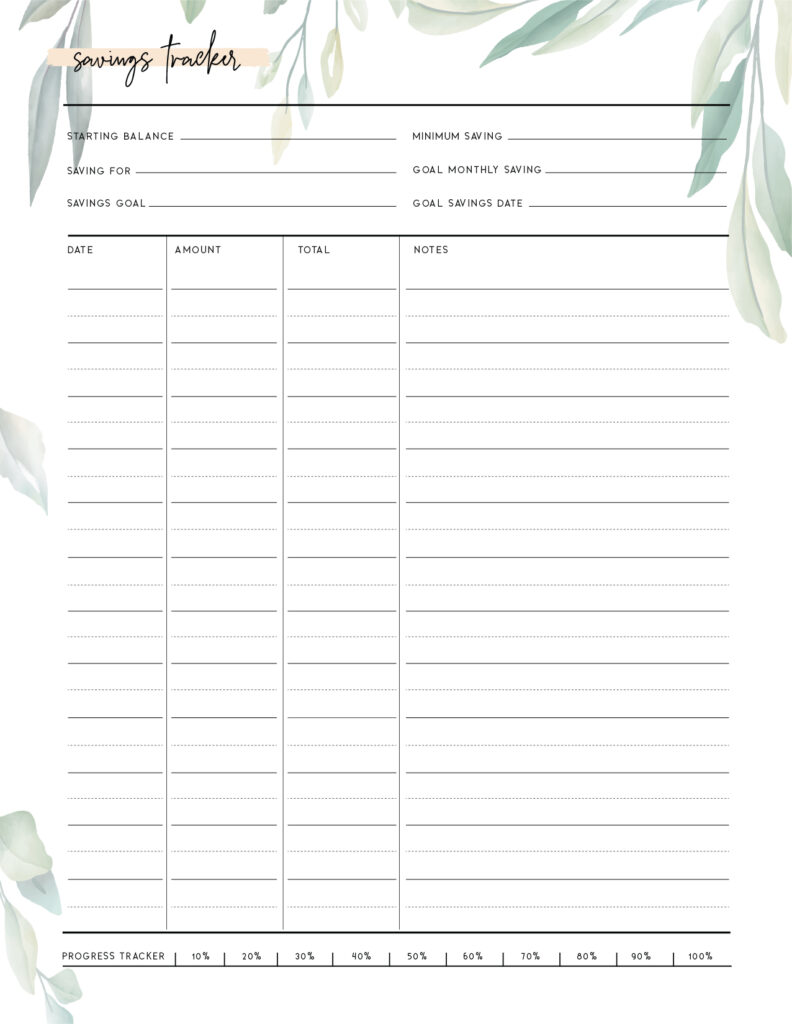 About this savings tracker template
This savings tracker comes in four styles – Botanical, Cursive, Classic, and Soft and you will receive all four of them when you get the template pack below.
You can also find the savings tracker included in the Financial Budgeting Planner Bundle along with other amazing finance printables to help you organize your finances.
Our bundles are low-cost and make it easy for you to get a whole range of planner templates without having to spend time printing each template separately.
If you have a planner or journal, our free printable templates are the perfect additions. We have so many free templates you'll never need to buy another planner. Ever!
How to make printables look awesome
INSTRUCTIONS
Get the free savings tracker template. If you are looking for more awesome free templates then check out our huge range of printable templates.
Print it! – Our templates look so good when printed on this bright paper.
These printable templates are designed as 8.5 x 11 pages. TIP: If you want to print using different size paper then insert this printable into Canva, set your dimensions to any size you want, then save and print, easy! Full steps in this guide.
Get the free savings tracker template
To get the printable savings tracker template for free, see the template image above and save it to your computer.
Alternatively, for the highest-quality version which comes in four different themes, use the button below to visit our product page. Use the coupon code displayed to get it for free.
Remember to look through the rest of our printable templates, we've got printables for every aspect of your life!
Find 100's more stylish planner templates that you'll love
Some of our recent planner templates. Find many more Printable Planner Templates that will help you get on top of your life with ease. You'll love them.
Follow World of Printables on Pinterest for more