Mood Trackers are such a great way to record how you are feeling throughout the month in your bujo and there are so many fun and creative ways of doing this. The idea behind a mood tracker is to create something that offers space for you to log your mood every day of the month with a specific color with a key to refer to. Here you will find 15 awesome bullet journal mood tracker ideas for your inspiration.
What is the point of a mood tracker?
A mood tracker can be really beneficial for helping someone log their moods and behavior throughout the month. By keeping track of your mood you might be able to determine triggers and patterns that affect your mood and learn how and when your mood shifts.
Mood trackers are also helpful with monitoring your progress with therapy and may help your therapist or physician diagnose you better. It can also show if taking certain medicines affect your mood or even if you're finding that the environments and people who surround you are beneficial to your mental well being.
Here we have compiled 15 mood tracker ideas which you can use for inspiration when adding a mood tracker to your bujo.
–
Simple Floral Bullet Journal Mood Tracker
I love the style of this mood tracker so much. Using a grid layout to track each day of the month makes it really easy to look back and reflect on your mood at a glance. Create space in the middle to add elements of your bullet journal theme to keep it consistent.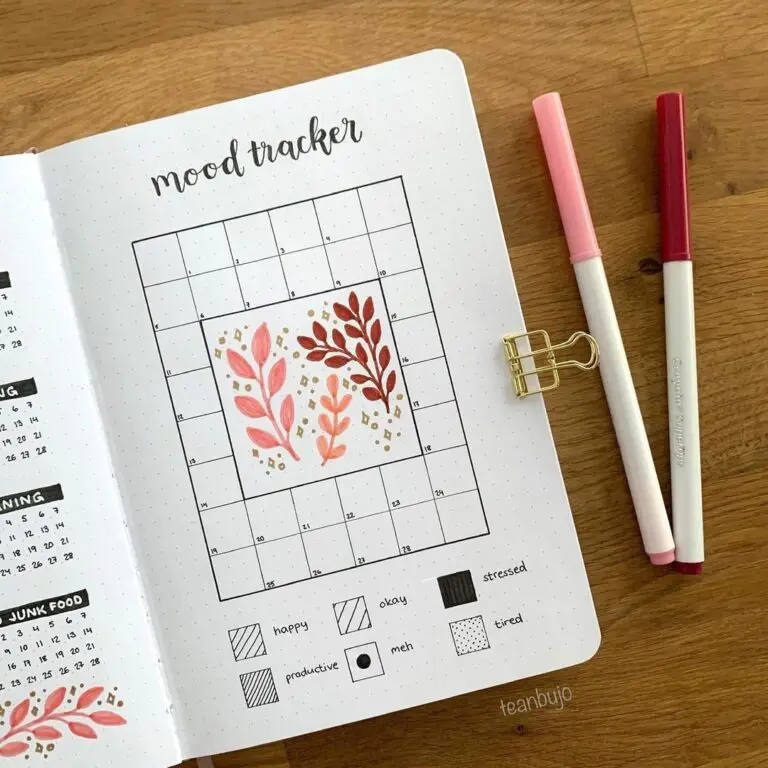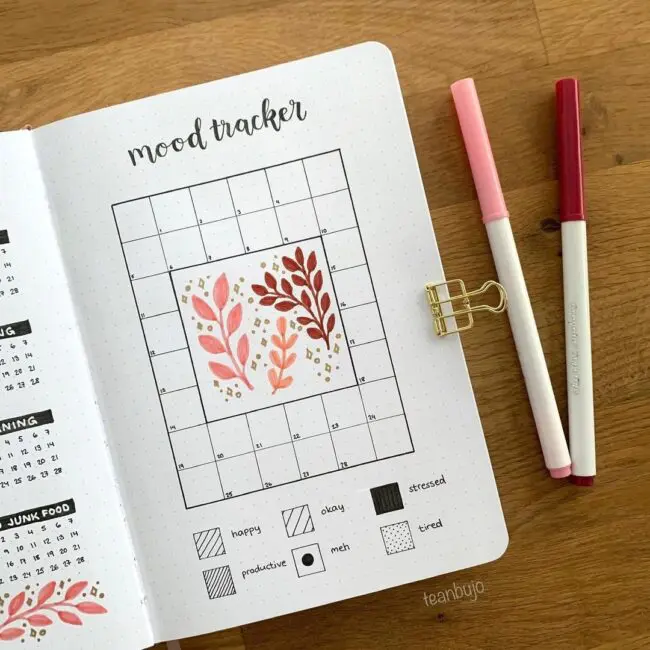 –
Mountain Bullet Journal Mood Tracker
This mountain bullet journal mood tracker is simply gorgeous and so unique. This mood tracker comes together beautifully and the mix of pattern and block color really completes the page. It is by far one of my favorite bullet journal pages. It's so creative and useful at the same time.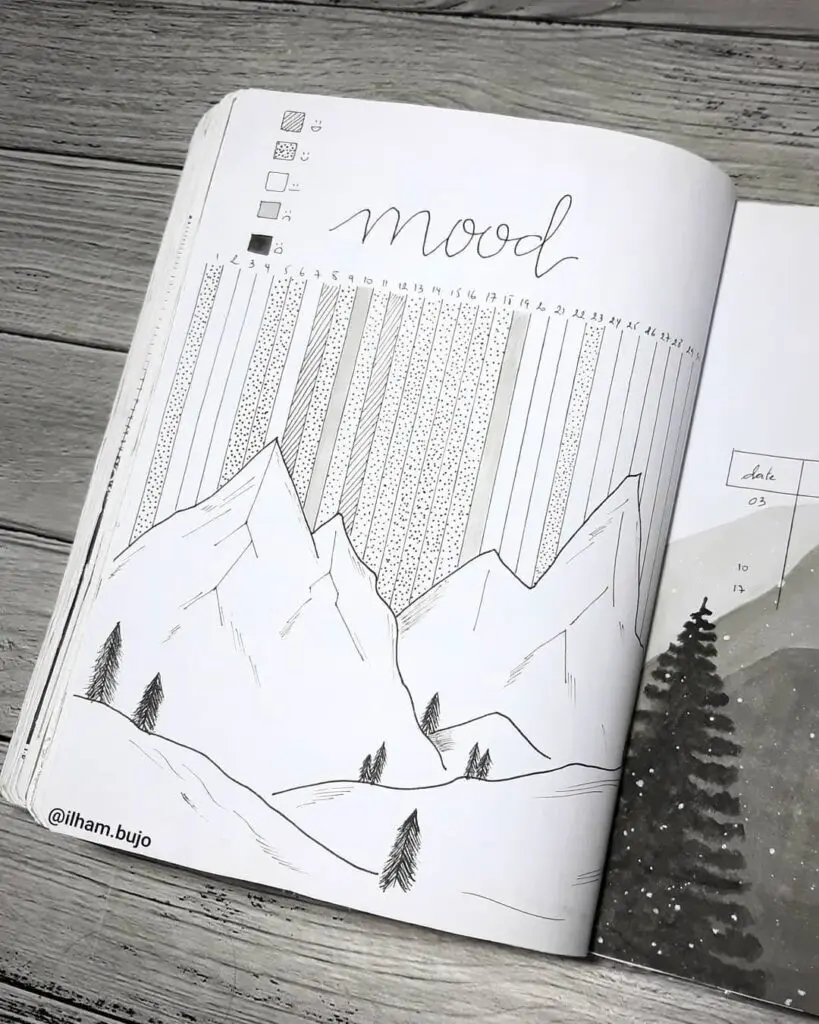 –
Bullet Journal Plant Mood Tracker
This unique plant mood tracker uses plants to represent the mood rather than colors. I think it's a really cute idea filling up the vase each day with different flowers and botanicals. I like how you can put more than one flower in a vase to show how your mood fluctuates throughout the day. It's such a great idea for a bujo mood tracker.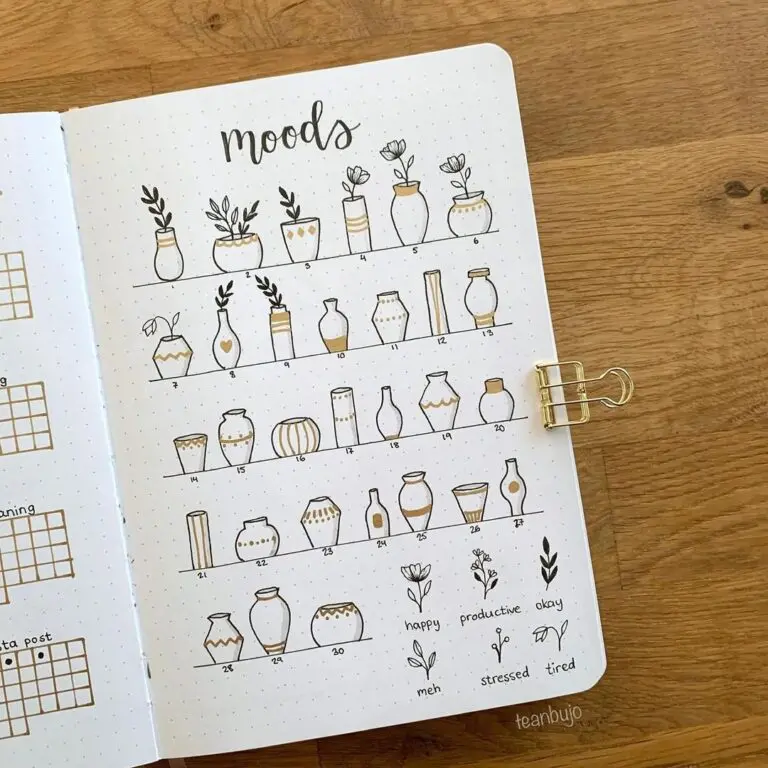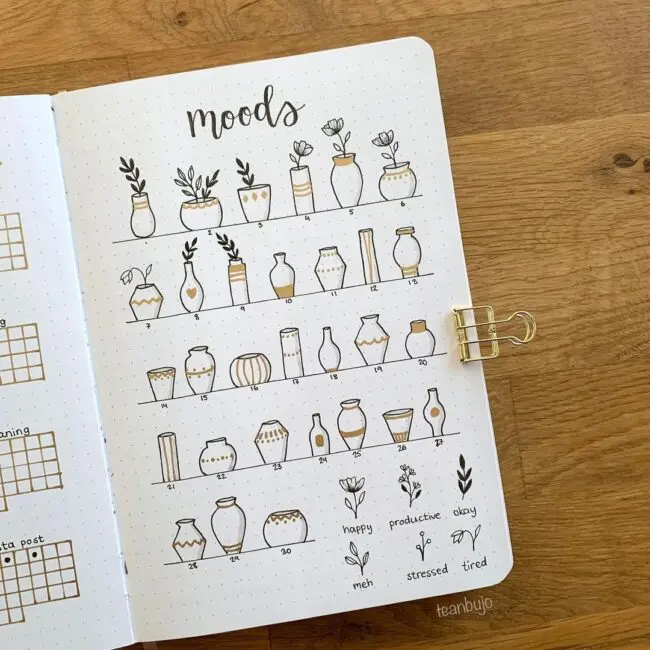 –
Bullet Journal Floral Mood Tracker
This is such a beautiful mood tracker and is a great way of adding something pretty and creative to your bullet journal. This is a great idea if you have a floral theme for the month or you're looking for something bold and beautiful.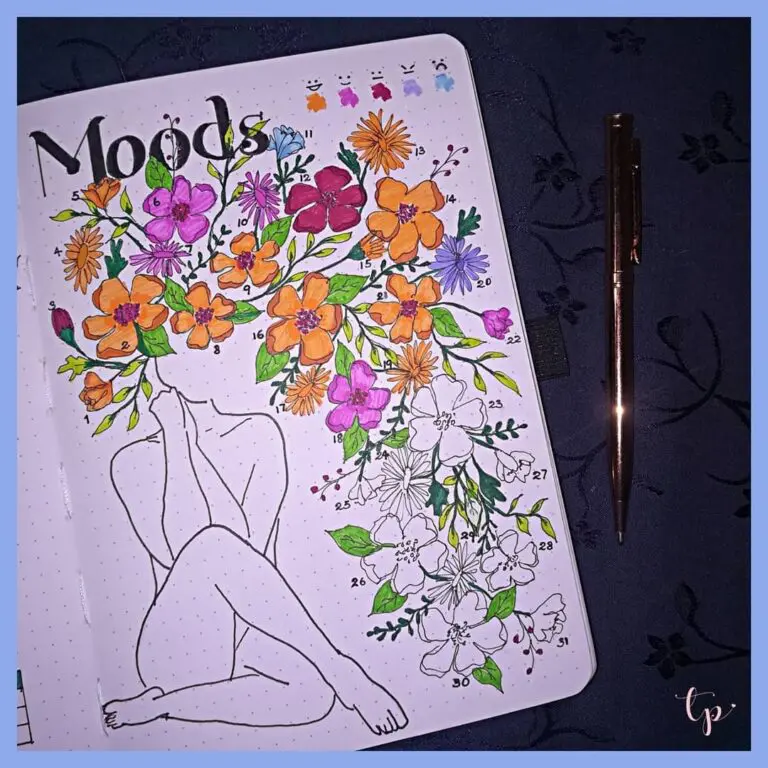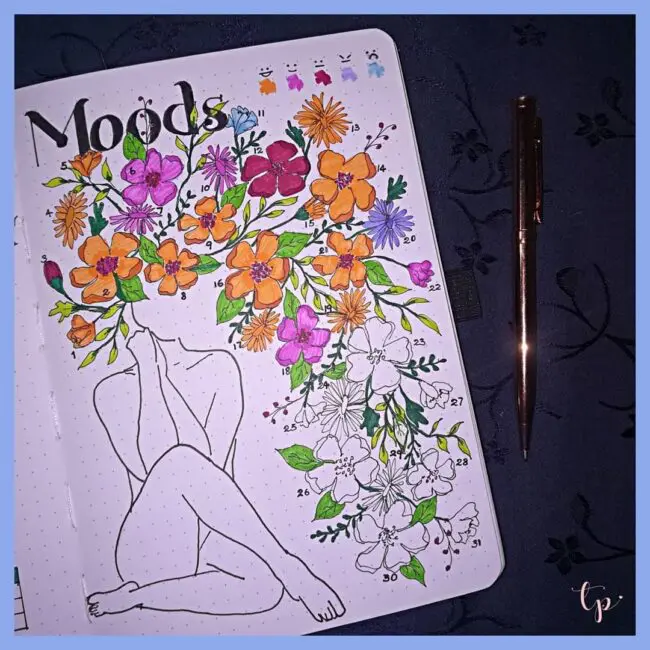 –
Beautiful Petal Bujo Mood Tracker
This petal bujo mood tracker is so stunning! I love the glass baubles and the falling petals as well as the color scheme. Everything about this spread is on point and I am so in love.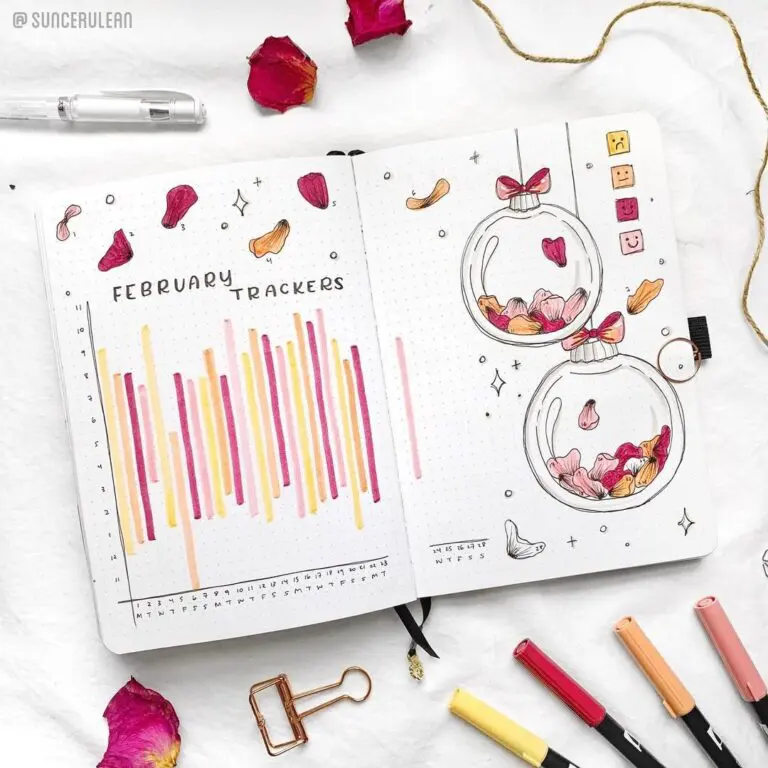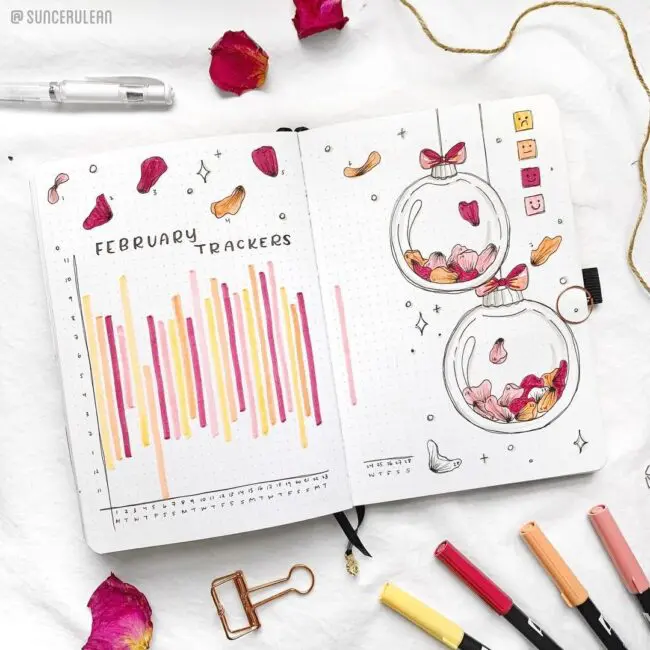 –
Botanical Mood Tracker March Bullet Journal Idea
Looking for some simple botanicals as a way of tracking your mood this month? This pretty glass vase of botanicals is an easy way of tracking your mood and won't take long to draw either.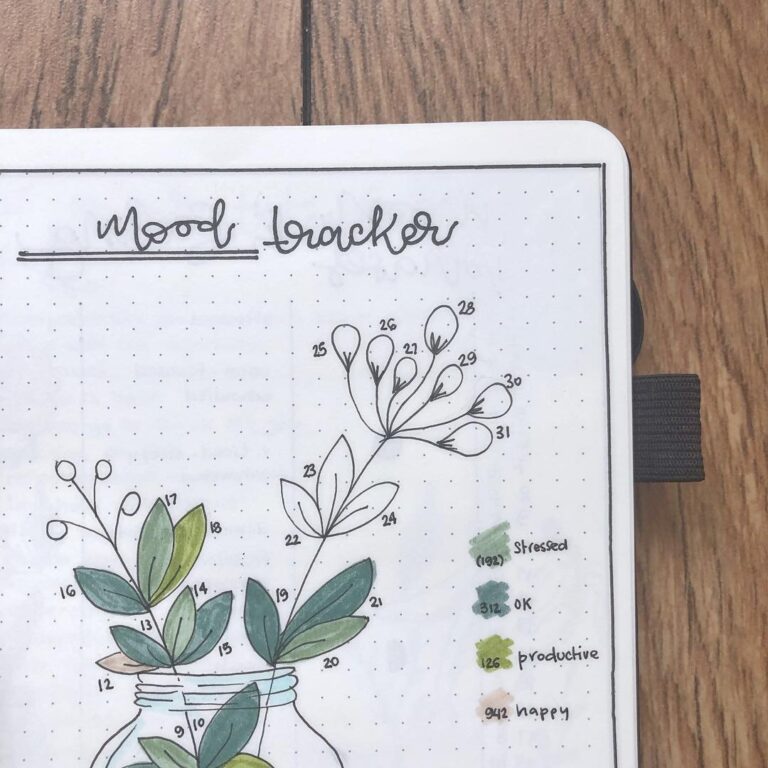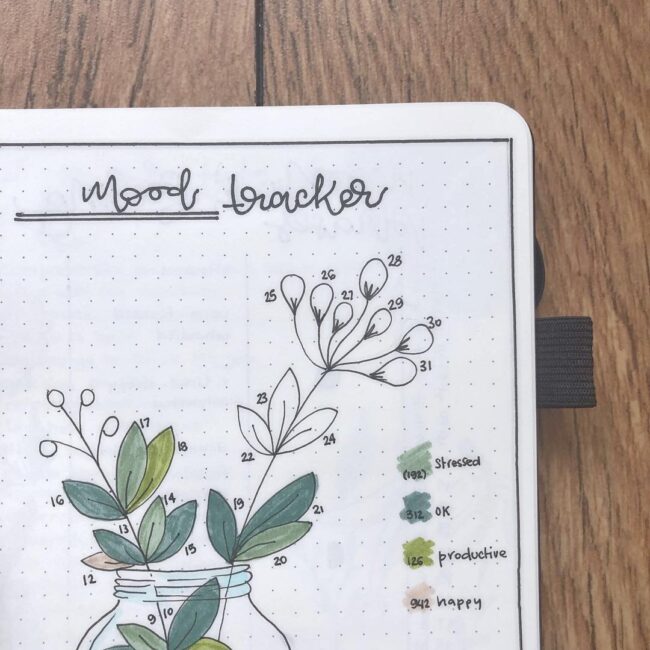 –
Tea Bag Mood Tracker March Bullet Journal Idea
This tea bag mood tracker is so creative and looks like it would be so fun to color in. I really love the look of this page and think it is an amazing way of tracking your mood. I bet the would look so pretty once completed.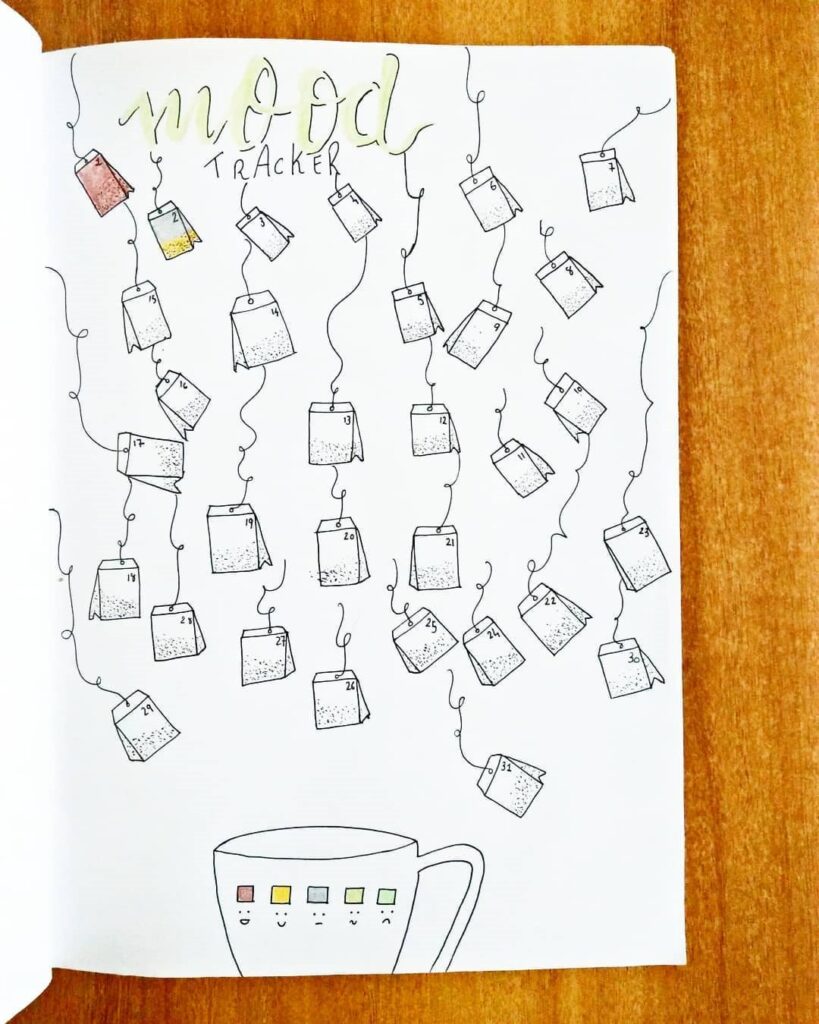 –
Kitten and Wool Mood Tracker March Bullet Journal Idea
This kitten lounging around on stacks of wool is so cute and is such a great idea. I feel like it would be nice to spend a little time of the day filling in a wool ball for this sweet kitten.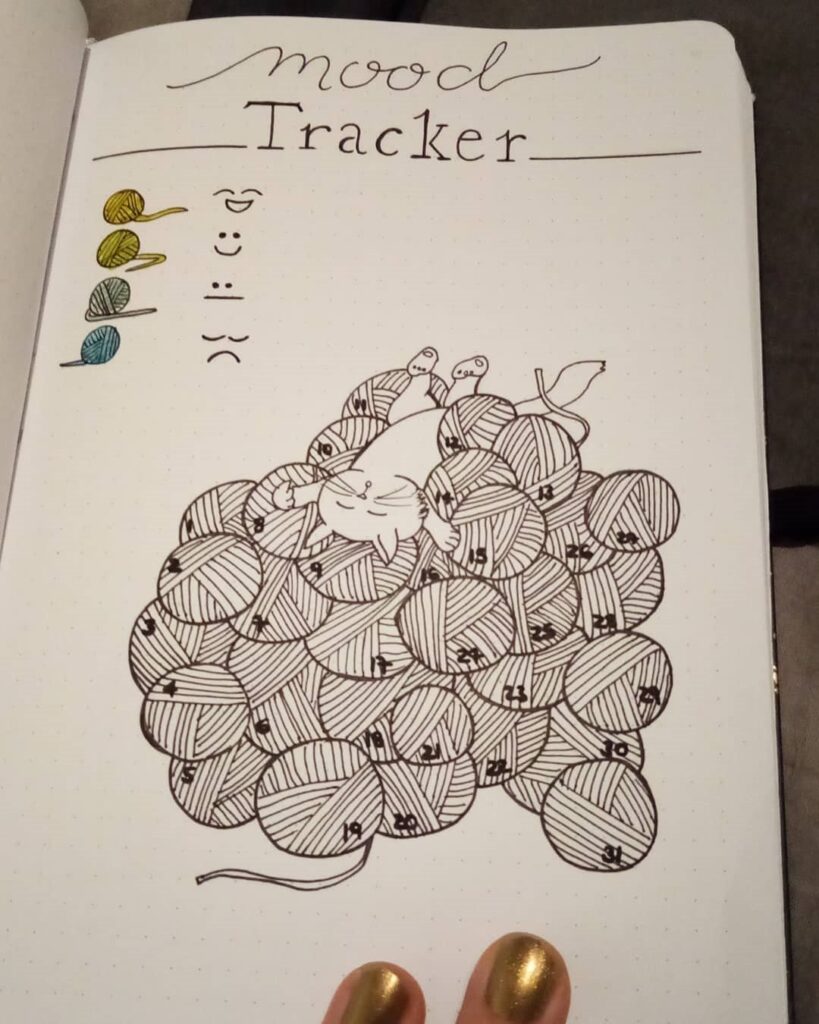 –
Love Heart Mood Tracker Journal Idea
This heart journal mood tracker is such a simple idea and looks so pretty. It is perfect for tracking your mood through February or even if you are having a girly theme for any month.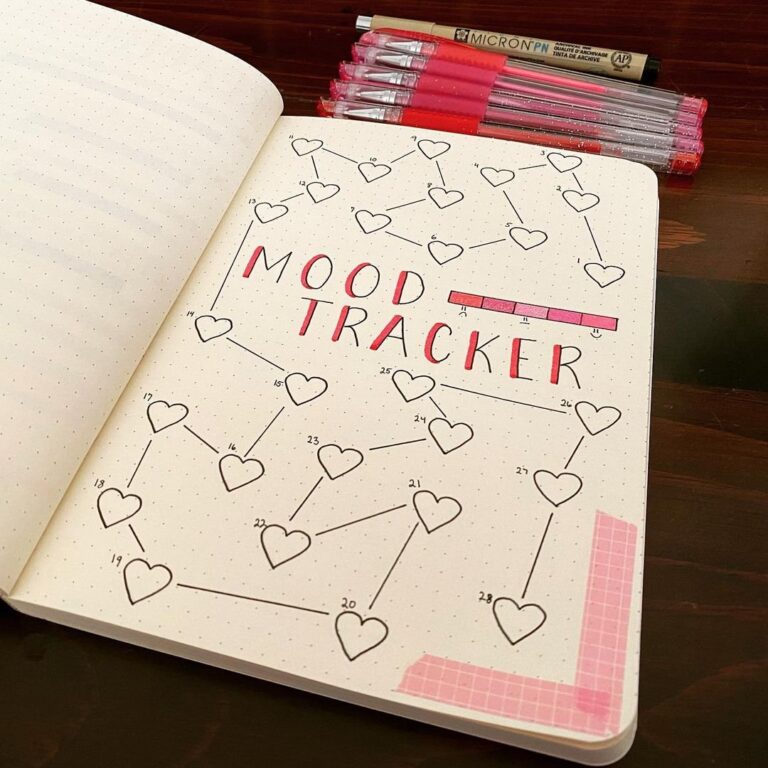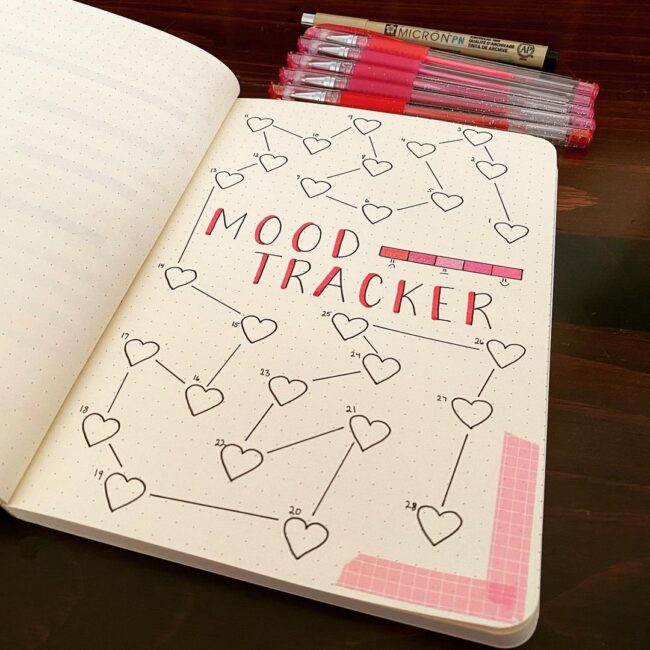 –
Brown Mood Tracker Bullet Journal Page
I like the organic, earthy feel of this mood tracker. I love the mix of color, washi tape and brown paper to give it a raw and authentic feel.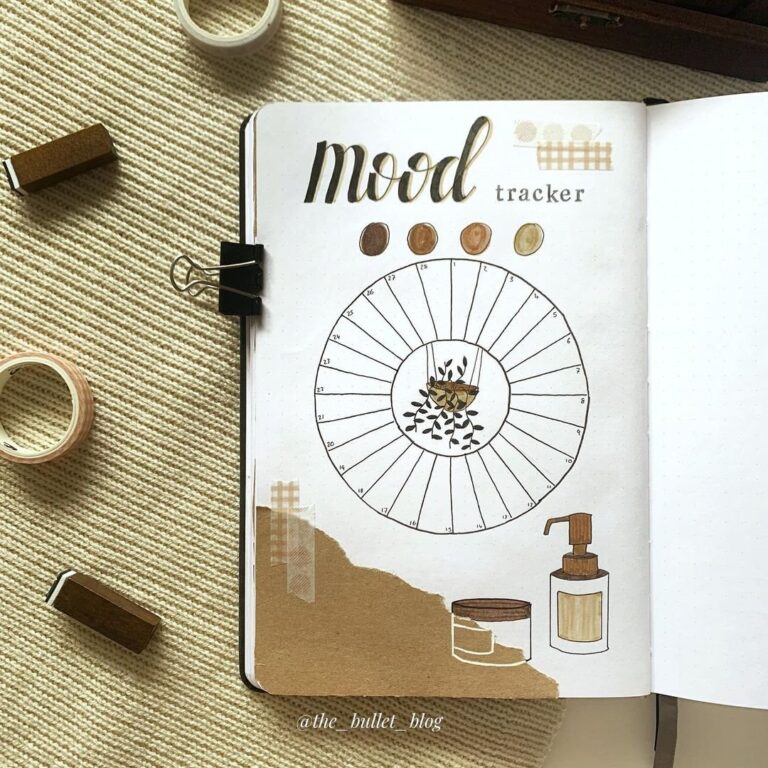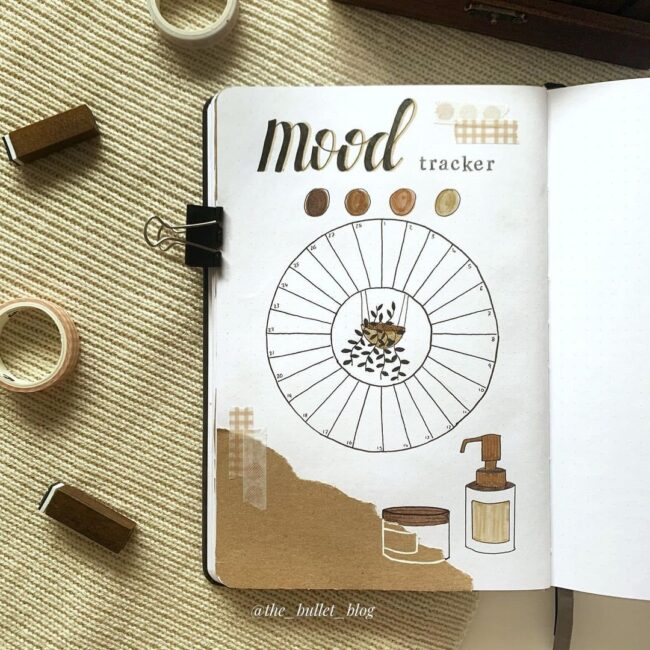 –
Rainbow Mood Tracker Idea
This mood tracker is so simple and offers enough space to track your mood multiple times throughout the day. Our moods can fluctuate really easily so having the space to log this is a really nice idea. Plus, who doesn't love a rainbow?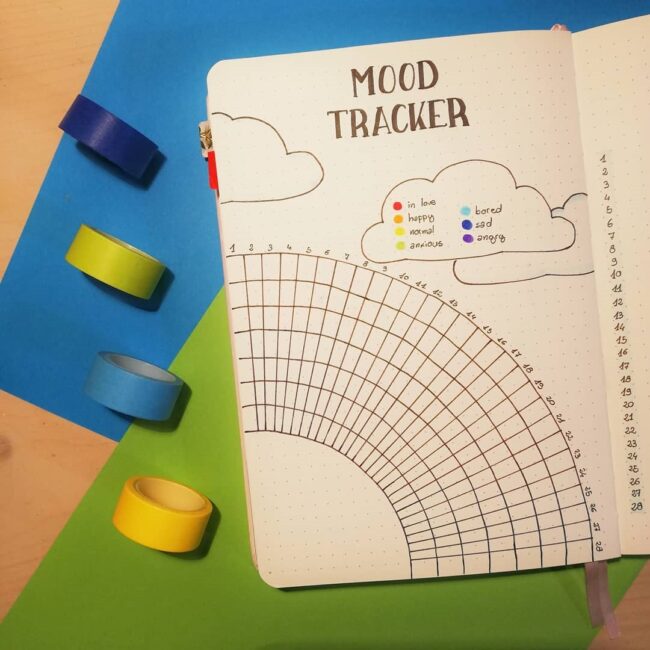 –
Pretty Envelope Mood Tracker Bujo Idea
This spread looks so pretty and I love the use of miniature envelopes! I can't see a key for the mood tracker but the squares are quite big so using washi tape would be a really nice idea.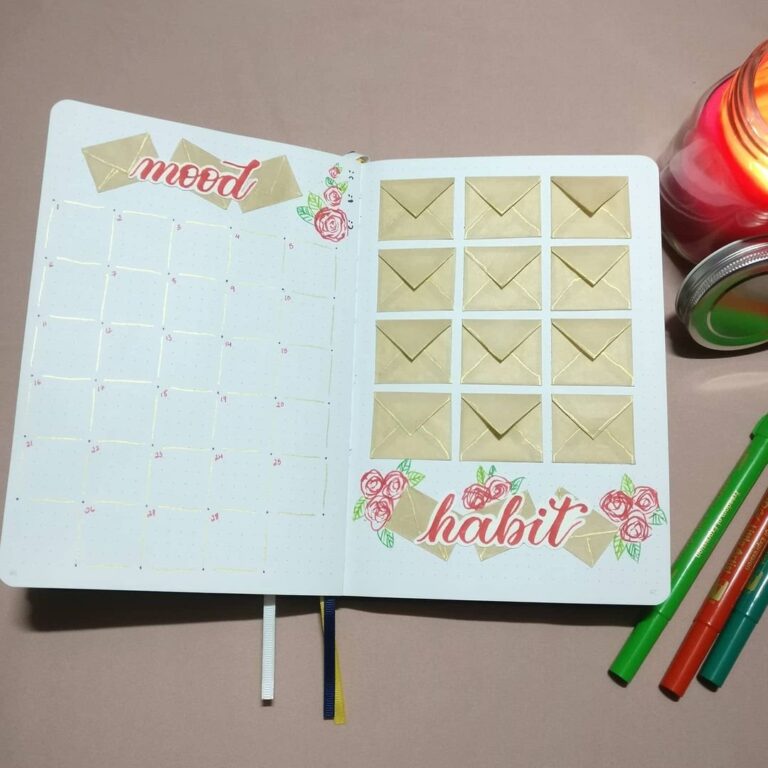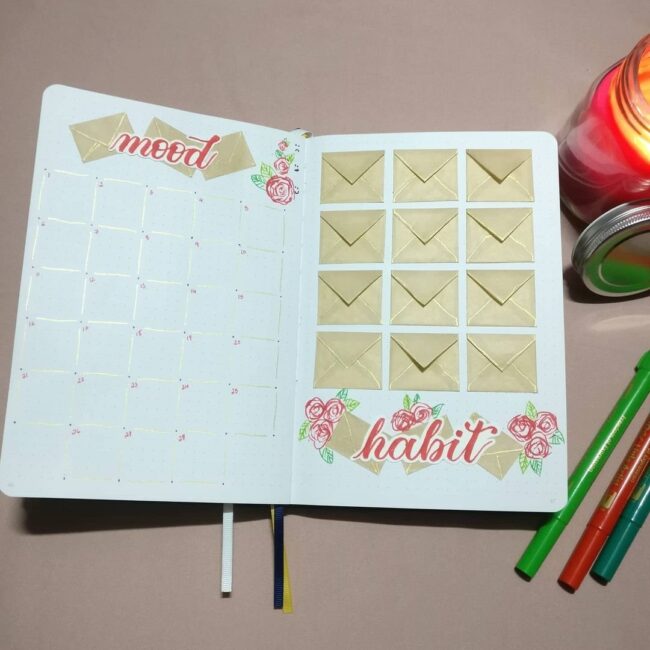 –
Cute Bird Journal Mood Tracker
Birds always looks great and they are a lovely to use as a mood tracker. Why not draw a flock of pretty birds as a way to track your mood this month?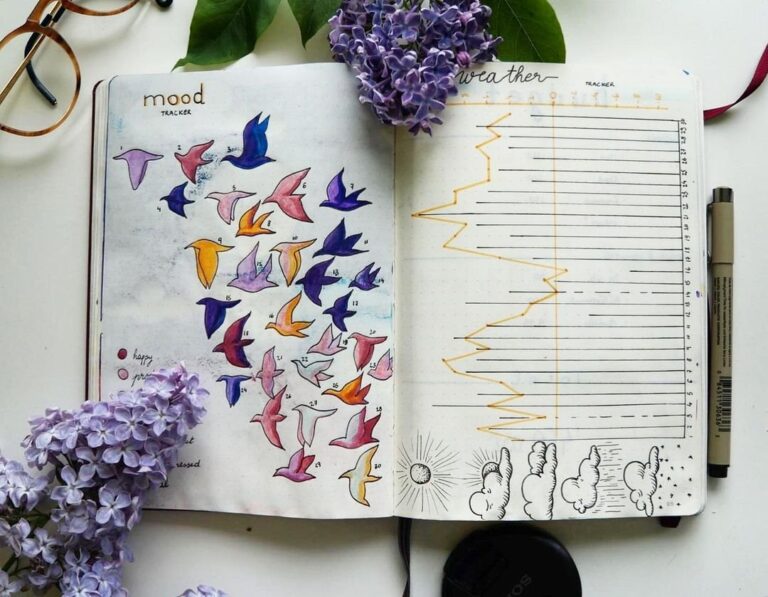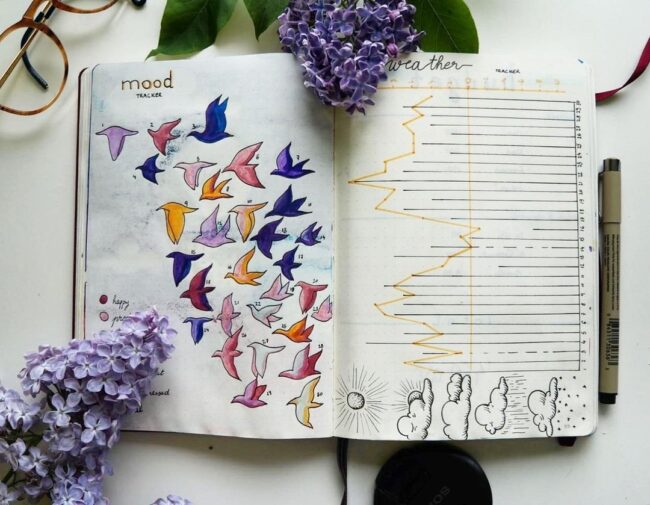 –
Cherry Blossom Mood Tracker
Cherry blossoms are so pretty to look at and they are a popular choice for bullet journals. These beautiful falling petals are a perfect way of tracking your mood and fit in with a soft, pretty bujo theme.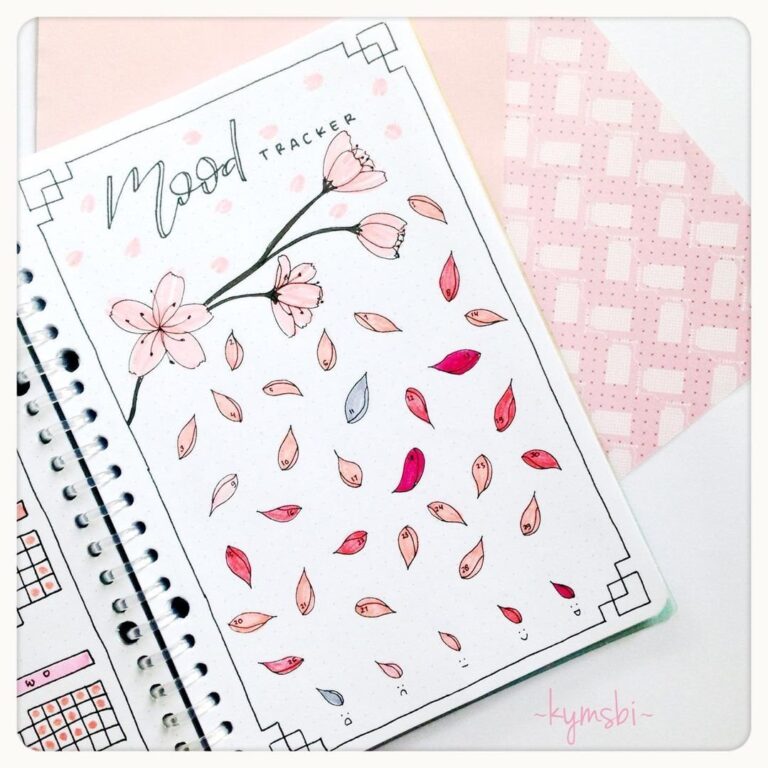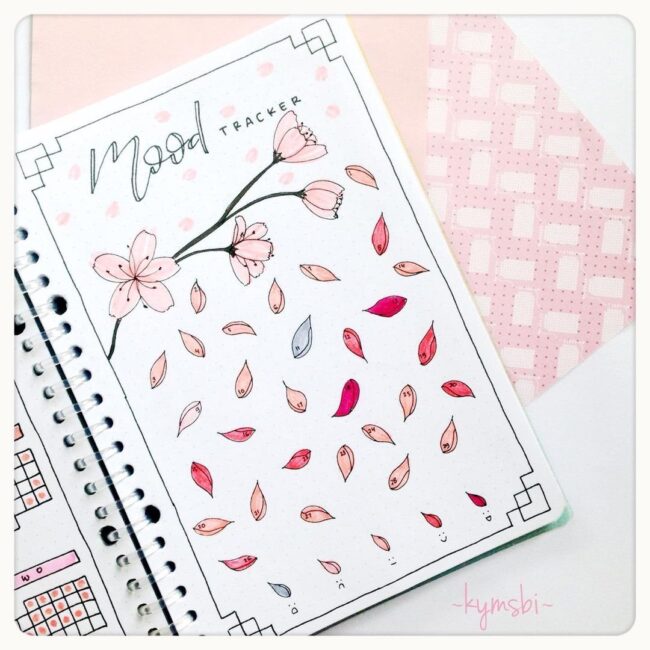 –
Cactus Bullet Journal Mood Tracker
Bullet journals and cacti go together like PB&J. They are simply a match made in heaven. This pretty bullet journal mood tracker is really pretty and is one of my favorites. It's so fun to draw different cacti and plants and then watch them come to life throughout the month.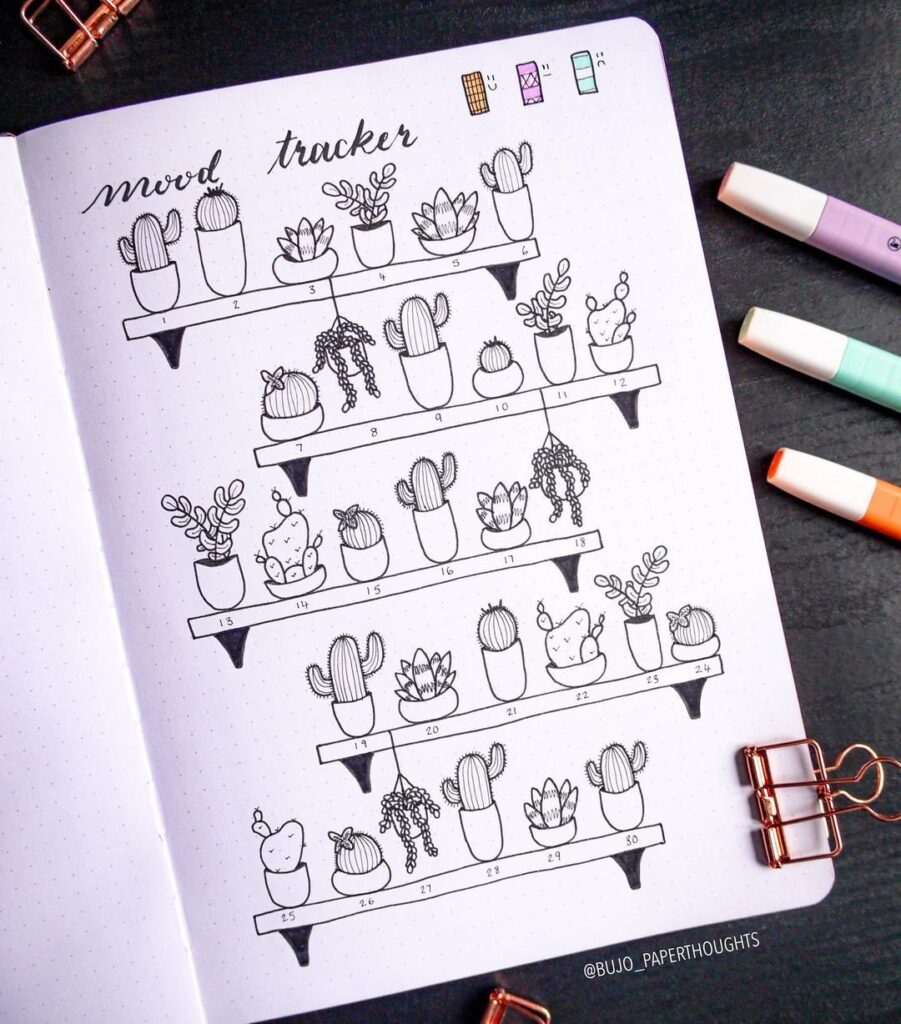 –
Tracking your mood in your bullet journal is such a good habit to start. A bullet journal is all about having what you need in the one place and we all know mental health is just as important as physical health.
Why not start now and fit a mood tracker page in your bullet journal? You might find that it helps you more than you think and you could start to gain control over your mood and any triggers.
If you try any of these bullet journal mood tracker ideas then I'd love to see what you come up with! Why not tag us on Instagram with @worldofprintables and let's hang out and I might even update this post with the ideas you share too!
If you liked this post and want to save it for later then feel free to pin it! It helps to share our content with the community and to inspire others.
–
Want more bullet journal ideas?