If you're looking for the perfect family planner that's both stylish and simple to use, then choose your favorite from this assortment of 15 printable planners for home.
Each family wall planner features a colorful design and has plenty of space for weekly planning for all the family members.
With everything busy moms need for weekly family planning, just stick these family weekly planners to your wall or even to your fridge with a magnet.
Just print the best family planner printables to organize the week ahead for your household, that way you can see the whole week at a glance in style.
So grab a pen and start planning!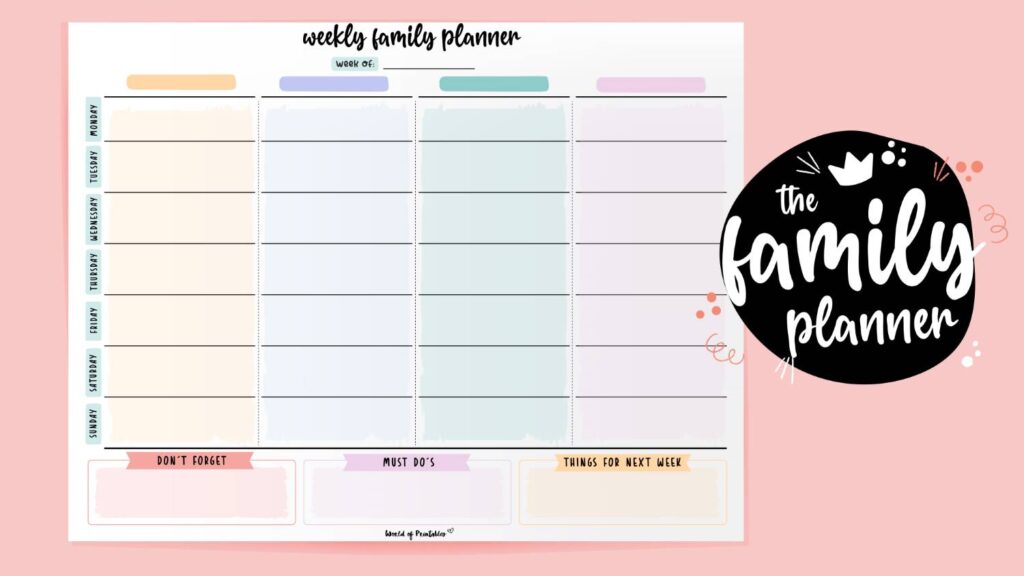 15 Best Family Planner Styles
We've got over 15 of the best Family Planner printables to help you plan and organize your home that you can print and use right now.
They're available in different styles and colors, and even simple ones too, so you're sure to find one that works best for you.
These weekly planners have rows for each day of the week, plus a column for each family member. So you can plan and see everything that your family is doing each coming week.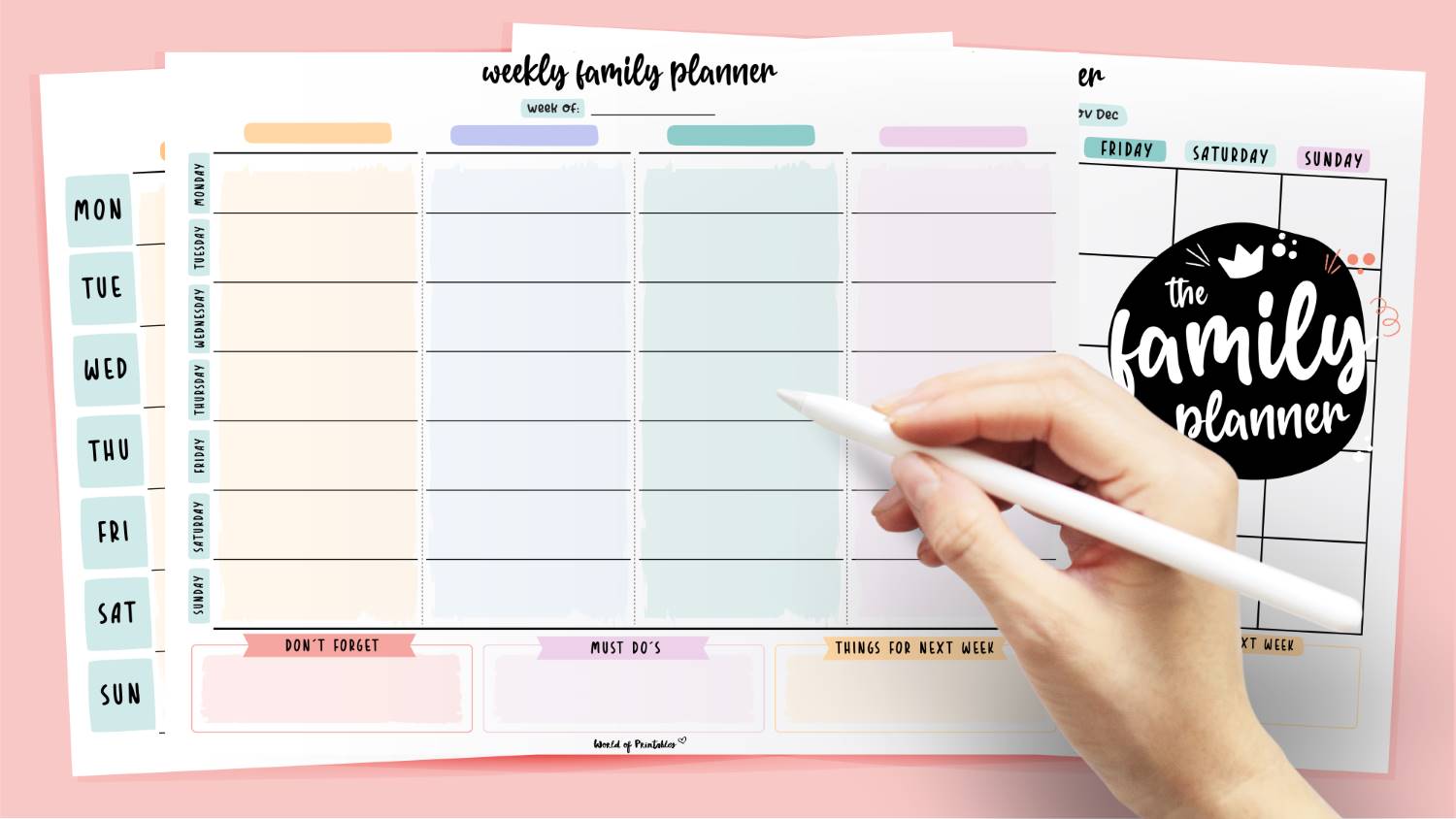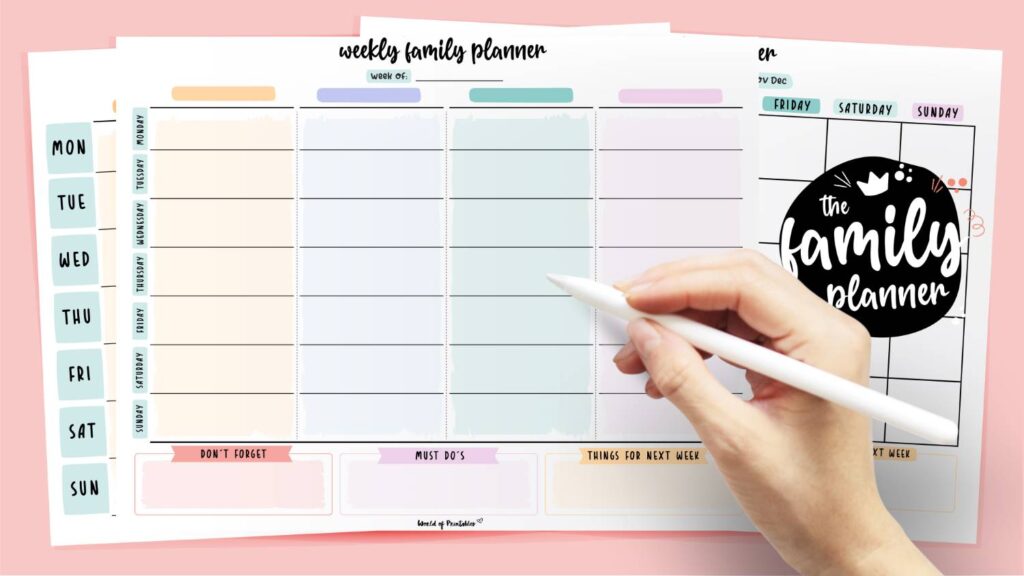 These printables can be used as your family organizer to help you write down everything that's coming up in the week or month ahead. Use these as a calendar or as a weekly planner for each member of your household.
They're great for seeing what each family member has coming up and are an ideal way to help you plan family activities, appointments, and more.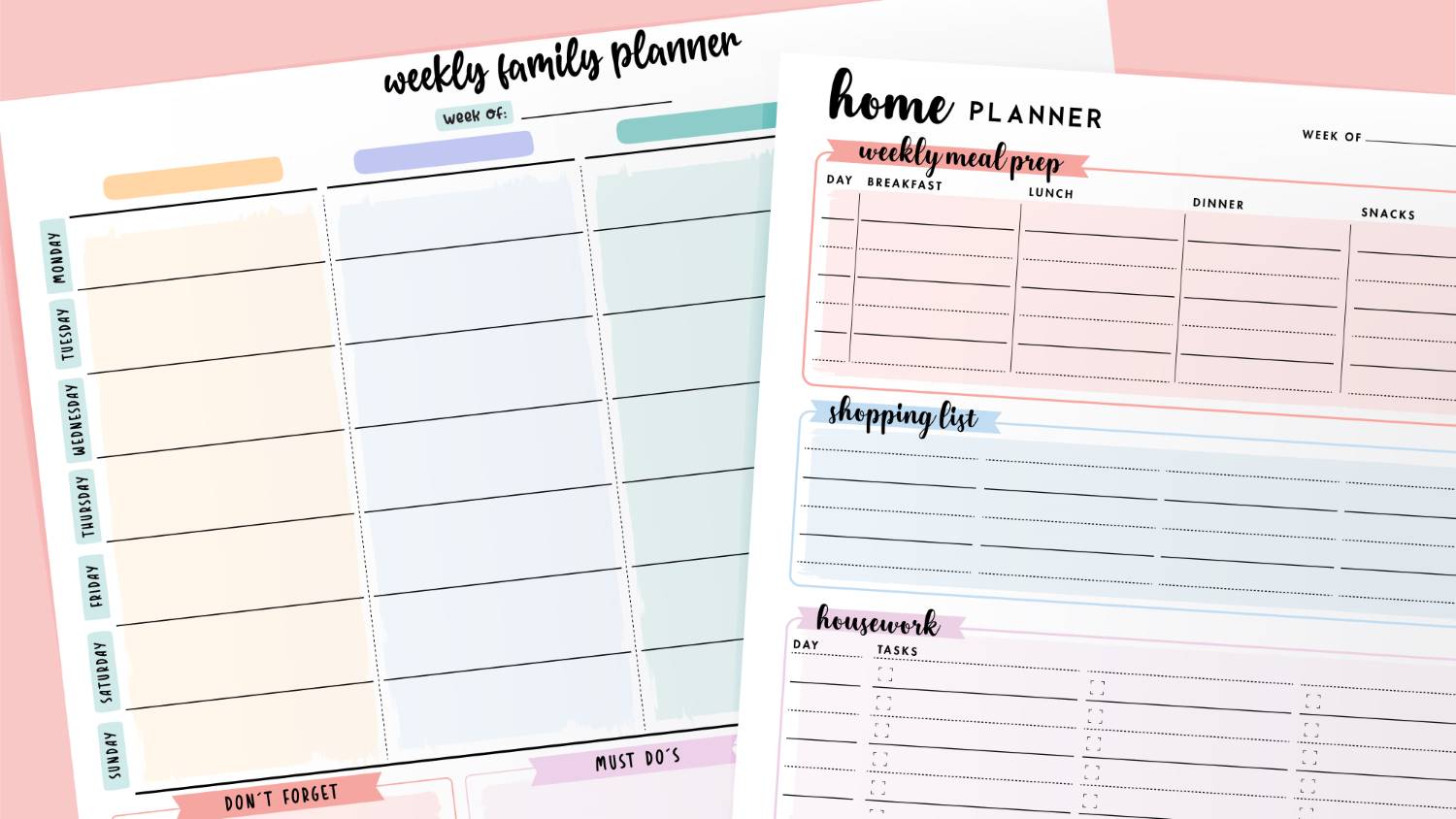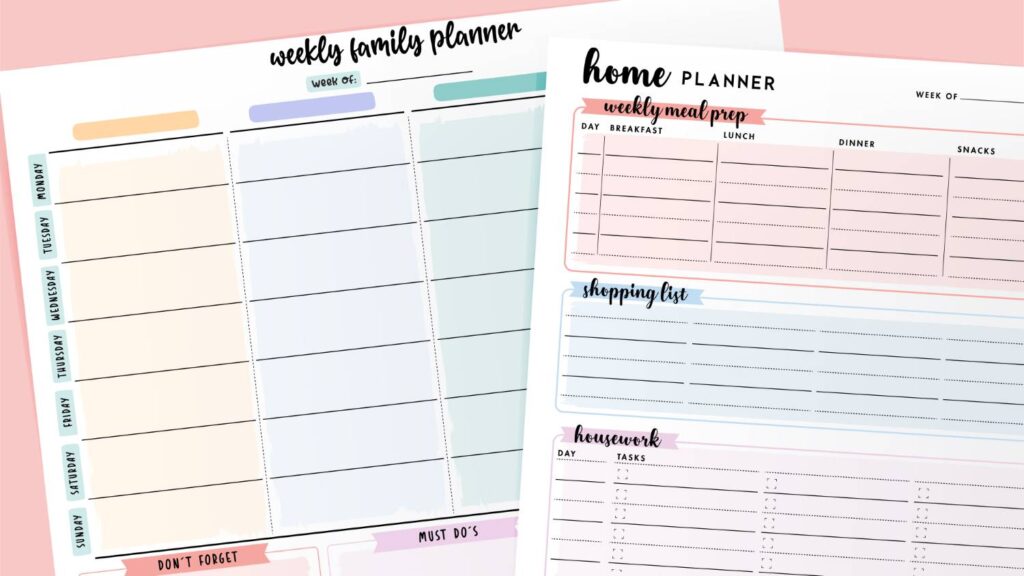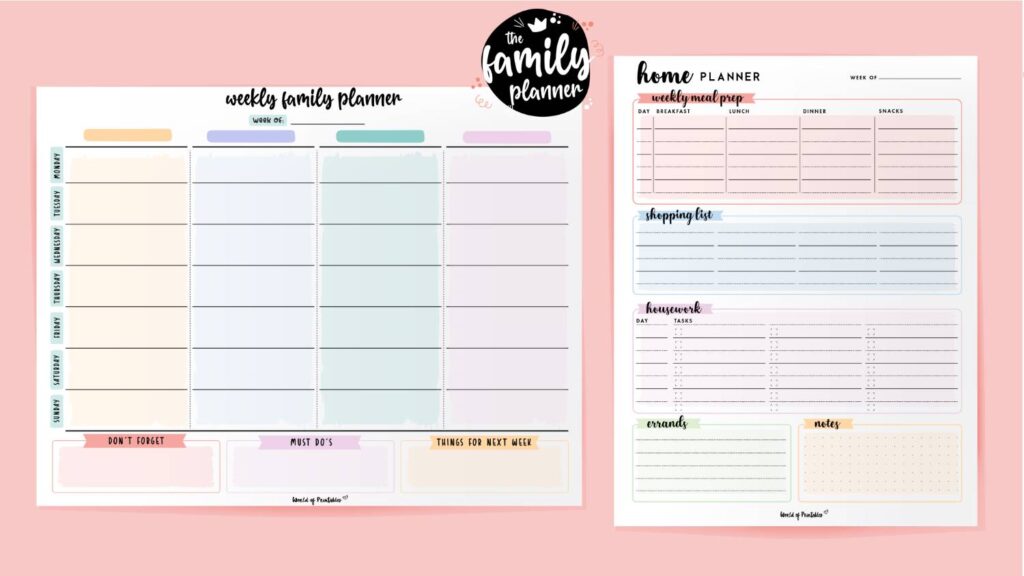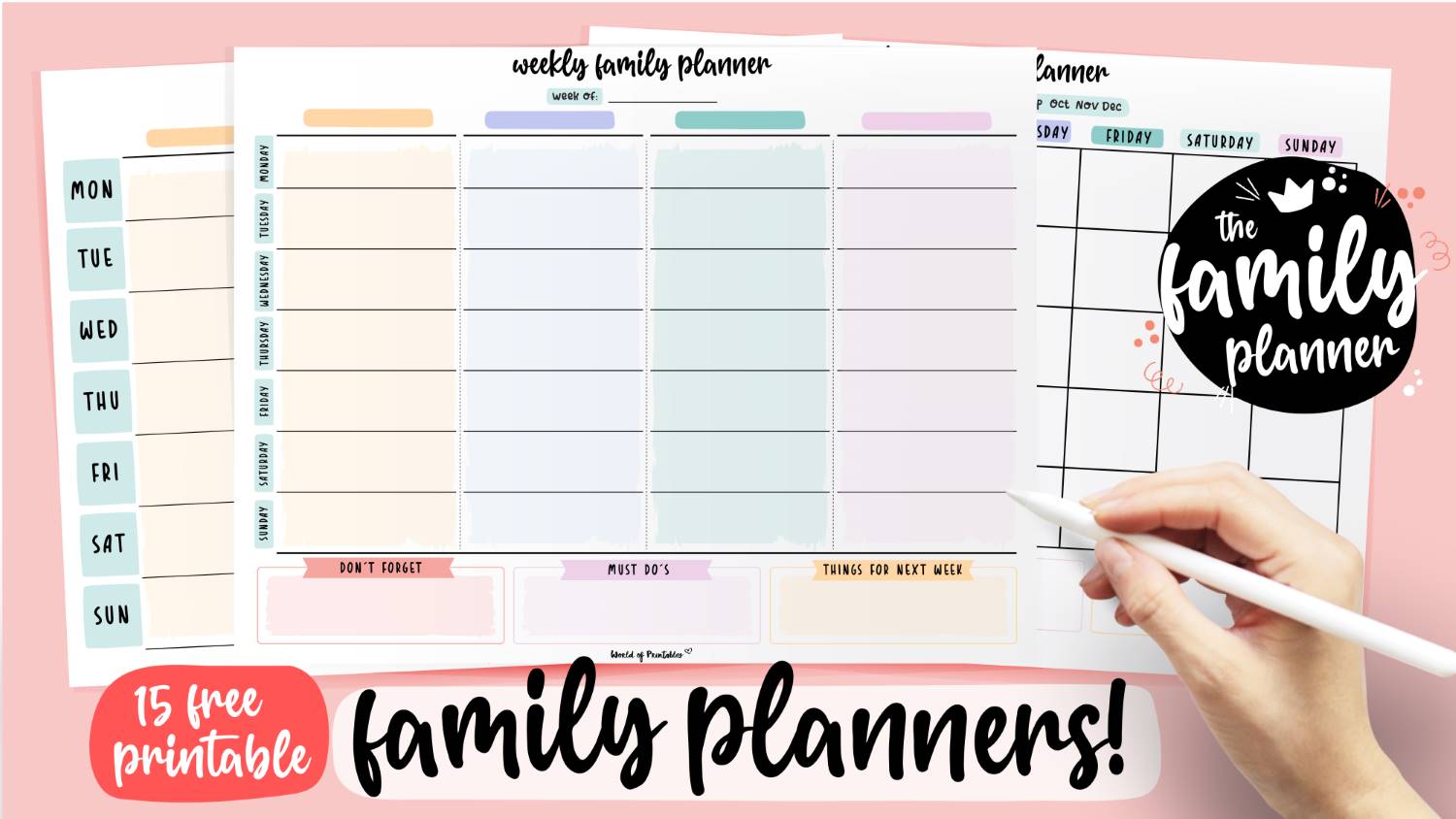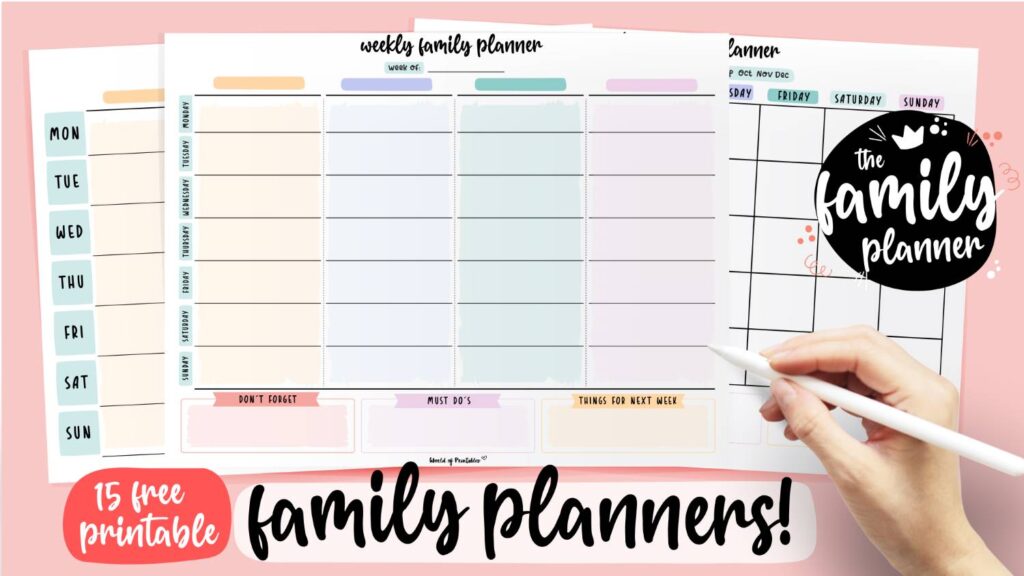 Family Home Planner
Why not use this printable home planner to plan the week ahead, including your weekly meals, groceries, housework, errands, and more.
There's also space for notes too, so you can use this one page to plan most things for your home for the coming week.
We've kept this page simple while packing the essentials for the week on one page.
This is the ideal busy mom planner for helping you organize your home and staying on top of the day-to-day family things.
Discover the best planner for moms
Also, if you're looking to add useful printables to your home binder or want more useful pages to help with your home, then check out our ultimate home binder below.
If you're a busy mom and you're looking for something to help you with all of the important things at home, including meal planning, grocery lists, cleaning, budget, and more, then see our Ultimate Family Home Binder.
The Ultimate Family Home Planner Binder
If you want more than just the basics and you're looking for the best planners for moms then read on as we've got the right planner for you.
It's simply the best planner for busy moms, with over 55 useful pages to plan and organize your home.
The Family Home Planner Binder is the only planner for home that you'll need, featuring a cute design that's so stylish you'll love it.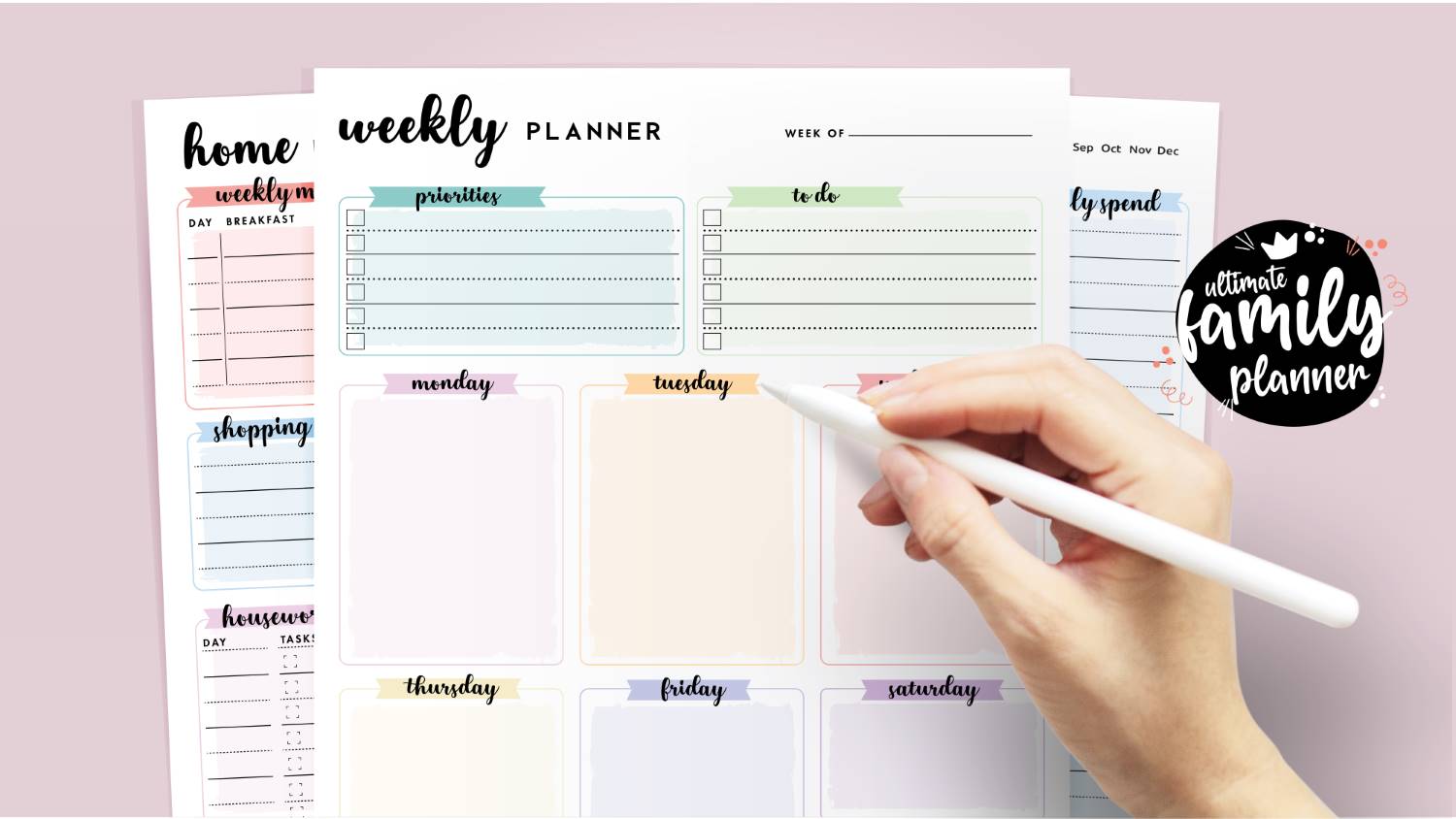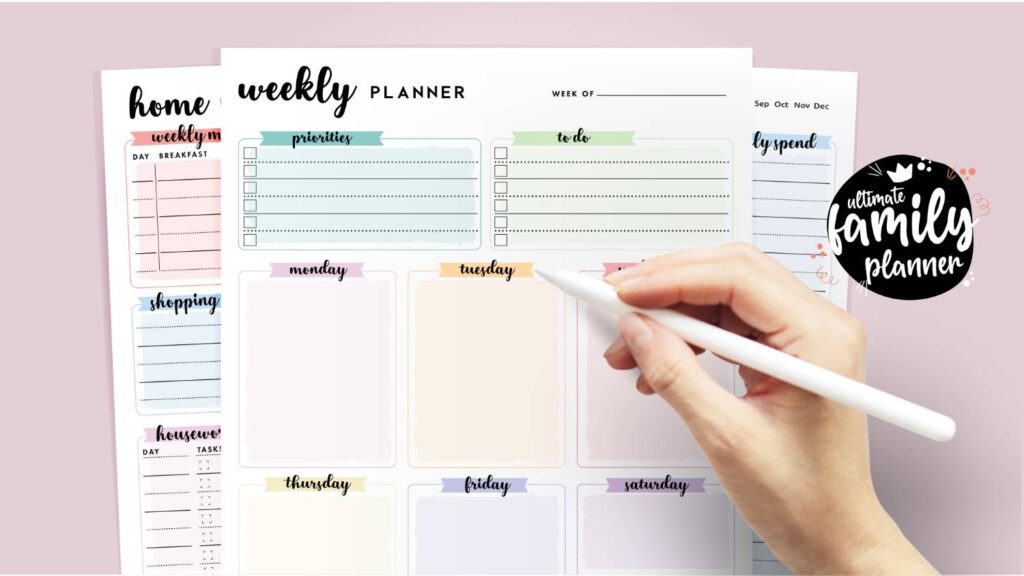 This home binder keeps it simple and helps make planning fun, so you're more likely to stick to your plans and get things done.
You'll find 55 useful pages for essential family home planning.
What's included in the Ultimate Family Home Planner Binder
Featuring a Simple Design That's So Cute You'll Love it
We've designed these to be simple, stylish, cute, and packed with helpful pages. This is simply the best thing for busy moms or anyone with busy schedules!
This home binder contains many helpful pages to help with weekly planning so that you can organize the days and everything that you need to do at home and for your family.
If you need a family daily planner or just simply undated pages that you can print as and when you need, then you'll also find all of these in this printable home binder.
You can also use the family planner calendar as we've included an undated monthly calendar.
This is great if you prefer using a monthly family planner, or want to also plan the month ahead as well as with the included weekly planners.
You can also use the full year 2023 calendar to see the whole year at a glance for quick reference. We've also included a 2024 calendar too that's also in the same style, which is always handy to have.
The ideal mom planner needs to have everything you need to keep your household running smoothly.
If you're a busy mom who not only needs to keep on top of your household, you'll also find many more useful planner templates included in this home binder.
There are even useful pages to help you stay on top of family chores, children's homework, and other important things that shouldn't be neglected.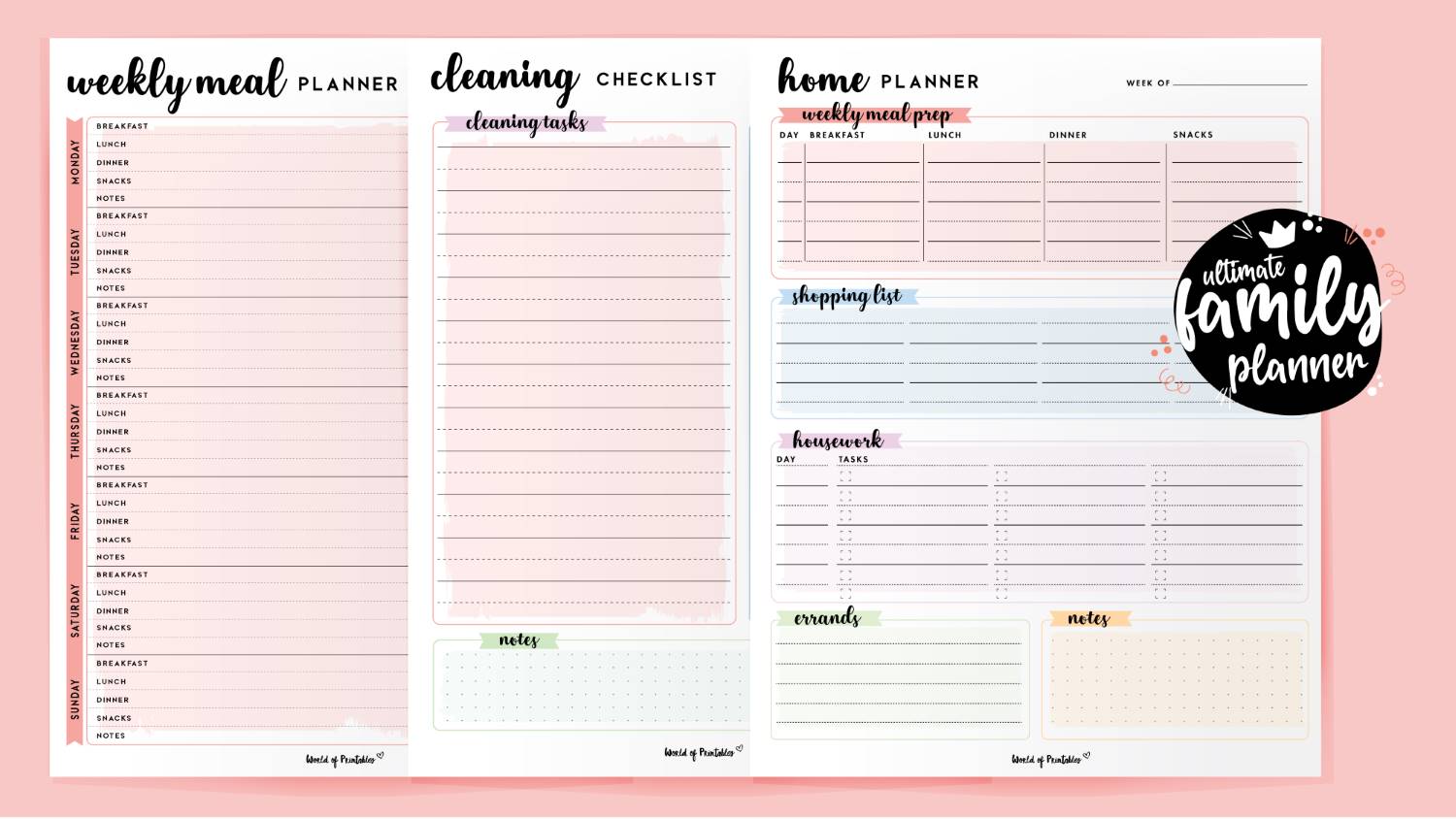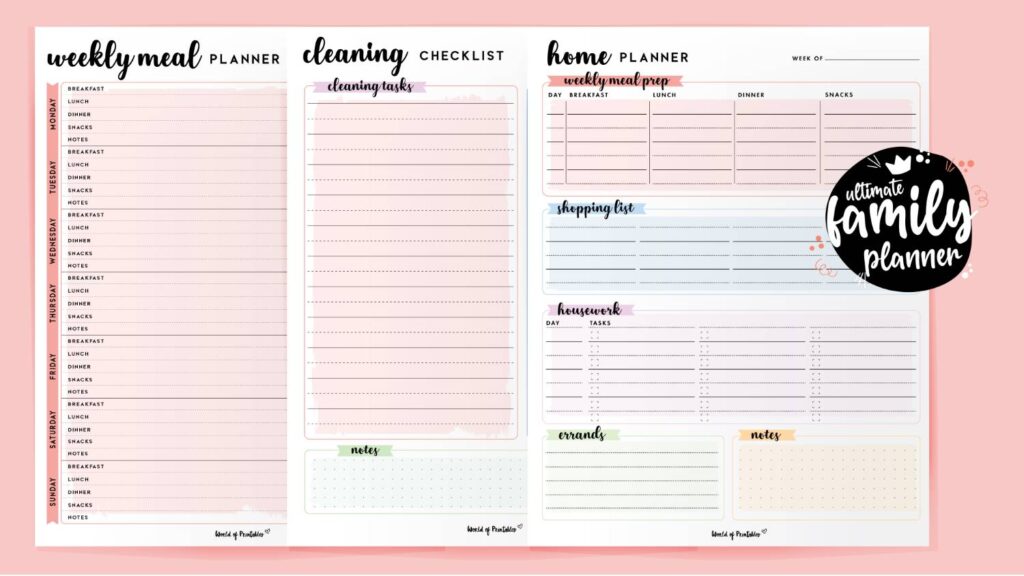 This binder also helps you stay on top of your weekly meals, cleaning, errands, and grocery list.
This is by far the best planner for working moms, or anyone who's looking for the perfect stay at home mom planner. Grandparents can even use it too!
If you're looking for the ultimate organized home binder, that's packed full of useful pages then be sure to get this binder. Just print the pages as often as you need them and you'll be more organized than ever!
How To Get The Home Binder
To get this printable home binder just visit our freebie vault, or hit the button below. This is free for personal use only for all of our readers.
More awesome freebies from World of Printables
We've created a huge amount of useful freebies for you to enjoy. You'll find many useful planners and templates to help you plan and organize the important things in your life.
We think you'll find these very useful:
We also think you'll really enjoy using these digital planners:
Looking for more free digital planners or awesome freebies for your iPad or Android tablet? We have an amazing collection of digital planners for you to use and they're all totally free.
What do other people do after viewing this?
Follow World of Printables on Pinterest