Choose from over 30 Daily To Do List Templates to keep your daily to-dos and all of your tasks organized. Free to print and use daily!
What should be on a daily to-do list?
A daily to do list should include the tasks that you need to complete on the day, however, you should also note the small steps you will have to take to complete any bigger tasks.
I like to use a daily checklist along with a daily schedule as this will allow me to time-box tasks, giving me a better chance at completing my list by the end of the day.
Daily To Do List Templates
These daily to do list templates have space to write priorities, reminders, appointments, due dates, notes, and much more.
There are dozens of designs and styles of templates to choose from here. Just choose your favorite printable to do list that matches your planner.
With these Free Printable Daily To Do List Templates there is space to:
Add today's date.
Plan your schedule – with 10-hour slots for your working day.
Write your top priorities for the day.
Add your to do list for the day.
Write any notes for today or as you go.
A daily to do list is a great project management tool and can really benefit your workflow and your ability to successfully manage projects.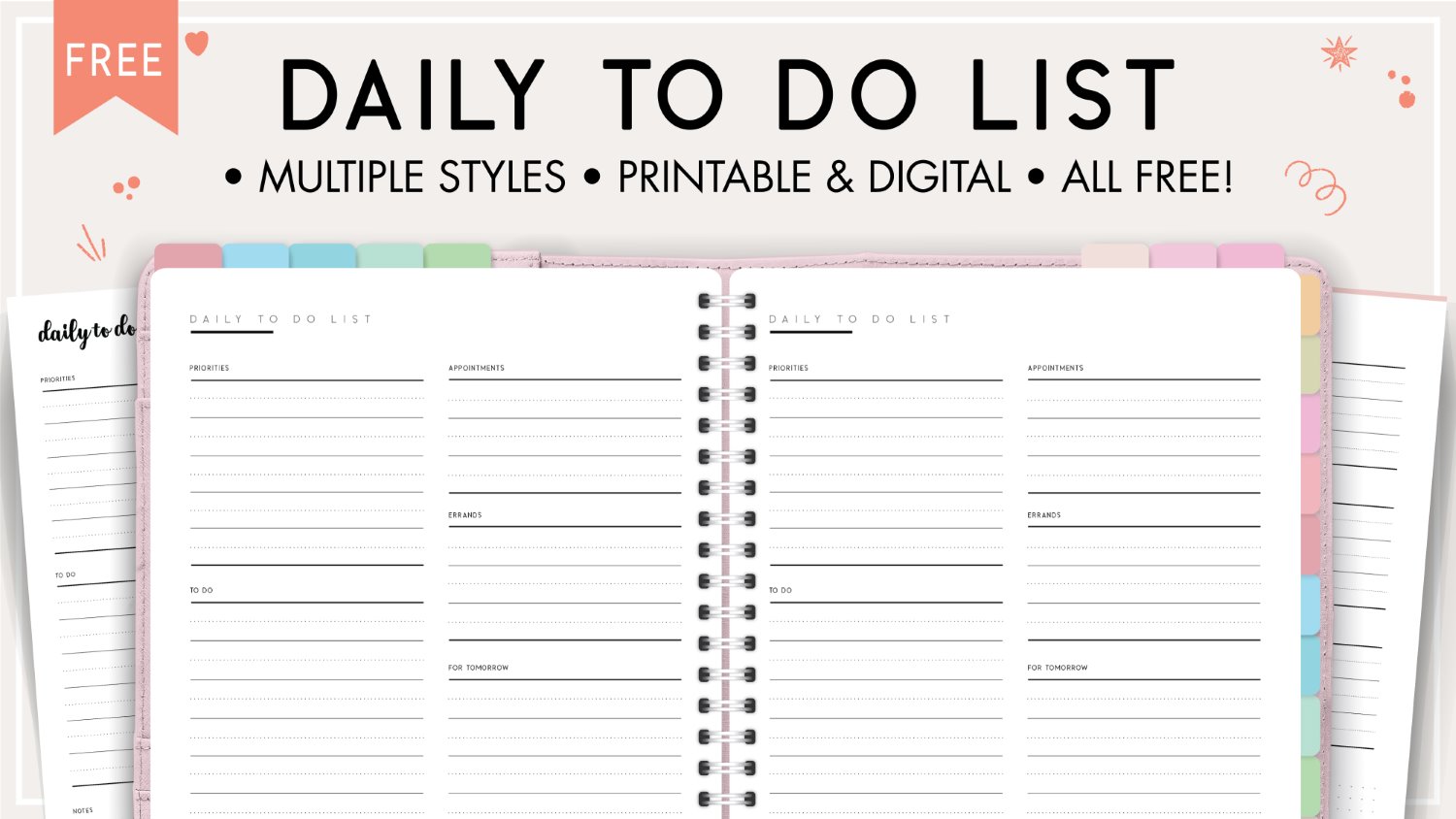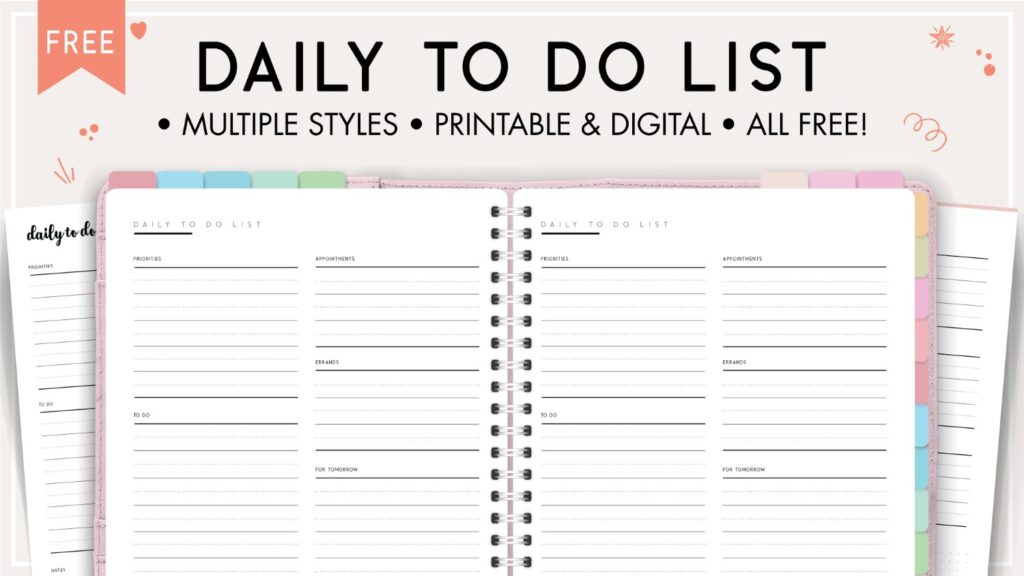 We also have many other free printable planner pages such as printable calendars, printable daily planners, and printable daily schedule templates.
To Do List Apps
If you're looking for a mobile app to help you organize your daily tasks then there is plenty to do list app options available. You can also use your tablet and a digital planner to keep your to do list organized.
Todoist
Todoist is a five-star productivity and reminder planner with over 14k reviews. It offers email integration so you can connect it to your Microsoft inbox or your Gmail account to your planner making organizing your outlook tasks easier than ever.
This app allows you to set reminders, collaborate, and create boards, and has priority levels for your tasks.
Todoist is a superior scheduling app that is user-friendly, saves time, and is fast and seamless. It is available as a free version but it does offer In-App purchases.
Todoist is compatible with iPhone, iPad, and Apple Watch apps so you can plan and make progress on the go.
Lists To Do
Lists to do is a very popular app that allows you to create task lists, reminders, notes, and alarms. This app features fun icons to add some visual stimulus to your lists and also allows you to categorize and group your tasks. There is also progress trackers too!
Lists To Do is an app that is loved by all people including professionals, stay-at-home moms, and students!
It is a clean, useful, and good-looking app that keeps you in control.
Google Keep
If you're a fan of simple, free tools made by a reputable company then I suggest using Google's tools and extensions.
When using a digital to do list, I personally love to keep it simple and use internet tools such as Google Docs or Google Keep.
Google Keep is a free online tool that you can use on your desktop computer, mac, or any other ios or android device. You can also get the app too.
The great thing about Google tools is that you can use them across multiple devices and they sync in real-time. You can also categorize any notes, checklist, links, images, or anything else by using labels and collaborating with friends, family, or colleagues.
It's such a simple tool to use and that's why I haven't strayed from it.
If you love this classic style, then you will love our other classic printable planners!
How to use our printable planners for the best finish
Resize it – Our printable planner inserts are made for US Letter sized paper. But you can easily resize our planners to fit any paper size and binder. It's so easy to make them bigger or smaller to fit into your choice of binder – find out how to resize printables.
Print it – We recommend using nice quality paper for printing our planners and planner pages.
Style it – Style your planner! Put them in your favorite ring binder, notebook binder, or even bind your own with a paper punch binder. Accessorize your planner with stunning stickers, unique paper clips, and stylish dividers and tabs. Find out how to make printable planners match your style right here!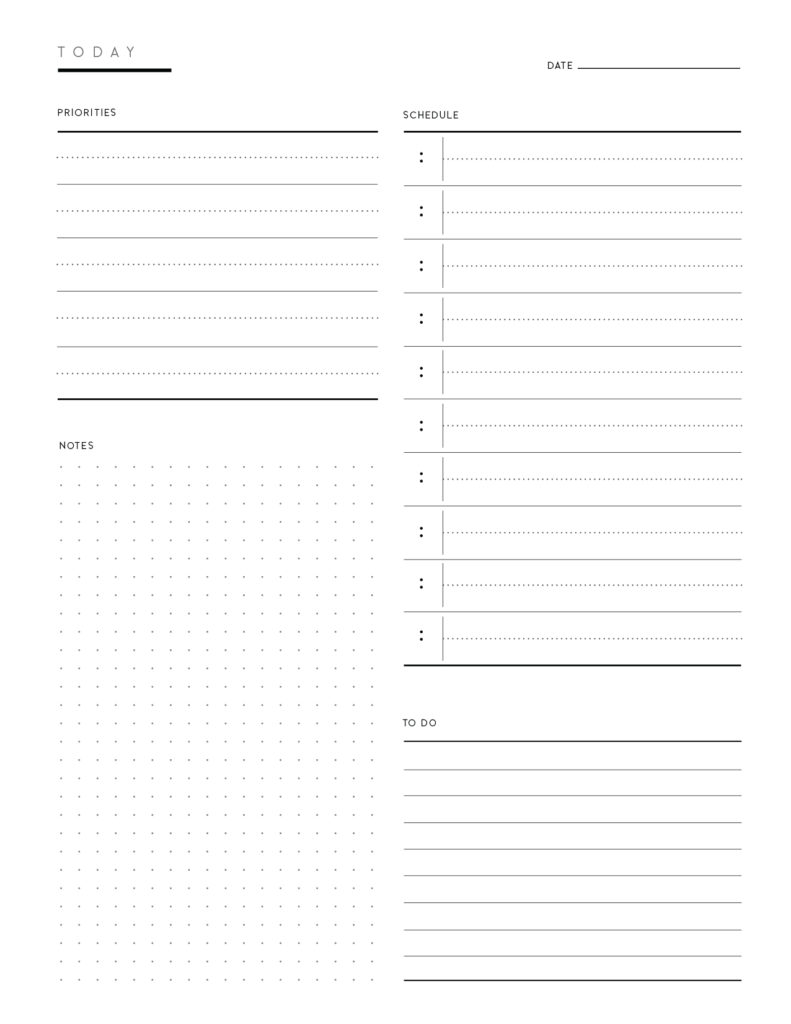 More awesome printables and templates from World of Printables
We've created a huge amount of daily planner templates and weekly planner templates that will help you manage your days and weeks better than ever. Be sure to grab as many as you can along with our many other schedule templates while you're here.
Remember to look through the rest of our planner printables, we've got printables to help you manage every aspect of your and your life!
We think you'll find these templates useful:
More schedule planner templates
Some of our recent schedule planner templates. These will help you organize your week ahead.
---
Find 100's more stylish planner templates that you'll love
Some of our recent planner templates. Find many more Printable Planner Templates that will help you get on top of your life with ease. You'll love them.
Follow World of Printables on Pinterest for more