Get this free digital planner for iPad, with over 100 cute pages covering everything you need to plan your life. Works with GoodNotes.
A free digital planner for iPad that's packed with over 100 useful planner pages, and tons of features, with everything you need to plan all the things that matter and more.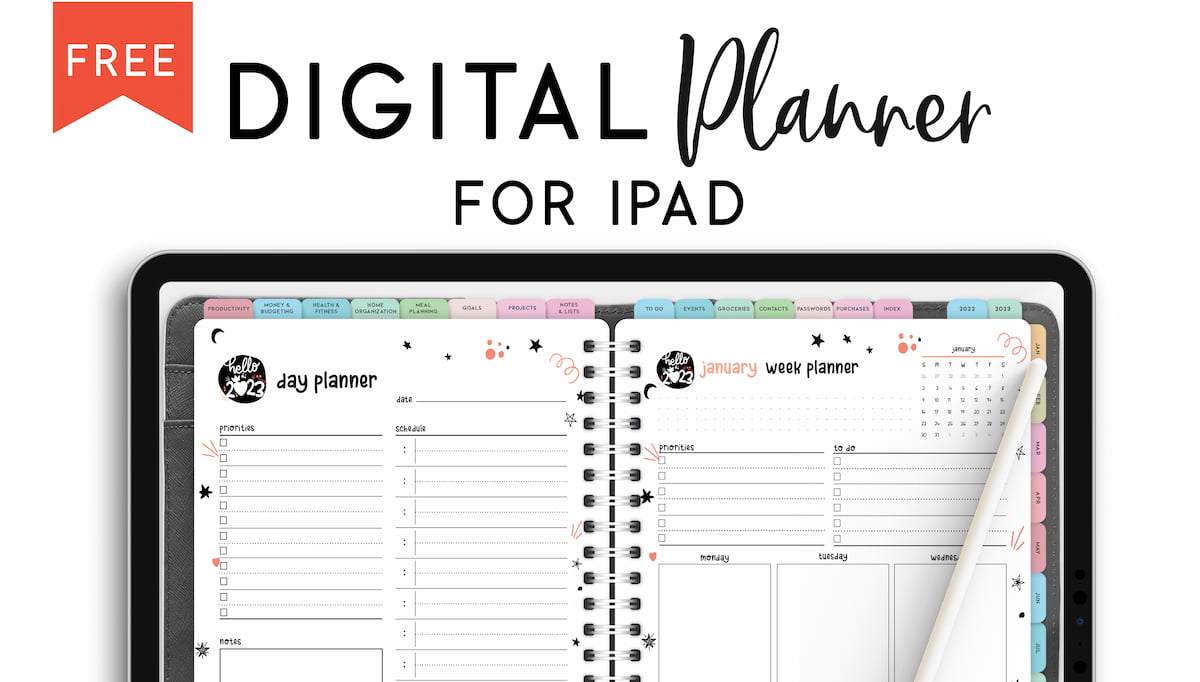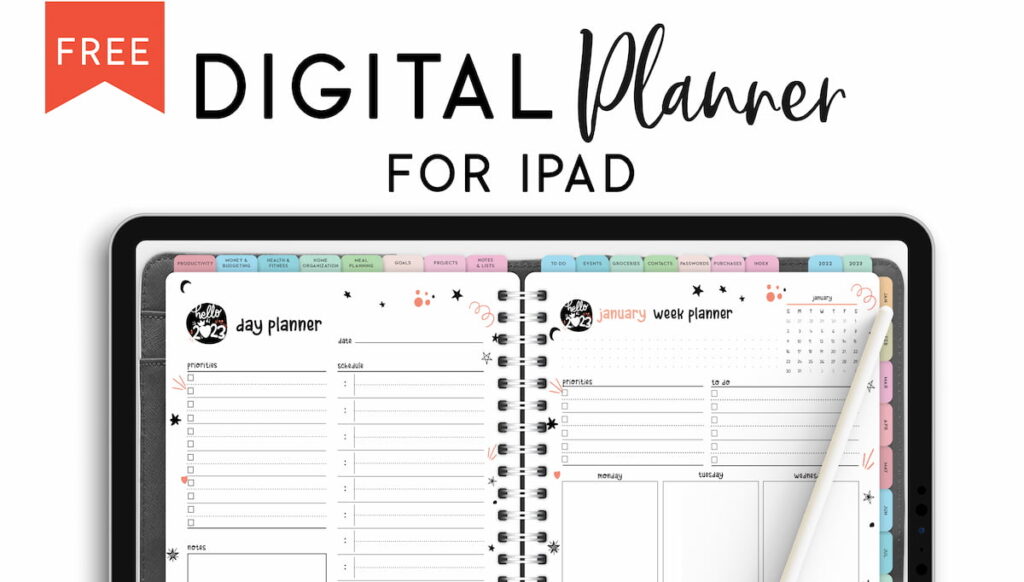 Overview
A digital planner for iPad is a versatile digital note-taking binder that allows you to efficiently organize your schedule, tasks, and notes in a digital format. With it, you can create and manage calendars, set reminders, make to-do lists, and even annotate documents or sketches using the Apple Pencil or similar stylus. An iPad planner offers the convenience of a traditional planner but with the added benefits of searchability, portability, and the ability to sync across devices. It can significantly benefit you by streamlining your planning and productivity, reducing clutter, and enhancing your ability to access and modify your important information on the go.
The free digital planner that your iPad has been waiting for.
We've created the cutest digital planner that you'll find. It looks absolutely stunning with its quirky aesthetic that really motivates you to use it.
It has everything that you need in a digital planner and so much more.
You can plan your schedule and everything you need to do, today, tomorrow, this week, and next.
You can use it for productivity, money and budgeting, health and well-being, home organization, meal planning, goal setting, projects, and more.
This digital planner for iPad helps you be more productive and more focused, and best of all, it doesn't cost a penny.
The cutest digital planner for iPad
This free cute digital planner for iPad is functional, free and aesthetically pleasing!
This cute iPad planner is the perfect setup for 2024 and gives you the freedom to plan every aspect of your work and life all in one place. This stunning digital planner has been designed with love and is so easy to use.
If you are looking to streamline your days, manage your time better, and create actionable steps toward your goals and dreams then our cute digital planner is the perfect option.
When you use this digital planner for your iPad you'll be able to structure your life, work, and hobbies. You can even add more features by adding free digital planner inserts for the things that you need.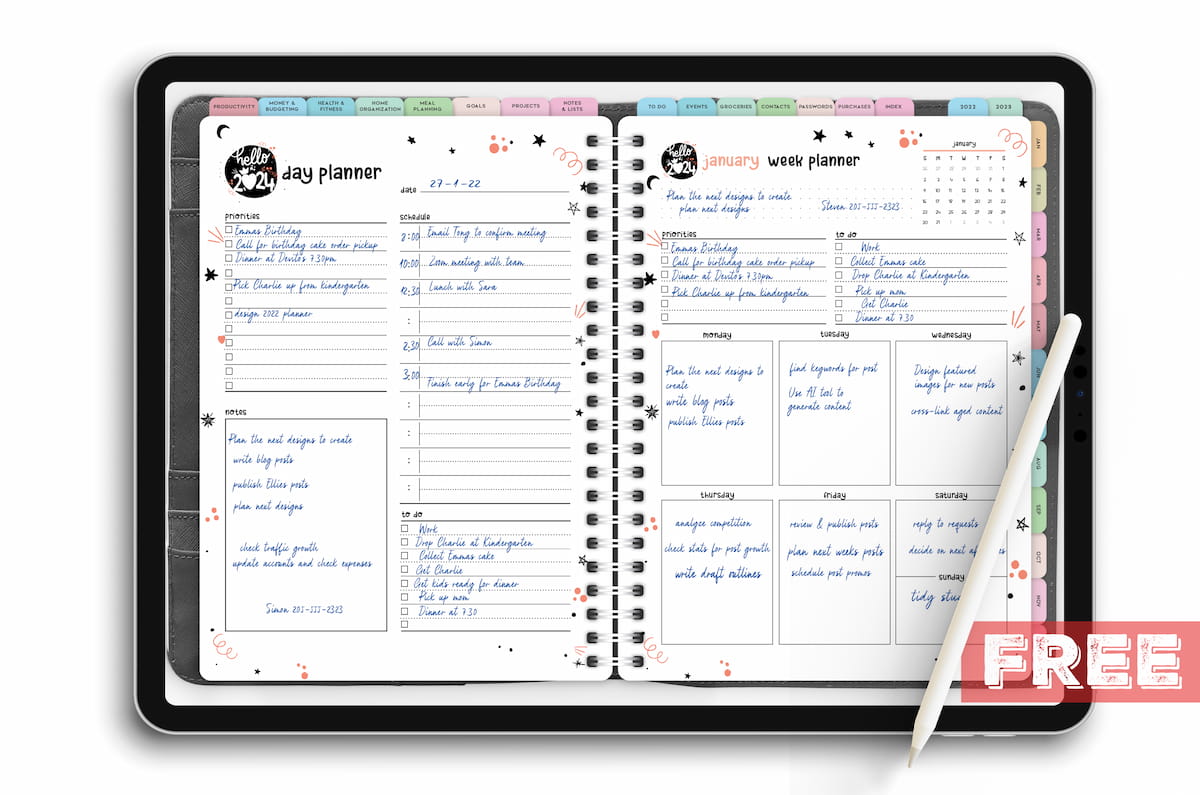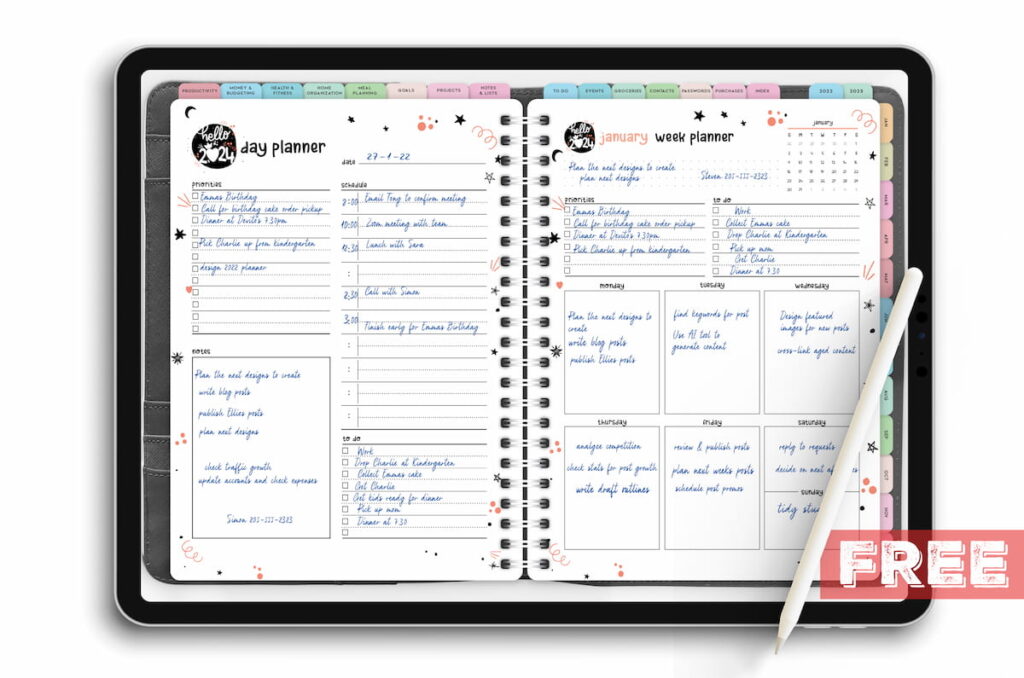 The cute digital planner has been designed to work beautifully with GoodNotes and is fully hyperlinked and good to go.
You will have so much fun navigating through this iPad planner and organizing your days, weeks, and months.
We have a huge amount of free digital planners and planner inserts that will help you create a digital planner that suits your every need.
You can get this free digital planner for iPad below and within a few minutes, you can start planning the things that matter.
How to use the digital planner for iPad
To use this digital planner for iPad you just need to open it with a digital note-taking app. You can find these apps on the app store and there are several to choose from.
The most popular digital note-taking app used by most people in the digital planner community is GoodNotes. There's also an app called Notability that is a close contender and has most of the same features.
Alternatively, there's an amazing free app called CollaNote that's relatively new and unknown at the moment. It can do almost everything that GoodNotes can do (and some things it cannot). It doesn't even have ads, which is unusual for a free app, especially one as good as CollaNote.
Once you've chosen a note-taking app, you can then import this digital planner into the app and begin using it right away.
These apps let you write directly on the digital planners using a stylus, such as the Apple Pencil, where you write with handwriting just like using a pen and notebook.
You can also type directly onto the planners if you prefer, or a combination of both. It's really up to you.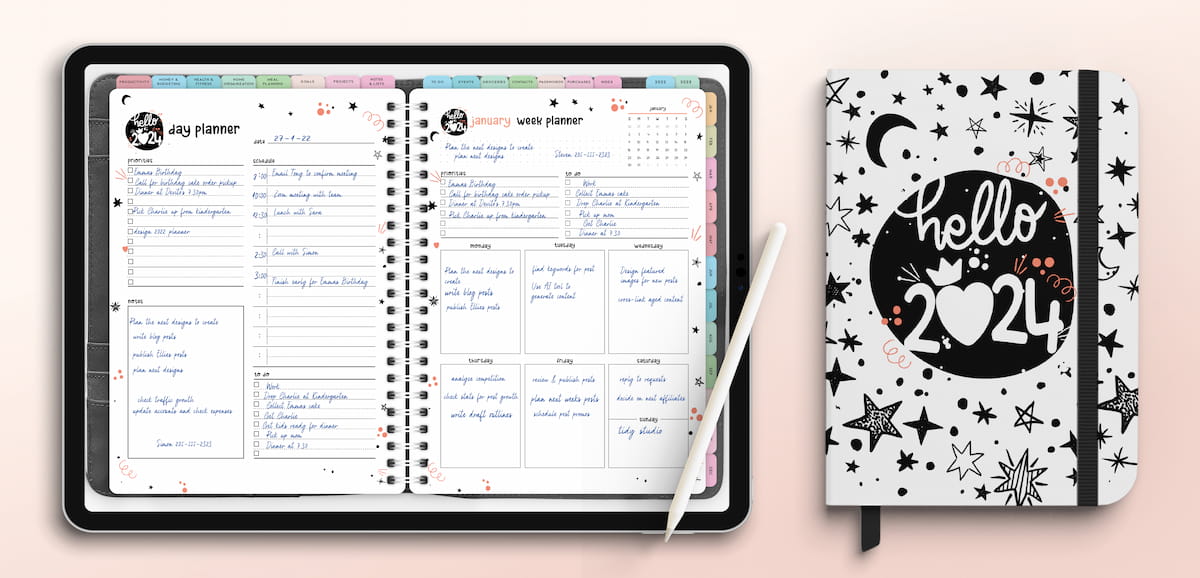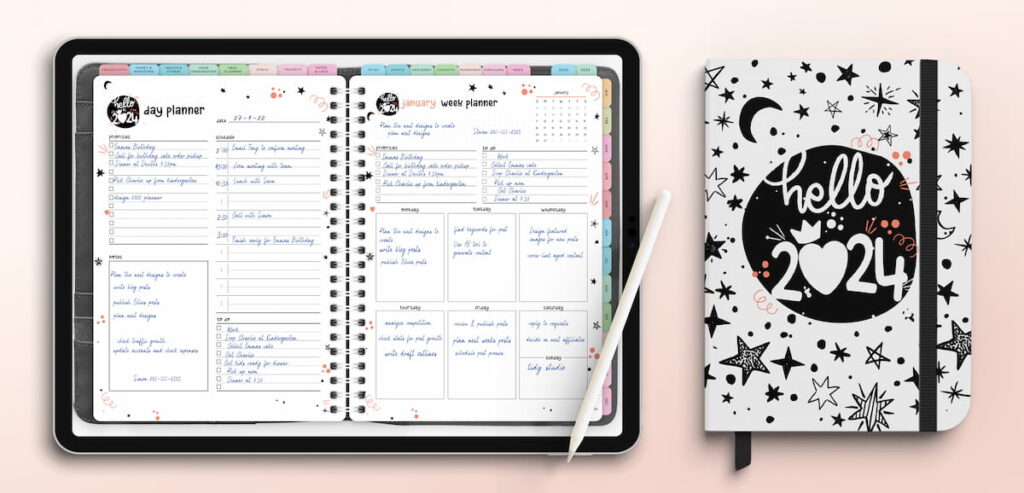 The cutest digital planner that you'll find
The free cute digital planner is an extensive, fully hyperlinked, tabbed planner with a clickable index to help you quickly go to any page.
The planner comes in a landscape format, just like a traditional planner. The double-page spread helps you see so much more at a glance. Just pinch to zoom into specific areas for more detailed planning.
You can do everything that you can typically do with a planner and so much more. There are so many useful pages within this planner. You'll find over 100 pages to help you plan, organize, track, and log the things that matter.
Along with being a fully functional pre-designed planner, there is also additional space for your own personal sections. These sections are hyperlinked, but blank so they can be fully customized but still seamlessly function as part of the planner.
The cutest digital planner for iPad features quirky and fun elements on each page.
There isn't a digital planner out there that has so much cuteness and offers so many pages. It has been designed to help you be more organized with everything that you do. It'll help you plan all of the things that matter in your life.
This free iPad planner has been created exclusively for our readers. It'll literally help improve your life the more you use it.
So start planning in style, and get your free copy of the digital planner for iPad.
What you can do with an iPad planner
This cute digital iPad planner is perfect for planning everything in your life, both at home and at work.
Use it for your daily tasks, weekly schedules, and events. You really can use it to plan everything you need to do, whether it's today, tomorrow, this week, or next. You can even plan the whole year in detail if that's your thing.
Why not also use it for work and plan your schedules, meetings, and appointments?
You can use it for your personal life, by planning your meals, logging your workouts, and tracking your moods and habits. You can use it to plan fun activities such as birthdays, or important events coming up such as vacations and road trips.
Use it for managing your money, organizing your home, planning your future goals, and living your best life!
Or you can keep it simple, and just use it as a stylish digital notebook. It's great for writing down notes, and ideas, or simply using it as a journal.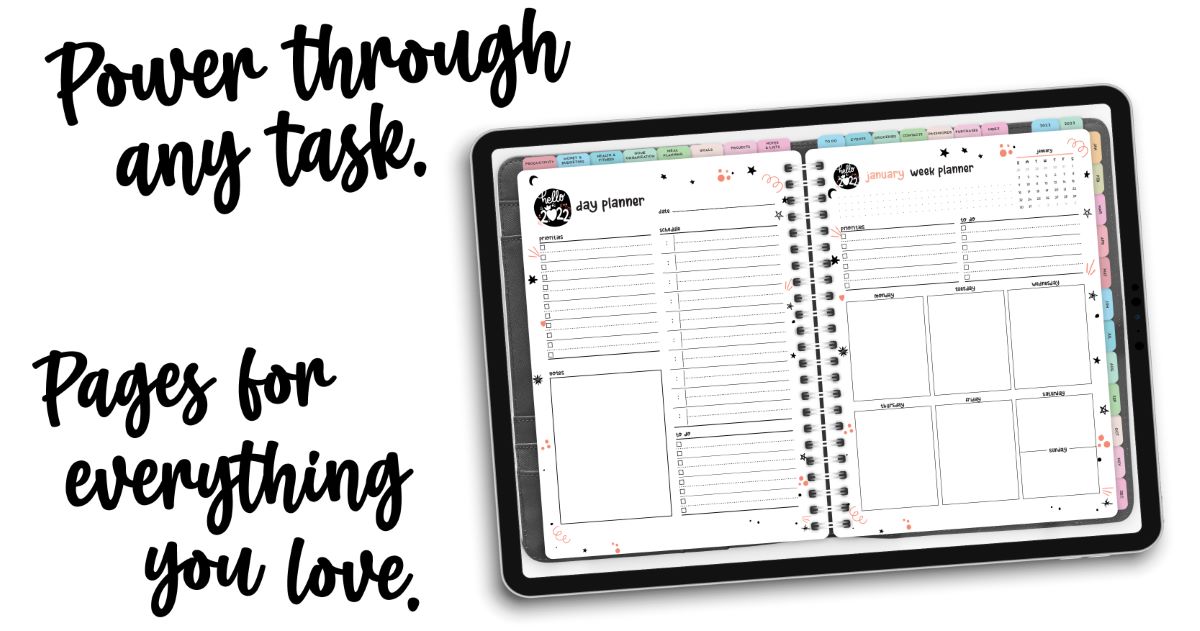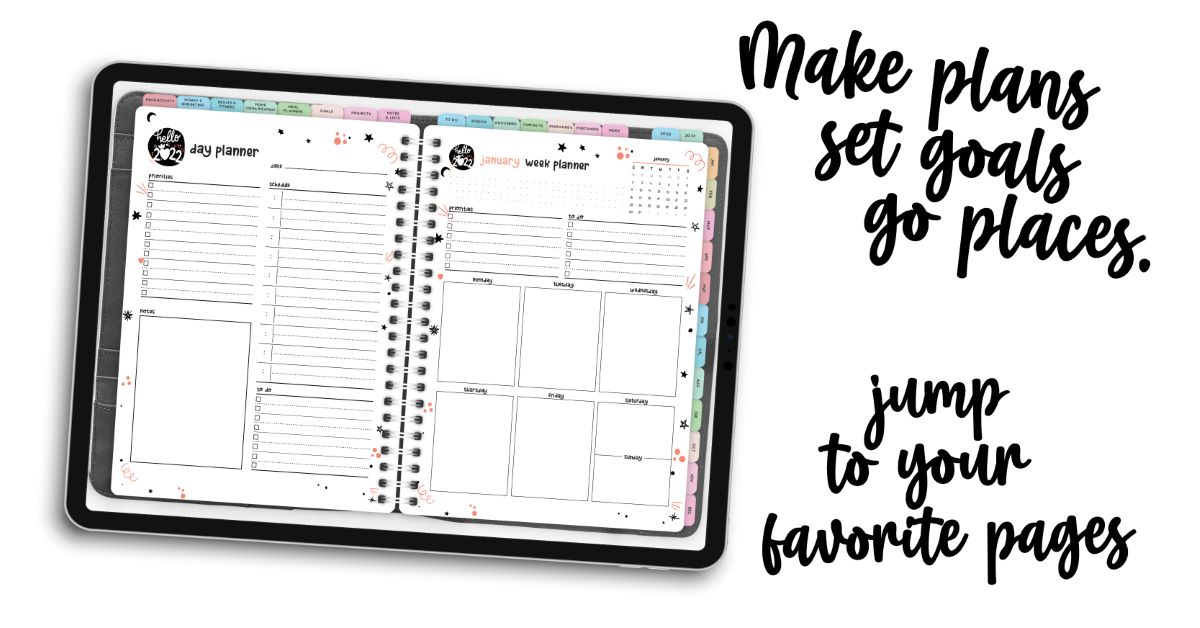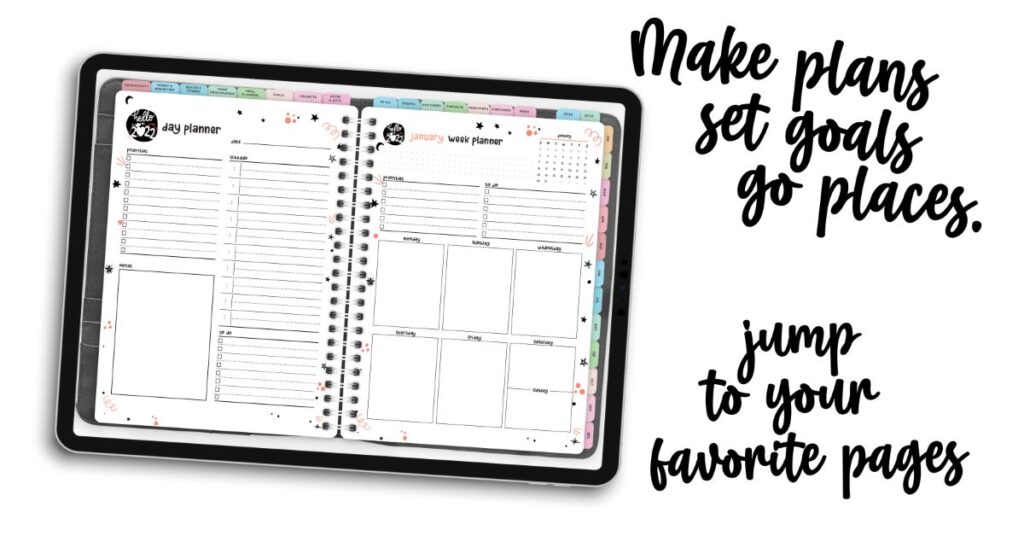 It's the ultimate digital planner for iPad that has everything you need in an aesthetic bundle. It's so cute, others will want to know where you got it from!
It's a complete 2024 digital planner that features dated calendars for every month of the year and year calendars for 2024 and 2025.
Best of all, it's completely free for you to use. You really won't find a better free digital planner for your iPad anywhere. It really competes with the best and most expensive planners too.
To get your free copy of this digital planner for iPad, look out for the buttons below to get your free copy, and start using it today!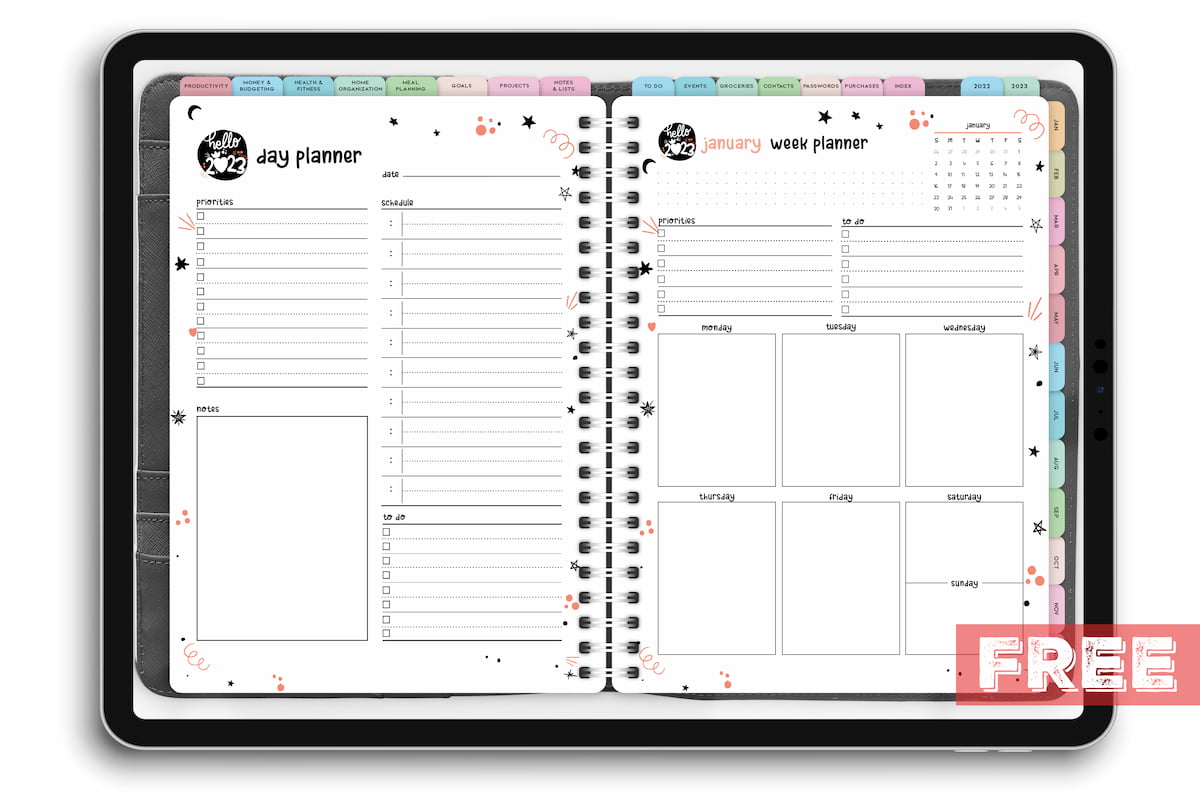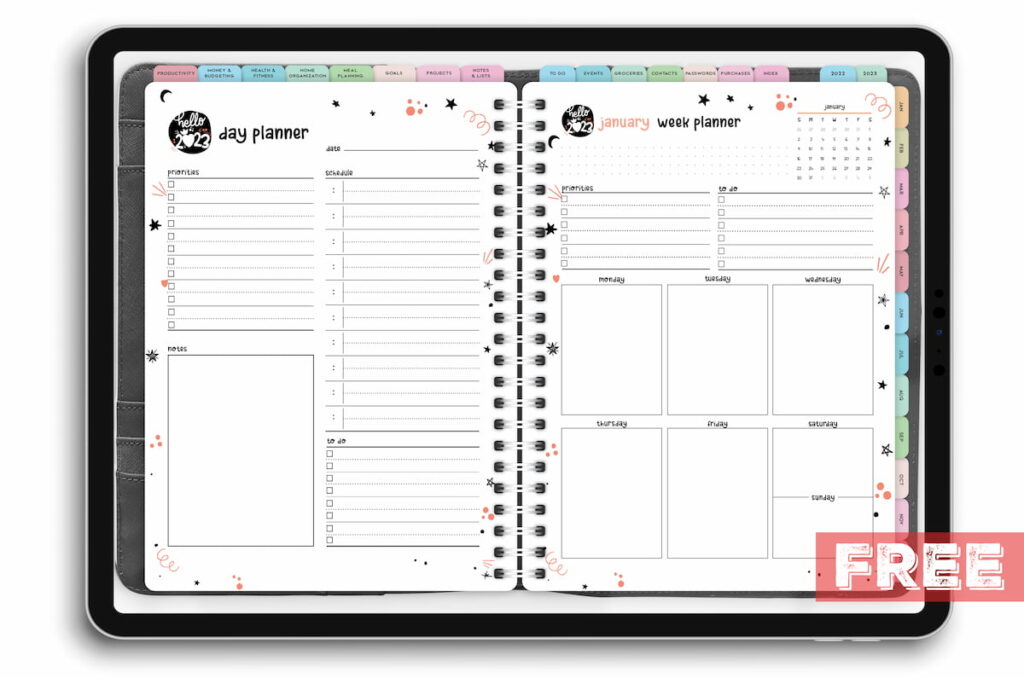 See what's included in this 2024 Digital Planner For iPad
Every page of this iPad planner features cute aesthetic pages, with hyperlinked tabs that will help you quickly find everything you've planned so far.
This hyperlinked planner works on any note-taking app for your iPad such as Goodnotes, Notability, or CollaNote.
Features include:
Key features:
Cute aesthetic design
Hyperlinked Tabs and Clickable Index for easy navigation.
Blank Lined Paper for simple note-taking
Dot Grid Paper for design and ideas
Blank Checklist
Digital Notebook Pages
Digital Notepad pages
Custom Sections (x6)
Stylish Cover
Over 100 useful pages, including:
2024 iPad Calendar
You'll find a 2024 iPad calendar and also a year at a glance planner, both great for planning the year ahead with goals, events, and more.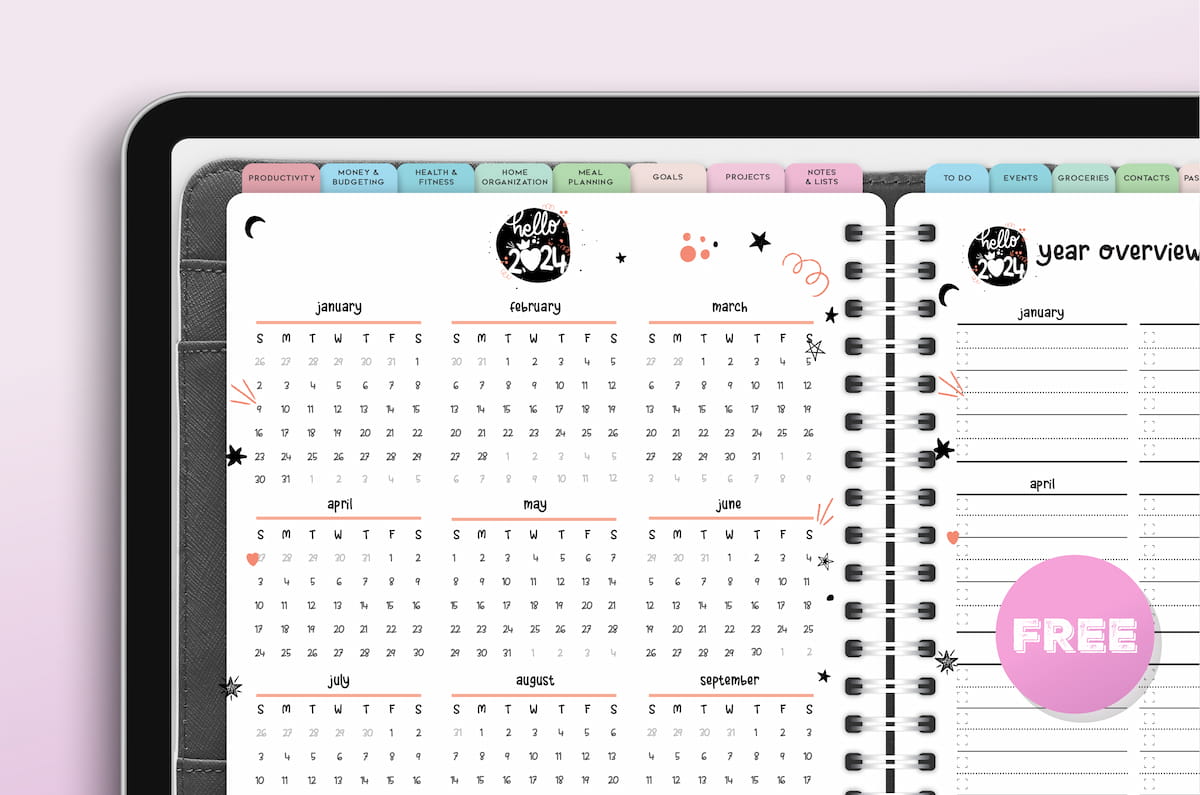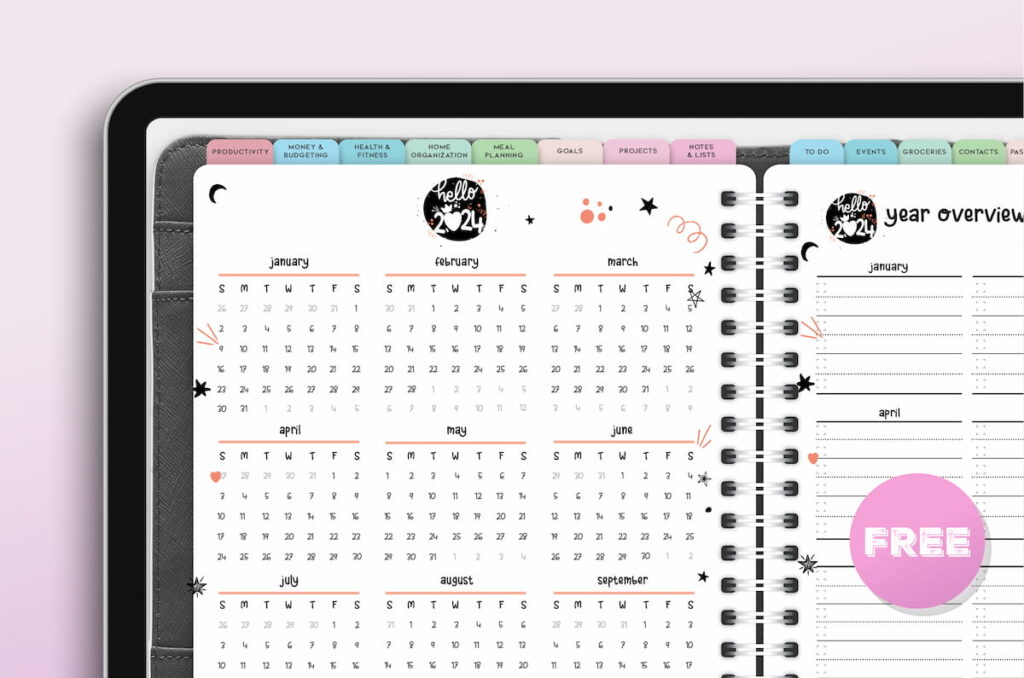 2024 iPad calendar and planner
You'll also find a 2024 calendar and planner included, great for planning next year in advance.
---
iPad Planner Calendar (January through December)
The iPad planner calendar includes dated monthly planner calendars for 2024, great for planning the months in advance. You'll also find sections for priorities for the month, a monthly to-do list, notes, and more.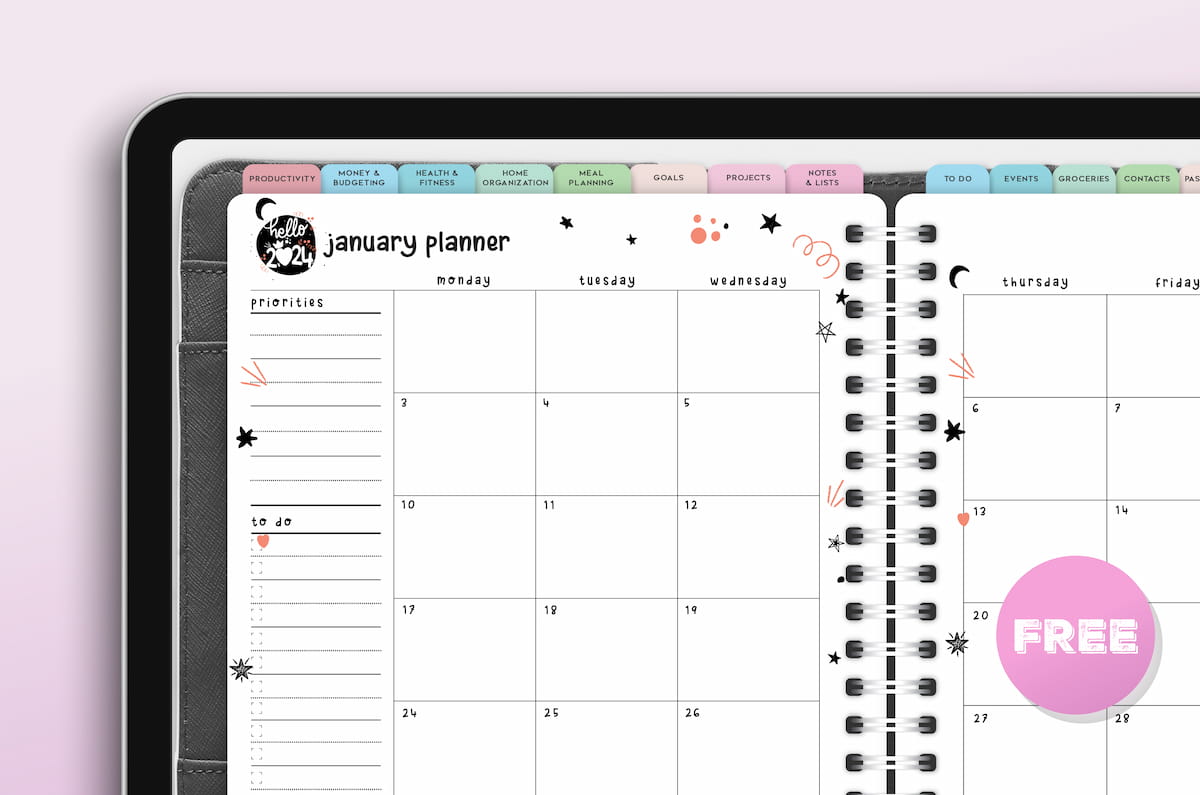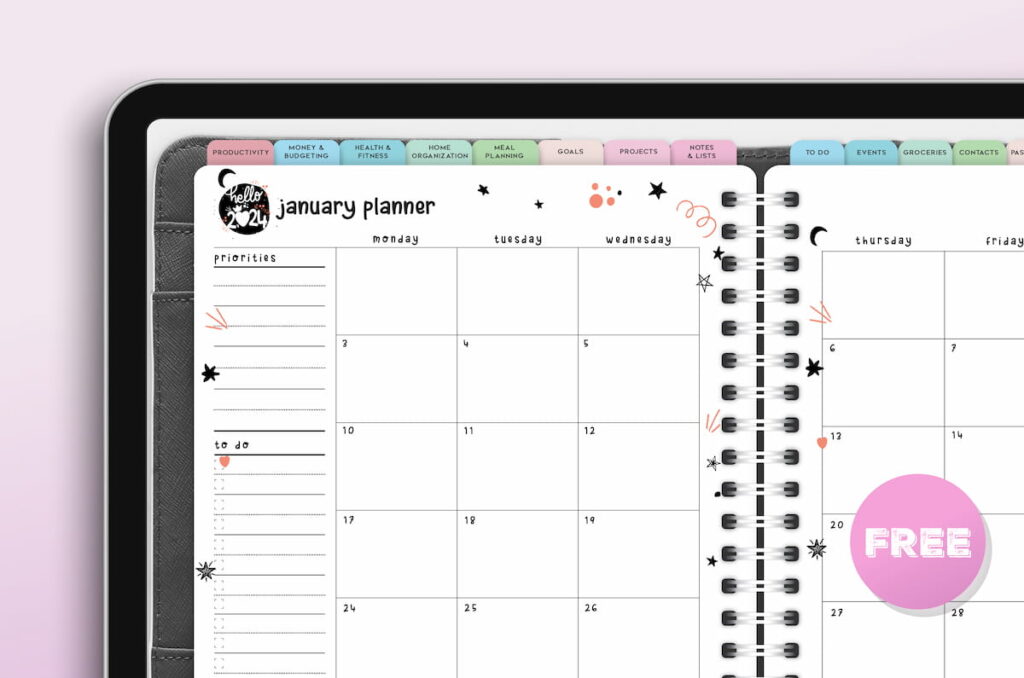 ---
iPad Weekly Planner and Weekly To Do List
The iPad weekly planner features everything you need to plan your week ahead, including a weekly To-Do List and space to write your priorities, goals, and notes.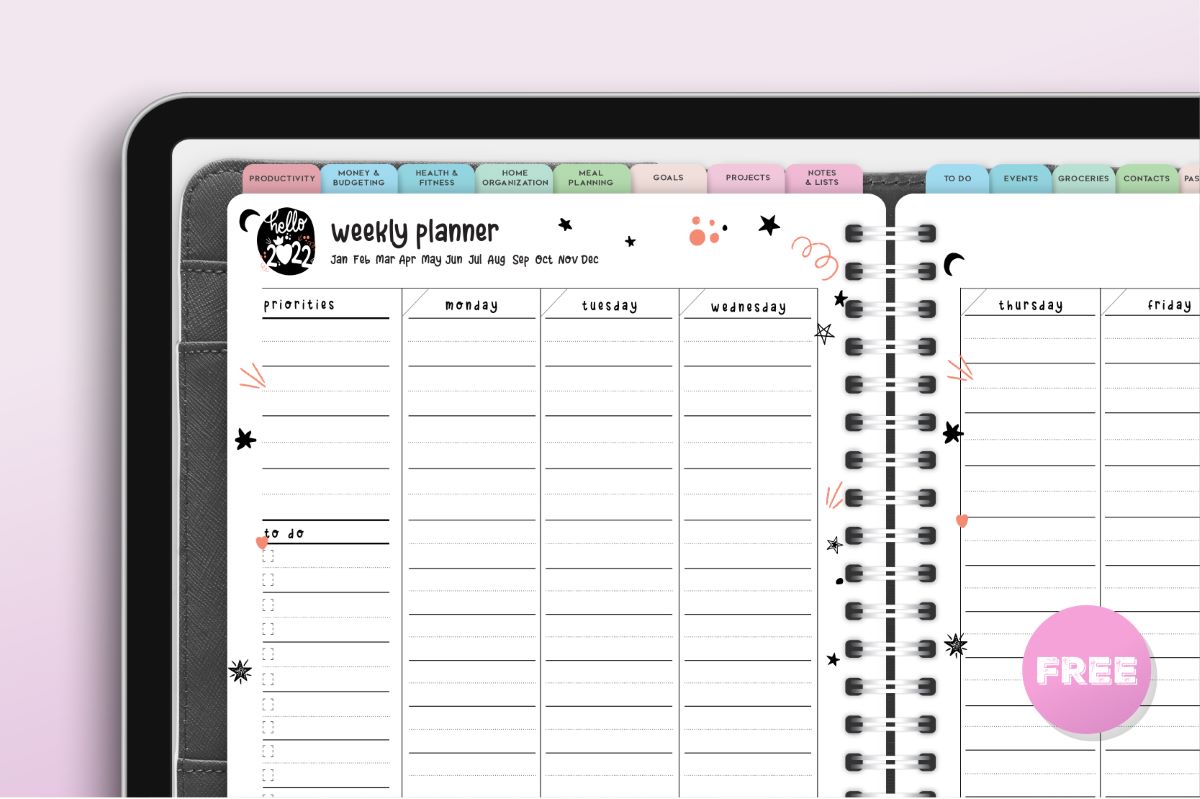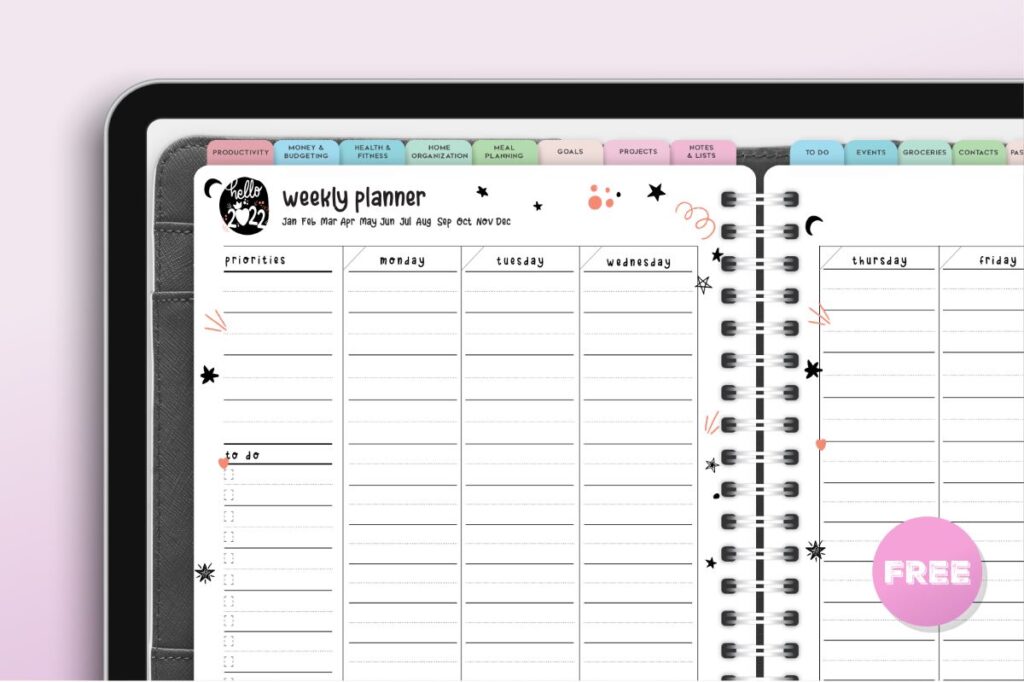 ---
iPad Day Planner and To Do List
This iPad day planner section has space to write your priorities, notes, schedule, and things you need to do for the day and is one of the digital planner pages that you're likely to use the most.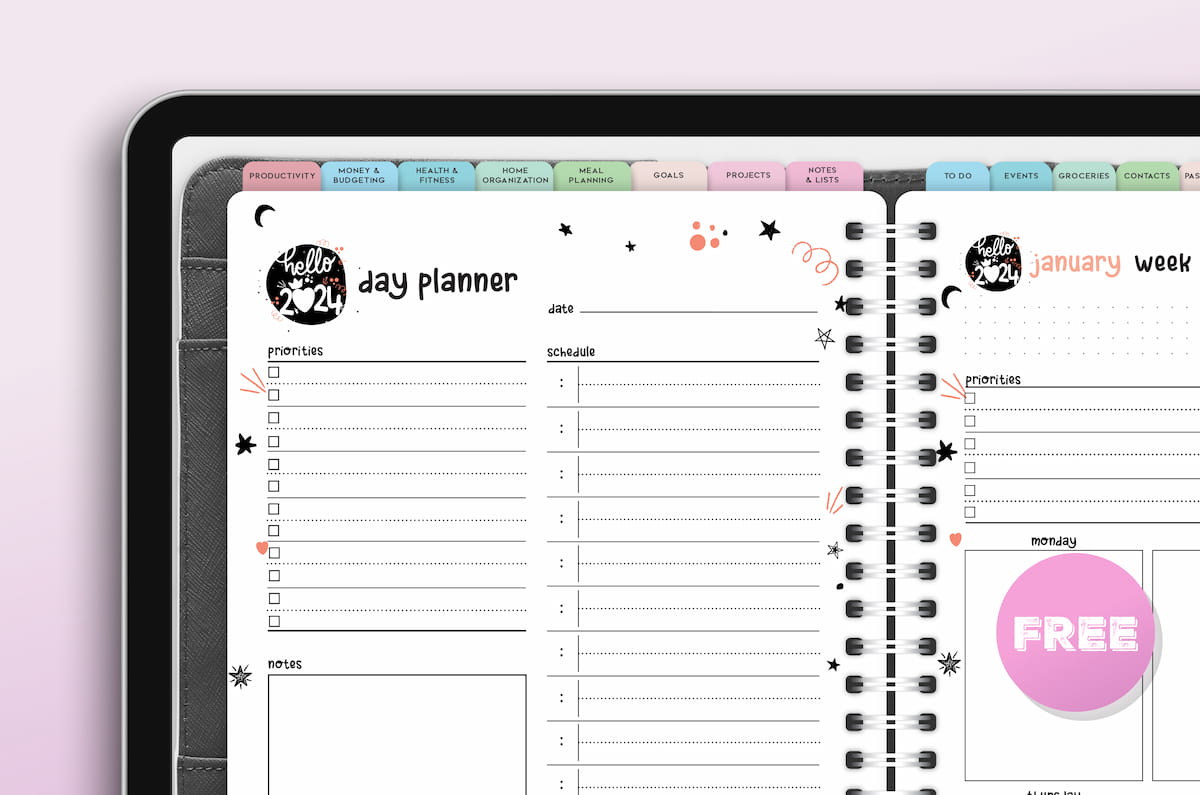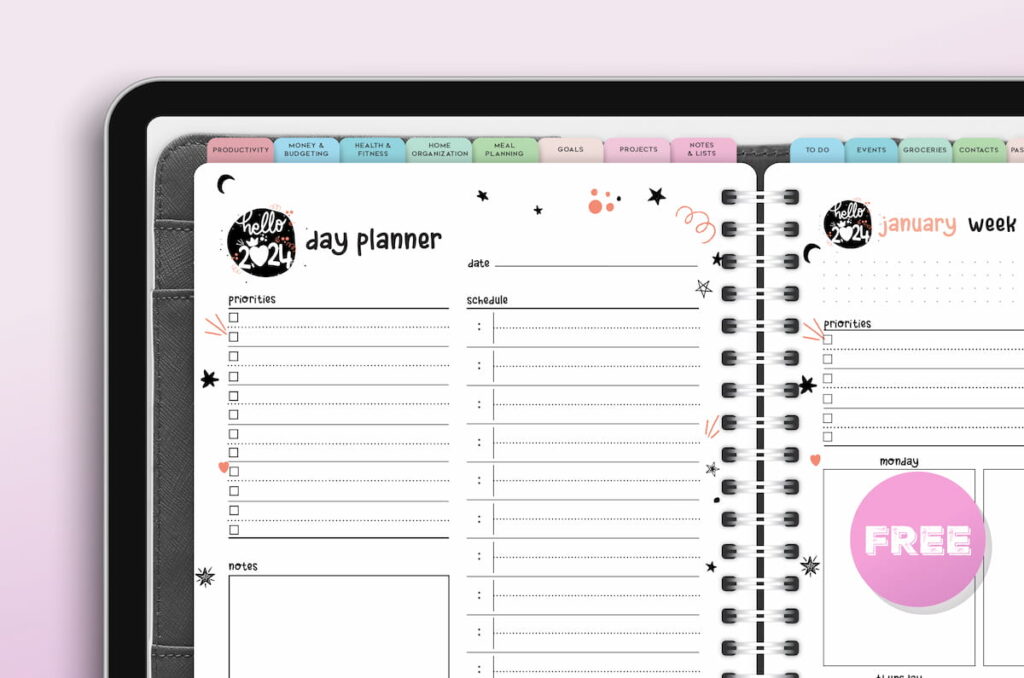 ---
iPad Monthly Planner
This iPad monthly planner page features and also features a monthly review page, where you can look back on the month and review how things went.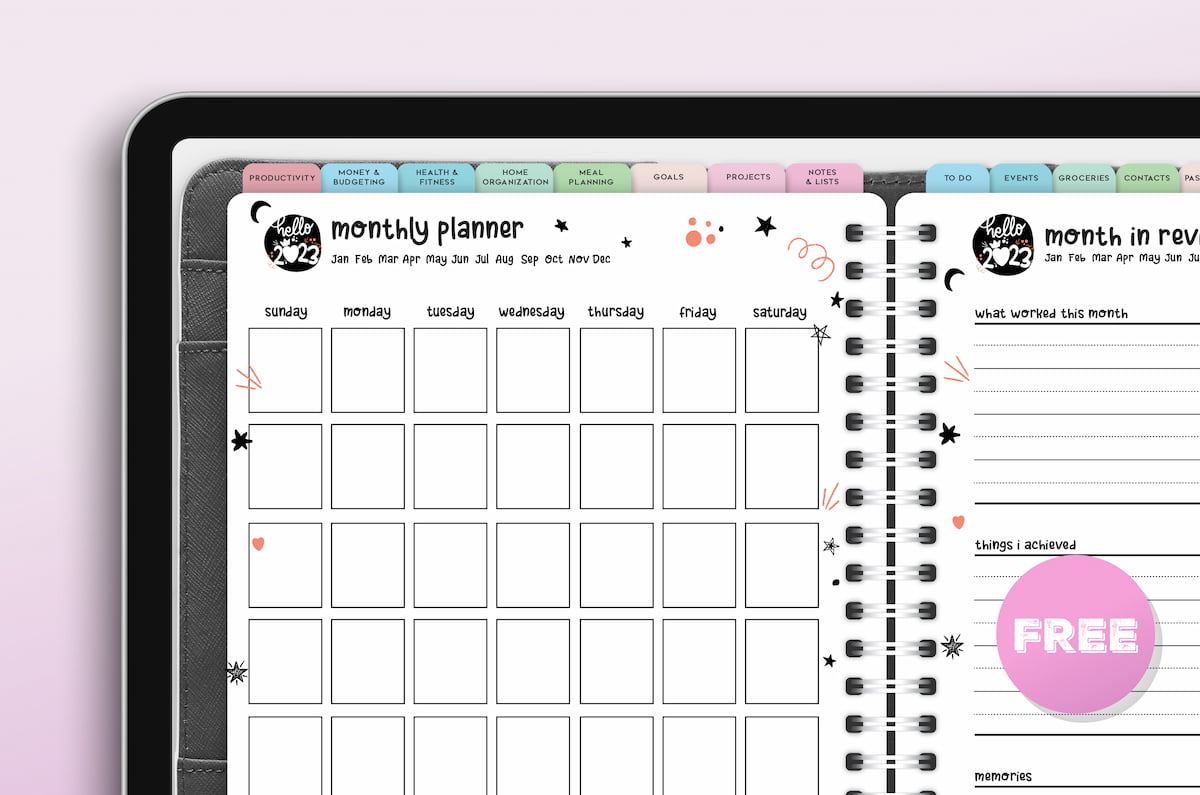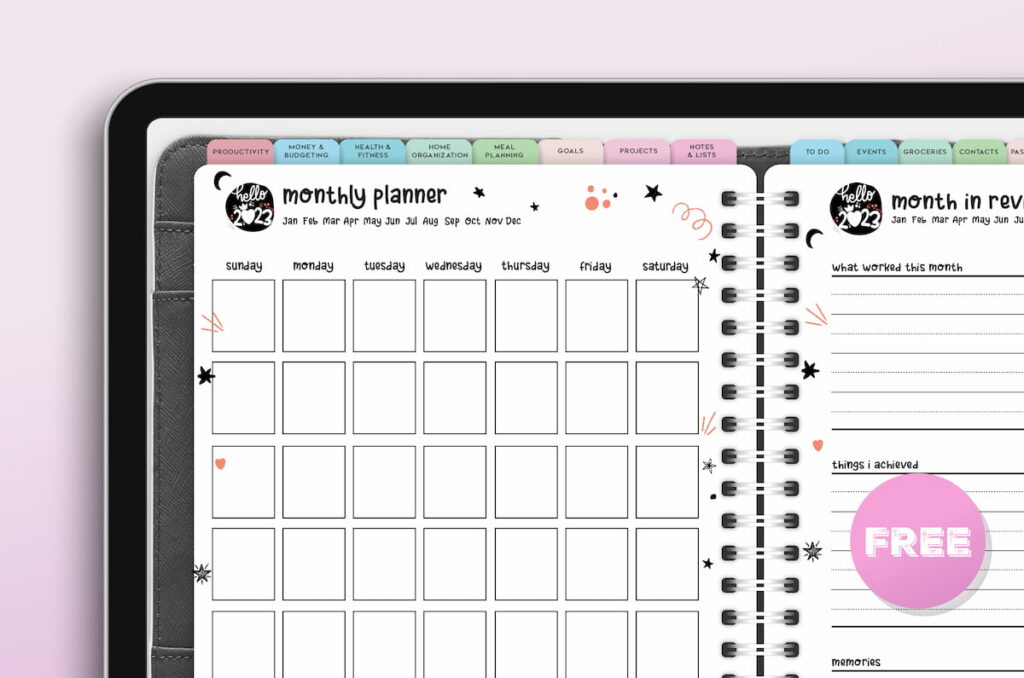 ---
Home Planning & Recipe Planner for iPad
Use the home planning page to plan your meals in advance for the week, shopping list, housework, and errands. You'll also find a recipe planner that compliments the home planner, where you can plan the recipes you're going to make.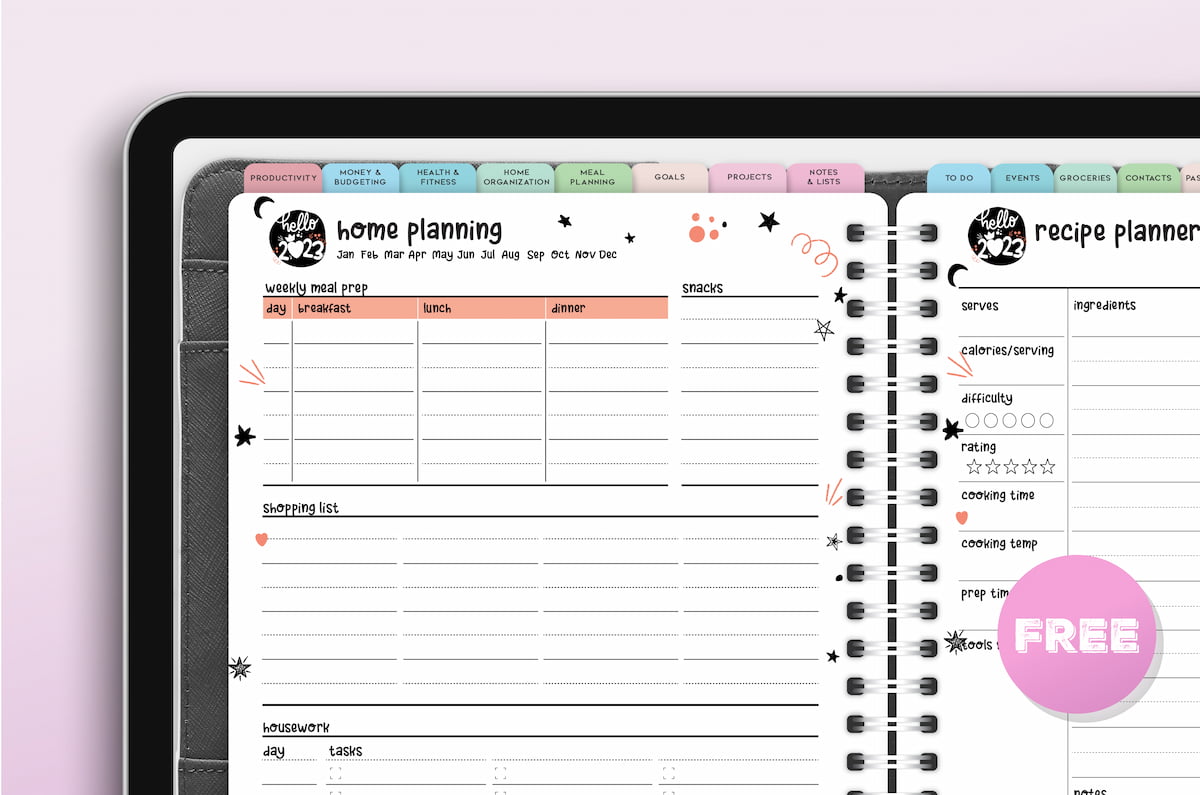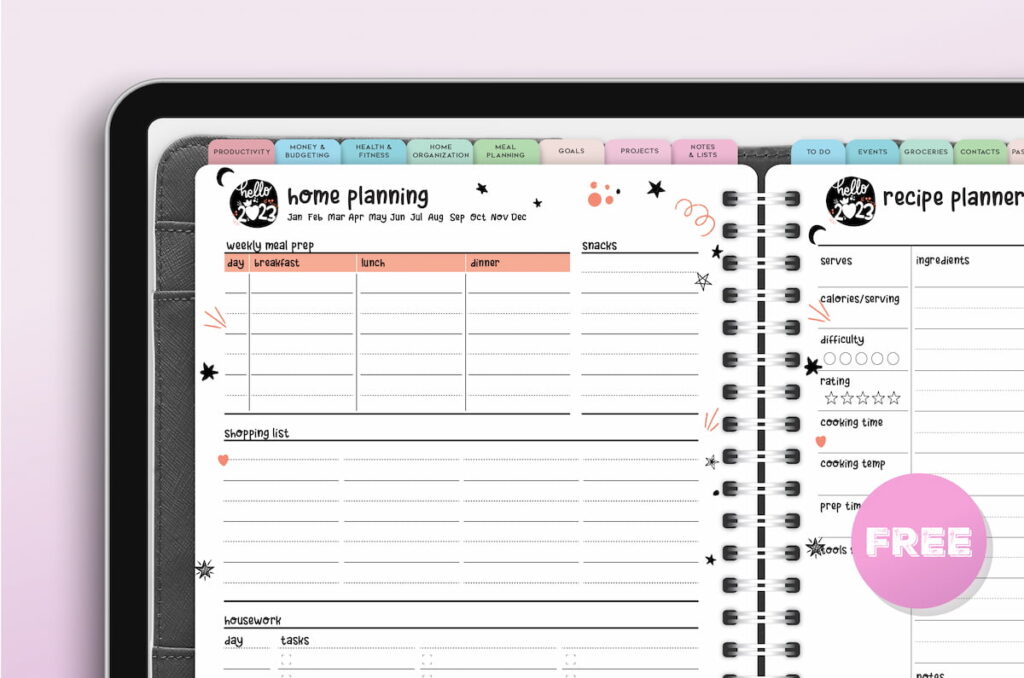 ---
Personal Planning & Improvement Planner for iPad
Also included is a stylish digital personal planner, great for planning your focus, reminders, goals, moods, habits, and more. The improvement planner page is where you can write down things you can improve on so that you're always striving to make improvements in your life.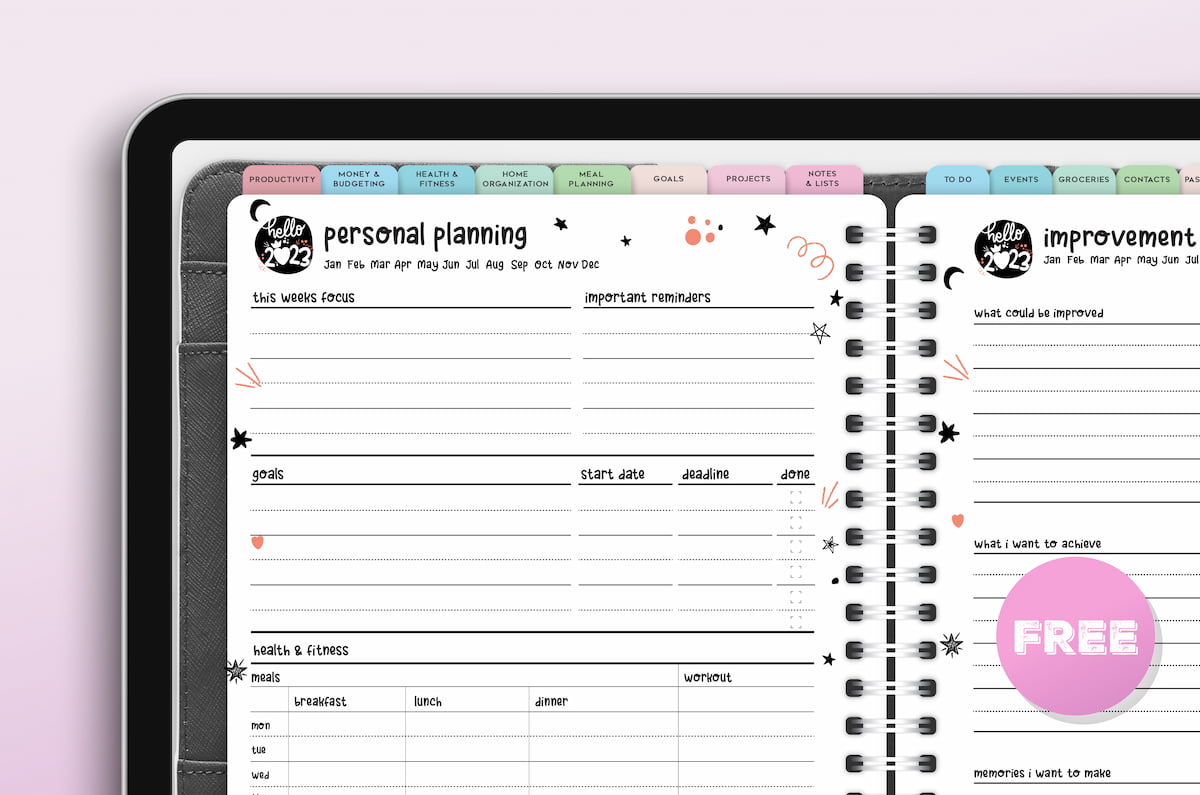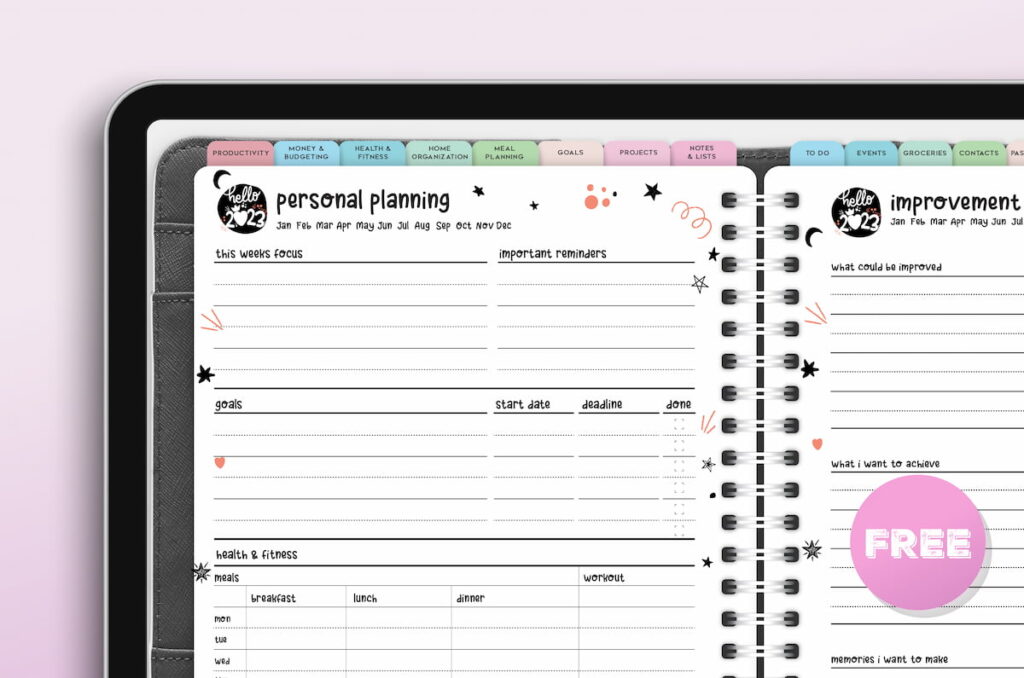 ---
Digital Habit Tracker & Mood Tracker for iPad
Track your habits with the digital habit tracker, and your moods with the digital mood tracker. These two pages of the digital planner are essential to many people, and can really help you track how you're feeling.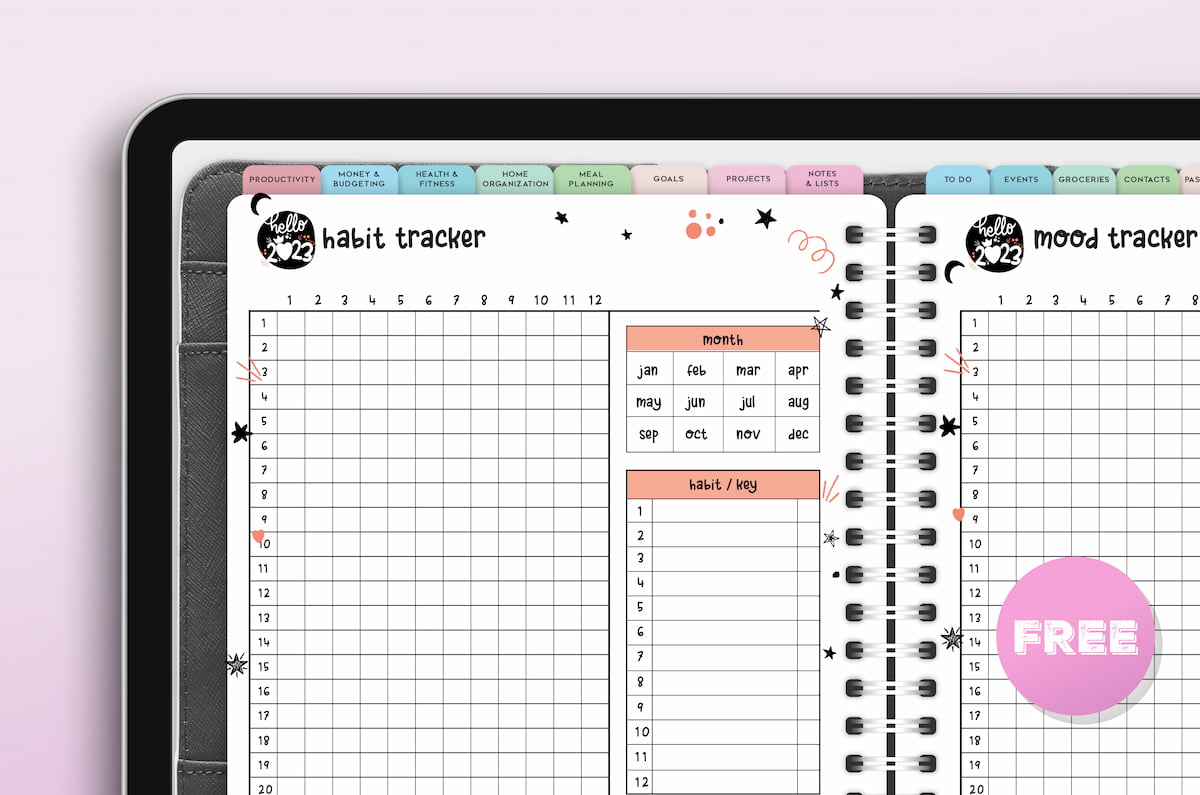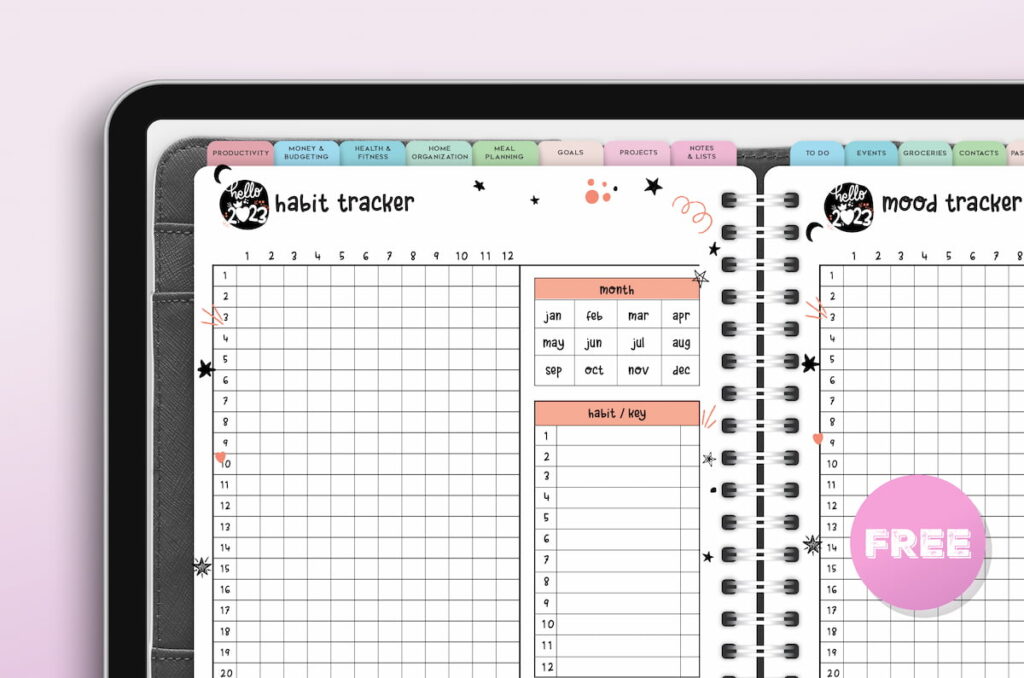 ---
iPad Meal Planners
Plan your meals in style on your iPad with the free digital meal planner that's included with this planner. You can plan your daily meals, or plan your weekly meals in advance, with pages for both.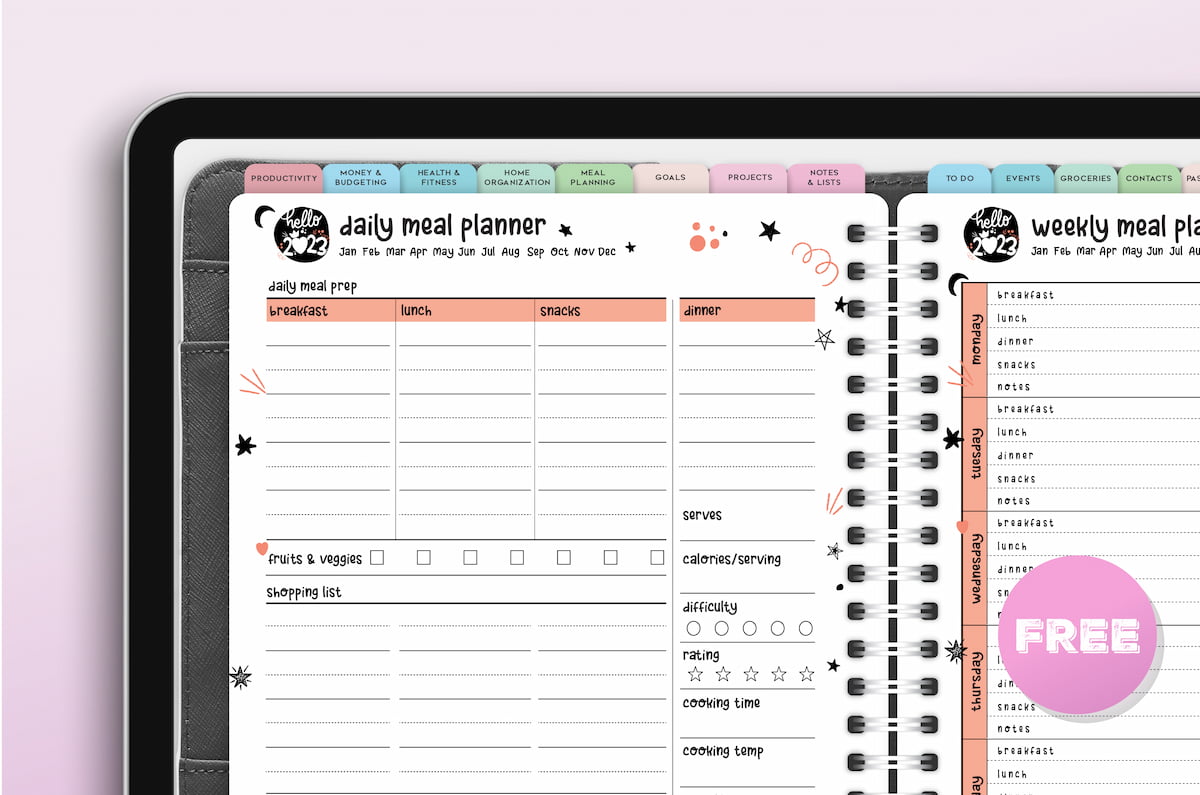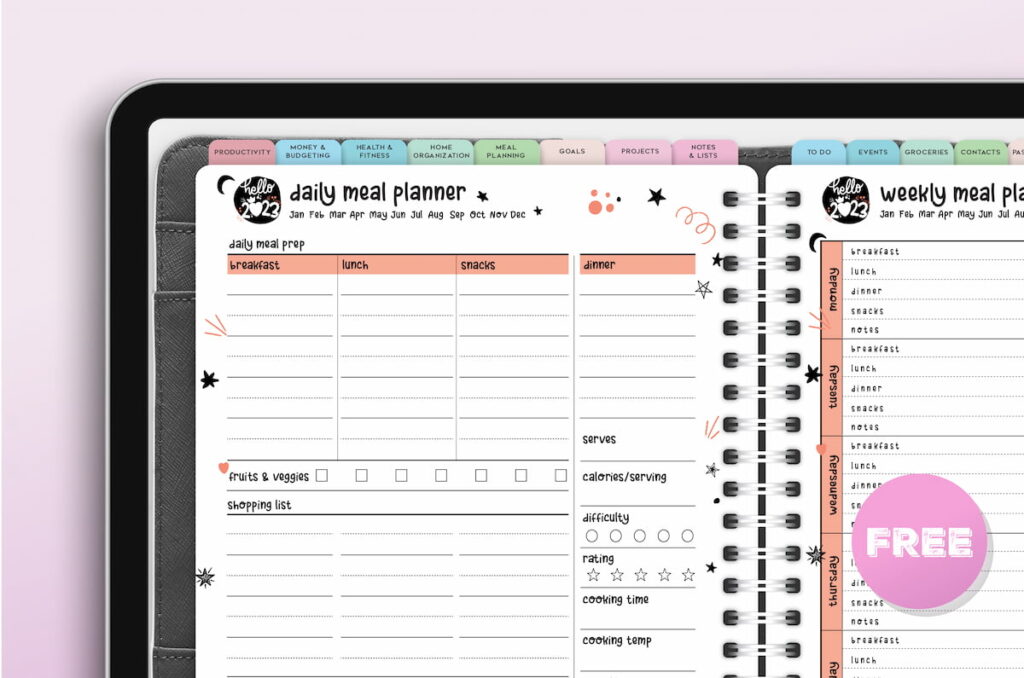 ---
iPad Goal Planner
The digital iPad goal planner is a page you can use to plan your goals and set deadlines for achieving them. You can list all of the actions you need to do to help you complete your goal and mark each one as you go with your Apple pencil to keep you motivated.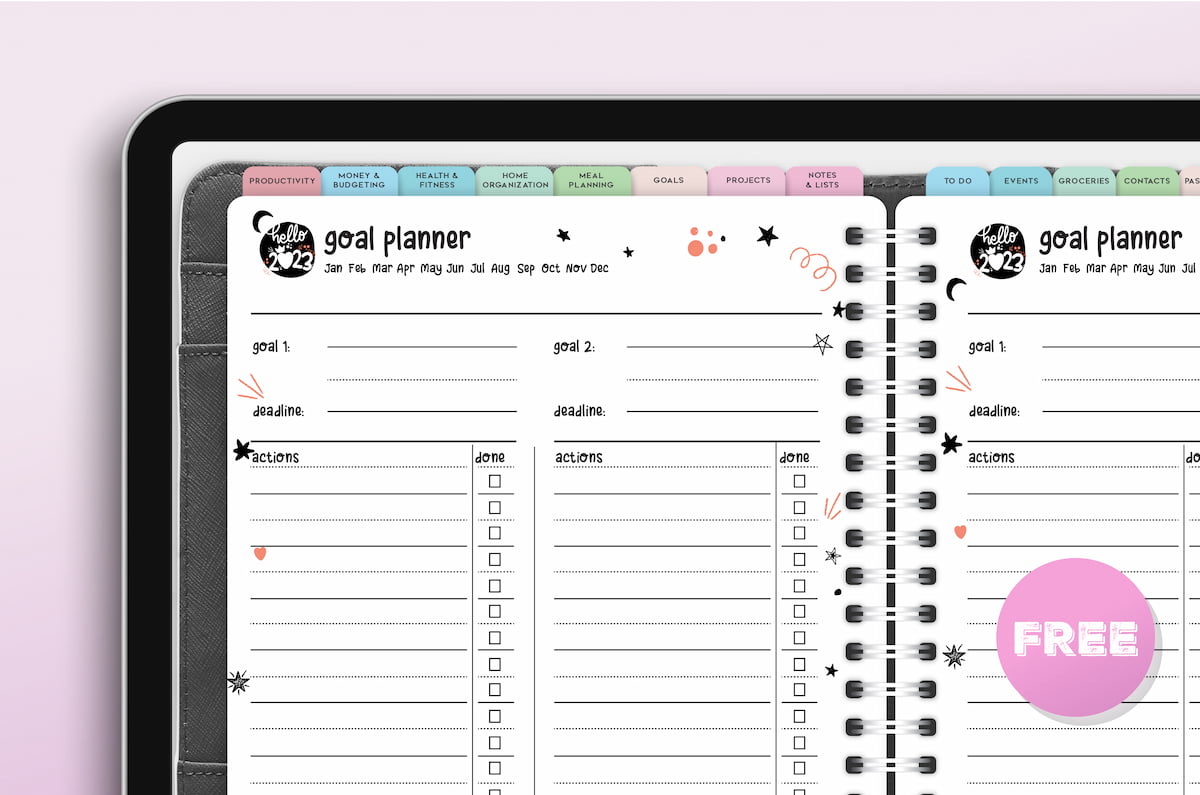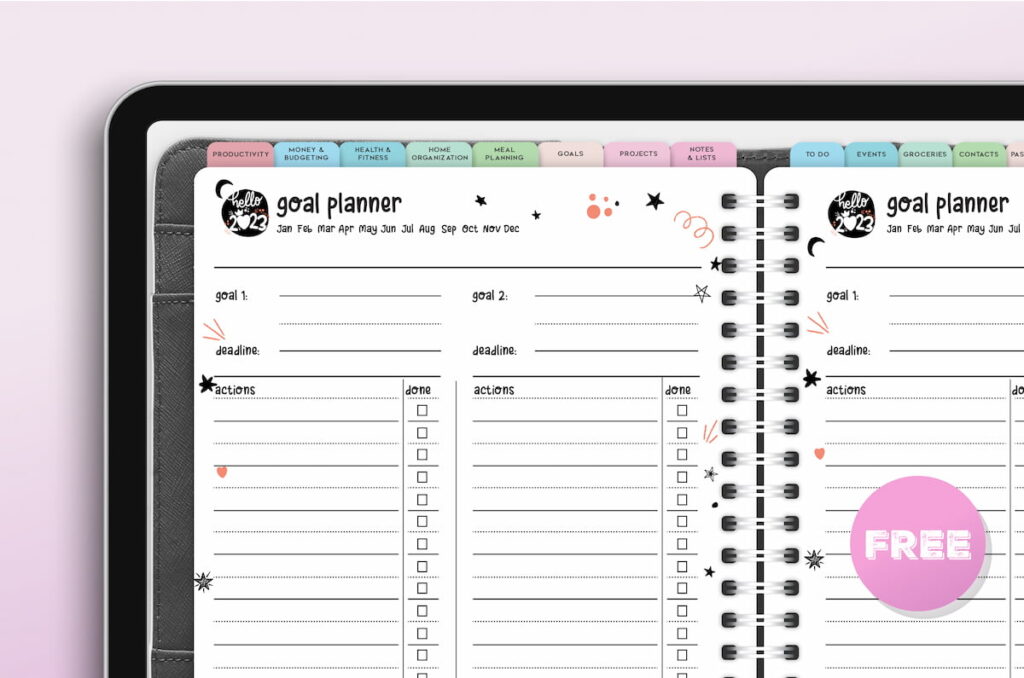 ---
iPad Project Planner
The digital project planner is a page for those of you who like to have projects. You can write down your project idea, any objectives, the tasks you need to do that make up the project, and any notes that relate to it.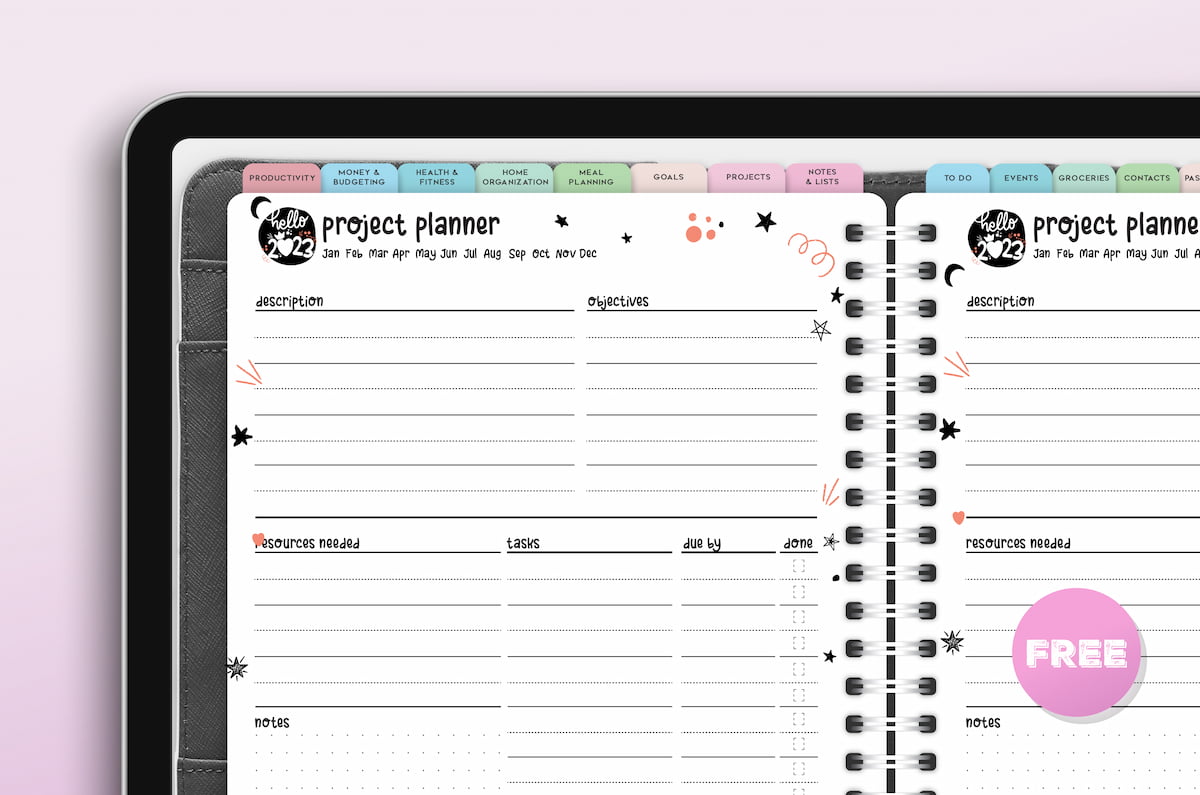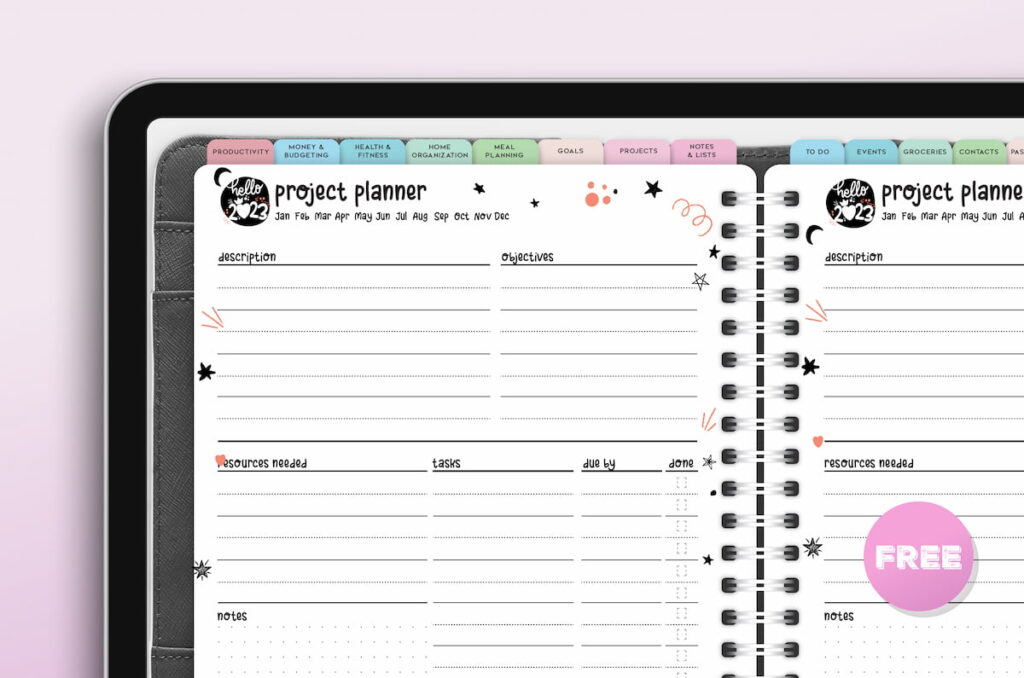 ---
Digital Budget Tracker & Bill Payment Checklist for iPad
Manage your money on your iPad with this digital budget tracker, where you can track your spending, log your income, and much more. There's also a digital bill payments checklist, that's ideal for tracking all of your bills and when you pay them.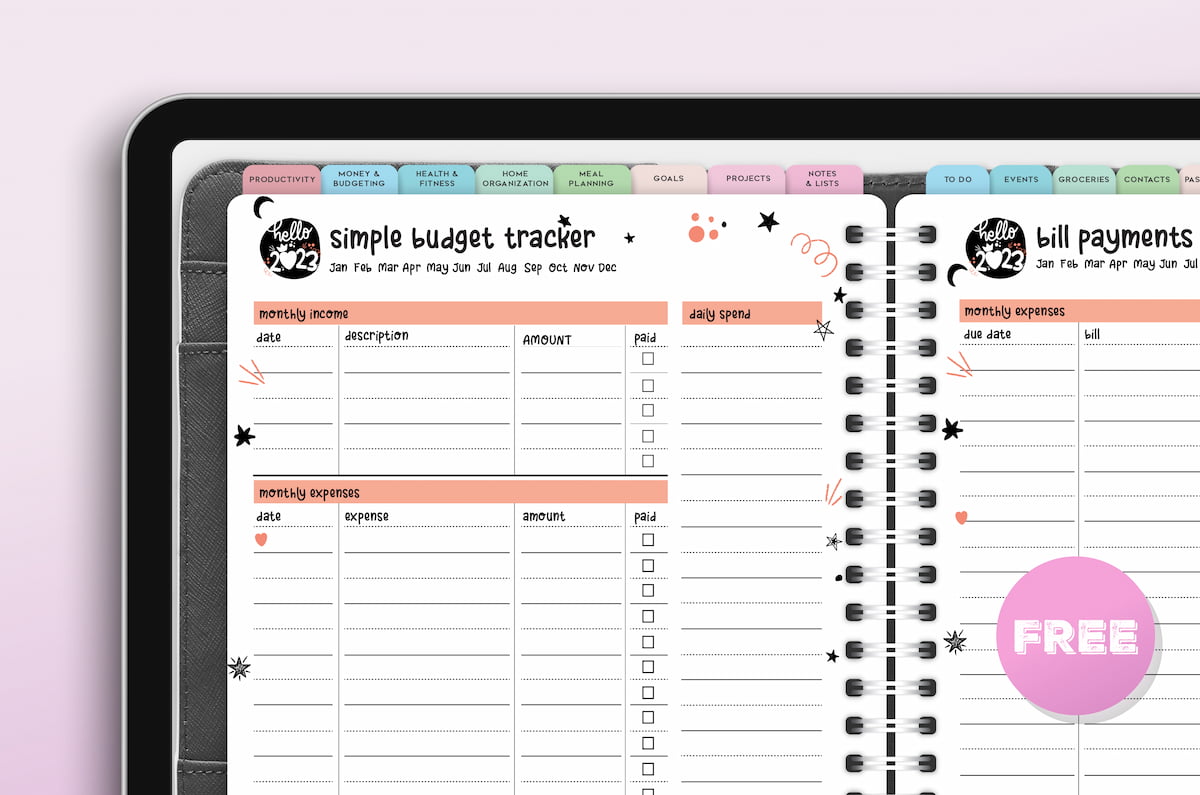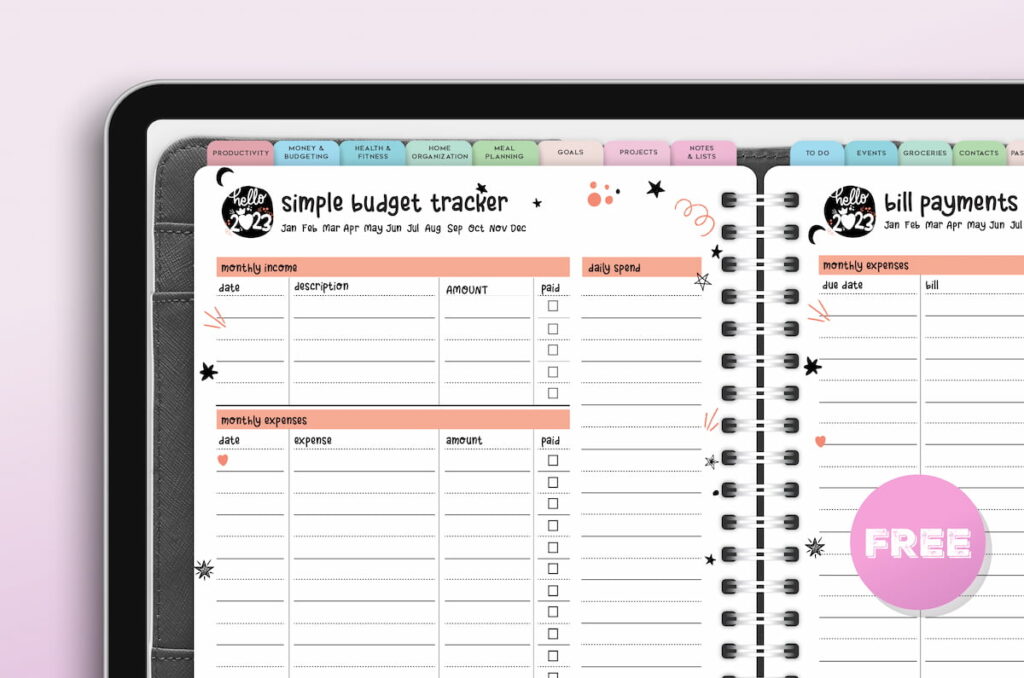 ---
Cute Savings Tracker for iPad & debt tracker
Use the digital savings tracker to keep tabs on your savings as you go on your iPad, including each amount that you set aside into your savings, and any savings goals that you're working towards. The digital debt tracker also comes in handy if you have any debts that you're working towards paying off.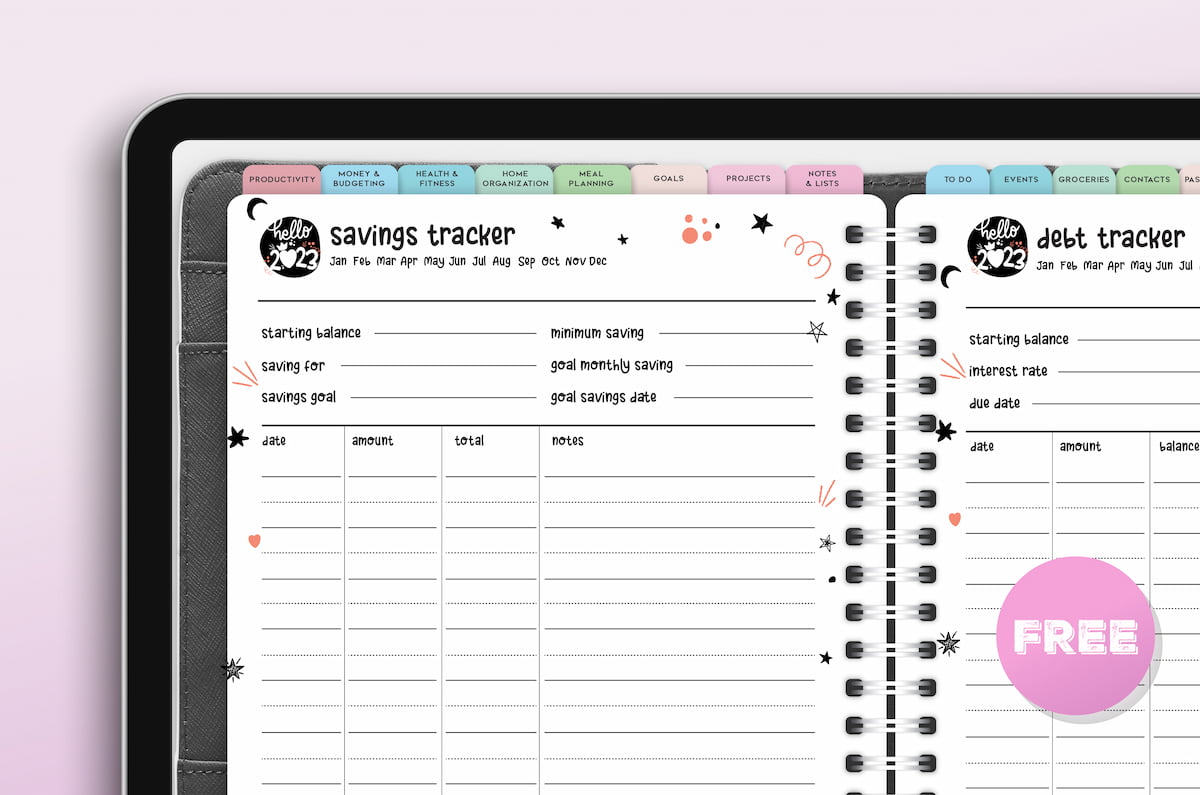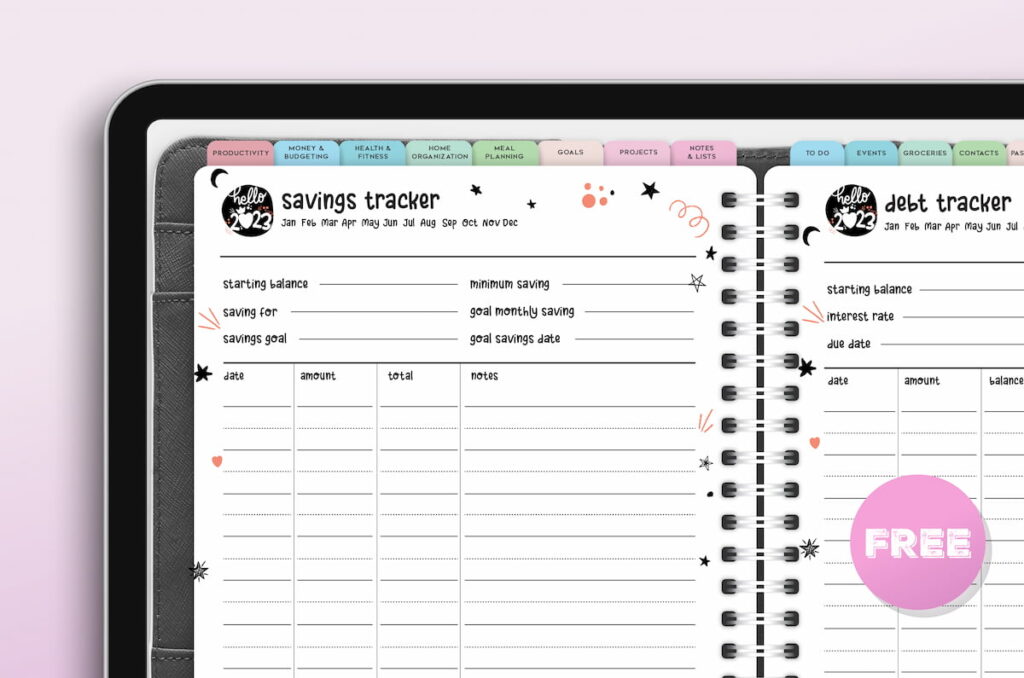 ---
iPad Weight Loss Tracker & Weight Chart
Use your iPad to track your weight loss with the digital weight loss tracker. There's also a weight chart to help you keep tabs on your weight and weight loss goals and also track your progress towards your ideal weight.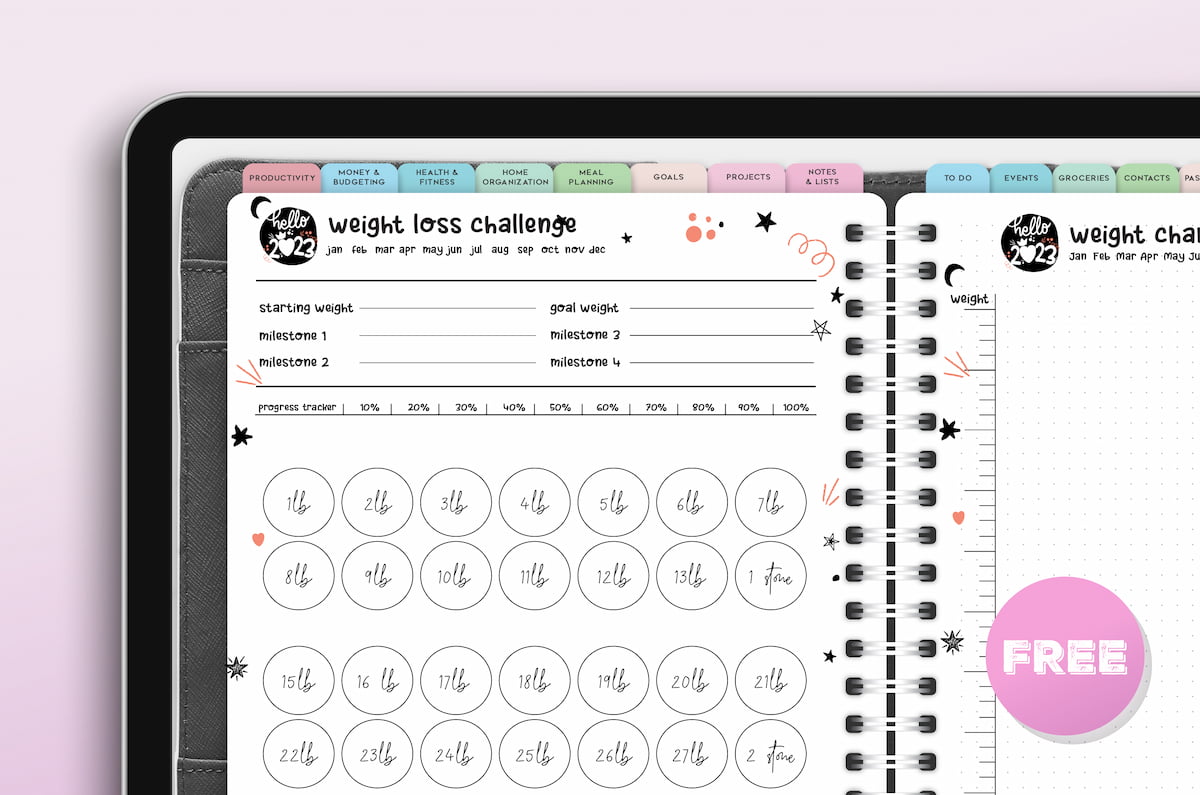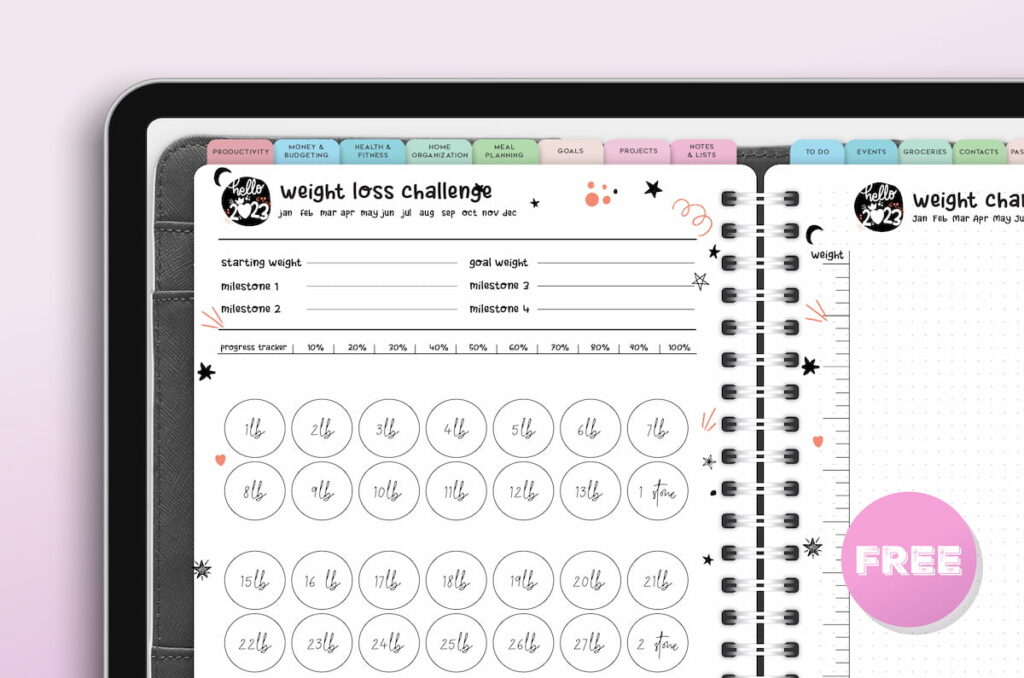 ---
Digital Meals Planner for iPad with Workout Tracker & Calorie Intake Tracker
Use the digital meals and workouts tracker for iPad to log your meals, calories consumed, and workouts.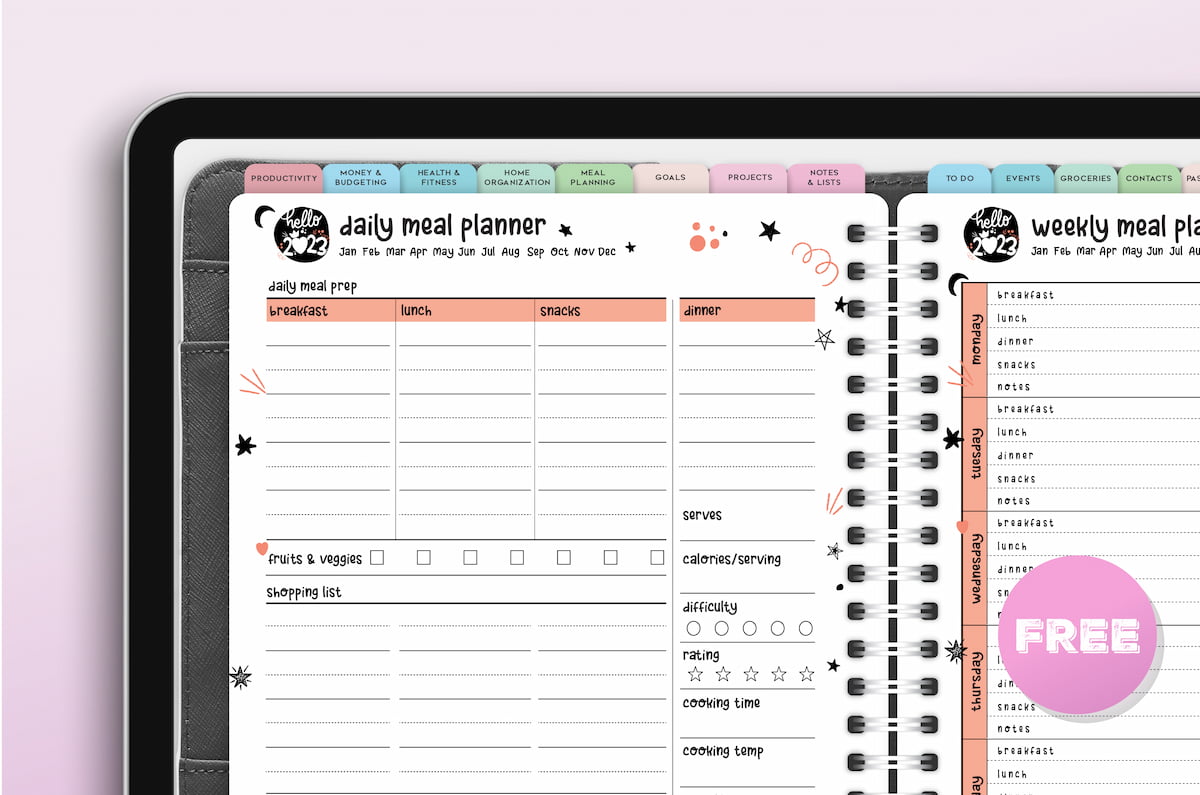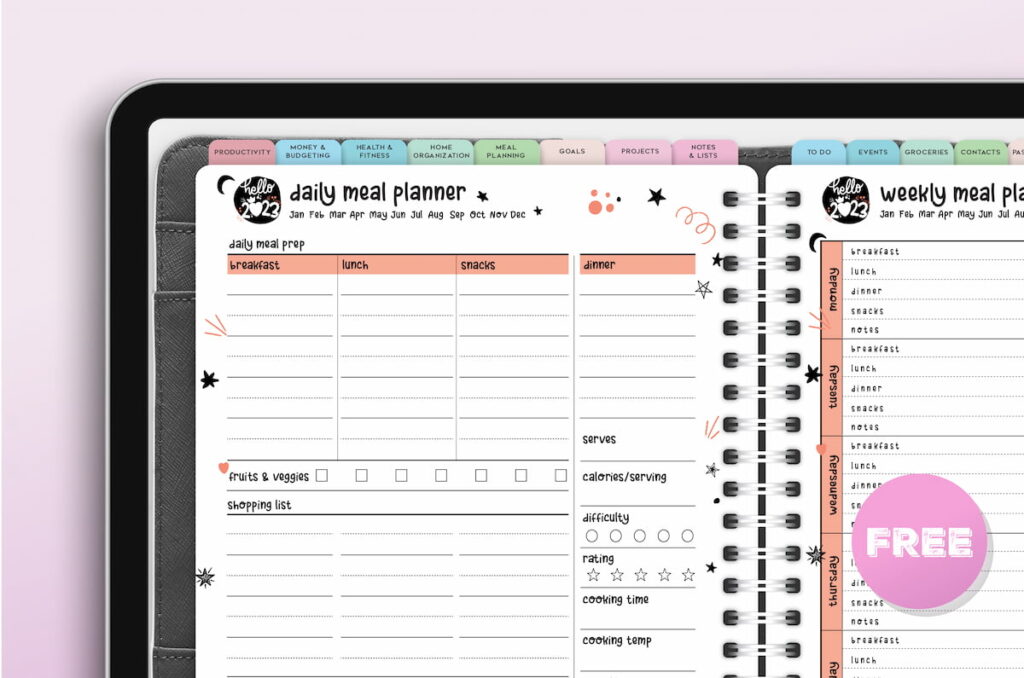 ---
iPad Spending Tracker & Holiday Budget Planner
Use the iPad spending tracker to log your spending throughout the month so that you can account for the money you've used and how you've paid for things. The holiday budget tracker is a digital planner that's great for setting a budget for a vacation or for the holiday season.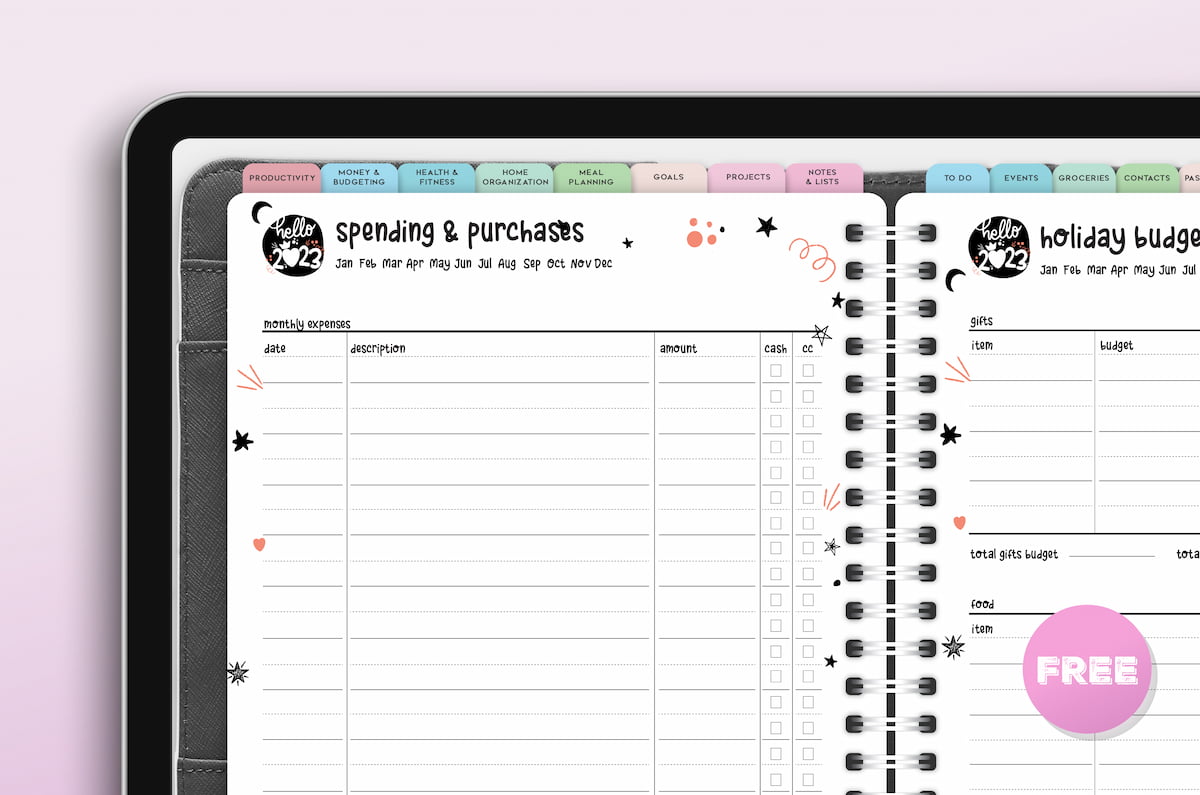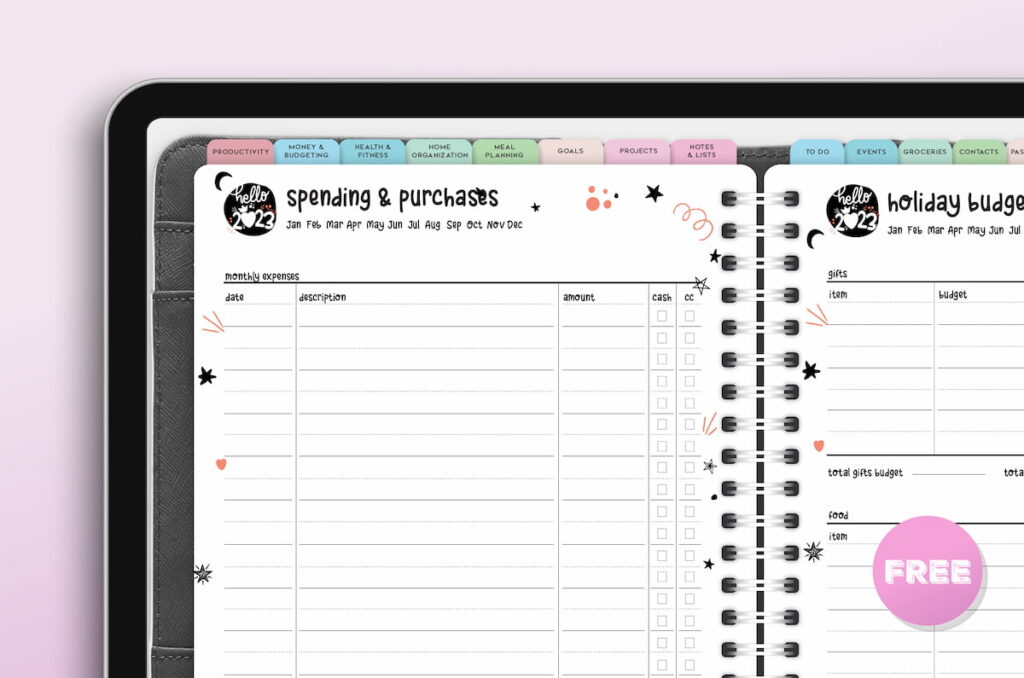 ---
Digital Grocery List for iPad
Use the digital grocery list for your iPad to write down what you need to buy when you go grocery shopping. Why use a paper list when you've got your iPad handy?!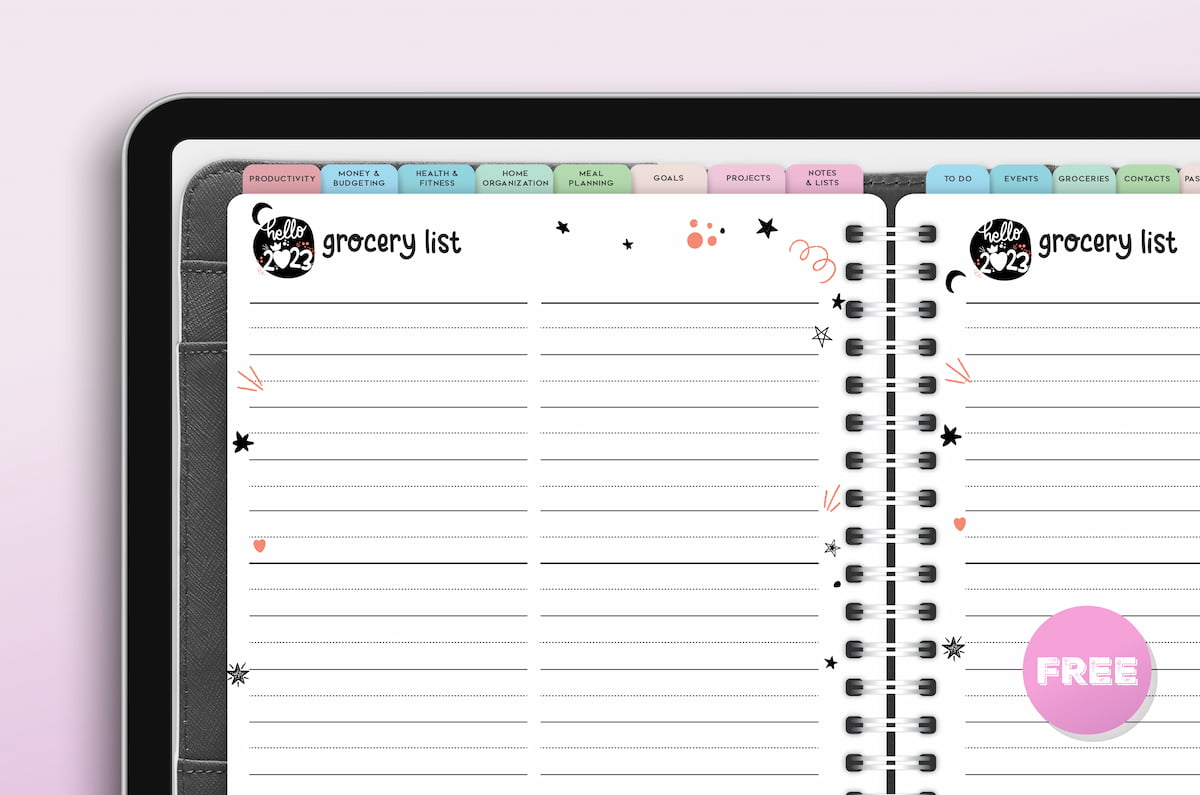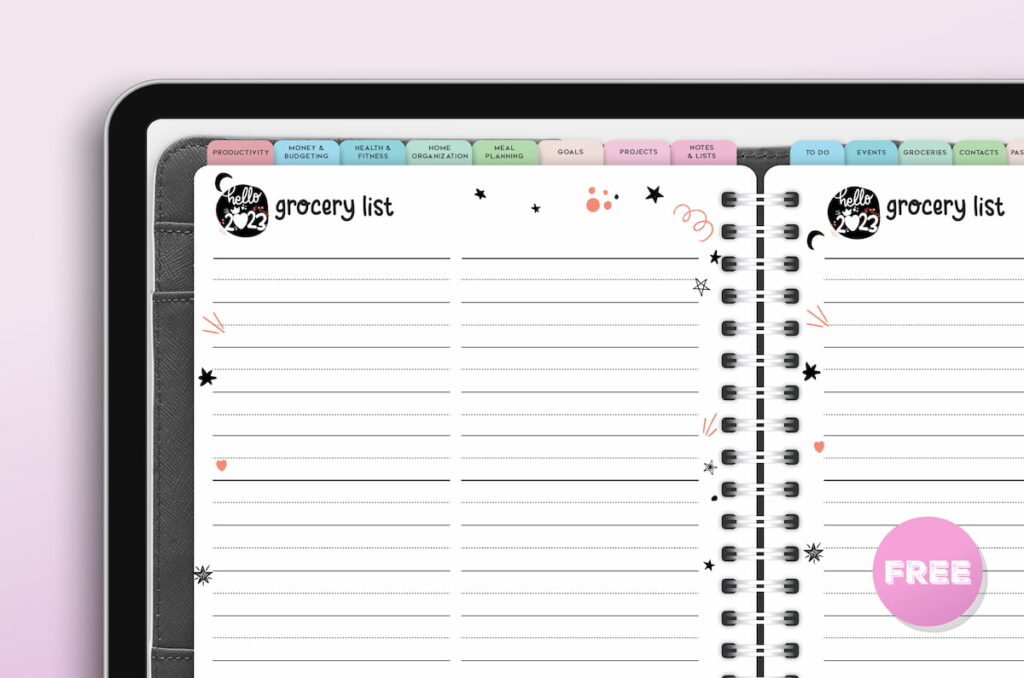 ---
Custom Digital Planner for iPad
You'll also find six custom sections that you can use for anything. Custom sections are great for planning or logging things that are unique to you.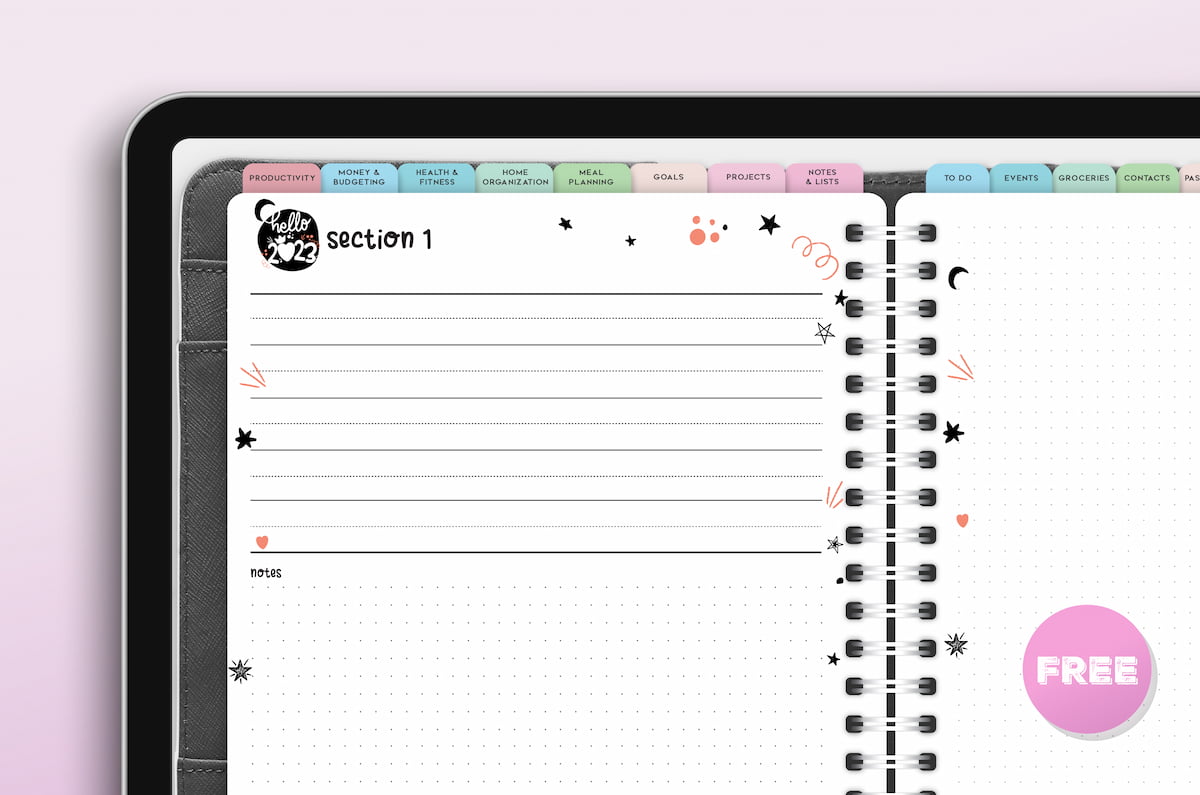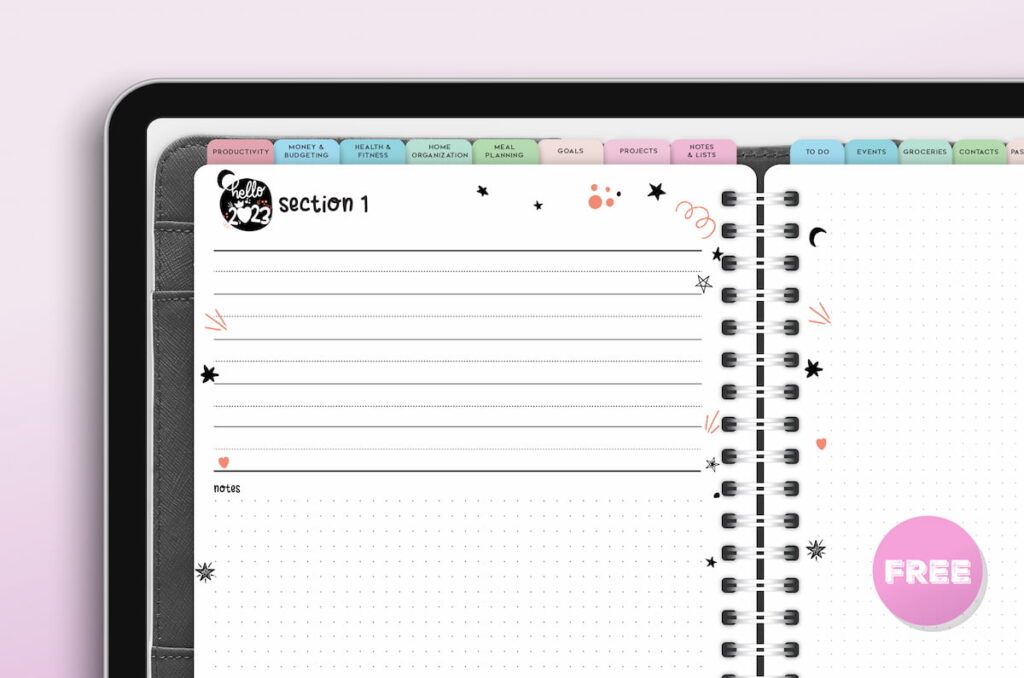 Best Note Taking App for iPad
This has to be the best note-taking app for iPad, with a stylish look and plenty of space for all of your notes. Use it to write down notes as you go, or for thoughts and ideas. Simply copy the pages as many times as you need to create your own digital notebook.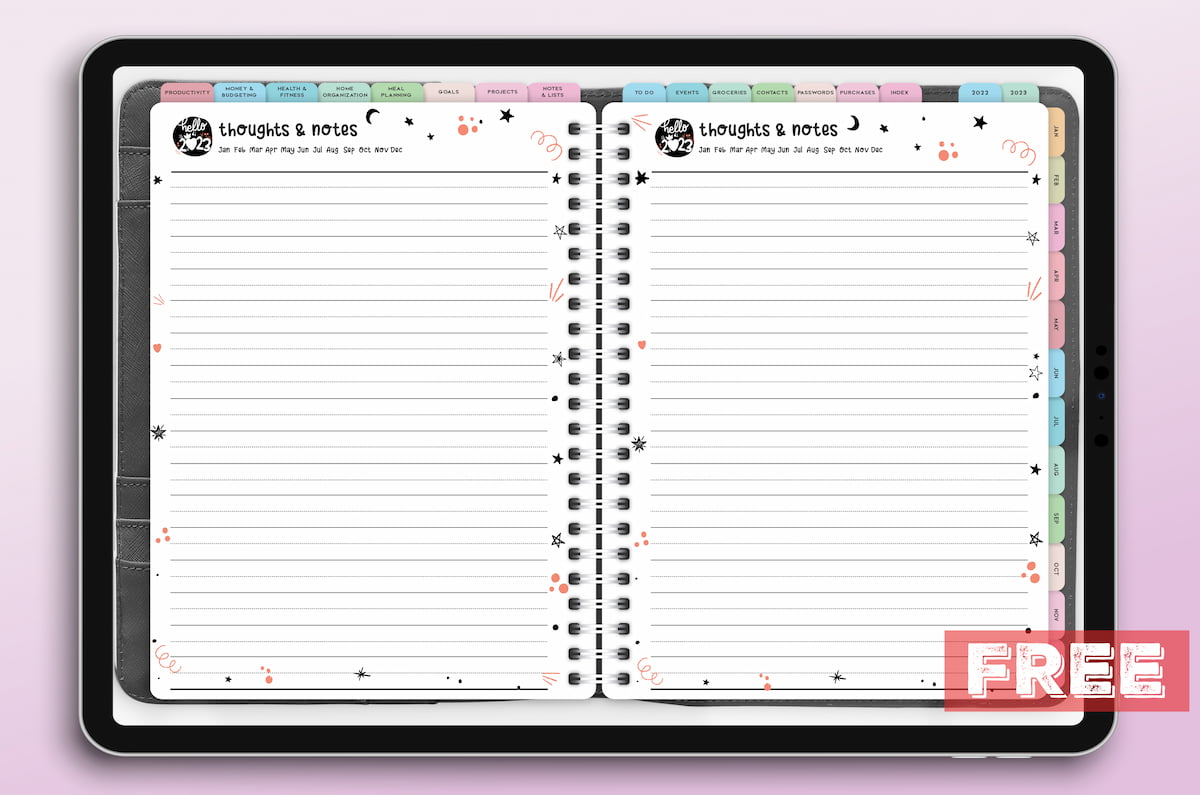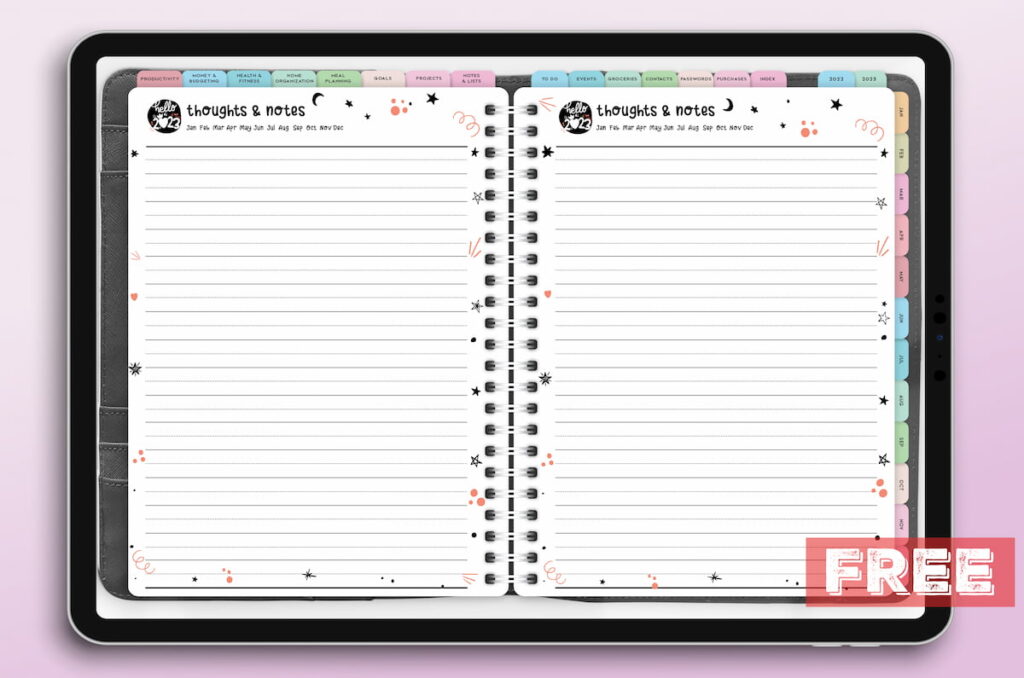 You'll also find many more planner pages for things that matter, including:
Thoughts and Notes
Checklist
Master List
Wish List
Bucket List
To Do List
Contact List
Password Tracker
Events & Key Dates
Improvement Planner
There's also a printable version too!
If you like this cute digital planner, and would also like a printed version, then we've got you covered!
Our cute printable planner has all of the pages that you see here, in a printable format. Just print it out and use it as a regular planner.
The best digital planner for iPad designed for you
This cute digital planner for iPad has been carefully designed to help you get the most out of planning, with many pages ready for you to start planning, tracking, and prioritizing.
You can use this planner in Goodnotes, Notability, and similar PDF annotation apps such as Noteshelf, and Xodo. It's the perfect planner for anyone looking to take notes, make plans, or organize their daily life digitally.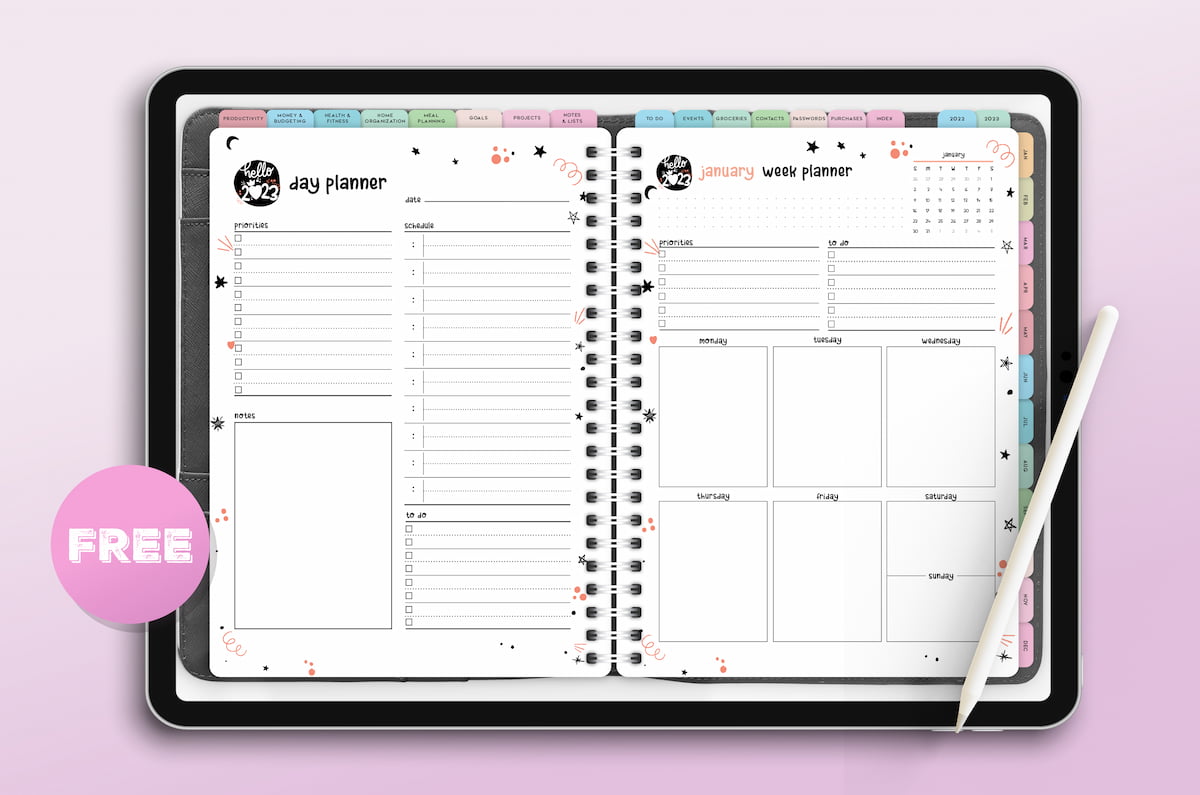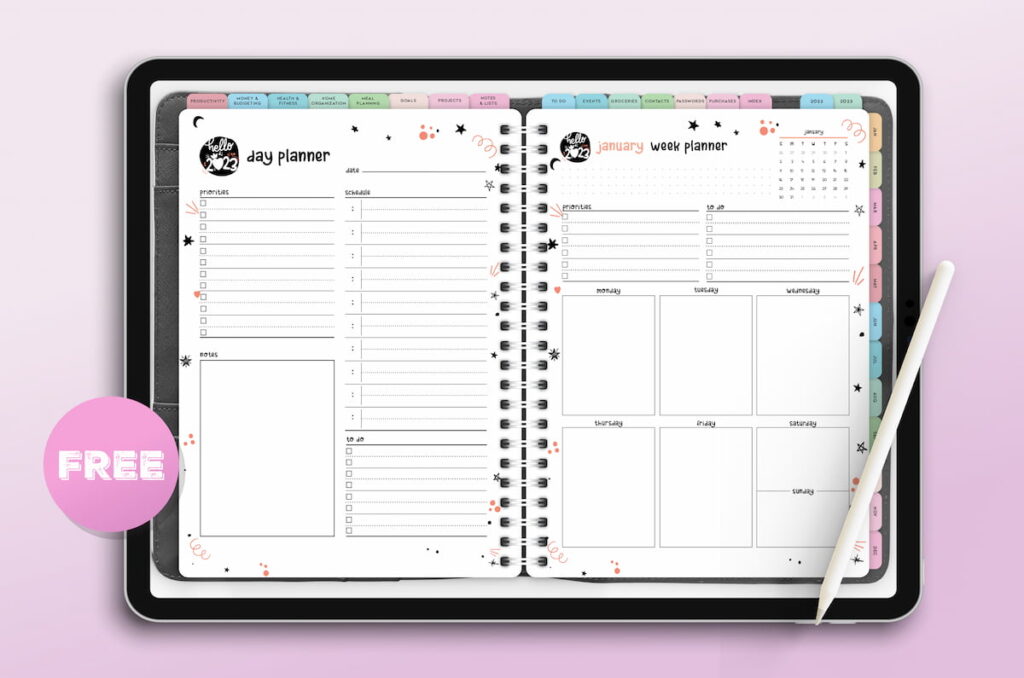 A digital iPad planner that's free and easy to use
We make it so accessible for anyone to start planning on their iPad.
We put a lot of time and love into our digital planners all of which have a perfect blend of features and style.
Our free digital planners are updated regularly, so be sure to check back often for updated versions, and new releases.
Get this free digital planner for iPad or Android. You can also use it on your Mac, it really looks amazing on a big screen and an iPad Pro.
Just save this digital planner to your iPad, open it in your favorite digital notebook app such as GoodNotes, and start using it now! It comes in PDF format, for easy importing and is compatible with many apps and devices.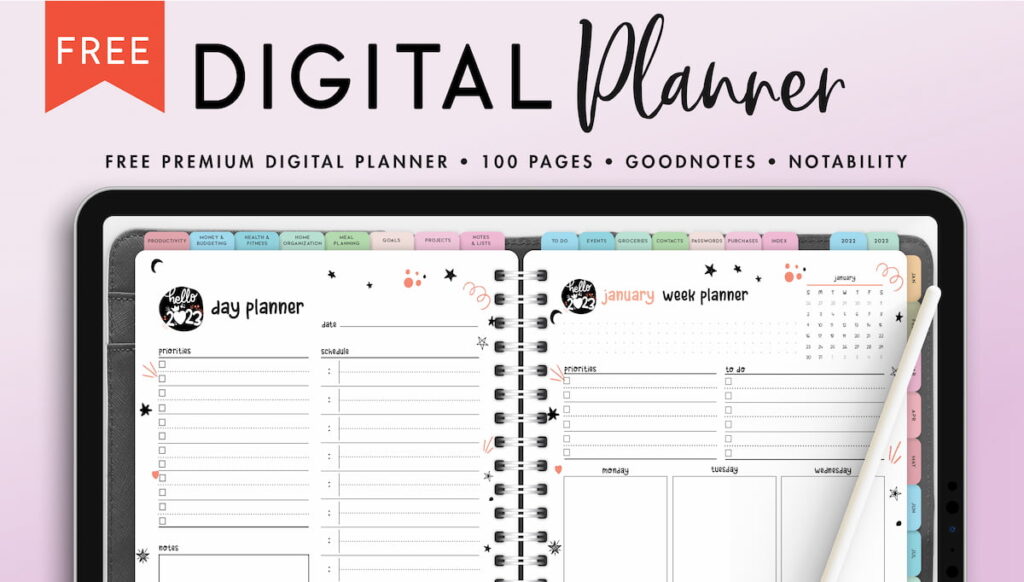 Start planning 2024 the right way with our free 2024 digital planner for iPad!
This digital planner is also available in a black page edition, which looks amazing when you write with colors and add digital stickers.
If you're looking for more iPad planners, be sure to see our huge range of the best Digital Planners that you'll find for many more different styles of planners that you can use on your iPad for free.
How to use an iPad digital planner
To use digital planners, all you need is a tablet and stylus, with a notebook app such as Goodnotes, Notability, or similar.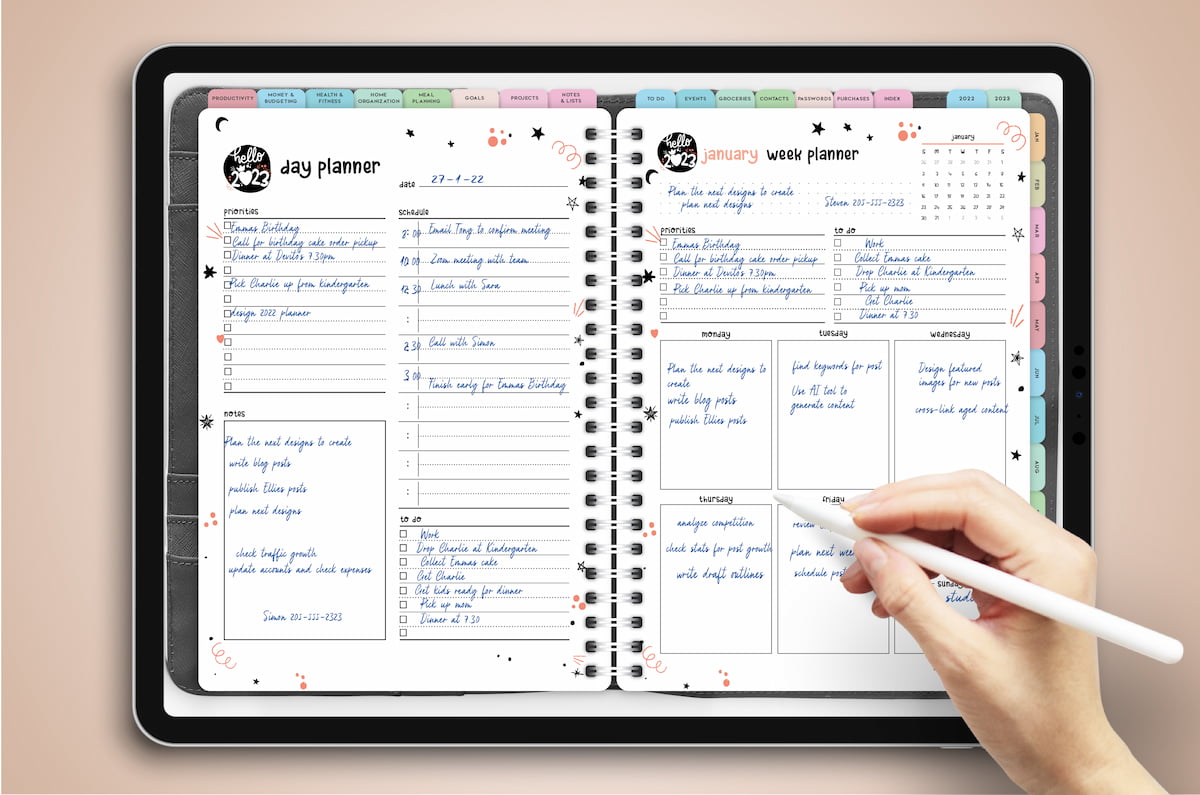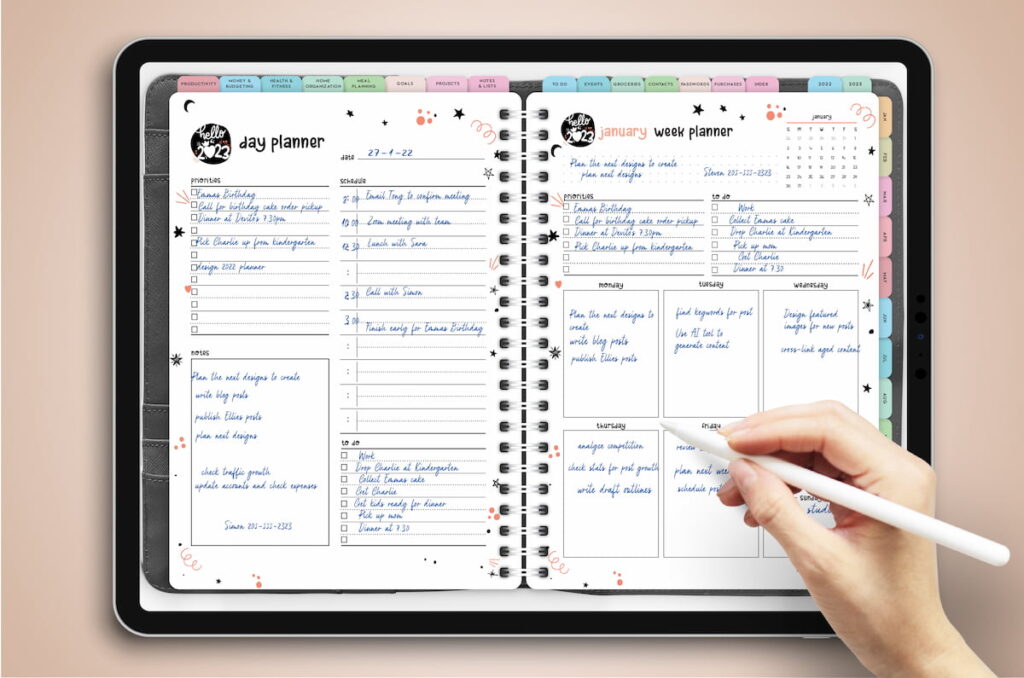 Free Printable 2024 Planner
Love our free digital planners but would rather have a paper version? If you're more of a fan of traditional planners, then take a look at our free printable 2024 planner that features the same planner pages that are featured in this planner, but in a printable format.
We're constantly adding more new freebies to help you make the most of the things that matter, such as free digital planners, stickers, and planner printables. Make sure you sign up for our newsletter to get occasional updates on our latest freebies that you can enjoy.
How to get this free digital planner for iPad
You can get the iPad planner right here, see the button below to choose whether you'd like a Sunday start version or a Monday start version.
Just save the digital planner to your iPad, then import it into your note-taking app such as Goodnotes, then start planning! It will instantly feel like you're using a paper planner. It's very easy to navigate and use.
This planner isn't suitable for printing, but don't worry – if printable planners are more your thing then we have lots of them that you'll love. Check out our full range of planners.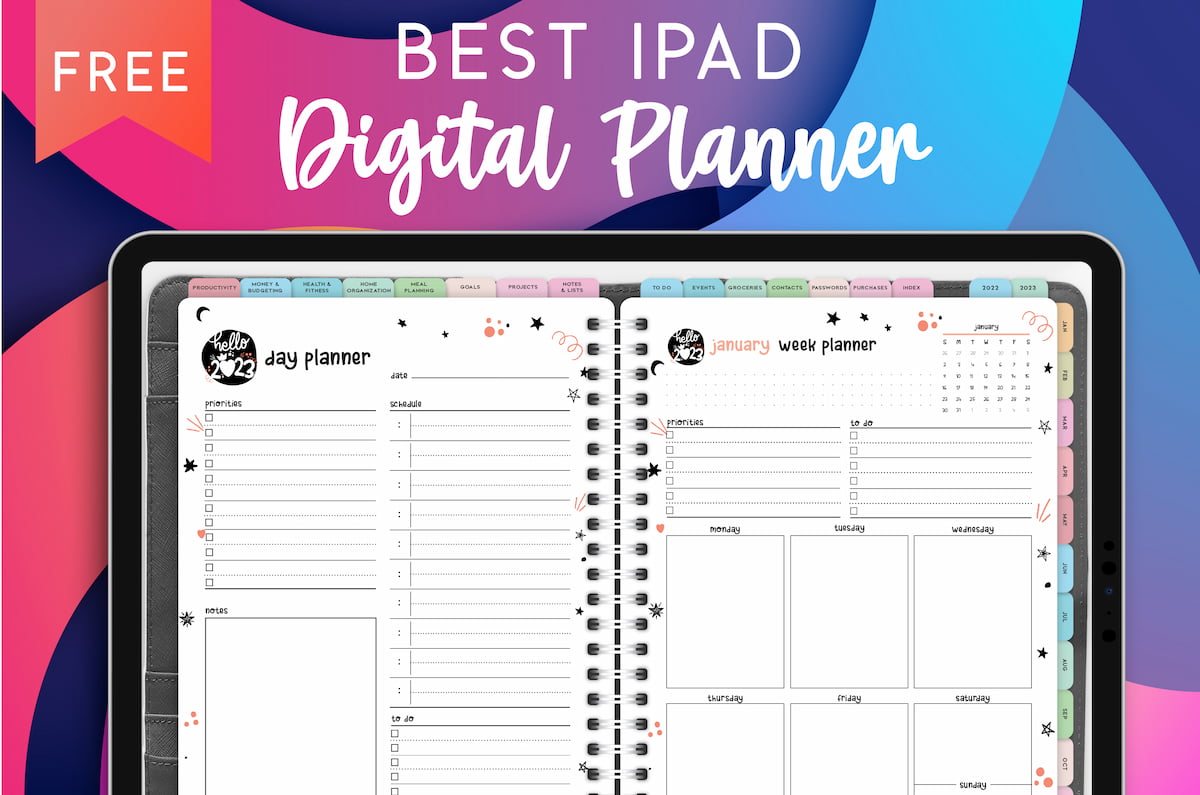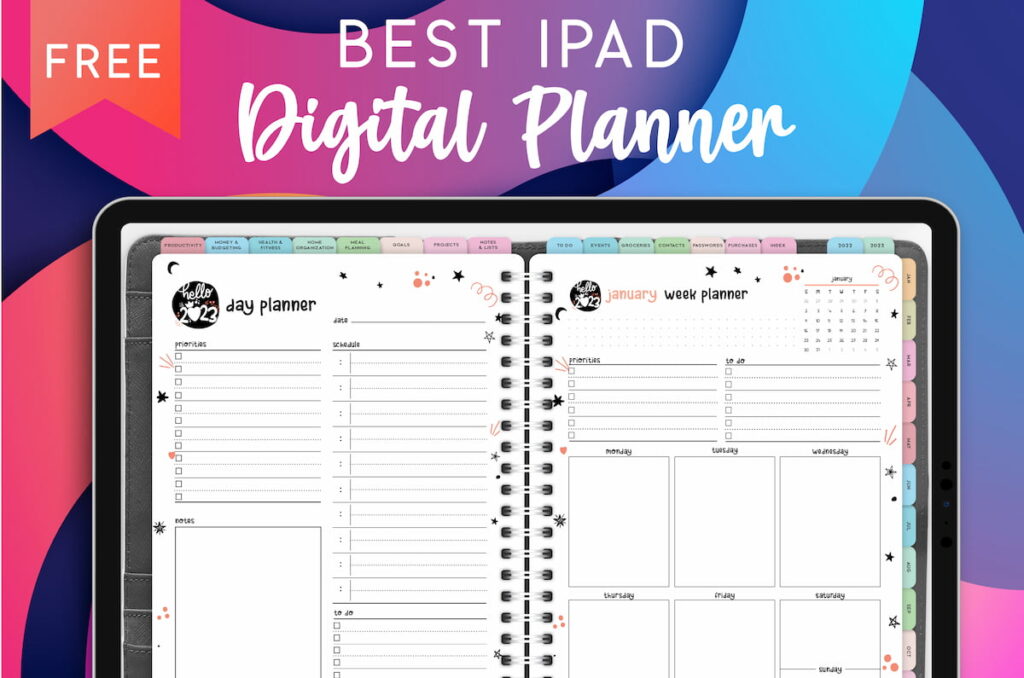 Also available in black
Available in two different styles
This free digital planner is available in two styles, this classic version and also a stylish dark mode version.
Get them both or pick the style that's best for you.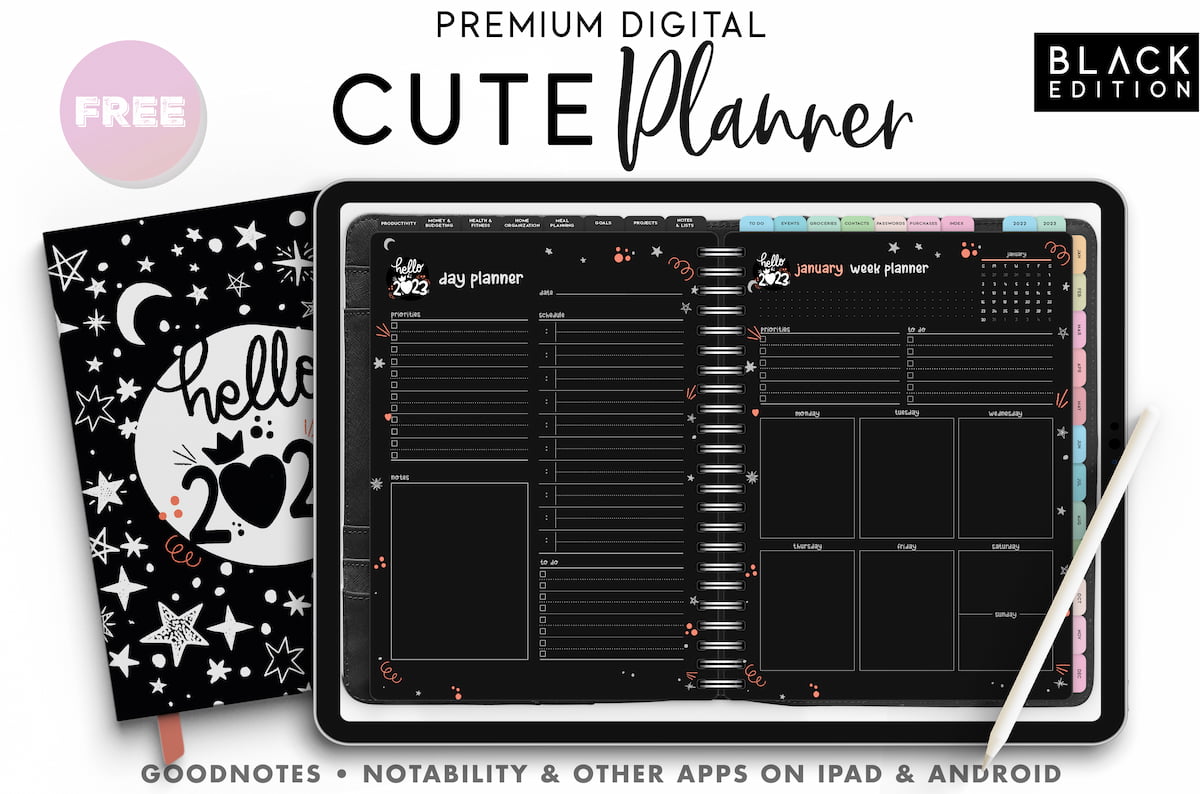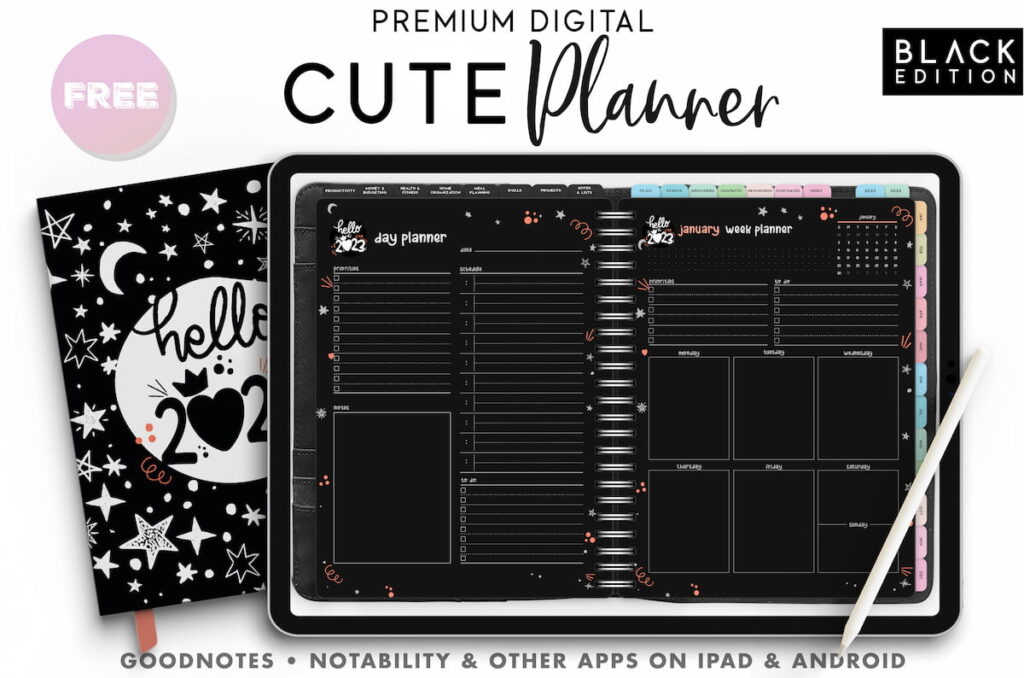 What our audience said
We've just released this iPad planner, so are currently collating feedback.
If you have a comment or feedback about this free digital planner that you would like to share, then please reach out to us on Pinterest, Instagram, or TikTok! We'd love to hear how you're using it and it helps us continue to improve our creations.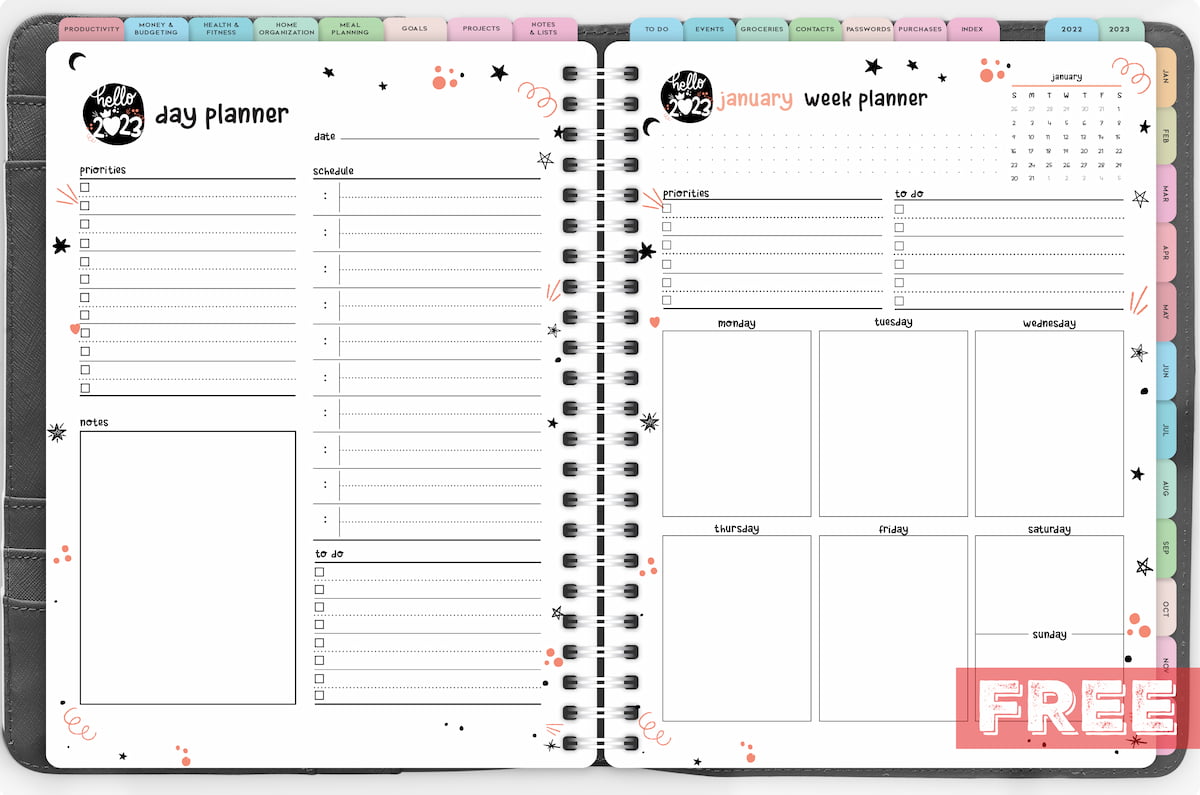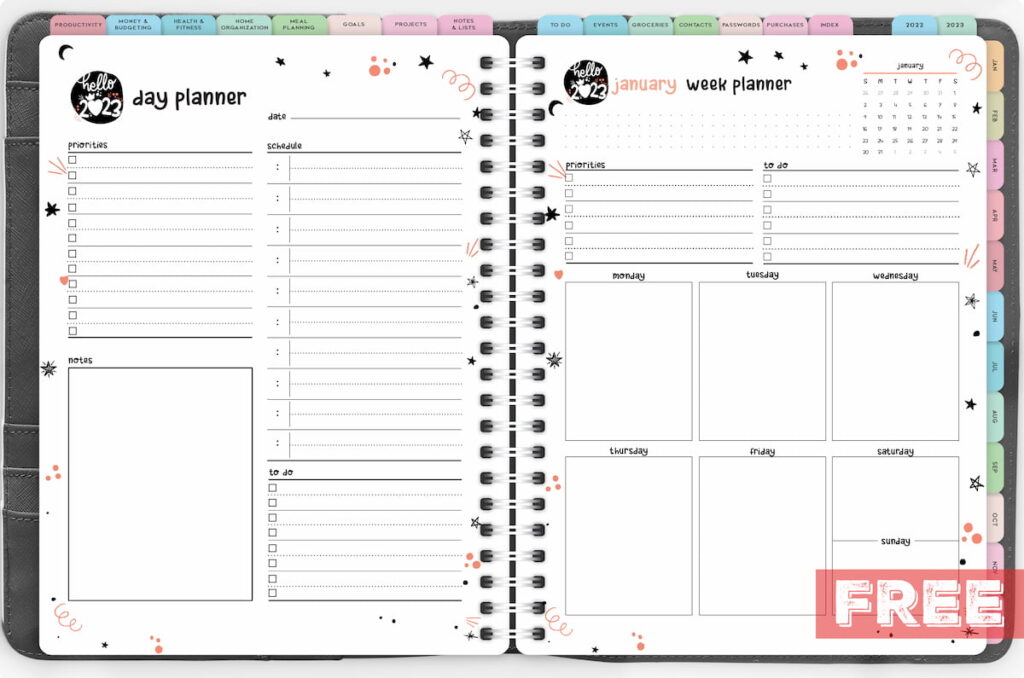 What I use for digital planning
How to make an iPad planner with Canva
You can even make your own digital planner for your iPad from scratch with Canva, it's so easy. Canva lets you create all kinds of graphics and has many templates to help you get started.
Once you've designed your digital planner, you can then save it as a PDF file on your iPad, and then import it straight into your favorite digital notebook apps such as Goodnotes. It's so easy. The hard part is using your imagination!
Learn how to make a digital planner
To learn how to make a digital planner from scratch, that you can share with others, or even sell, then check out this Skillshare course on How to Design & Create a Digital Planner / Journal on Your Ipad.
Skillshare is a great way to learn how to do all kinds of creative things, with thousands of classes for creative and curious people. On Skillshare, members come together to find inspiration and take the next step in their creative journey.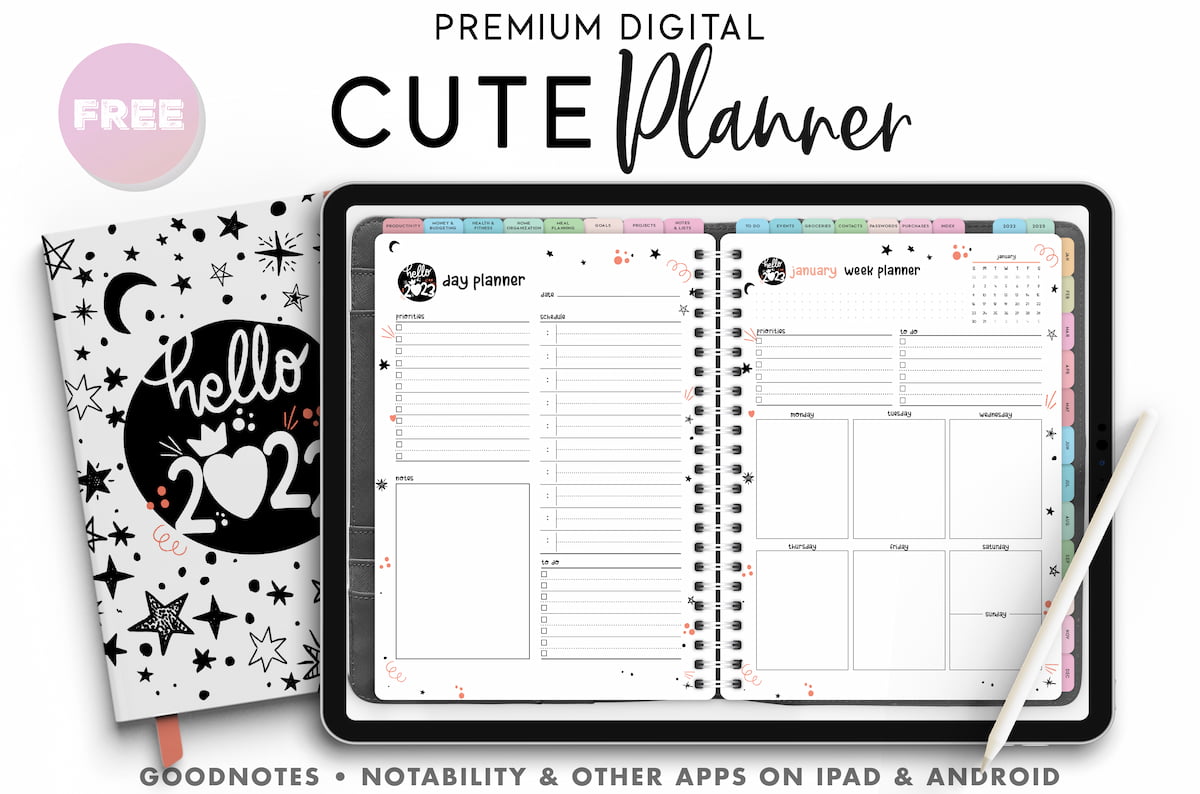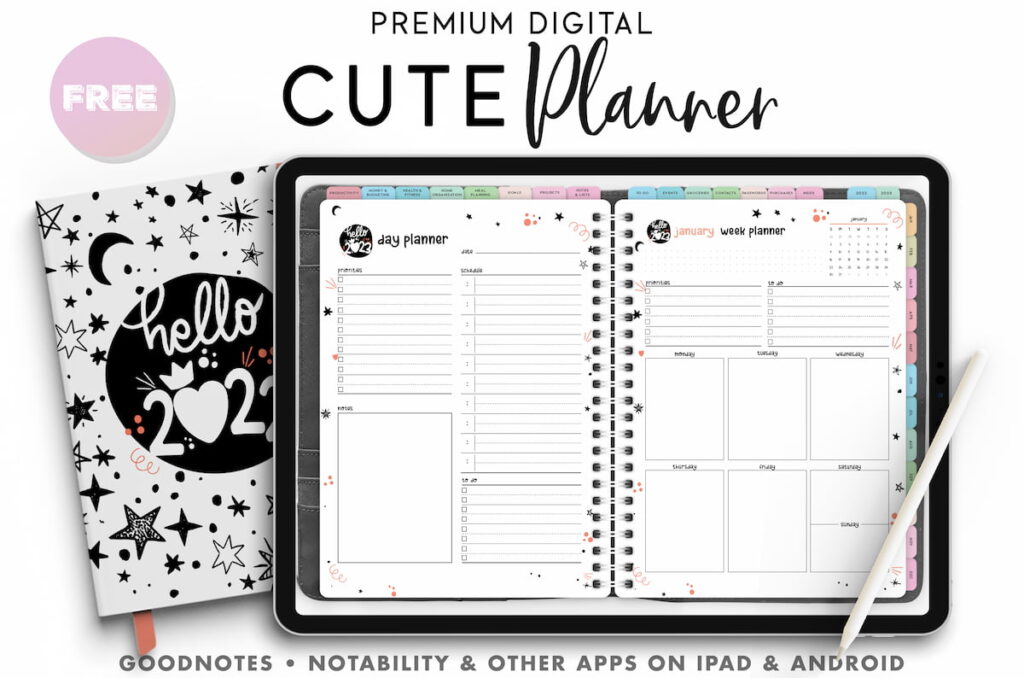 Get the free digital planner
To get this awesome cute digital planner visit our archive page below.
For many more free digital planners like this see our Freebie Vault.
Want some free planner stickers? They're so cute you'll love them!
You'll also like…
Did you know we also make printable planners that you can also use for free!
More Free Digital Planners for iPad
Looking for more free digital planners or awesome freebies for your iPad?
Did you know that we have many other digital planners for iPad that you can use for free?
We like to pride ourselves on our generosity, and we love to give back to our friends, so we've created an amazing collection of free digital planners for you to use.
They are all hyperlinked, with tabs, buttons, and clickable index, with customization options, and each of them varies in style, colors, and contents, including dark black page versions for a stylish look.
Just browse our digital planners and find the perfect one for you.
Don't say we don't love you!
We think you'll really enjoy using these free digital planners:
Why not get one of these free digital planners?
We've got many more free digital planners for you to start using right now. Here's our latest:
What other planners are there?
Did you know that our printable planners are hugely popular? We've created a huge library of different planner pages, in many different styles, covering everything from meal planning to day planning.
You can print these and use them as a regular paper planner, or import them into your iPad for use with our digital planners.
Many people use our planners to plan things like schedules, meals, workouts, finances, weight, and so much more. We have planners designed specifically for all types of things and in many different styles.
Check out our Love & Pixels hub and discover a whole world of stylish planners waiting for you to start using.
Fall in love with our new cute 2024 Planner bundle
If you love this cute digital planner, then you'll also love our cute 2024 printable planner bundle.
Free 108 Page Cute 2024 Planner is packed full of everything you need to plan and organize your year ahead.
Packed full of cute calendar and planner pages to help you plan, schedule, and organize your days and weeks, meals, health, and money.
Plan your days and weeks using the schedule, organize the things you need to do with the cute to-do list planner pages. Track your fitness and weight with the health planners. Plan your weekly meals with the meal planners. Stay on top of your money with the budget trackers.
Learn more about the best cute 2024 planner that you'll ever use and get your copy now.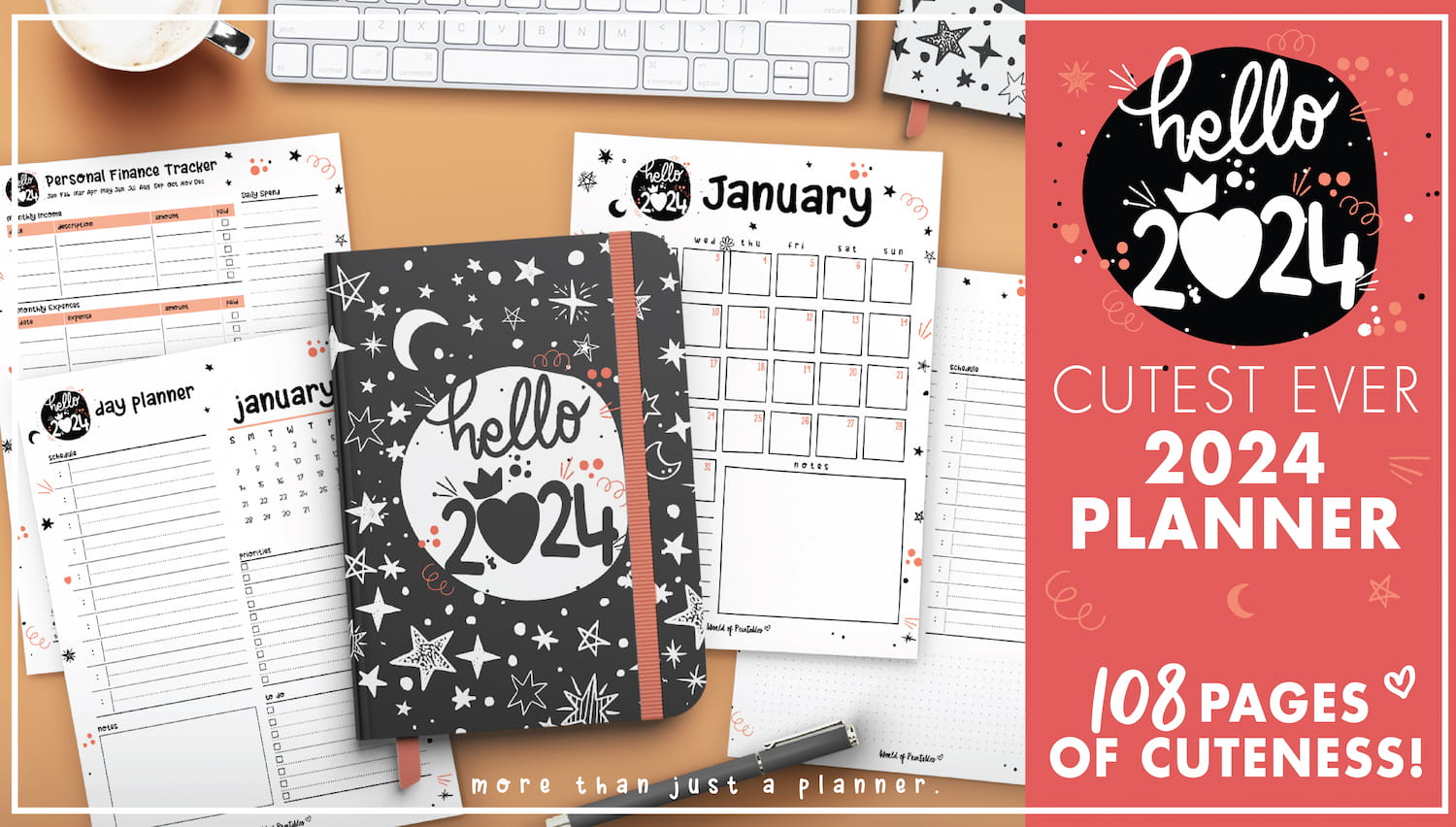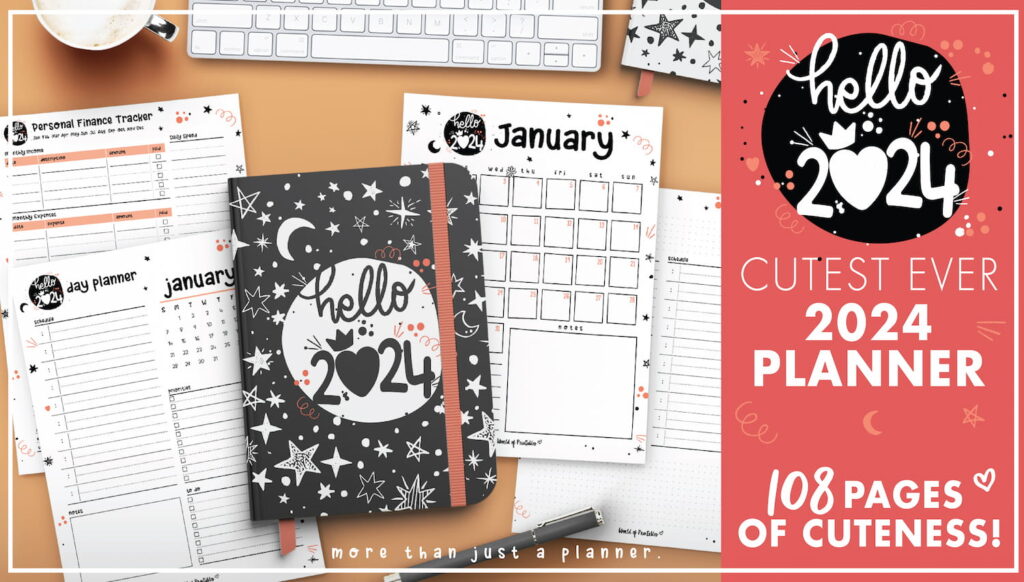 Start planning next year now with our totally free 2024 Planner
Why not make 2024 an amazing year? Set goals, plan how you're going to achieve them and make the most of the things that matter. Great for use as a personal planner, or for using at work.
Our 2024 planner is packed full of useful planner pages to help you get more done, stay organized, and live healthier and happier.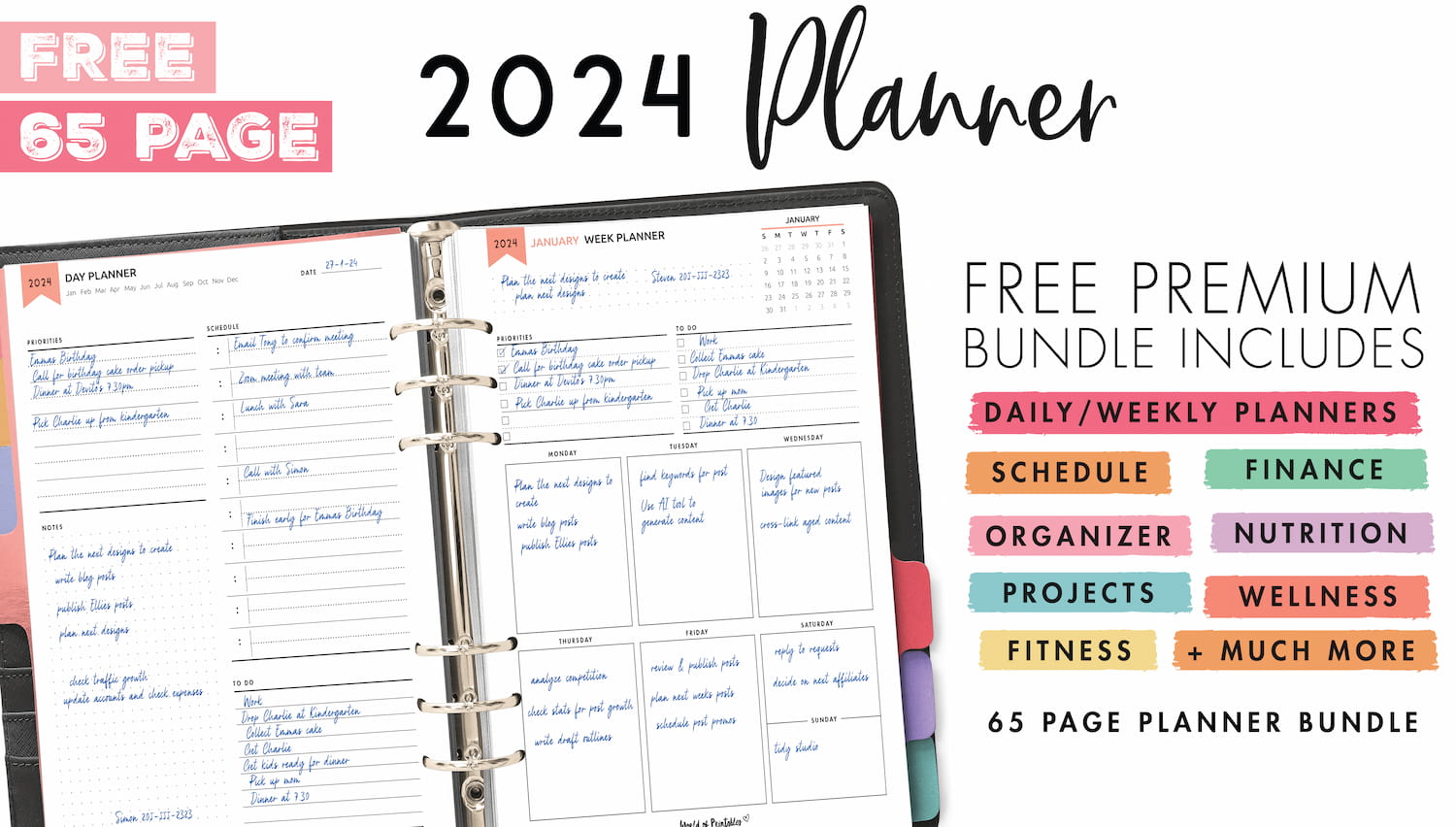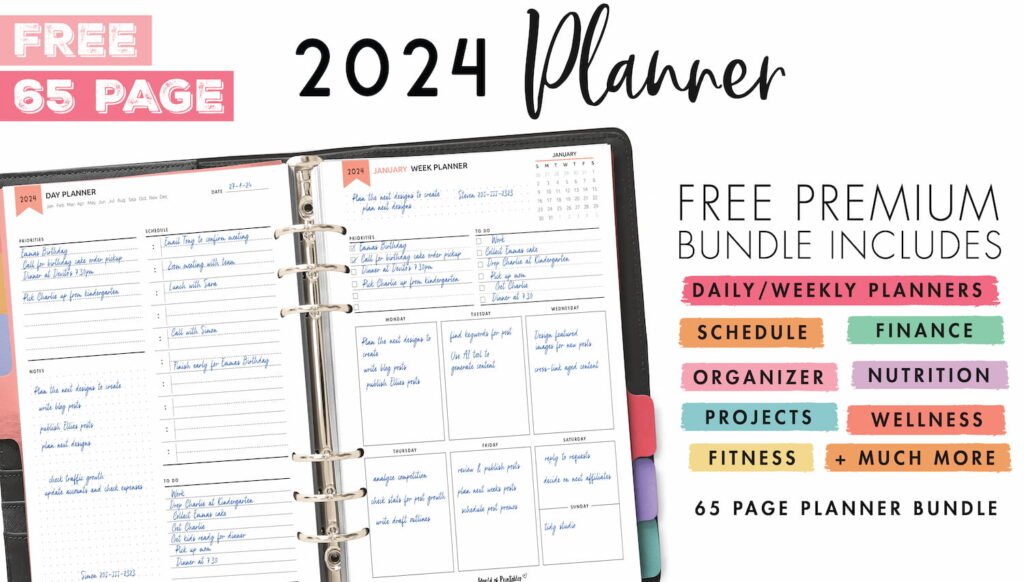 Get this awesome free 2024 Planner bundle.
Make the most of your new free digital iPad planner!
I really hope you use and enjoy our cute free digital iPad planner. Be sure to recommend it to your friends! Follow us on Instagram or Pinterest, as it's a great way for you to keep updated with our latest freebies.
Follow World of Printables on Pinterest
COPYRIGHT
This digital planner is for personal use only and is the copyright of World of Printables – you cannot redistribute, reproduce, or resell, although you can link back to our website.
What do other people do after viewing this?