If you want to be more organized when it comes to meal planning then read on for the best meal planner templates that will help you save time, save money and eat healthier.
Time to take control of your meals
Do you find yourself getting lost when it comes to meal planning? Do you come back from the store $150 lighter but even more confused?
You know what they say, "fail to plan, plan to fail" and this works for meal planning too, and definitely grocery shopping.
How many of us go to the store without a plan or a list of what to buy? How many of us have a list but it hasn't been thought through?
You're either buying food off the cuff or buying food with intention but no real meal plan. I'm talking from experience here.
When I decided to start meal planning, shopping and mealtime became so much easier and more focused. I knew what I was doing in the store and I knew what I was doing in the kitchen.
It wasn't hard either. Meal planning isn't hard, especially if you have the right tools to use to help you with meal preparation and the time to plan.
For most people, the best tool to use for this are meal planner templates are they are designed specifically to help you plan and organize your meals.
What do you mean by meal planning?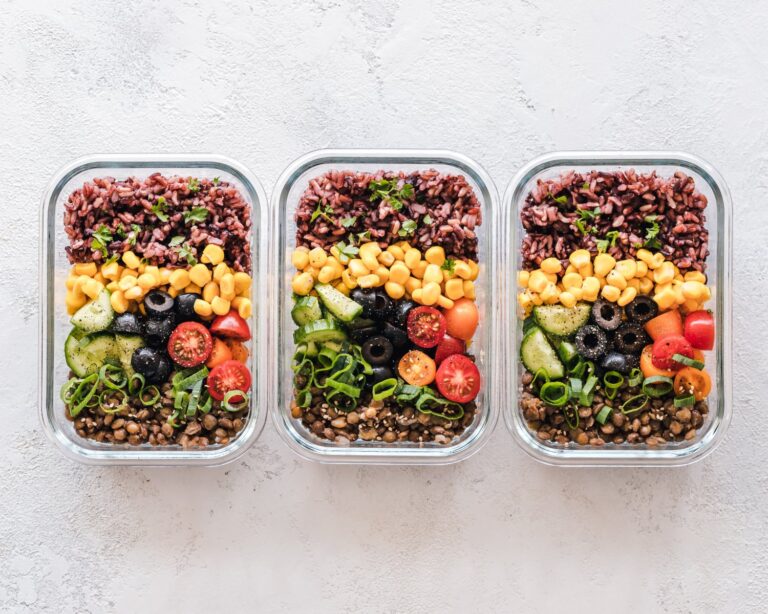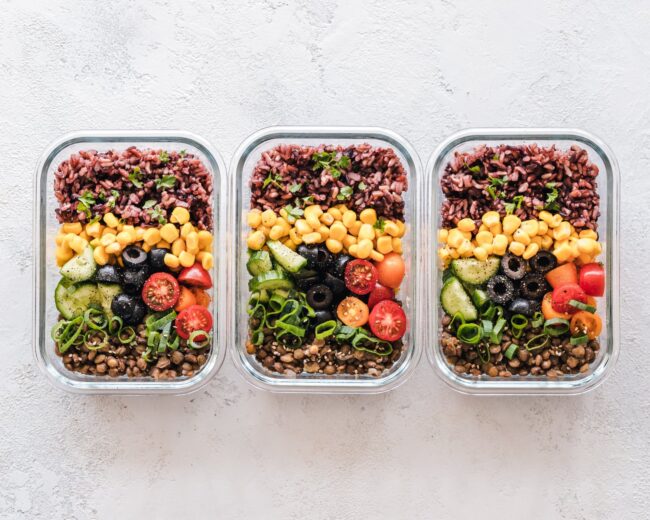 Meal planning is what happens when you decide to take control of the food you eat, the quantities you eat, and prep ahead so your meals are organized.
Meal planning means you will take one day of the week (most likely a Saturday or Sunday) to plan your meals for the week ahead and shop for the ingredients.
Meal planning is great for those who want an easy and organized meal time, want to eat healthier, want to save some money, or need to eat specifically due to a medical issue.
Why meal plan?
You might think meal planning takes up a lot of time and effort and you're right, you do need to put in the effort but everything you do in life takes time and effort.
If you're someone who wants all the benefits of meal planning without actually meal planning then you're dreaming!
But listen, meal planning isn't difficult. It can actually be fairly simple so long as you have the tools and know what to do.
Just take the time once a week to plan your meals and you will honestly feel great about it.
Benefits of meal planning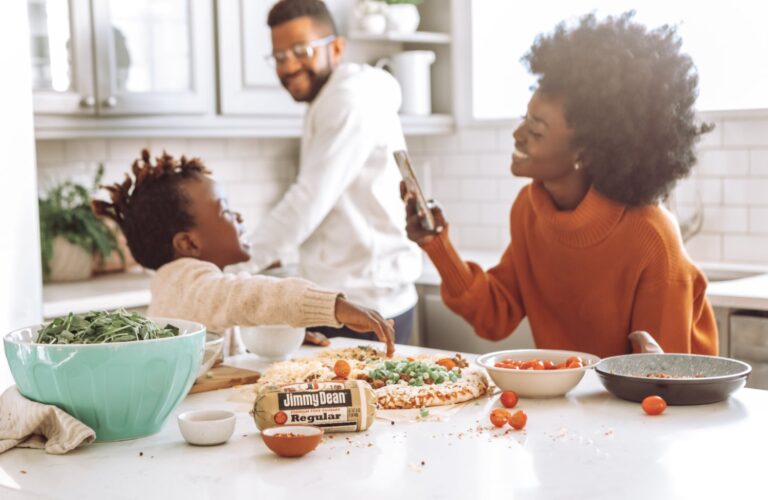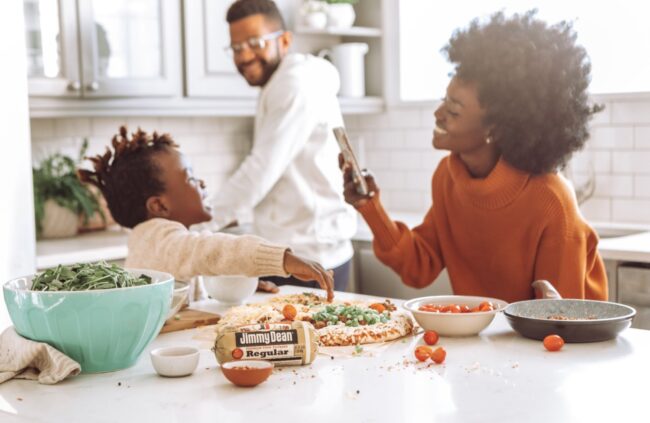 There are a TON of benefits of meal planning and some you might not have even considered! Let's take a look at some of the benefits of meal planning, you'll be surprised at how handy meal planning is.
Saves money
You have no idea how much money meal planning saves.

When you meal plan, you decide before you go shopping the ingredients you will need and you can choose meals that specifically use cheaper ingredients or bulk buy ingredients.

Saves time
Meal planning helps you save time in so many different ways.

Because you know what you're going to cook, you will save time as you shop, save time as you prep, and also save time in general because you know exactly what you need to do.

No more wasting time deliberating about what to make for dinner.

Helps you eat healthier
Let's be honest, when it comes to cooking, how often do you cook something unhealthy because it's simpler and it's right there?

You don't know what to make so you grab something quick that everyone will like such as a large pizza or a premade lasagne.

Planning your meals allows you to get the whole family involved to choose healthy meals everyone will enjoy.

Always know what's for dinner
Gone are the days when you stand in front of your fridge freezer for ages not knowing what to make.

Gone are the days when you get pestered about what's for dinner.

When you meal plan, you are ready and prepared to tackle meal times head-on.

Try new foods
One of the exciting things about meal planning is getting to try new foods.

When you meal plan you are much more organized and prepared at mealtimes, meaning you can take the time to cook those meals you've always wanted to try.

Less spontaneous trips to fast food places
Another way of saving money and eating healthier through meal planning is that you are less inclined to take spontaneous trips to the golden arches.

You are more likely to stick to a meal plan if you have one.

No need to go to the shop all the time
Not going to the shop every day or two is a great money and time saver!

You will actually only need to do your main shop once a week and can nip to the local store for fresh groceries whenever you need to top up.

Before I planned my meals, I was going into a supermarket almost every day and spending up to $50 a time on things I didn't need.

Fewer impulse buys
Again, you are less inclined to impulse buy when you are meal planning.

You know what you need so you can simply go in and get it.

Your budget will thank you for it.

How to meal plan?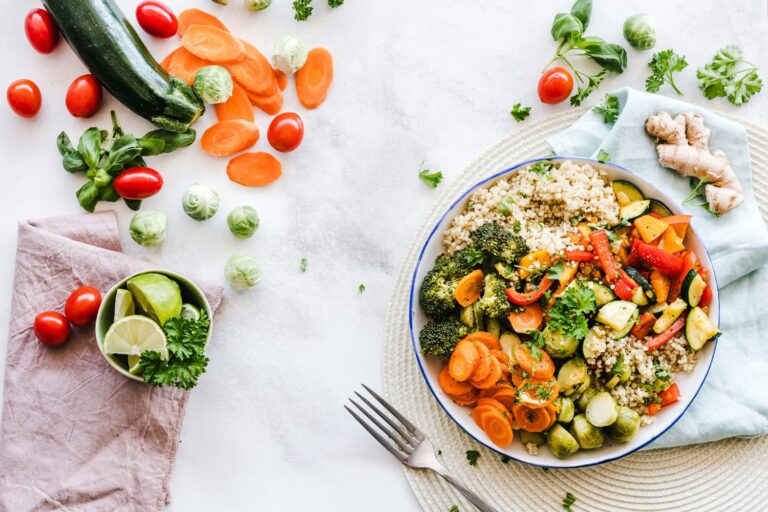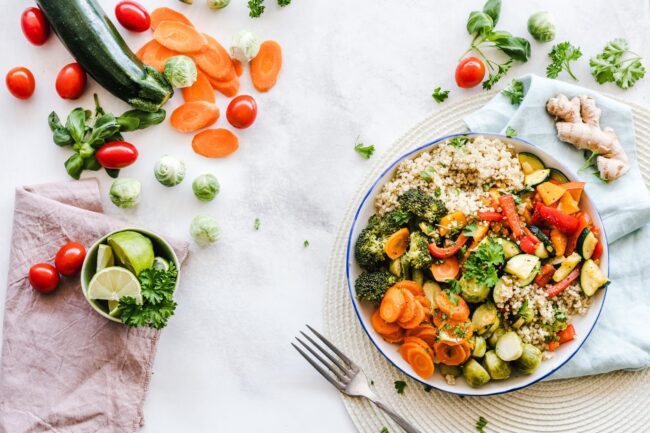 When it comes to meal planning you have to put some thought into it.
It's not just about grabbing some delicious-looking recipes and going for it.
Remember, you need to prep and cook these recipes and you need to know why you're meal planning.
Consider these questions:
Why are you meal planning? What's the goal?
Is it to save money, eat healthier, have more meals as a family?

What recipes will match my goals?
Do you choose recipes with cheaper ingredients? Do you make space for some vegan meals?

Do you choose recipes the whole family will love or the kids can help make?

It's also a great idea to choose recipes where you can use the leftovers to make another meal.

What recipes are fun and easy to make?
Remember, meal planning is good for making mealtimes less stressful.

Don't put the stress back into it by trying to make a Micheline Star Beef Bougnion with 150 ingredients (unless it's a special occasion).

Now let's look at how you actually meal plan
Choose your recipes
Now it's time to choose your recipes. You can find a ton of recipes online that will be specific to your diet or goals.
Simply search for budget-friendly recipes, family-friendly recipes, vegan recipes. Whatever it is you need.
Alternatively, our meal planner bundle includes a ton of recipe ideas and matching grocery lists (including master grocery lists) for you to try. More on that below!
Remember, you don't need to cook every day of the week! Utilize any leftovers, enjoy a takeaway or a special dinner out. It all depends on your goals!
Make your grocery list
Next, you will need to write the grocery list for your ingredients. You can use a master grocery list to note the bulk of your ingredients and a general one for the extra ingredients.
Before you go shopping I would suggest already going through your pantry and seeing what ingredients you already have. A good way of keeping your pantry organized is by using an inventory.
Shop, shop, shop
When you go shopping I would recommend trying to buy as much as you can in bulk, but only if you plan on using a lot of that ingredient without wastage. Also, don't forget to use any discounts or coupons!
Prep any ingredients
To save time you can always prep some ingredients beforehand. Chop up some herbs, marinate some chicken for the next day, make sauces, and freeze.
Doing this will save you some time during the week and make things more streamlined.
How do I plan a menu for a week?
We've already discussed how to meal plan but what do you actually need to get started? I'd recommend gathering some printable meal planner templates to help you on your meal planning journey.
You might have some already that you want to use, if not, check out our Meal Planner Bundle. It includes meal planner templates for everything from inventories to planners for every meal.
Here's an idea of how you can use just a few of the pages:
An inventory to track what ingredients you already have
Thoughts and notes page to figure out what you want to be included in your meal plan
Meal ideas to help you decide (diet-specific versions too – keto, low carb, vegan, gluten-free)
Meal planner pages to plan your menu
Grocery lists to streamline your shopping
What you have done at the start of meal planning is something you will do every week. Do it once, do it again and you will get better and better at it, making revisions as you go!
What is in the Meal Planner Templates Bundle?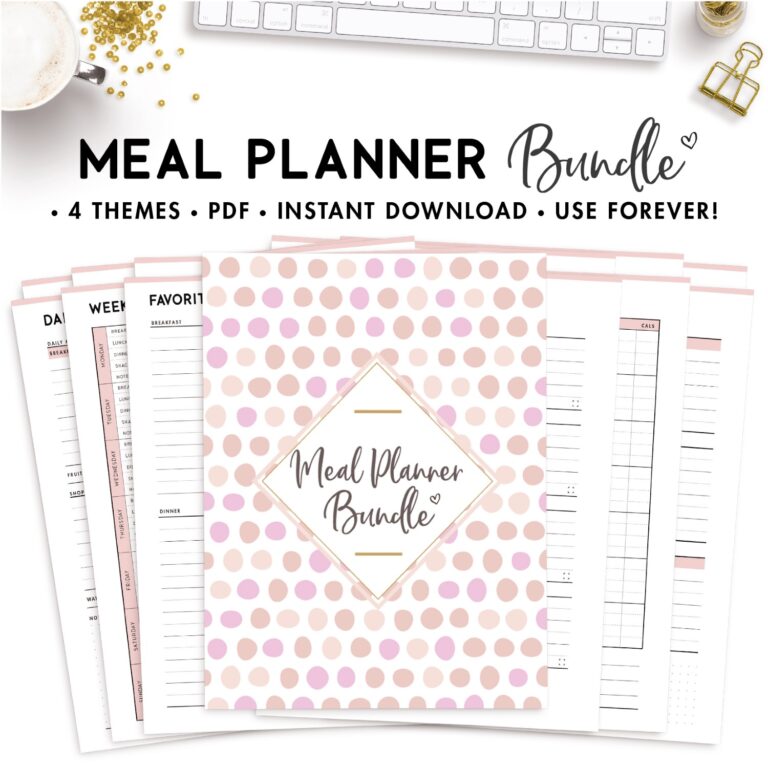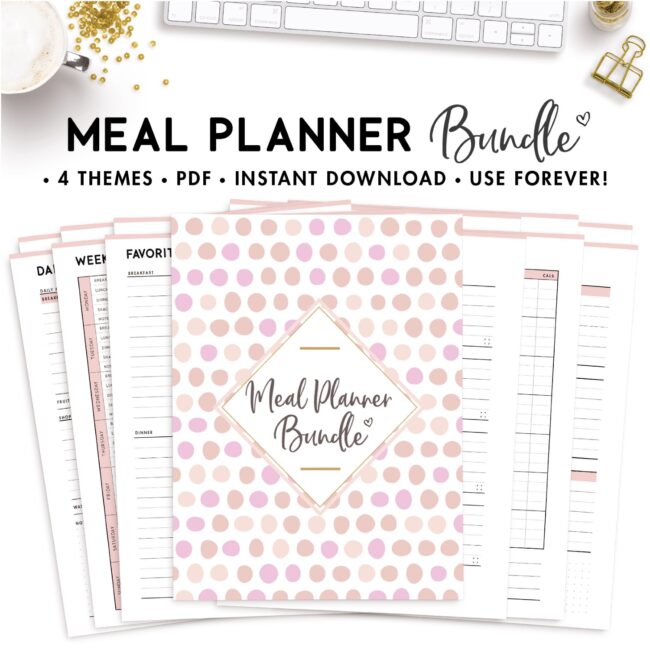 The Meal Planner Bundle really is so amazing and will make your meal planning journey much easier and straightforward.
It's not just about meal planning either, the bundle includes pages to help you organize your fridge, pantry, kitchen along with multiple diet-specific meal plans and meal planners for every meal of the day!
A page for you to see at a glance any weekly meal prep ideas along with a shopping list and housework section to log your tasks and errands.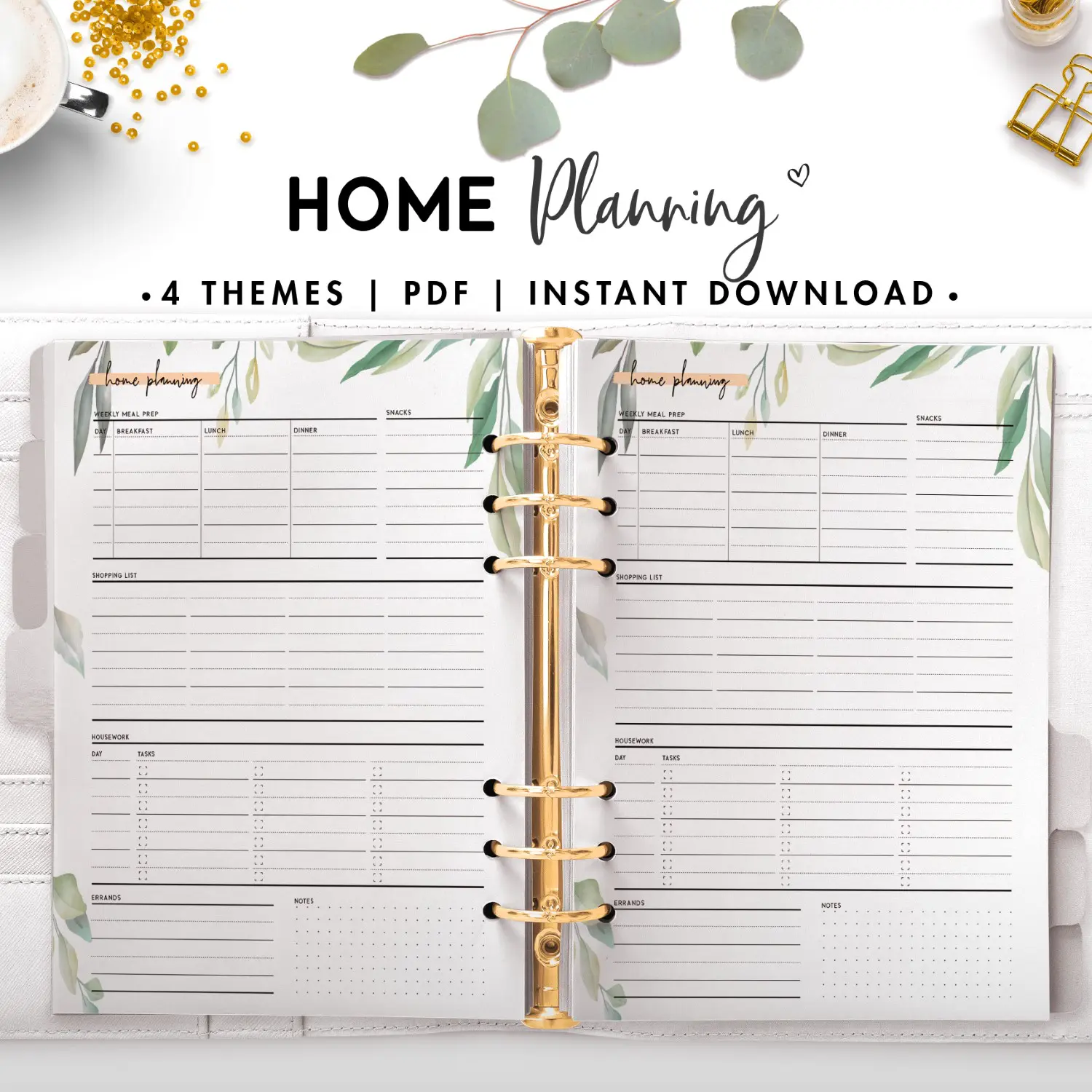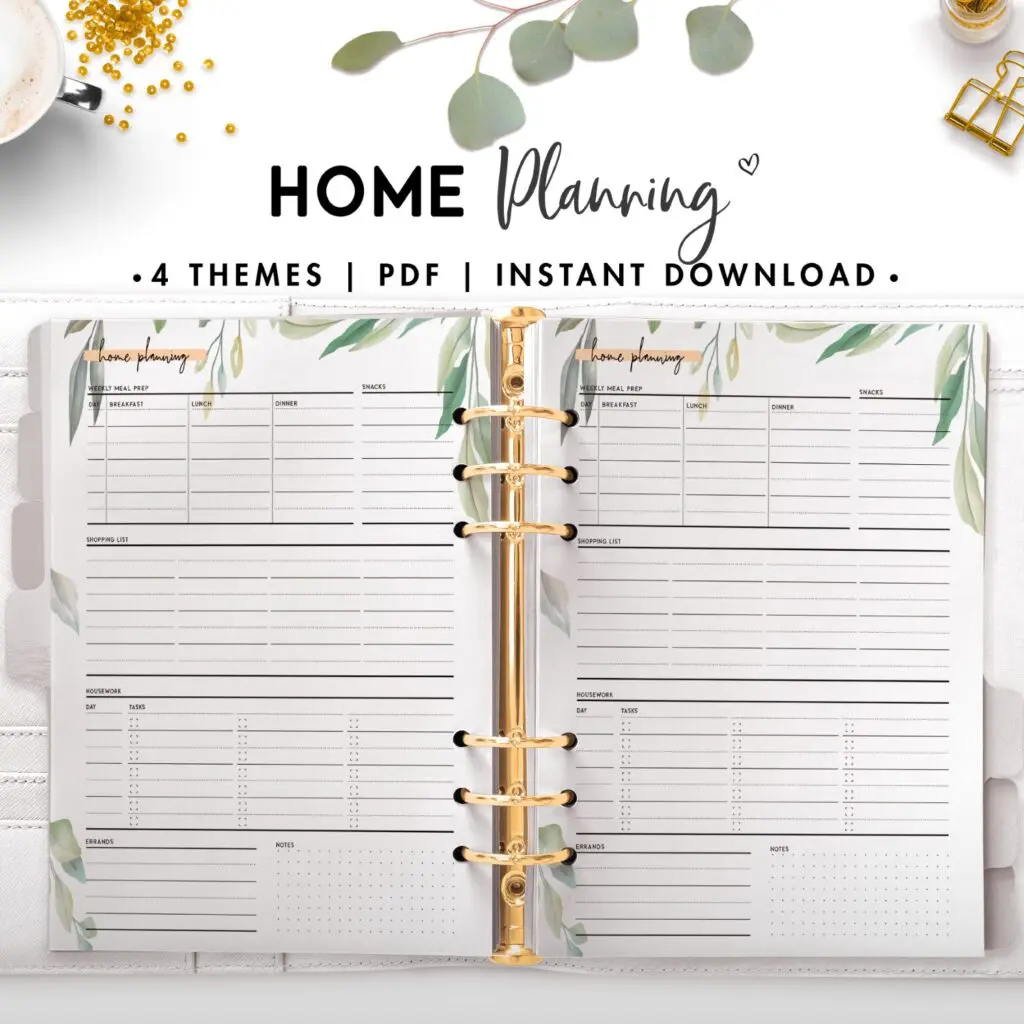 ---
A place to plan your daily meals in full with fruit and veggie intake tracker, water intake tracker, notes, shopping list and more.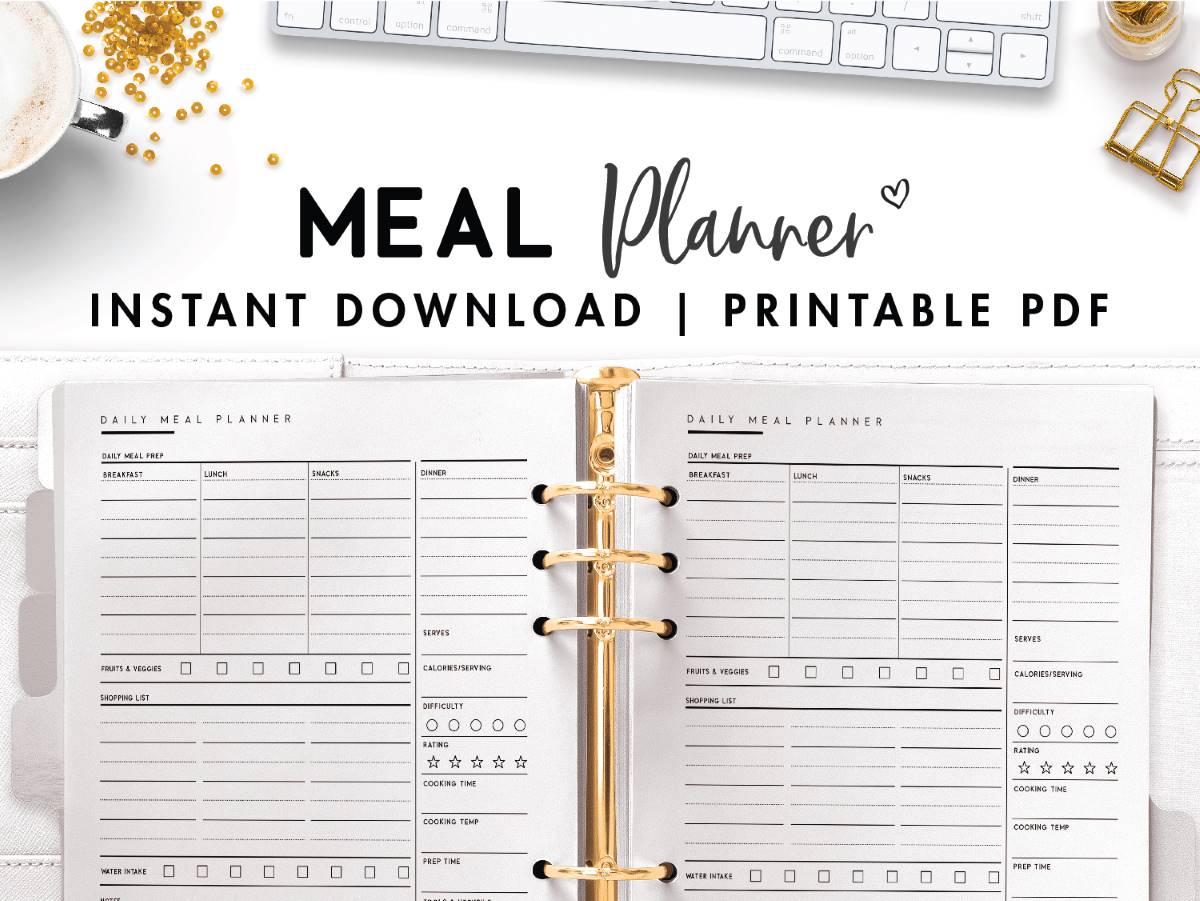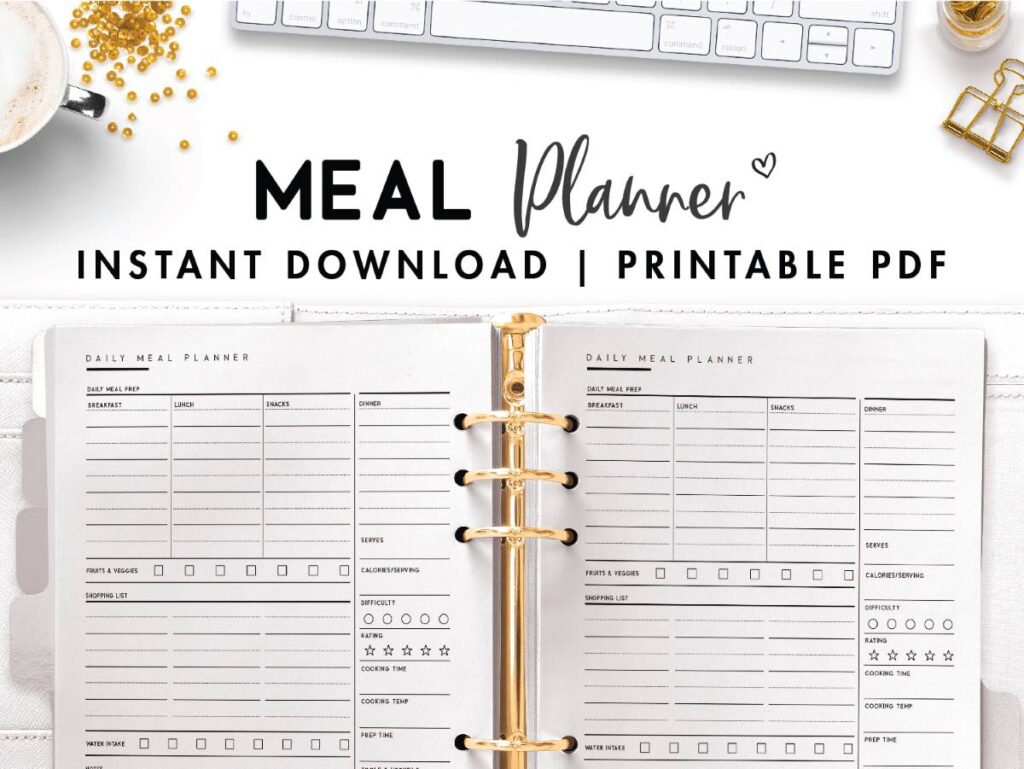 ---
See your full weekly meal plan with each day broken up into meal types and a shopping list space so you can match your shopping to the weekly plan.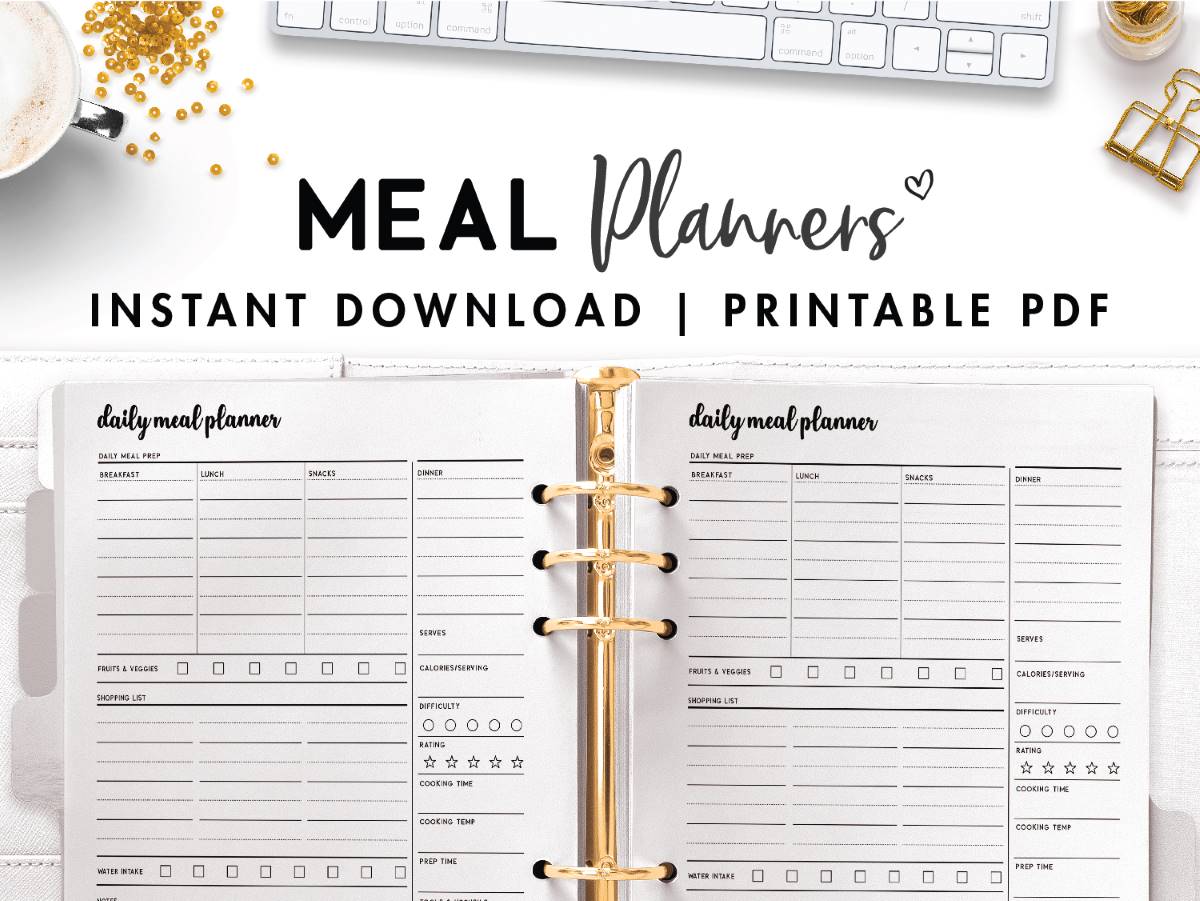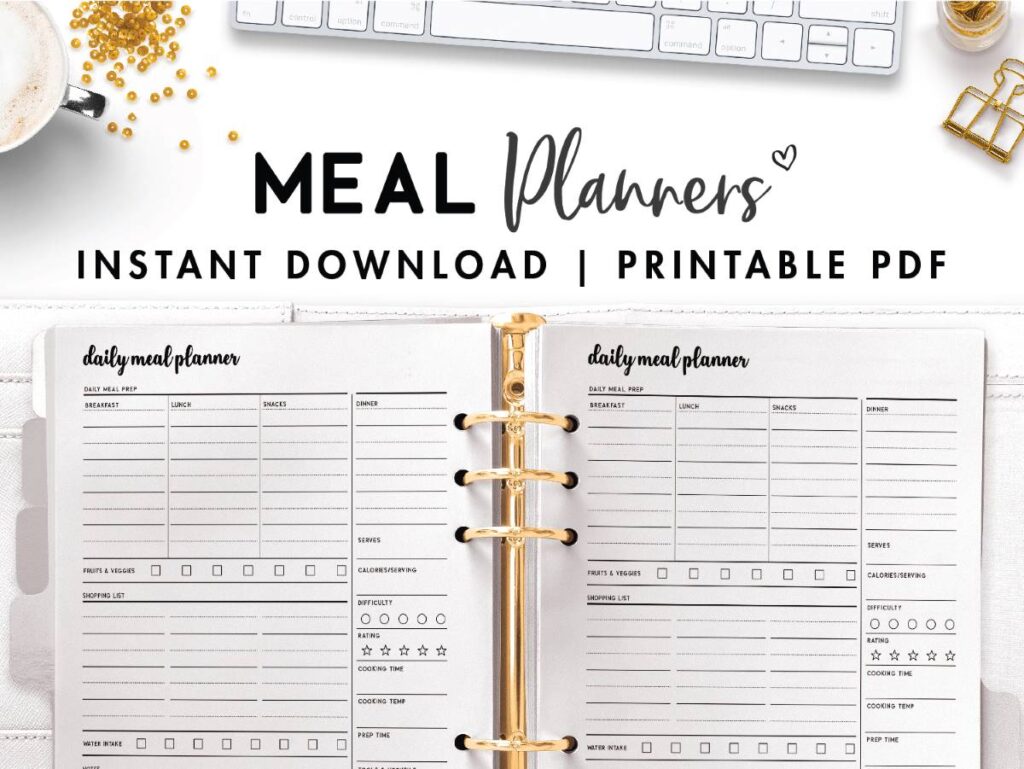 ---
Write down your favorite breakfast, lunch, dinner, desserts, and snack meals.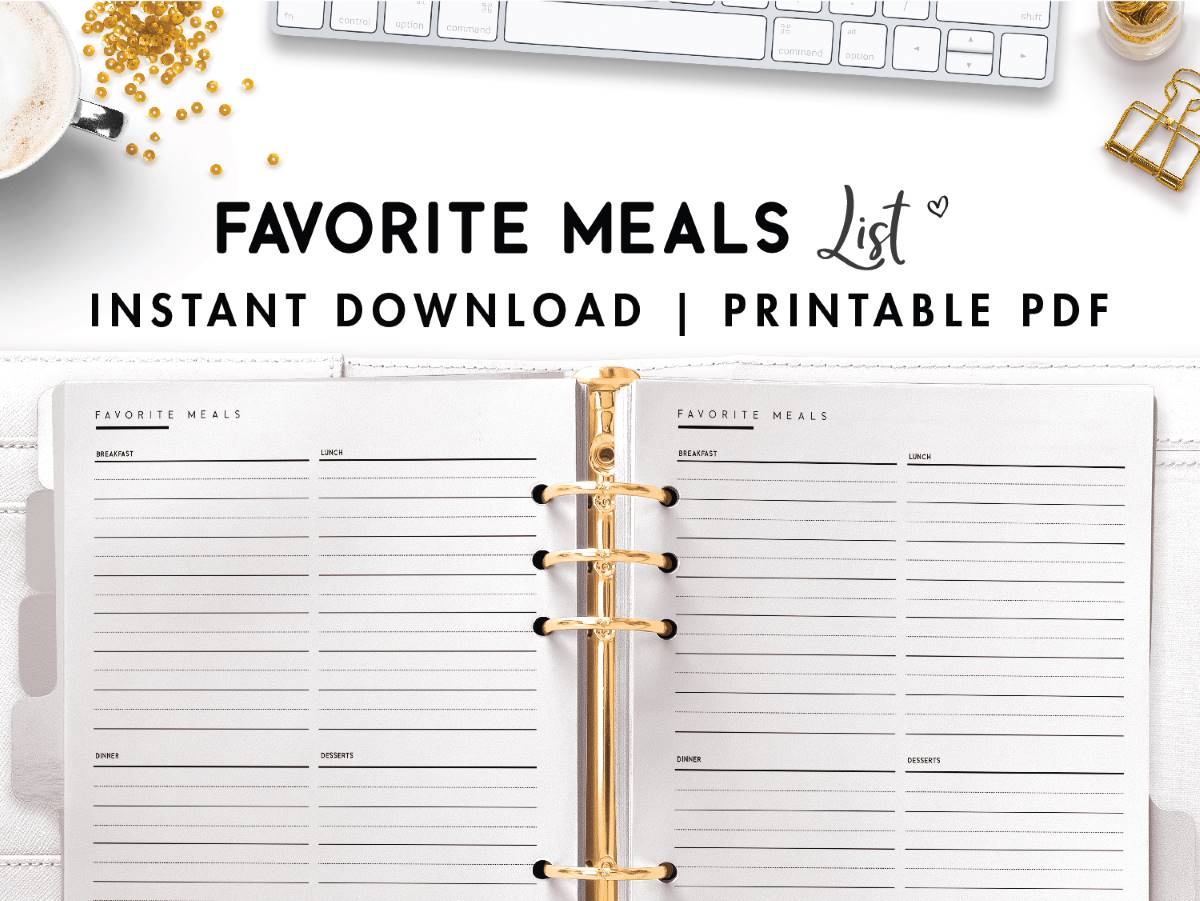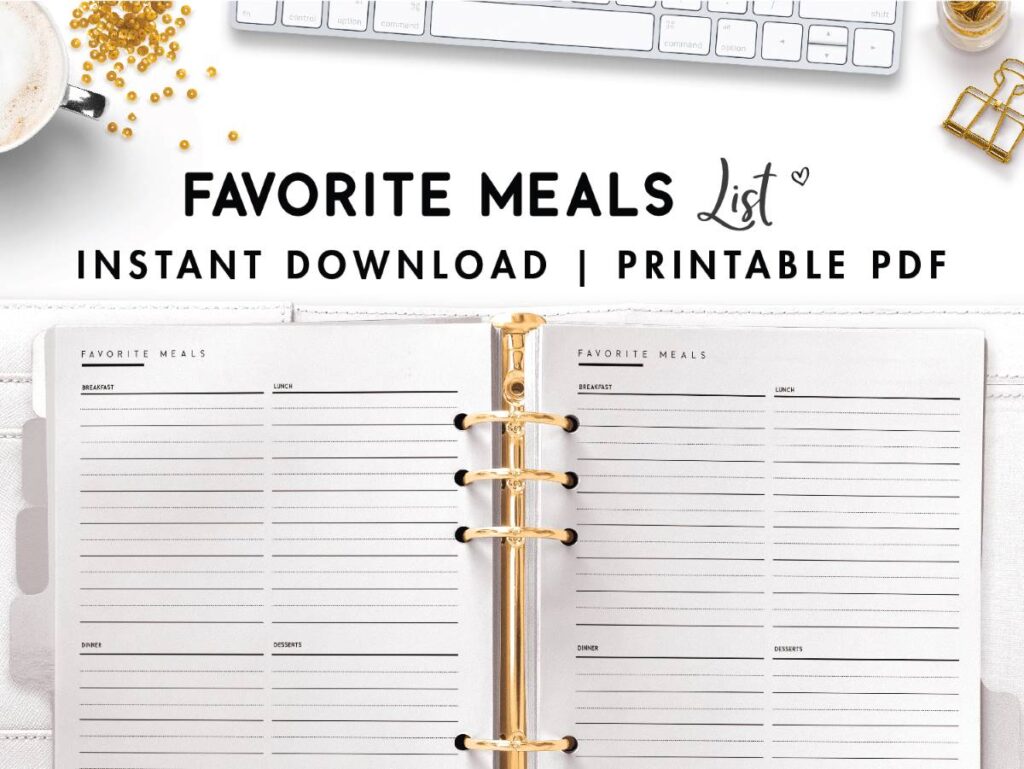 ---
The monthly meal planner is perfect for planning a whole month's worth full of meals.
You can even use this page to do a rough draft first then print it out again when you have finalized your meals.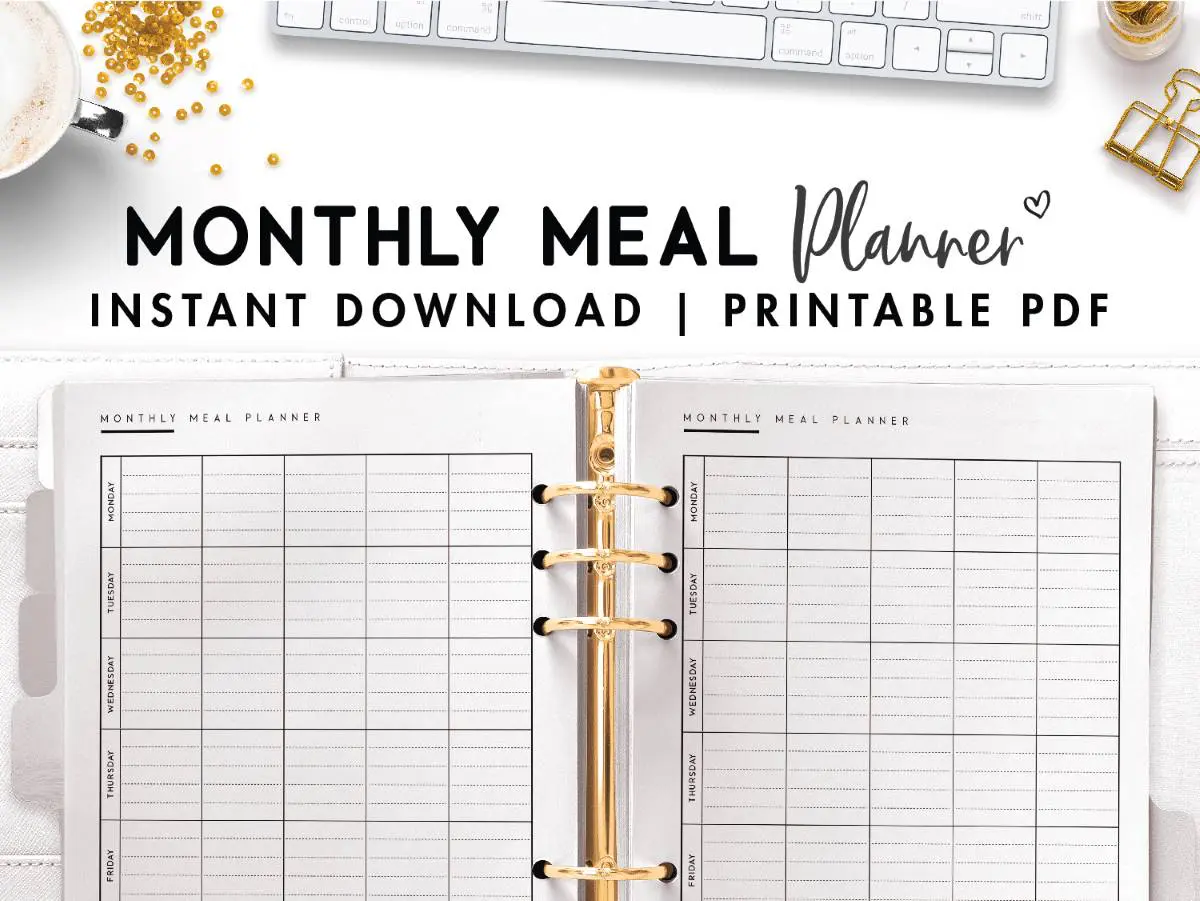 ---
Plan your breakfast with this breakfast meal planner page.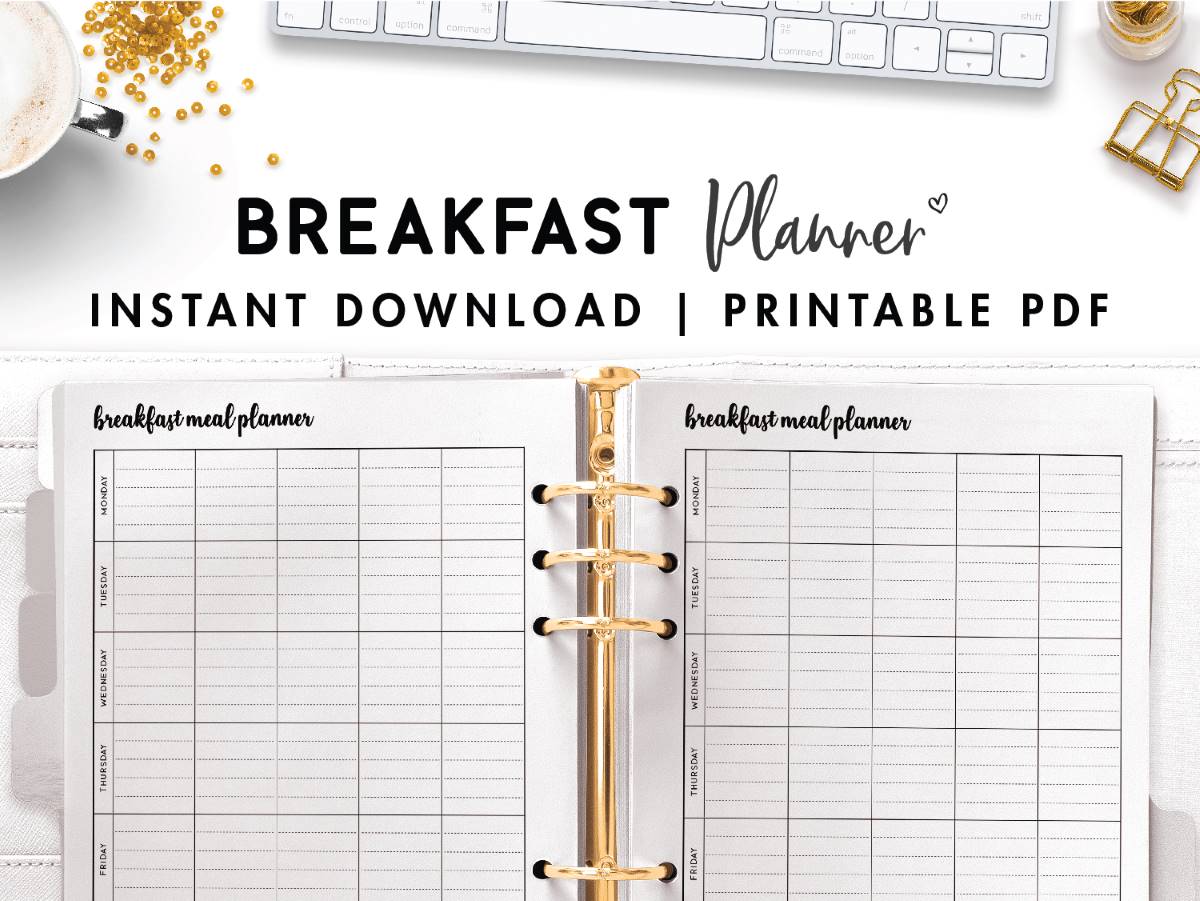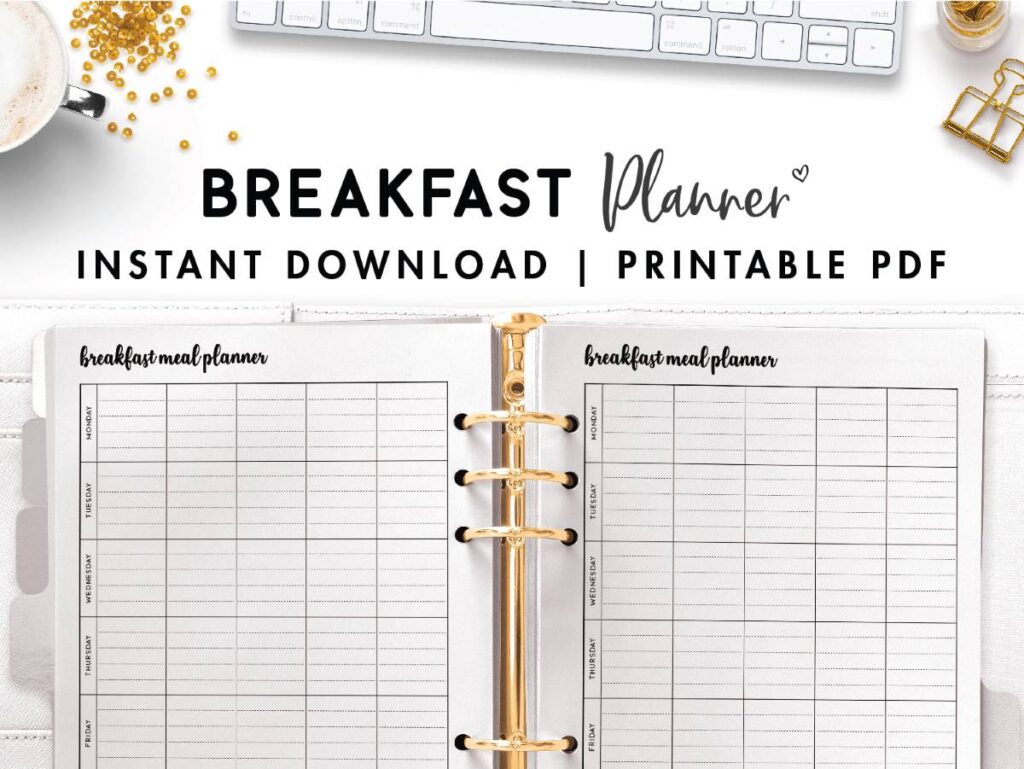 ---
Use this page to plan any meals perfect for Lunch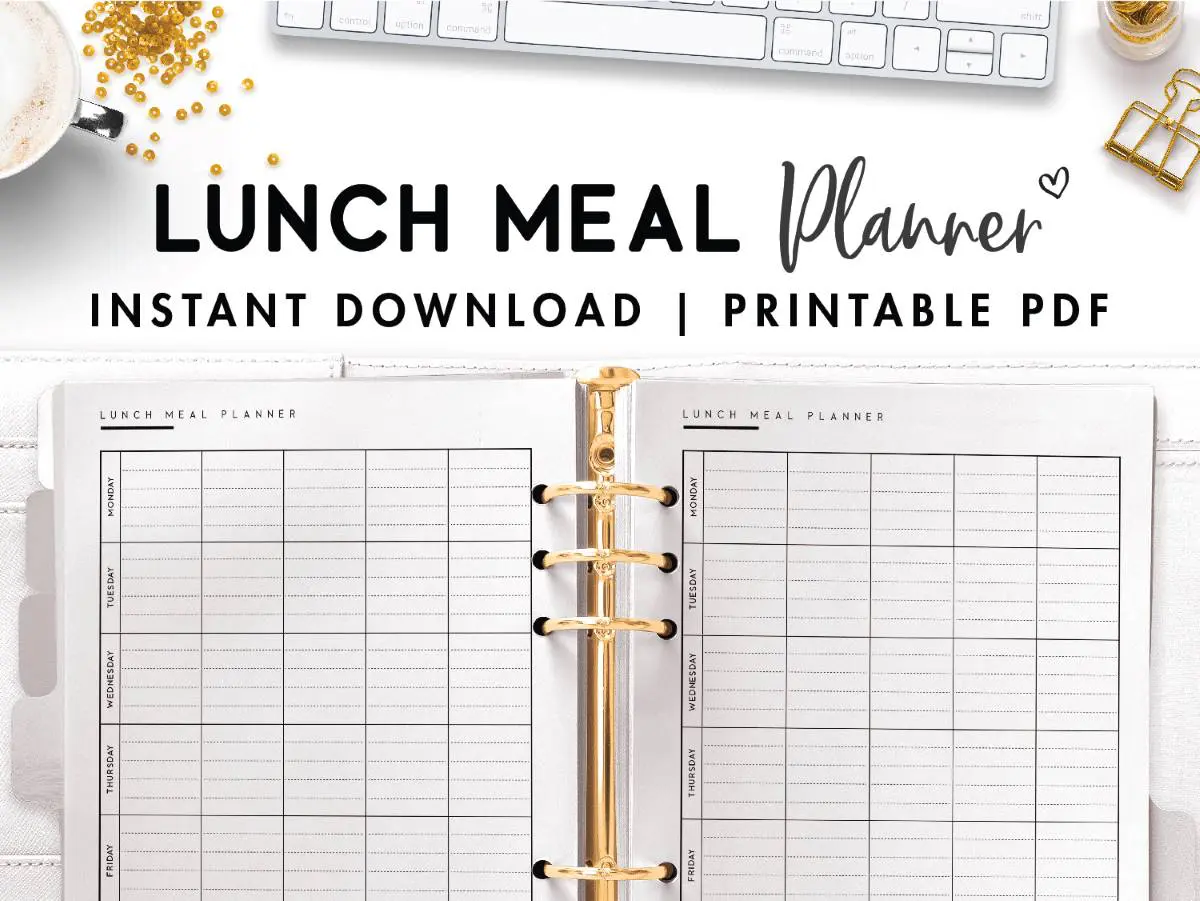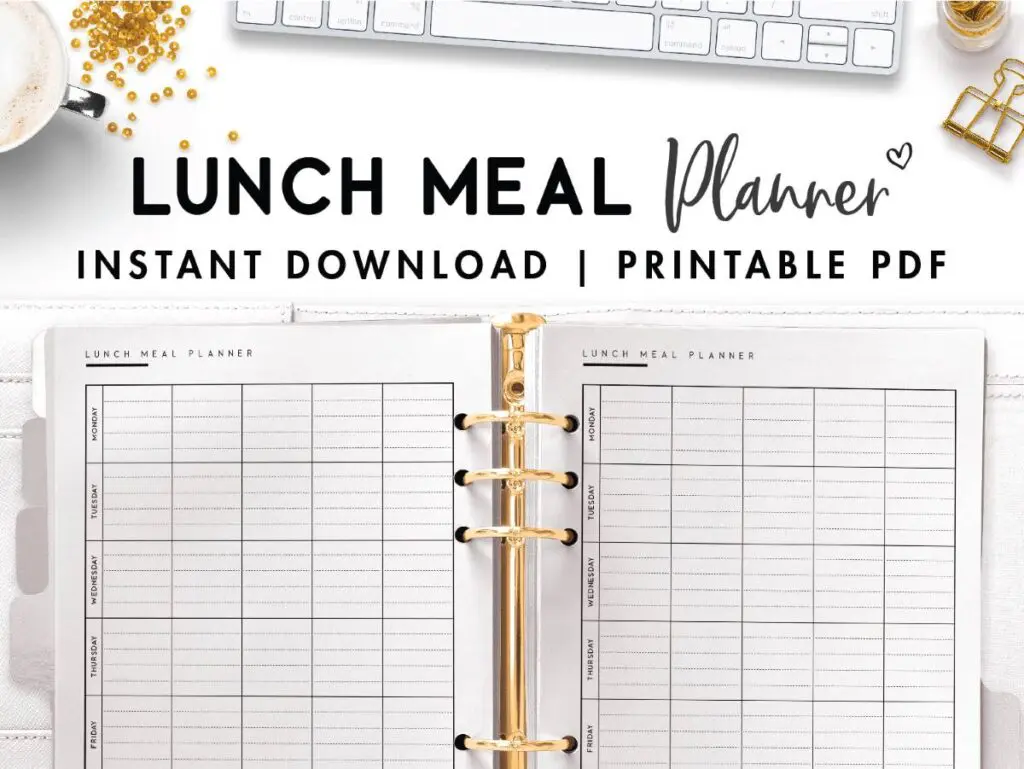 ---
Make dinner time easy with this dinner meal planner!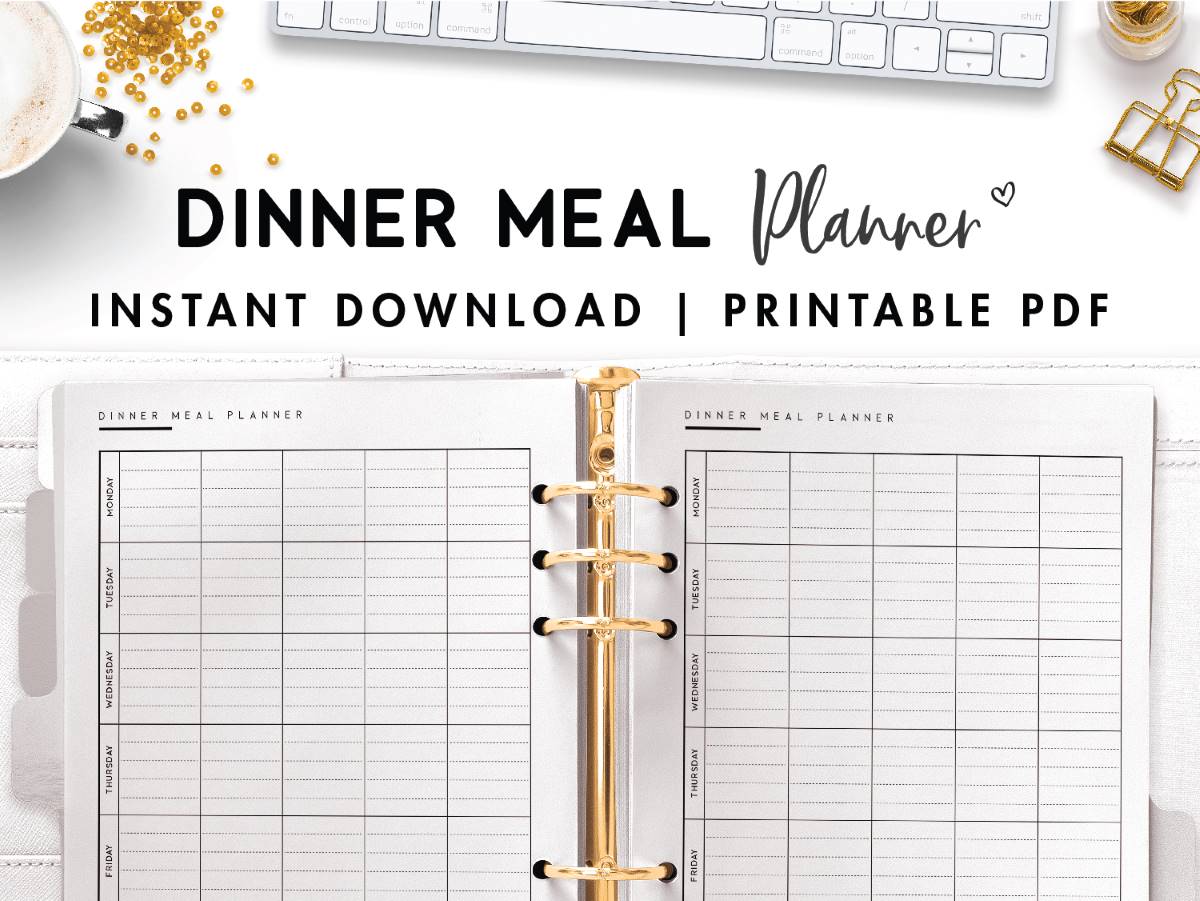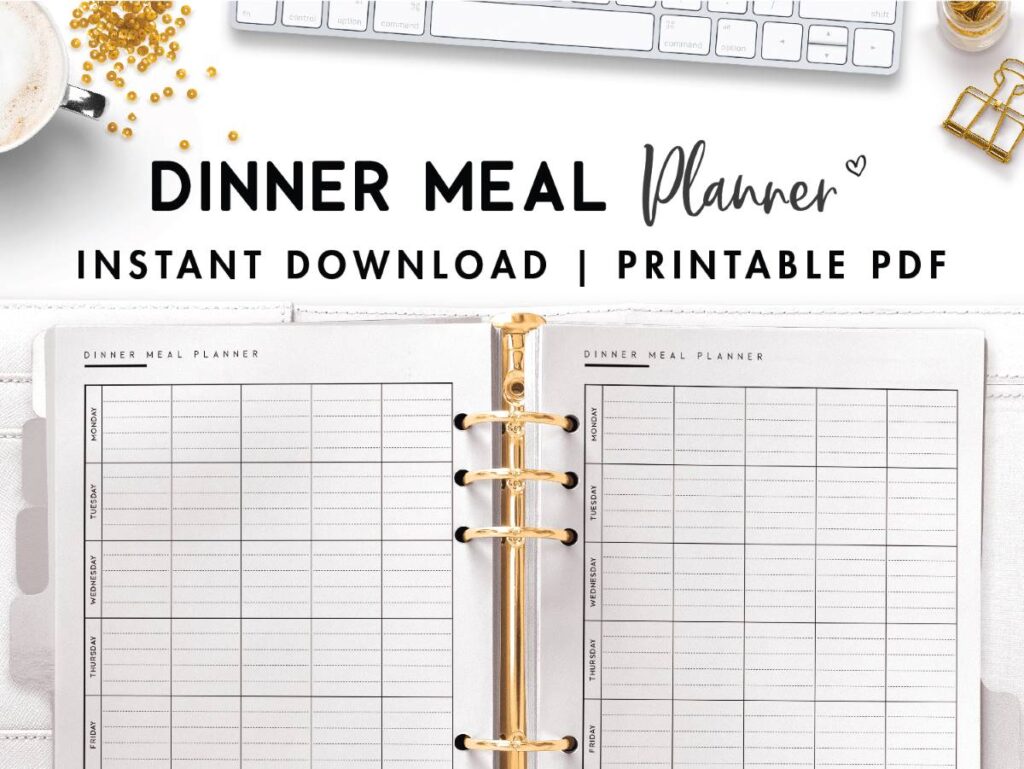 ---
This page is perfect for any thoughts or ideas you might have in regards to your meal planning!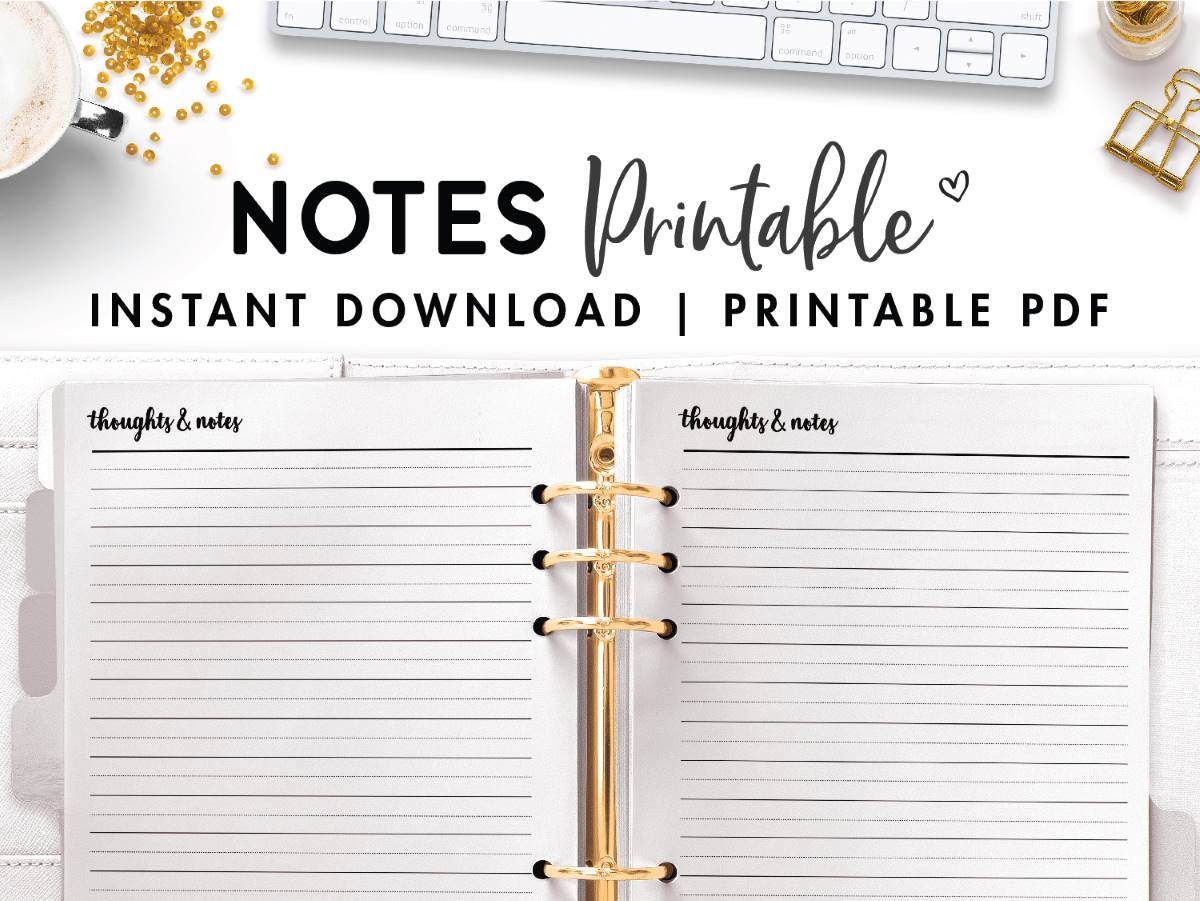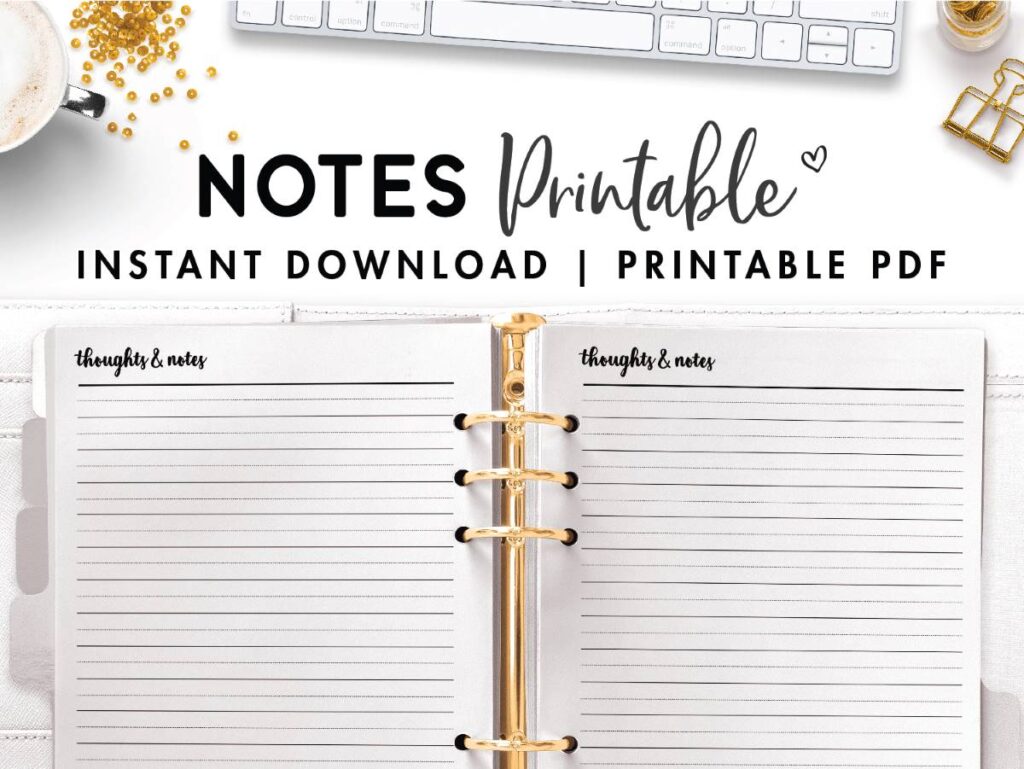 ---
Grocery list
Use this grocery list to note all of the ingredients and food items you are going to need.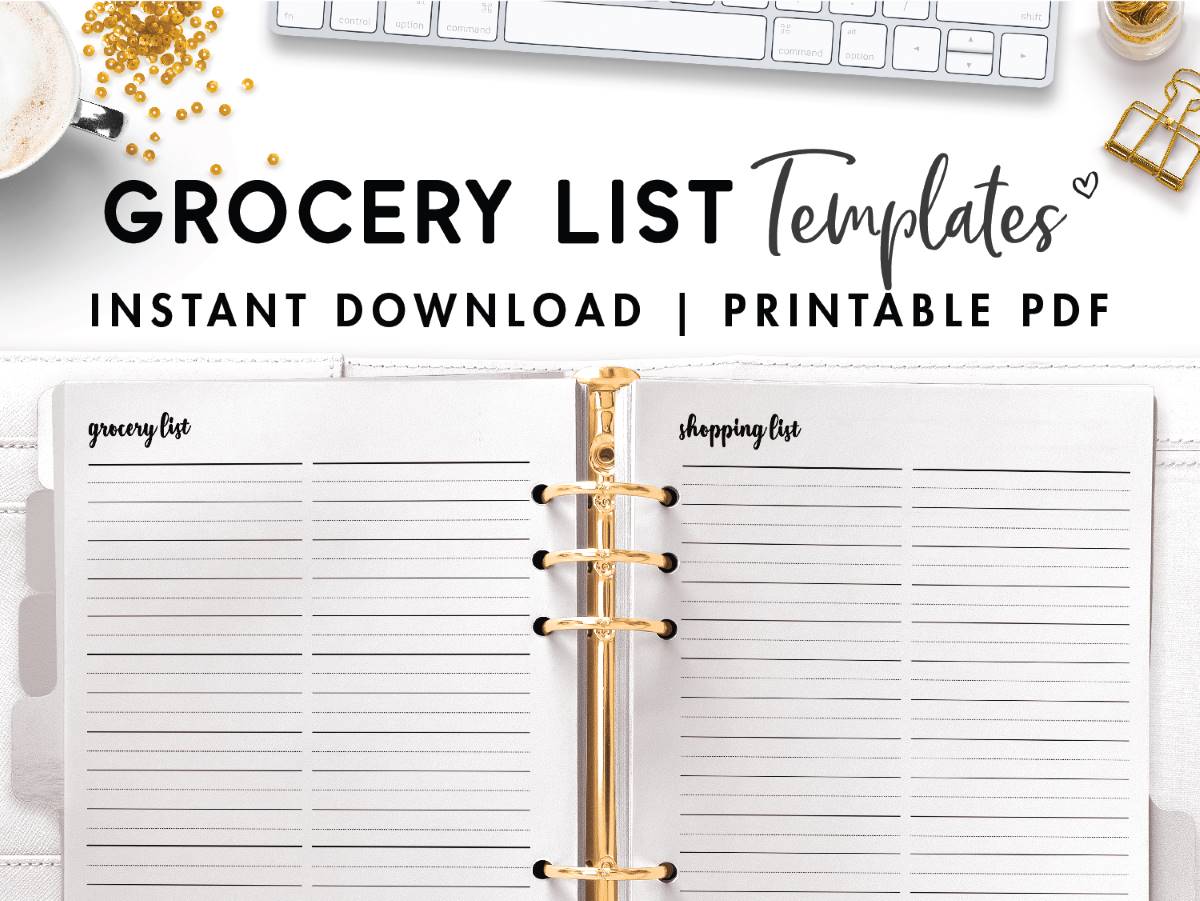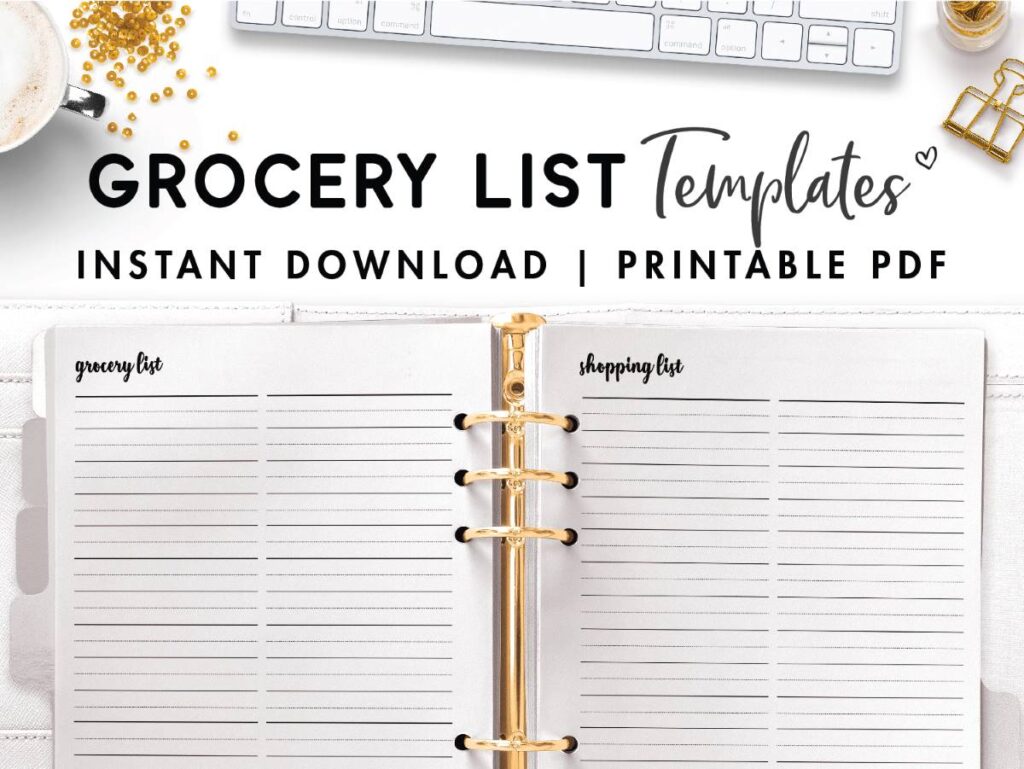 ---
Shopping list
The shopping list is perfect for writing down anything you might need from the store that isn't food-based.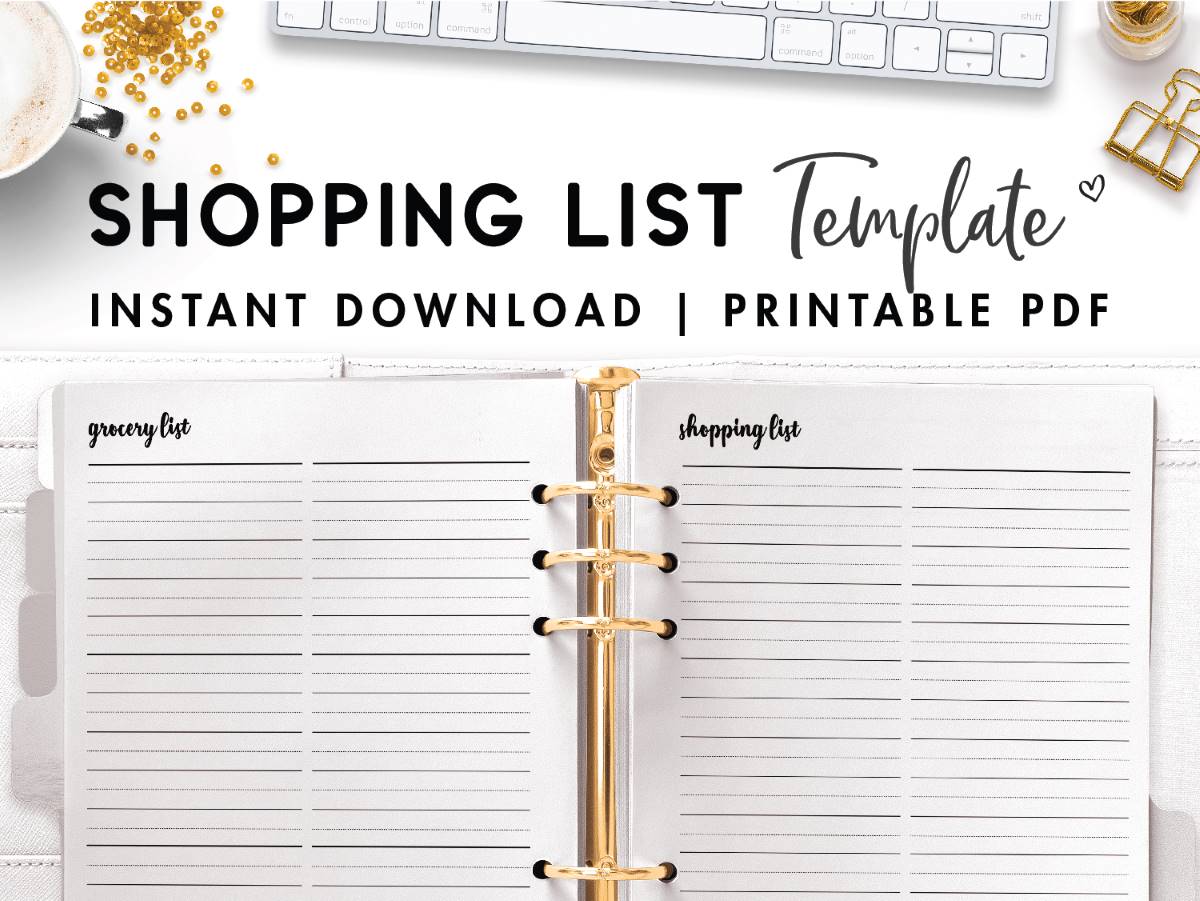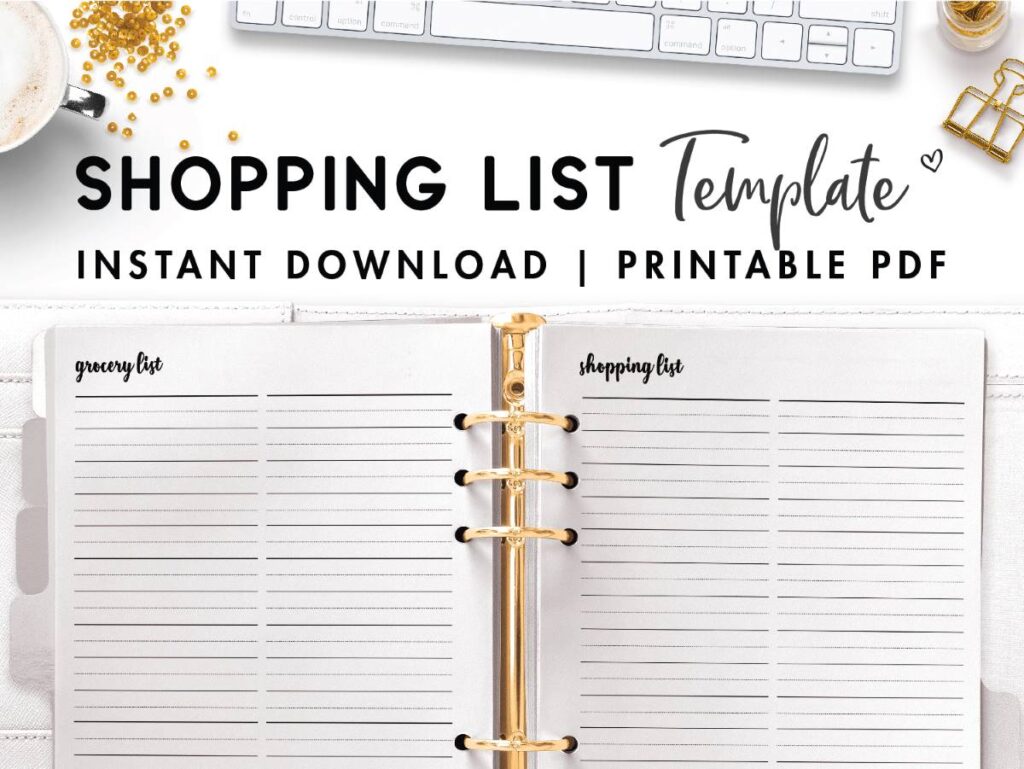 ---
Keep an inventory of your kitchen so you can stay organized!
Inventories are a great way of staying on top of what you have and what you need.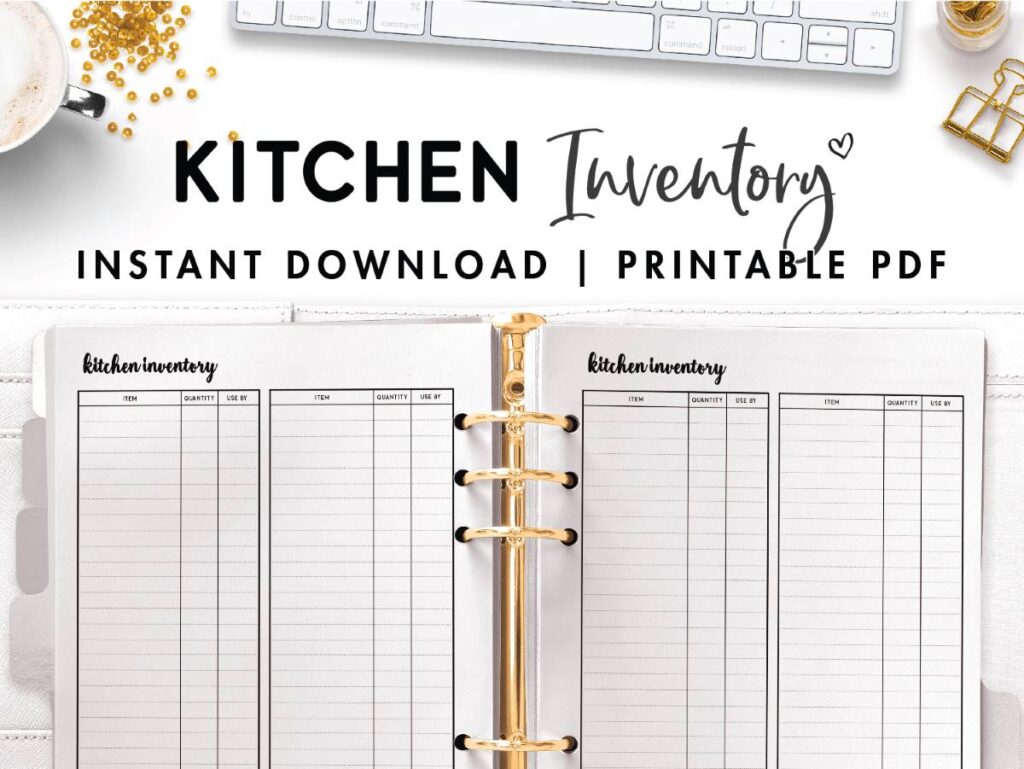 ---
Fridge inventory
Use this page to keep a note of what's in your fridge!
It's a great way of helping you avoid buying foods you don't need.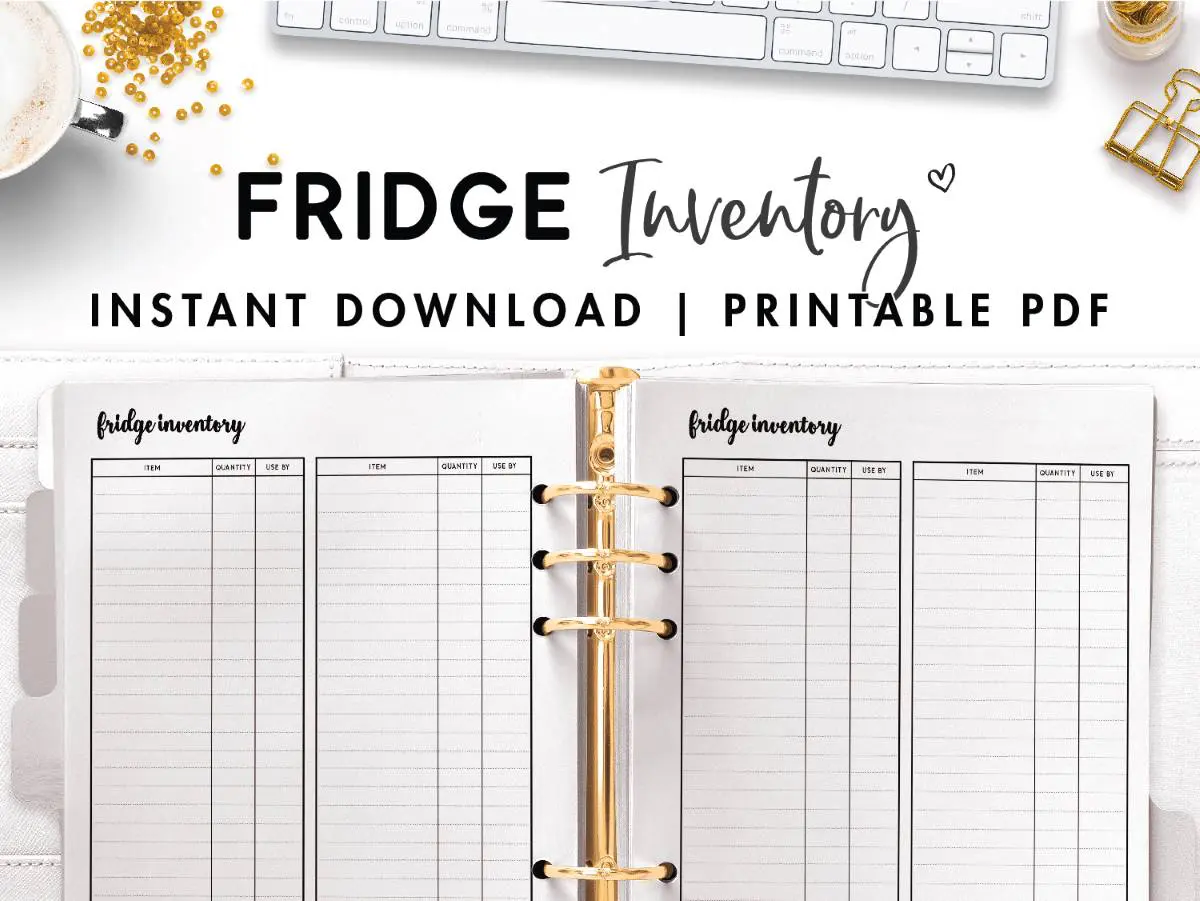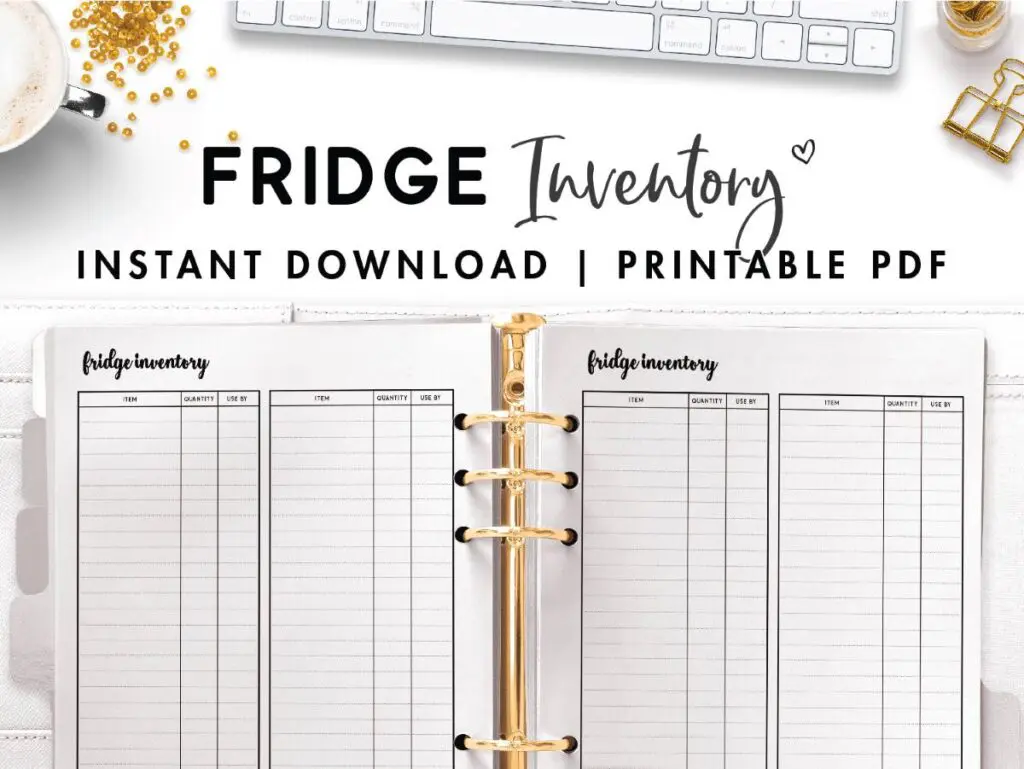 ---
Freezer inventory
Keep a freezer inventory and review it every so often.
If you have food in the freezer that you've not touched in 6 months then it's probably never going to get eaten so bin it.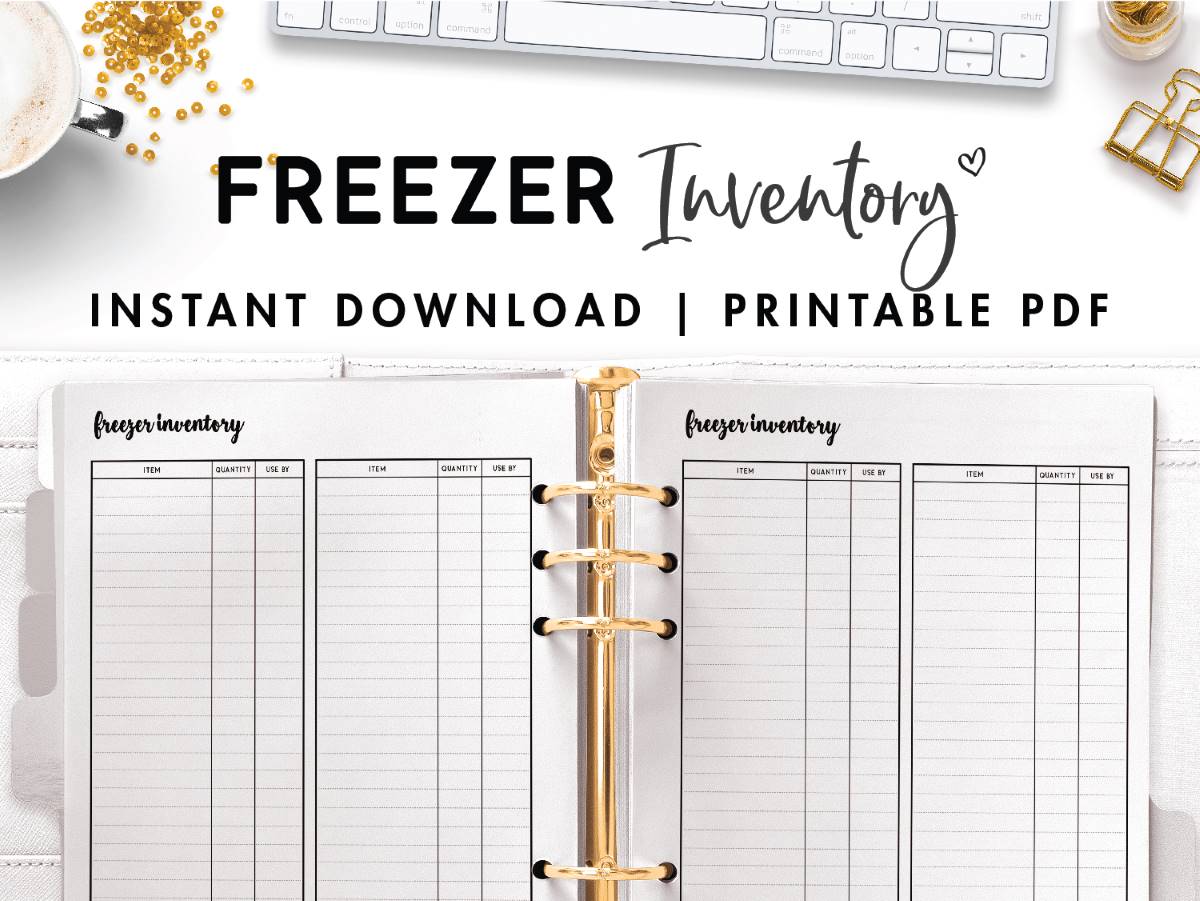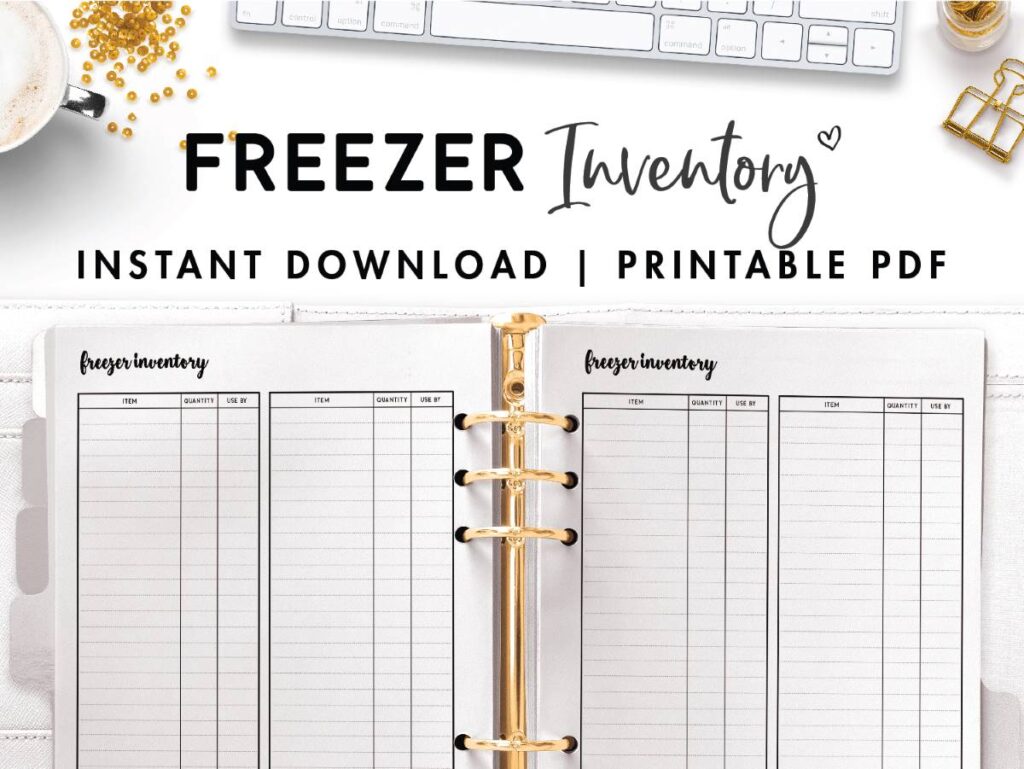 ---
Pantry inventory
A pantry inventory is definitely something I have benefited from and I think you will too.
No more buying more onions when you already have two bags at the back of the pantry!
Keep your pantry organized with this pantry inventory.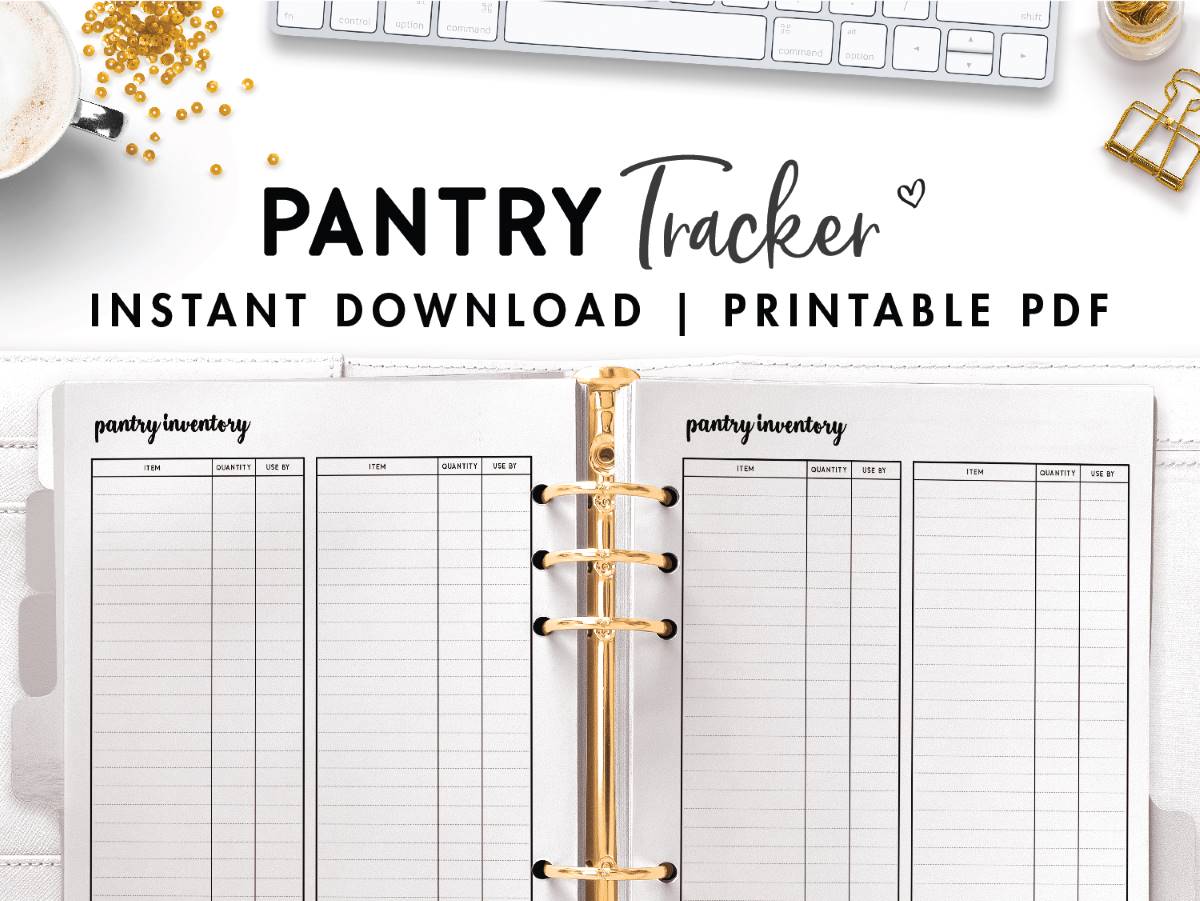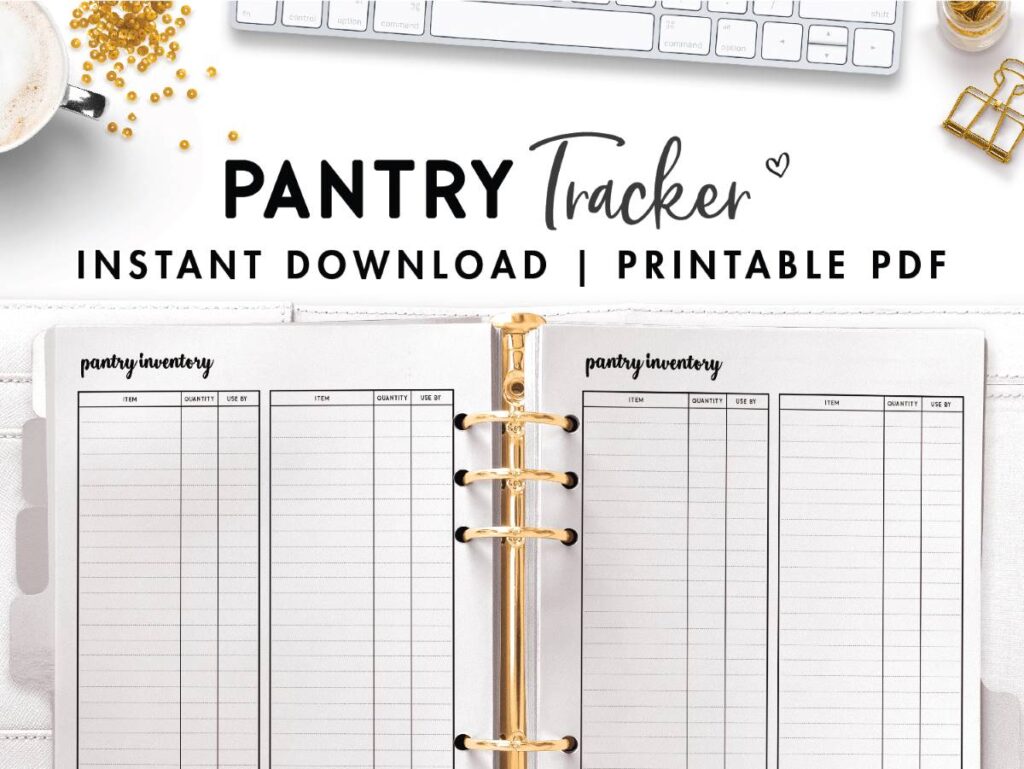 ---
Use the calorie intake tracker to log what you eat at different times of the day and the calories.
We also have more calorie trackers in different designs with space to track your daily meals with calorie intake per meal along with a daily total and a weekly total.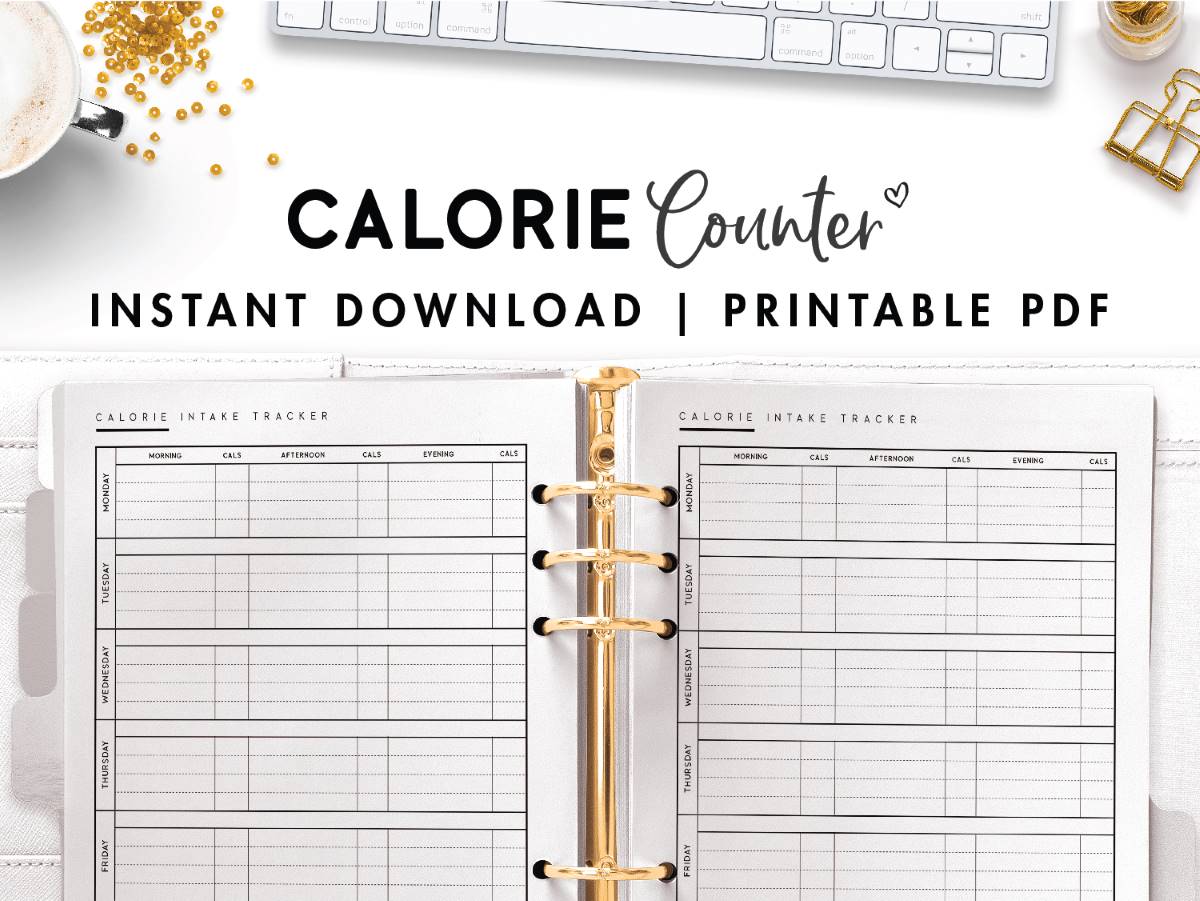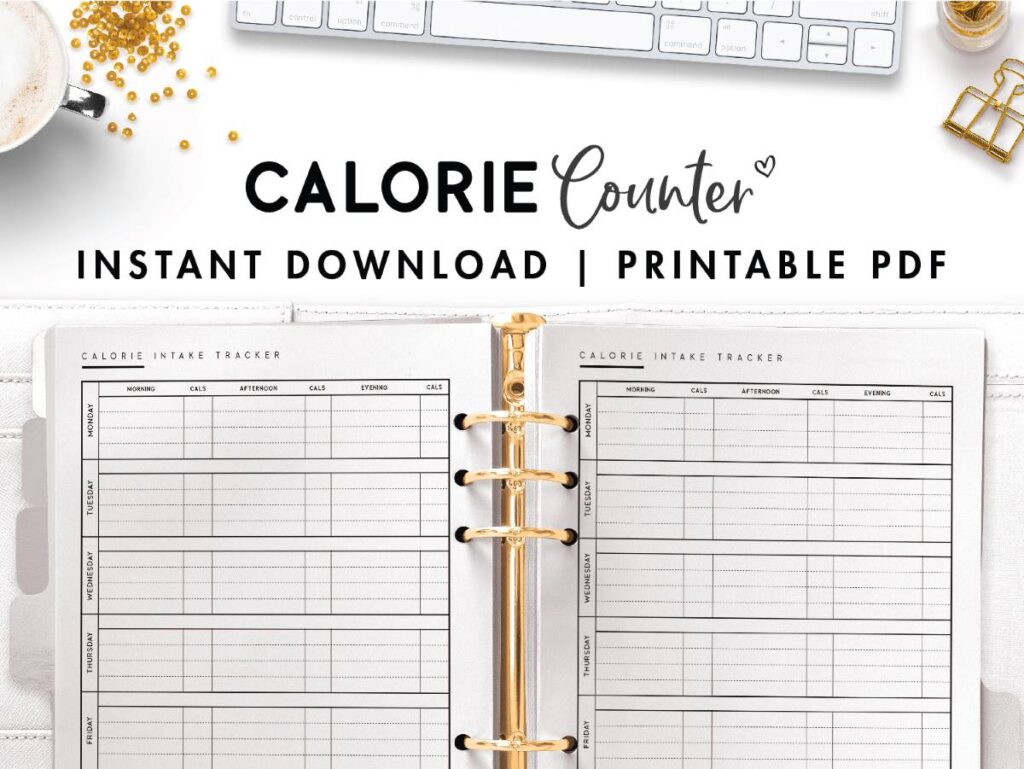 ---
Use this recipe planner to note your own recipes along!
Fill in the ingredients, instructions, serving size, ratings, difficulty and so much more.
We also have recipe planners to help you log ingredients, preparations, cooking temp, calories, and quality/tastiness rating!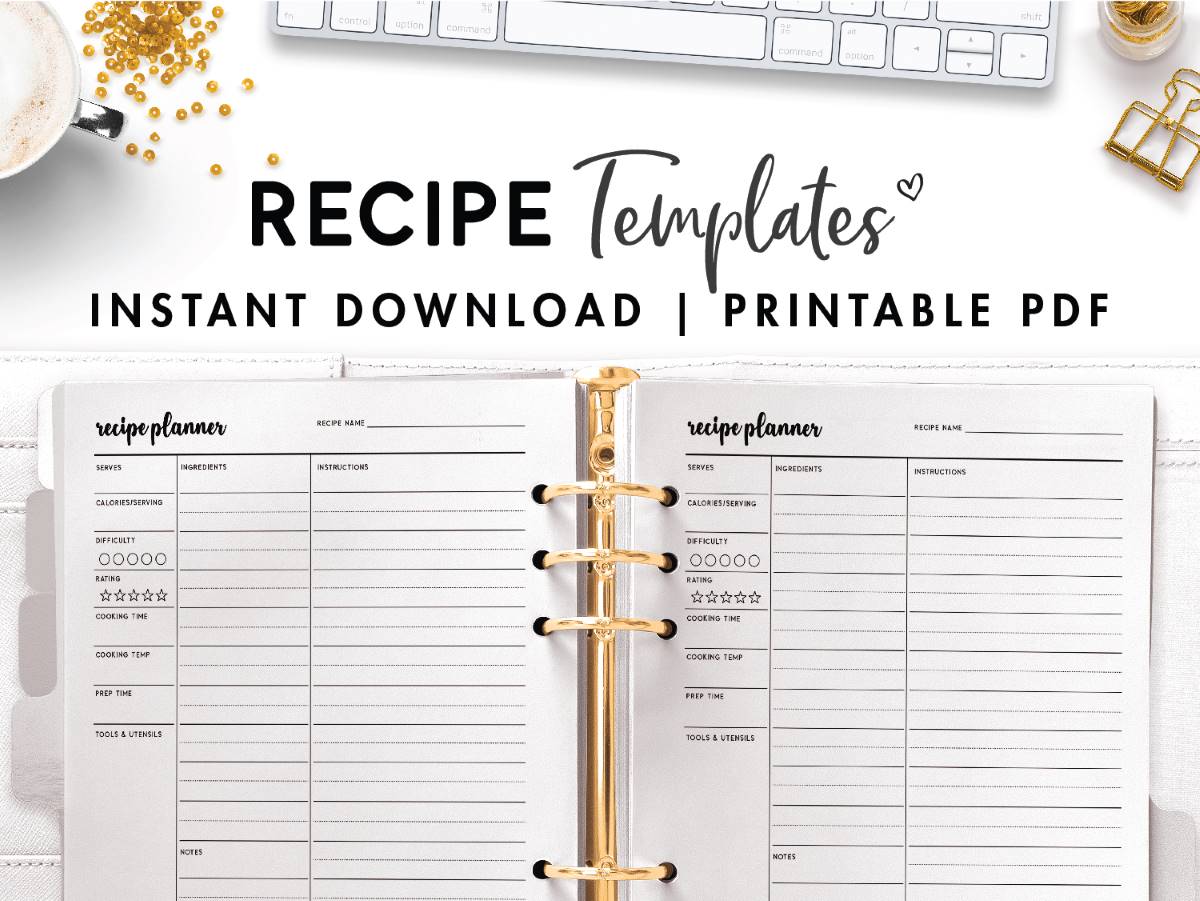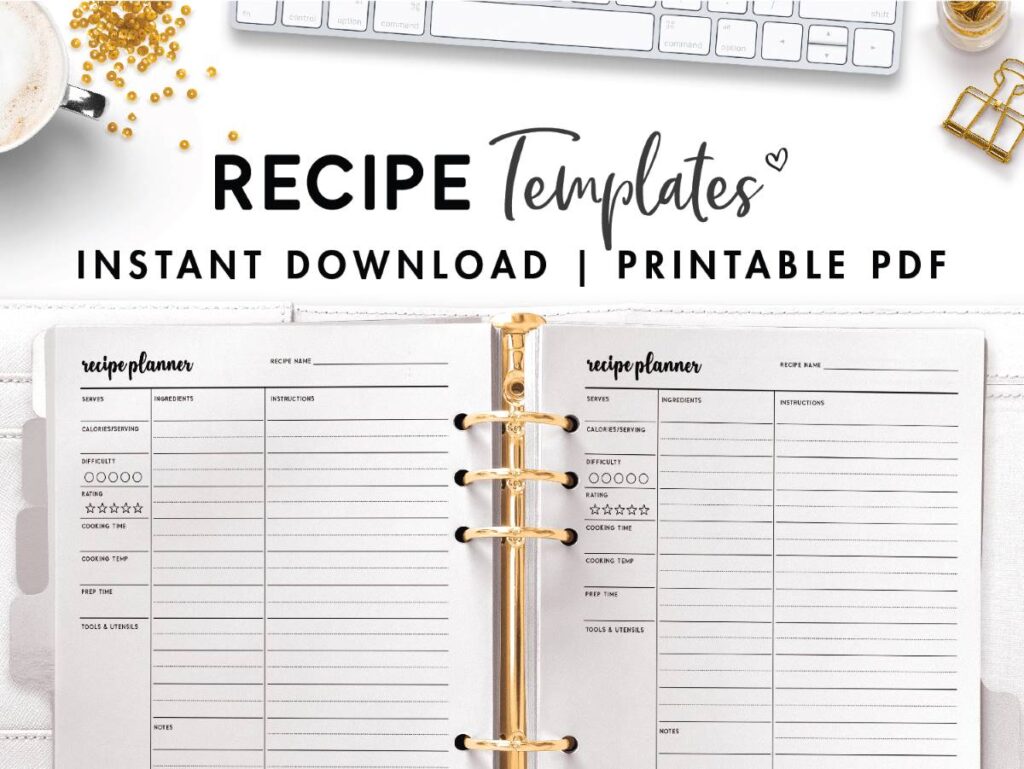 ---
Track your meals and workouts side by side with this tracker.
See the calories you put in and the calories you burn all at a glance.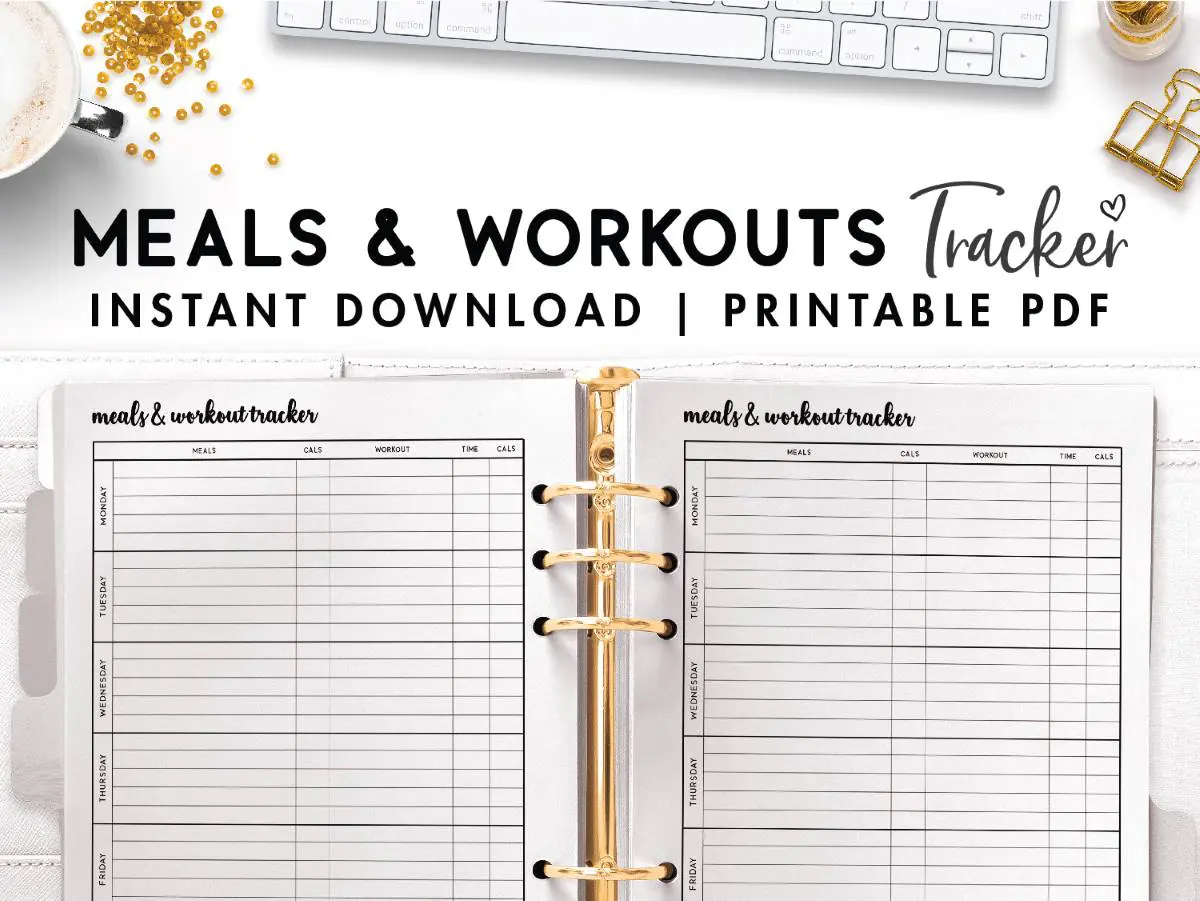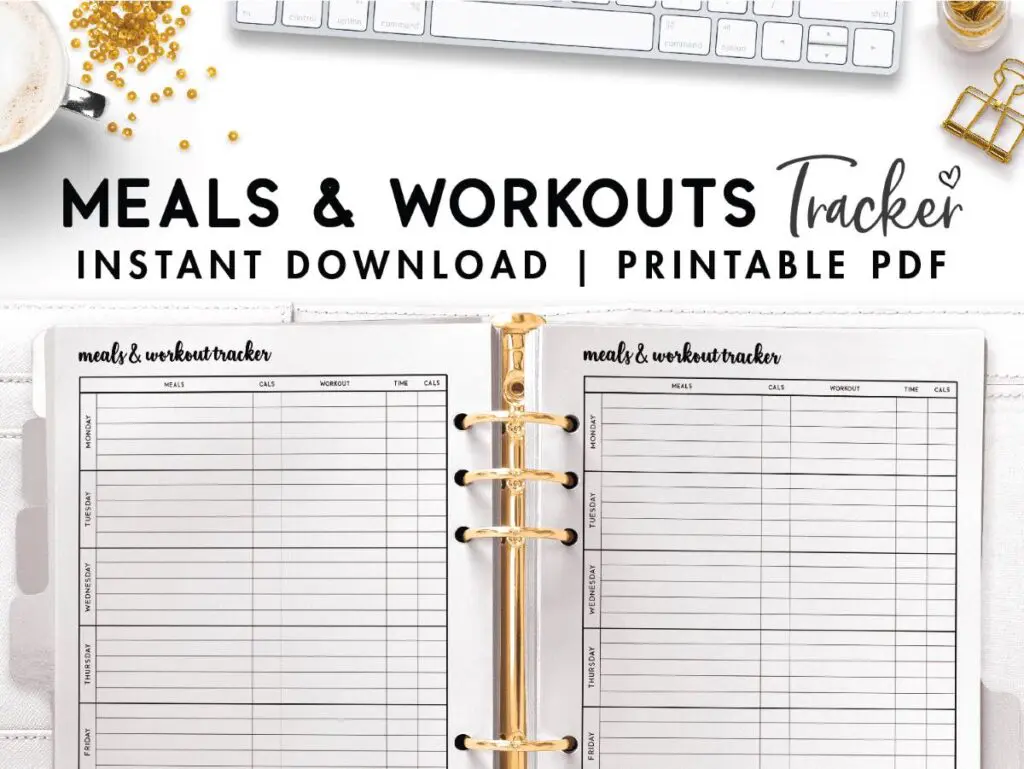 ---
If you're a vegetarian or want to give it a go then this vegetarian grocery list is a must-have.
Use this list to get all of the basic foods you might need as a vegetarian.
If you're looking for some great vegetarian meal ideas then you will find plenty here!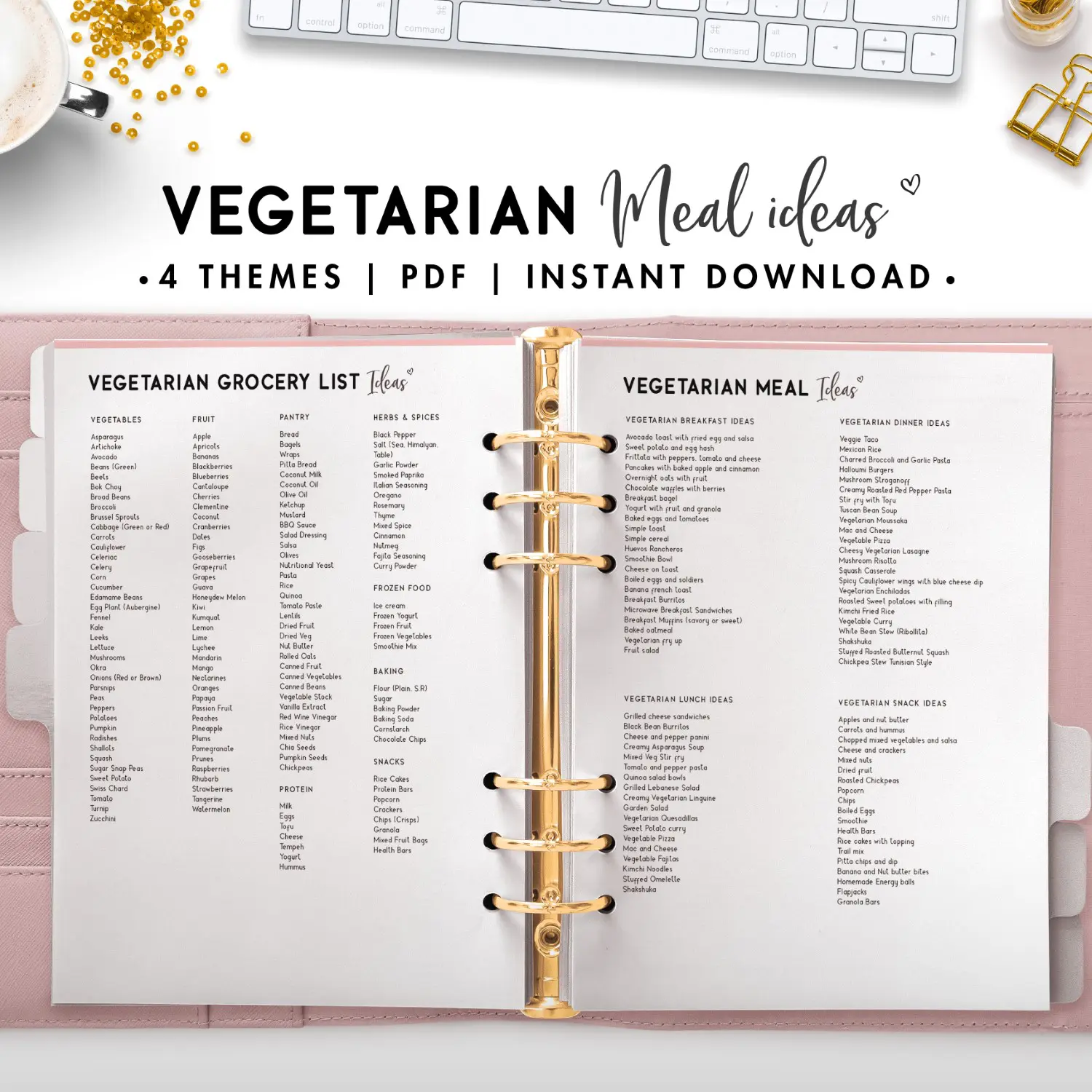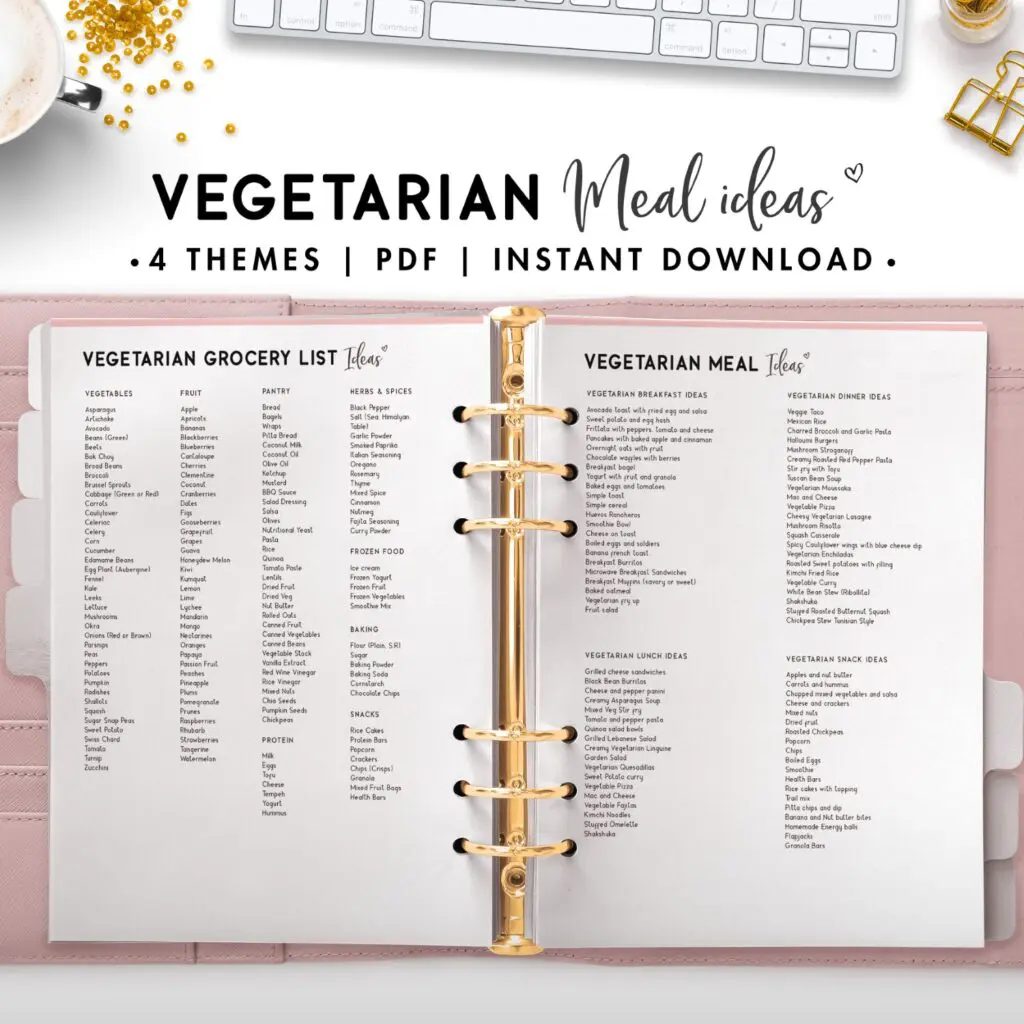 ---
Perhaps you're a Vegan? Maybe you've watched that impressive documentary that was trending in 2019 and it's piqued your interest?
Get started with this Vegan grocery list.
Why not swap out a day or two a week to eat a vegan meal?
There are plenty of gorgeous vegan meal ideas right here.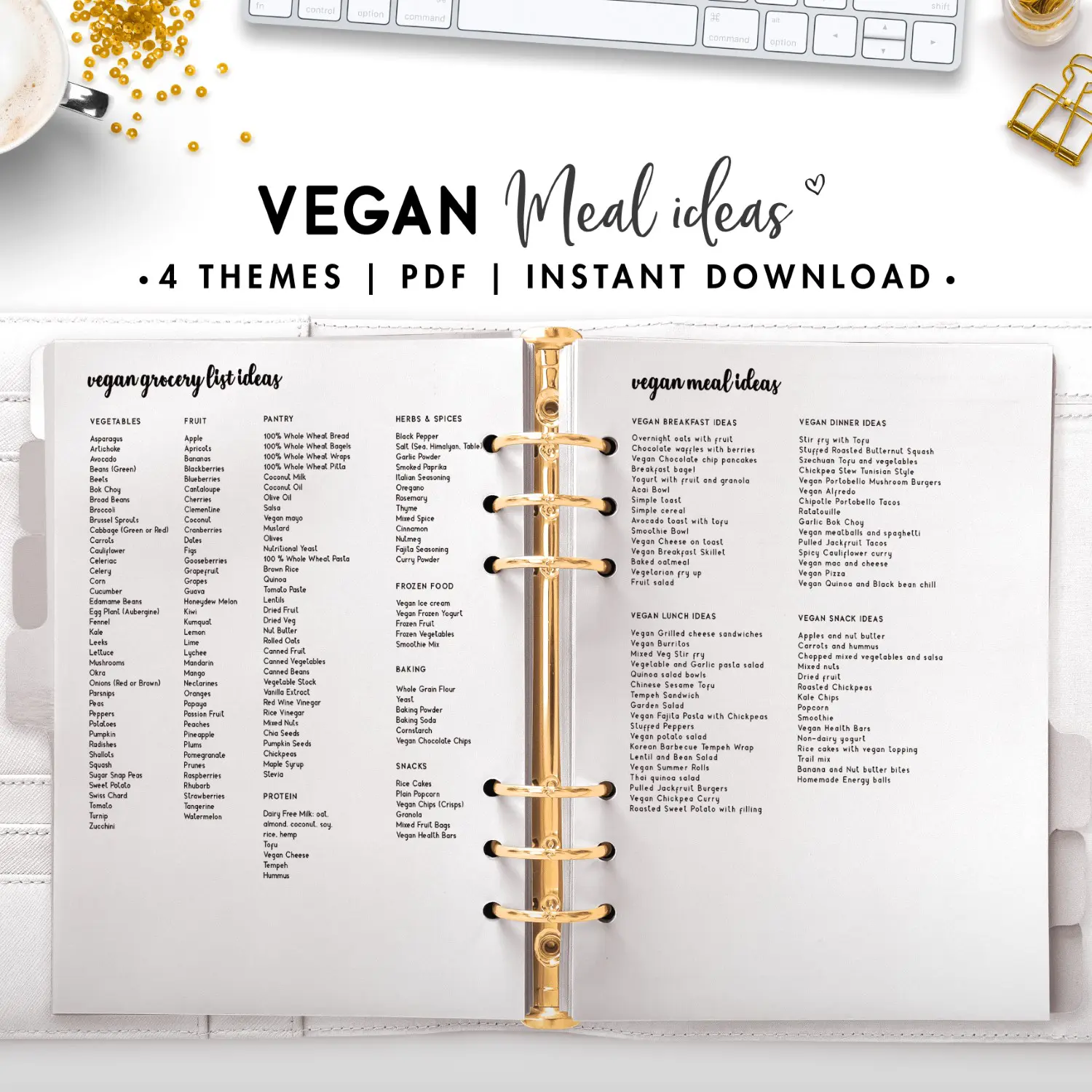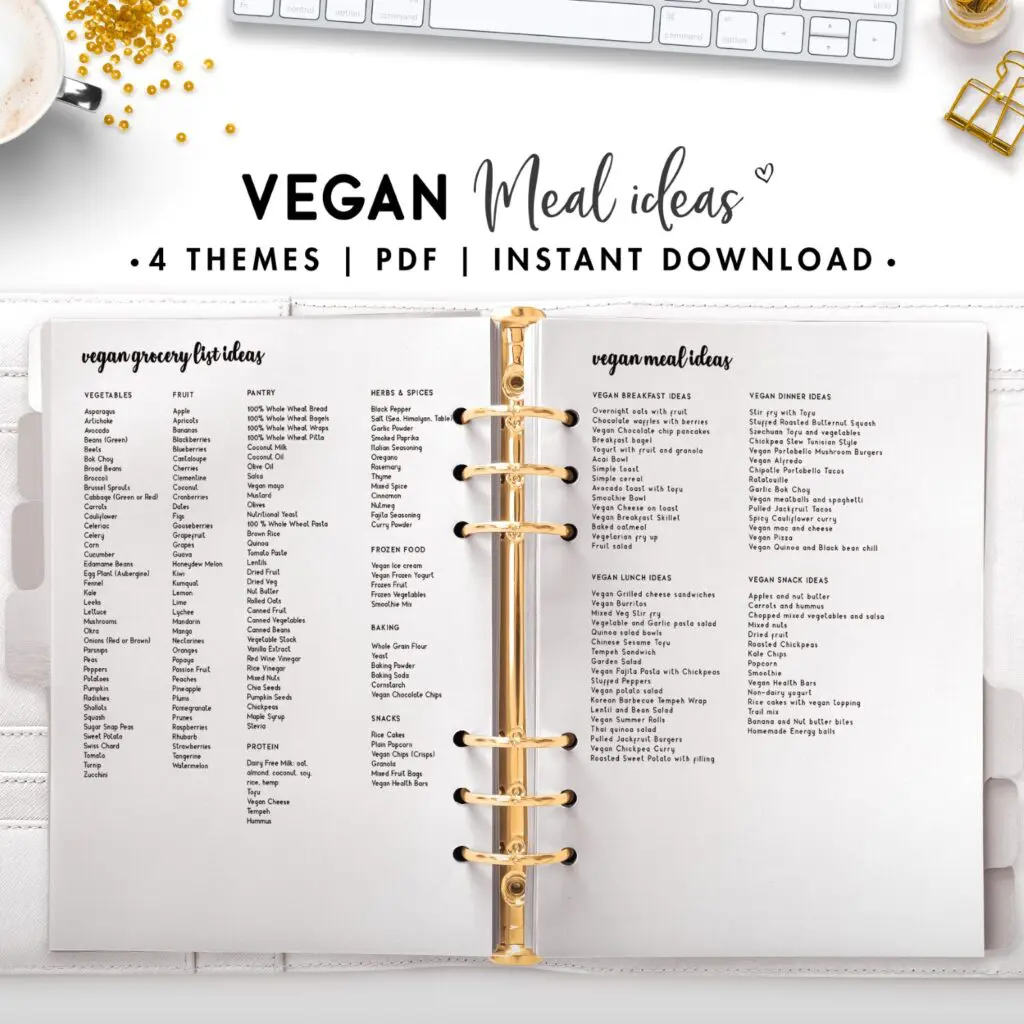 ---
Low calorie grocery list ideas
We all feel like we could cut a few calories here and there so we've put together an amazing low-calorie grocery list for you to check out.
Why not try out some of these great low-calorie meal ideas?
Great if you want to cut back a little but not starve yourself!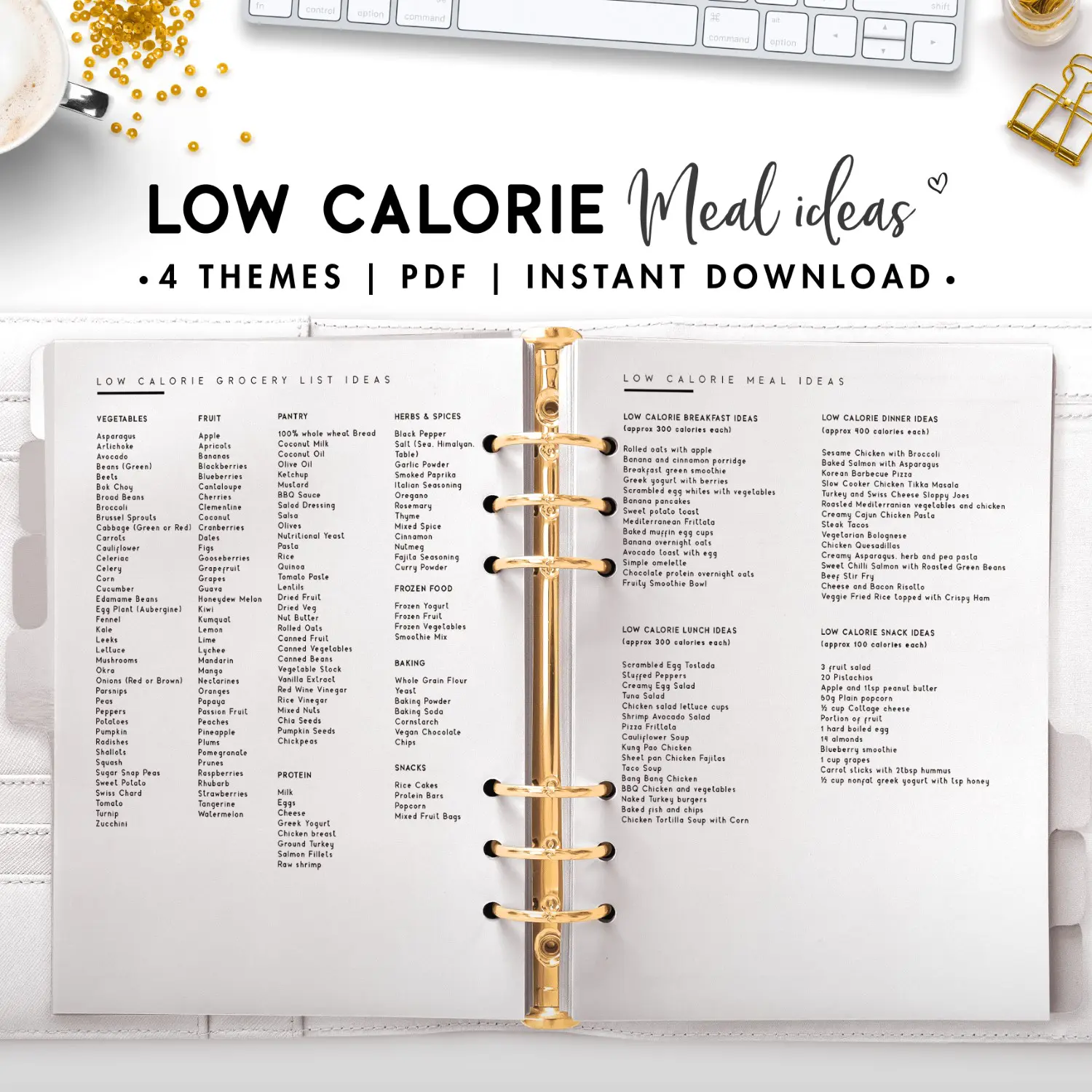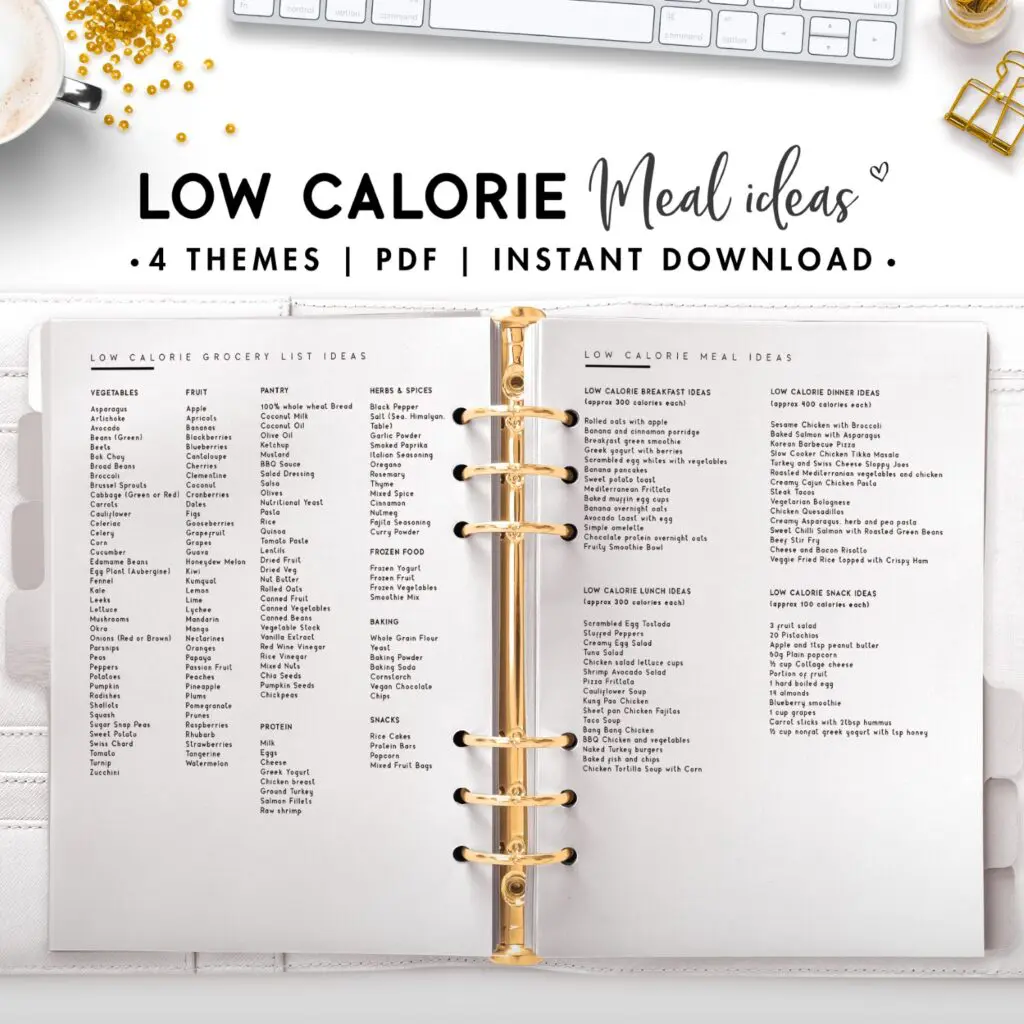 ---
If you're thinking of getting into a low carb diet then consider this low carb grocery list. It's got great options.
These low-carb meal ideas have been well thought through and they all sound amazing.
How does Asian Sesame Beef Salad sound? Or Buffalo Cauliflower Hot Wings?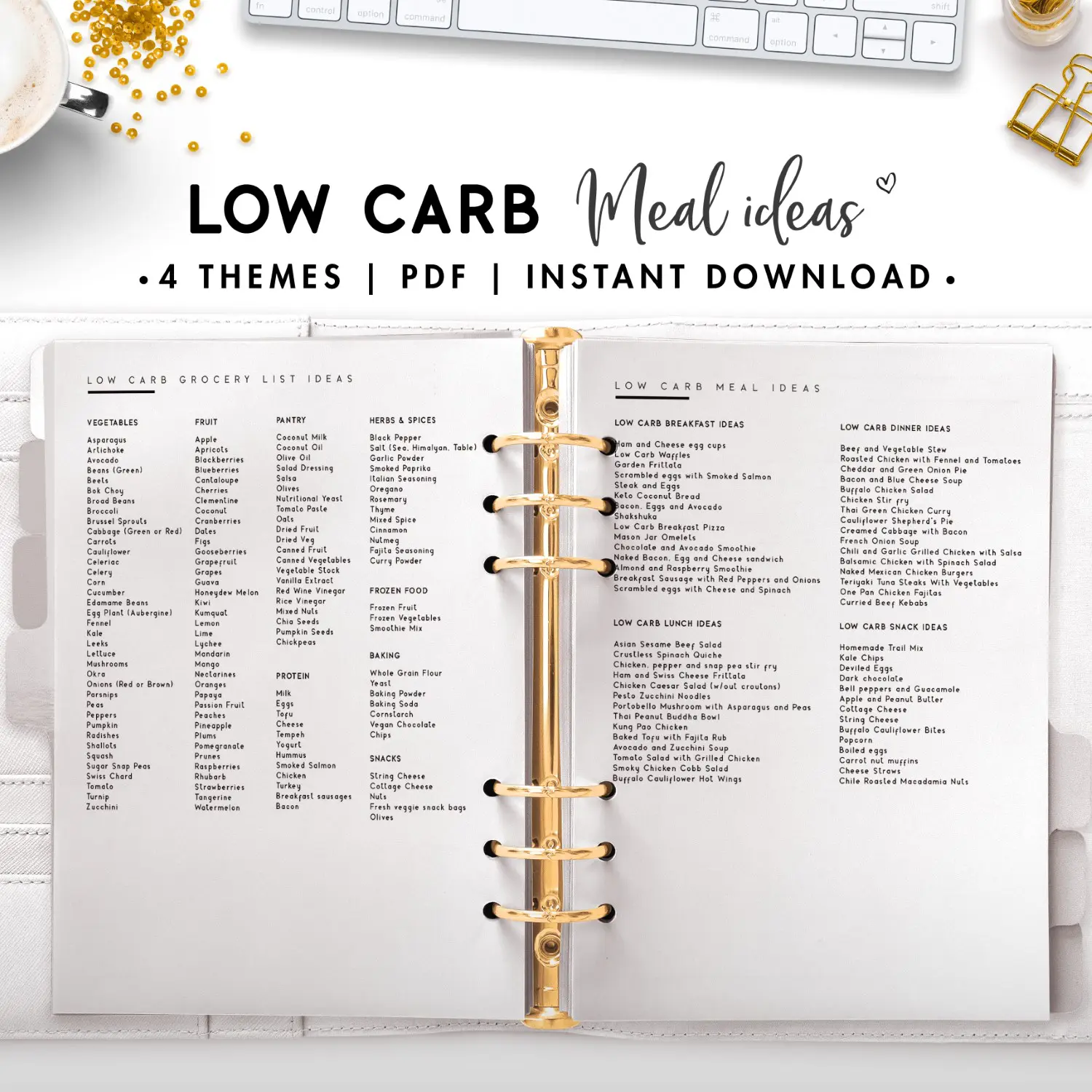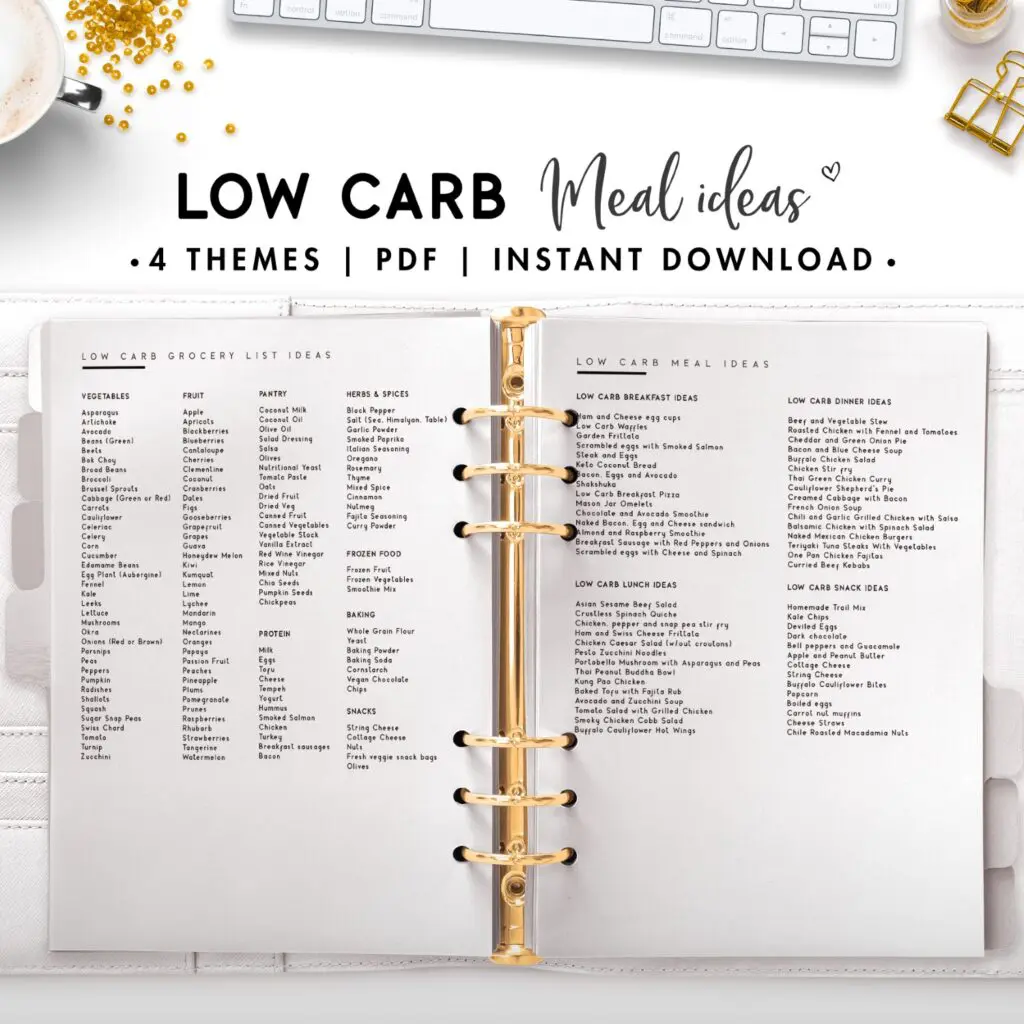 ---
Maybe you have allergies and you're on a dairy-free diet. We also have a grocery list for that.
Amazing dairy free meal ideas await you. Perfect if you avoid dairy in general or want to try going dairy-free for your health or other reasons!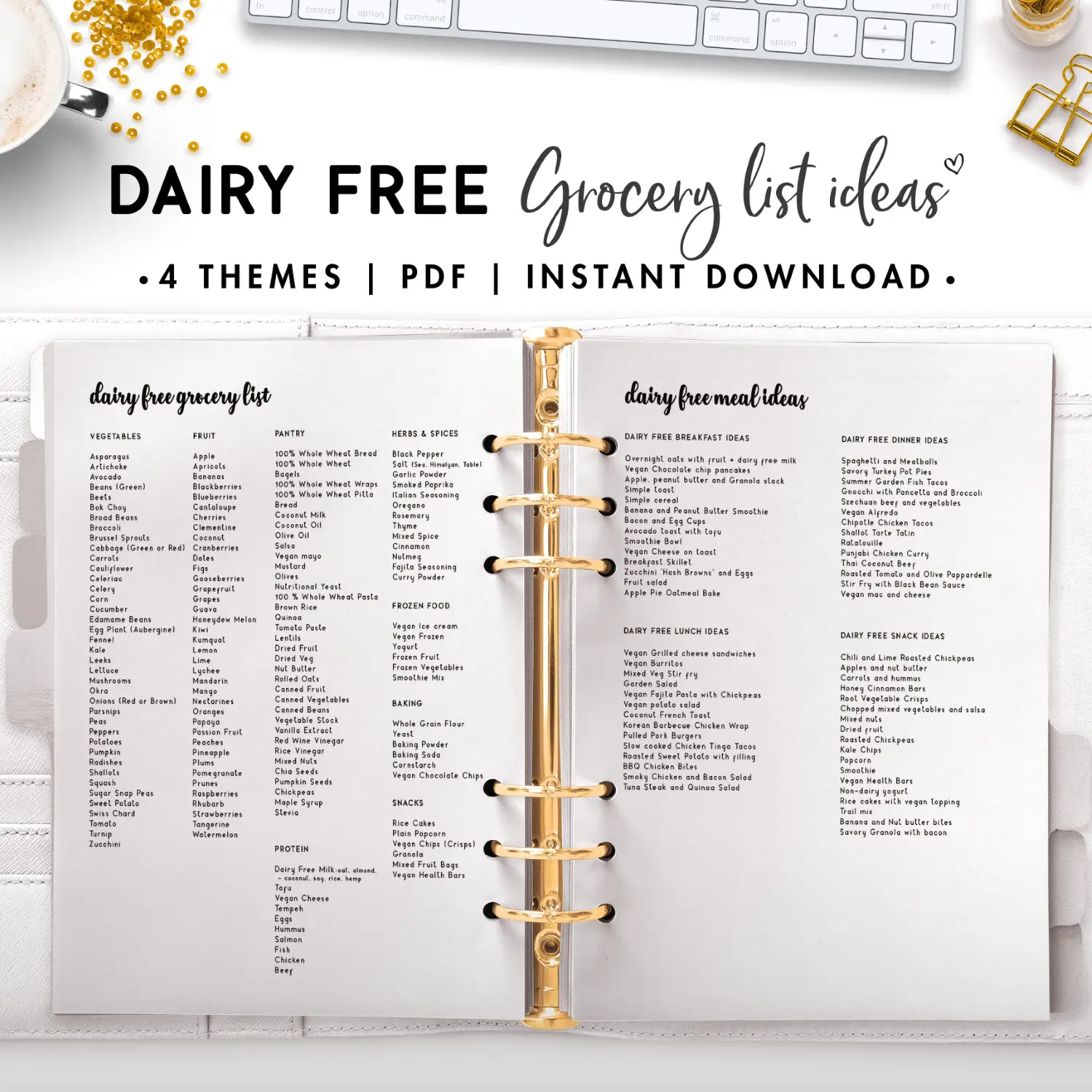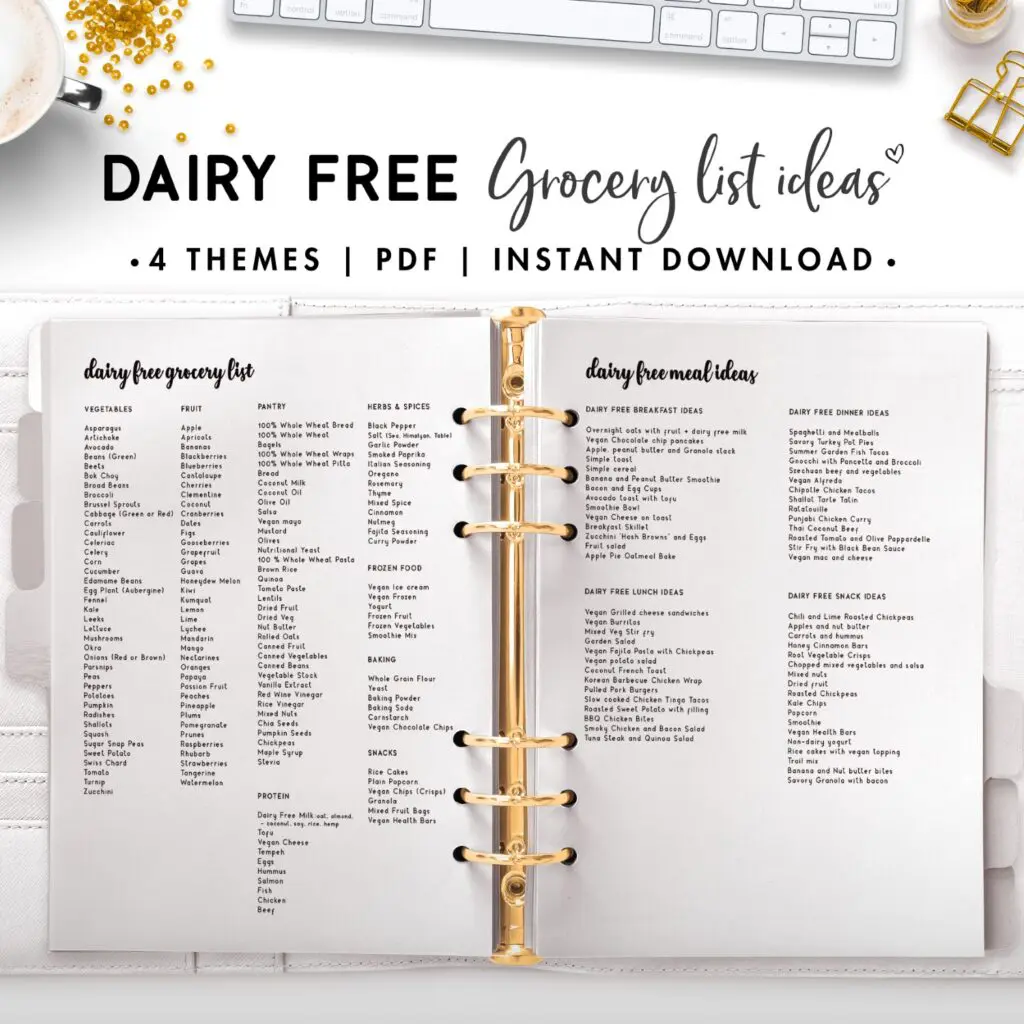 ---
Gluten free grocery list ideas
If you are avoiding gluten then this gluten-free grocery list has some great gluten-free ingredients you can add to your main shopping list.
We also have delicious gluten-free meal ideas for you to try out. I'm talking salmon tacos or crispy mustard chicken…yum!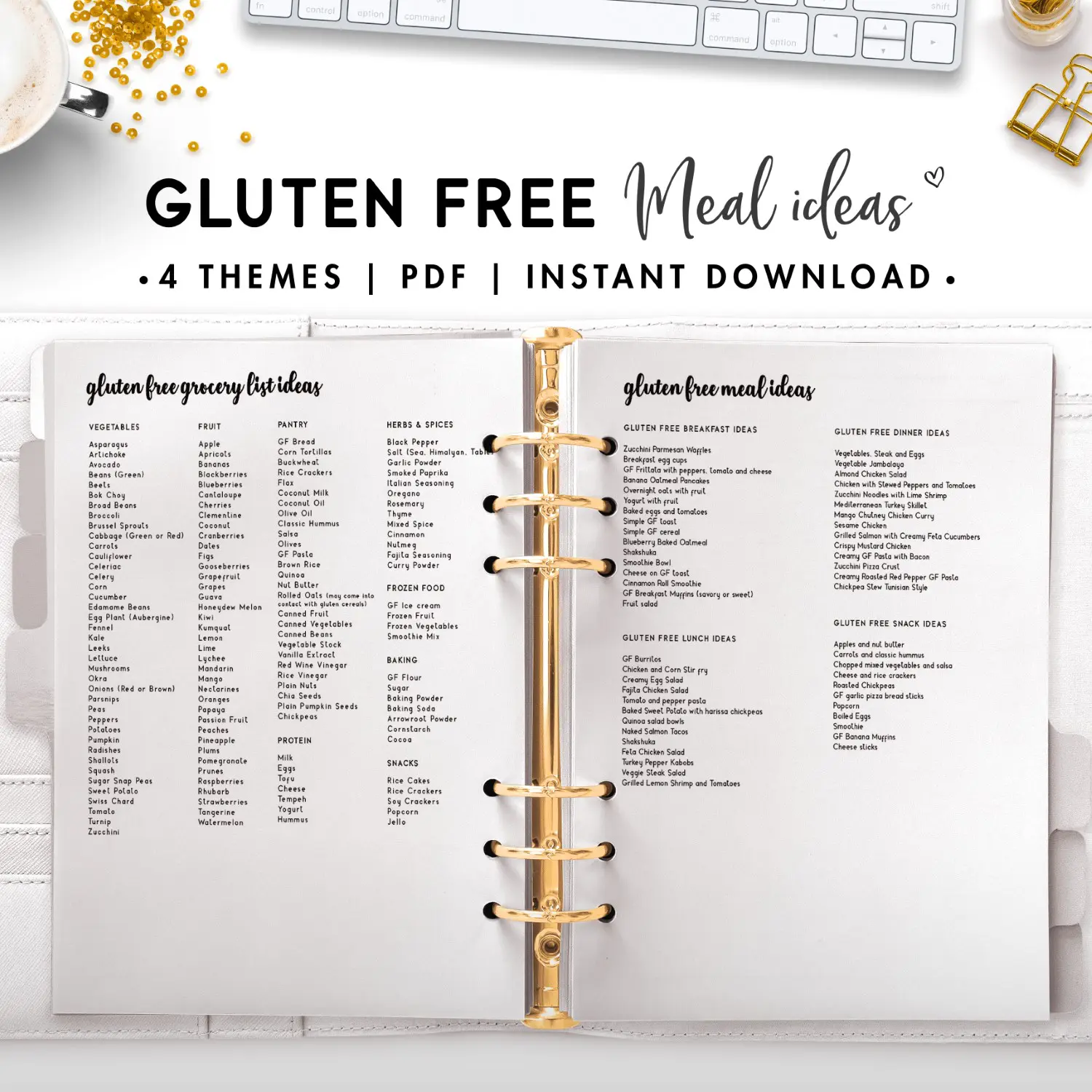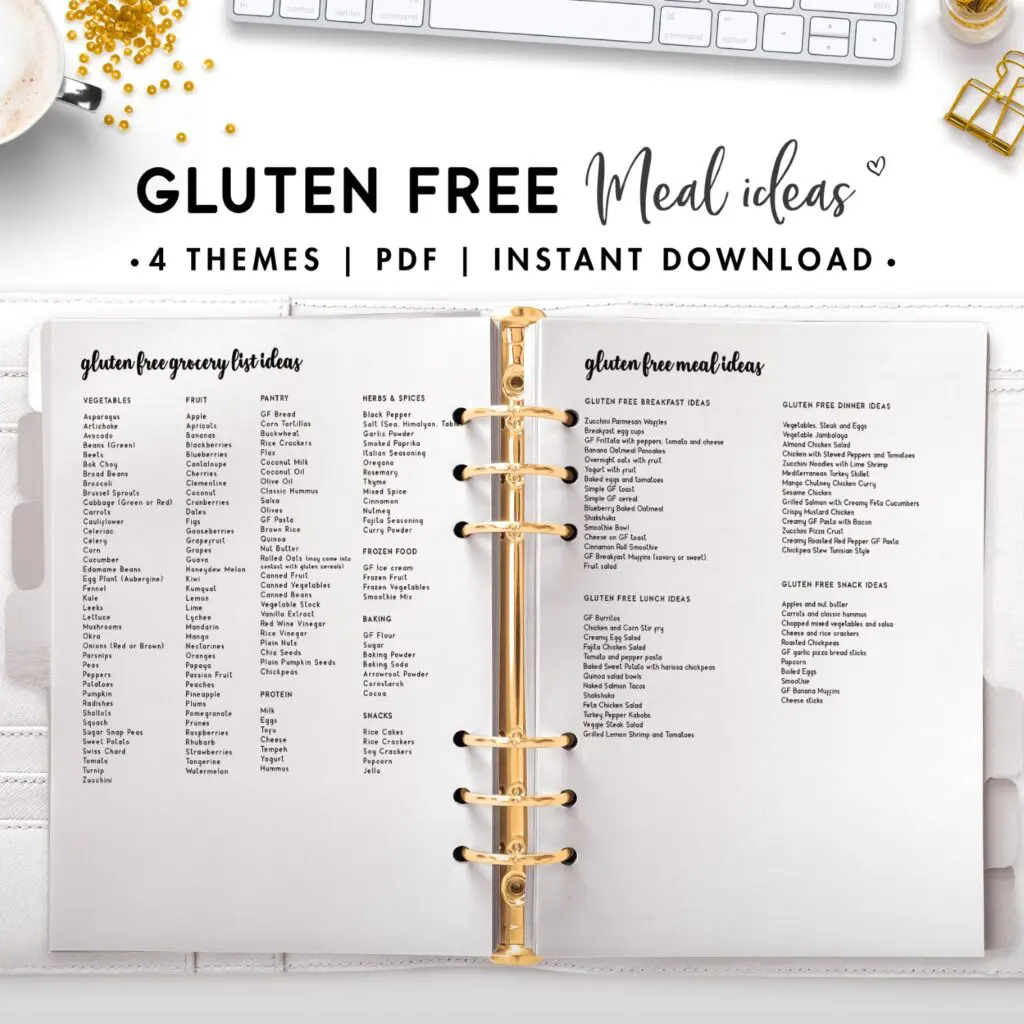 ---
Get a head start with your Keto diet by using this Keto grocery list full of ideas!
Enjoy delicious Keto friendly meals with this keto meal idea list!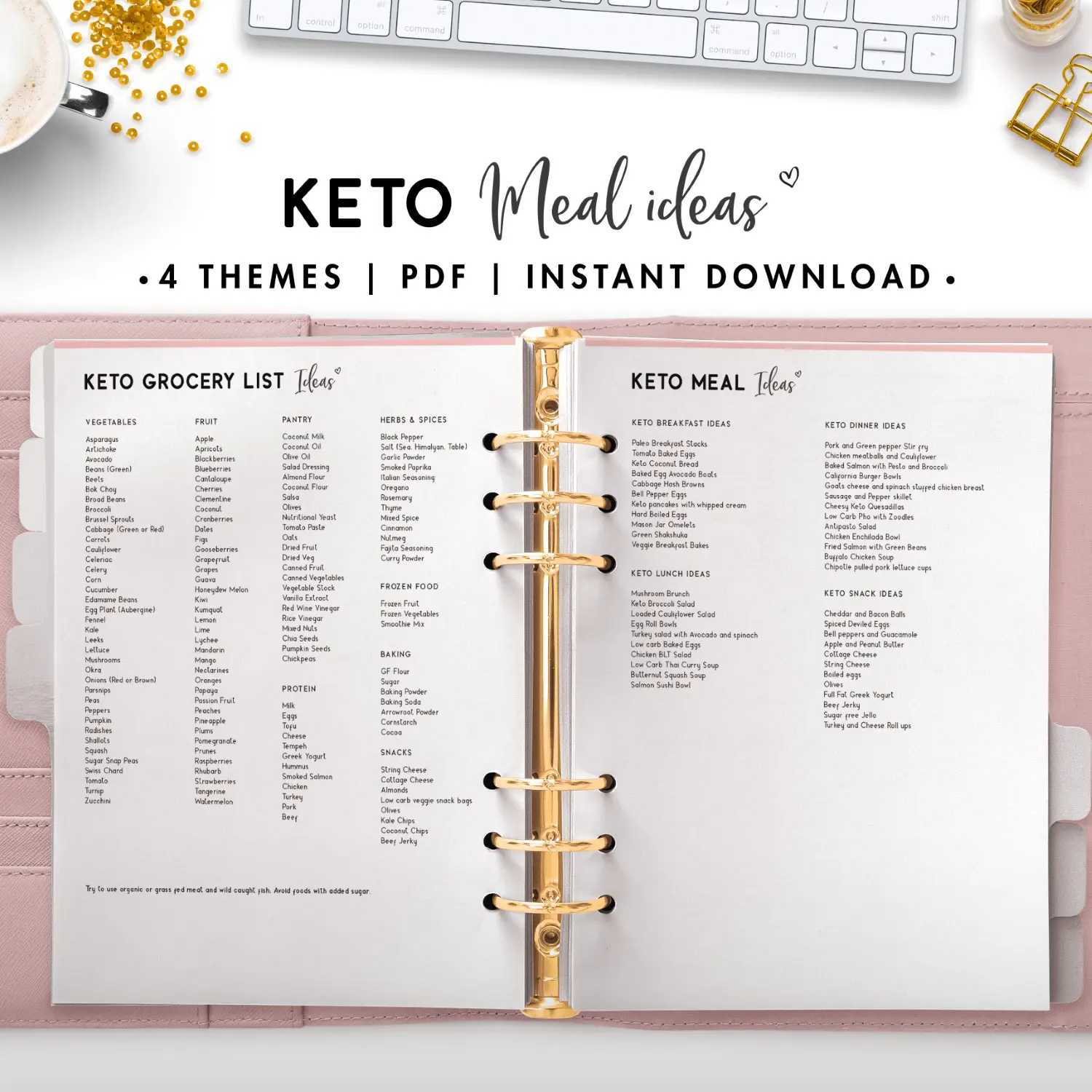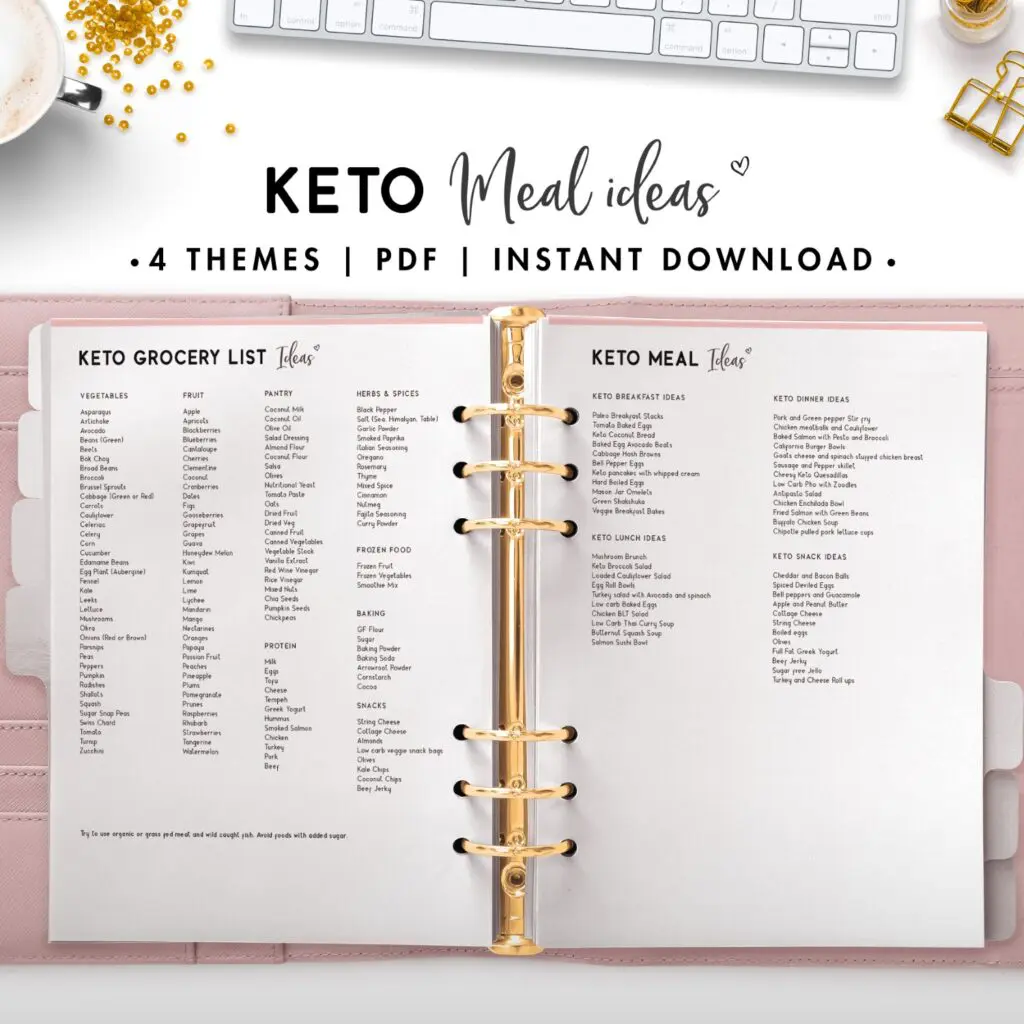 ---
A master grocery list for those who don't have any dietary requirements!
There are some really fun and delicious meal ideas to choose from.
As a mom, I've injected a ton of gorgeous comfort foods in here and some family favorites.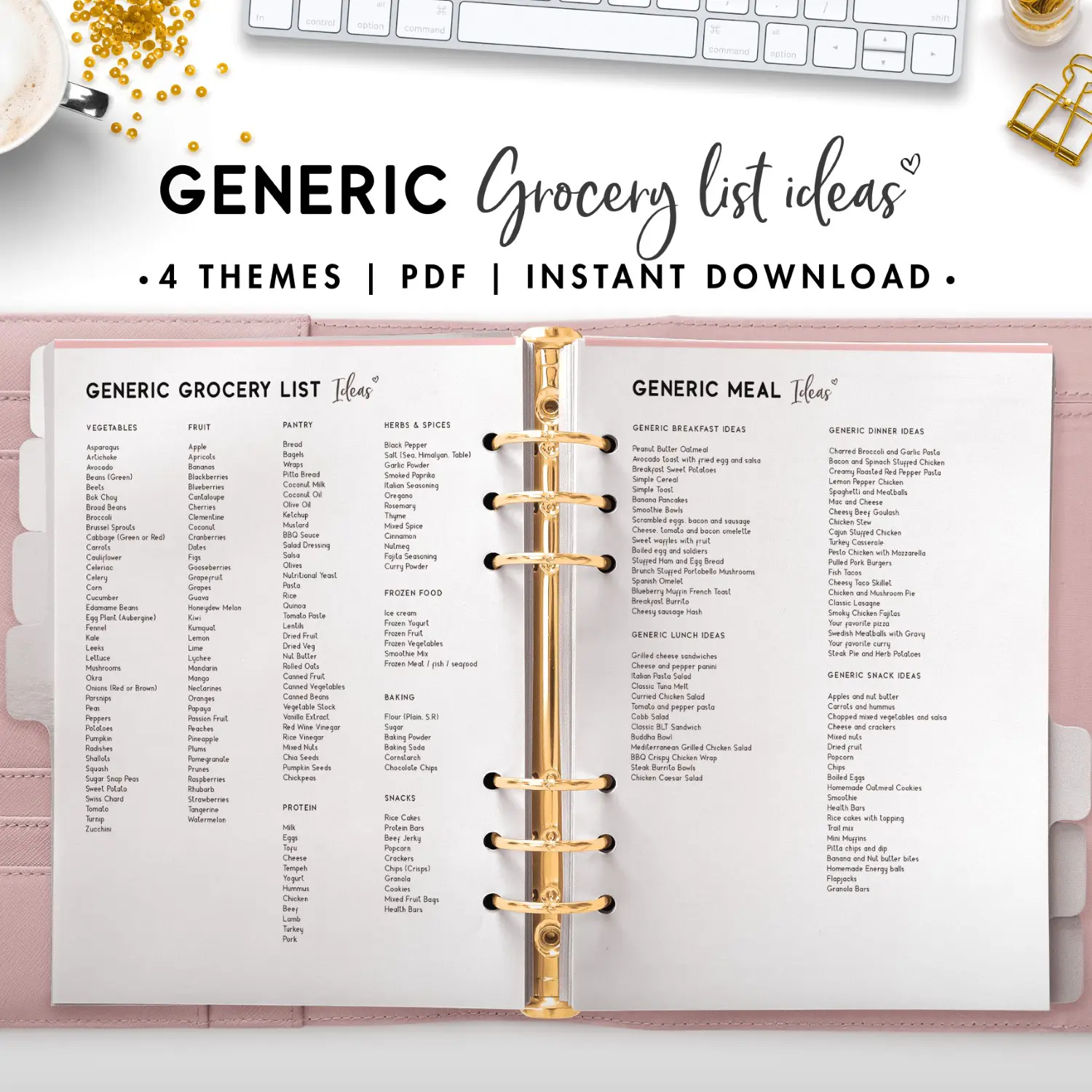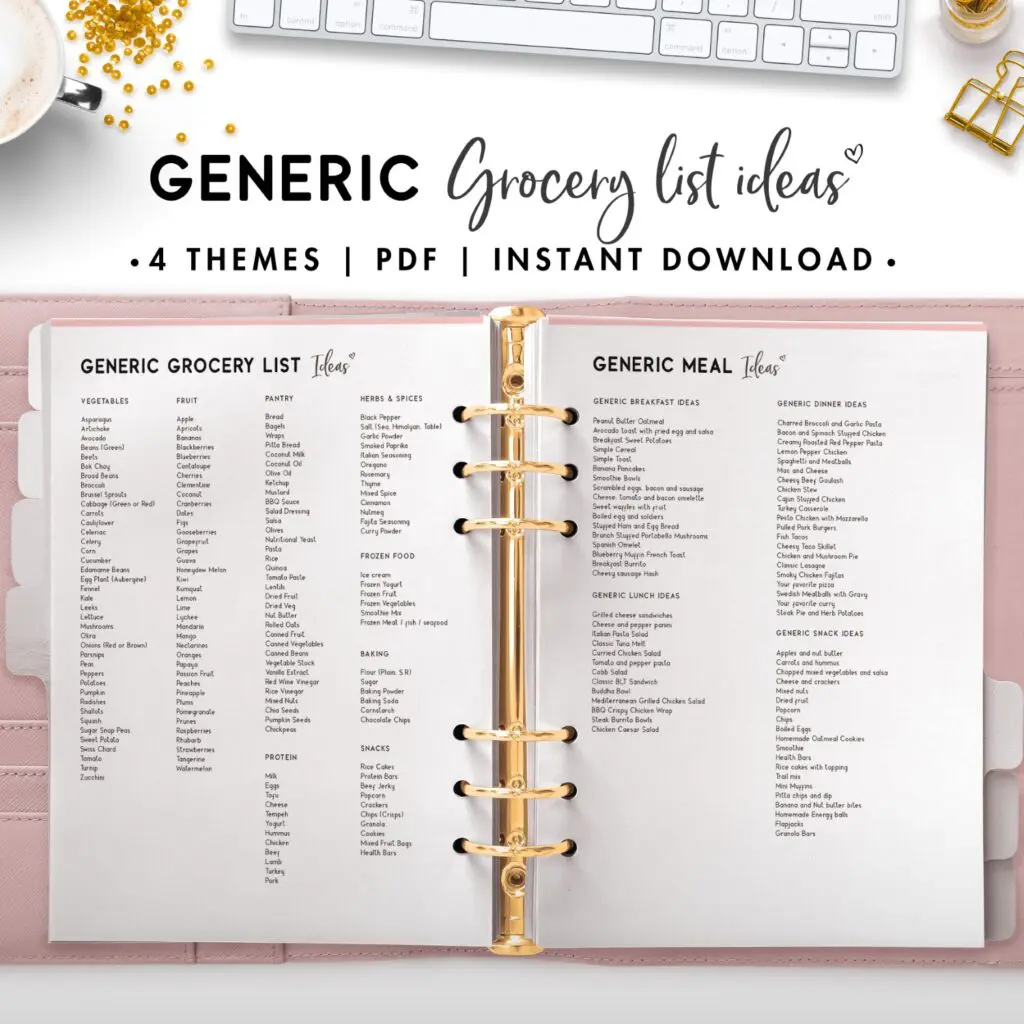 ---
When it comes to food, kids have their own ideas and that's fair enough!
This list features fun and delicious foods that my own kids love to eat!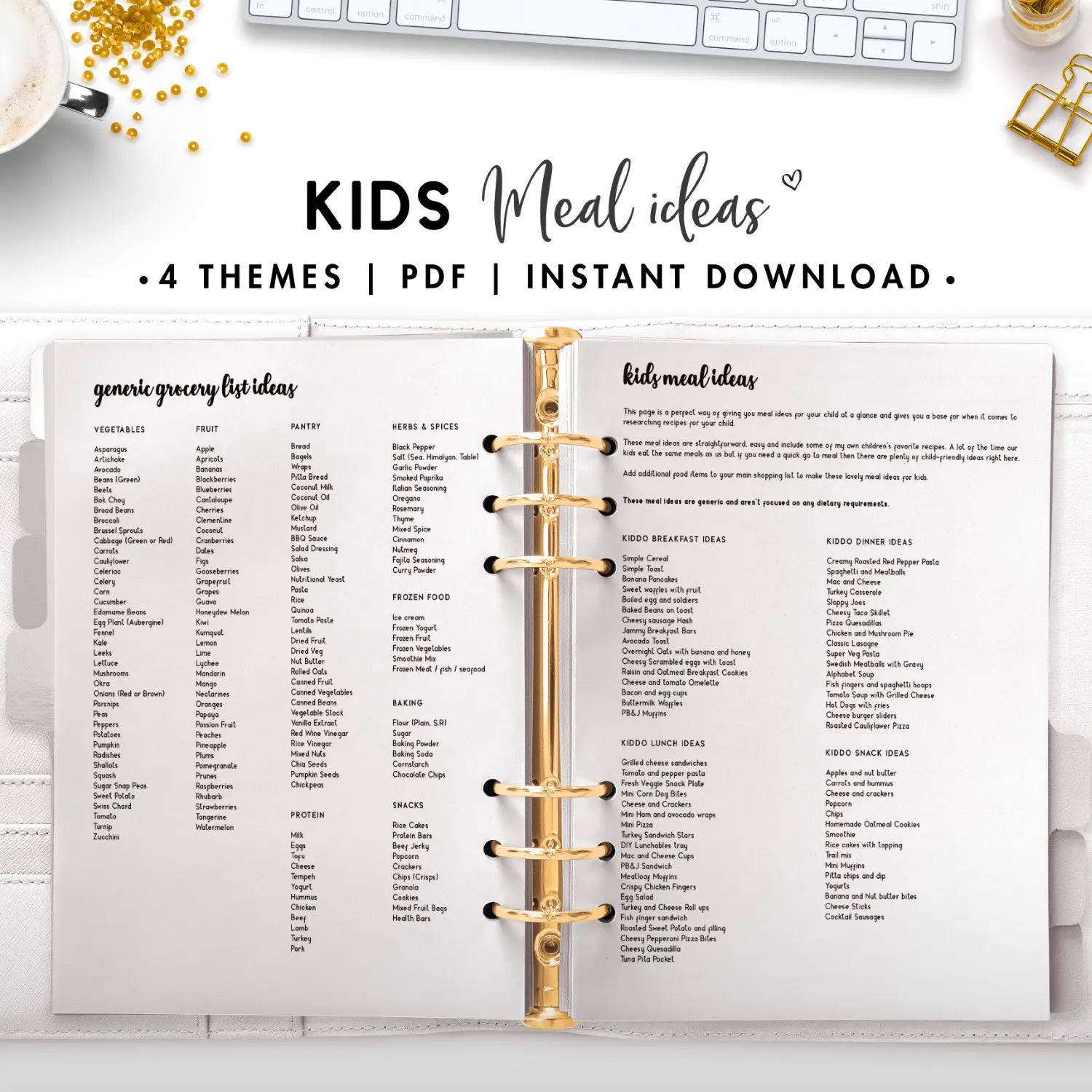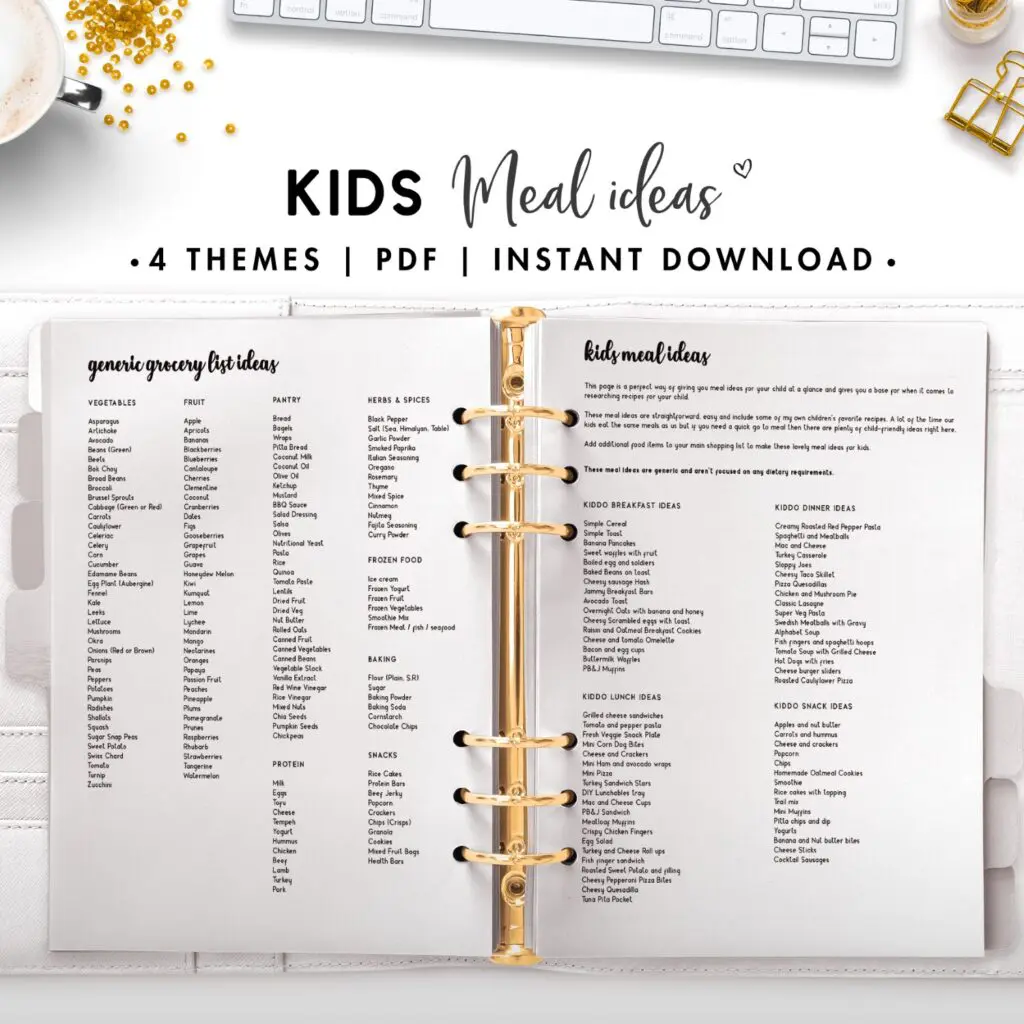 ---
Found a recipe in a book, magazine, or Pinterest? Make a note of it quickly with this recipes to try page!
Save time flicking through the book trying to source your recipe by using this page to point you in the right direction.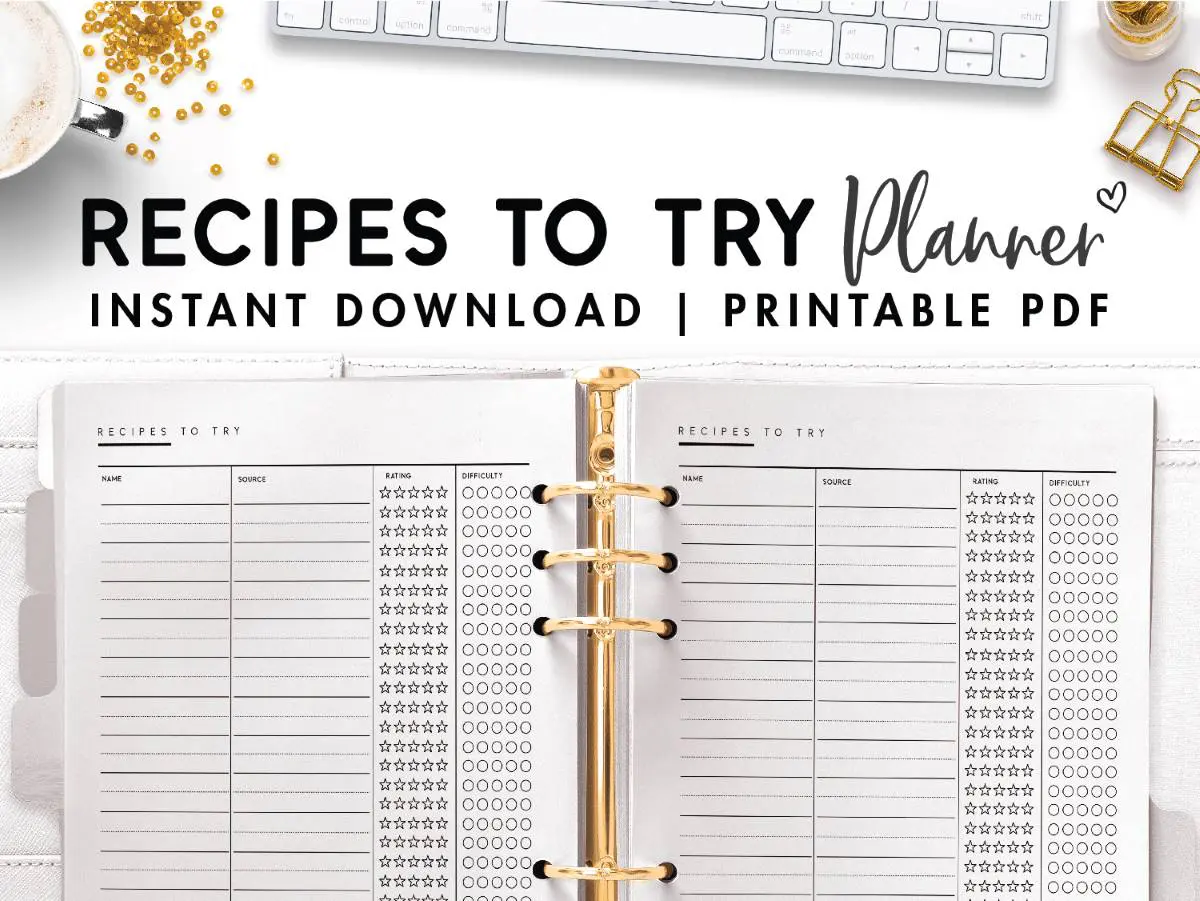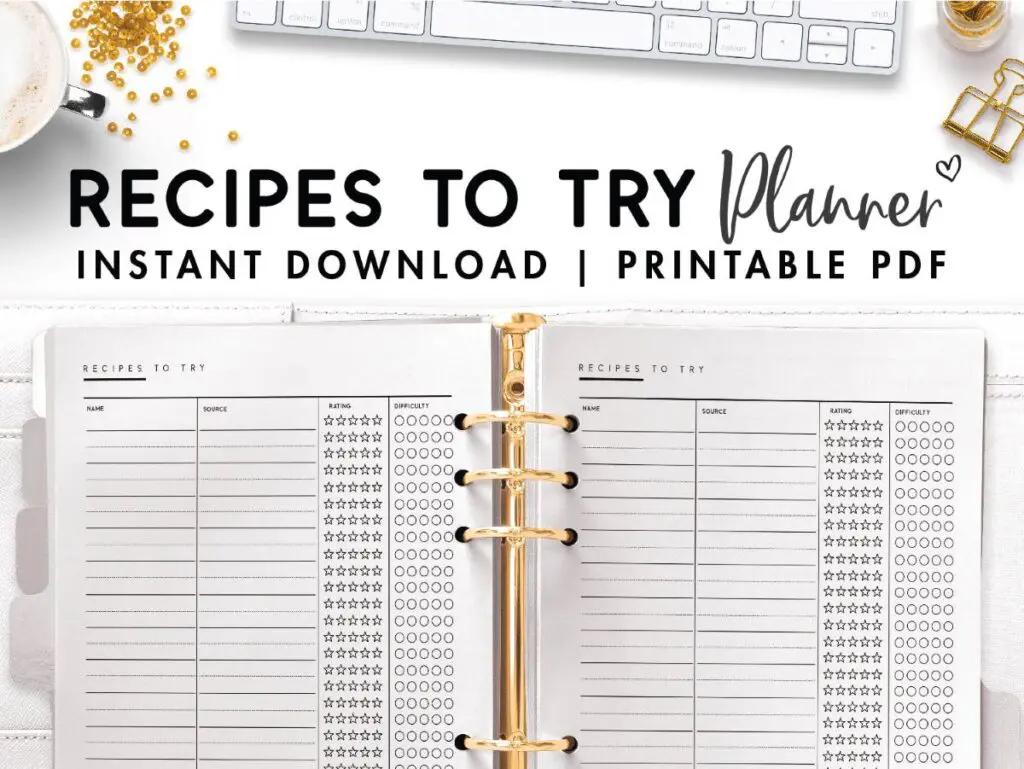 Time to make meal planning easy
I really think these meal planner templates will help change the way you run your kitchen and plan your meals. They're such a great help and there are so many aspects to this planner that you might not have even considered.
These meal planner templates were made to help you meal plan but also help you organize your kitchen and perhaps try new things when it comes to your diet.
You can get this amazing meal planner along with many of our other amazing printables right here on World of Printables.
Get the meal planner templates bundle
You can get each of these printables separately by browsing each printable above or checking out more of our printable meal planner templates.
Alternatively to save time you can get them all in one convenient low-cost bundle which keeps everything together.
This bundle is full of high-quality versions of our templates in PDF format, which look amazing when printed.
Remember to check out the rest of our useful templates, we've got 100's that you'll love for every aspect of your life.
Better yet, check out our Ultimate Life Planner Bundle – you get all of our template bundles in one convenient low-cost bundle, all in the highest quality for you to use forever.
Find 100's more stylish planner templates that you'll love
Some of our recent planner templates. Find many more Printable Planner Templates that will help you get on top of your life with ease. You'll love them.
We think you'll find these very useful:
---
Also, please show your support and share this post!
You can also follow us on Pinterest or Instagram if that's more your thing!
Follow World of Printables on Pinterest for more