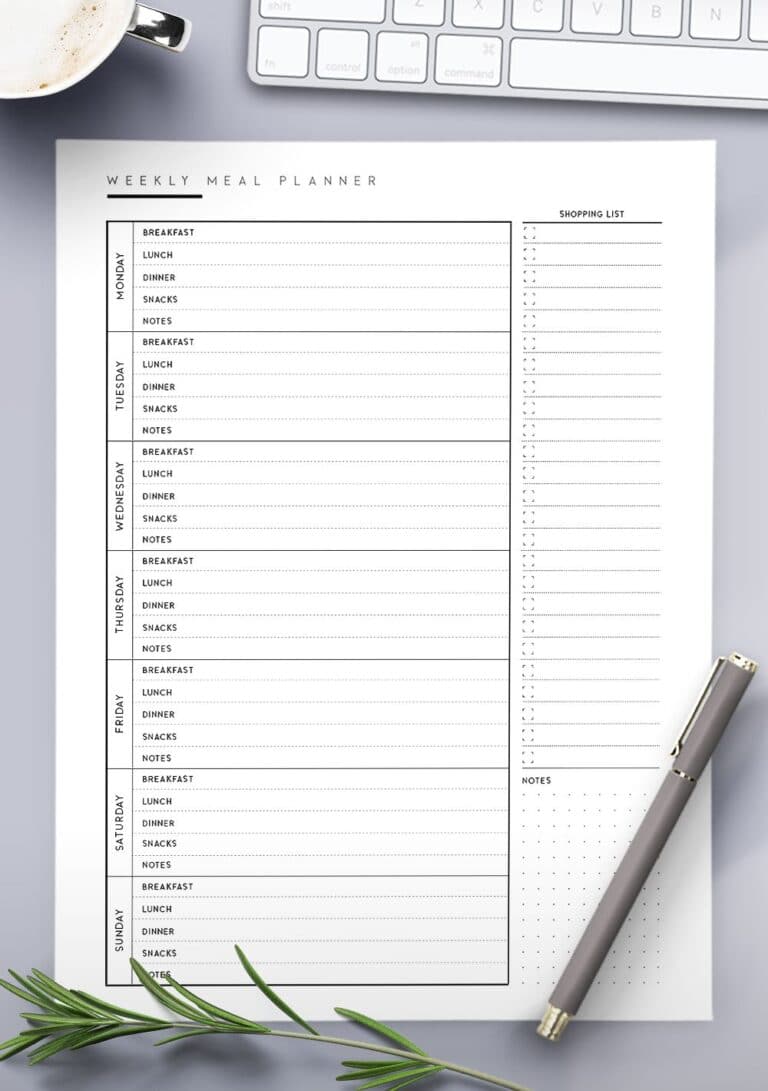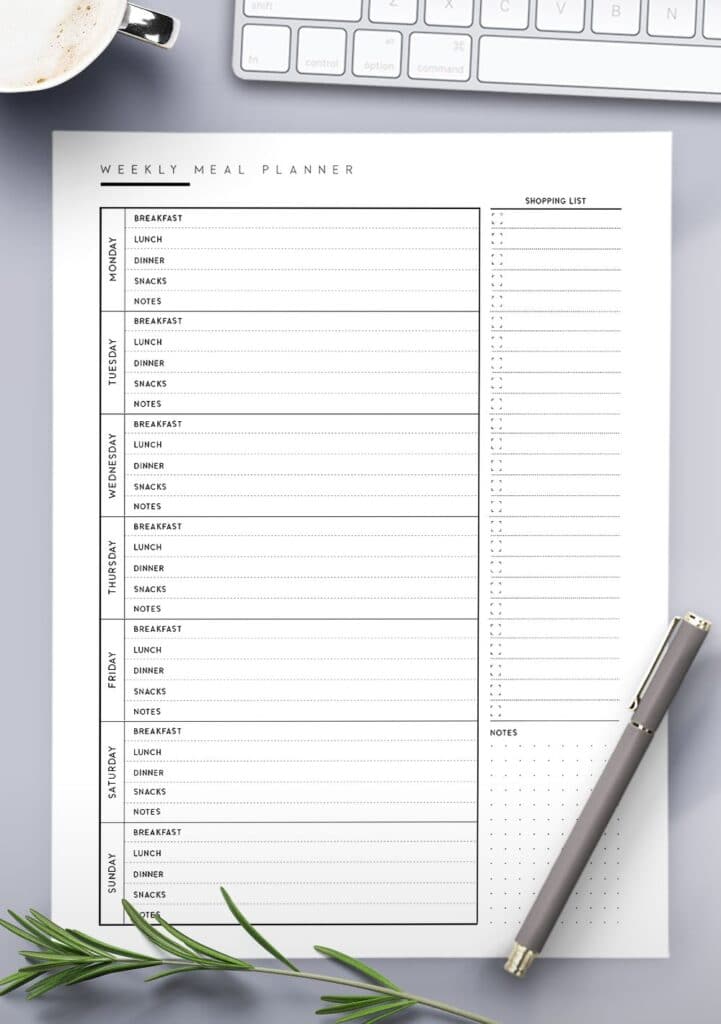 The easiest way of eating better and being organized at meal times each day is by using a free weekly meal planner template like this awesome free planner page that we've designed for you.
If you're one of those people who figure things out at the last minute then why not start being more organized when it comes to mealtimes.
By organizing your meals in advance, you'll definitely be able to plan some amazing meals for the week ahead.
When you plan meals ahead, they're much more likely to be healthier too. It's a win-win!
So if you want to be more organized at mealtimes, then starting with a weekly meal planner template is a surefire way to success.
You'll be less stressed when it comes to preparing meals and it'll also lead to a healthier life,
See what's included in this weekly meal planner template
Monday to Sunday meals
Breakfast
Lunch
Dinner
Snacks
Daily notes
Shopping list
Notes section
As you can see this meal planner template has everything you need to plan meals for every day of the week.
It also looks amazing, so clean and stylish. Who wouldn't want to have this page in their planner!
How to use a weekly meal planner
This weekly meal planner has space to plan each meal for every day of the week so you can plan breakfast, lunch, dinner, and snacks easily. Yes, this is a weekly meal planner with snacks – have you seen one of those before?!
There is also additional space for notes and a shopping list included so you can keep everything together and organized.
You can use the notes section for anything. I use it whenever someone in my family isn't keen on one of the meals that I've made.
This way I'll know when planning the next week's meals what to avoid.
If you are someone who does a weekly shop (which is the best way to stop spontaneous spending and buying unhealthy groceries) then using this weekly meal planner with grocery list will help you stick to a budget, stay healthy and stay on track.
You will know exactly what you need to buy to make your meals for the week.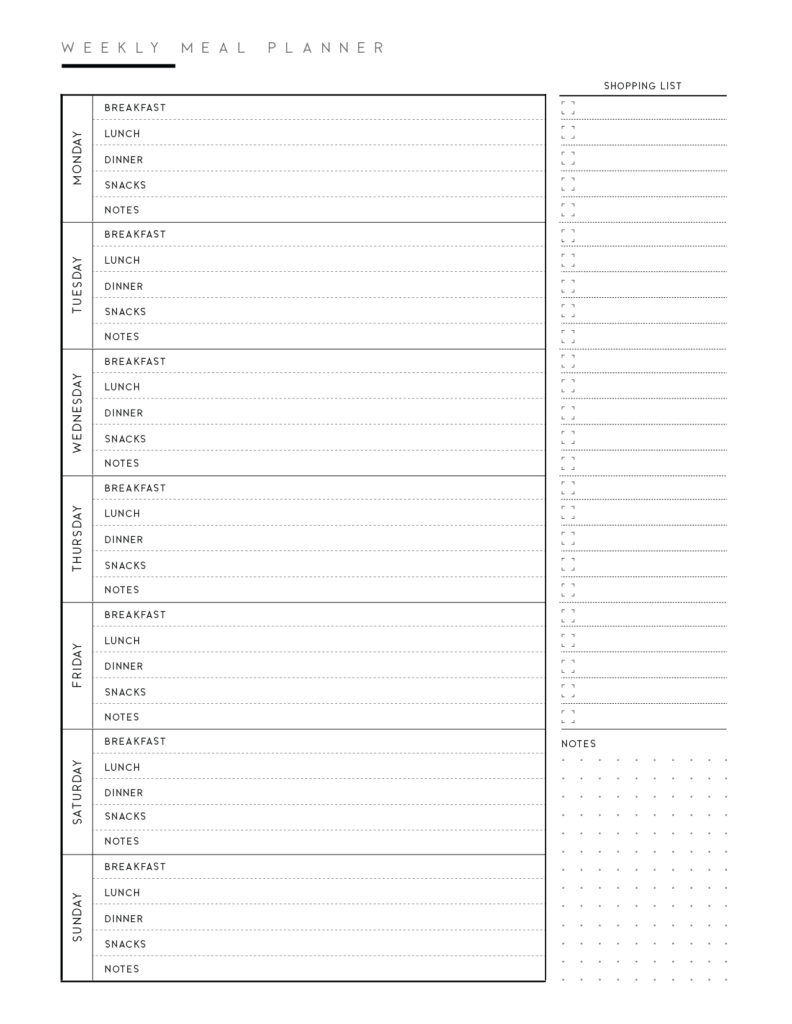 This weekly meal planner comes in four different styles – Classic, Cursive, Soft, and Botanical and you will receive all four when you get it so you can choose a style that suits you!
You can also find the weekly meal planner included in our amazing Meal Planner Bundle.
If you want to take meal planning seriously and really get organized in the kitchen then I really recommend checking it out.
How to make printables look awesome
INSTRUCTIONS
Get the free weekly meal planner template. If you are looking for more awesome free templates then check out our huge range of printable templates.
Print it! – Our templates look so good when printed on this bright paper.
These printable templates are designed as 8.5 x 11 pages. TIP: If you want to print using different size paper then insert this printable into Canva, set your dimensions to any size you want, then save and print, easy! Full steps in this guide.
Get the free weekly meal planner template
To get the free weekly meal planner template for free, open the template image above and save it to your computer.
Alternatively, for the highest-quality version which comes in four different themes, see the button below to visit our product page to get the meal planner template pdf version. Use the coupon code displayed to get it for free.
Remember to look through the rest of our printable templates, we've got thousands of awesome free printables for every aspect of your life and always adding more!
More free meal planner templates
Some of our recent meal planner templates. These will help you organize your meals for the week ahead.
---
Find 100's more stylish planner templates that you'll love
Some of our recent planner templates. Find many more Printable Planner Templates that will help you get on top of your life with ease. You'll love them.
Follow World of Printables on Pinterest for more