Use our weekly meal planner templates to take meal times to the next level! Choose from over 20 stylish templates that you can print and use for free.
These printable meal planners are perfect for helping you take control of your meals and make the most of your time, ingredients, and money.
Weekly Meal Planners
There are so many benefits to weekly meal planning and anyone can meal plan. It's super easy! All you need is a great template, and some recipe ideas to take the first step!
If you meal prep on a daily basis then you will soon enough form a habit of eating the way you want to. Many people use a weekly menu planner because they want to achieve something, whether that's eating healthier, reaching macros, saving time, weight loss, or just trimming a few inches off their waistline.
Using a planned menu can benefit the whole family and kids love getting involved and choosing different options to eat. Making sure kids have the right nutrition is important and allowing them to pick their favorite dish will encourage them to enjoy meal times and try more varied recipes.
Weekly Meal Planner Templates
Plan your meals each week from Monday to Sunday with these weekly meal planner templates. There is enough space to write breakfast, lunch, dinner, and snacks along with notes for the entire week.
You'll also find space for a weekly shopping list and any relevant notes.
To use these printable weekly meal planner templates, simply choose your favorite templates below and save them to your computer, then print!
These weekly meal planner templates can be printed or imported into your favorite digital planner.
Using a menu template can help you enjoy a balanced diet and create delicious meals that can help you incorporate important, various ingredients such as grains, carbs, protein, salad, and dairy and be better with your portion control.
There is an added shopping list included on the meal plan template so you can see at a glance the food items you need for the week.
If you would prefer a separate grocery list then we have a popular collection of printable grocery list templates for you to use.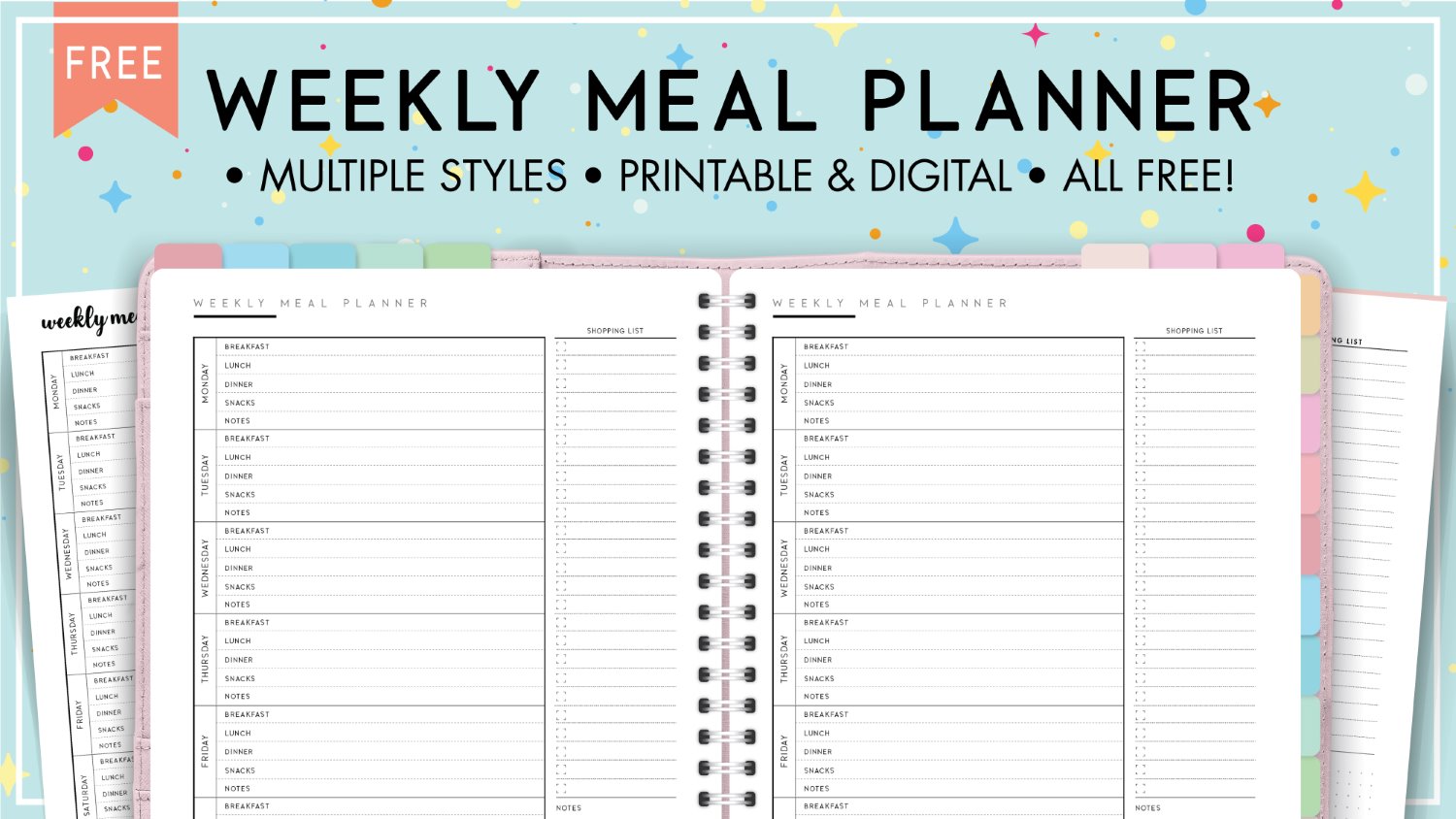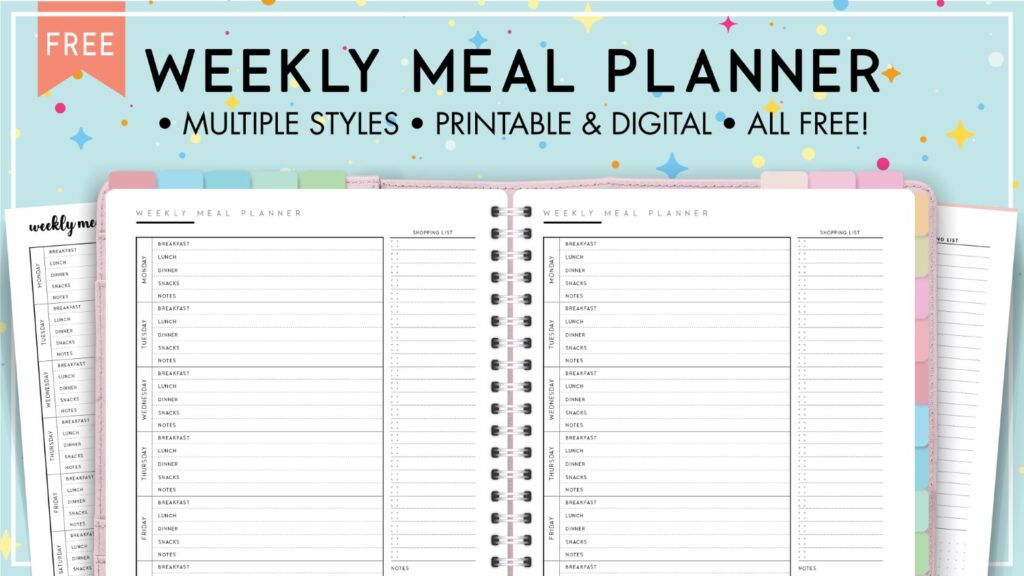 How to use a weekly meal planner
These weekly meal planners have space to plan each meal for every day of the week so you can plan breakfast, lunch, dinner, and snacks easily. Yes, we've created a weekly meal planner with snacks – have you seen one of those before?!
There is also additional space for notes and a grocery list included so you can keep everything together and organized.
You can use the notes section for anything. I use it whenever someone in my family isn't keen on one of the meals that I've made.
This way I'll know when planning the next week's meals what to avoid.
If you are someone who does weekly shopping (which is the best way to stop spontaneous spending and buying unhealthy groceries) then using a weekly meal planner with a grocery list will help you stick to a budget and stay healthy.
You will know exactly what you need to buy to make your meals for the week.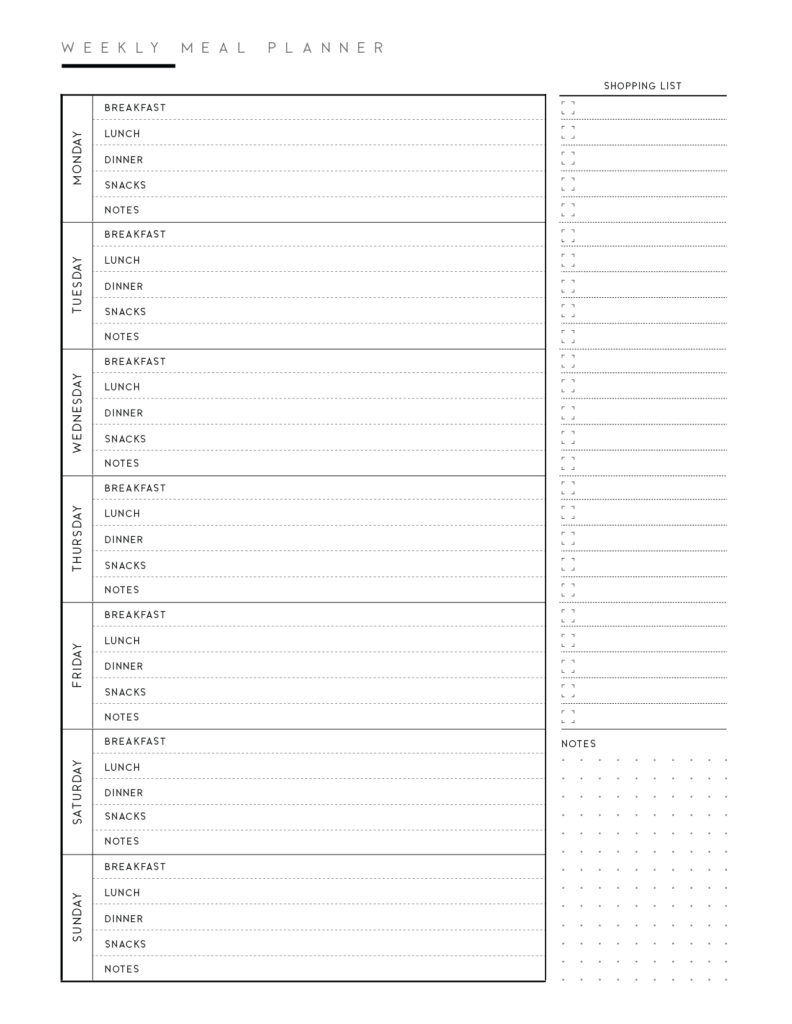 More printables for the kitchen
We have fridge, freezer, and pantry inventories that will help make food prep a breeze. Meal planning isn't just about saving time, it's about saving money too, so make sure you keep an eye on what's in your kitchen before you head to the grocery store.
You will also find these printables useful for your kitchen binder:
Daily Meal Planners
Dinner Meal Planners
Favorite Recipes
Food Journals
Kitchen conversion charts
Monthly meal planners
More free meal planner templates
Some of our recent meal planner templates. These will help you organize your meals for the week ahead.
---
You might also like…
Did you know we have thousands of planner templates that you can also use for free?
More awesome free printables and templates
Why buy printables, planners, and templates when you can save money and get high-quality ones for free?!
We've got a huge range of templates for every aspect of your life. Be sure to check them out and find the ones you need.
Our free printables and templates are the perfect option for adding that little bit extra to your planner, bullet journal, or binder. You can even import them into your favorite digital planner.
Be sure to grab as many freebies as you can while you're here.
We think you'll find these very useful:
Many more planner templates are available to use and print for free.
---
Follow World of Printables on Pinterest
COPYRIGHT
These designs are for personal use only and are the copyright of World of Printables – you cannot redistribute, reproduce, or resell, although you can link back to our website.