Are you looking for printable grade trackers for your student planner or school binder?
Choose from over 10 styles of grade tracker templates that you can print for free. We have a great collection of useful and cute templates to help you keep a track of your grades this year!
Our grade trackers are perfect for students in high school, college, or university.
You will find so many different styles and variations of grade trackers, perfect for your own unique style! Choose from simple designs for a minimalistic look, bright and colorful templates, and even bold themes.
Grade Trackers
These grade tracker templates are a great beneficial tool for students of all ages and levels. A student can see at a glance what grades they have for each class.
Teachers can also give these out to their pupils to help them keep track of their own grades.
Please feel free to use these grade trackers in the classroom.
Choose from any of these grade tracker templates, and open full size before saving it to your computer for printing. You can also import these into your favorite digital planner.
What is a grade tracker?
A grade tracker is a simple pre-designed template that helps students keep track of their progress throughout their academic year, by recording their grades for each class.
Grade trackers include columns for the course name, assignments, due dates, grades, and notes for other relevant information.
Students of all ages can benefit from using a grades tracker. It can be particularly helpful for high school and college students who need to keep track of their grades for each class.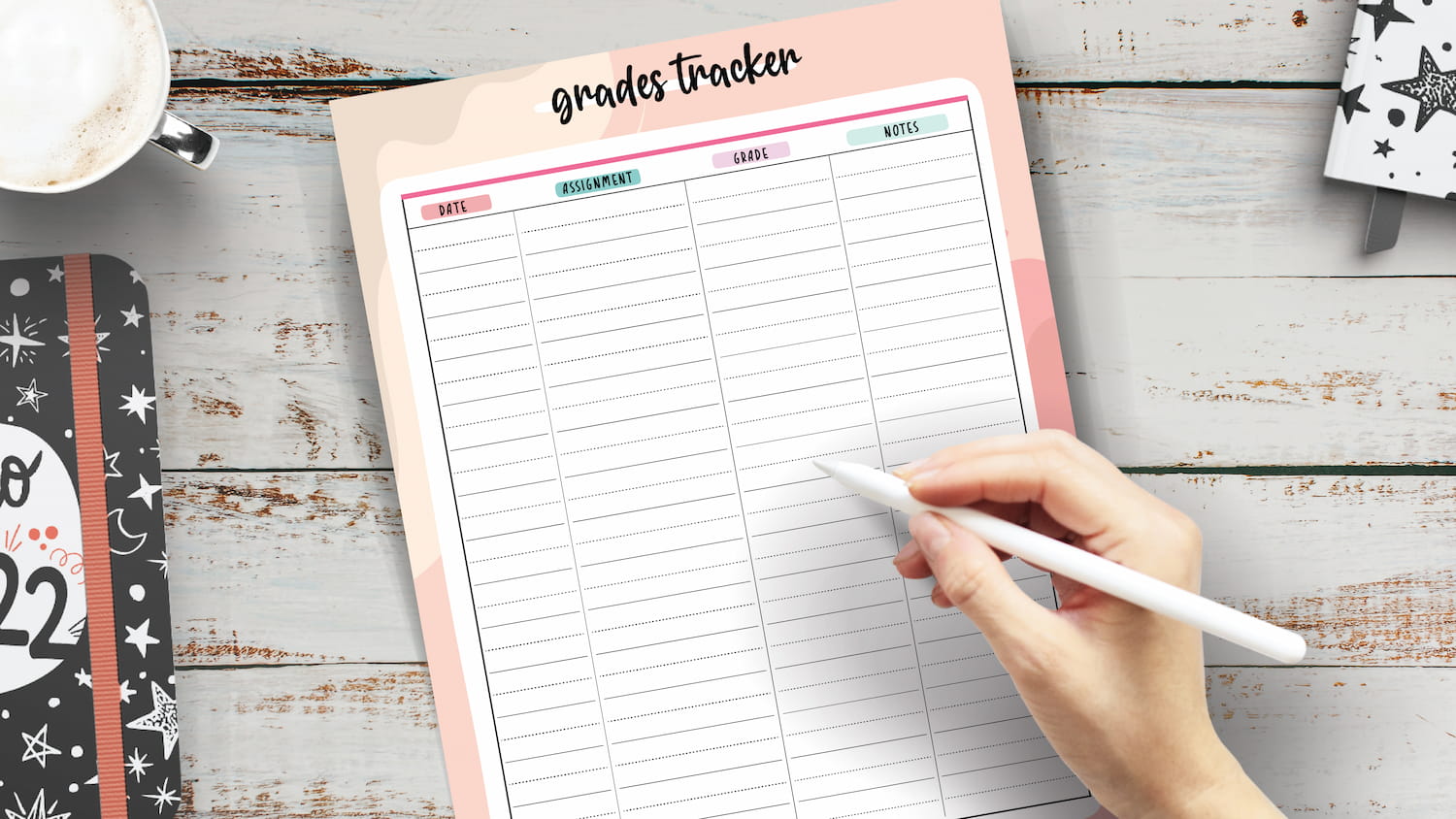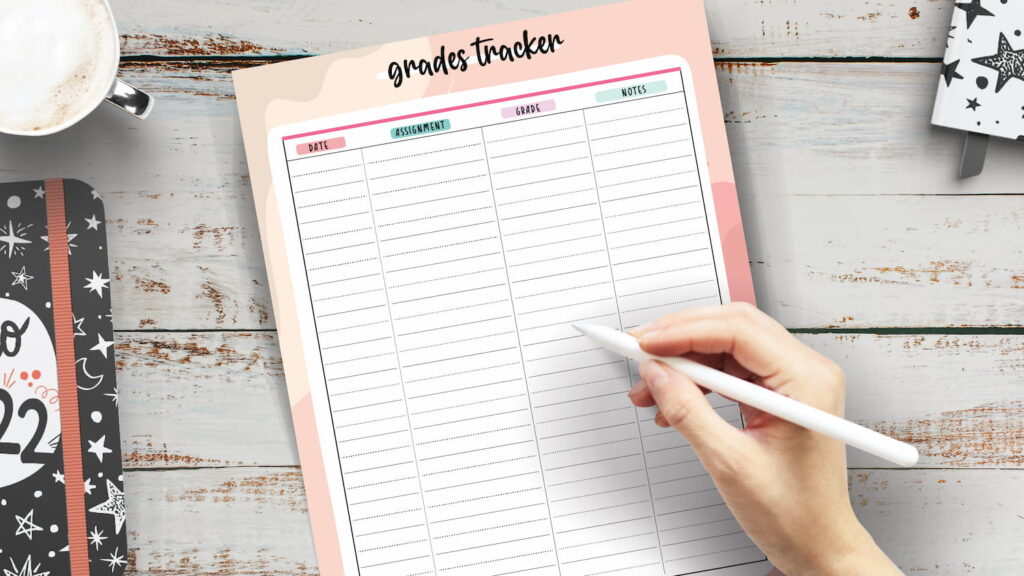 The benefits of using a grades tracker include:
Saves time: A grades tracker template means that you don't need to create a grade tracking system from scratch, which saves students time and effort to focus on other things.
Easy to use: Templates are designed to be simple and user-friendly to write and track their grades.
Increased awareness of academic progress: A grades tracker helps students see their grades and assignments in one place while showing their academic progress.
Improved time management: By keeping track of grades, assignments, and due dates, students can manage their time more effectively and reduce procrastination.
Provides a clear overview: A grades tracker template provides students with an overview of their academic progress while helping identify areas where they might need to focus more of their attention.
Increased motivation: Students can see their progress, which can help them stay motivated and engaged in their classes.
Improved communication with teachers: A grades tracker can assist students in communicating their academic progress and any challenges they may be facing with their teachers more effectively.
Overall, using a grades tracker can be a valuable way for students to stay organized, reach their goals, and achieve academic success.
Looking for more free educational resources?
We have an amazing collection of printable educational resources for you to use:
You'll also like…
Looking for a teacher planner for the new term? Then look no further!
We've created this 64-page teacher planner, that's full of useful pages to help you make the most of your year.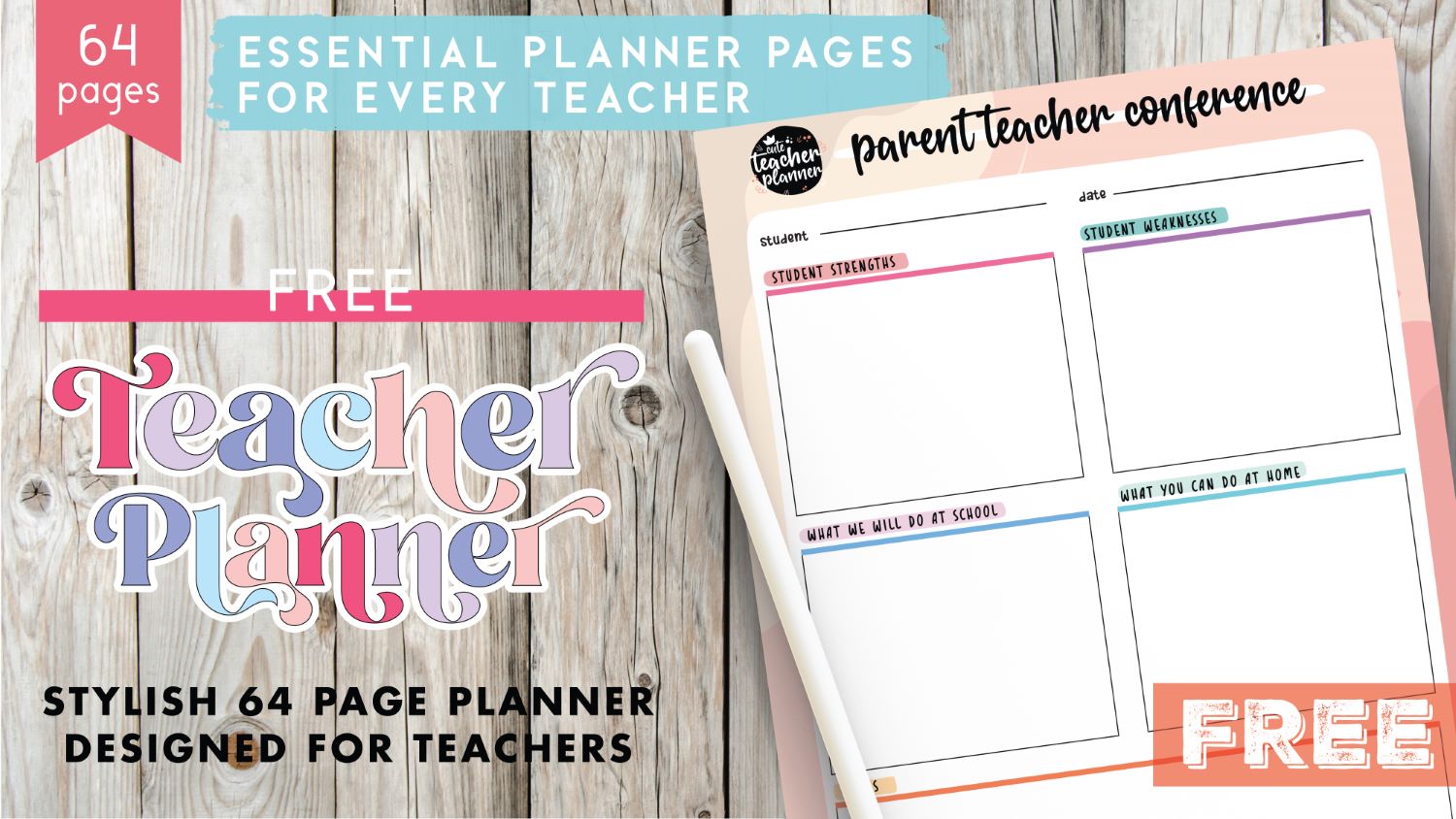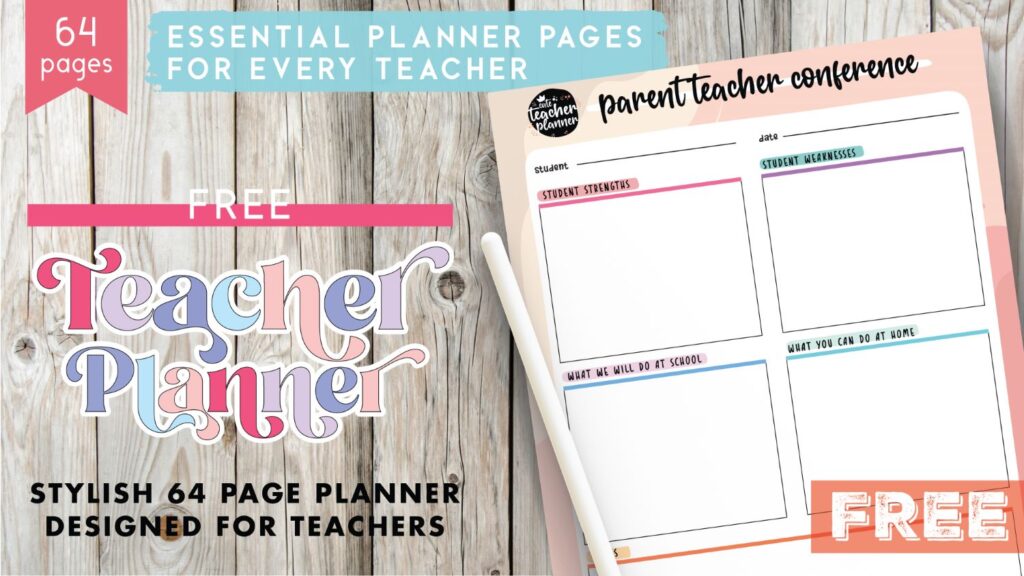 You'll find useful pages such as lesson plan templates, class schedules, assignment trackers, assessment trackers, class roster templates, classroom seating charts, and much more.
You'll also find more familiar planner pages to help you with your day to days, such as daily and weekly planners, to-do lists, and many other pages to help you stay organized.
Best of all, it's totally free! Simply print, or import into your favorite digital planner app, and make the most of the school year ahead!
We think it is one of the best teacher planners available, so give it a try and see for yourself!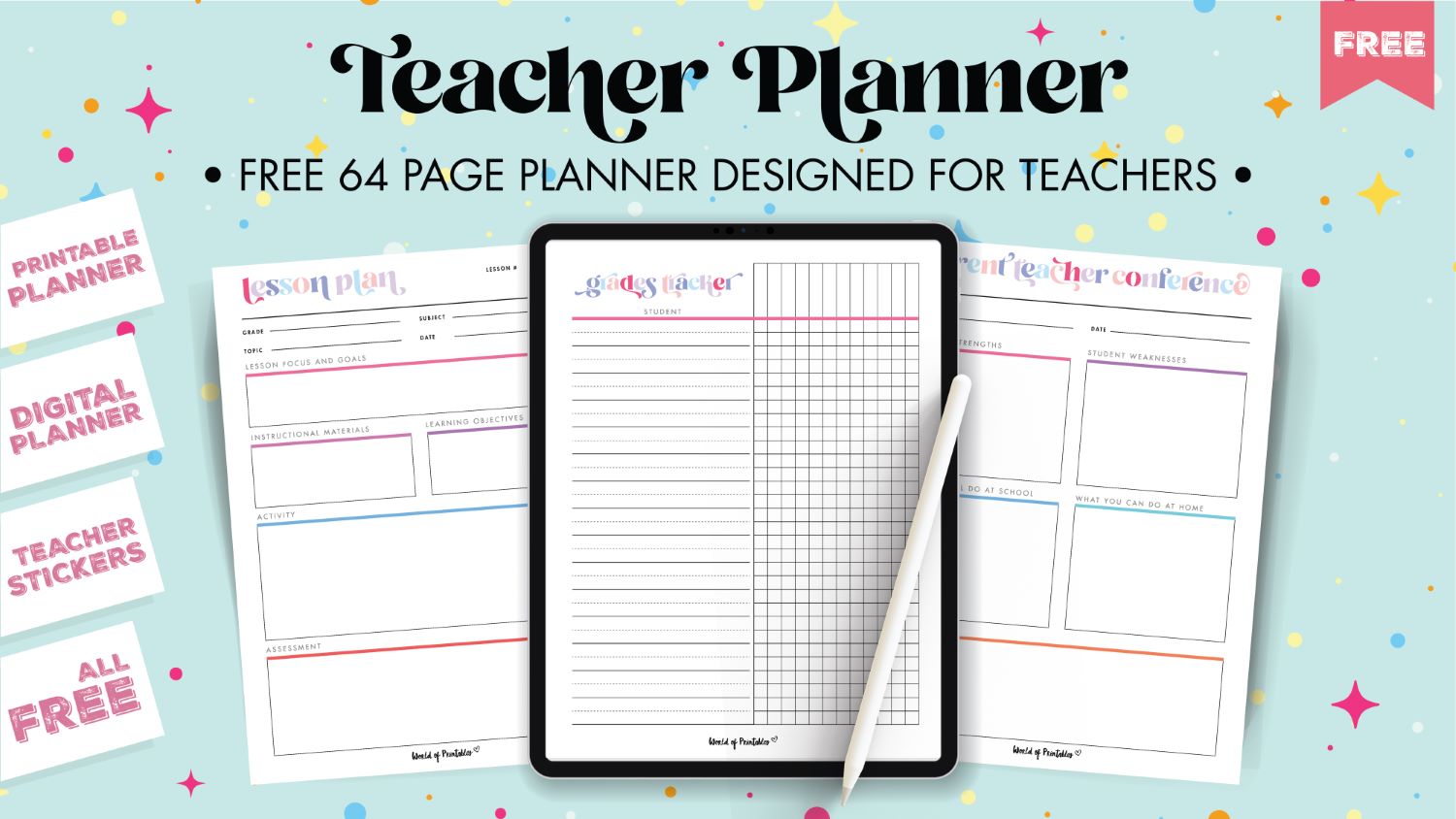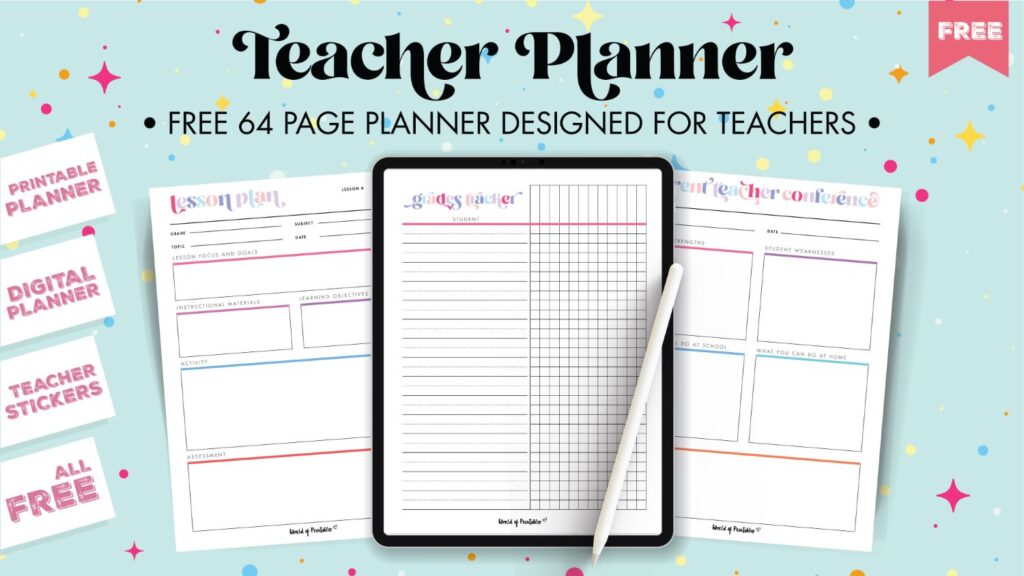 More awesome planners for you to enjoy
Every week we create a cute set of printables, planners, and digital planners to help you make the most of the things that matter. Our creations are loved by many and are free for you to enjoy.
If you love these grad trackers and would like more awesome templates for school, then check out our latest creations that you can use right now for free.
We think you'll love these:
Make the most of your new lesson plan templates!
I really hope you use and enjoy our free teacher planner. Be sure to recommend it to your friends! Follow us on Instagram or Pinterest as it's a great way to show your support and to keep updated with all of our latest freebies.
Follow World of Printables on Pinterest
COPYRIGHT
Our creations are for personal use only and are the copyright of World of Printables. You cannot redistribute, reproduce, or resell, although you can link back to our website.