Learning how to draw lips is one of the things that you can do to improve your face drawing skills. Along with eyes, lips are what help define faces, so learning to draw lips can make your drawings look even more realistic.
Our drawing activities are designed to help you learn to draw by practicing.
Here you will find a selection of lips that you can learn to draw, some lips are closed and some are open to give you an understanding of their differences when drawing them.
This is a great drawing activity that you can do to learn a new skill while helping you relax too. Our drawing and coloring activities are a great way of passing the time and people find them very enjoyable to do and very relaxing.
These learn-to-draw activities are a great way to learn to draw lips for beginners. Lip drawings look artistic and they're quite easy to do too.
Step by step practice sheets to learn drawing with ease
You don't need to learn how to draw lips step by step, as this grid method helps you to learn to draw lips by practicing. All mouths are different and unique to each individual, so once you've practiced and learned lip drawing skills, you'll be able to get creative by changing them to look different each time you draw them and they'll all look realistic.
When you use the included practice sheets, you'll be able to draw realistic lips soon enough from memory.
We've included different types of mouths for you to learn to draw so you can pick your favorite and practice. As well as learning how to draw lips, you'll also learn how to draw teeth too and you'll have a good understanding of how to draw a mouth which is a skill you'll be able to keep for life.
You'll then be able to get creative and draw lips in different styles that are unique to you. When you're finished you can add a touch of color to the lips for an even more realistic finish.
You'll learn how to draw lips easily with these free drawing activities.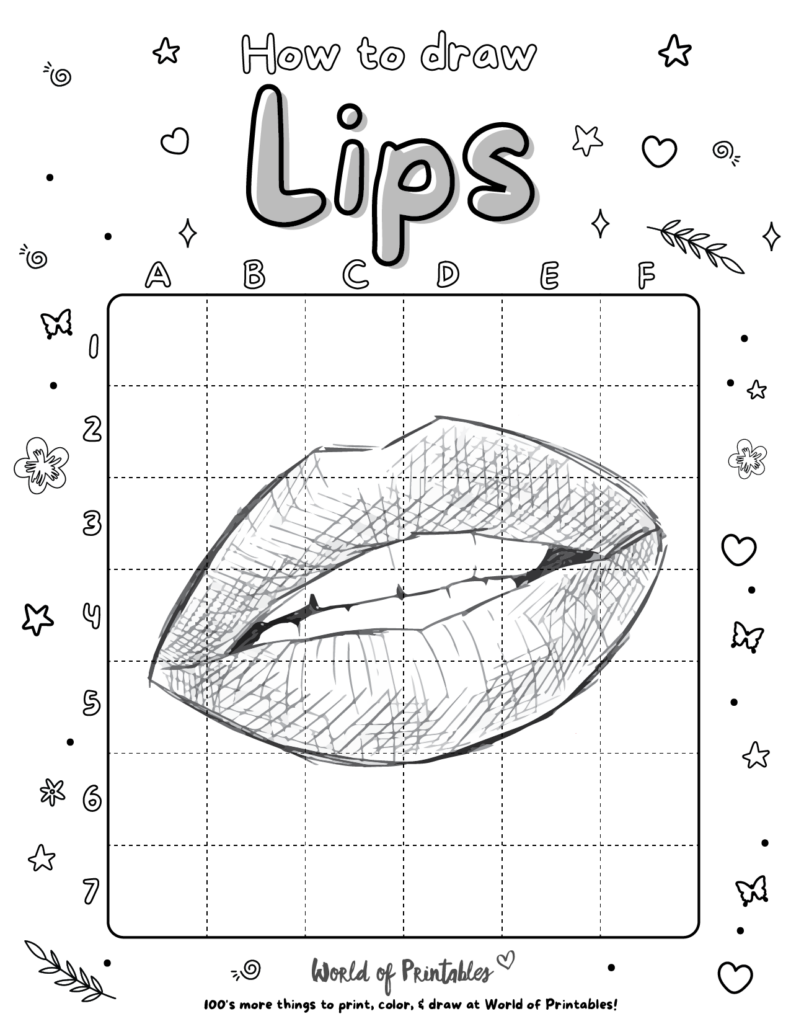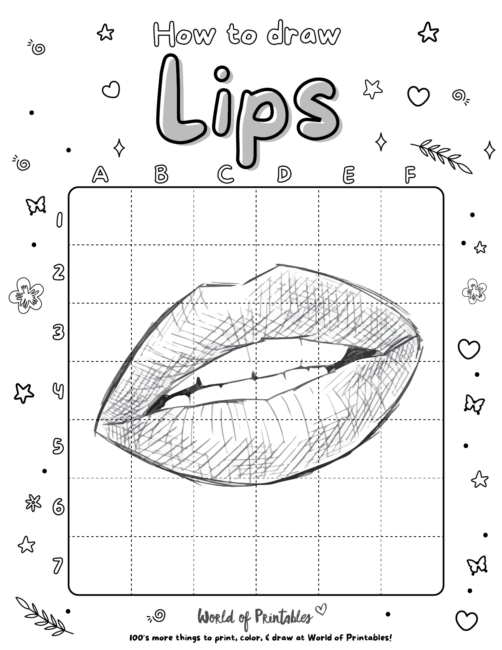 So print these drawing activities, look out some pencils and start practicing drawing lips. It's a relaxing activity and one that helps you develop a new skill.
How Do You Draw Lips Step By Step
Grid method drawing has been done for hundreds of years. Many artists have used the technique, including famous artists.
So how do you draw lips? Well to learn how to sketch lips and mouths easily, simply pick your favorite lips from the ones available here. This isn't a tutorial on how to draw lips, but instead, you'll learn by practicing which is a far better way to learn how to do things.
Make sure you get the practice sheets at the bottom of this page as you'll need to print a few of these for this drawing lesson and our other how to draw activities. We have a massive range of subjects for you to learn to draw and all of them use the same practice sheets.
To draw lips you simply use the empty practice sheet and copy the lips or mouth from the grid guide on to the practice sheet.

It's best if you use a pencil to sketch the lips faintly at first and then use an eraser to rub out any mistakes. When you're happy with the outline of the lips or mouth, start doing the details by replicating the lines in each grid square.

When you've finished sketching the lips you can draw over it with a pen to finalize and erase any remaining pencil marks.

When you're done drawing the lips, you can even add color to the lips with your favorite coloring pencils or pens.
TIP: You can simply practice drawing lips directly on the lips activity sheet first before copying to the empty practice sheet. This helps you get familiar with how lips are drawn before you really begin practicing.
The more you practice drawing lips the better you will get and you'll soon be able to draw lips and mouths without the practice sheet.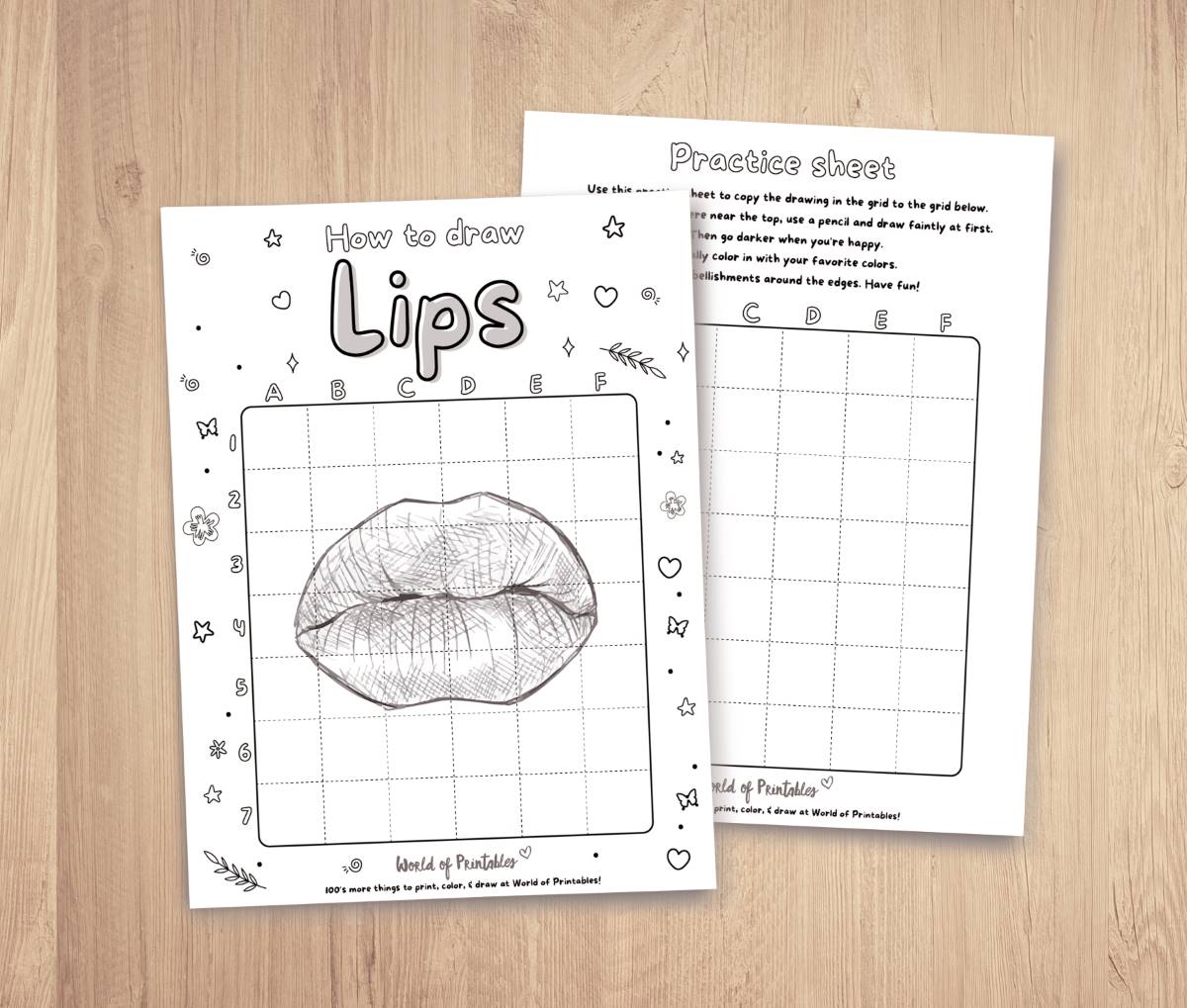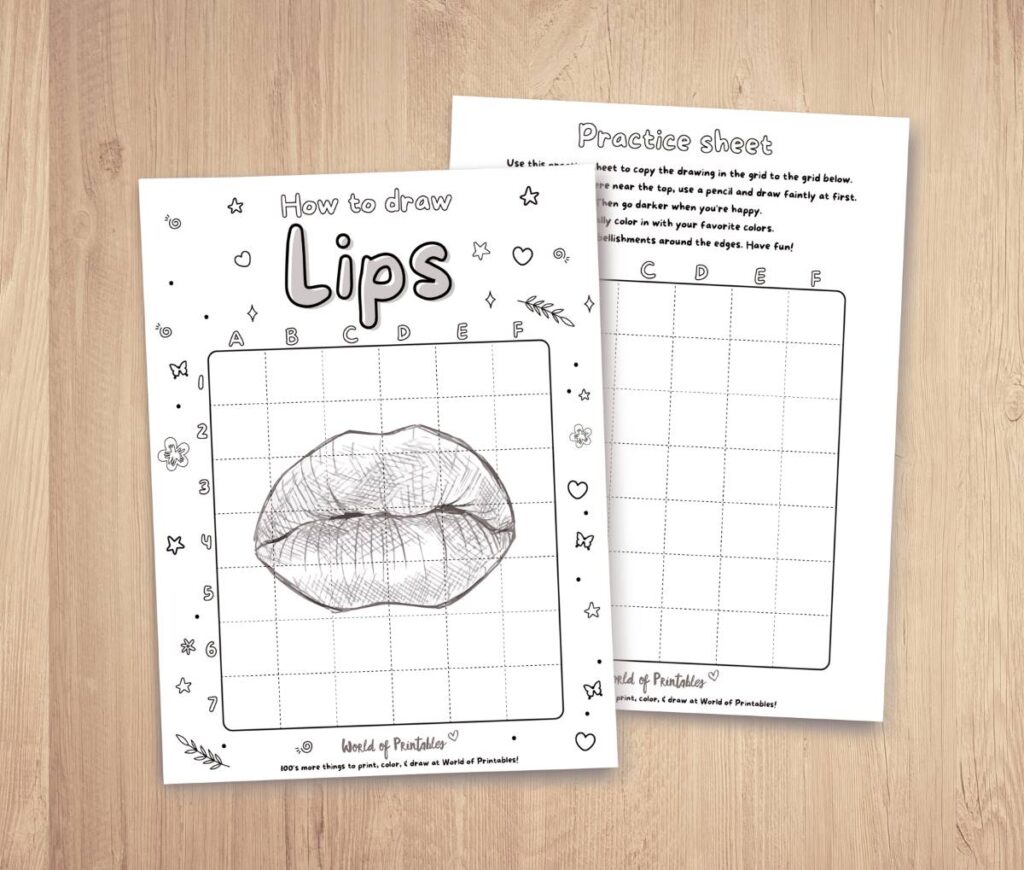 Print your favorite lip drawing practice sheet below
Simply click your favorite printable lips or mouth image from the selection we've displayed here to enlarge it and then save it to your computer before printing.
Alternatively, click the links below each lips image, you can also then drag to your desktop which many people find easiest.
How To Draw Lips Step By Step Activity Printables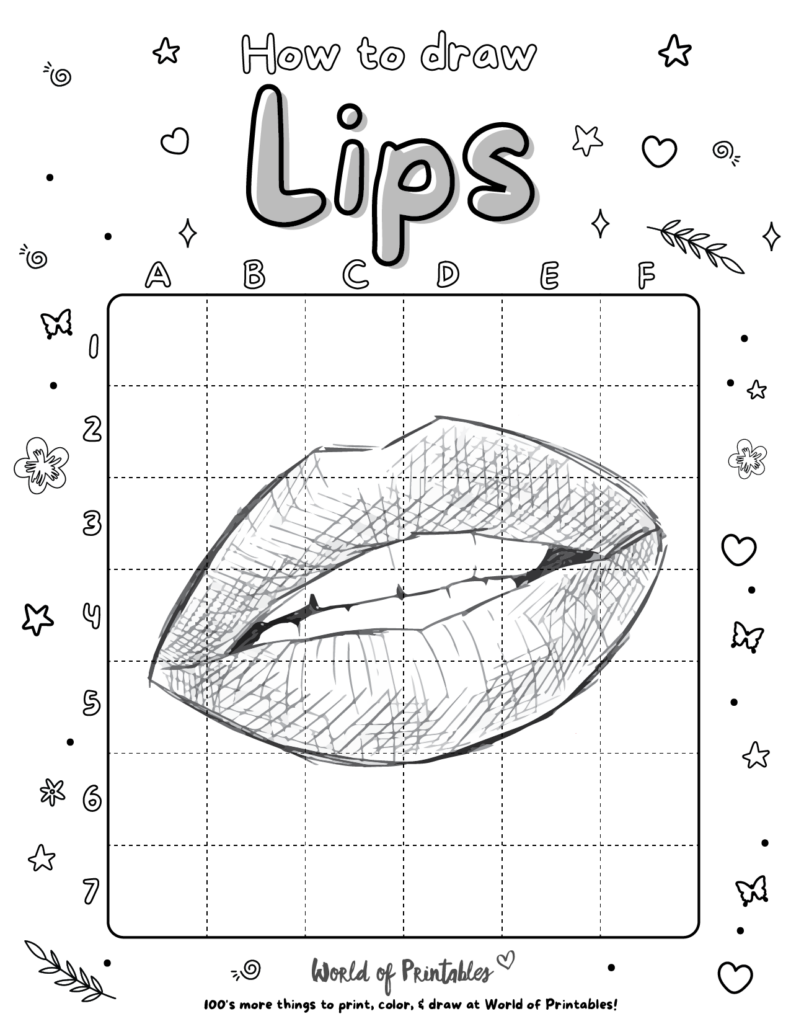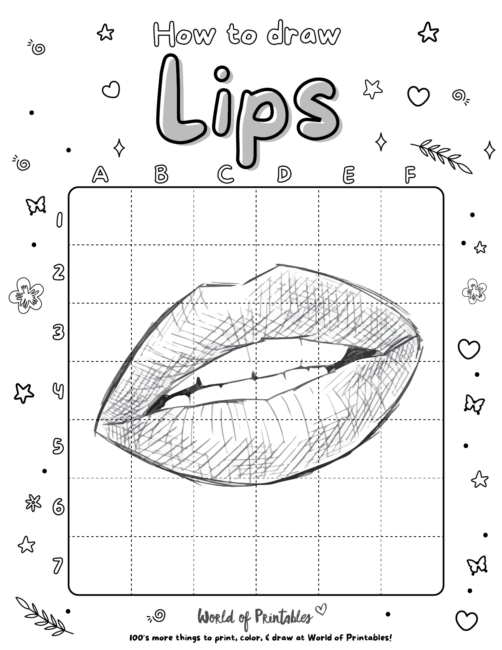 With this activity sheet, you can learn how to draw a mouth easily. You'll draw an open mouth, showing the lips and teeth in a realistic way.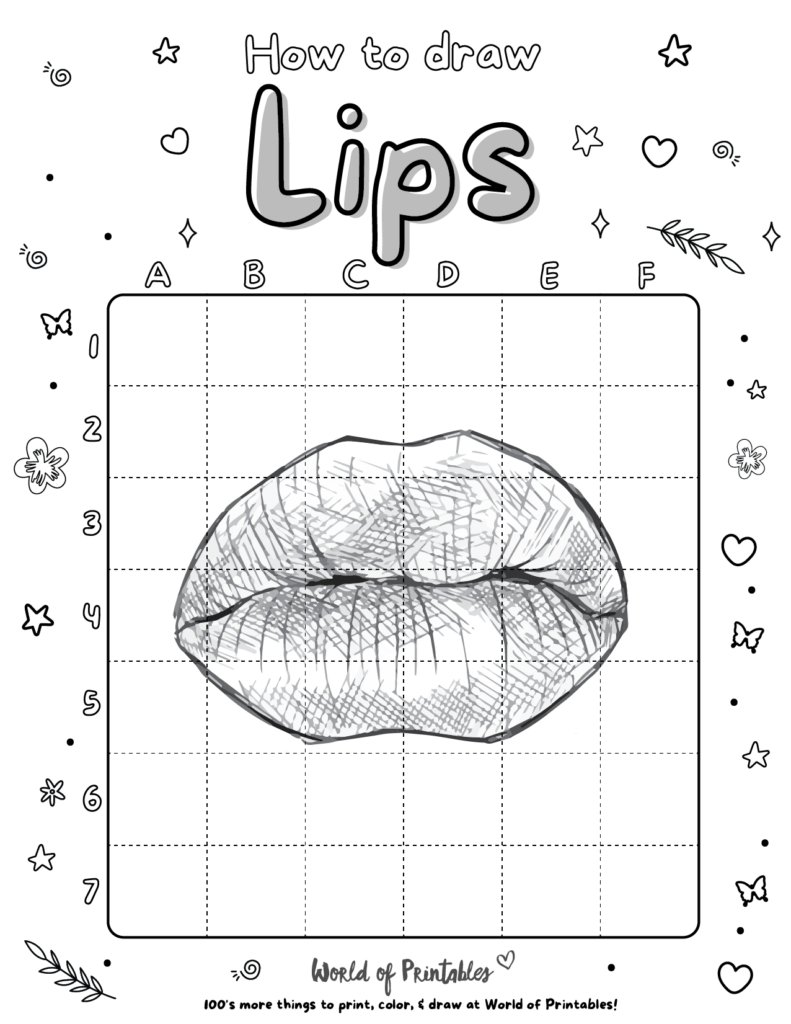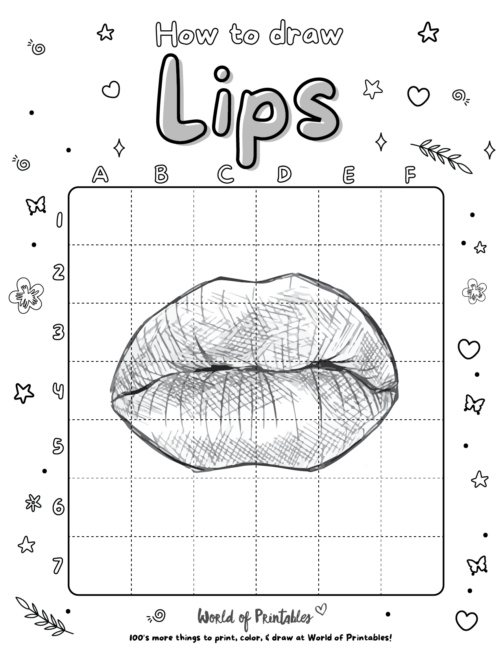 Learn how to draw lips that are closed. This is a set of realistic lips that are easy to draw.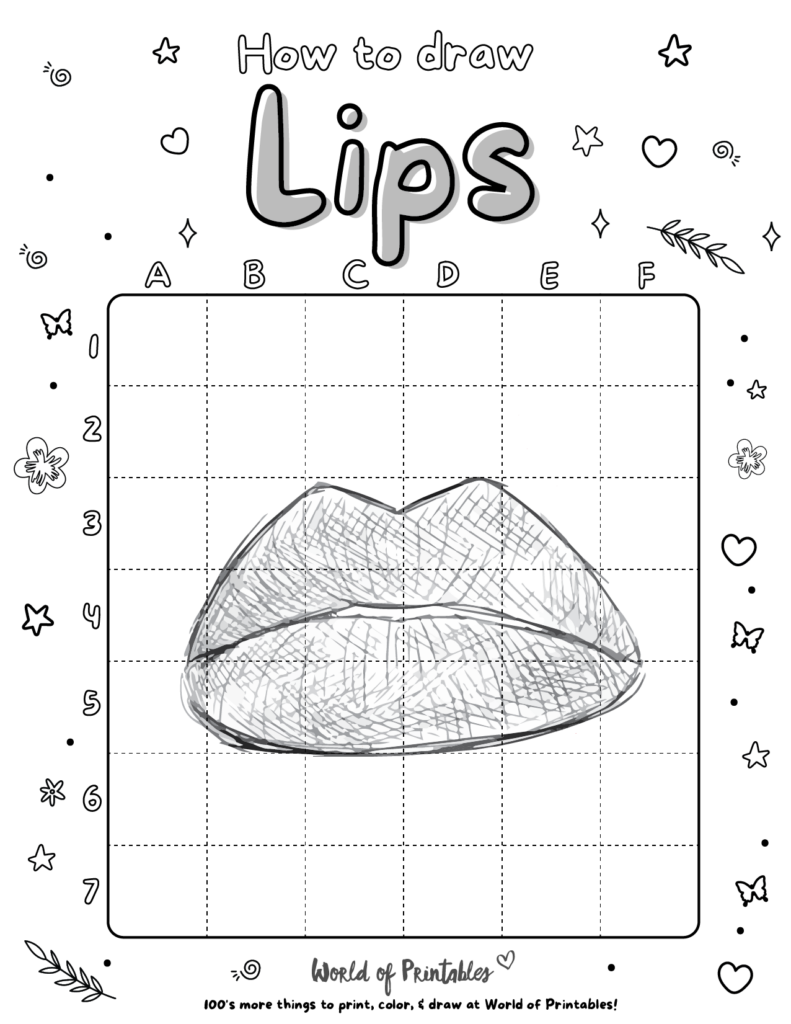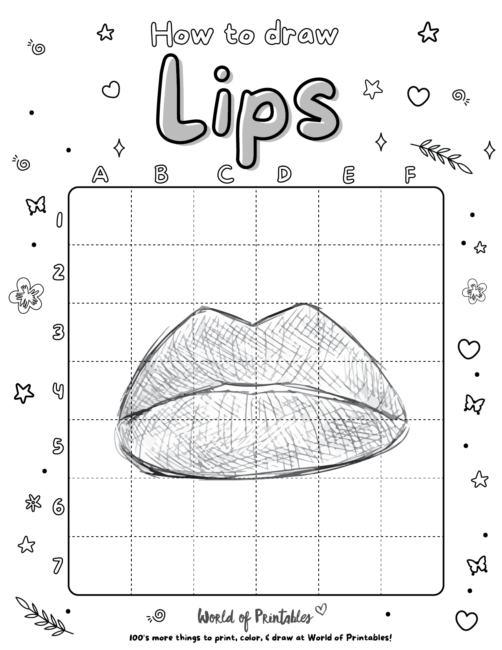 This is another mouth drawing activity that will help you learn how to draw realistic lips easily.
---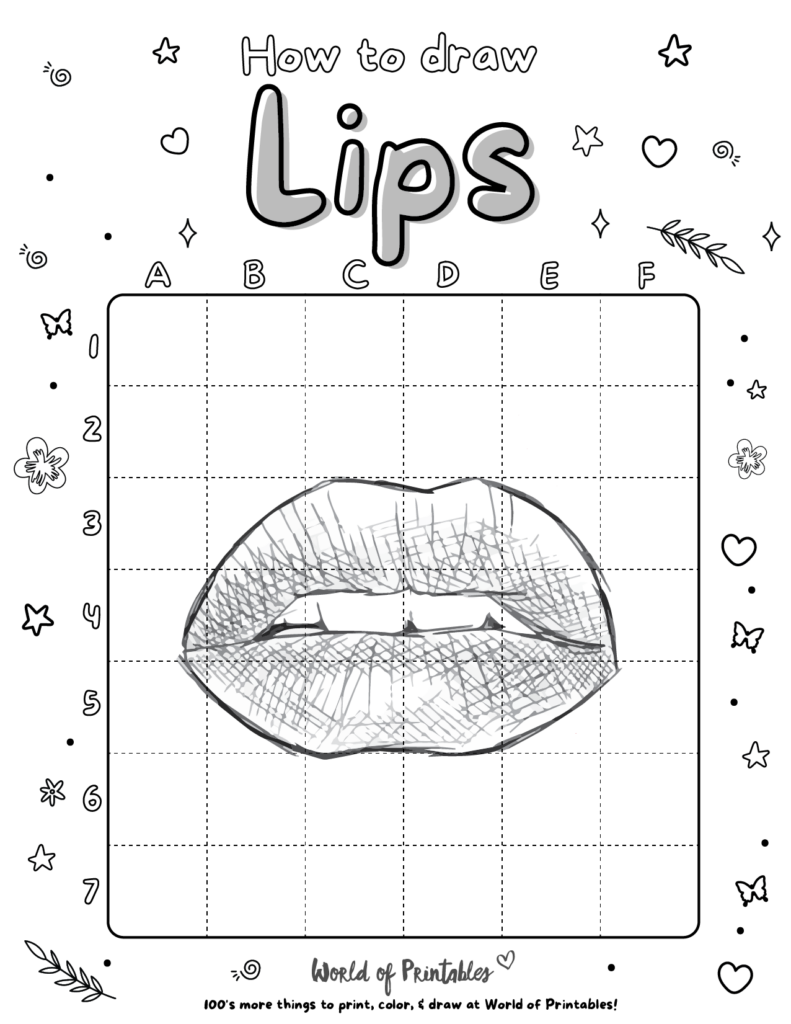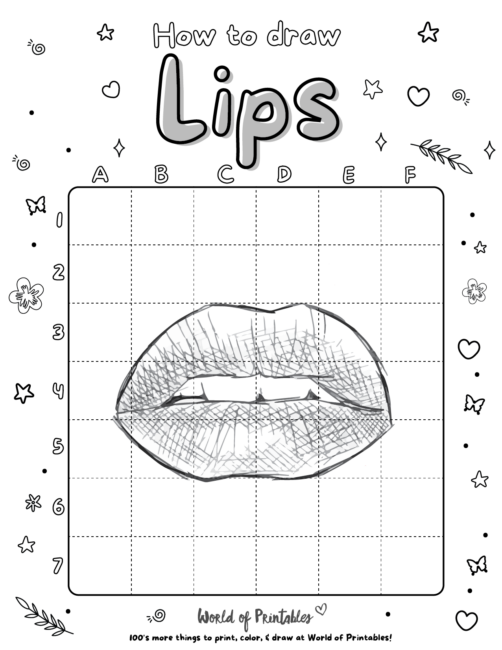 How to draw a mouth activity 4
If you want to learn how to draw a mouth then this is a great printable activity that will help you draw lips step by step using the practice grid sheet.
Printable Practice Sheets – Use these worksheets to practice drawing
Use these practice sheets to practice drawing lips and mouths. You can use the full-size practice sheet or the set of 4 grids worksheet to practice drawing.
If you print off several of these practice sheets, you can use them to practice drawing these lips and any of our other How To Draw activities. We've got 100's of things for you to learn how to draw and the best way to learn to draw is simply by practicing!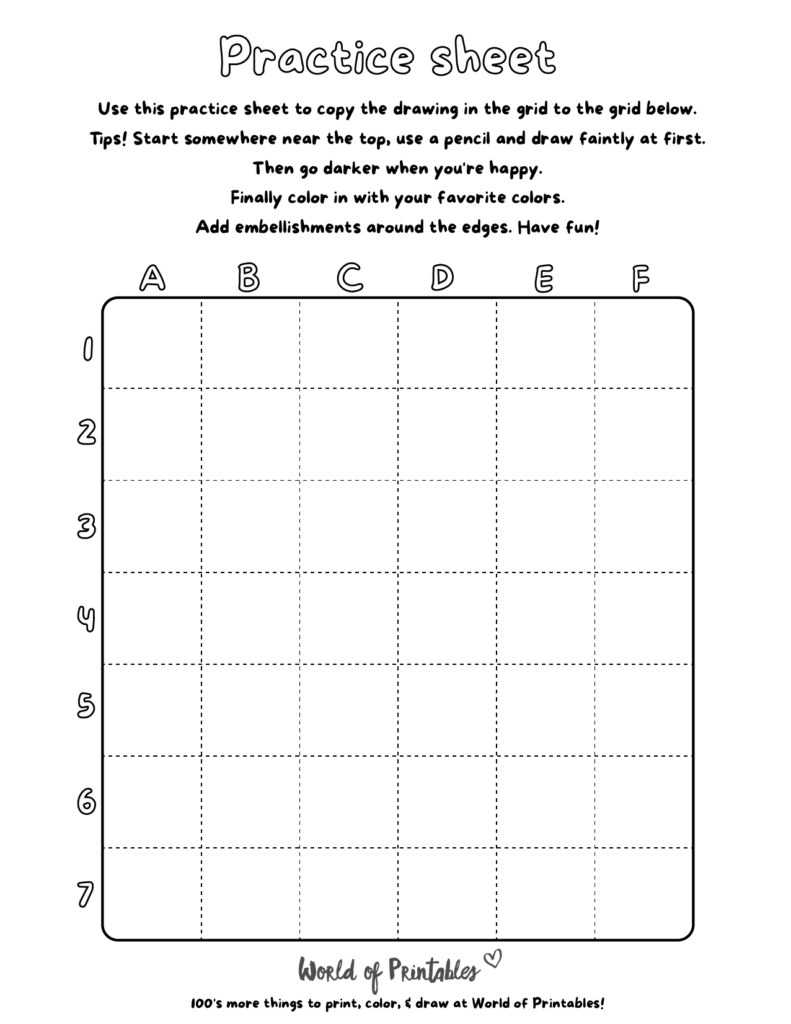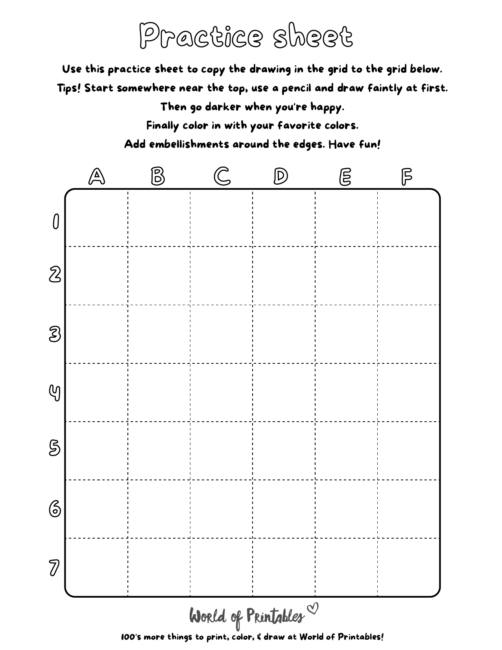 Printable How To Draw Practice Sheet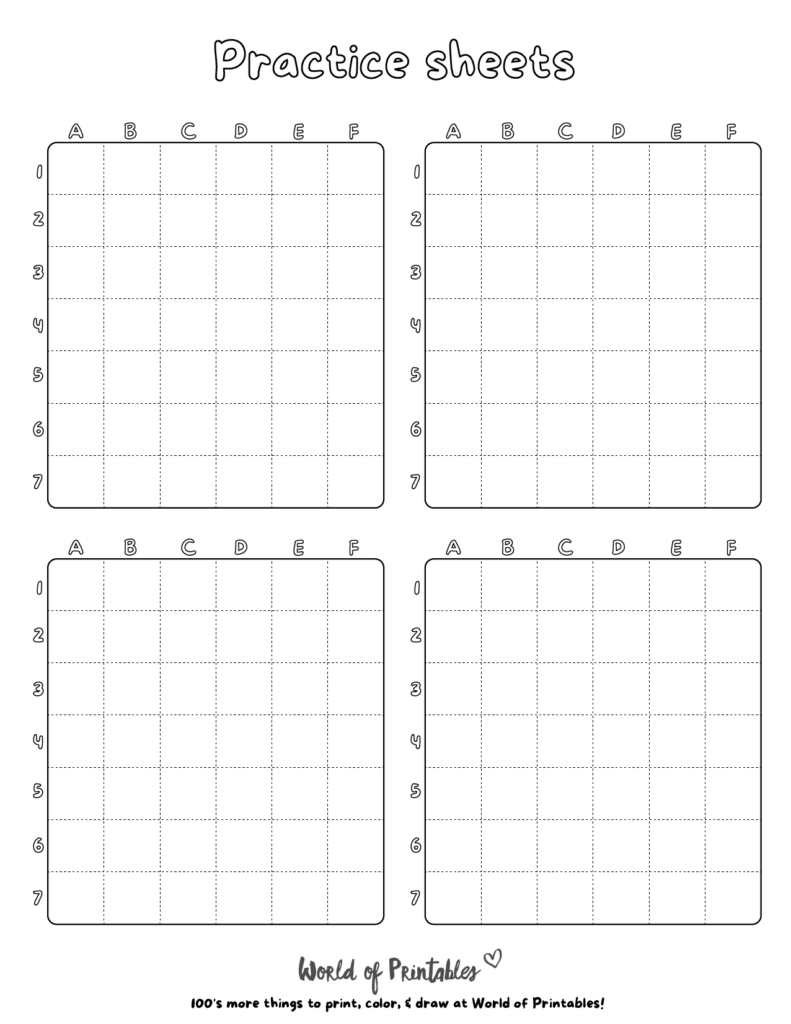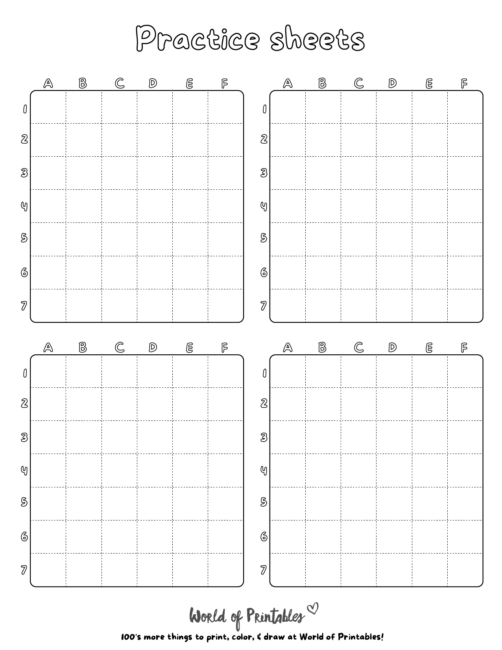 Printable How To Draw Set of 4 Practice Sheets
Amazon Basics Sketch and Drawing Art Pencil Kit
If you're looking to draw lips with a pencil or for a great set of drawing pencils to help you practice drawing and sketching then you'll love this awesome kit of pencils, erasers, and sharpeners.
This kit has everything you need to create high-quality drawings, in a budget-friendly kit. This is the kit that I personally use and because it's so low cost, my children use it too. It includes pencils of different hardness and darkness, so you can easily create great tonal shades when drawing for a professional effect.
More printables from World of Printables
We've created a huge amount of these how to draw activities. Be sure to grab as many printables as you can while you're here.
We also have a huge range of printables for adults too here on World of Printables. You'll find printables and templates to help you plan and organize all aspects of your life.
We think you'll really enjoy these:
How To Draw Printable Activities
Our recent How To Draw activities. Find many more How To Draw printables that you'll love for free.
I Spy Coloring Pages
Our recent I Spy coloring page activities. Find many more I Spy Printables to get and print for free.
---
Coloring Pages
Our recent coloring pages. Many more printable coloring pages to get and print for free.
---
Printable Games
Our recent printable games. Many more printable games to print and play for free.
The world's most popular printables
Thank you for browsing our How To Draw Lips activity.
I really hope you love our How To Draw activities and if you like this printable lips drawing activity then please hit the share button of your choice below as it lets us know you care and helps us create many more awesome free printables for you to enjoy.
If you draw lips and would like to share your drawings with us on Instagram, please tag us as we'll love to see what you've done!
And if you can, please Support us on Patreon and get access to all of our awesome premium printables as part of your Patreon.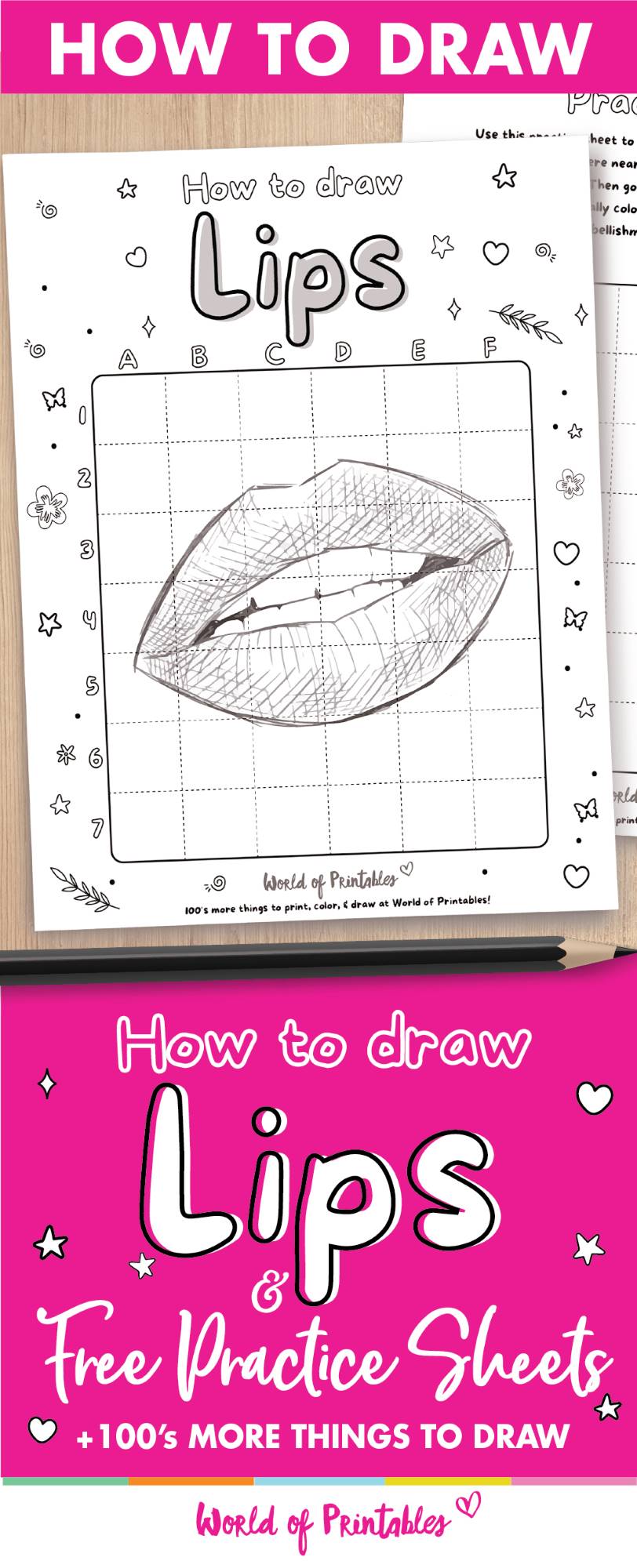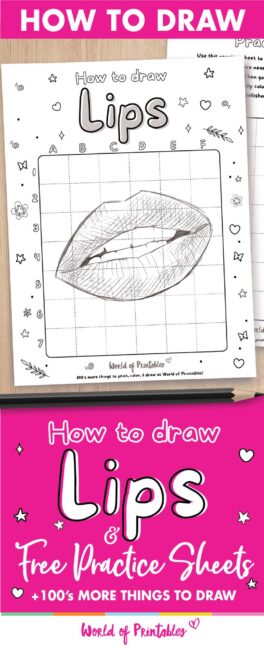 Follow World of Printables on Pinterest