No matter what time of the year, there's always a need for a 2021 calendar as it's something that we need to use on a regular basis, sometimes even a daily basis.
We've put together this selection of 2021 calendar with holidays for you to download and print, so that you can stay organized at any time of the year.
We've updated this for 2023! – See our full range of 2023 Calendar With Holidays.
You can download and print any one of these, or if you don't require one with holidays you can see our full range of calendar 2021 printables and print the one that works best for you. We have calendars for every month of the year, in many different styles and formats.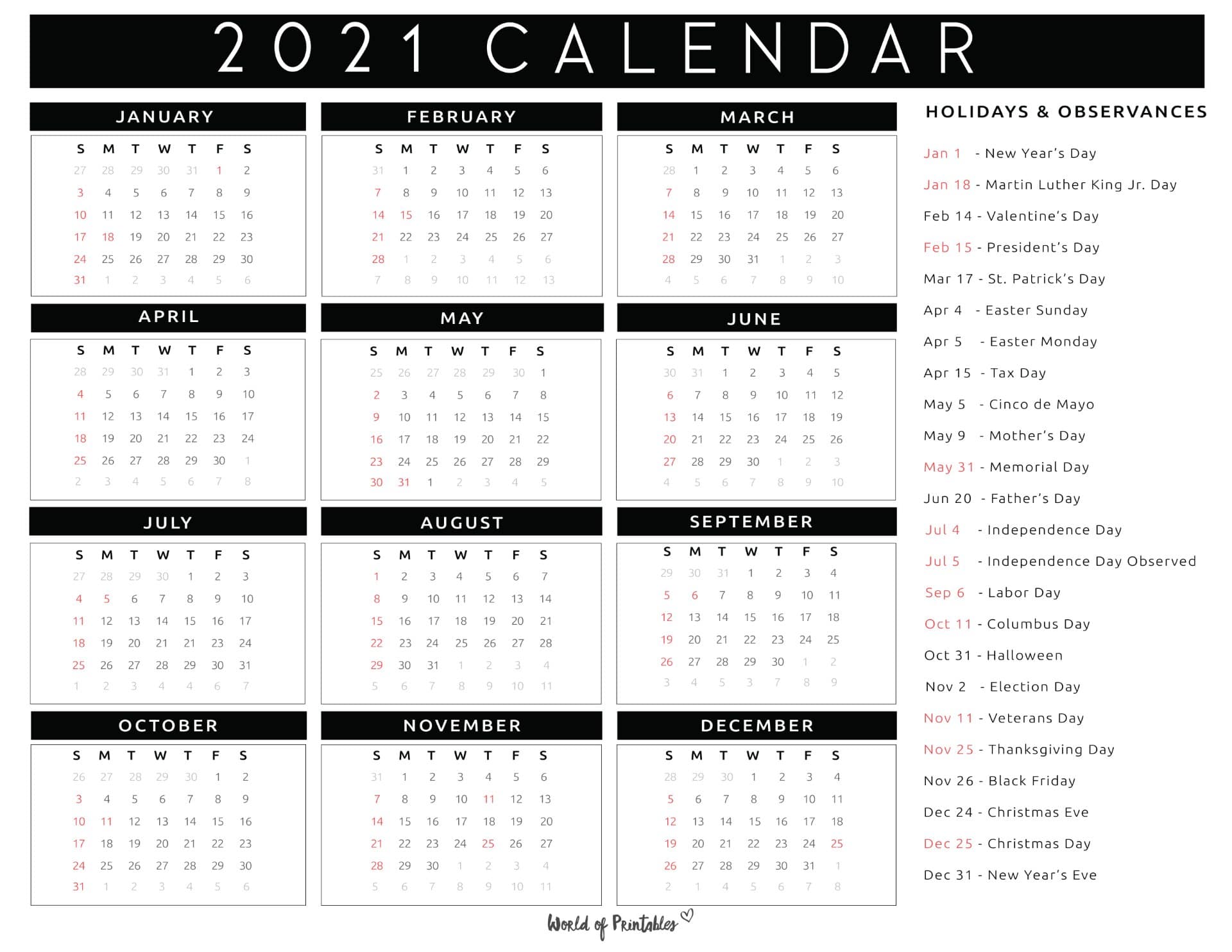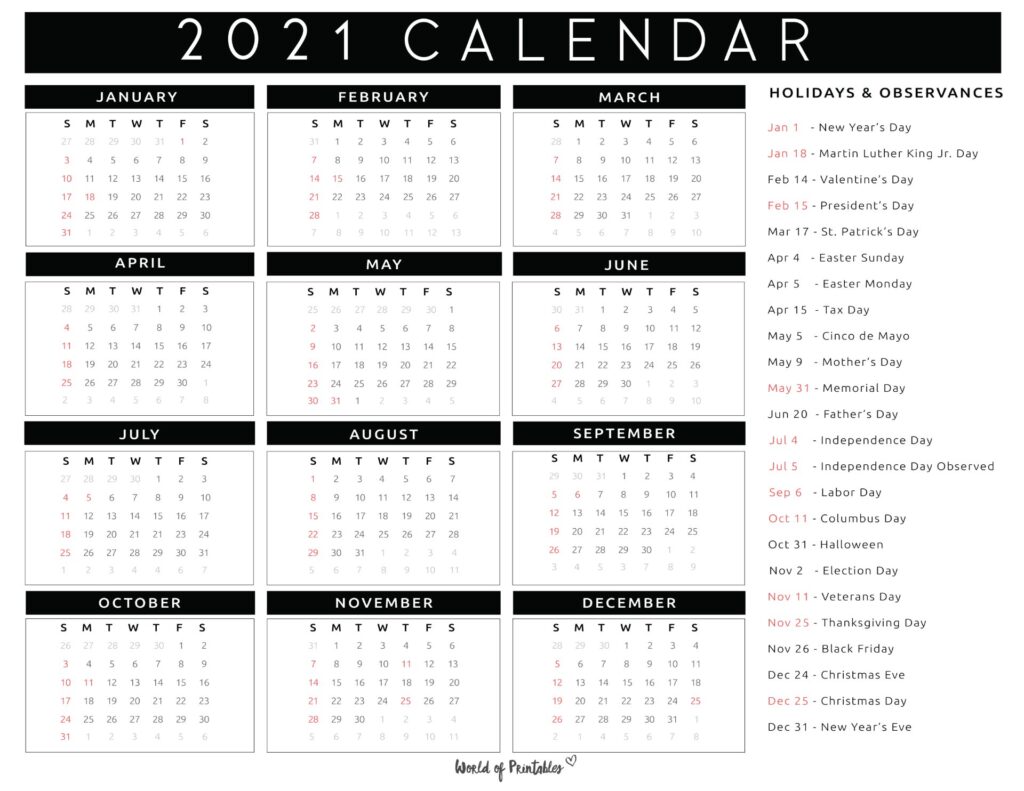 2021 calendar
If you were searching for a full year 2021 calendar, you'll definitely find what you need here to help you stay organized this year. But that's not all you will find here, you'll also find a range of printable 2021 calendar, 2022 calendar and much more here.
You'll find organizing your days, months and year ahead much easier with one of our printable calendar pages. You'll find one page calendar 2021 template, or monthly 2021 calendar template pages, so you can plan 2021 much more easily.
Download printable 2021 calendar with holidays
All of the calendars you'll find here, including our range of printable 2021 calendar templates are completely free to print and use. So simply browse through and choose the one thats best for you. Each of these templates are available in different formats, so you'll find a calendar 2021 pdf along with a 2021 calendar jpg, so you can easily print the calendar with holidays that you need.
With our downloadable 2021 calendar template pdf or jpg you'll be able to print and use as often as you need. You can stick it to your fridge, laminate it, pop it into a binder or planner, the possibilities are endless. Quite simply, these 2021 calendar printables can be used for anything.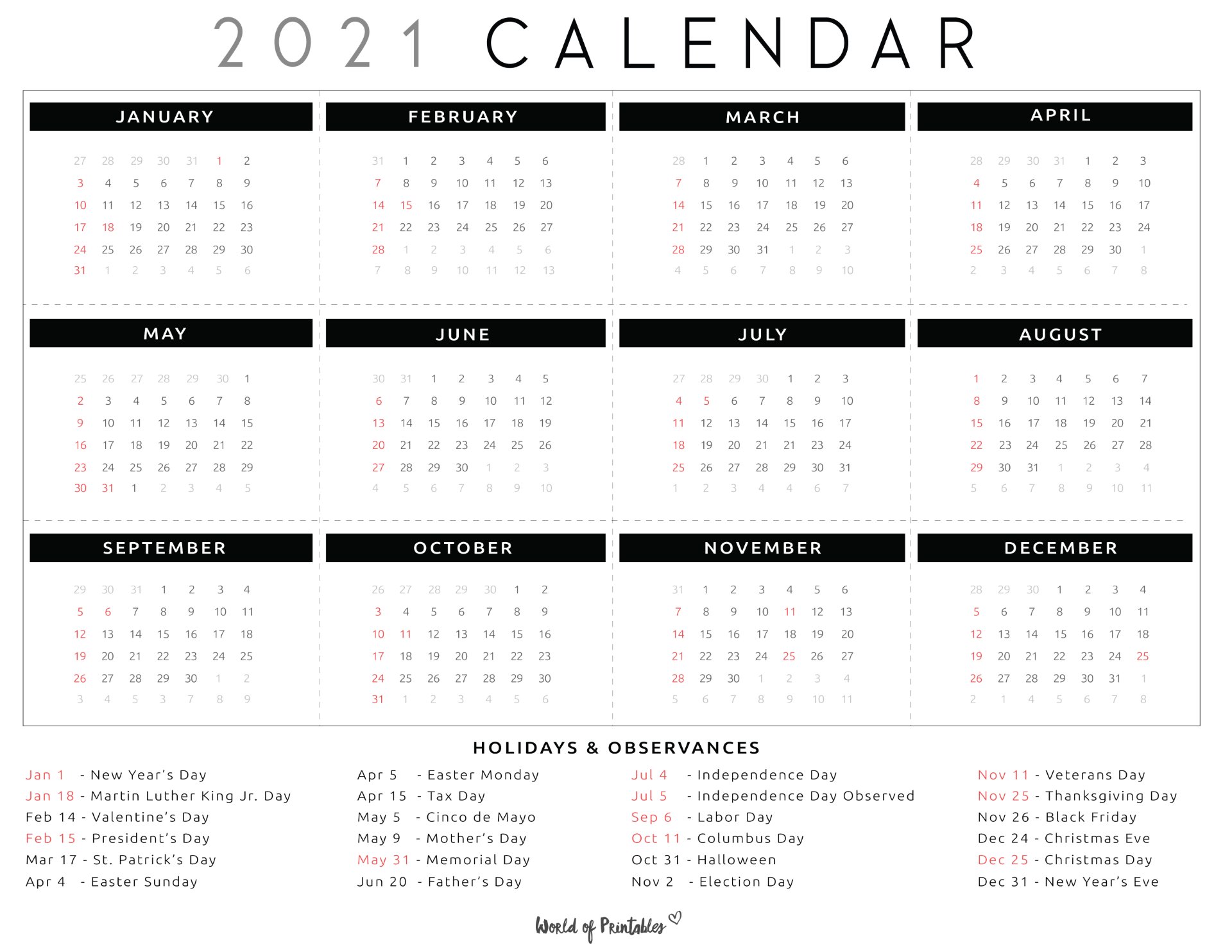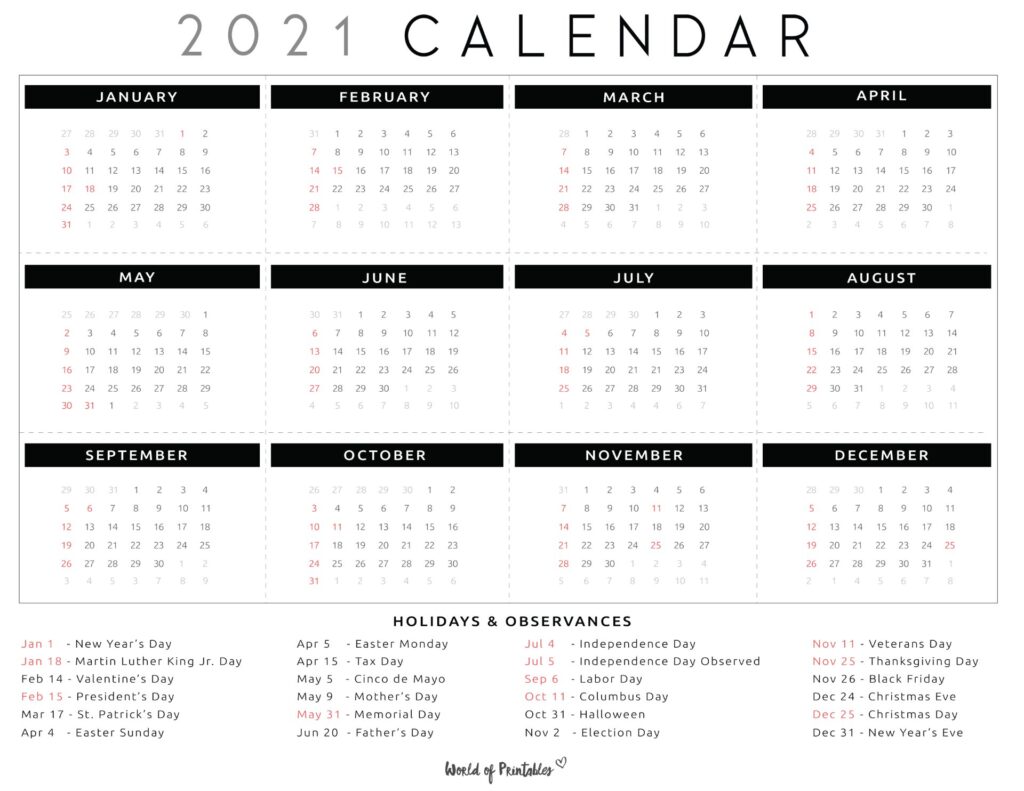 Why print a 2021 yearly calendar?
Here at World of Printables you'll find all kinds of usable templates that you can download and print, with over 100 printable calendar templates to choose from for 2021 and even more coming for 2022.
You can use a simple 2021 calendar which will be great if you need something basic that you can use without fuss or a fun calendar that looks great and can be stuck to a fridge or wall for an attractive finish.
Many people want to use a one page 2021 calendar with holidays, so they can see the whole year at a glance, along with official holidays. Whereas others might want to use a monthly calendar, that has areas where you can note special days and events to help you stay organized for the month ahead. You can also even use a blank 2021 calendar that is not specific to any month or year, so you can print again and again and personalize a calendar with important dates.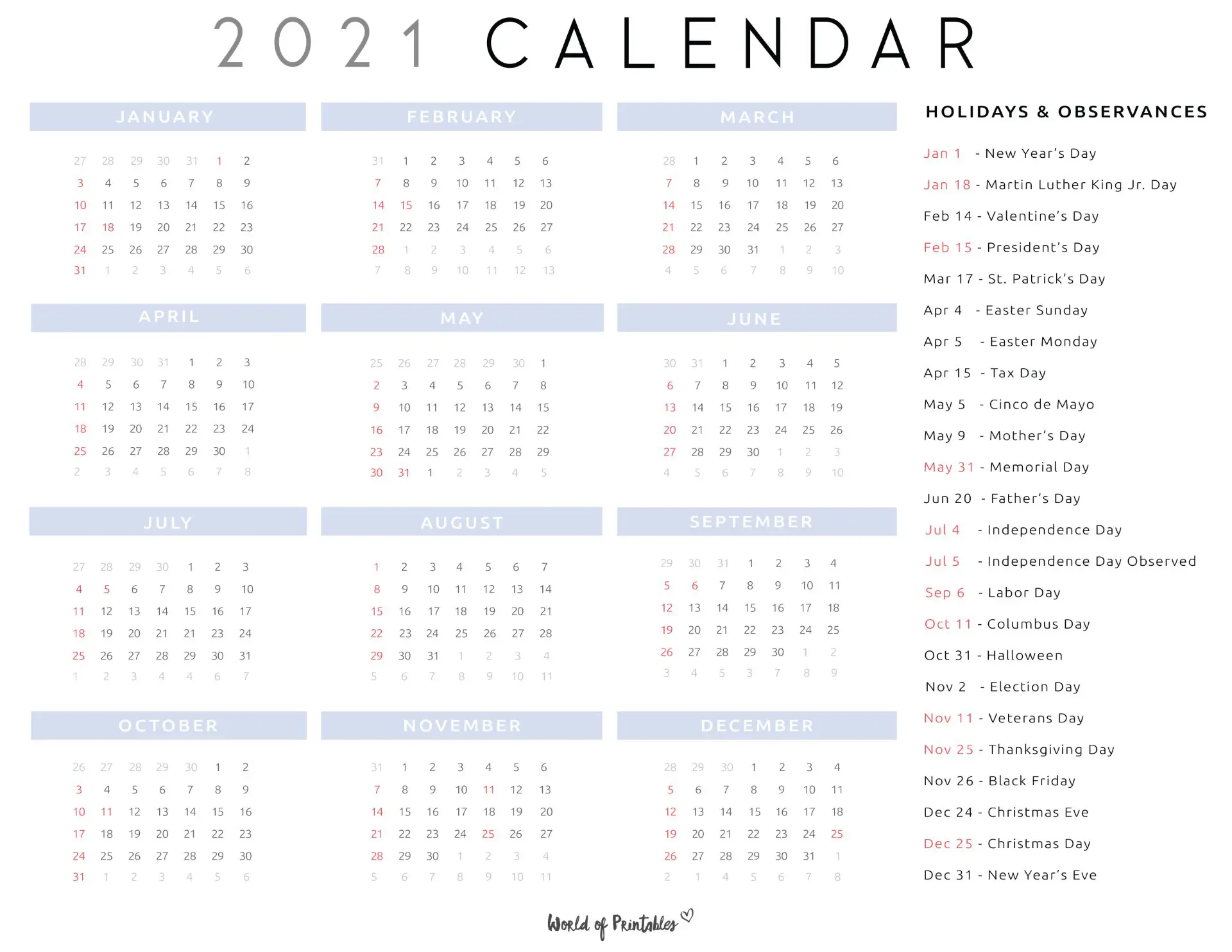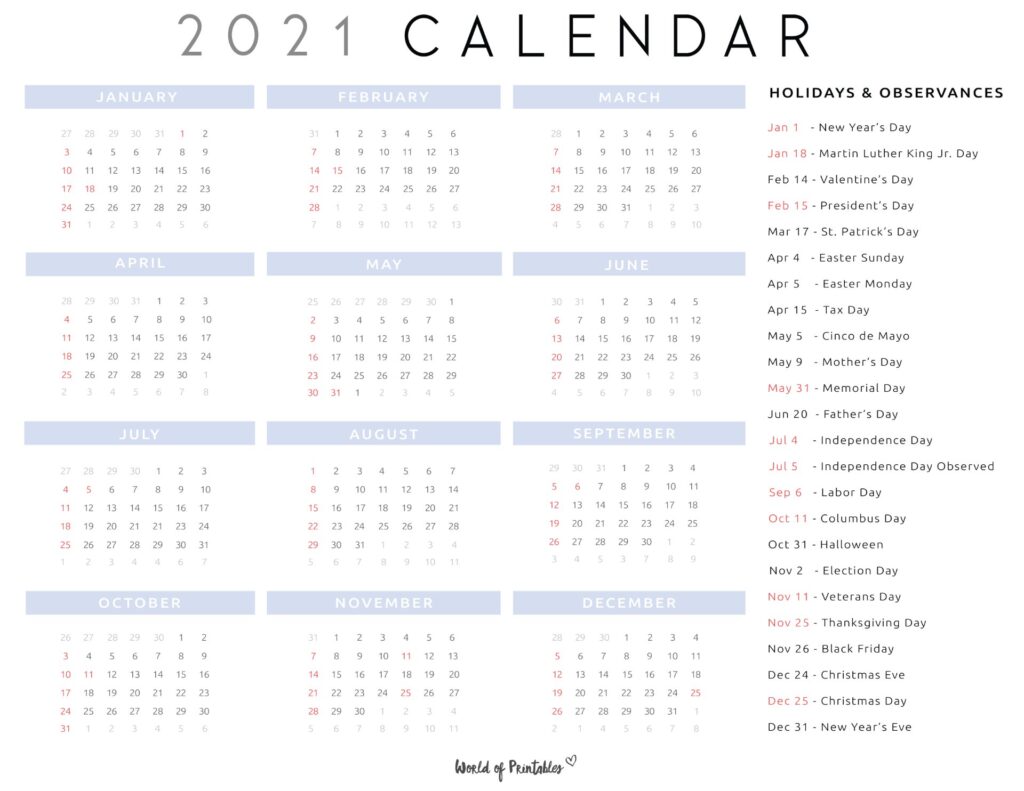 You will find many calendars that feature a Sunday start, whereas others will feature a Monday start, it's really up to you which type works best for you. For example, on this calendar 2021 you will find it starts with a Sunday which is the typical type you will find.
On this 2021 calendar all of the major US holidays are highlighted in red and written below so you can quickly and easily see the details of the main holidays. This way you can stay ahead of the holidays that are coming up and won't forget. You'll see common holidays like Christmas Day, or national holidays like Labor Day, and even fun holidays too like Halloween.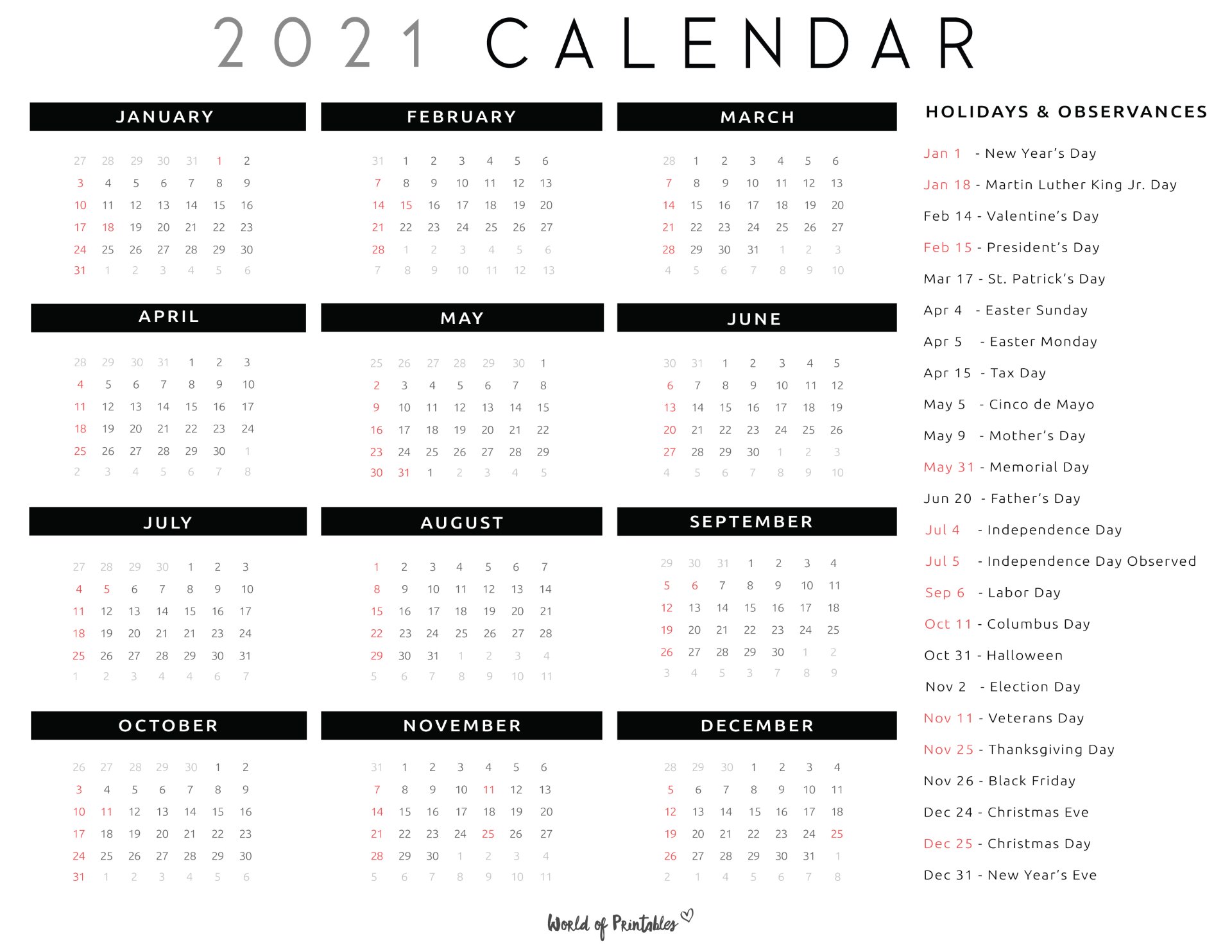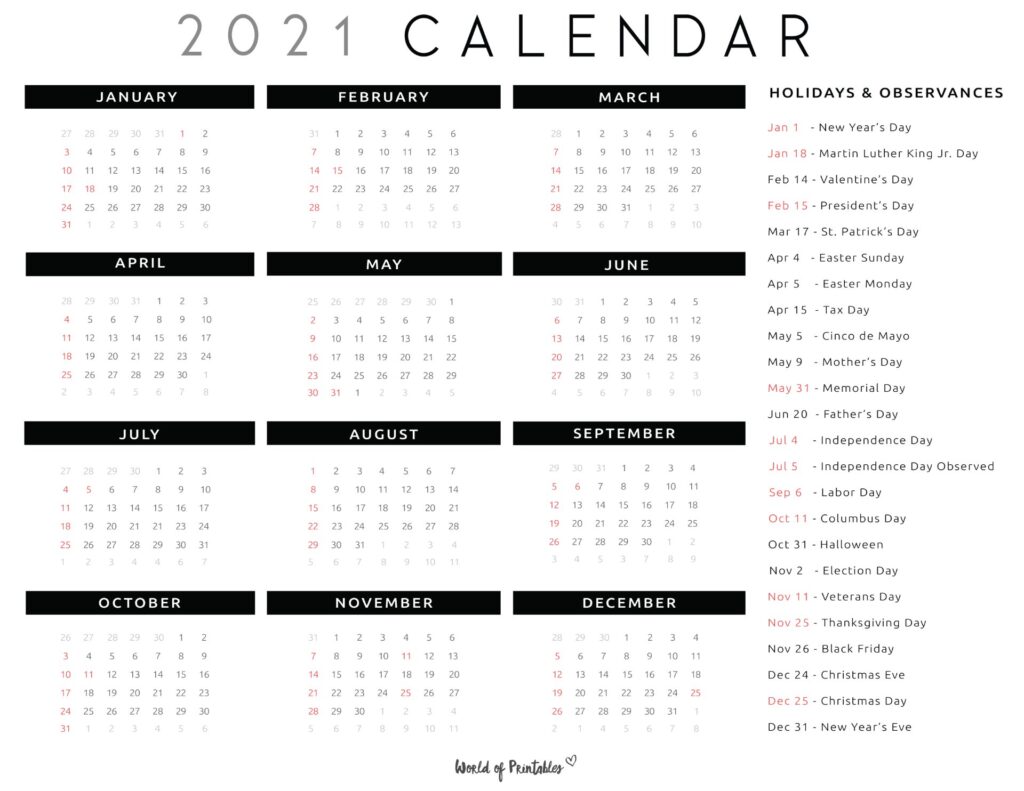 How do I get my calendar to show holidays?
If you have a blank calendar then you can write the holidays in yourself, using the following list. Ideally it is recommended to print a calendar with holidays already displayed that way you'll be able to see upcoming holidays at a glance on your calendar.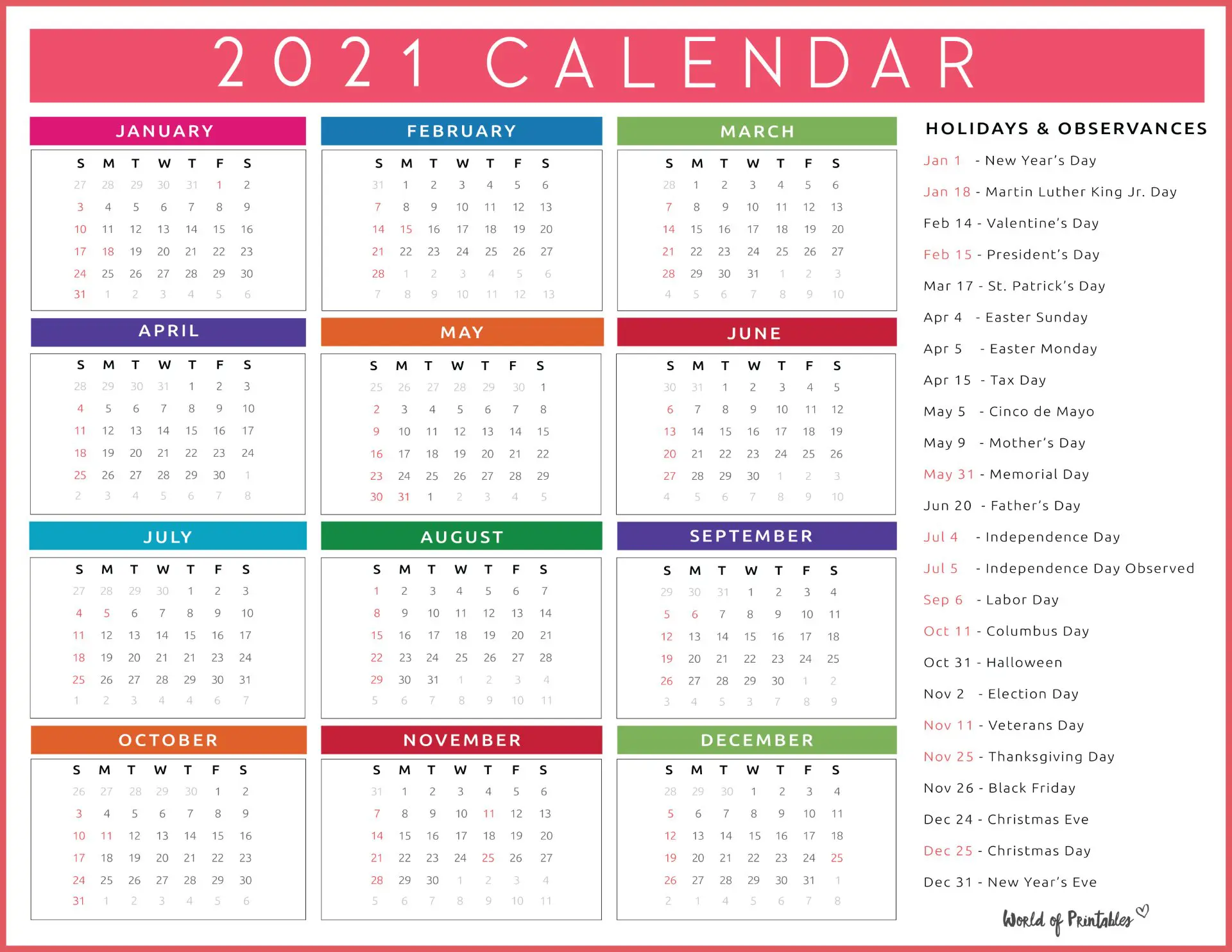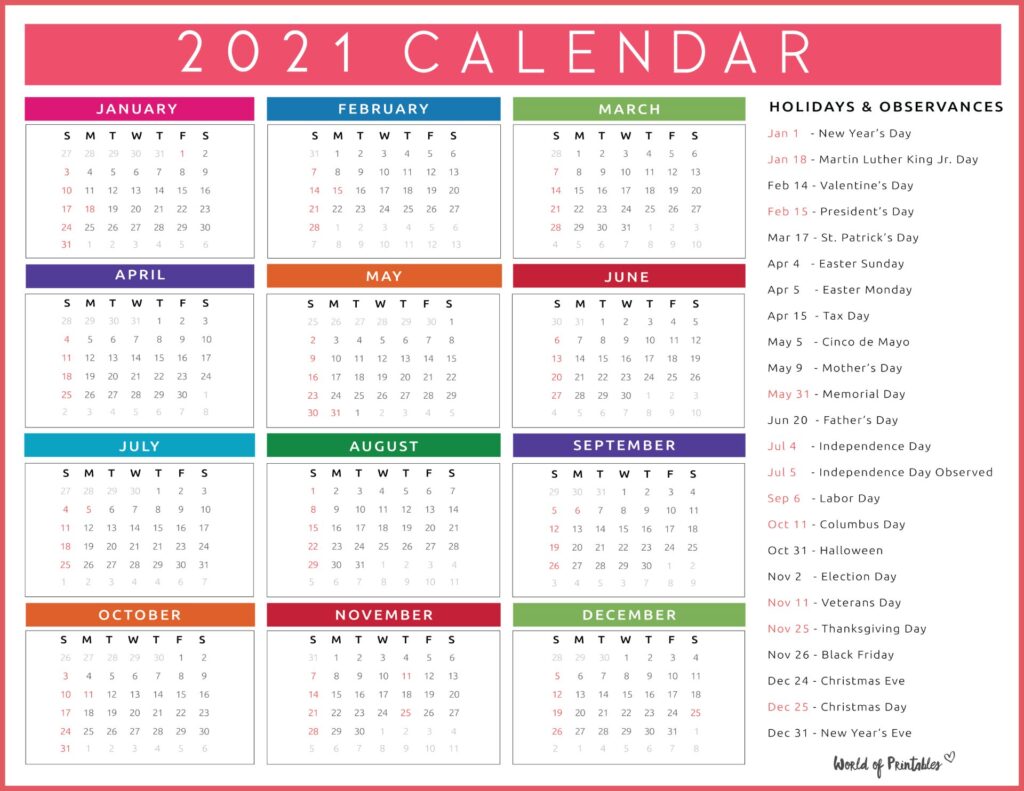 How many holidays are there in one year?
In the United States there are ten federal holidays annually, with the exception of Inauguration Day which adds an additional federal holiday once every four years.
What days of the week do holidays fall on in 2021?
Federal holidays are official holidays that are typically observed on a Monday, although non-federal holidays such as New Year's Day, Independence Day, Veterans Day, Thanksgiving, and Christmas Day may be shifted to either a Friday or a Monday if they occur on a Saturday or Sunday.
There are also food and festival holidays that are also popular throughout the year, such as Valentine's Day or Halloween.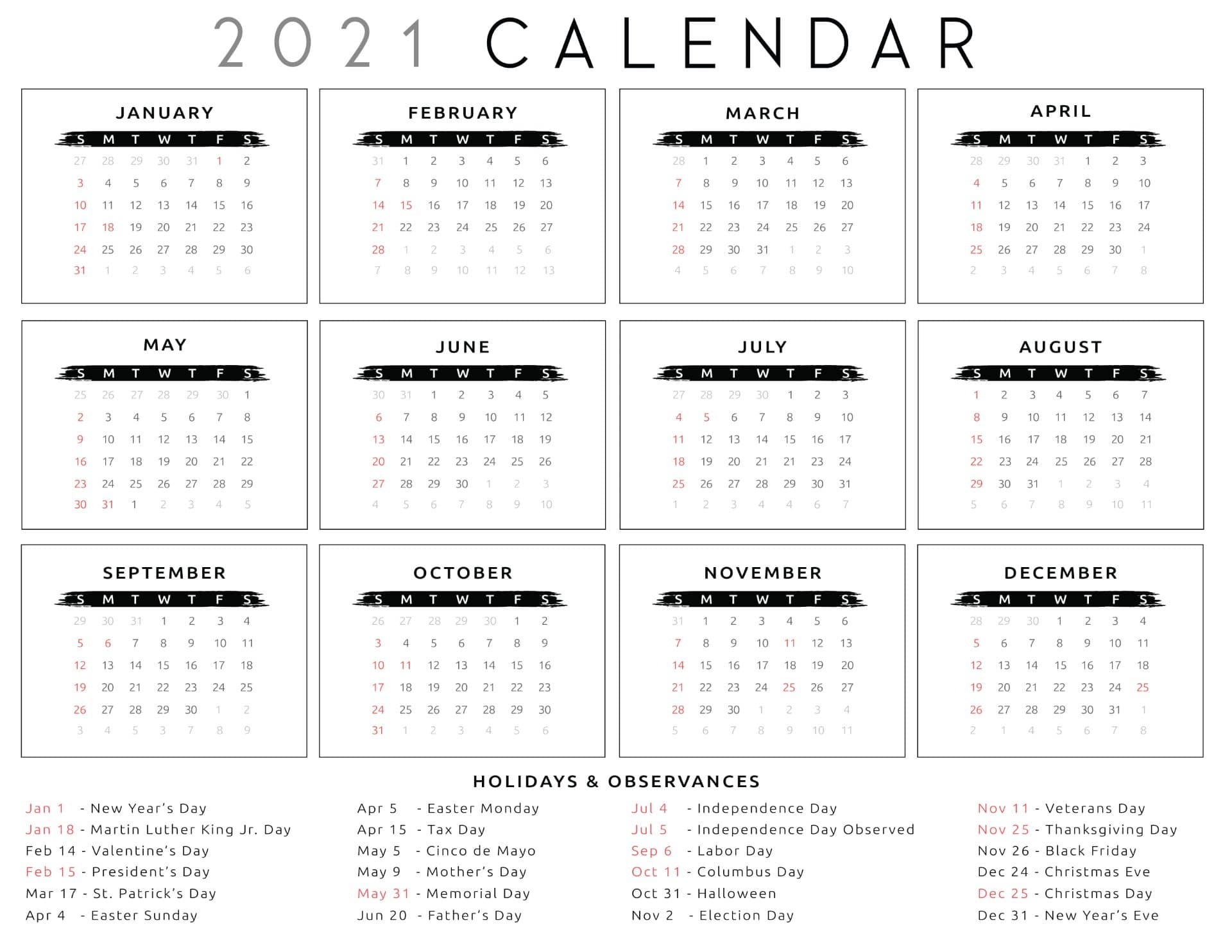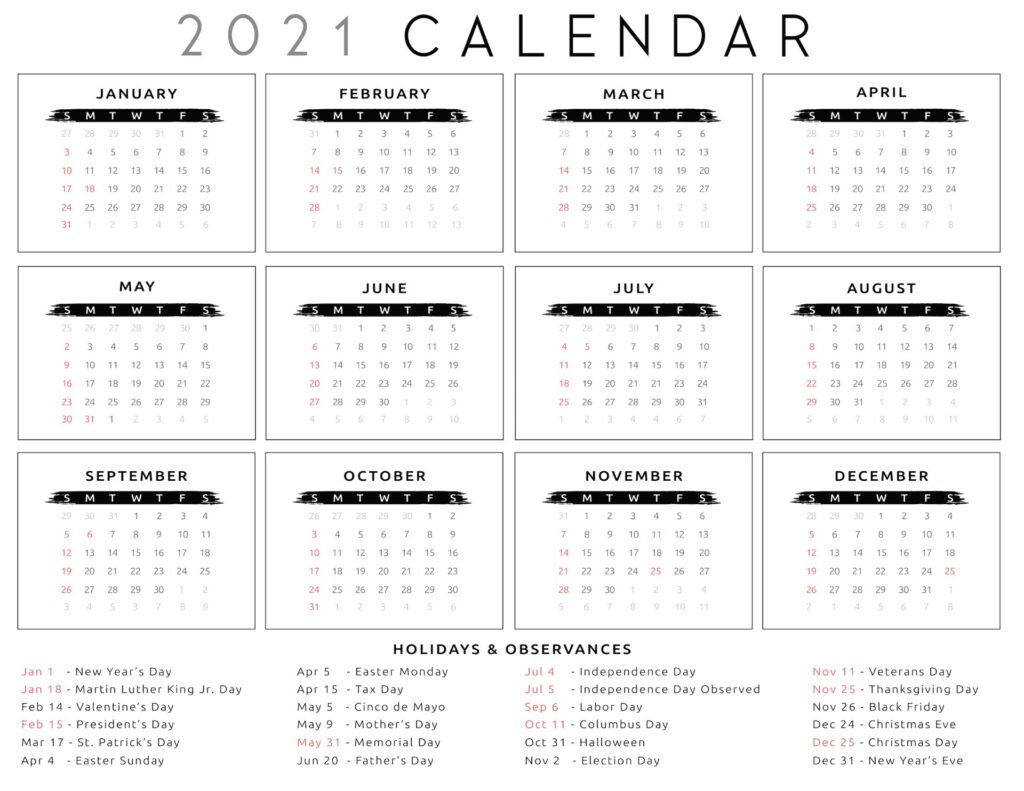 What are the 2021 U.S. federal holidays?
In 2021, the United States federal holidays fall on the following dates:
New Years Day – Friday, January 1, 2021
Martin Luther King Jr. Day – Monday, January 18, 2021
President's Day – Monday, February 15, 2021
Memorial Day – Monday, May 31, 2021
Independence Day – Sunday, July 4, 2021
Independence Day (observed) – Monday, July 5, 2021
Labor Day – Monday, September 6, 2021
Columbus Day – Monday, October 11, 2021
Veterans Day – Thursday, November 11, 2021
Thanksgiving Day – Thursday, November 25, 2021
Christmas Day (observed) – Friday, December 24, 2021
Christmas Day – Saturday, December 25, 2021
New Year's Day (observed) – Friday, December 31, 2021
So you will find the 2021 calendar with holidays featuring these federal holidays and some other important 2021 holidays on this calendar template.
Other popular holidays that you don't normally get time off for are:
Groundhog Day: Tuesday, 2 February, 2021
Valentine's Day: Sunday, 14 February, 2021
St. Patrick's Day: Wednesday, 17 March, 2021
Good Friday: Friday, 2 April, 2021
Tax Day: Thursday, 15 April, 2021
Cinco de Mayo: Wednesday, 5 May, 2021
Mother's Day: Sunday, 9 May, 2021
Father's Day: Sunday, 20 June, 2021
Halloween: Sunday, 31 October, 2021
Black Friday: Friday, 26 November, 2021
There are some federal holidays that are the same date each year, whereas others fall on a specific day of the year but on a different date, such as Thanksgiving Day which always falls on the fourth Thursday each November.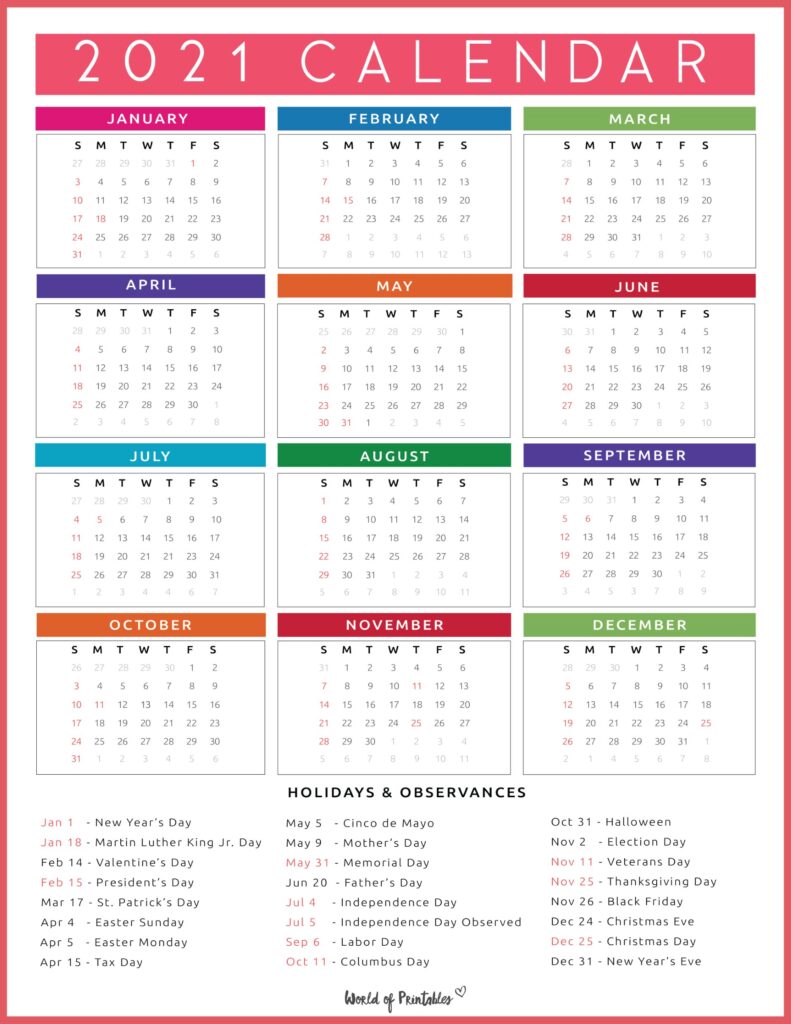 What does a Federal holiday mean?
In the US, federal holidays are those that have been established in law, which typically means paid days off where the holiday can be experienced by all, although not all businesses are closed on federal holidays.
All holidays are different, with some being federal, some being religious and others that are simply just fun, such as World Nerd Day.
Federal holidays vs. Religious holidays
Christmas Day is the only religious holiday that is recognized by the US as a federal holiday, there are no other religious holidays that are recognized as federal holidays.
What are the religious holidays of 2021?
As there are many different religions around the world, there are many days that form religious holidays throughout the year.
In the U.S, Christianity is the most popular religion, which comprises the majority of the population of adults at 73% according to Wikipedia.
In 2021, the United States the Christian holidays and festivals fall on the following dates:
Epiphany – Wednesday, January 6, 2021
Shrove – Tuesday Tuesday, February 16, 2021
Ash Wednesday – Wednesday, February 17, 2021
Palm Sunday – Sunday, March 28, 2021
Maundy Thursday –Thursday, April 1, 2021
Good Friday – Friday, April 2, 2021
Holy Saturday – Saturday, April 3, 2021
Easter Sunday – Sunday, April 4, 2021
Easter Monday – Monday, April 5, 2021
St George's Day – Friday, April 23, 2021
Ascension Day – Thursday, May 13, 2021
Pentecost – Sunday, May 23, 2021
Whit Monday – Monday, May 24, 2021
Trinity Sunday – Sunday, May 30, 2021
Corpus Christi – Thursday, June 3, 2021
Feast of St Francis of Assisi – Monday, October 4, 2021
All Saints' Day – Monday, November 1, 2021
All Souls' Day – Tuesday, November 2, 2021
Feast of the Immaculate Conception – Wednesday, December 8, 2021
Christmas Eve – Friday, December 24, 2021
Christmas Day – Saturday, December 25, 2021
Boxing Day – Sunday, December 26, 2021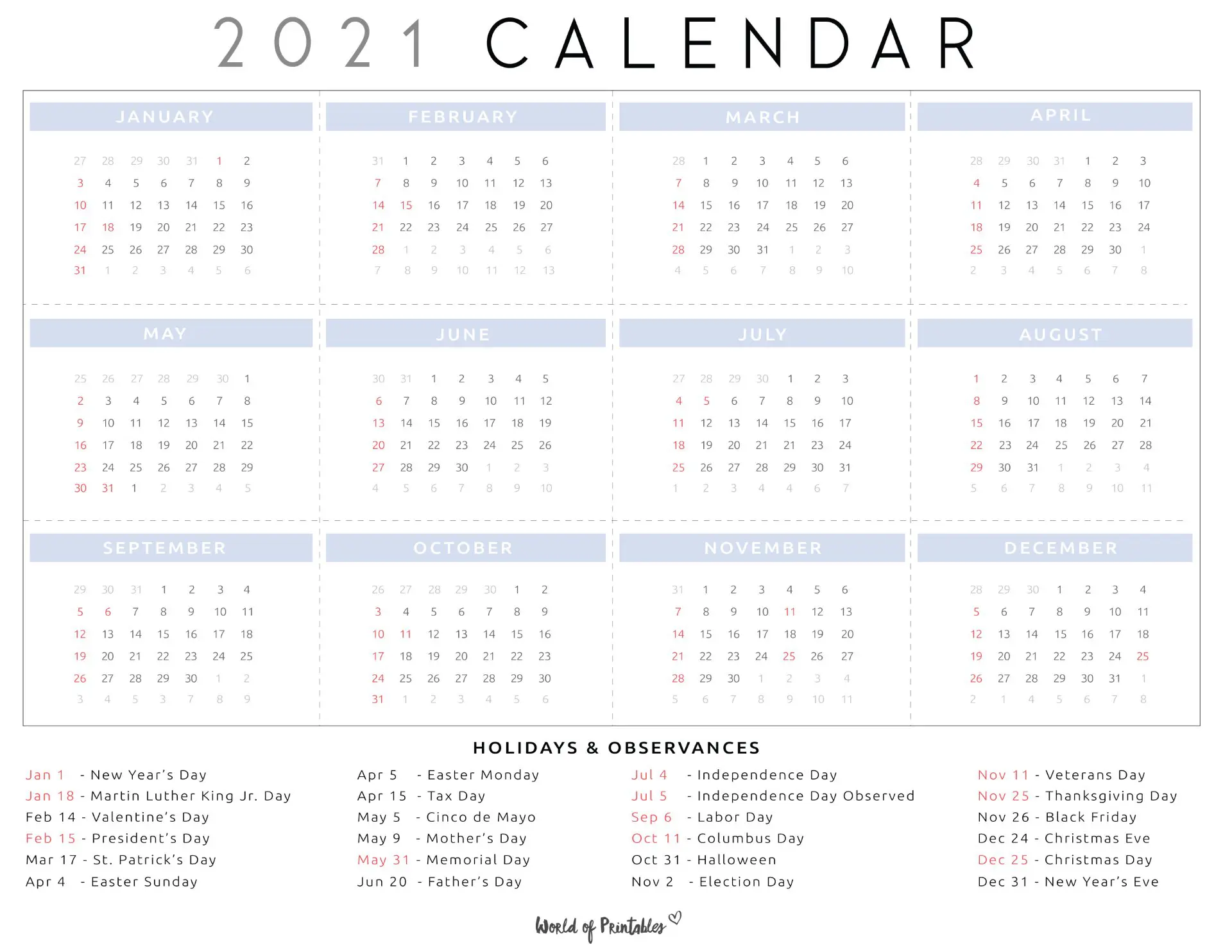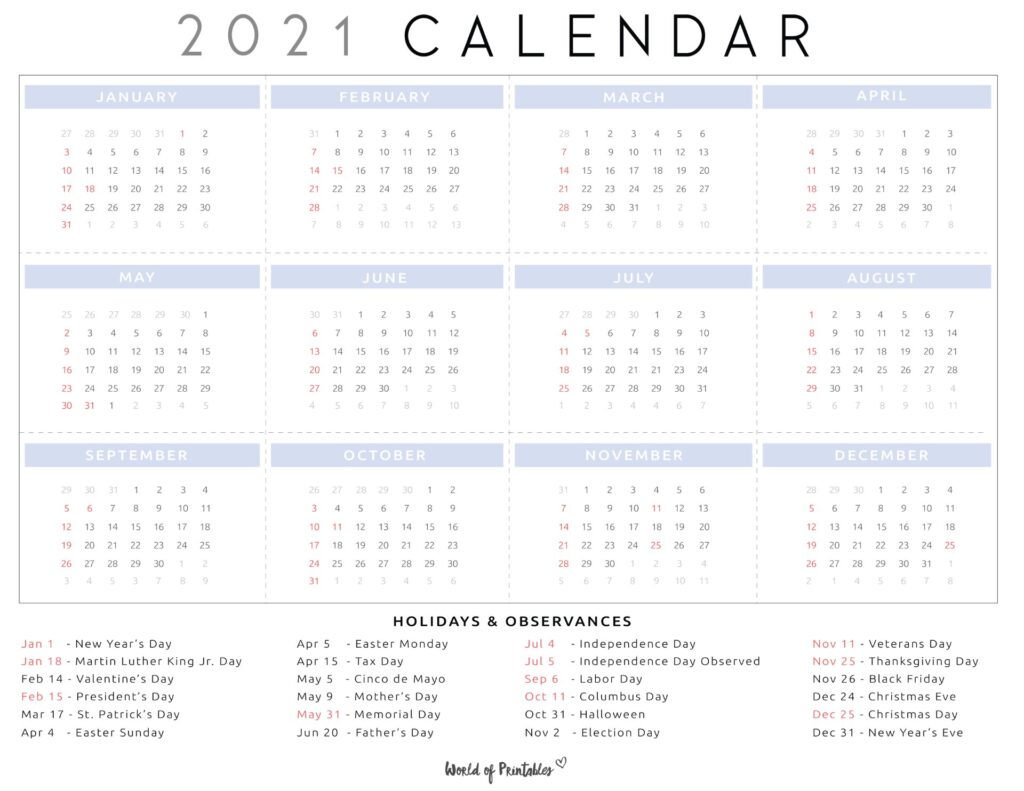 How to make printable calendars look stunning
Print it! – Our calendars look so good when printed on this bright paper.
The paper is a good weight and works great with inkjet and laser printers, making the ink look crisp and clear. If you want something a little more heavy duty for a shop bought look then this card stock is a great option that's used a lot in the printable community.
Add some style!
Resize it – Resize our calendars easily, make them bigger or smaller to fit into your planner, frame or hanger – find out how here.
Style it – Style your calendar! Add them to showcase frames for a stunning display, poster hangers for a boho look, or even bind up your own for a shop bought look! See more ideas on how to style printable calendar templates to match your home decor!
Snap it – Take a photo of your calendar and tag us on Instagram! We love to see how you use our calendars and may even feature your photo on our blog!
Free Calendar With Holidays
This 2021 calendar printable is the perfect thing to help you manage your weeks and months ahead. Just print out as many as you need and get organized. You can even print them for friends and family, or use them at work.
Each 2021 calendar template is standard US letter size 8.5" x 11" paper, but can also be printed on A4 or scaled to fit other paper sizes.
Just print one out and pop it on your refrigerator, wall or anywhere in your home or office. You can even color them to personalize to your own favorite style. The possibilities are endless!
You can also get standard one page 2021 year calendar templates that don't feature the holidays, which are perfect for when you want a regular year at a glance calendar for decoration.
You can do anything with our 2021 calendar, all we want to do is make things as easy as possible for you to organize your life and keep track of important dates and events. We work hard every day to bring you the best printable calendars.
Thank you for visiting our site, we hope that you've found the perfect printable calendar template for you and come back again whenever you need more free printables.
Remember to check out our floral calendar 2021 or any of our popular monthly 2021 calendar templates also.
See our full range of Calendar With Holidays for the latest updated versions of these calendars and many more designs.