Keep your bill payments together using this handy and straightforward bill payment checklist. It's the perfect way to see all of your monthly bills and keep on top of them.
You can print this bill payment checklist and add it to your favorite planner or use it simply as a printout. This bill checklist is so pretty and looks amazing with the botanical elements. It's a great option for those who love nature and classy botanical themes.
Write down the expenses and bills that you incur over the month, along with the amounts, and mark them as paid if you've paid them.
You'll be able to see at a glance what has been paid, what still needs to be paid, and how much your bills have totaled over the month.
When used in combination with our other budgeting templates you'll be able to manage your money better than ever.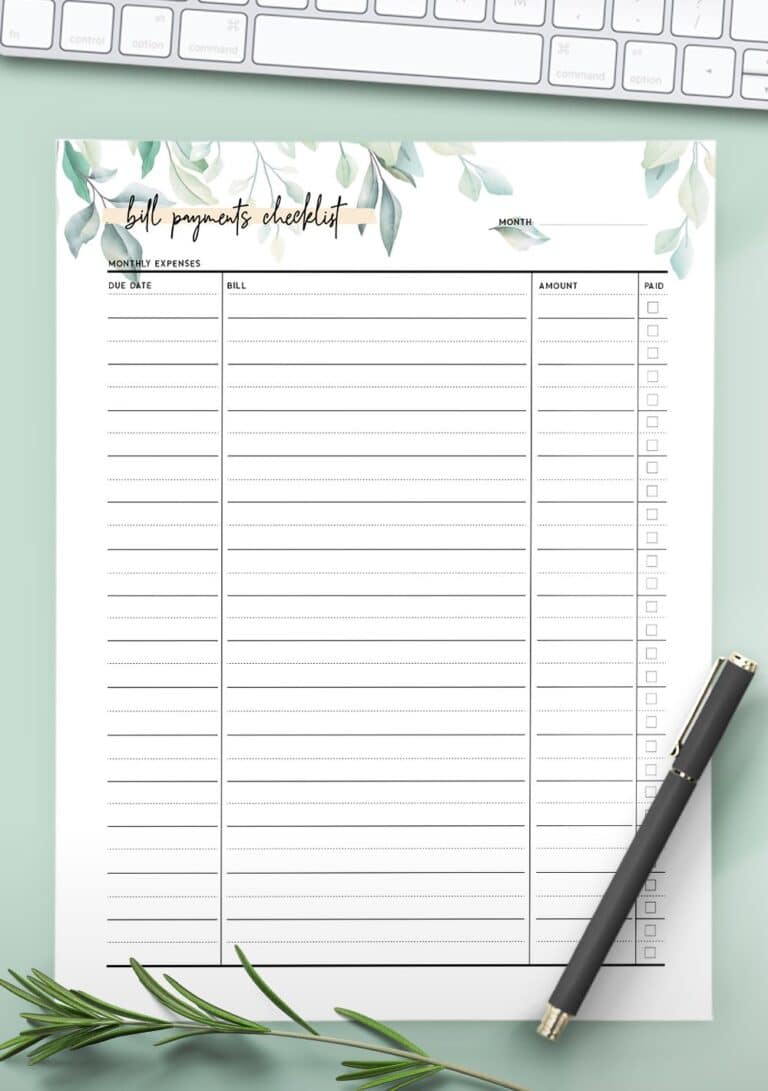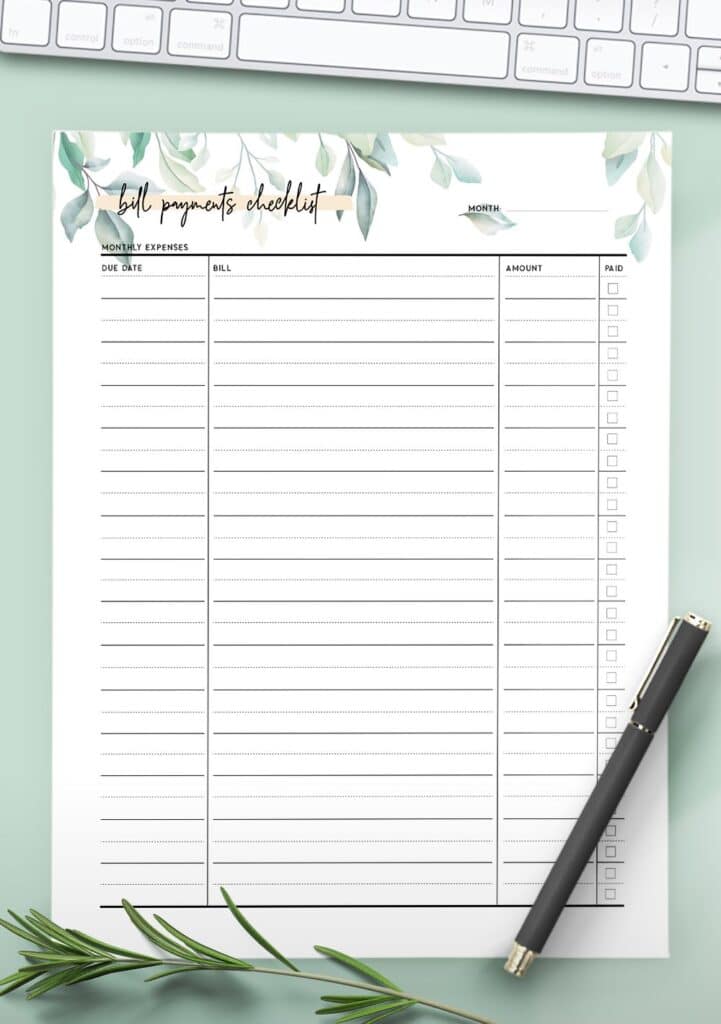 The bill payment checklist is so easy to use too! Just write your due date, bill, amount and check the box once it's been paid. You can print this multiple times to use for each month.
You can get the botanical bill payment checklist below.
You can also find this beautiful printable included in the Financial Budgeting Planner which is a great option if you want to take control of all aspects of your finances. You can manage your bills, debts, savings, and budgeting with our free money management planners.
How to use our planners for the best finish
Resize it – Our printable planner inserts are made for US Letter sized paper. But you can easily resize our planners to fit any paper size and binder. It's so easy to make them bigger or smaller to fit into your choice of binder – find out how here.
Print it – We recommend using nice quality paper for printing our planners and planner pages. This paper is a good weight and works with inkjet and laser printers, the ink looks crisp and clear giving your printed planners that shop-bought look. The paper also holds up well as you use your planner throughout your daily life.
Style it – Style your planner! Put them in your favorite ring binder, notebook binder, or even bind your own with a paper punch binder. Accessorize your planner with stunning stickers, unique paper clips, and stylish dividers and tabs. Find out how to make printable planners match your style right here!
Snap it – Take a photo of your planners and tag us on Instagram! We love to see how you use our planner pages!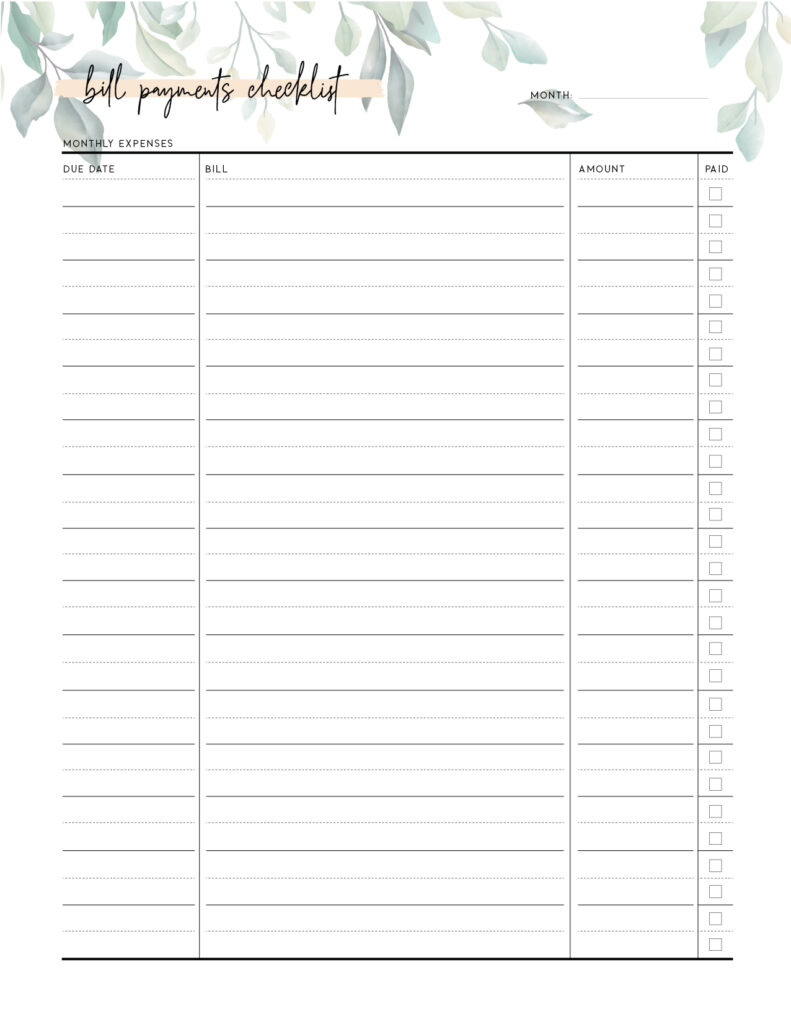 Get the free bill payment checklist
To get the high-quality version of the bill payment checklist for free, see the button below to visit our product page. It comes in different styles, so you can choose the one you love best that suits your planner.
Use the coupon code displayed to get it for free.
More awesome printables and templates from World of Printables
We've created a huge amount of these budget planner templates that will help you manage your budget better than ever. Be sure to grab as many as you can along with our many other money management printables while you're here.
Remember to look through the rest of our planner printables, we've got printables for every aspect of your money and your life!
We think you'll find these very useful:
More money management templates
Some of our recent money management templates. Find many more Money Management printable templates that you'll love for free.
---
Find 100's more stylish planner templates that you'll love
Some of our recent planner templates. Find many more Printable Planner Templates that will help you get on top of your life with ease. You'll love them.
Follow World of Printables on Pinterest for more