Use these free budgeting templates to help you manage your money better, so that you'll have more money at the end of each month towards your savings or goals.
We've got dozens of amazing printable budget templates that you'll love – see them all below
Plus read on if budgeting sounds stressful for great advice on how best to budget successfully and finding the right monthly budget template for you.
Everything you need to know about budgeting
Are you someone who lives paycheck to paycheck? Or maybe you are someone who has found themselves in debt?
I have personally found myself in both situations and it is such a common position to be in but such an easy position to get out of – If you do it right!
Many people don't even know the true extent of their finances and how important it is to take care of them.
Taking a good look at your finances gives you the chance to fix things for the better, to work your way out of debt, plan for your retirement, to start saving in a realistic way.
If you want to learn all about starting a budget, budgeting planners, what they are, and how to use them then you are definitely in the right place.
How do you start a budget?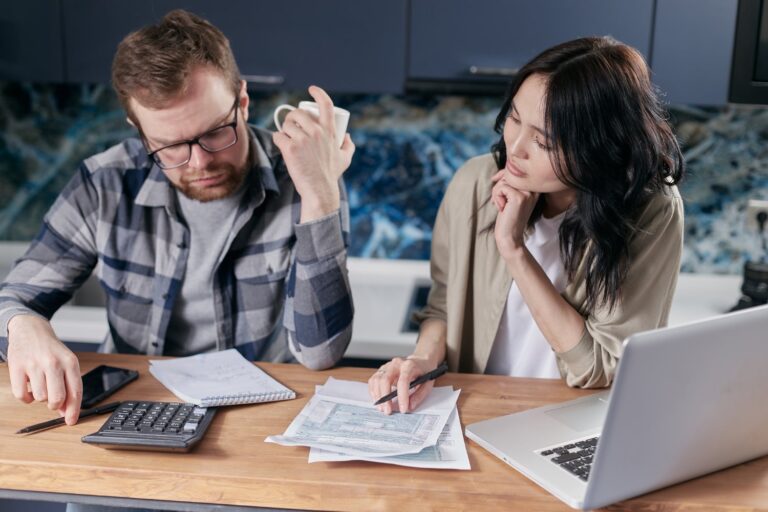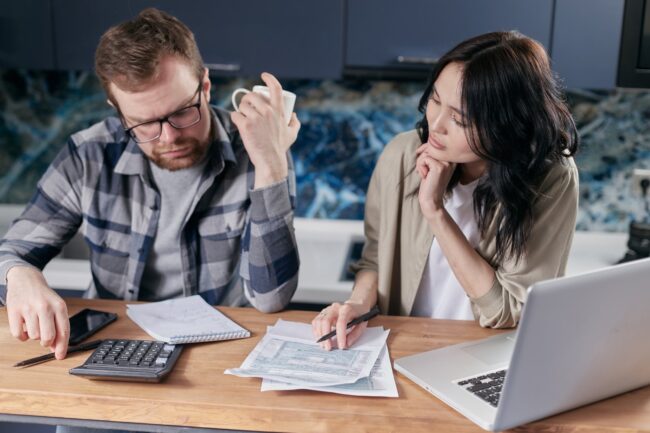 Understand why you want to budget
Knowing why you want to budget in the first place is key to getting started. If you know why you want to budget and what you want to achieve you will feel more inclined to stick to your budget plan.
Budgeting is so important if you want to become financially stable, it's actually unbelievable how many people are so ill-prepared when it comes to their finances.
This article from Debt.com breaks down the financial burden that many Americans face because they don't or haven't planned their money.
It shows some pretty scary but interesting stats that really make you think. But the great thing about budgeting is anyone can do it, no matter how big or small your income is.
You just make it work for you.
Know your monthly income
Before you start making a budget you should know your monthly income. If you receive your monthly paycheck with taxes deducted then what is left is your monthly income.
The same rules apply if you have more than one income, just list the net pay for all income and figure out your total monthly income.
If you are self-employed, be sure to calculate the exact amount you receive monthly.
If your income is variable, I would recommend using your lowest income month of the year and use that as the base for when you plan your budget.
Take a look at your bills and understand your monthly expenses
Gather your bank statements, receipts, and credit card statements to give yourself an idea of what you are spending monthly.
Expenses could fluctuate drastically from one month to another depending on what you have going on, so gather your statements from the last three months to give yourself a better idea of what are more permanent expenses.
Differentiate your fixed and variable expenses
You will need to note the difference between your expenses. What expenses are fixed and what are variable? What expenses could you cut back on?
Fixed (those that don't change)
Mortgage / rent
Home Insurance
Car Insurance
Life Insurance
Car payments
Electricity
Gas
Water
WiFi
Child care
Gasoline for car
Groceries
Cell phone / landline
If you find that your fixed expenses are actually quite expensive then consider downgrading some things.
For example, do you really need all that added data for your cell? Can you switch suppliers to save on electricity or gas? Does anyone actually use a landline anymore?
Variable (those that vary month to month or aren't essential)
Streaming services
Cable
Gym or club memberships
Dining Out
Self-care or grooming (hair appointments, nail appointments, make up)
Alcohol
Events, Cinema
Travel (vacation, plane tickets, hotels, cars)
Home decor
Fashion (clothes, shoes, bags)
I know these expenses cover all the fun stuff. I don't want to tell you not to have a life!
But think about what you can cut back on here. Do you need that bottle of wine? Could you get a cheaper bottle? Why not have a fakeaway at home rather than dining out?
It's not about stopping the fun, it's about making some changes to cut costs.
Compare your monthly income and expenses
Now you know how much income you have coming in, it's time to calculate all of those expenses you looked at.
Tally them up separately. How much money covers your fixed bills? How much money covers your variables?
It's important to compare your monthly income to your monthly expenses. If you have more income than expenses then you're off to a good start but that's not enough.
It's not about living paycheck to paycheck. it's about getting the most out of your money. After all, you work hard for your money, so by spending reasonably you'll likely have more money each month which can help towards your financial goals.
Any extra money you have after totaling ALL of your expenses can be used towards savings (retirement, emergency fund, student loans, debt repayment, general savings).
If you are really stretching your income to cover your expenses then it's time to rethink what you're spending your money on.
One of the easiest budgeting methods I like to use is the 50, 30, 20. This is a budget method that most financial advisors recommend and it can help you create a basic budget.
What is the 50 30 20 budget rule?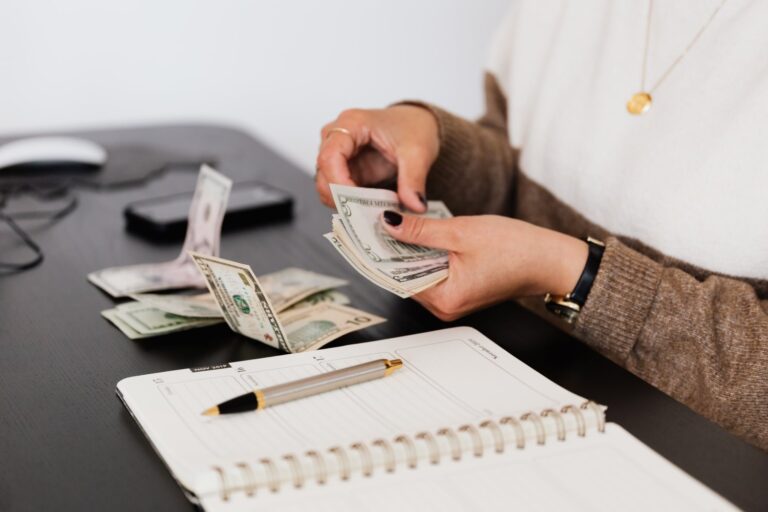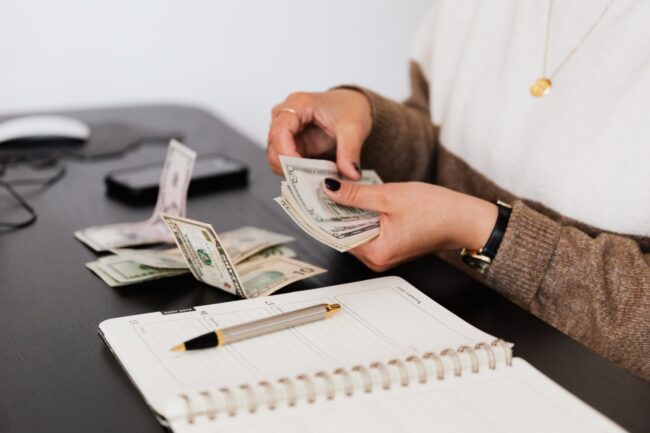 The 50 30 20 budget rule is a simple budgeting method used to help you allocate your monthly wages to different areas of your financial strategy. The goal is to divide your take-home pay between three sections.
It's as simple as this:
50% on essential living expenses
30% on wants / fun
20% for savings or debt repayment
Look at it this way – Remember the fixed expenses above? Those are your essential living expenses (the 50%), the variable expenses are your wants (30%), and then there is 20% allocated to savings.
We didn't cover savings above, but these are some expenses you could include in your 20%:
401(k)
Savings account
Student loan payments
Debt repayments
Emergency fund
I like to base my budgeting on a simple method – 50, 30, 20 -because I find it an easy starting point for beginners and it makes creating a budget much easier to understand.
This method is good if you want a larger budget for entertainment and isn't as strict as some other budgeting methods.
Want to learn more about the 50 30 20 methods? Get the information straight from the woman who popularized it – Senator Elizabeth Warren!
So you know how to start a budget, and you know how to use one of the most favorable methods out there.
Let's get on to making a budget planner that will help you on your journey to better money management.
What are budget planners?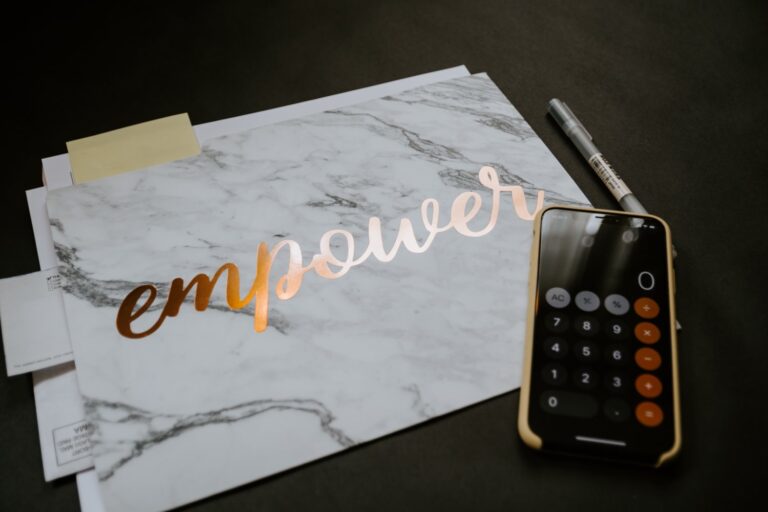 Budget planners (financial planners, budgeting binders, or whatever you want to call them) are a great way of keeping all of your finances together in an organized and managed way.
A budget planner will allow you to understand your money better and figure out a strategy to manage your finances in an easy way, whether that's from budgeting, saving, paying off debt, or reaching your financial goals.
There is so much you can log and track in a budget planner and you can customize it you suit you and your finances.
You don't need to be struggling with money to benefit from a budgeting planner, you just need to be smart enough to realize how important taking control of your finances actually is.
What does a budget planner do?
Using a budget planner can really benefit you in a number of ways. It is a great tool to have if you want to take control of your finances on your own without involving an expensive financial advisor.
Our financial budgeting planner is perfect for those who want to keep on top of their family and personal finances and plan ahead easily and effectively.
When you use our budget templates you will start to become more familiar with your finances and how your money works using a system that works for you.
We have money tied up everywhere and it can be so hard to lose track of where it is. You could have money in savings accounts, joint accounts, business accounts, cash lying around, money invested in stocks.
Using our budget templates helps you:
to easily see where you are financially invested, keep track of it and see how it is intertwined.
understand your financial goals and create a financial strategy to work with
understand where your money is so you can easily make decisions on your own or as a couple
organize your finances
plan for the future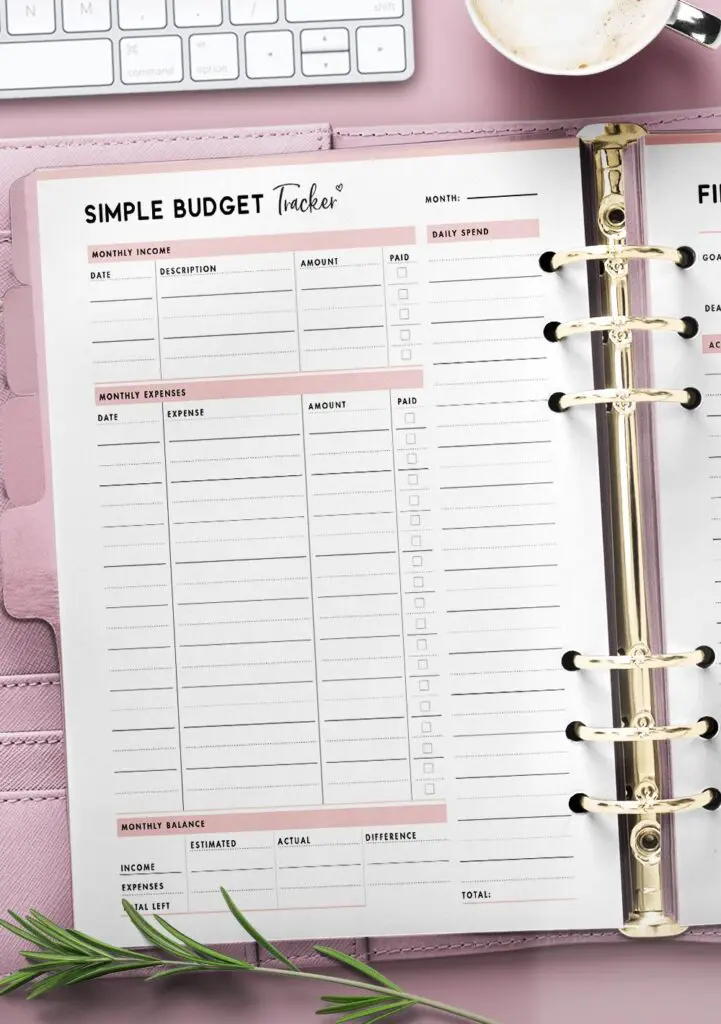 Is a budget planner worth it?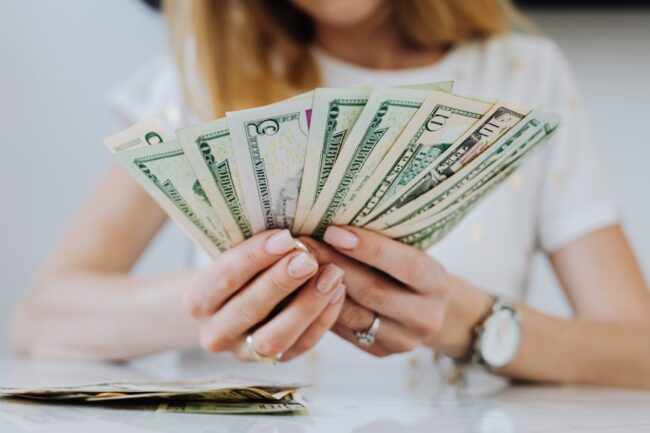 Absolutely! At this point, you should understand the benefits of having a budgeting planner that is both easy to follow and really effective.
This budgeting planner offers so many pages to aid you in so many different ways, focusing on all different aspects of finance and budgeting.
The great thing about our budget planner is that you can print and arrange it in an order that suits you and reprint any pages you need more of. This planner can be used for years to come.
What should be included in a budgeting planner?
When it comes to using a budget planner, you want it to include everything that will help with every aspect of your finances.
We designed our budgeting binder with 20 pages that you can use over and over again, year after year!
Our Financial Budgeting planner includes:
Financial Goals Tracker
Simple Budget Tracker
Monthly Budget
Bill Payments Calendar
Bill Payments Checklist
Bill Payments Planner
Medical Expenses Tracker
Side Job Tracker
Credit Card Info
Debt Tracker
Bank Account Info
Savings Tracker
Emergency Fund
Retirement Tracker
Donation Tracker
Holiday Budget Tracker
52 Weeks Savings
Monthly Expenses
Bill payment Tracker
Sinking Funds Tracker
Thoughts and Notes
The great thing about using a printable budget binder is you can mix and match it. Take our financial planner, for example, It's incredible, beautifully designed, and guaranteed to help.
But you might have other pages that you want to include to make it work more for you. Having a printable binder allows you to create something from anything including pages you already have and love.
What is the best budget planner?
Our finances are such an important aspect of our lives, so it's only right we choose the best budget planner to help us keep them organized and on track.
Everyone has a preference for what they want in their planner but there are a few things I like to look for that make a budget planner worth my time.
What makes a good budget planner?
In my opinion, a good budget planner has to include everything you need to organize and understand all aspects of your money.
I've taken a look at some physical budget planners that you can purchase from Amazon that all have tons of great reviews (all four stars or more), have incredible features that are amazingly helpful, and look great.
With that being said, all purchases are a personal preference so I recommend you take a close look to see what works best for you.
Here are my top budget planners: –
The Financial Budgeting Planner

Call me biased for having The Financial Budgeting Planner in here but I do honestly think it is an incredible planner to have. We took our sweet time designing this to be functional, beautiful, easy to use, and very low cost.

In fact, you can get all of the templates from our budgeting planner for free right here on our website.

TIP! if you want to save time, then our budgeting planner bundle makes it easy and convenient to get them all at once, in high-quality PDF format at a very low cost.

These budget templates have been carefully designed to suit the needs of beginner budgeters and those who are already well accustomed to financial planning.

This budget planner has everything you will need to start strong with your financial journey and stay strong!

With the Budget Planner, you can print the pages time and time again, year after year. Need more space to note or plan certain parts of your finances?

Just simply print the pages again! No need to buy another planner, no need to be frustrated. Just build your financial budget planner as and when you need to.

The Financial Budgeting Planner also comes in four styles and you actually receive all four styles in one bundle!

Our budgeting binder is also compatible with all of our free planner printable inserts, free printable planner stickers, and free updated planner pages.

For a full breakdown of The Financial Budgeting Planner, just scroll down a little. It's definitely worth the read!

Clever Fox Budget Planner

The Clever Fox Budget Planner is a really nice option if you are new to budgeting. It offers a thorough basic budgeting system that is easy to use and can be used all year round.

This budget planner has plenty of pages to help you on your journey of financial control and also includes free stickers too.

The Clever Fox Budget Planner is available in a huge selection of colors so you will definitely find a color that catches your eye. I personally like the Rose Gold version.

The Clever Fox Budget Planner is undated but lasts for a year, so you can start taking control of your finances at any time.

It's best to get started as soon as you can rather than waiting for a fresh year to start so you can begin with the optimism you feel right now.

GoGirl Budget Planner

If you are looking for a planner that is easy to use and is well equipped for organizing your finances then this is a lovely option.

The GoGirl Budget Planner starts off strong with the first two pages of the planner designed to help you understand your financial goals and plan a strategy.

Along with this, you will find a selection of incredibly useful and practical planner pages to help you organize and structure your monthly finances.

The GoGirl budget Planner is undated so you can start using it whenever you are ready.

The GoGirl Budget Planner has been "created by women for women" and so has a great balance of femininity and minimalist style.

The planner comes in a choice of 11 colors to suit any level of girliness and also has 2 sheets of stickers that are stored in a pocket in the back of the planner. Find this planner in A5 size or Compact size (5.3″ x 7.7″)

PLANBERRY Budget Planner

The first thing I notice about this Planberry Budget Planner is how visually striking it is. The Planberry budget planner comes in 6 vivid styles that are all bright, unique, and beautiful.

Aside from the aesthetic of the planner, it has great reviews for how well it works, especially for saving and planning a budget.

The Planberry Budget Planner even includes a user manual so you know how to use the planner straight away. This is great if you're new to budget planners and it even comes with stickers to help keep you motivated to use it often.

Clever Fox Bi-Weekly Budget Planner

If you're looking for a bi-weekly budget planner then this is a great option. The Clever Fox Bi-Weekly Budget Planner is perfect for those who want to budget for every two weeks rather than every month and is a great way of organizing your budget by paycheck.

This budgeting planner offers smart organization and is easy to use for both beginners and those who budget often.

I'm impressed with the features of this budget planner, but it's Clever Fox so I know it's a great choice. You will also find free stickers included with the planner along with a strategy card to help you use it.

Legend Budget Planner

The Legend Budget Planner is a great planner option for novices as it is easy to use and includes an instruction pamphlet.

If you're looking for something with a unique style then this planner really is individual and comes in 11 different colors.

I love the 1-year financial goals page featured in this planner, It's always important to set goals with whatever you are trying to achieve and I think that's a nice touch.

Along with being functional, the Legend Budget Planner is also designed in a way that makes you motivated to use it. I guarantee you will learn to manage your finances better by using this budgeting planner.

Smart Planner Budget Book

If this is your first time budgeting your finances then I think this will be a good planner for you. The Smart Planner Budget Book is a great starter budget planner and even gives advice on paying off debt.

You'll find that the planner is already organized into sections for you and offers pre-filled categories which are great for those who don't know where to start.

It is also an undated planner so you can start whenever you feel ready and if you lose touch with it for a month or two then you can easily pick it back up again.

My favorite aspect of the Smart Planner budget Book is the customizable pie chart at the end of every month. It's such a useful and cute idea and is a great way of reflecting every month.

This planner budget book is beautifully designed and simple to use. It comes in four colors and includes 4 sheets of stickers.

Denise Albright Budget Planner

This easy-to-use Budget Planner by Denise Albright is a great option for beginners and has been described as high school nostalgia due to its colorful and fun design.

The planner comes with 7 cover style options and a ton of useful and bright stickers so you can add attention to certain parts of your planner.

The Budget Planner includes space to track, log and plan your finances along with a financial goals worksheet.

Alongside a collection of really useful pages, there are also four storage pockets for storing bills (you will need to fold your bills).

DebtorEdu Budget Planner

This DebtorEdu Budget Planner is one of those planners that offer more than you may ever need, and that can be either good or bad, depending on what you like.

This budget planner has a ton of pages and different sections that you could even use to track your business expenses.

The DebtorEdu Budget Planner is well organized and very detailed but is also simple and easy to follow. There are online videos dedicated to guiding you on how to use the planner so you can feel comfortable using this planner even if you are a beginner.

This budget planner is stylish, well made, and undated so you can start it at any time of the year.

it also comes with stickers and a receipt pocket. It's a large planner but is still compact enough to carry around.

Budget Planner & Monthly Bill Organizer

This Budget Planner & Monthly Bill Organizer has been intelligently designed to make budgeting an easy and simple task. The planner is easy to follow, super functional, and comes with much more than you need.

The great thing about this planner is the space it offers. There are pockets for your monthly bills along with free cash envelopes and stickers.

It's a great planner for customizing and can be used by both beginners and those who are well accustomed to budgeting.

As you can see, there is such a varied choice of budget planners that all have different quirks but all aim to help you control and organize your finances.
These are all top-class planners but it is always down to personal preference when it comes to choosing the right planner for you.
Hopefully, our selection of planners has helped make choosing a budget planner that little bit easier.
The Financial Budgeting Planner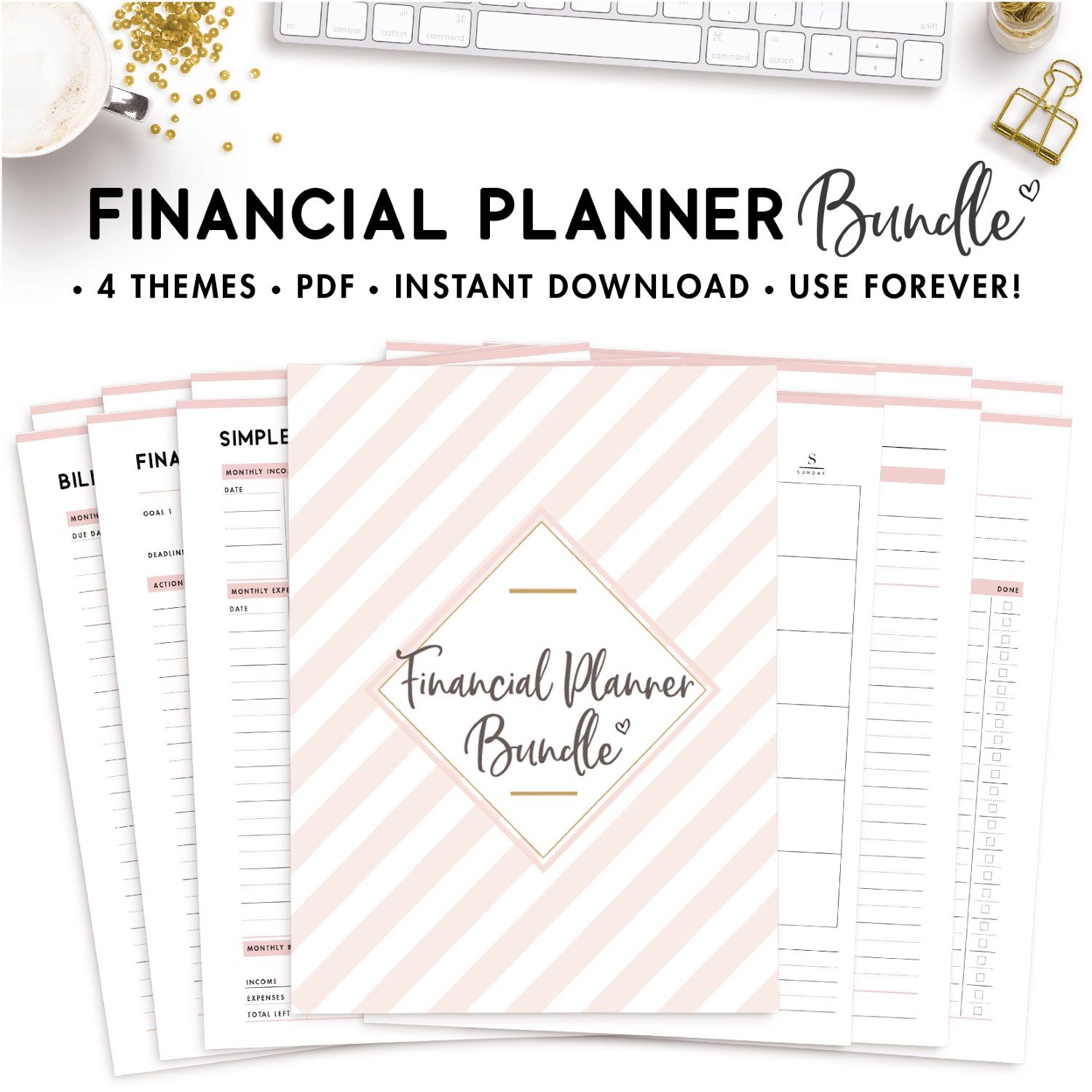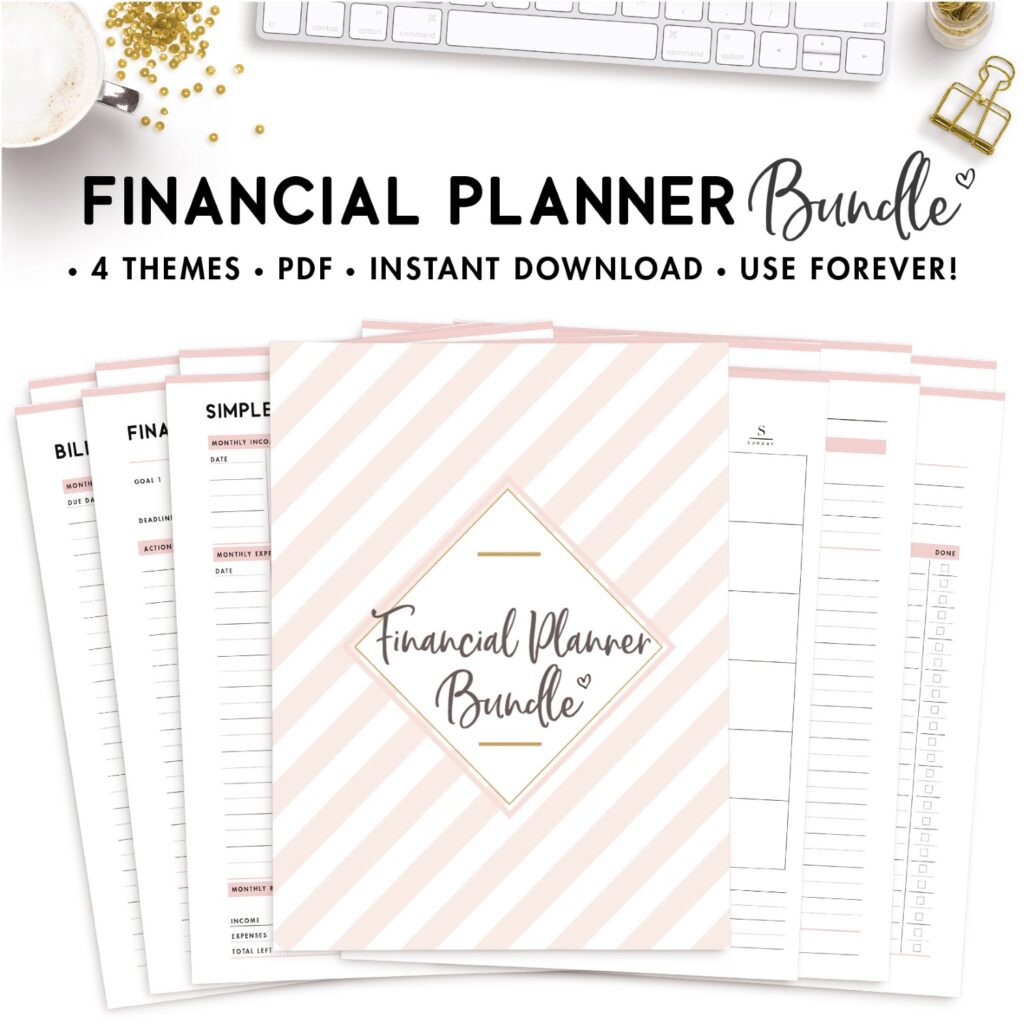 It's only fair that I give you a proper run-through of the Financial Budgeting Planner that you can find right here..
It's a great planner for both beginners and those who are more aware of what it takes to plan your finances. Every page is easy to follow and if you ever need help or advice then we are always here!
Let's take a look at these budget planner templates
Our Budget Planner is perfect for helping you take responsibility for your finances and manage your budgeting.
These stunning budget templates have over 20 usable pages that can be printed time and time again to fill your binder as you build and take charge of your finances.
We also offer you four different planner themes to suit your style! Choose from any of our themes – Botanical, Classic, Cursive, and Soft, all in a high-quality format.
Each planner theme is beautifully designed and each page has been carefully created to give you the best experience.
You will find all four of our Financial Planners are US Letter size. Be sure to sign up for our newsletter for updates when we release other sizes and designs!
Ready to see what's inside our Financial Budgeting Planner?
A breakdown of what you will find in the budget planner
Let's take a look at what you will find inside your new Financial Budgeting Planner.
Financial goals tracker template
Write down your financial goals here, along with the deadline you want to achieve them by.
Then write down the steps that you will take to achieve your goal. Breaking your goal into actionable steps will make it much easier to complete.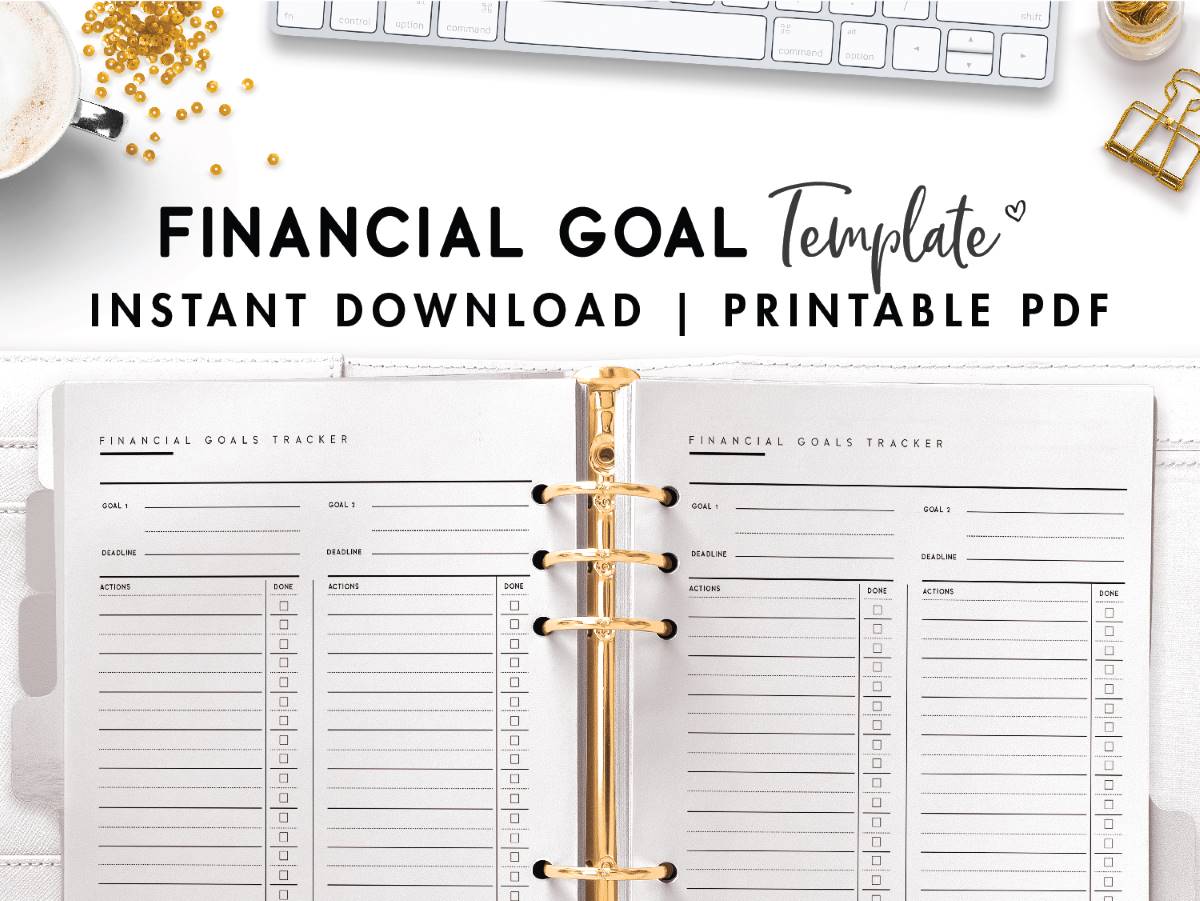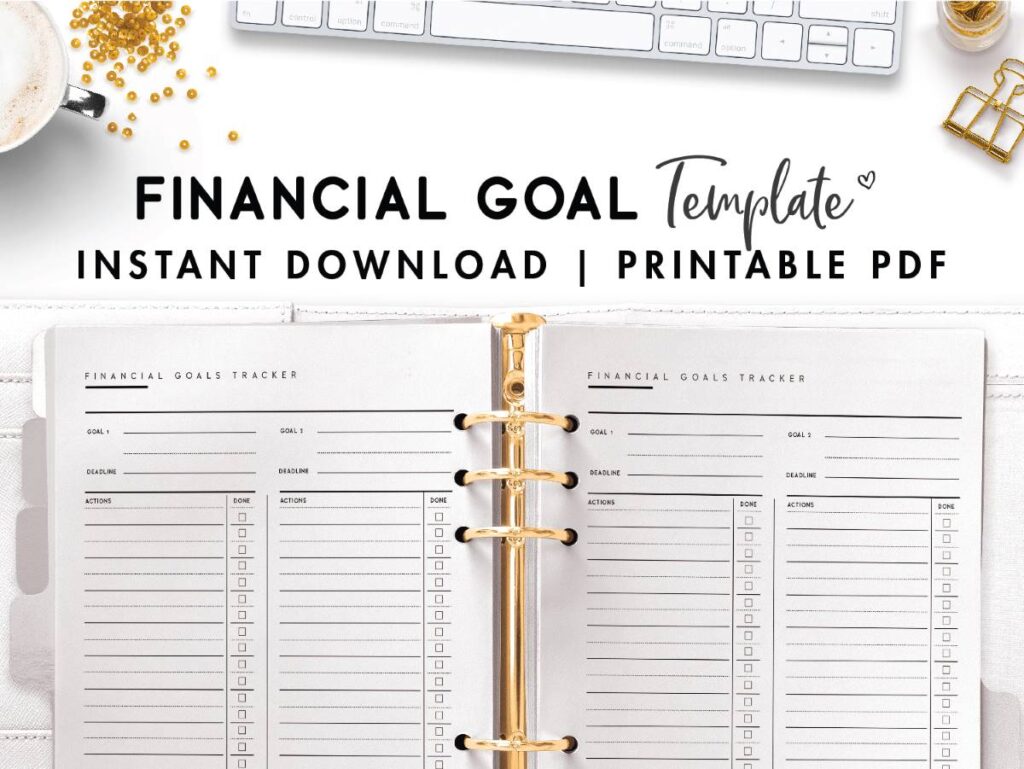 Keep track of your monthly income and monthly expenses with this printable budget tracker.
There is also space to track your daily spend along with a breakdown at the bottom.
This simple budget tracker can be used every month. Just print a new page for a new month!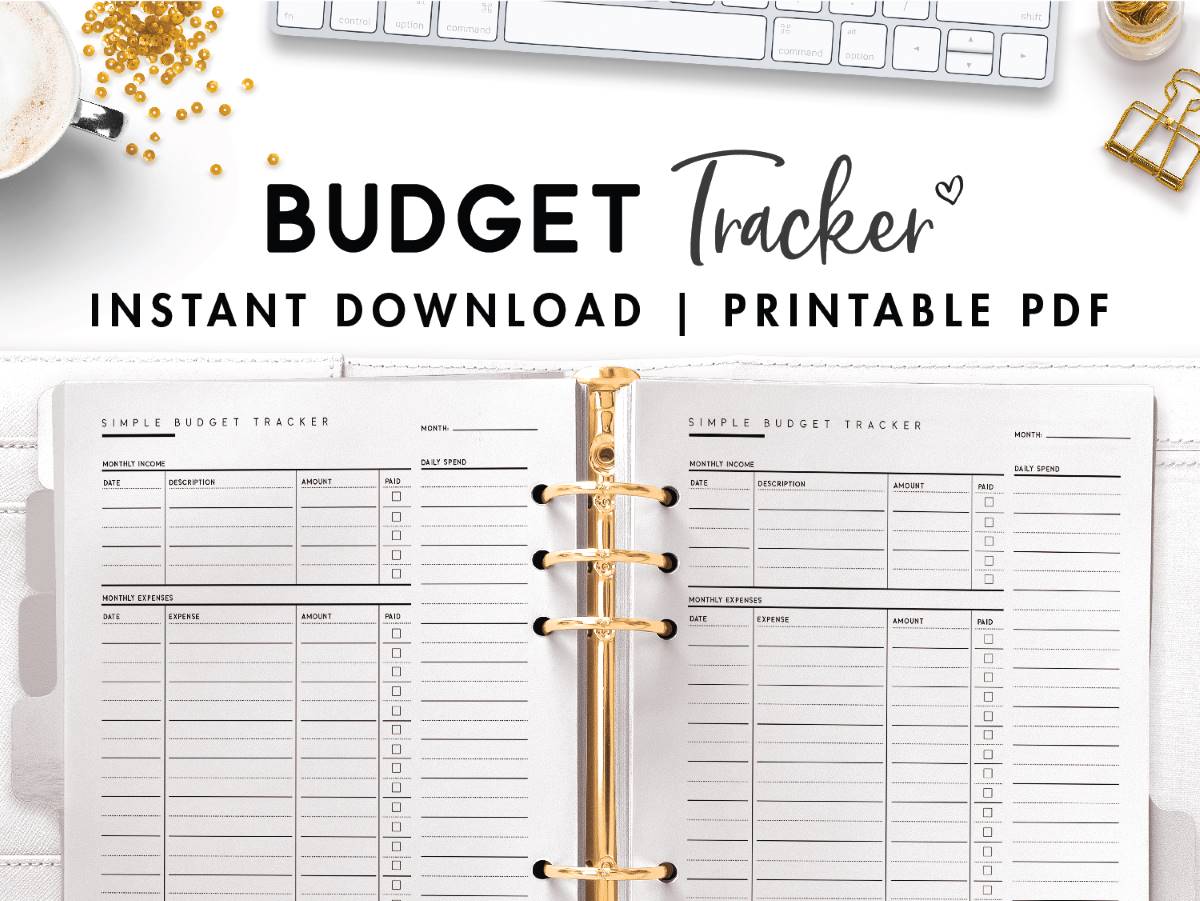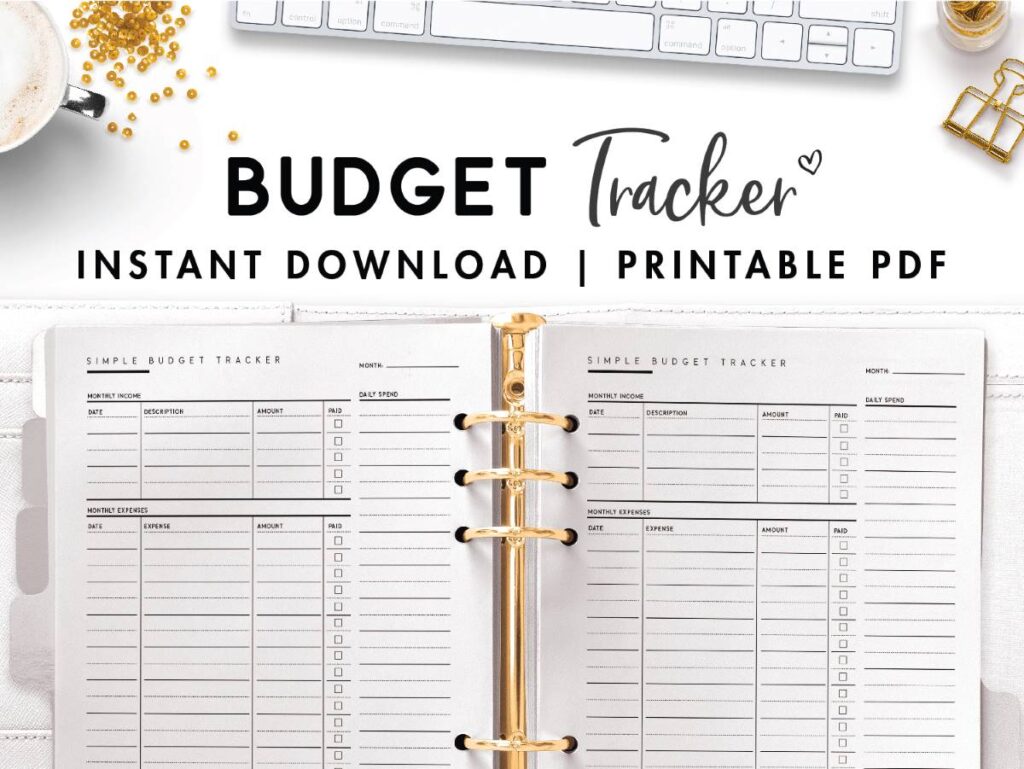 Monthly budget template
Use this page to log your forecasted and actual income for the month along with any expenses and budgeting.
Calculate the total to see the difference. Print out a copy of this page for every month.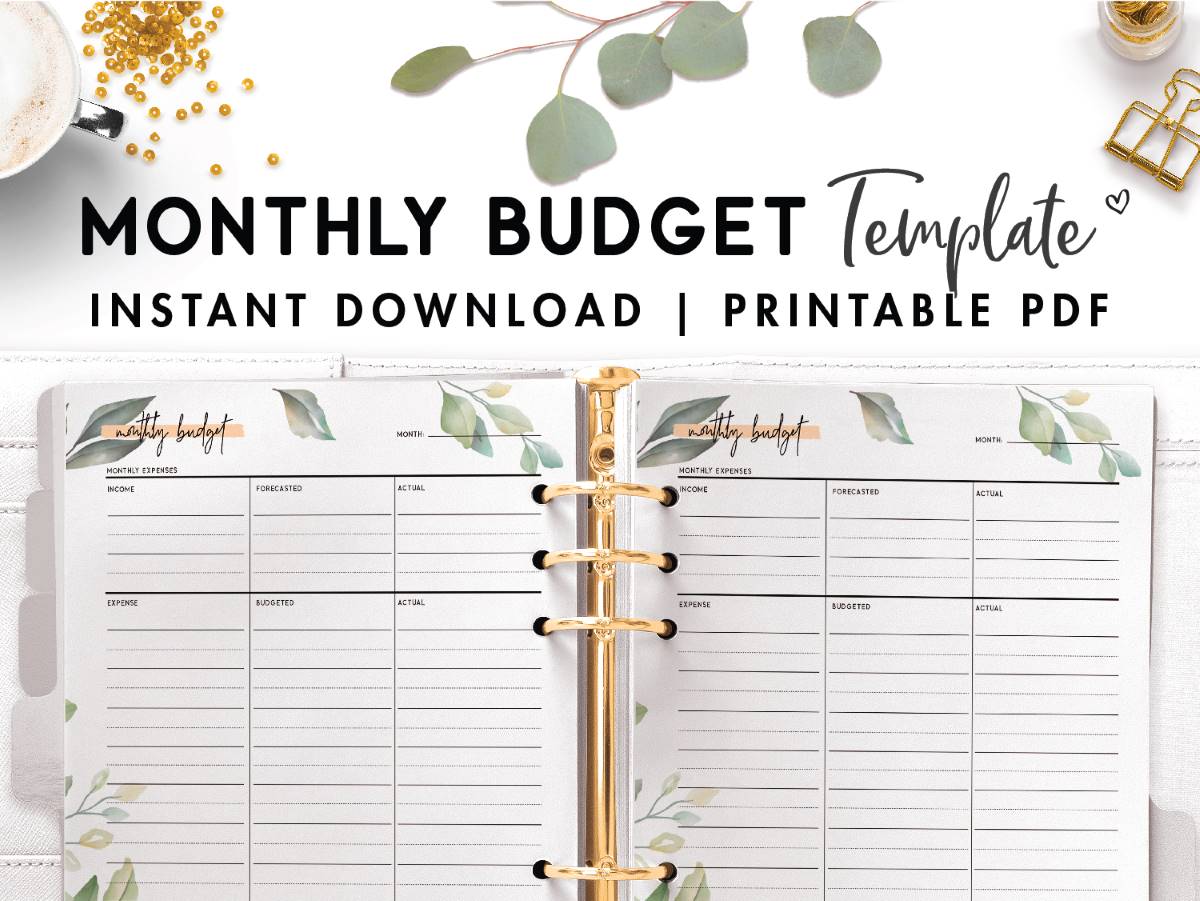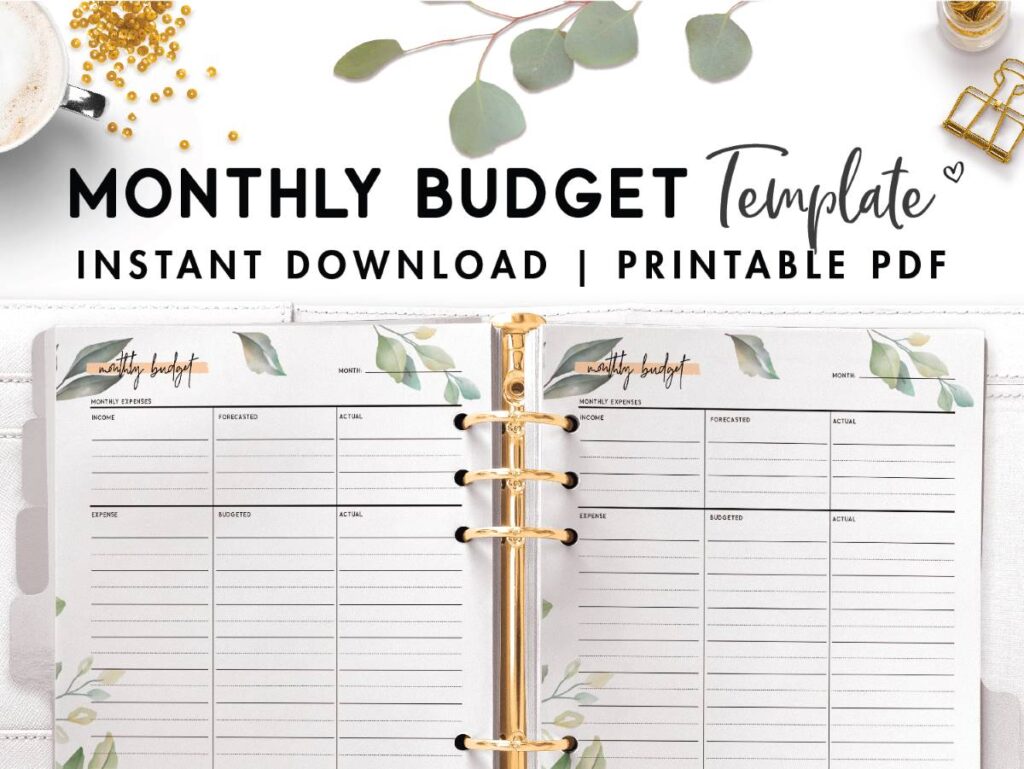 It's a great idea to have a calendar for your bill payments as it allows you to see your payment dates easily.
This undated bill payment calendar covers a week so print enough for the month and fill it in.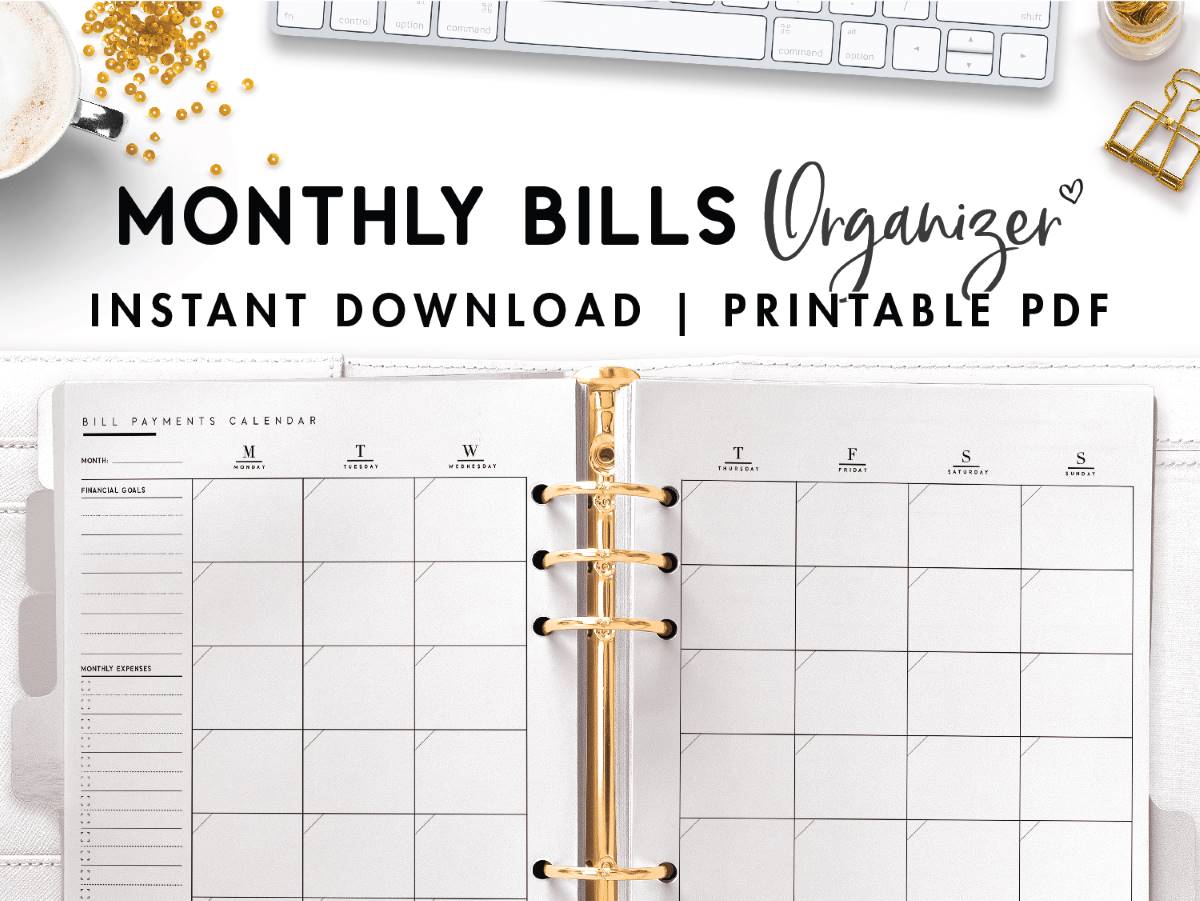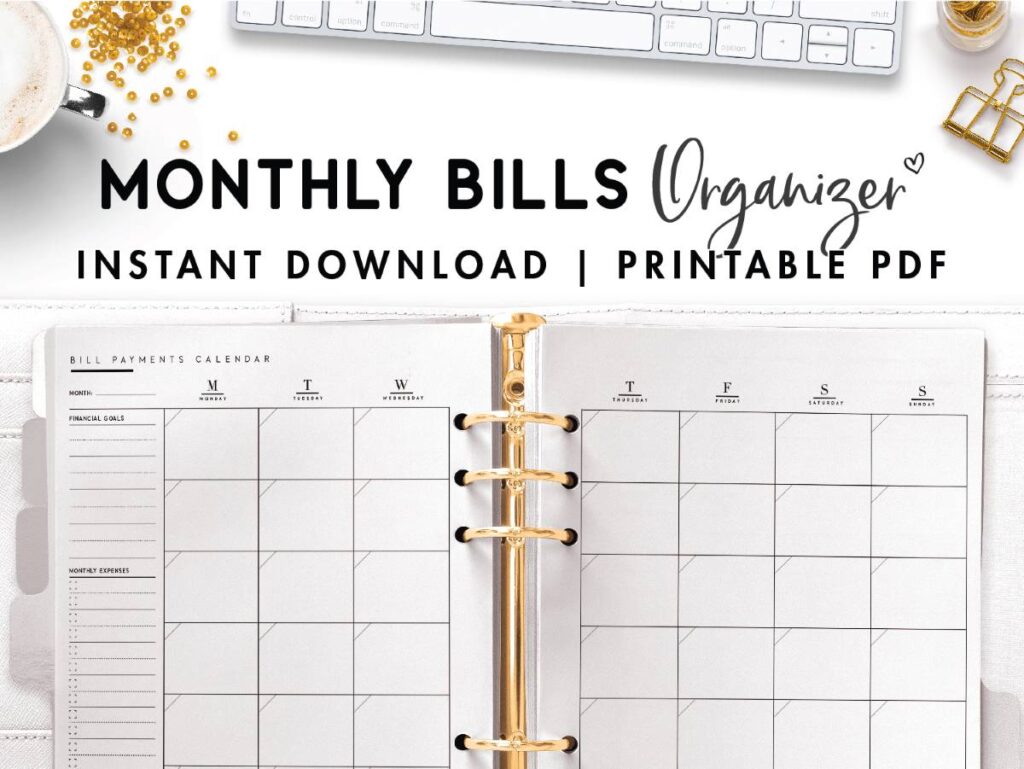 This page is where you will log your monthly expenses, the bill, the amount, and if it has been paid.
Simple print a checklist for every month.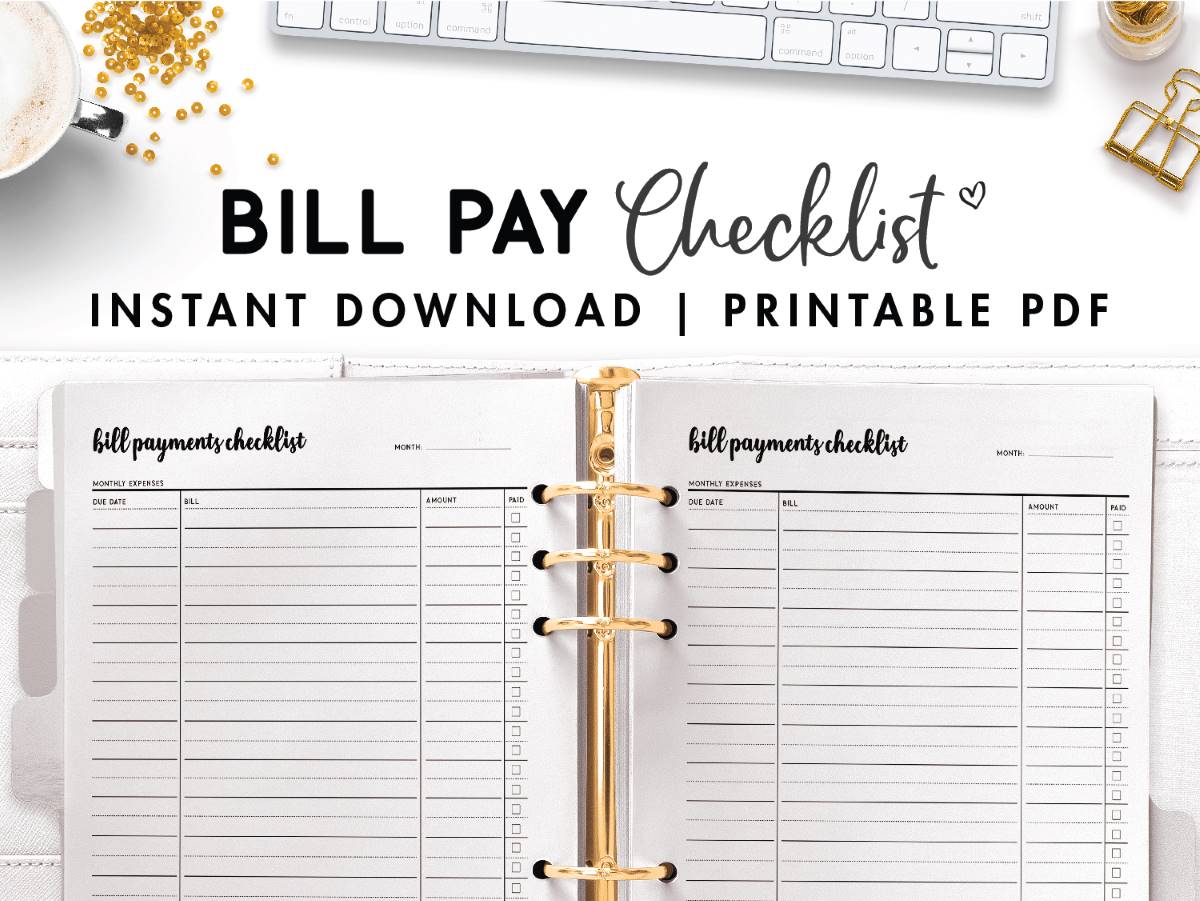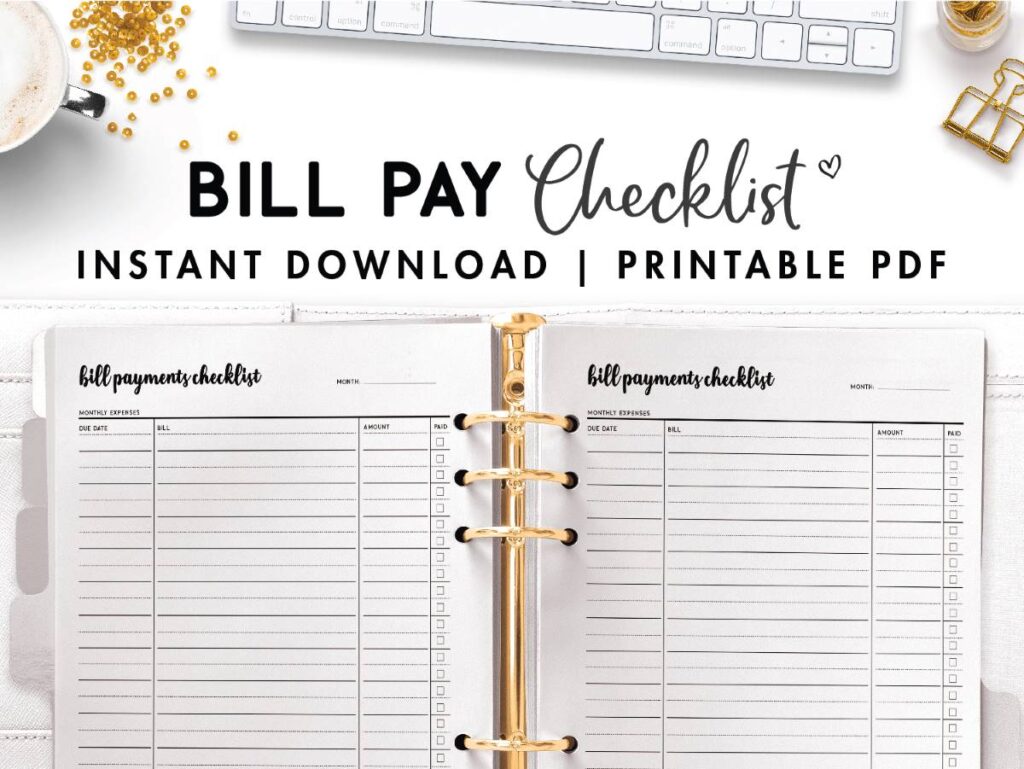 People like to have options when it comes to logging their bill payments.
This bill payment planner allows you to see what bills are due in what month of the year. Think of it as a year at a glance for bills.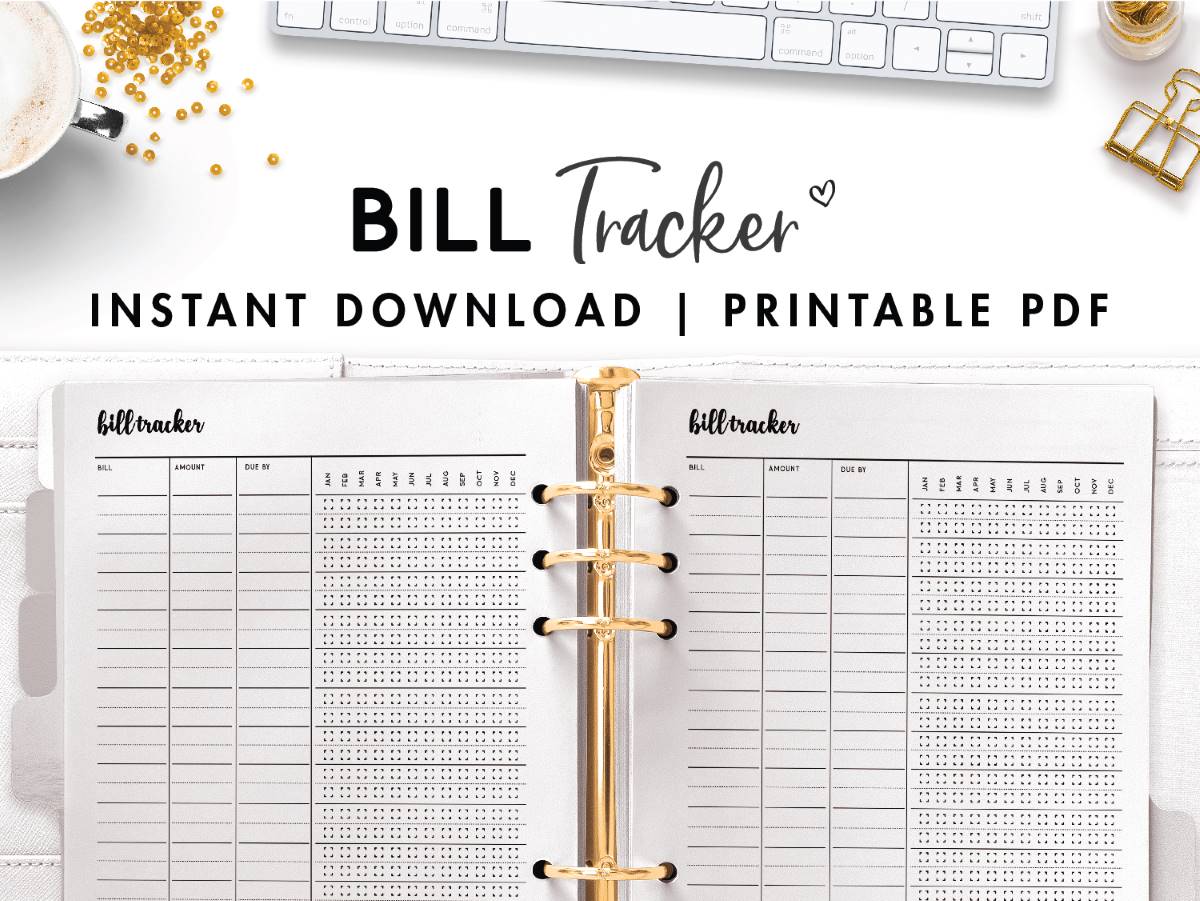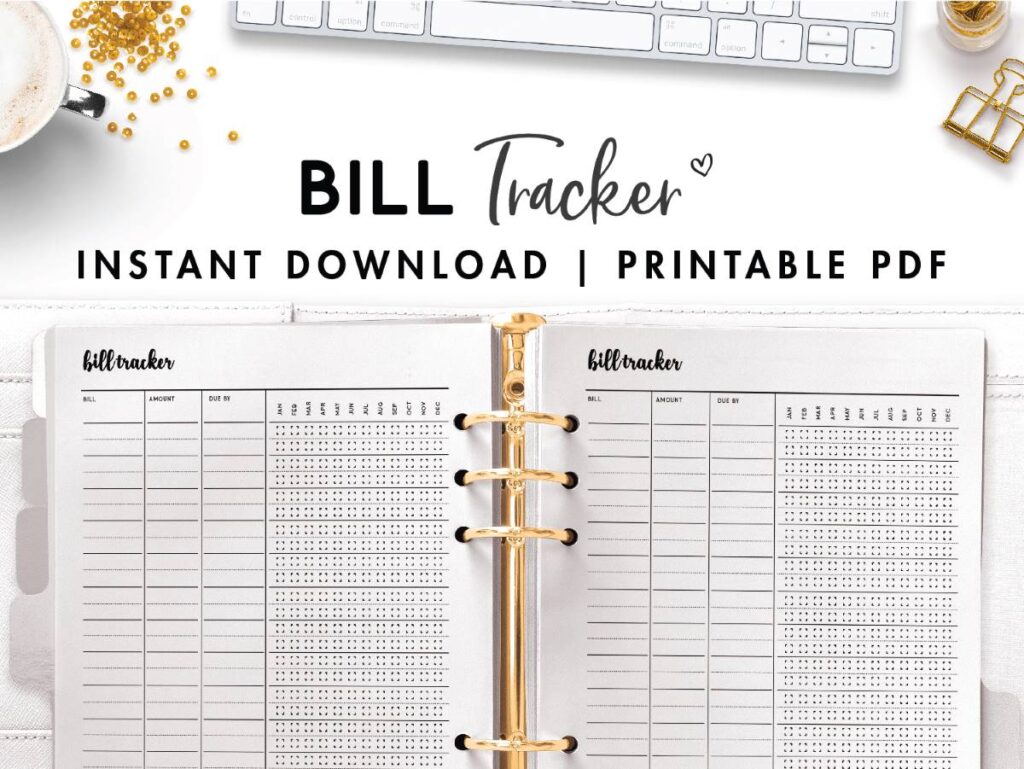 Use this page to track your medical expenses. Input the date, the expense, the cost, your insurance, how much you had to pay towards and the overall balance due.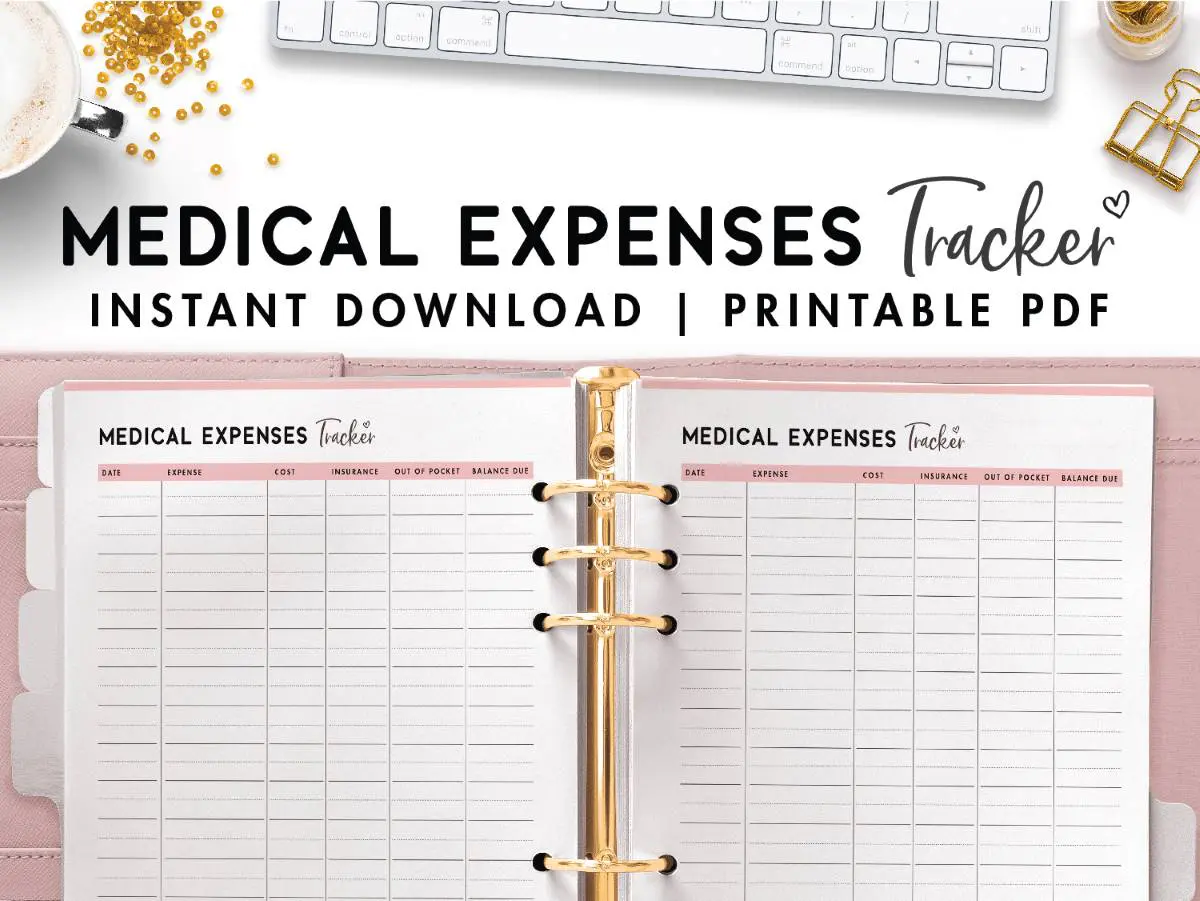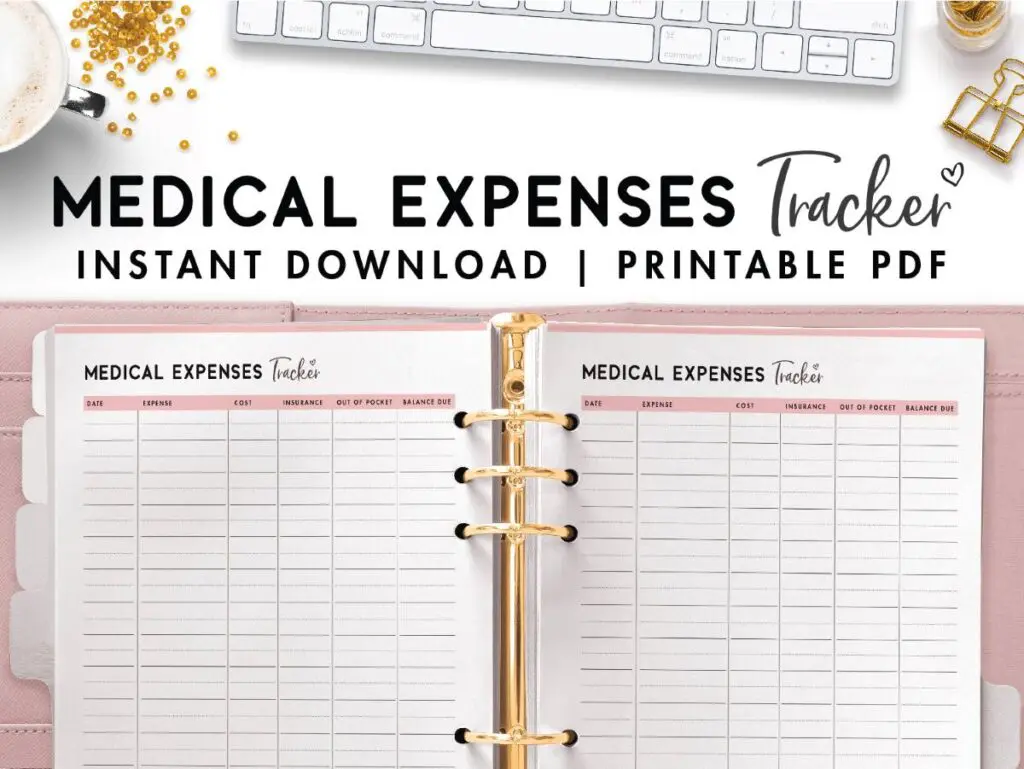 If you've got a side hustle or any other side income then you can use this page to easily track it and keep it separate from your fixed monthly income from your wage.
This is a great way of seeing how much money you're earning and whether it's time to hustle harder or not.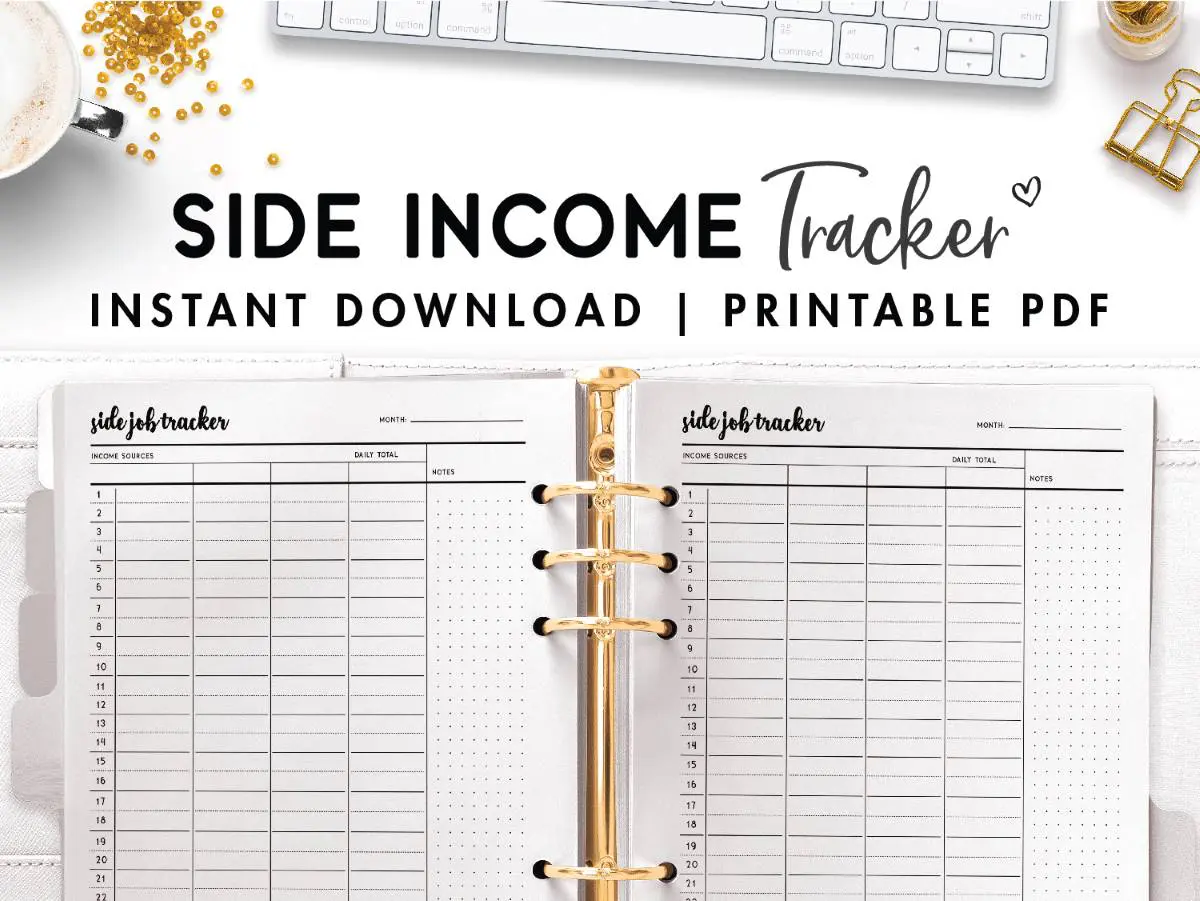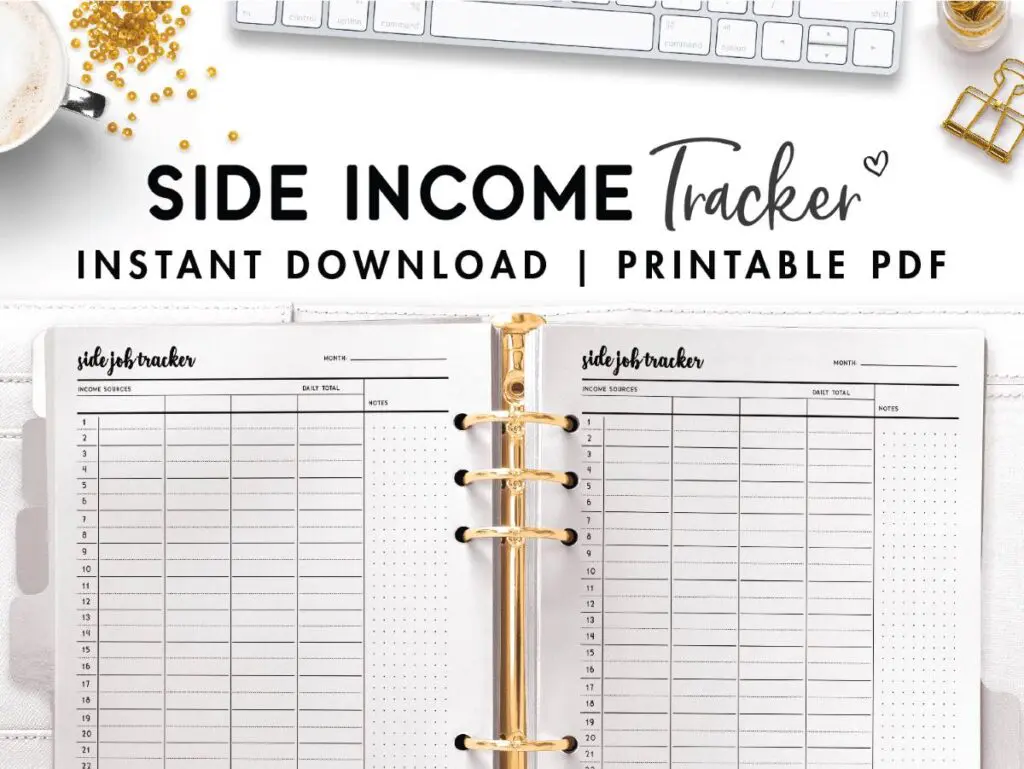 Credit card info
This is a page for storing any credit card information – keep it safe!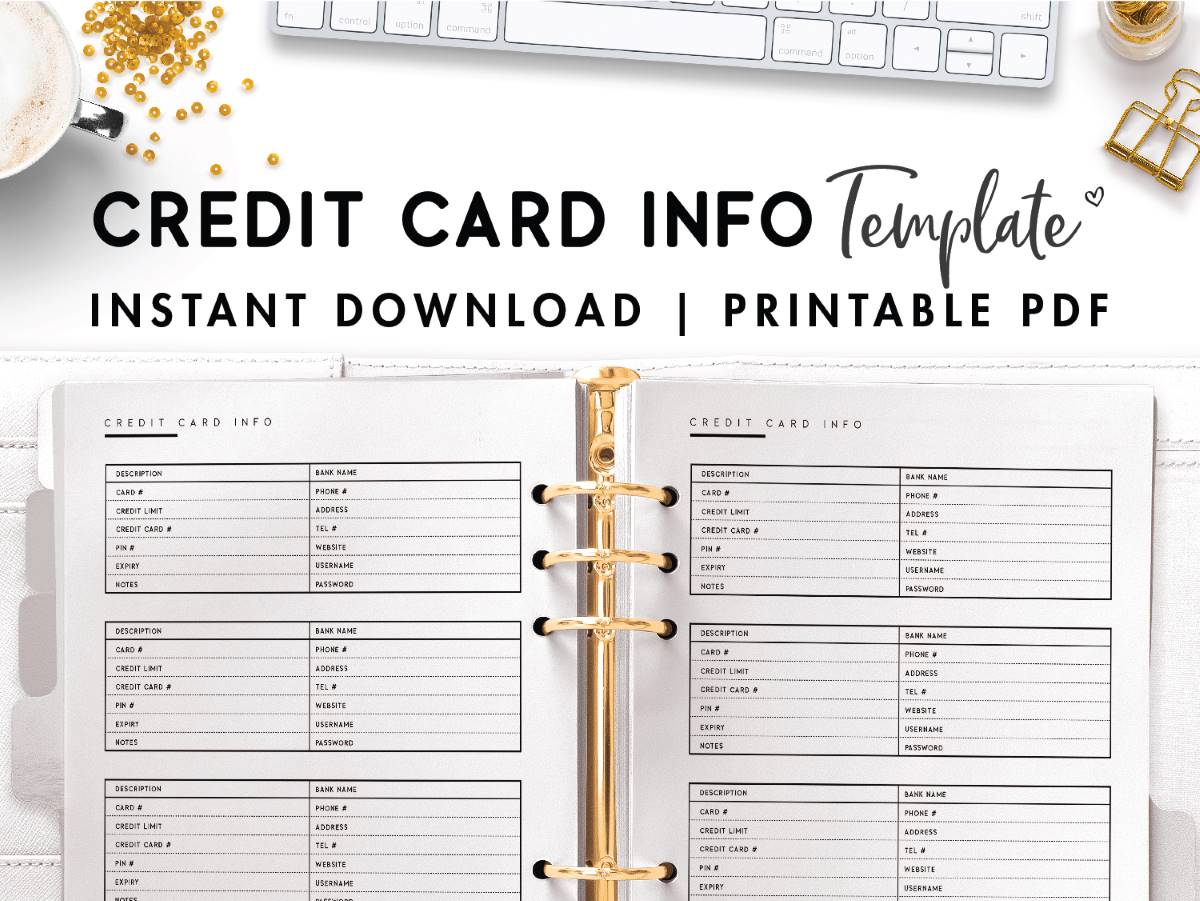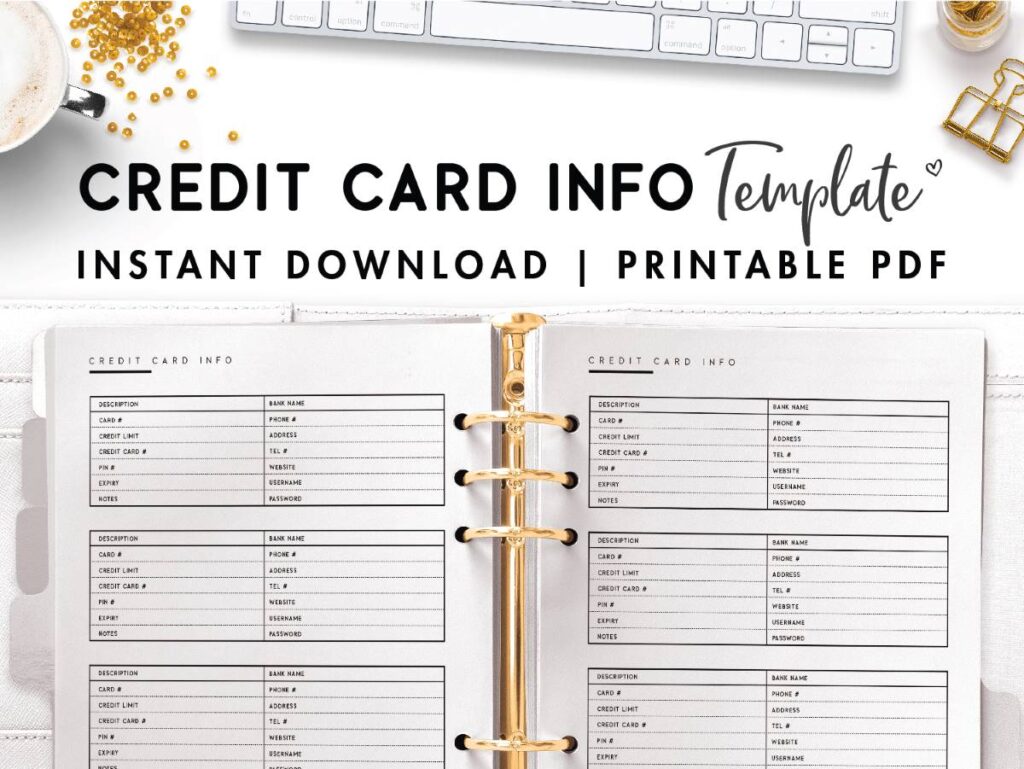 The debt tracker is perfect for breaking down your debt so you can see what needs to be done and keep on top of it easily.
Print a debt tracker for each of your debts to help you manage them separately and more easily.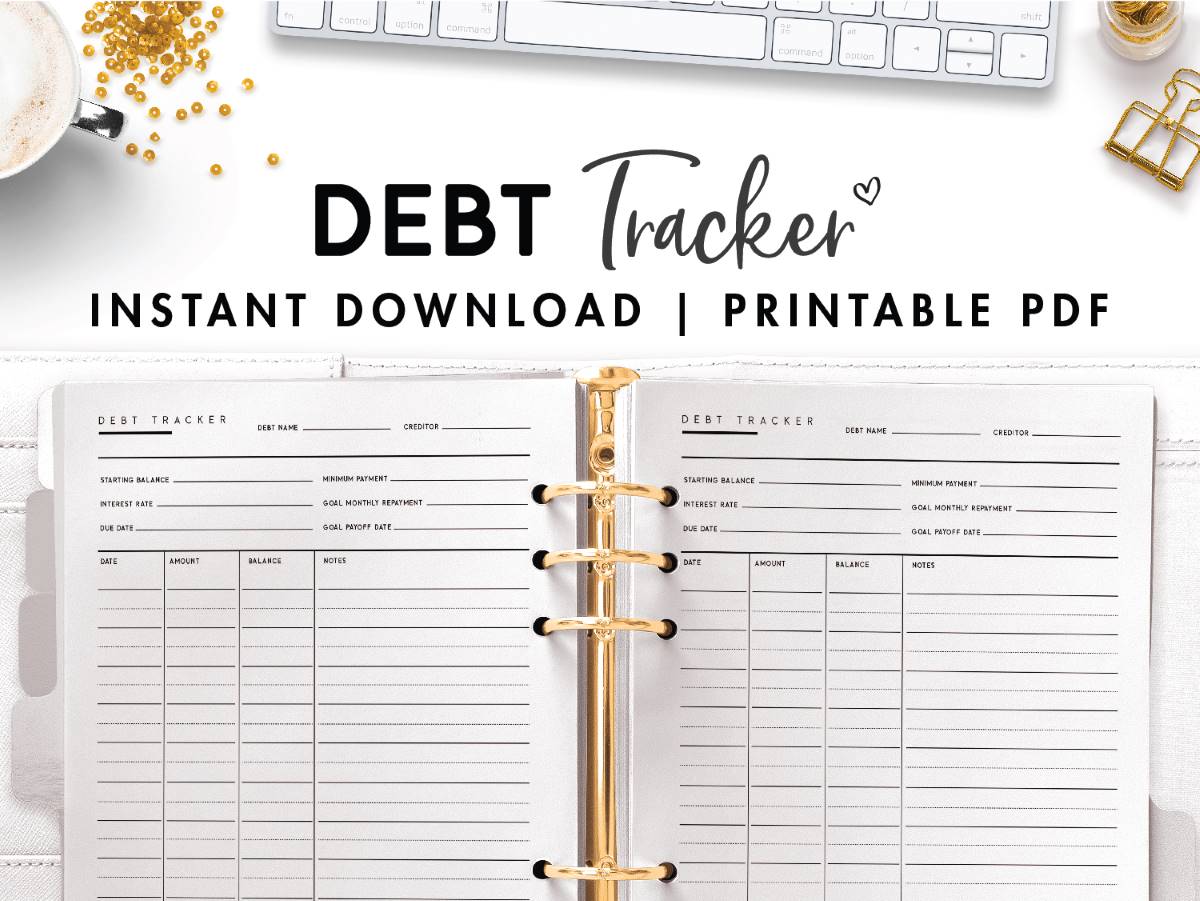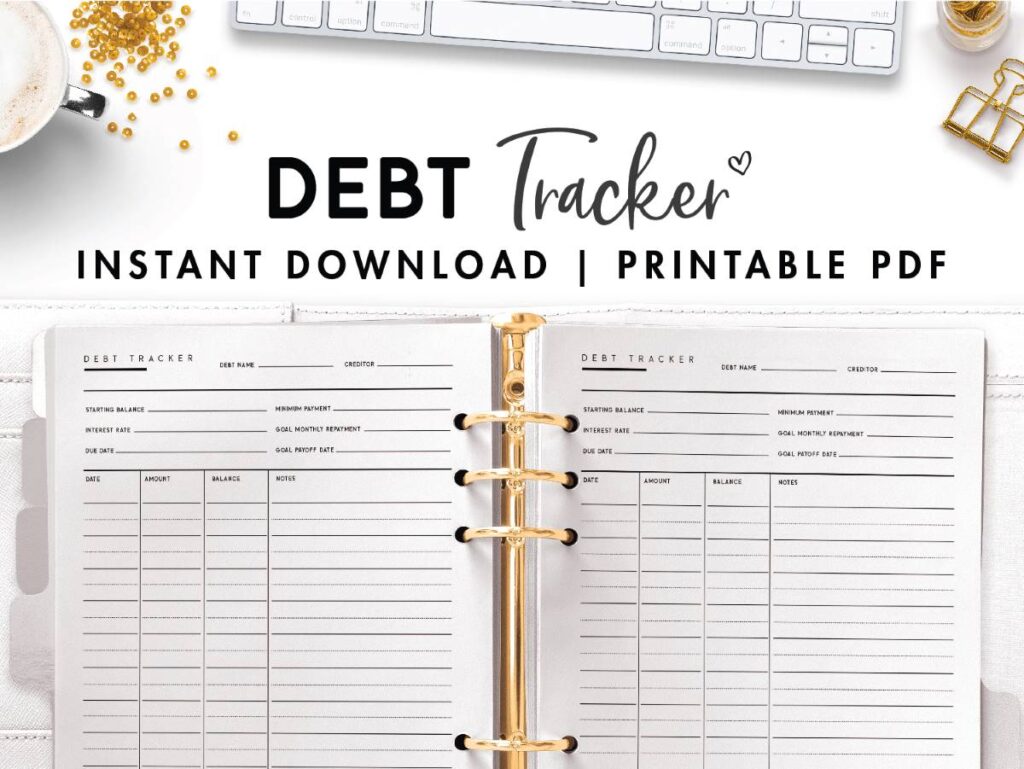 Bank account info
Use this page to store any bank account information which is a quick handy reference for your planner or binder.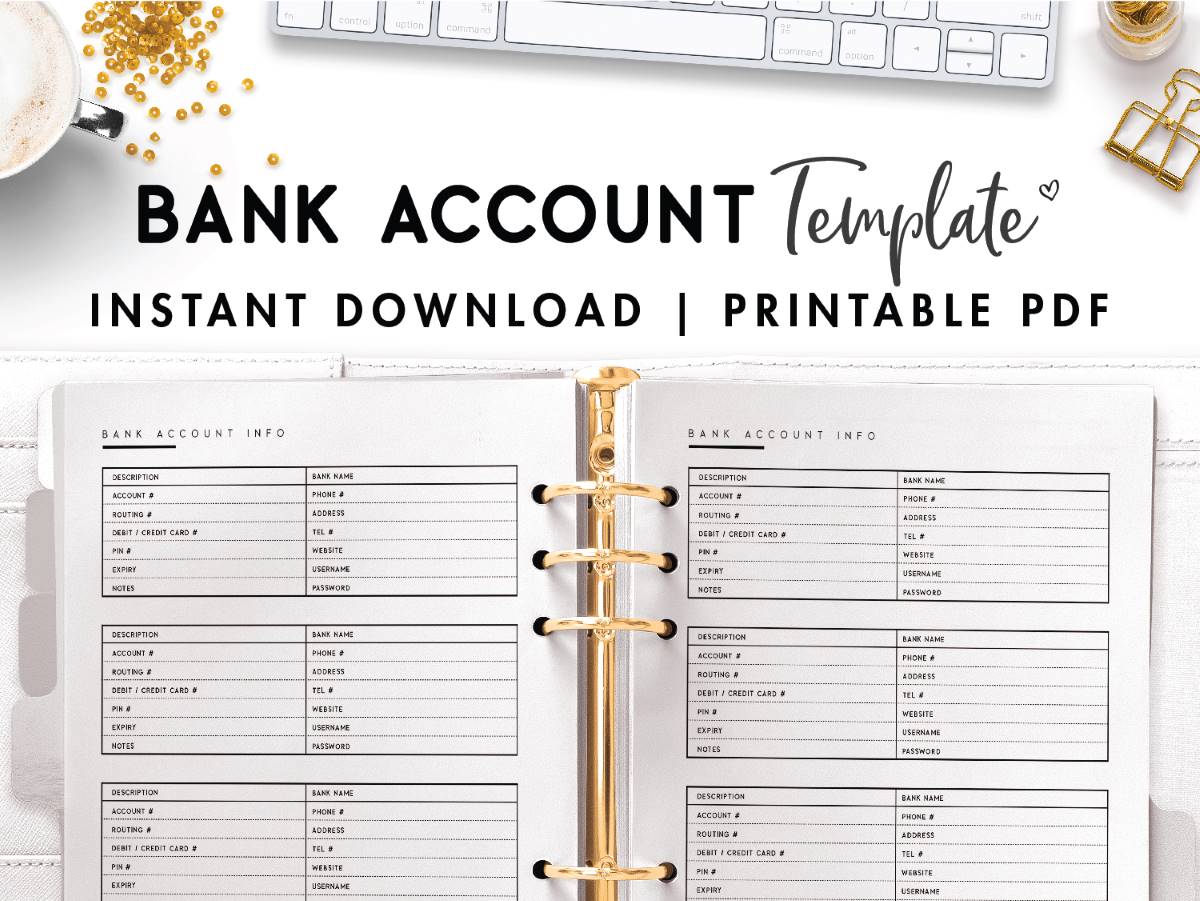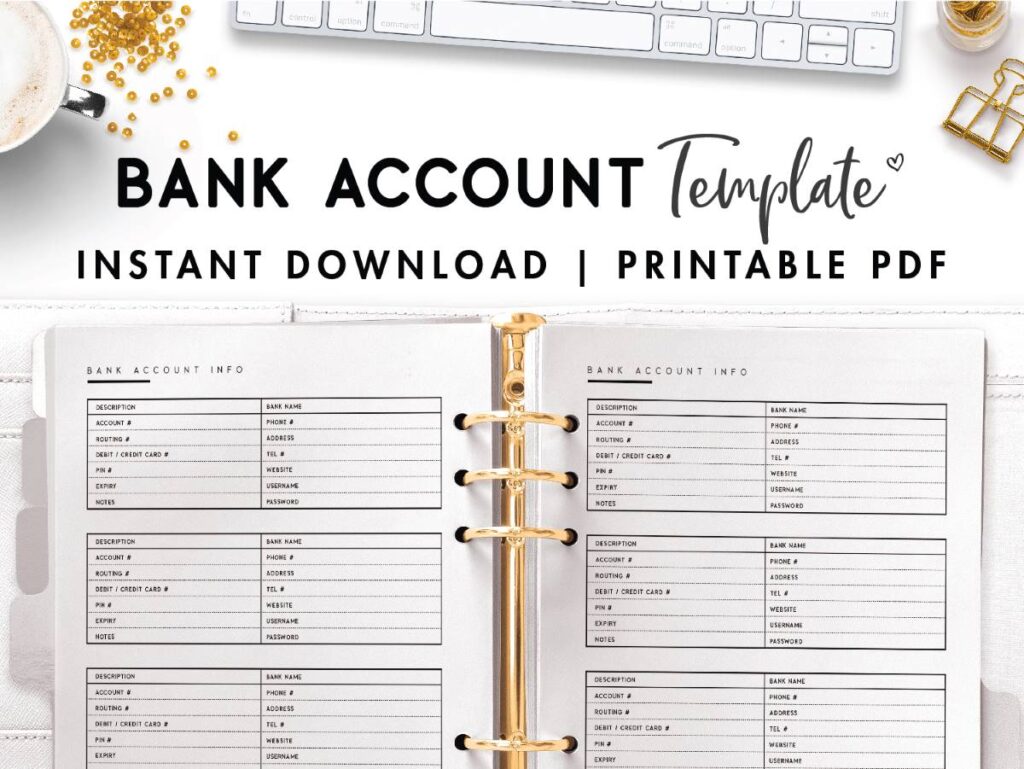 This is a great savings tracker and will really help you stick to your goal. Take time to think about what you want to save before filling this in as you will need to have an idea of your minimum saving, your goal monthly saving, and your overall goal.
There is space to write the date, amount, total, and notes for your savings along with a progress tracker bar.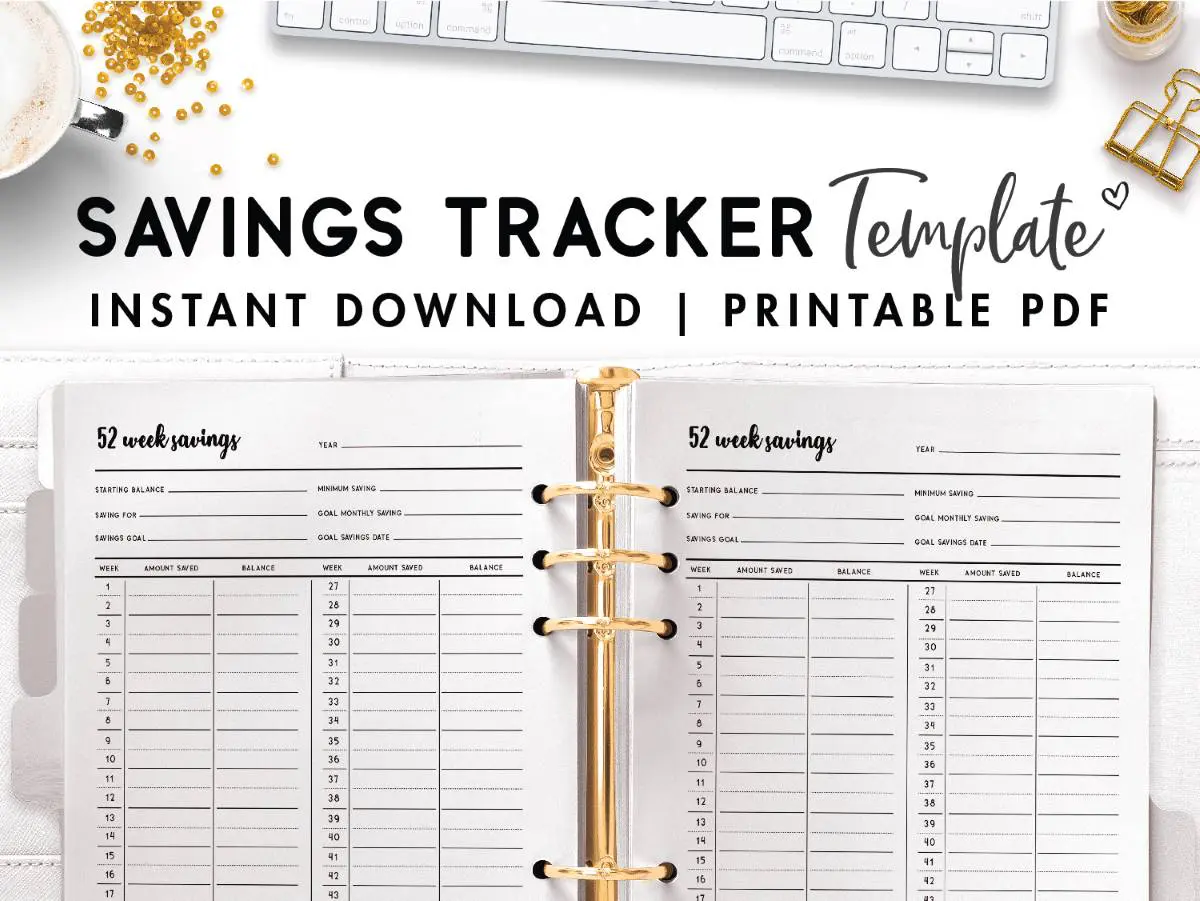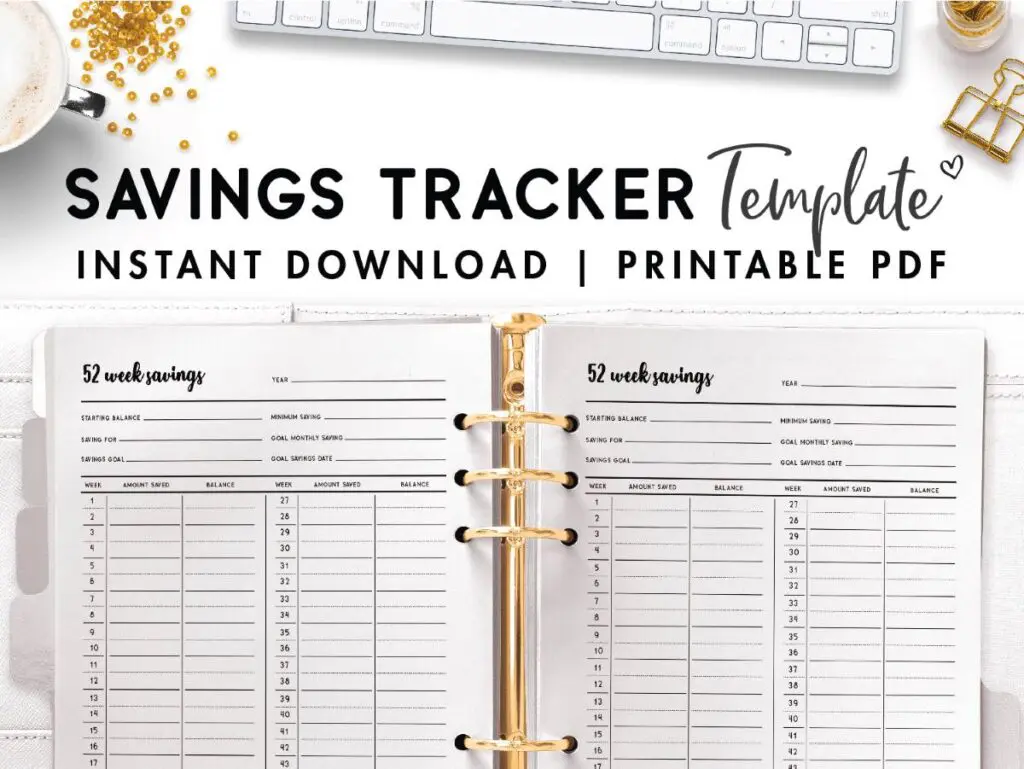 It is always a smart idea to have an emergency fund because life throws us curve balls all the time!
This page will help you set a target, track your progress and log any deposits and withdrawals to your emergency fund.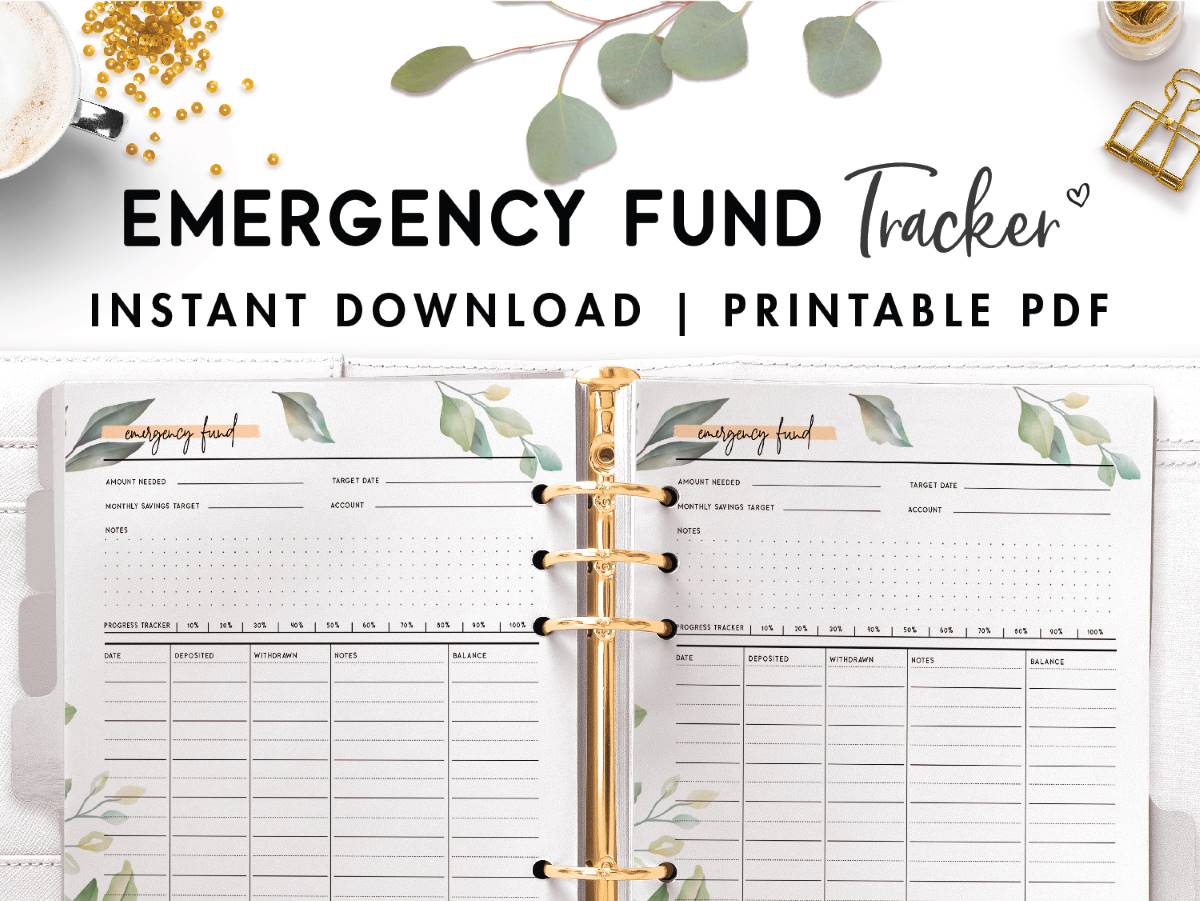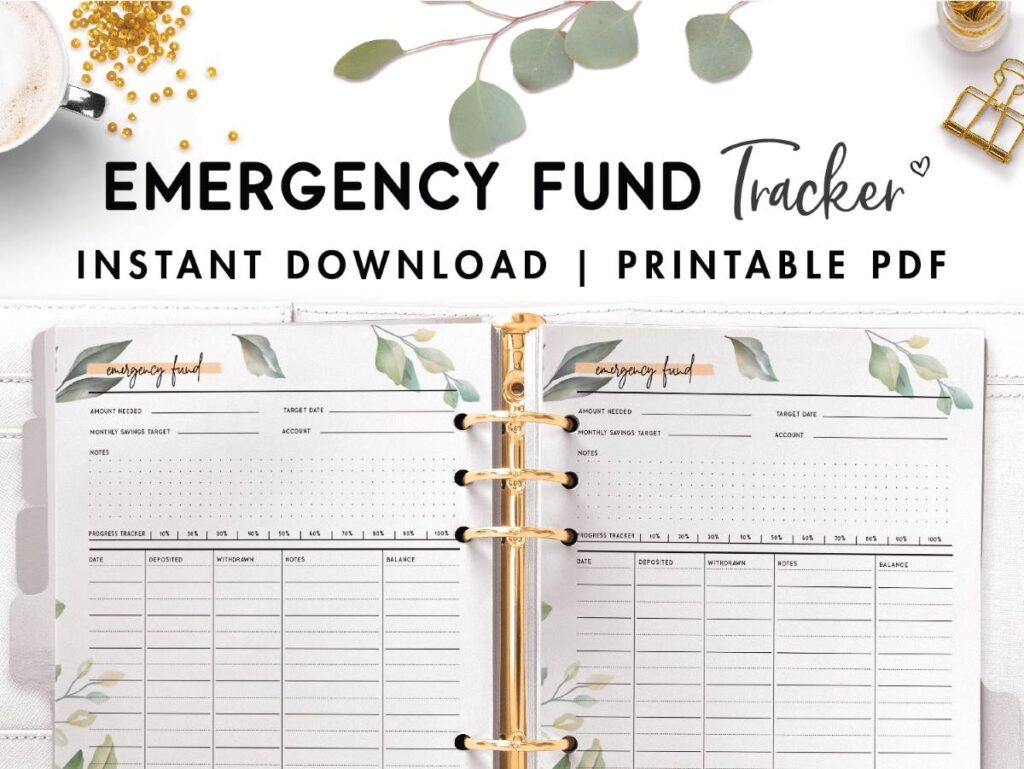 Many people don't have a clue about what's actually going on with their retirement money. They are aware that a portion of the wage gets put aside for retirement but do they actually know how much? Or what their current total is?
Stay on top of your retirement contributions, after all, it is YOUR future.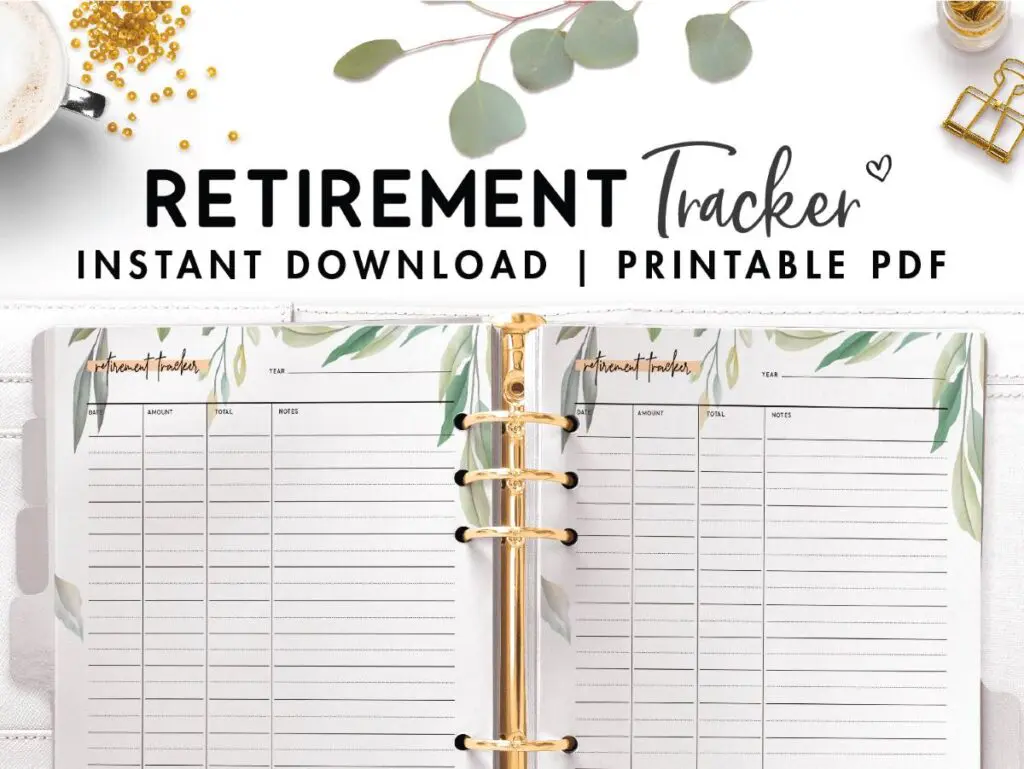 Like to donate to your favorite charity? Or maybe multiple charities?
Keep on top of your donations with this tracker page. You might be surprised at how much you donate every month.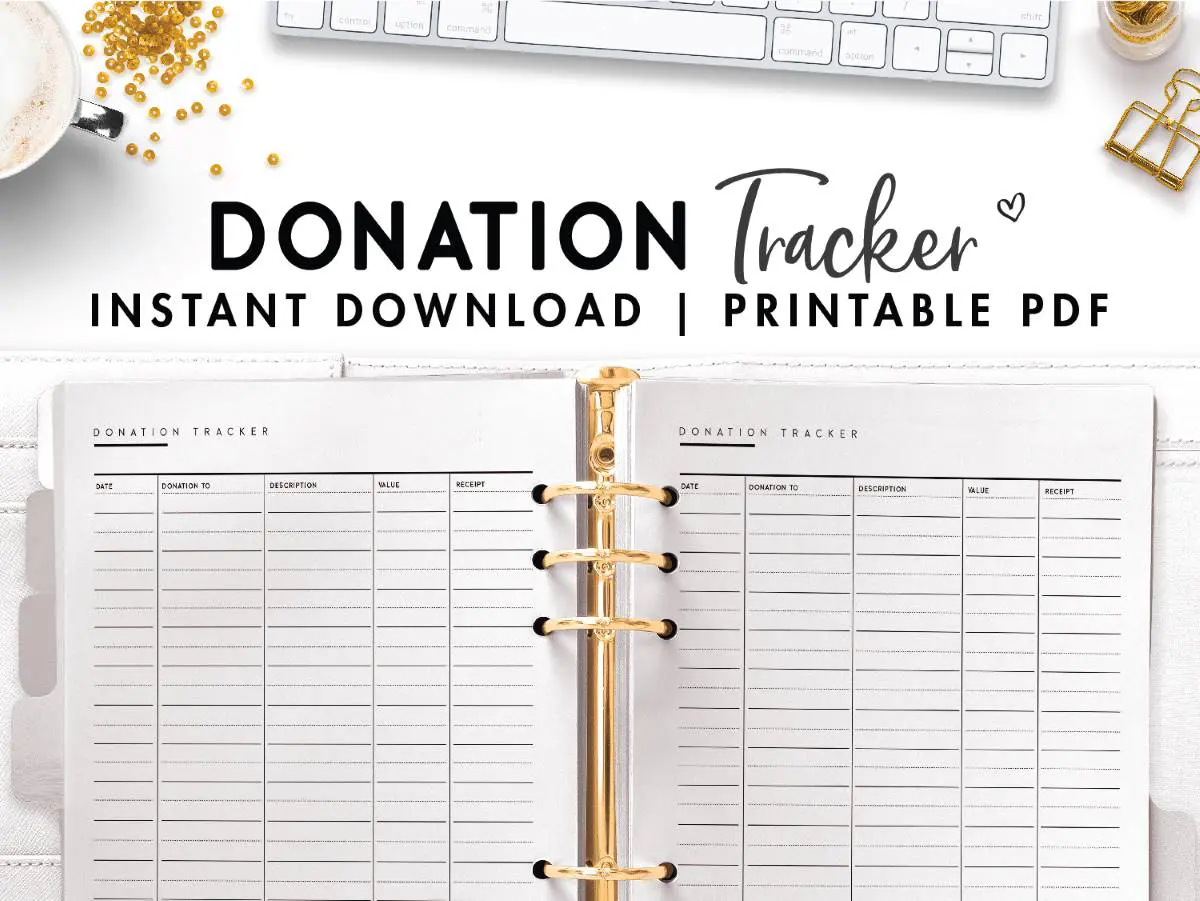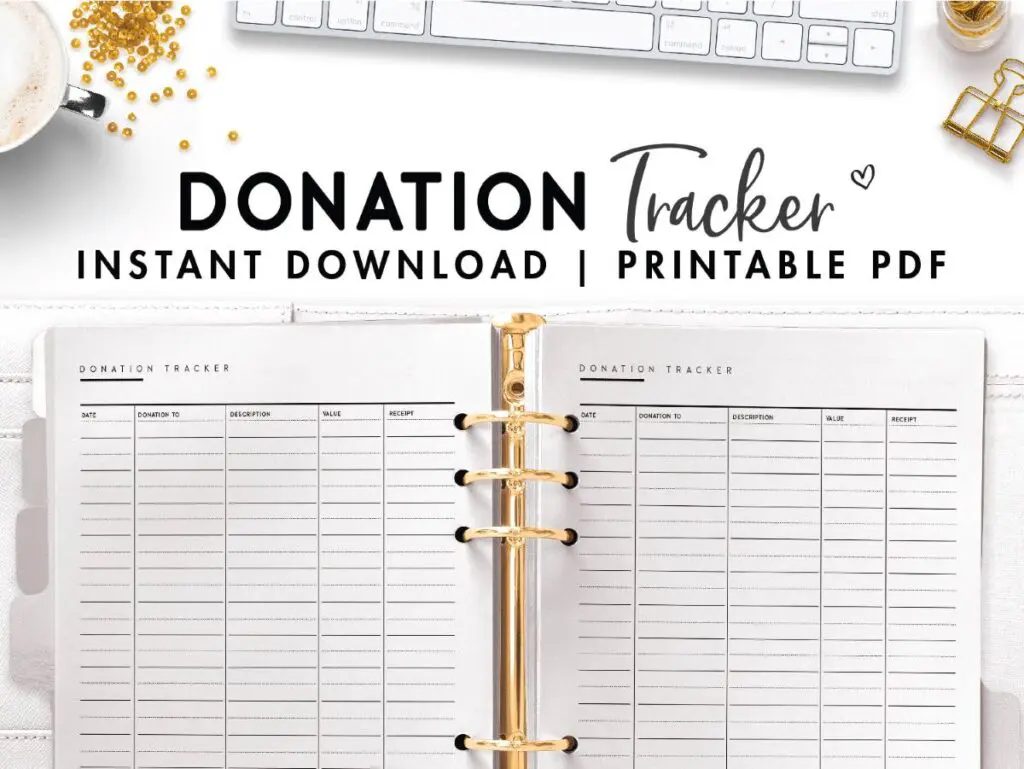 It seems to me that the holiday season is when the spending frenzy begins.
Be sure not to get caught out this year by using our holiday budget tracker to purchase what you need whilst keeping within your spending limits.
Print a fresh page for every holiday or special occasion.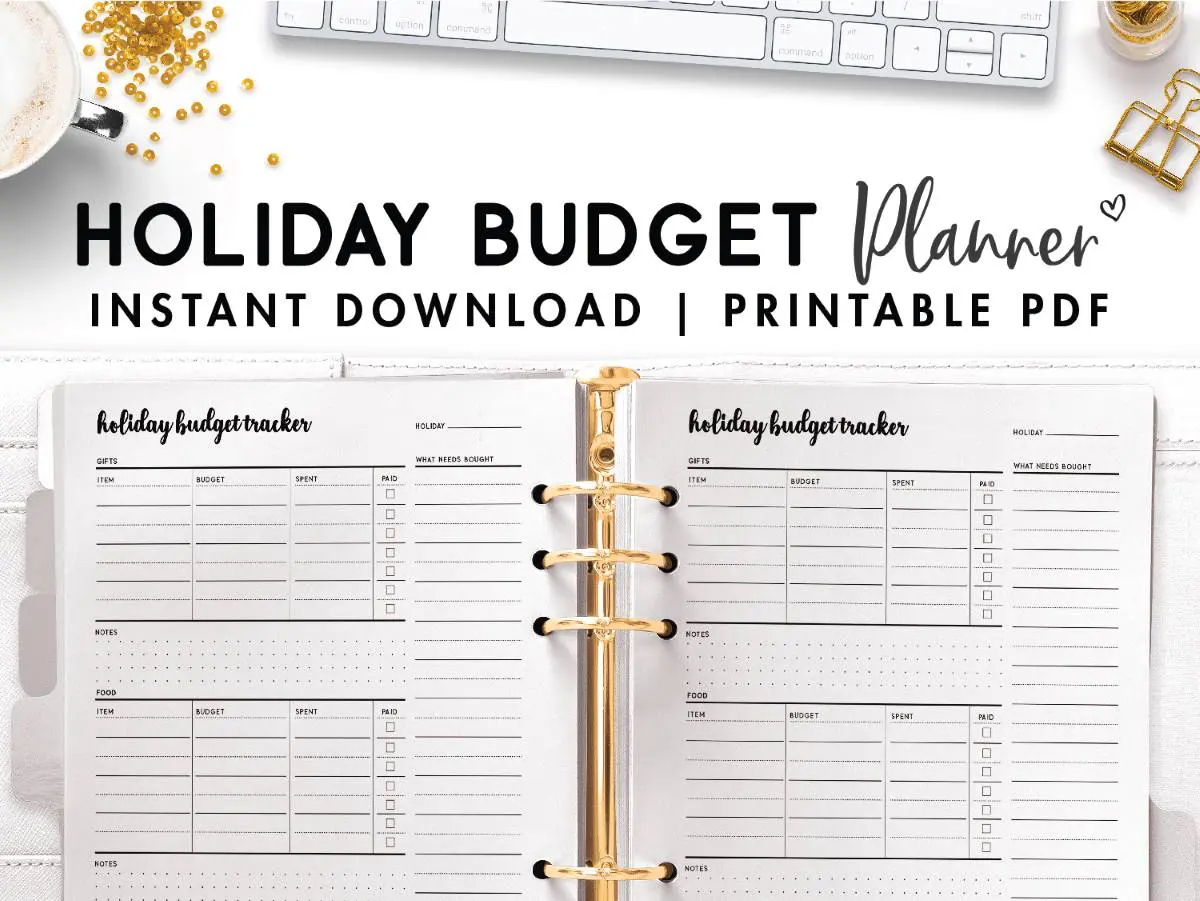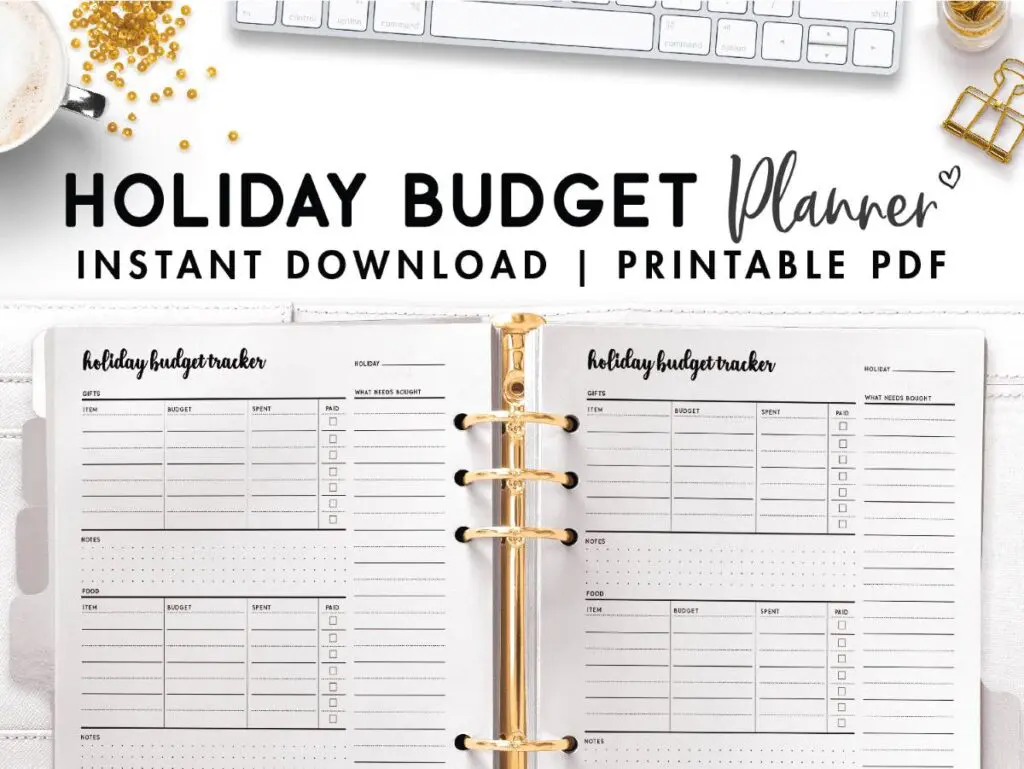 If you're looking to try a savings challenge to help kick start your savings then this 52-week savings challenge is a great idea.
There is no pressure with this challenge, you set the goal, the time frame, and the minimum amount you want to add each time.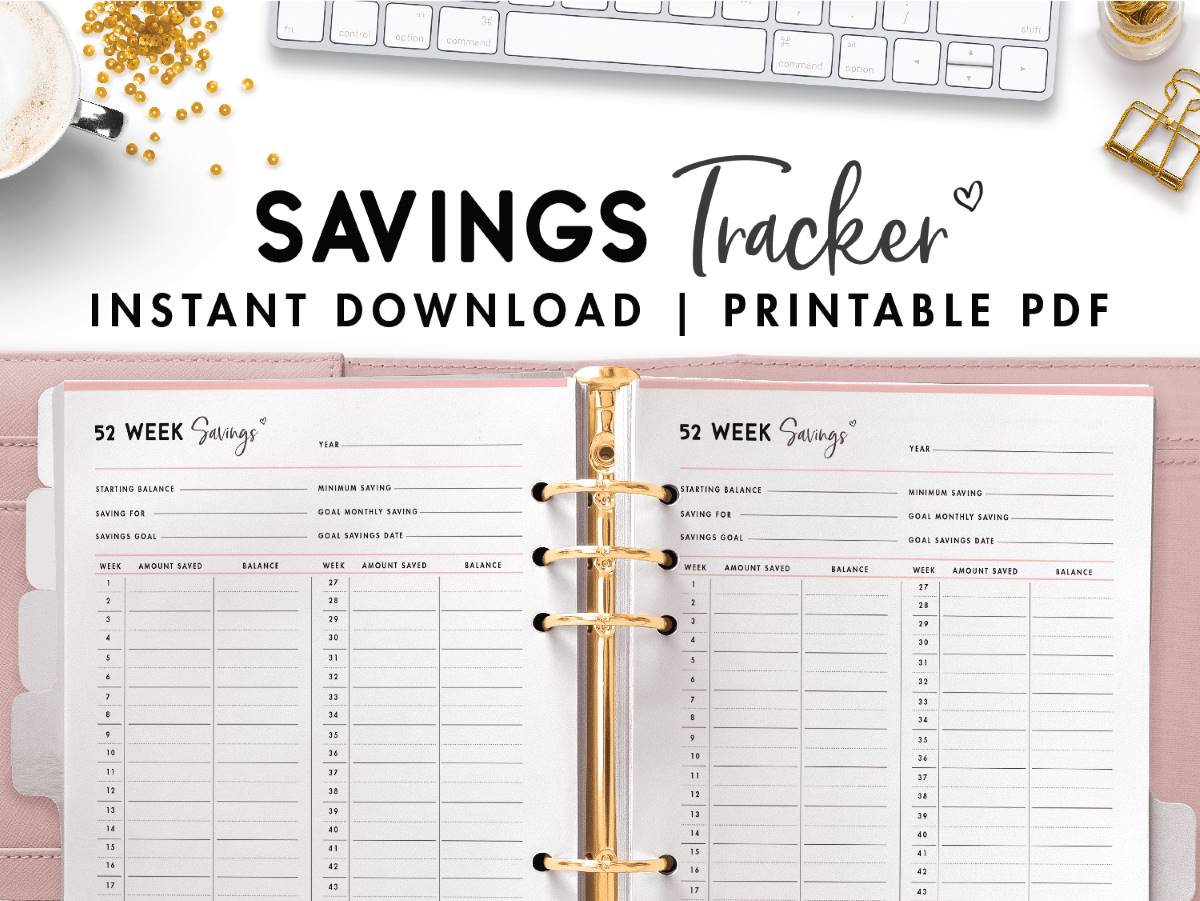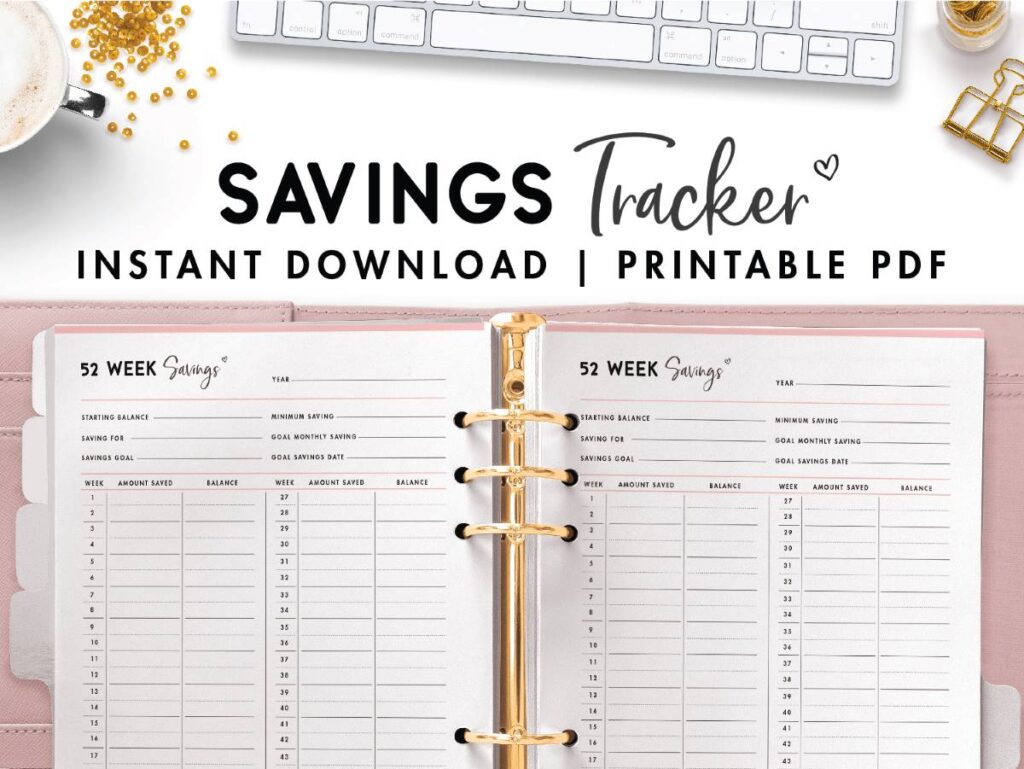 Monthly expenses
Use this monthly expenses tracker to track the fixed payments from your credit card or cash.
Tally up the total expenses at the end of the month. Print a fresh page for each month.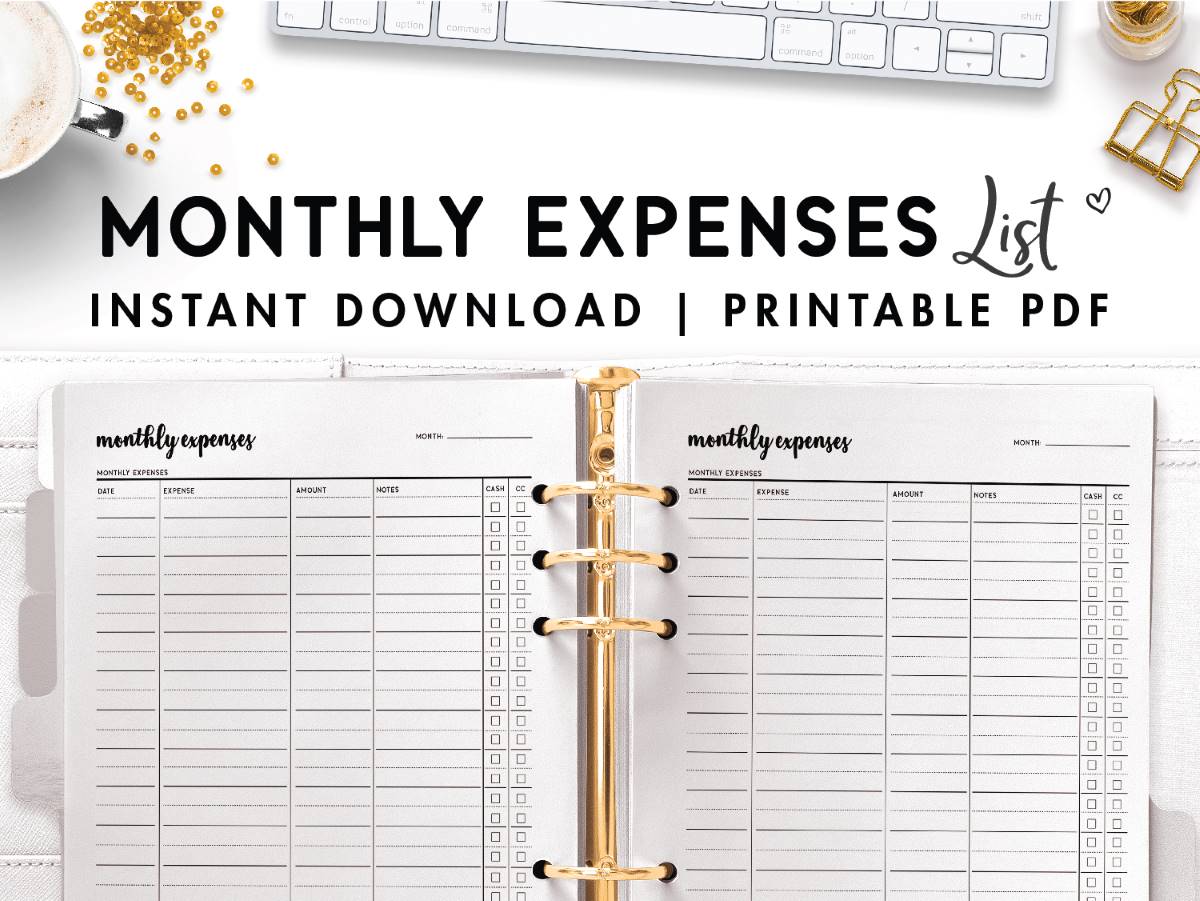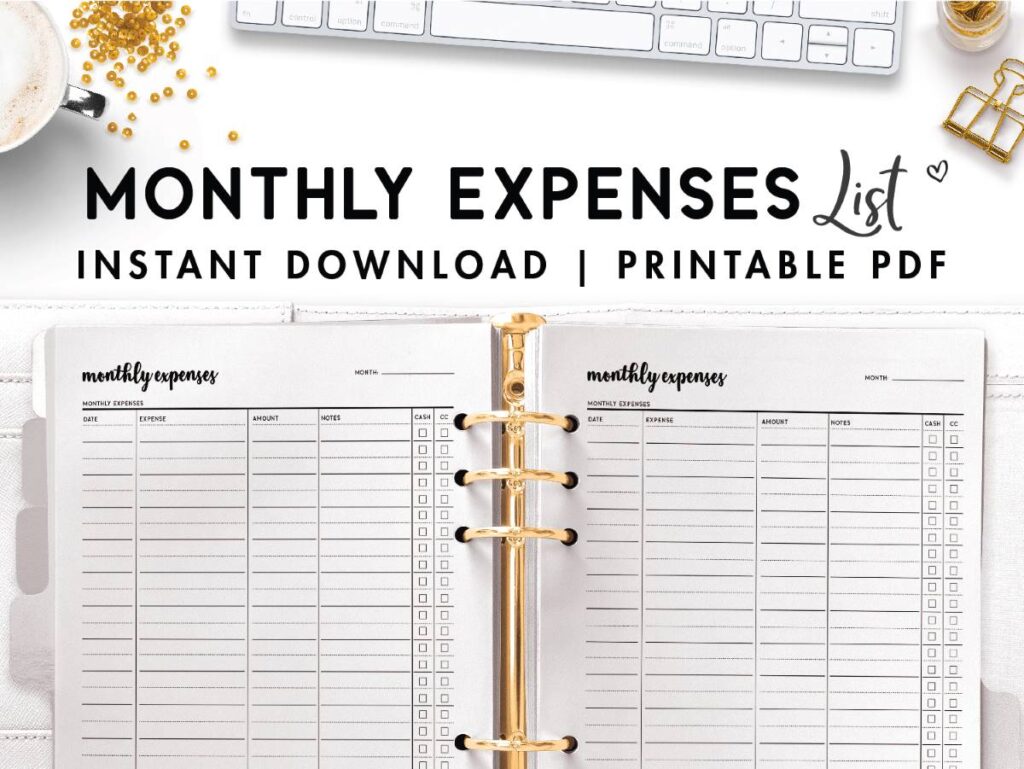 Use the monthly spending tracker to write down the things you buy that are monthly bills.
Write down your daily coffee fix, your sneaky trip to the fast-food chain, that spur of the moment shop at your favorite store.
By tracking this habit, you will quickly see how much money you are spending on impulse purchases.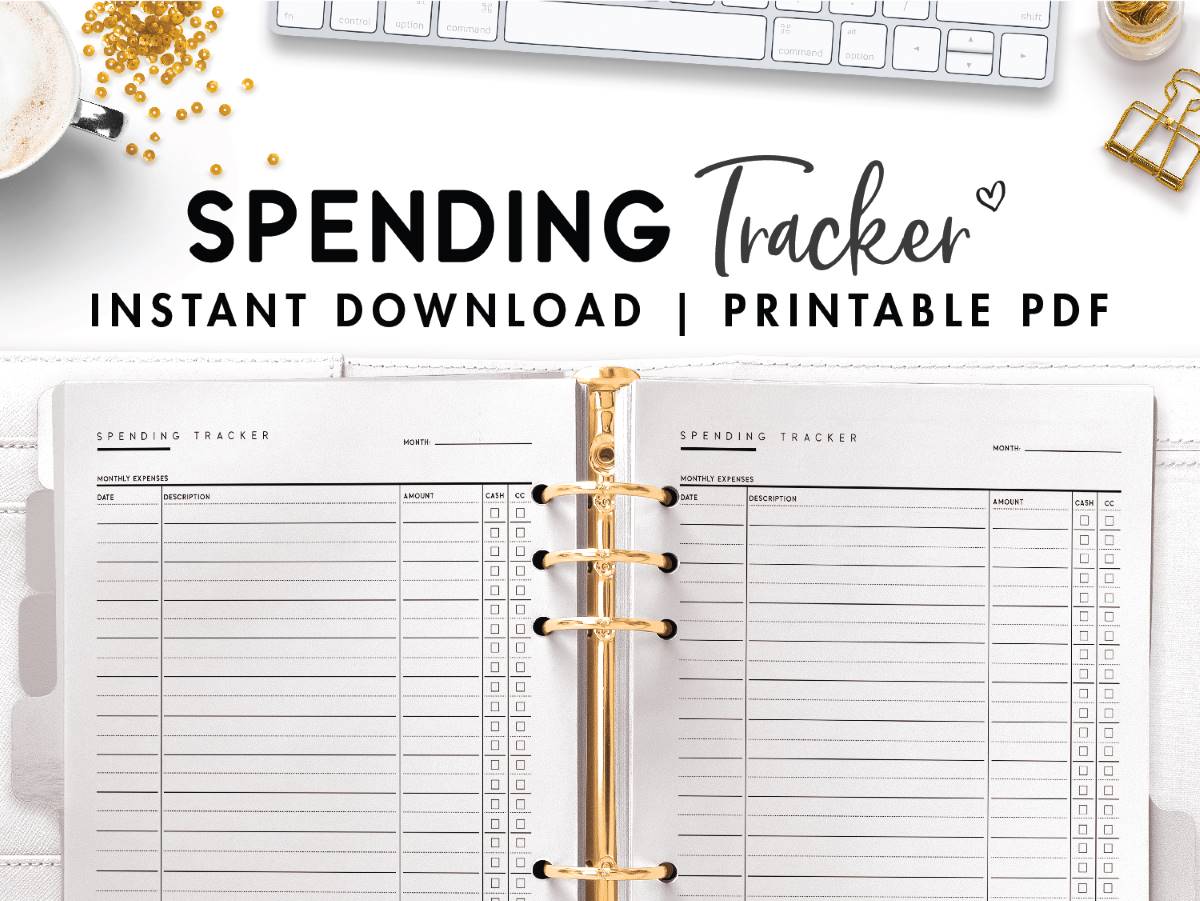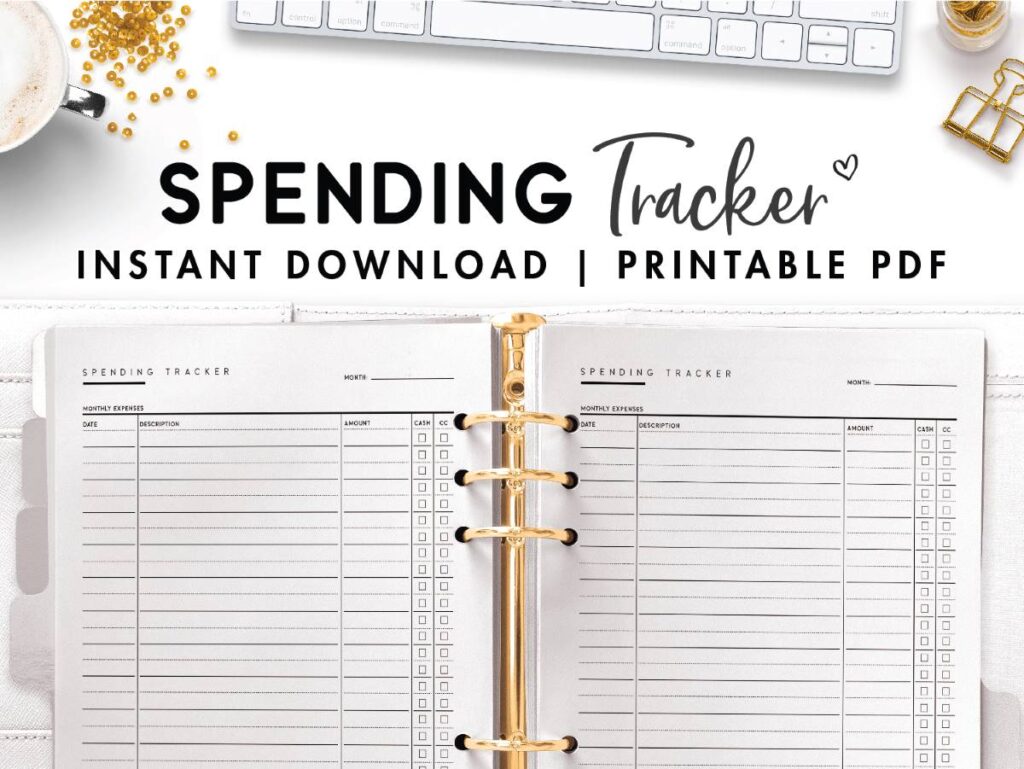 Use the bill payment tracker as another way to log your monthly bills including the amount, date due, date paid, and a check box to mark it off.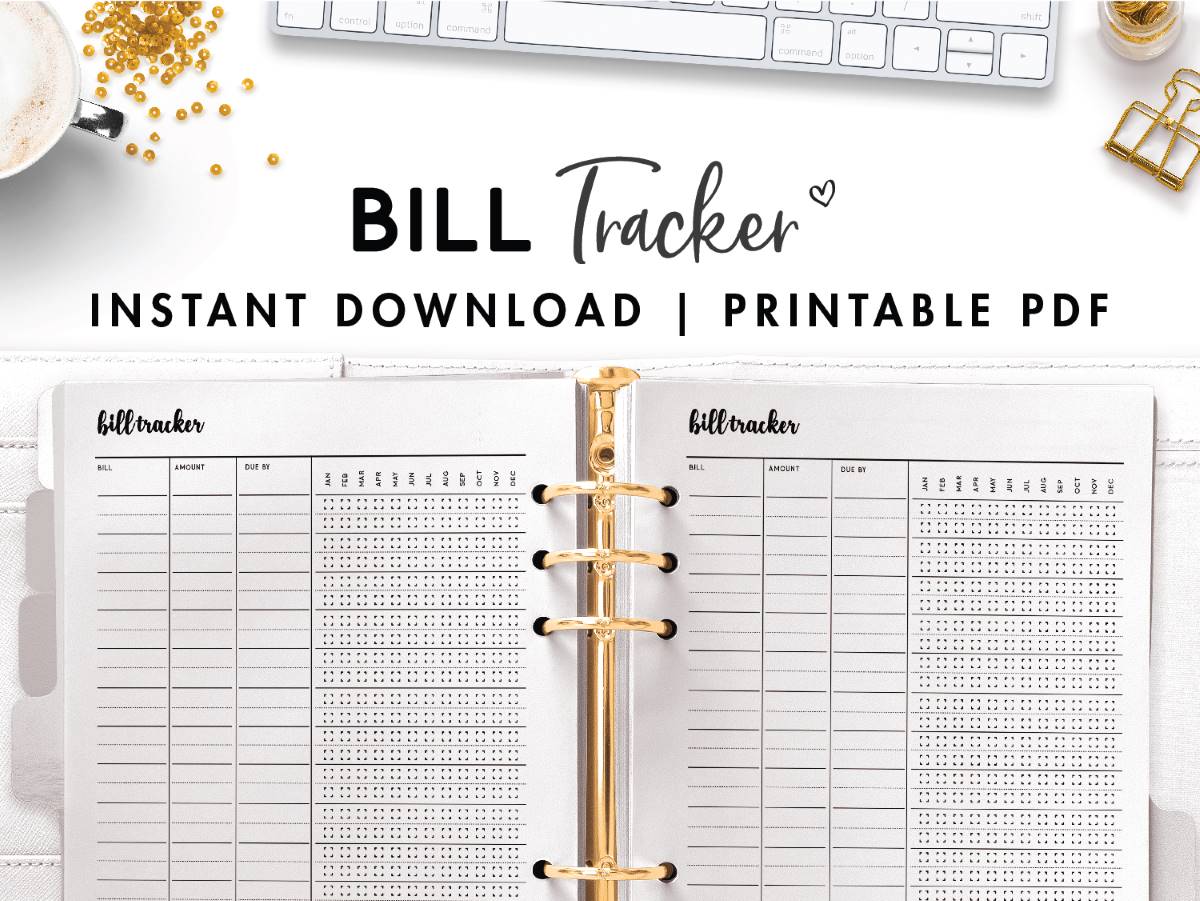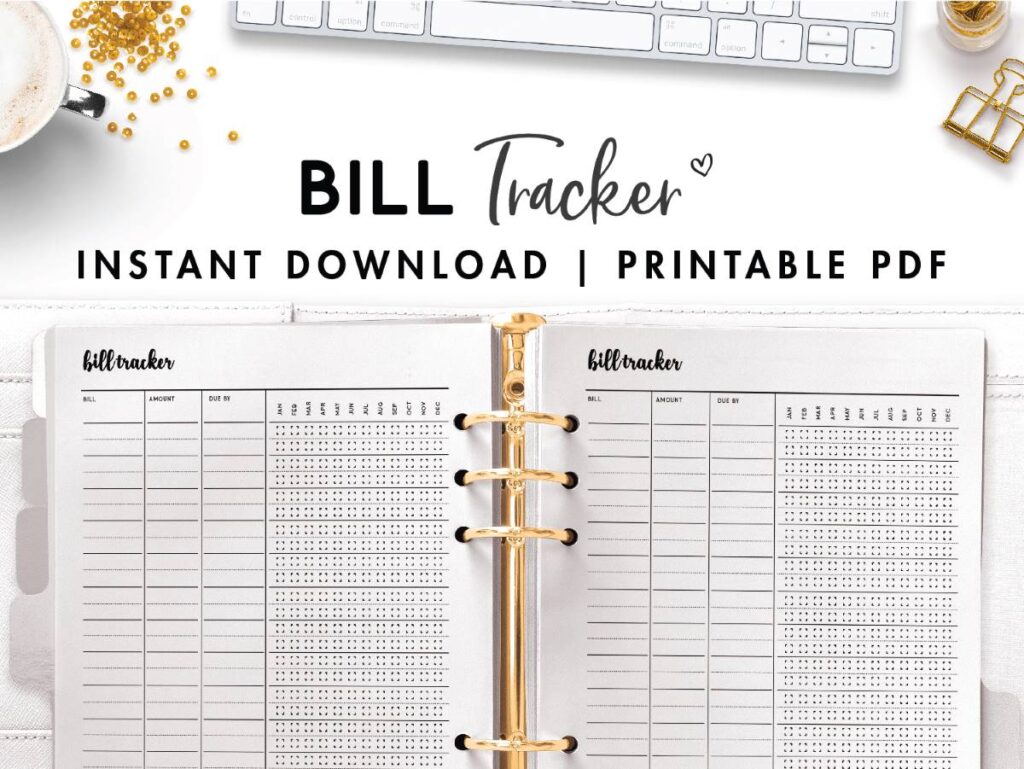 Use this page to keep a log of the balances, deposits, and expenses of your individual funds.
This is a great way of putting aside money for something important in a controlled way and you should aim to leave this money alone until you need it for its purpose.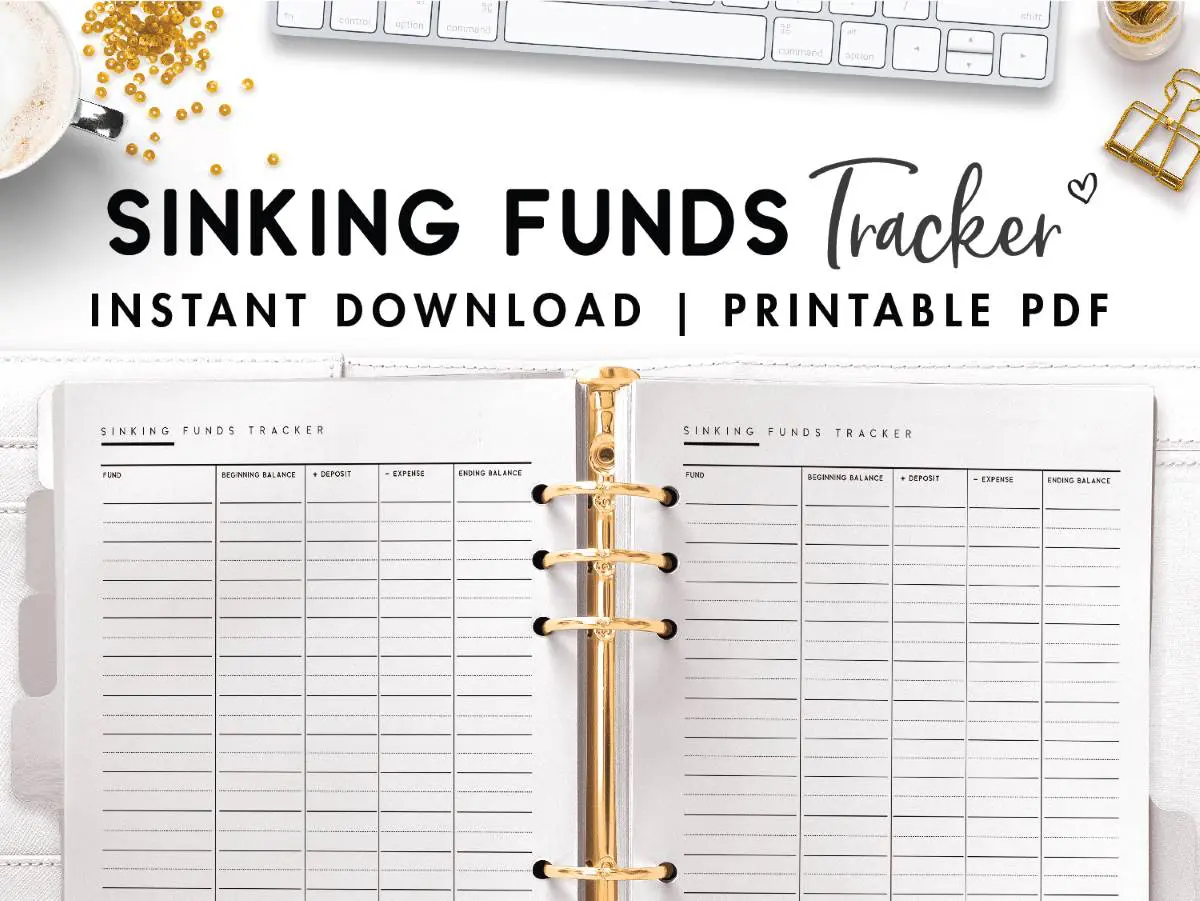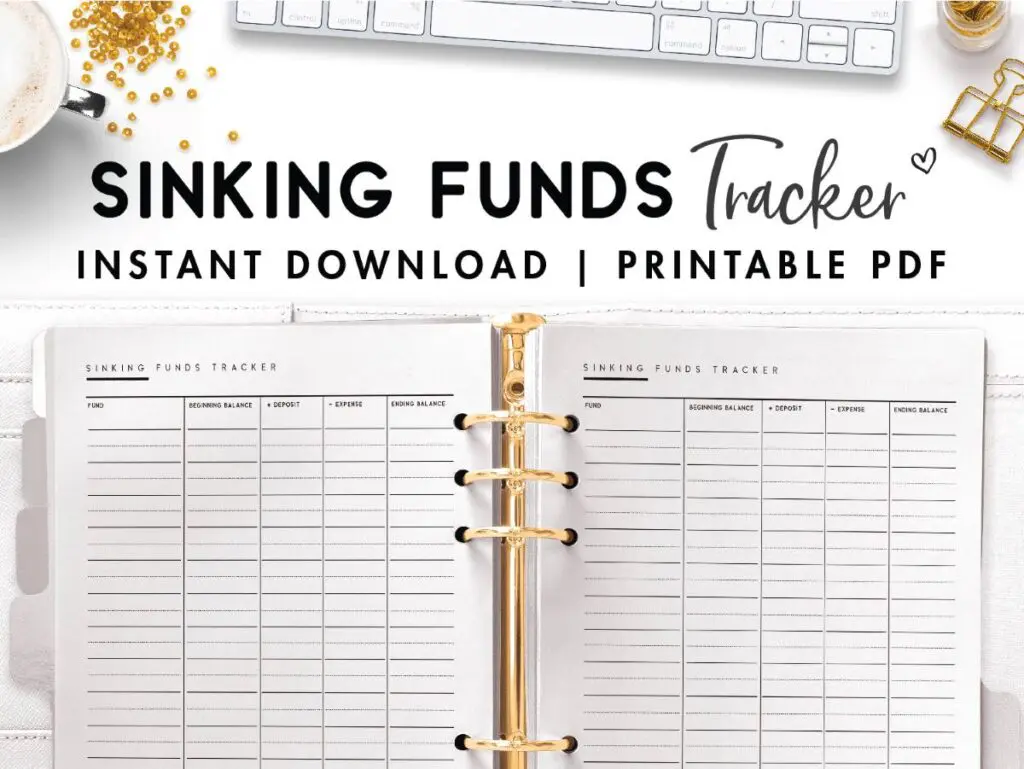 Thoughts and notes
The thoughts and notes page is the perfect place to add any ideas or spur of the moment thoughts.
If you need to quickly jot something down to properly log later then this is a great place to put that information initially.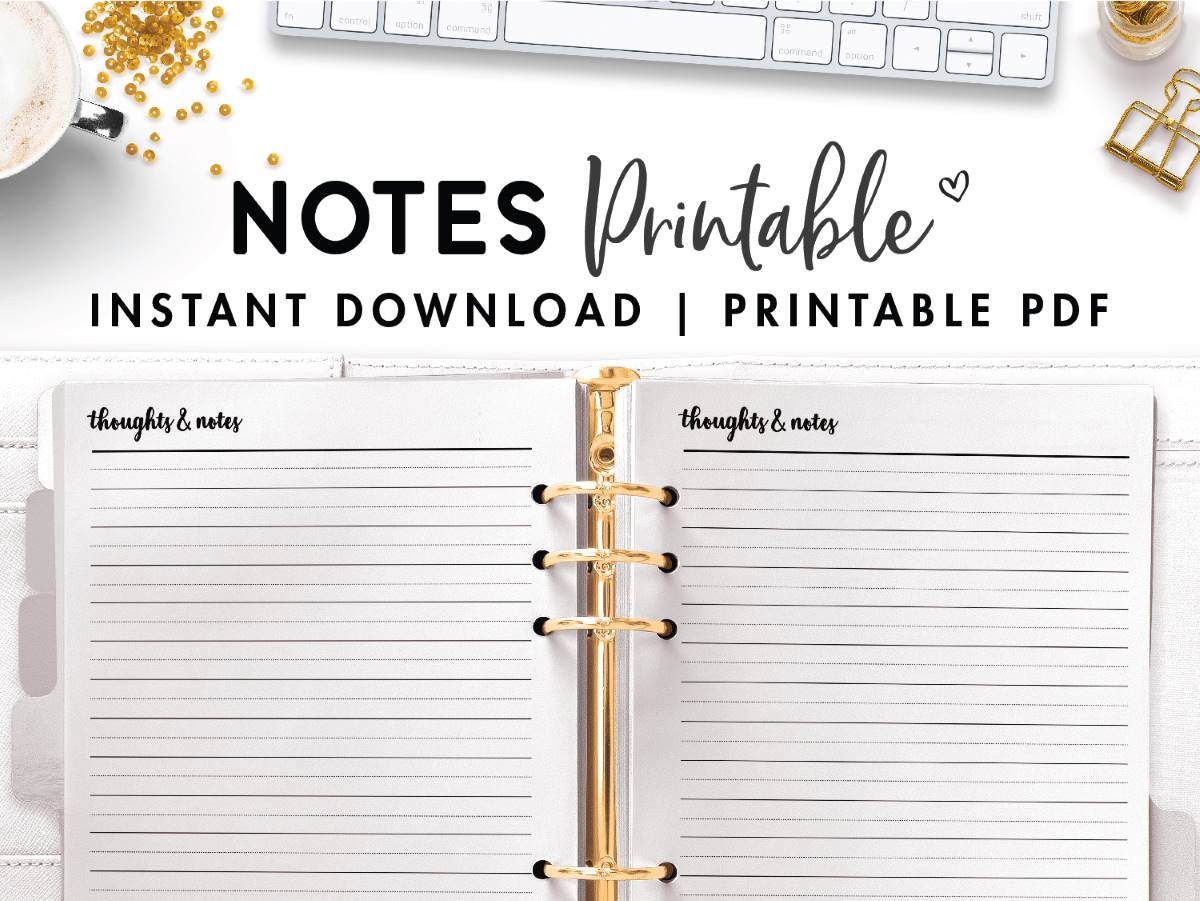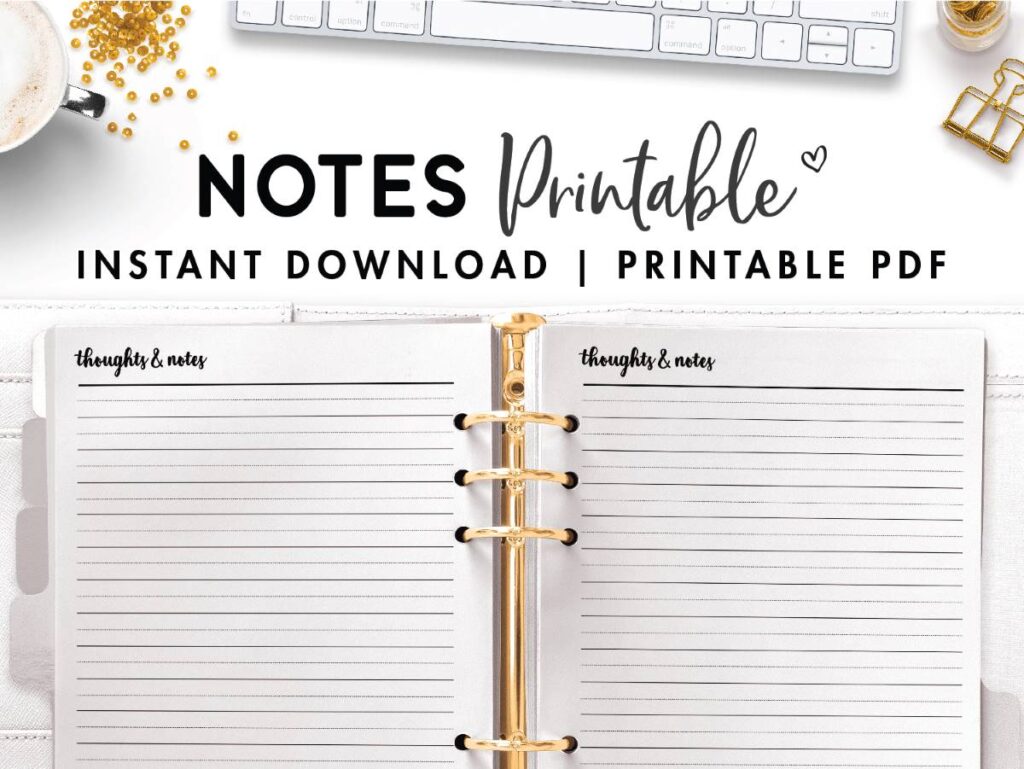 The great thing about this Financial Budgeting Planner is that you get all of these budget templates and more in a high-quality format so they look especially good when printed on your home printer and they come in four gorgeous designs all included in the bundle.
Once you get the bundle or any of these printables, you'll have these templates for life, so whenever you need to manage your money you'll be all set.
You can easily print this planner as often as you need it and it won't use up all of your ink either!
I hope you're excited to start this budget planner because it really is going to help you understand your finances and find a strategy that works for you.
No more stressing, no more worrying. You can do this, let's do this!
How do I create a budget planner?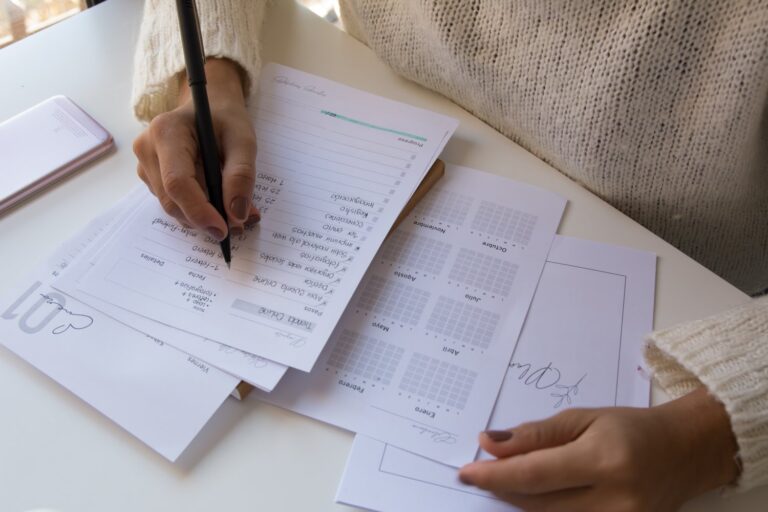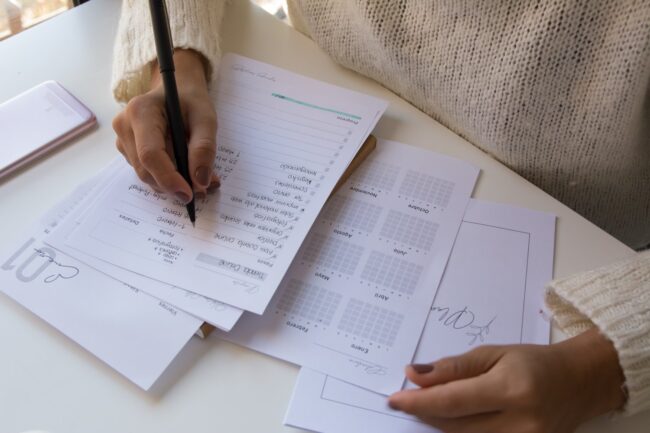 If you have decided to put together your own budgeting binder then you will need a few things to start.
Budgeting Pages
First, you will need to source your printable budgeting pages that will form your binder. We recommend the Financial Budgeting Planner but you can use any that you find.
You will need a ring binder to hold everything together. When it comes to ring binders, you can either use a large ring binder that you keep in your home or a smaller, more compact planner binder that you can take with you.
Dividers
Divider pages are key to helping you organize your budgeting binder. There are different types of divider pages for different options. You can categorize your binder by months (Jan – Dec) or by action (debt trackers, monthly expenses, bill trackers).
Colorful Highlighters
Using highlighters is a great way of color-coding your finances and can make it much easier for you when tracking your money.
Many people swear by using highlighters and these highlighters are a good option – just be careful they don't bleed or ghost too much.
Pens
Nothing fancy here but you're going to need a pen to fill in your binder. Some people even like to use fountain pens but each to their own. A simple ballpoint will do the trick.
Hole Punch
A hole punch is a must-have so you can actually insert your sheets or pages into your new ring binder or ring planner. I like this hole punch.
White Out
There are going to be mistakes and changes as you go through your budgeting journey. Make sure to have white-out handy so you can easily correct any errors.
Plastic Pockets/Wallets
I love using plastic pockets or wallets with my binder. They are an ideal way of holding bills, receipts, cash pens, or stickers. Wallets with a zip to close are even better as they will stop things from falling out.
Stickers (optional)
You might like to use stickers or you might not. These are optional. You can find free printable planner stickers to use for your binder or buy packs of them online.
Start your budget today
There you have it. How to make a budget, how to make a budget planner, and where to find the best free printable budget templates to make a very low-cost budget binder.
I hope you have found this post helpful and I hope you manage to make great progress with your financial goals! Let me know in the comments how you get on and if this post has helped you!
Please show your support by sharing this post and saving it for later. You can also reach out to us on Pinterest or Instagram and don't forget to sign up for our newsletter for exclusive free premium printables!
More awesome printables and templates from World of Printables
We've created a huge amount of daily planner templates and weekly planner templates that will help you manage your days and weeks better than ever. Be sure to grab as many as you can along with our many other schedule templates while you're here.
Remember to look through the rest of our planner printables, we've got printables to help you manage every aspect of your and your life!
We think you'll find these very useful:
---
Find 100's more stylish planner templates that you'll love
Some of our recent planner templates. Find many more Printable Planner Templates that will help you get on top of your life with ease. You'll love them.
Follow World of Printables on Pinterest for more