Bring in the Christmas fun with these cute Christmas Stickers! This collection of Christmas stickers is perfect for any age and features lots of festive items such as Santa, gifts, elves, stockings, and robins!
These Christmas stickers are so cute and can be used for a variety of different needs:
Use these colorful and festive stickers to make crafts with your kids
Use them as advent stickers, for a fun way to count down the days till Christmas
Use them as printable Christmas stickers in your planner
Use them to wrap and stick paper to your Christmas gifts
Use them as Christmas stickers for cards for fun decorations.
You can also use them as Christmas window stickers, just stick them on your windows for some instant festive decor!
I also love using them as Christmas gift stickers, by sticking them on gifts for a Christmassy feel! Especially asI love wrapping gifts with brown package paper for that traditional rustic look.
What about using them as Christmas labels for jars?!
There's so much you can do with them. Just print them off, cut them out, and get decorating!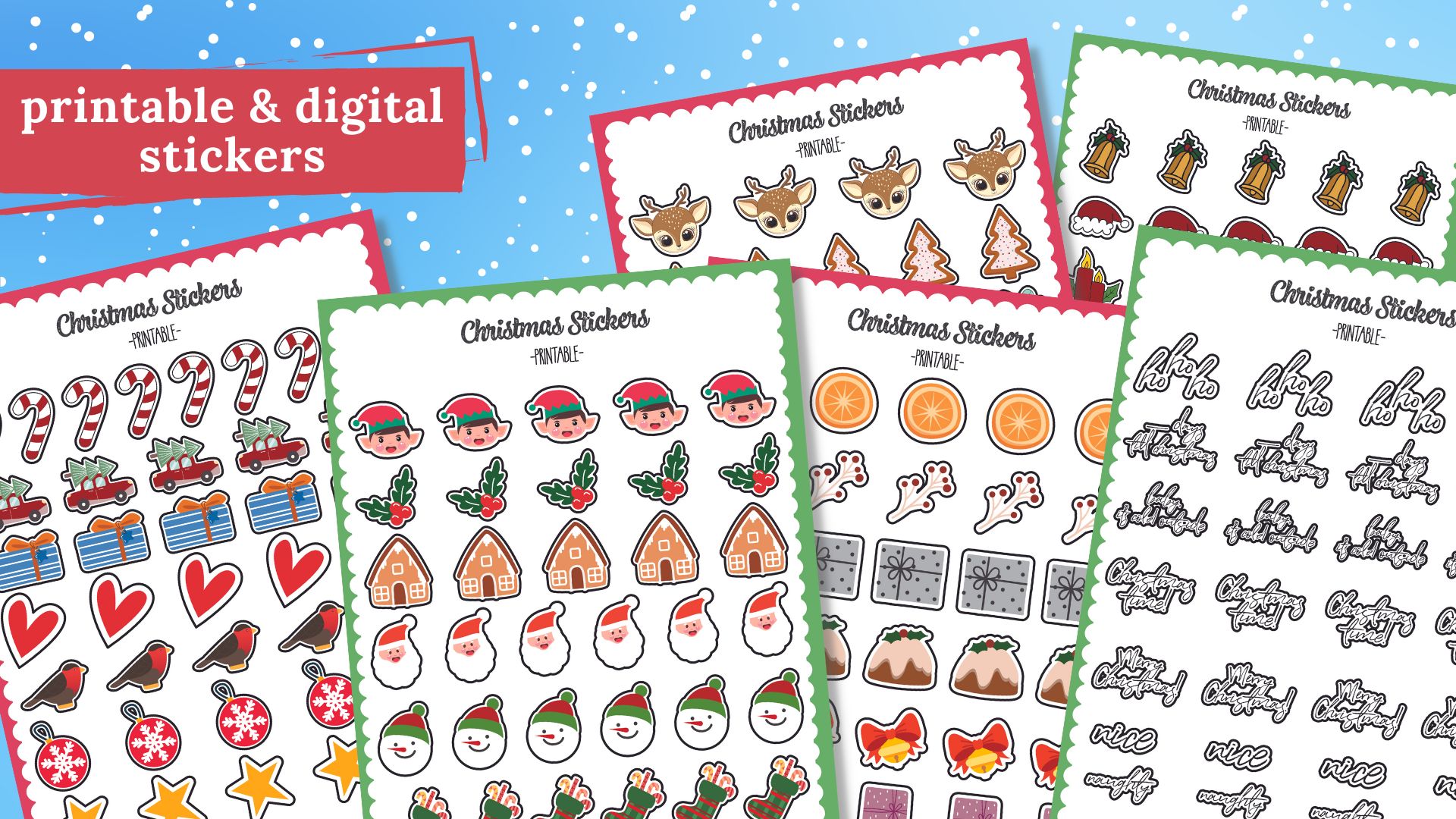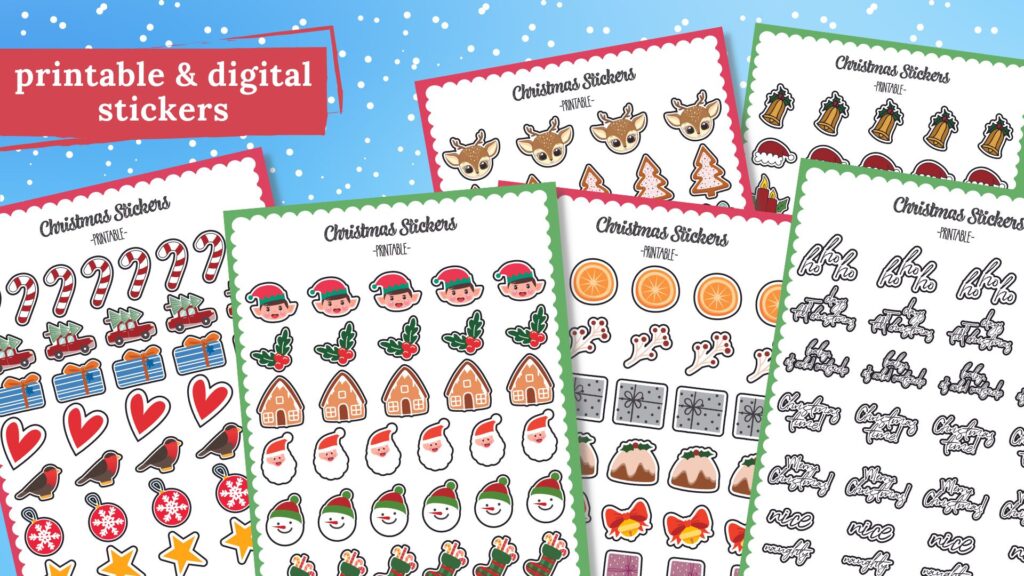 These stickers are available as JPG images that you can print, or all together in a printable pdf pack.
The stickers can be used with printed and digital planners.
You can also get them as a pre-cropped Goodnotes file for using with digital planners.
Christmas Stickers
Choose your favorite Christmas stickers from the packs below! Choose one or choose them all!
Simply select the stickers you want, save them, and print them.
Print and Cut Your Christmas Stickers
These Christmas stickers are so easy to use and you can print and cut them from home! You can use a regular printer or if you own a cutting machine such as a Cricut or Silhouette then you can use that too.
To print these cute Christmas stickers, just grab the pdf version below which contains all of these Christmas stickers in one easy-to-print bundle.
If you would like these Christmas stickers as a digital version for your iPad or tablet then check those out below!
Pre-Cropped Digital Christmas Stickers
If you love these Christmas stickers but would like a digital version for GoodNotes then you will love this collection of digital Christmas stickers! These digital stickers are pre-cropped and ready to go and you will get a Goodnotes file.
Get the Goodnotes pre-cropped stickers pack here.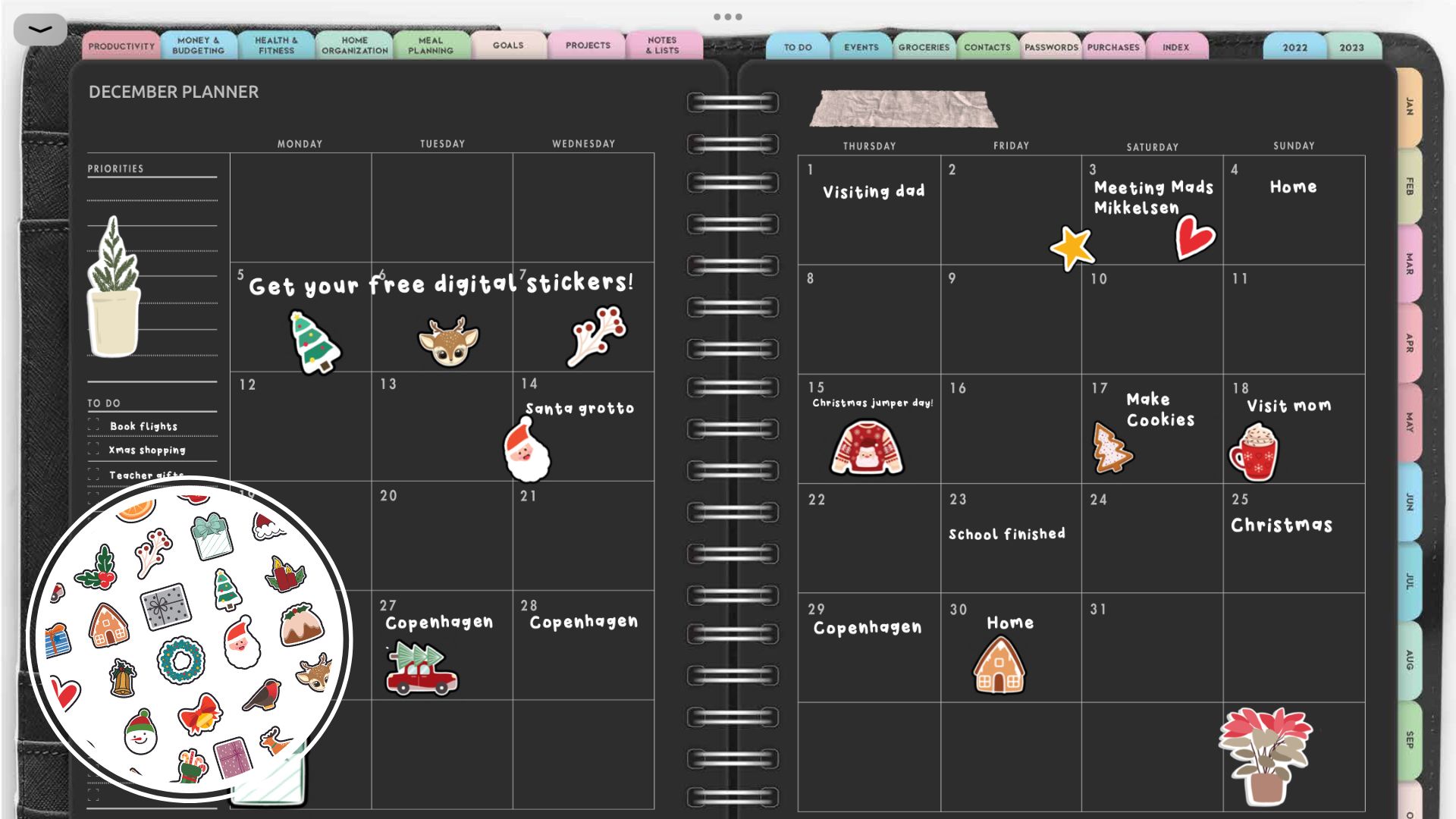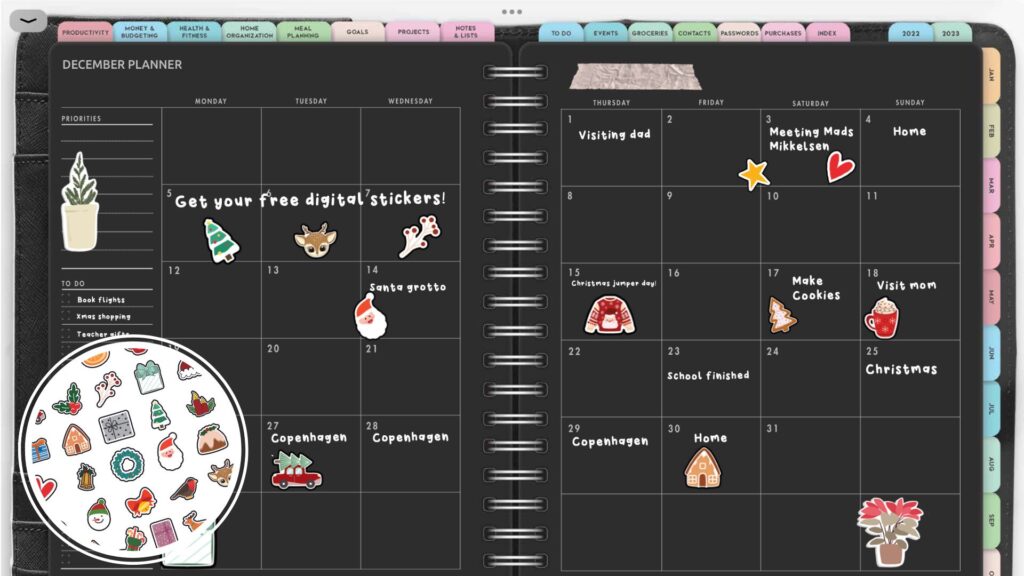 Like the planner above? Get this free digital planner or choose from dozens more.
You might also like…
We've also created many beautiful printable planners and digital planners for everyday planning and to help you plan the things that matter.
How to get these Christmas stickers
If you prefer getting these Christmas stickers as a printable PDF bundle then get them for free right here.
Get these free Christmas planner stickers in a printable PDF file.
Want free planner stickers? They're so cute you'll love them!
More Christmas Printables
We love Christmas so we've created tons of Christmas printables for you to enjoy this festive season!
We've got many more free Christmas printables for you to start using right now. Here's our latest:
Make the most of your Christmas Stickers!
I really hope you use and enjoy these Christmas stickers. Follow us on Instagram or Pinterest to keep updated on our latest printables that you can use for free.
Follow World of Printables on Pinterest
COPYRIGHT
These printables are for personal use only and is the copyright of World of Printables – you cannot redistribute, reproduce, or resell, although you can link back to our website.