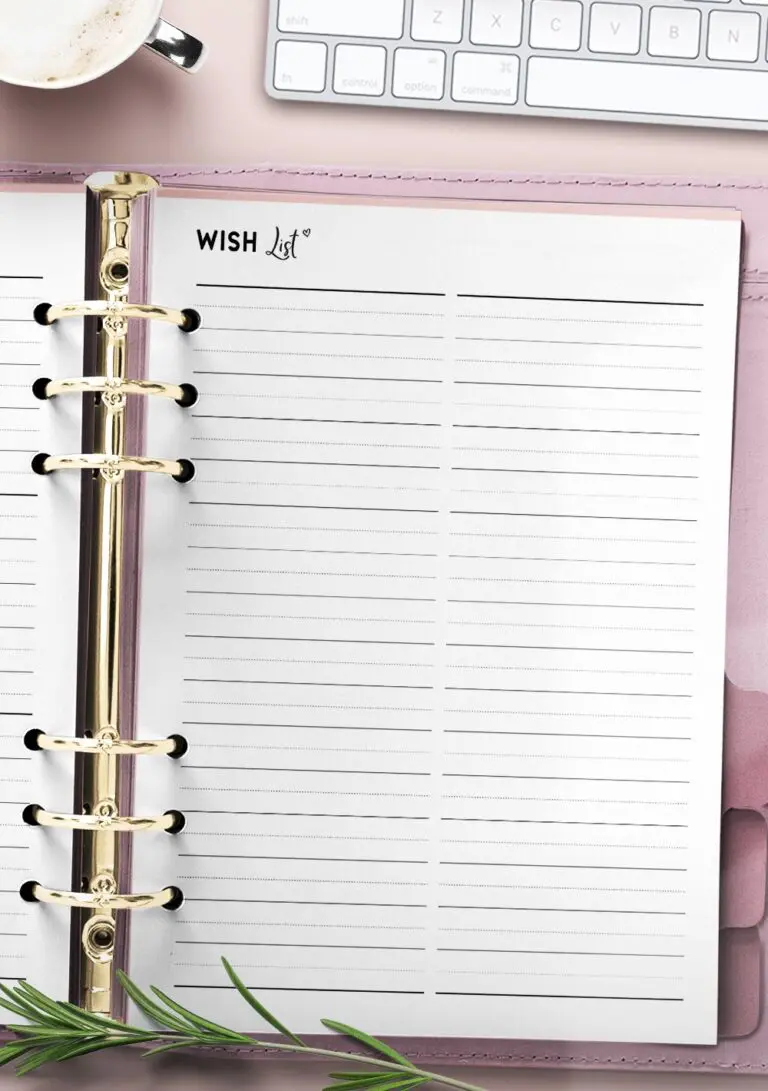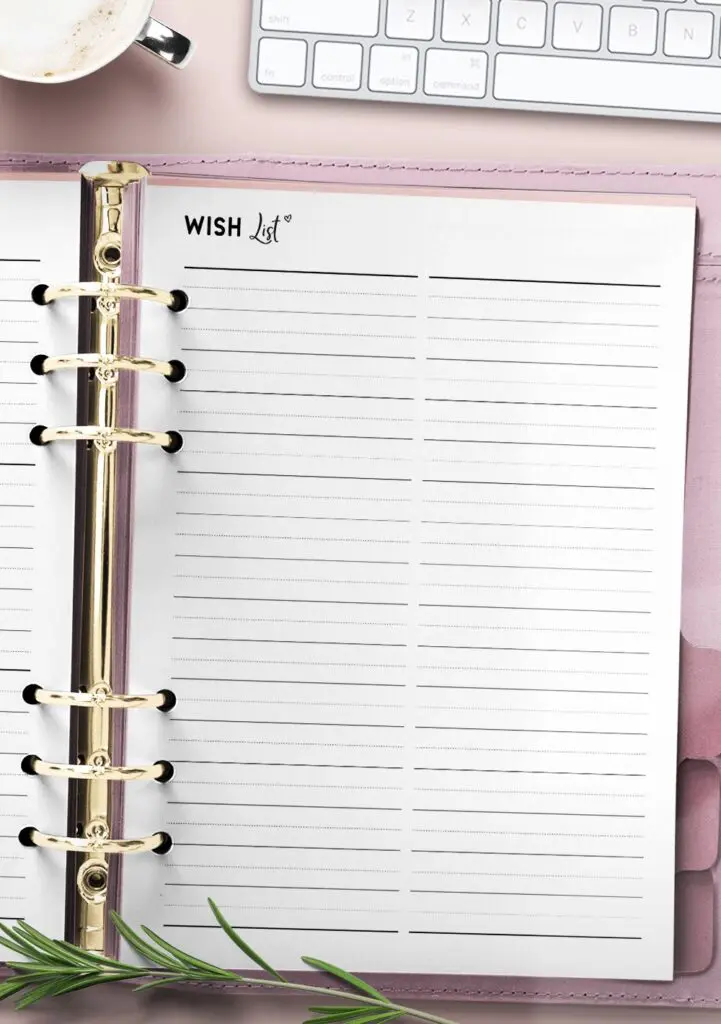 Over 20 stylish wish list templates that you can print and use for Christmas, Birthdays, Amazon, or universal.
Wish lists can be used for any kind of occasion such as birthdays, weddings, anniversaries, graduation, baby showers, and holidays.
Wish lists are a great way of letting people know what gifts you would like for any special occasion. Gone are the days when you purchase an anniversary gift that your spouse doesn't actually want – using a wish list is the best way to make sure you get and receive something you truly want or need.
Anyone can benefit from a wishlist! Wish lists are a great idea for kids because they want countless things that we can't seem to keep track of! If you have a gift registry for kids, you can decide between family and friends who will purchase what from the list.
Some people prefer donations rather than gifts so don't be afraid to make your friends and family aware of this.
Universal wish list
You will see we have a stunning collection of useful printable universal wishlist templates to choose from. There are printable wishlists that you can use for many different occasions due to the beautiful designs and simple format.
To use a wish list template, simply click the image and save it to your computer before printing it.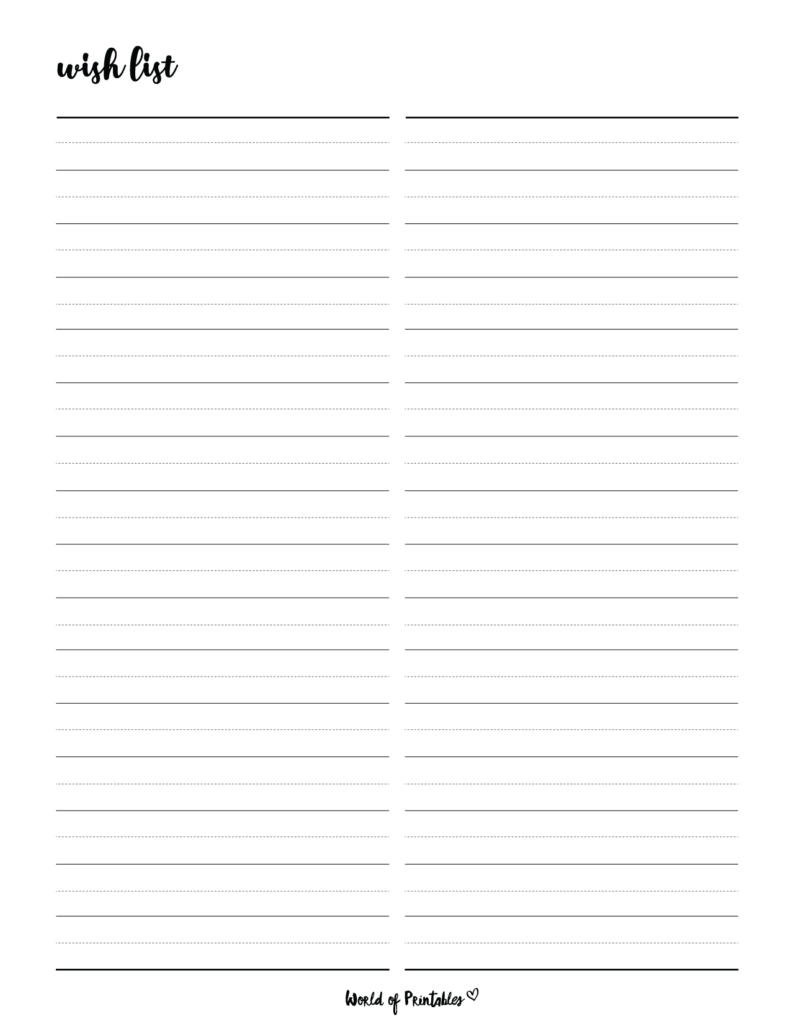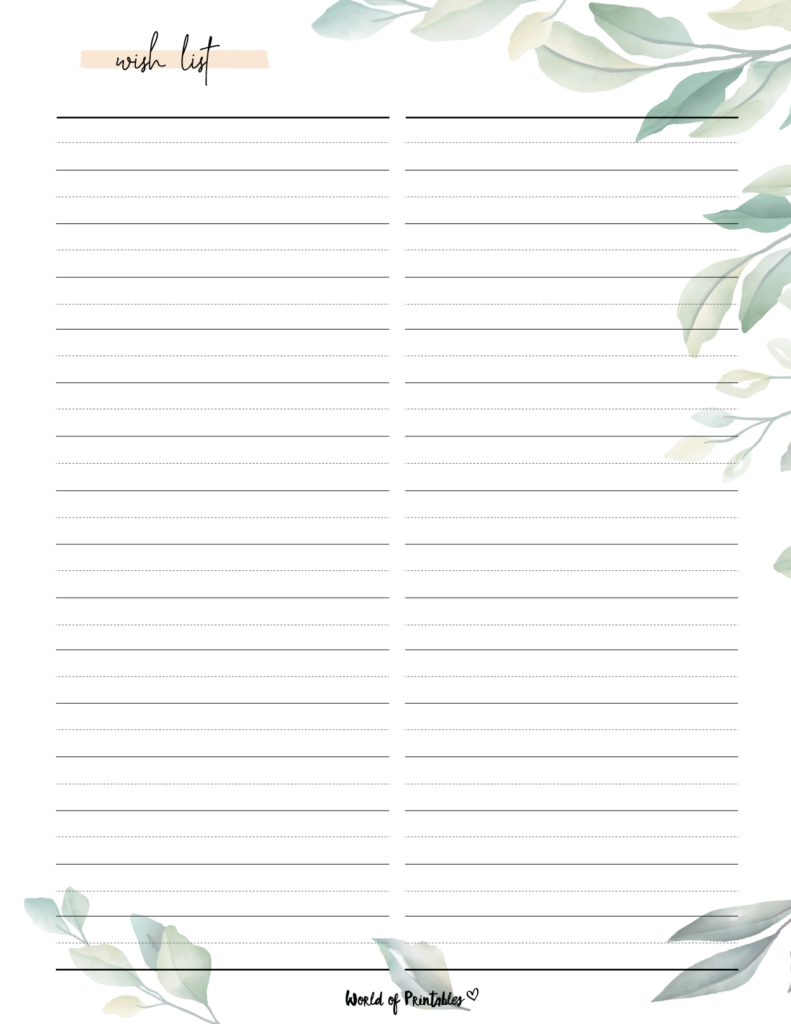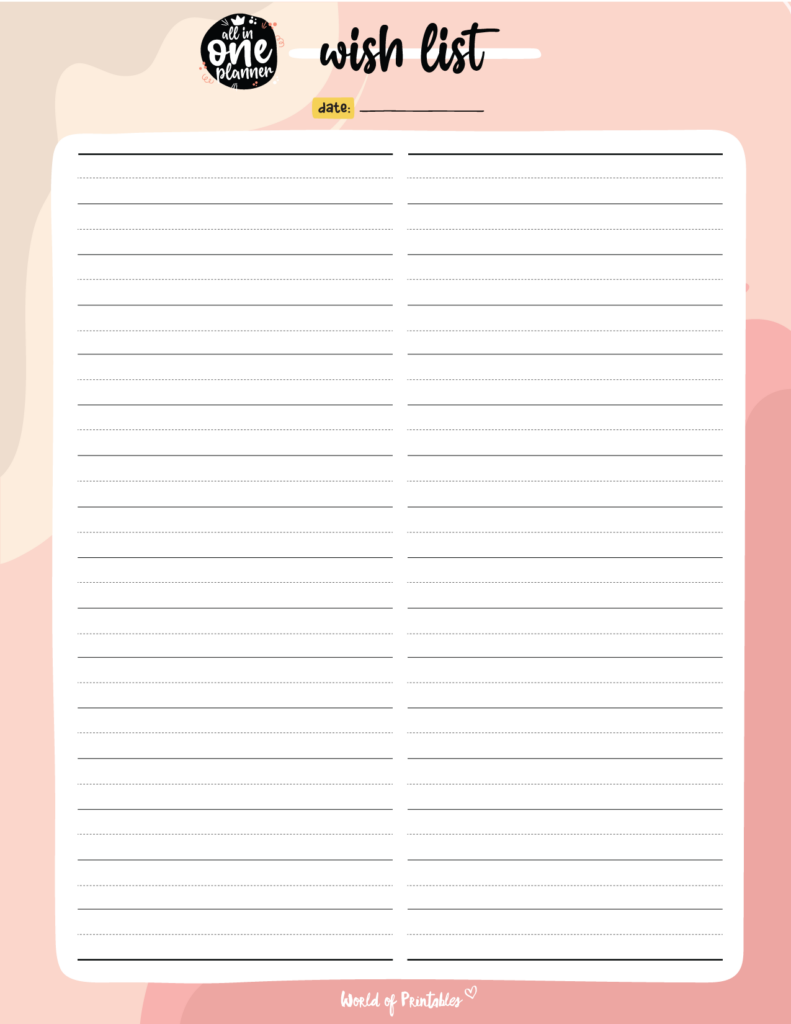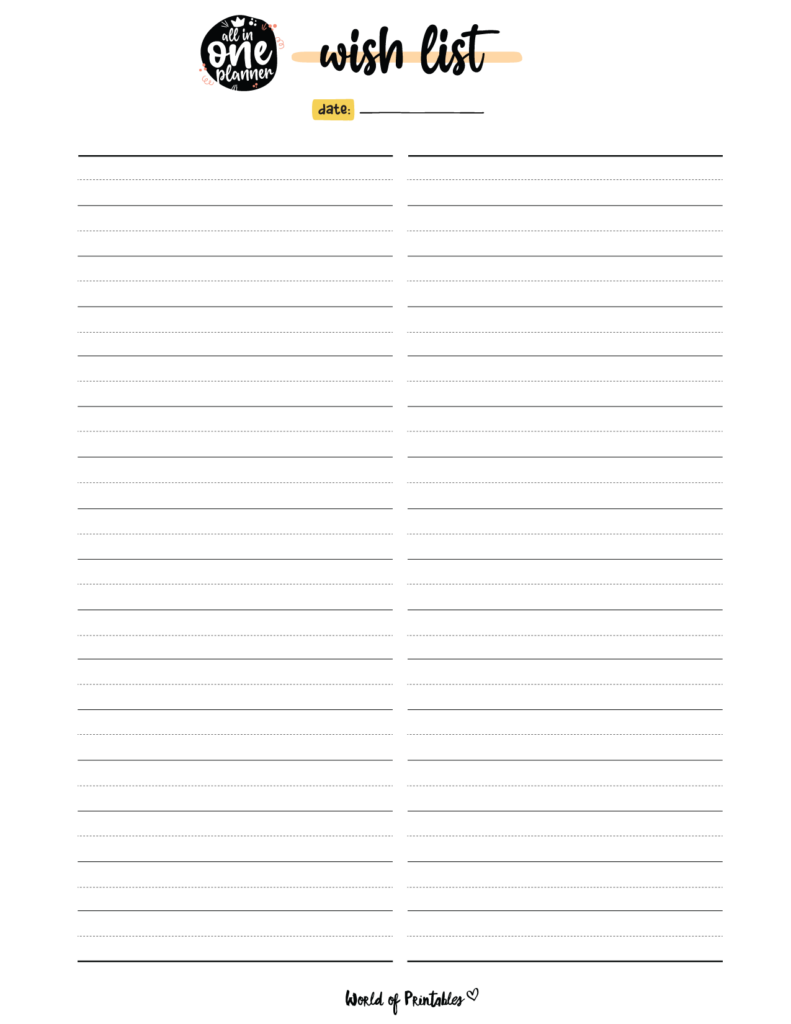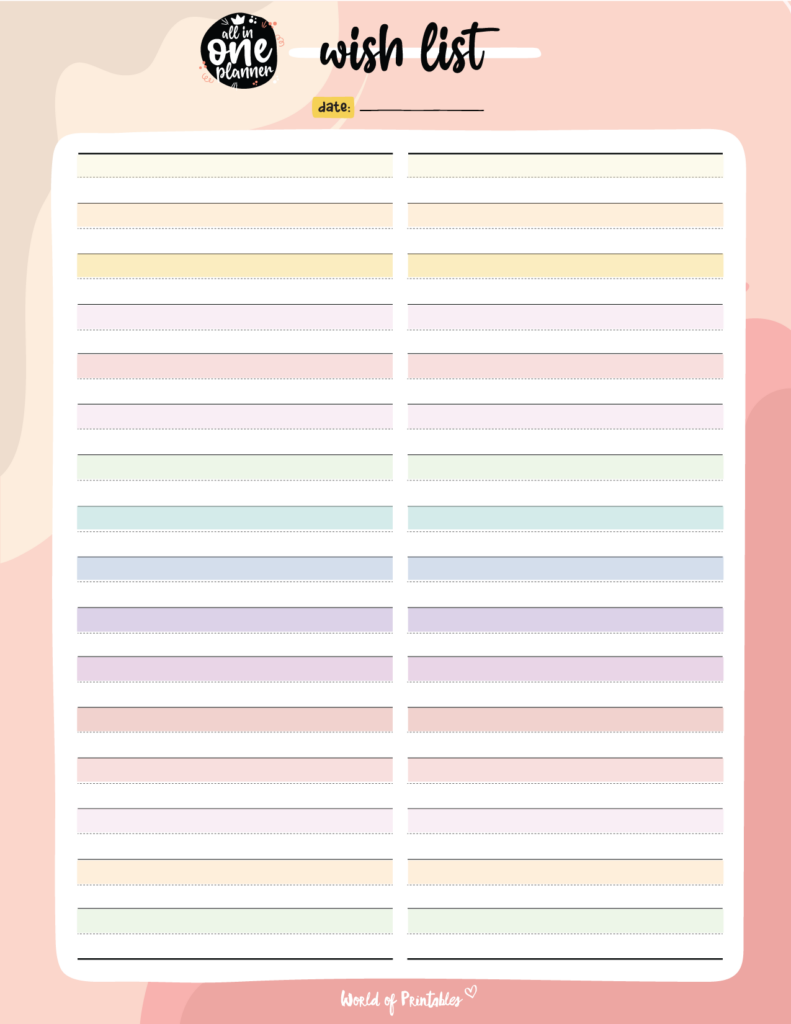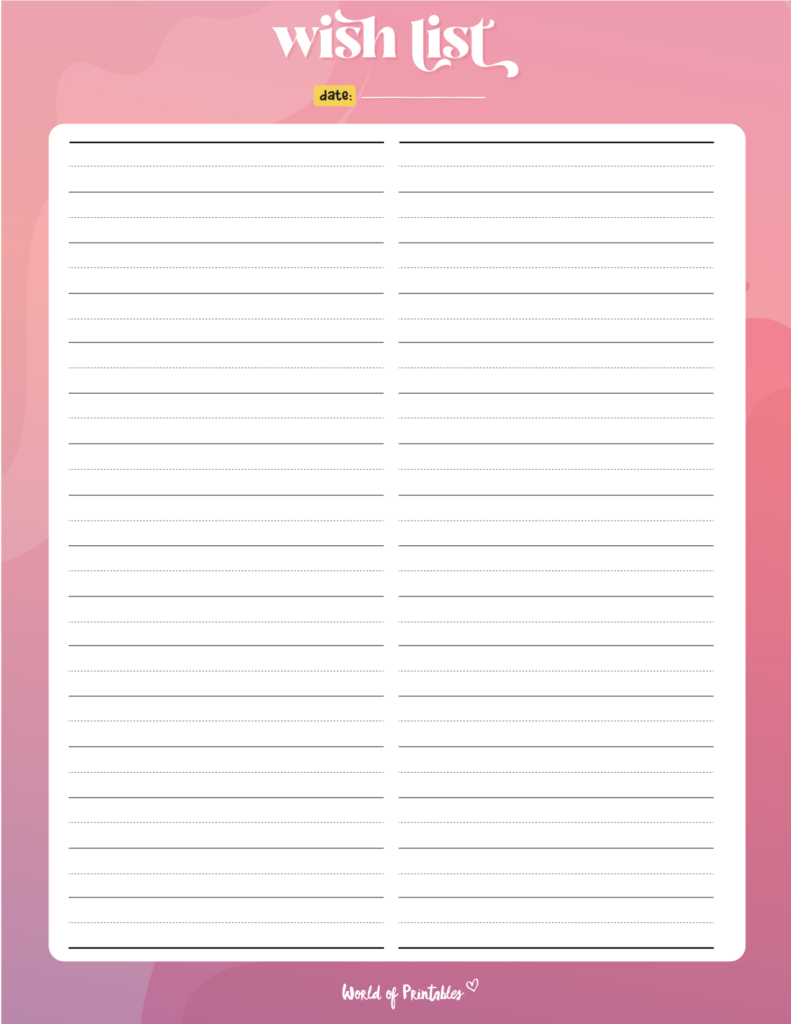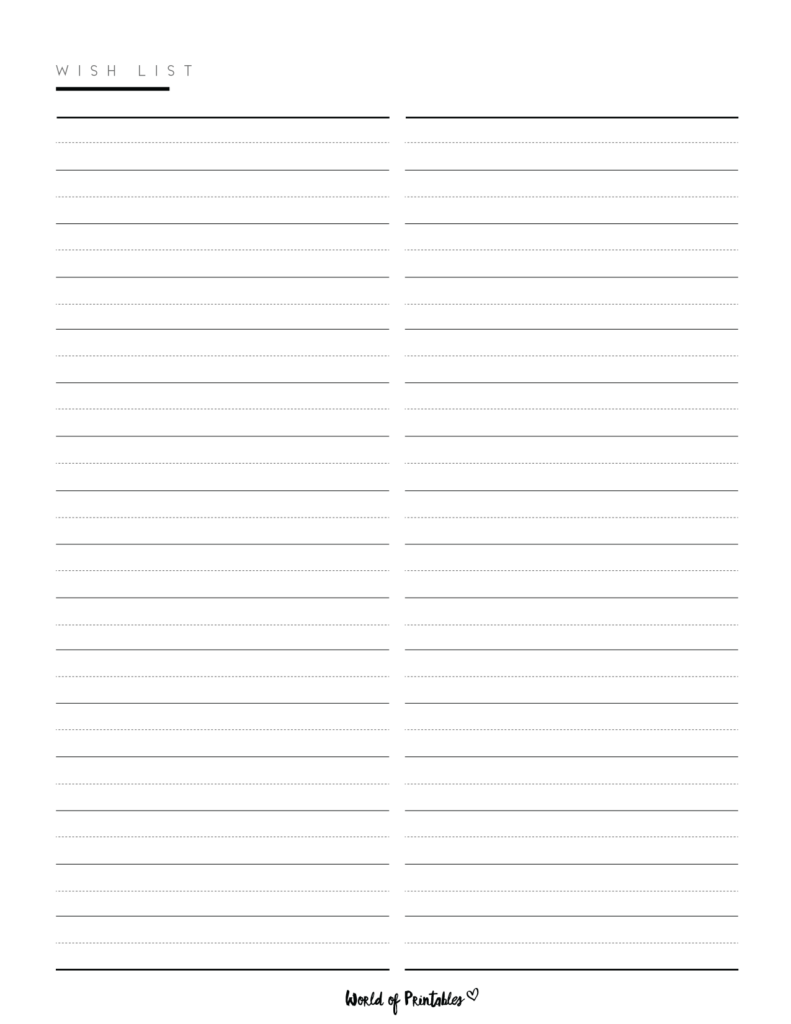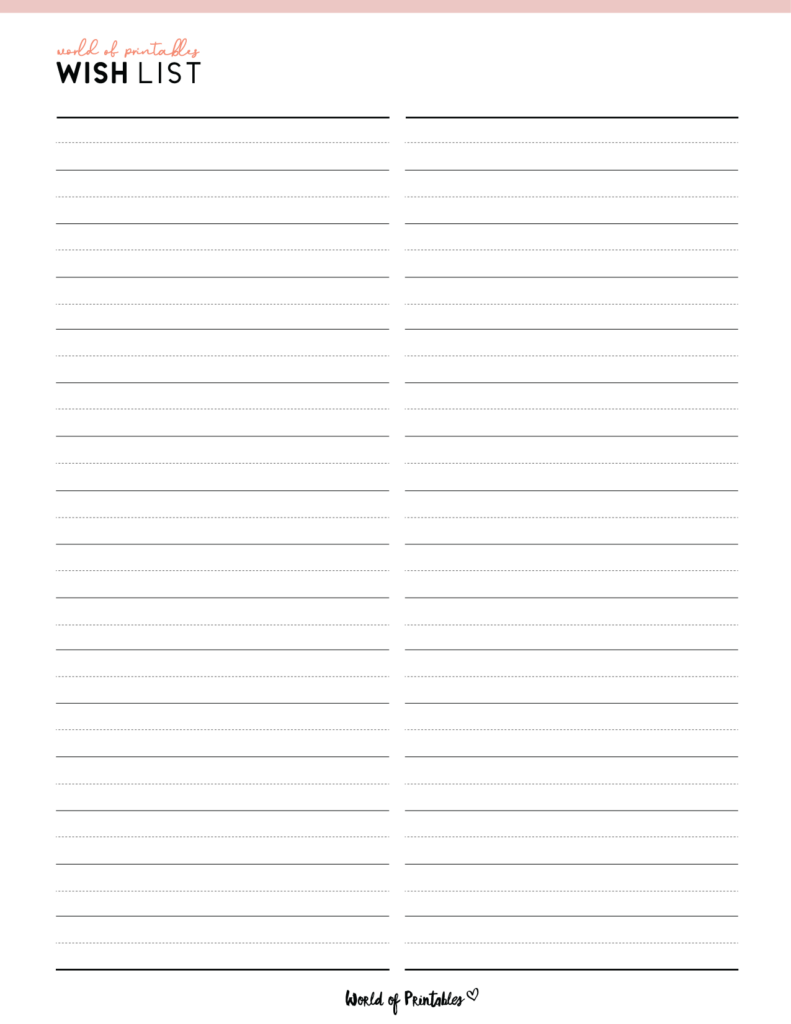 Christmas wish list
One of my favorite times to buy for others is Christmas. Although it can be expensive, Christmas shopping is such a fun, magical event.
I love using a Christmas list template to help me plan out my Christmas shopping and with so many styles to choose from, it has never been easier to use a Christmas wish list template that suits me and my needs.
There are many printable Christmas list templates to choose from and these can be used in many different ways.
Use a Christmas wish list printable to:
Use as a secret Santa wish list
Send a Santa wish list to the North Pole (check out our printable letters to Santa – perfect for kids!)
Use as a Christmas shopping list template
To use a Christmas gift list template, simply click the image and save it to your computer before printing it.
Check out our Christmas gift ideas below.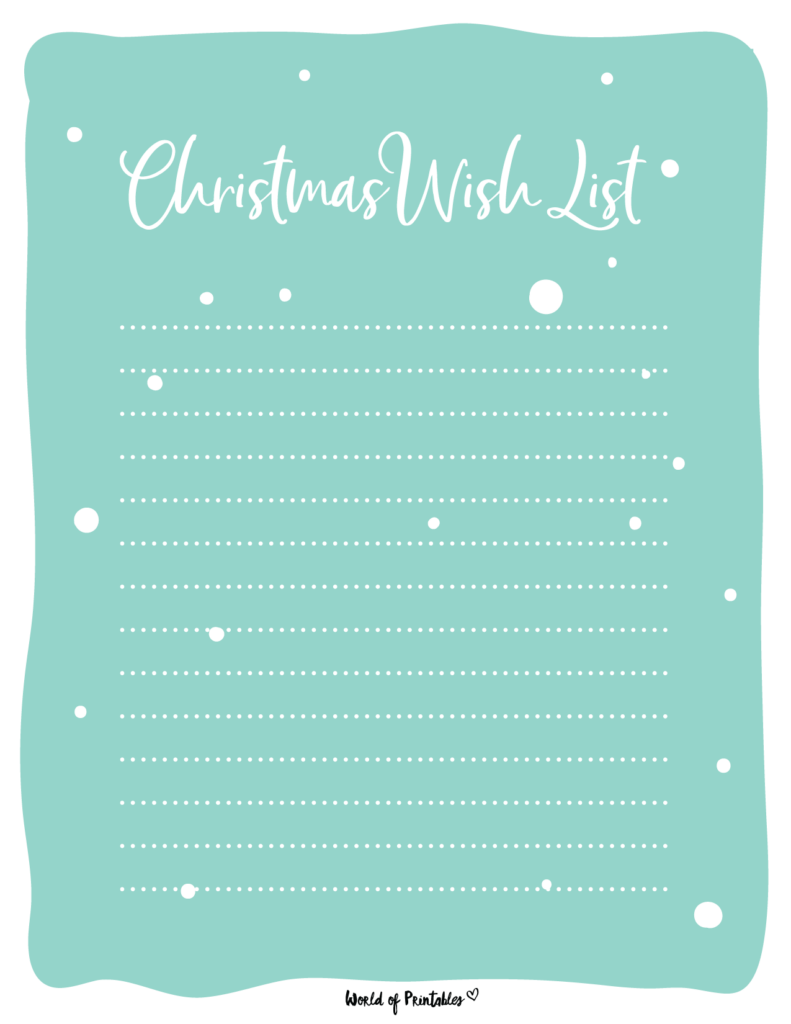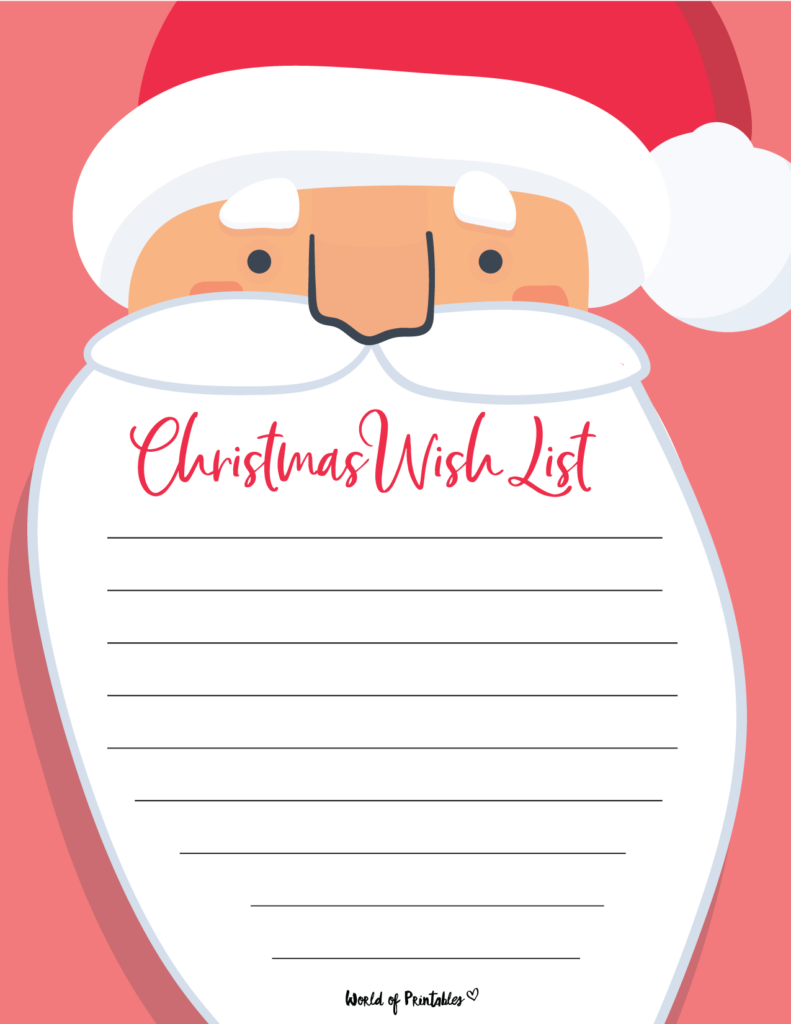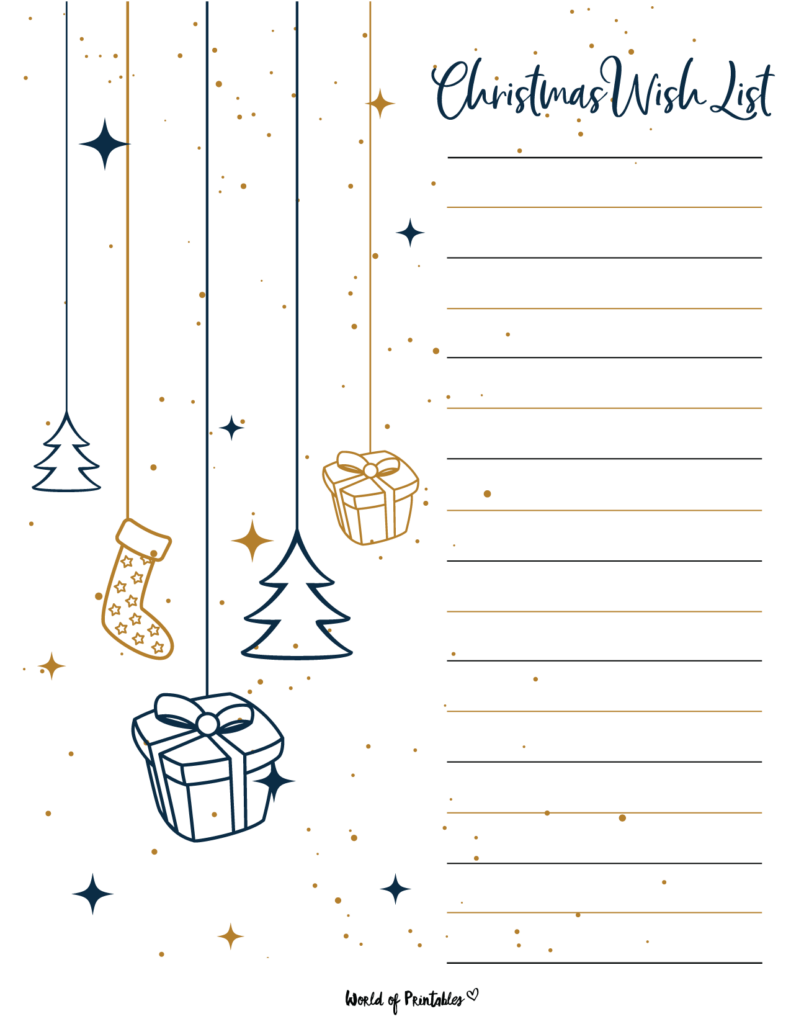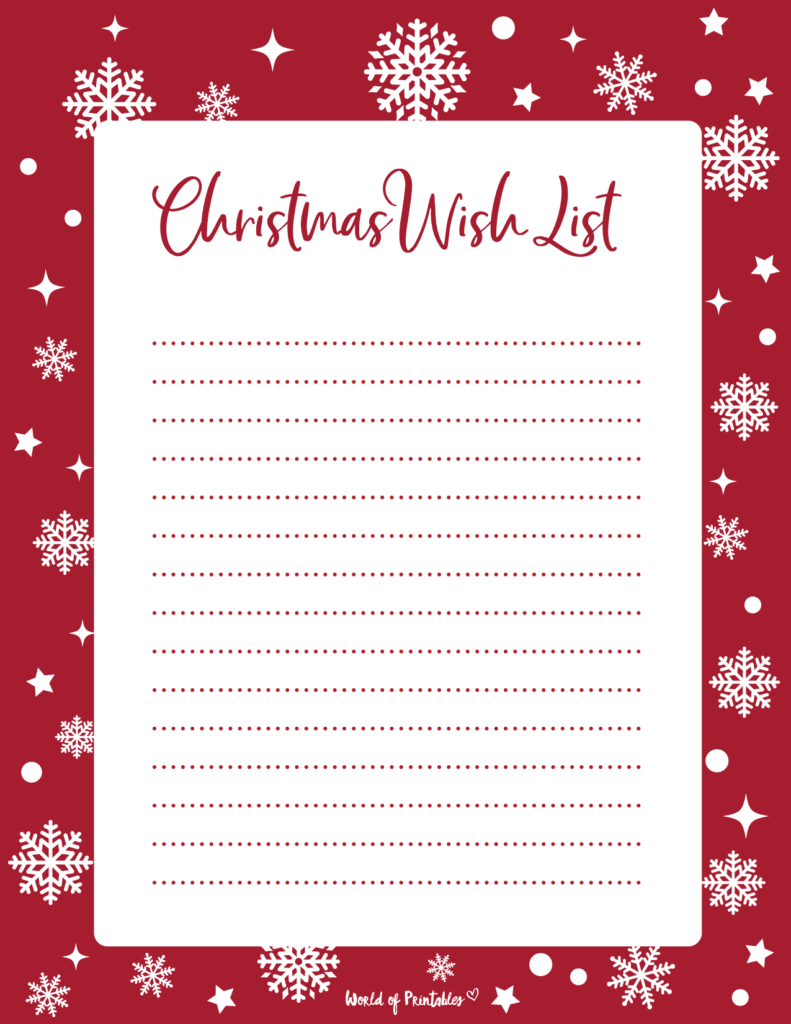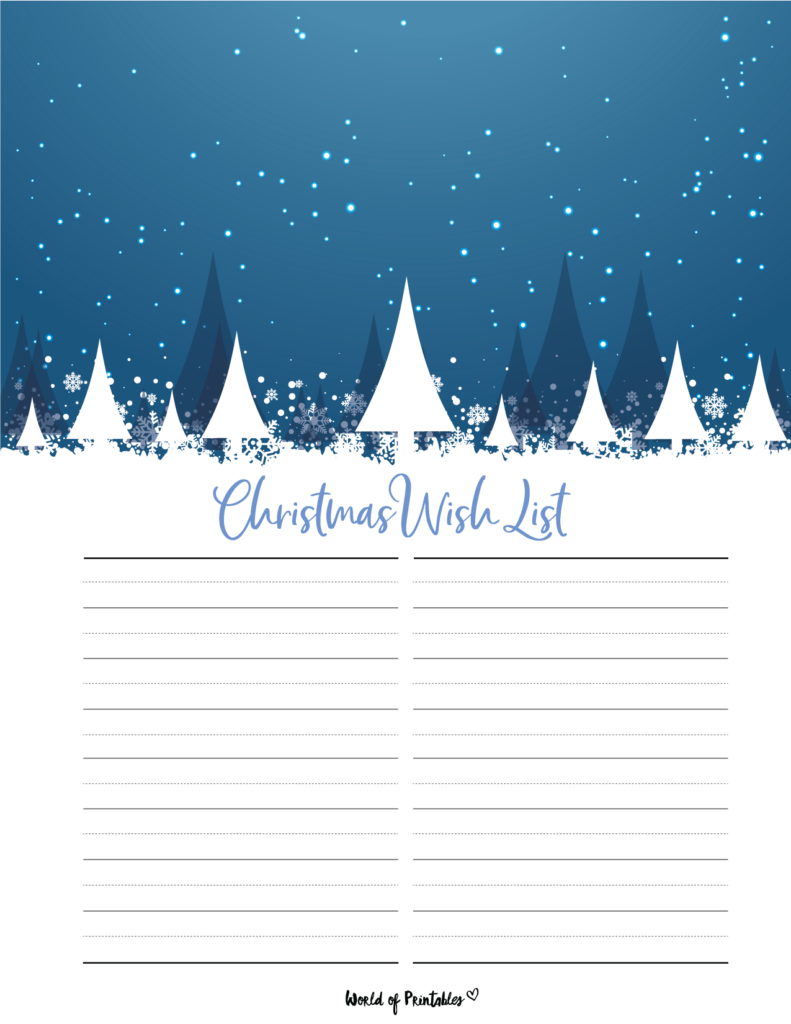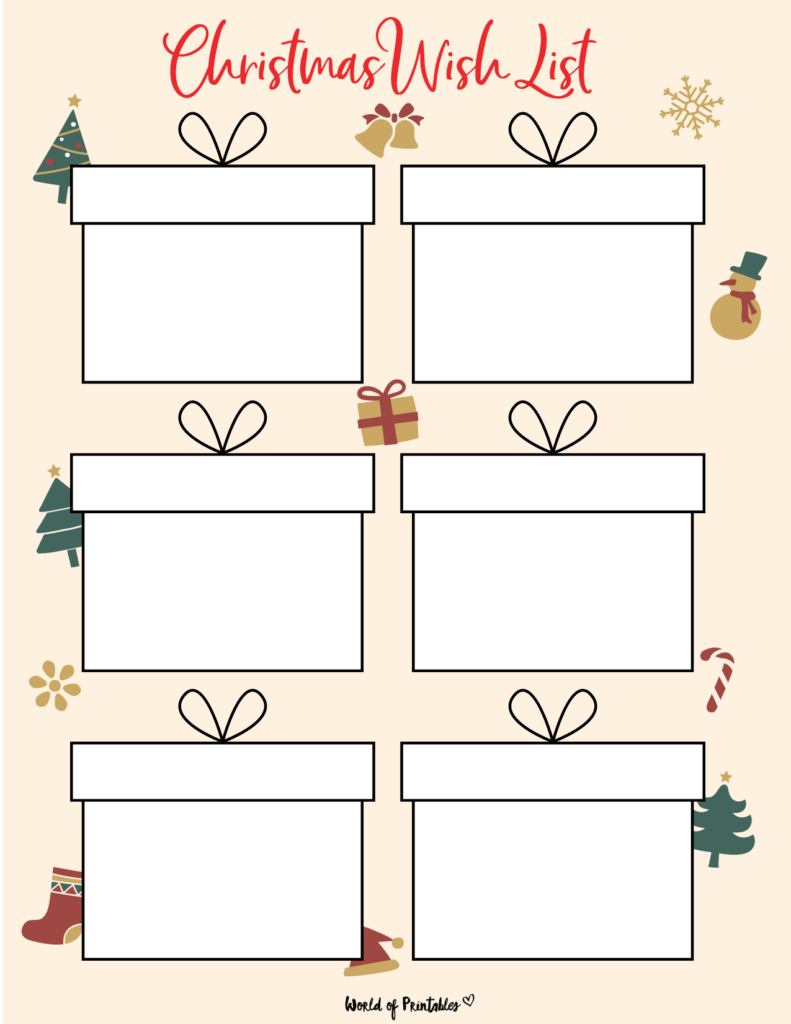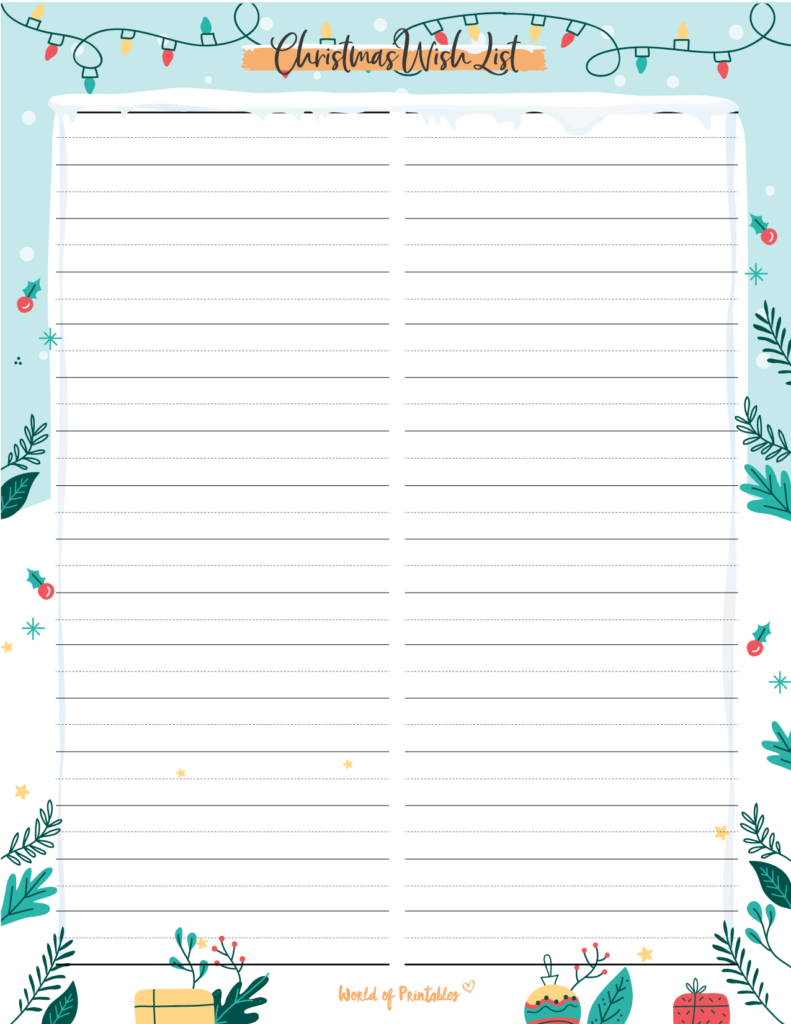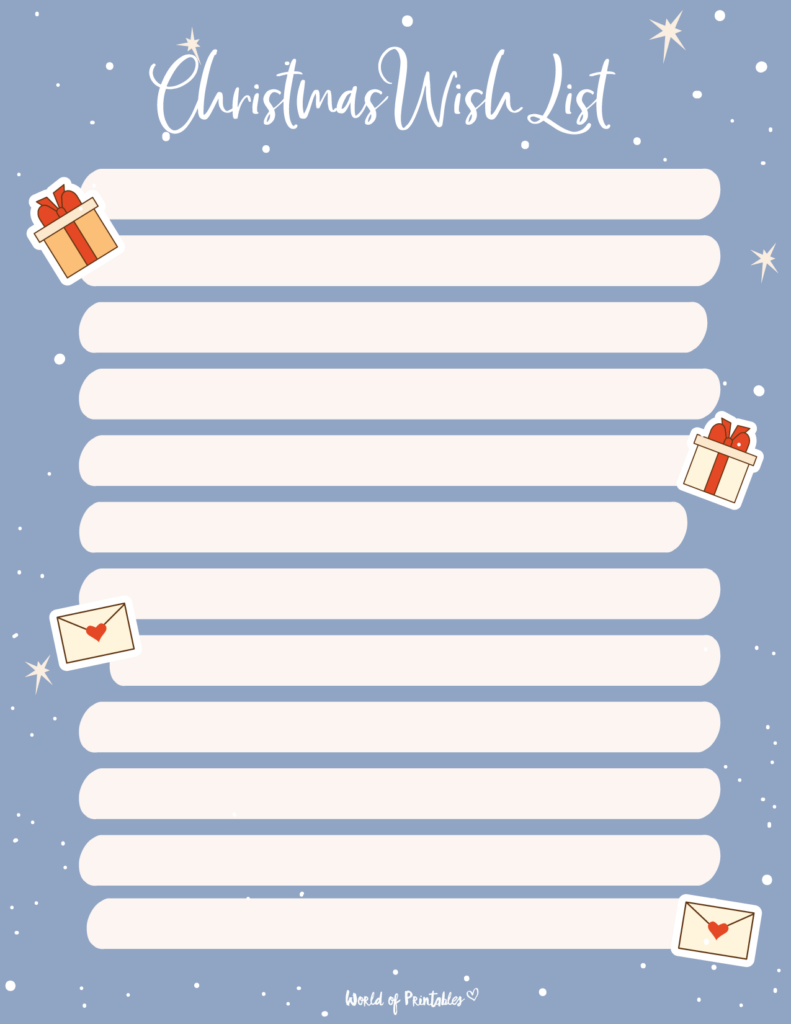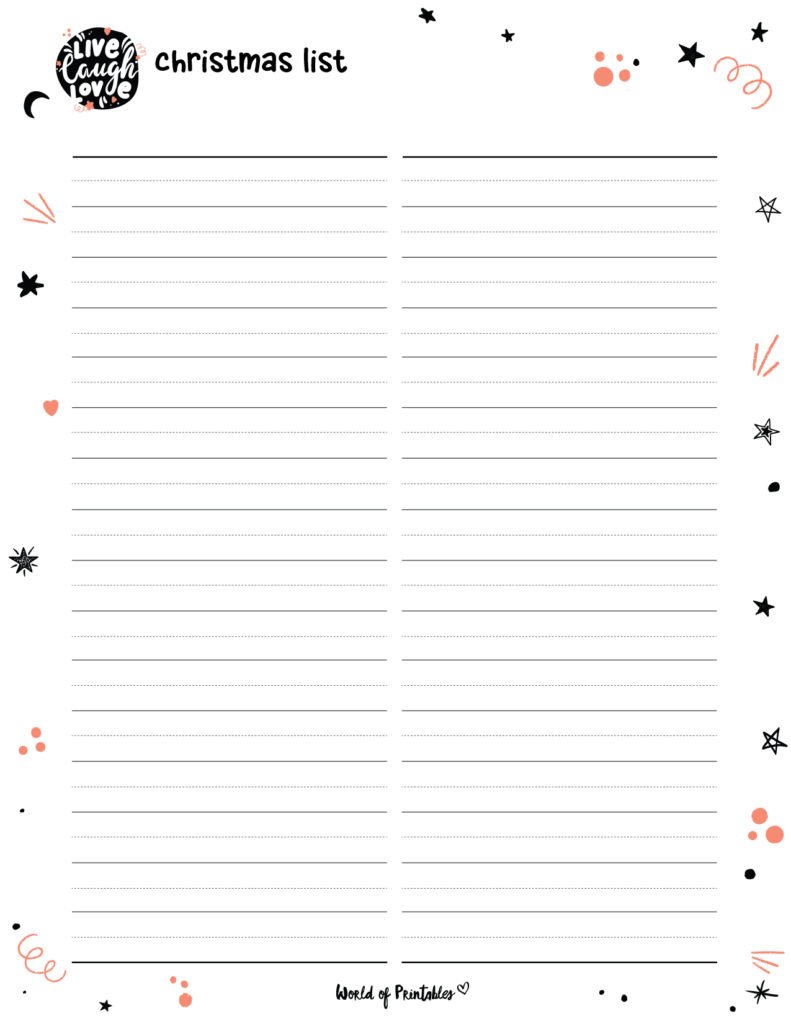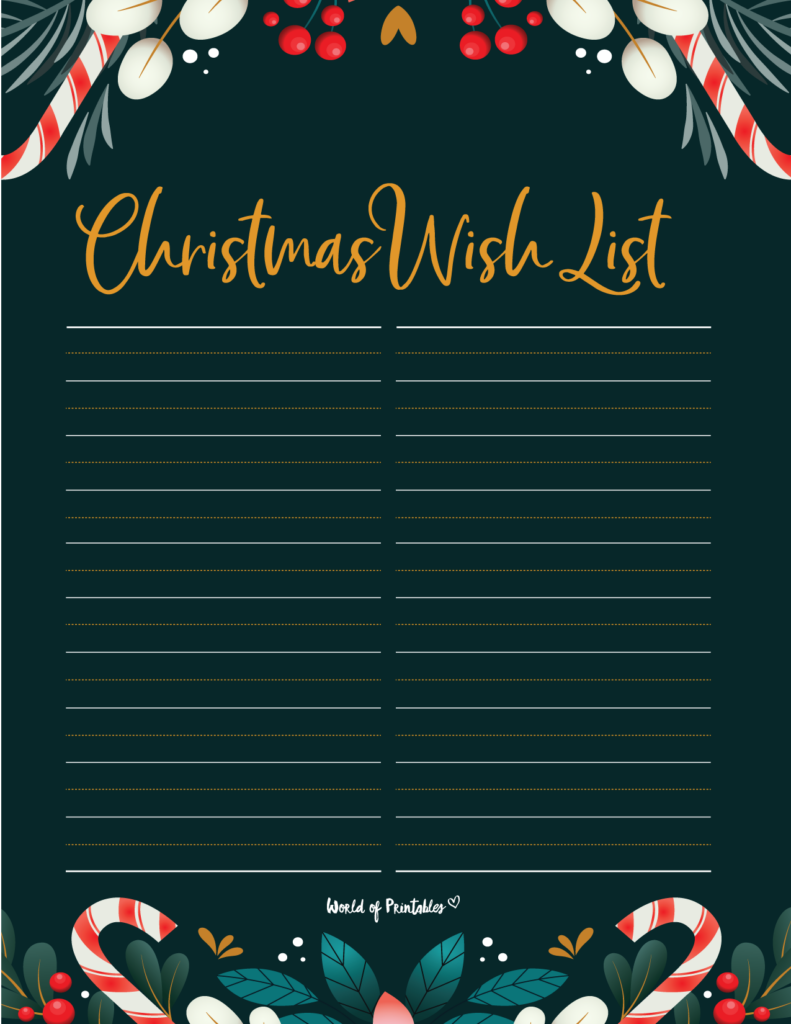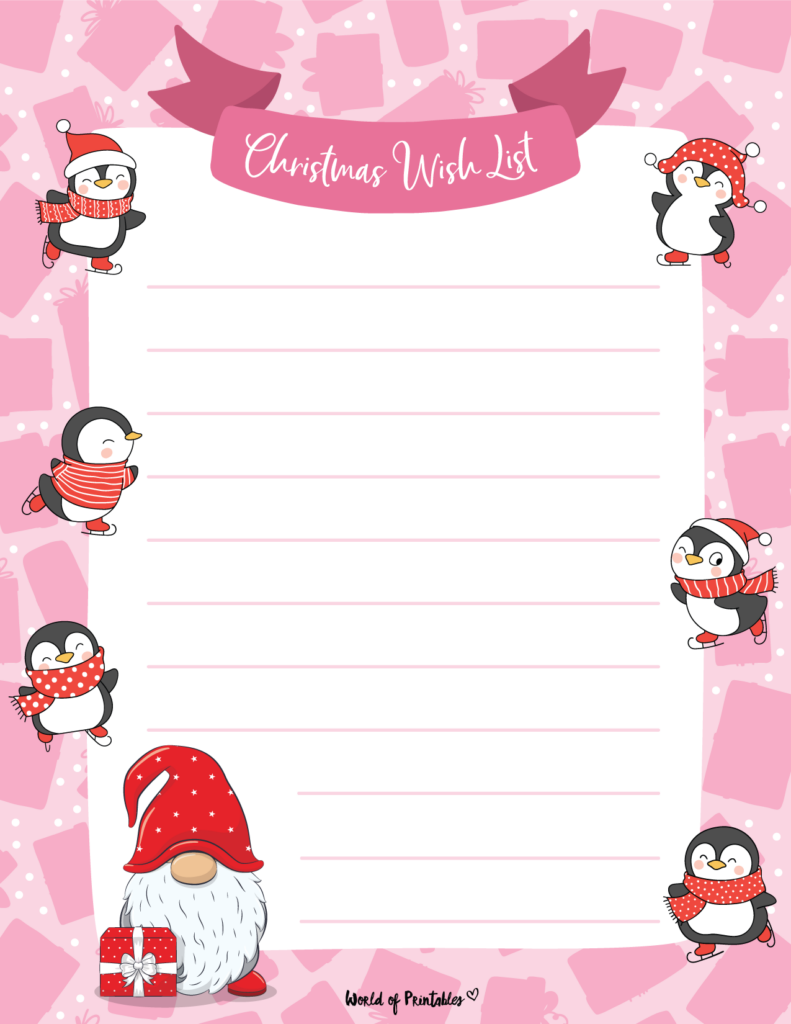 Christmas wishlist ideas
If you're looking for Christmas gift ideas to point you in the right direction then here are a few things to try. I will also let you know what is on my Christmas wish list too!
For Her
Parfum
Plants
Household Items
Books
Underwear
Clothes & shoes
Jewelry
Chocolate
Vouchers for restaurant dining
Beauty products
Exercise Wear
Food and drink items
For Him
Electronics
Clothes & shoes
Aftershave
Grooming gifts
Experience voucher
Camping gear
Exercise Wear
Food and drink items
Teens
Money
Digital Vouchers
Starbucks top up
Clothes & shoes
Electronics
Adventure days
Beauty
Games
Kids
Games
Dolls & action figures
Bike, Scooter, Trike
Candy
Role play toys
Fun day out
Books
Dress up
Art supplies and activities
If you would like to have a nosy into my life then these are some of the ideas buzzing around our house for Christmas:
Telescope (for the whole family)
Plants
New hotel pillows for the bed
A big blender
Spider-man toys (for Charlie 3yrs)
First music keyboard (for Charlie 3yrs)
Roblox digital currency (for Emma 5yrs)
LOL Suprise toys (for Emma 5yrs)
I love using a free printable Christmas list because I love sitting and planning during the festive period. All of our printable wish lists can be printed and fitted in your favorite planner. Alternatively, if you prefer to do things digitally then try using Amazon wish lists!
Amazon wish lists
Let's face it, almost everybody has or will shop on Amazon at some point in their lives. Buying from Amazon makes shopping a breeze because there are so many items in one place.
One of the best things about Amazon is the amazon list option. You can create an amazon list for absolutely anything, whether that's a wedding registry, employee gift list, secret Santa wish list, moving home list, or simply items you love!
Using an Amazon wish list means you don't have to fret over gift ideas. You can simply view the recipient's public wish list and you will be sure to give a great gift. You can also create wish lists for yourself so others can see what you truly desire or even create wishlist ideas where you can save gift ideas you are considering for others.
Along with having everything in one place, you can always find deals on Amazon. Be sure to look for coupons online, free shipping options, and discounts before making purchases. You will find that you can get your favorite products at different price ranges too.
I'm not an advocate for Amazon but as many people like to shop online, I thought I would mention Amazon as an option for easiness, choice, and quickness.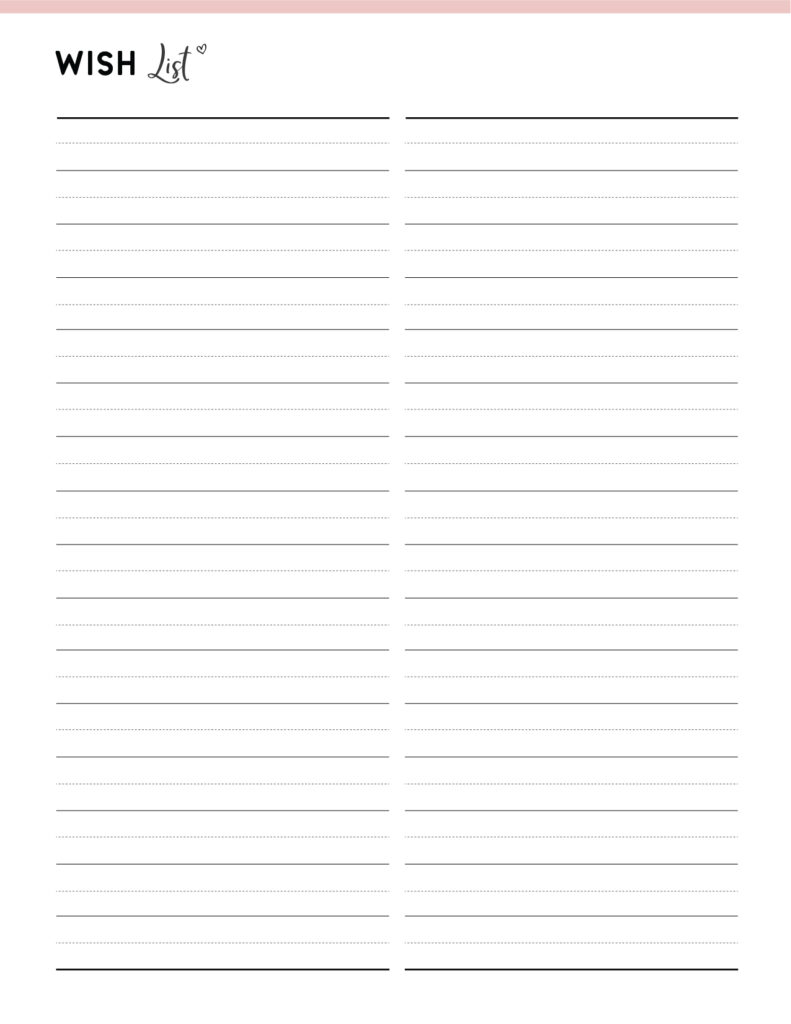 Birthday Wish List
Here you will also find some printable birthday wish list templates.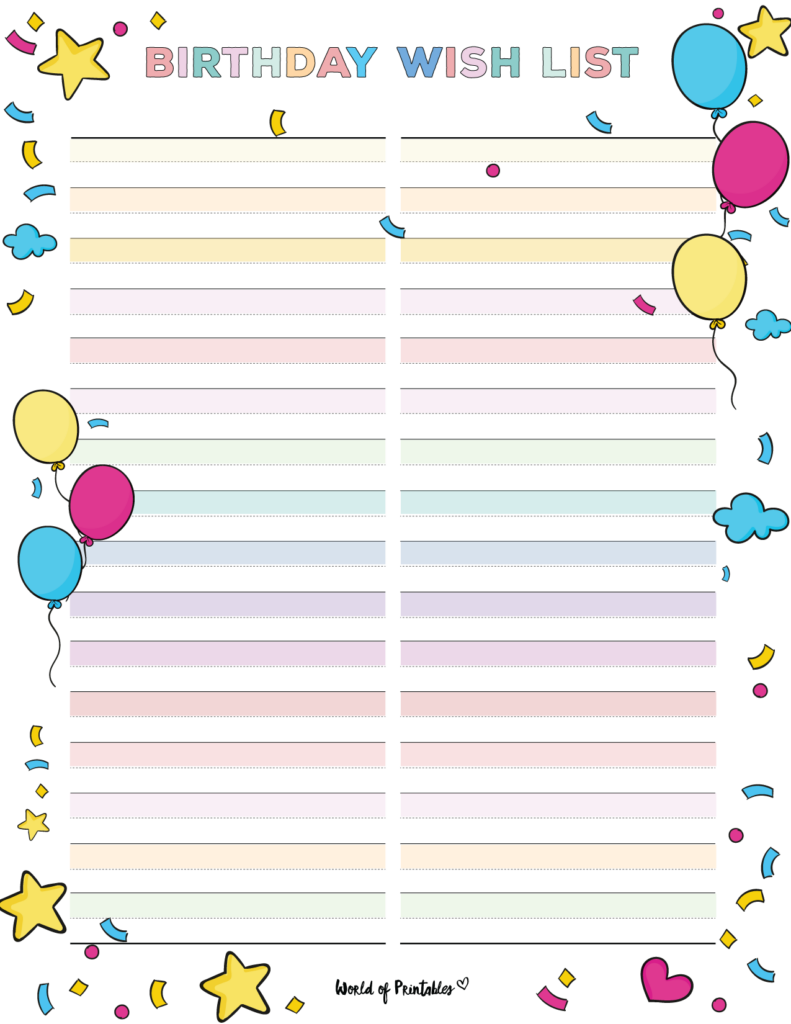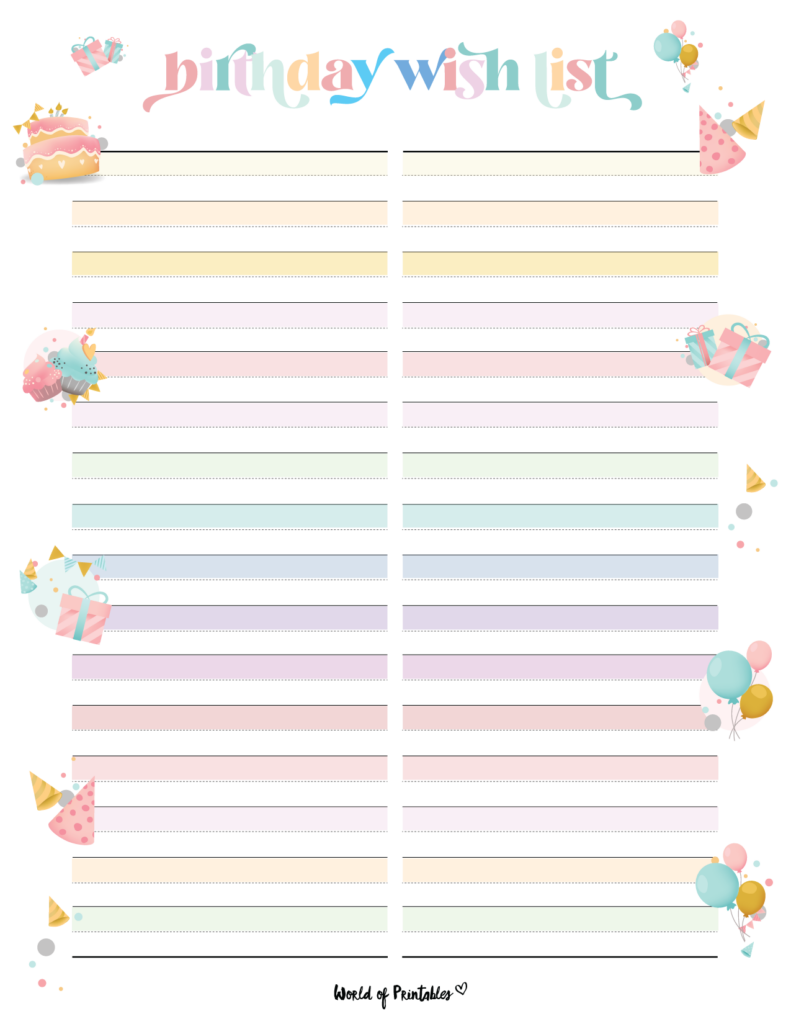 If you love lists you might also love our List Bundle. It features so many list options including this wish list! Check out our Love & Pixels hub, where you can get thousands of premium printables
Get the free printable wish list template
To get your favorite printable wish list from the selection here, click any of the images above and save it to your computer.
If you are looking for more, then check out our huge range of awesome printable templates and find the ones you need. We've got a huge range of printables for every aspect of your life!
More awesome free printables from World of Printables
We've created a huge amount of calendars, printables, and templates. You'll find printables and templates to help you plan and organize all aspects of your life.
Be sure to grab as many freebies as you can while you're here.
We think you'll find these very useful:
Free printable planner templates
Our recent printable planner templates. Many more planner templates are available to use and print for free.
---
Like these freebies?
Get notified of our next monthly free printables – you're gonna love them!
Follow World of Printables on Pinterest