If you love a good recipe, and who doesn't, then these recipe cards are for you. You can use them to write your favorite recipes that you come across, from your favorite food blogs or cookbooks.
Featuring 50 stylish recipe card designs, you'll find the perfect card to use with your favorite recipes.
Use the recipe cards to write down all of your favorite recipes.
You'll not find a better way to gather your favorite recipes, and best of all, they're totally free!!
With these cards you can keep all of your favorite recipes at your fingertips so that you can prepare the perfect dishes for social gatherings, celebrations, dinner dates, or just the weekly family meals.
Learn more about recipe cards and what you can do with them below. Otherwise, check out this huge collection right here and find the perfect card for you!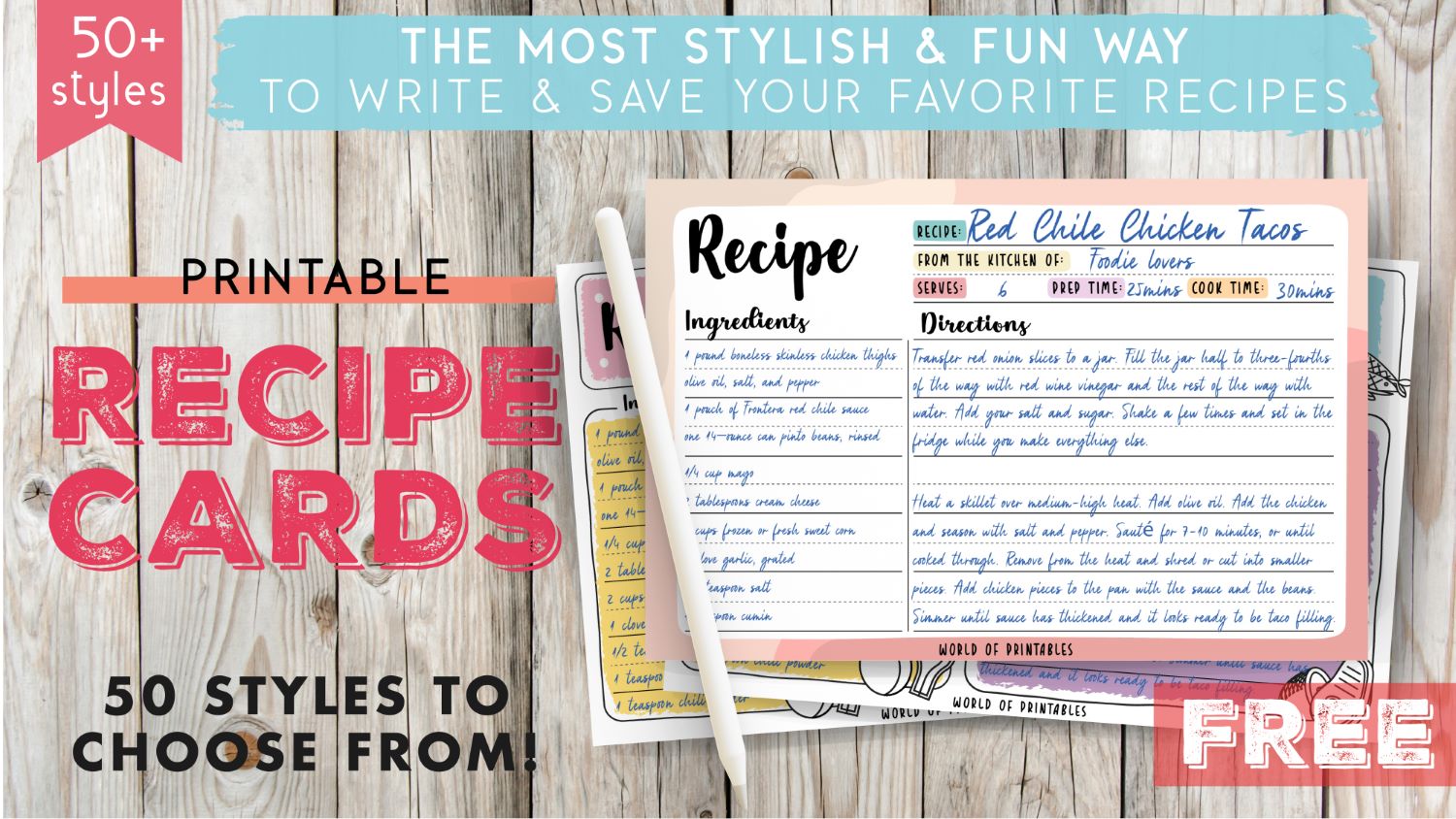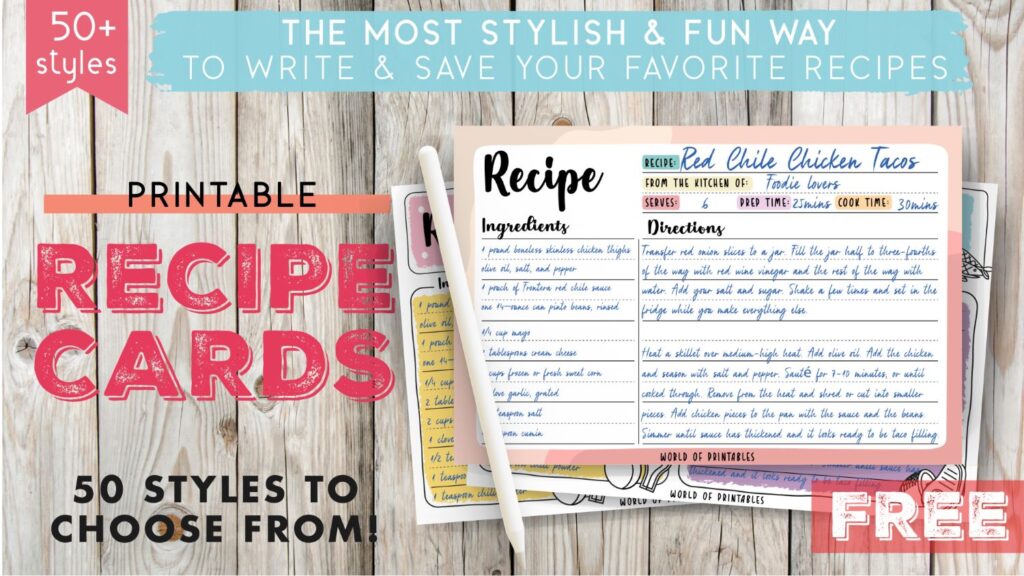 Recipe Cards
Choose your favorite from this list of recipe card designs in a variety of different styles.
See instructions below on how to print and use these free printable recipe cards.
These printable cards are great for keeping recipes of all kinds, from kids' recipes to Christmas recipes. They're great for when you host dinner for guests, just pull them out whenever you want to make your favorite dishes.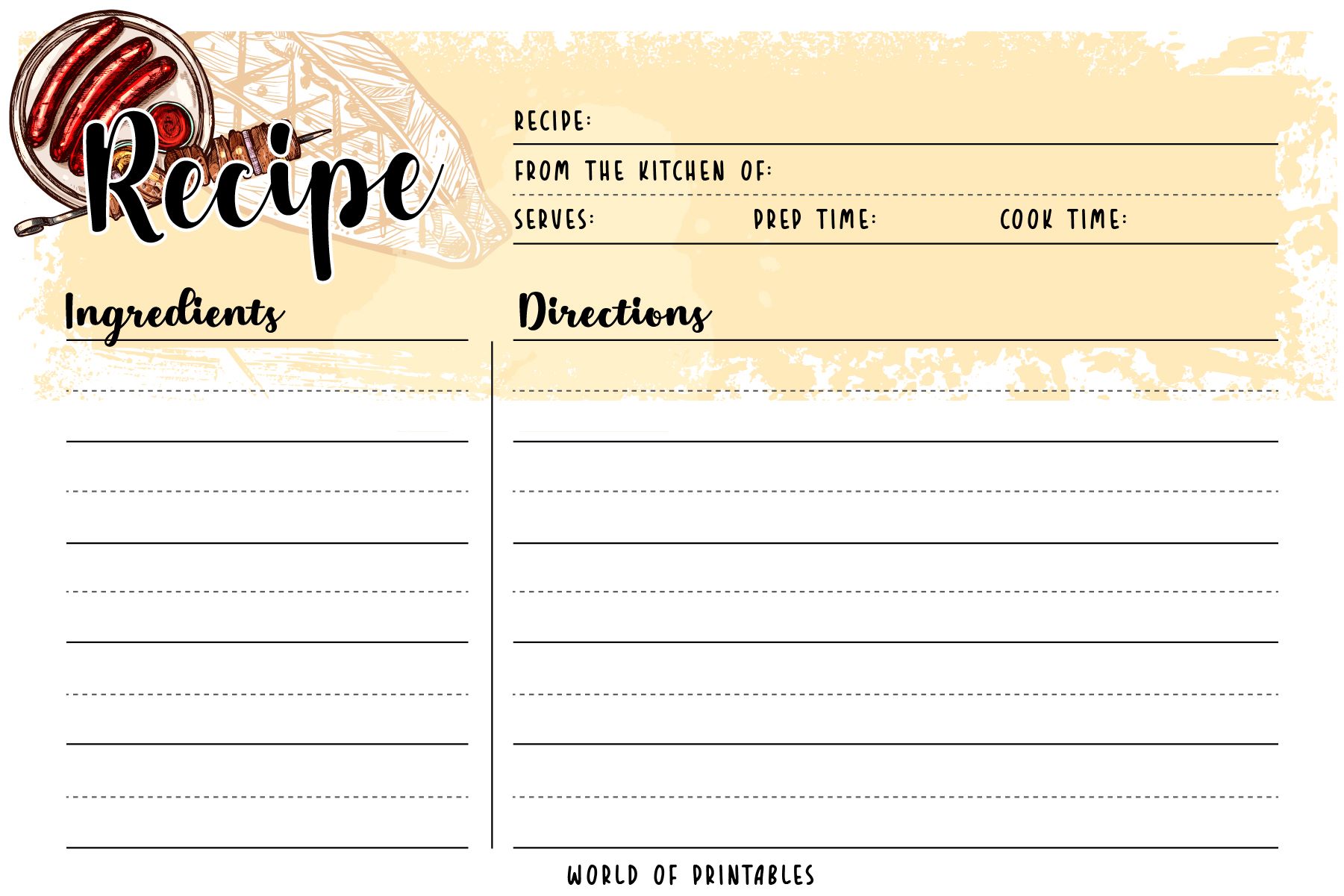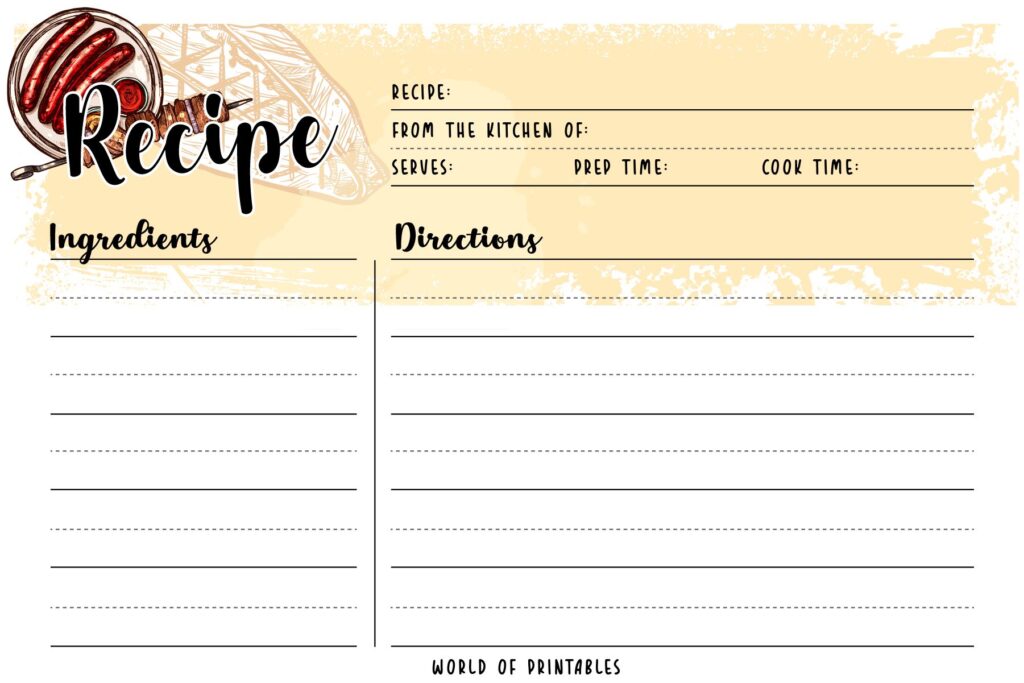 Cute recipe cards
If you're looking for cute recipe cards then you'll love this collection of cards that feature cute embellishments on each card. These cards stand out with fun decorations and look so good you'll love them.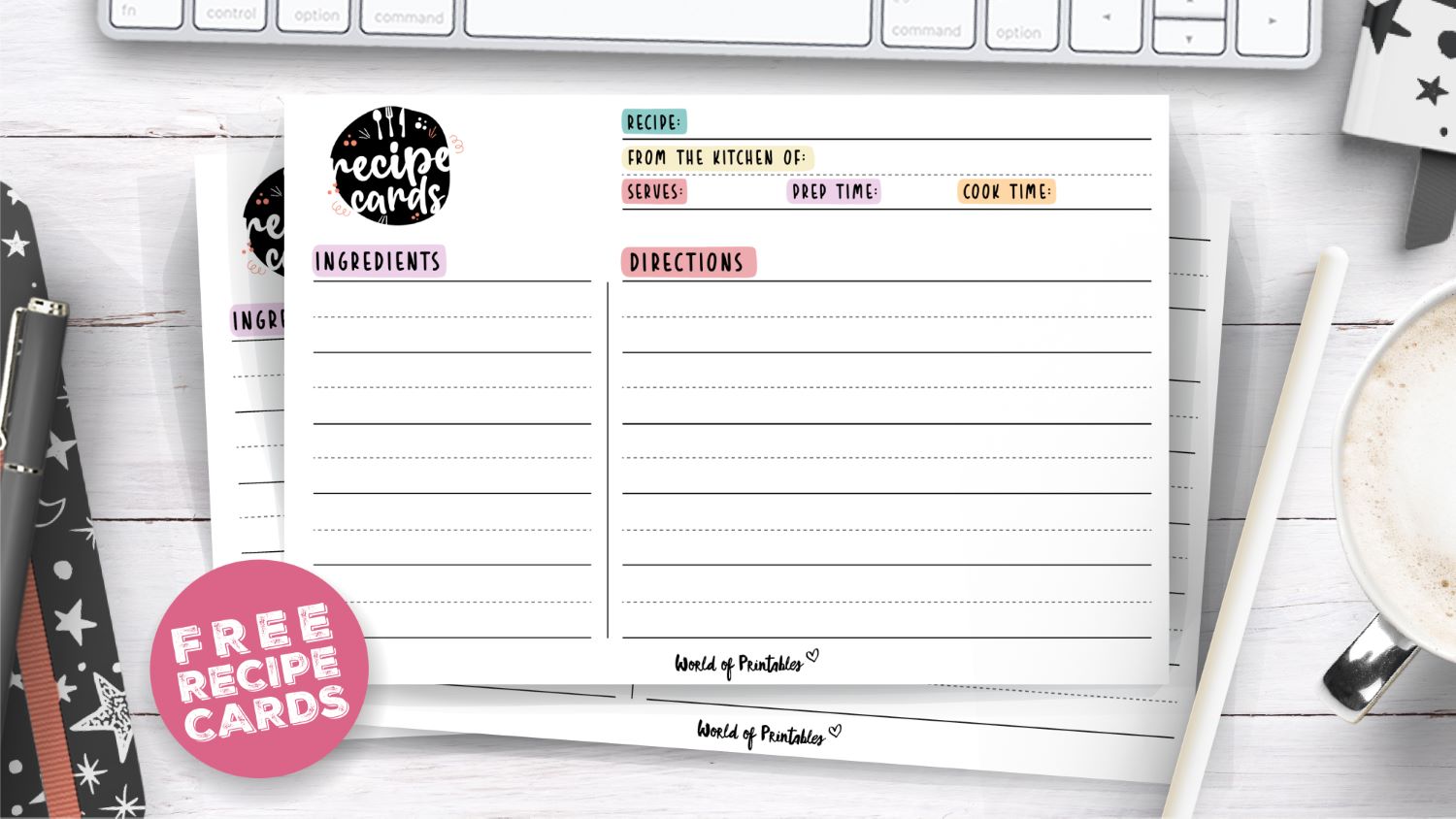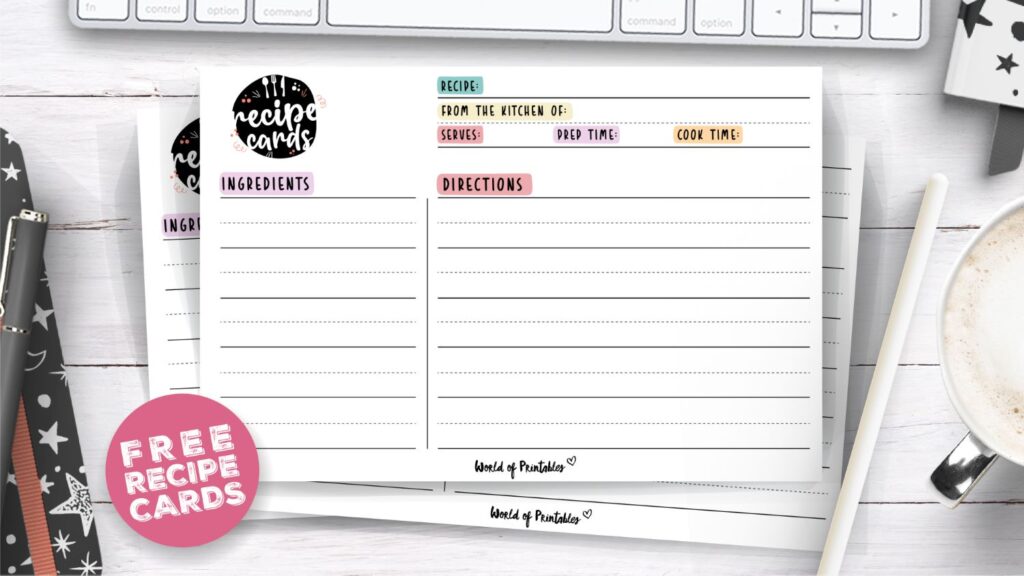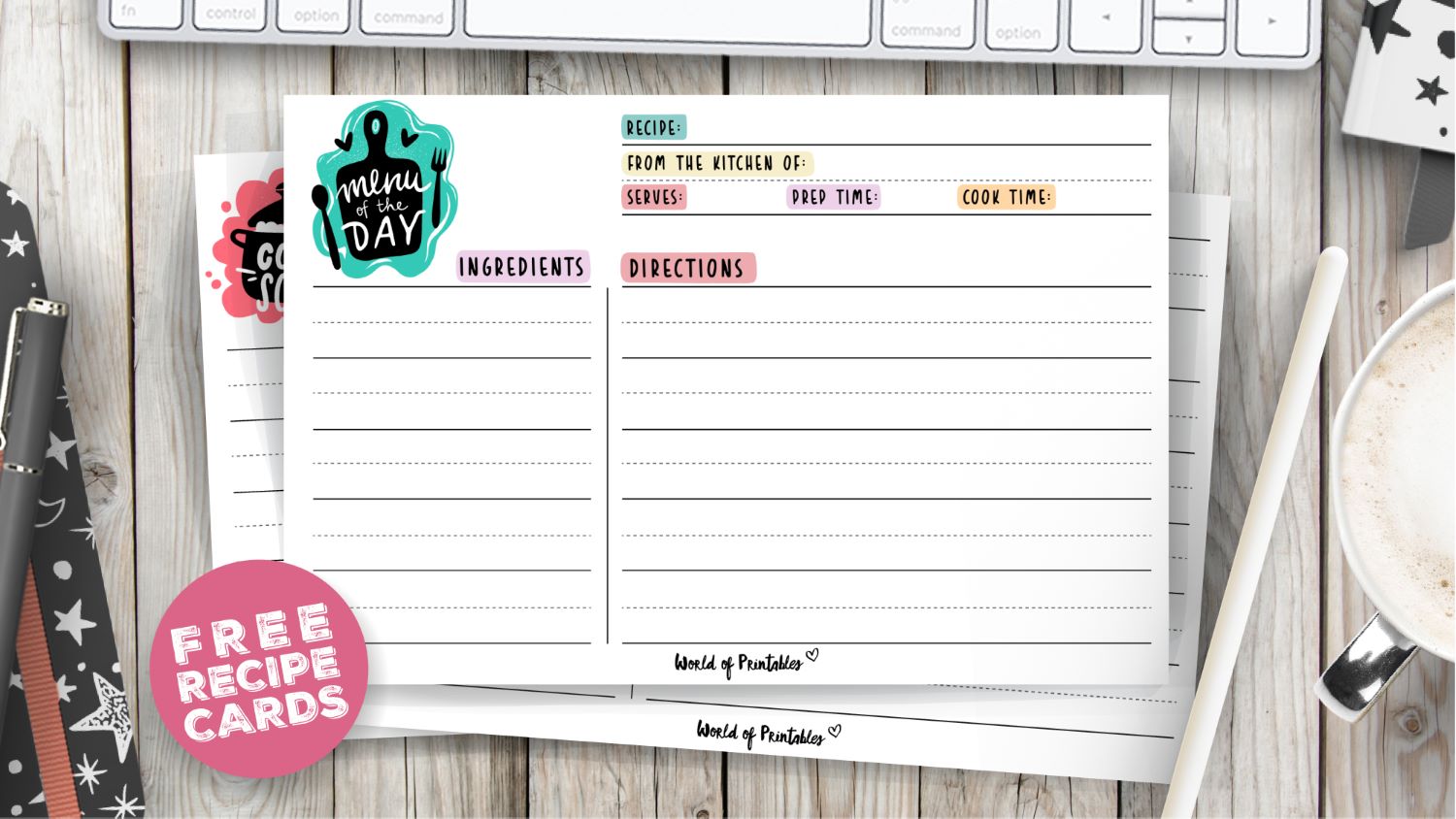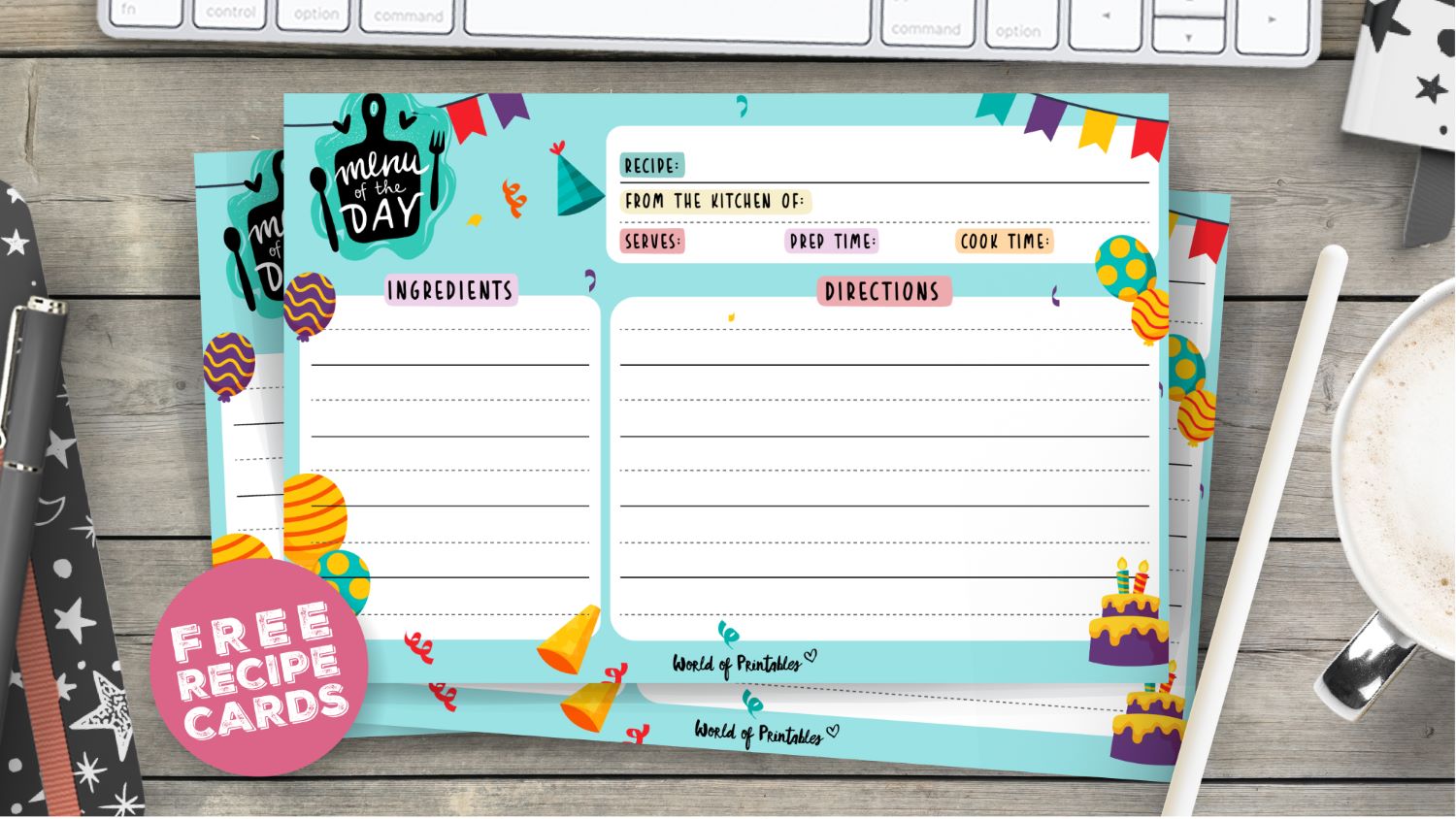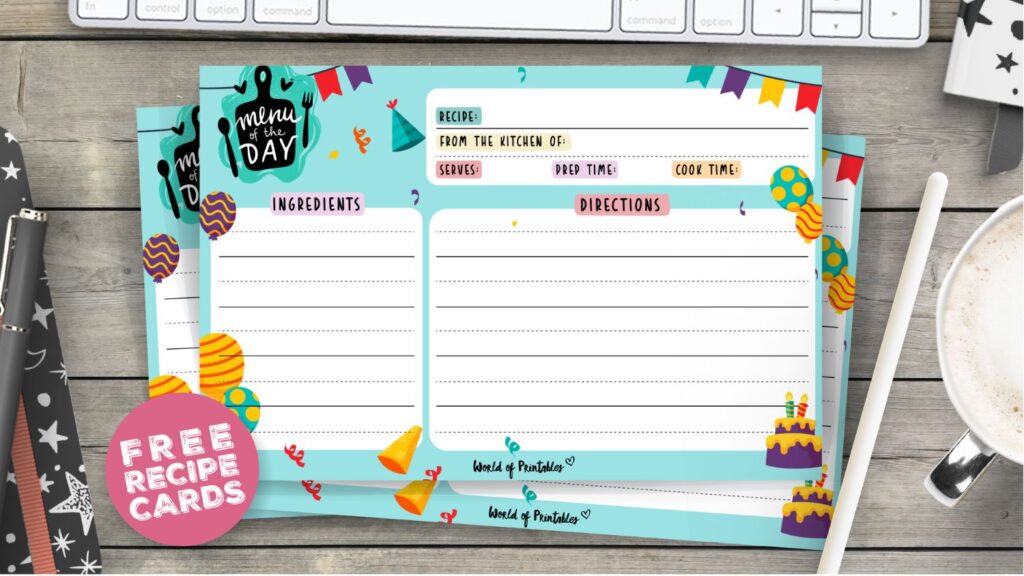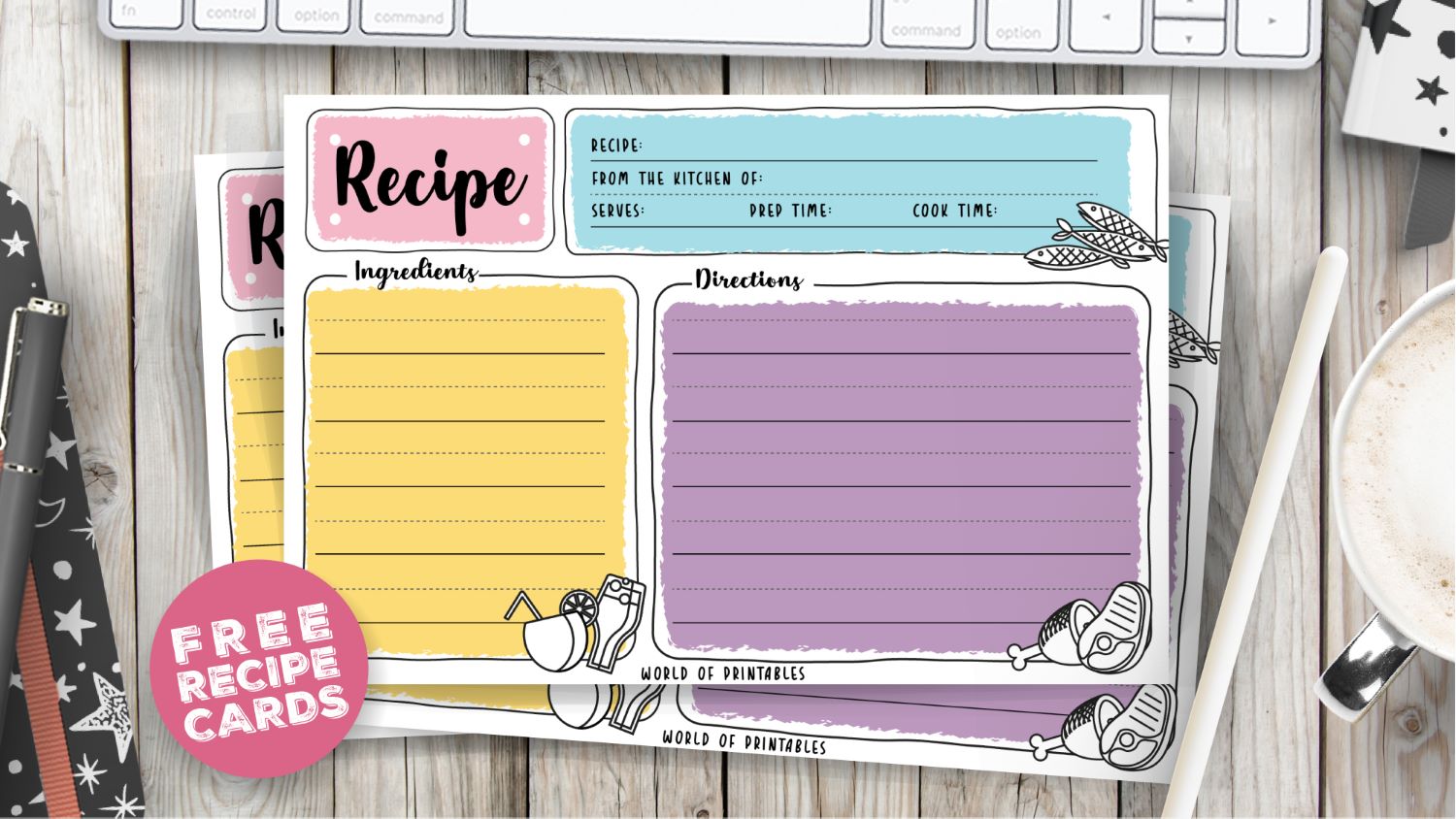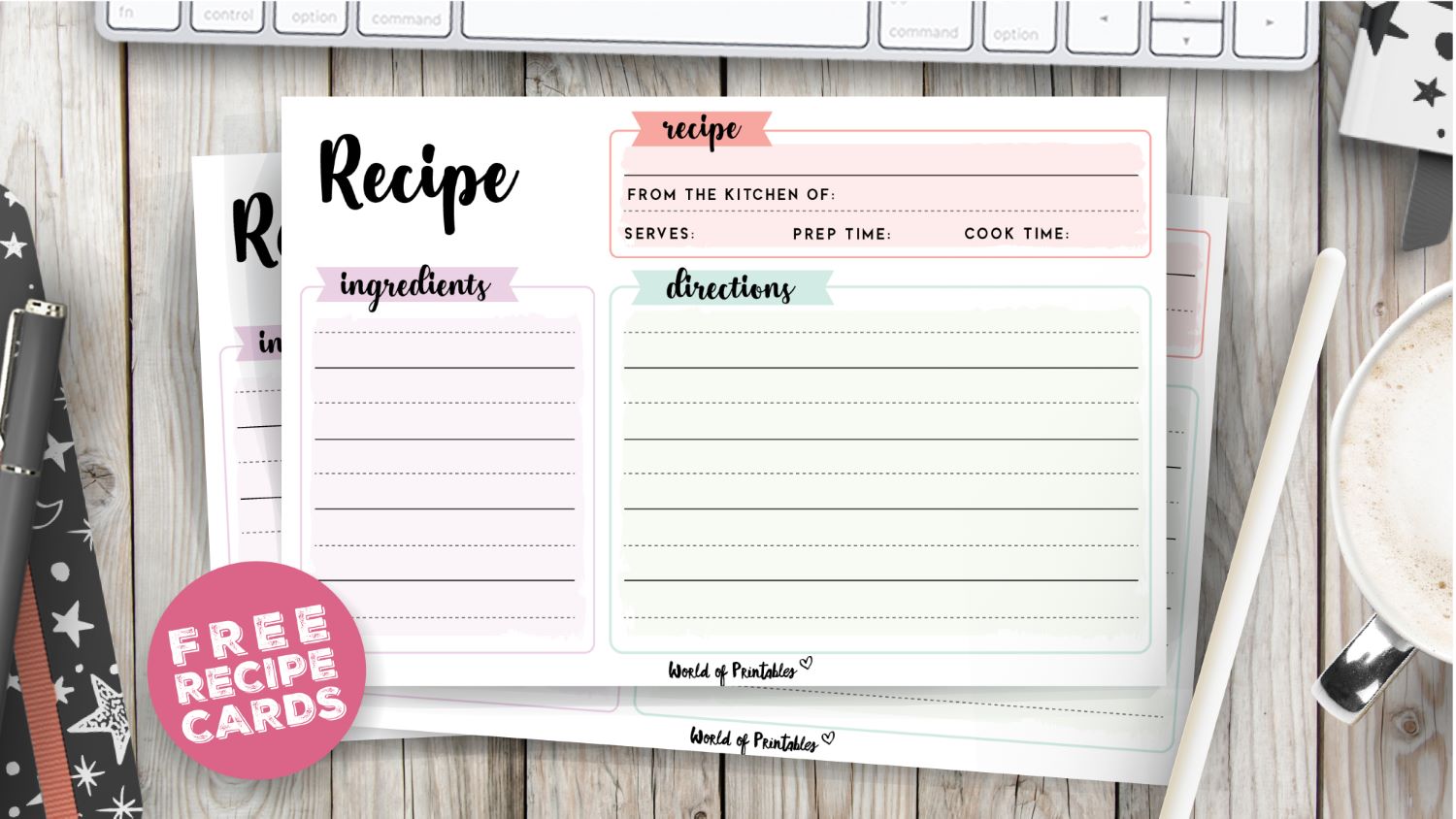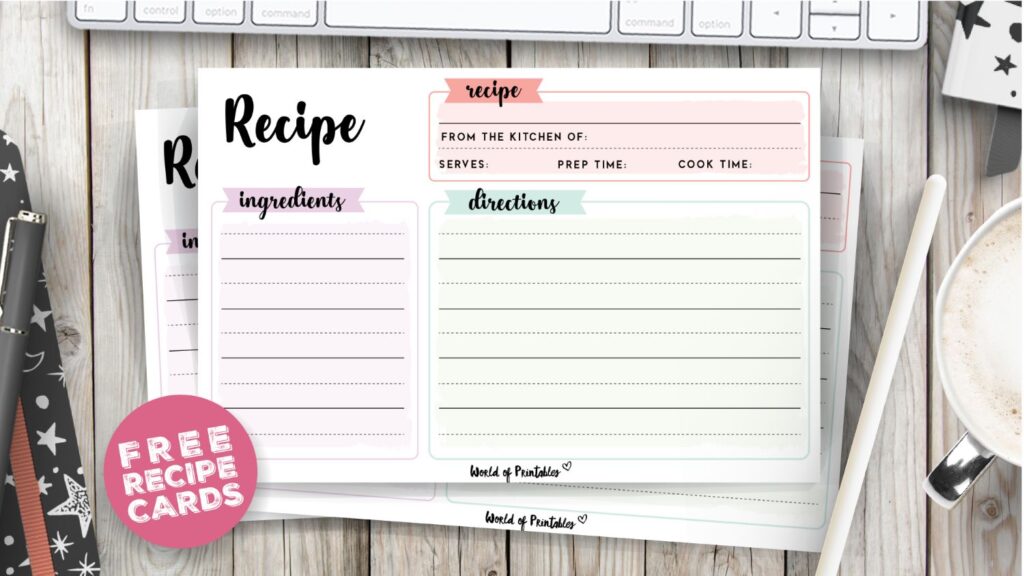 Standard recipe cards
If you're looking for something more classic, then these standard recipe cards keep things simple. You'll find everything you need on these cards and they're perfect for anyone who wants to use blank recipe cards without the fuss.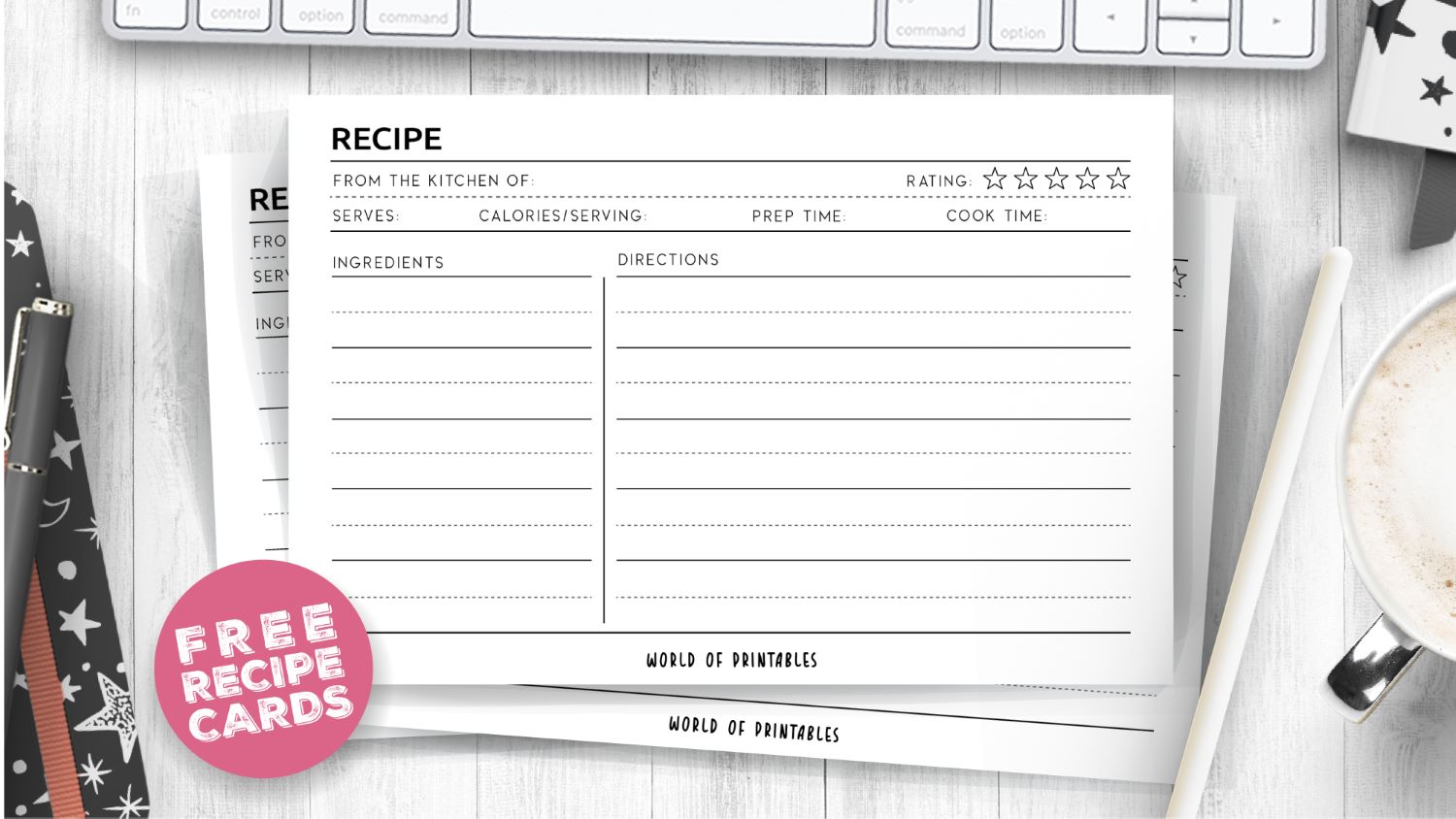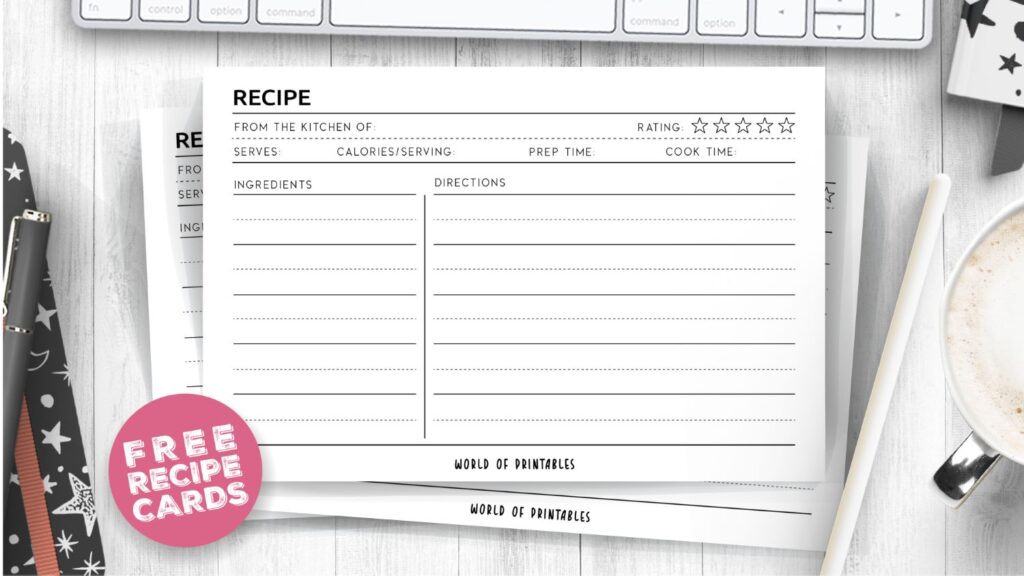 Vintage Recipe Cards
If you're looking for old-fashioned recipe cards then these designs will be perfect for you. Featuring an antique vintage style, you'll find everything you need on these cards for writing your recipes. You won't find recipe index cards anywhere that look this good.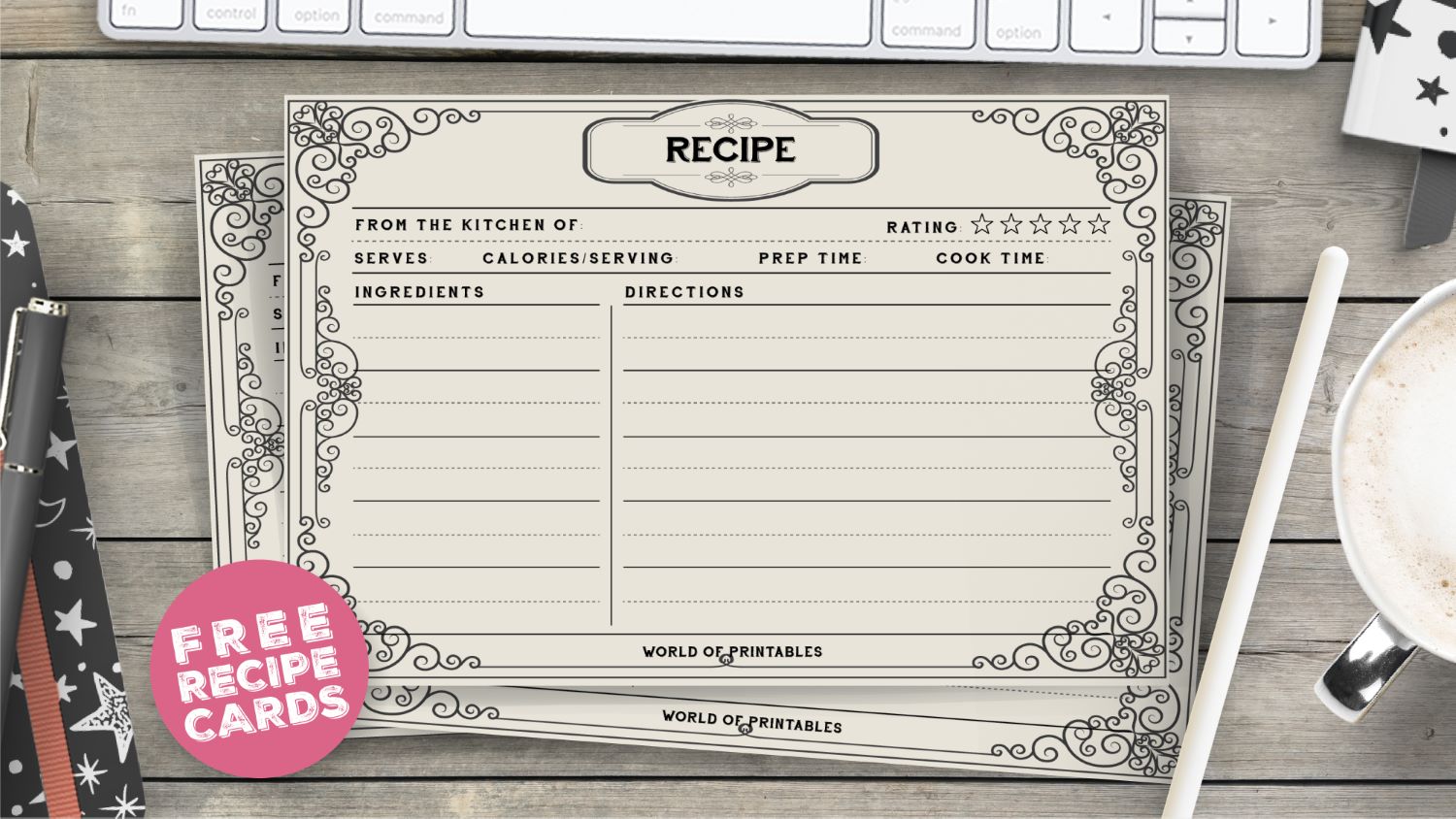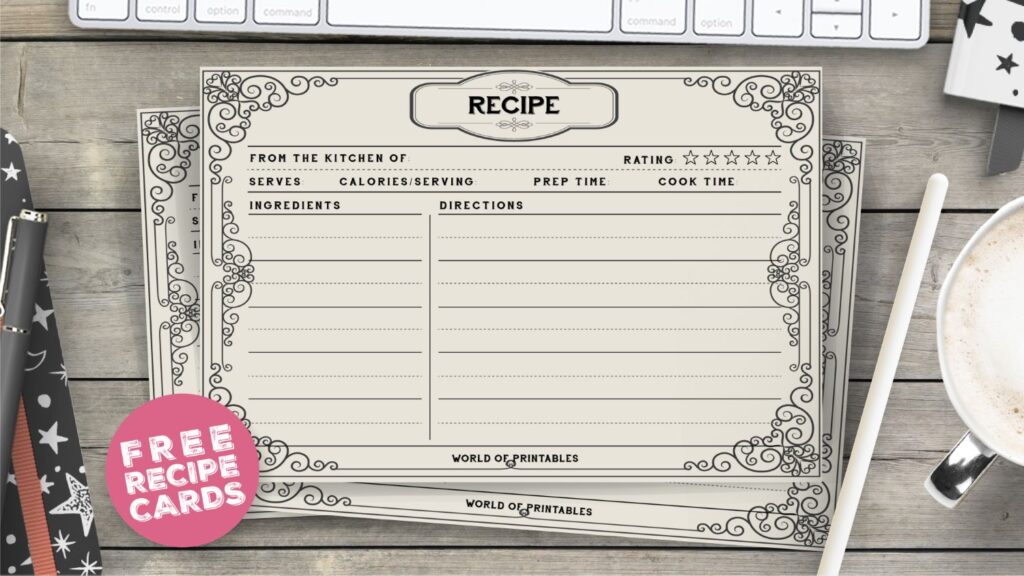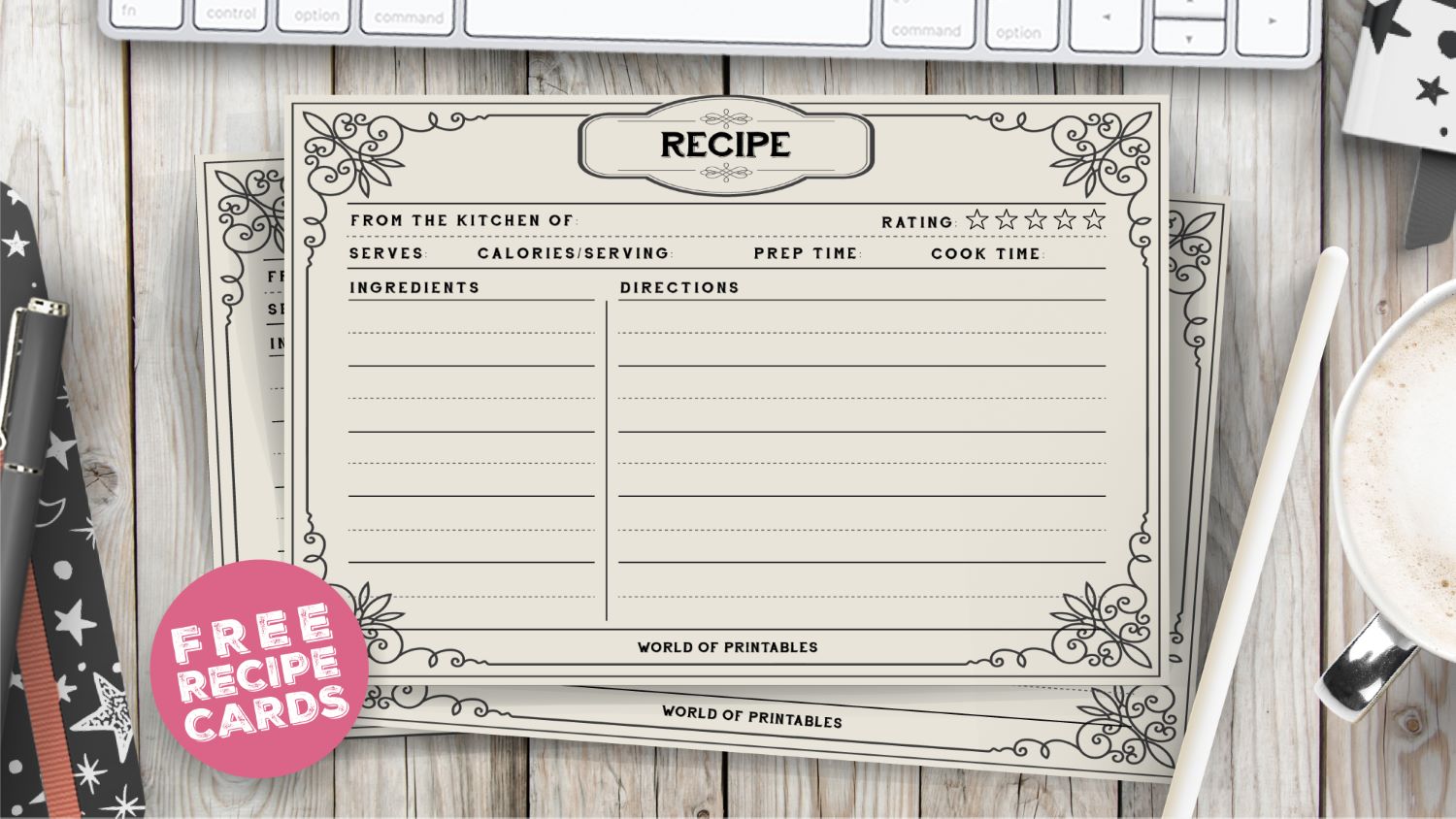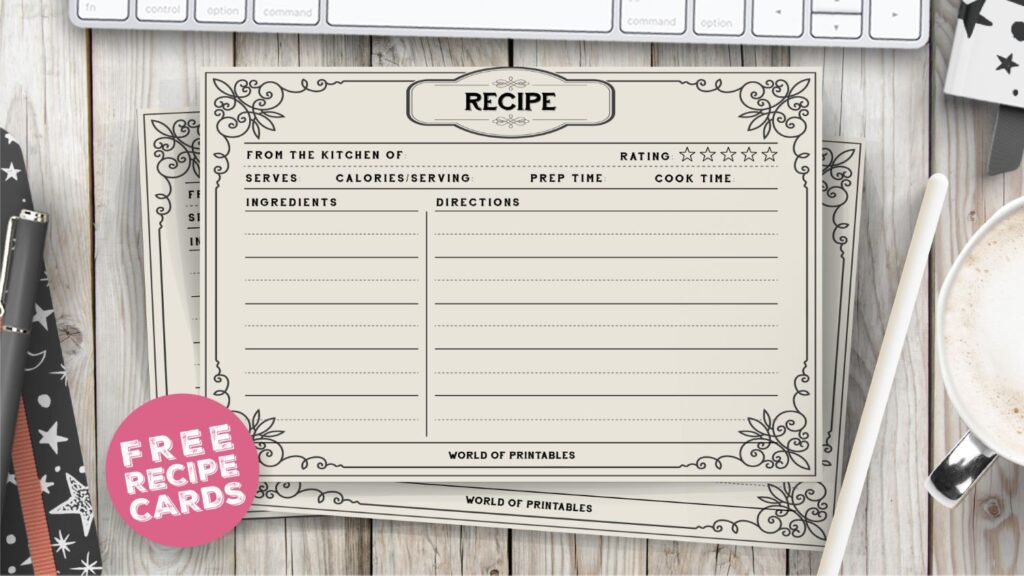 Cocktail Cards
These stylish cocktail cards are perfect for any drinks recipe. Whether it's your favorite cocktail, mocktail, punch, or party drink, these printable cocktail recipe cards are the perfect stylish addition to keep in your bar or kitchen.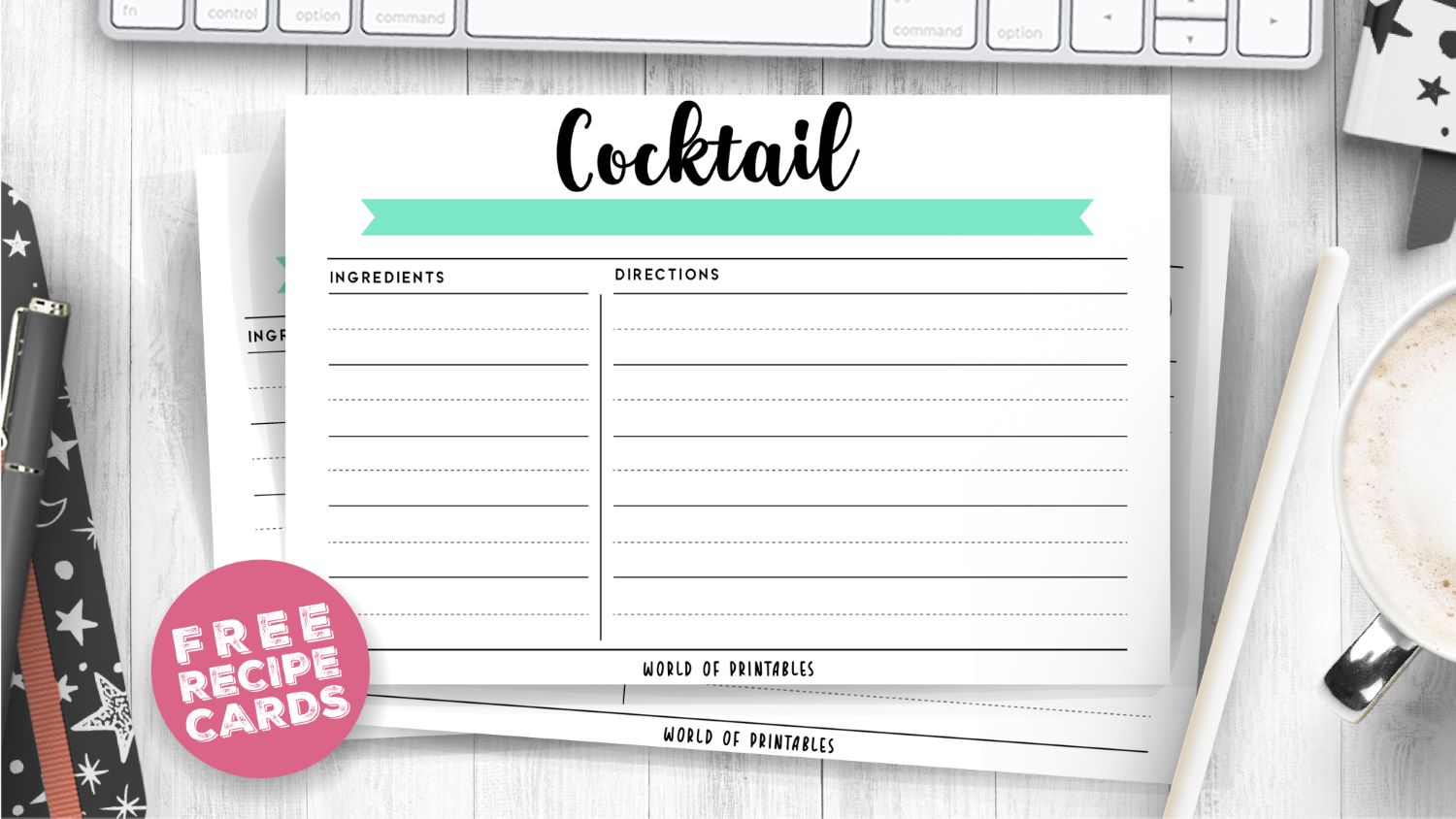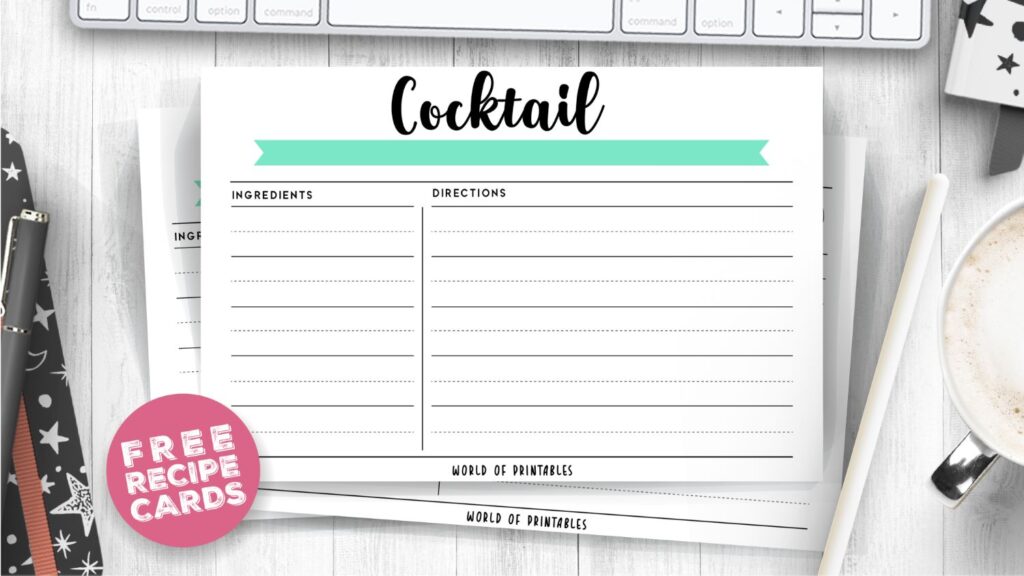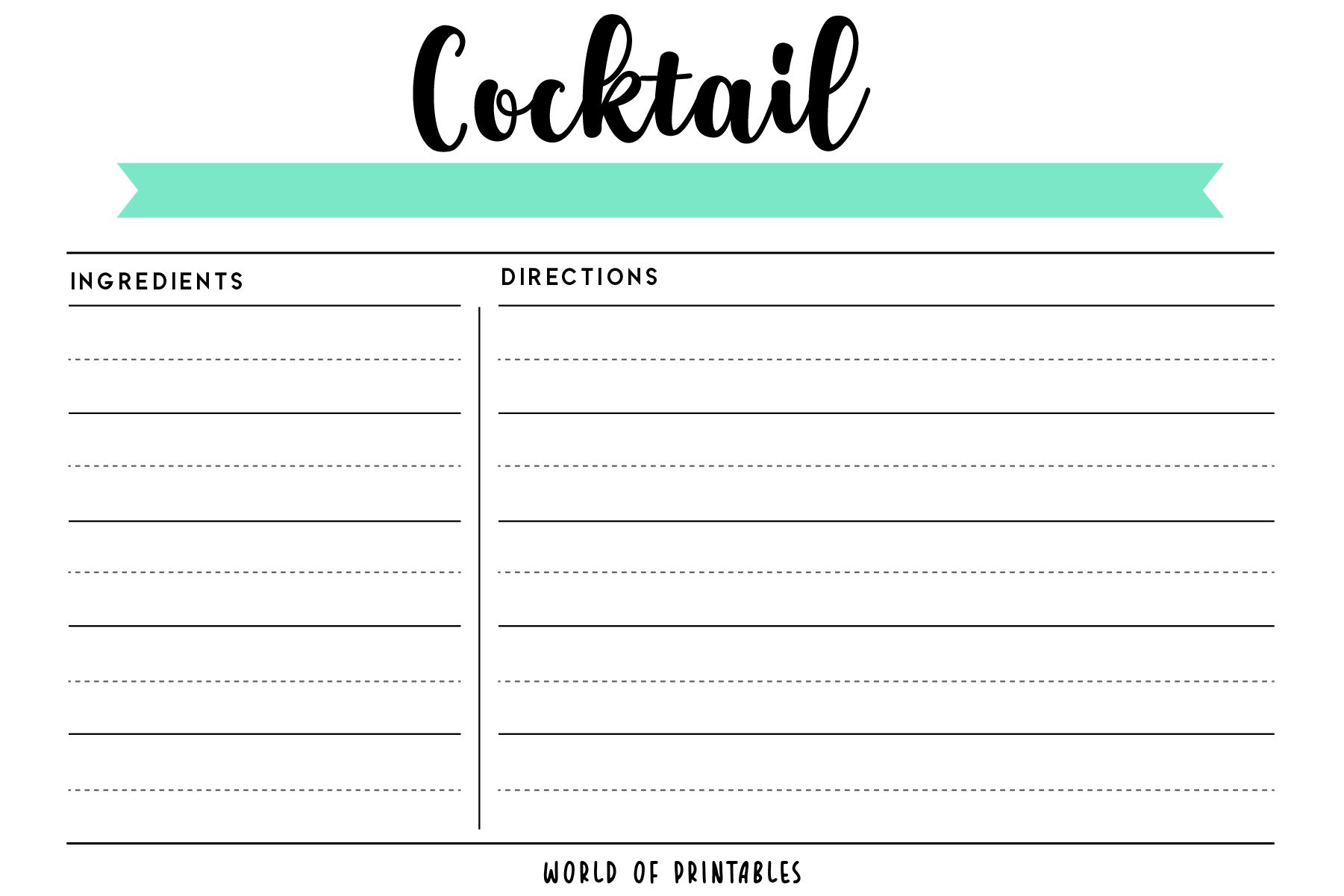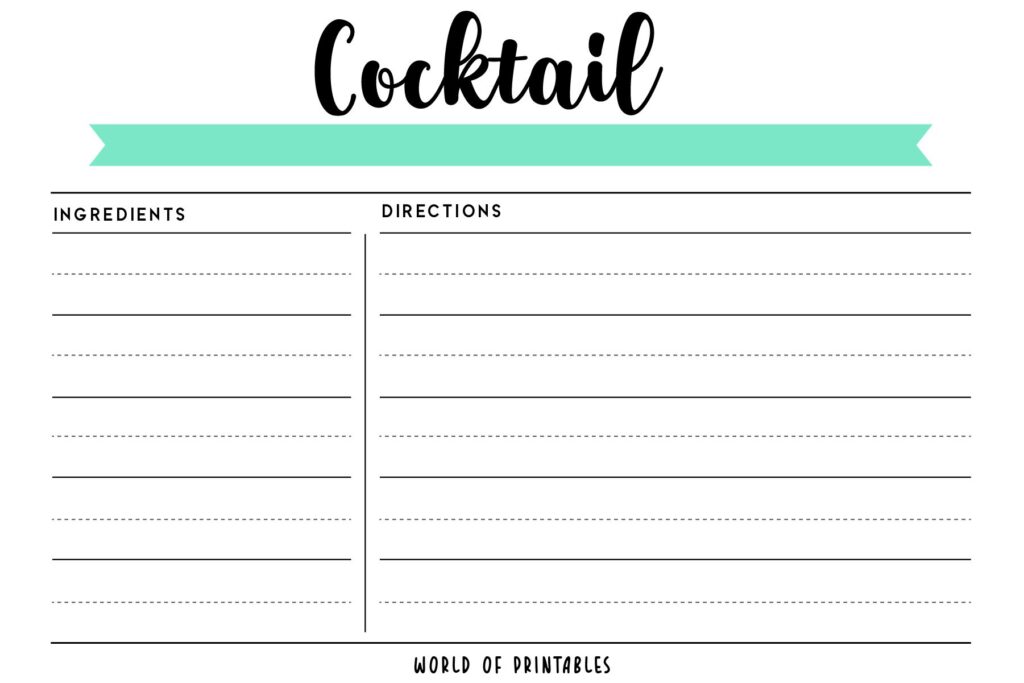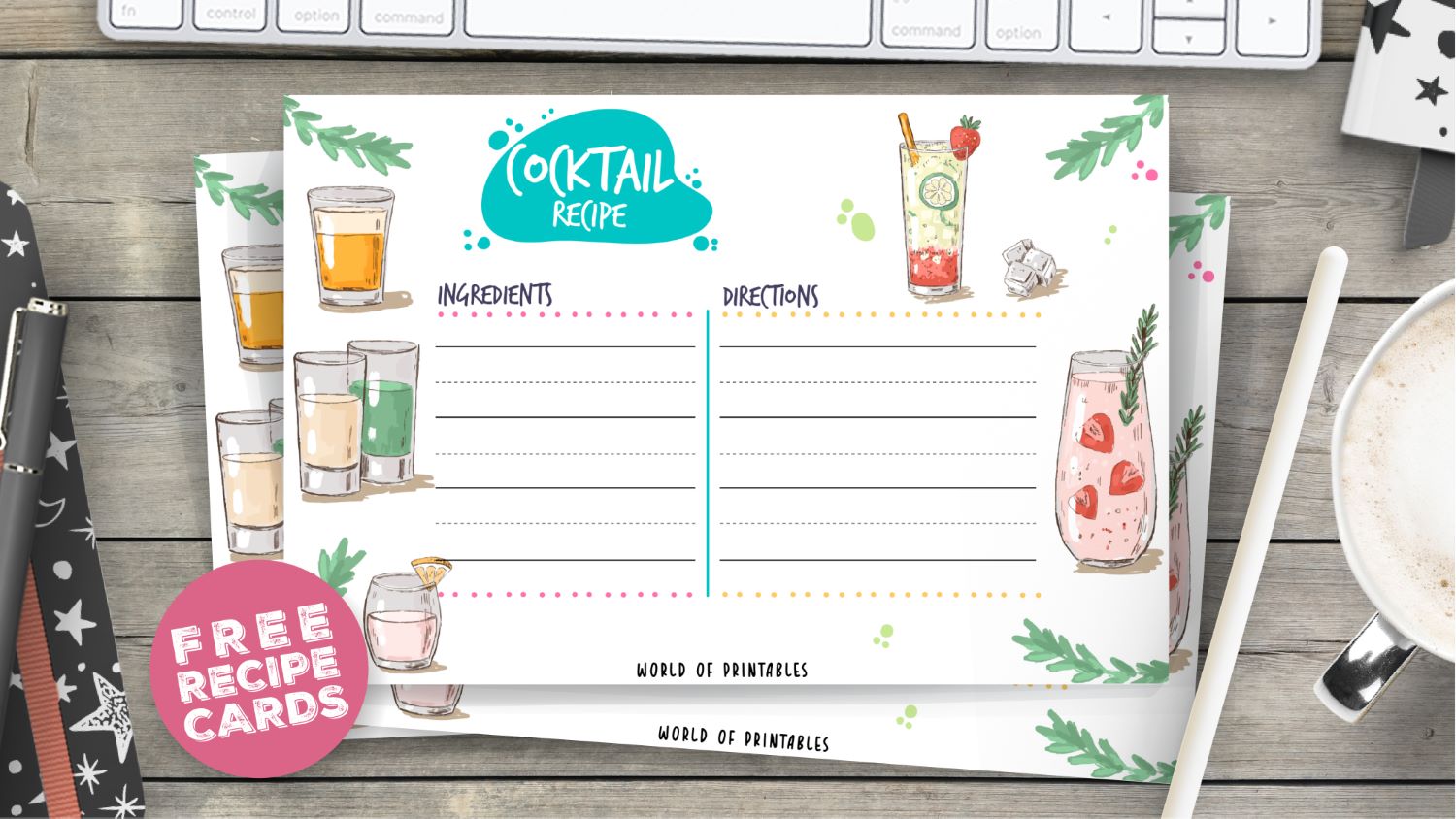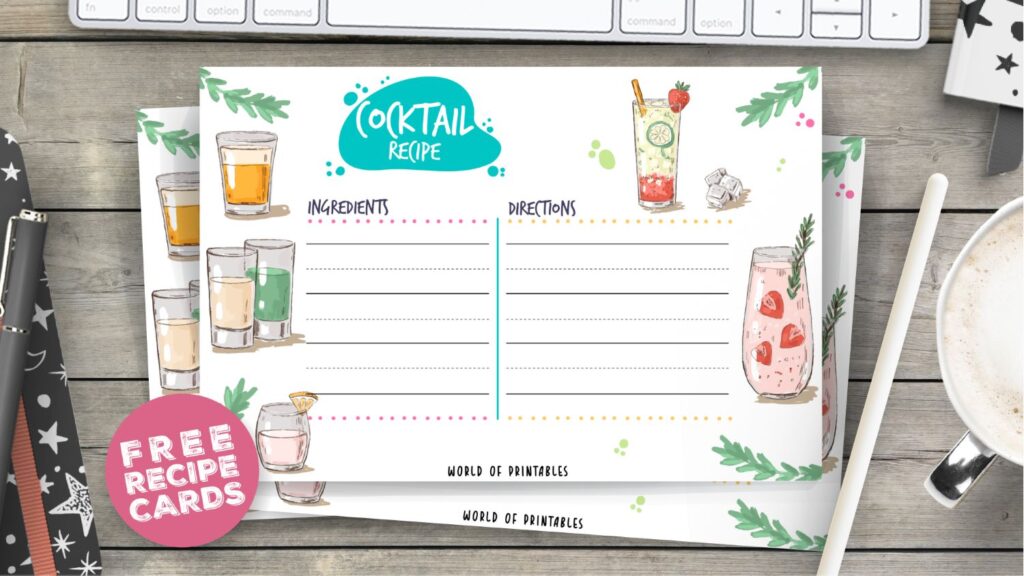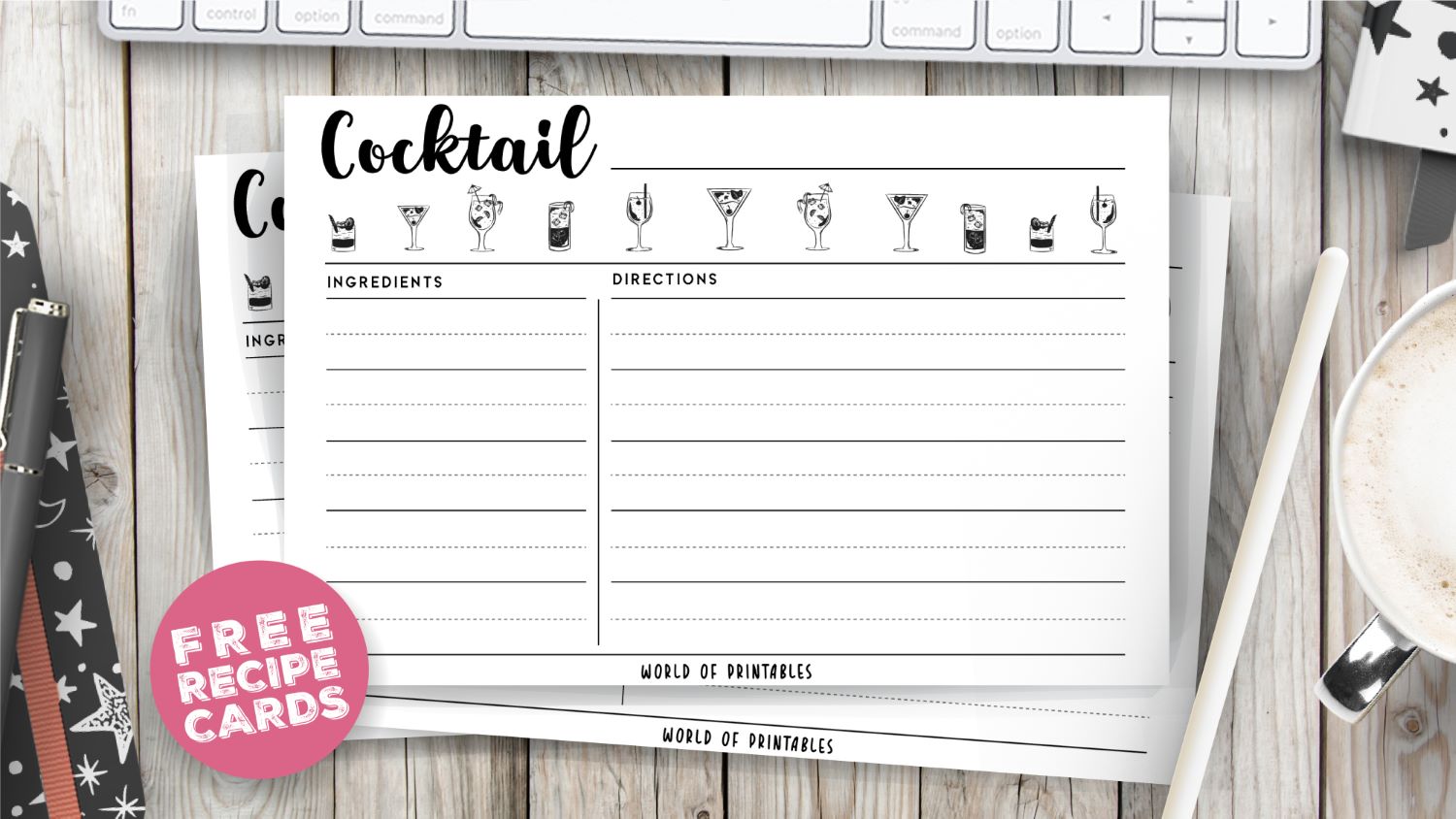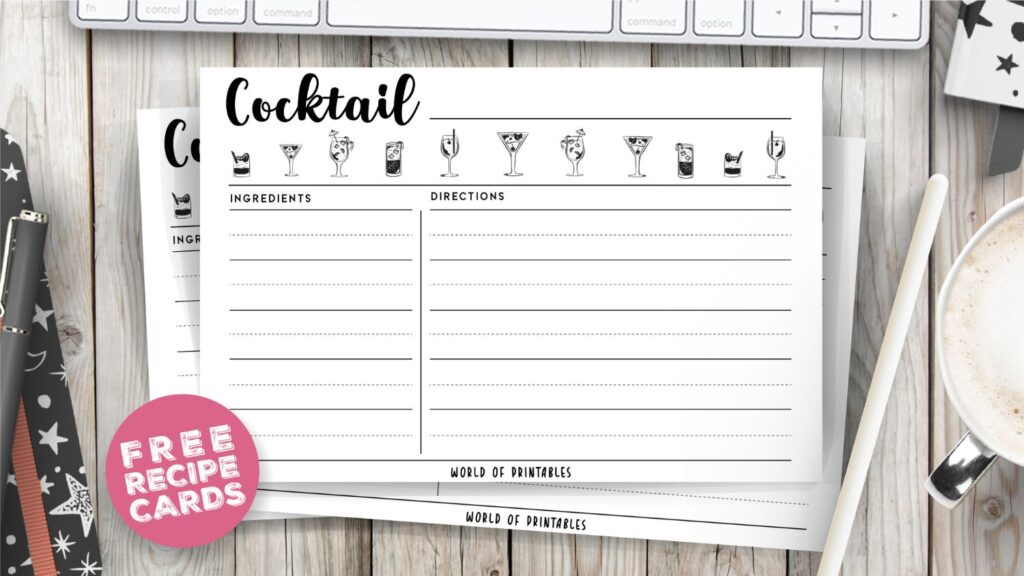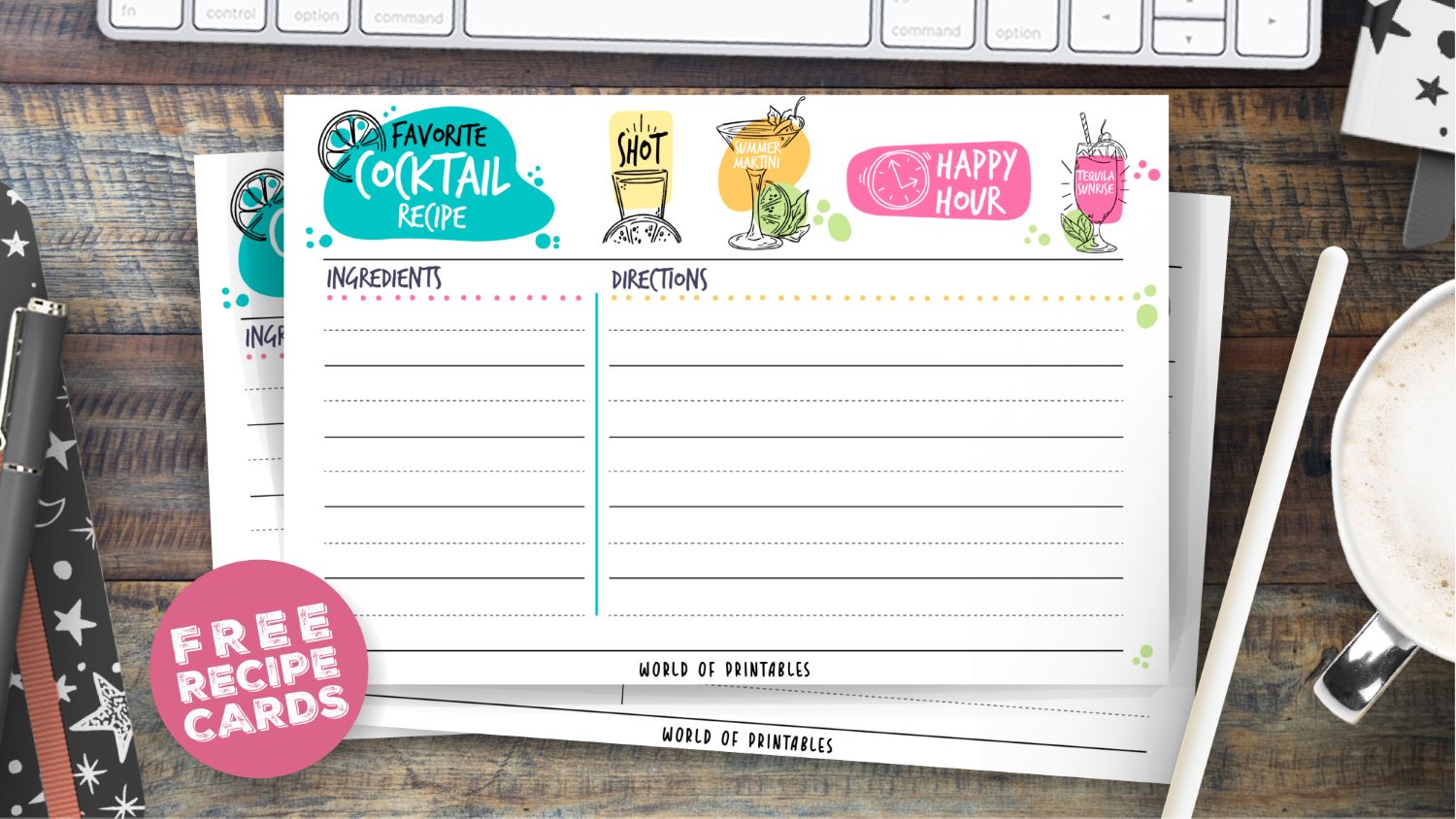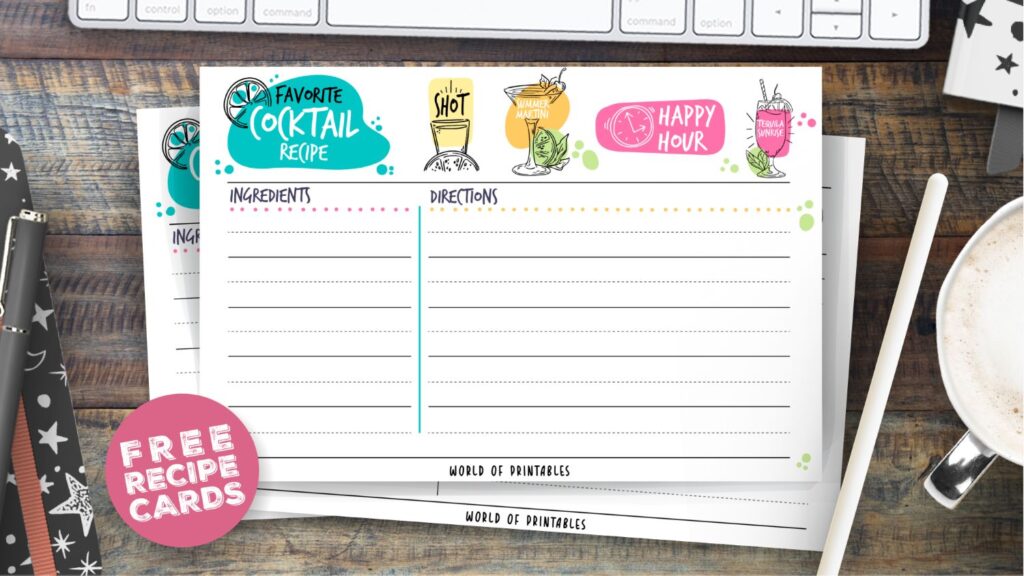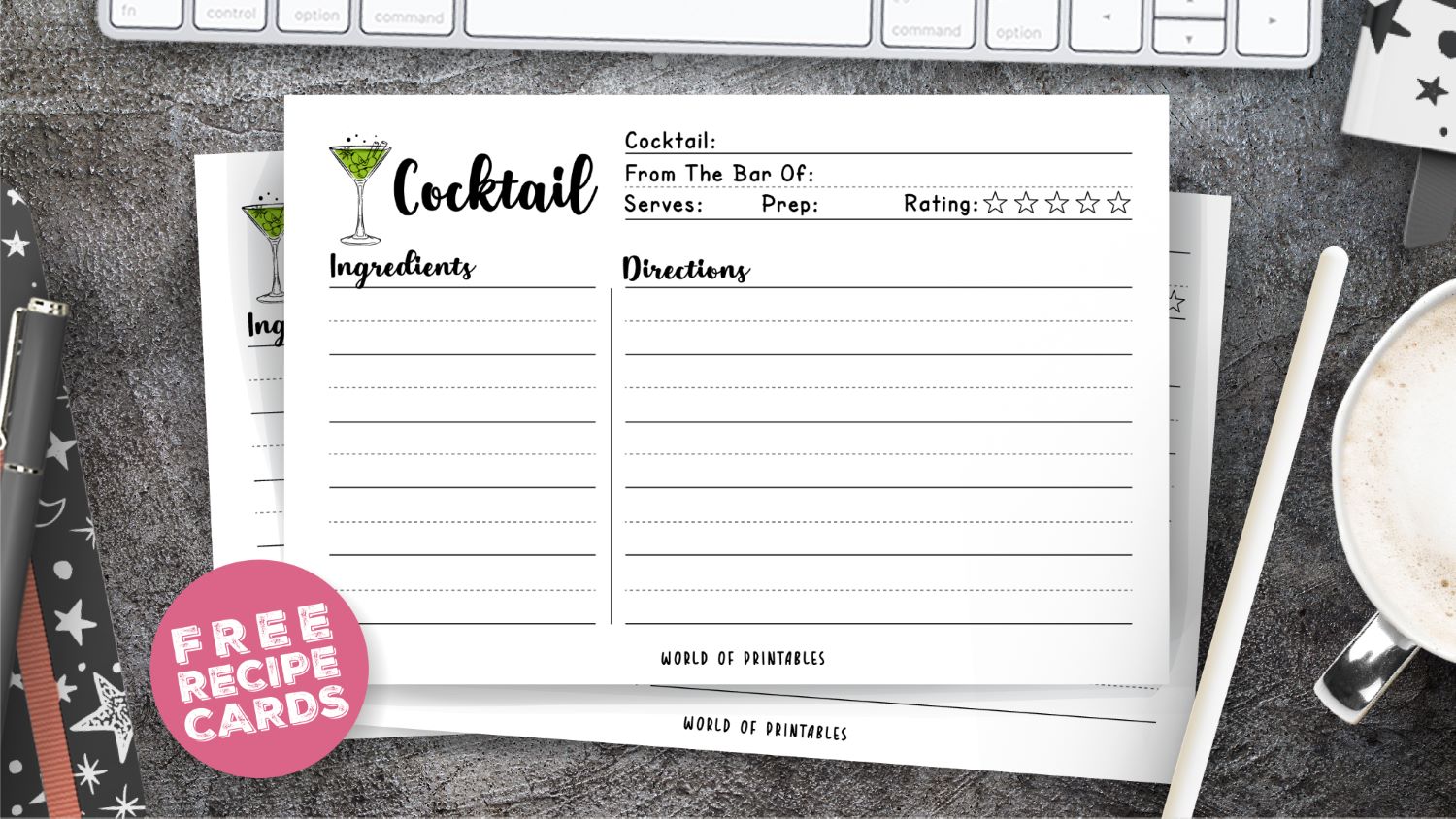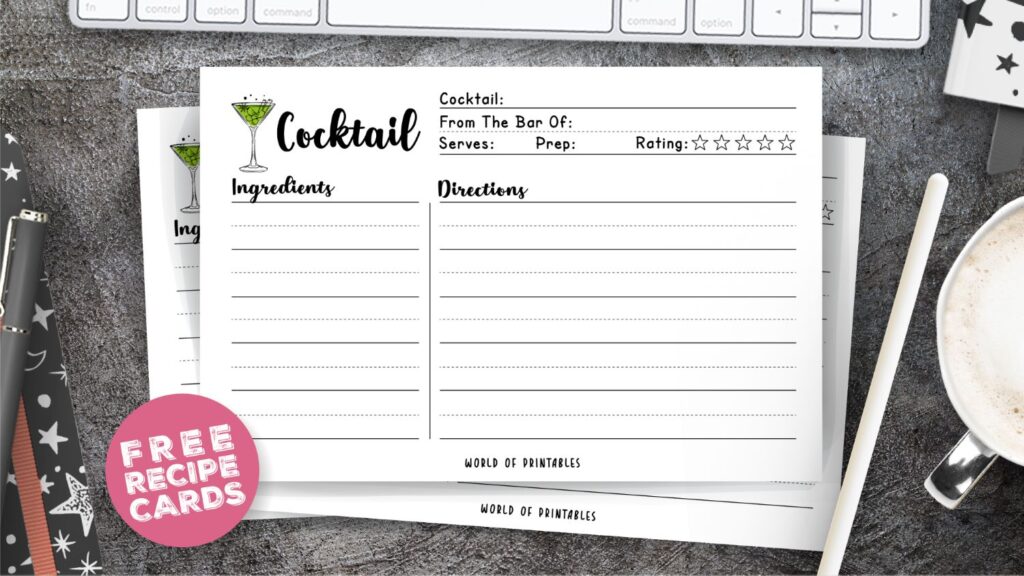 Kitchen Conversion Cards
We've also created these handy kitchen conversion cards. Consider these as handy kitchen cheat sheets. Keep them together with your recipe cards ideally in a recipe card box and use them whenever you need to convert measurements or temperatures when following a recipe.
These kitchen conversion cards help make adapting any recipe a breeze! You'll no longer risk ruining a recipe due to getting the amounts wrong when trying to switch ingredient amounts, or even using alternative ingredients when you've run out of the ones that you need.
It's the perfect handy cheat sheet that helps you be sure of success every time!
What are recipe cards?
What is a recipe card? Recipe cards are simply just a card that is used to write down a recipe for a dish. The card will have the ingredients and cooking directions in a simple format that's easy to follow.
The cards are a great way to condense a typical recipe down to the basics, without the fluff. They're often stored together in a recipe box, which many people use to store all of their favorite recipes together in one convenient place.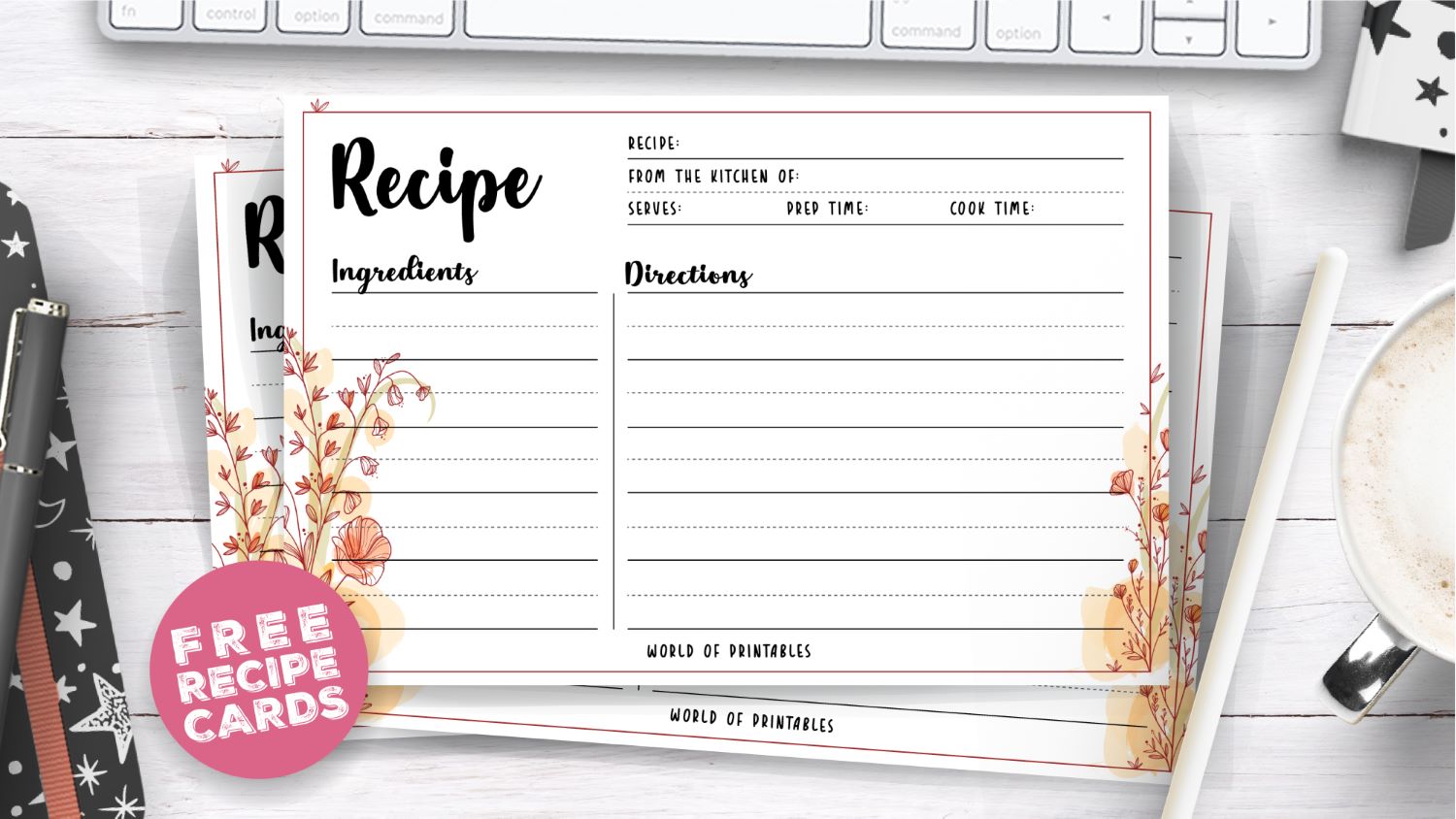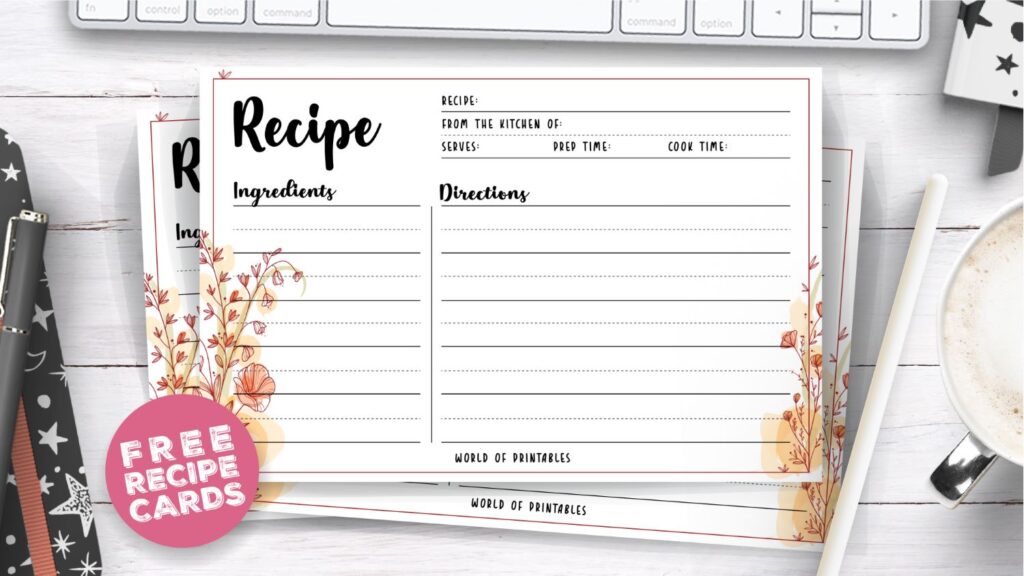 Why do people use recipe cards?
Recipe cards are a great way to store and share recipes. Many people use these cards as a way to collect there favorite recipes together. They can also be valued as a thoughtful way to share family recipes with friends and relatives, by giving the card with a written recipe that's loved by them.
They make a great bridal shower gift for any new bride who loves to cook!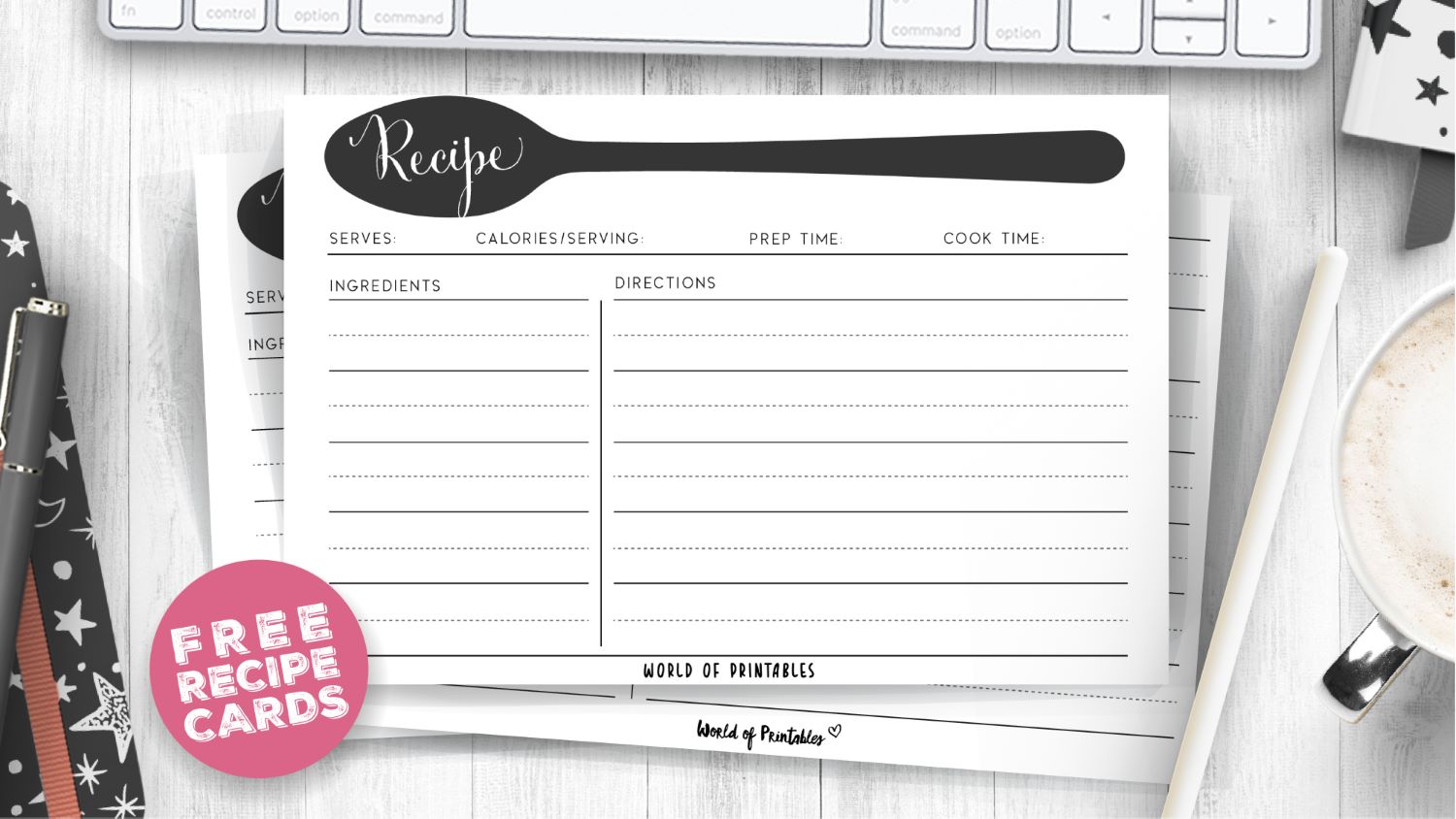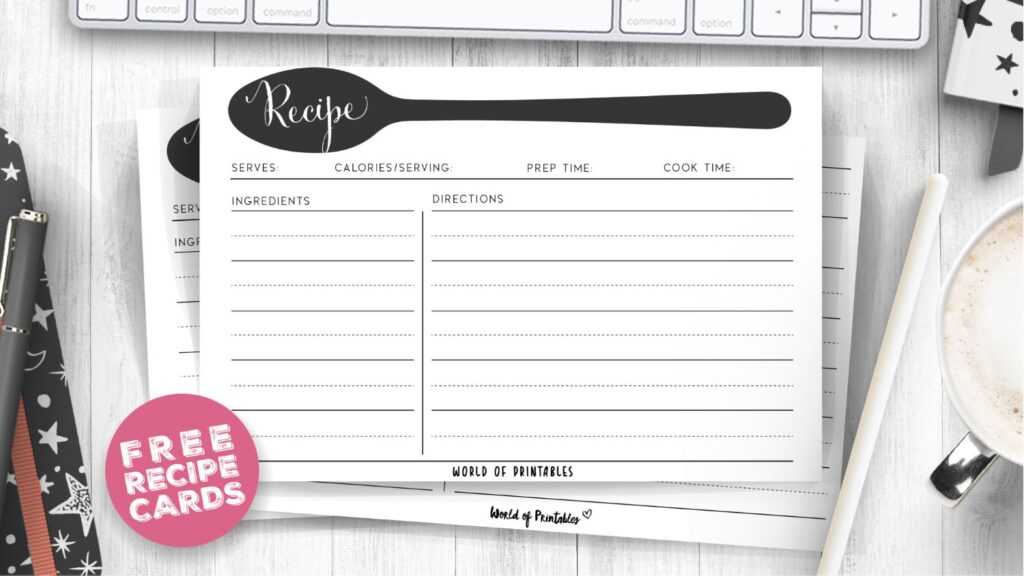 What size are recipe cards?
Recipe cards are most often found at a size of 4 x 6 inches. The old-fashioned style recipe cards were 3 x 5 inches and can still be seen today. There is also an oversized style that is slightly larger at 5 x 7 inches, but these aren't typically used for sharing as most people use the regular size recipe boxes designed to fit the typical 4×6 inch size cards.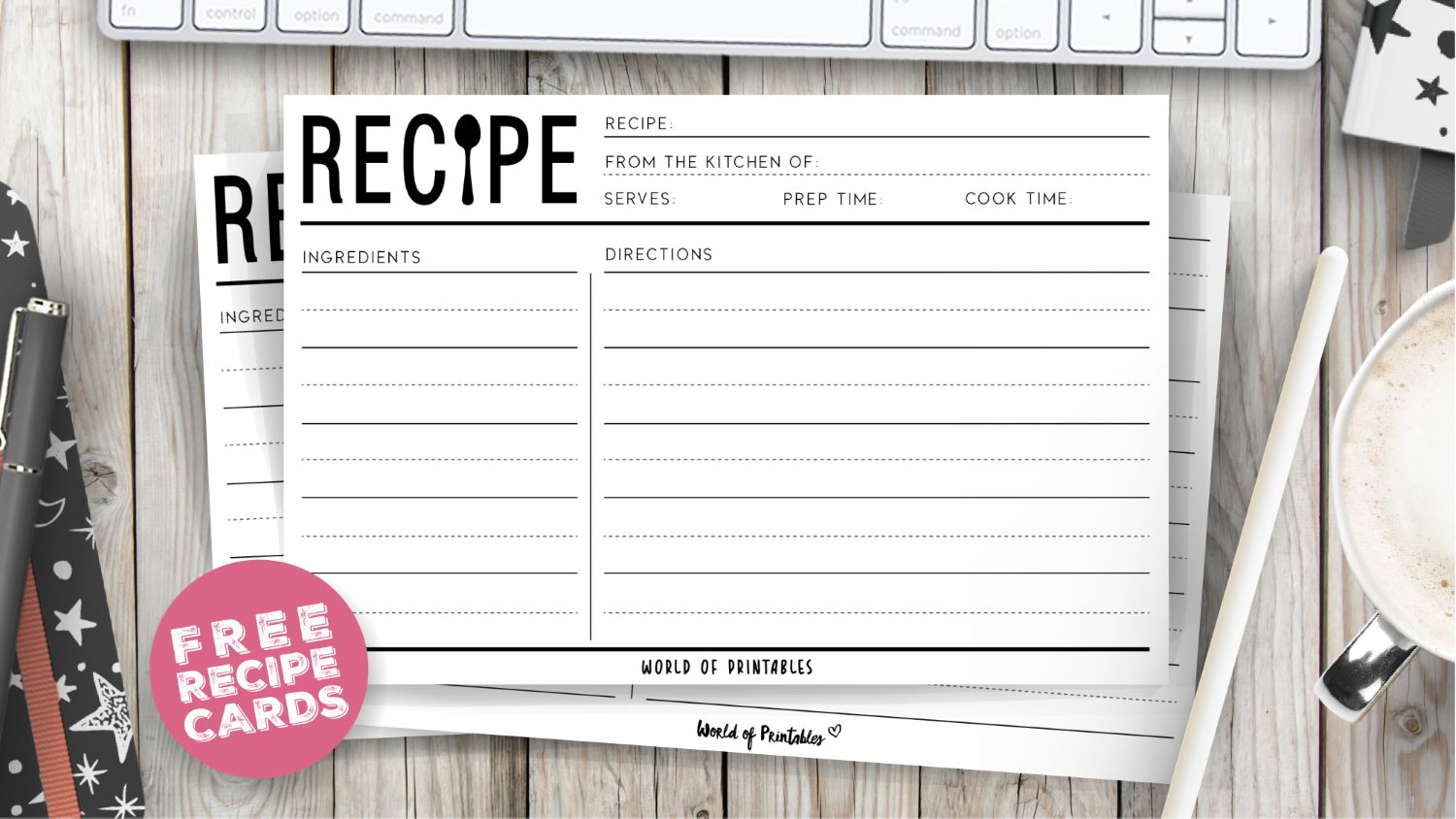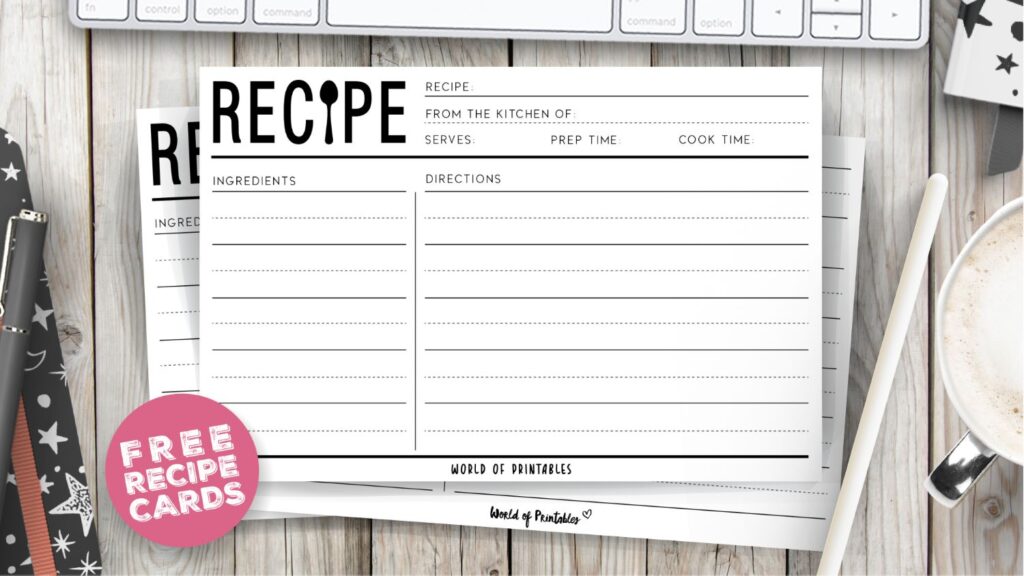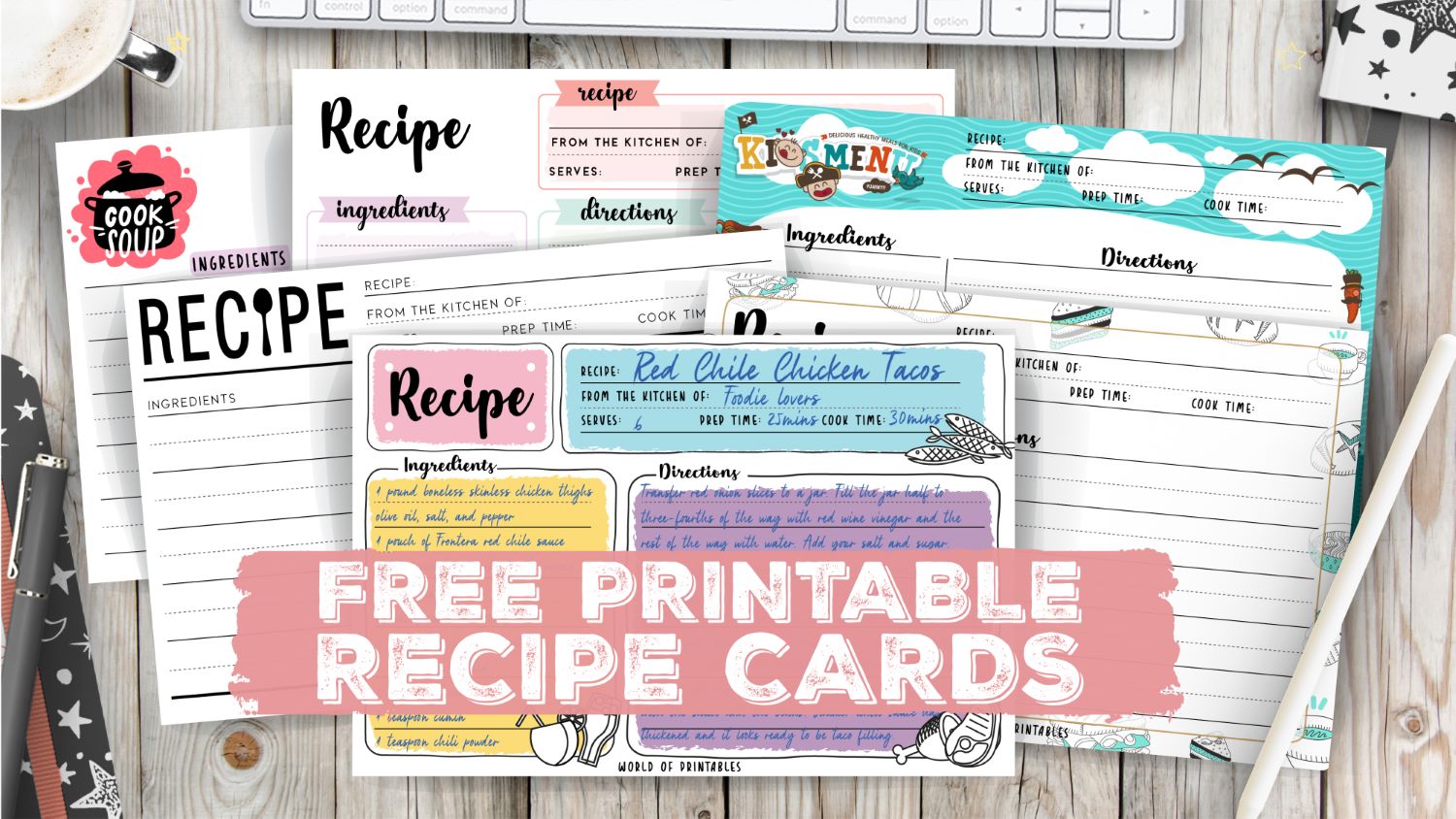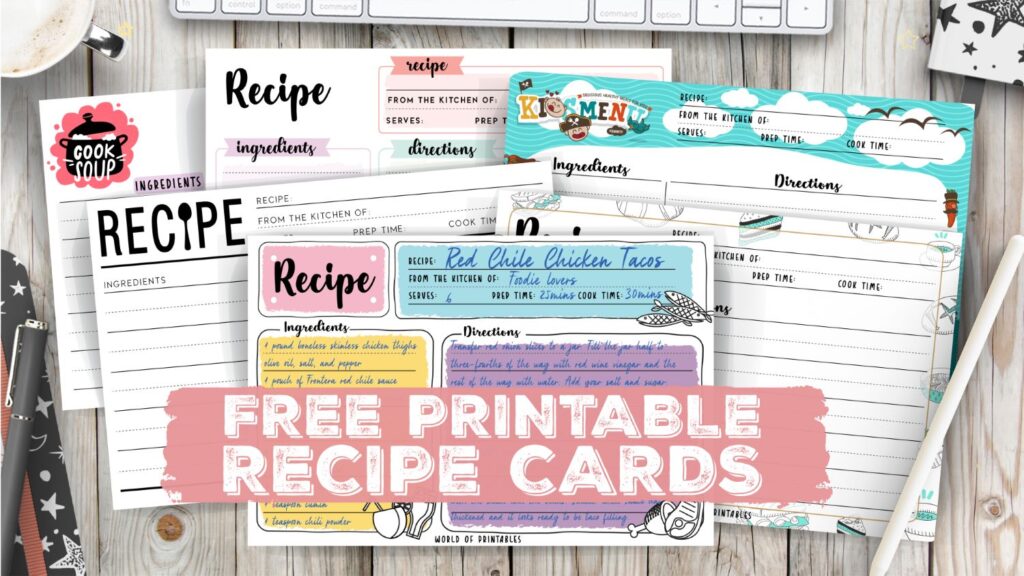 Can you print recipe cards?
How do you print recipe cards? You can print your recipes on regular paper or cheap card stock. You can then cut out the recipes and tape or paste them onto the cards. If your printer has an option to print on index cards, you can print directly onto the cards.
Recipe cards can be printed on regular paper, card stock, or index cards.
If printing on regular paper, you can then cut them out and stick them to card stock or index cards. Printing directly onto card stock means you can simply cut out afterward.
Blank Index Cards for printing
Printing directly onto blank index cards means you'll need a printer that can print on 4×6 inch size paper which is perfect for printing recipe cards. Blank cards makes it so much quicker and easier, and you can write on both sides and they fit perfectly in a recipe box.
Printing on to card stock or index paper is recommended as the weight of the paper is thicker which will make your cards more durable and professional-looking.
If printing directly on to US letter size paper, simply choose to print two per page, then cut them out after you've finished printing.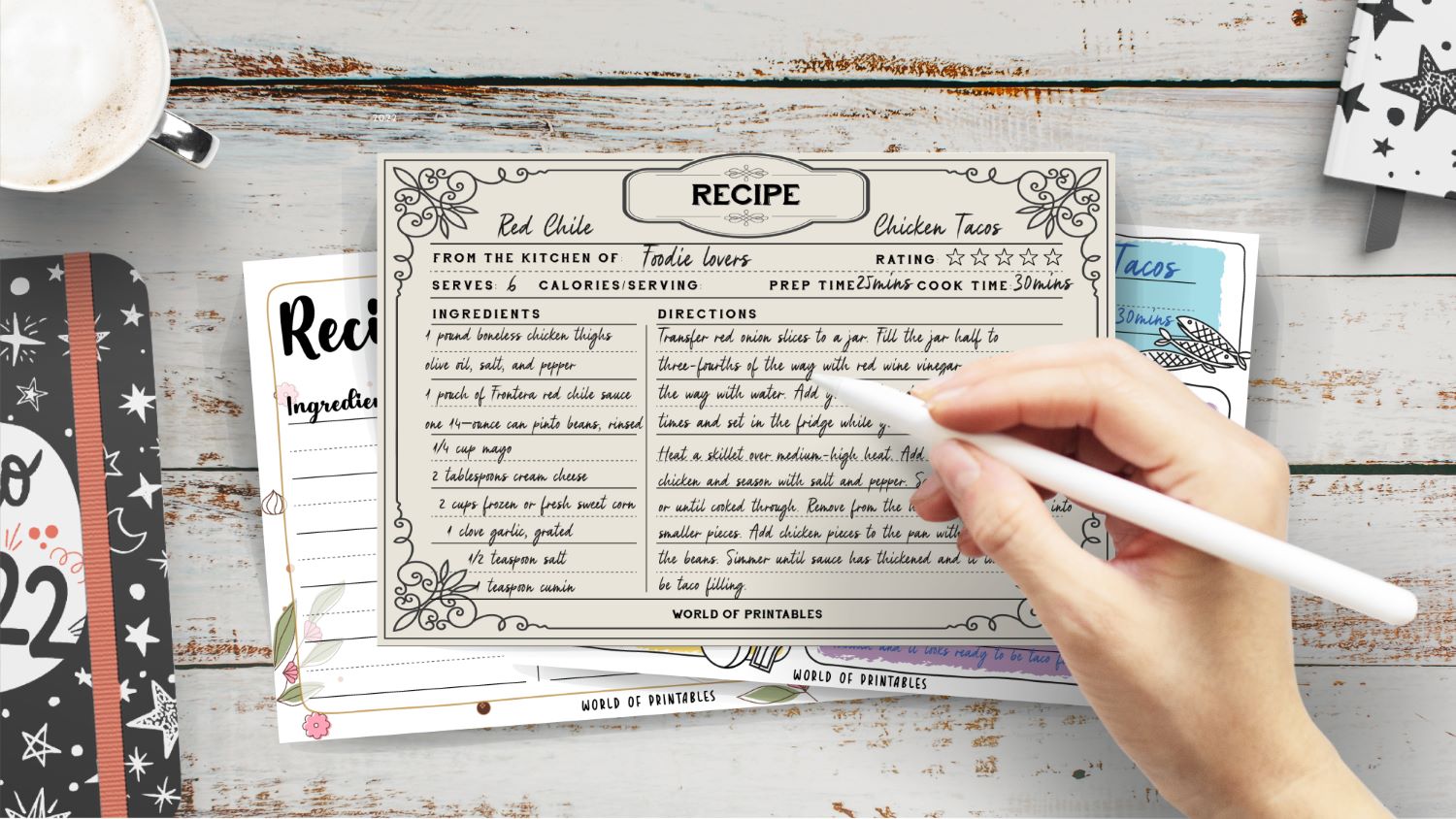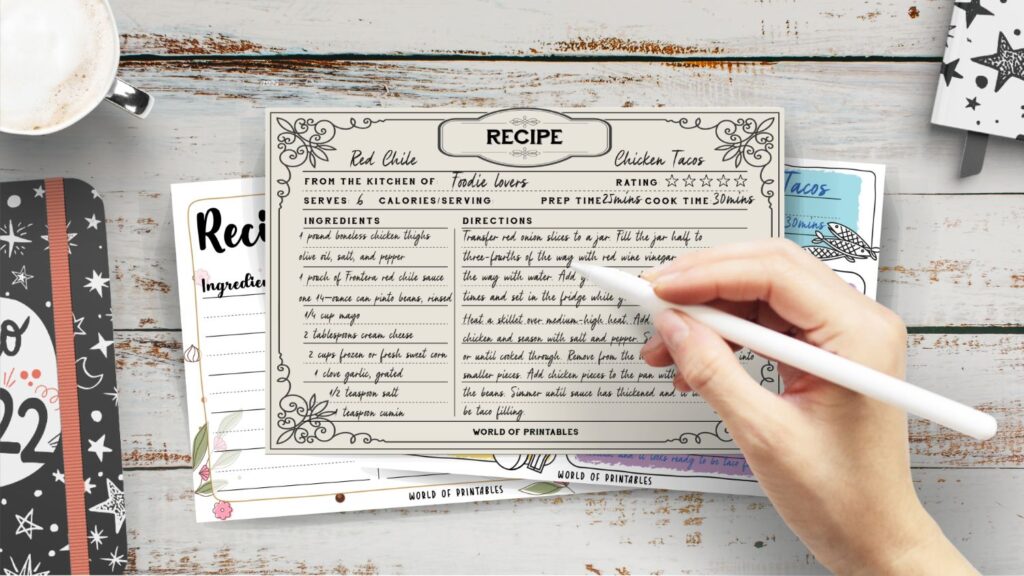 What goes on a recipe card?
A recipe card contains the main ingredients and directions of a recipe.
To write a recipe on a card, simply write down the main details that you'll find on any recipe page online or in your favorite cookbook. You can use a pen or you can type directly on the cards by adding them to Canva.
Start by writing the recipe title.
Next, list the ingredients.
Finally, move on to writing the directions, being as detailed as you need to be and that makes sense to you. You can use the reverse of the card if you need more space.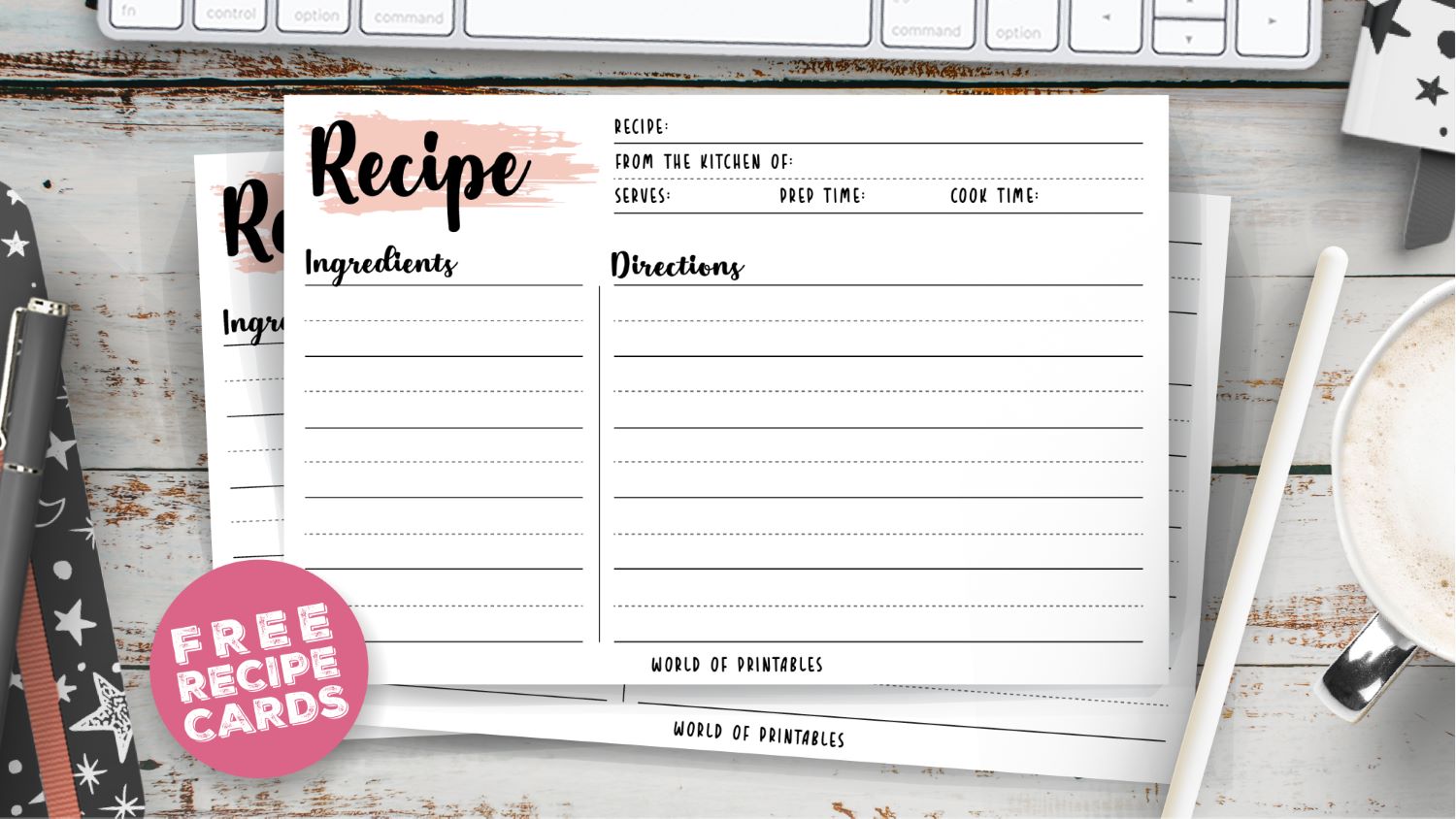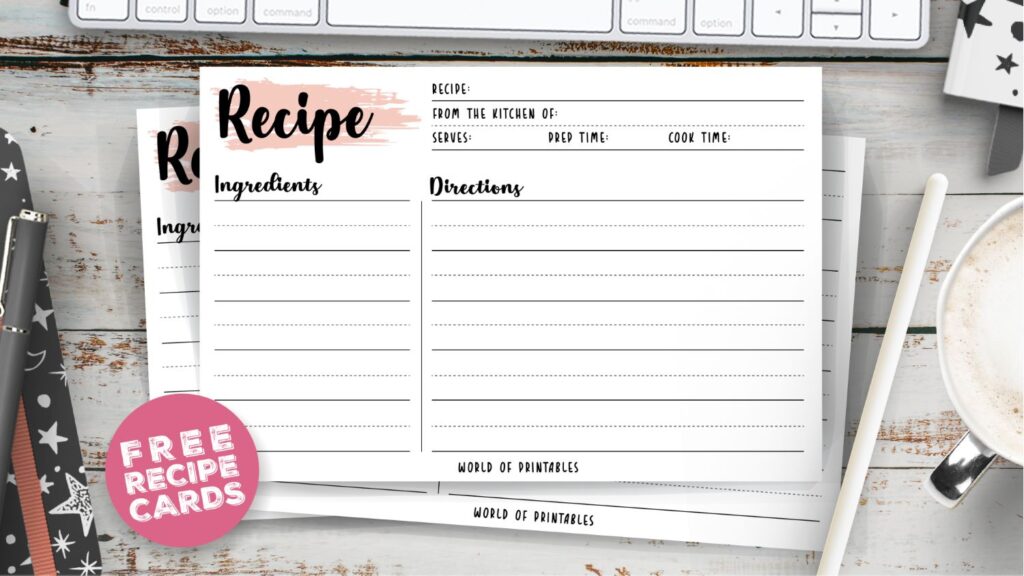 You'll also find space on the cards to write down the number of servings that you'll get from the amount of ingredients that you're using. You can also write down the time it will take to prep the food, as well as cooking time and total time. Some cards also have space for ratings, so you can mark what they typically get based on other peoples opinions, which you'll find on most recipe pages online.
We've also made space for you to write the serving amount and calories per serving.
Many online recipes have ratings, and difficulty, so you can copy them from the recipe post to the recipe card.
Finally, if you need to add any notes, which is always handy, such as where you found the recipe, then simply use the reverse of the card as there's plenty of usable space there.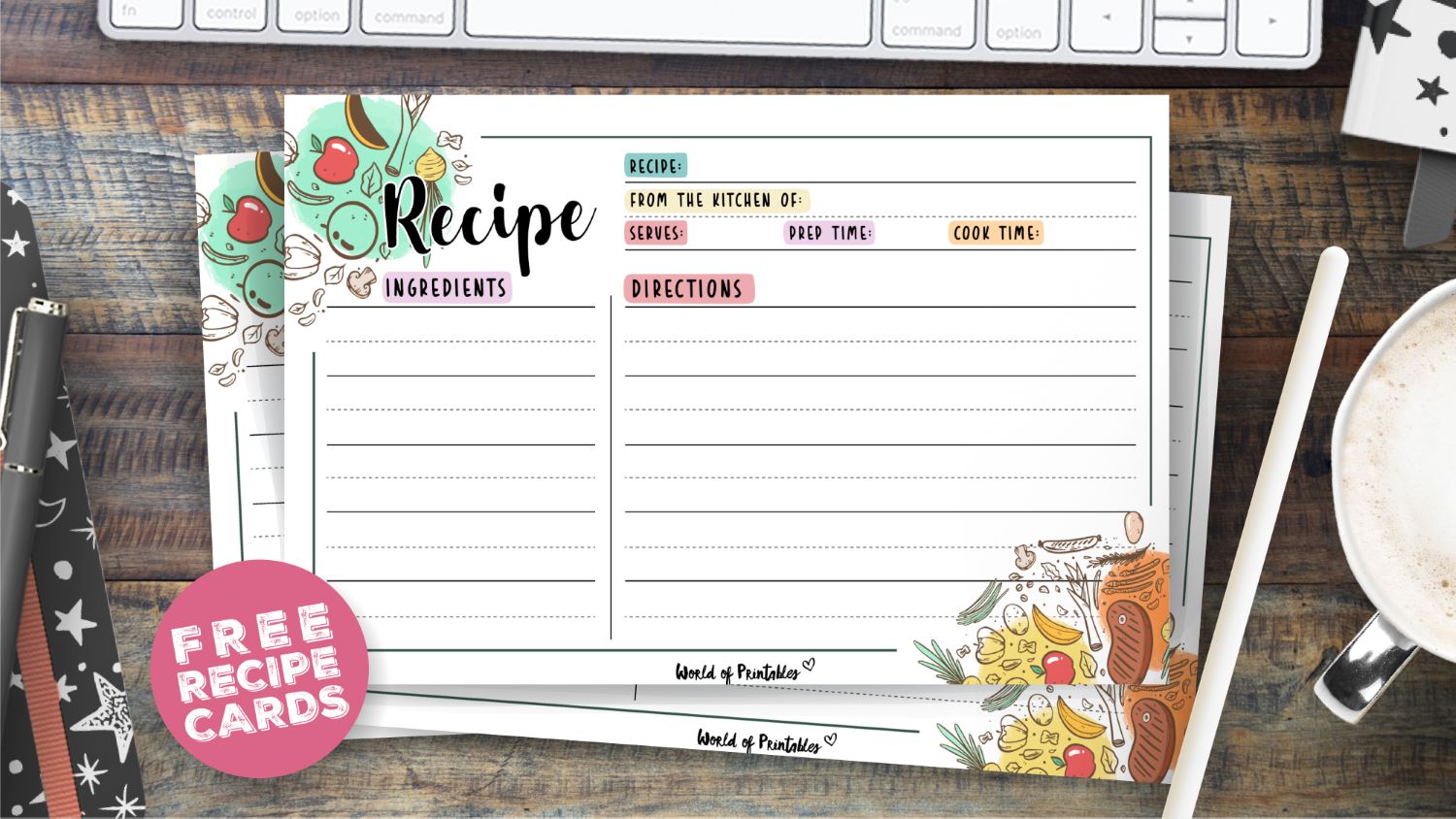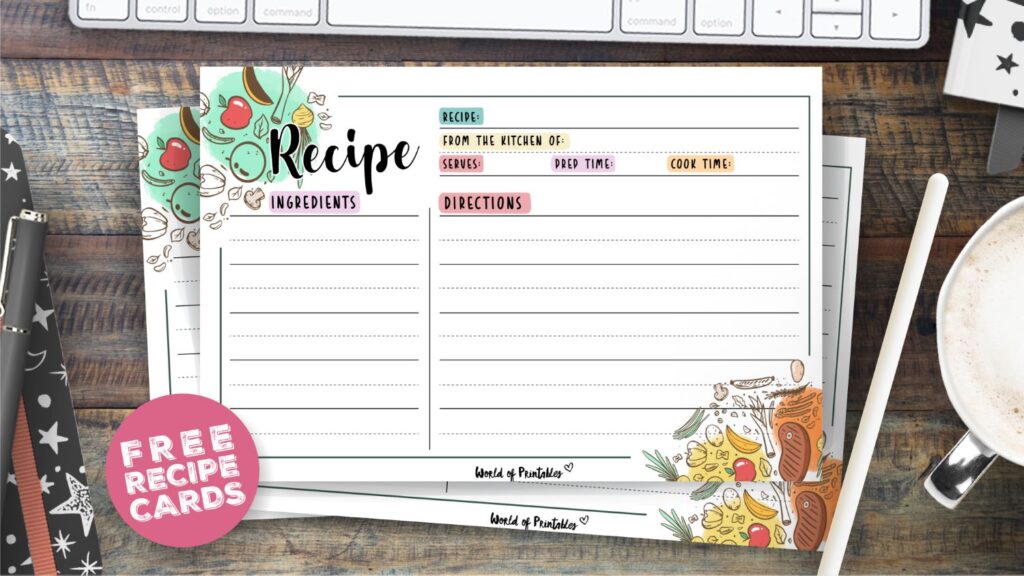 How to organize recipe cards?
When it comes to organizing recipe cards, there's a few things that I love to keep in my kitchen to help. After printing the cards, I like to keep all of my cards organized in a recipe binder. But if you prefer something more compact, then you can use a recipe card box, as it's just as good.
It's really down to personal preference, how much space you've got, and how organized you like to be.
Recipe Binder
I am a huge fan of this recipe card binder, it looks so cute in my kitchen and helps keep me organized with all of my favorite recipes. It comes with everything that you need to organize your recipes, including a measurement and conversion chart that's super helpful in the kitchen.
You'll also find dividers with tabs that organize your recipes into sections, such as soups, appetizers, desserts, and sides. It also comes with some 60 beautiful recipe cards, so you can write your home recipes, and store them in the protective sleeves that fit the cards or printouts, which keep them safe from spillages and prevents them from falling out and they're easy to wipe down if they get dirty.
It's a great recipe card holder that's practically waterproof and easy to clean, and is the perfect way to keep your recipes organized.
Recipe Box
Why not use a recipe box to keep your recipes safe from spills and stains. This box is designed to hold lots of 4×6 recipe cards and dividers and is a beautiful decorative tin that adds a graceful note to any kitchen. It also makes an easy and perfect gift to any special person who loves a good recipe.
Create sub-sections for your favorite cuisines
What better way to organize all of your recipe cards than by using recipe card dividers!
This means you can have hundreds of recipes stored in a recipe card box, divided into sections based on meal types or cuisines.
Recipe Card Dividers
Recipe card dividers are great for any recipe box and helps you save time by quickly locating the recipe you want in a fraction of the time, as they help you be very organized.
So if you're looking for dinner recipes, then quickly go to the dinner section in your recipe box. If you're looking for Thai food, then jump to the Thai section. It's so easy, and such a great way to keep your favorite recipes organized.
We've created stylish recipe dividers that will fit your favorite recipe box. Best of all, they're also totally free!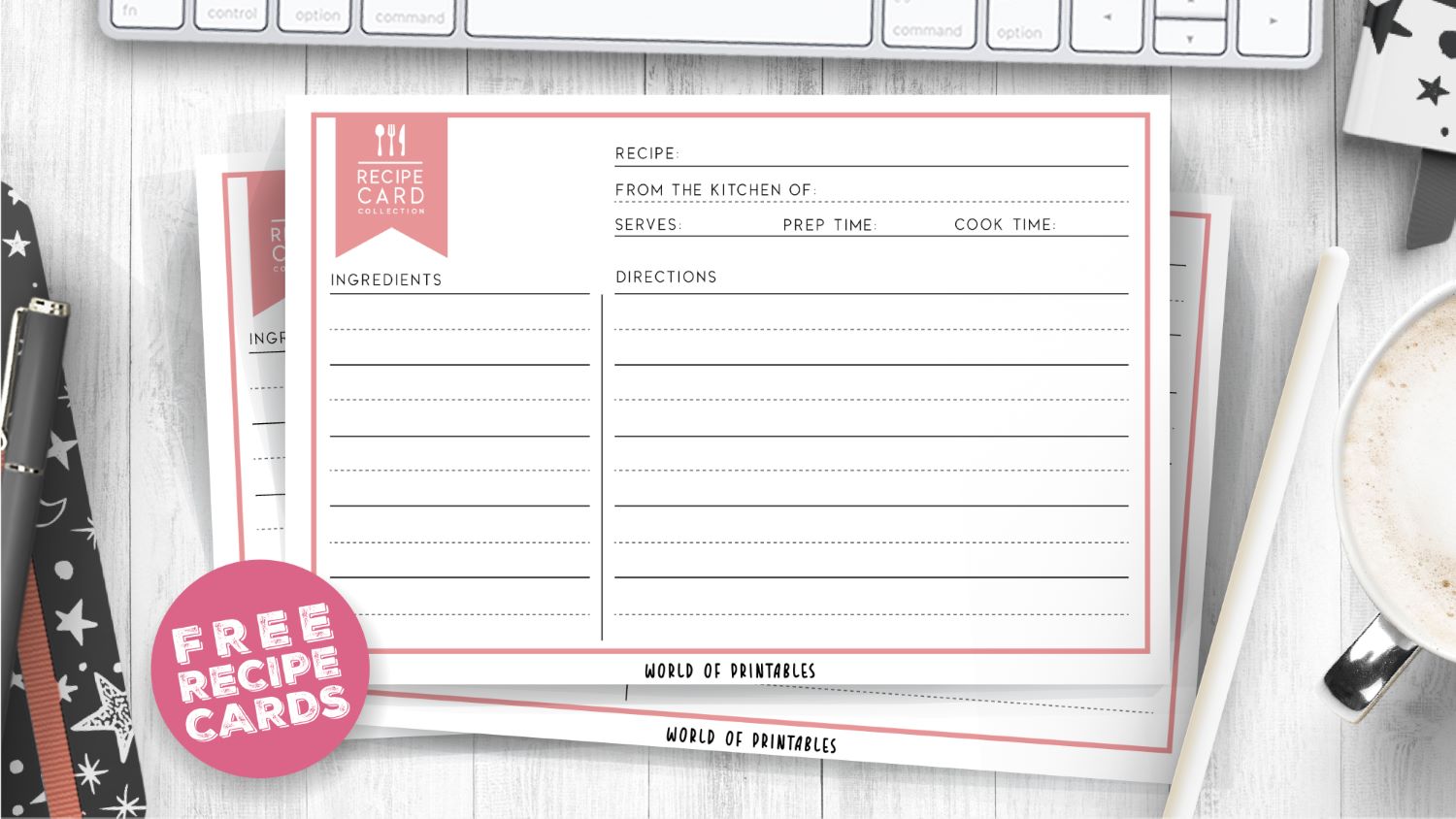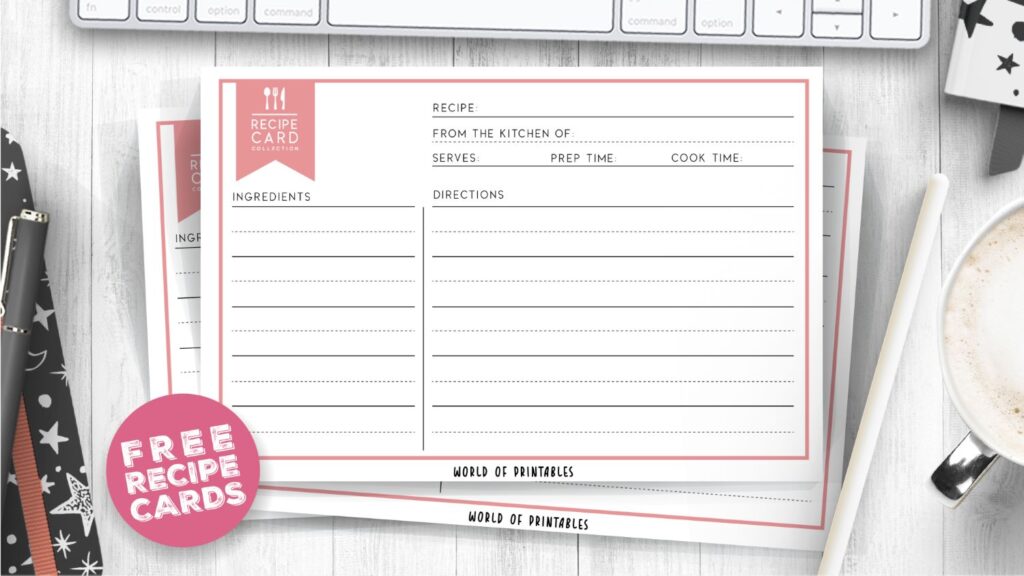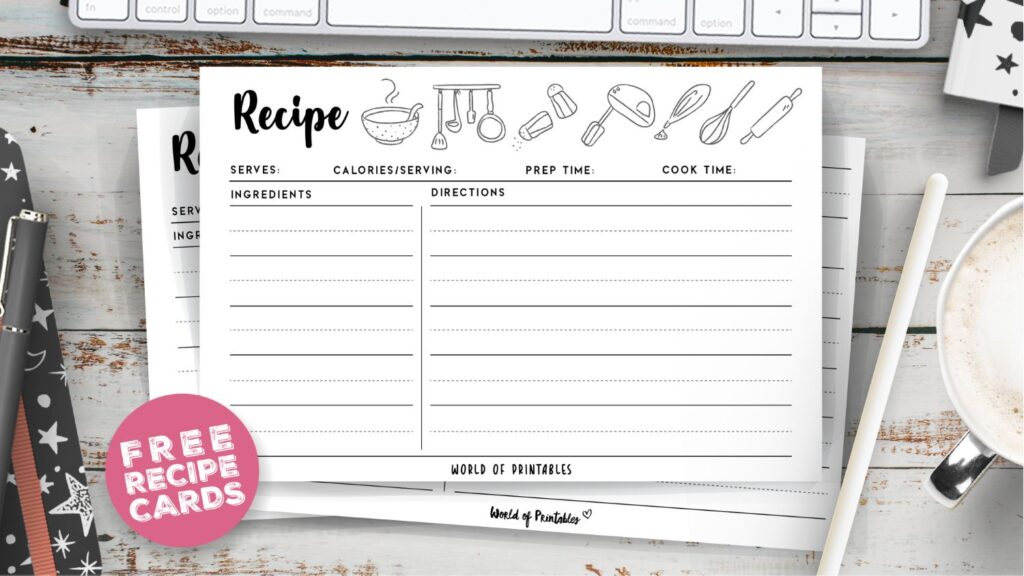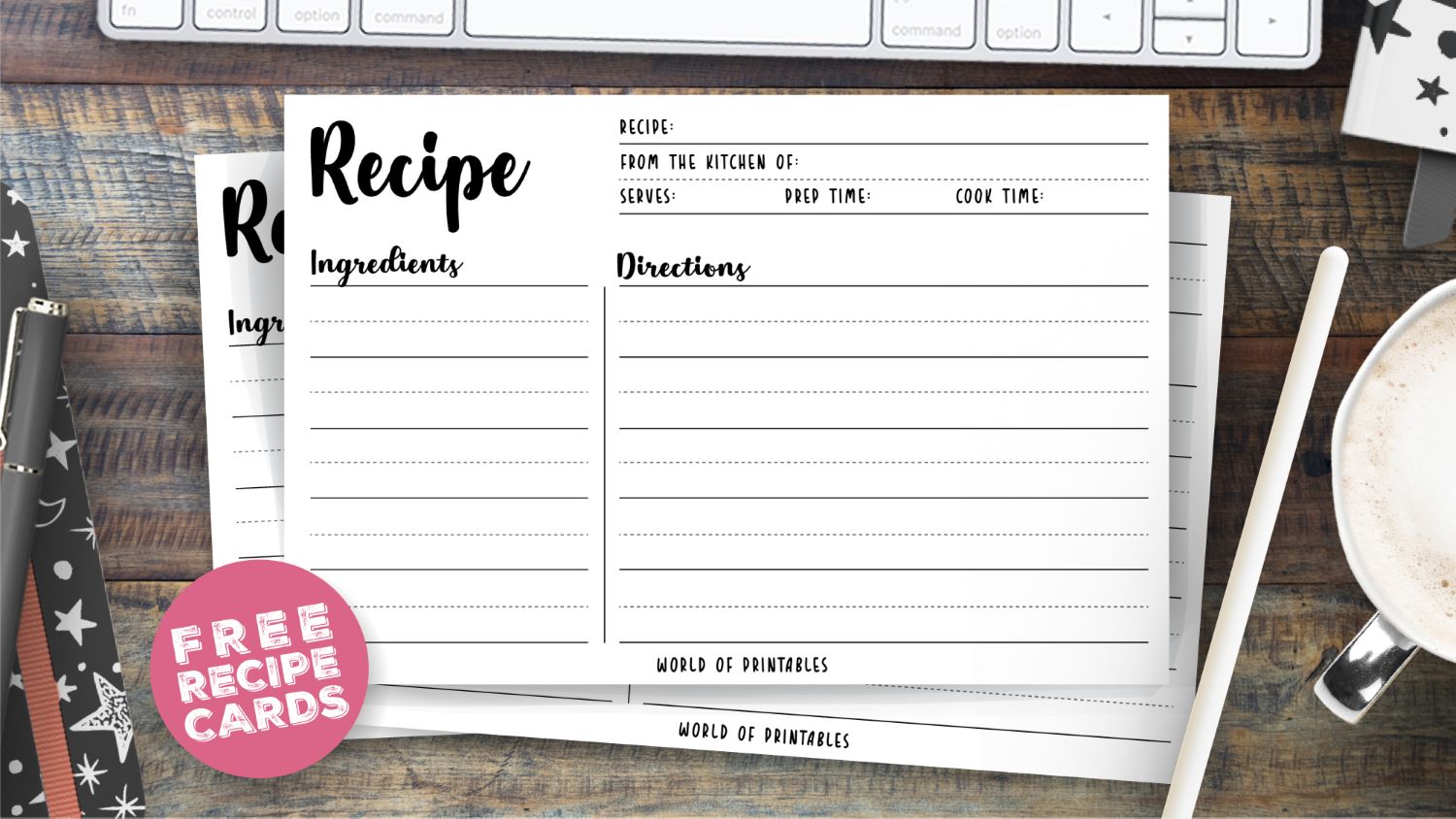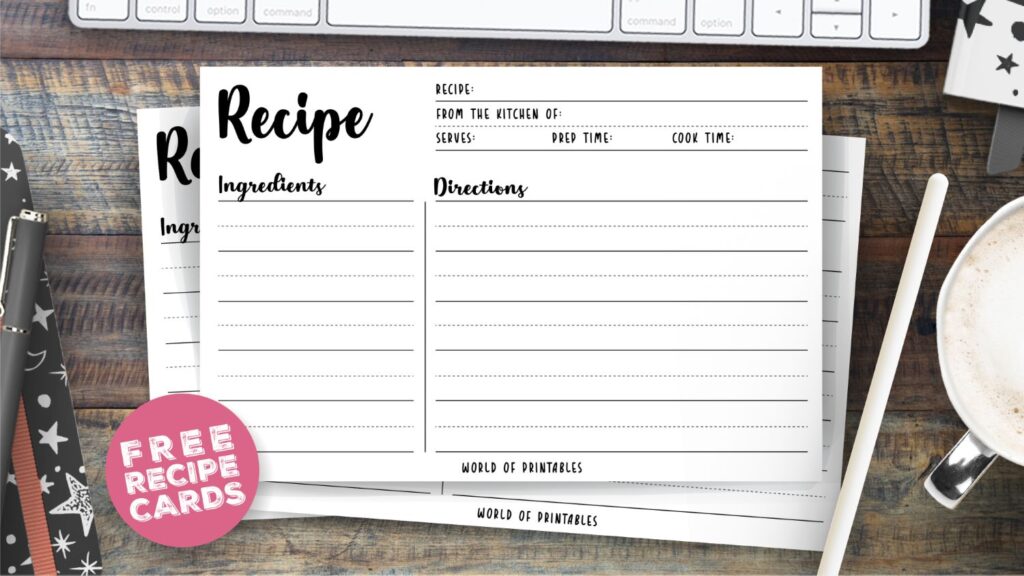 Why you should use recipe cards
Do you find it hard to keep track of your favorite recipes? These recipe cards help make it so much easier to organize your favorite recipes in one convenient place in your own kitchen. Plus they're so cute and easy to use.
There are various places where you can buy recipe cards, however you won't find any that are of this quality, and for free.
So if you love cooking, baking, or even meal planning, then these cards are perfect for anyone who wants to keep their favorite recipes organized and within easy reach.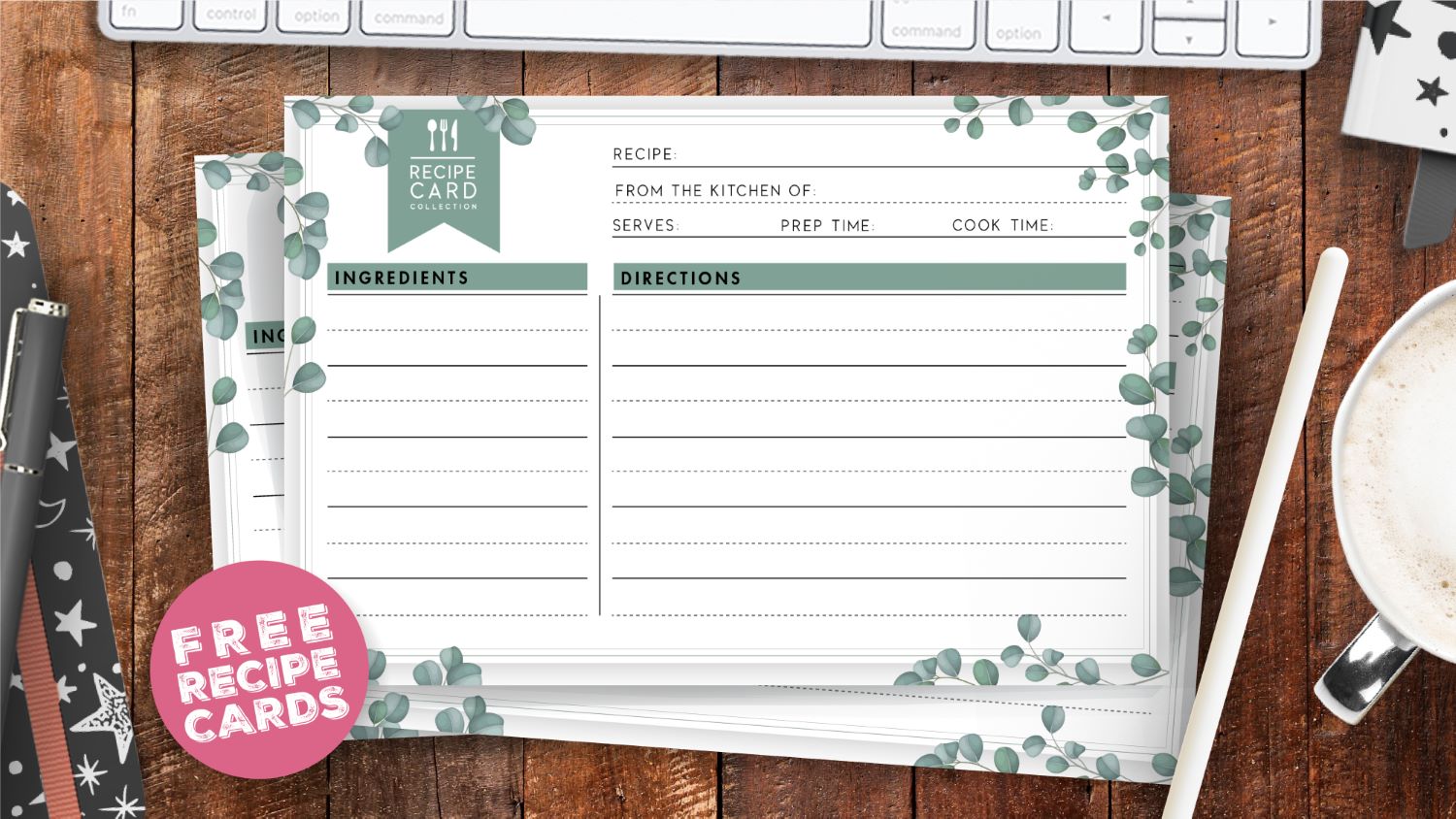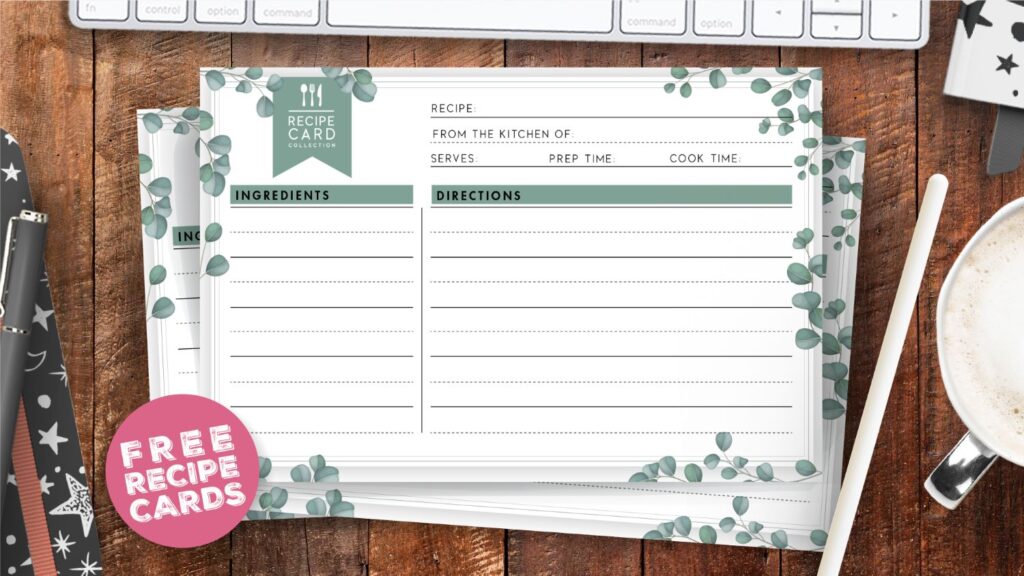 Where do I find recipe cards?
You can find recipe cards in various stores, such as Amazon, Etsy, and Walmart. There are many different styles to choose from so choosing the right style is a personal choice. Amazon often offers free shipping, so factor that in when comparing cards and prices.
You can also find a wide selection of recipe cards right here that you can print and use for free.
The great thing about our recipe cards are that they are free. So you can print as many as you need, and if any ever get damaged or marked with spills, just print more whenever you need them!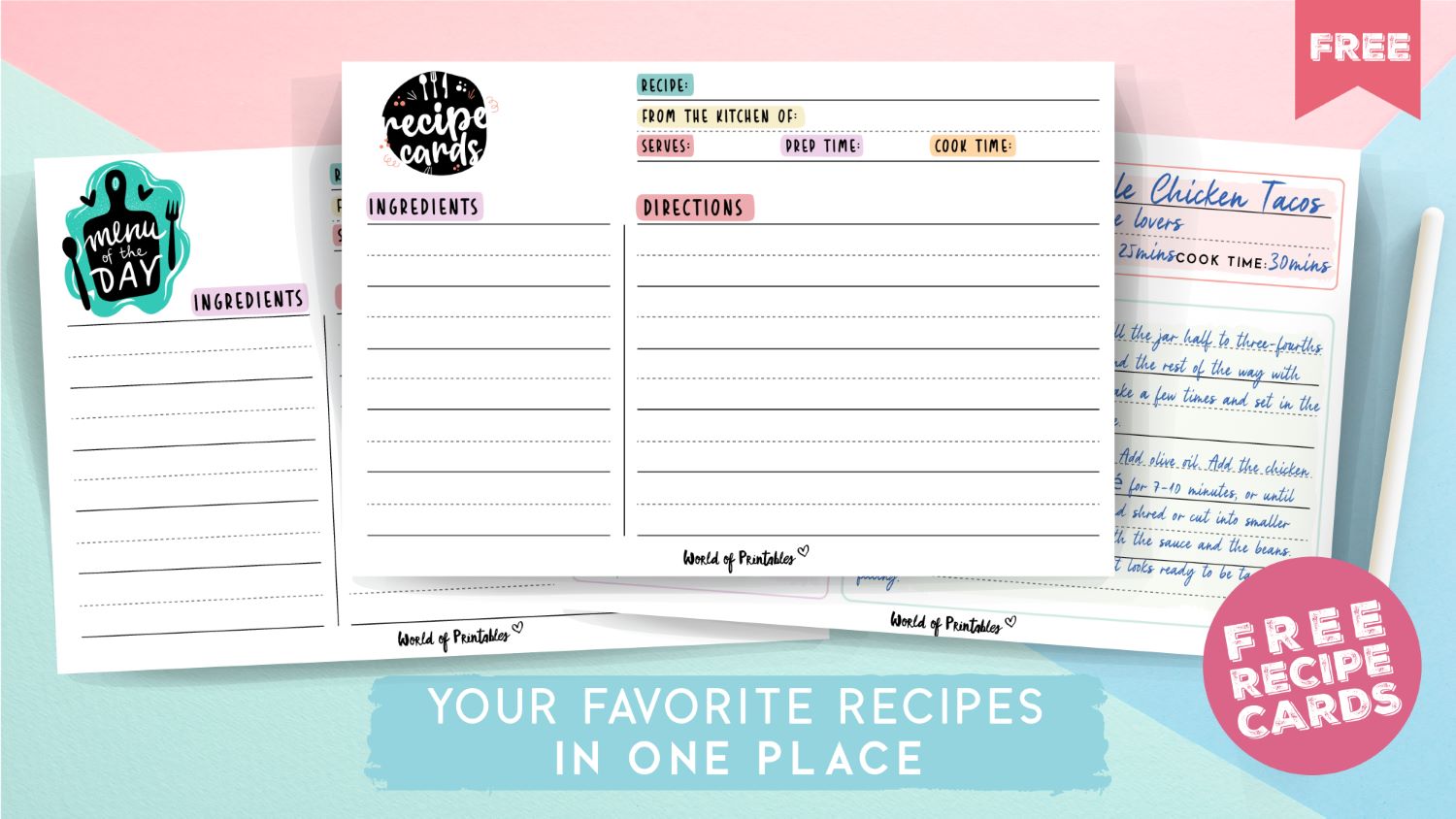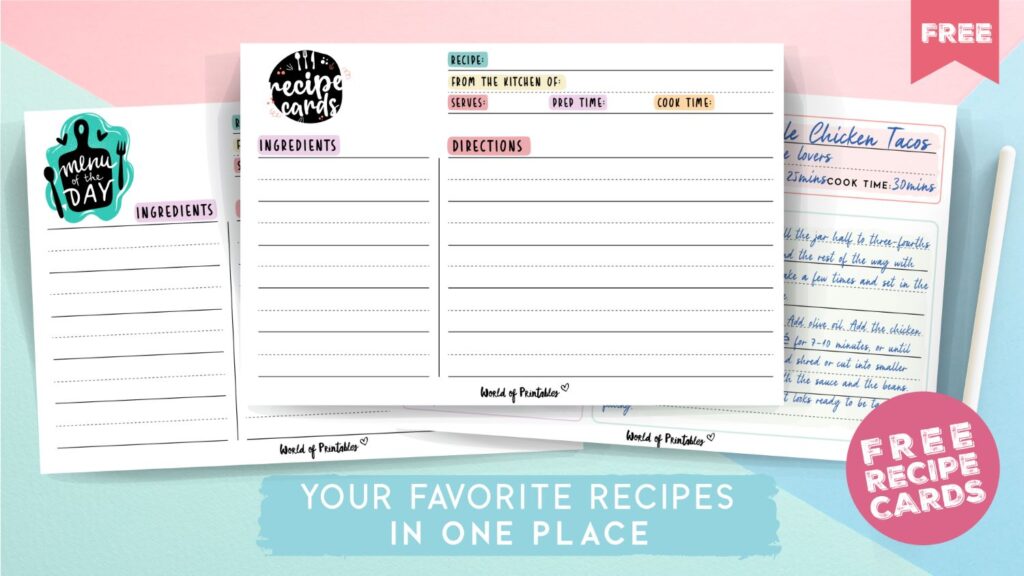 What can you do with old recipe cards?
You can turn old recipe cards into keepsakes. You can add them to vintage photo frames, for kitchen wall art.
Why not scan them or take a photo of them and add them to a digital recipe book. This way you can keep them forever.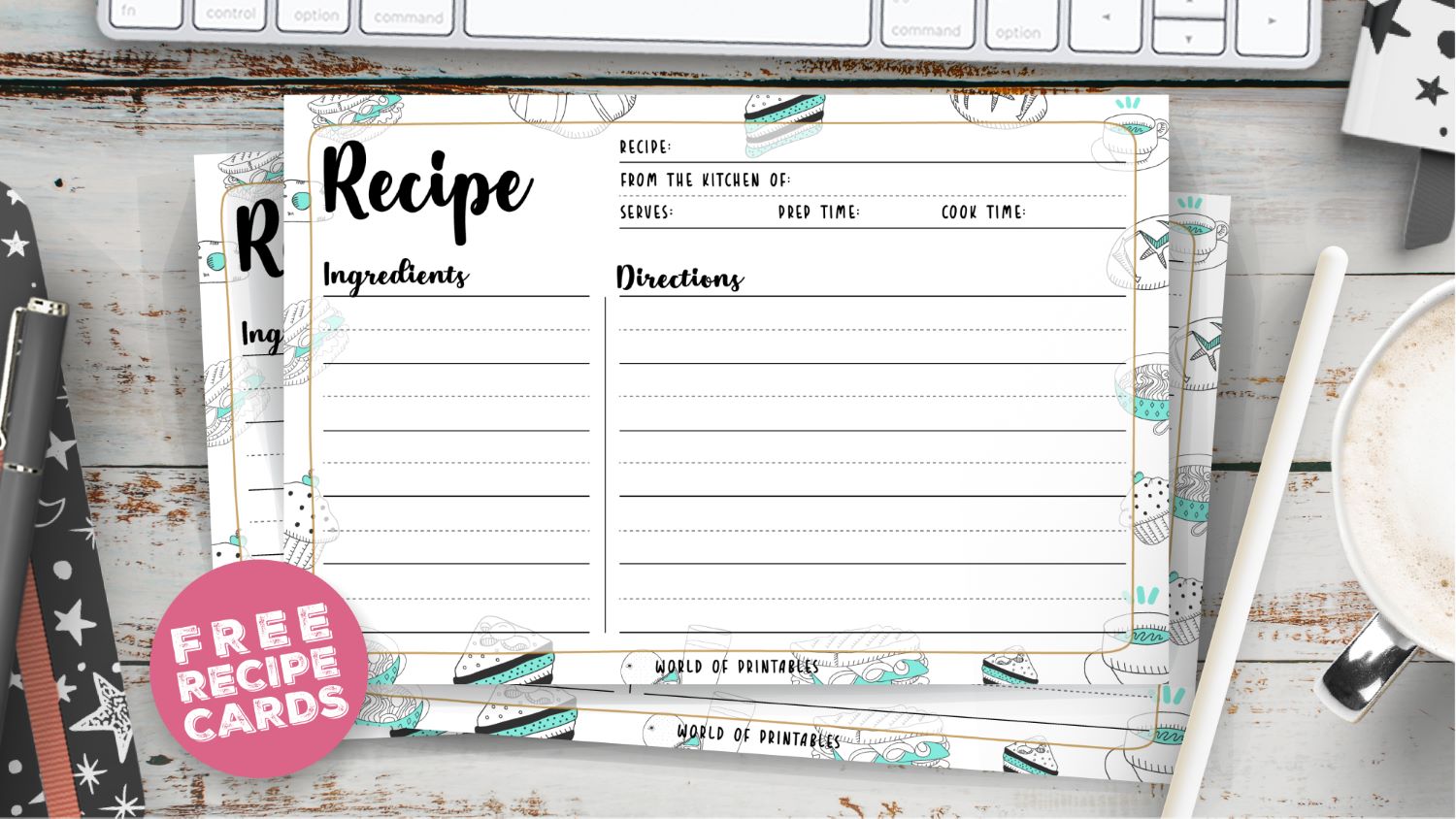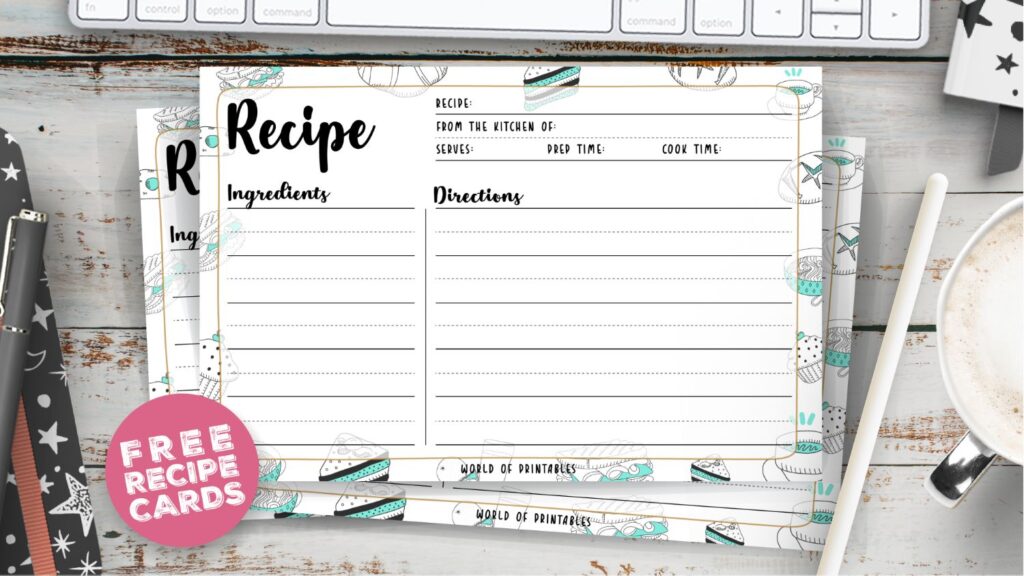 Learn how to make your own recipe cards
If you love making your own things, then why not create your own recipe cards?
If you're wondering how you can make your own blank recipe cards then why not learn how to make them from scratch? You can make them for yourself, or share them with others. You can even sell them too.
Check out these free recipe card templates on Canva where you will find dozens of styles that you can use as a starting point for your own creations. You can even fill them with new recipes, add images, change fonts and colors, and more. Canva is the perfect recipe card maker for creating personalized recipe cards.
You can then print them or save them as a pdf and share them with others, or sell them on places like Etsy.
Or if you prefer starting from a blank canvas, then simply set your design to 4×6 inches and get creative.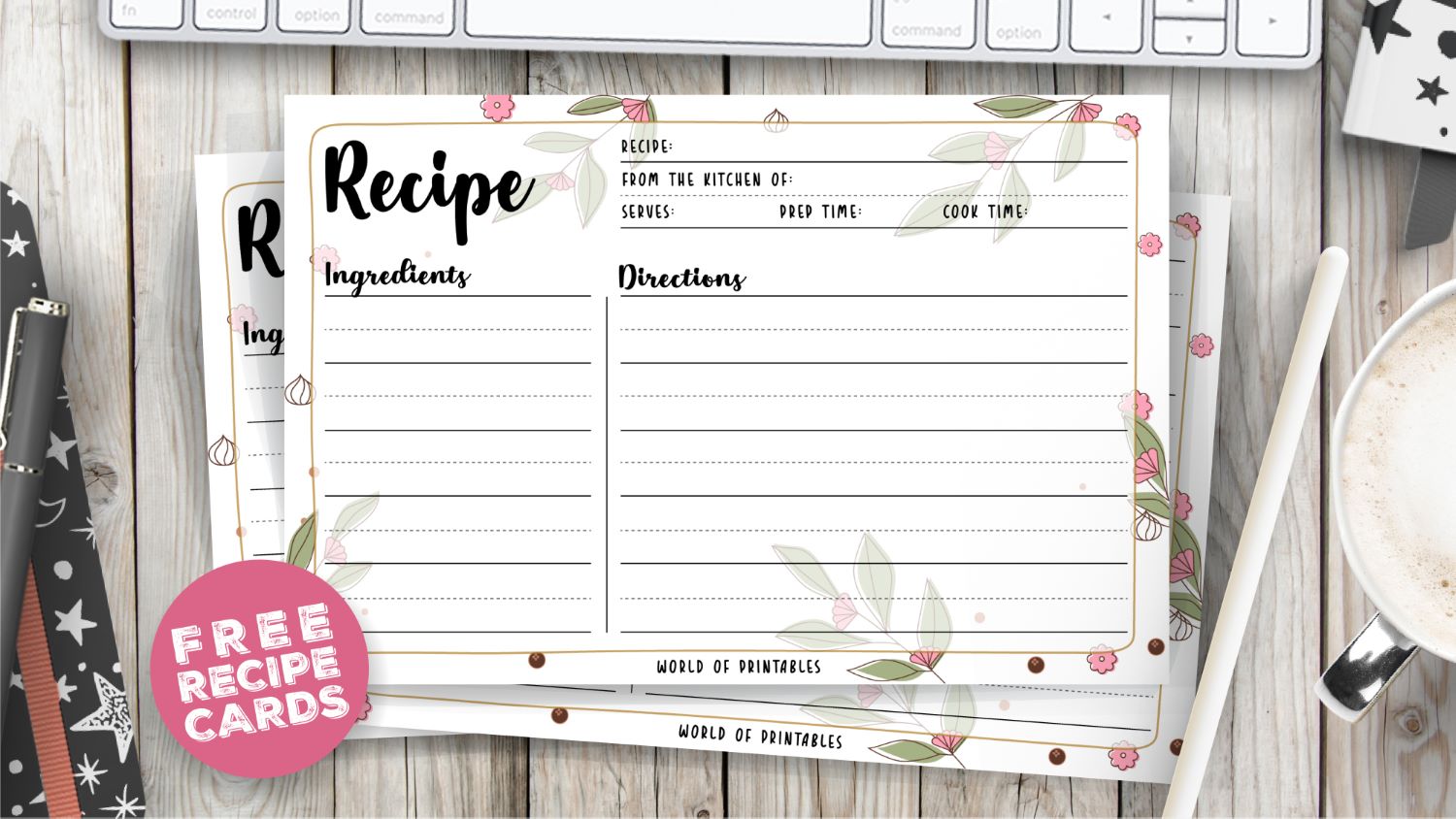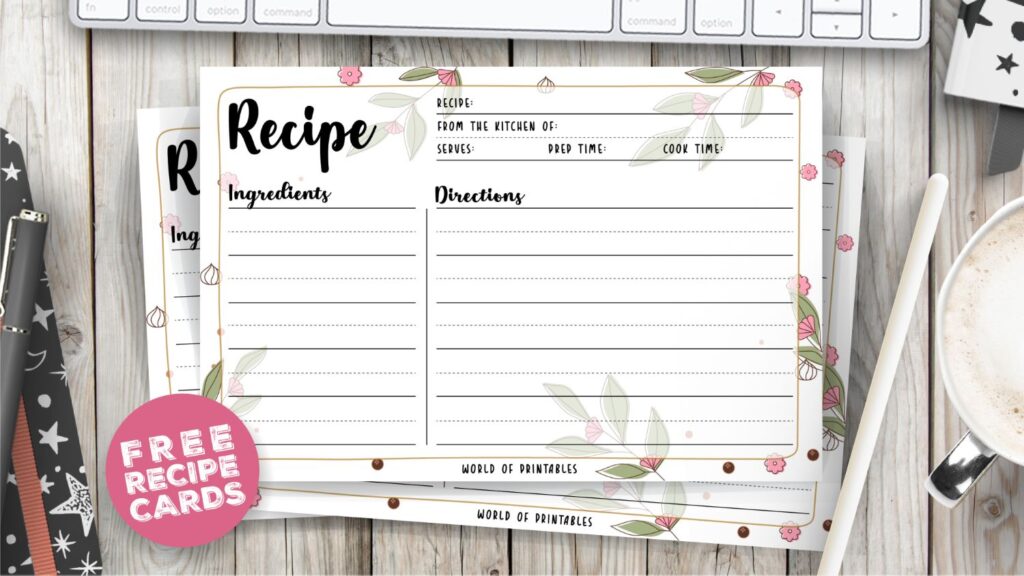 How do you make a recipe card?
To make a recipe card follow these simple steps:
Choose a recipe card template to use as a starting point. Browse this collection of recipe card templates and choose one that resembles a layout you like.
Personalize the recipe card by changing the font, colors, and layout. Add any images or illustrations and place them on the card if necessary.
The card can be left blank for writing directly on to, or you can fill the card with a recipe by typing on the page.
Save the recipe card as a pdf and print or share.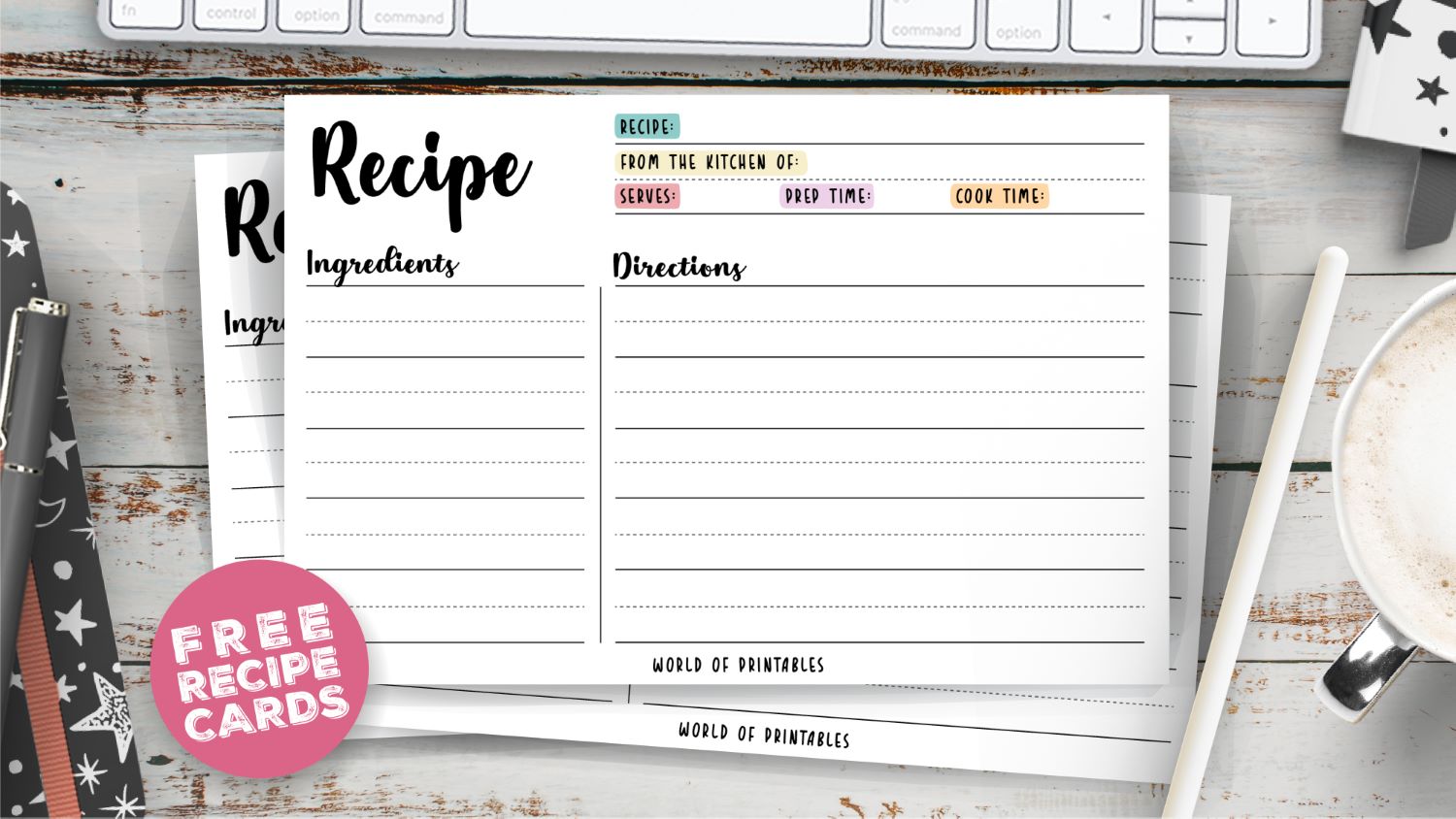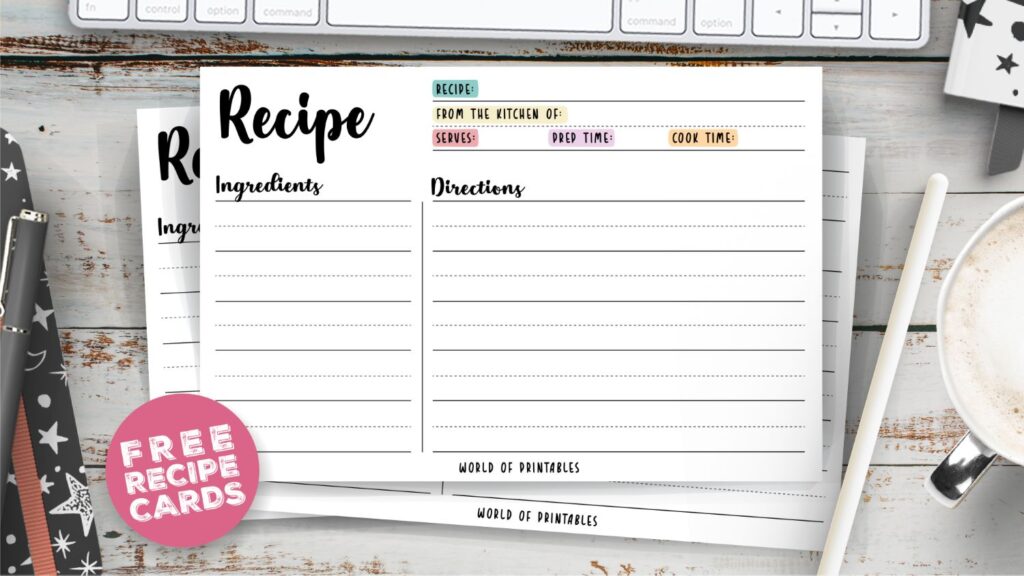 What is the best template for recipes?
If you are wondering if there is a template for recipes then see this collection of recipe templates that you can use in a binder.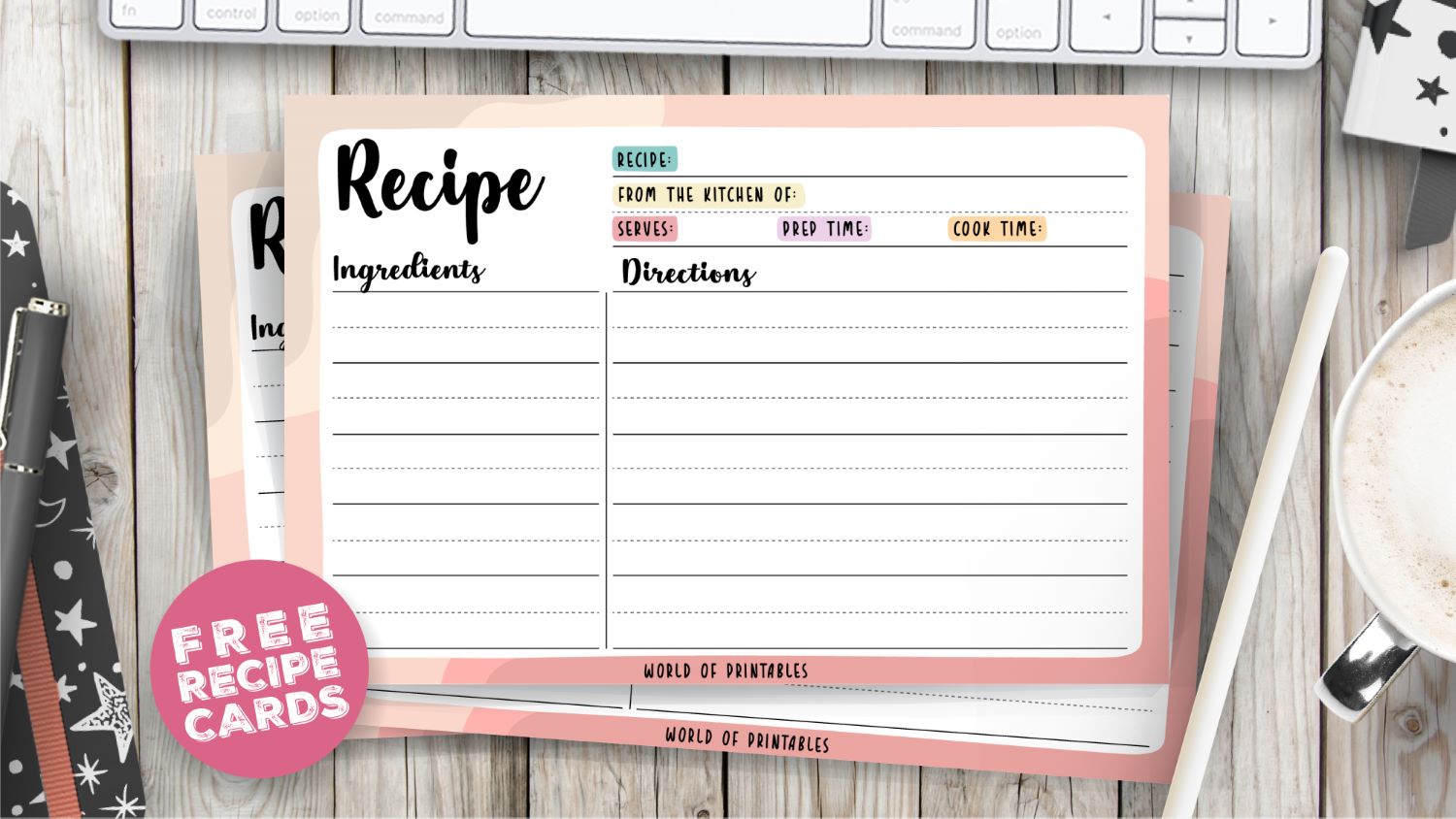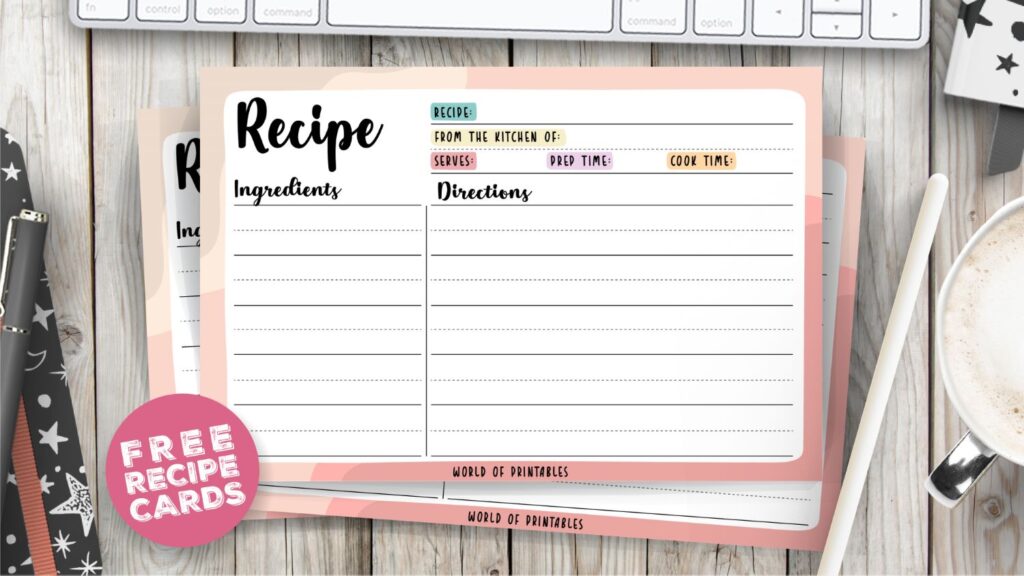 How to get these free recipe cards
Each recipe card is available as a free download. Just click the ones you like best to open in a new window then save to your computer.
If you want them all, in a convenient high-quality format pdf just pop your email address in the box below and you'll be sent a code and link directly to your inbox for this free download.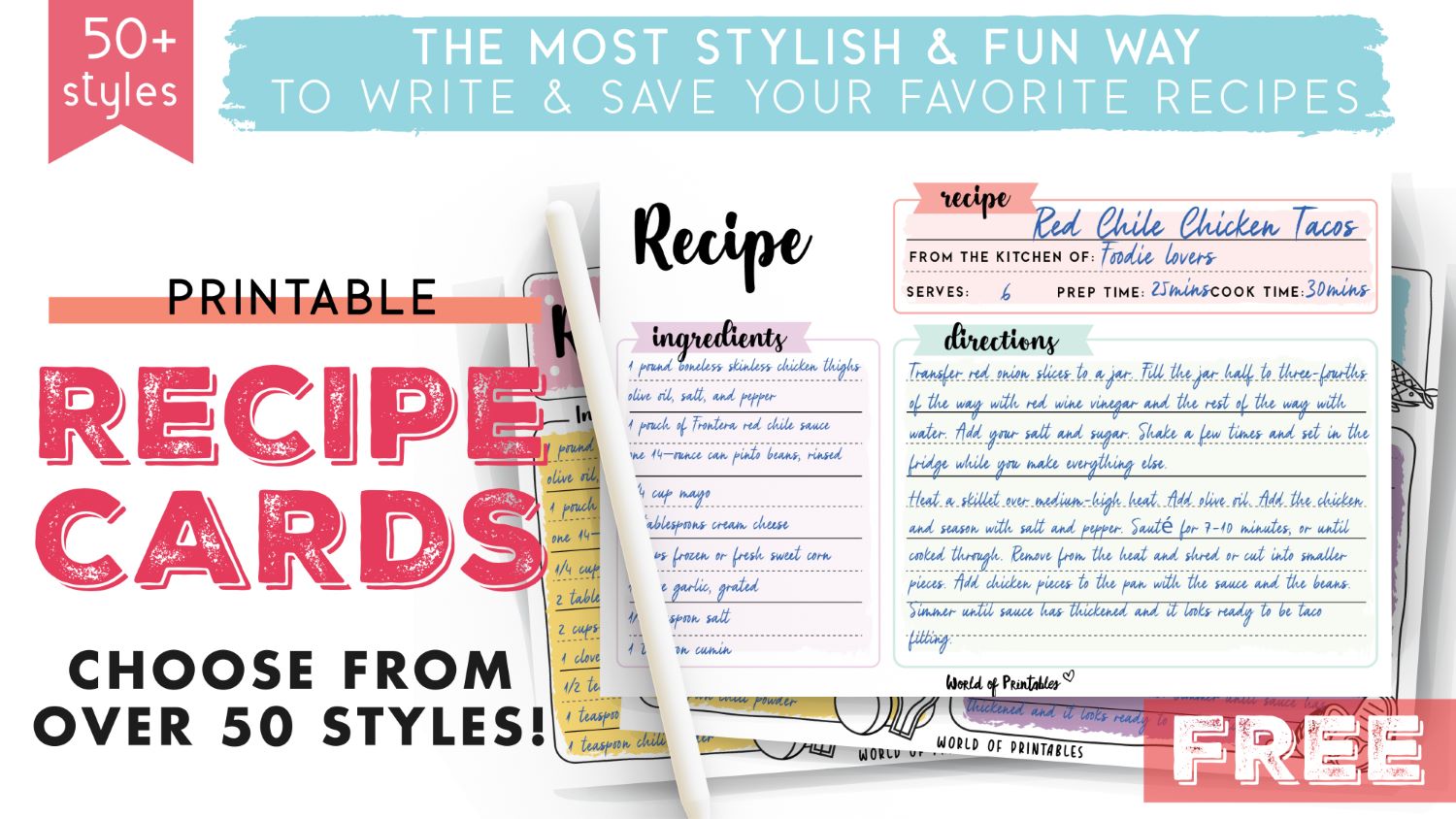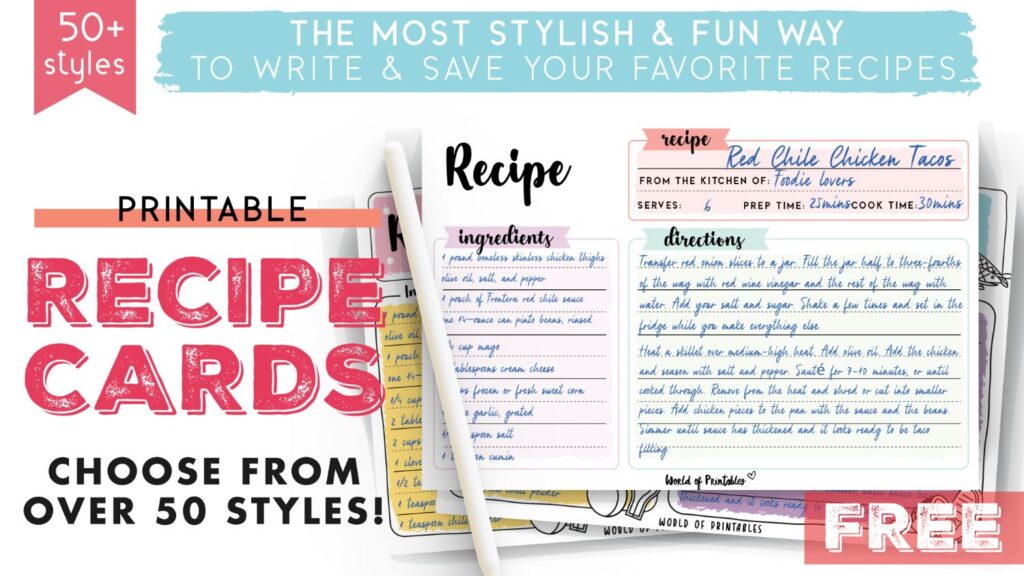 We'll also keep you updated from time to time whenever we release more amazing recipe freebies that you'll love.
This free recipe cards have been made with lots of love for you to enjoy.
Every week we create a cute set of printables, planners, digital freebies, and other exclusive offers, all designed to help you make the most of the things that matter to you and to help you get things done in style while keeping you busy and motivated.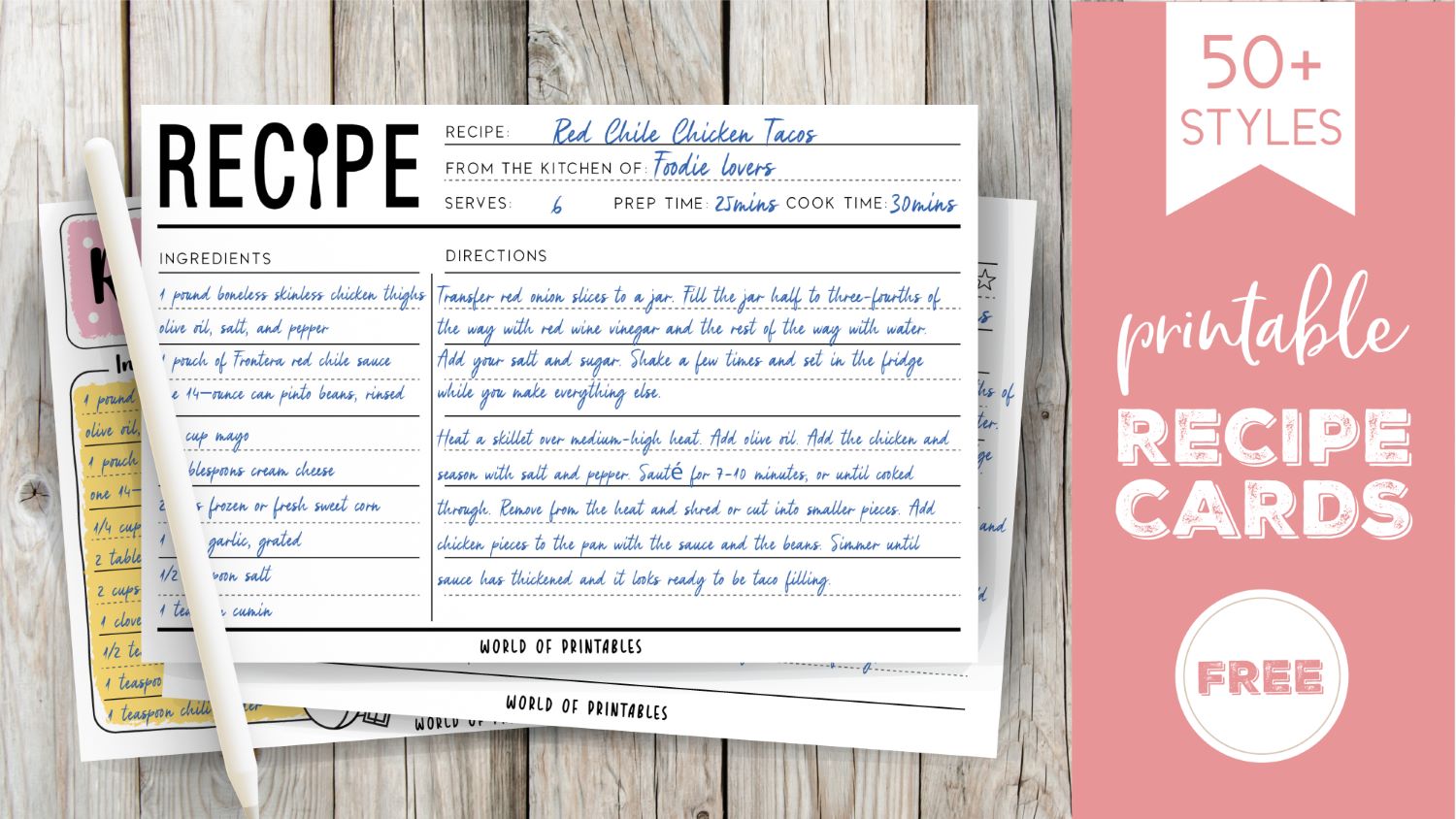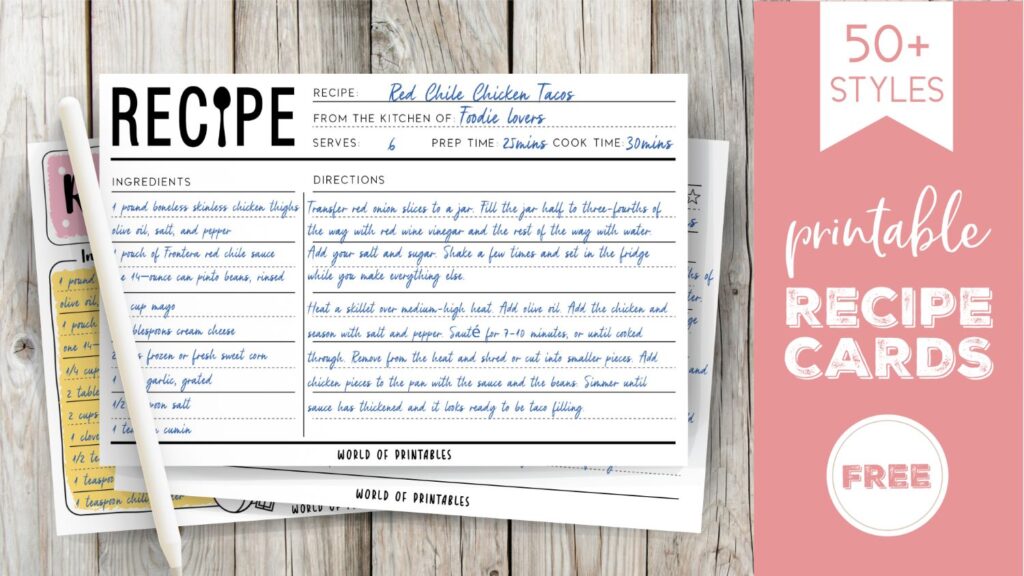 You'll also like…
Did you know we also have free digital recipe book that you can use with your tablet?
It's the perfect way to organize your favorite recipes digitally.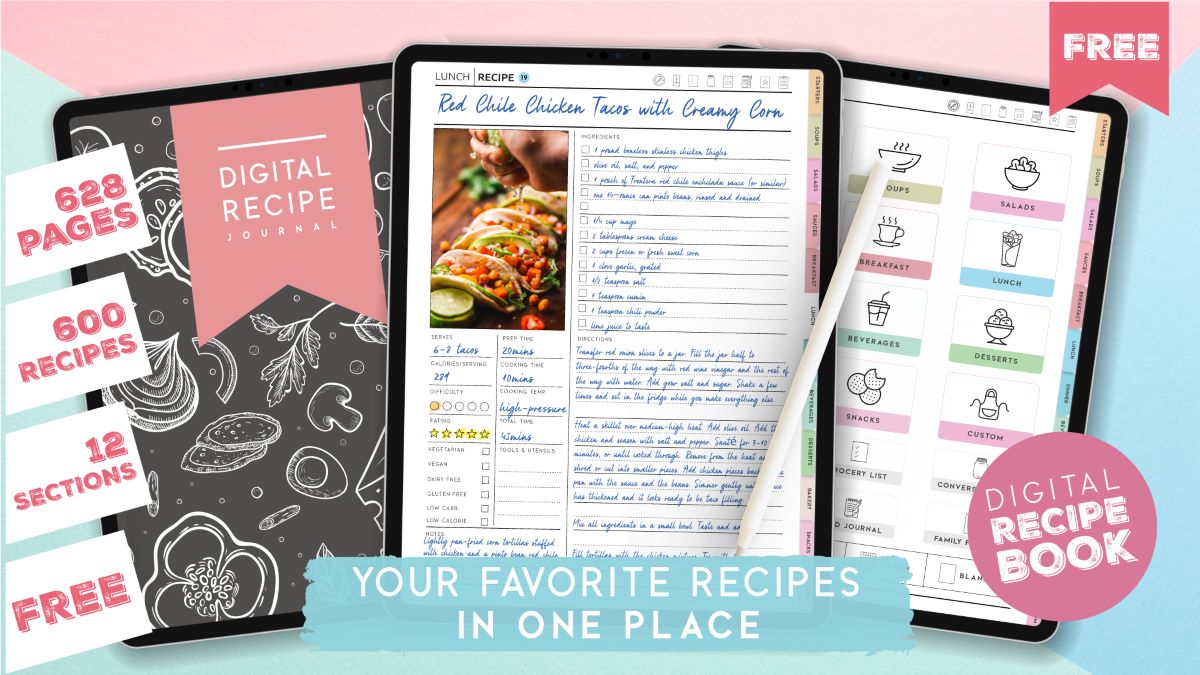 More free recipe freebies
If you like these printable recipe cards and you're looking for more awesome freebies to help you organize recipes, then take a look at our free Digital Recipe Book. It's packed with 628 pages, for up to 600 of your favorite recipes.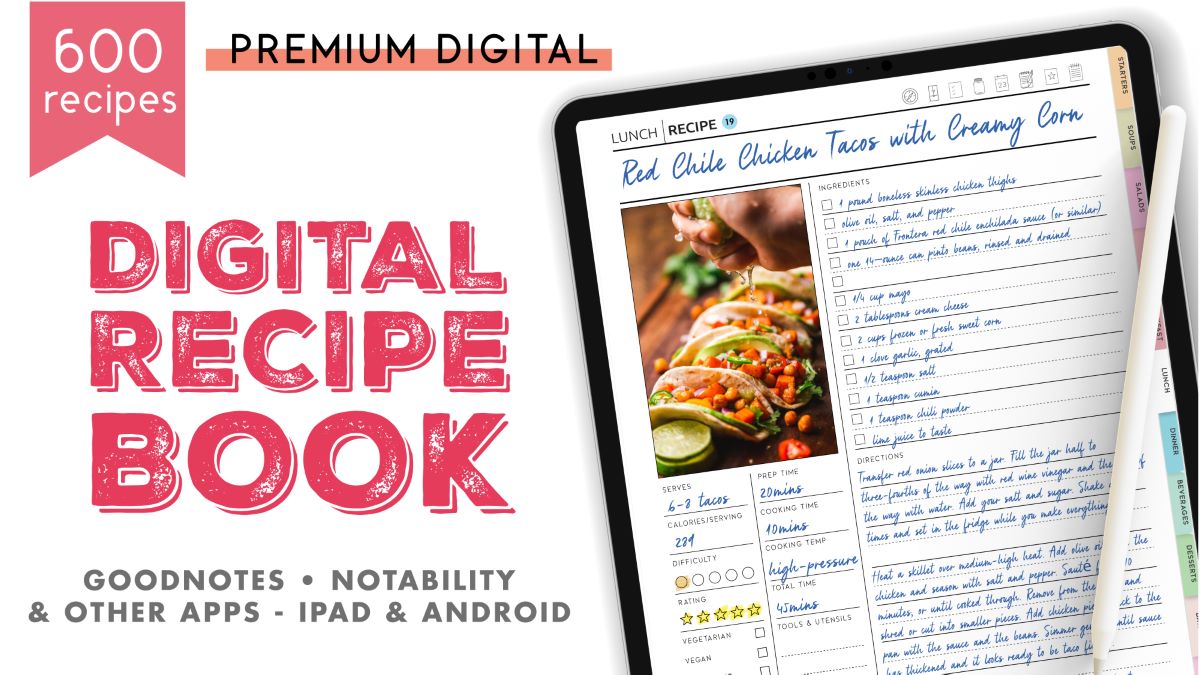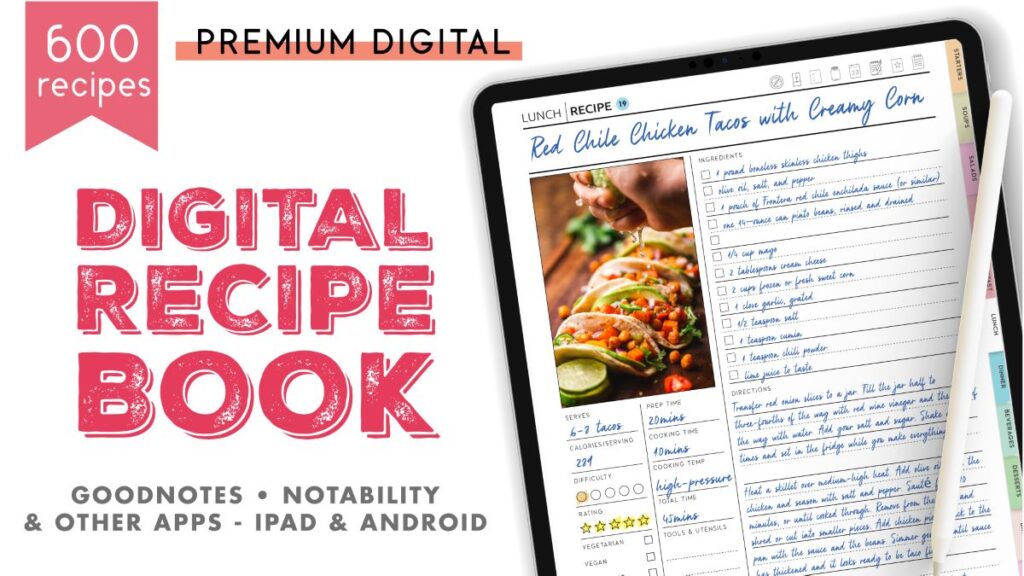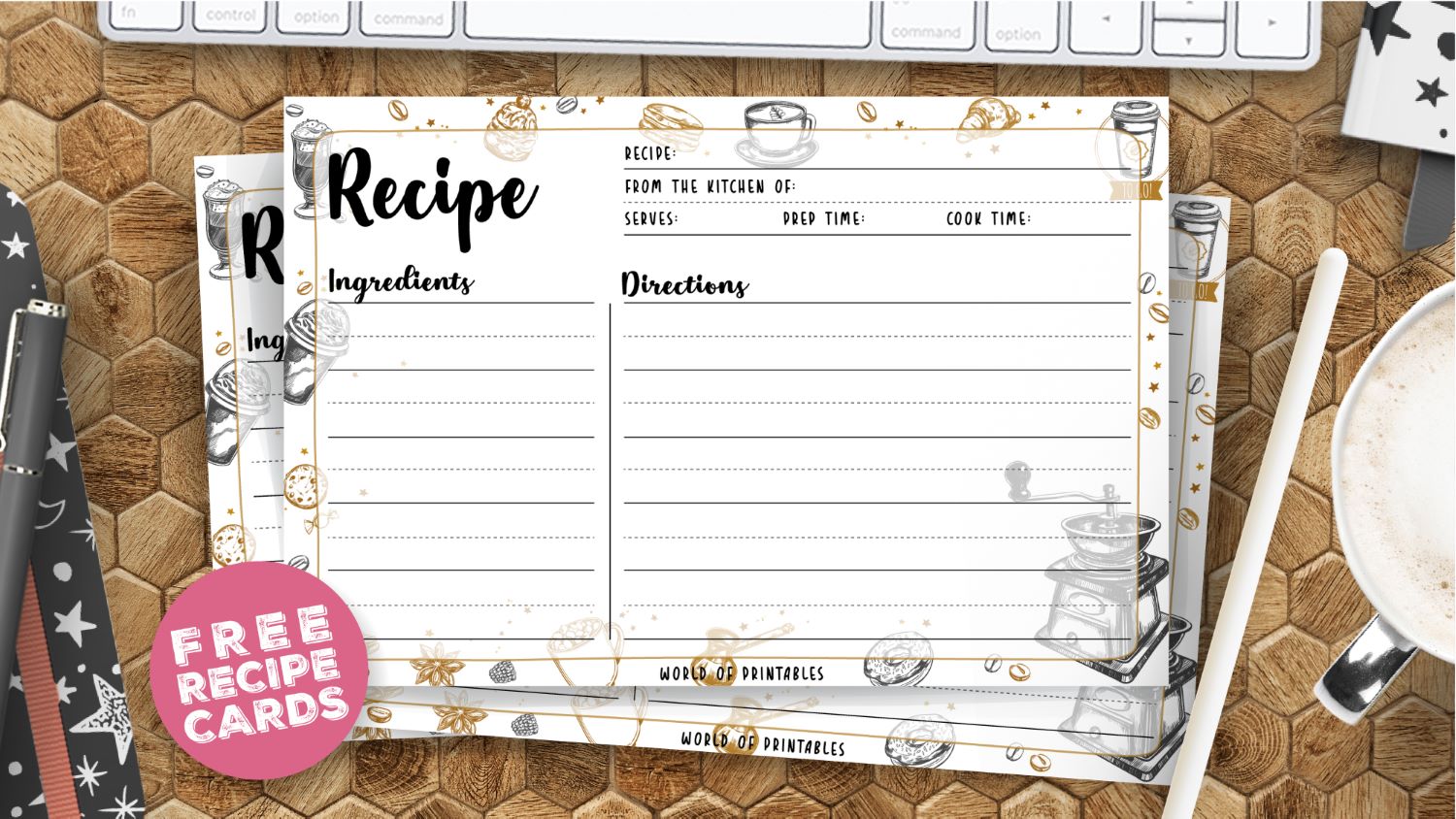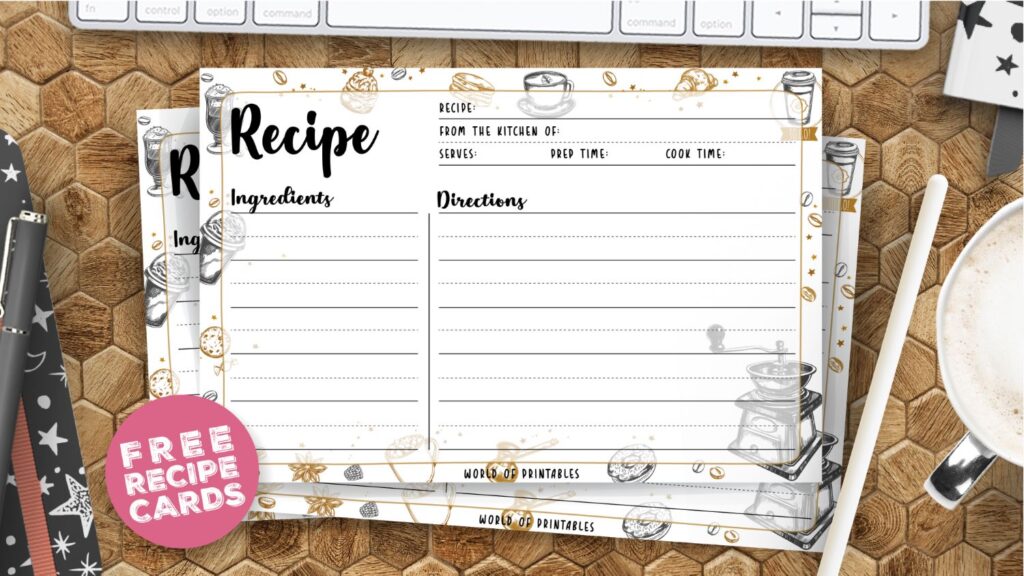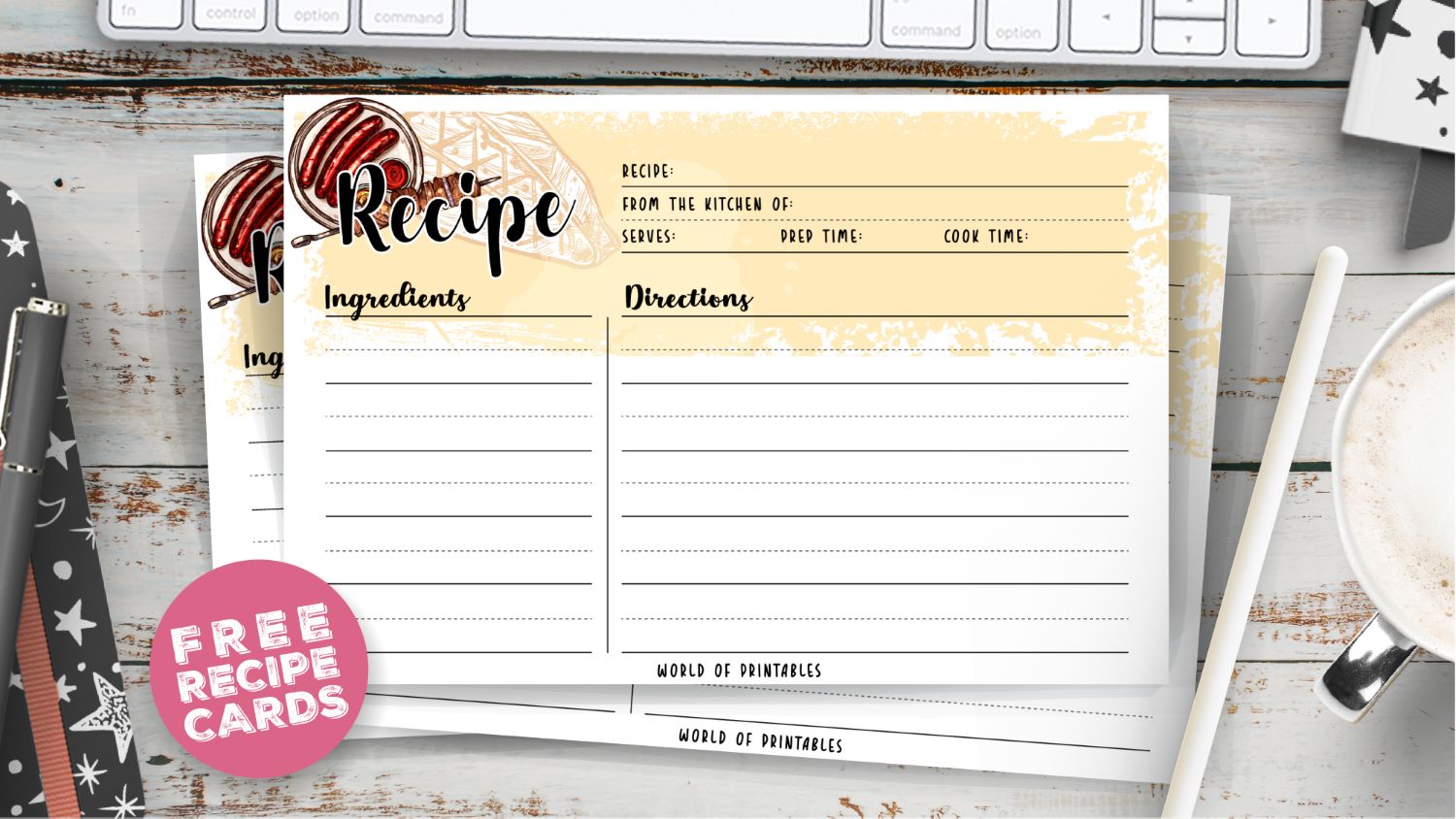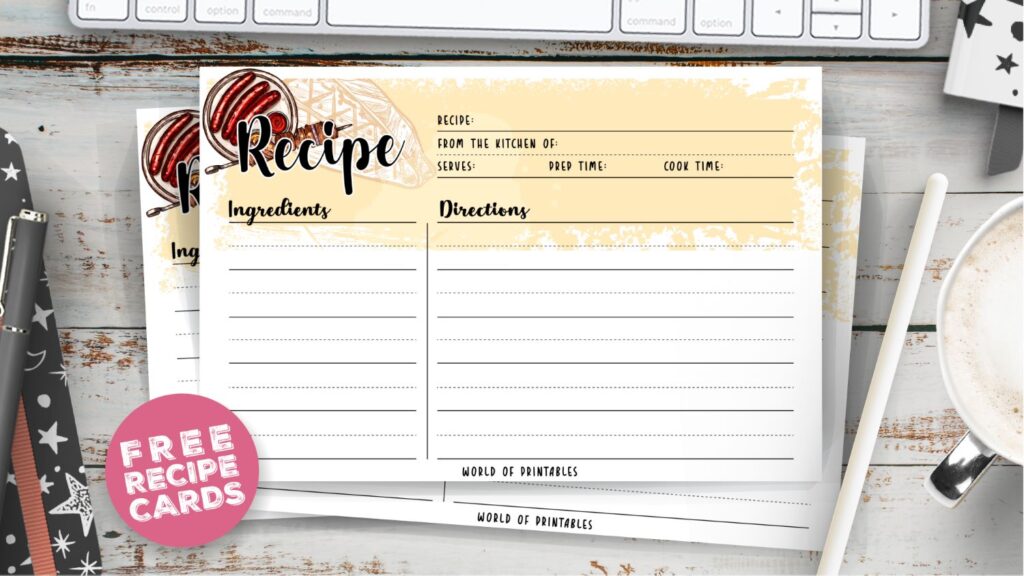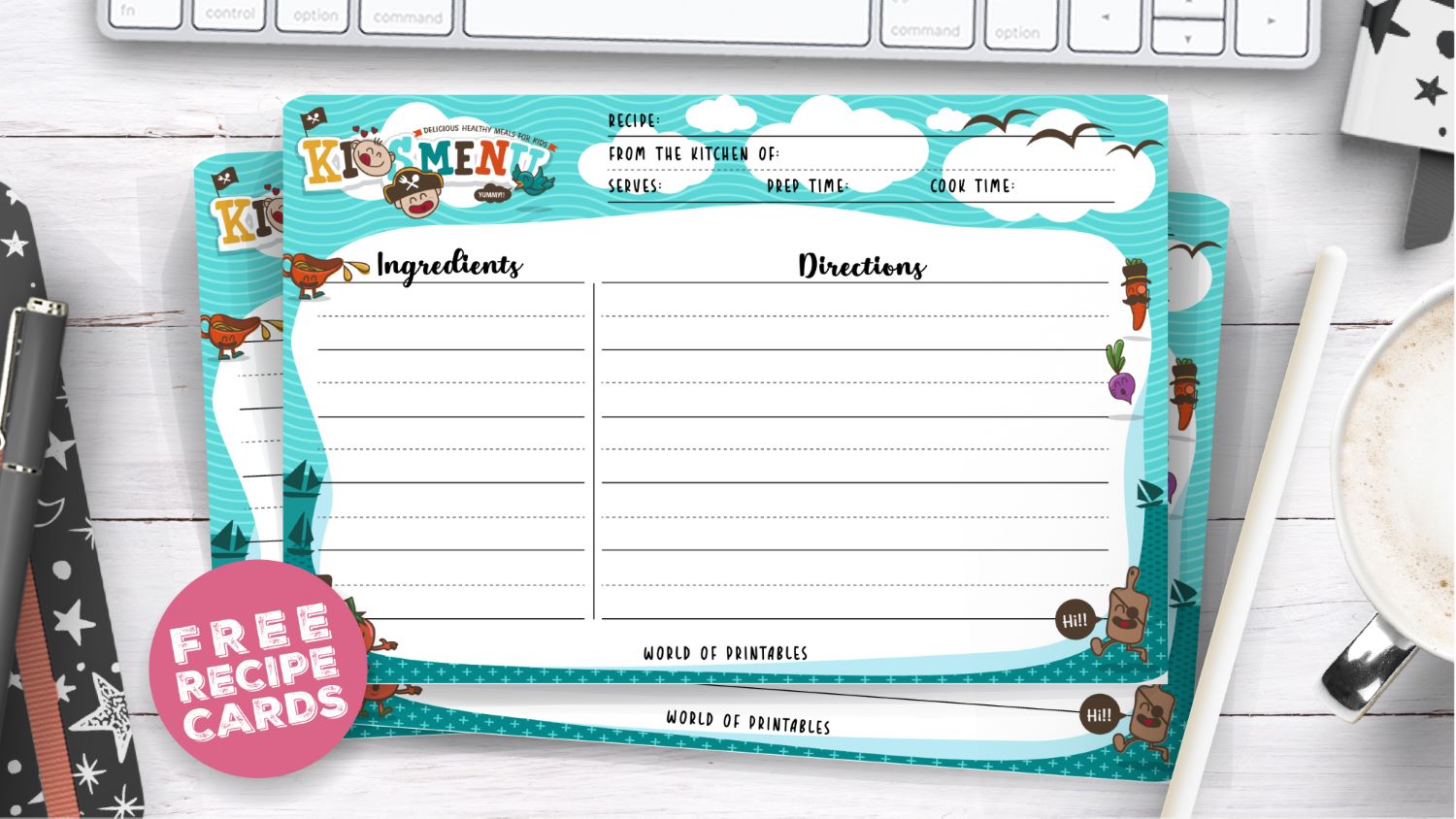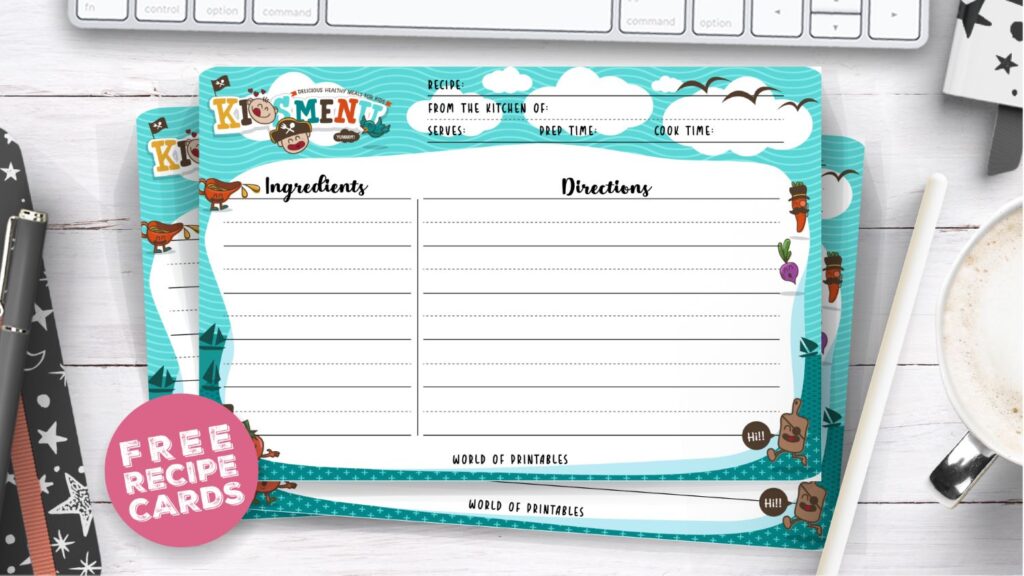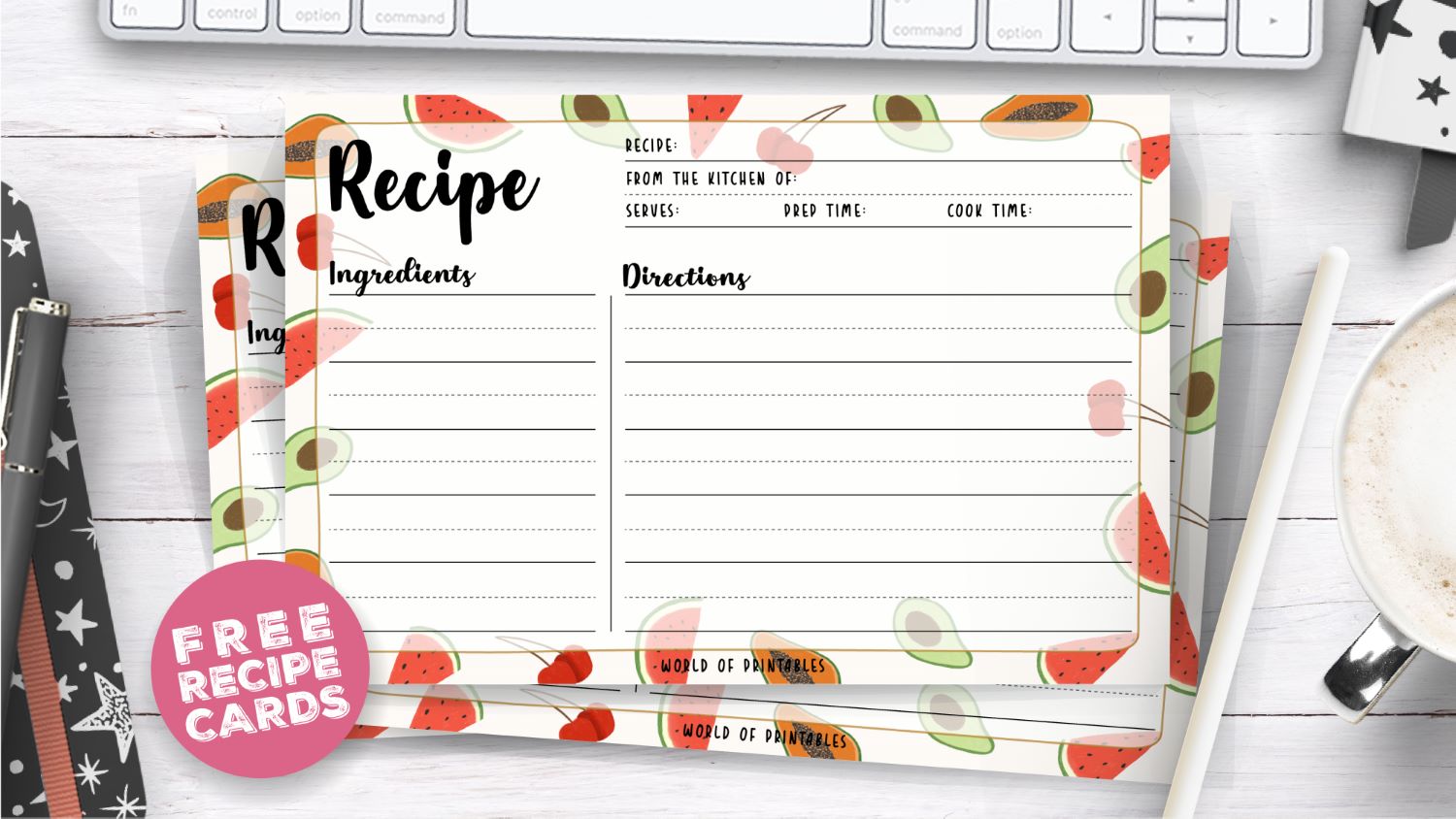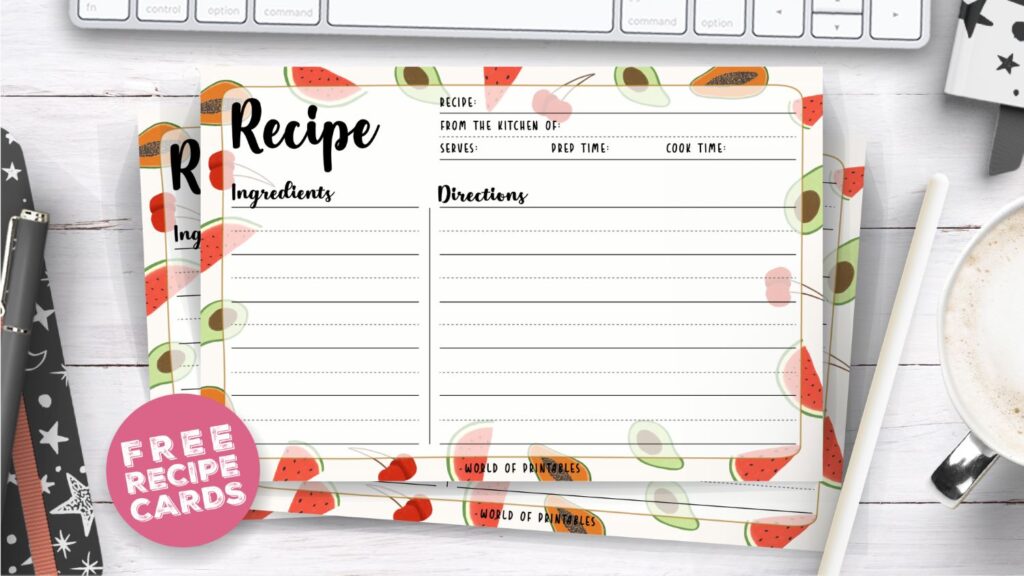 Why not get more of these recipe templates?
We've got many more freebies for you to enjoy and use right now. Here's our latest:
Make the most of your new free printable recipe cards!
I really hope you use and enjoy these free printable recipe cards. Be sure to recommend them to your friends! Follow us on Instagram or Pinterest, as it's a great way for you to keep updated with our latest freebies.
If you have a comment that you would like to share, then please reach out to us on Pinterest, Instagram, or TikTok! We'd love to hear how you're using our creations!
Get our free recipe binder
If you love these cards and would like a way to keep recipes together, then check out our free recipe binder.
Follow World of Printables on Pinterest
COPYRIGHT
These printables are for personal use only and are the copyright of World of Printables – you cannot redistribute, reproduce, or resell, although you can link back to our website.
What do other people do after viewing this?