Use this free printable weight loss tracker to set goals towards reducing your weight to hit milestones on the way to your final weight loss goal.
This weight tracker is designed to help you be realistic about losing the weight you desire over time.
By setting your ideal weight plans and by keeping a weight loss journal like this printable you can stay motivated in continuing to lose weight steadily and healthily.
Sections available in this printable weight tracker:
Name
Starting Weight
Goal Weight
Milestones (up to 4)
Date (for weigh-ins)
Weight
Lost (amount lost over the week)
Gain (any weight gained since the last weigh-in)
Notes
Progress Tracker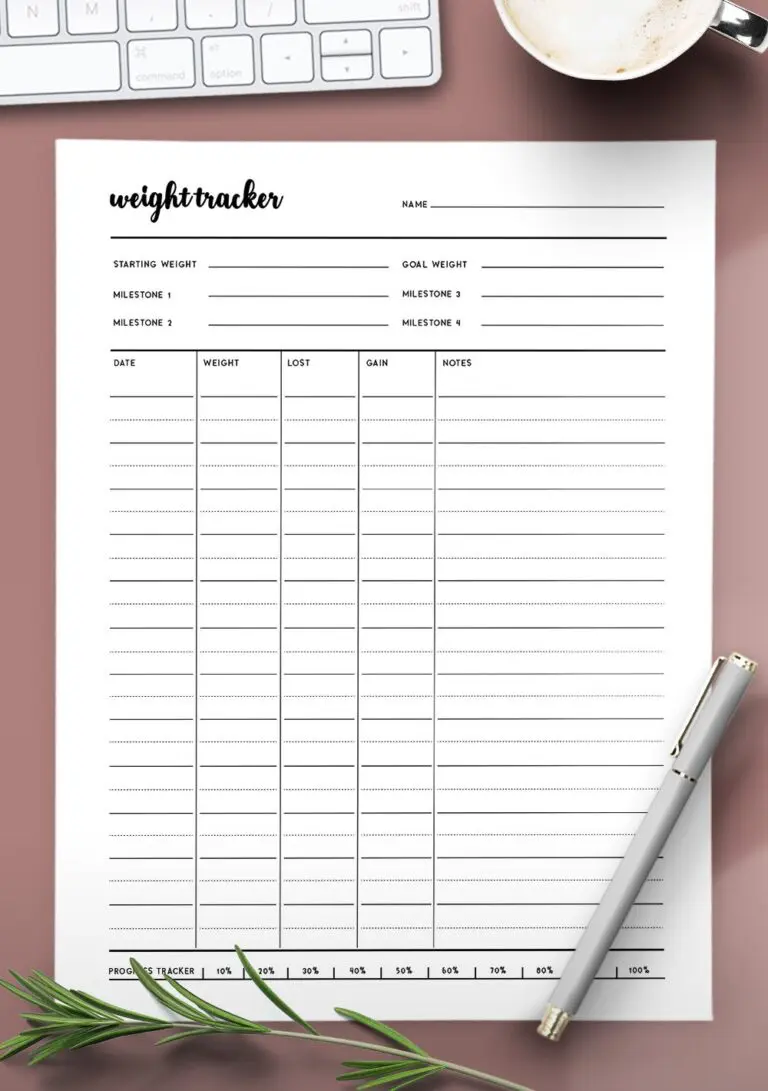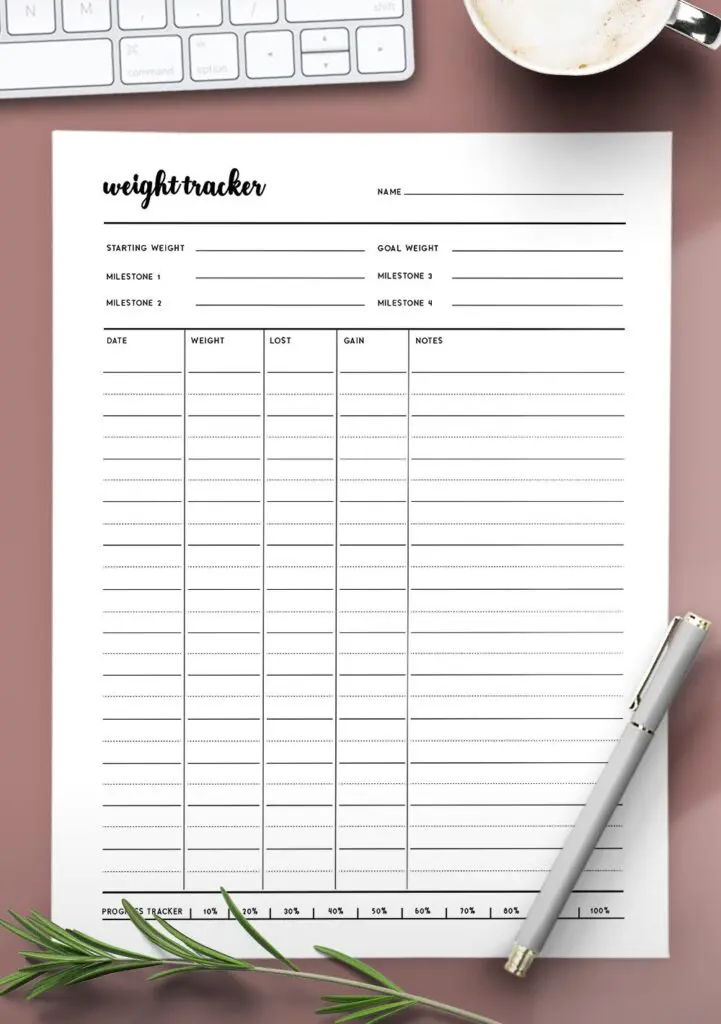 This can be used as a weekly weight loss tracker so that when you do your weekly weigh-in you can track the weight you've lost and take any notes that relate to what you've done over the week to achieve that.
The milestones feature is great for setting monthly goals. For example, if you set a realistic goal of what weight you would like to lose over the next few months, you can anticipate what an ideal and realistic milestone weight could be.
Then you can use this as a monthly weight loss tracker and see how you're progressing towards your milestone goals. If you reach the end of a month and have achieved your milestone then great, good job.
If you've not reached your milestone then you'll know that you have a little more work to do over the next month to make progress toward meeting your next milestone.
The progress tracker lets you see at a glance how much progress you are making towards your ideal weight goal.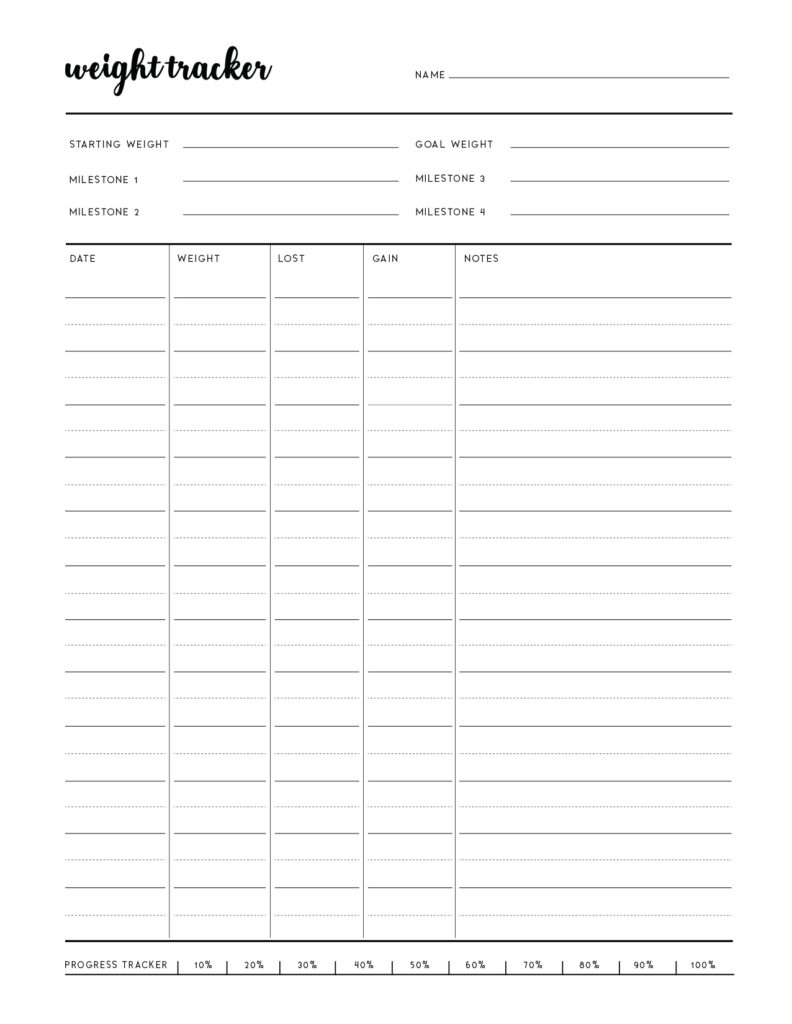 Get the weight loss tracker – Open the image above to view and print the free printable weight loss tracker. If you are looking for more awesome free templates then check out our huge range of printable templates.
You can also find the printable weight loss tracker included in our must-have Household Binder Bundle which has many other weight loss printables along with templates to help you plan your meals, track your health and so much more.
The free printable weight loss tracker also comes in different styles – botanical, cursive, soft, and classic and you can find these and many more weight loss templates to help you reach your ideal weight goals.
Print it! – Our templates look so good when printed on this bright paper.
These printable templates are designed as 8.5 x 11 pages. TIP: If you want to print using different size paper then simply insert this printable into Canva, set your dimensions to any size you want, then save and print, easy! Full steps in this guide.
Remember to browse our huge range of free printable templates for many more like this. Follow us on Pinterest or Instagram or sign up for our Free Premium Printables Newsletter so you never forget where to come for the very best free printables!
More weight loss templates
Some of our recent weight loss templates. These will help you set goals and reach them.
---
Find 100's more stylish planner templates that you'll love
Some of our recent planner templates. Find many more Printable Planner Templates that will help you get on top of your life with ease. You'll love them.
Follow World of Printables on Pinterest for more