Halloween is here, and what better way to get into the spooky spirit than by adding a touch of Halloween to your reading adventures? Whether you're an avid reader, a student buried in textbooks, or simply someone who relishes a good story, these printable Halloween bookmarks are a perfect addition to the spooky season.
Why Printable Halloween Bookmarks?
Printable Halloween bookmarks are a fantastic way to combine the love of reading with the excitement of Halloween. They are a practical tool for keeping your place in your favorite book and also add flair to your reading experience. Plus, they make for great gifts or party favors if you're planning a Halloween-themed gathering.
So, get ready to dive into a world of ghosts, witches, and pumpkins with your favorite book in hand, marked by your very own Halloween bookmark!
We have various styles of Halloween bookmarks for you to choose from so feel free to either browse or jump straight to your favorite section:
You'll find the perfect cute Halloween bookmark that you can print and use for free right now.
Halloween Bookmark Ideas
You will find so many spooky Halloween bookmark ideas in this collection. There are several different designs that have different spooky styles to suit everyone.
To print your favorite bookmark sheet, click on any printable image and save it to your computer first.
Halloween Bookmarks
These bookmarks feature eerie designs like jack-o'-lanterns and witches, they add a touch of Halloween spirit to your book. Whether they're ghoulish or classic orange and black, these bookmarks make reading during the season extra fun.
Clown Halloween Bookmarks
Clown Halloween bookmarks offer a quirky twist to your reading. With playful yet eerie clown designs, they enhance the Halloween vibe in your books.
Witch Halloween Bookmarks
This collection of bookmarks features bewitching designs and conjures the Halloween spirit in your books. Whether it's witches in flight or bubbling cauldrons, they add a spellbinding touch to your spooky reads.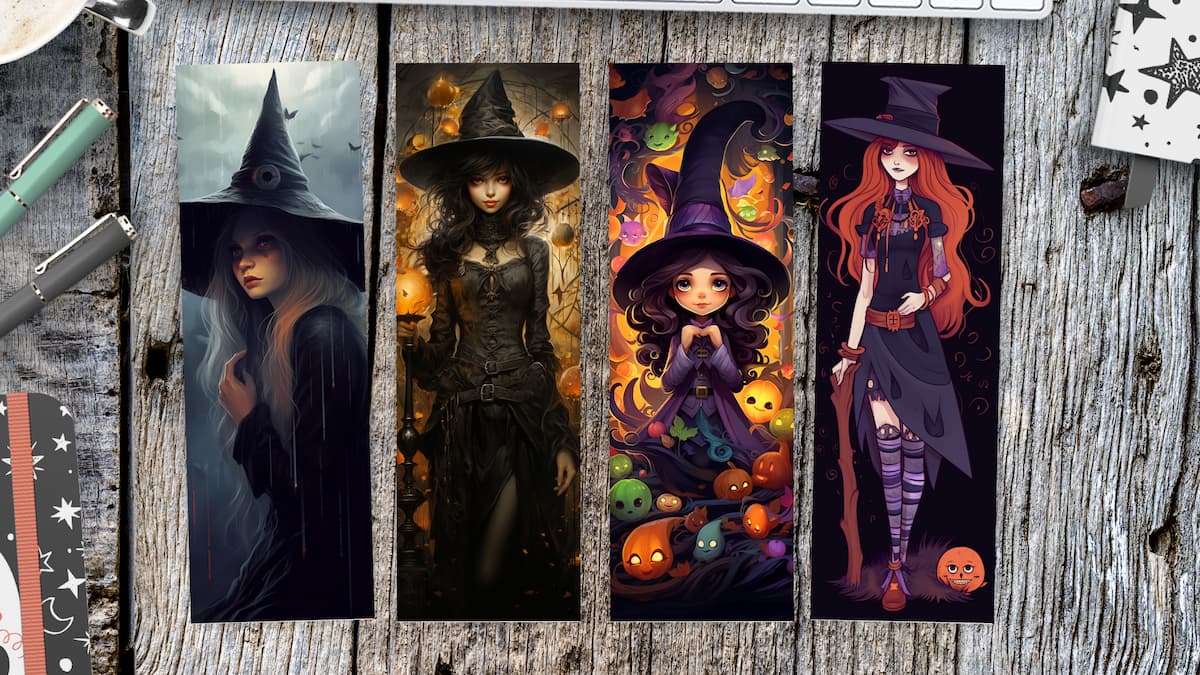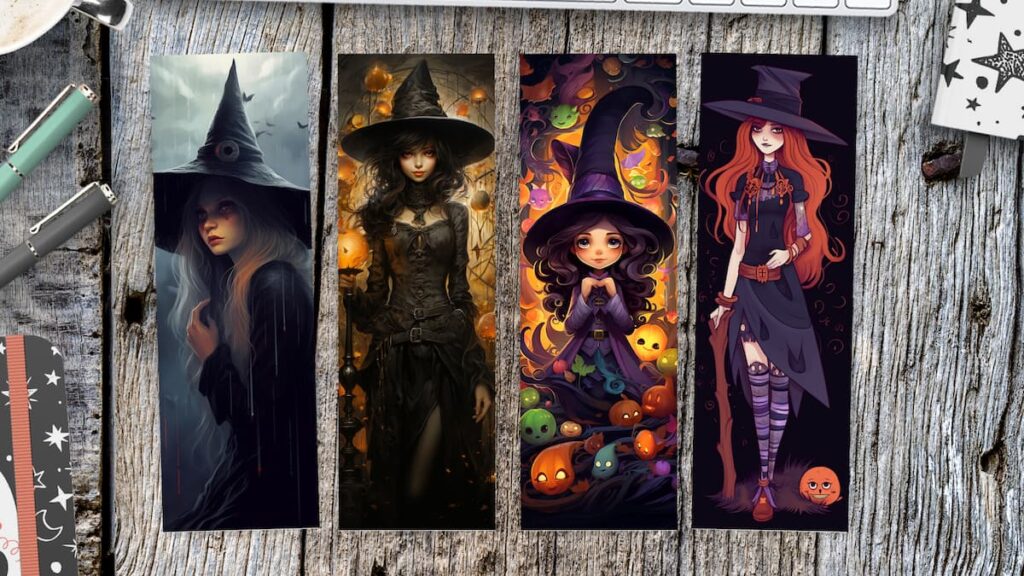 Halloween Bookmarks to Color
Halloween coloring bookmarks add a creative twist to your reading. With Halloween-themed outlines, they let you add your own vibrant colors, making your reading experience uniquely festive. You'll find a large collection of Halloween bookmarks to color.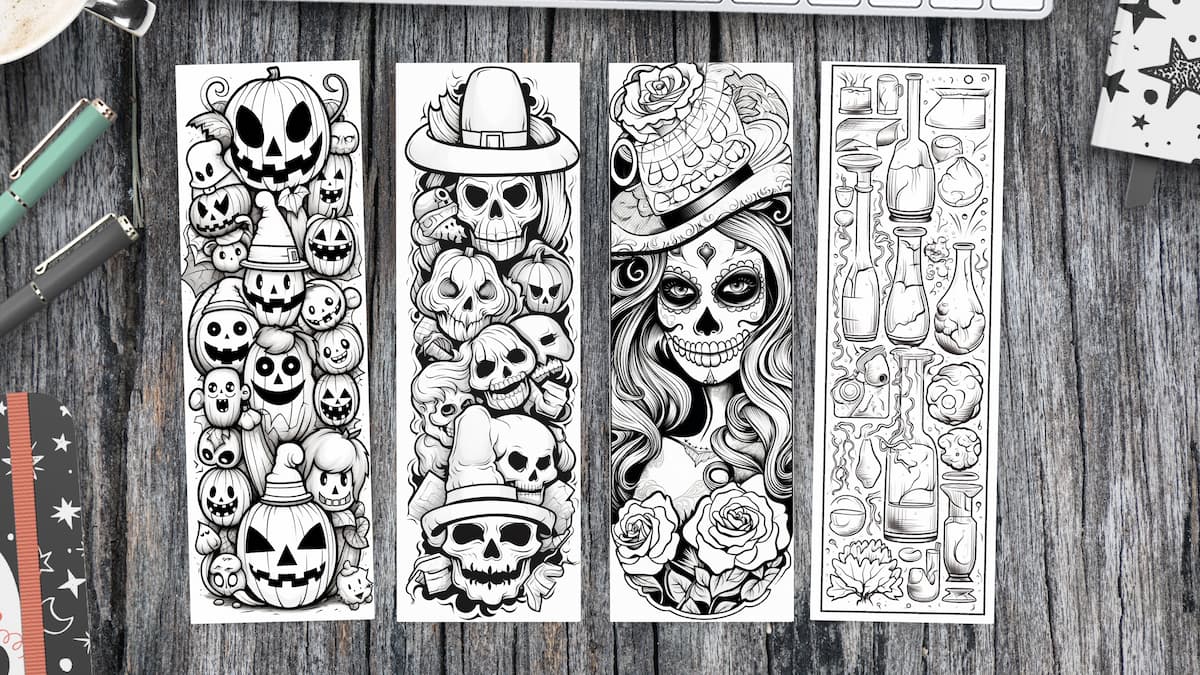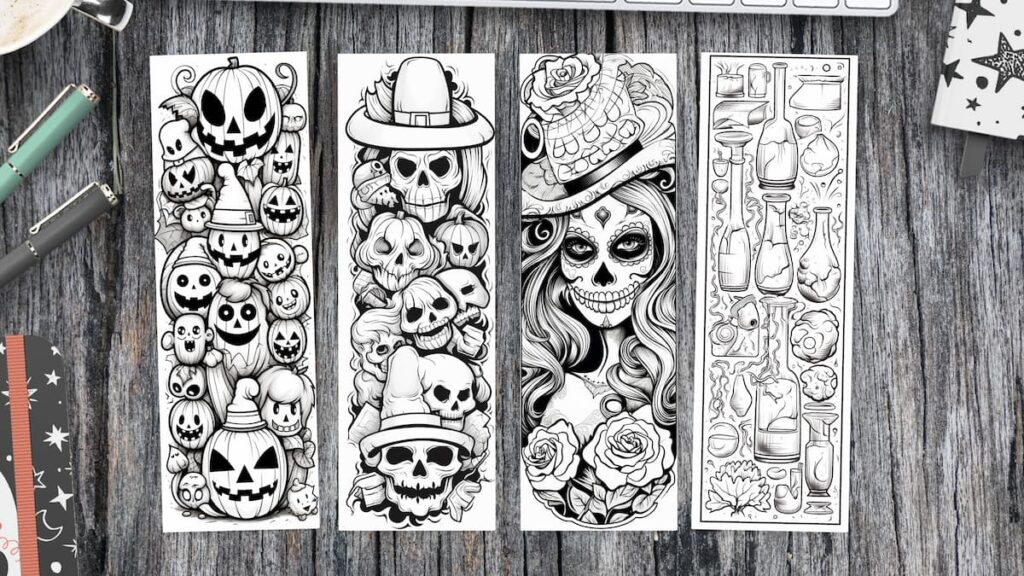 Discover our extensive collection of free printable bookmarks! Whether you're an avid reader, a student, or simply someone who appreciates the charm of a well-designed bookmark, you'll find something to love among our diverse range of styles and themes. From elegant floral patterns to whimsical illustrations, there's a bookmark to suit every taste and occasion.
These printable bookmarks are not only a delightful way to mark your page in your favorite book but also make for fantastic gifts, party favors, or classroom rewards. With the convenience of instant printing, you can easily add a personal touch to your reading adventures.
You'll also love these free printable bookmarks:
How to Print Bookmarks
All of these printables are free for personal use only, so feel free to grab your favorites and get reading!
These bookmarks are each sized at 2×6″ as an individual bookmark once cut out when using regular letter size paper. You will find 4 bookmarks on each sheet. Click on the printable images to save each full sheet of bookmarks to your computer before printing.
Once you have printed your favorite bookmark simply cut around the outline. You can also laminate your bookmark for durability, hole punch it, and add ribbon, yarn, or a tassel for a personal touch.
Paper Recommendations
Ideally, print these bookmarks using good quality cardstock as it is thicker and more durable than regular paper and will resemble the bookmarks you buy from stores. I really like Amazon's choice of cardstock paper as the results are far better than ordinary printer paper.
How to Use Printable Halloween Bookmarks
Once you've found or created your Halloween bookmarks, the fun begins. Here's how to make the most of them:
Print and Laminate: After downloading your chosen design, print it on sturdy cardstock for durability. If you want your bookmark to last for many Halloweens to come, consider laminating it.
Cut and Decorate: Carefully cut out your bookmark along the designated lines. If you've designed your own, get creative with embellishments like glitter, stickers, or ribbon to make them truly unique.
Read and Enjoy: Slip your bookmark between the pages of your current spooky read. Not only will it hold your place, but it'll also serve as a constant reminder of the Halloween spirit.
Share the Fun: Share your printable Halloween bookmarks with friends and family, especially those who share your passion for reading. They're perfect for gift-giving or as party favors during Halloween gatherings.
More free printables for you to enjoy
These free Halloween bookmark printables are a fun and spooky option for any book lover!
If you are looking for more bookmarks then check out our collection of bookmarks.
Don't forget our amazing collection of Halloween printables!
More awesome freebies from World of Printables
We've created many useful free printables for you to enjoy. You'll find useful printables and templates for all aspects of your life.
Be sure to grab as many freebies as you can while you're here. Sign up for our newsletter below so you'll get notified of our newest printables from time to time.
What do other people print after viewing this?
Get notified of our upcoming free printables – you're gonna love them!
Follow World of Printables on Pinterest
COPYRIGHT
The printables that you find here are the copyright of World of Printables – you cannot redistribute or sell any of these printables or templates, although you can link back to our website.