If you're looking for a great collection of fun and spooky Halloween freebies then you are in the right place. Here you will find all of our free Halloween decorations and activities to make this Halloween the best yet!
You can use our decorations to decorate your home, classroom, party venue, or anywhere else that you use to celebrate Halloween.
Use our fun Halloween activities for something fun to do with the kids or even as a Trick or Treat gift!
Halloween isn't only for DIY costumes! Get hands-on with your Halloween decorations too and get your little ghouls involved!
How can I decorate for Halloween cheap?
Halloween is a much loved holiday around the world and many people pay a fortune purchasing Halloween decorations to get into the spooky spirit.
Rest assured, you don't have to bleed your wallet dry for a stylish, spooky, and fun Halloween. You just need to know where to look for cheap or even free Halloween decorations!
You will find a collection of free printable Halloween decorations right here, that will help you spruce up your venue for Halloween.
What kind of Halloween decorations are there?
We have a great collection of free printable Halloween decorations and there is something for everyone. You can enjoy our range of fun Halloween banners, our stylish Halloween prints, our spooky pumpkin stencils, and even our Halloween activities for kids.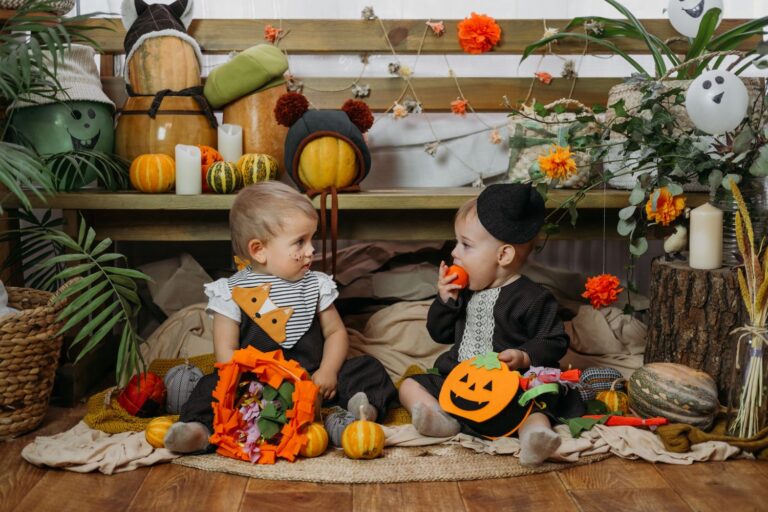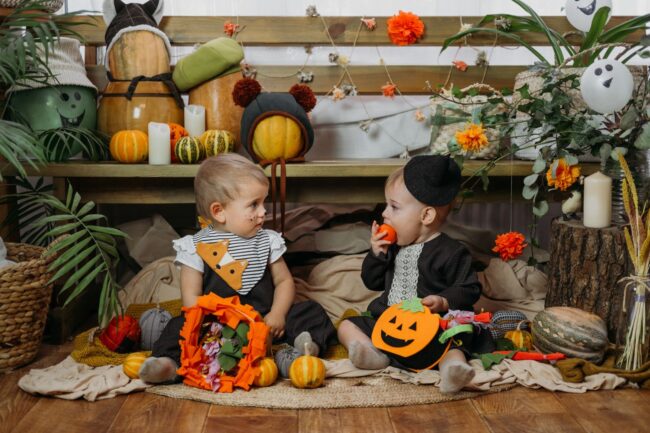 When should Halloween decorations be put up?
Decorating for Halloween is a personal preference. Some people only decorate the day of Halloween and some people decorate on the 1st of October. It all really comes down to what you feel comfortable with.
I personally love to decorate mid-October but this poll from Houzz offers a good insight into when it is a good time to start decorating for Halloween.
Free Printable Halloween Decorations
If you want to decorate for Halloween this year on a budget of next to nothing then we have a great range of free Halloween printables and ideas for you to try out! Halloween doesn't have to be an over-the-top, expensive event. You can quite easily have a good time with free and low-cost Halloween decorations.
Pumpkin Stencils
The centerpiece of all Halloween decorations has to be the pumpkin. We all love to style up our pumpkins in a scary fun kind of way, but not all of us have mad pumpkin carving skills.
So if you're looking for amazing and easy-to-use stencils to help you create the most outstanding pumpkins this year then check out this awesome collection of 50 free pumpkin stencils. These will help you create the best pumpkins in town with ease!
50 Easy Pumpkin Carving Stencils + The Ultimate Guide To Pumpkin Carving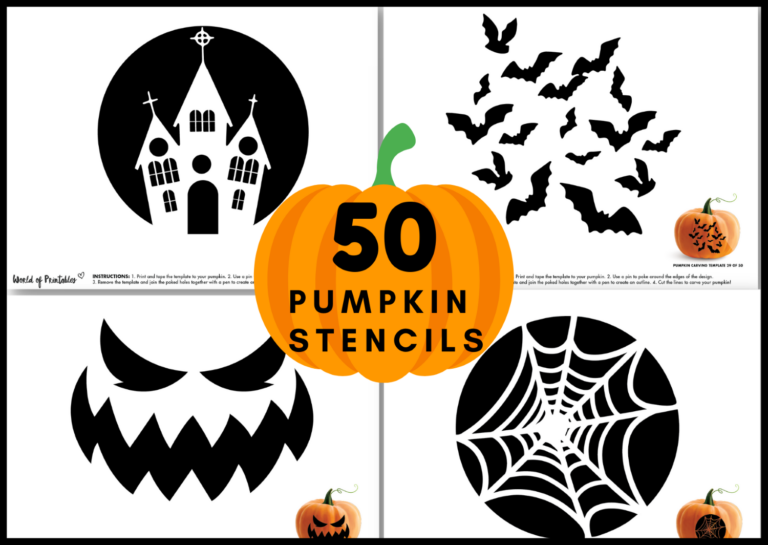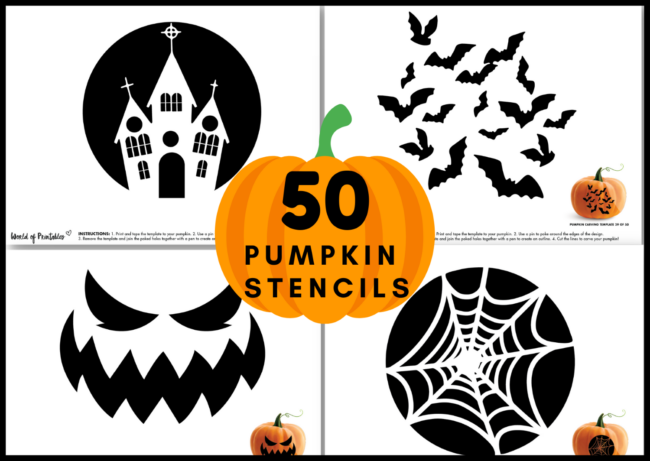 Halloween banners
Free Printable Halloween Bunting
If you're looking for free printable trick or treat bunting then we have you covered. Here you will find four beautifully designed spooky Halloween buntings perfect for any party or event!
Get this: Free Printable Halloween Bunting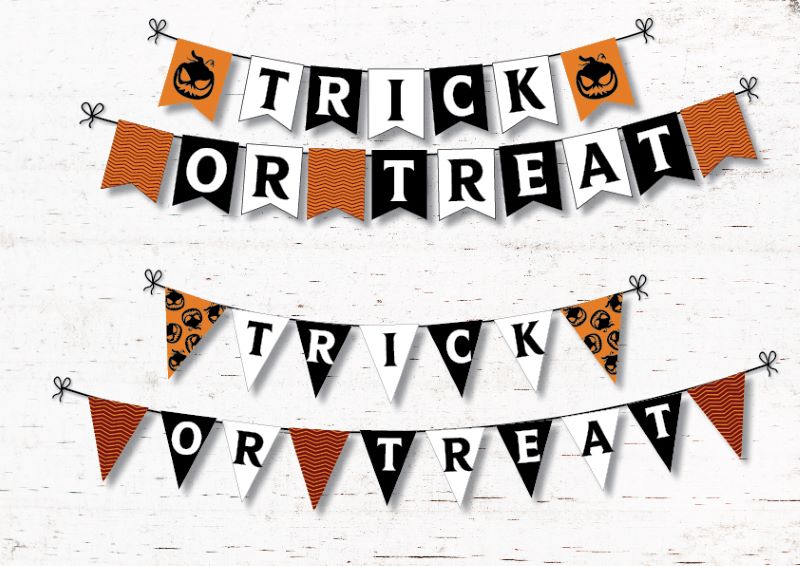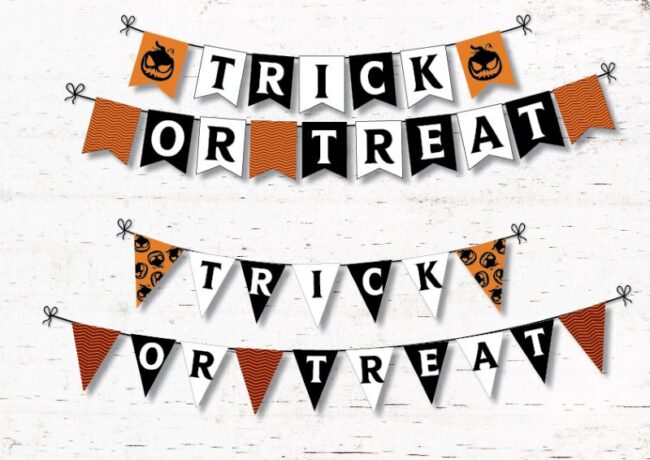 12 Free Happy Halloween Banners
We have 12 amazing happy Halloween banners that are guaranteed to spruce your home or party venue up for the spooky day. These happy Halloween banners come in two styles – traditional banner and pennant banner.
Find your perfect Halloween banner today.
Get this: 12 Free Happy Halloween Banners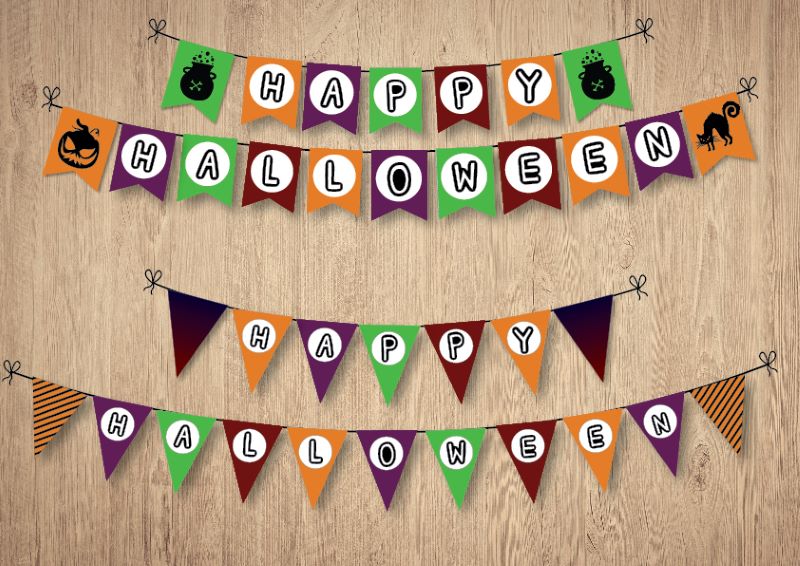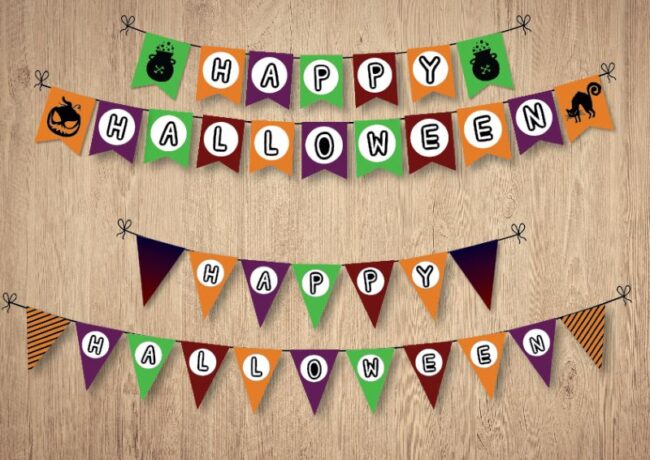 100 Best Halloween Flags
Add bright colors, patterns, and fun spooky images to your Halloween bunting this year. We have a huge collection of different Halloween flags for you to choose from and they are all free! You don't want to miss these.
Get this: 100 Best Halloween Flags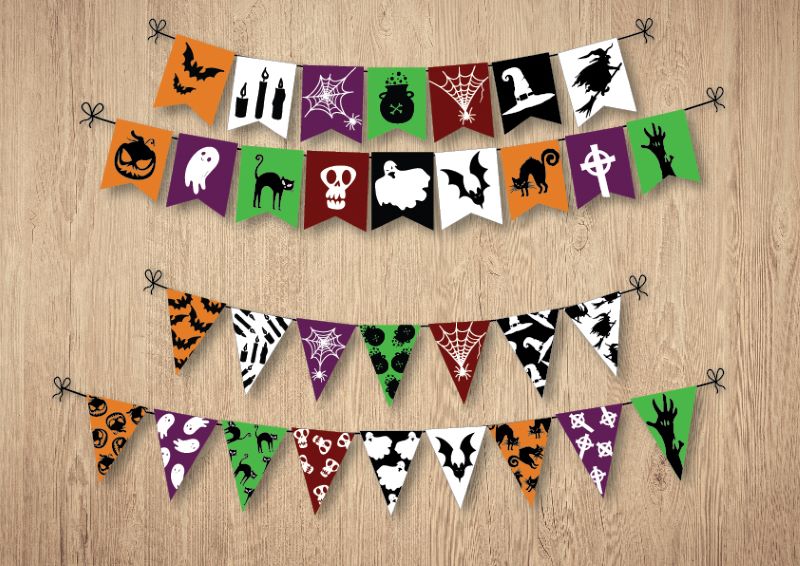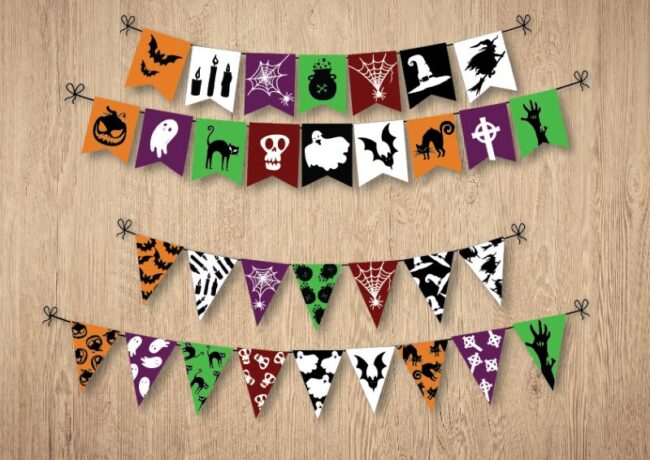 Halloween SVG Files
Boo Halloween Free SVG File
This free Halloween SVG is great for any spooky craft! You can use this to create beautiful teeshirts for wearing during October or to create stickers for your front door! The options are endless!
Get this: Boo Halloween SVG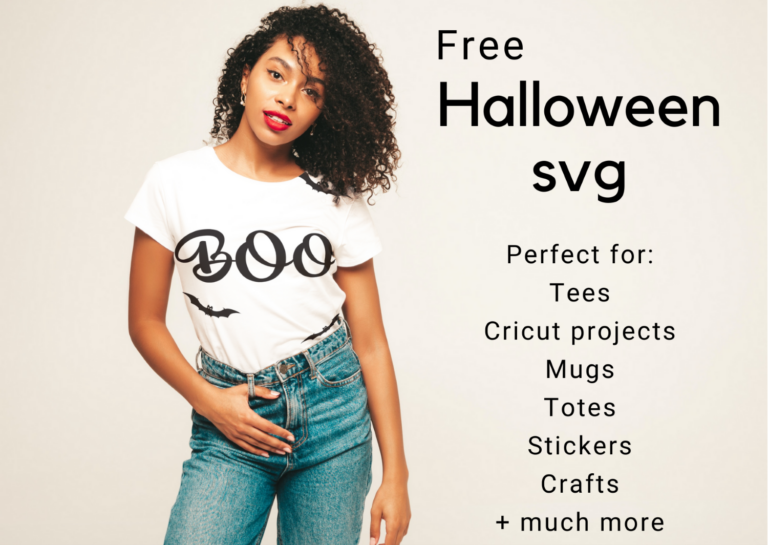 Halloween Prints
Free Printable Halloween Bat Print
This free Halloween Bat Print is a perfect way of adding simple and stylish Halloween decor to your home or venue. Because this print is so minimalist and sleek, you can add this print to your decor way before Halloween night.
Get this: Halloween Bat Print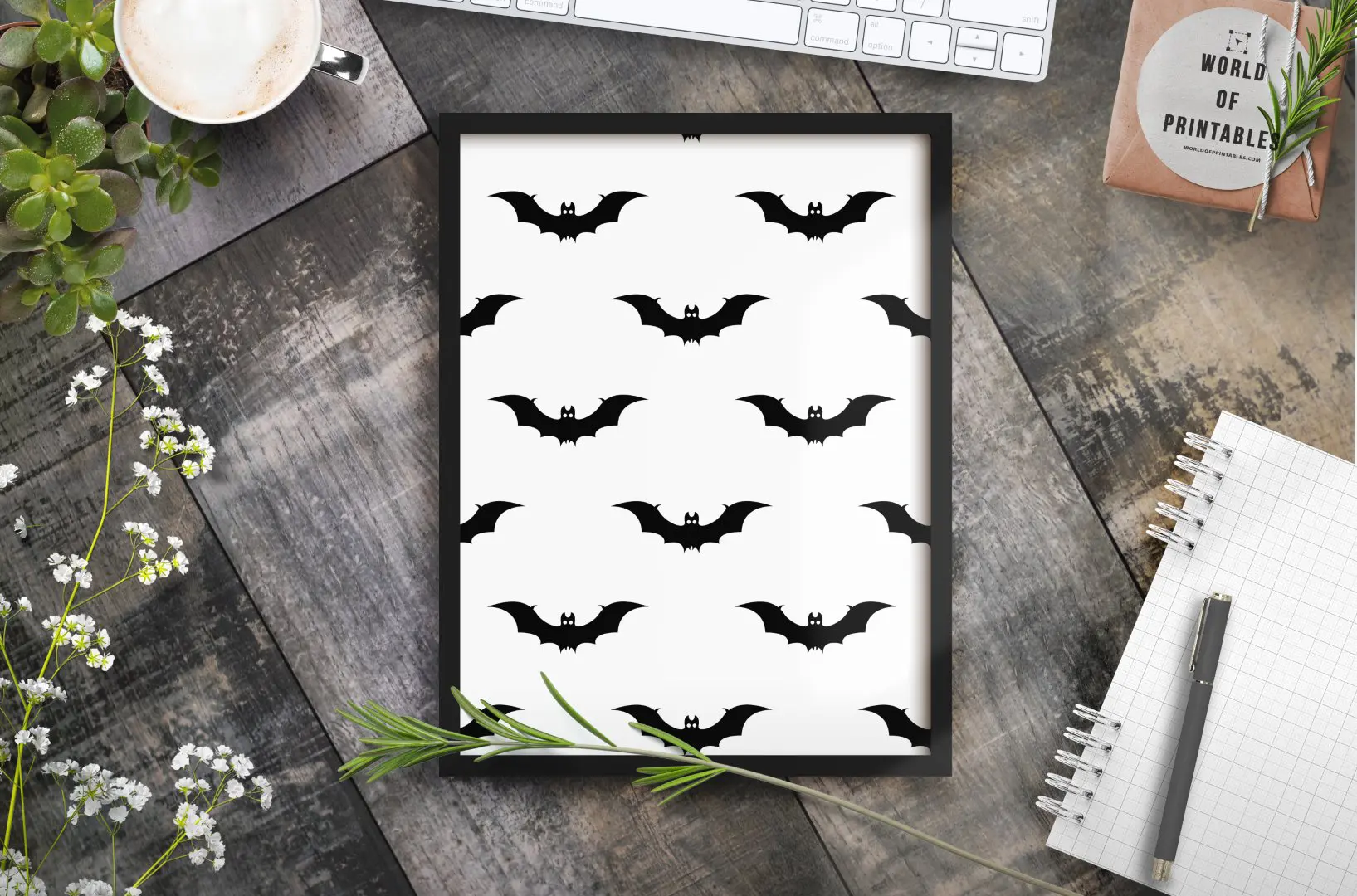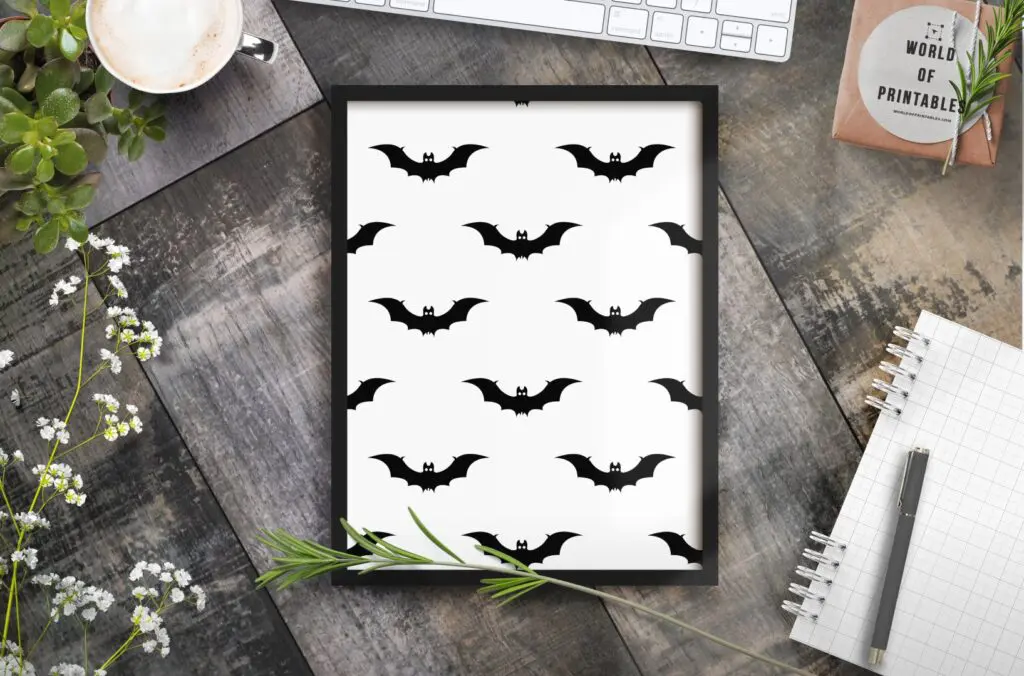 Free Printable Halloween Boo! Wall Print
I love this simple Halloween Art Print. It's the perfect addition to a classy or adult Halloween party and is so easy to use. Frame this print with a black frame and add some spooky cobwebs to finish it off! It will be perfectly placed in a bathroom or above the treat table!
Get this: Halloween Boo! Print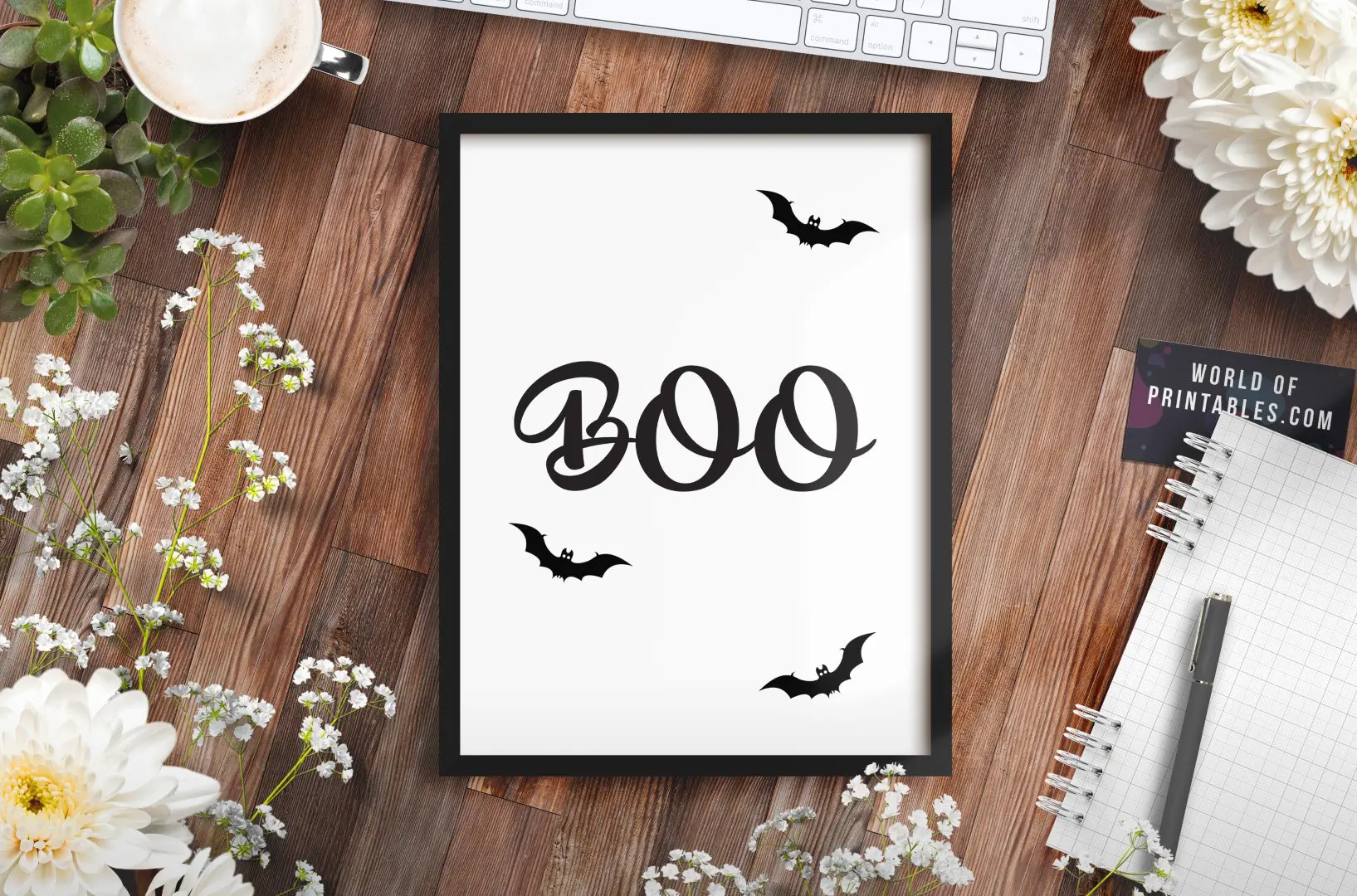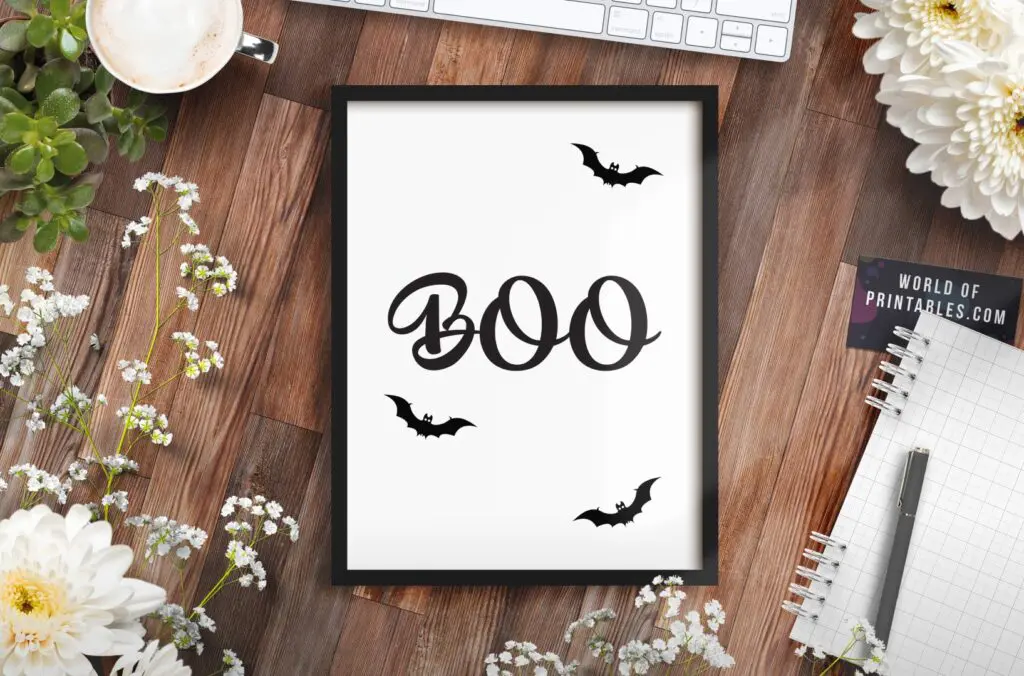 Halloween Activities
Free Printable I Spy Halloween Coloring Page Game
Keep the kids busy while you get the party ready! This fun I Spy Halloween game is perfect for keeping your kids out of the way when you've got to get on with things! You can also use it as a fun giveaway for trick or treaters too!
Get this: I Spy Halloween Coloring Page Game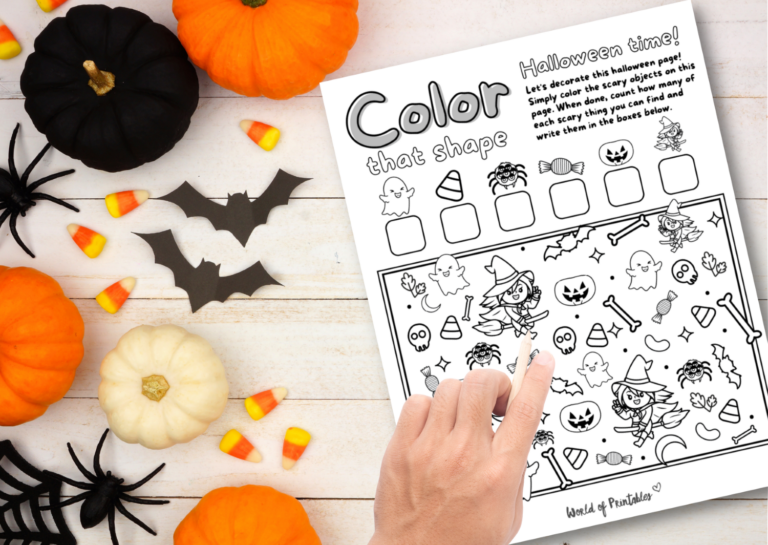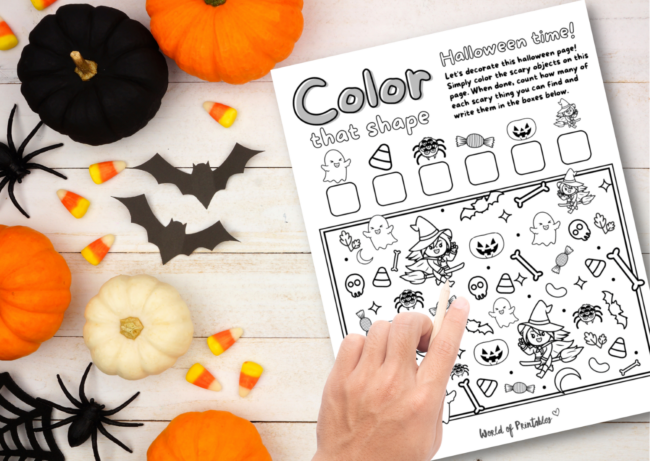 The 20 Best Halloween Coloring Pages
Coloring pages are so much fun and we have a varied selection of Halloween coloring pages for tons of fun. You can use these Halloween coloring pages as a fun group activity or even as a trick-or-treat gift.
Get this: The 20 Best Halloween Coloring Pages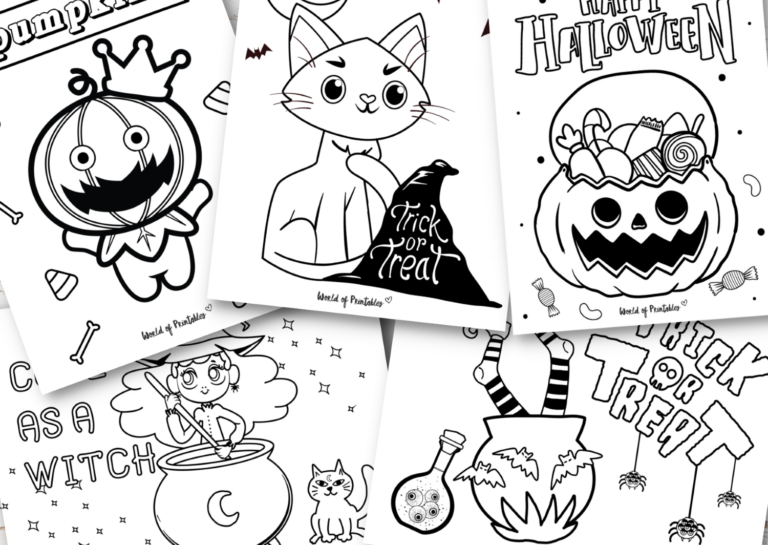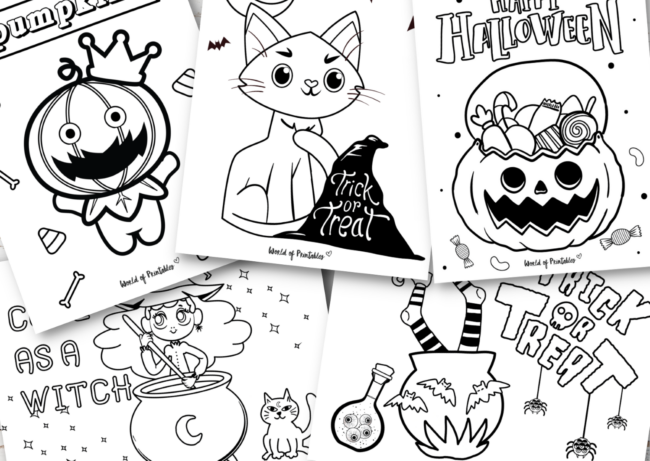 Free Printable Halloween Word Search
I loved word searches when I was growing up. It made me feel clever being able to scour the page and find the words in seconds. I honestly believe doing word searches helped me develop a good knack for quick reading. This Halloween word search is a great way of helping your child find and learn new words in a fun and relatable way. It's a great Halloween activity!
Get this: Halloween Word Search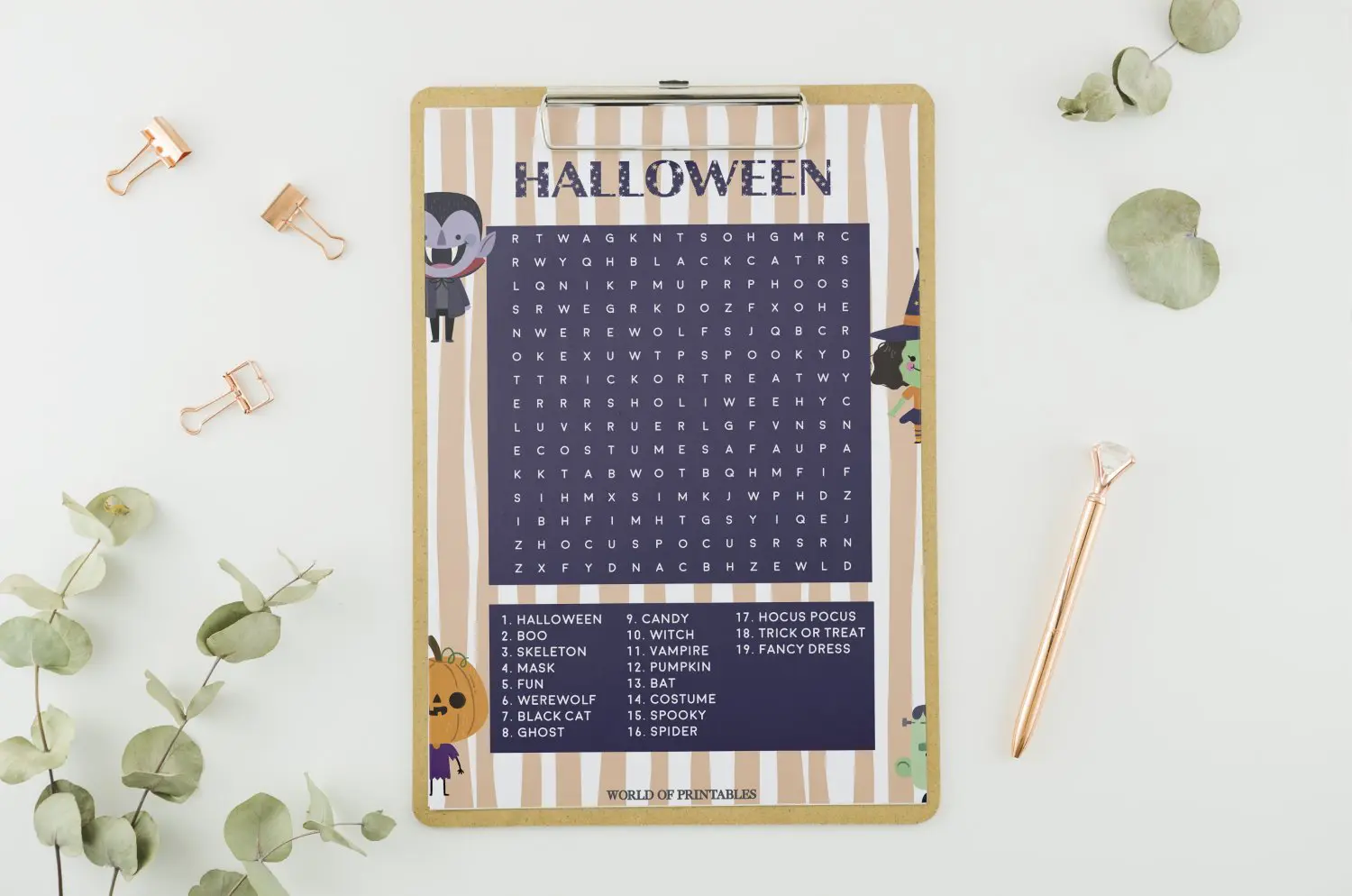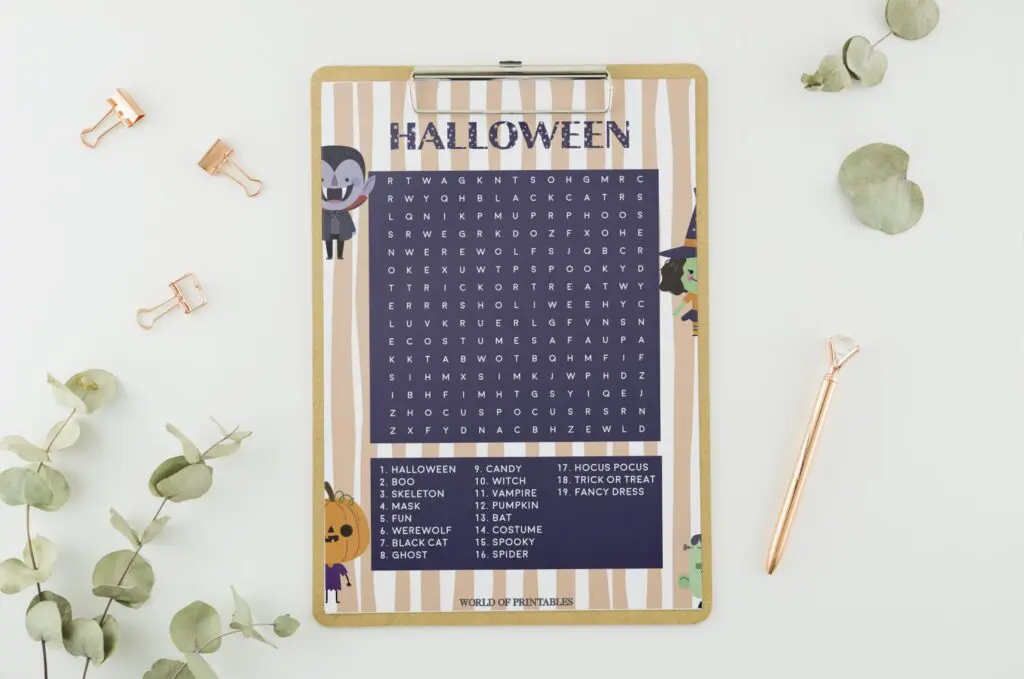 Free Halloween Printables
Will you be printing any of our free Halloween printables for the spooky season? I know I will definitely be saving a few dollars by using our free printable Halloween decorations! They are so amazing and versatile!
Take some of the stress and cost out of Halloween decor with our free printable Halloween banners. They are a free and simple option for everyone and you can even combine them with many of our other free Halloween decorations!
As well as all of our Halloween banners that you'll find here, we also have many styles of banners for other celebrations too. You'll especially love our birthday banner ideas if you're planning a birthday celebration soon.
More Halloween printables for your family to enjoy
We've created many more useful printables for you for the fun up to Halloween and you can get them all for free right here.
Everybody decorates their homes with pumpkins at Halloween, so if you're looking to style your pumpkins this October then see our pumpkin carving stencils for lots of free templates to help you turn a pumpkin into something awesomely scary this Halloween! It's also the ultimate guide to pumpkin carving.
Also, for fun Halloween games, see our popular Halloween I Spy Game which kids love, and our huge selection of Halloween Coloring Pages that will keep your kids happy for hours.
We've got tons more Halloween Printables for you to get, print, and enjoy for free.
Be sure to grab as many printables as you can while you're here and print them off whenever you need activities for your kids.
Have a happy Halloween!
If you love this post and our Halloween freebies, then please share this post and follow us on Pinterest for more awesome free printables. It really helps us out and allows us to make many more amazing free printables!
If you use any of our free decorations this Halloween then tag us on Instagram! We would love to see how you used our freebies!
We also have a huge range of printables for adults too here on World of Printables. You'll find printables and templates to help you plan and organize all aspects of your life.
Follow World of Printables on Pinterest