Introducing the Happy Habit Planner: Plan it, Live it, Love it!
In a world of constant hustle and bustle, staying organized and focused on your goals can be a challenging endeavor. That's why we're thrilled to introduce the Happy Habit Planner, your all-in-one digital companion to help you conquer life's chaos and stay on track. Designed with a cute and creative style, this free premium digital planner is not just about planning – it's about making every day count. Let's dive into the amazing features, benefits, and how to make the most of it.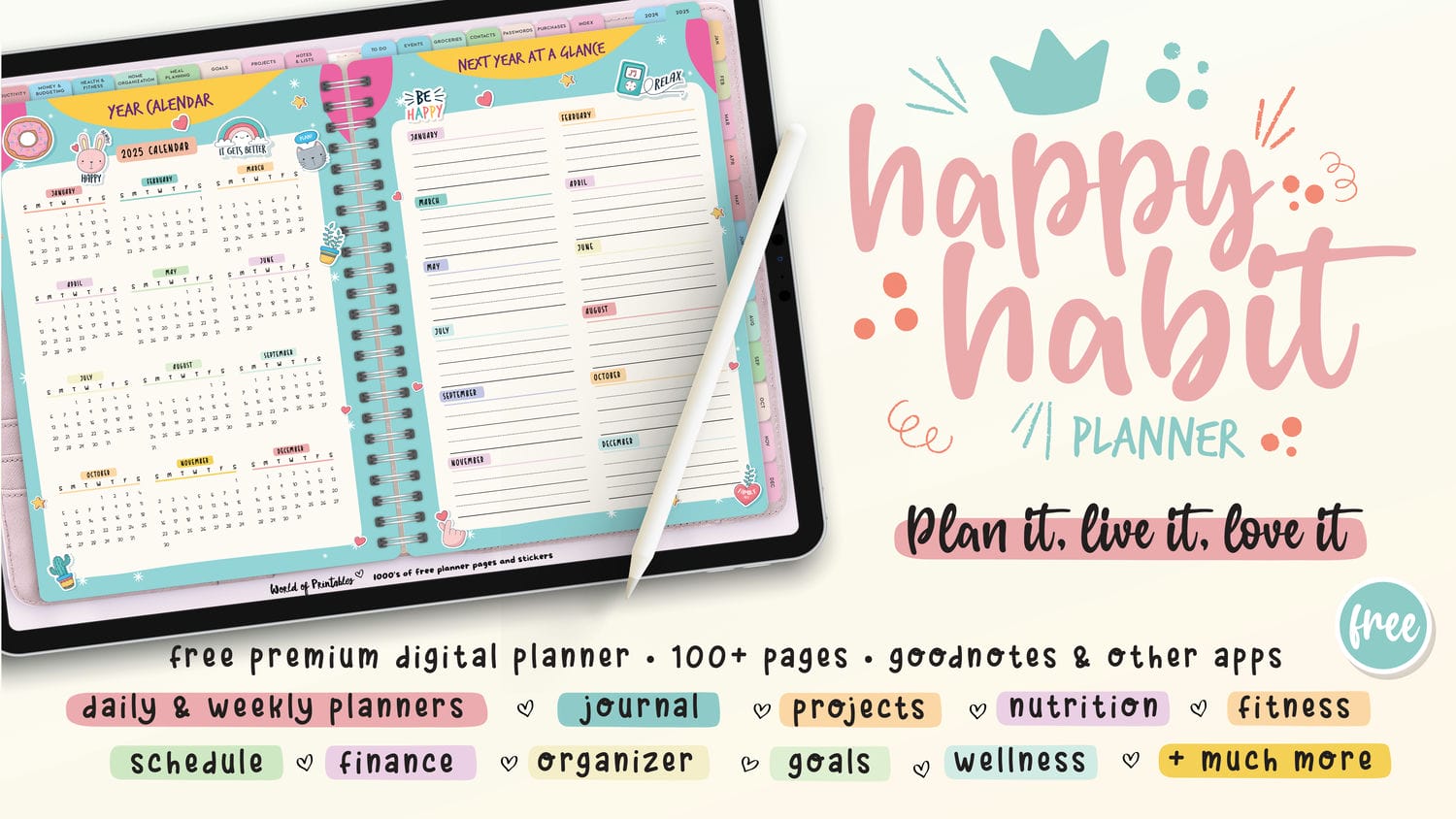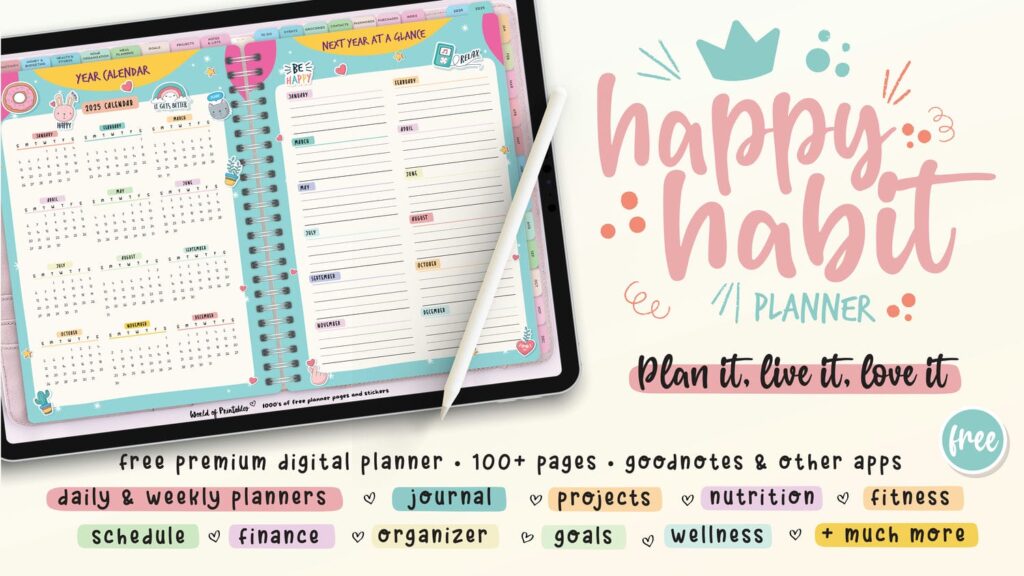 What is the Happy Habit Planner?
The Happy Habit Planner is your digital partner for staying organized, achieving your goals, and enhancing your daily life. It offers an extensive collection of beautifully designed pages, tailored to your every need, and all for free.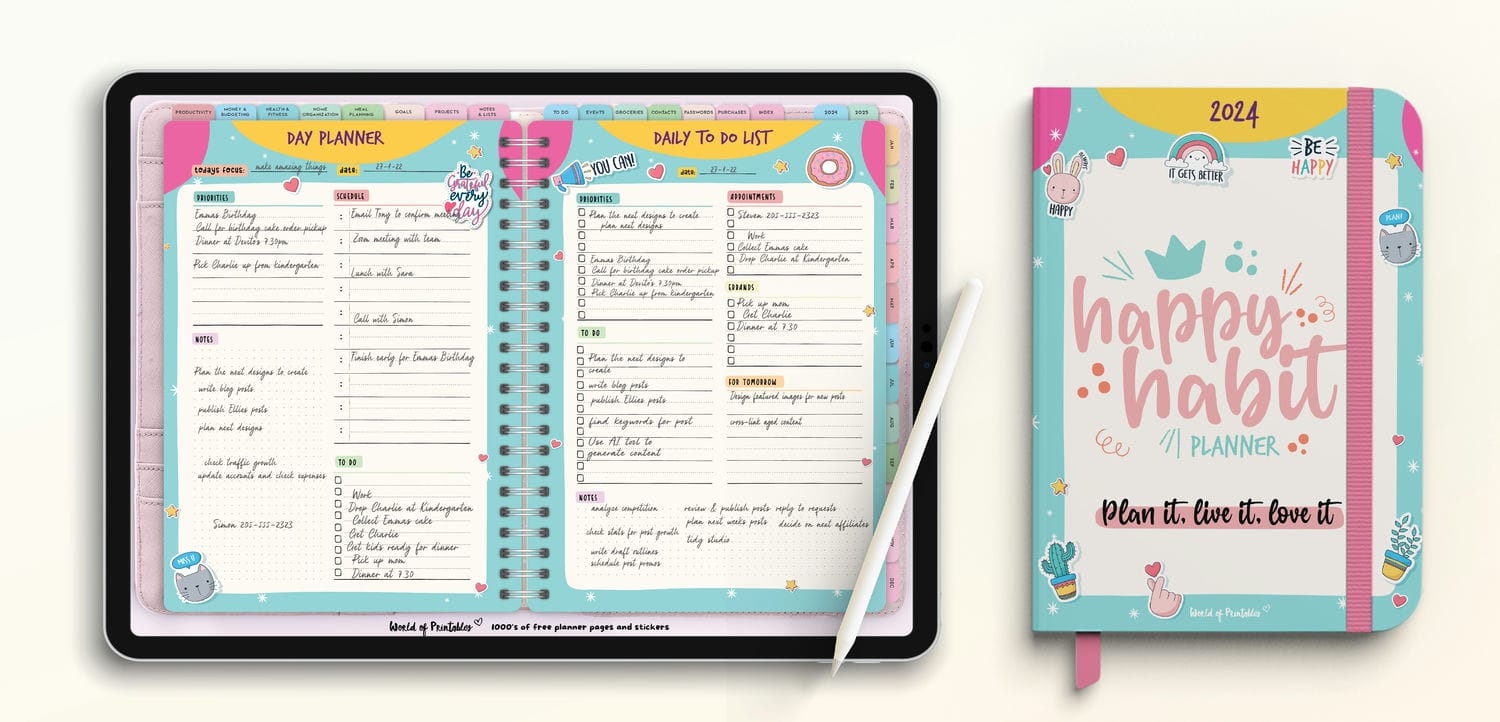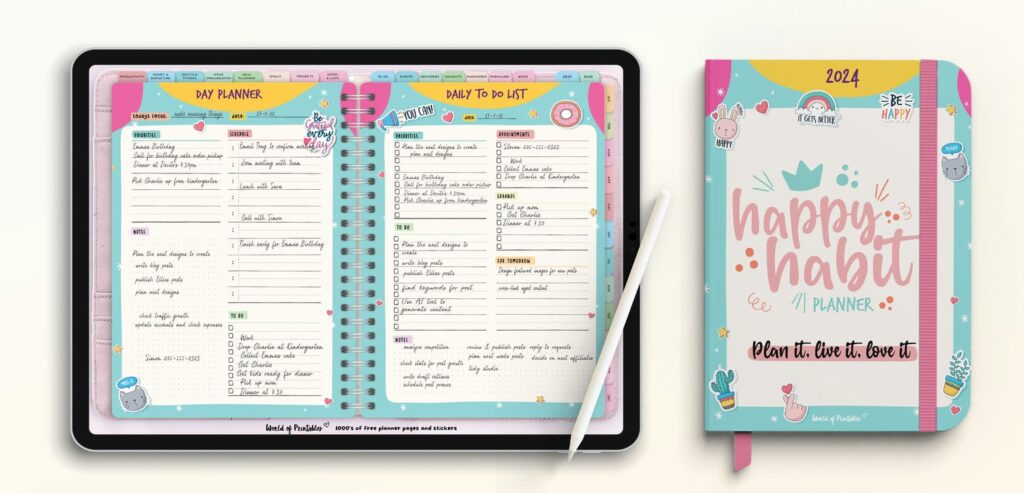 Let's explore the fantastic features and benefits of the Happy Habit planner:
Features:
1. Schedules and Planners:
Daily, weekly, and monthly planners to keep your days well-organized.
2024 year calendar for year planning.
2025 year calendar for future planning.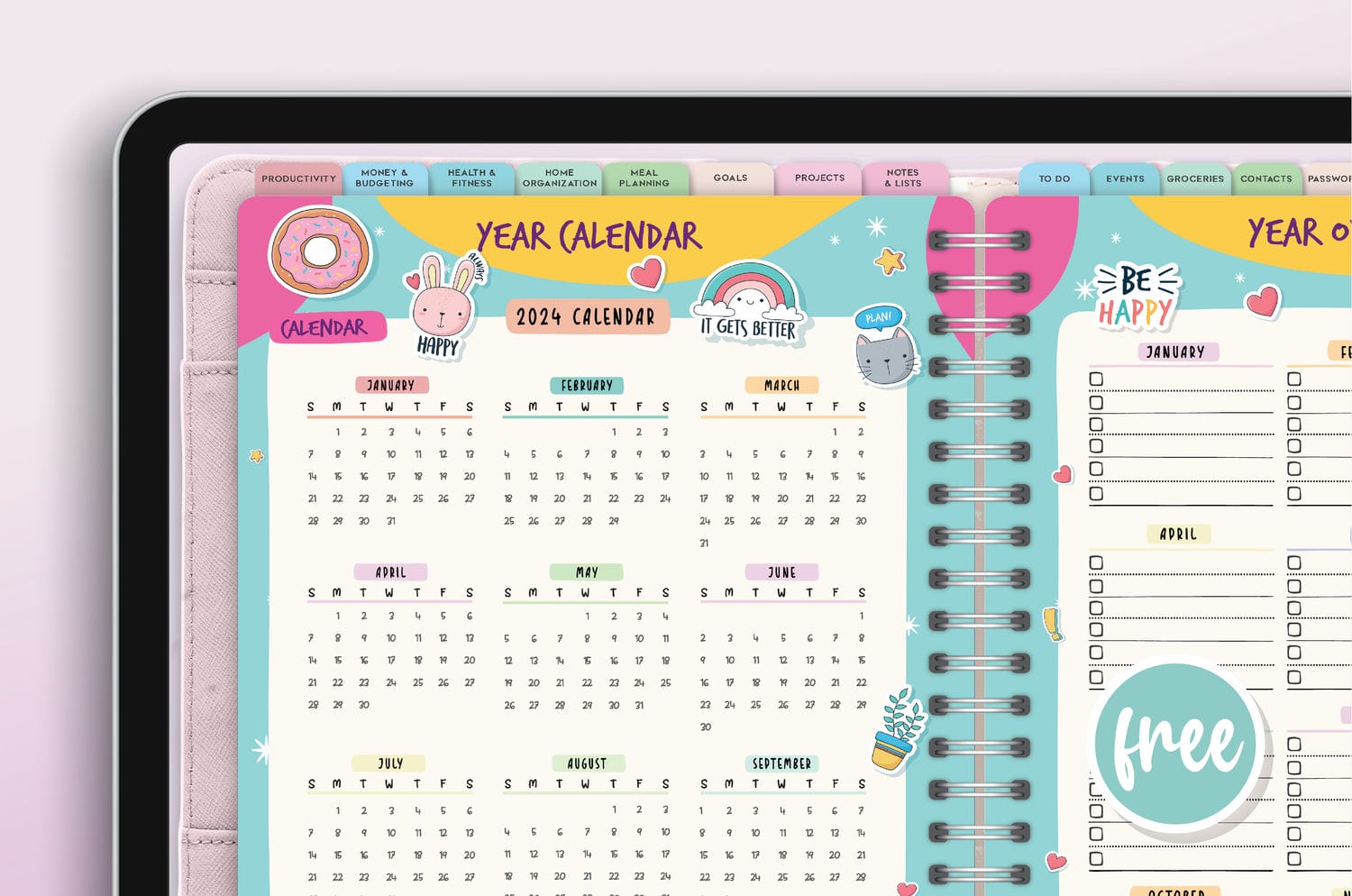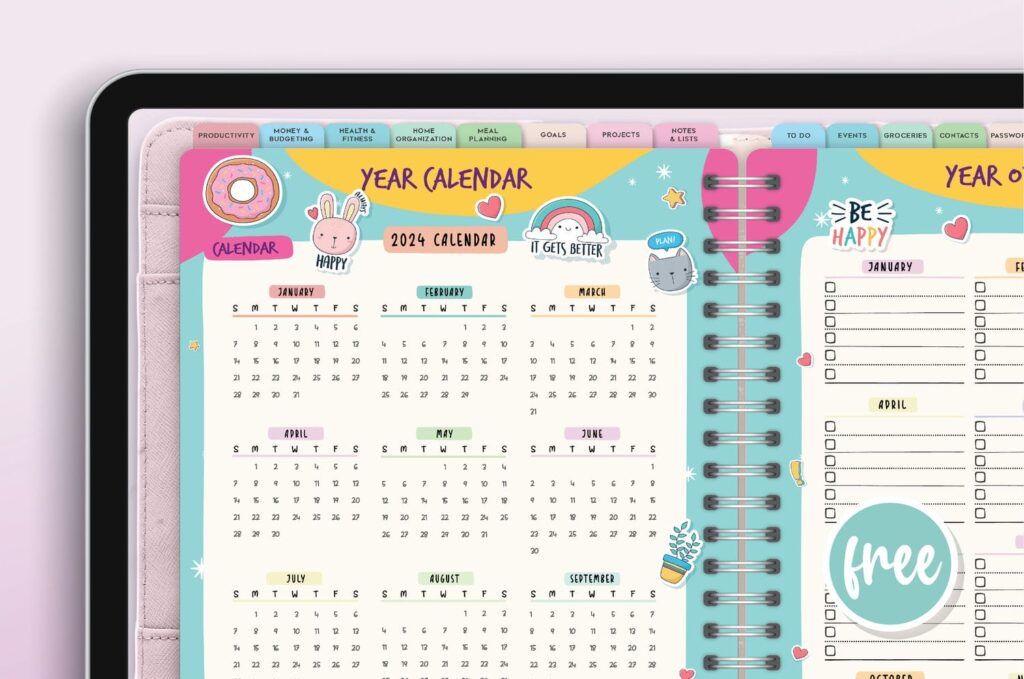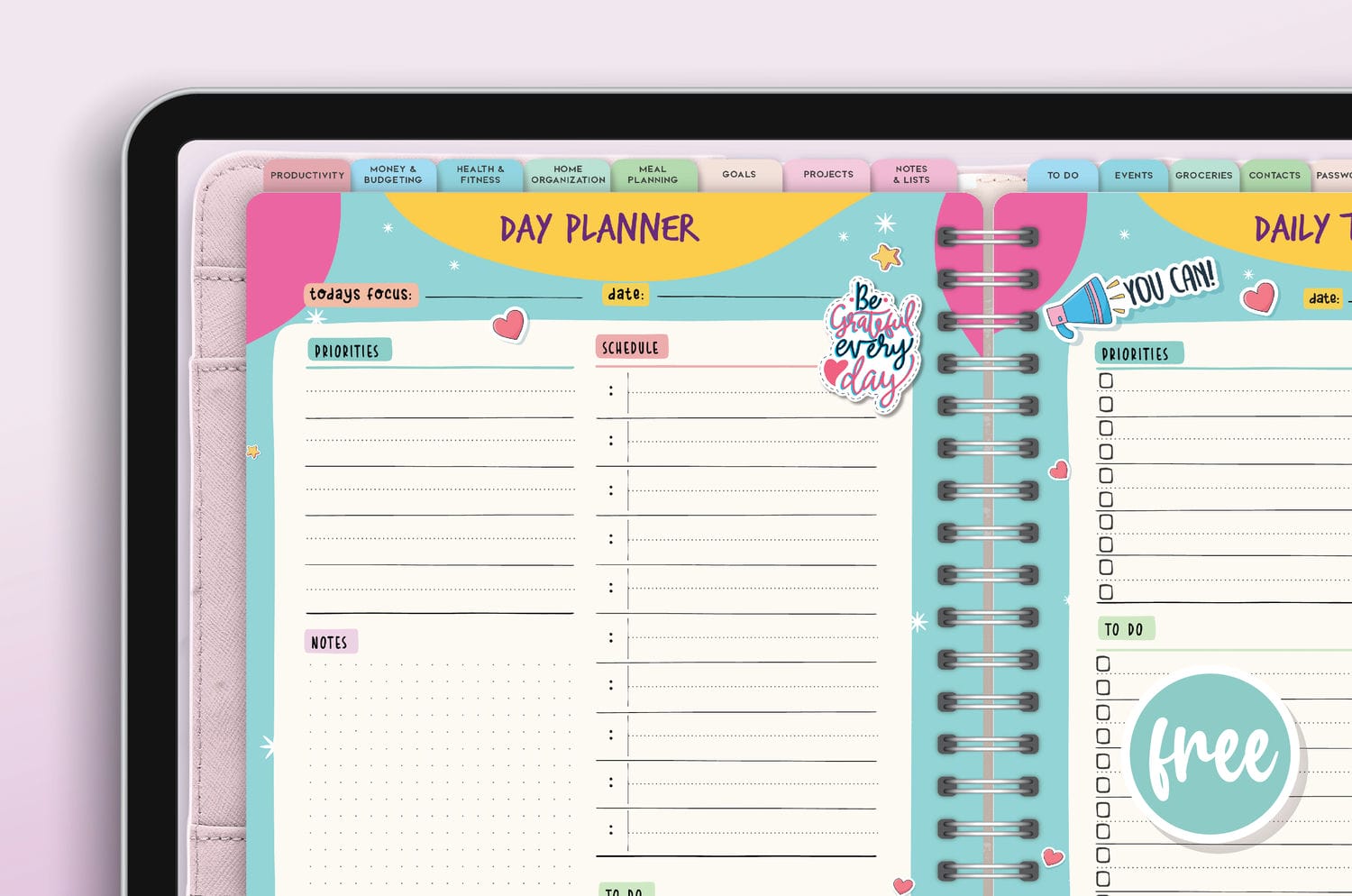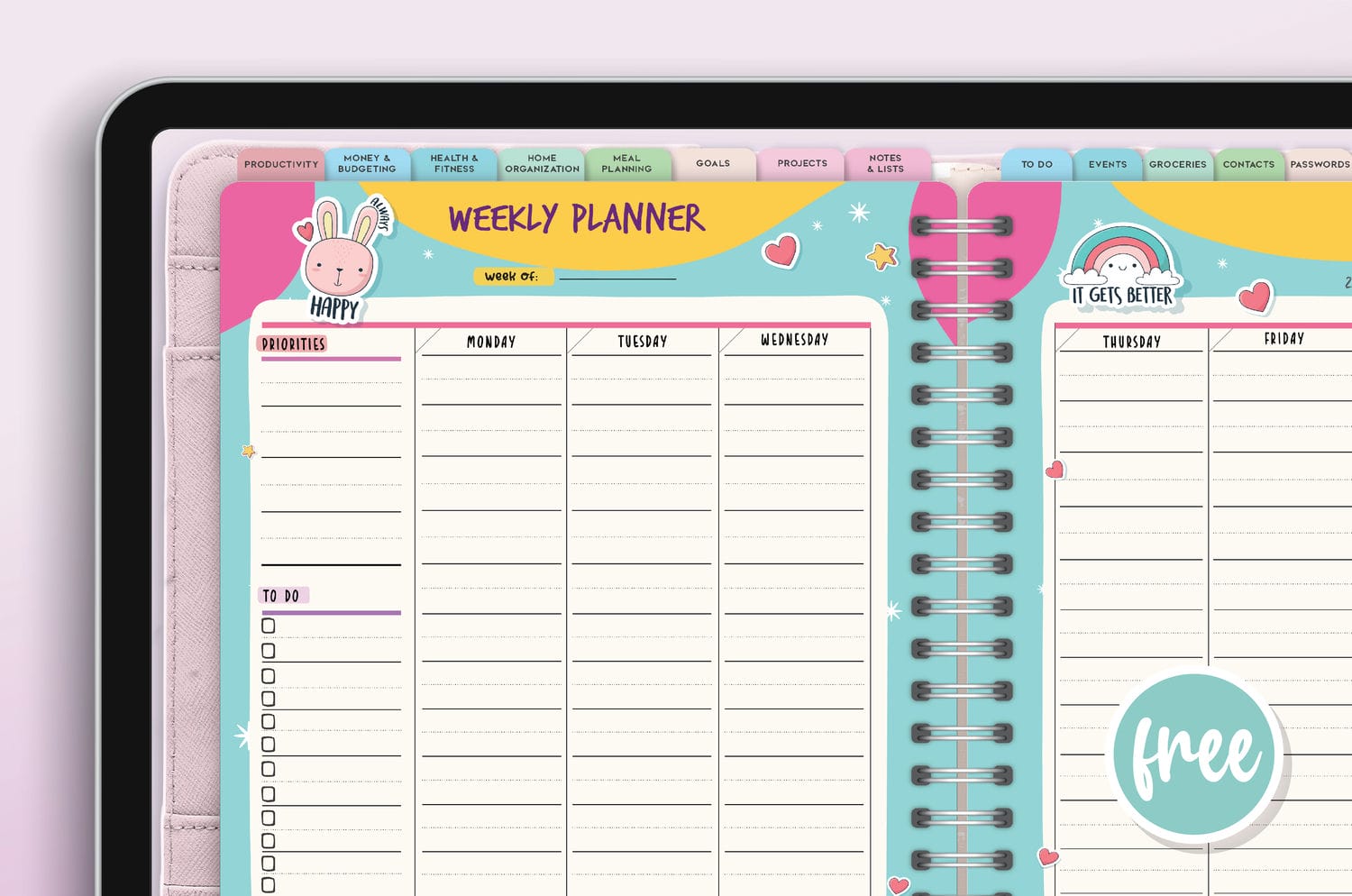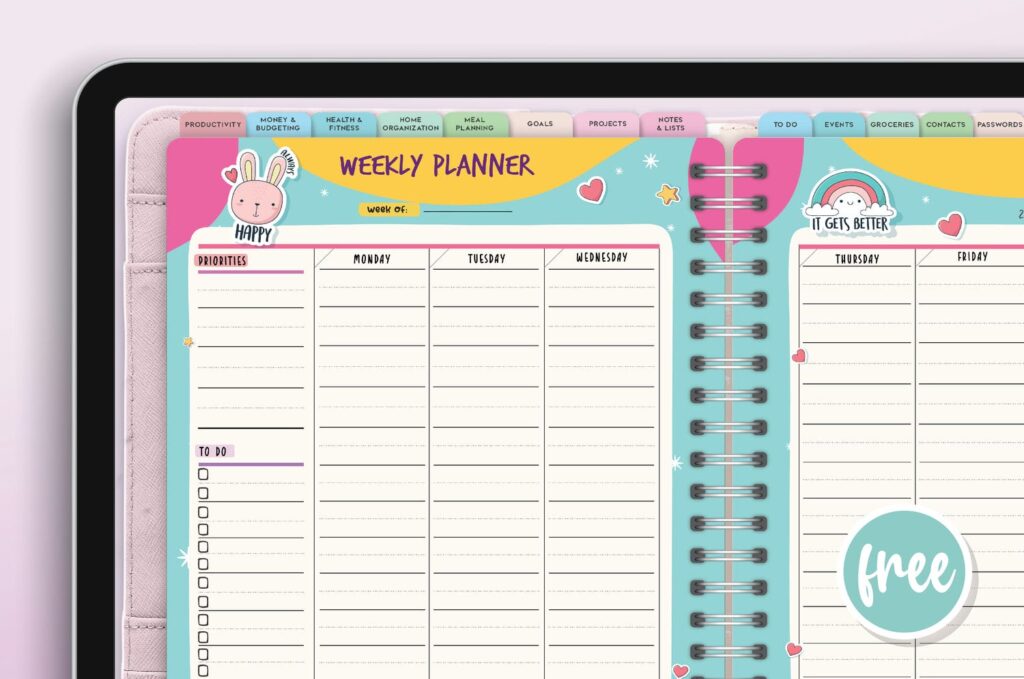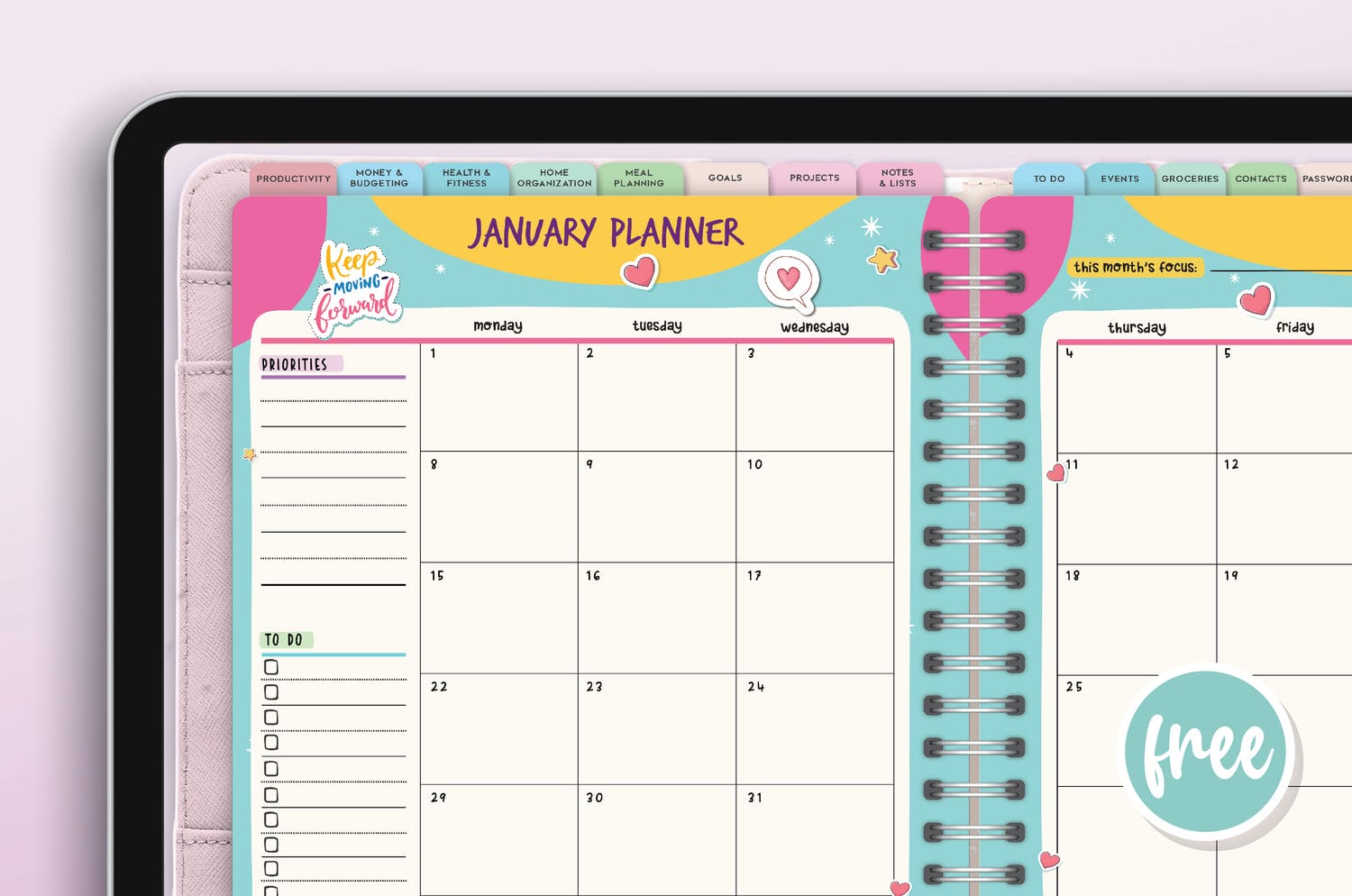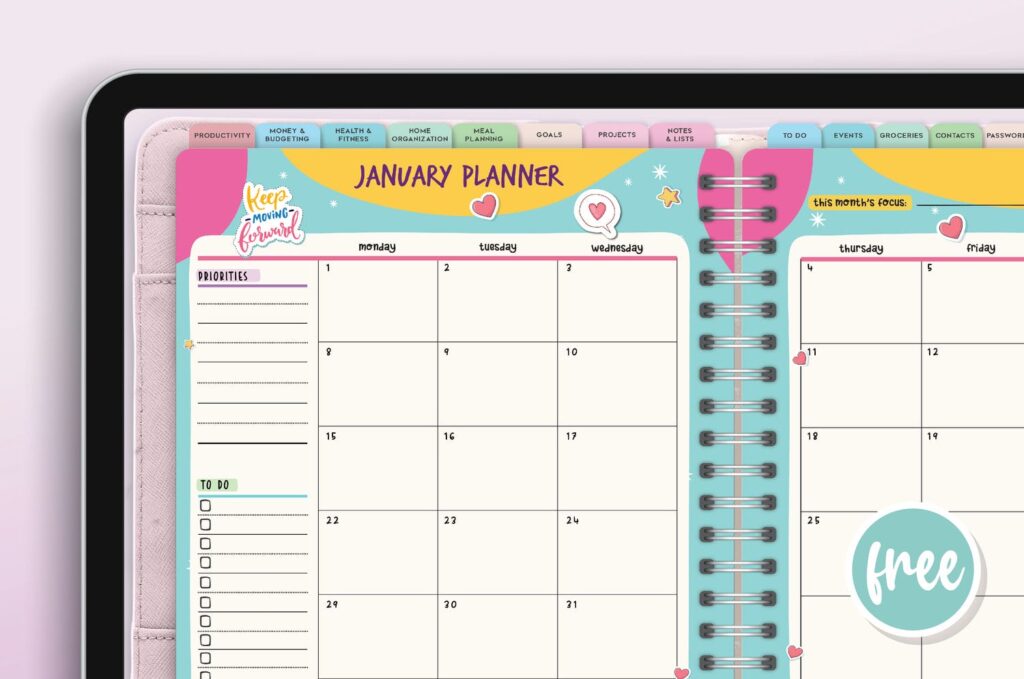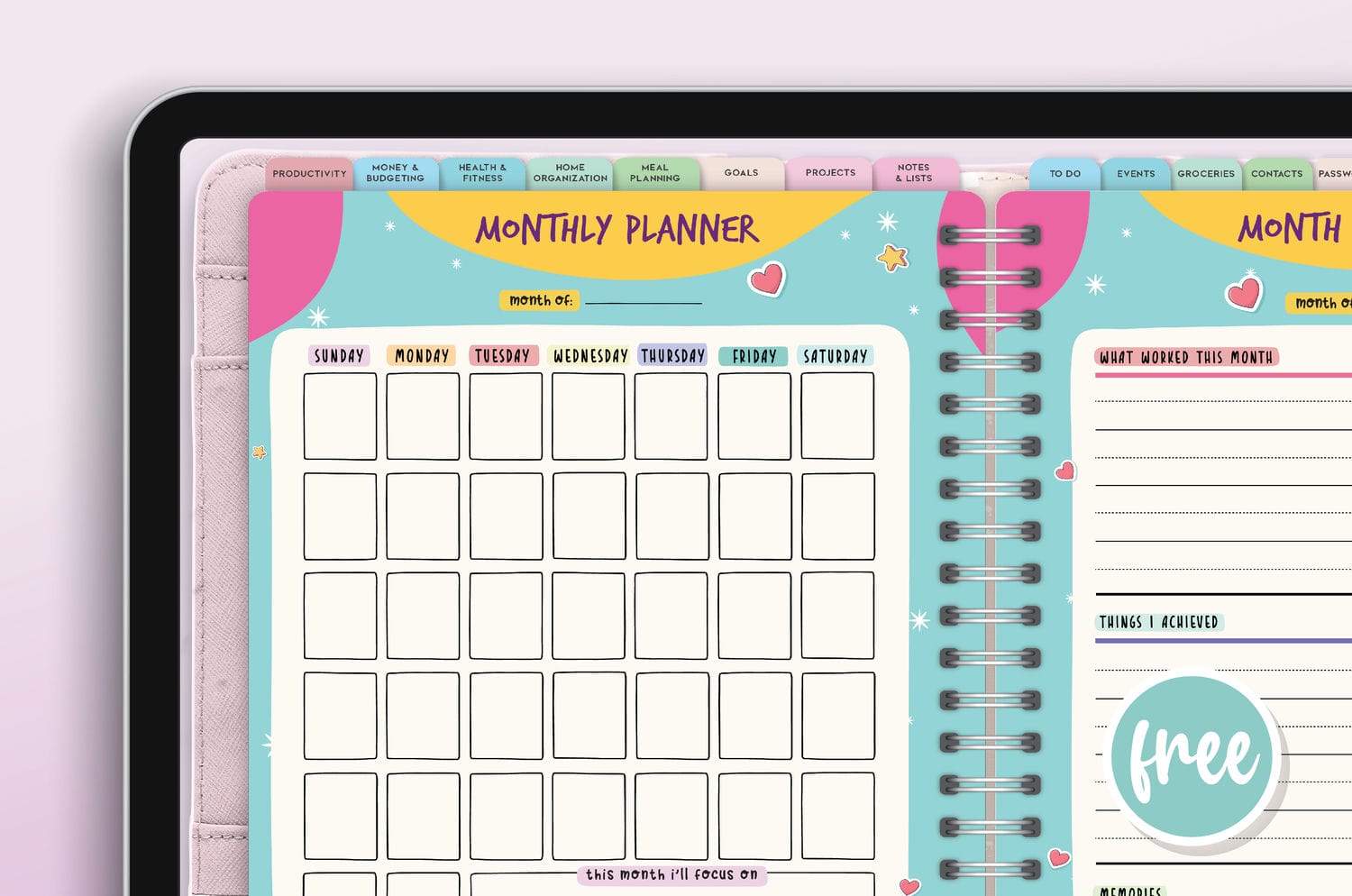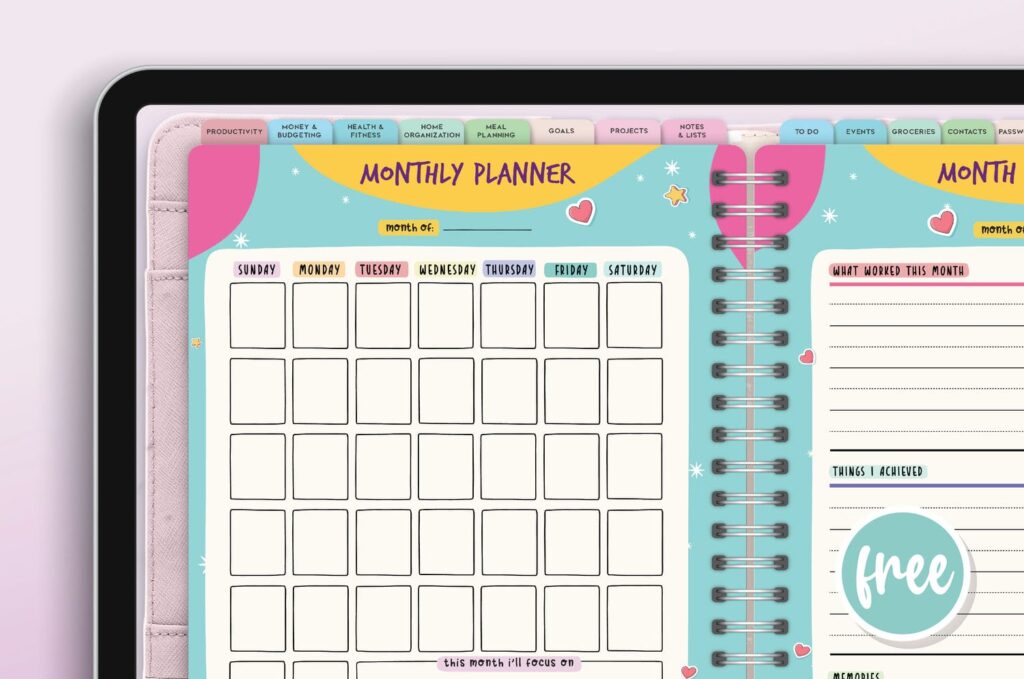 2. Goal Planner:
Set, track, and achieve your goals, both big and small.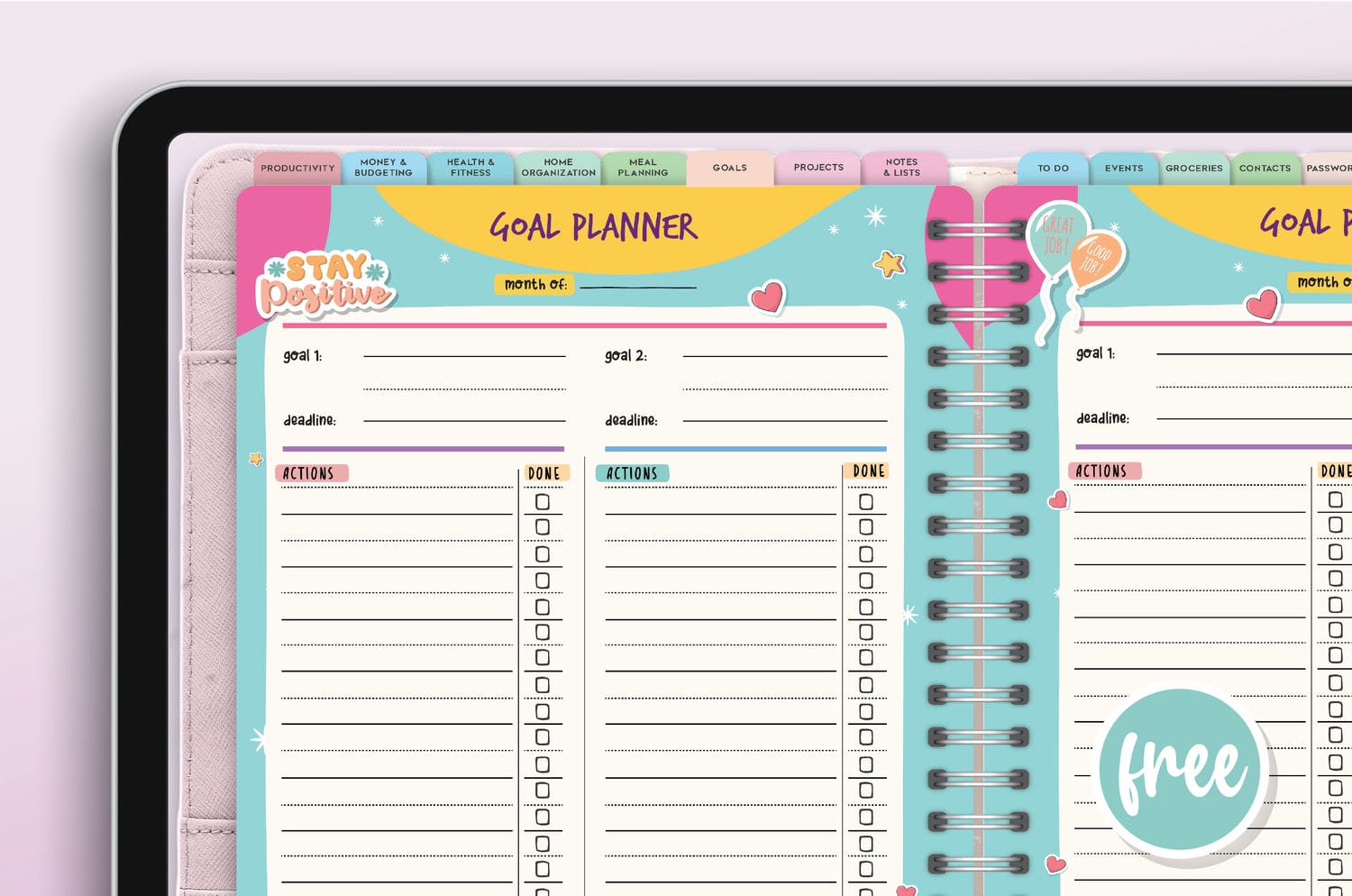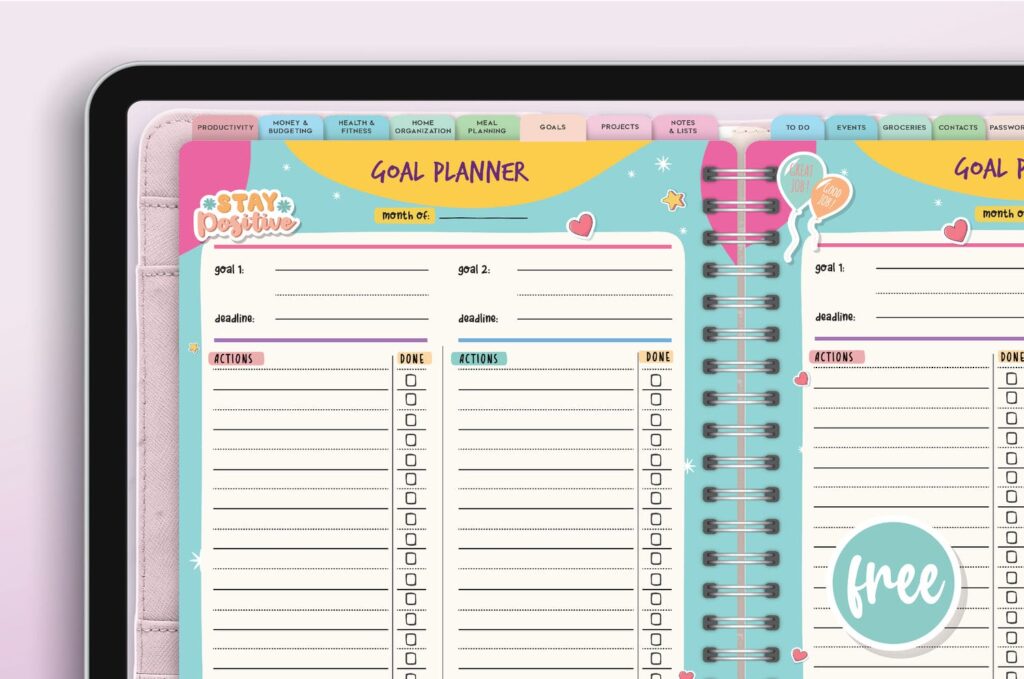 3. Health and Fitness:
Monitor your health, track your fitness journey, and maintain a record of your weight and meals.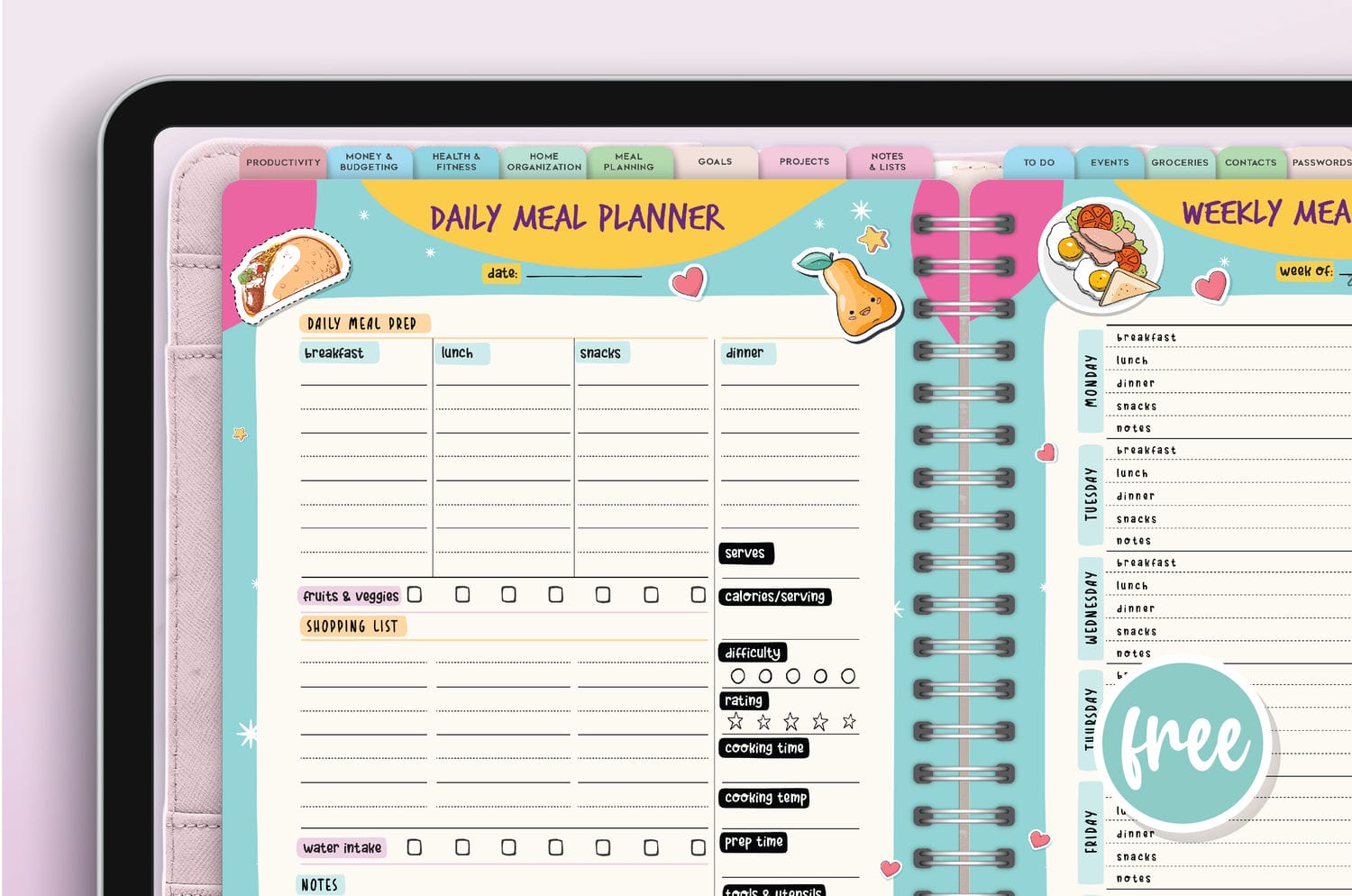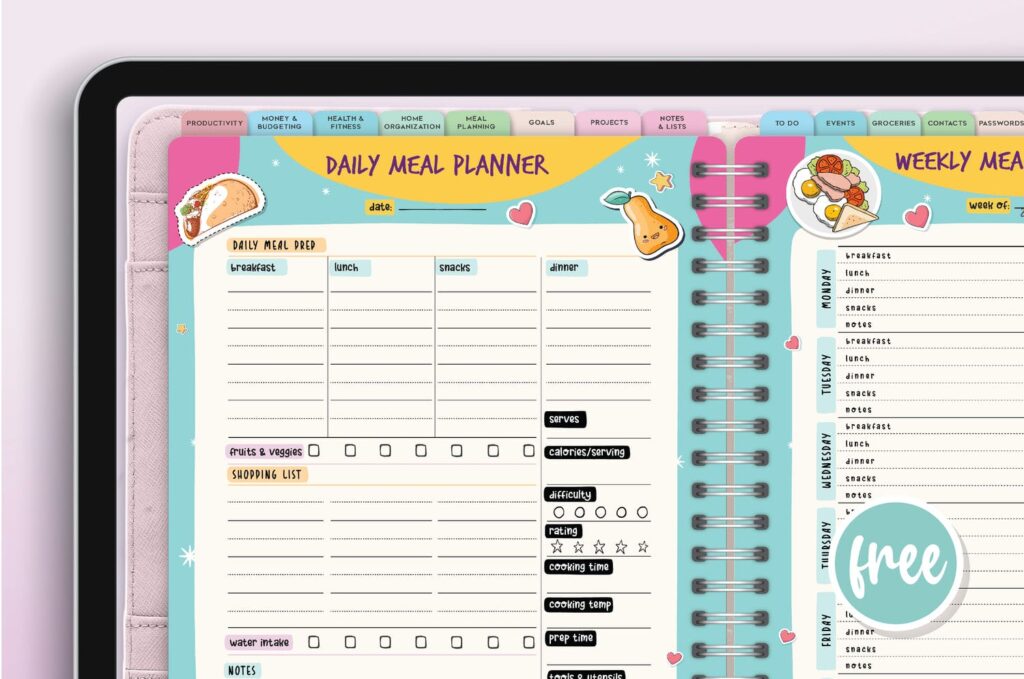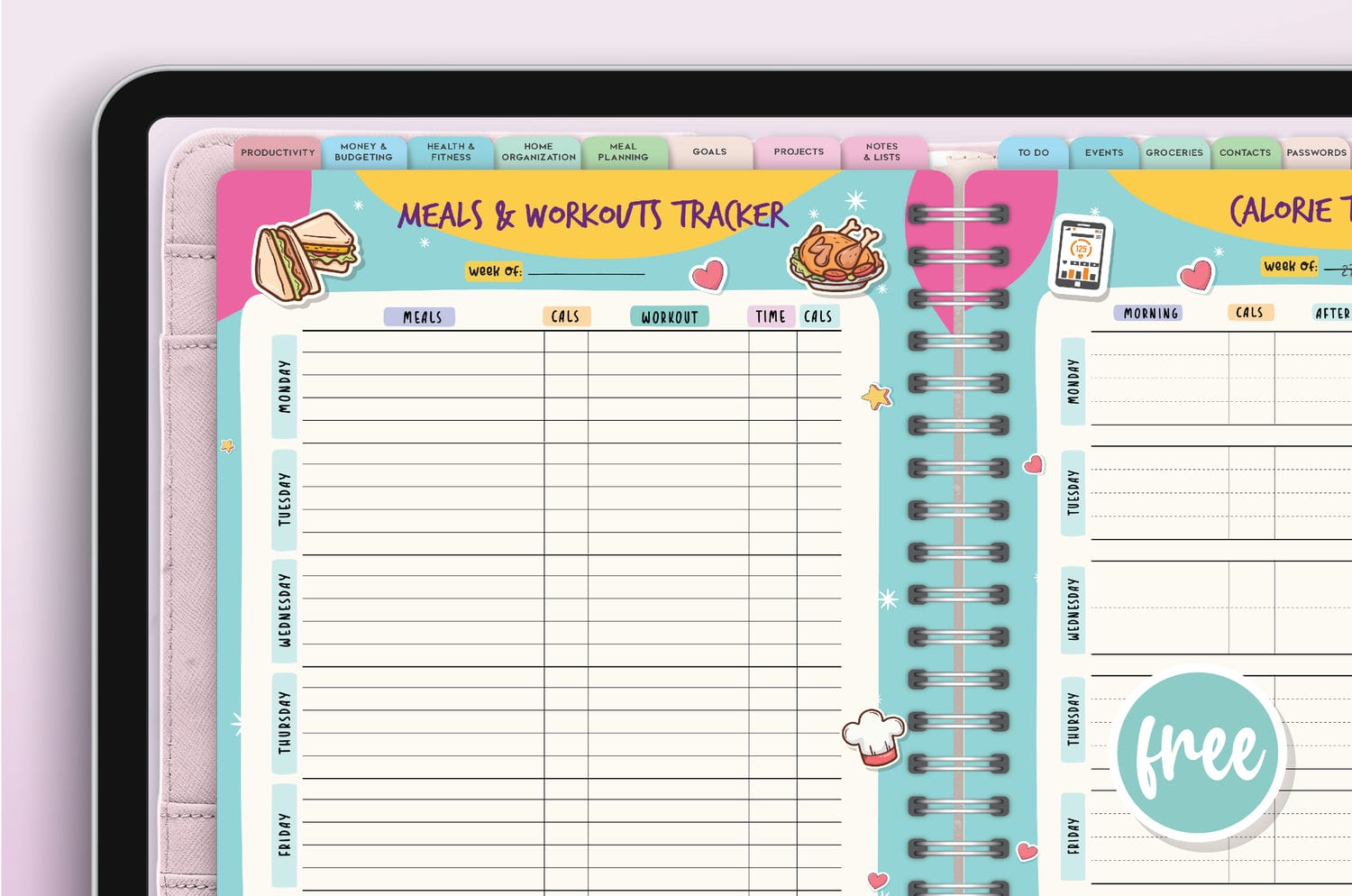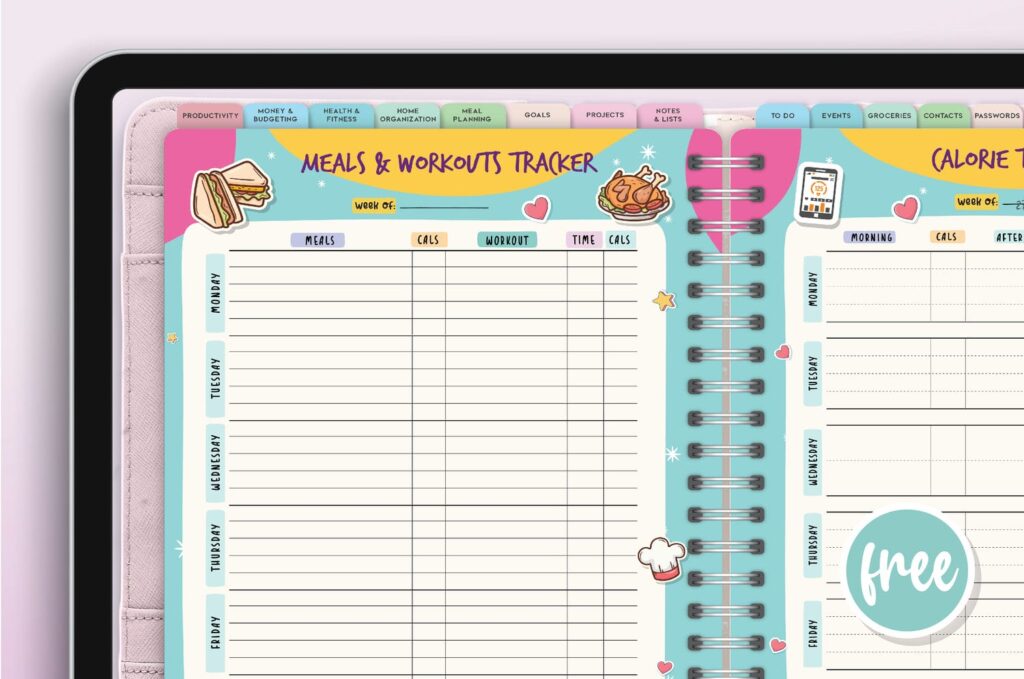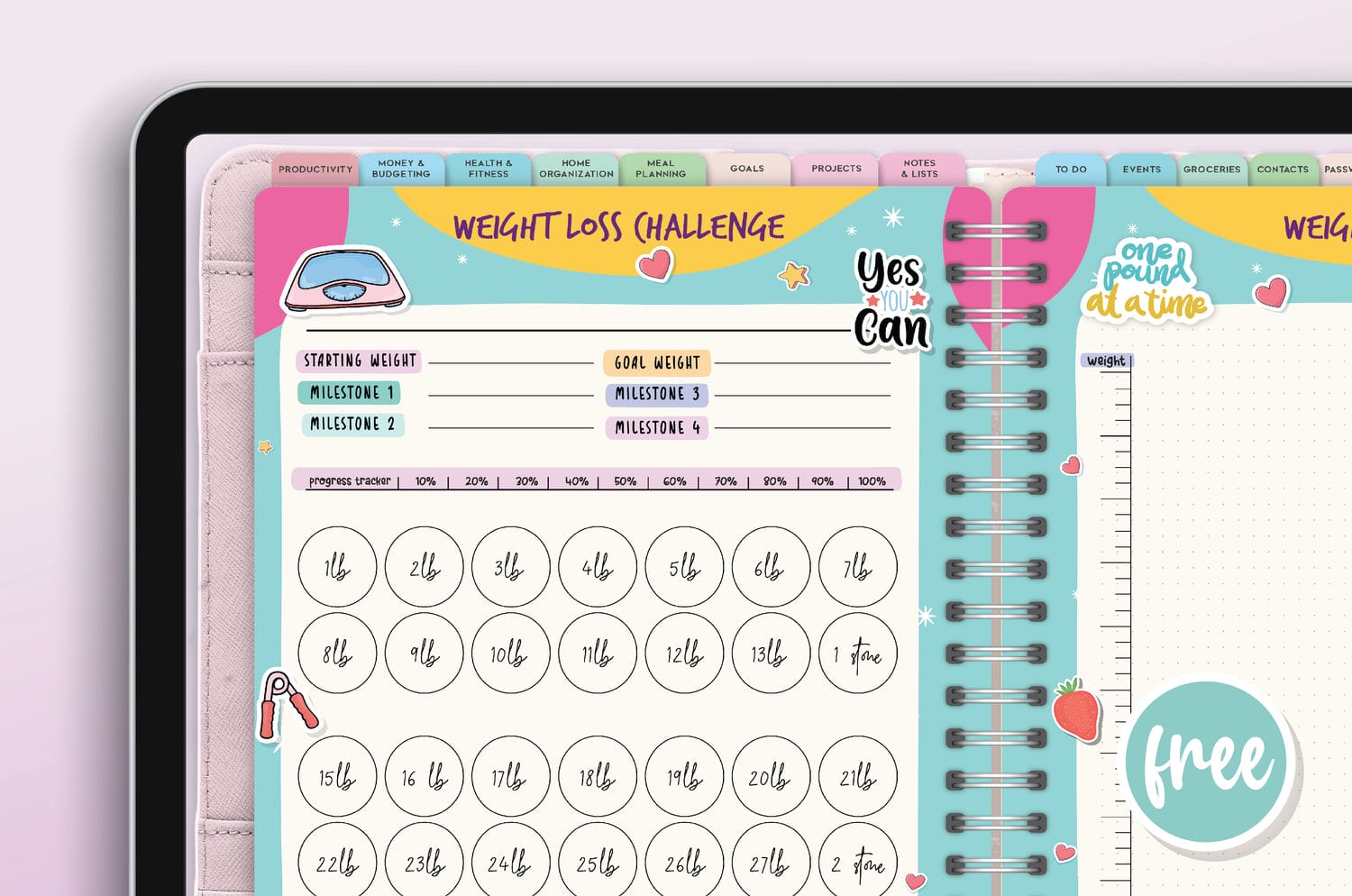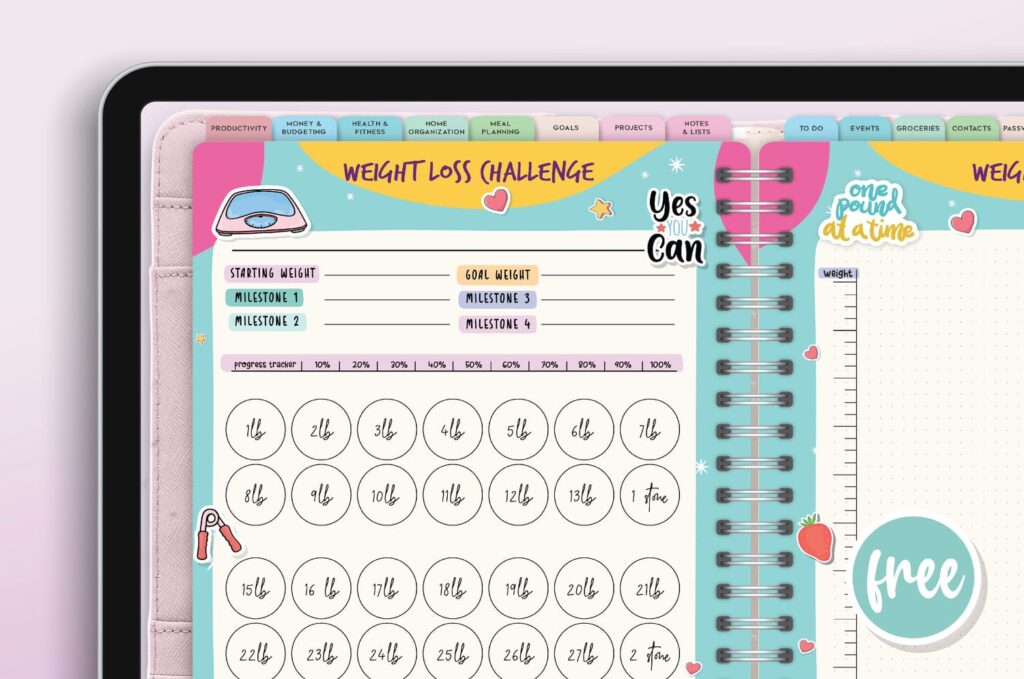 4. Finance Tools:
Budget tracker, savings tracker, debt tracker, and spending tracker to help you manage your finances efficiently.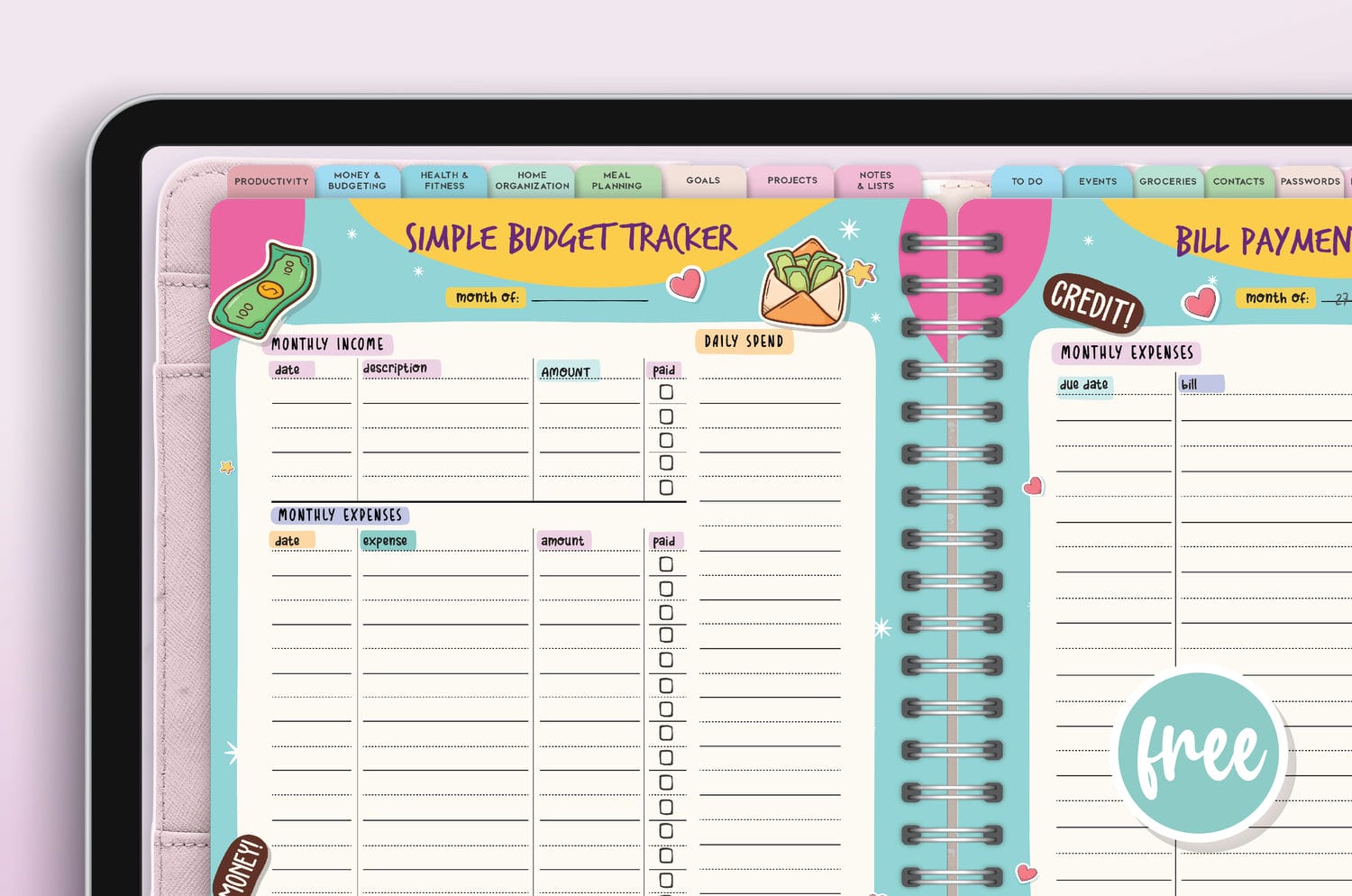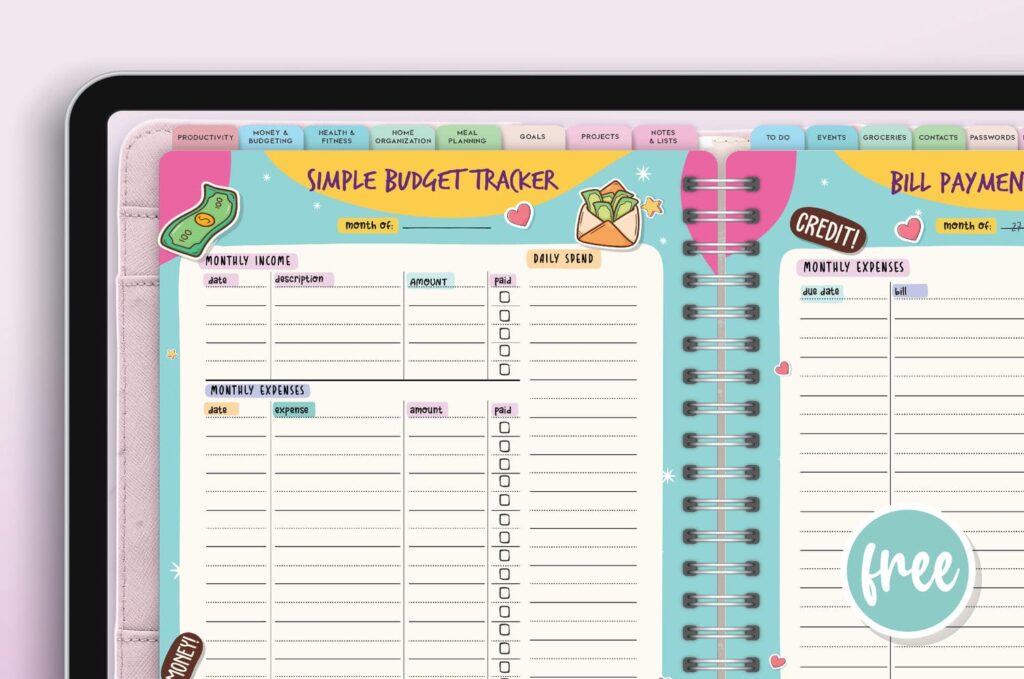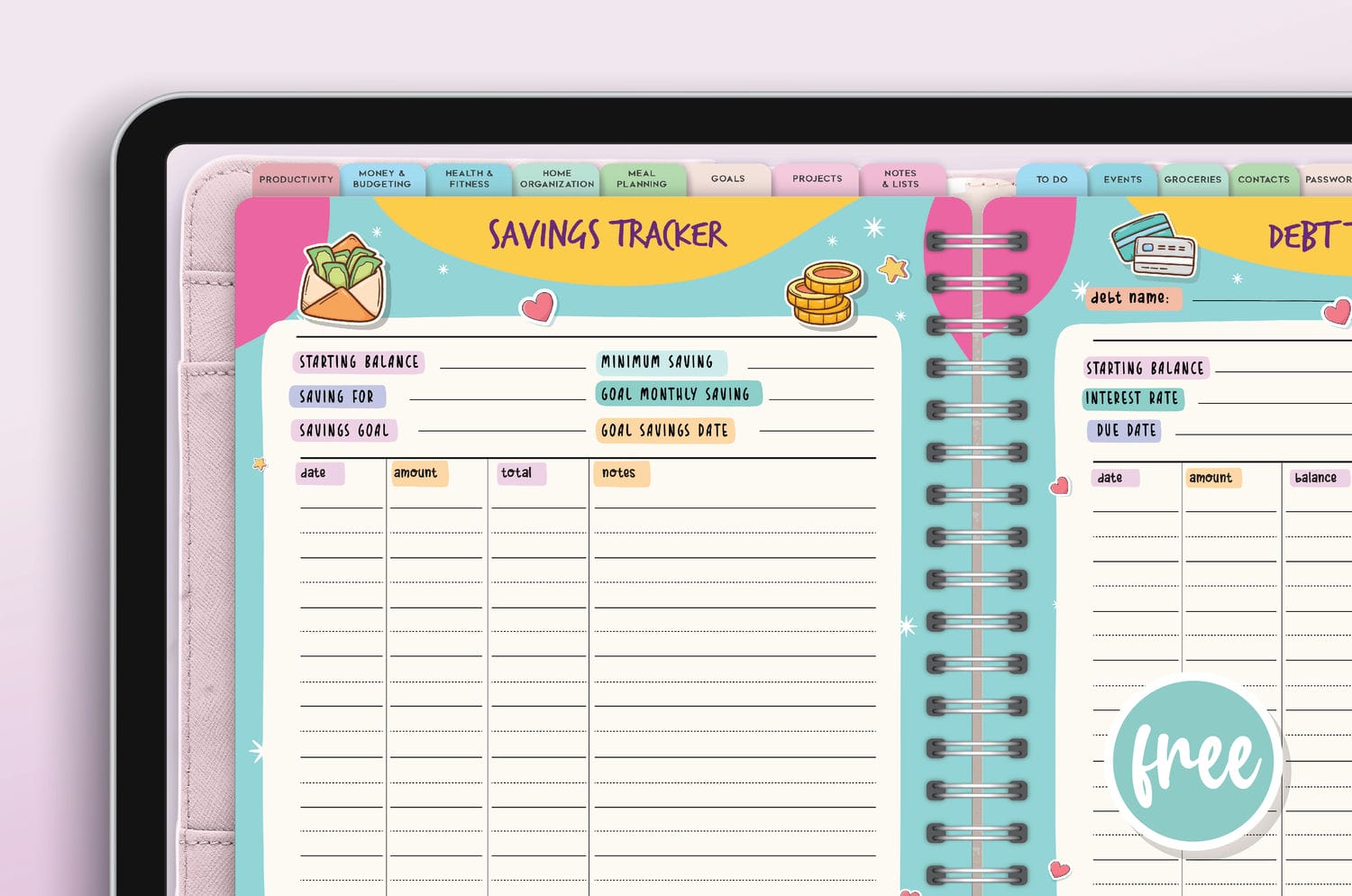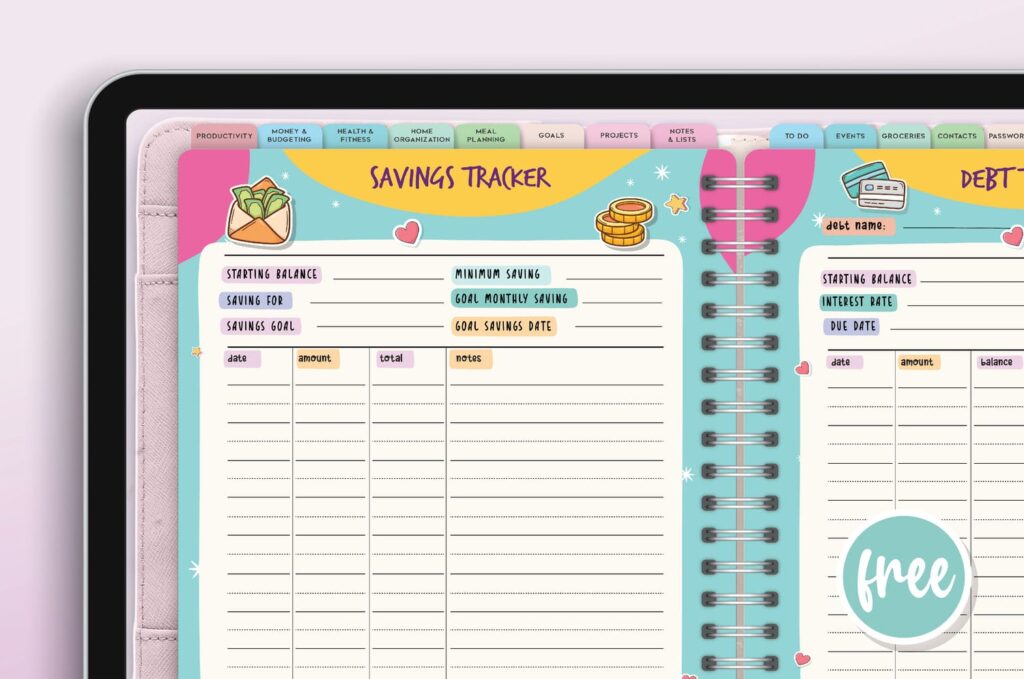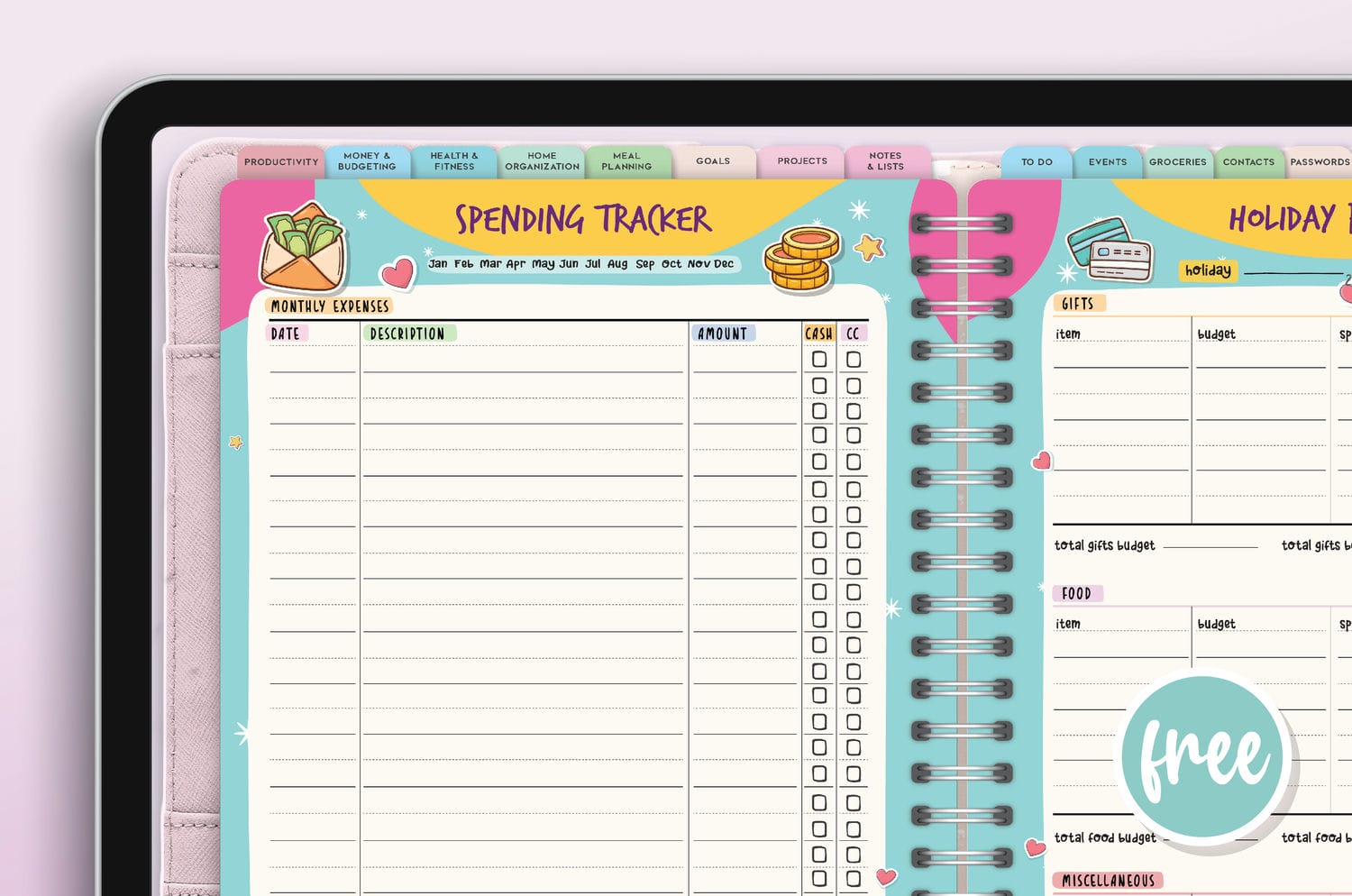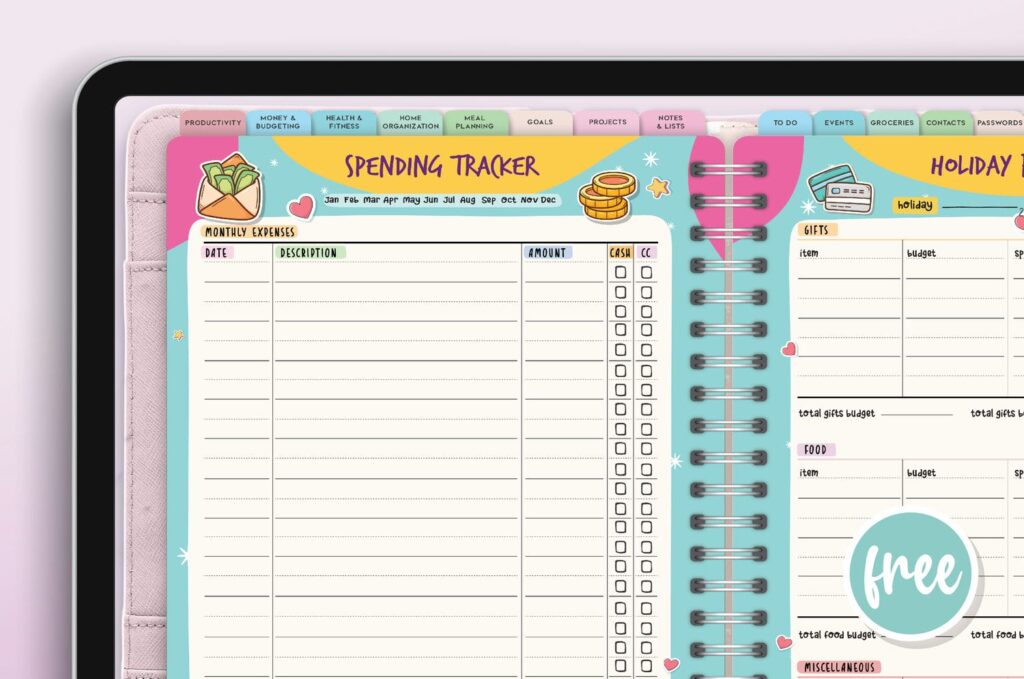 5. To-Do Lists:
Never forget a task with the built-in to-do list and checklist.
6. Habit Tracker:
Develop good habits and break bad ones with the habit tracker.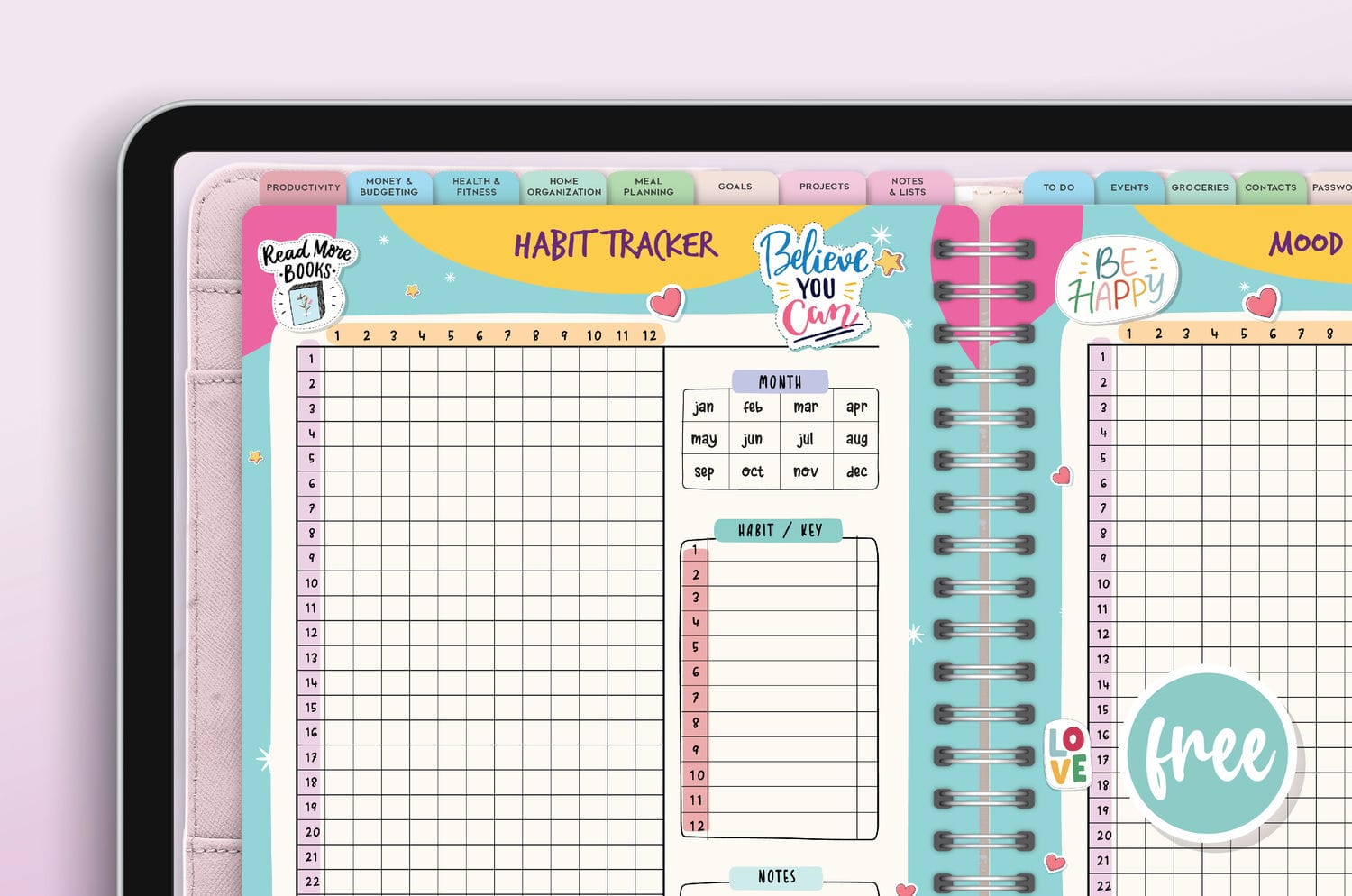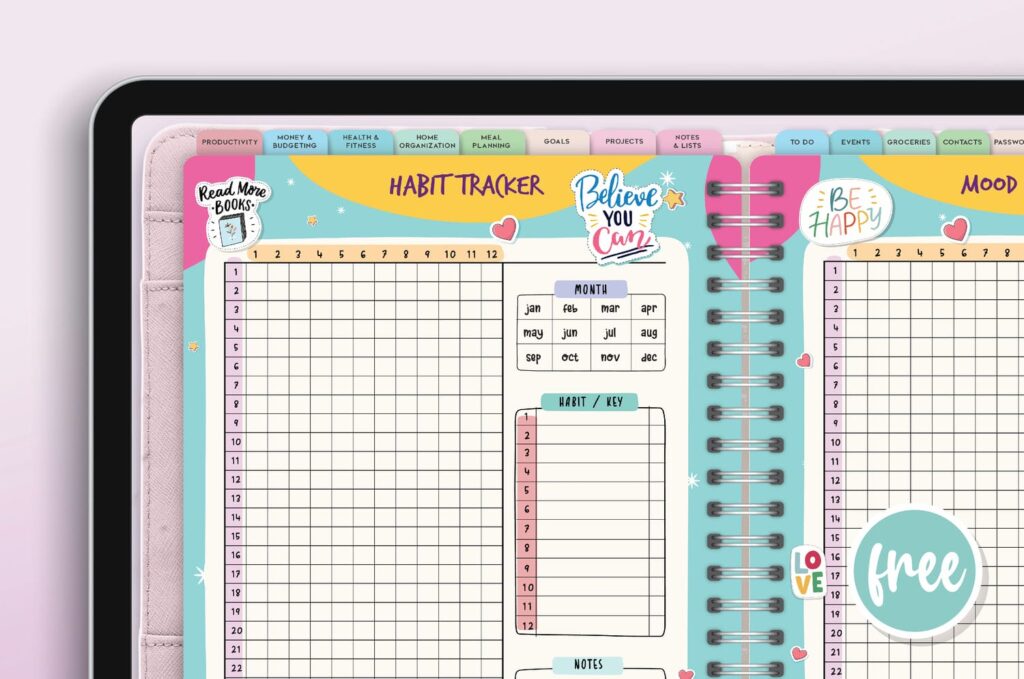 7. Mood Tracker:
Keep an eye on your emotional well-being with the mood tracker.
8. Grocery List:
Keep your grocery and shopping lists in one place, making grocery shopping a breeze.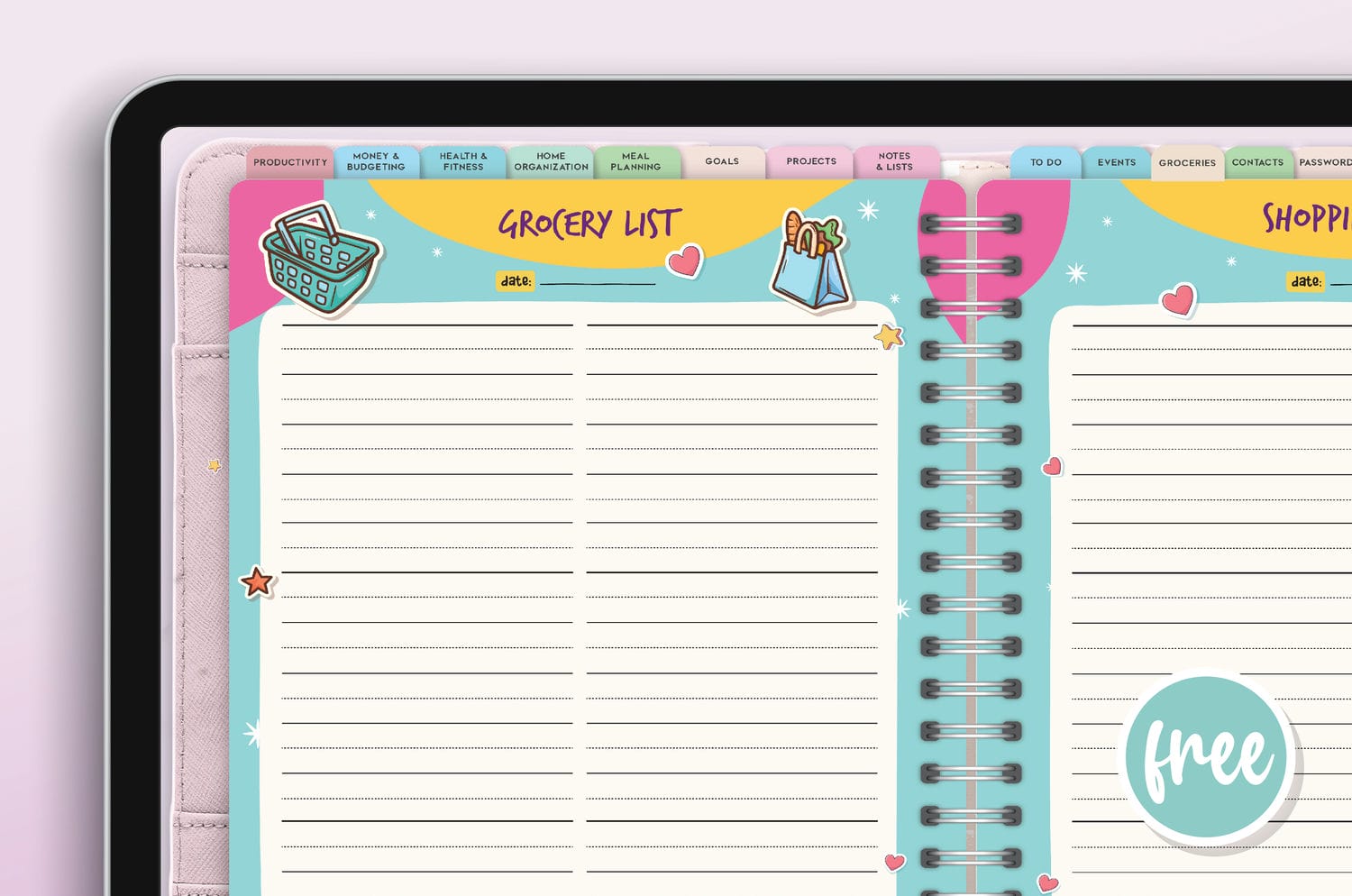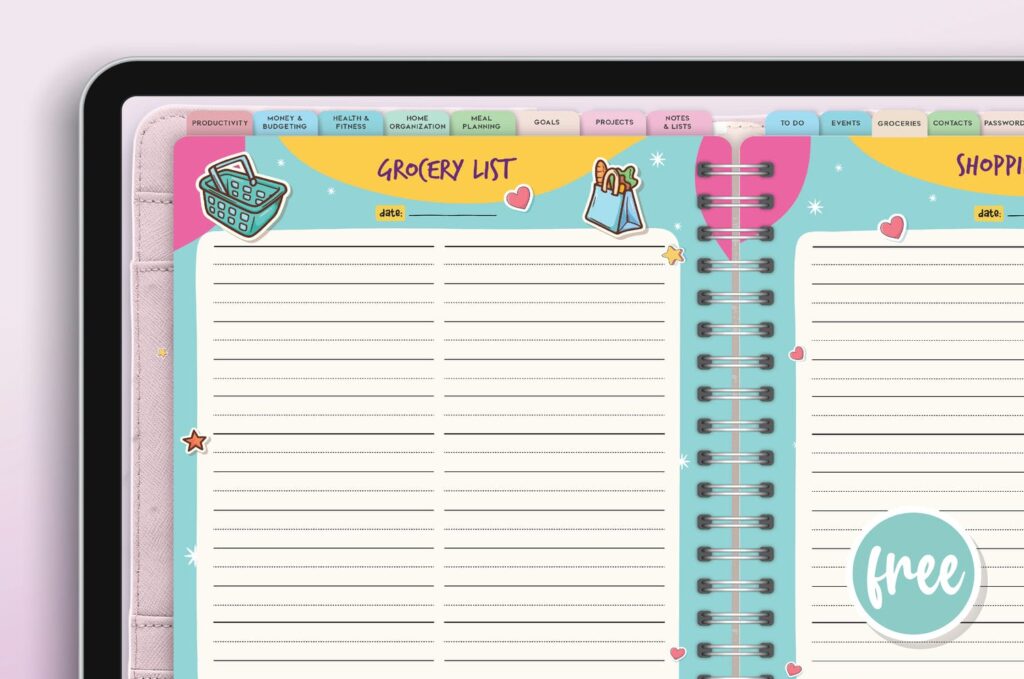 9. Personal Planner Pages:
Plan the things that matter to you on this personal planner page. Plan this week's focus, important reminders, goals, health & fitness, and more.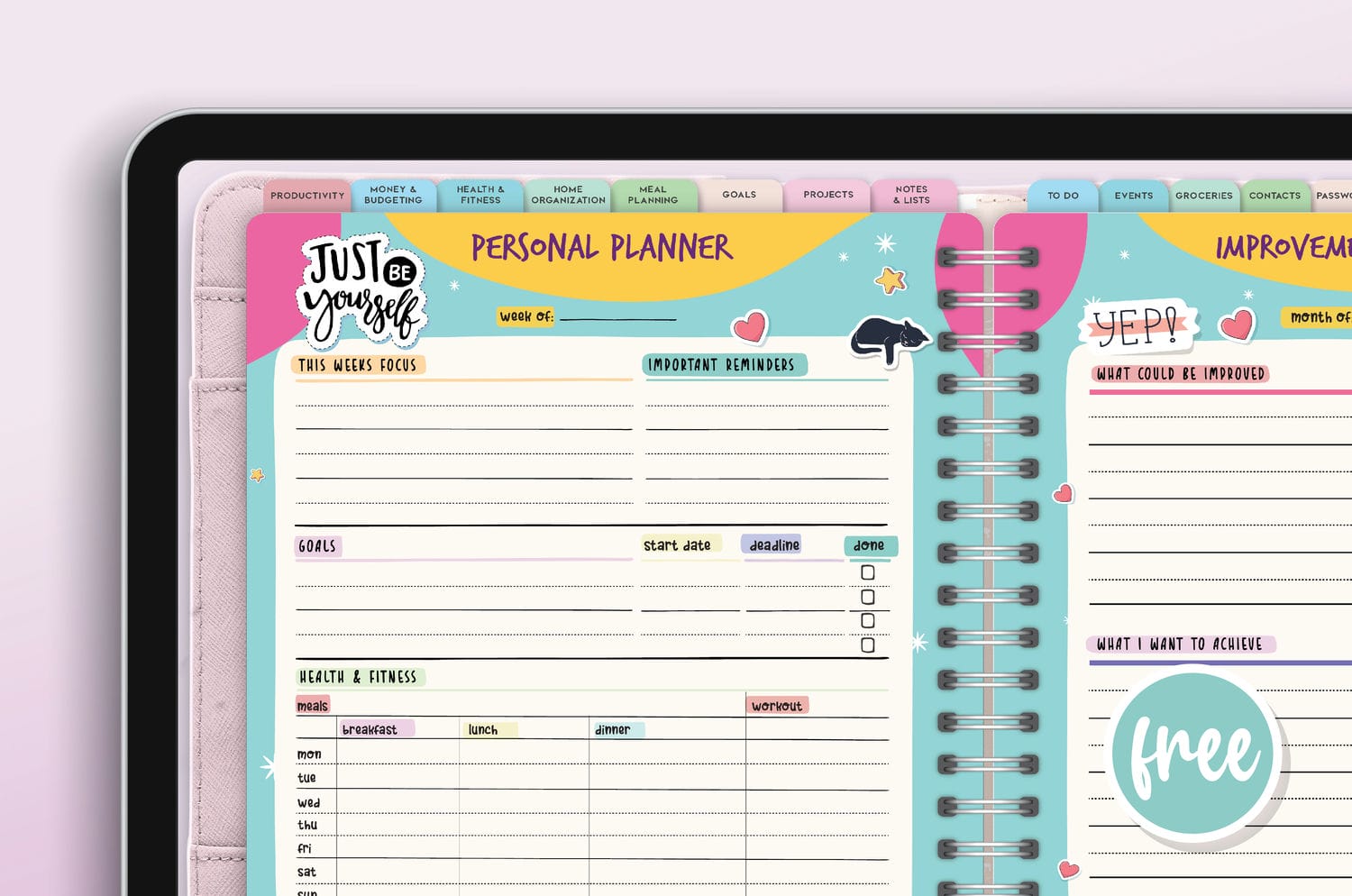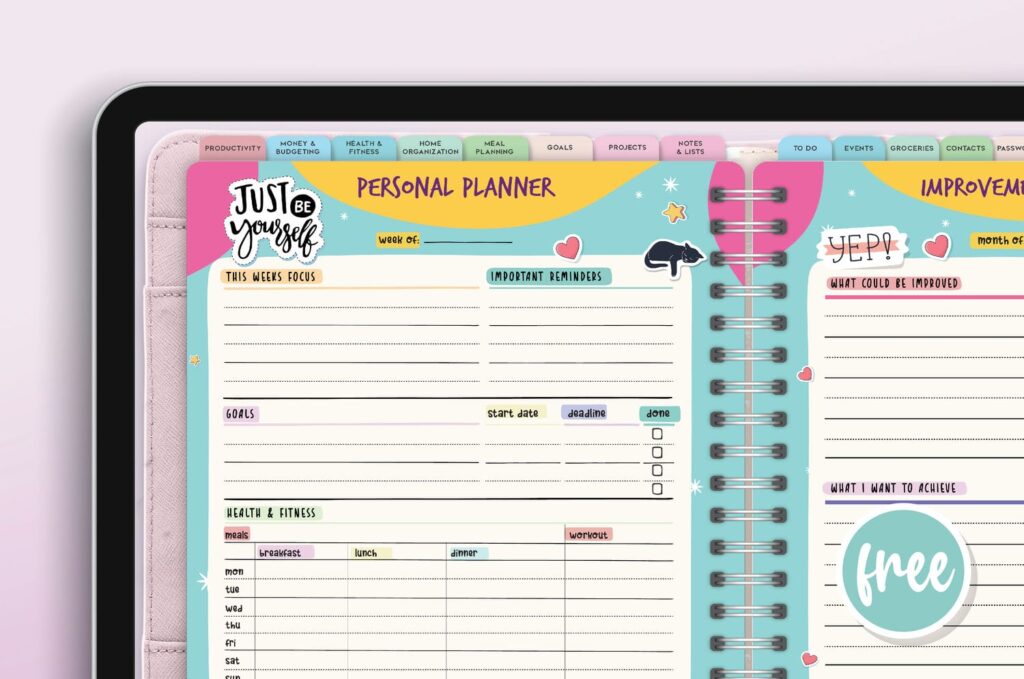 10. Notes Pages:
Customize your planner with notes, and explore the many other useful pages we have included.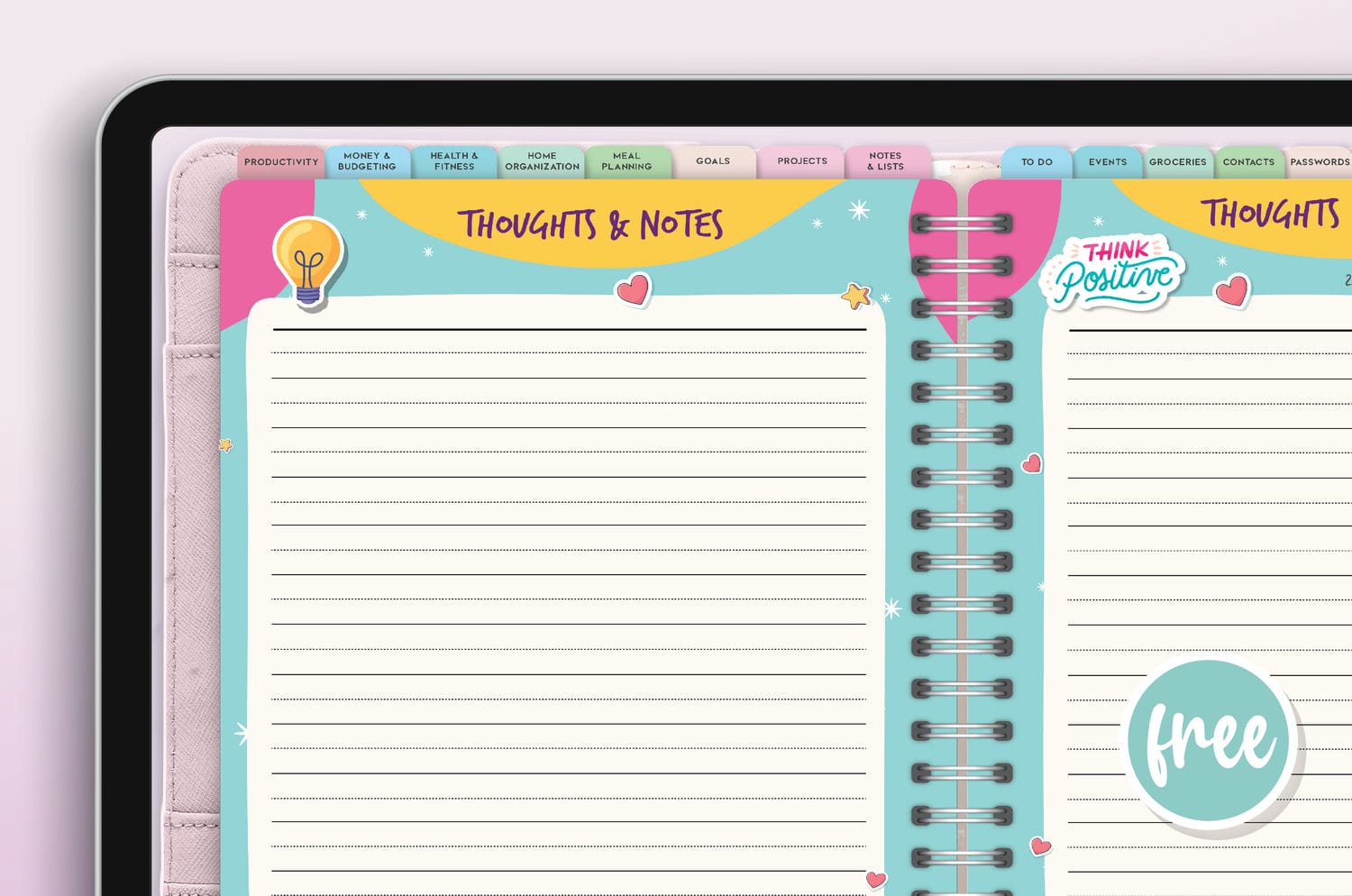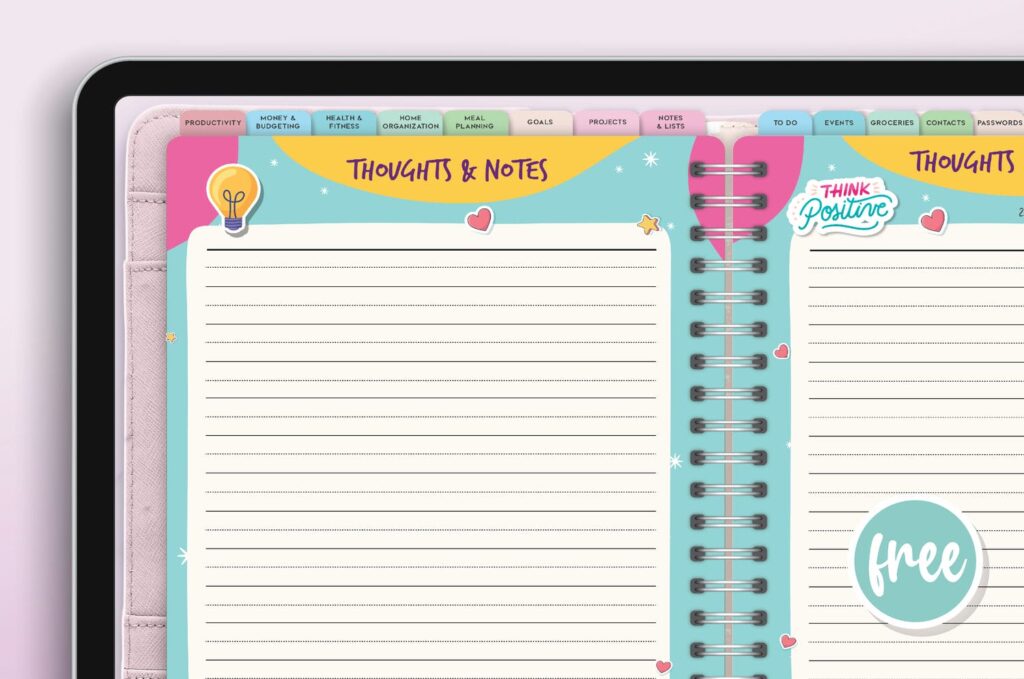 11. Project Pages:
The Project Planner in the Happy Habit Planner streamlines project management with task lists, resource tracking, and a visual timeline. It's your tool for staying on top of projects, big or small, and ensuring they're completed successfully.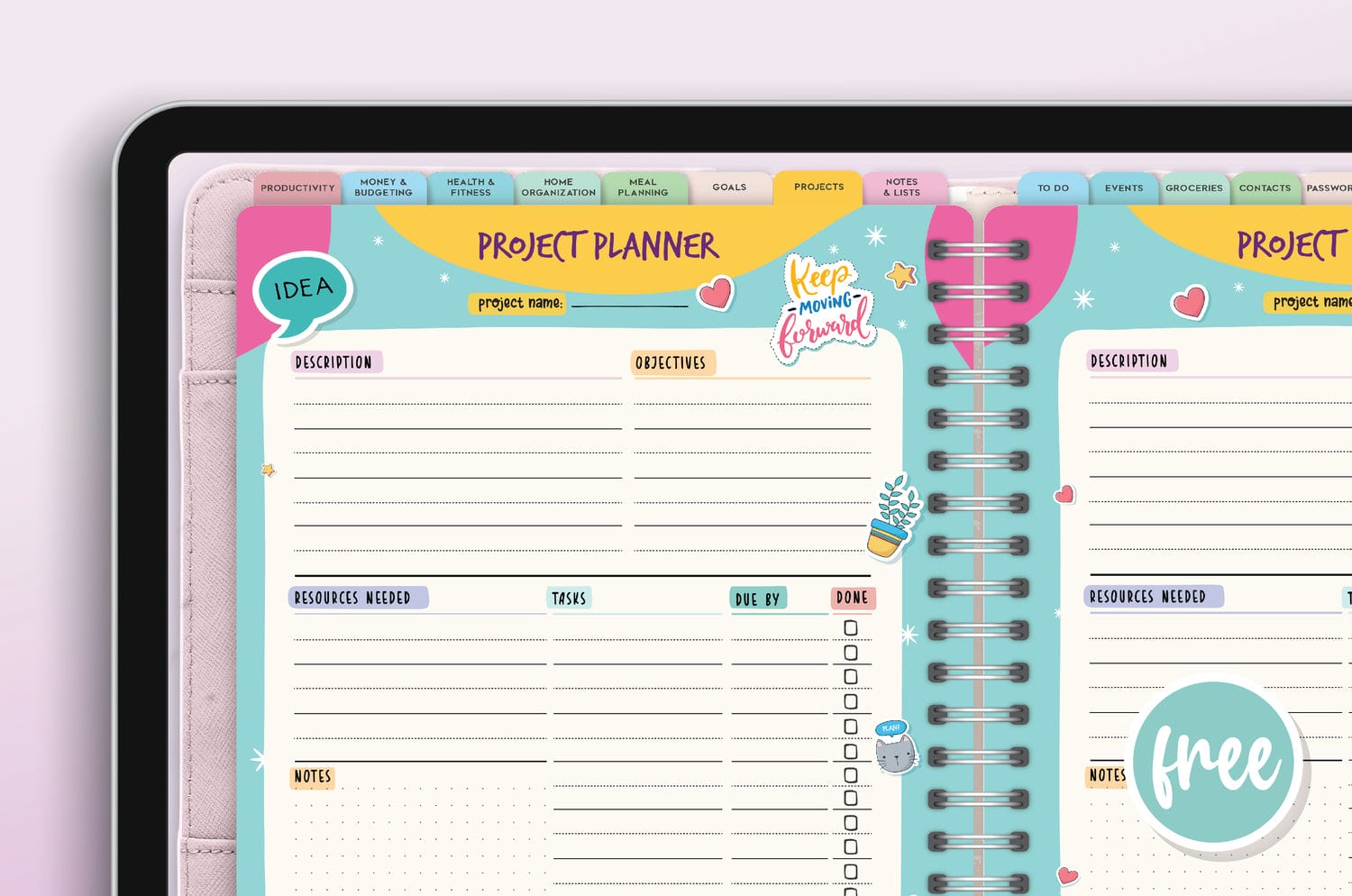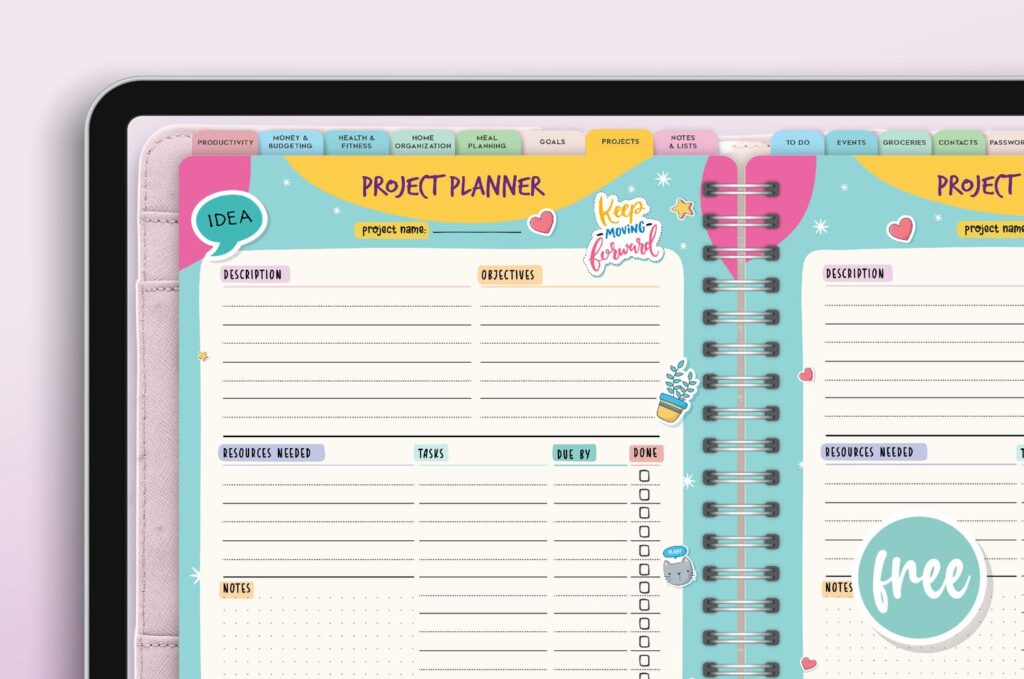 12. Custom Section Pages:
Custom sections in the Happy Habit Planner allow you to tailor your planner to your unique needs and goals. You can design your own sections, insert notes, or create personal categories, making it truly yours.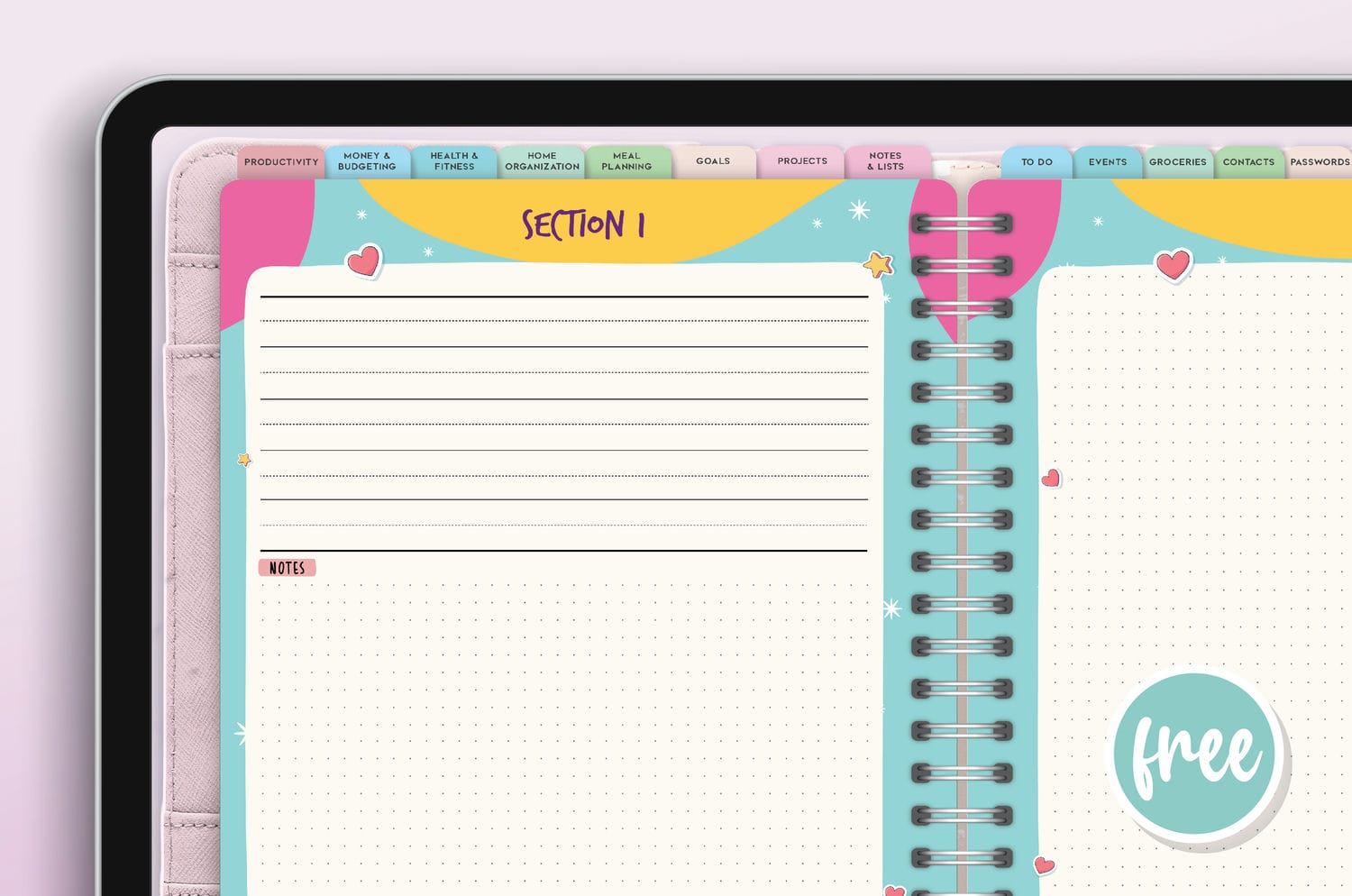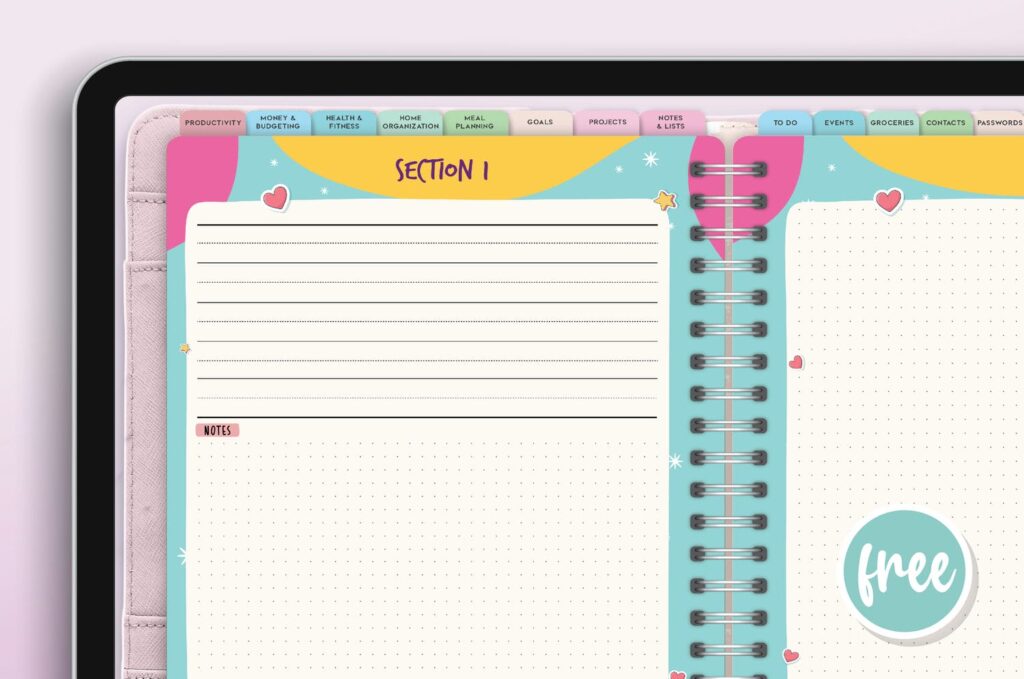 13. Home Planning Pages:
The Home Planning Page in the Happy Habit Planner simplifies daily life by helping you organize meals, plan your shopping list, schedule housework, and keep track of chores, making managing your home a breeze. It's your go-to tool for maintaining a well-structured and efficient household.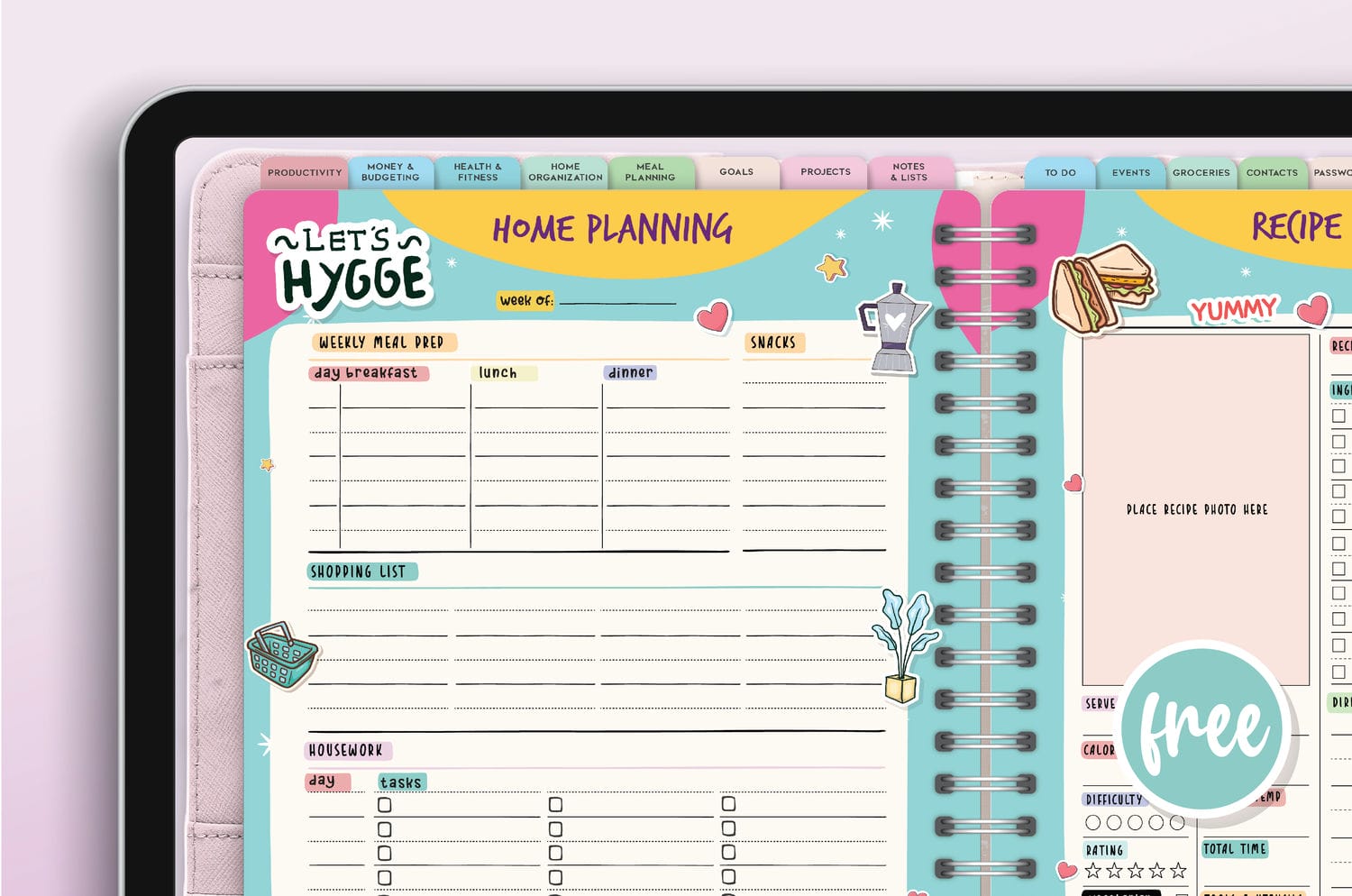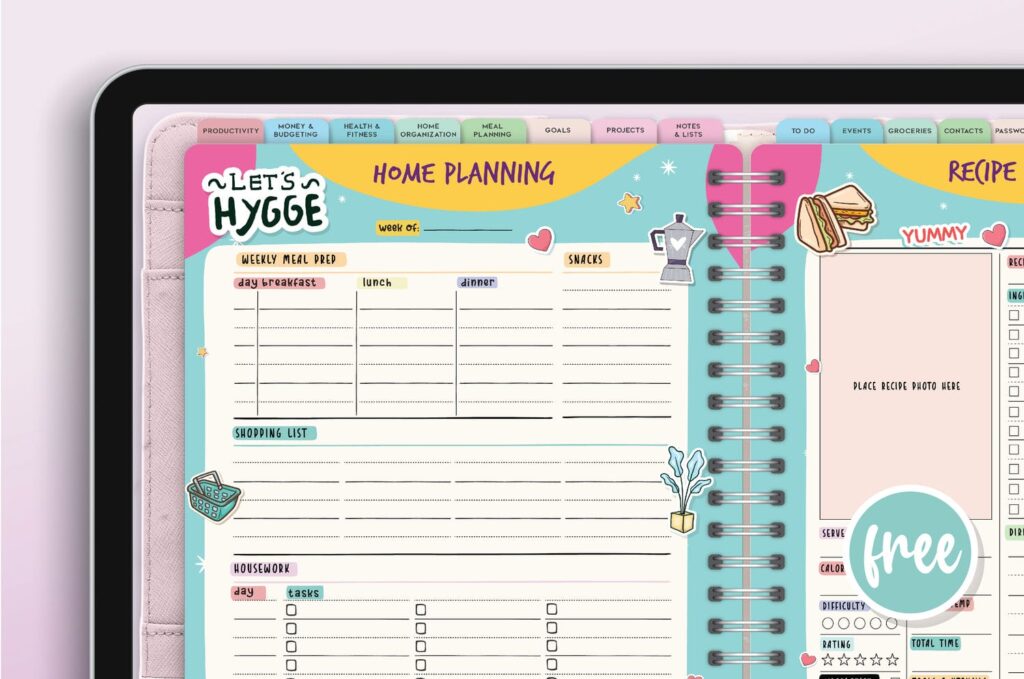 Many more useful pages
You'll also find many more useful pages within this digital planner, including year overview, next year at a glance, blank pages, lined pages, bill payment checklist, checklists, to-do lists, contacts, important dates, recipe planner, calorie tracker, month in review, password tracker, debt tracker, holiday budget planner, and bucket list.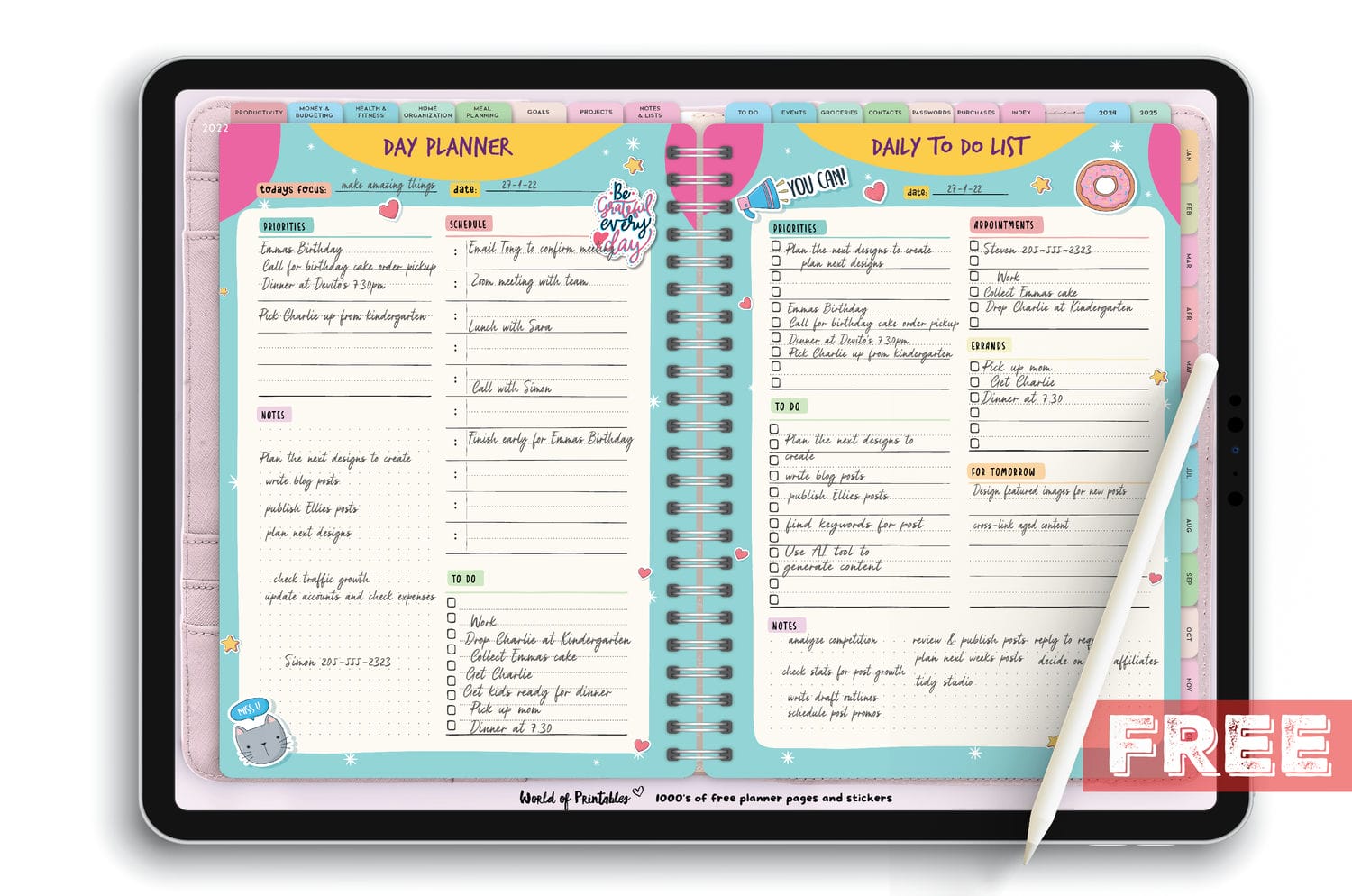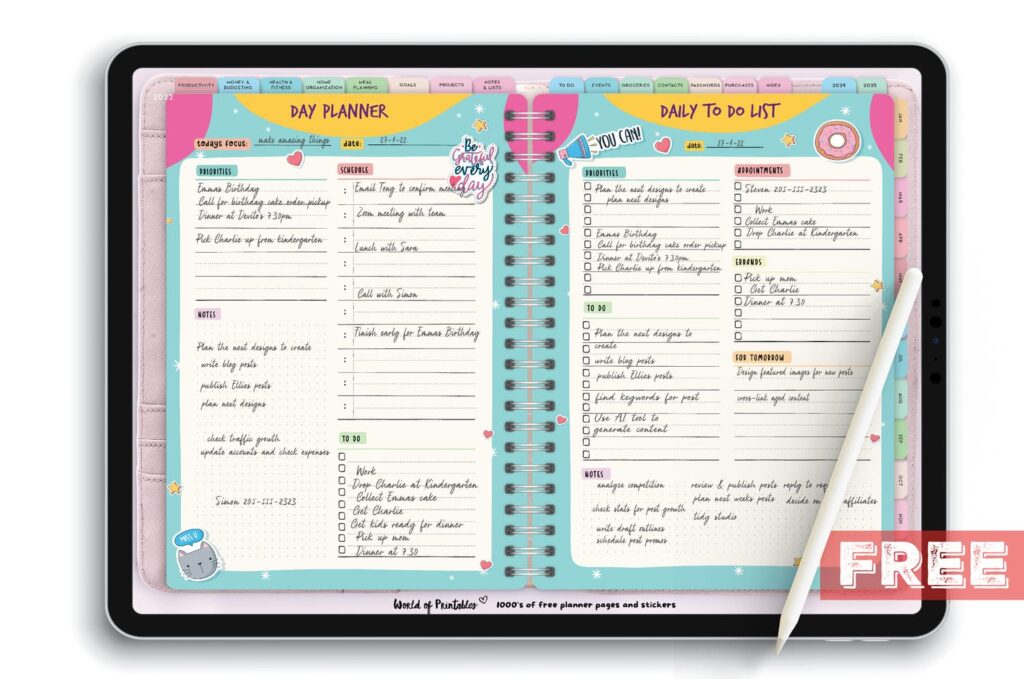 Benefits of the Happy Habit Planner:
Stay Organized: The Happy Habit Planner offers a seamless way to organize your life, from schedules to finances, health, and more.
Achieve Your Goals: Use the goal planner to set and track your ambitions, ensuring you reach your dreams.
Enhance Your Well-being: Keep an eye on your health, fitness, mood, and habits, promoting a happier and healthier lifestyle.
Financial Freedom: Manage your budget and finances efficiently with built-in trackers.
Free and Accessible: We believe planning should be available to everyone, which is why our planners are free.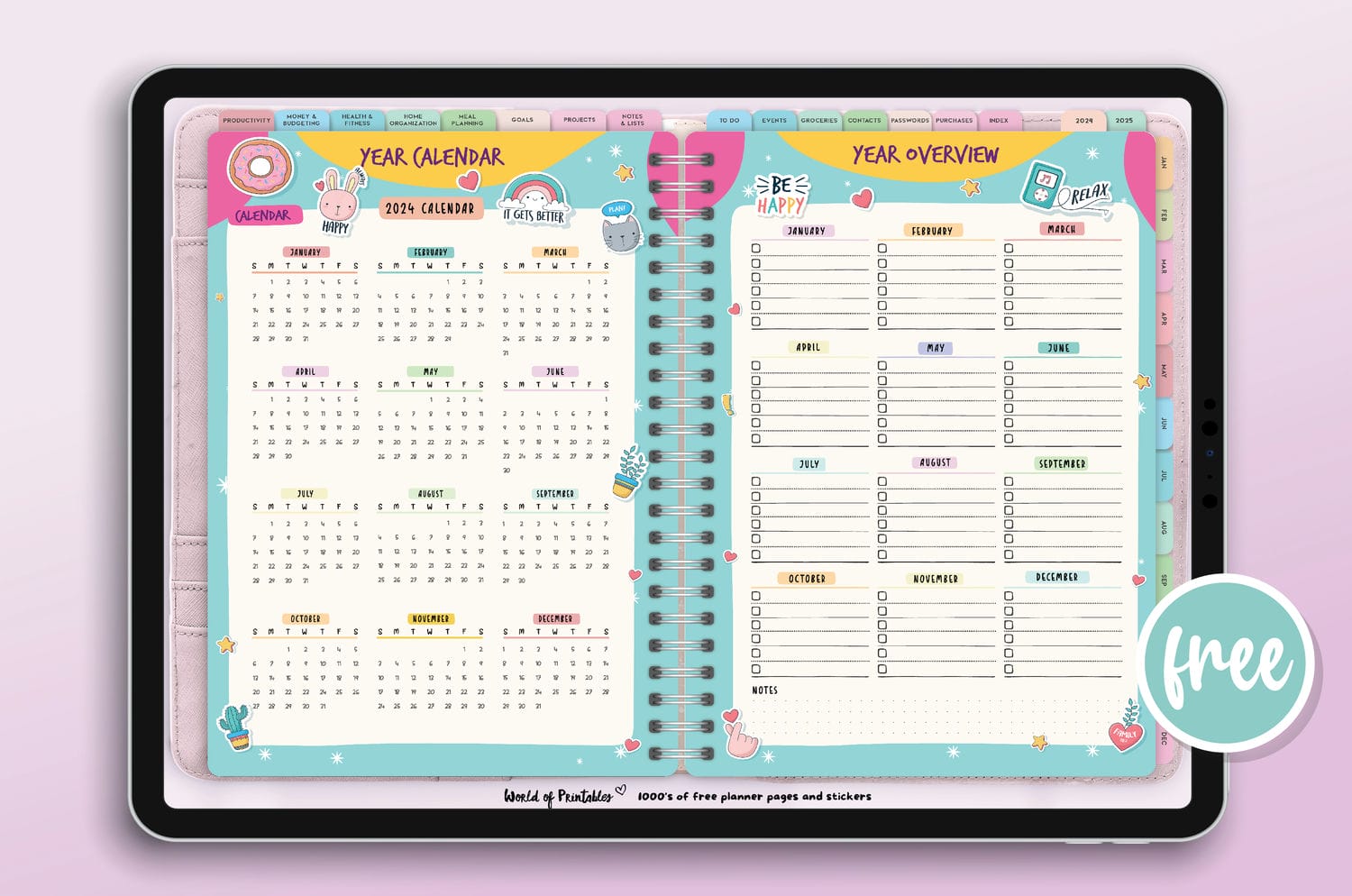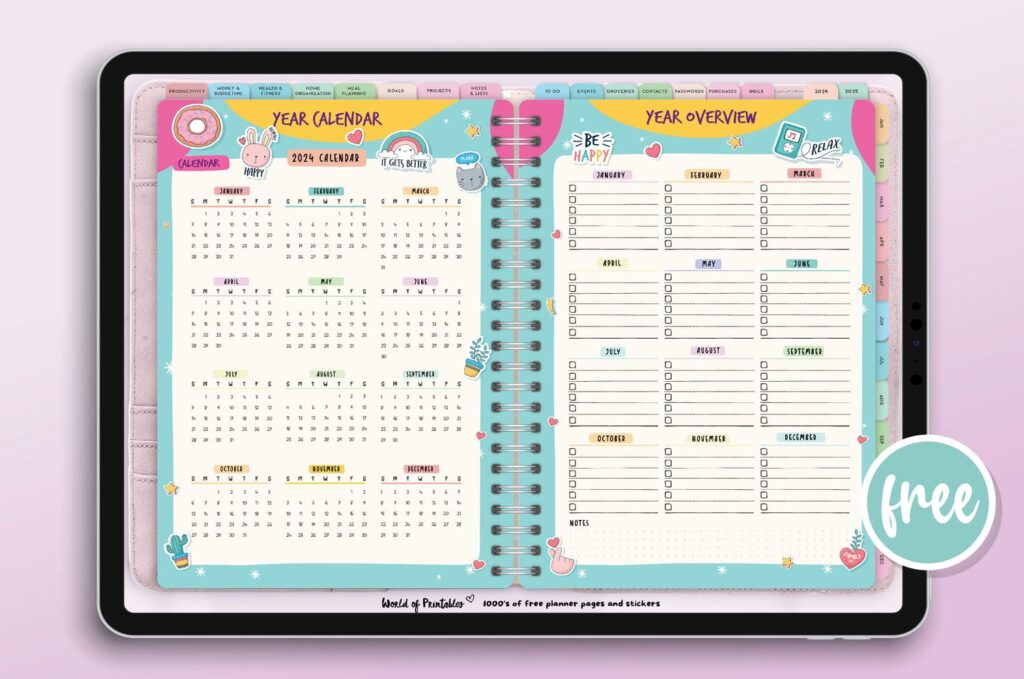 The most fun planner that you'll ever use
Get ready for some planning fun with the Happy Habit Planner! It's not your average organizer – it's a burst of cuteness, filled with embedded stickers, vibrant colors, and playful aesthetics. This planner makes getting organized a joyful and visually delightful experience. Users adore it not just for its practical features but for the sheer enjoyment of planning in style!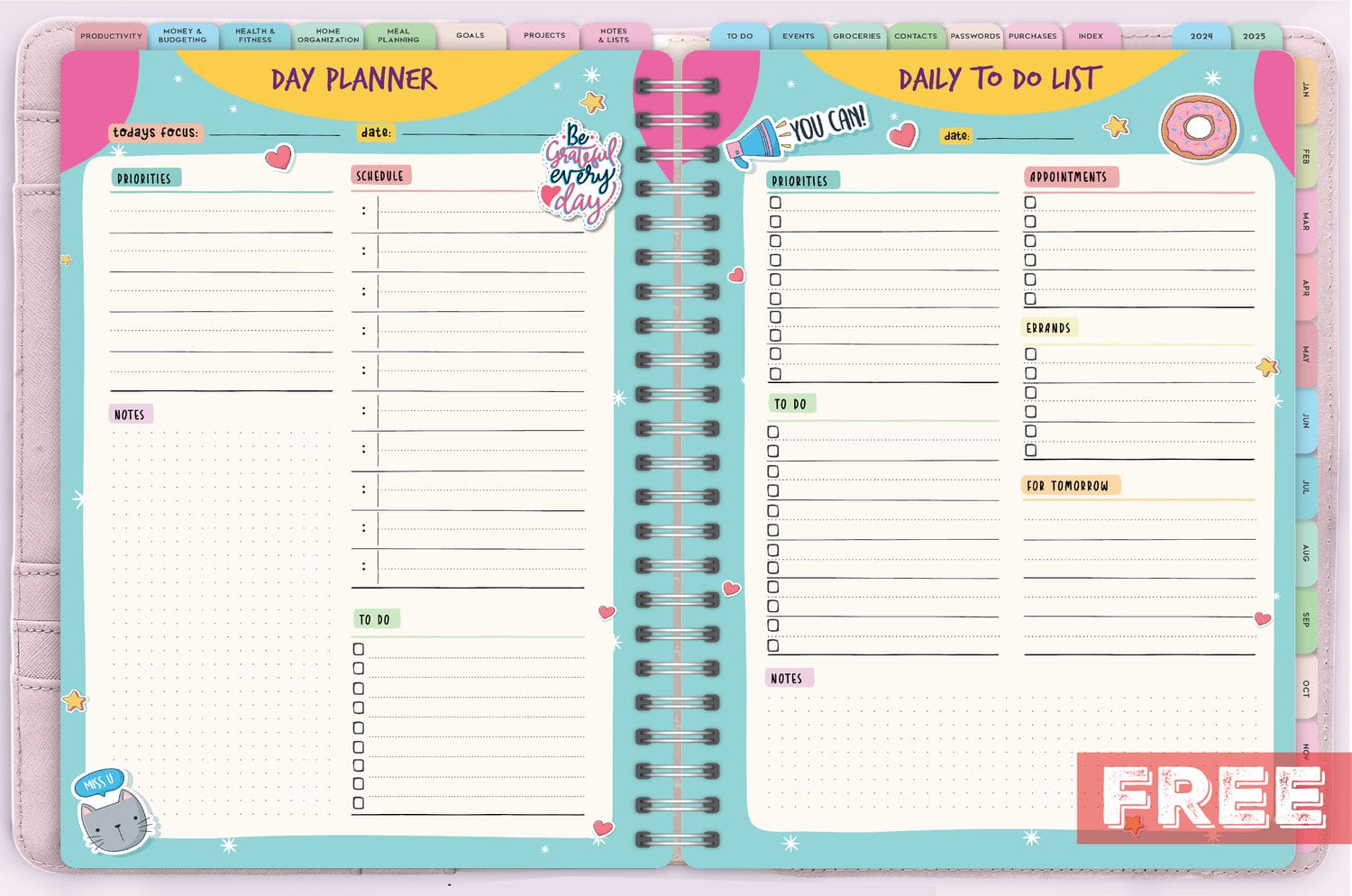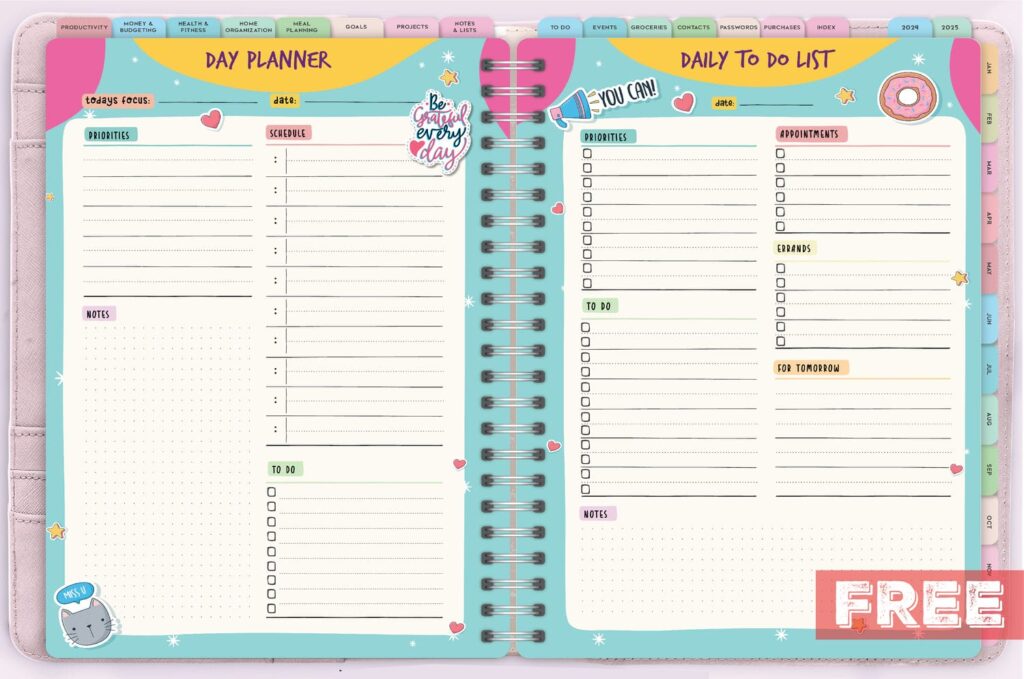 Why you should use the Happy Habit planner
You should use the Happy Habit Planner because it offers a comprehensive, user-friendly, and completely free solution to help you organize your life, achieve your goals, and maintain a positive and productive daily routine. With its wide array of features, from scheduling and goal setting to health monitoring and budget management, the Happy Habit Planner simplifies your life and empowers you to live it to the fullest. It's a versatile and accessible tool for anyone looking to enhance their organization, productivity, and overall well-being, without any financial commitment.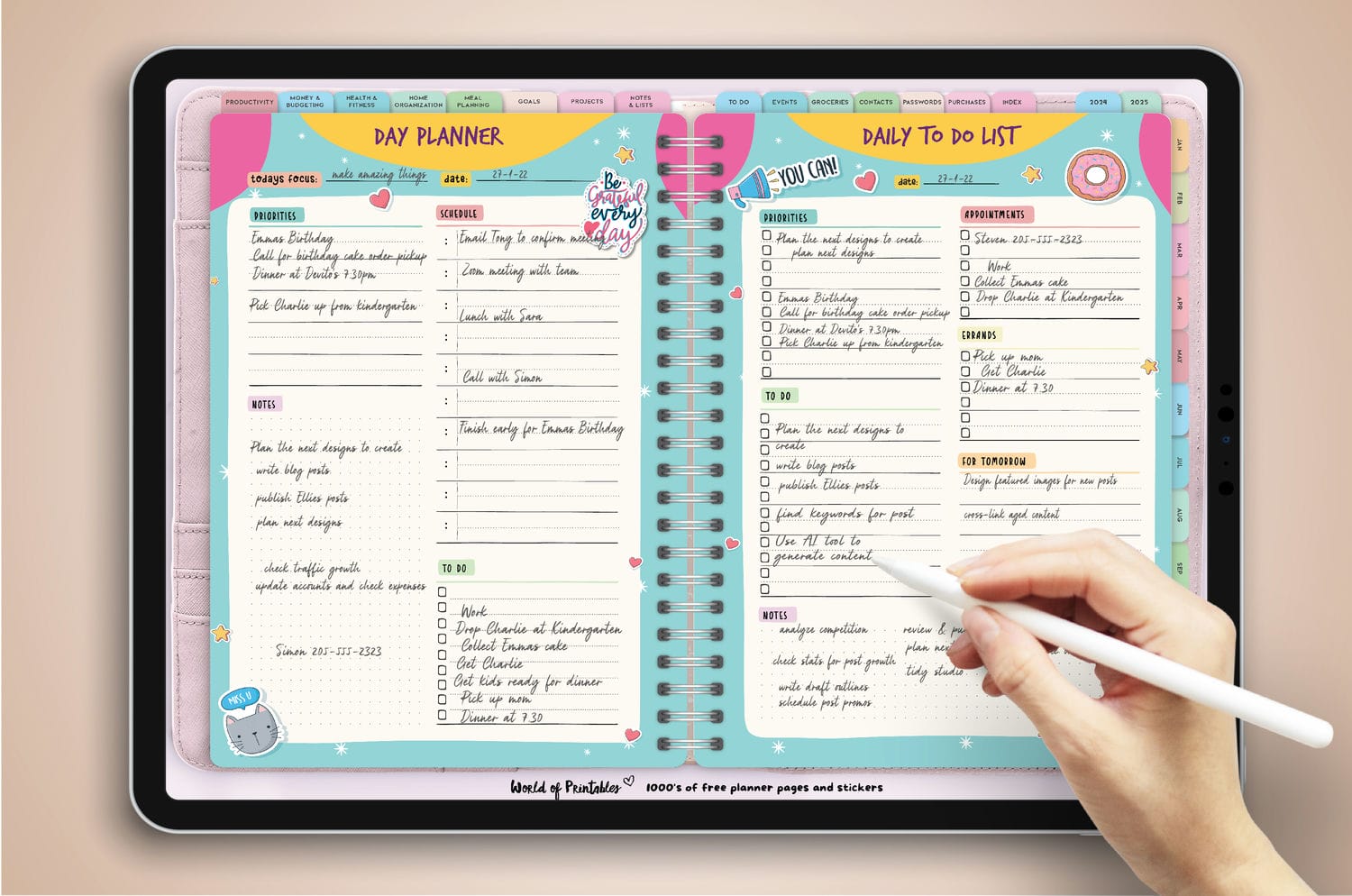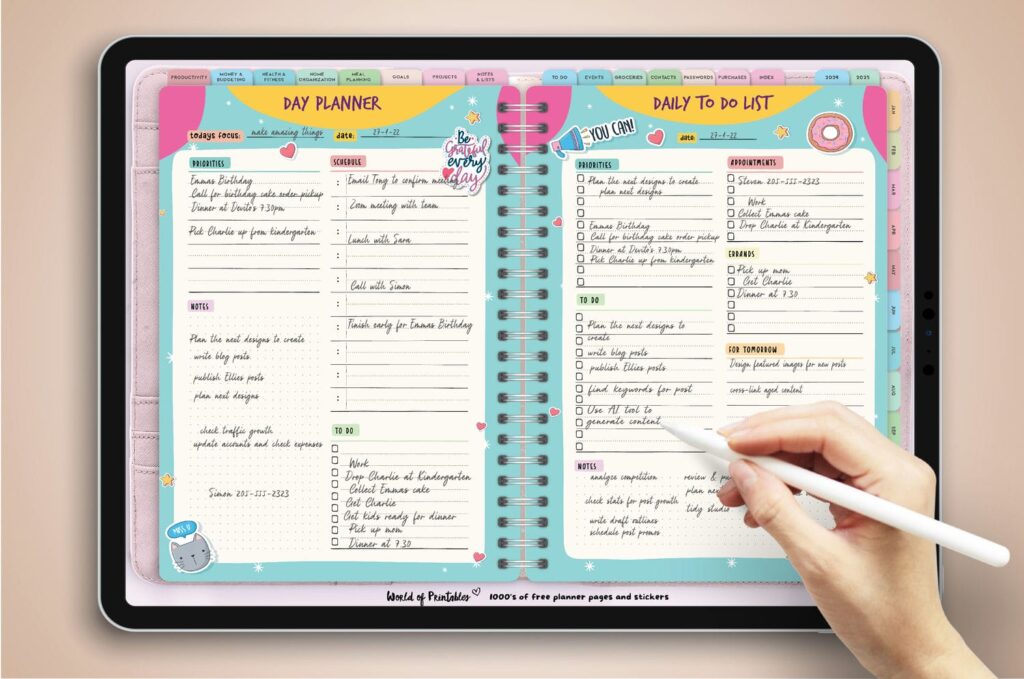 How to Get the Happy Habit Planner:
Getting your hands on the Happy Habit Planner is as easy as can be! Simply get it right here, save it to your tablet, and start using it instantly. It's compatible with iPads and most Android digital tablets and PDF annotation apps such as GoodNotes, Notability, CollaNote, and Penly.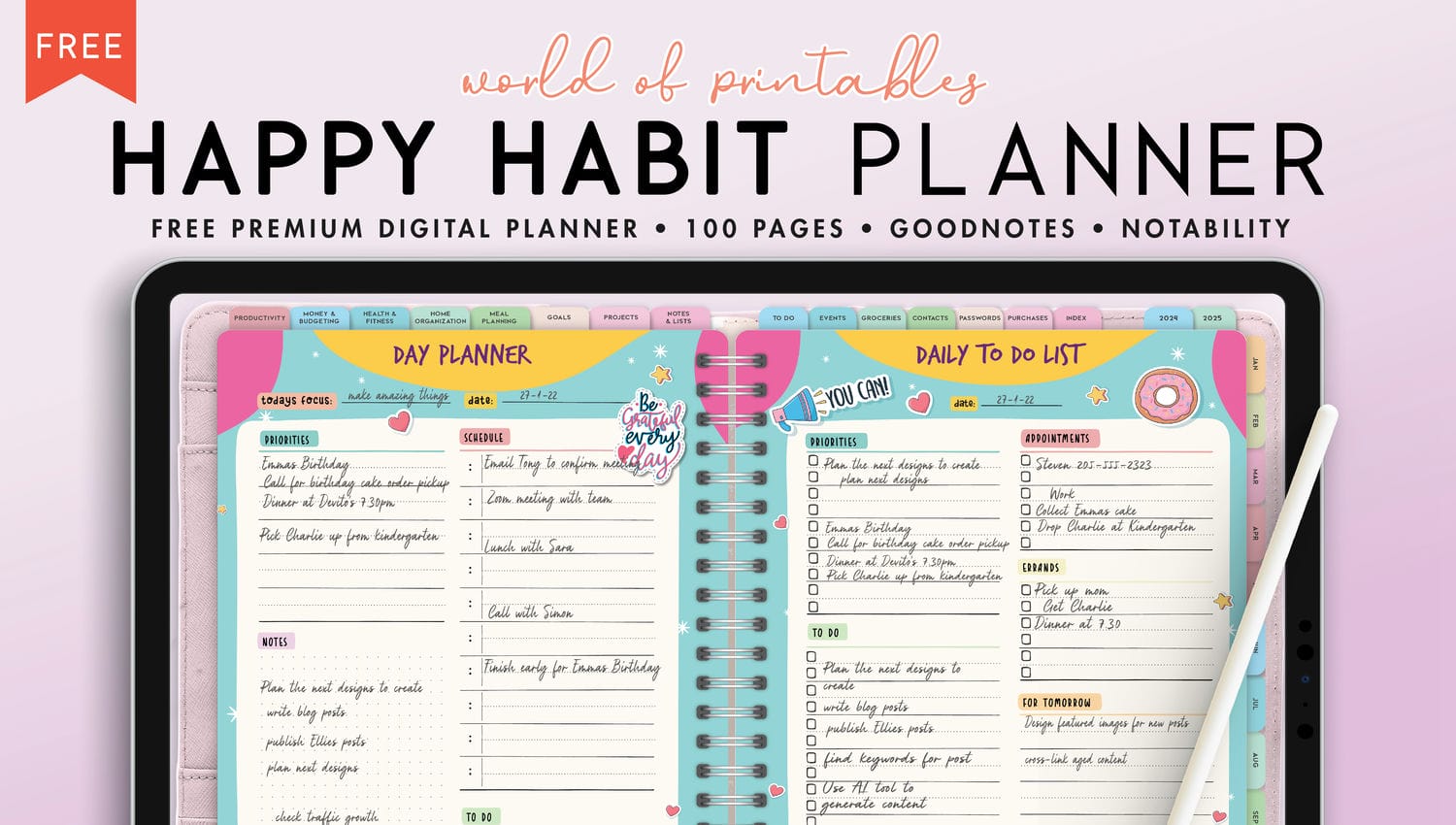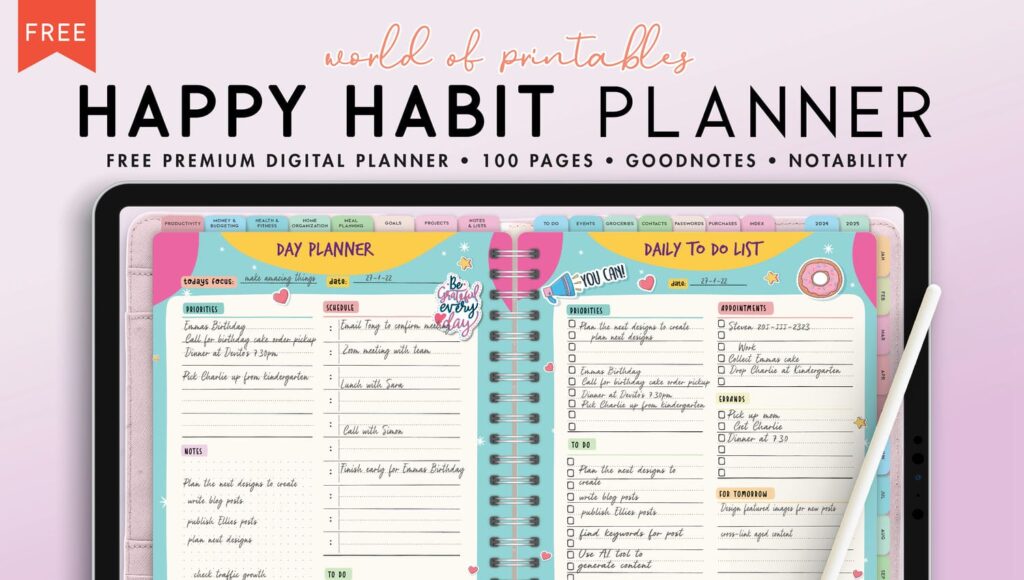 In conclusion, the Happy Habit Planner is more than just a digital planner – it's your tool for planning, living, and loving life to the fullest. So, what are you waiting for? Get your free Happy Habit Planner now and embark on a journey of organization, accomplishment, and happiness. Plan it, live it, love it!
Explore Our Other Free Digital Planners:
While you're on our website, don't forget to check out our vast collection of free digital planners in various styles, all updated for 2024. With options to suit every taste, you can find the perfect companion to help you stay on top of your game.
Start planning next year now with our totally free 2024 Planner
If you love our GoodNotes Planner, then you'll also love our free 2024 digital planner bundle.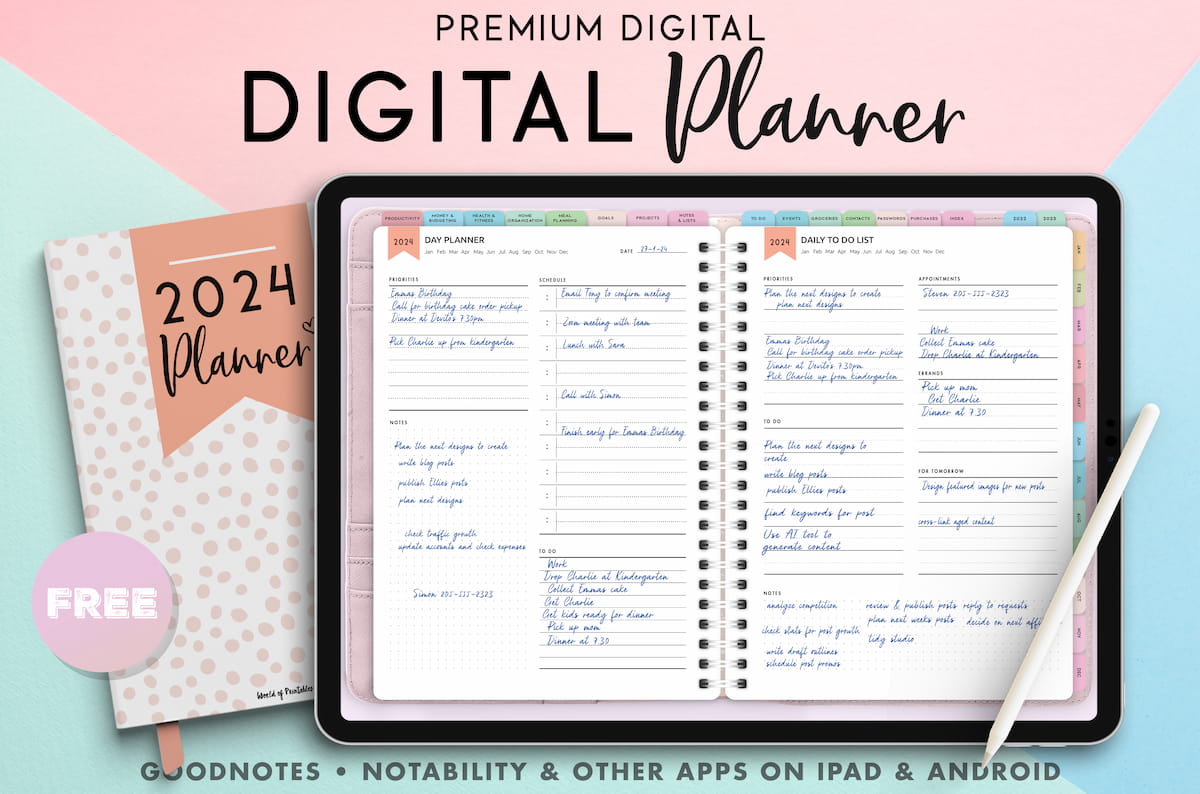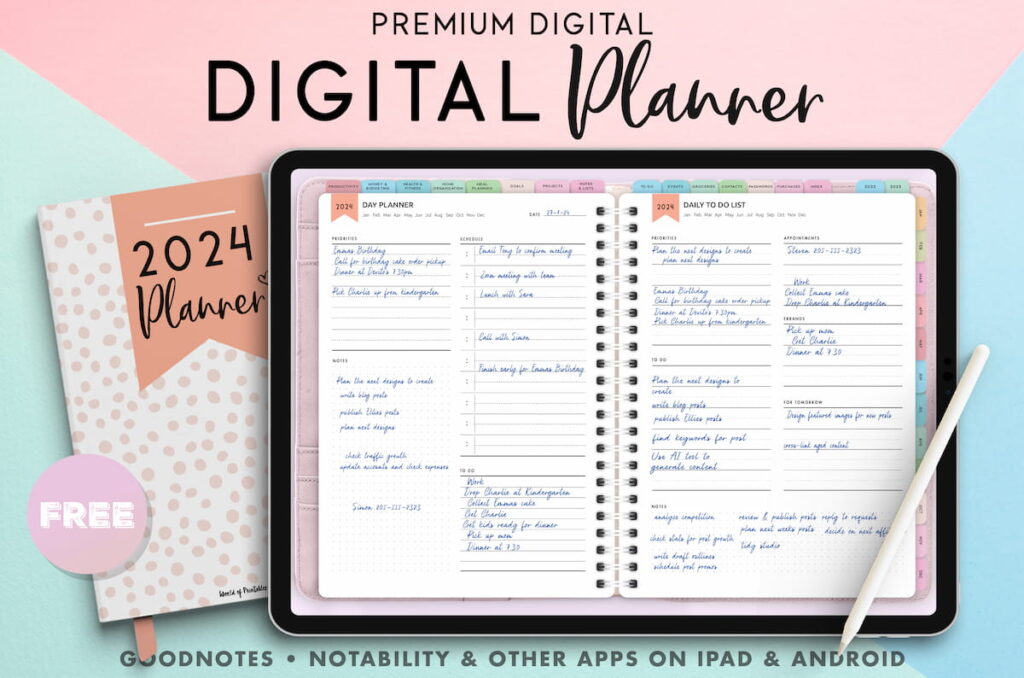 Why not make 2024 an amazing year? Set goals, plan how you're going to achieve them, and make the most of the things that matter. Great for use as a personal planner, or for use at work.
Our 2024 digital planner is packed full of useful planner pages to help you get more done, stay organized, and live healthier and happier.
More Free Digital Planners
Looking for more free digital planners or awesome freebies? Did you know that we have many other digital planners that you can use for free?
We think you'll really enjoy using these free digital planners:
Don't forget to explore our diverse range of digital planners, designed to cater to your unique style and needs. Here's our latest:
Make the most of your new free digital iPad planner!
I really hope you use and enjoy our free Happy Habit planner. Be sure to recommend it to your friends! Follow us on Instagram or Pinterest, as it's a great way for you to keep updated with our latest freebies.
Follow World of Printables on Pinterest
COPYRIGHT
This digital planner is for personal use only and is the copyright of World of Printables – you cannot redistribute, reproduce, or resell, although you can link back to our website.