The Free Digital Weekly Planner that people can't get enough of.
People are hailing these free digital weekly planners as 'absolute bargains', comparing them to significantly more expensive ones on the market.
Digital Planners are increasingly popular among people who work from home and those who have side hustles and like to stay productive. They are also hugely popular with savvy stay-at-home moms who use them for meal planning, grocery shopping, and budgeting.
World of Printables is giving away a number of digital planners, including a weekly planner that works on many tablets such as the Apple iPad. We keep them regularly updated, and you'll find 2024 versions are available right now.
Best of all, you don't need to buy an app to use these digital planners. All you need is an iPad or tablet and you can also start planning too.
Just use CollaNote, or Penly, free on the app stores, and you can import this weekly planner right into it for absolutely free.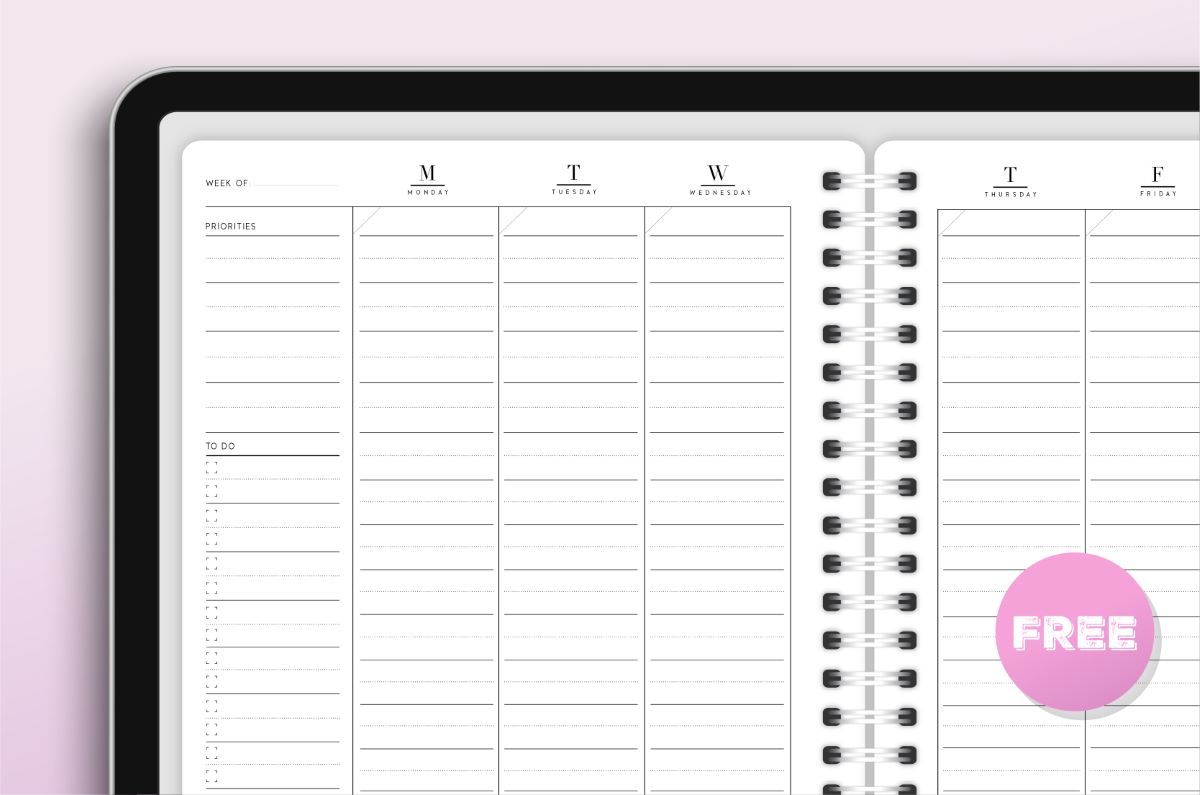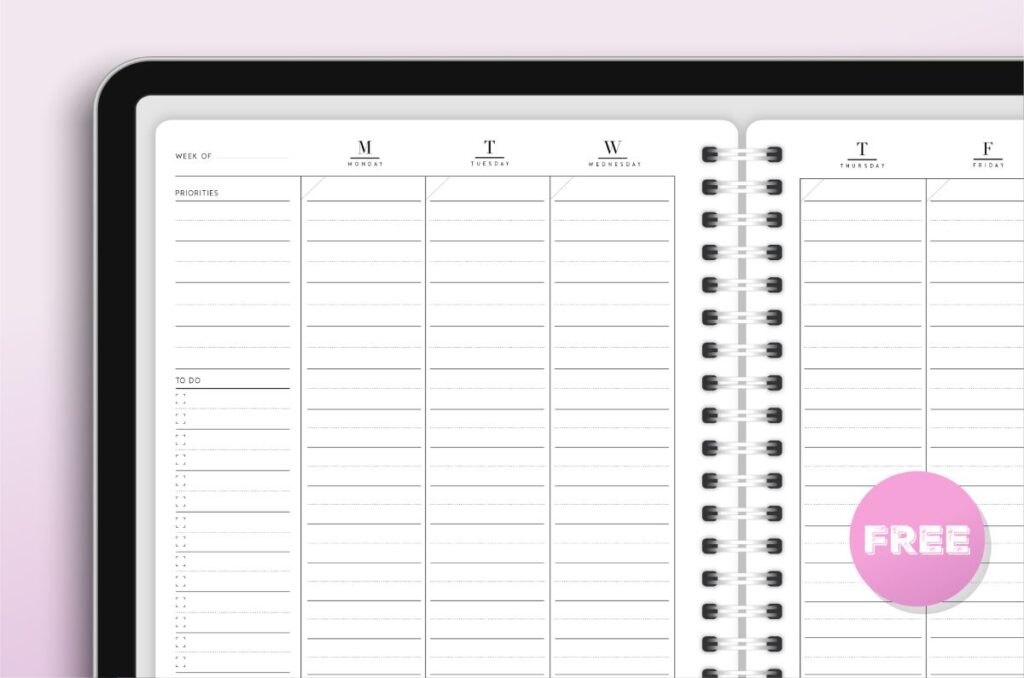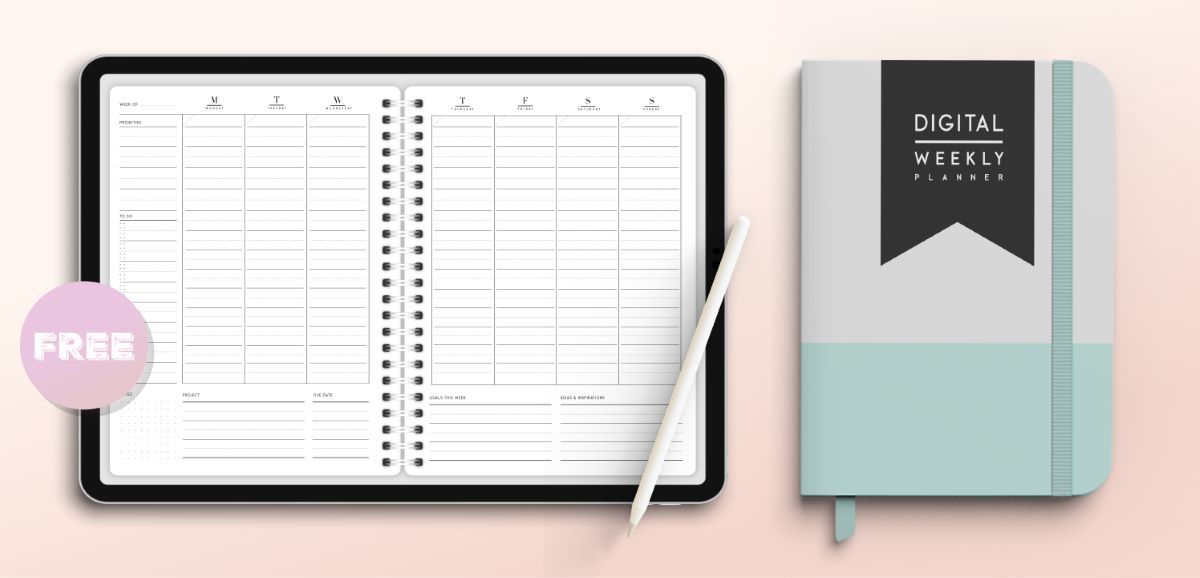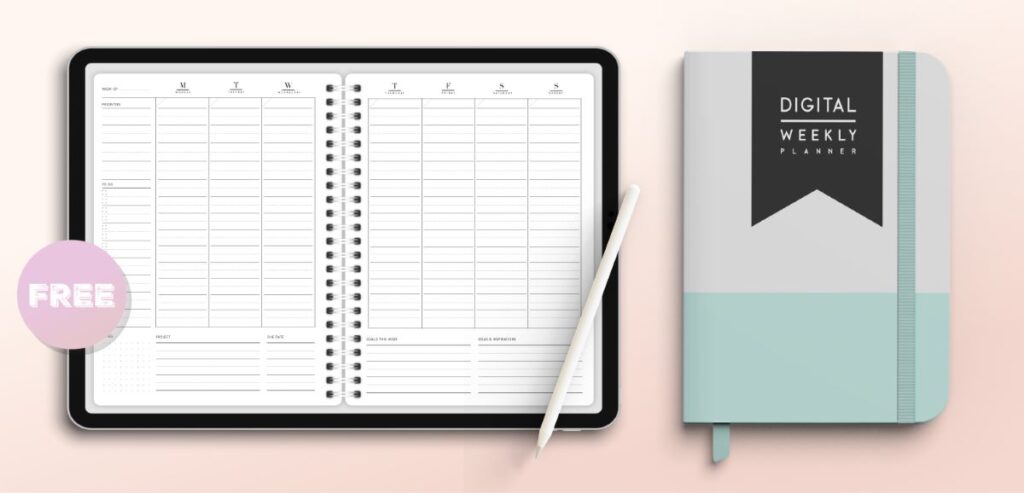 What is a digital weekly planner?
A digital weekly planner helps you plan, schedule, and organize everything you need to do for the week ahead. It can be used to write down any meetings, appointments, and events such as birthdays that you have coming up.
Many people use digital day planners, but a weekly planner takes it even further and helps you plan much more in advance. They're great for anyone who likes to be super organized.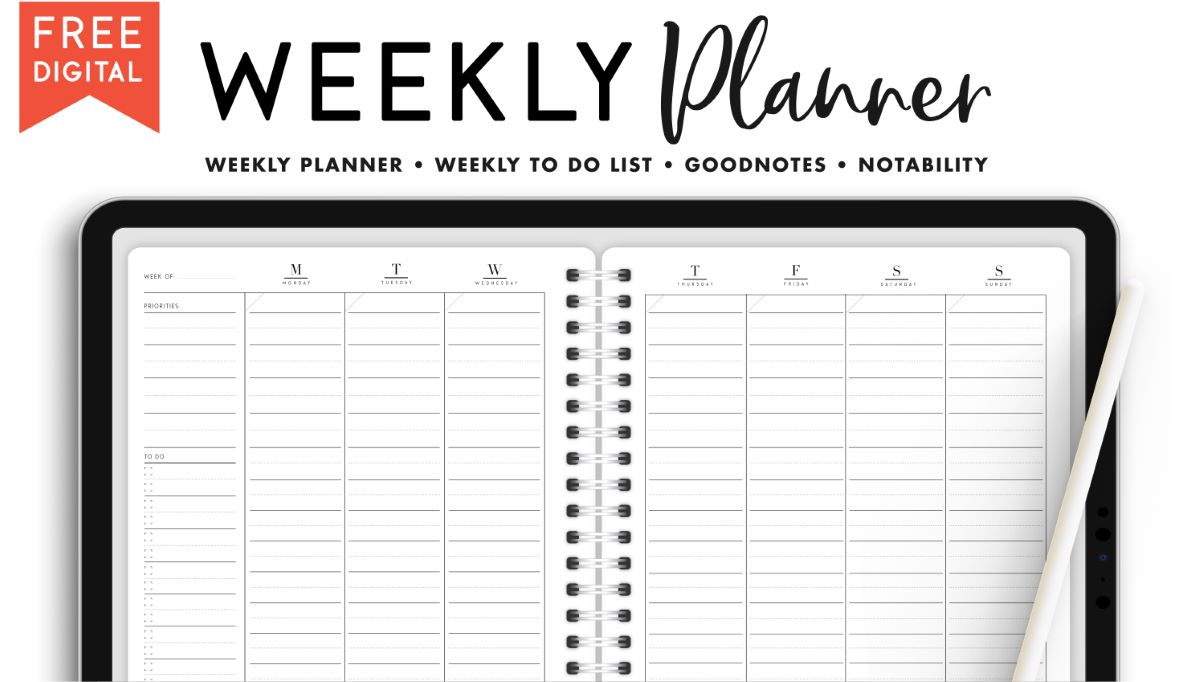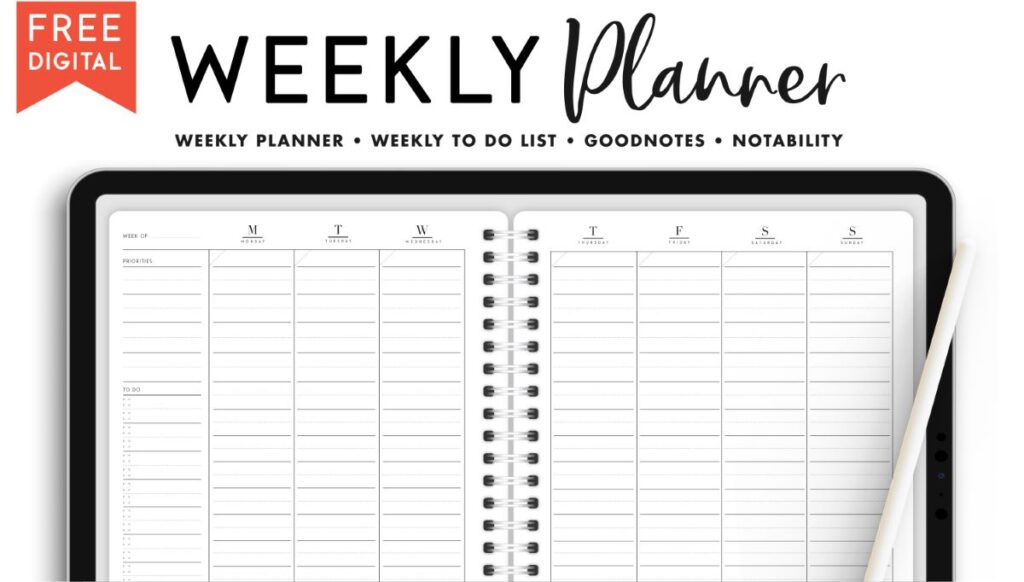 What is a digital weekly planner used for?
As well as planning the things you need to do for the week ahead, you can also use it for any goals that you want to achieve this week, for projects you're working on, or for simple reminders so you don't forget important things.
Or you can simply use it as a journal, writing down the things that you've done, ideas and inspirations you've had, books that you've read, movies that you've watched, or anything at all really.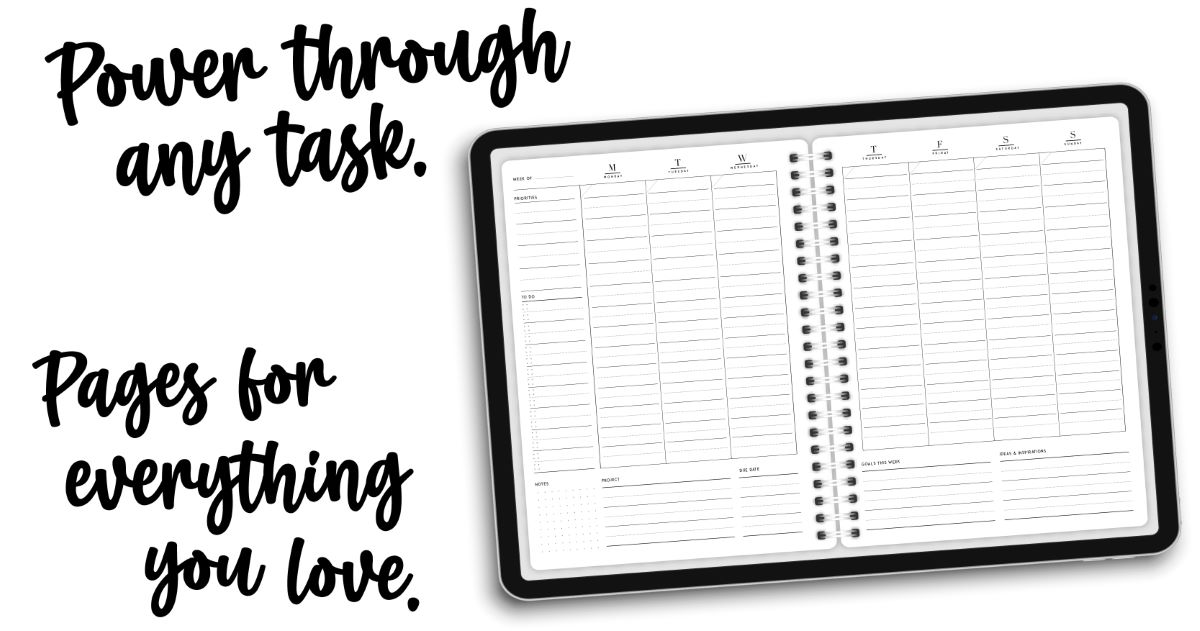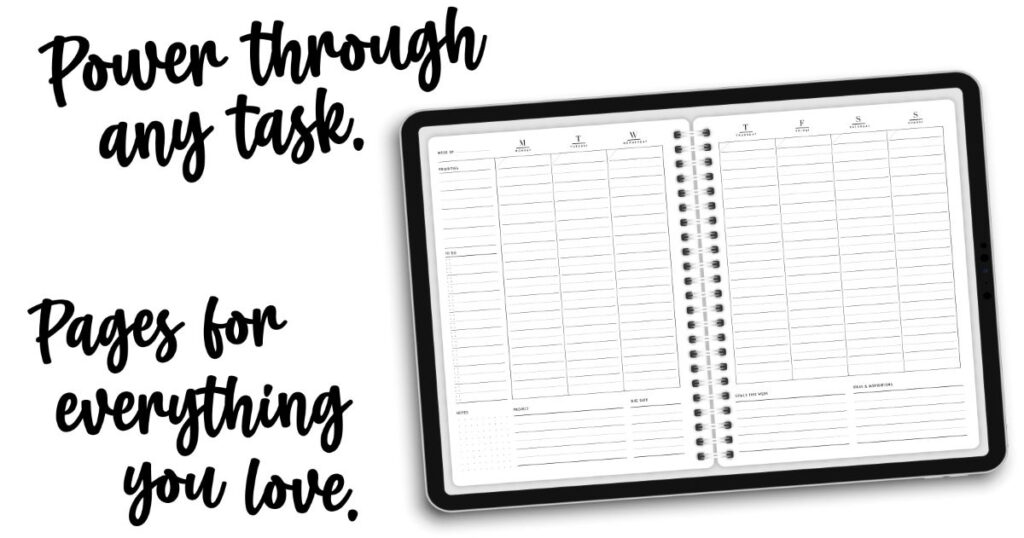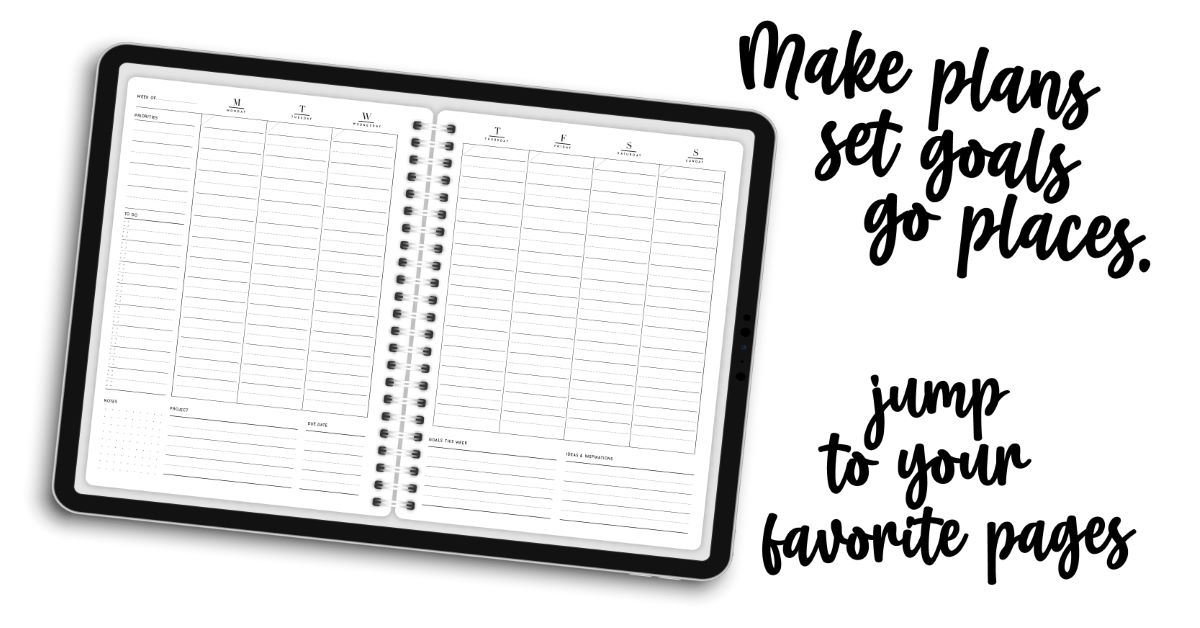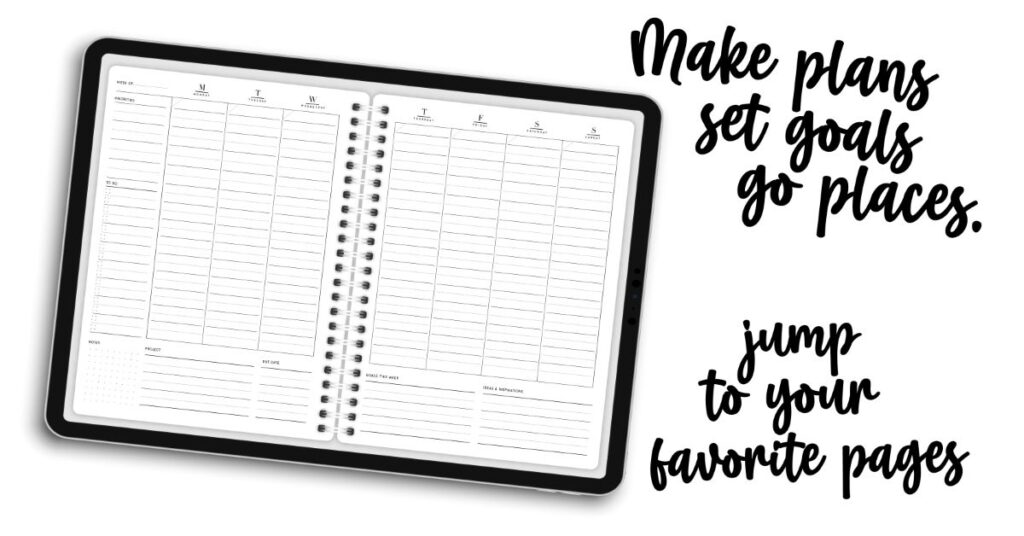 See what's included in this digital weekly planner
This hyperlinked digital weekly planner has been designed to work with your favorite digital note-taking app and comes with the following features:
Cute realistic design
Hyperlinked Tabs and Clickable Index for easy navigation.
Weekly Planner
To Do List Pages
Notepad pages
Blank Checklist
Blank Lined Paper for simple note-taking
Blank dot grid pages for daily, weekly, and monthly planning.
Blank pages – for ideas, doodles, or notes.
2024 & 2025 Yearly Calendars
Stylish Cover
Digital Weekly Planner
The digital weekly planner features a double-page spread, with plenty of space to write down your schedules, appointments, events, and more. You'll find spaces for everything you need to prioritize and do. There's also space for projects, goals, and more.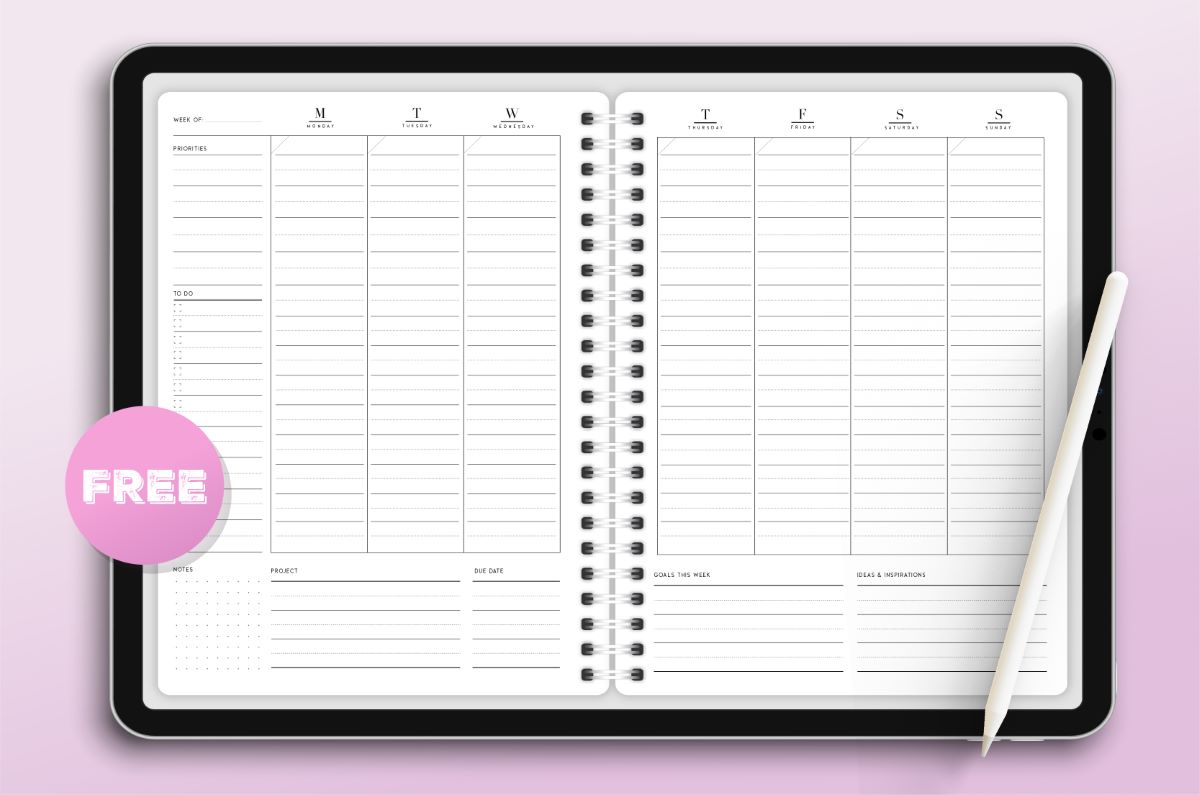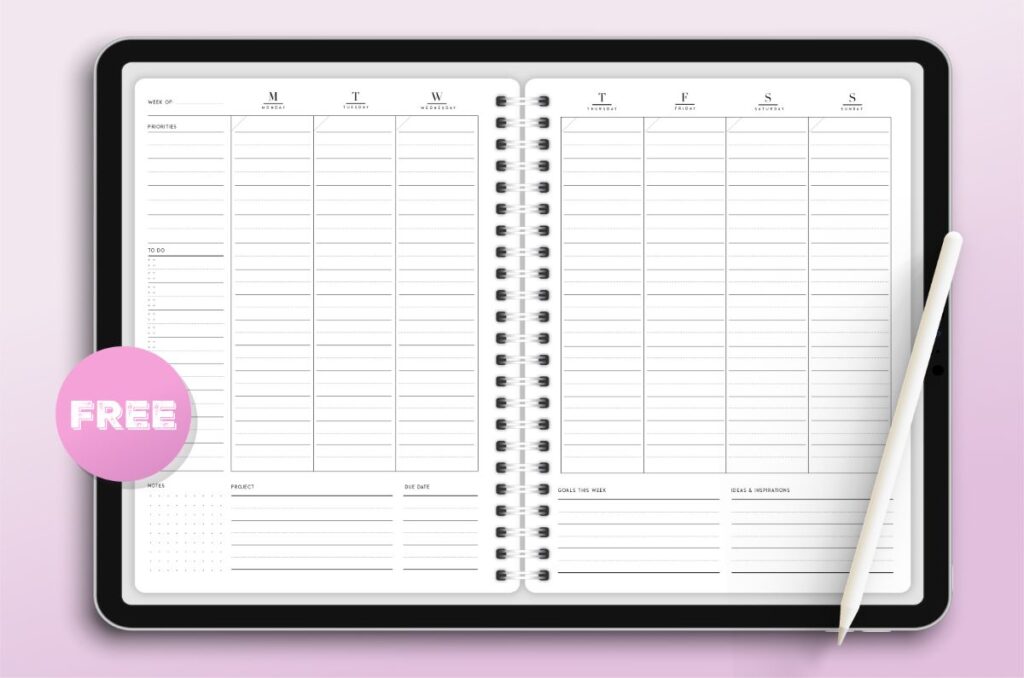 Weekly To Do List
Useful to-do list pages to help you prioritize and get things done. These to-do lists can be used to plan all of the things you need to do this week.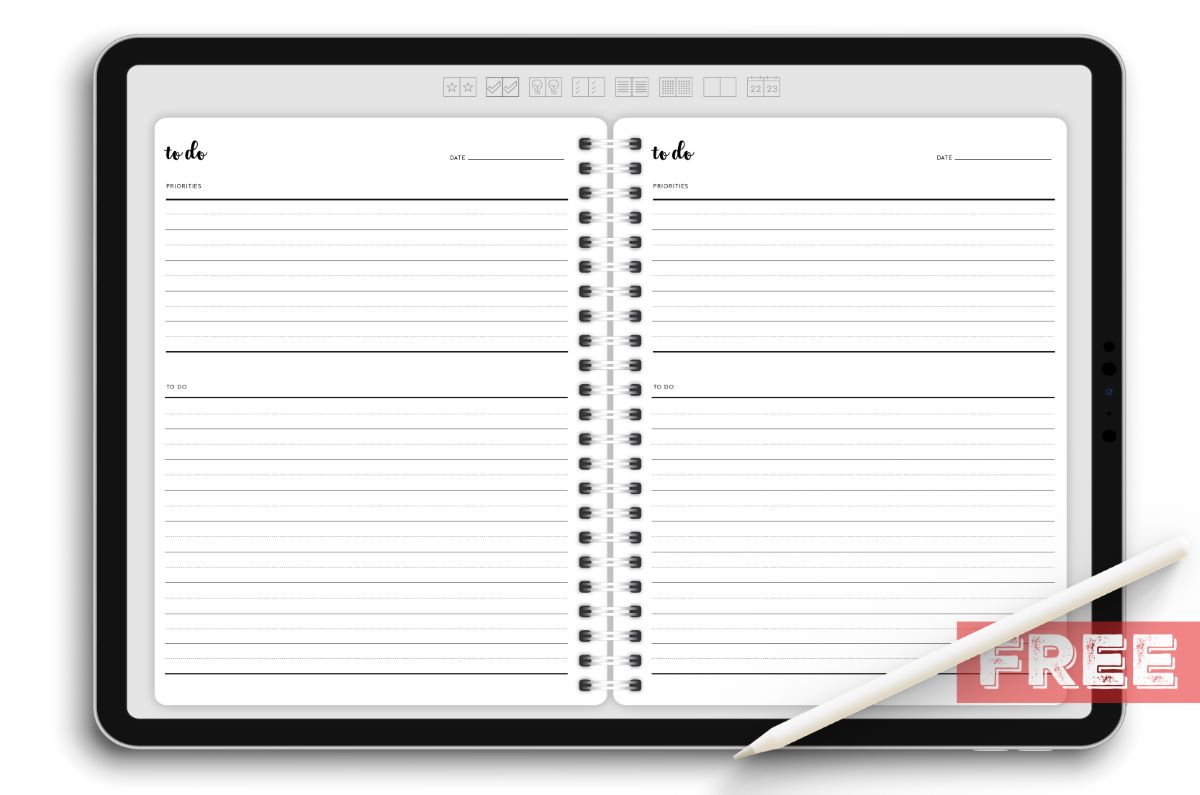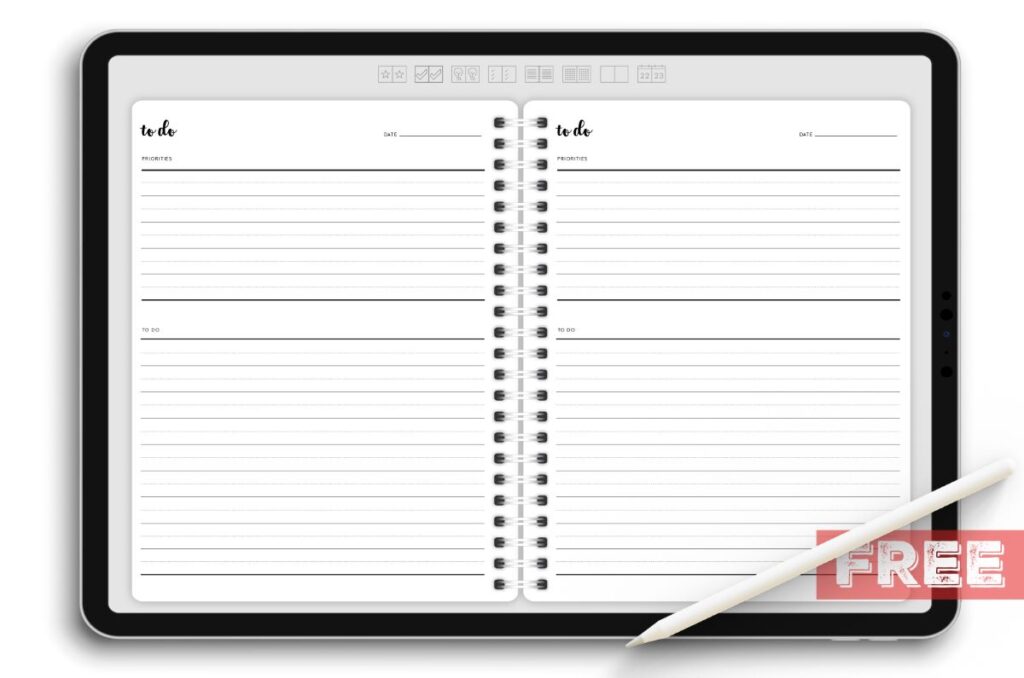 Digital Note Pad
What useful planner wouldn't come with pages for writing down your thoughts and notes? This is why we were keen to make sure this weekly digital planner included pages for all of your notes.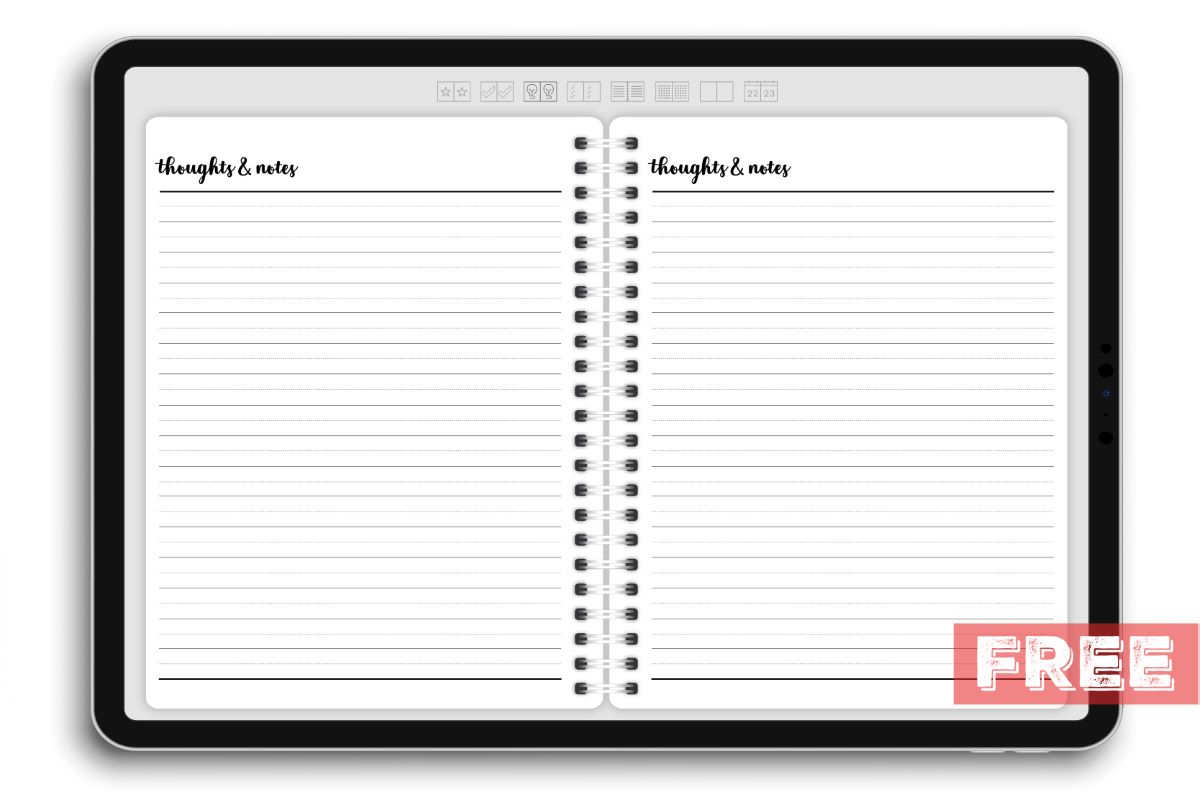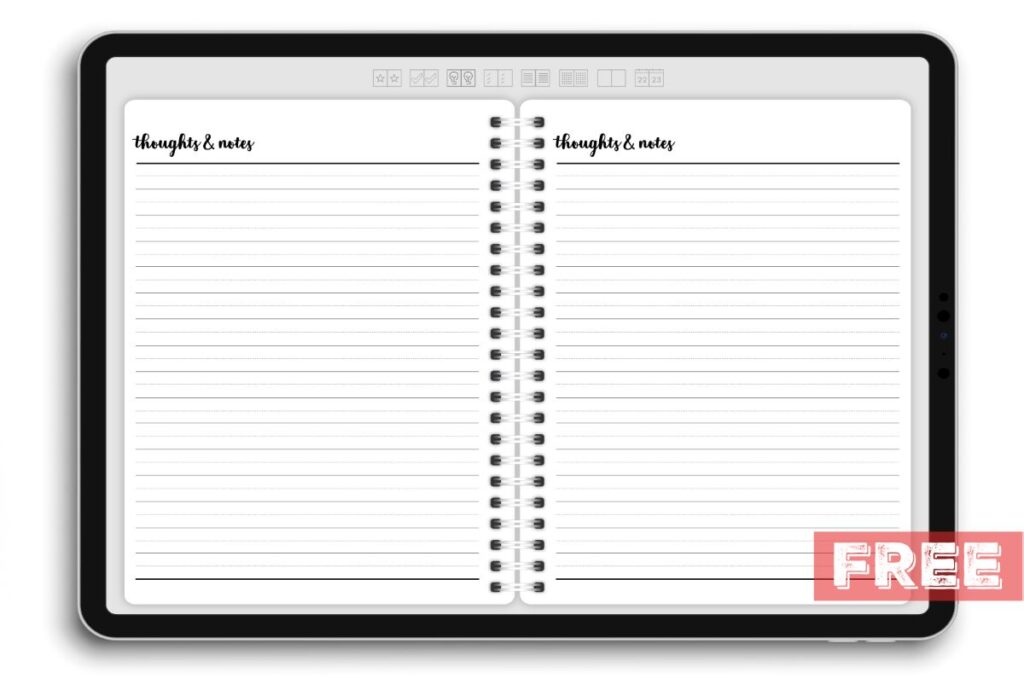 Digital Checklist Pages
You'll also find blank pages, such as this blank checklist, that can be used for many different things, such as a grocery list, packing list, or anything at all that you need to check off.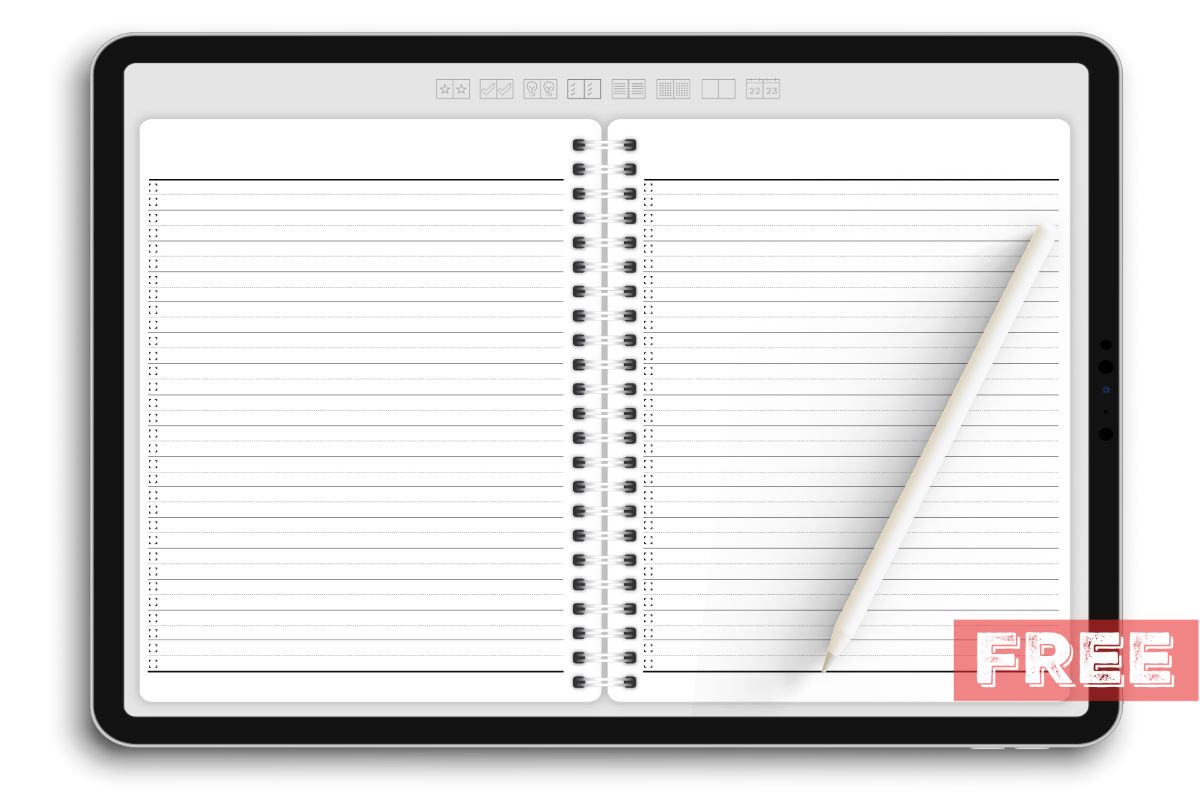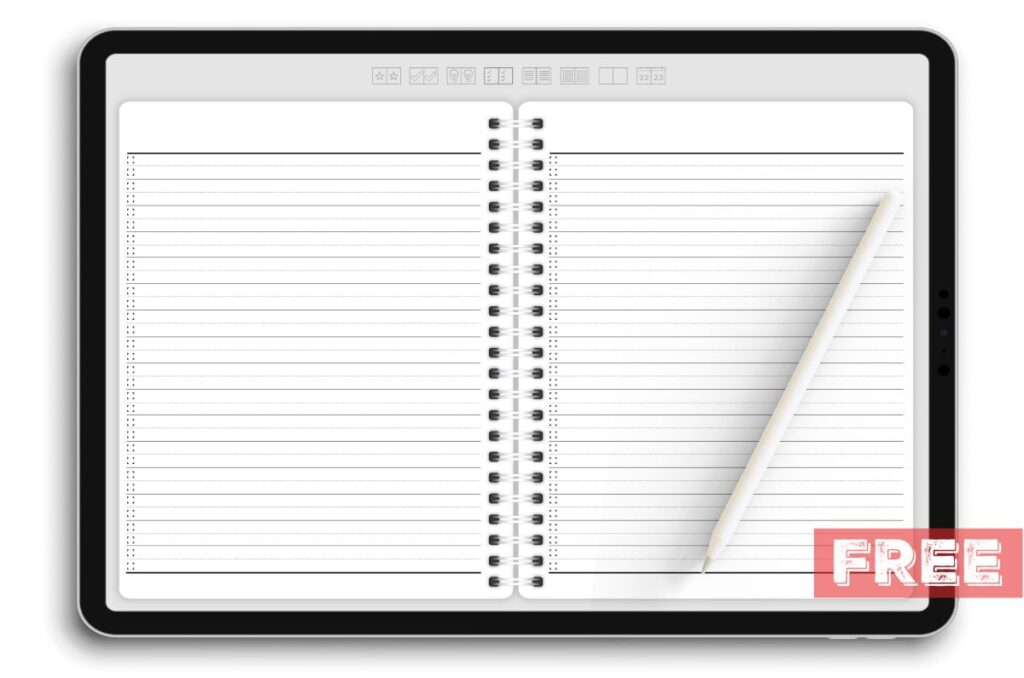 Add your favorite planner pages with ease
You can also design your own planner pages using Canva and import them into this planner, or you can use pre-made planner inserts or a mix of both.
Ideas and pre-made planner inserts include:
Daily planner
To do list
Schedule
Weekly planner
Weekly journal
Monthly Planner
Calendar
Finances
Bill tracking
Savings tracking
Debt tracking
Meal planning
Recipe Planner
Kitchen Inventory
Checklists
Sleep tracking
Vitamins and Supplements
Calorie Intake Tracker
Workout Log
Habit Tracker
Mood Tracker
Goal Planner
Project Planner
Password Tracker
Contacts
Events & Birthdays
Lined Paper
You'll find this digital weekly planner contains blank pages that are perfect for inserting our planner inserts. You can also use them for drawing, or for anything that you would normally use blank paper pages for.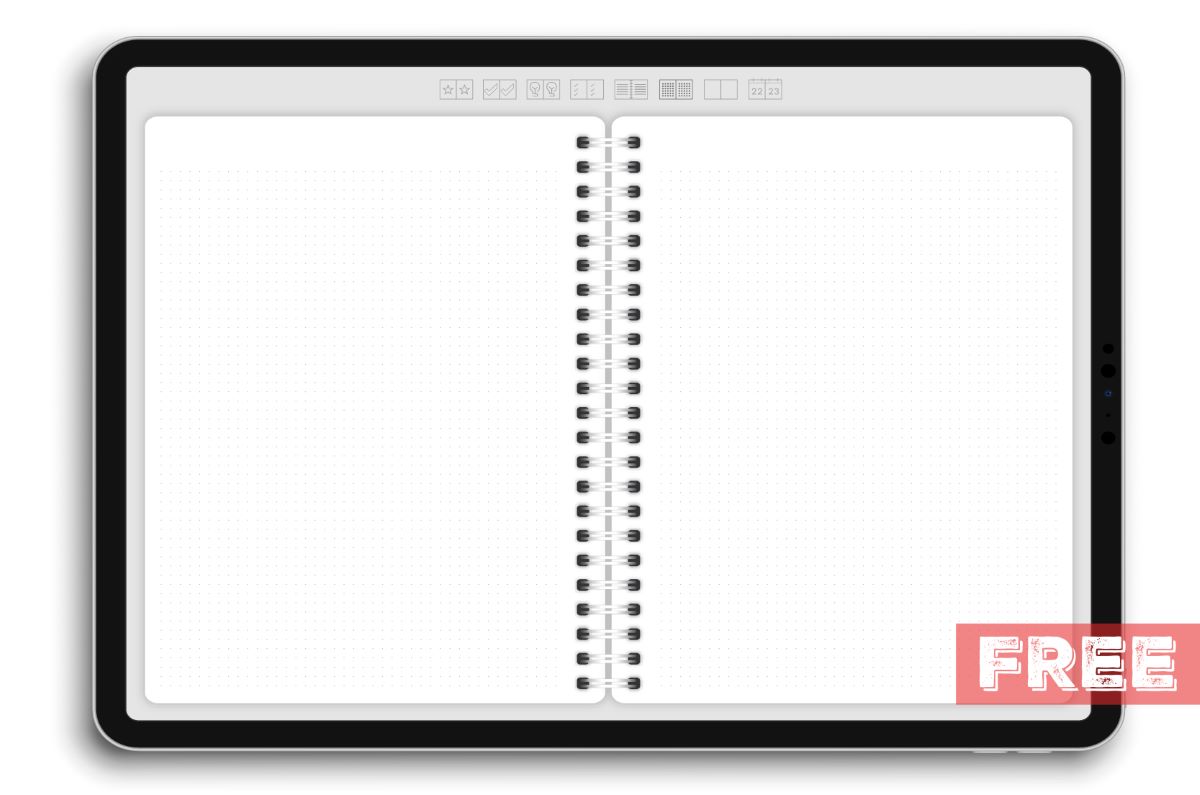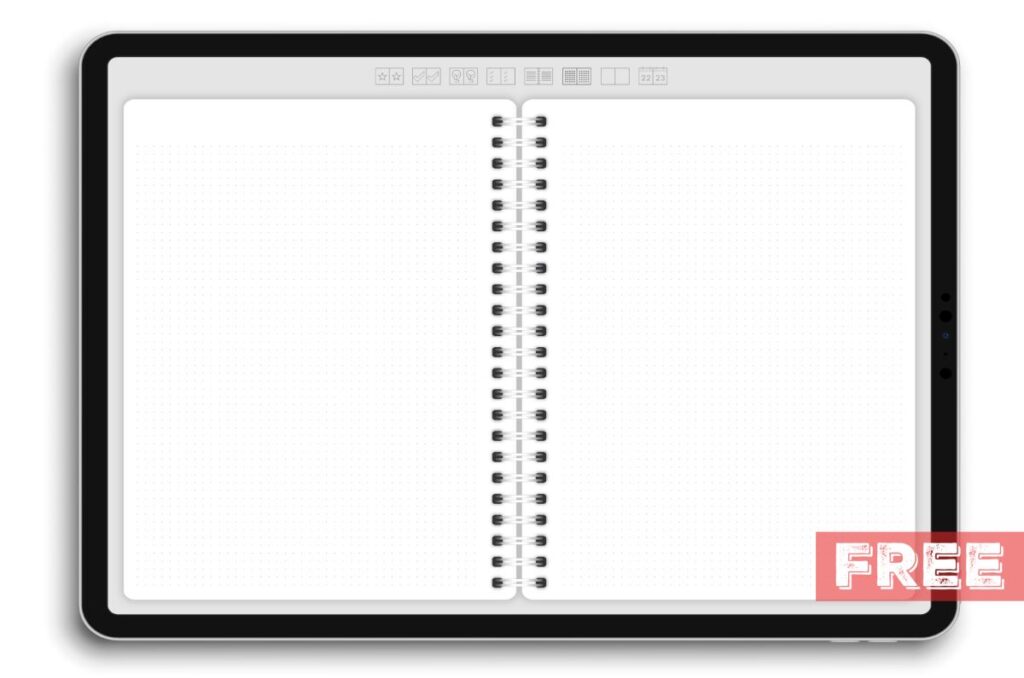 Check out our full range of free planner inserts for more ideas and save the ones you need for importing into this digital planner.
If you like this digital monthly planner, be sure to see our huge range of popular free premium Digital Planners for many more different styles of planners that you can use digitally for free.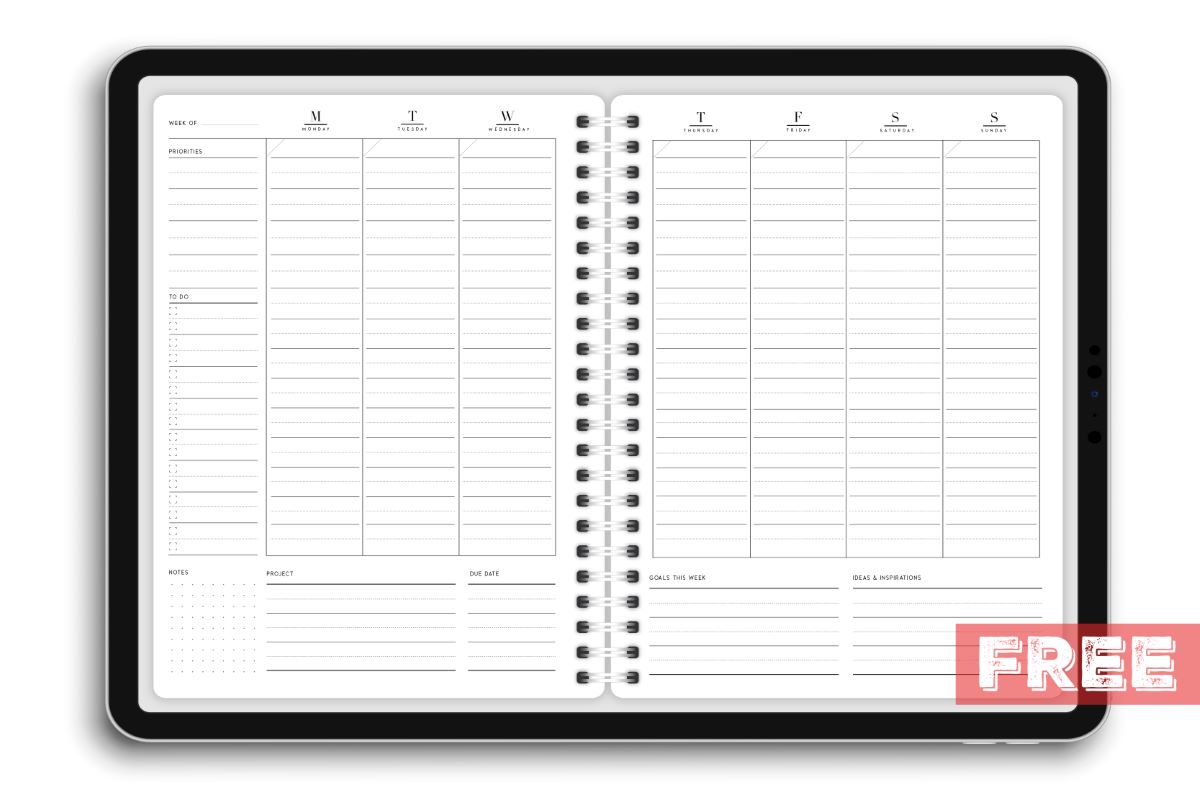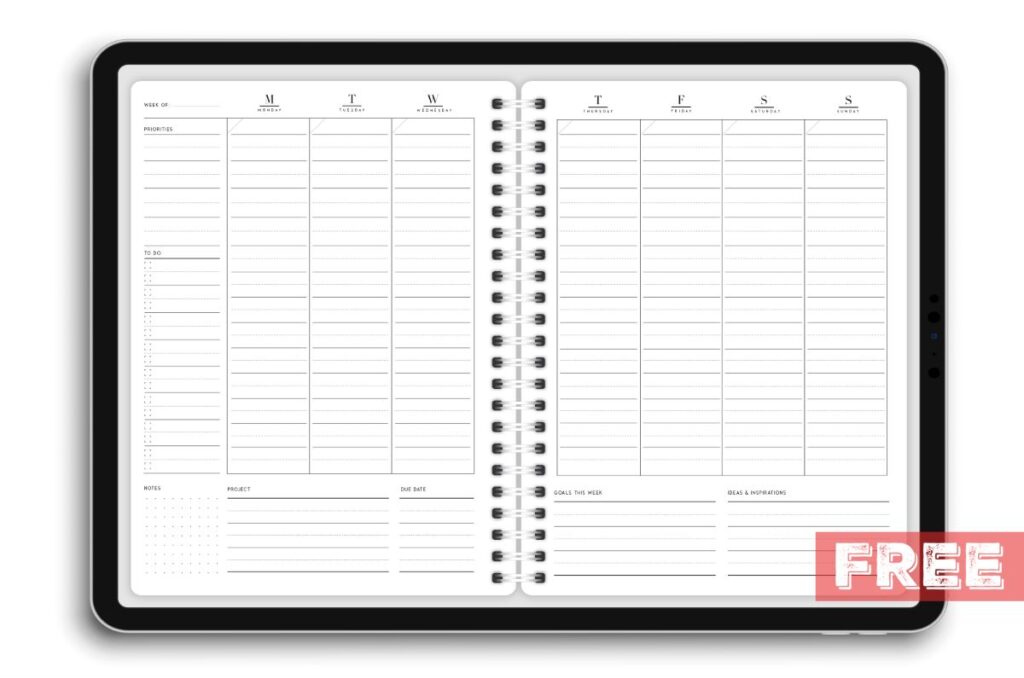 How to use a digital weekly planner
There are also things that you can do with a digital weekly planner that you can't do with a regular planner notebook. These include erasing mistakes quickly and cleanly at a touch of a button, moving things around on the pages, copying and pasting, searching for notes, organizing your notes, saving and reusing elements, and even opening notes side by side.
There's just so much you can do with a digital weekly planner.
You can also access your notes on your phone, or even your Mac, using the built-in synchronize features that these note-taking apps have. So you'll always have your notes and plans wherever you go.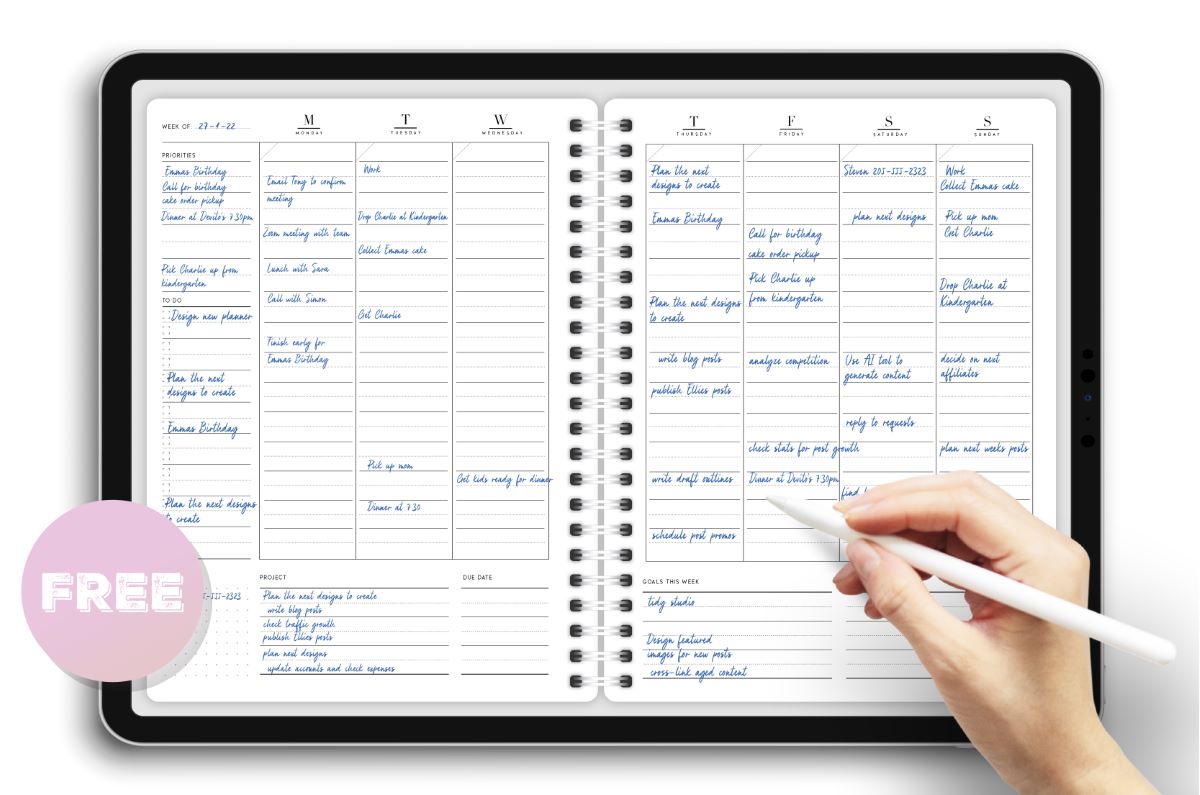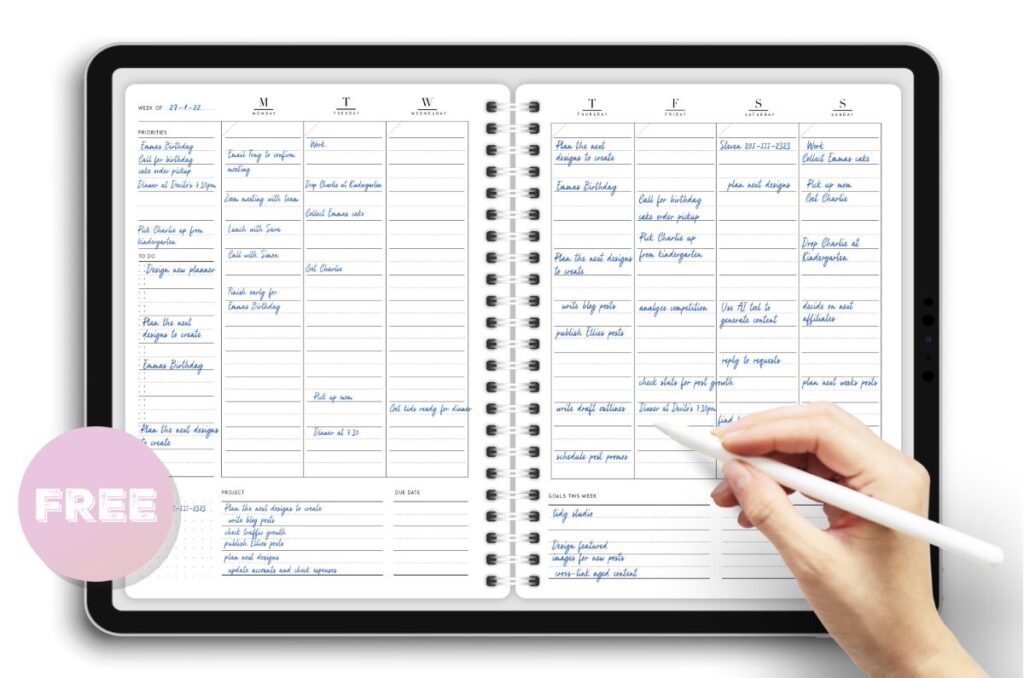 A free digital weekly planner you can use right now
We've created this free digital weekly planner that you can download and start using right now. You'll find similar digital planners online, most of which are sold for around $10 each, but we're giving ours away for free.
Better yet, ours is far better than most of the digital planners that you'll find online, with more features, and more pages, and they look so professional.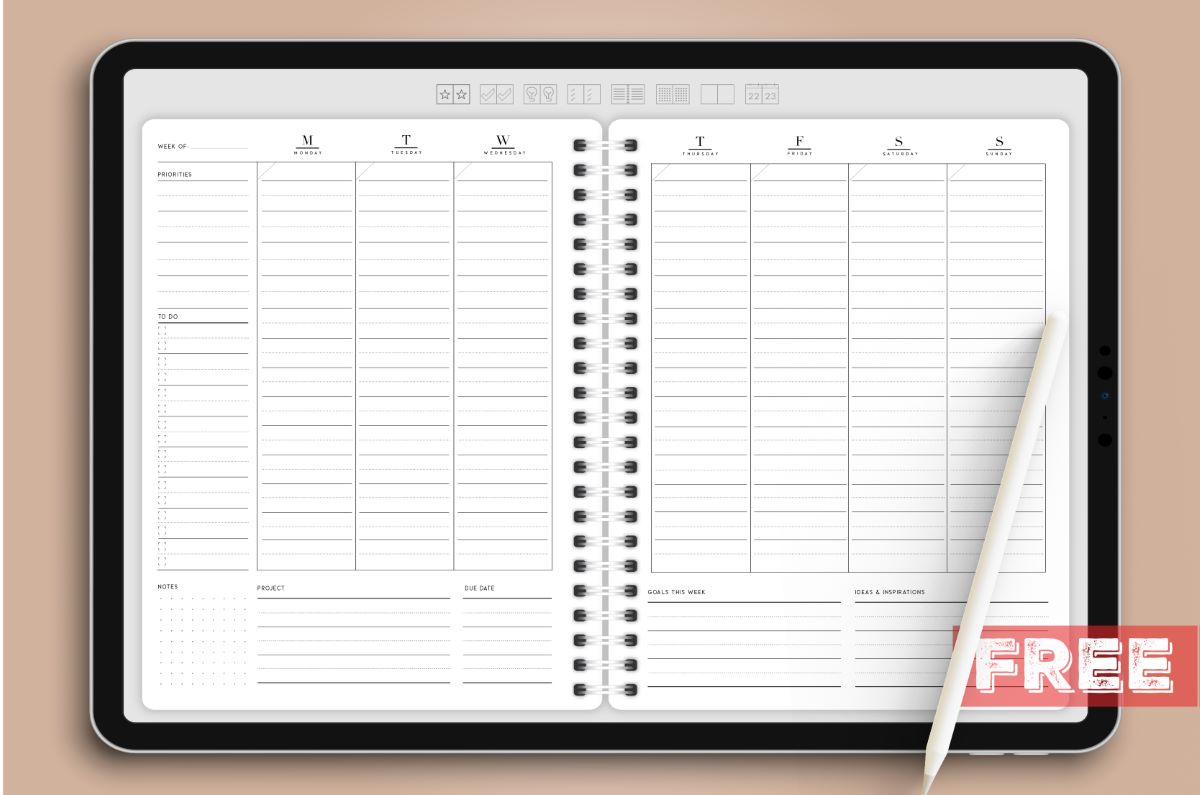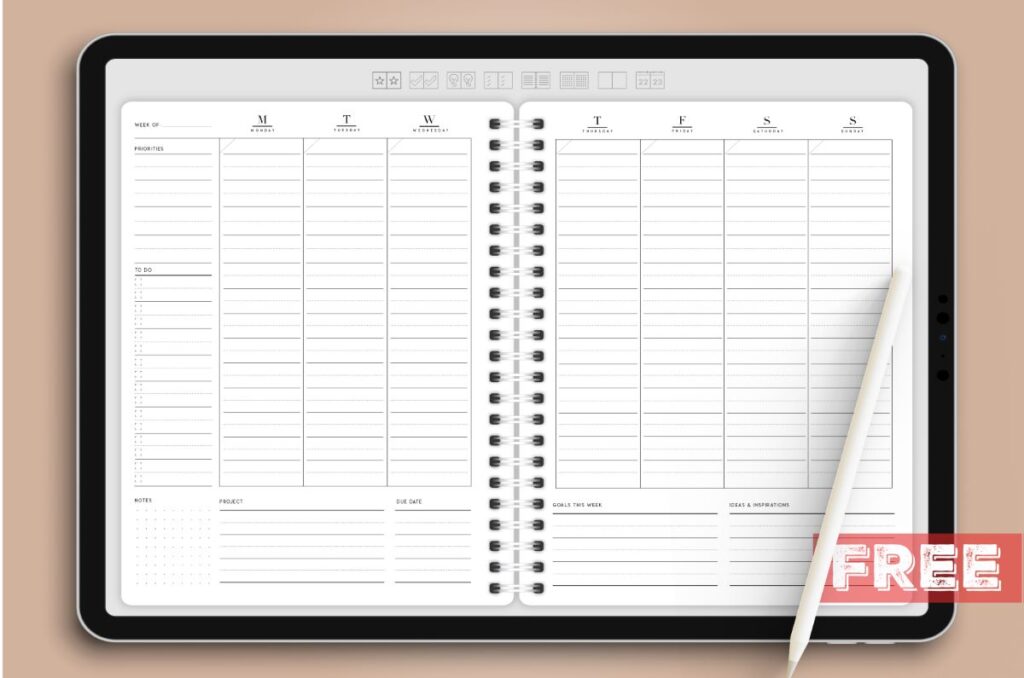 What I use for digital planning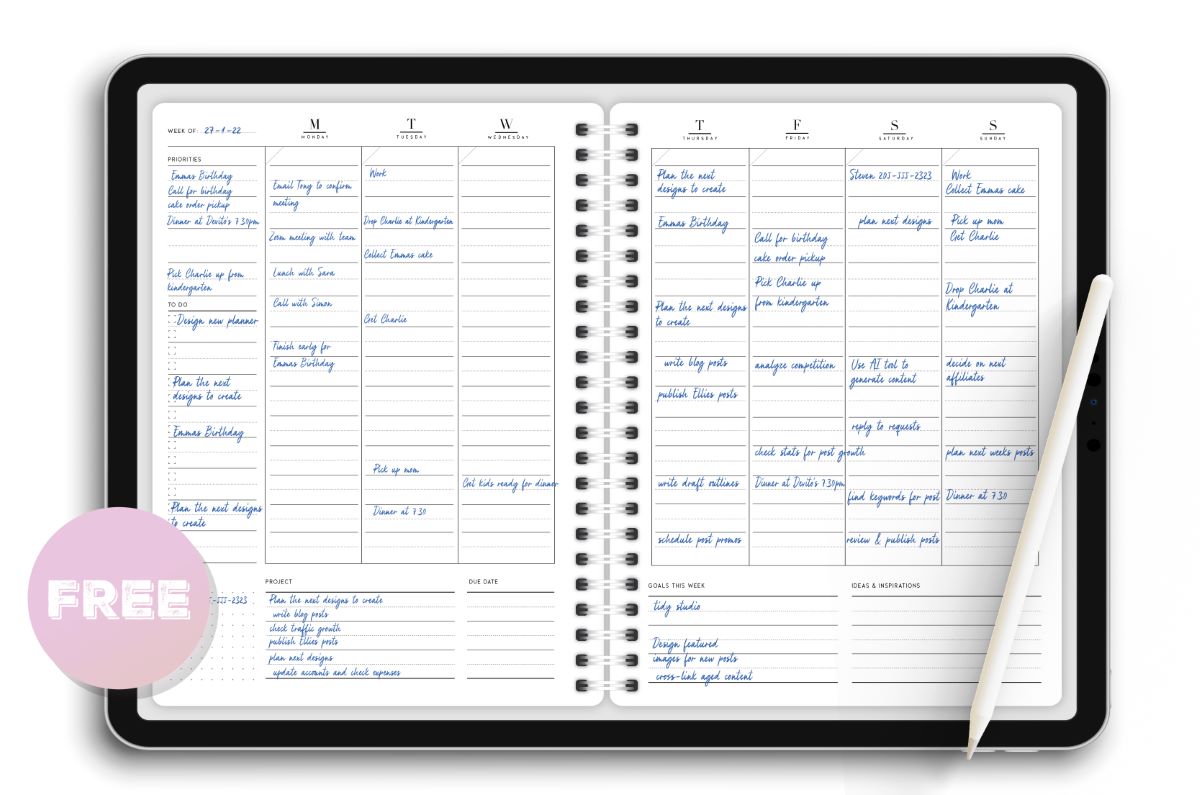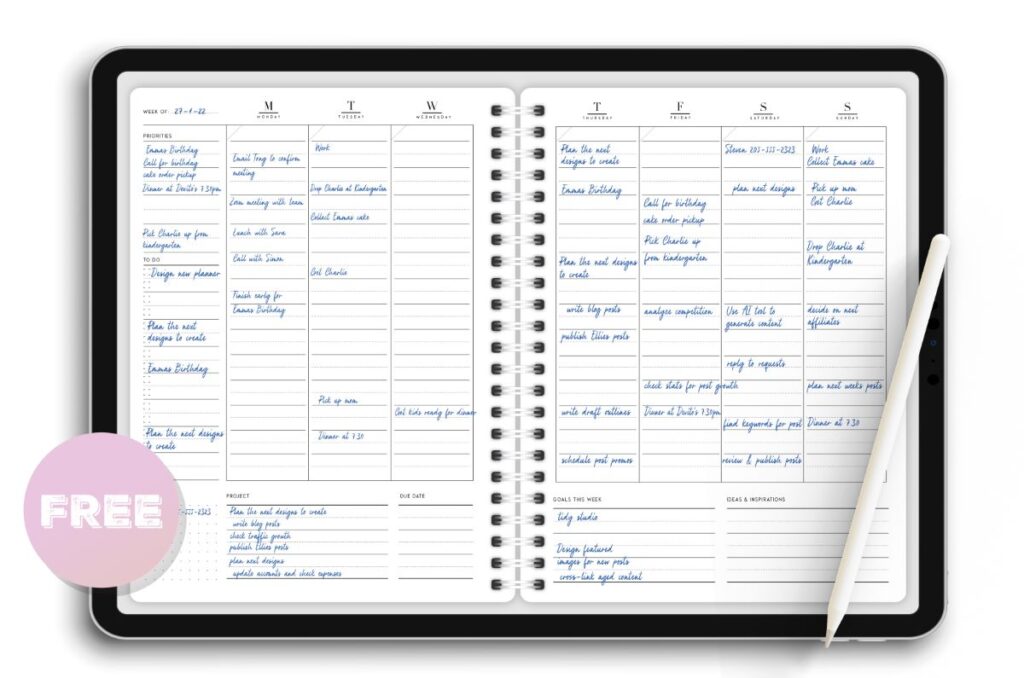 How to get started with the free digital weekly planner
To begin planning your week, start by downloading your free copy of our digital weekly planner.
Just pop your email into the box below and you'll be sent a link to get your free copy, then save it to your iPad or tablet.
You'll need a note-taking app to use our digital planners with, such as Goodnotes, Notability, or CollaNote. These apps will let you write directly on the planners, with a stylus, such are the Apple Pencil. You can either write using handwriting, type text directly on the planners, or a combination of both.
You can also add digital stickers to the pages, images, and photos, and really personalize the pages
The most popular digital planner app used by most people in the digital planner community is GoodNotes, which costs $7.99 and you can get it from the app store.
Alternatively, there's an amazing app called CollaNote that's relatively new and unknown at the moment, but it is completely free, doesn't have ads, and can do almost everything that GoodNotes can do (and some things it cant).
So, there's really no need for you to spend a penny to start digital planning.
So get our free planner, get a notebook app, and you can start planning in just a few minutes.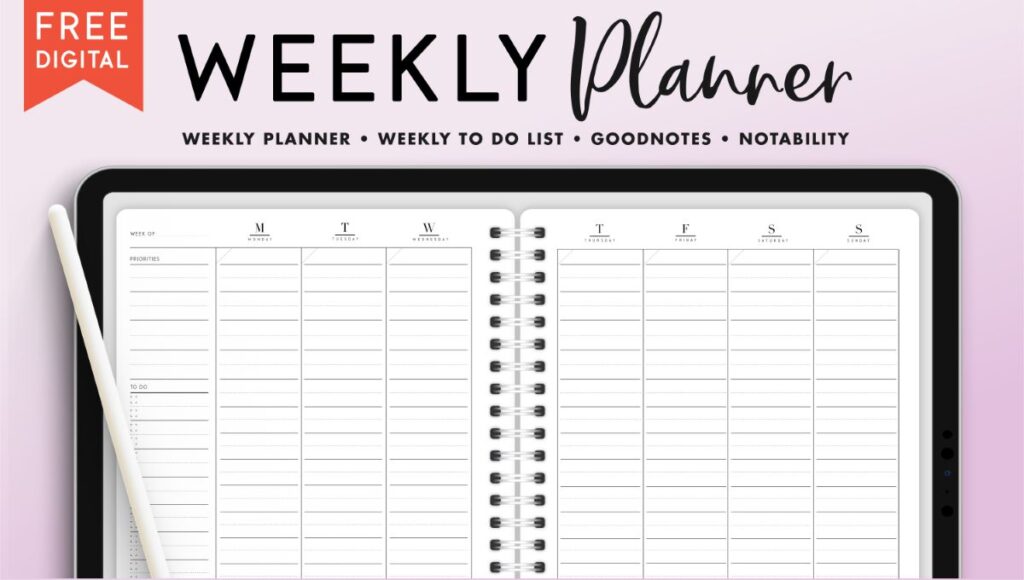 More free digital planners
Did you know that we have many other digital planners that you can use for free?
If you like this free digital monthly planner and you're looking for more awesome freebies for your iPad or Android tablet, then take a look at our collection of best free digital planners or the recommendations below.
Never buy another planner! We've created a huge range of amazing premium digital planners and they're all totally free!
We think you'll really enjoy using these free digital planners:
Why not get one of these free digital planners?
We've got many more free digital planners for you to start using right now. Here's our latest: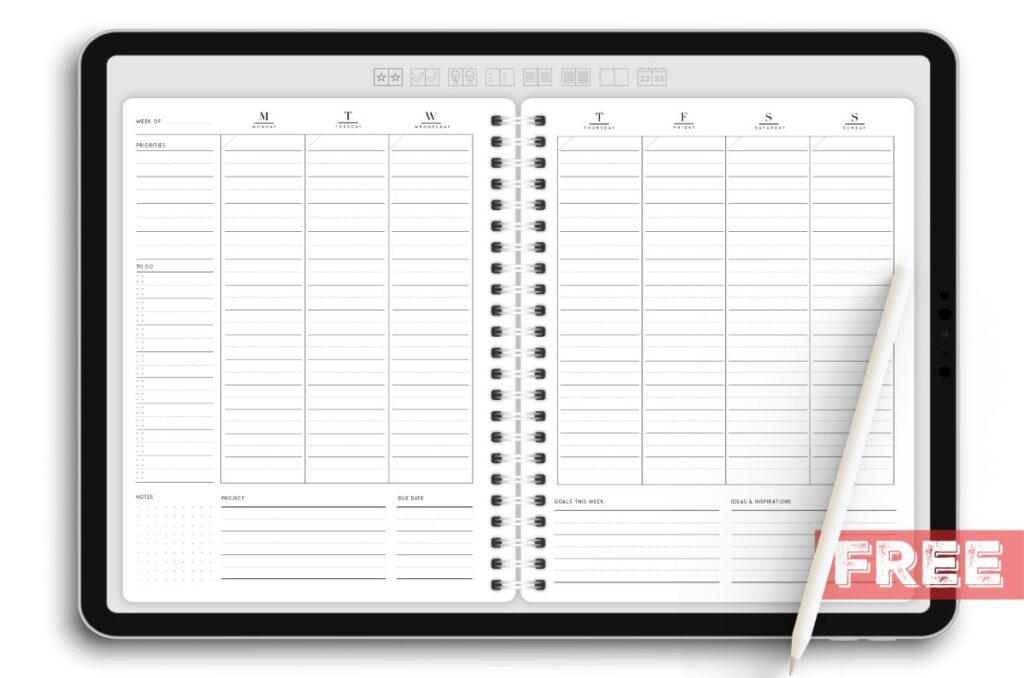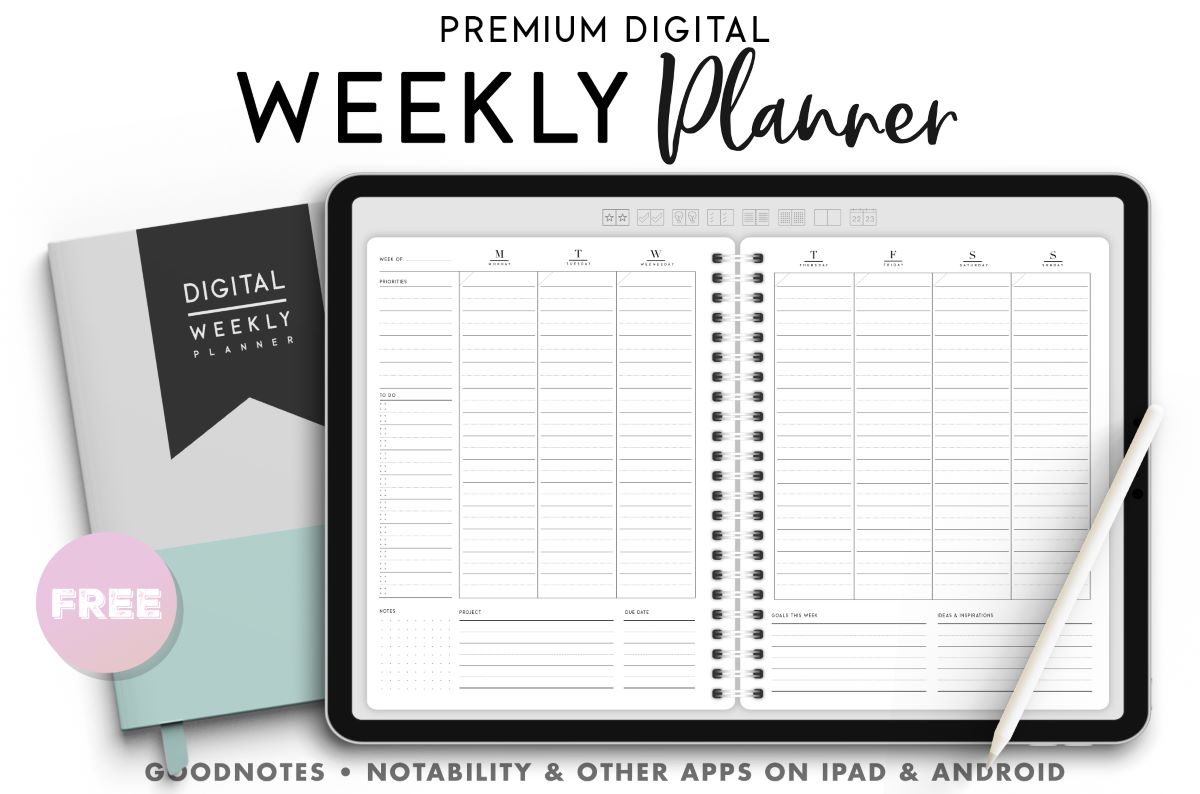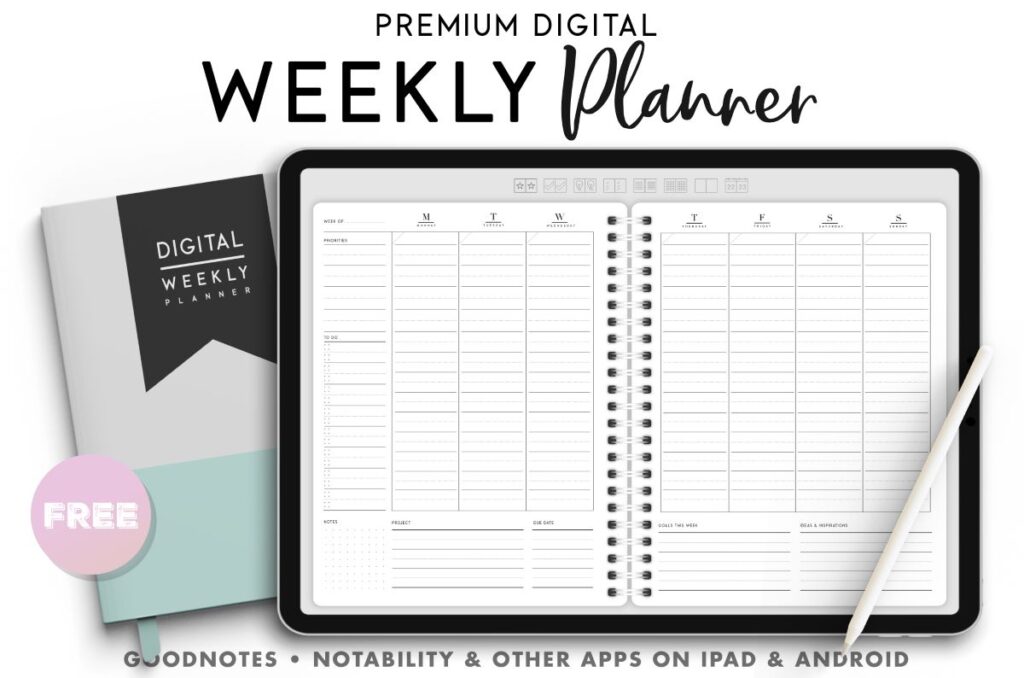 Get the free digital weekly planner
Get this free weekly digital planner right here. It's great for using with GoodNotes app and similar note-taking apps on your favorite device. Featuring hyperlinked tabs, an index page so that you can jump quickly to any page in the planner, and so much more.
We've got many more free digital planners for you to start using right now. Here's our latest: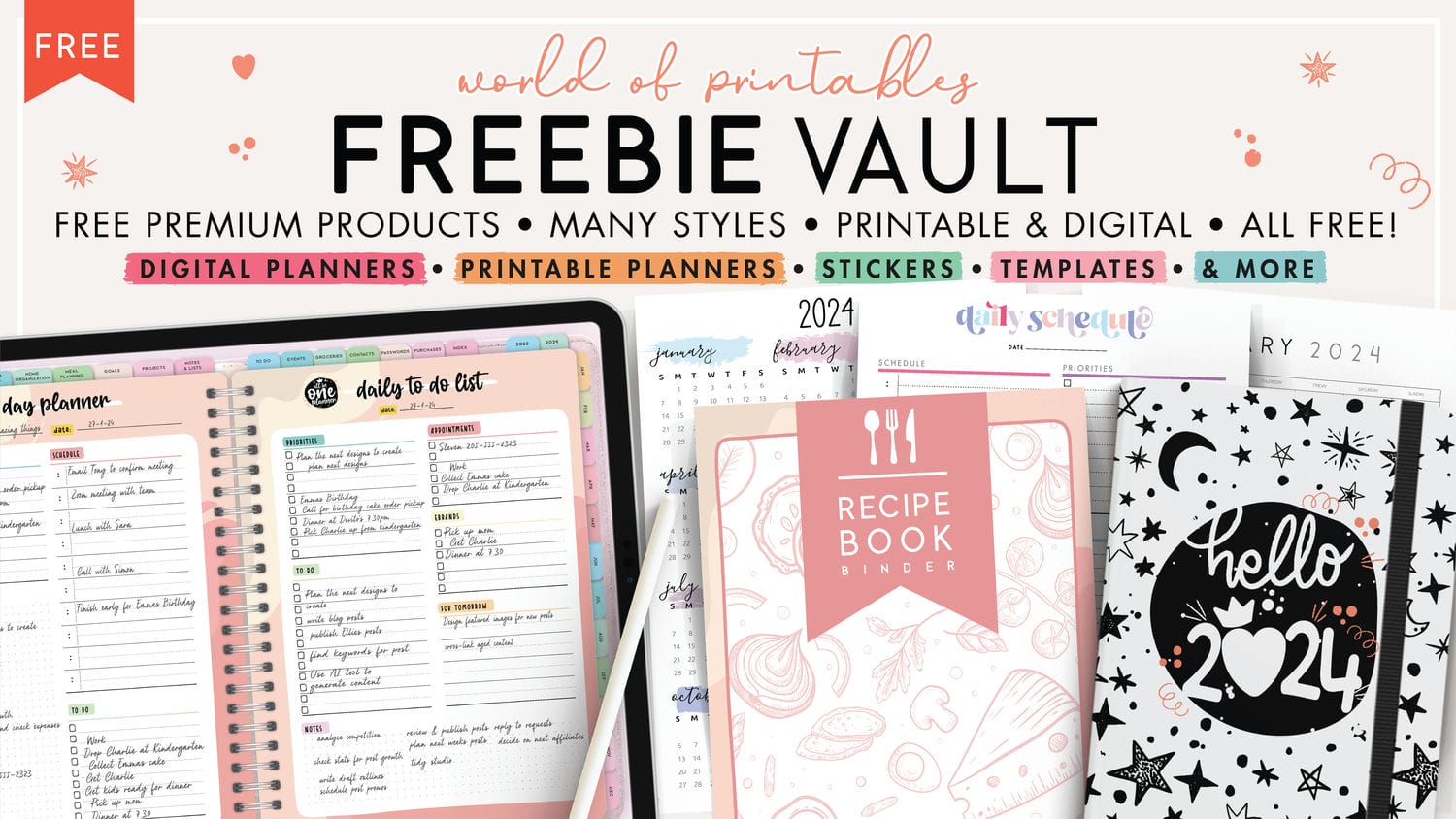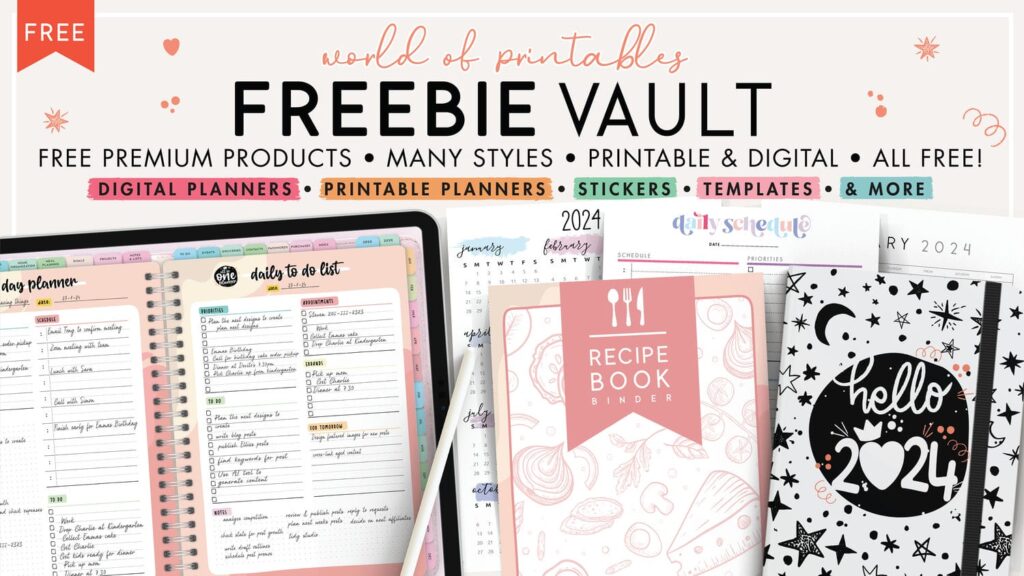 For many more free digital planners like this for free, see our Freebie Vault.
You'll also like…
Did you know we also make printable planners that you can also use for free!
Start planning next year now with our totally free 2024 Planner
Why not make 2024 an amazing year? Set goals, plan how you're going to achieve them, and make the most of the things that matter. Great for using as a personal planner, or for using at work.
Our 2024 planner is packed full of useful planner pages to help you get more done, stay organized, and live healthier and happier.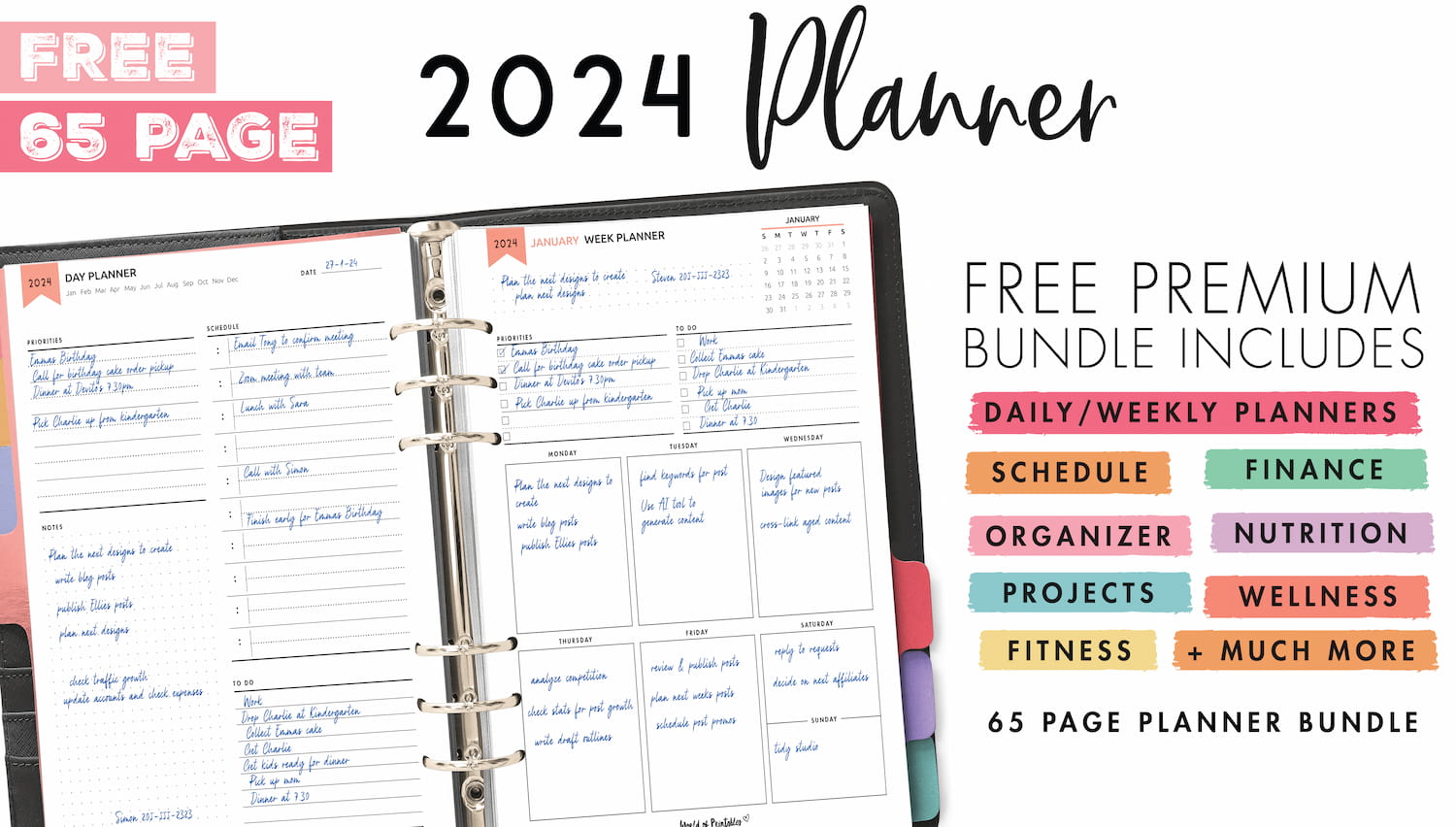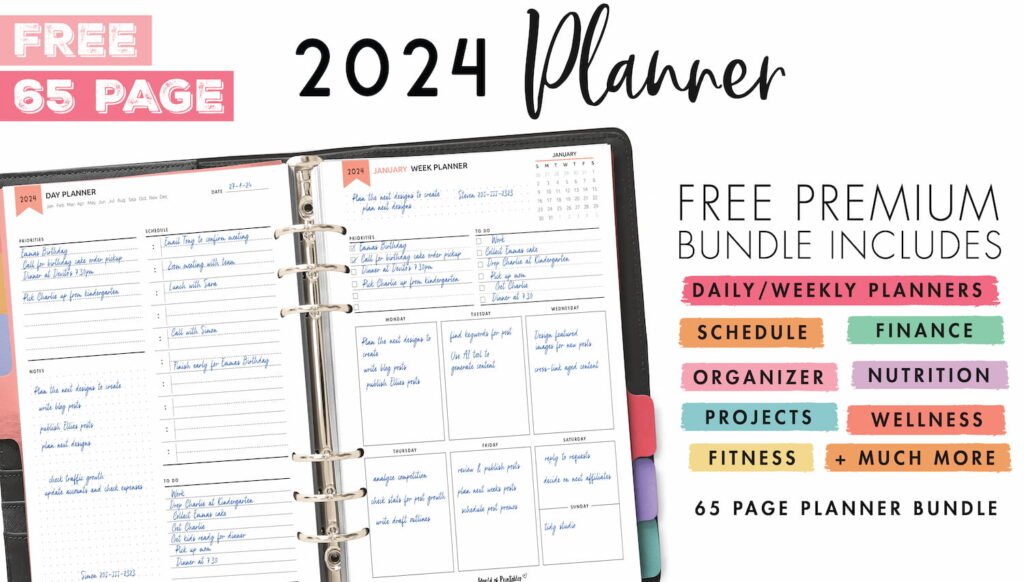 Get this awesome free 2024 Planner bundle.
Make the most of your new free digital weekly planner!
Be sure to recommend it to your friends! Follow us on Instagram / Pinterest or tag us if you use our planners or printables. Either way, let's be friends! it's a great way for you to keep updated with our latest freebies.
Follow World of Printables on Pinterest
COPYRIGHT
This digital planner is for personal use only and is the copyright of World of Printables – you cannot redistribute, reproduce, or resell, although you can link back to our website.
What do other people do after viewing this?