Do you want to learn how to draw bullet journal doodles easily? Well, let me help take the stressand complexities out of drawing in your bujo!
This post features amazing floral and botanical step by step doodle tutorials for you to try out. These step by step doodles are so easy to draw and they all look incredible. There is a stunning mix of lavender, daisies, floral frames, wreaths and easy botanicals for you to try and what's even better is that I also give you all of these tutorials to print and practice in your own time.
So follow along, try them out and grab your free printable bullet journal step by step doodle pack below!
I really hope you love these doodles!
How to Draw Plants For Bullet Journal
Look how pretty and simple these plant doodles are. This step by step plant doodle page shows you how to easily draw four different styles of plants that only need one leaf shape to complete. The great thing about these plant doodles is that there is nothing fancy about them so they are so easy to draw but still look amazing. Add little balls or simple flower heads to add something extra to them.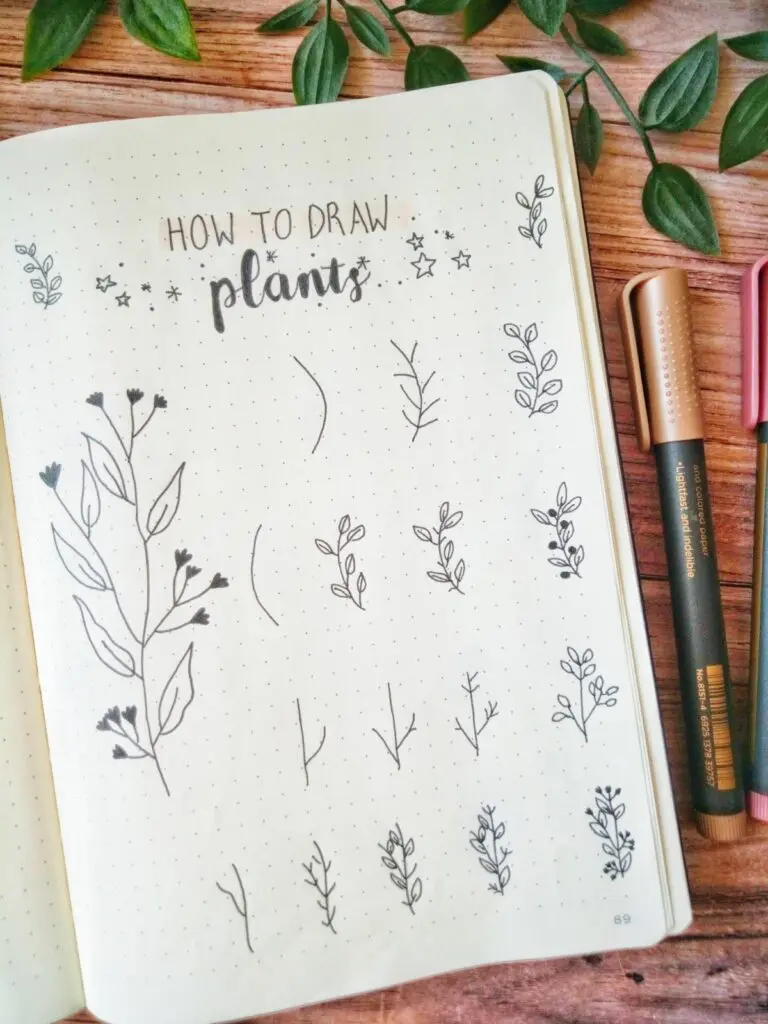 How to Draw Botanicals
Here are four easy ways to draw beautiful botanicals for your bullet journal. These botanical doodles are so easy to follow and show you how to create beautiful floral doodles in seconds.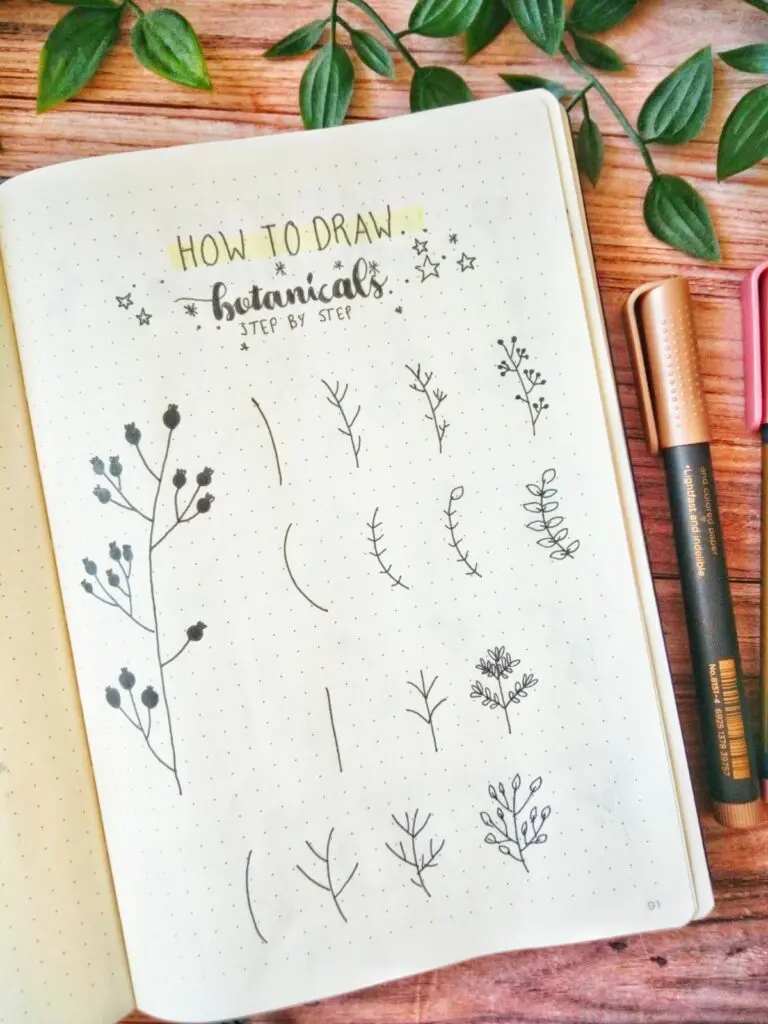 How to Draw Plant Doodles
These pretty plant doodles look amazing and you can learn how to draw them in five easy steps. There are four different styles of plant doodles to try out and you can easily add extra flourishes to make them suit your own style.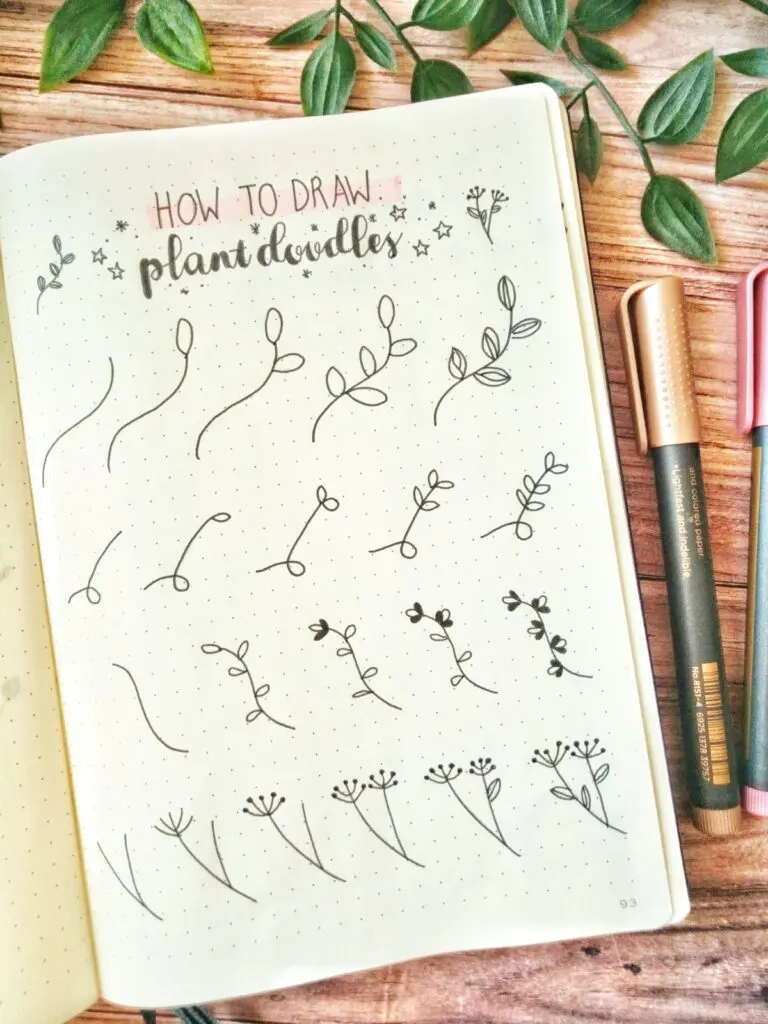 How to Draw Plants in Bullet Journal
I love leafy plants. There is just something so beautiful and lively about them and I think they make perfect doodles for bullet journals. I had so much fun drawing these plant doodles and I think they turned out beautifully. They look great in black and white and will also look amazing with soft organic green colors.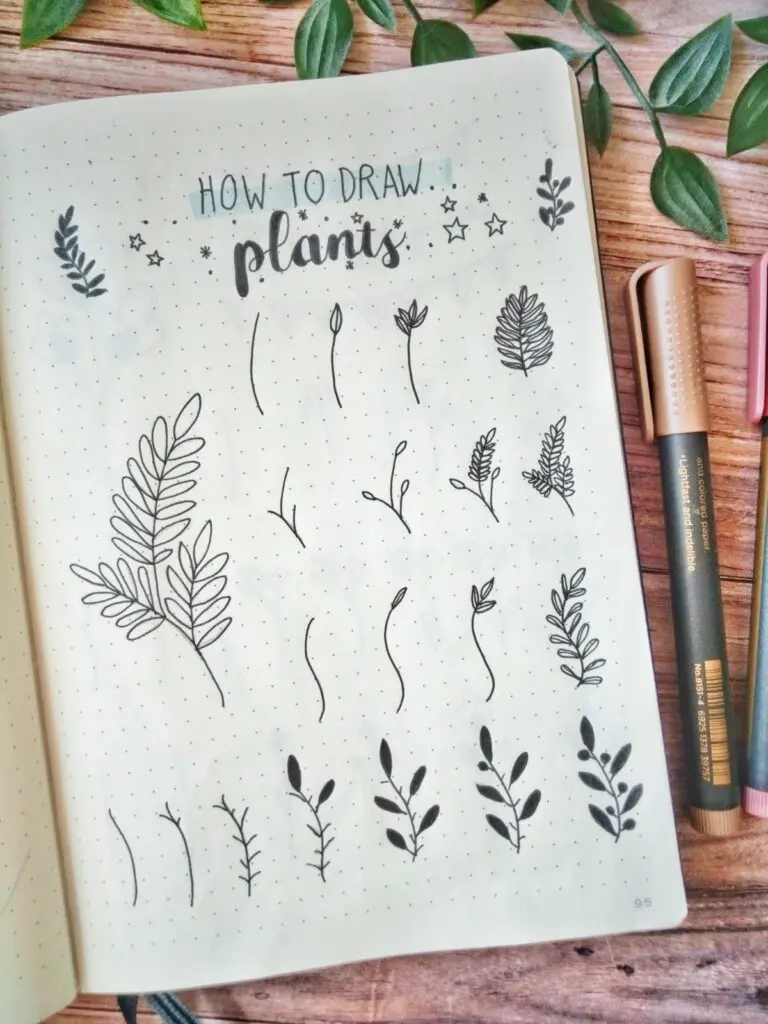 How to Draw Cute Bullet Journal Flowers
Flowers can be so simple to draw and have a great impact. These three flower doodles show you step by step how to draw them easily and quickly using only a basic pen. I like to draw these using a 0.05 pen to help keep them fine and delicate.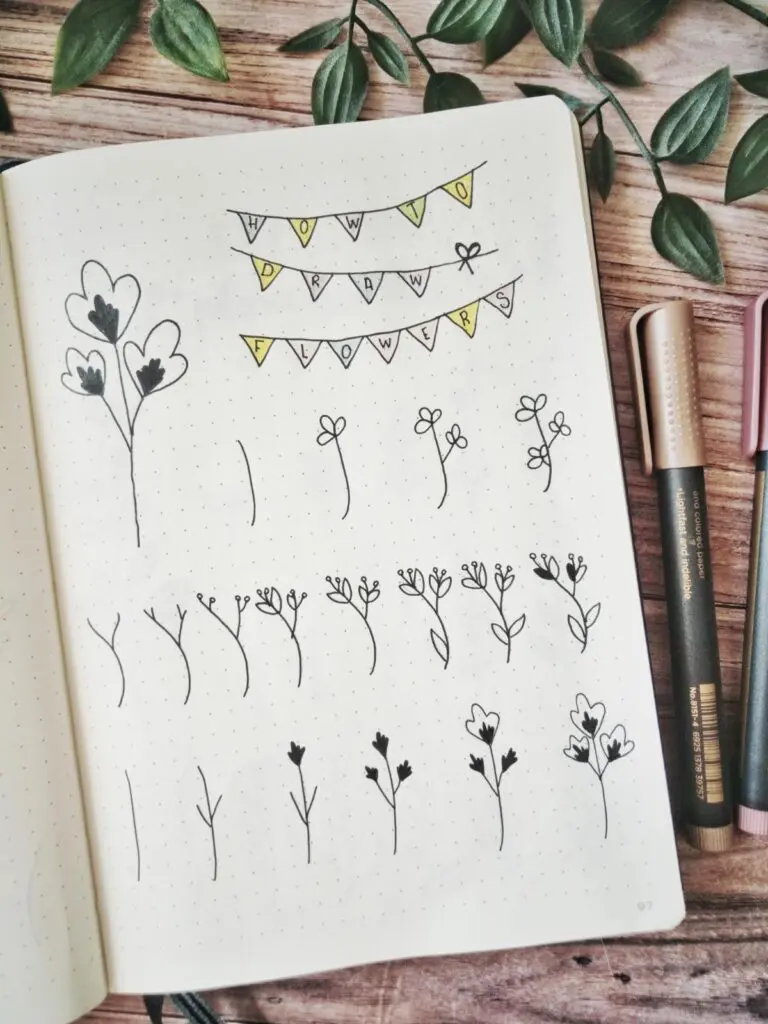 Step by Step Plant Doodles
Ok, I totally love these step by step plant doodles and they look amazing. These plant doodles really are so simple to do but I recommend lightly drawing out the first one with pencil then going over it with pen. The first plant doodle is a continuous line and you are pretty much following the same shape from start to finish.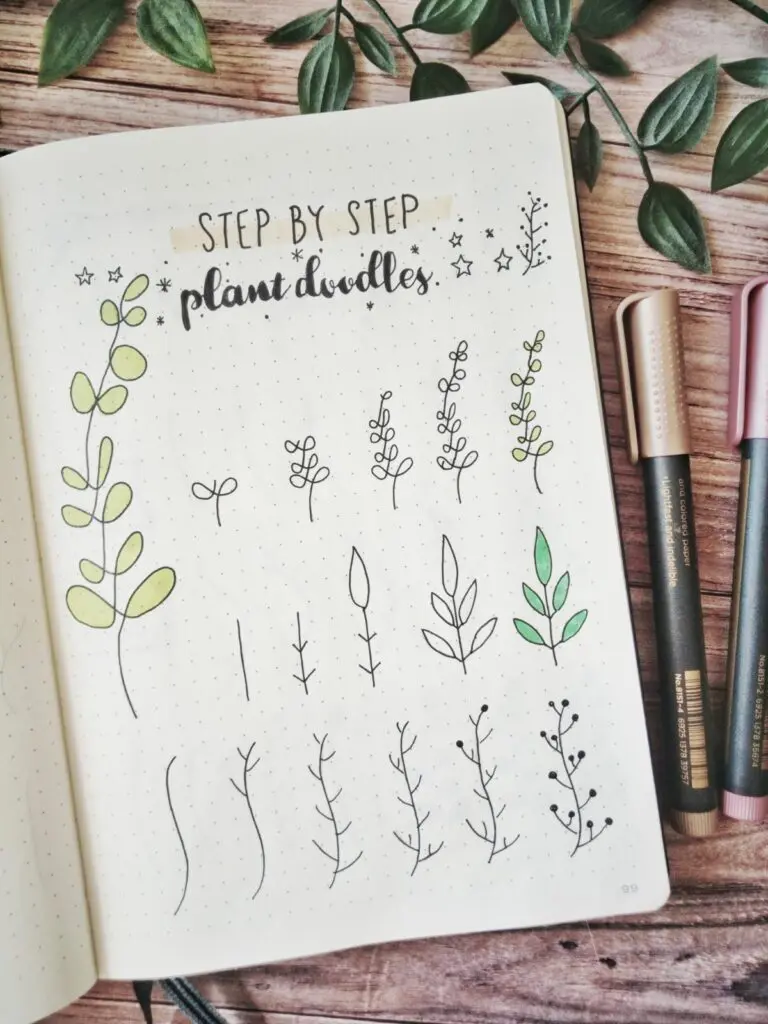 How to Draw Plants and Botanicals
This page was so fun to draw not only for the cute plants and botanicals but for the banners too! This page shows you how to draw three different types of botanicals in a super easy way. I opted to keep these doodles black and white because I love the look of it but they would also look great in color.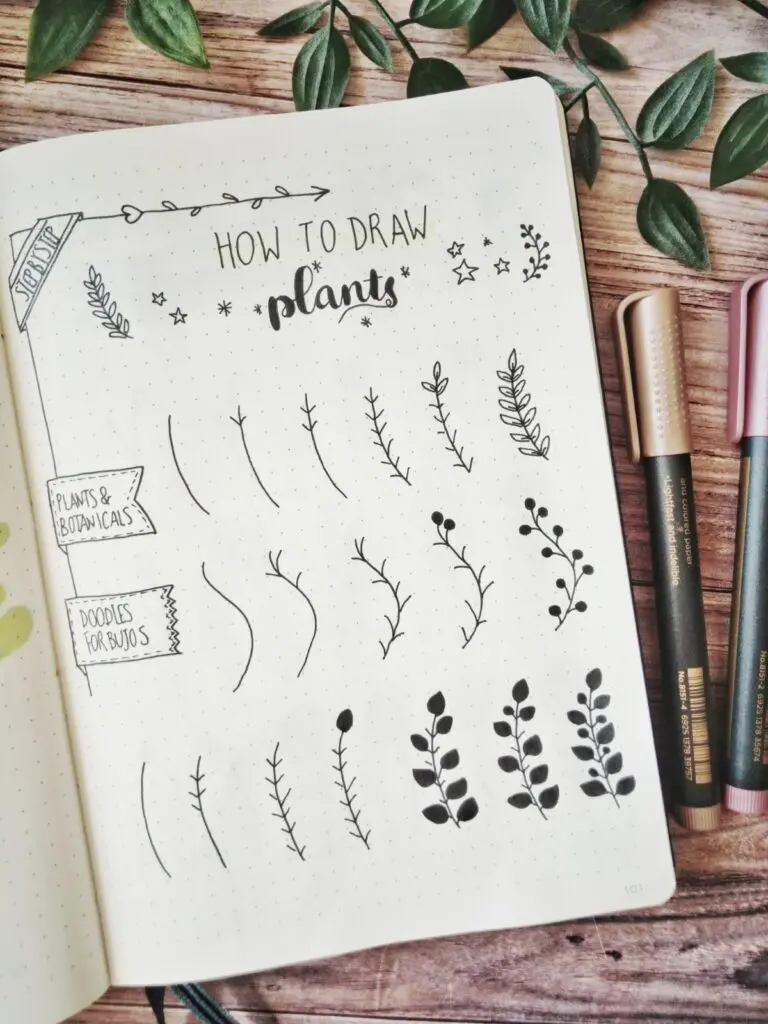 How to Draw Flowers Step By Step
How gorgeous is this page? Everything looks so good from the floral banner to the flower doodles. These flowers have some pretty fine details on them such as lines or delicate petals so I suggest using a thin pen tip. I use 0.05 to draw these as that is my finest nib but you can try with a finer nib if you ever want to make these more intricate or smaller.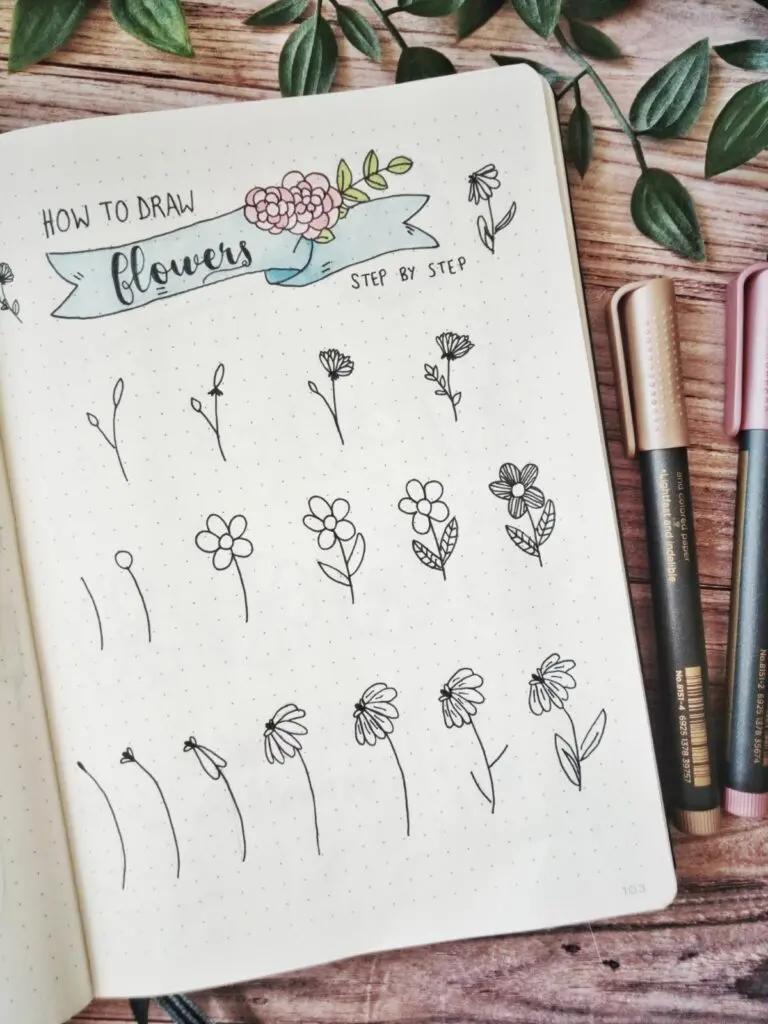 How to Draw Bujo Flowers
Learn how to draw this simple, bold and beautiful flower quickly and easily. The way I have drawn the step by step is the easiest way to make sure your petals are layered giving it more depth like a real flower. On step two, you will draw two petals at '12 and 3 o'clock' then draw the petals in anti-clockwise around the flower. For the details in the middle of the flower, simply draw some squiggly lines in different ways. I know, I'm a pro at explaining this.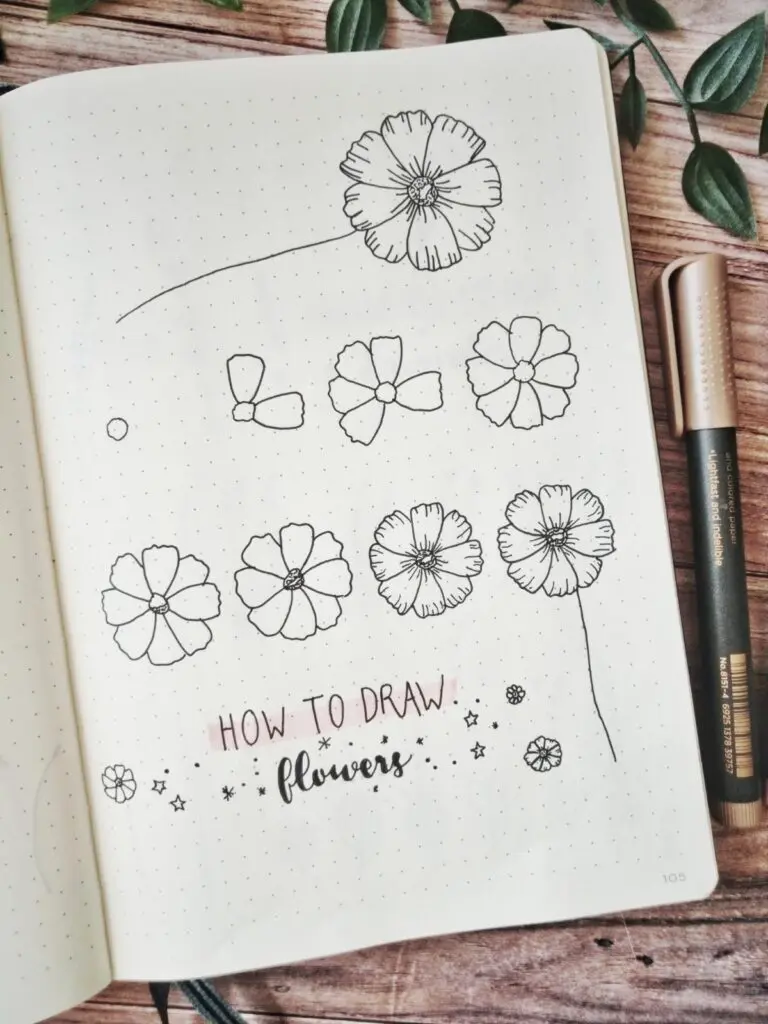 How to Draw Lavender
Lavender is one of the most popular flowers to draw for your bullet journal. People seriously go crazy for it and it's easy to see why. Firstly, it looks stunning. It's delicate, relaxing and comforting. It is also so easy to draw. Lavender is one of my favorite flowers to draw because I can do it in a matter of seconds, off the cuff and whenever I need it.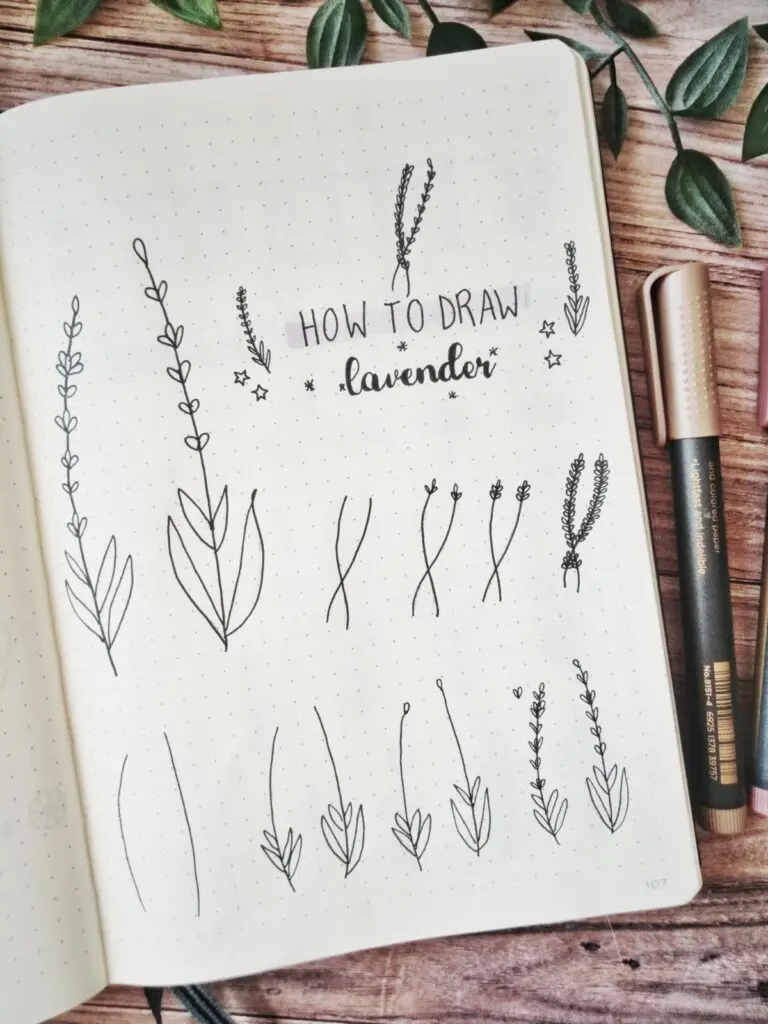 How to Draw Bullet Journal Flowers
Draw these pretty flowers by using this simple step by step page. This page shows you how to draw three simple and beautiful flowers for your bullet journal in a matter of minutes. Use our free flower doodle sheet to practice your doodles to become a pro.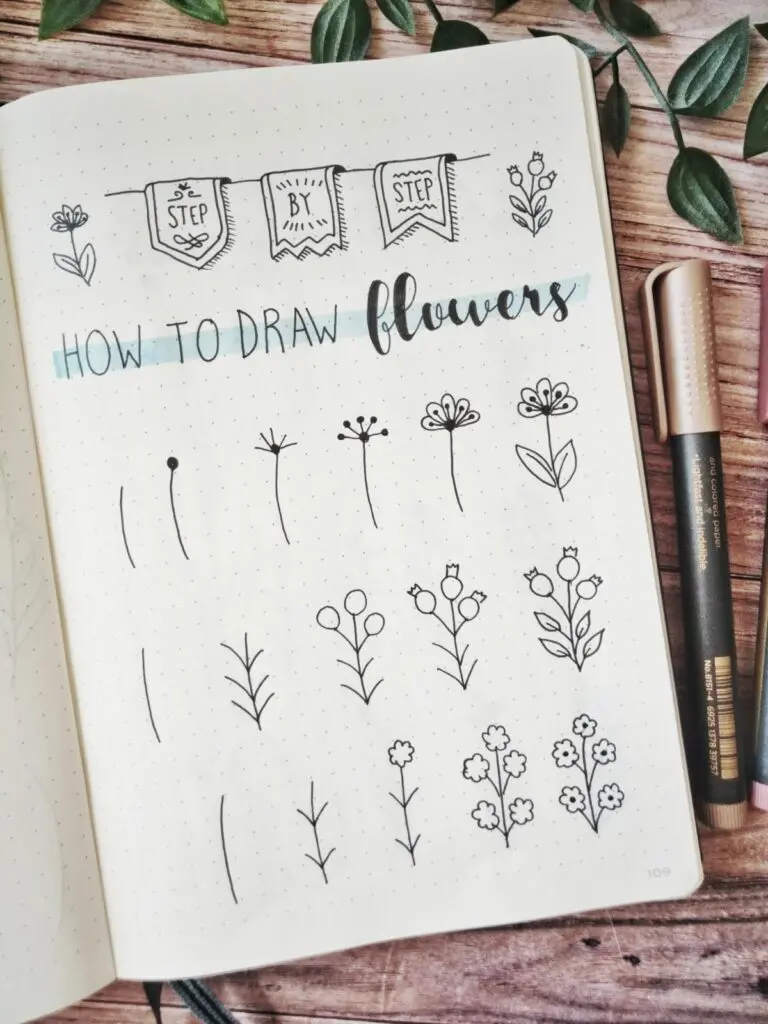 How to Draw Doodles of Plants
A simple step by step on how to draw three unique and beautiful plant doodles. These plant doodles are so straightforward it's unreal. I totally love the third plant doodle in black, it looks strong and very pretty.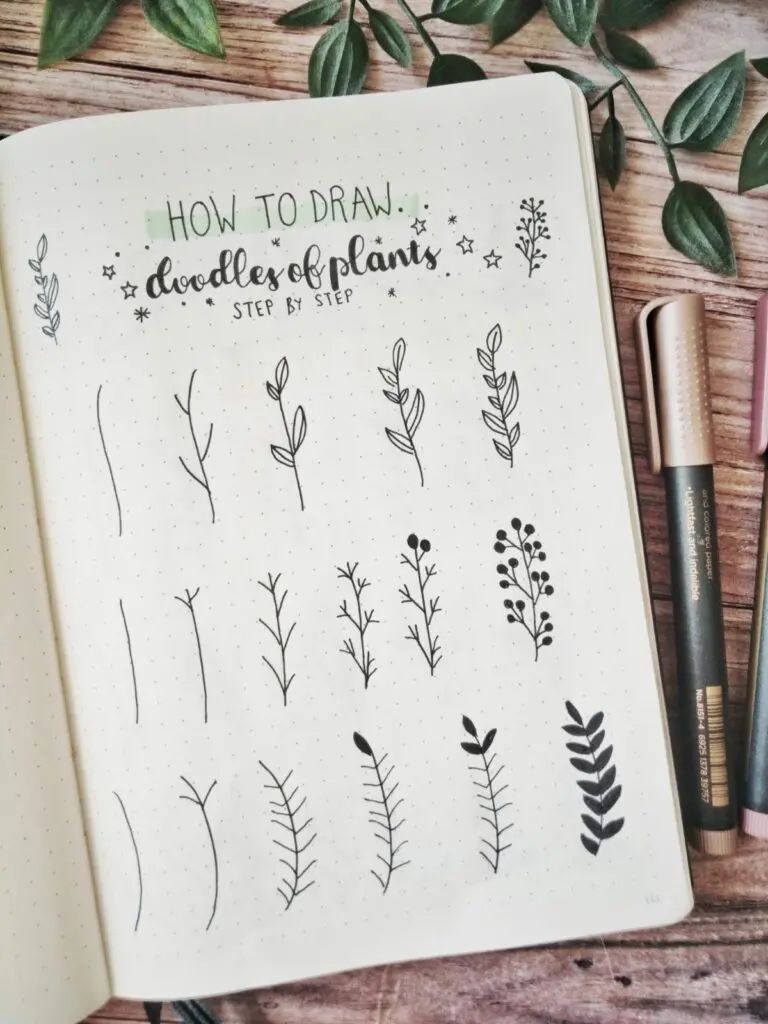 How to Draw Nature
These three botanical doodles are so pretty and are easy to draw. Follow our simple step by step guide to learn how to draw these lovely plants for your bullet journal. You can print the free doodle sheet to practice your plant doodles and also practice drawing the banner too!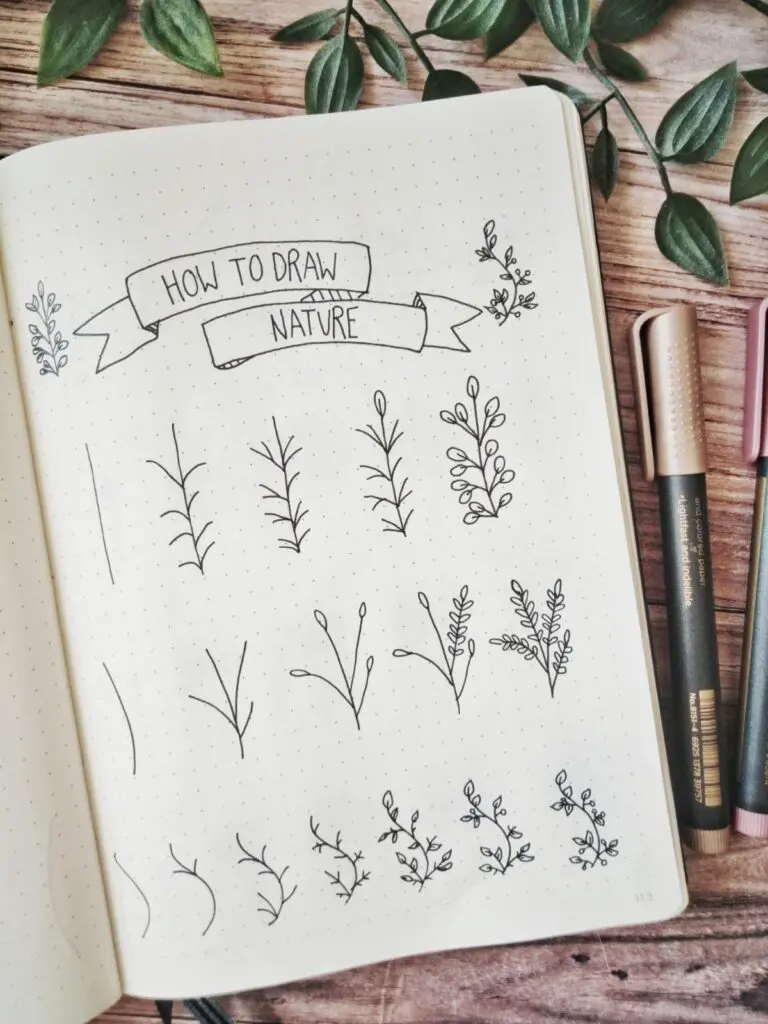 How to Draw Dandelions
This is by far one of my favorite pages I have designed. I think all of these dandelions look incredible and intricate. These beautiful dandelions might look tricky to draw but they are actually easy. My tip for drawing the first dandelion is to make sure all of your stems aren't the same length and to draw the tips on the third dandelion, simply draw a small horizontal line with a v in the middle and a small vertical line inside the V. It's so quick and simple.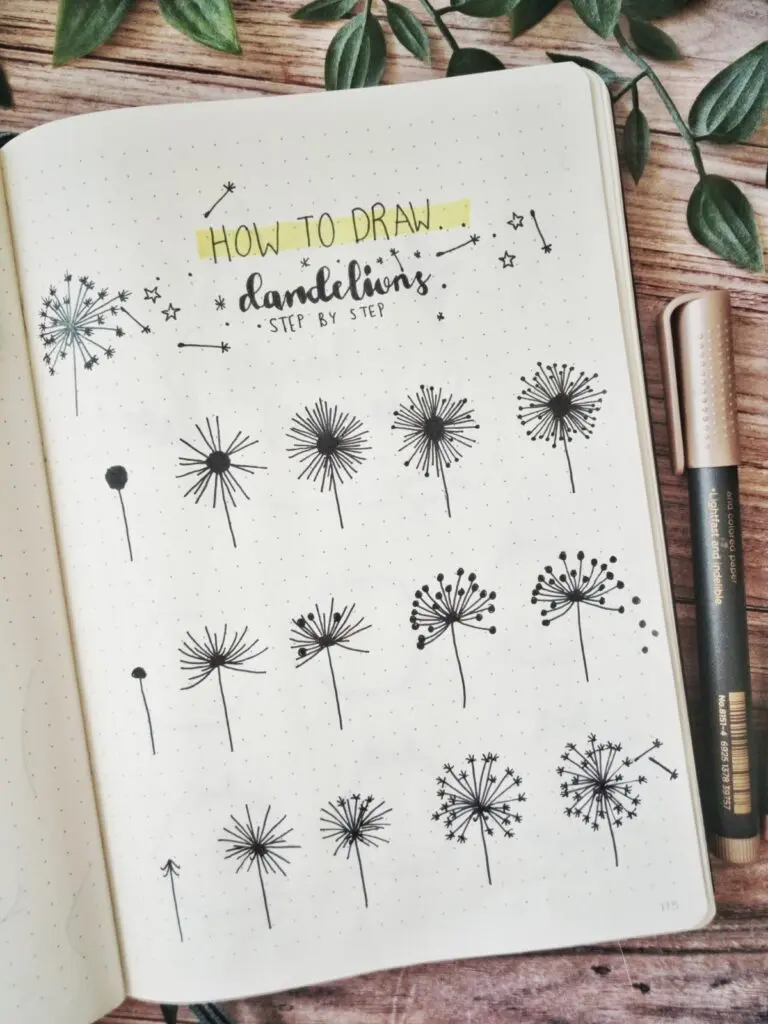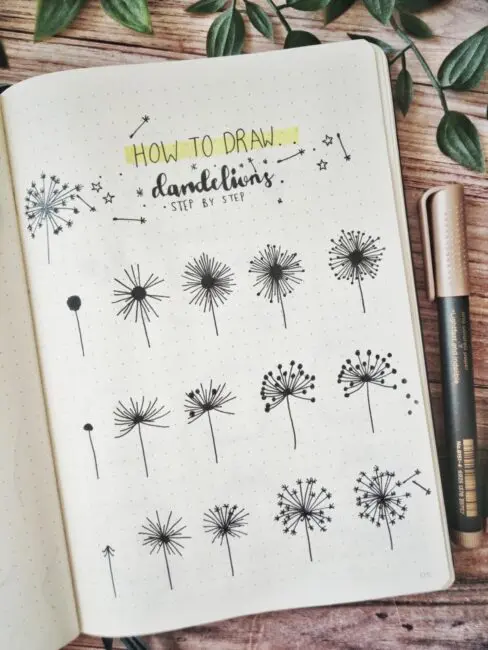 How to Draw Floral Frames
Want to learn how to draw a stylish and classy floral frame? This beautiful floral frame is a great option! Use two hexagons at different angles to make the base of this frame and then add stems and pretty leaves around it. You can follow the layout of our floral frame or get creative and add your leaves anywhere.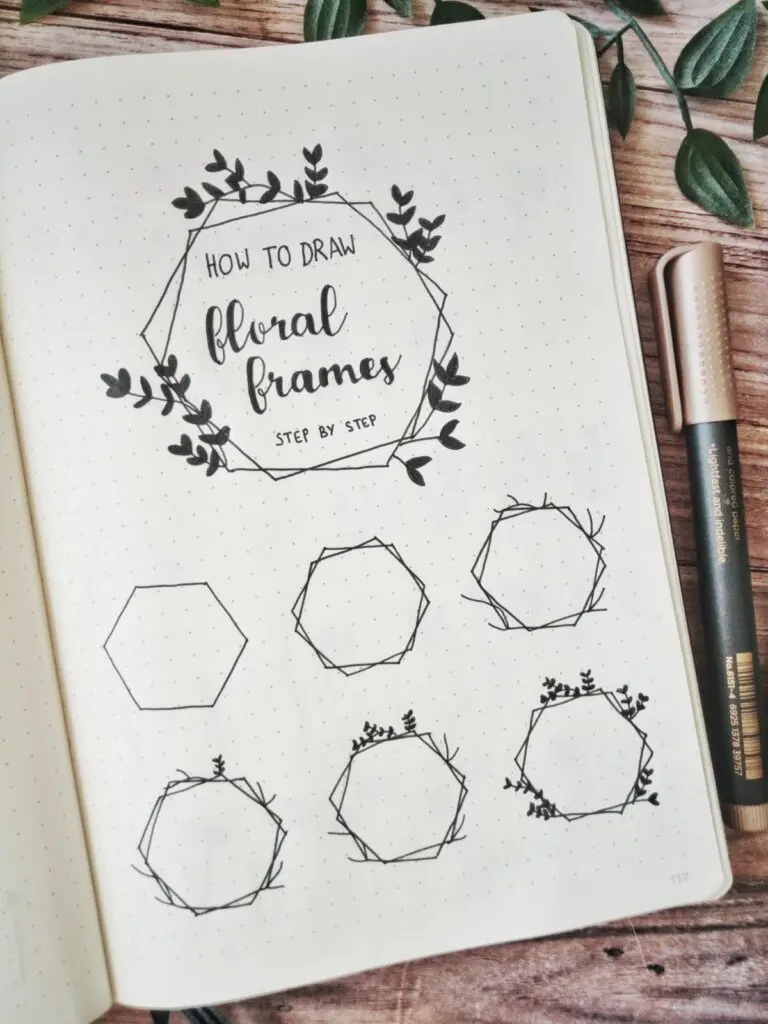 How to Draw Three Unique Flowers
These flowers are unique, beautiful and so delicate. You can easily replicate these flowers using our step by step guide and free printable practice sheets. I love all of these flowers but I love the petals of the third one and the droopiness of the second one. The first step by step has cute little hearts too and is the easiest one to draw.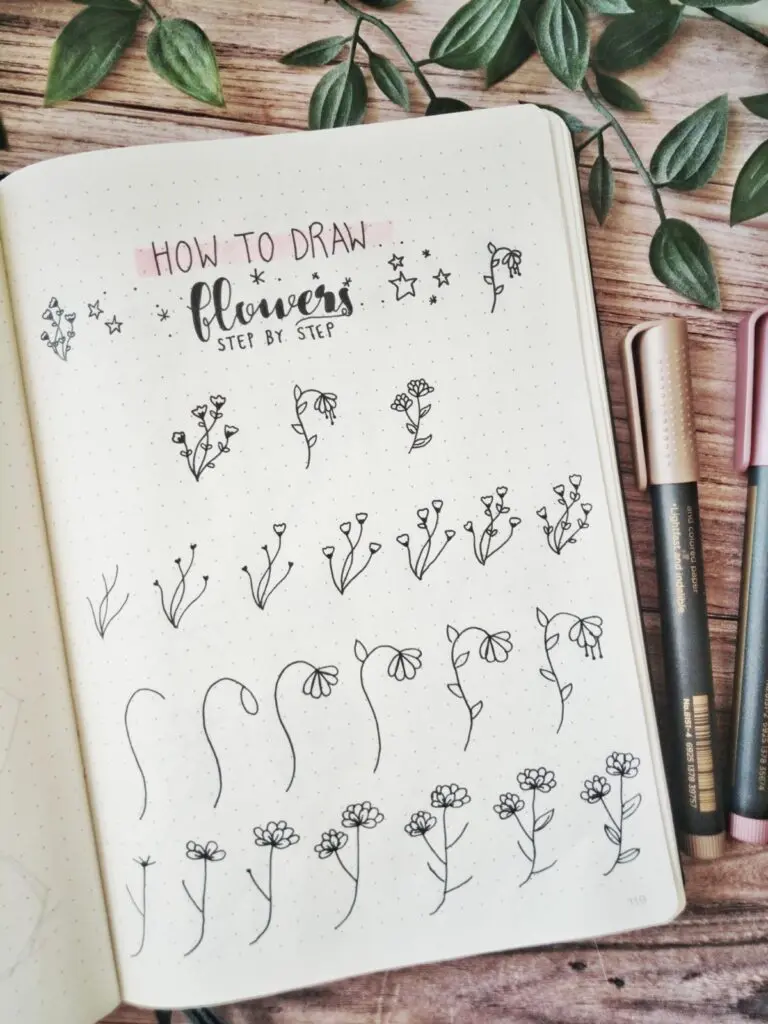 How to Draw a Flower Step By Step
I love this flower. It is so fun to draw and looks really nice. I was actually so happy with how this turned out after I finished the step by step and it would look amazing in any bullet journal. I used my finest pen (0.05) to draw this flower and to create the petal lines, I lightly and quickly scratched the pen off the paper to give it a thinner and more realistic line.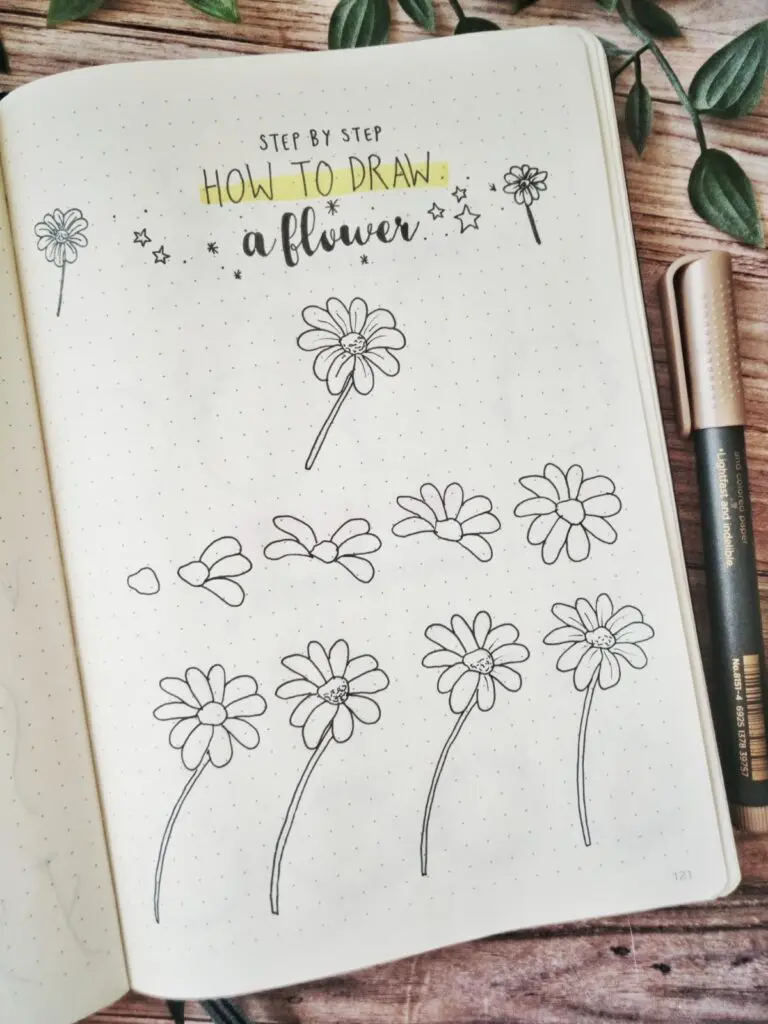 How to Draw Floral Wreaths and Frames
This page actually features two step by step ideas – a floral wreath and a floral frame. The floral wreath features a simple circle with leaves on either side (think Julius Caesar's crown) and the floral frame features a hexagon shape with a mix of leaves and berries. Both step by step doodles look really great in black but when it comes to adding the berries to the floral frame, swap out your pen for a color!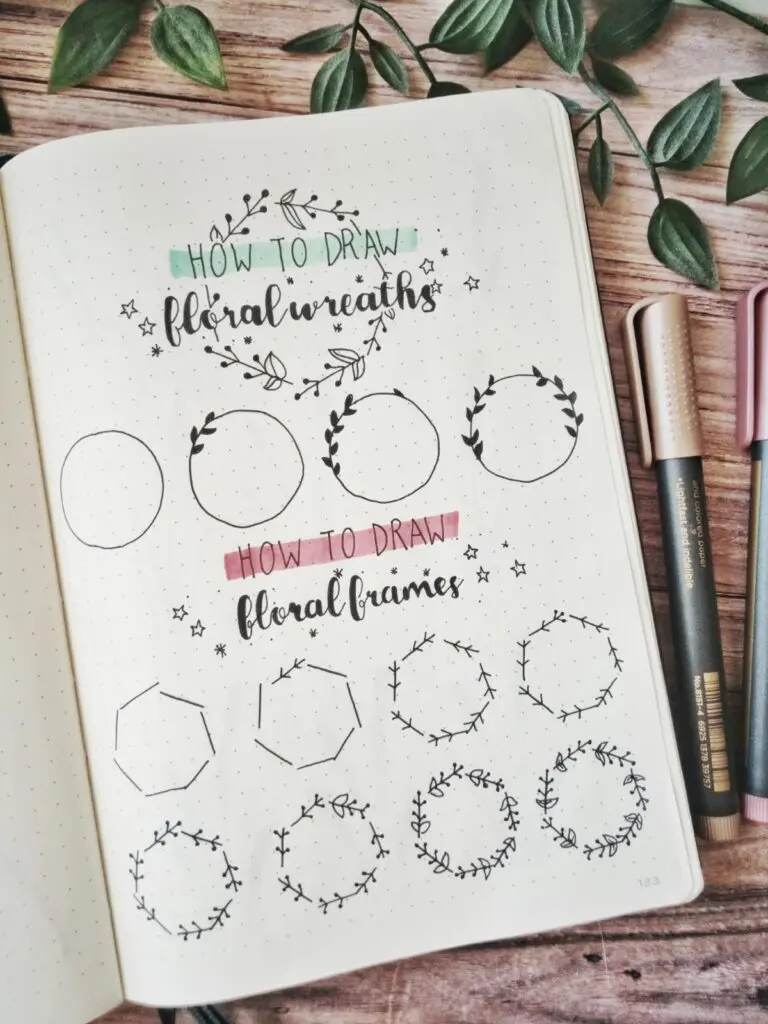 How to Draw Lavender For Bullet Journal
You can never have too many lavender tutorials. This step by step shows you how to easily draw lavender growing in a group and it looks incredible. First, draw your lavender stems and then add your lavender. I like to draw lavender from the top to a certain point and then draw from the bottom to meet in the middle. This makes sure the lavender isn't all the same. I use a simple heart shape to draw lavender really quickly. To make the lavender look more real, go back and add some lavender sporadically down the stem and add additional lavender here and there in with the main chunk of lavender.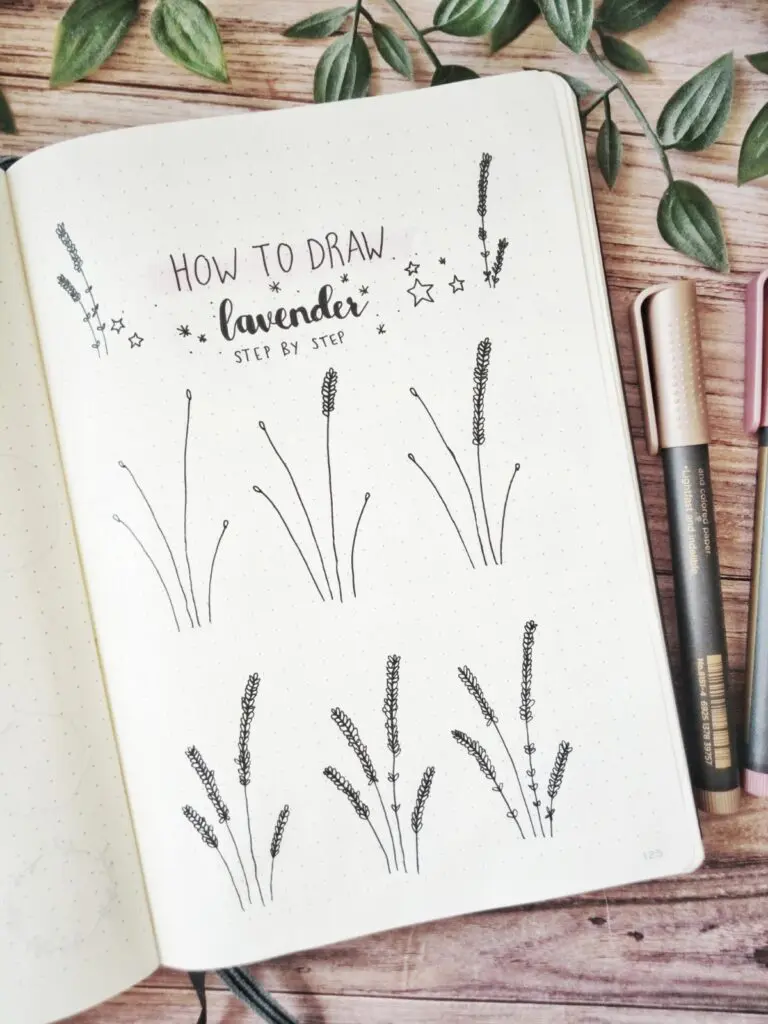 How to Draw Bullet Journal Flowers
These flowers were so fun to draw and I particularly fell in love with the yellow flower. It just turned out absolutely stunning and I can't wait to use it in my next bujo spread and hopefully see how you guys use it too. One of the key tips for drawing the first flower is to make sure all the petal edges are different. Don't make them all rounded or all angled, just mix and match them.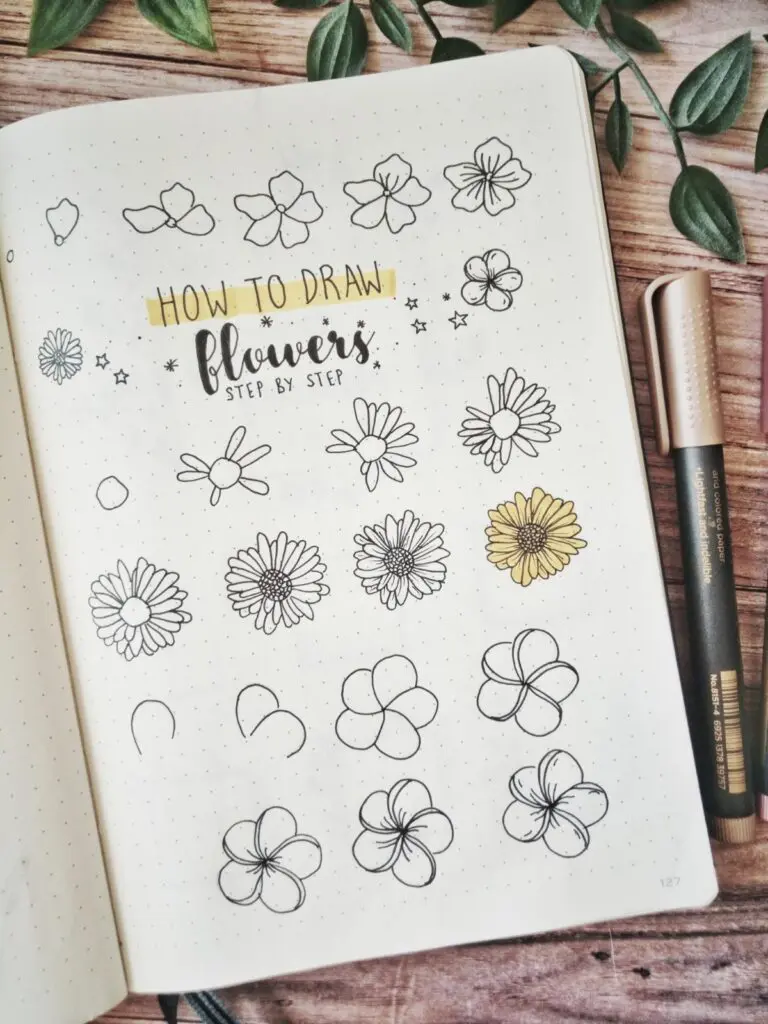 Step By Step How to Draw Floral Frames
This floral frame is similar to the hexagon one but uses squares instead and little round buds mixed with the leaves. This frame is easy to draw but gets a little tricky when drawing it at a small scale. I particularly got confused with drawing the overlapping squares but I think that's just the way my mind perceives things – really it should be so straightforward! Add your leaves and buds around the frame to complete the look.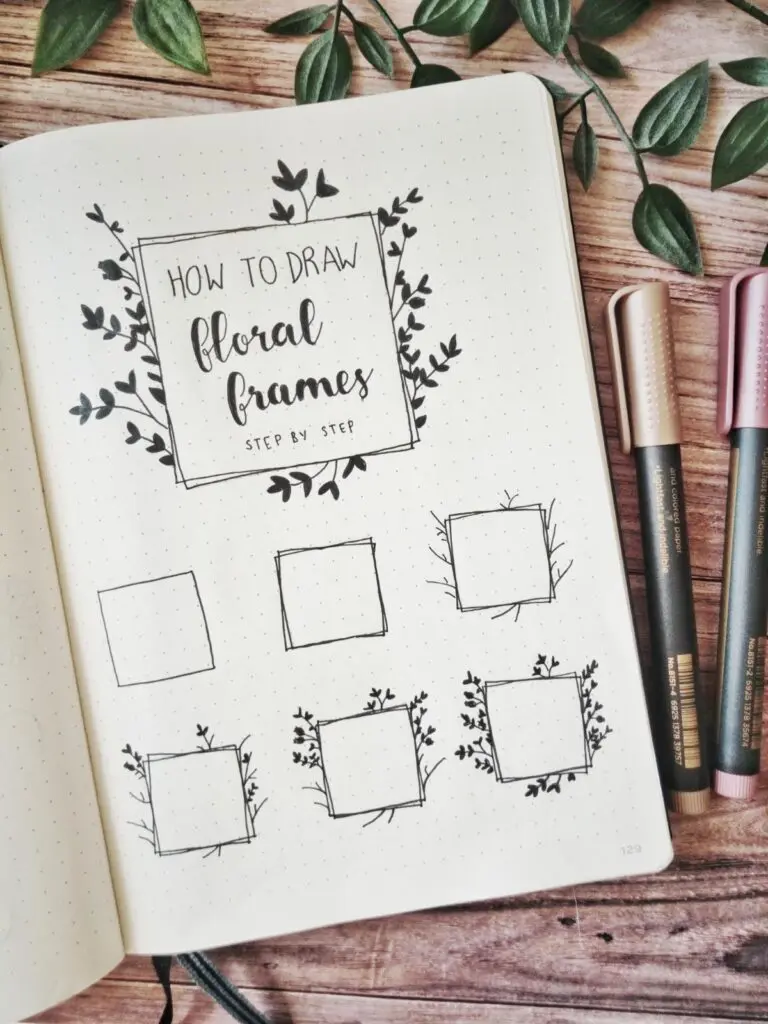 I really enjoyed drawing these step by step doodles for you guys and I hope you love them. Feel free to download the free doodle practice sheets to try these at home and tag us on Instagram so we can see how you got on!
If you loved this post and want to save it for later or share then please pin it. It helps to get our posts into the community so that people can find it and love it!
If you try any of these bullet journal doodles then I'd love to see what you come up with! Why not tag us on Instagram with @worldofprintables and let's hang out and I might even update this post with the ideas you share too!
Follow us for more awesome free printables!
Take the stress out of finding more great printables by following us on Pinterest or Instagram and be notified of when we have great new printables to share. Also please remember to pin this post too, it really helps us keep making printables for you.
Want more bullet journal ideas?