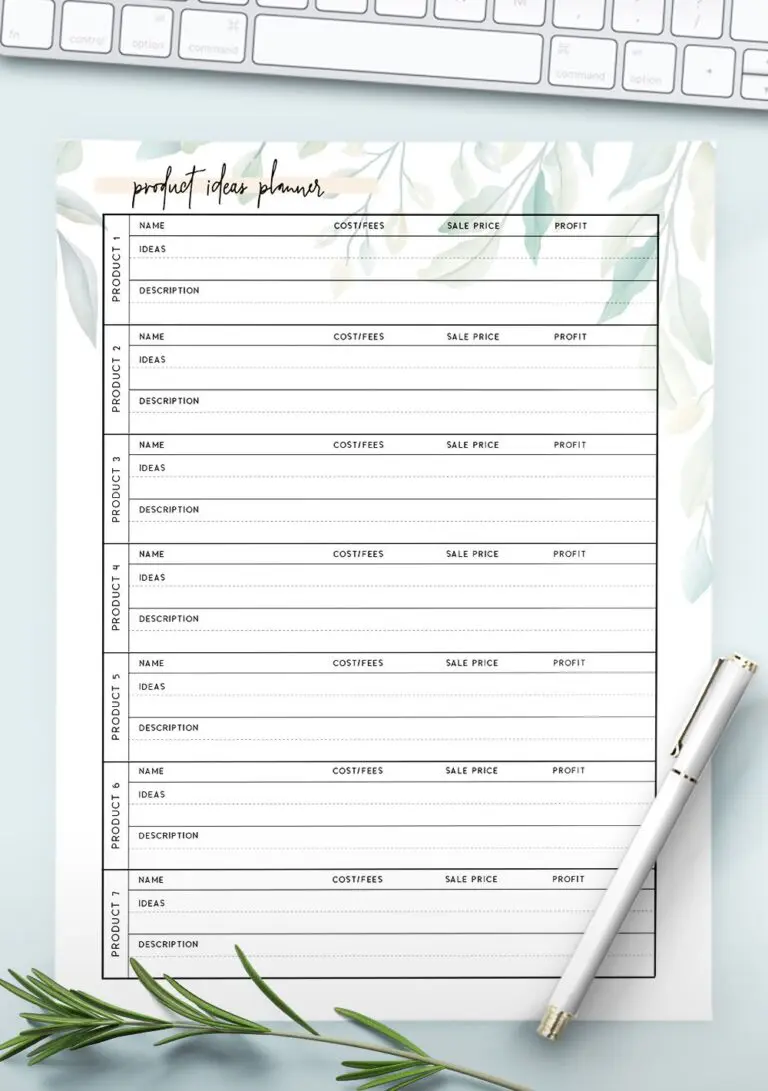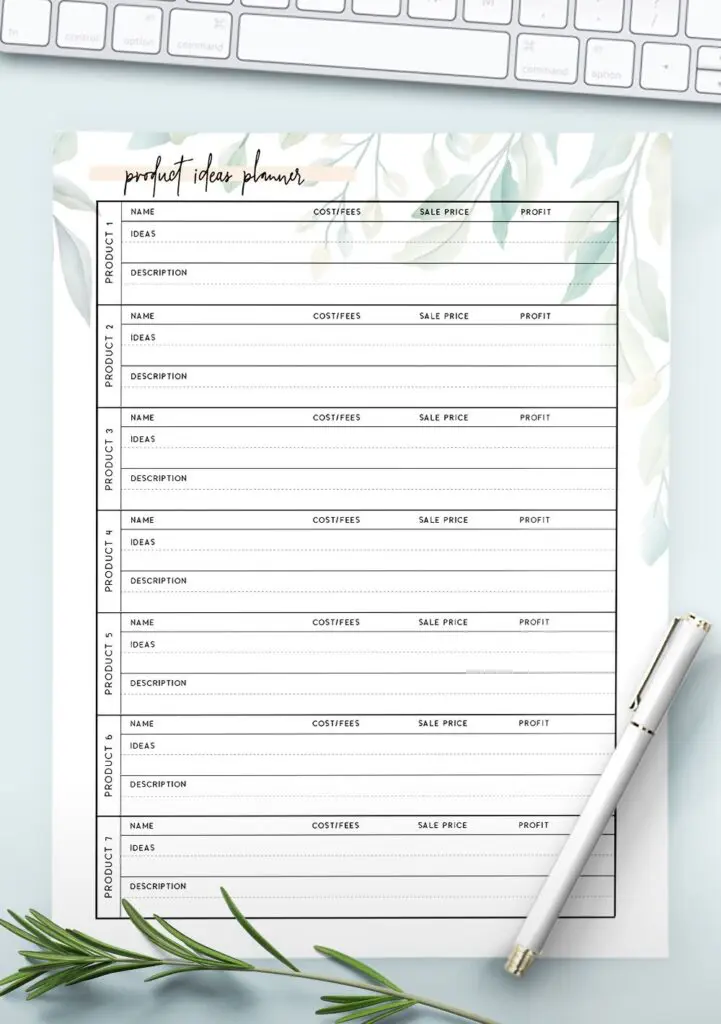 This new product ideas planner is perfect for quickly getting any product ideas out of your head and quickly into an organized and dedicated space.
I know what it's like to suddenly have a brain wave, quickly scribble it down somewhere and then come back to it a day or two later and not actually understand what on earth you were trying to write. That's why I've created this page dedicated to those moments.
Why use a new product ideas planner
The product ideas planner is a template for using for writing your ideas for new products to sell, descriptions, and any other details that might cross your mind relating to products when researching and planning.
This tracker isn't just for spur-of-the-moment ideas though, it's a great place to sit and write your ideas that you should actually dedicate time to.
In doing this you can sit and figure out the cost to buy or make the product, the sale price, and an idea of the profit margin.
It's also perfect for when you are researching products to sell. Any seller who is successful does this.
We all look at competitive products, and try to determine how well they are selling, why they are selling, and who is buying them.
When you have a good understanding of what people want, and why they want it, you'll definitely have better success with your products and business than you otherwise would.
So if you make or sell products then this is definitely the planner you need to help you succeed.
Perfect printables for Amazon, Etsy, eBay, and Shopify Sellers
If you sell your products online then this template is especially useful to you.
As successful sellers who have sold products on Amazon, Etsy, and our own online shops, we've had solid success because we like to research, plan and organize our stores and businesses for the best efficiency.
If you sell your own products, it's really important to have the best tools available. So we recommend checking our many other business printable templates.
From researching competitors, developing products, tracking sales and so much more, you'll find the perfect printables for running your business right here.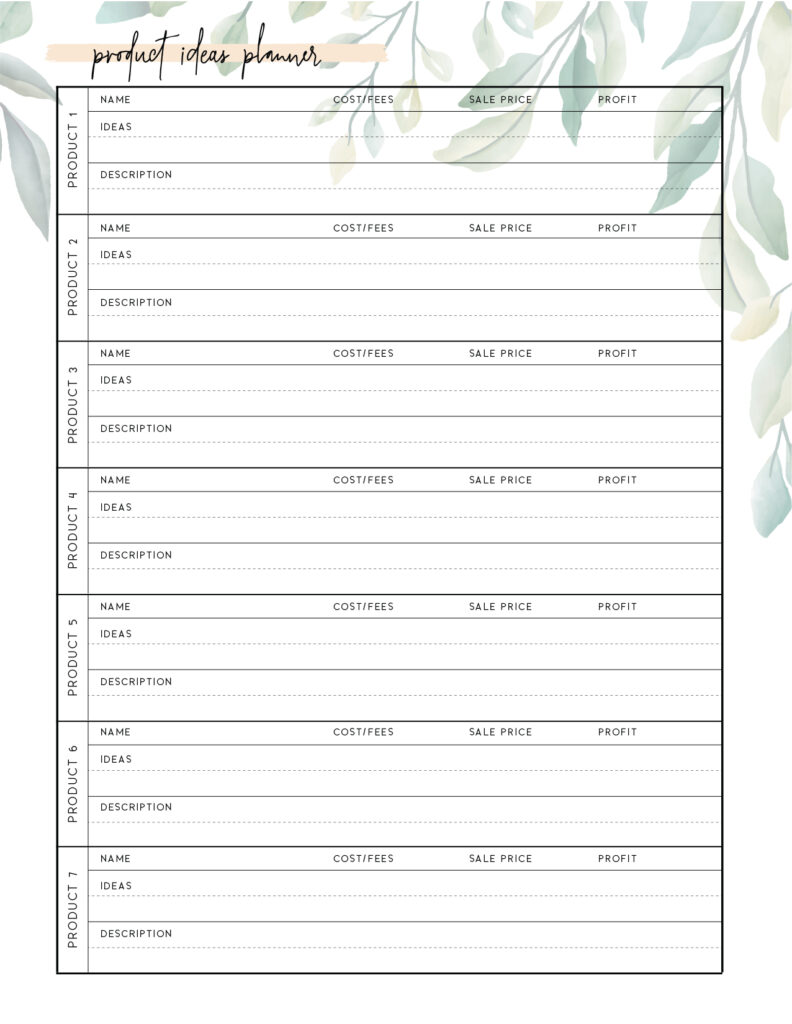 New product ideas planner template
If you need this printable product ideas tracker in your life then get it for free today! The printable comes in four different styles – Botanical, Soft, Classic, and Cursive and you will receive all four when you get it.
You can also find the product ideas tracker included in our Small Business Planner Bundle which is a must-have for any small business owner.
How to make printables look awesome
INSTRUCTIONS
Get the new product ideas template. If you are looking for more awesome free templates then check out our huge range of printable templates.
Print it! – Our templates look so good when printed on this bright paper.
These printable templates are designed as 8.5 x 11 pages. TIP: If you want to print using different size paper then insert this printable into Canva, set your dimensions to any size you want, then save and print, easy! Full steps in this guide.
Get the free new product ideas printable
To get the printable product planner for free, open the template image above and save it to your computer.
Alternatively, for the highest-quality version which comes in four different themes, see the button below to visit our product page. Use the coupon code displayed to get it for free.
Remember to look through the rest of our printable templates, we've got printables for every aspect of your life!
More business templates to help you run your business
Some of our recent printable business templates. These will help you run your business more successfully.
---
Find 100's more stylish planner templates that you'll love
Some of our recent planner templates. Find many more Printable Planner Templates that will help you get on top of your life with ease. You'll love them.
Follow World of Printables on Pinterest for more