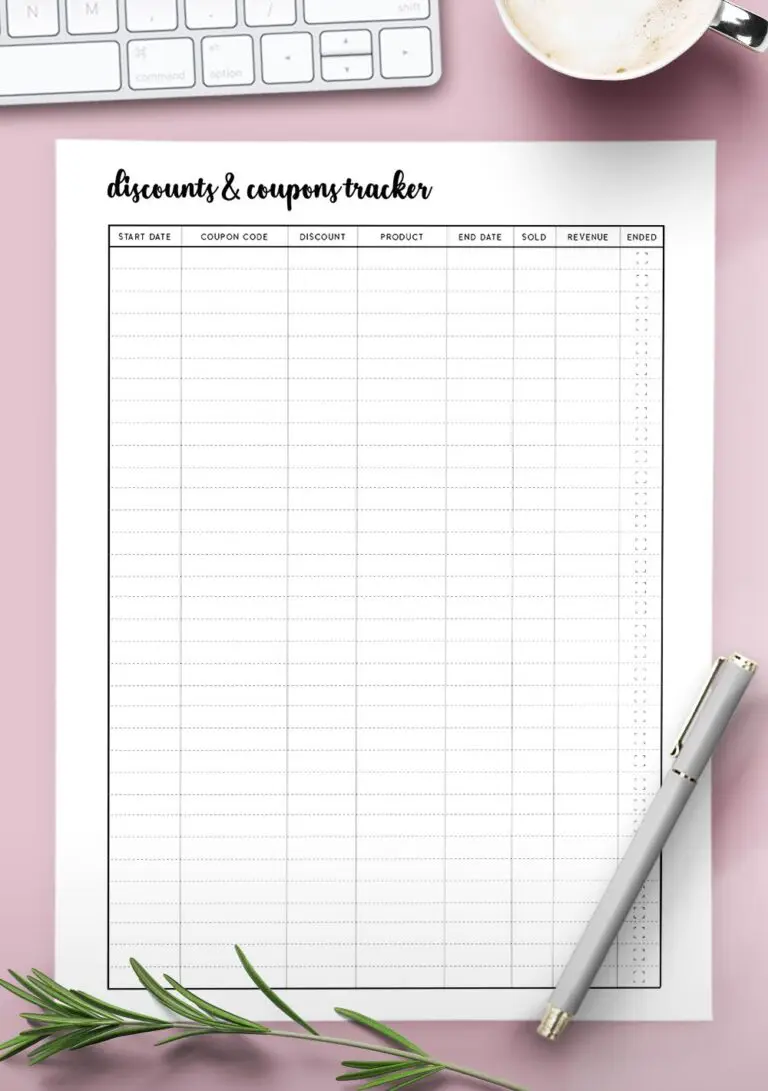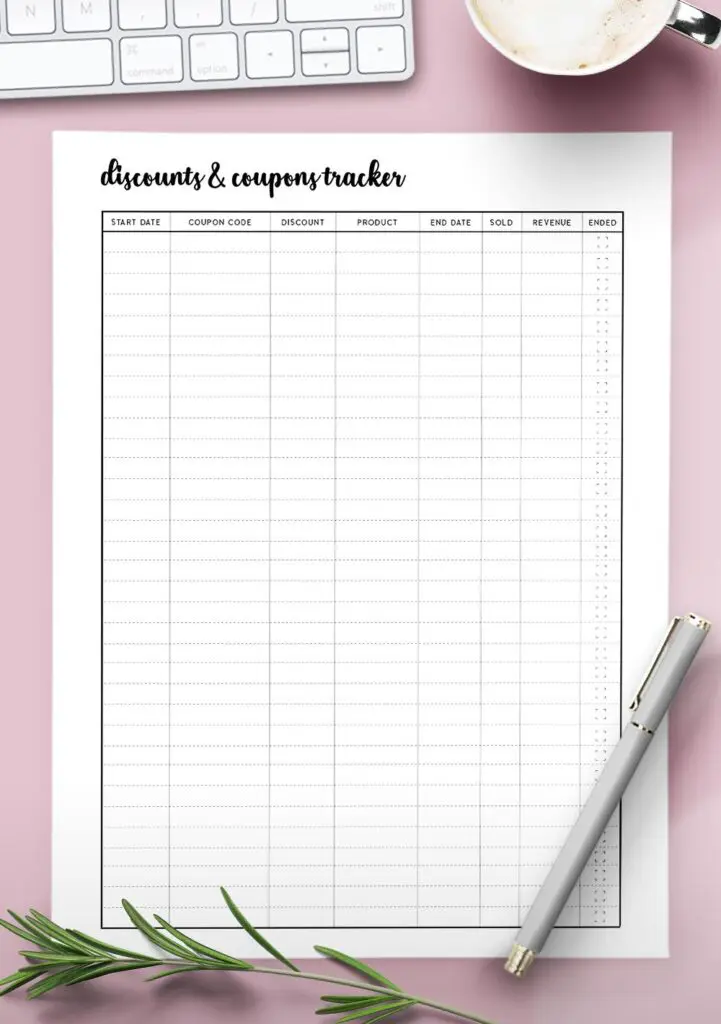 If you run a small business and need a way to track your discount offers and coupon codes then our discount and coupon trackers are a great tool to have. 
You can keep track of the discounts and coupons you run on your website, online store, or your brick and mortar store, and keep a log of what promotions are running, the discount, the product it is for, and the expiry date. You can also note the sales and revenue made.
The benefits of using a discount and coupons tracker
There are many benefits to using a discount and coupons tracker with your small business or side hustle such as:
Promotion tracking: Using our discount and coupon tracker template will allow you to keep a log of the promotions you have running at any time. You will be able to look at the data you collect and see what promotions are the most effective, and how much revenue they are generating.
Happy customers: There is nothing better than amazing deals and offering discount codes to your loyal customers will make them happy and retain their loyalty. Businesses love rewarding their loyal customers.
Increased sales: Running your best coupons or loyalty programs can actually cause you to have an increase in sales. You might attract new customers or encourage a sale from those who might not have necessarily been looking to buy.
Printable Discounts and Coupon Tracker
This discount and coupon tracker is so easy to use and can be stored safely in your small business planner or binder. It comes in different styles to suit your vibe but is always effective and professional.
To use any of these printable discount trackers, choose the template you like and save it to your device, then print it.
How to use a coupon and discount tracker
You can offer discounts and coupon codes whenever you desire, but many sellers tend to use them around seasonal periods and events such as Easter, Halloween, and Christmas. Many people are looking to buy around this time of year, so a coupon could help seal the deal.
Many small businesses run special offers on social media platforms to gain and retain traffic. Consider offering a free item for their support on Instagram, Facebook, or, Twitter.
Offer your best coupon codes and discounts for any kind of product or service such as electronics, kid's products, groceries, beauty products, pet items, printables, and more. You could also offer a discount code for your customer's next purchase to encourage them to come back again.
This discounts and coupon tracker is the best way to track the discounts and codes you have created along with important, additional information.
Sections of the discounts and coupon tracker:
Start date of the coupon
Coupon code
Discount received
Product the coupon works for
End date of the coupon
How many products you have sold with the coupon
Revenue made
Checkbox to confirm code has ended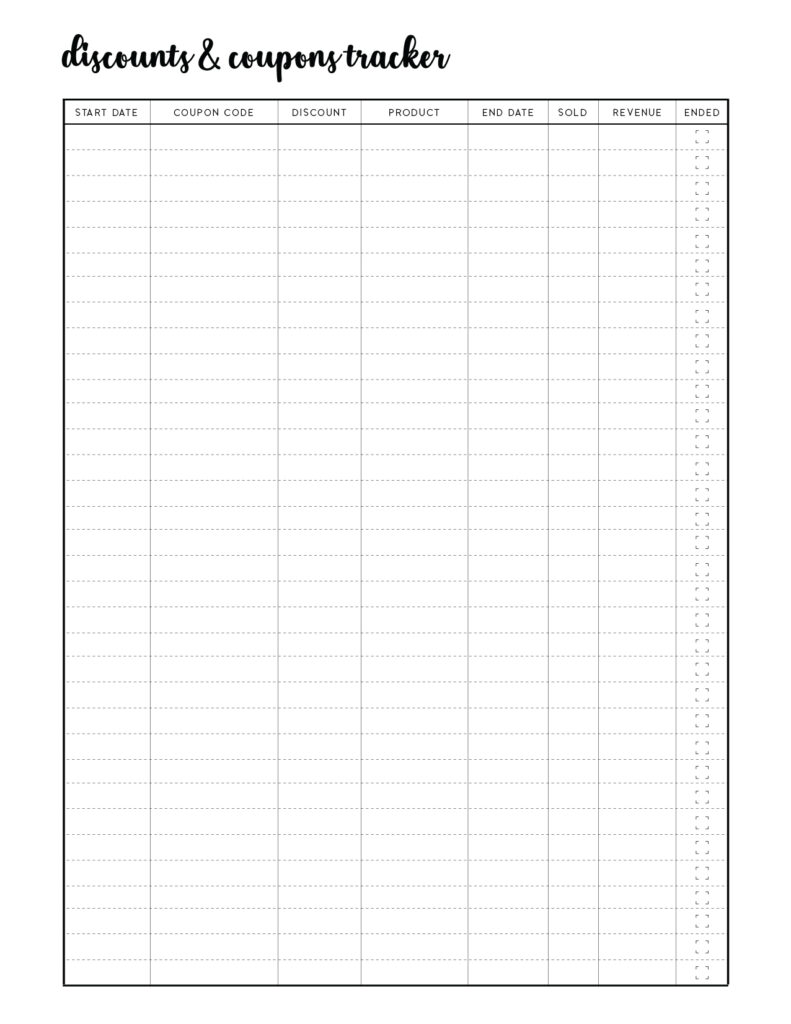 Open any image above to view and print the printable Discounts and Coupon Tracker template.
You might also like…
Did you know we have thousands of planner templates that you can also use for free?
More awesome free printables and templates
Why buy printables, planners, and templates when you can save money and get high-quality ones for free?!
We've got a huge range of templates for every aspect of your life. Be sure to check them out and find the ones you need.
Our free printables and templates are the perfect option for adding that little bit extra to your planner, bullet journal, or binder. You can even import them into your favorite digital planner.
Be sure to grab as many freebies as you can while you're here.
We think you'll find these very useful:
Many more planner templates are available to use and print for free.
---
Follow World of Printables on Pinterest
COPYRIGHT
These designs are for personal use only and are the copyright of World of Printables – you cannot redistribute, reproduce, or resell, although you can link back to our website.