Fall in love with fall, and get set for October with this set of cute printables.
Happy fall y'all! October is here and that means our latest monthly themed freebies are here too!
This month, we're delighted to bring you this awesome collection of fall-themed freebies.
This cute set of printables includes an October Calendar, Daily Planner, Week Planner, To-Do List, and October Calendar Wallpaper. These freebies are so cute you're gonna love them!
Consists of October calendar phone wallpaper + October calendar printable and a collection of cute October planner printables.
To help you get set for the month ahead, use these free daily and weekly planners, and to-do list printables.
If you love these cute printables as much as we do, click the images below to save them to your computer and print these awesome freebies!
How to use these October printables
For planner lovers – print + add to your planner to start planning your October. If you prefer to go digital, get the PDF bundles below.
Need more planner pages to go with these printables? We've got you covered.
For bujo lovers – Print + paste it into your bullet journal to get planning your fall.
Don't forget to tag us on Instagram when you use them!
Cute October 2022 Calendar Printable
Make October a month to remember
Click to get your free totally cute October 2022 fall-themed calendar.
Plus see our huge range of popular 2022 Calendars
---
Cute October Daily Planner
Stay organized every day this October
Click to get your free totally cute October 2022 fall-themed printable daily planners.
This cute October daily planner features a calendar, to-do list, priorities list, notes box, and schedule. It's the perfect planner to help you organize your days this October.
We also have a range of aesthetic October daily planners. With bright colors, ribbons, and sections, you'll have everything you need to plan your day successfully.
---
Cute October Weekly Planner
Make the most of the weeks ahead this October
Click to get your free totally cute October 2022 fall-themed printable weekly planner.
---
Cute October To-Do List Printable
Don't forget the things you need to do this October to make it awesome!
Click to get your free totally cute October 2022 fall-themed to-do list printable.
---
How to get these free October 2022 planner printables
To get these October planner freebies in convenient and easy-to-print bundles, just pop your email address in the box below!
You'll instantly get a link and code to download these free planners.
You can print these planners or import them into your favorite digital planner!
Did you know we also make calendar wallpaper for desktops and phones too?!
October Calendar Wallpaper
Ready for the cozy days of fall?
Go into fall with our October calendar wallpaper inspired by our wanderlust for fall travel adventures.
Use as your phone wallpaper or print out and add to your planner or stick to your bujo.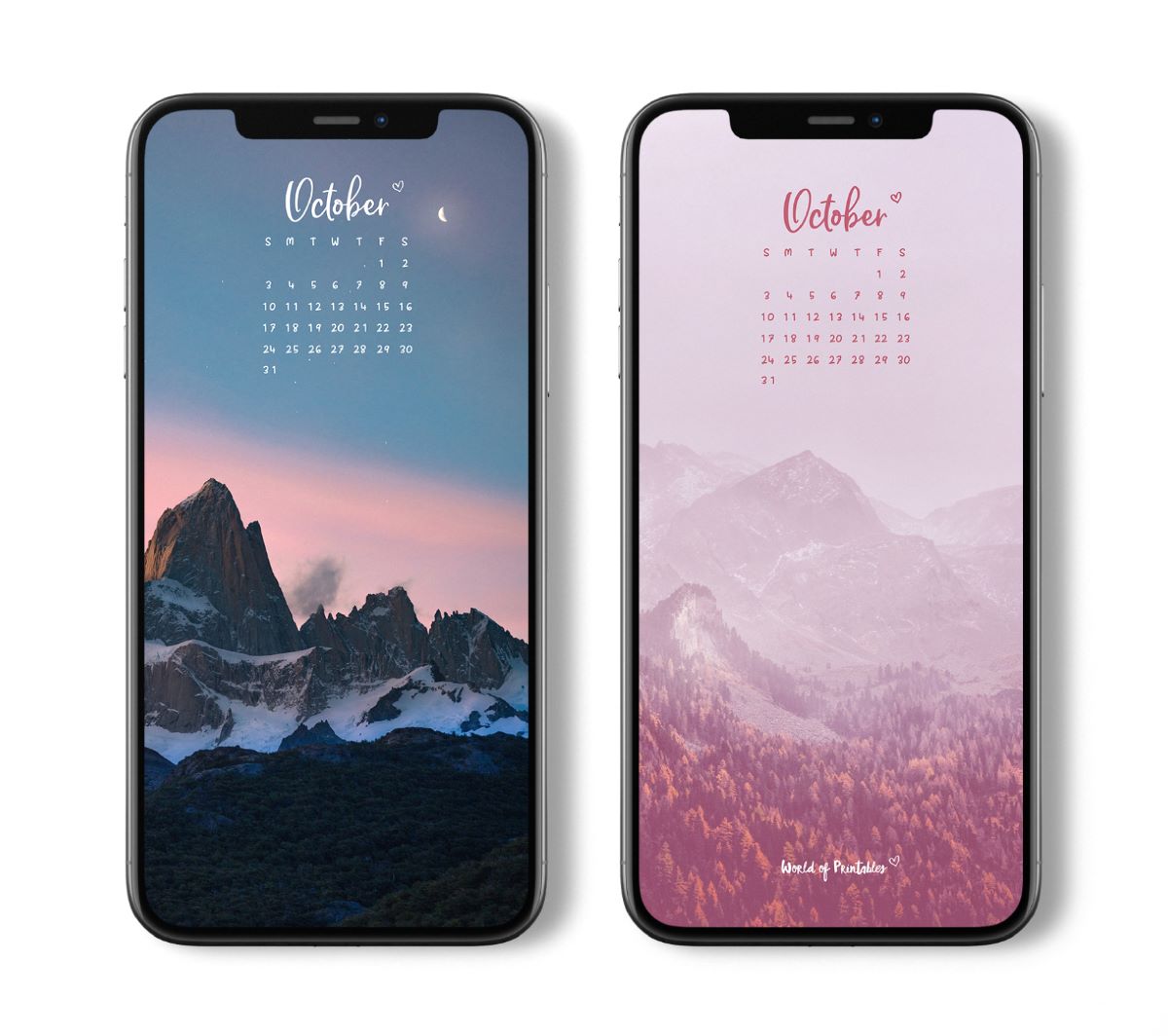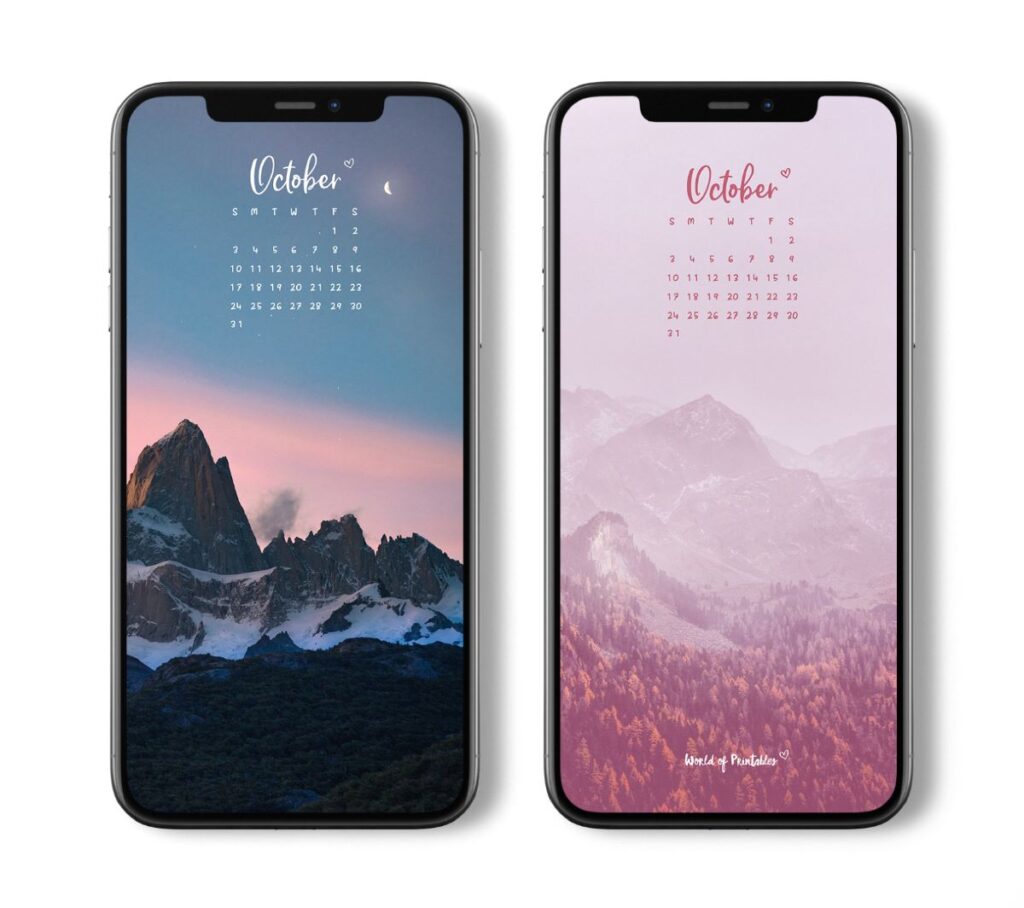 Check out our huge collection of October Calendar Wallpaper backgrounds to theme your desktop, laptop, or phone with over 50 stunning wallpaper backgrounds for fall.
Fall Scenery October 2022 Calendar Phone Wallpaper
Don't forget to tag us on Instagram when you use them!
More awesome free printables from World of Printables
We've created a huge amount of printables and templates. You'll find printables and templates to help you plan and organize all aspects of your life.
Be sure to grab as many freebies as you can while you're here.
We think you'll find these very useful:
Free printable calendars
Our recent printable 2022 calendars. Many more printable calendars are available to use and print for free.
Free printable planner templates
Our recent printable planner templates. Many more planner templates are available to use and print for free.
---
Get set for Halloween with this fun and scary collection of freebies
We've got a huge collection of Halloween freebies that you can get while you're here. We've got everything you'll need to start getting ready for Halloween in style
Free Printable Halloween Banners
Take some of the stress and cost out of Halloween decor with our free printable Halloween banners. They are a free and simple option for everyone and you can even combine them with many of our other free Halloween decorations!
As well as all of our Halloween banners that you'll find here, we also have many styles of banners for other celebrations too. You'll especially love our birthday banner ideas if you're planning a birthday celebration soon.
More Halloween printables for your family to enjoy
We've created many more useful printables for you for the fun up to Halloween and you can get them all for free right here.
Everybody decorates their homes with pumpkins at Halloween, so if you're looking to style your pumpkins this October then see our pumpkin carving stencils for lots of free templates to help you turn a pumpkin into something awesomely scary this Halloween! It's also the ultimate guide to pumpkin carving.
Also, for fun Halloween games, see our popular Halloween I Spy Game which kids love, and our huge selection of Halloween Coloring Pages that will keep your kids happy for hours.
We've got tons more Halloween Printables for you to get, print, and enjoy for free.
Be sure to grab as many printables as you can while you're here and print them off whenever you need activities for your kids.
Have a great October and a happy Halloween!
If you use any of our free Halloween banners to decorate this Halloween then tag us on Instagram! We would love to see how you used our freebies!
If you loved this post and our free Halloween banners then please share it or pin it for later. Be sure to follow us on Pinterest for more awesome freebies!
Follow World of Printables on Pinterest