Style up your Halloween decor with this spooky and stylish Halloween bunting!
If you're looking for some super stylish Halloween bunting then we have a gorgeous collection of trick or treat banners right here.
Whether you are looking for something a little minimalist or something less spooky and more stylish, then we have you covered.
These trick-or-treat Halloween buntings make a great Halloween party decoration for home and venue. You can even place them in the window or on the front porch to let trick or treaters know they are welcome!
We have a truly fabulous range of Halloween bunting to spook up your home this year, let's check them out!
Black and White Halloween Bunting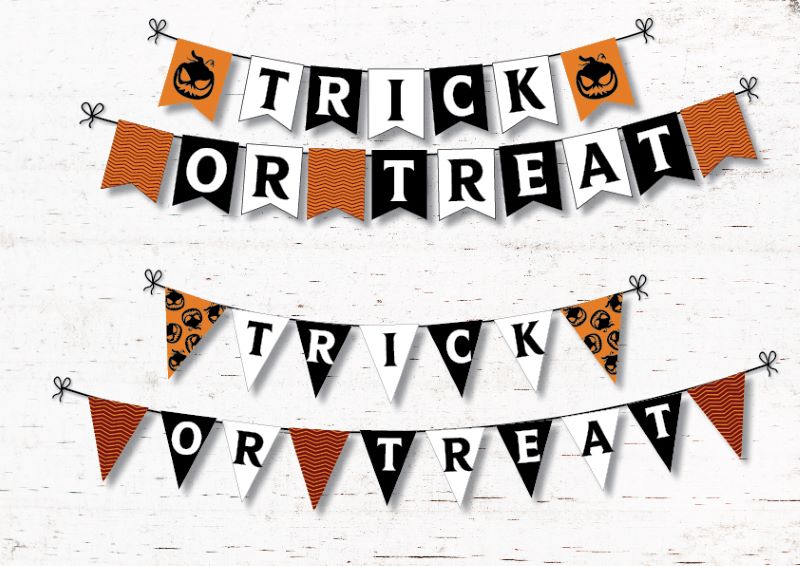 This gorgeous simple black and white Halloween bunting is perfect for those who want a more mature or minimalist decor for Halloween. It's classy, cute, and comes in two bunting designs for your preference.
The black and white Halloween bunting features black lettering on white bunting and white lettering on black bunting make this a really striking and stunning piece of Halloween decor.
String it up with black rope or ribbon for extra luxury.
Also available in Black and White Halloween Pennant style:
Orange and White Halloween Bunting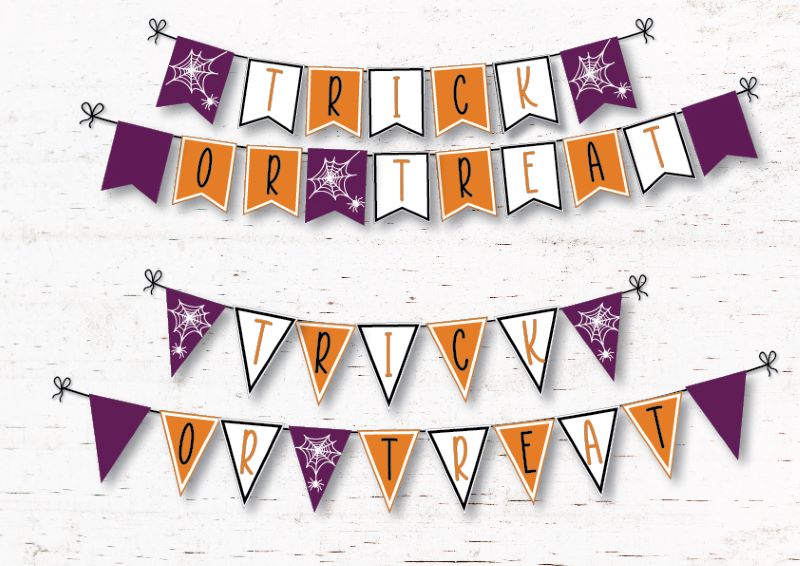 Orange is one of my favorite Halloween colors so I had to make some Halloween bunting in orange and white.
This Halloween bunting is perfect if you want a lighter touch to your Halloween decor this year whilst still keeping cool, spooky vibes. You can easily match this bunting up with our gorgeous Halloween flags, especially the orange ones to keep consistency!
Also available in Orange and White Halloween Pennant style:
Simple Halloween Bunting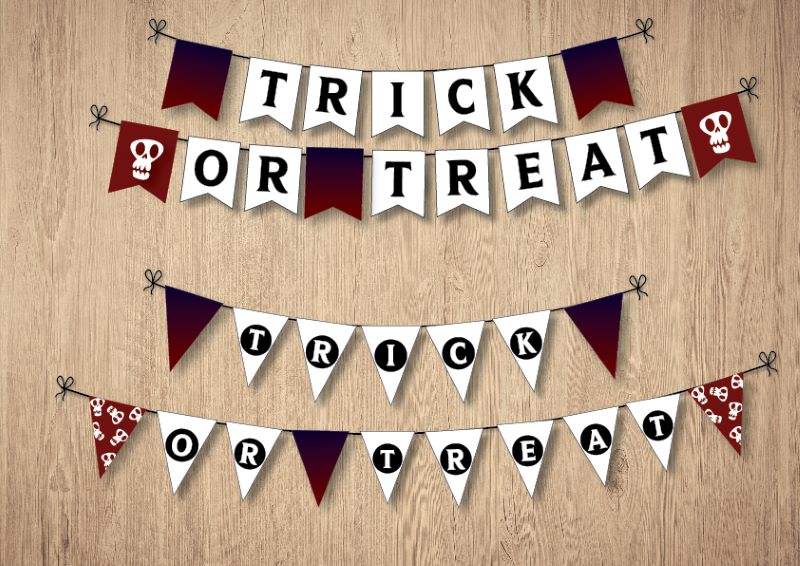 This simple Halloween bunting is perfect if you want to decorate your own bunting that already has a trick-or-treat message.
You can use this Halloween bunting as a minimalist Halloween decoration or you can even decorate the banner to your own style. That's one of the great things about having a simple banner.
If decorating your own banner from scratch is something you are interested in then check out these Halloween flags.
Also available Simple Black and White Halloween Pennant style:
Striped Halloween Bunting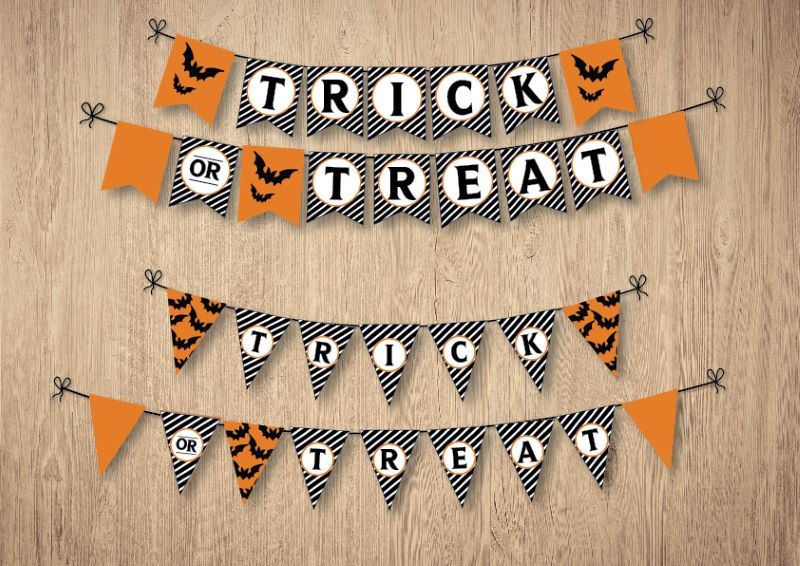 I absolutely adore this striped Halloween bunting and will be using it this year! This Halloween bunting is so stylish, bold, and looks incredible.
This banner features a black and white background with a touch of orange, making this a fun and fabulous Halloween banner.
To use our flags simply save them to your device and print them. You can use our banner hanging guide below for ideas on how to display your bunting!
Also available in Striped Halloween Pennant style:
How to hang your bunting
When it comes to printing your own bunting or banner, you might be a little confused about how to hang it or display it.
We have three options for displaying your bunting that all are really easy and look great.
Take a look at our image guide below for help in hanging your bunting.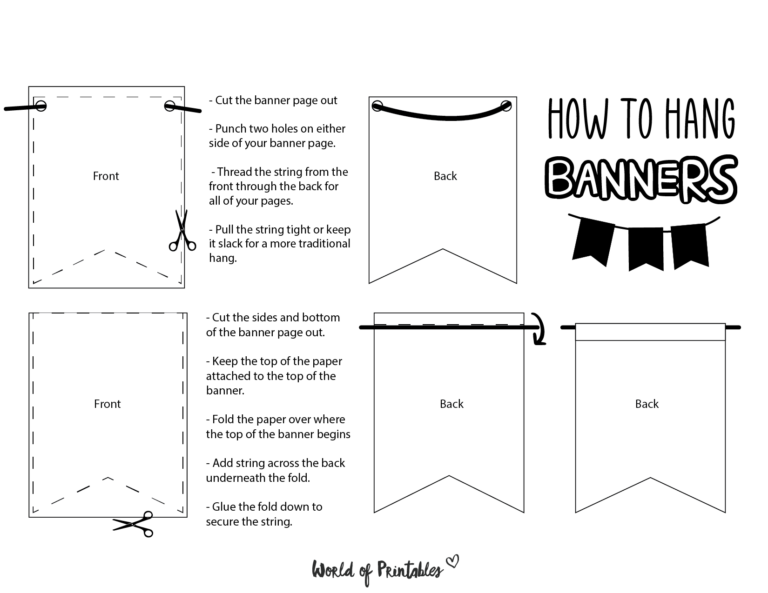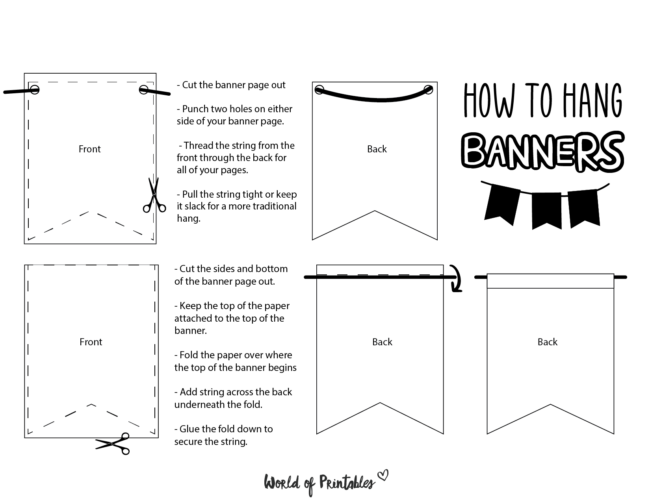 Stick it
You can simply cut your banner out, add double-sided sticky tape to the back and position your banner on the wall. Doing this allows you to display the banner in any way and angle them to suit your style.
Thread it
A more obvious way and more traditional way of hanging your banner is by using thread, rope, string, or whatever else.
Simply punch two holes in either side of the banner page and thread through, weaving in and out of your pages until your entire banner is suspended.
I find threading from the front is a better option as it hides the majority of the thread.
Fold it
If you want to hide the thread completely like banners you purchase from a store then use the fold method.
Cut around the banner but leave the top part of the paper intact (so your banner is longer and there is a white margin).
Fold the white part of the paper behind so you can't see it from the front.
Flip the paper over and add your string under the fold. Glue down the fold.
Now your banner is hanging with thread like a traditional banner but the thread is hidden.
These methods are such an easy way to display your banner or bunting.
Free Printable Halloween Banners
Take some of the stress and cost out of Halloween decor with our free printable Halloween bunting. They are a free and simple option for everyone and you can even combine them with many of our other free Halloween decorations!
As well as all of our Halloween banners that you'll find here, we also have many styles of banners for other celebrations too. You'll especially love our birthday banner ideas if you're planning a birthday celebration soon.
More Halloween printables for your family to enjoy
We've created many more useful printables for you for the fun up to Halloween and you can get them all for free right here.
Everybody decorates their homes with pumpkins at Halloween, so if you're looking to style your pumpkins this October then see our pumpkin carving stencils for lots of free templates to help you turn a pumpkin into something awesomely scary this Halloween! It's also the ultimate guide to pumpkin carving.
Also, for fun Halloween games, see our popular Halloween I Spy Game which kids love, and our huge selection of Halloween Coloring Pages that will keep your kids happy for hours.
We've got tons more Halloween Printables for you to print, use, and enjoy for free.
Be sure to grab as many printables as you can while you're here and print them off whenever you need activities for your kids.
Have a happy Halloween!
If you loved this post and our free Halloween bunting then please share it and pin it for later! If you use any of our free Halloween buntings to decorate this Halloween then tag us on Instagram! We would love to see how you used our freebies!
We also have a huge range of printables for adults too here on World of Printables. You'll find printables and templates to help you plan and organize all aspects of your life.
Follow World of Printables on Pinterest