Here you will find 35 stylish Weekly To Do List Templates that you can print and use to plan everything you need to do for the week ahead.
A weekly to do list is a key tool for any planner or binder.  It is a great way to keep on top of any tasks that you need to complete in any aspect of your life and works wonders when combined with a daily planner, weekly planner, or monthly planner. 
Using a weekly to do list with your personal planner or work planner is a great way of staying on schedule, staying organized, and being more productive. It is also perfect for reminders and helping to build habits but you can use our habit tracker templates for that too.
Along with a weekly to do list template, there are many other planner templates that we offer for free that can help complete your current planner or binder. You can find them at the bottom of this post.
Weekly To Do List Templates
If you're in need of a weekly to do list to match your planner style then look no further! You don't need to spend time creating or designing your own task list templates when we have done all the hard work for you.
You can choose from many of our stunning designs and list layouts to help you organize your weekly tasks.
To use any of our printable weekly to do list templates, simply select the one you like and save it to your computer. You can then print it or import it into your digital planner.
I hope you love these weekly to do list templates and that they help you stay productive! Remember to keep coming back for new designs as we update our free printables often!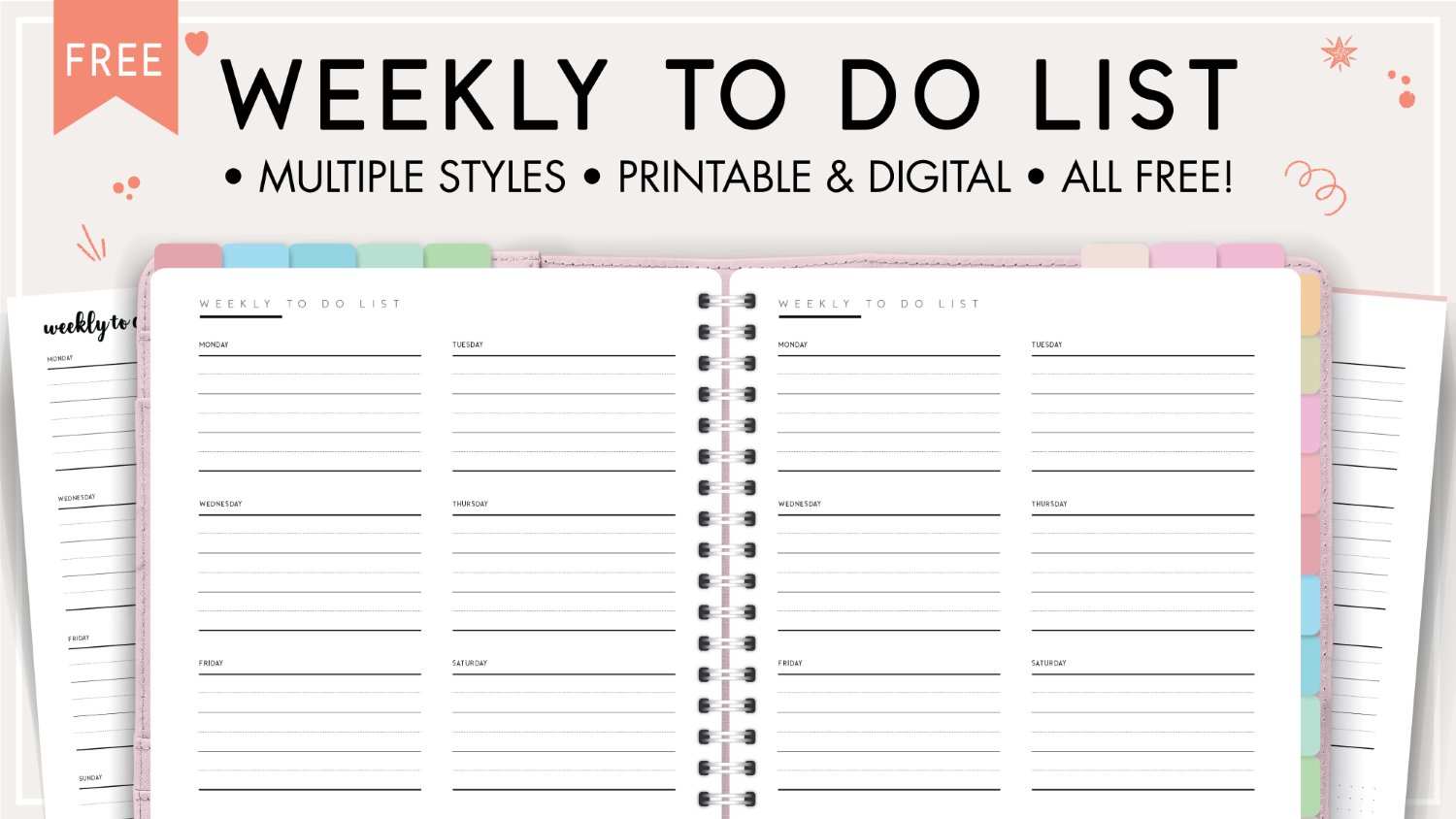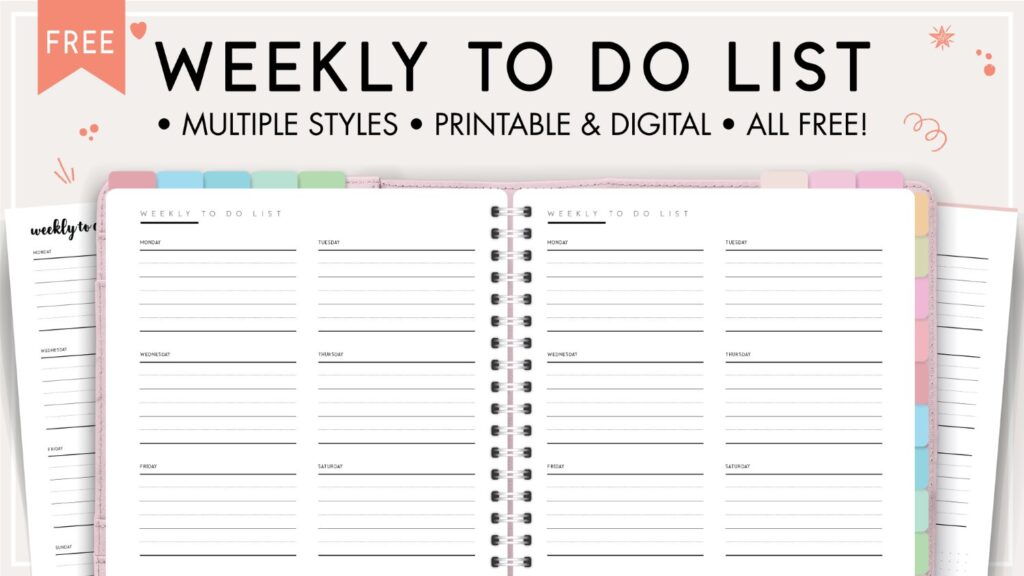 What should you put on your weekly list?
You can use weekly list templates for all areas of your life. If you run a small business then you can use a printable to do list to organize and prioritize work tasks – the same applies if you are employed, self-employed, or a freelancer.
You can also use the list printables for university or school planners. These are great for helping you manage steps for completing assignments or homework.
Don't forget, you can also use these weekly checklist templates for general everyday use. Use a different design for every family member to help them track important tasks around the house (or check out our printable chore charts), or for creating daily routines.
The whole point of a to do list is about getting things done.
How do I organize my to-do list?
Using a weekly to do list template will help you to organize all of your tasks from Monday to Sunday. With an easy list layout, there is plenty of space to create your list of tasks for the entire week and have a visual overview of what you need to do.
You can easily organize your tasks based on their deadline or their priority. Use one of our printable calendars to be sure of any deadlines so you can categorize them for the right day.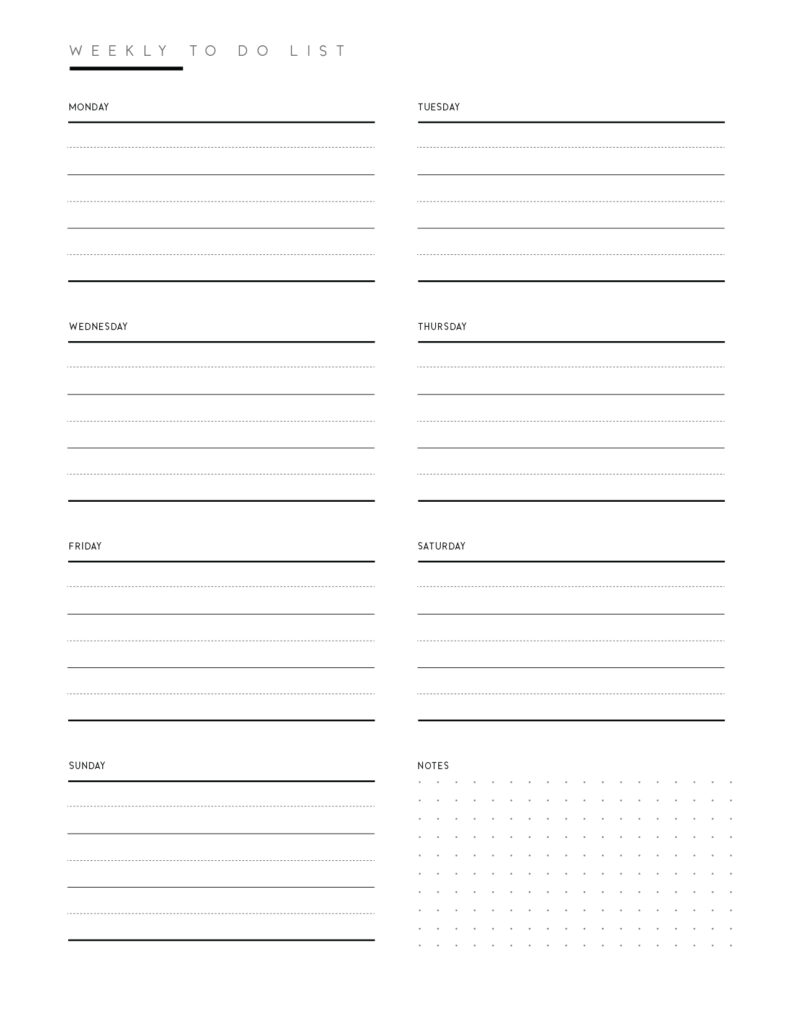 You might also like…
Did you know we have thousands of planner templates that you can also use for free?
More awesome free printables and templates
Why buy printables, planners, and templates when you can save money and get high-quality ones for free?!
We've got a huge range of templates for every aspect of your life. Be sure to check them out and find the ones you need.
Our free printables and templates are the perfect option for adding that little bit extra to your planner, bullet journal, or binder. You can even import them into your favorite digital planner.
Be sure to grab as many freebies as you can while you're here.
We think you'll find these very useful:
Many more planner templates are available to use and print for free.
---
Follow World of Printables on Pinterest
COPYRIGHT
These designs are for personal use only and are the copyright of World of Printables – you cannot redistribute, reproduce, or resell, although you can link back to our website.