If you're on a cocktail of medication or are required to take medicine that really needs to be observed then consider using this medication log template.
This medication tracker has been created so you can log your medicine in detail along with the date, time, and doses.
Sections of the medicine log include:
Medication details
Medication
Dosage
RX number
Treatment For
Additional Info
Medicine Tracker
There are also simple versions that only list the medication, dosage, time, date, and any relevant notes. so simply choose the version that works best for you.
Use one medicine tracker per medication that you take so you can truly keep your medication log clear of clutter and confusion and doses organized.
Medication Log
A medication log is a great way of logging your medication so that you can see if you accidentally miss a dose.
These medicine tracker templates are also the best refill reminders for your pills as you can see daily how often your meds are depleting and when you put in a new prescription.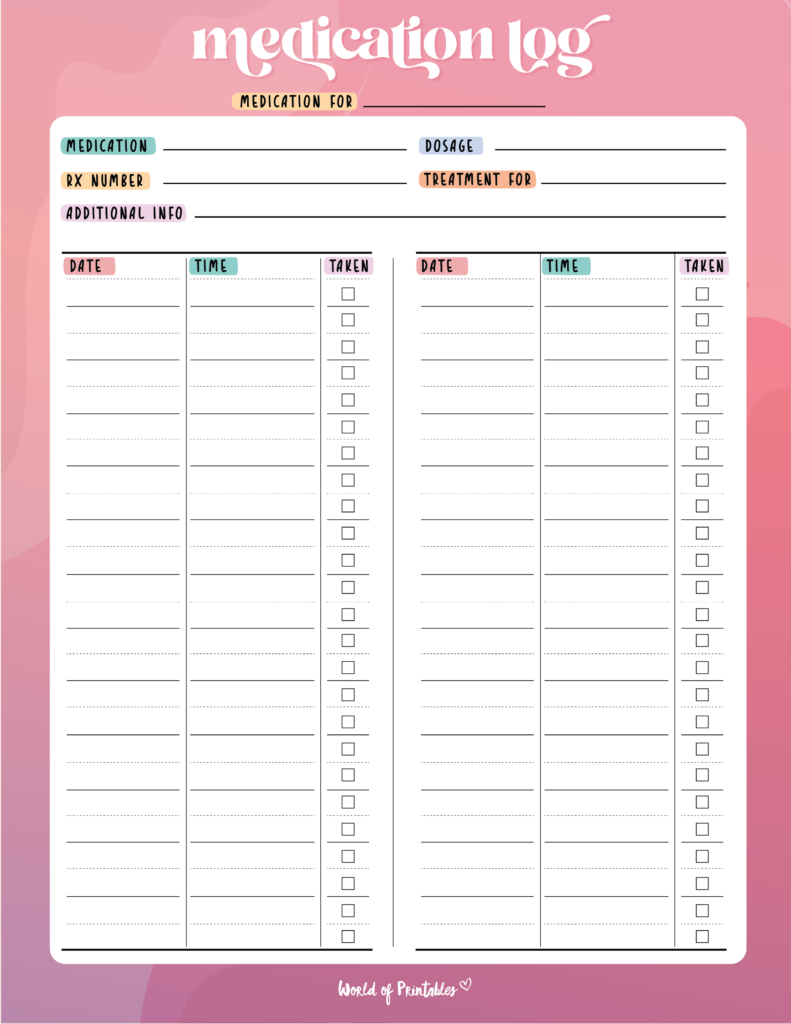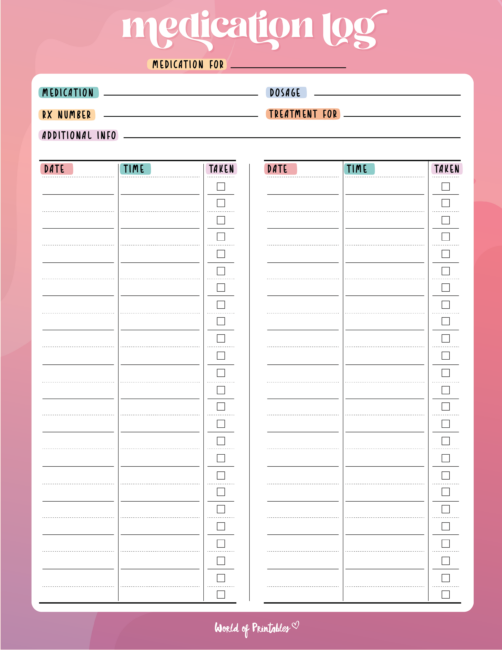 To get the printable medication log for free, open the template image above and save it to your computer. Simply choose the medication log you like best and open it fullscreen to save or print.
Get the free printable medication log pdf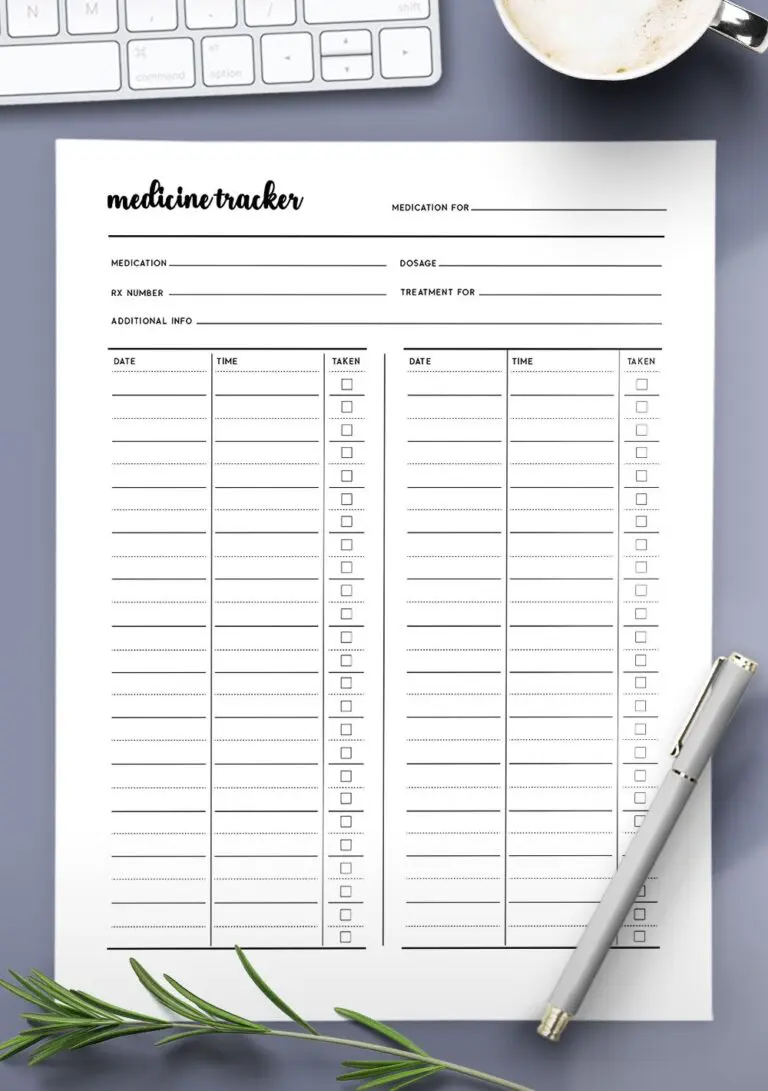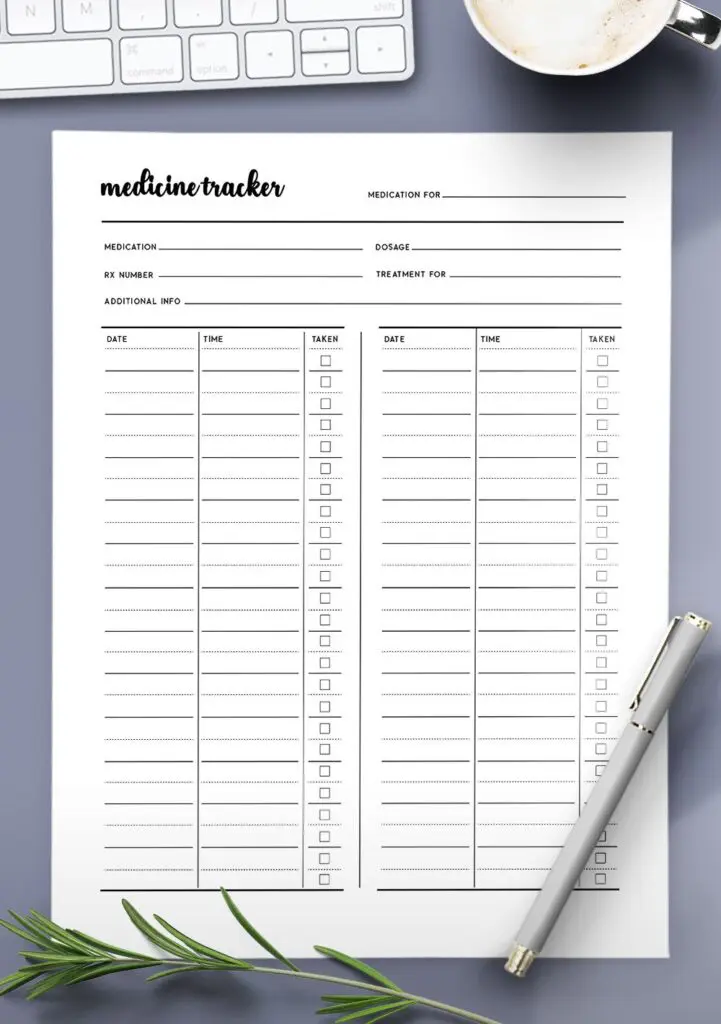 For the highest quality, get our pdf version which comes in four different themes. See the button below to visit our product page. Use the coupon code displayed to get the PDF version for free from our shop.
The medication log sheet pdf comes in four styles – Cursive, Classic, Soft, and Botanical and you will receive all of these when you get it below.
You can also use the different styles of medicine trackers for different family members, making it clear which template belongs to who.
More awesome printables for you to enjoy
Every week we create a cute set of printables, planners, and digital freebies to help you make the most of the things that matter. Our creations are loved by many and are free for you to enjoy.
If you love our medication log and would like more awesome printables, then check out our latest creations that you can use for free.
We think you'll really love these:
You can also use our other printable templates to track other parts of your health such as our printable blood pressure chart, and printable blood sugar levels chart.
You can also find the medication log template included in the Household Planner Bundle that also features other amazing medical, health, home, and life planners and printables.
Our bundles make it easy for you to get printables for all areas of your life, from money management, health, and fitness, meal planning, business, and day-to-day life planning. The bundles are low-cost and contain high-quality versions of our printable templates.
How to make printables look awesome
INSTRUCTIONS
Get the free medication log. If you are looking for more awesome free templates then check out our huge range of printable templates.
Print it! – Our templates look so good when printed on this bright paper.
These printable templates are designed as 8.5 x 11 pages. TIP: If you want to print using different size paper then simply insert this printable into Canva, set your dimensions to any size you want, then save and print, easy! Full steps in this guide.
Many more awesome free printables
If you want more useful printables like this great template, we have hundreds of more great templates that you'll love, which are perfect for planners, and will help you plan and organize everything!
So remember to look through the rest of our printable templates, and come back soon!
Find 100's more stylish planner templates that you'll love
Some of our recent planner templates. Find many more Printable Planner Templates that will help you get on top of your life with ease. You'll love them.
Follow World of Printables on Pinterest for more