How do I make a daily schedule and plan my day?
Choose from this collection of daily schedule templates available in a variety of different designs to help you plan your day, including your schedule, priorities, and everything you need to do.
To make the most out of our daily schedule printable, we recommend spending a little time understanding your strategy. Why do you want to do these things? What steps will you take to complete your goal? What are your priorities? What time do you have? Then create your schedule around this.
Having a strategy will allow you to manage your time more efficiently and make better progress.
There is no need to cause yourself any stress by creating a daily schedule template when you can use one of ours for free.
These daily schedule planners really are a great time management tool!
Why Use a Daily Schedule Template?
Using a daily schedule template can help you streamline your daily routine and daily agenda.
These daily schedule templates are perfect for all stages of your life, whether you are in school, at work, or unemployed. If you love to stay on track then a daily schedule will definitely benefit you.
Printable Daily Schedule Template
These schedule templates come in so many different styles so you can choose your favorite layout.
Our hourly schedule template has a notes section for important information or reflections along with space for your to-do list and priorities.
Choose a daily schedule template from the collection below. Simply open your favorite, save it to your device, then print and use it.
If you're looking to use a daily schedule for your personal life then I recommend combining it with one of our free printable daily planner templates or printable personal planners!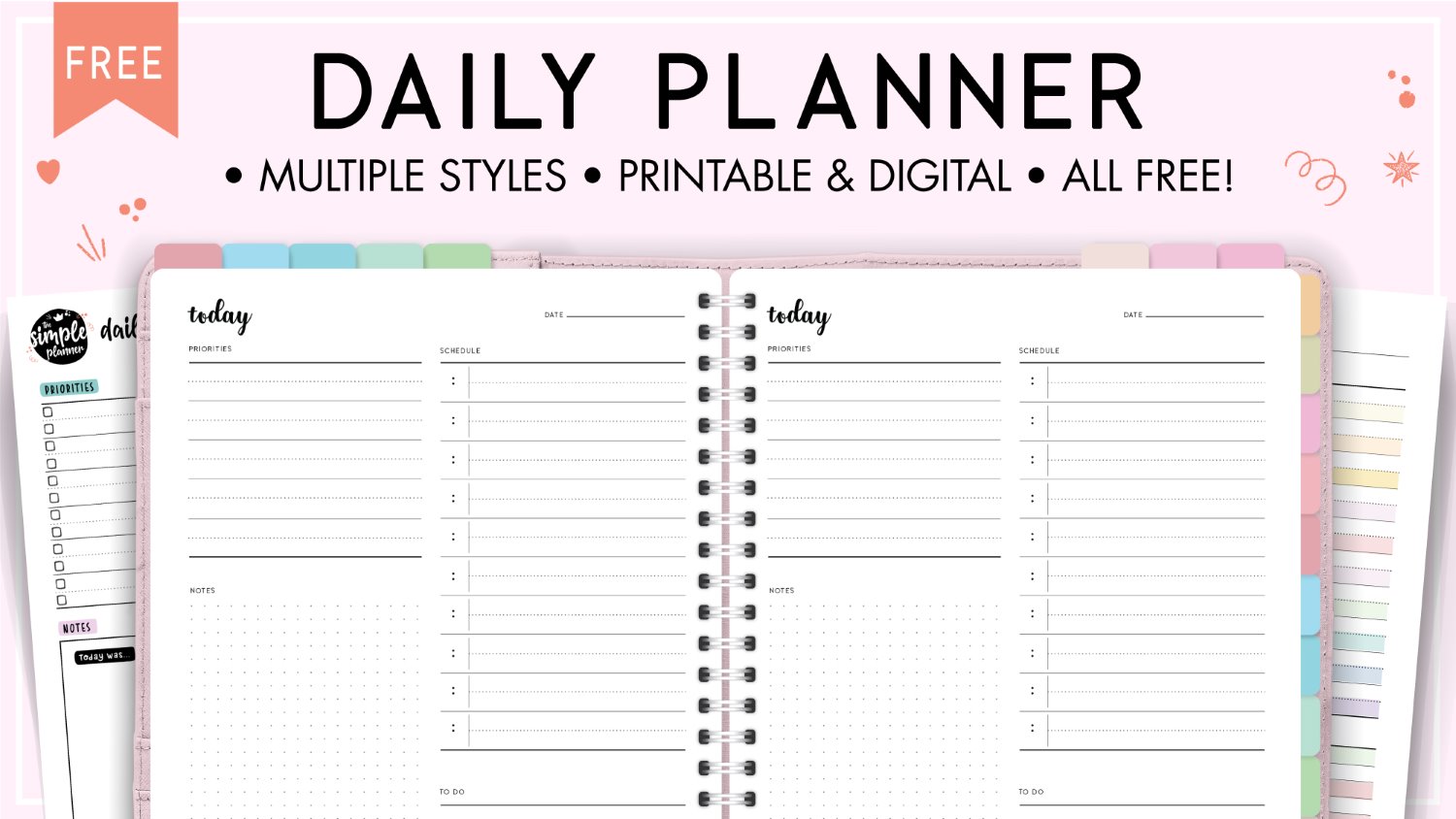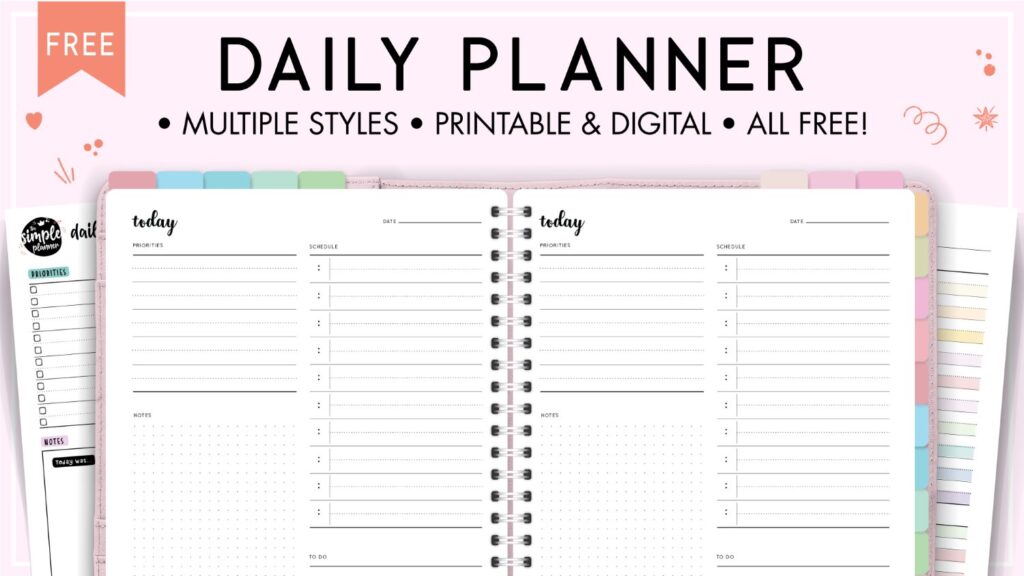 We have so many amazing free printables to help you organize, plan and prioritize the things that are the most important to you. Whether you're looking for habit trackers, monthly calendars, monthly planner templates, or checklist templates, we have everything you need to build your own planner, with space to store important dates, log your moods, routines, and more.
You can also use these printable schedule templates for your professional life too. A daily work schedule template will help you keep track of your daily tasks. Combine a printable schedule with any of our printable checklists, list templates, calendar templates, or other work planners to maximize your work day.
If you're a student then you can also use these templates as a class schedule too!
Digital Daily Planners for iPad or Android Tablet
We also have a digital day planner for your iPad or tablet so if you prefer to plan digitally then we have you covered!
Check out our free digital planners for iPad or Android tablet and start digital planning today!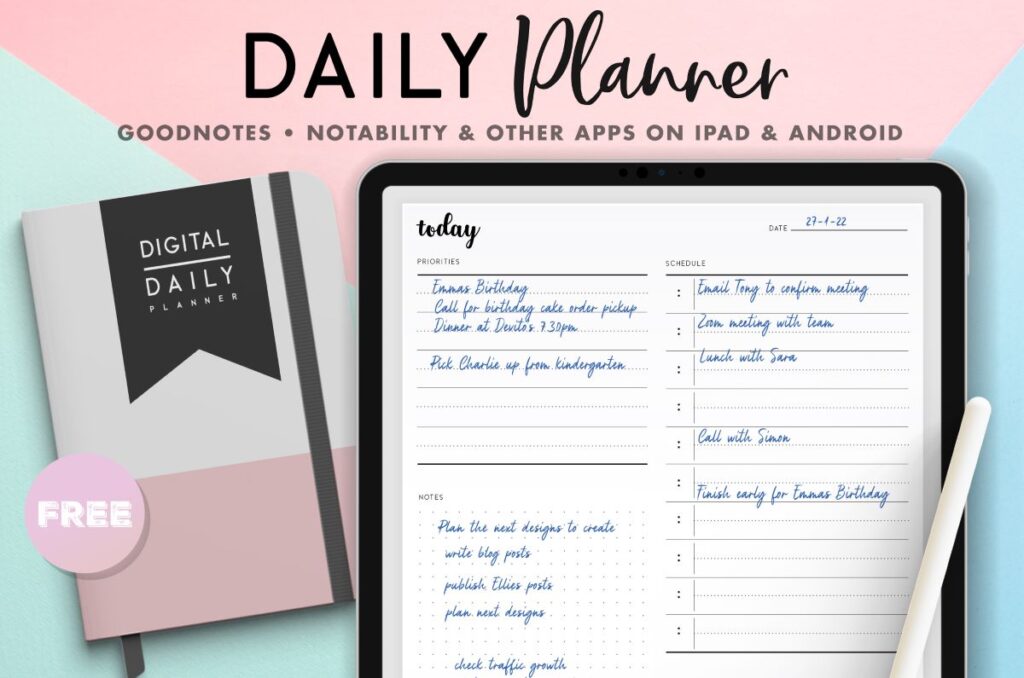 How to use our planners for the best finish
Resize it – Our printable planner inserts are made for US Letter sized paper. But you can easily resize printable planners to fit any paper size and binder. It's so easy to make them bigger or smaller to fit into your choice of binder.
Print it – We recommend using nice quality paper for printing our planners and planner pages. This paper is a good weight and works with inkjet and laser printers, the ink looks crisp and clear giving your printed planners that shop-bought look.
Don't forget to check out the rest of our amazing planners and printables right here on our website. You'll definitely find the perfect printables to organize your life.
More awesome free printables from World of Printables
If you are looking for more free printables, then check out our huge range of awesome printable templates and find the ones you need. We've got a huge range of templates for every aspect of your life!
Be sure to grab as many freebies as you can while you're here.
We think you'll find these very useful:
Free printable planner templates
Our recent printable planner templates. Many more planner templates are available to use and print for free.
---
Like these freebies?
Get notified of our next monthly free printables – you're gonna love them!
Follow World of Printables on Pinterest