This free printable I spy princess coloring page game is such a fun activity for your little ones to do while they're at home or indoors.
What little girl doesn't love princesses?! They love to dress up like them, watch Disney princesses in movies, read about them in stories, and even princess coloring pages are hugely popular with little ones.
So when your children are indoors on a rainy day or looking for something to do while at home then what better thing is there to do than to get creative with some princess coloring sheets! It's such a fun activity that children love to do and these I Spy games make them even more fun.
That's why we've created this fun princess coloring page game to keep your kids occupied while at home.
So print this off, look out the coloring pens and let them get creative with this princess coloring game!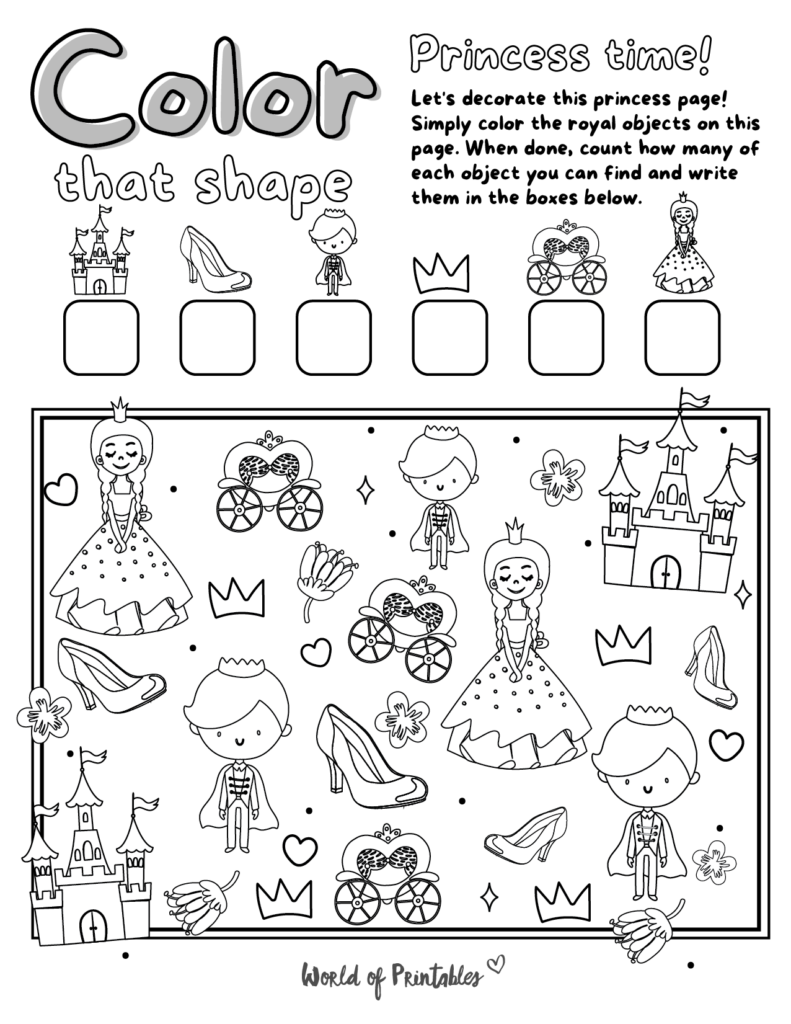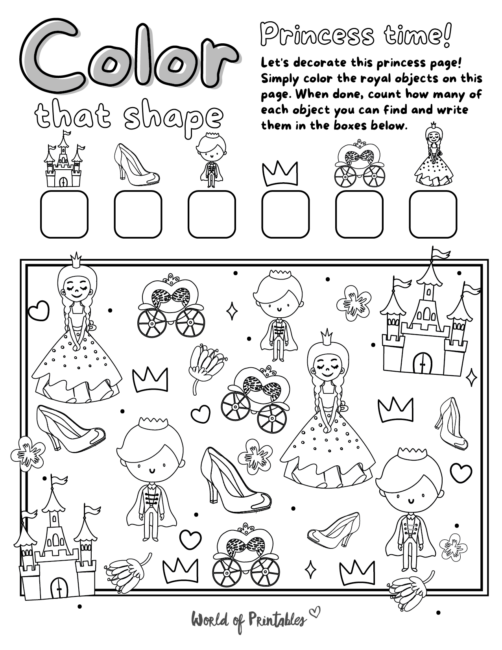 Our printable I Spy coloring games are a great kids activity because they can play a game and then color in afterward. There's so much fun to be had in one simple thing, which is so quick, simple, and easy!
How to play this princess coloring page game
To play this game you simply have to find all the princes and princesses, and the items that relate to them which are hidden on the page, and then count how many of each item you find then write the amount in the boxes. You can also color in the items to create a colorful picture that your kids can hang up somewhere in their home.
You can even color the background any color you like. By coloring the background your children can create a wonderful-looking picture.
We've created a huge amount of these coloring page games and coloring pages and they're exactly what kids love, so you'll be able to keep your kids entertained when at home while giving you some much-needed time to yourself. Who doesn't like the sound of that?!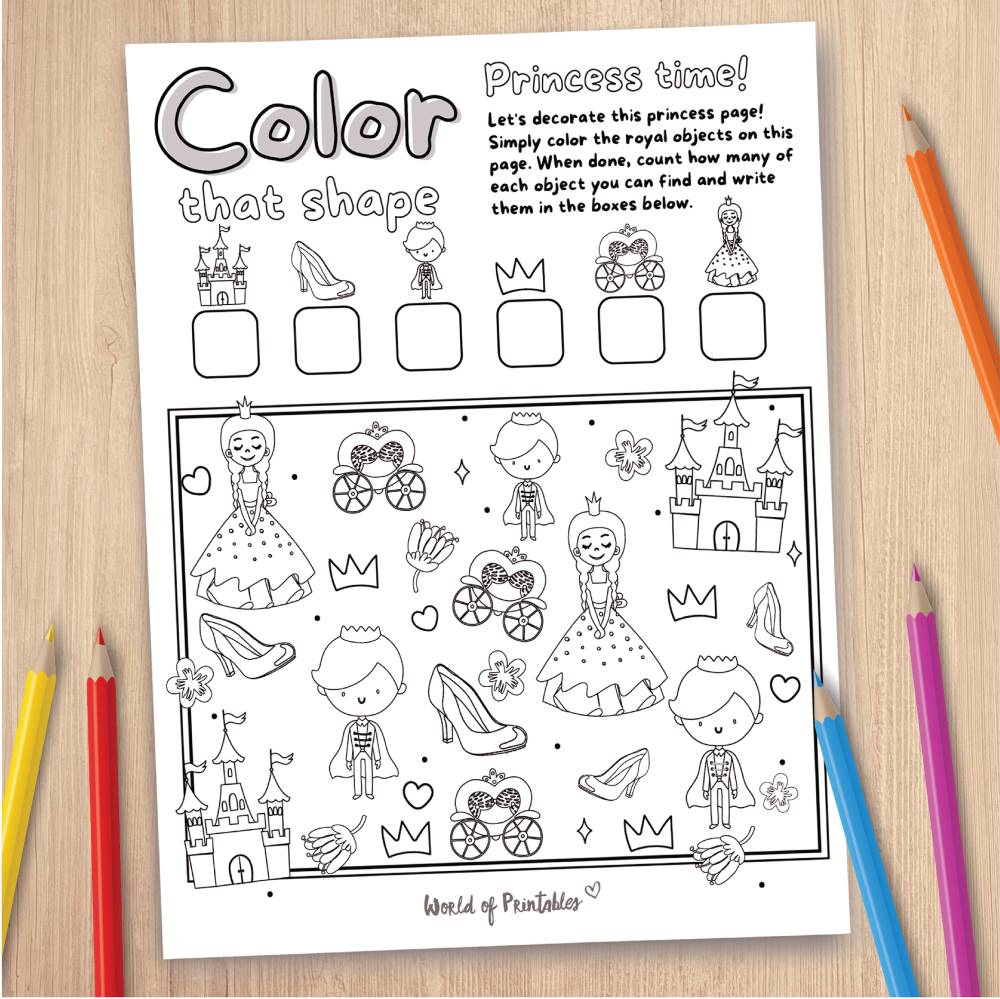 Free Printable I Spy Princess Coloring Page Game
Our free princess-themed I Spy game is a great activity for kids to do to help them enjoy their time indoors while keeping them busy with creative time instead of screen time.
Our I Spy games are very popular with kids of all ages and the games teach them visual discrimination which is the ability to detect differences and similarities in size, shape, and color.
Children love princesses, especially little girls, so they will really enjoy coloring these princess-themed games and coloring pages as they're such a fun activity for them to do.
They can even color each one separately as they don't have to use the same colors for the princesses and other items that they find.
We've also created tons of princess coloring pages that you can print and color for free for lots of coloring fun, and so many more awesome coloring pages and printables that will kids love.
About this princess coloring page game
We've made a game of this princess coloring sheet, by asking the child to search for each item that is shown at the top and counting the amount that they find in the boxes below them.
The game features princes and princesses, a shoe, crowns, princess castles, and a princess carriage. So realistically this is a prince and princess coloring page, with lots of decorative elements like flowers, hearts, and more.
When they're done finding all of the different princess items they can then color the whole page in. Princesses often wear different colored dresses and have different colored hair, so they can color and style these princesses in any color they choose, or style after their favorite princess. Just let them go wild and create a colorful picture that's uniquely their own.
When this princess coloring page is completely colored it creates such a pretty picture that your children will love.
If you like this princess coloring page game, then be sure to check out all of our awesome unicorn coloring pages and our rainbow coloring pages for lots more colorful fun. We also have fun rainbow calendars that you can hang on your walls and rainbow wall art that you can use to decorate your kid's rooms.
All of our printables are available for you to get and print for free.
Print the I Spy Princess Coloring Page game below
Simply click the printable I Spy Princess Coloring Page Game image to enlarge it and then save it to your computer before printing. Remember to check out our other I Spy games and print as many as you want.
I recommend that you print a few of our I Spy games or coloring pages to give your kids variety and to keep them busy.
Get and print as many as you want for hours of fun!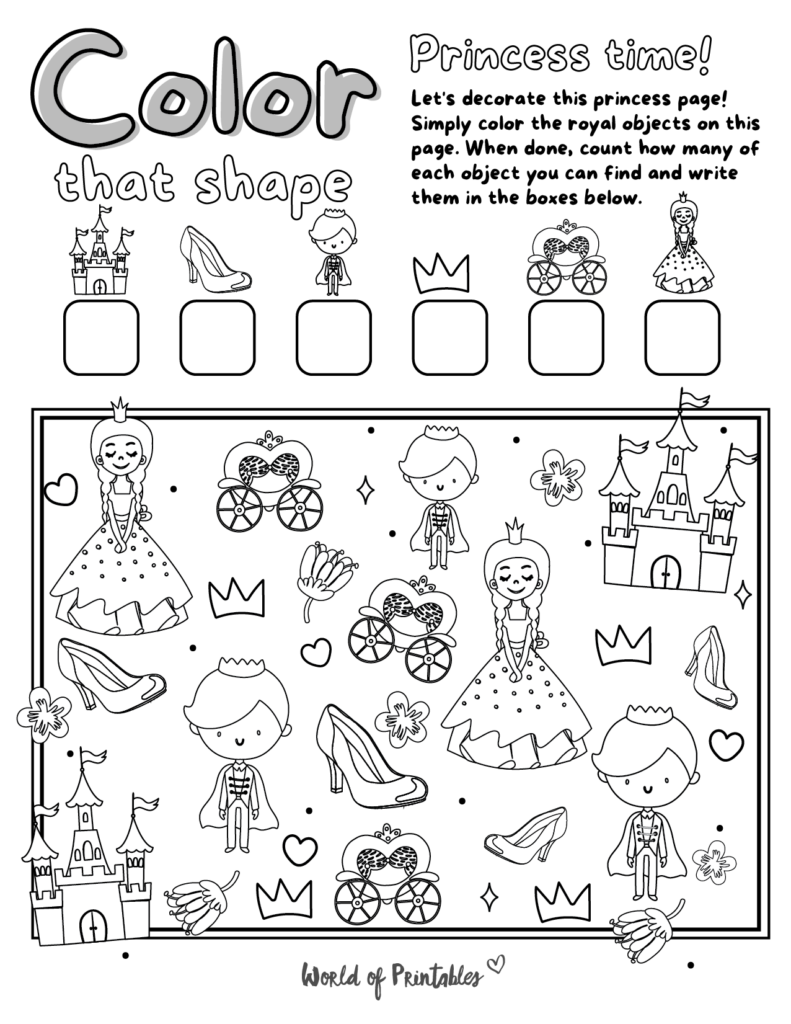 Crayola Ultra Clean Washable Markers – Perfect for princess coloring
If you're looking to top up your kid's coloring pens collection then this awesome set of coloring pens is what my children use. There's such a huge range of colors and the quality of the pens is amazing. Better yet, they're washable too. So no more pen marks on skin, clothes, or walls. It takes the stress out of kids coloring!
Features 40 Crayola Ultra Clean Washable Markers in assorted colors.
Ultra clean washable pens: Wash from skin, clothing, and painted walls.
Perfect for art projects, classroom activities, and coloring activities!
Safe and nontoxic: Ideal for kids ages 3 & up.
Enjoy your free time, have a coffee!
These princess coloring activities are a great way to relax, whether you're giving them to your kids to do to keep them busy when they're indoors so you can have time to yourself, or for you to do to as a way to help you relax and wind down.
It's a good idea to have a nice cup of coffee while you're relaxing. If you want you can buy us a coffee too! Click to Support us on Patreon so we can continue making more awesome free printables.
It's a great way to show your support and helps us continue to create awesome printables to give to our visitors for free.
More printables from World of Printables
We've got loads more of these I Spy activities, printable games, and coloring pages for hours of fun for your little ones and many useful printables for adults too.
Remember to check out our Princess coloring pages if you want even more coloring fun! Also, get this printable princess word search game that your kids will love for even more fun. If you're looking to decorate your little girl's room then why not get this free printable a little princess sleeps here wall art, which is perfect for adding a decorative touch to any little girls' room.
Be sure to grab as many printables as you can while you're here and print them off whenever you need activities for your kids.
We also have a huge range of printables for adults too here on World of Printables. You'll find printables and templates to help you plan and organize all aspects of your life.
We think you'll love these:
I Spy Coloring Pages
Our recent I Spy coloring page activities. Find many more I Spy Printables to get and print for free.
---
Coloring Pages
Our recent coloring pages. Many more printable coloring pages to print and color for free.
---
Printable Games
Our recent printable games. Many more printable games to print and color for free.
The world's most popular printables
Thank you for browsing our Free Printable I Spy Princess Coloring Page game.
I really hope you and your kids love our I Spy coloring page activities and if you like this printable princess coloring activity then please hit the share button of your choice below as it lets us know you care and helps us create many more awesome free printables for you to enjoy.
And if you can, please Support us on Patreon and get access to all of our awesome premium printables as part of your Patreon.