If you ever want to plan your days out, vacations, or anything at all for that matter then using this printable activity planner will help make sure you are well organized and less likely to miss out on things.
An activity planner can help you schedule your plans and the fun things you want to do during spring break, summer, or any other vacation or holiday season. They are perfect for making fun plans with your family and kids love to see what's coming up!
An activity planner is also a great way of helping you make the most of your personal time. Using an activity planner alongside your to-do list will allow you to keep your daily tasks and errands separate from the fun things you really want to do.
Activity Planner
Choose an activity planner from a variety of different styles of templates here. Simply click any template below and save it before printing. These activity planners are great for adding to your planner or importing into your favorite digital planner app.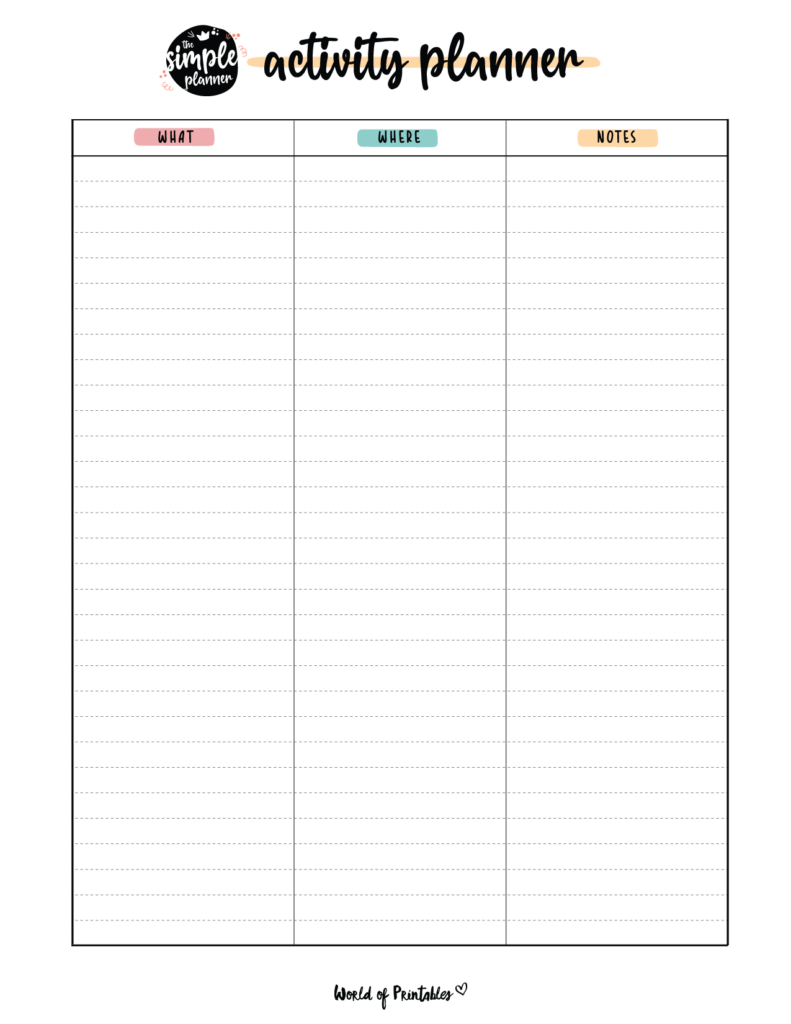 How to use an activity planner
Use the activity planner to note down the places and fun things you want to experience. Treat it a bit like a bucket list, but a little more down-to-earth and easier to achieve.
It's certainly something that will benefit you and those you're close to, whether that's your family, friends, or partner.
I mean how often do you plan things to do, but use scraps of paper that only get lost? So this is simply the perfect way to plan to have the best times ahead.
Add this activity planner page to your favorite daily planner or simply stick it to the fridge where you can always see it.
Start making memories by using this free activity planner.
Things to do list template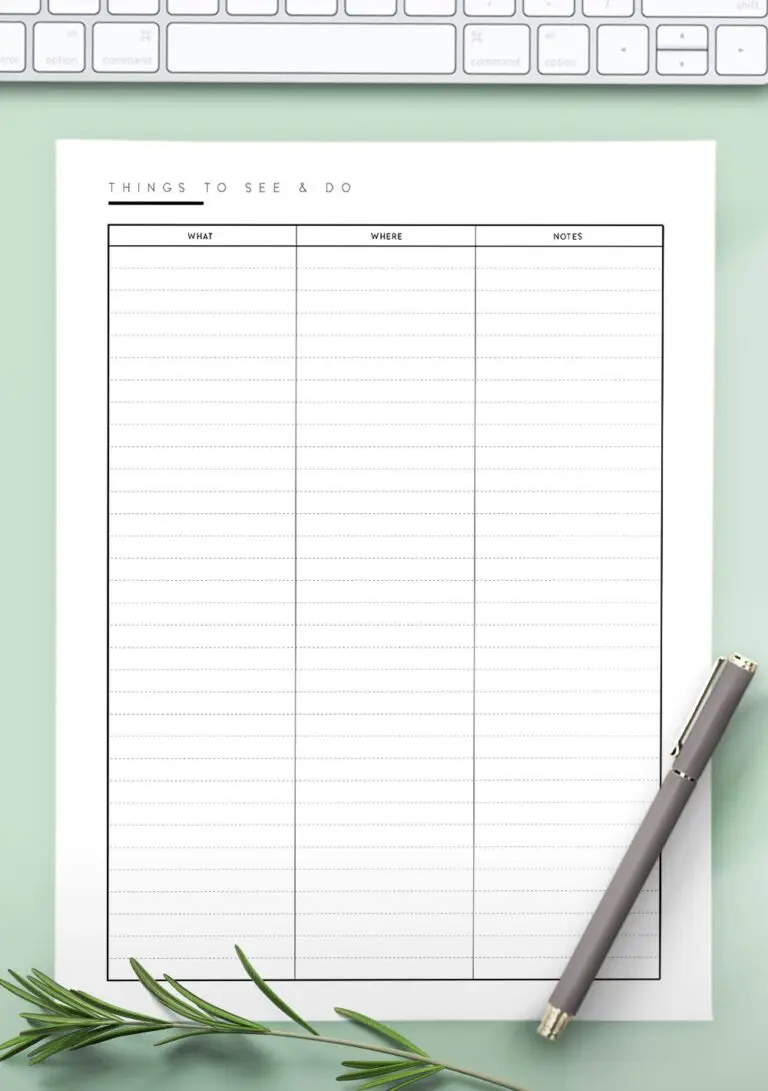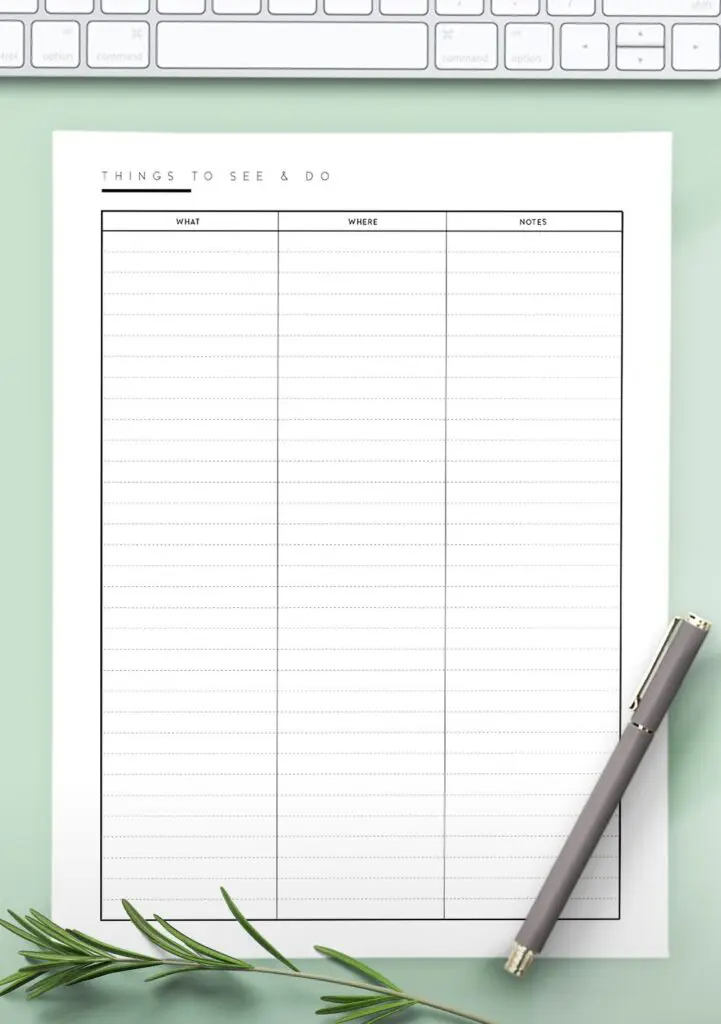 We've also created these things to do list templates that can be used for planning more activities, such as vacations, traveling, and more.
You'll find space to write the things you want to do, and where you'll be doing them. There's also space for any notes, so you can plan things out in detail.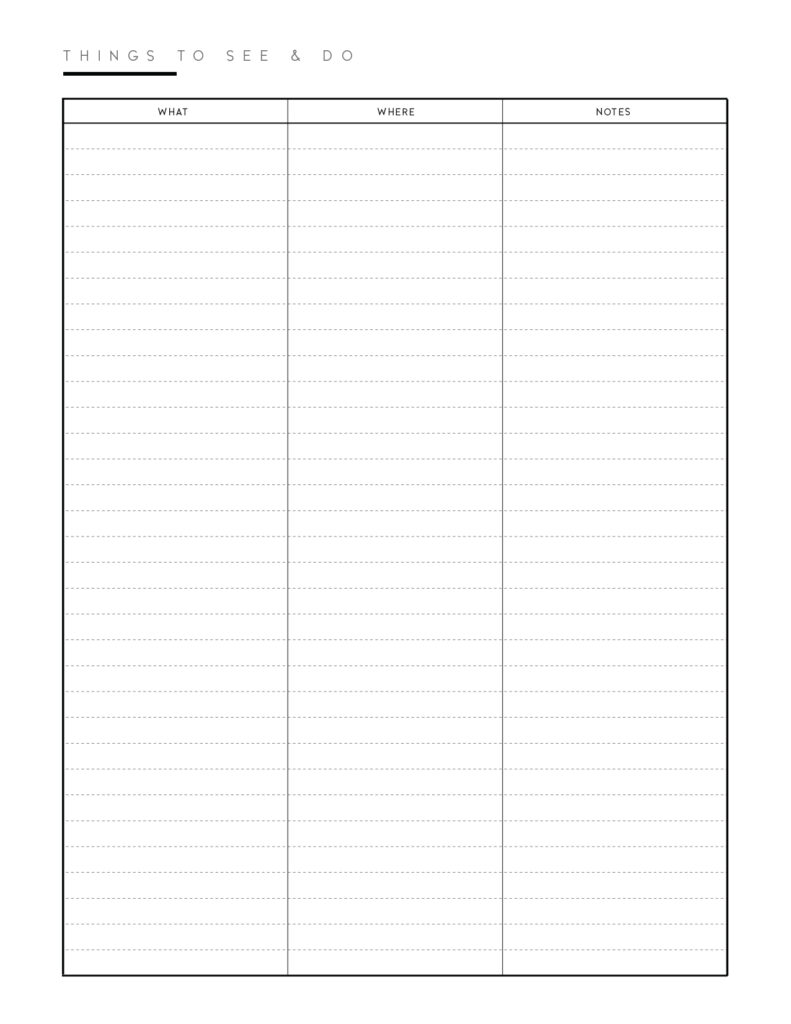 These activity planner templates come in multiple styles and you will receive them all when you get the template pack.
You can also find the things to see and do planner included in the Household Planner Bundle which also offers amazing useful planner pages.
Our templates cover everything from meals, money, health, home, and life. If you want to take control of your life then you need to make plans. Whenever you need to make plans then be sure to use our free planner templates!
How to make printables look awesome
INSTRUCTIONS
Open the image above to get the printable activity planner template. Or get the full high-quality PDF bundle below. If you are looking for more awesome free templates then check out our huge range of printable templates.
Print it! – Our templates look so good when printed on this bright paper.
These activity planners are designed as 8.5 x 11 pages. TIP: If you want to print using different size paper then simply insert this printable into Canva, set your dimensions to any size you want, then save and print, easy! Full steps in this guide.
Get the printable activity planner template
To get the printable activity planner template for free, open any of the template images above and save it to your computer.
Alternatively, for the highest quality PDF version which comes in multiple styles, use the button below to visit our product page. Use the coupon code displayed to get it for free.
Remember to look through the rest of our printable templates, we've got printables for every aspect of your life!
You might also like…
Did you know we also make printable planners that you can also use for free!
More awesome printables and templates from World of Printables
We've created a huge amount of planner printables. We've created printables to help you manage every aspect of your life!
We think you'll find these very useful:
Find 100's more stylish planner templates that you'll love
Some of our recent planner templates. Find many more Printable Planner Templates that will help you get on top of your life with ease. You'll love them.
Follow World of Printables on Pinterest for more