Choose from 50 daily planner templates in various designs to organize your day, schedule, priorities, and everything you need to do. Free to print!
These daily planner templates are the perfect option if you love to plan, organize and schedule your daily routine.
If you love printable daily planners, you will love this collection in different styles and designs.
Daily Planner Templates
Our daily schedule template has additional space for reminders, a to-do list, priorities, and notes.
These printable daily planner templates are great for everyone, including students, professionals, teachers, and even kids who want to learn how to plan their days. You can easily have your own daily planner for free, there's no need to purchase an expensive planner or notebook.
Print off a new day planner page for every day of the week from Monday to Sunday.
Choose your favorite daily planner template from the choices below. Simply open the image and save it to your computer before printing.
These daily planner templates can be printed or imported into a digital planner.
Pair your daily planner pages with our other gorgeous planner templates such as our template for recording birthdays and important dates, our checklist templates, weekly planner pages, monthly planner templates, and calendar printables.
What Exactly is a Daily Planner?
A daily planner is a tool that helps you to map out your day. A daily planner might be a physical planner, a printable planner, or a digital planner and normally consists of daily planner pages that will help you plan every day.
A daily planner is a space where you can write your schedule, create your to-do list and successfully plan your day.
Reasons to Keep a Daily Planner
There are so many reasons to use and keep a daily planner! It might take some time to get used to using a daily planner but it will soon become a key part of your routine.
Let's take a look at some of the benefits of using a daily planner:
It will help with time management
You will increase your productivity
It can help you stay focused and on track
Keep organized records of your days including tasks and any appointments or events
They are great for personal use or for planning your work schedule
Our daily planner worksheet is free (like all of our printables)
This daily planner allows me to create a quick and effective schedule that fits in my favorite planner. It allows me to see my schedule, priorities, to-do list, and other notes at a glance and I use this for my personal routine and my work schedule.
Digital Daily Planners for iPad or Android Tablet
We also have a digital day planner for your iPad or tablet so if you prefer to plan digitally then we have you covered!
Check out our free digital planners for iPad or Android tablet and start digital planning today!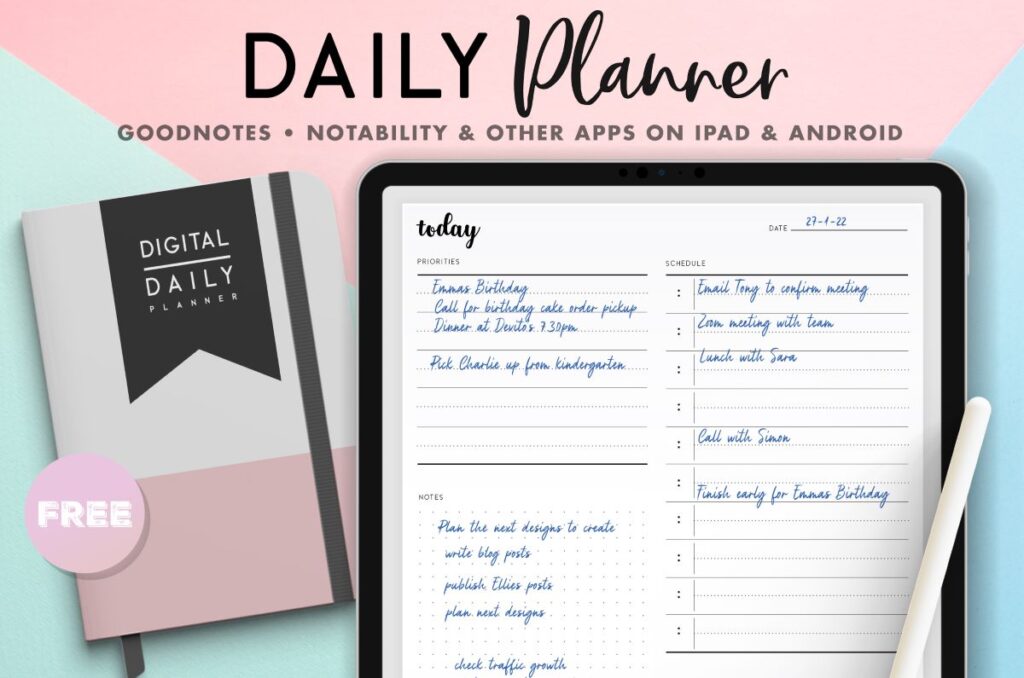 How to use our planners for the best finish
Resize it – Our printable planner inserts are made for US Letter sized paper. But you can easily resize printable planners to fit any paper size and binder. It's so easy to make them bigger or smaller to fit into your choice of binder.
Print it – We recommend using nice quality paper for printing our planners and planner pages. This paper is a good weight and works with inkjet and laser printers, the ink looks crisp and clear giving your printed planners that shop-bought look. The paper also holds up well as you use your planner throughout your daily life.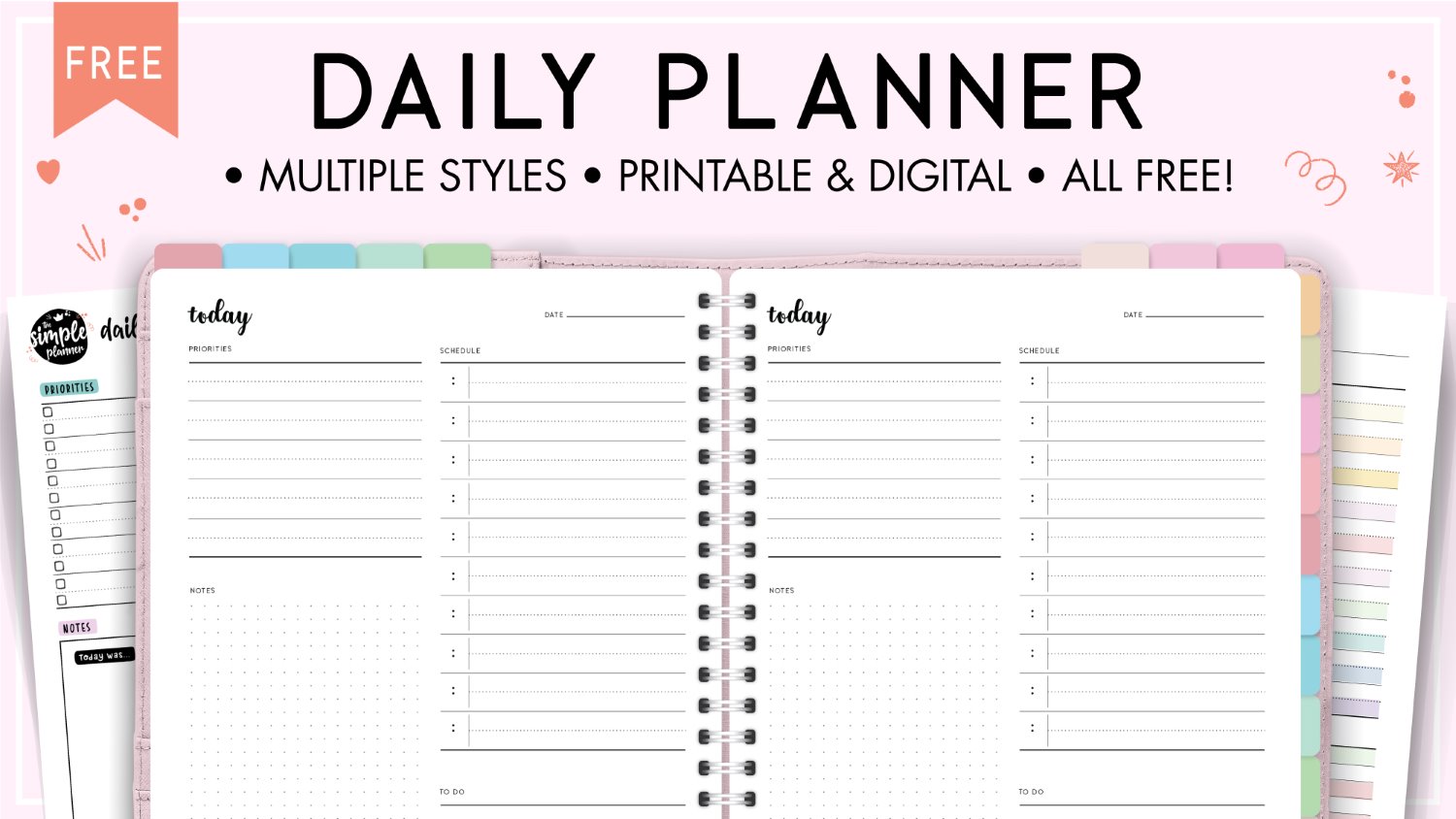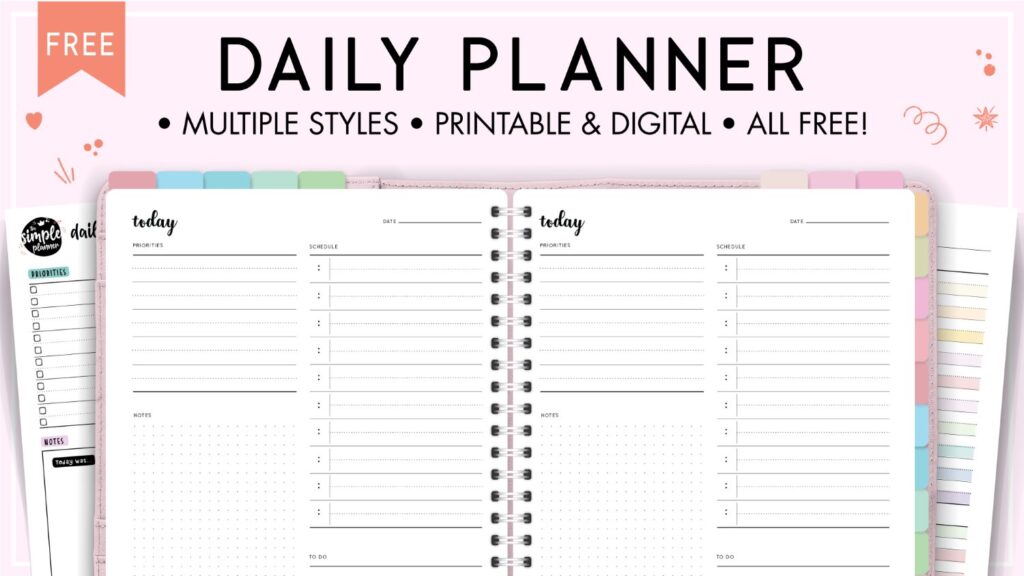 Don't forget to check out the rest of our amazing planners and printables right here on our website. You'll definitely find the perfect printables to organize your life.
More awesome free printables from World of Printables
If you are looking for more free printables, then check out our huge range of awesome printable templates and find the ones you need. We've got a huge range of templates for every aspect of your life!
Our free printable inserts are the perfect option for adding that little bit extra to your planner, bullet journal, or binder. You can even import them into your favorite digital planner.
Be sure to grab as many freebies as you can while you're here.
We think you'll find these very useful:
Free printable planner templates
Our recent printable planner templates. Many more planner templates are available to use and print for free.
---
Like these freebies?
Get notified of our next monthly free printables – you're gonna love them!
Follow World of Printables on Pinterest