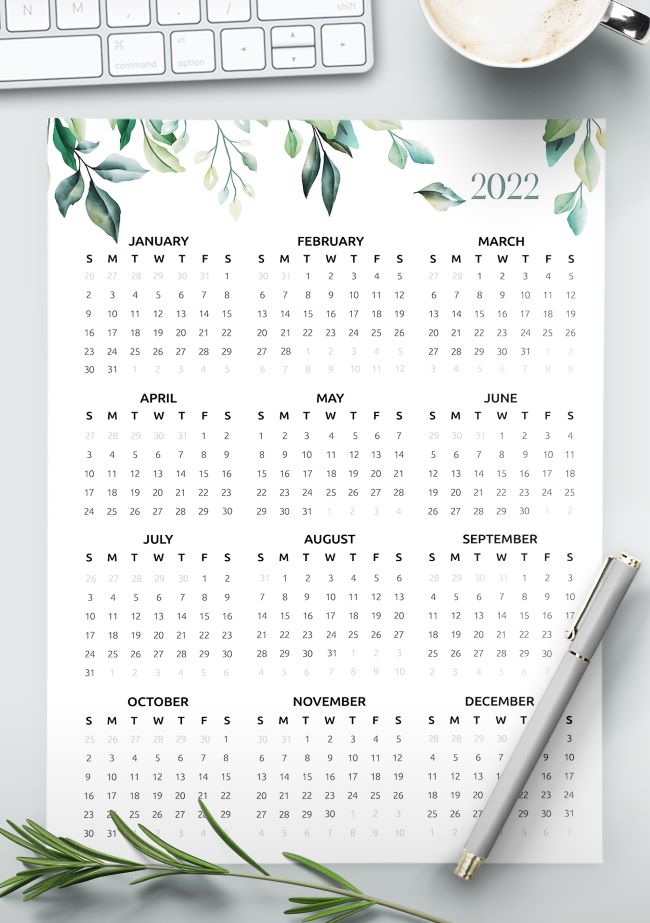 Get this hugely popular free printable 2022 Calendar One Page template today and start planning your month ahead. Our #1 2022 Calendar!
This botanical-themed printable 2022 Calendar One Page template is stunning with its pretty leaves and design! If you want a calendar that features all of the months on one page and is also elegant, then I highly recommend this one.
This one-page calendar makes a perfect calendar for any home and is a perfect way of seeing the dates at a glance.
Features of this calendar:
2022 Calendar
Sunday start
Botanical Theme
Stylish
One Page 2022 Yearly Calendar

Free for personal use
Although we've designed hundreds of calendars, all of which you will find here on this website, I'm personally drawn to this calendar more than others. It's one that often graces the wall in my studio. I love it because it's simple, but not plain and boring like many other calendars that you typically find.
We try to put a lot of effort into the design of our calendars, and this one, in particular, has that botanical style that makes it very attractive. Don't you think it looks so pretty?
You can also find the monthly versions, available in separate months of 2022 in these Free Printable Calendar 2022 Templates which are in the same botanical styled theme. Perfect if you love this style but want monthly versions rather than a single-page yearly calendar.
Just get your printable calendar below, print it out and you're done!
See below for instructions and our paper recommendations. Also, see more of our stunning range of free calendar designs below.
The great thing about our free printable calendars is that you can mix and match! You don't need the same style all year round, you can simply come back and get a different calendar each month.
Click the image below to print the 2022 Calendar One Page template.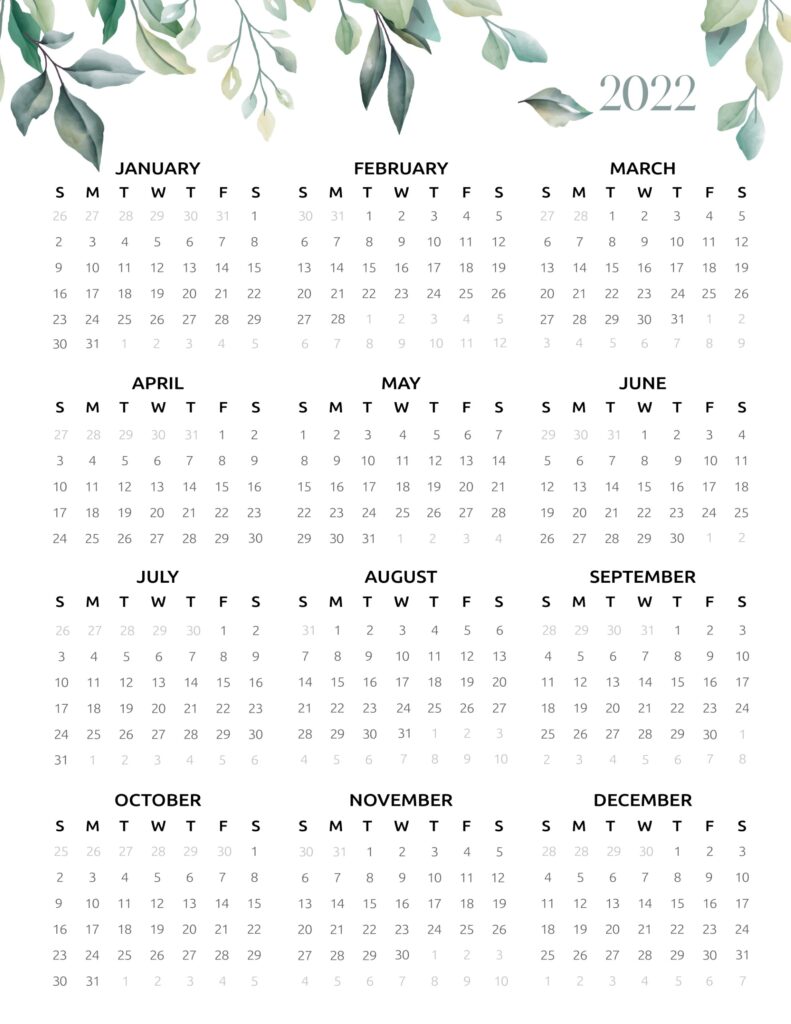 How to make printable calendars look stunning
INSTRUCTIONS
Get the Free 2022 Calendar One Page Template.
Print the calendar. These calendars are designed as 8.5 x 11 printables.
Our calendars look so good when printed on this bright paper which is one of the best deals I've found and makes the print look crisp and clear. This card stock is also a great option that's used a lot in the printable community and even cheaper than I've found in stores.
TIP: It's easy to resize our calendars to fit any paper size. Simply insert this printable into Canva, set your dimensions to any size you want, then save it to your computer, easy! Full steps in this guide.
See more ideas on how to style printable calendar templates to match your home decor!
Create your own printables
Would you like to learn how to create printables? We show you how easy it is to create hundreds of different things that you'll love to use and that others will love to use too.
More Free Printable Calendars from World of Printables
We've created a huge amount of calendars from blank calendars to stylish calendars.
Our recent 2022 calendars. Many more printable calendars are available to get and print for free.
Free printable planner templates
You'll also find a huge amount of our free printable planners and templates to help you plan and organize all aspects of your life.
Be sure to grab as many freebies as you can while you're here.
We think you'll find these very useful:
Some of our recent printable planner templates. Many more planner templates are available to save and print for free.
Thank you so much for visiting!
I really hope you like this botanical 2022 calendar.
If you liked this post and the 2022 Calendar One Page printable template, please hit the Pin button below, as it's a great way of letting us know and really does help us out in so many different ways.
If you are new here please subscribe below as we make new printables often and we'll keep you notified from time to time with our best new free printables.
Like these freebies?
Get notified of our upcoming free printables – you're gonna love them!
Follow World of Printables on Pinterest