This 2022 calendar printable free template is so classy and cute. It features every month on one page with pretty typography to bring it all together.
It takes the classic calendar and makes it more visually appealing while keeping it relatively simple and minimalist.
The great thing about this and our many other calendars is that you can print as many off as you need, whenever you want. We have hundreds of calendar templates in many different styles, and not just for 2022 either!
The printable 2022 calendar is simple but it is very pretty and would look amazing at a larger size and framed in a stylish office or home. Learn how to resize our calendar here.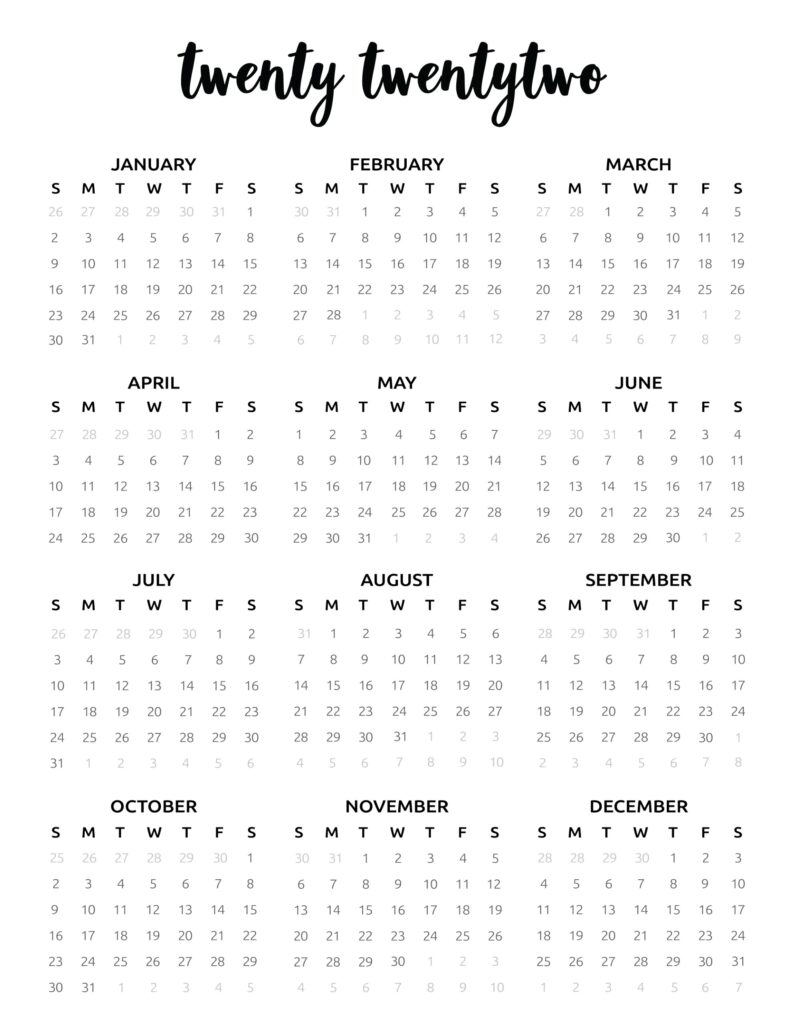 To get the 2022 calendar printable free template, simply open the images above and save them to your device. Also, check out our style guide below for a perfect finish!
How to make printable calendars look stunning
Get the calendar by opening the image above for the high-quality version. If you are looking for a calendar for 2022 then see our huge range of free printable 2022 calendar templates.
Print it! – Our calendars look so good when printed on this bright paper.
These images are designed as 8.5 x 11 printables. TIP: If you want to print at a different size then simply insert this printable into Canva, set your dimensions to any size you want, then save it to your computer, easy! Full steps in this guide.
Style it – See more ideas on how to style printable calendar templates to match your home decor!
More Free Printable Calendars from World of Printables
Some of our recent printable calendars. These will help you stay plan and organize your month ahead.
Browse all of our stylish free printable calendars
---
Find 100's more stylish free planner templates that you'll love
Some of our recent planner templates. Find many more free Printable Planner Templates that will help you get on top of your life with ease. You'll love them.
See all of our free planner templates.
We have 100's of stylish planners that you'll love and they're all free.
---
Thank you so much for visiting!
If you liked this post and the free 2022 calendar printable, go ahead and hit the Pin button below, as it really does help us in so many different ways and is a great way to save for later.
Remember to check out our other calendars and if you like to stay organized then be sure to see the range of free planner templates that we have. It's the perfect way of staying organized in 2022!
Follow World of Printables on Pinterest for more