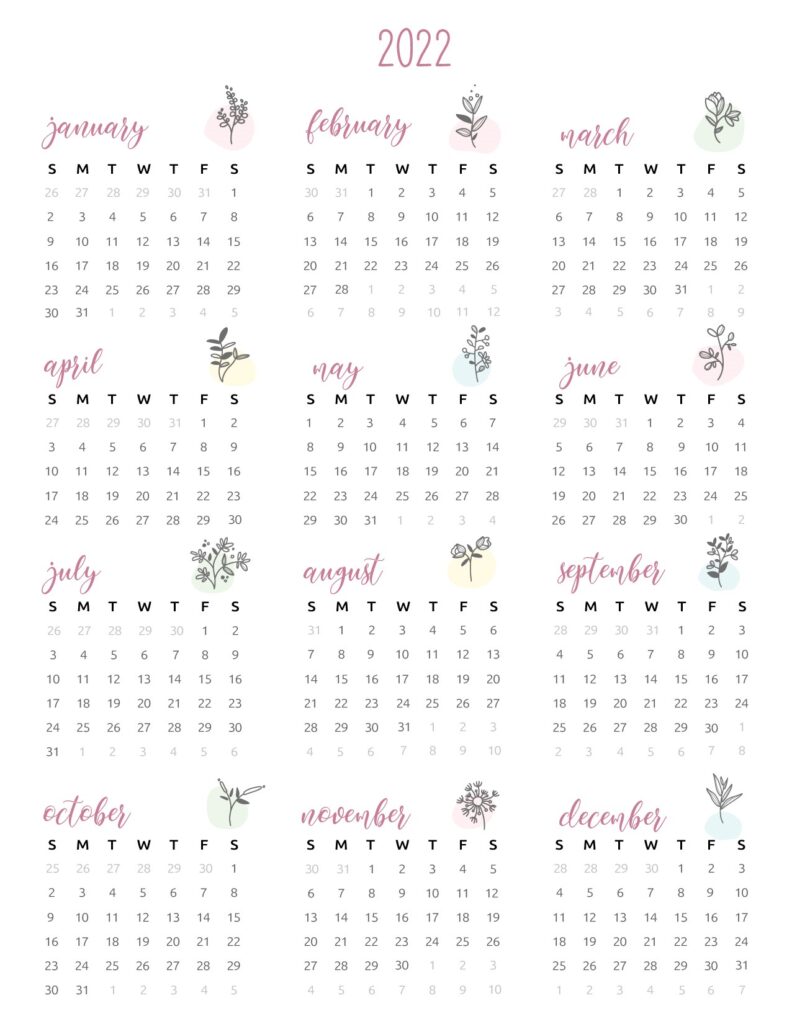 About this free printable 2022 calendar
We've updated one of our most popular printables for the new year. This hugely popular 2022 Calendar Printable One Page template is perfect for printing at home and keeping handy for the year ahead.
If you're looking for a one page 2022 calendar that features a ton of delicate and pretty flowers and botanicals then look no further. This calendar is just so cute don't you think?!
This pretty calendar features individual flowers for each month of the year with an added touch of pastel color. It's a delicate and soft calendar that would make a beautiful addition to any home or workspace.
The perfect calendar for adding to your planner
Why not resize this calendar to fit your planner or even size it up and use it as a framed calendar for a workspace?
These printable calendars are perfect for planners too. Many of our readers keep them in their planners and binders.
This 2022 calendar is designed for US Letter size, but also prints well on A4. This template can also easily be resized to fit your planner, and looks great when resized to A5 paper.
We put a lot of time into designing our calendars and they're very popular, loved by many.
Simply print as often as you need. If you like this calendar, take a look at our many other printable 2022 calendar templates – they're all totally free and the best you'll find anywhere.
Download the 2022 one page calendar
To download the 2022 Calendar Printable One Page template, simply click the image above and save to your computer.
The great thing about our free printable calendars is that you can mix and match!
You don't need the same style for all year round, you can simply come back and download a different calendar each month.
If you liked this post and 2022 Calendar Printable One Page template, go ahead and hit the Pin button below, as it really does help us in so many different ways and is a great way to save for later.
Remember to check out our many other printable 2022 calendar templates, we've got hundreds of them in all types of styles, so you'll definitely find the perfect printable!
Thank you so much for visiting!
If you like free printable templates, then check out our huge range of them, we have over 1,000 templates for all aspects of your life.