Choose a checklist template from this collection of 25 stylish designs. These printable templates are free to print or use with a planner.
What is the main purpose of a checklist?
The main purpose of a checklist is to give you a quick look at the tasks you need to complete, whether that's today, tomorrow, or sometime during the month. You can also look back on what you did yesterday or the week before.
A checklist is the simplest way of creating a list of items in an organized way bringing clarity to your daily routine. I love using a checklist template to see my daily tasks at a glance, whether that's personal tasks, reminders, or something work-related.
I find a good checklist as a key tool when it comes to project management and making my daily schedule run smoothly.
You can use a checklist for many different purposes. This can be as a shopping list, a list to simplify your workflow, an entertainment checklist for movies to watch, or books to read.
They can also be used as a baby checklist so you have everything ready for the new arrival, or simply something to aid you with your daily routine.
Checklist Templates
Our checklist templates are great for helping you to create the perfect checklist for your needs.
Split one checklist into categories to cover all of your needs or use a separate checklist for each list of items for different projects and themes.
To use any of our checklists, click on any of the following templates and save them to your computer before printing.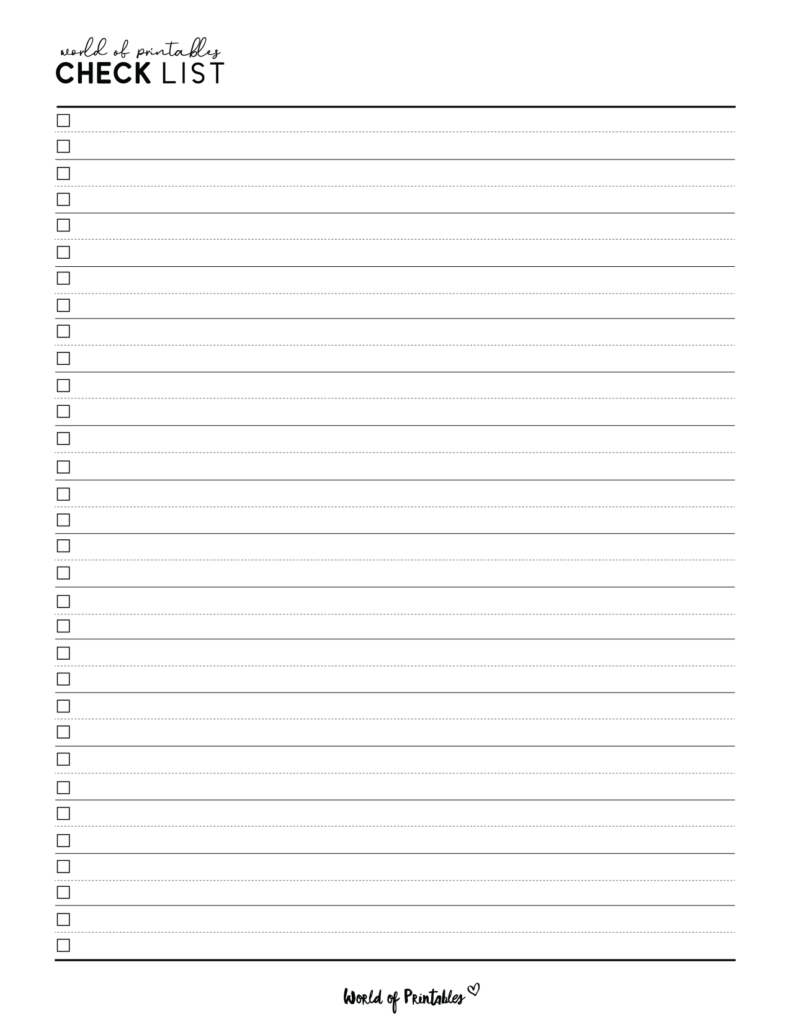 These checklist templates can be printed on regular paper, or can also be imported into your digital planner.
Printable Checklist Templates
To use any of our printable checklists, click on the template and save it to your computer.
Checklist Apps
If you prefer to take notes and checklists digitally then there are a few checklist apps you can use.
Google Keep
Google Keep is a free tool to use and has many different formats. It is essentially a note-taking tool but you can use it to create checklists too. You can also label your notes into categories and it is a great option for collaboration.
I actually love to use Google Keep on my smartphone and on the web because it syncs flawlessly between devices and can be used on any mobile phone software such as ios or android.
Asana
Asana is a great app for helping you manage team projects and is used a lot with small businesses. It offers more options than simply creating checklists such as task time tracking and tracking company milestones and goals.
Jira Cloud by Atlassian
Jira allows you to track tasks, collaborate, and keep notified of the progress being made even while you're away.
Jira is known to be really user-friendly and straightforward to use, as well as being a simple but powerful tool.
Process Street
Process Street is another process management app that allows you to create structured workflows within your business.
Process Street can be organized exactly how you like it and you will always be in the loop with their comment and mention systems that keep you notified whenever someone has something important to share.
Lists To Do
Lists To Do is an app that does what it says on the tin, however, it is also a lot more than that.
This app offers cute visuals to help you organize your lists, reminders, and tasks and also progress bars too.
It has over 36k ratings and a 4.8-star rating average. It also comes in dark mode too.
More free printable templates from World of Printables
If you are looking for more, then check out our huge range of awesome printable templates and find the ones you need. We've got a huge range of printables for every aspect of your life!
We offer so many stunning options, designed with love and attention to detail to make sure you get the planner you need.
Our free printable inserts are the perfect option for adding that little bit extra to your planner, bullet journal, or binder. You can even import them into your favorite digital planner.
We think you'll find these very useful:
Find 100's more useful planner templates that you'll love
Some of our recent planners and templates that you're sure to love.
Be sure to grab as many freebies as you can while you're here.
Follow World of Printables on Pinterest for more