Bucket lists are a great way of writing down your dreams, goals, crazy things you want to try, and stunning places you want to see. A bucket list template can be an inspirational and motivational tool to get you to work harder, try better and go for the things that matter to you.
Many people have a bucket list. Whether they complete them or not is another story. It all comes down to how badly you want it and making time for it in your life. 
You can have a bucket list at any age, at any stage of your life. It's nice to have something that gives you hope and ambition, something to look forward to and to strive toward completing your lifetime goals.
Bucket List Ideas
If you're looking for some bucket list ideas then I've put together some popular, fun things that might inspire you. There are options for traveling, couples, kids, and the seasons, so take a look!
Travel Bucket List Template Ideas
Visit Europe – Italy, Spain, France, Germany
Visit Australia and scuba dive at the Great Barrier Reef
Go to India and visit the Taj Mahal
Explore South America – Brazil, Peru, Bolivia, Colombia
Go for treks in exotic destinations
Explore Egypt and the Great Pyramid of Giza
Visit historical sites across the world
Visit the great lakes
Drive Route 66
Go on a cruise
Explore the wonders of the world
Go on a safari
Visit a national park
Tour every state in America
Enjoy Disney Land
Teenage Bucket List Template Ideas
Volunteer at a charity or local food bank
Go on a road trip with friends
Go to a concert in a different country with your best friend
Attend Comic-con
Write love letters
​Go camping
Try water sports
Shopping spree
Have an epic party (or go to one)
Learn to surf
Start a blog – Learn how to start a blog here.
Learn a musical instrument
Get a tattoo
Apply for an internship
Donate blood
Couples Bucket List Template Ideas
Vacation without the kids
Enjoy romantic experiences
Have weekend getaways
Learn a new language
Renew your wedding vows
Buy a home together
Watch a movie under the stars
Watch the sunset
Have a candlelit dinner
Couples spa day
Propose
Go skinny dipping
Make love somewhere exciting
Get matching tattoos
Make a sexy bucket list
Family Bucket list Template Ideas
Go on a road trip
Vacation in a different country
Family bowling night
Create a vegetable garden
Research your family tree
Start a family tradition
Go to a carnival or fair
Paint a canvas together and display it in your home
Go to Disney World
Take part in a family 5k
Have a big buffet dinner and dessert party
Have a family reunion
Plant a tree
Have a garden party or street party
Have a night without your phone, computer, or tv
Summer Bucket List Template Ideas
Big family vacation
Learn to swim
Learn to ride a bike
Go on adventures
Go to the Olympics (as a spectator or to compete!)
Have a party on the beach (but take all of your rubbish away)
Go on a long bike ride
Have a staycation
Have a big water fight
Enjoy a Backyard BBQ
Draw pictures on the drive or sidewalk with chalk
Create your own lemonade
Have a garage sale
Catch fireflies after dark
Have a family picnic
Fall Bucket List Template Ideas
Have an epic Halloween display
Have a fall get-together with a hot chocolate bar
Pumpkin photoshoot
Try as many pumpkin spice goodies as possible
Make a pumpkin pie
Go to a huge fireworks display
Go to a football game
Make S'mores
Cuddle in front of a fire
Roast marshmallows
Have a spooky movie night
Pick apples and pumpkins
Watch the Macy's Day Parade in person
Go to a fall festival
Have a fall photoshoot in the woods
Christmas Bucket List Template Ideas
European Christmas market
Christmas in a log cabin
Big family Christmas gathering
Family Christmas photoshoot
Matching Christmas sweaters or pajamas
Build an igloo
Ice skate on an outdoor rink or lake
Visit Lapland
Spend Christmas somewhere tropical
Donate Christmas gifts to charity
Go to the theatre
Have a huge snowball fight
Go to a Christmas concert
Create a Christmas tradition
Send Christmas cards to your whole family and friends
Blank Bucket List Template
Using a bucket list can open you up to fun things, and help you to feel a sense of fulfillment when you reach your dream goals, and potentially leave a legacy.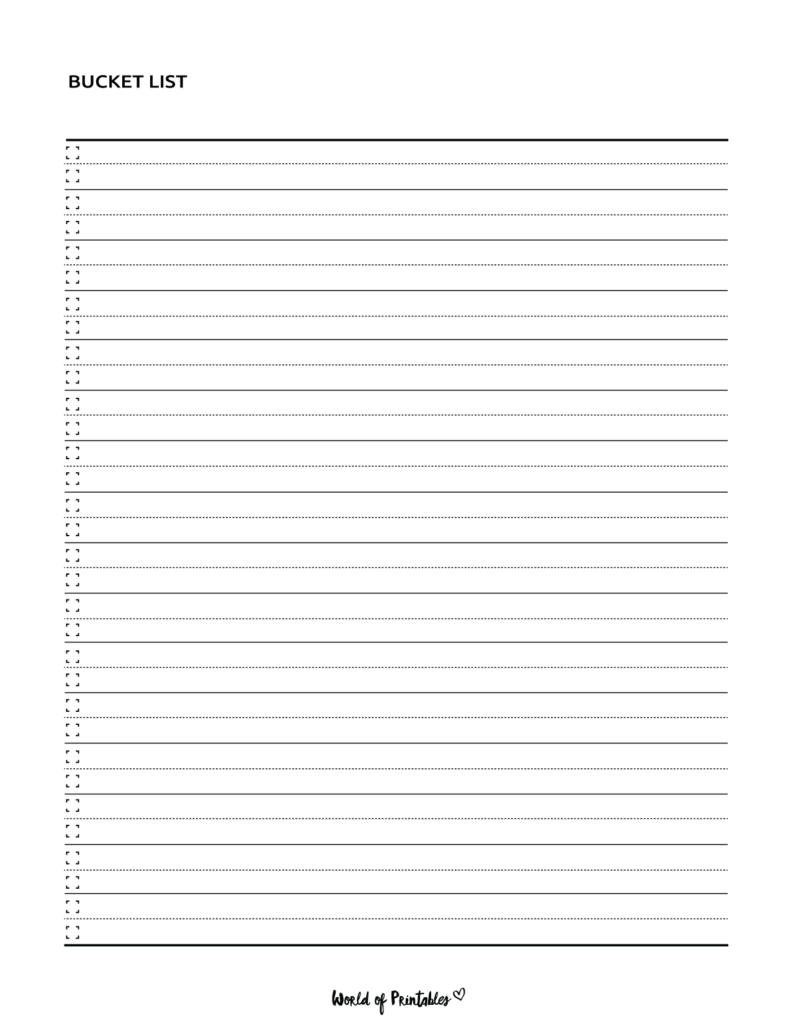 Use our printable blank bucket list to create your best bucket list yet. These bucket list templates come in many different designs and will fit perfectly in your personal planner.
Have your own printable bucket list and achieve the things that will make you proud for the rest of your life.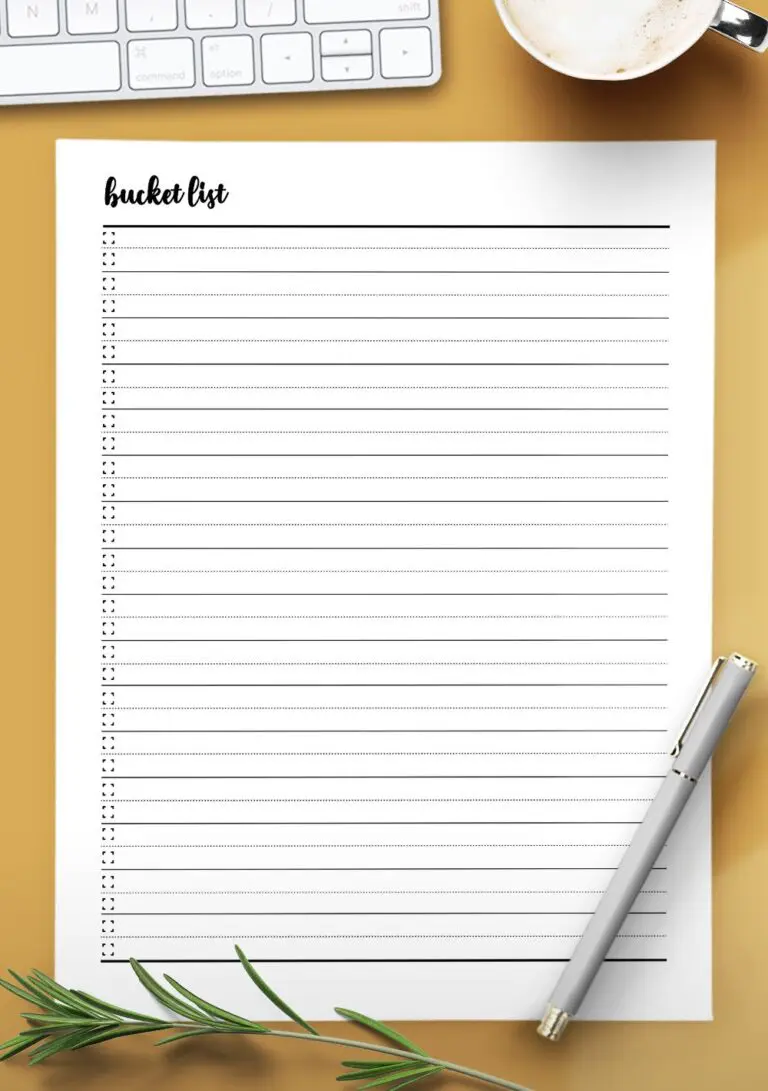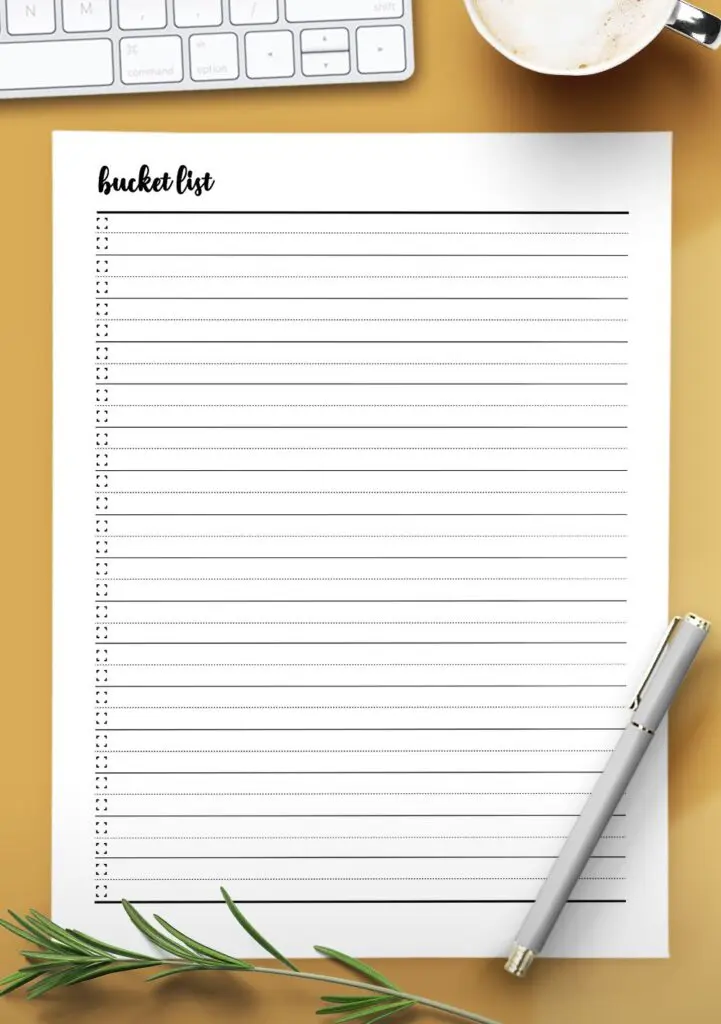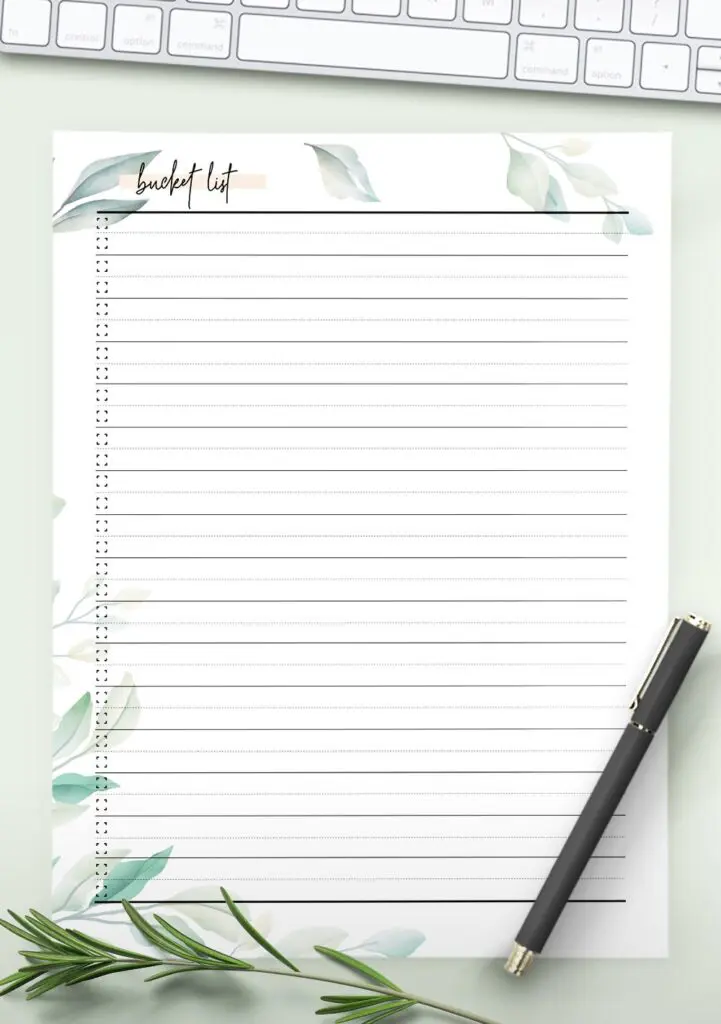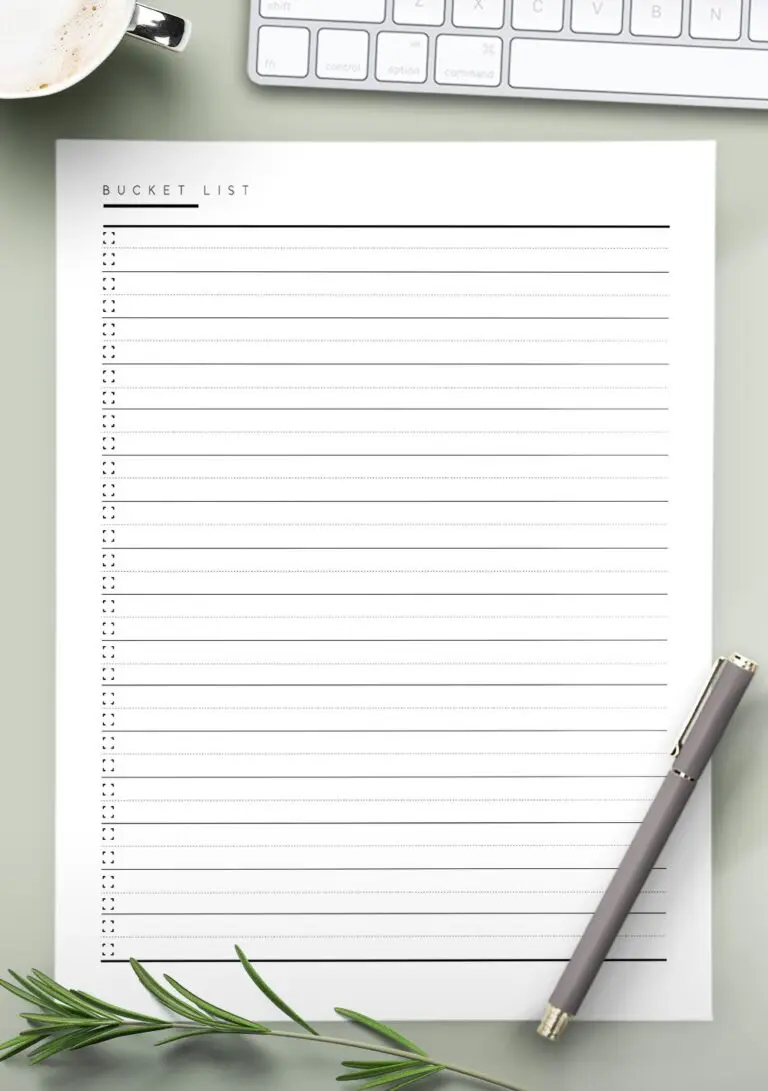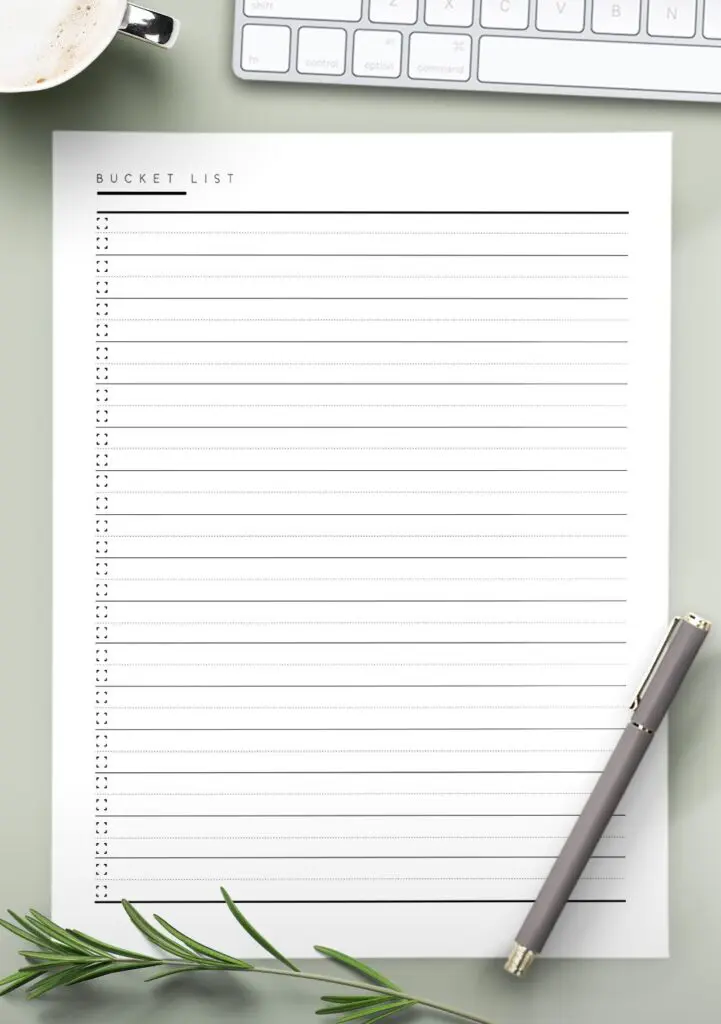 A bucket list doesn't need to be anything fancy. It is simply a list with all of your amazing dreams and hopes written down on it. You can decorate it yourself, keep it simple, fold it up and keep it in your wallet.
But we wanted to create these attractive bucket list templates for you and so we did. We've designed several different inspirational styles, so you'll be motivated to set some goals and dreams!
You can get this bucket list template in different styles. Pick the one that suits your personal style and planner best!
Some people appreciate things more if they are designed well and tend to stick to them.
If you are someone who loves the idea of using stylized lists then I recommend you check out our Printable List Templates bundle. It features a ton of different list templates in different styles.
It's a great bundle that you don't want to miss out on if you love list-making!
How to use our planners for the best finish
Resize it – Our printable planner inserts are made for US Letter sized paper. But you can easily resize our planners to fit any paper size and binder. It's so easy to make them bigger or smaller to fit into your choice of binder – find out how here.
Print it – We recommend using nice quality paper for printing our planners and planner pages. This paper is a good weight and works with inkjet and laser printers, the ink looks crisp and clear giving your printed planners that shop-bought look. The paper also holds up well as you use your planner throughout your daily life.
Style it – Style your planner! Put them in your favorite ring binder, or notebook binder, or even bind your own with a paper punch binder. Accessorize your planner with stunning planner stickers, unique paper clips, and stylish dividers and tabs. Find out how to make printable planners match your style right here!
More awesome free printables from World of Printables
If you are looking for more, then check out our huge range of awesome printable templates and find the ones you need. We've got a huge range of printables for every aspect of your life!
We offer so many stunning options, designed with love and attention to detail to make sure you get the planner you need.
Our free printable inserts are the perfect option for adding that little bit extra to your planner, bullet journal, or binder. You can even import them into your favorite digital planner.
Be sure to grab as many freebies as you can while you're here.
We think you'll find these very useful:
Find 100's more useful planner templates that you'll love
Some of our recent planner templates that you're sure to love.
Follow World of Printables on Pinterest for more