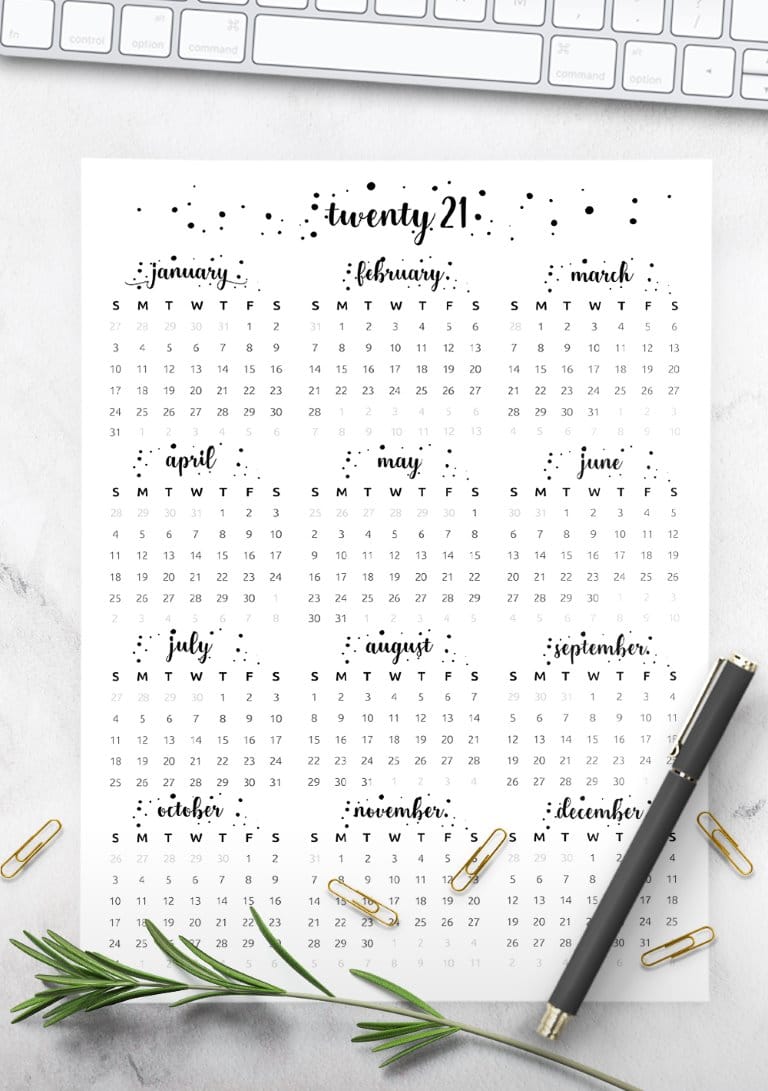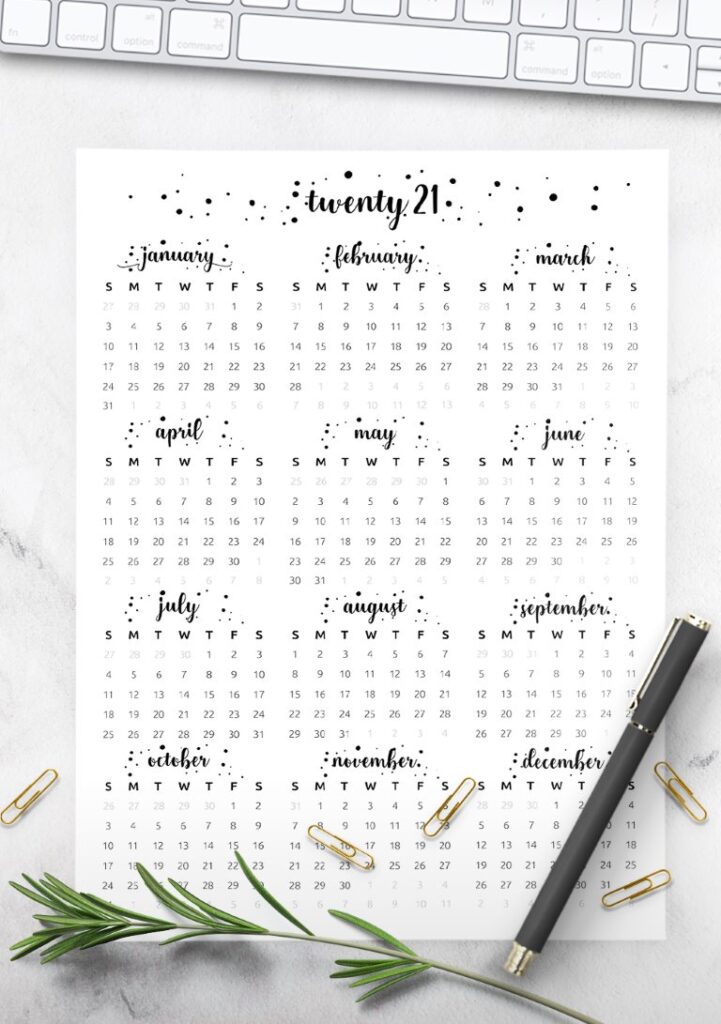 This simple and pretty Cursive One Page 2021 Printable Calendar features lovely cursive writing and blank ink dots. It is such a cute calendar to own and looks really great.
This beautiful calendar is perfect for those who want something simple but still good looking and would be an amazing calendar for anyone of any age.
Our readers particularly love the cursive writing on this calendar and this is what makes it a great option for a planner or bullet journal. It's the kind of calendar that fits in with the hand-drawn touches of these kinds of planners, keeping the design authentic and natural.
If you would like to use this Cursive One Page 2021 Printable Calendar for your planner or bullet journal and need to know how to resize it then this easy to follow post will show you how.
If you love the style of this Cursive One Page 2021 Printable Calendar but would prefer it in a monthly format then you can download this here for free!
Why not check out some of our other one page yearly calendars here.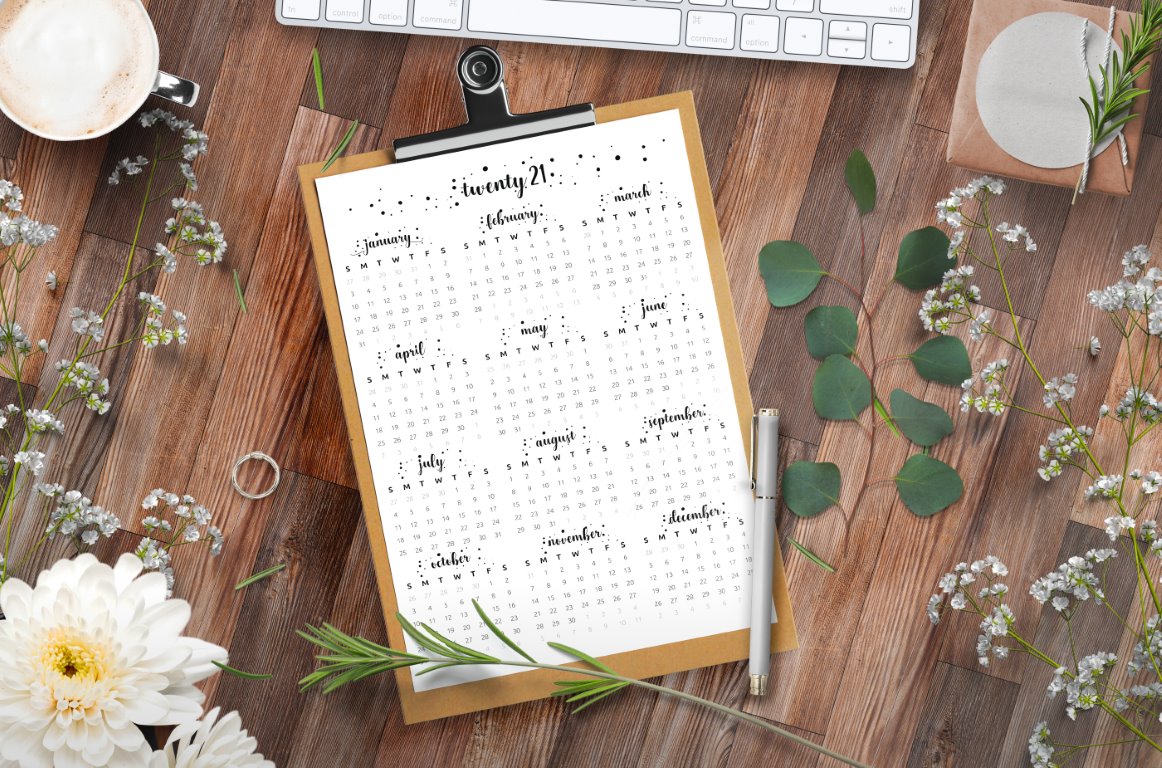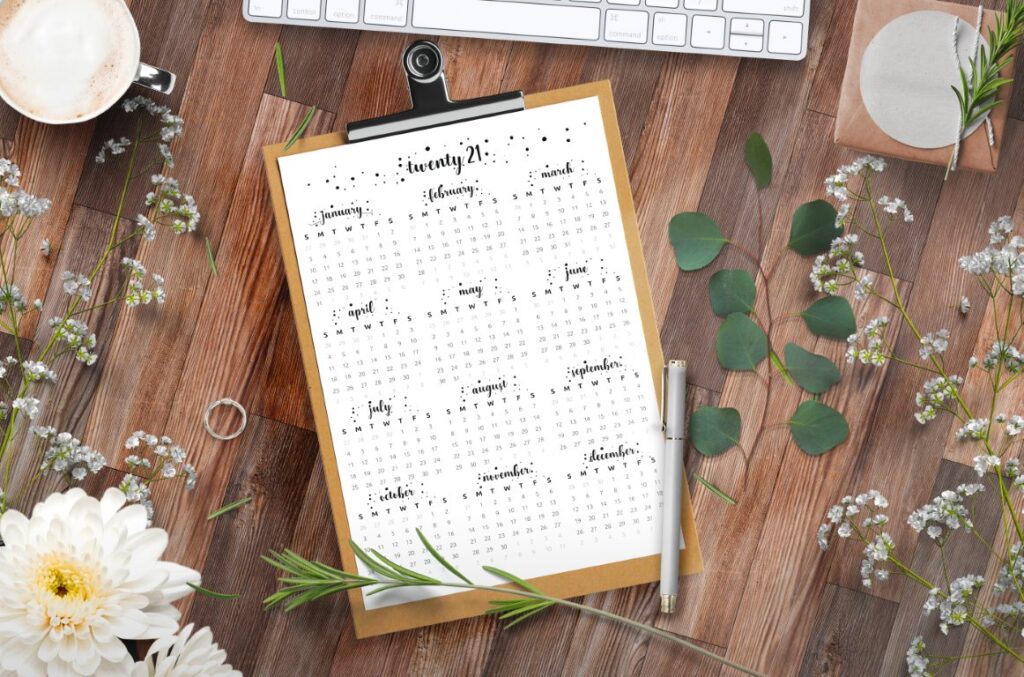 Just download your printable calendar below, print out and you're done!
Click the following links to print the Cursive One Page 2021 Printable Calendar. See below for instructions and paper recommendations. Also, see more of our stunning range of free calendar designs below.
The great thing about our free printable calendars is that you can mix and match! You don't need the same style all year round, you can simply come back and download a different calendar each month.


INSTRUCTIONS
Download the Cursive One Page 2021 Printable Calendar by clicking the button above.
Print the calendar. These images are designed as 8.5 x 11 printables. TIP: If you want to print at a different size then simply insert this printable into Canva, set your dimensions to any size you want, then download it to your computer, easy! Full steps in this guide.


We get a lot of questions on what paper and frames we recommend.
Paper Recommendations
For regular paper, I find that Amazon's best-selling paper is such a good deal and has tons of great reviews (over 10,000!).
Cardstock
Cardstock is thicker and more durable than regular paper and is great when you want top-quality prints, especially if you want to frame them. If you want to print on cardstock, I really like Amazon's Choice of cardstock paper, which is great for prints.
More Free Printable Calendars from World of Printables
Thank you so much for visiting!
If you liked this post and Cursive One Page 2021 Printable Calendar, go ahead and hit the Pin button below, as it really does help us in so many different ways and is a great way to save for later.
If you are new here please subscribe as we make new printables often and we'll keep you notified from time to time with our best new free printables.
I love you guys!