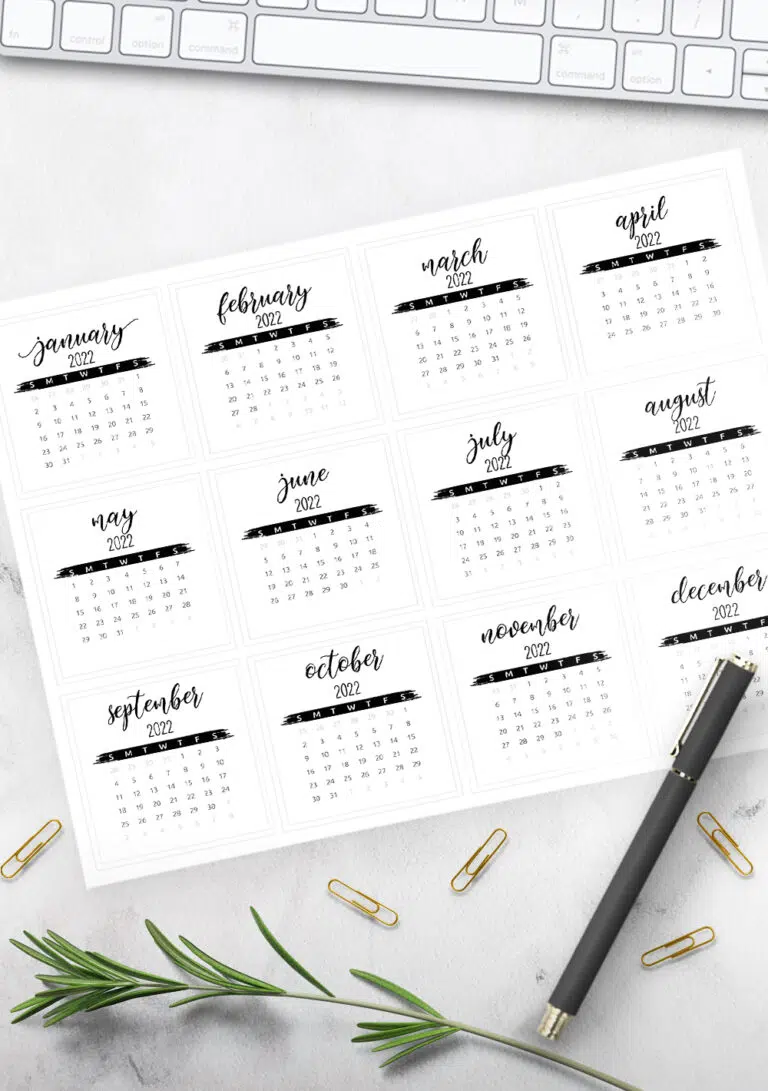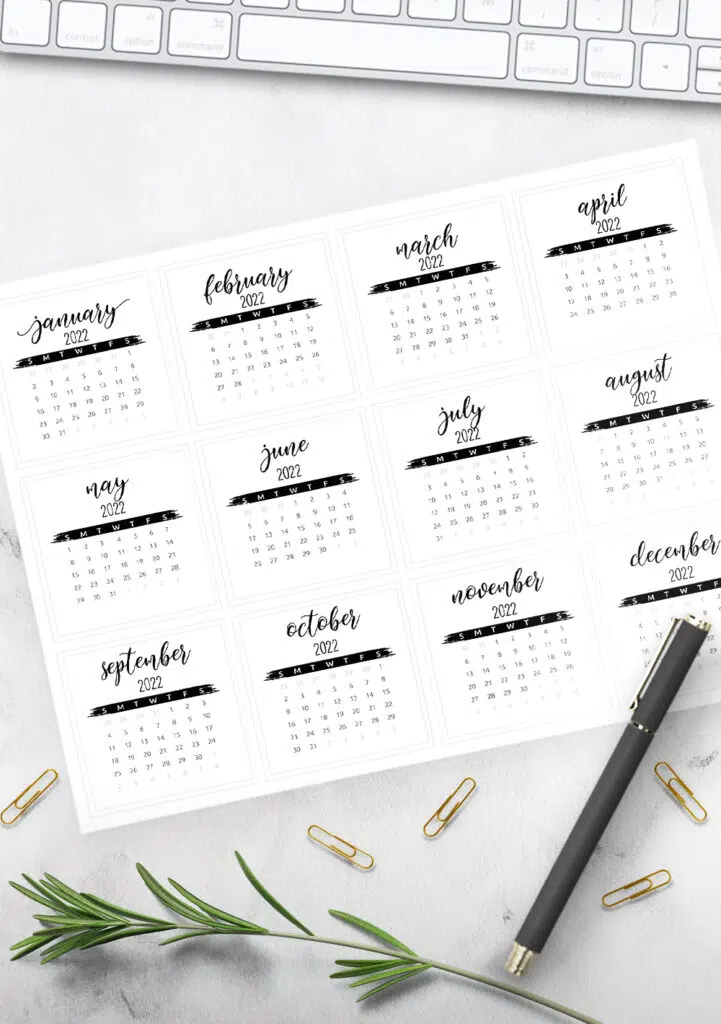 Get these Free One Page Calendar 2022 printables in a range of different colors. These calendars look so pretty and would make great decor ideas for any home!
This 2022 one page calendar is great for seeing your dates at a glance and is minimalist enough not to distract from your environment. It's great for seeing the full year on one page and a stylish option too.
This calendar was massively popular last year, so we've updated it for 2022 and added more color options.
Although this calendar is minimalist, it is definitely not boring in style. It features beautiful brush strokes in a lovely rust color and beautiful lettering. If you like something simple with a touch of earthy tones then this is a great calendar option.
This calendar looks so pretty when printed and would be a great way to add a touch of decor to any room. That's what's so great about our calendars, is that they look so different than the typical calendars that you'll find.
Each one has its own style and would look great in any home.
For our latest calendars, check out our collection of the best 2023 calendars, where you'll find updated versions of these calendars and many more.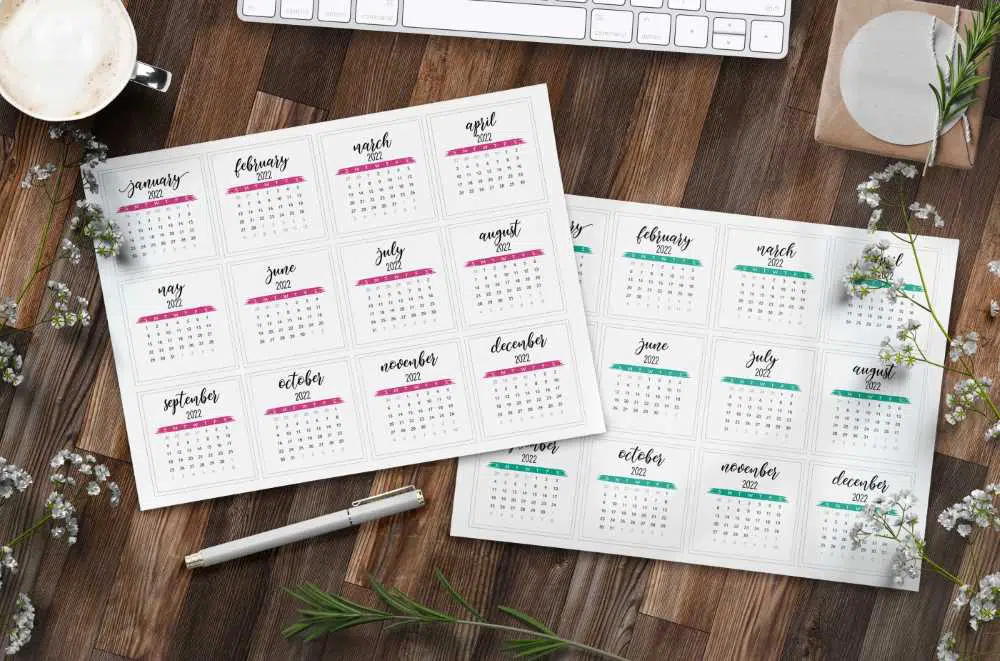 Just get these printable one page calendars below, print it out and you're done!
To get this calendar, simply pick your favorite from the color options below, open it to view the full size version and save it to your computer before printing.
See below for instructions and paper recommendations. Also, see more of our stunning range of free calendar designs below.
The great thing about our free printable calendars is that you can mix and match! You don't need the same style all year round, you can simply come back and get a different calendar each and every month.
If you want to style up your printable calendar to look really stunning, then check out our calendar style guide below for a perfect finish!
Get the 2022 One Page Calendar templates here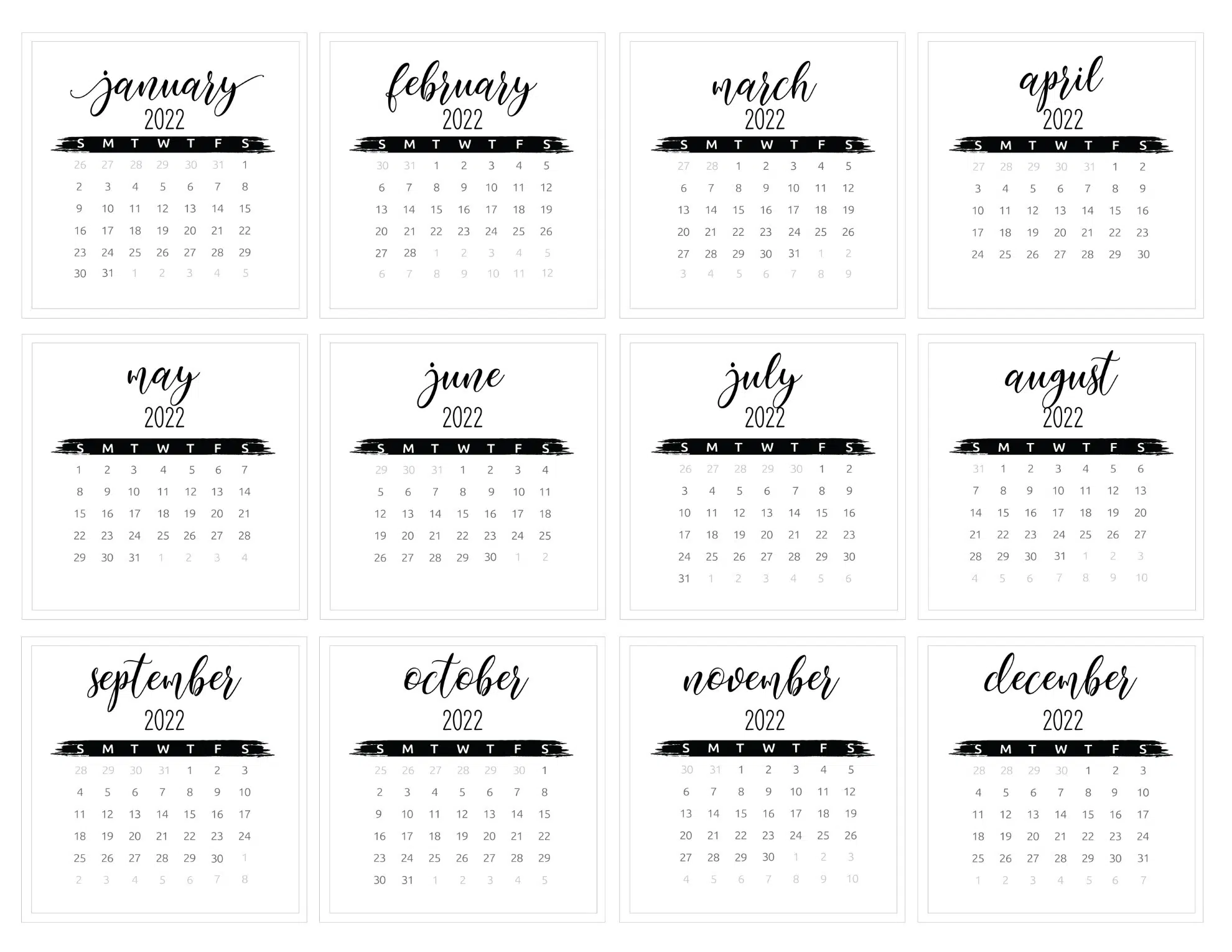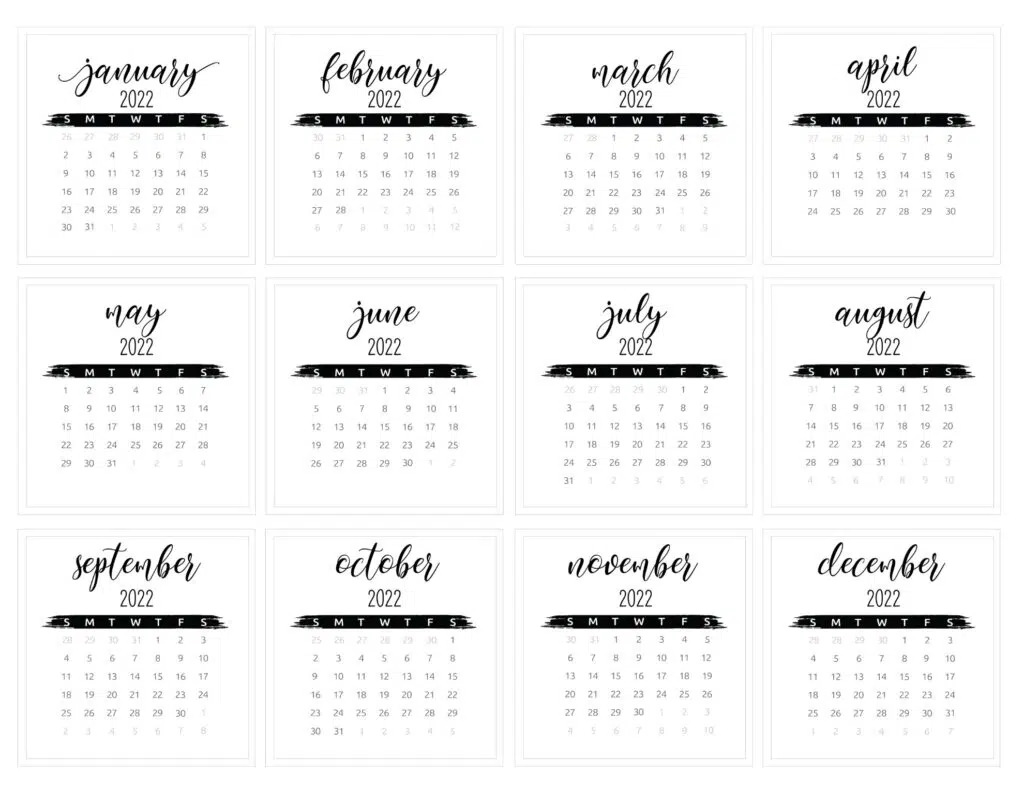 Free One Page Calendar 2022 in Black
The black calendar option is great for anyone who likes simplicity. It looks very modern and stylish and is unlike most calendars that you'll find. Choose this option if you want to keep things simple.
---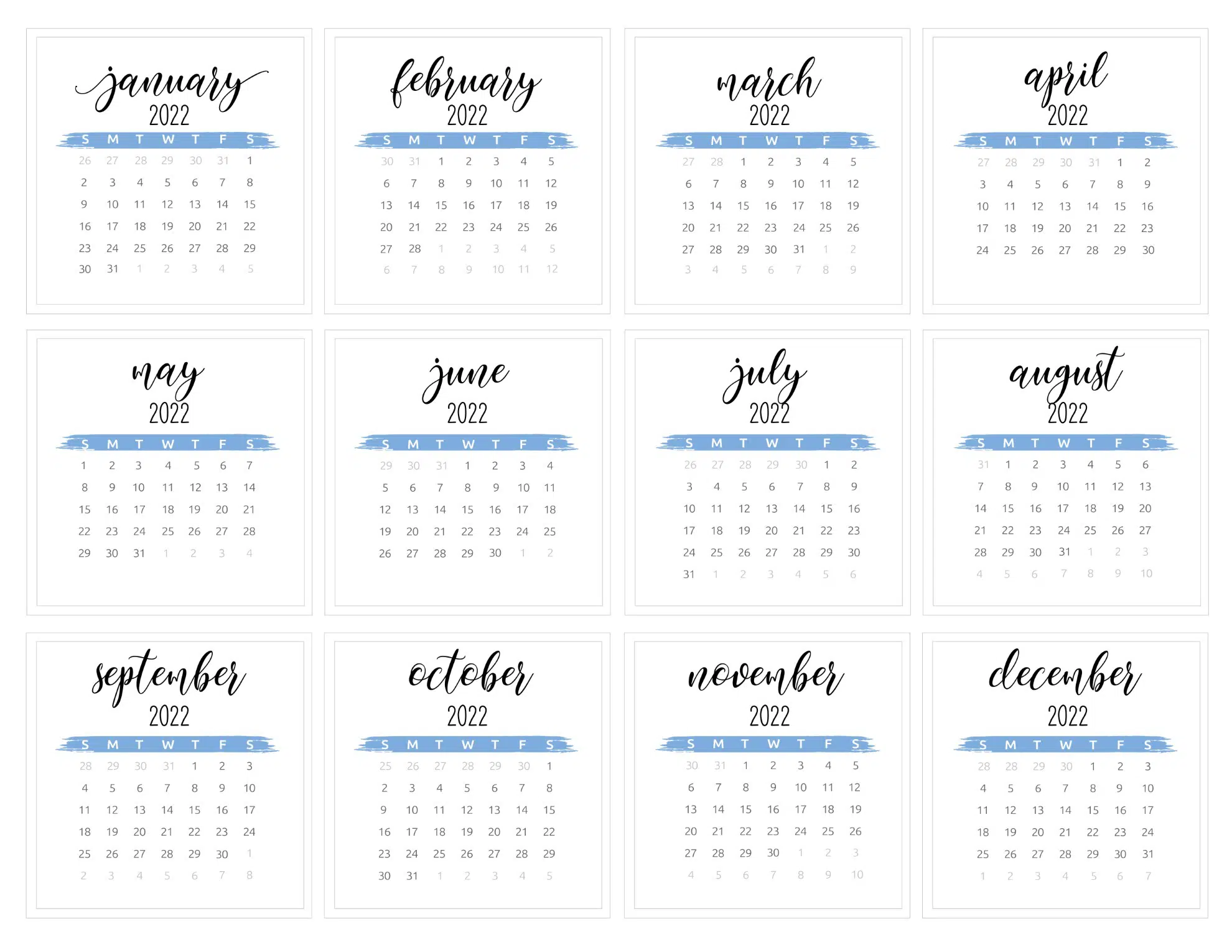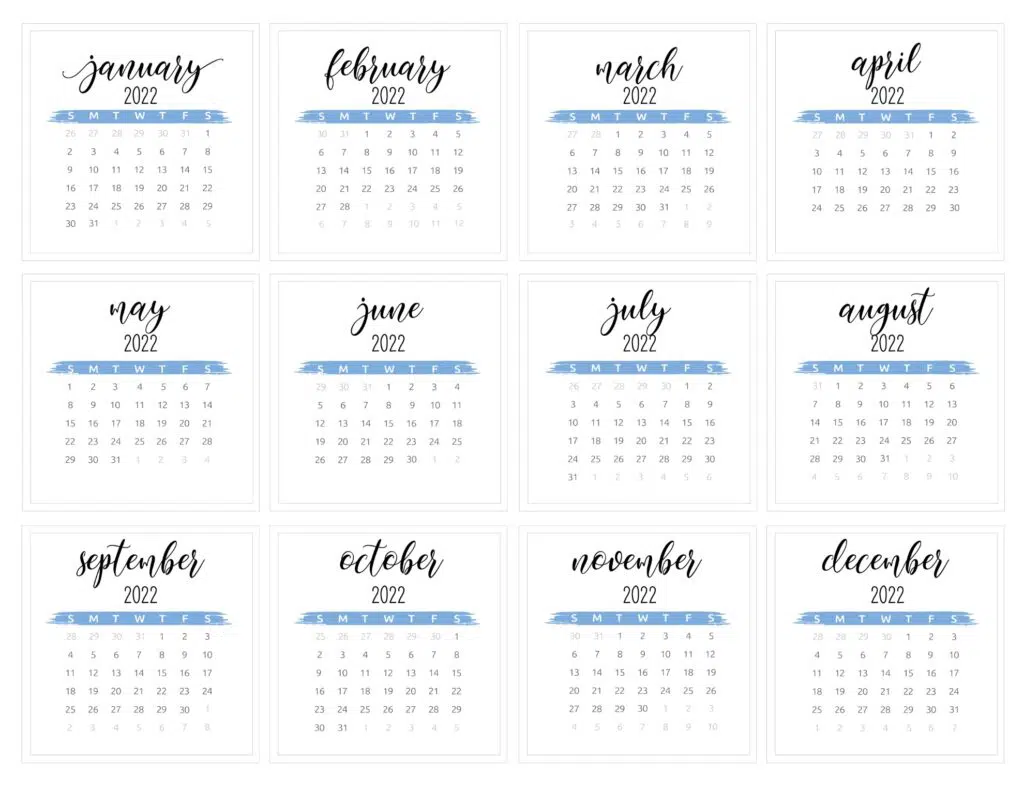 Free One Page Calendar 2022 in Blue
The blue calendar is great for anyone who wants a touch of color without it overwhelming the print and is just enough to give the calendar an interesting look.
---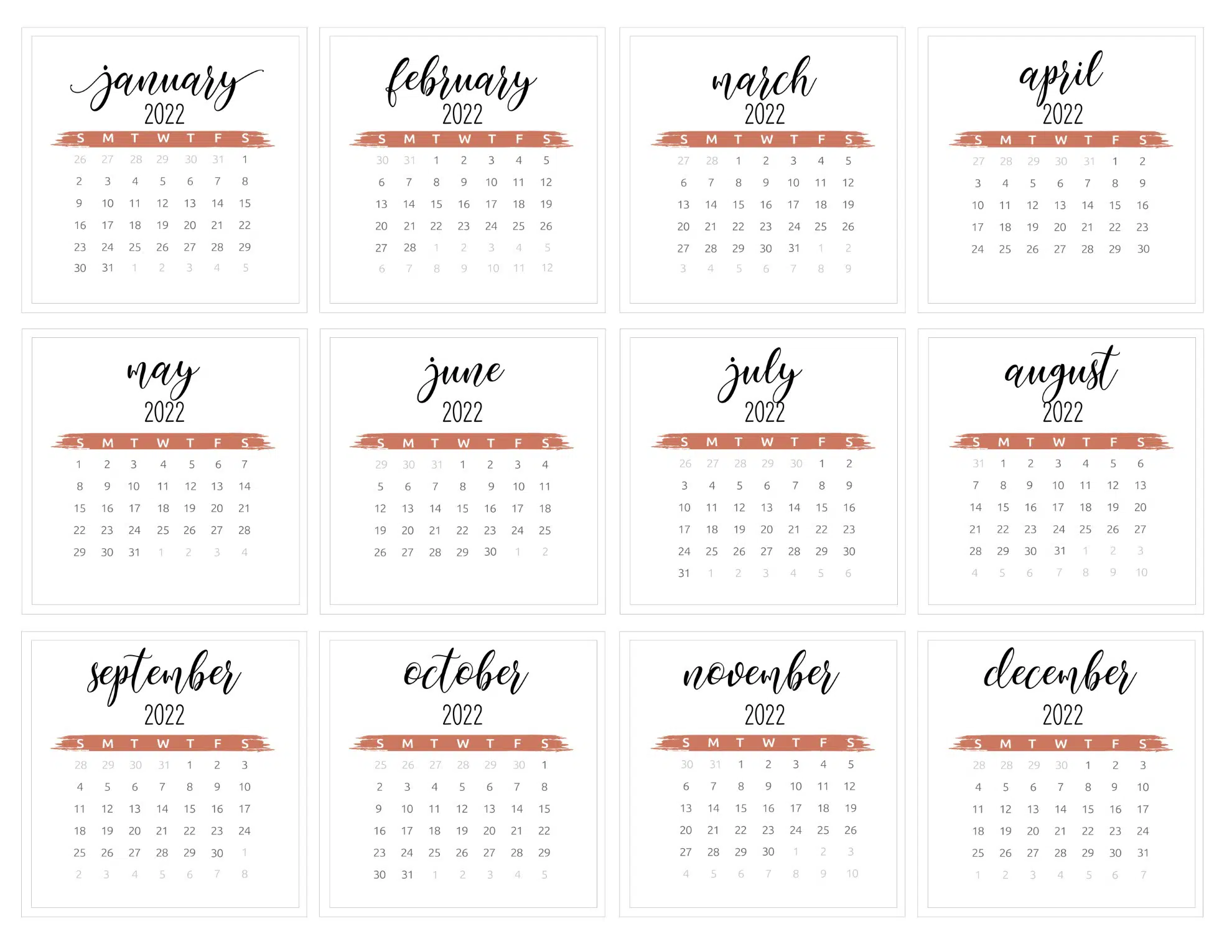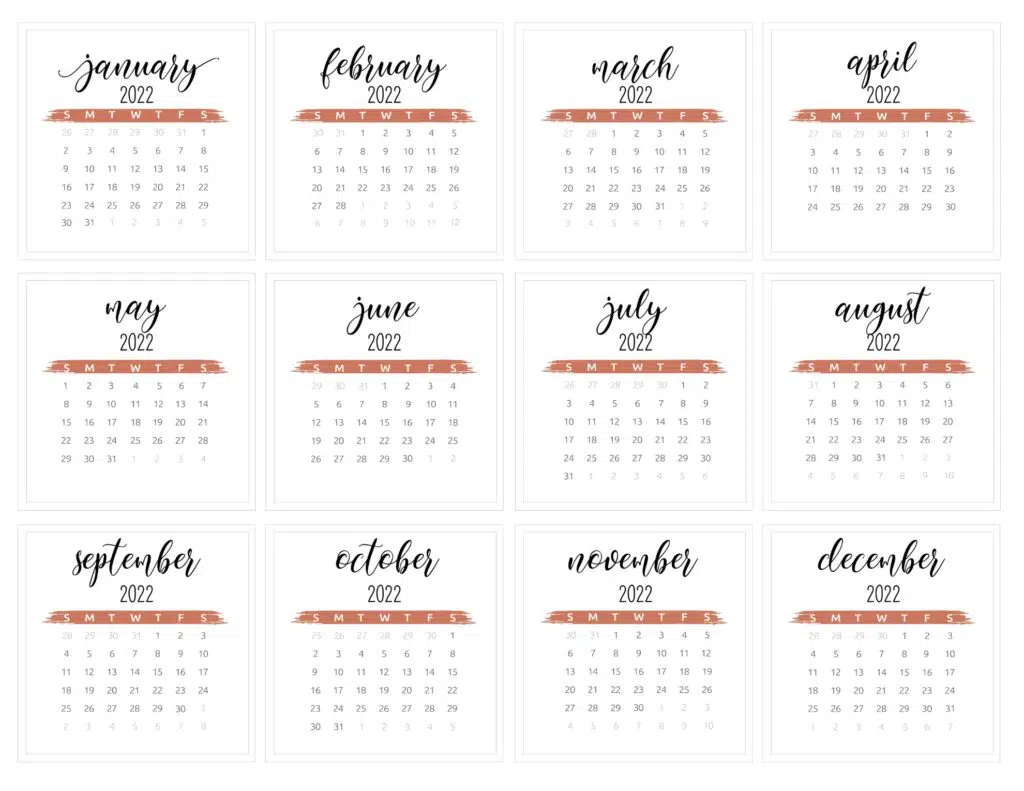 Free One Page Calendar 2022 in Brown
This brown color calendar was popular last year, so we've updated it for 2022 for those who used it. Brown is a color that's often associated with resilience, dependability, and security.
---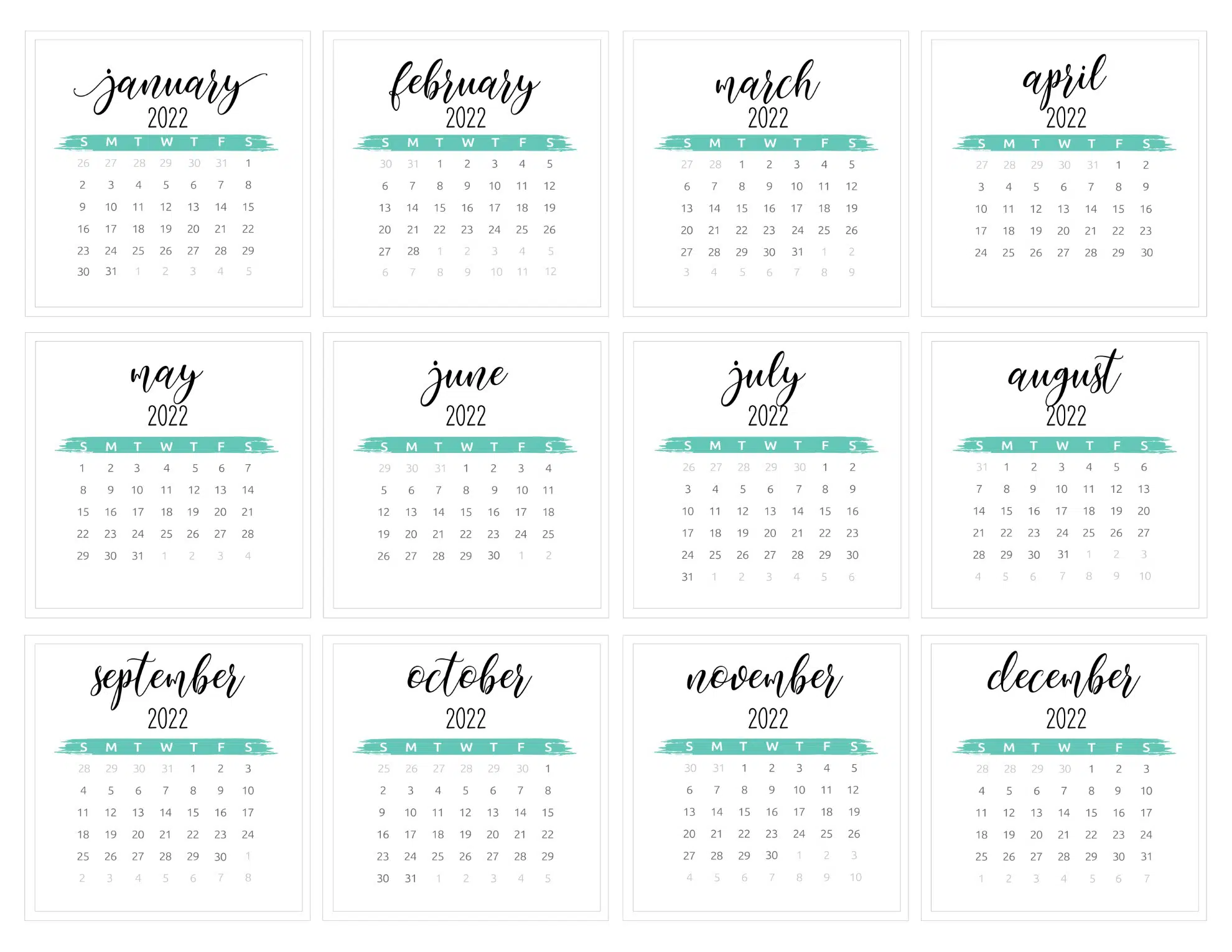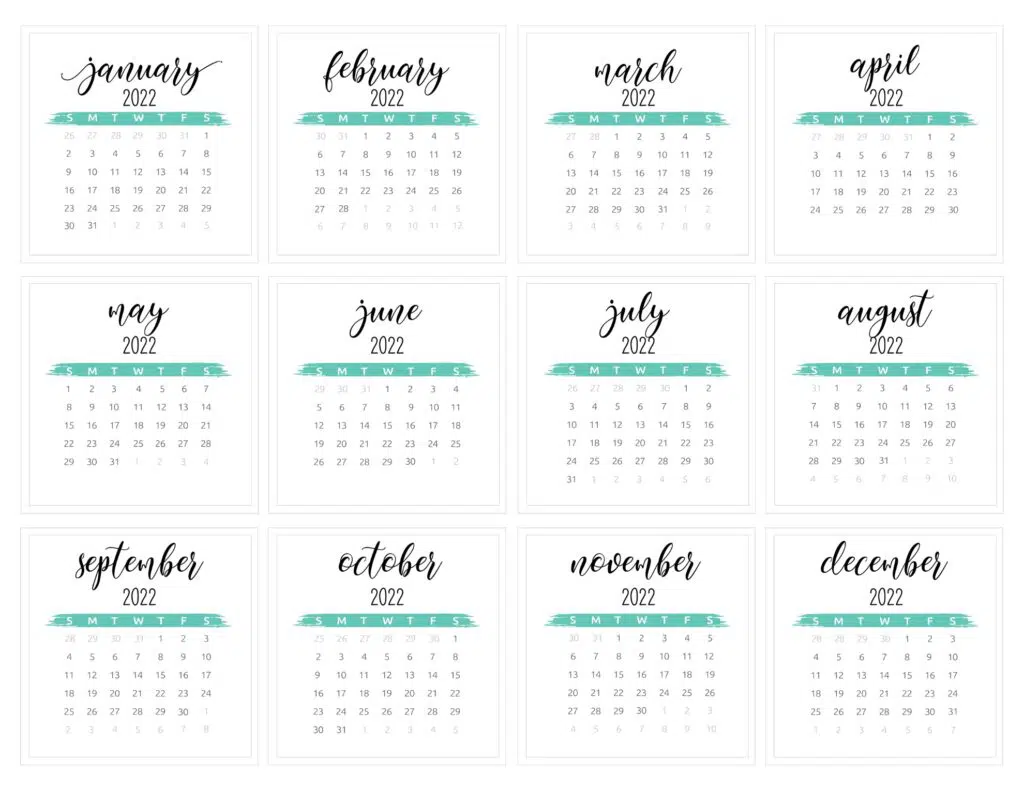 Free One Page Calendar 2022 in Green
This green 2022 calendar option is quite unique and certainly stands out.
Green is a color often associated with peaceful and diplomatic people.
---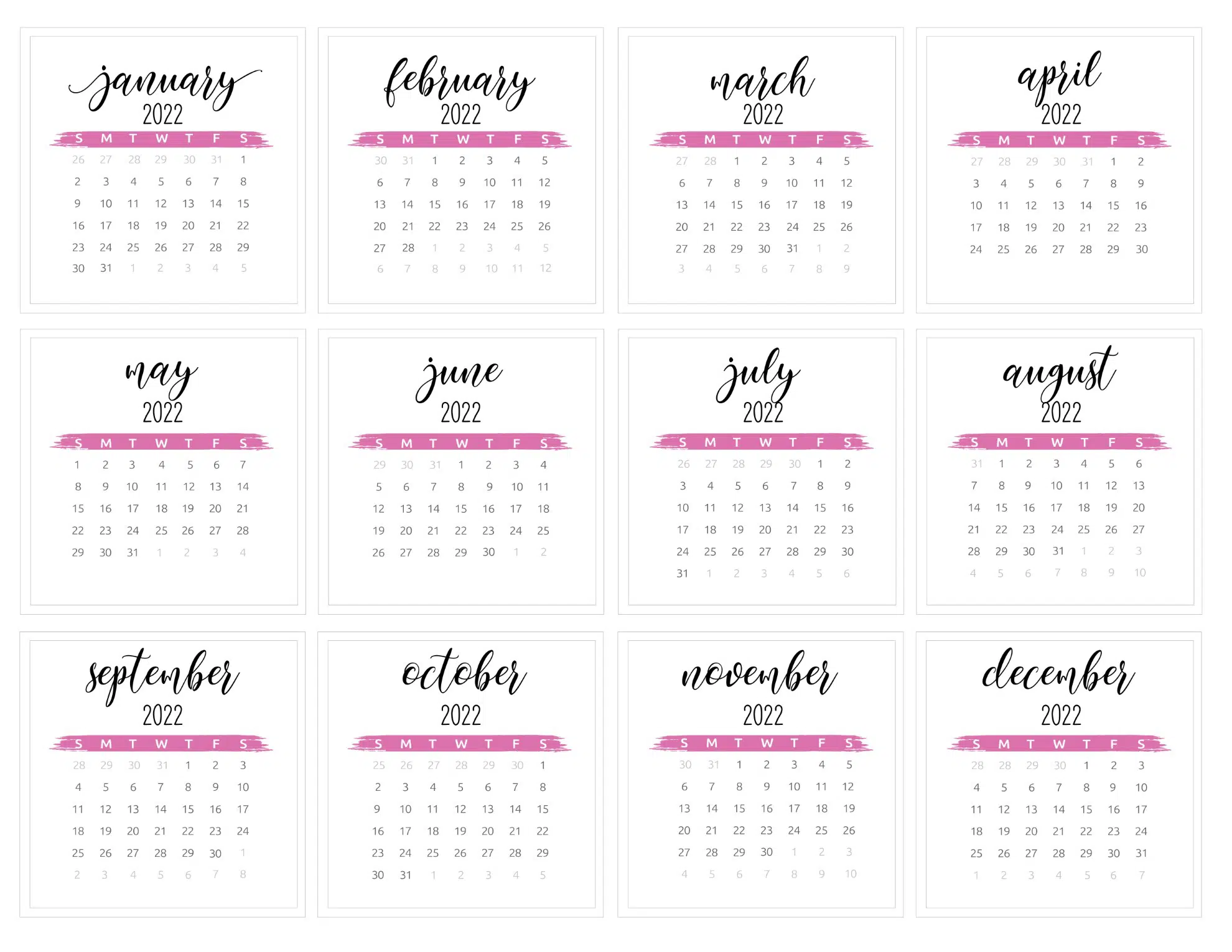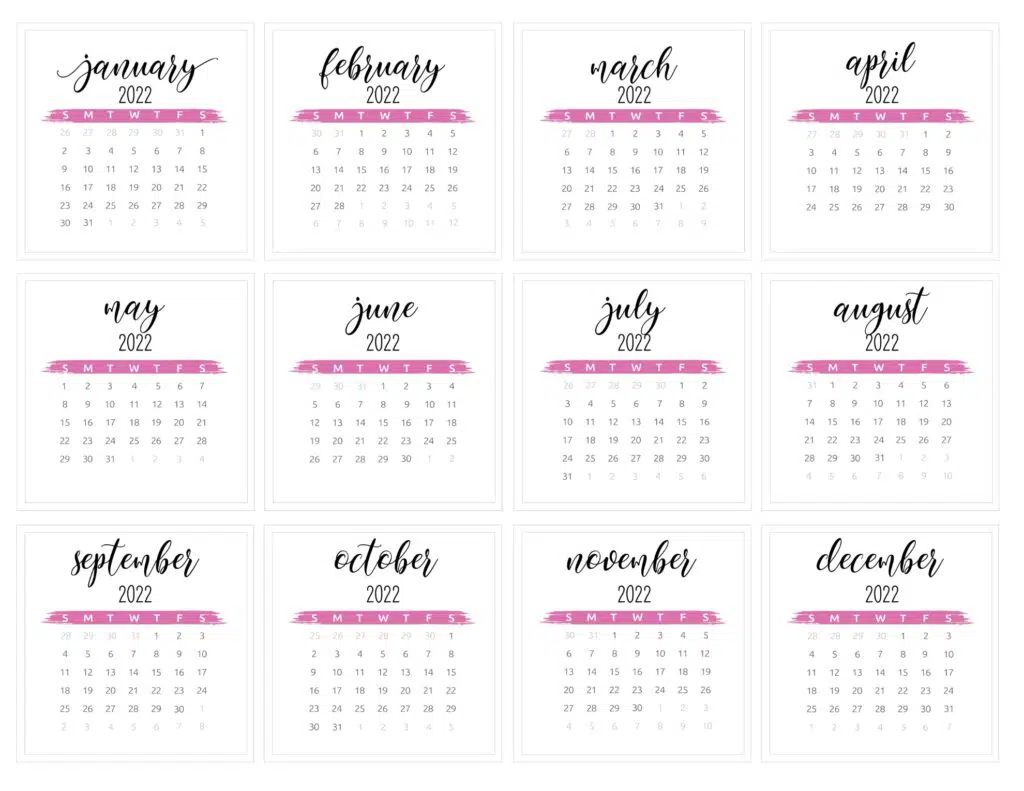 This pink 2022 calendar is for anyone who wants a one page calendar that's stylish, quirky and feminine. It's a great calendar to use it you run your own side hustle, as you can see the whole year on one page, it's stylish and would look great decorating your workspace.
Free One Page Calendar 2022 in Pink
---
As you can see, there's several color options for this one page 2022 calendar. If you would like more color options then let us know in the comments and we'll be happy to make more.
PRINTING INSTRUCTIONS
Get the free printable 2022 One Page Calendar by choosing the color that you like best from the templates above. Open each image to get the full size version which will print at the highest quality.
Print the calendar. These images are designed as US Letter size printables but will also print well on A4 paper. TIP: If you want to print at a different paper size then simply upload the calendar to Canva, set your paper size to any size you want, then save it to your computer, easy! Full steps in this guide.
How to make printable calendars look stunning
Print it! – Our calendars look so good when printed on this bright paper.
The paper is a good weight and works great with inkjet and laser printers, making the ink look crisp and clear. If you want something a little more heavy-duty for a shop-bought look then this card stock is a great option that's used a lot in the printable community.
Add some style!
Resize it – Resize our calendars easily, make them bigger or smaller to fit into your planner, frame or hanger – find out how here.
Style it – Style your calendar! Add them to showcase frames for a stunning display, poster hangers for a boho look, or even bind up your own for a shop-bought look! See more ideas on how to style printable calendar templates to match your home decor!
Snap it – Take a photo of your calendar and tag us on Instagram! We love to see how you use our calendars and may even feature your photo on our blog!
Thank you so much for visiting!
If you liked this post and this printable 2022 calendar, go ahead and hit the Pin button below, as it really does help us in so many different ways and is a great way to save for later.
If you are new here please subscribe as we make new printables often and we'll keep you notified from time to time with our best new free printables.
I love you guys!
More Free Printable Calendars from World of Printables
We've created over 100 different styles of calendars for 2022 and they're all totally free to print. Be sure to check them out and find your perfect calendar while you're here.