About the at a glance calendar 2022 templates
This printable calendar is chic and classy and would be a great choice if you want something simple but with a little something 'extra'. So for that reason alone then you simply must get this free at a glance calendar 2022 template.
This calendar features pretty writing and black speckles making it simple, attractive, and easy on the ink. 
If you're looking for a cut one-page calendar for 2022 where you can see the whole year at a glance, then this is a great calendar for you. It's totally free, so be sure to print a few.
It's a nice option for any home or even your workspace and can easily be resized to fit your needs. Use this guide to resize your calendar so you can style it for the wall or even fit it in a planner.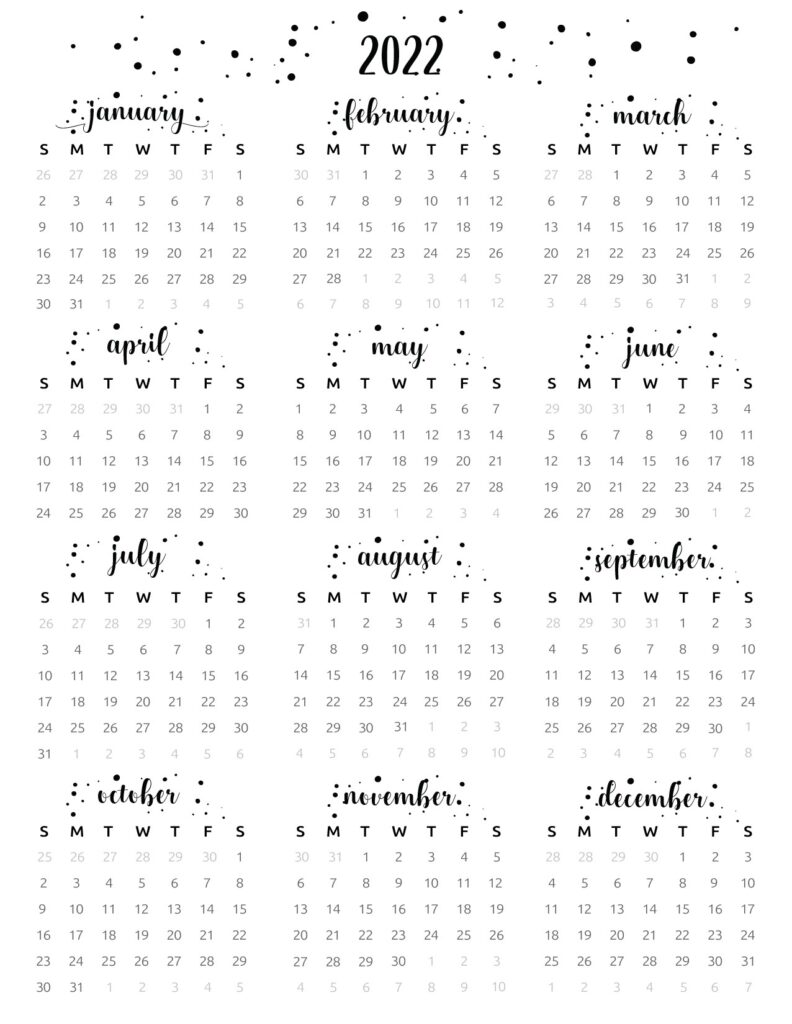 To get the at a glance calendar 2022 Printable Calendar, simply open the image above and save it to your device.
You can get the at a glance calendar 2022 Printable Calendar by opening any of the images above to get the ones you need. If you are looking for a calendar for 2022 then see our huge range of free printable 2022 calendar templates.
Print it! – Our calendars look so good when printed on this bright paper.
Print the calendar. These images are designed as 8.5 x 11 printables. TIP: If you want to print at a different size then simply insert this printable into Canva, set your dimensions to any size you want, then save it to your computer, easy! Full steps in this guide.
More Free Printable Calendars from World of Printables
Some of our recent printable calendars. These will help you stay plan and organize your month ahead.
Browse all of our stylish free printable calendars
---
Find 100's more stylish free planner templates that you'll love
Some of our recent planner templates. Find many more free Printable Planner Templates that will help you get on top of your life with ease. You'll love them.
See all of our free planner templates.
We have 100's of stylish planners that you'll love and they're all free.
---
Follow World of Printables on Pinterest for more