Use this simple free printable business budget template, also known as an annual financial tracker, to help you track your business income and expenses over the year so that you can easily see the profit you're making each month at a glance.
Keeping a close eye on your finances and how they fluctuate over the year can be really helpful especially when it comes to your business.
The business budget template is a perfect way of seeing how your business performs financially over the year and gives you great insight into any future strategies.
If you own a small business or you are an entrepreneur or solopreneur you will definitely benefit from this simple tracker.
Being able to see your financial progress and stats at a glance makes it much easier to make observations about the year's finances. No matter how small your business is, or even your side hustle, this tracker is a must-have.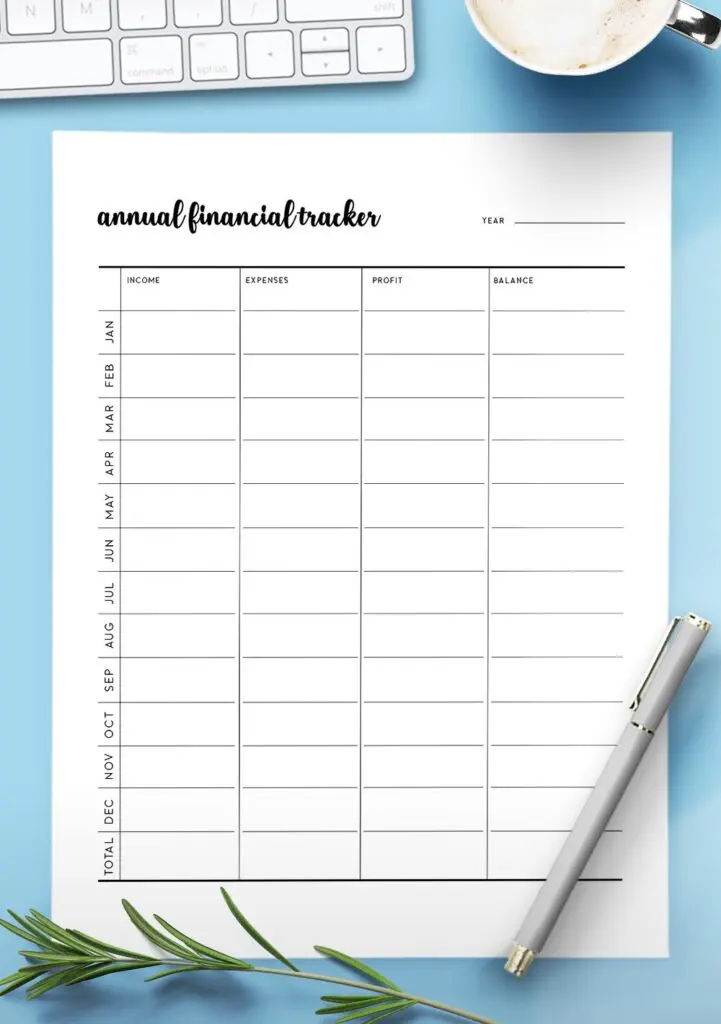 Running your own business or working a side hustle isn't just about the income it generates. Remember, the income is only a part of it, and don't be fooled into thinking the income is what you take home.
There are also expenses to any business that reduces the income amount and it's actually the profit that matters here.
The profit is essentially what you take home before taxes. However business finances are far more intricate, but regardless of the complexities of business finances, the key thing to running a business is in being able to make a profit each month.
This financial tracker helps you to easily see your profit at a glance, which is great for helping you see the progress your business is making each month. This helps keep your business growing and being more successful month on month.
How To Use An Business Budget Template
This business budget template is so simple and straightforward to use. All you need to do is input your figures at the end of every month so you can see how well you performed and where you can do better.
Gather your income logs and expenses trackers and input the monthly amount into your annual financial tracker.
Add the monthly income, and the monthly expenses, calculate the profit by reducing the expenses from the income and finally write the balance.
The balance will total up each month.
So how does this help you? Well look at it this way, along with logging your financial performance every month, it sends a clear message as to what months performed best.
Seeing what months performed best at a glance allows you to take a closer look at your strategy so you can keep progressing financially. You will then eventually see how your year played out financially too.
This Annual Financial Tracker comes in four different styles:
Classic
Cursive
Botanical
Soft
Don't wait to make progress! This simple tracker is such an important step in logging your monthly and yearly business finances and can give you so much insight with just a quick look rather than doing a deep dive into your business finances.
You will also find this tracker included in the Small Business Binder that is perfect for any small business or entrepreneur.
I really can't recommend our business binder highly enough. Money really does motivate and fuel a passion inside of us and when you see your hard work making financial progress it really changes things.
This binder helps you be more efficient with your business and is a great investment, especially as it's so low in price!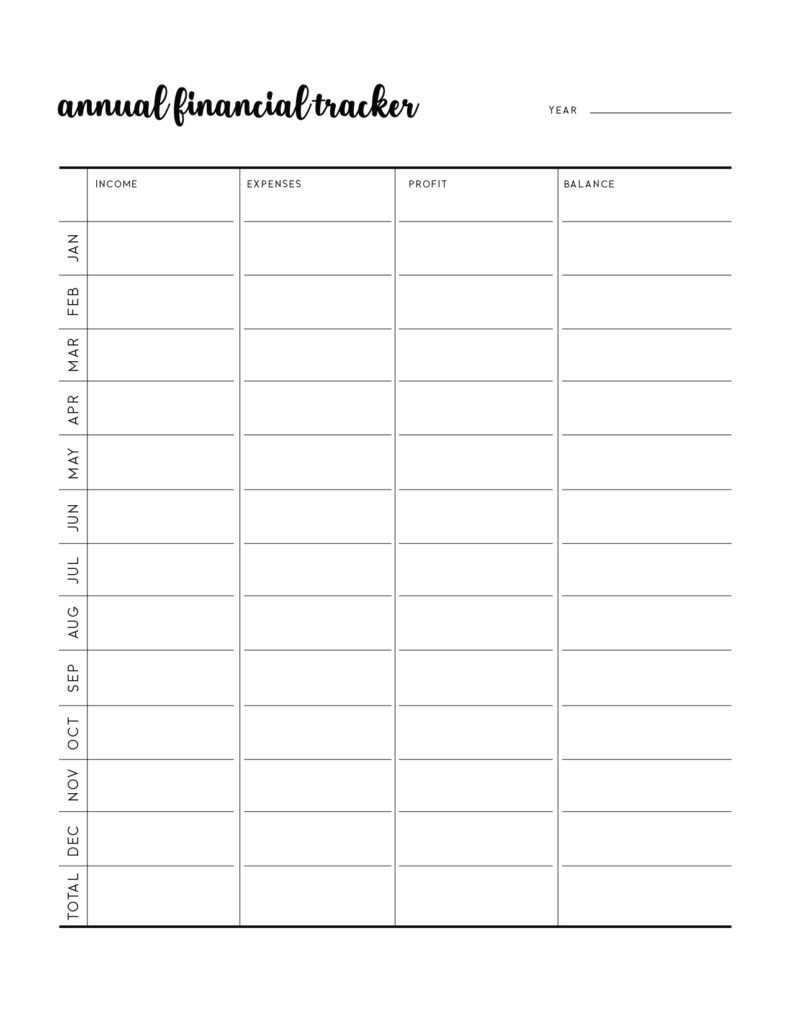 Get the free printable business budget template
To get the printable budget template for your business for free, open the template image above and save it to your computer.
Alternatively, for the highest-quality version which comes in four different themes, see the button below to visit our product page. Use the coupon code displayed to get it for free. You'll need a PDF reader such as the free Adobe Acrobat to open and use the PDF version.
You can also find similar financial trackers and templates included in our Financial Budgeting Planner that we created to help you manage your money better. It's designed to help you with your budgeting, from saving money to paying off debts and having better control over your finances.
Our low-cost bundles make it so easy and convenient for you to get lots of high-quality printable templates, perfect for planners, without having to find and print them separately.
How to make printables look awesome
Print it! – Our templates look so good when printed on this bright paper.
Resize it – These printable templates are designed as 8.5 x 11 pages. TIP: If you want to print using different size paper then insert this printable into Canva, set your dimensions to any size you want, then save and print, easy! Full steps in this guide.
Remember to look through the rest of our printables. If you are looking for more awesome free templates then check out our huge range of printable templates we've got printables for every aspect of your life!
More awesome printables and templates from World of Printables
We've created a huge amount of daily planner templates and weekly planner templates that will help you manage your days and weeks better than ever. Be sure to grab as many as you can along with our many other schedule templates while you're here.
Remember to look through the rest of our planner printables, we've got printables to help you manage every aspect of your and your life!
We think you'll find these very useful:
More schedule planner templates
Some of our recent schedule planner templates. These will help you organize your week ahead.
---
Find 100's more stylish planner templates that you'll love
Some of our recent planner templates. Find many more Printable Planner Templates that will help you get on top of your life with ease. You'll love them.
Follow World of Printables on Pinterest for more